Indian Wedding Fashion. In this post, we will be discussing the latest trends for bridal fashion in India. This year we have seen brides breaking the typical stereotypes and going for new things. So I would say that this is the year of innovation and experimentation for Indian brides.
If you are planning your wedding this year, or attending one or planning a function one for your loved one, then you are at the right place. My first suggestion to you would be not to hesitate, if you have an idea, no matter how different or crazy it sounds, go for it, and you might be the next trendsetter.
How to Dress for an Indian Wedding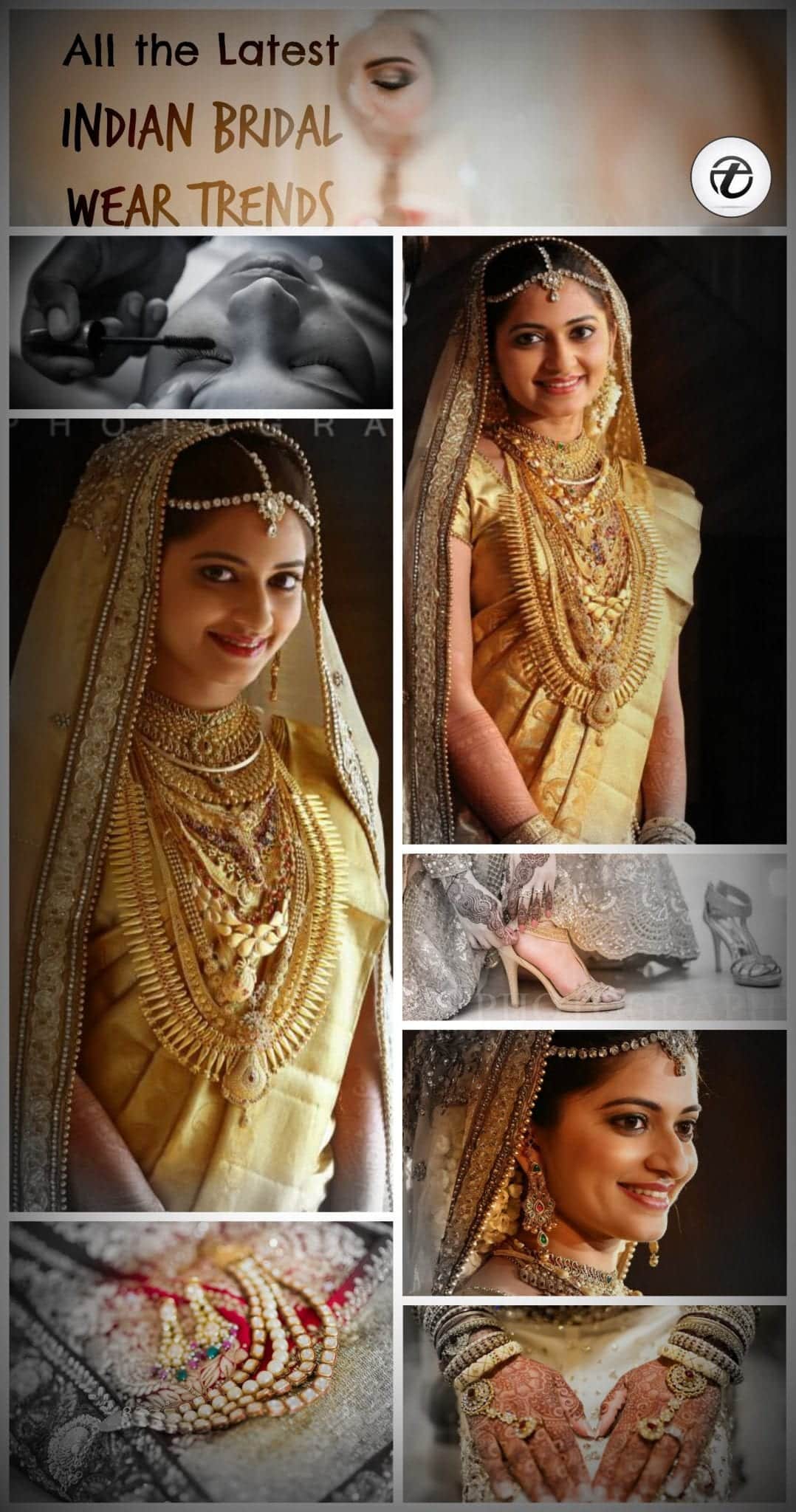 For a successful event, be sure to read these 4 simple tips to plan a perfect wedding. Today outfit trends will bring a complete guide on the following:-
1 – Makeup Ideas for Indian Brides
2 – What Jewellery to Wear with Bridal Dress
3 – Latest style Indian Bridal Outfits
↓ 20 – Indian Wedding Make-up
This year the natural sort of make-up is likely to be in greater demand. Though Indian brides have traditionally gone for the bold and bright look, now is the time for a more natural looking base. Another interesting trend is of wearing the winged eyeliner. Especially when combined with bold lips, the winged eyeliner creates the perfect bridal look. Here are Top 10 Bridal Makeup Ideas For Women with Dark Skin, for a Stunning Look.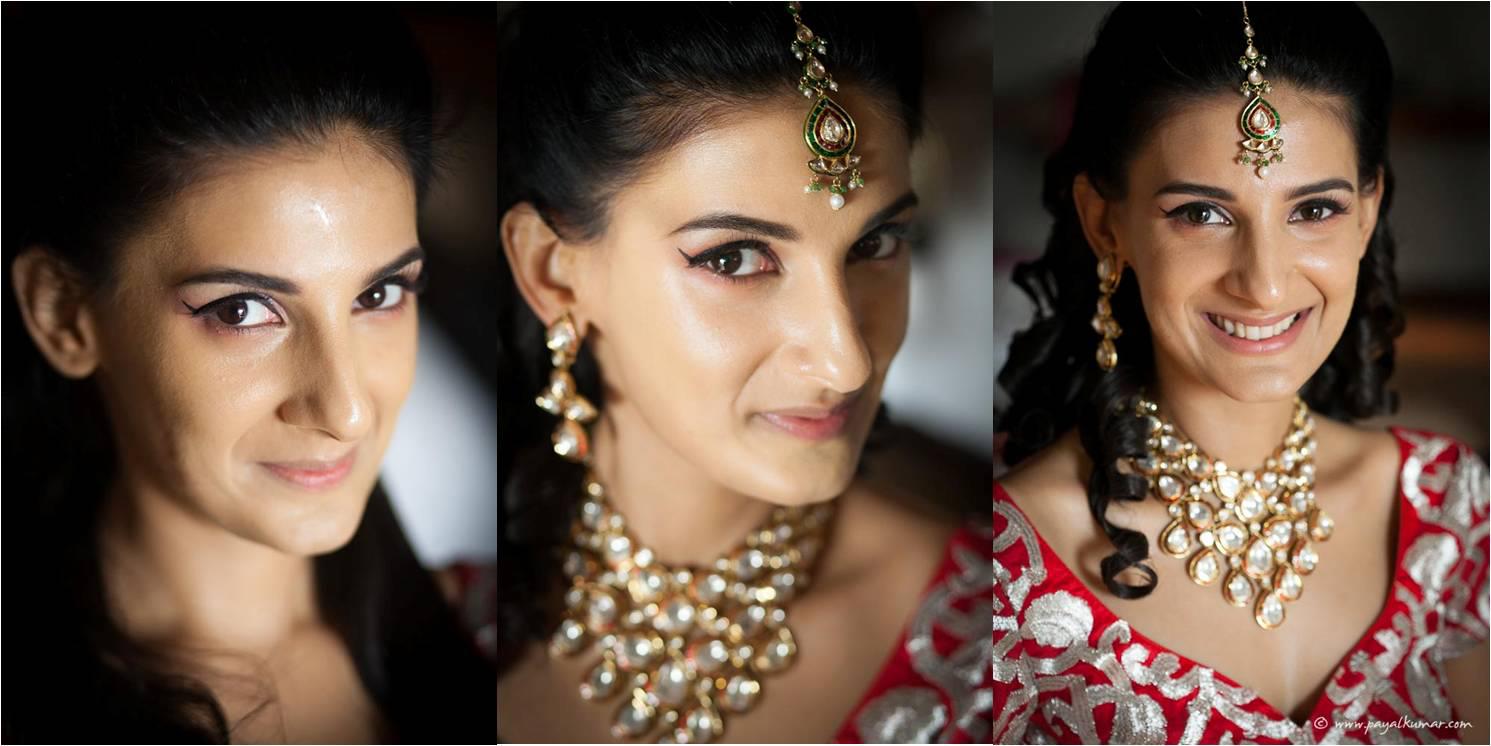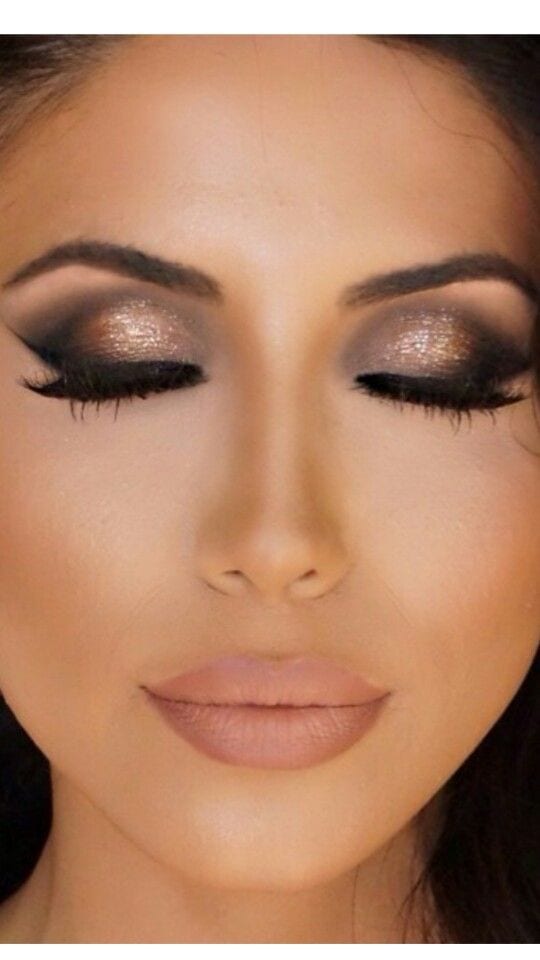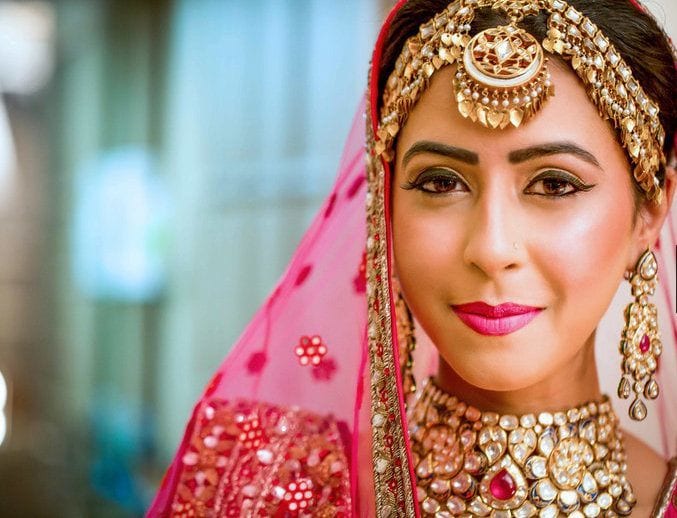 ↓ 19 – Indian Wedding Jewellery
The traditional heavy jewellery look is no longer recommended by most designers. It is suggested that you go for a reasonable amount of jewellery instead and make the most out of it by ensuring its uniqueness and beauty.
My favourite piece of jewellery for the Indian brides is the maang tikka. What makes them so interesting is the number of ways you can wear them. There are just so many different styles like the flat pendant, the spherical one, the side jhoomar or tikka with side layers. I would suggest that when you go to the jeweller, you try all the different designs to choose the one that best suits you. Or you could go for a different style on all the three to four wedding days. Have a look at 18 New Maang Tikka Styles for Different Face Types.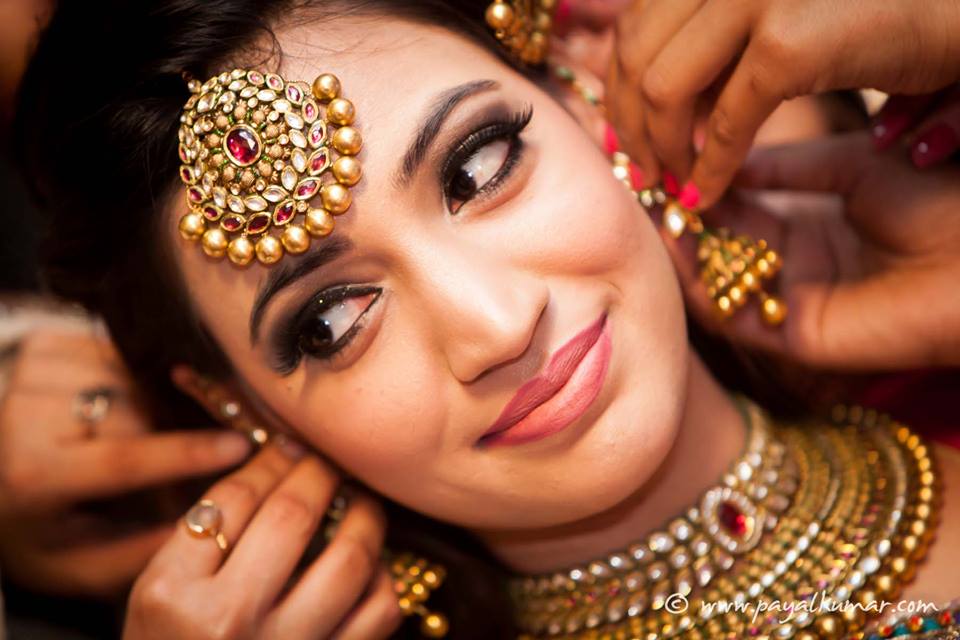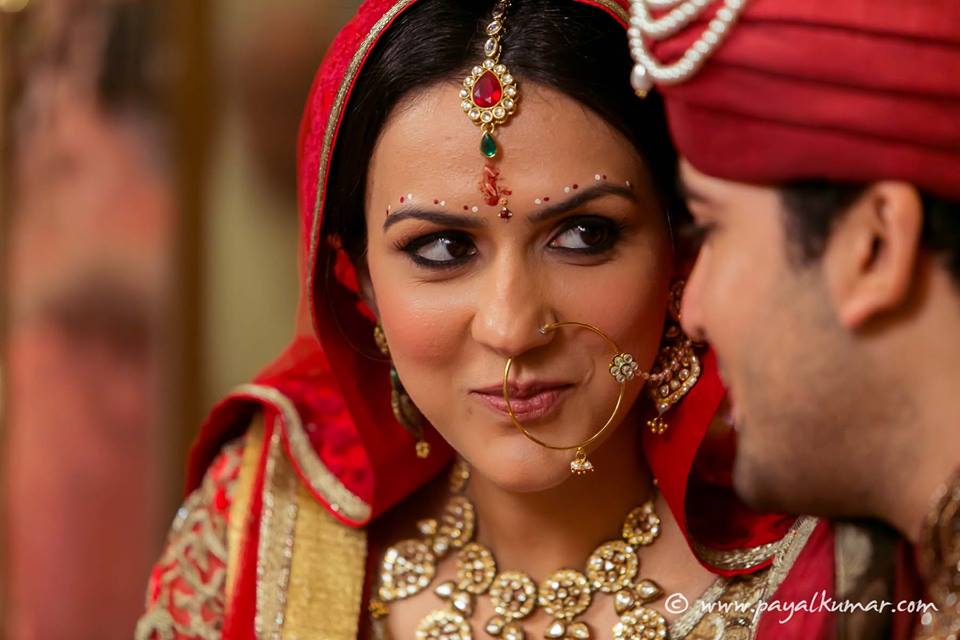 Natural makeup with winged eyeliner, kundan maatha patti and a simple bun adorned with flowers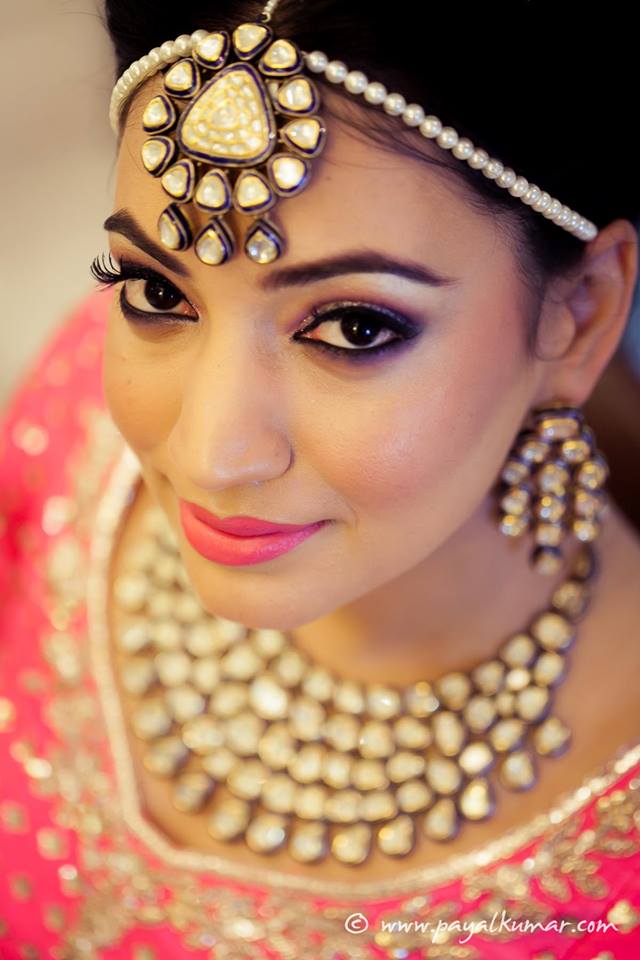 ↓ 18 – Indian Bridal Dress
Indian brides have historically gone for bold colours; there is no doubt that the bold colours like red, orange or pink create lovely brides. But this year pastel shades have been gaining immense popularity amongst Indian designers and brides, and they create fabulous lehngas and other traditional dresses. For example, the mint green and Caribbean blue colours make spectacular brides. If you want, you can even mix up these pastel shades with a bold one and create a new combination.
Here are some more ideas for bridal looks that you can use. Just remember these simple tips, and there's no doubt that you will be able to arrange that fairy tale wedding you always dreamed about! From the following collection of images, you can get your wedding outfit ideas and make a perfect combination to make your big day memorable.
Combination of mint green with bright pink and royal blue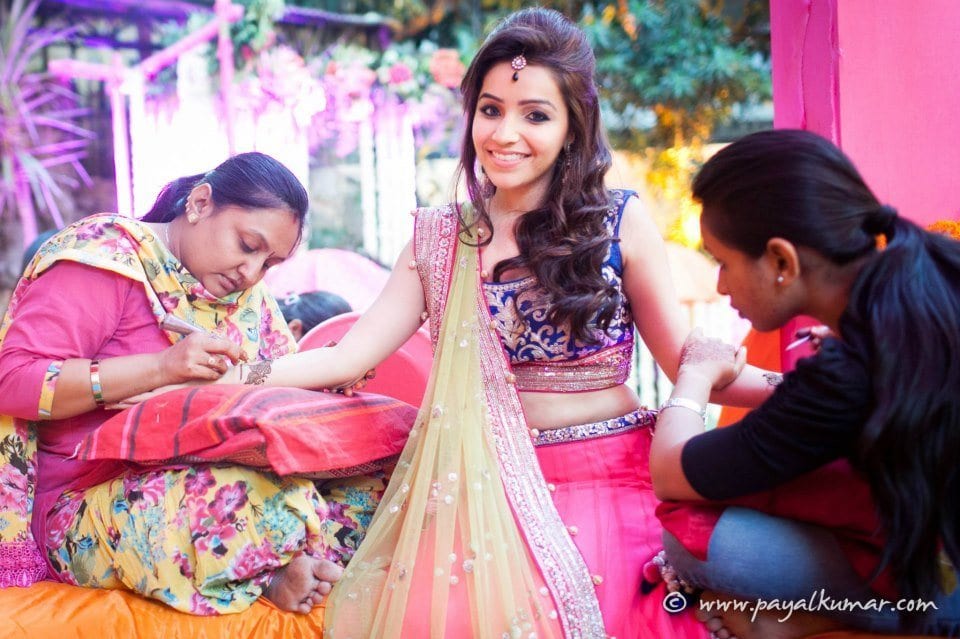 source: www.pyalkumar.com
↓ 17 – Indian Couple's Matching Outfit
Bridging the gap between traditional and modern, the simple yet classical mehndi look. Here are 14 Cute Mehndi Makeup Tips and Mehndi Makeup Tutorial.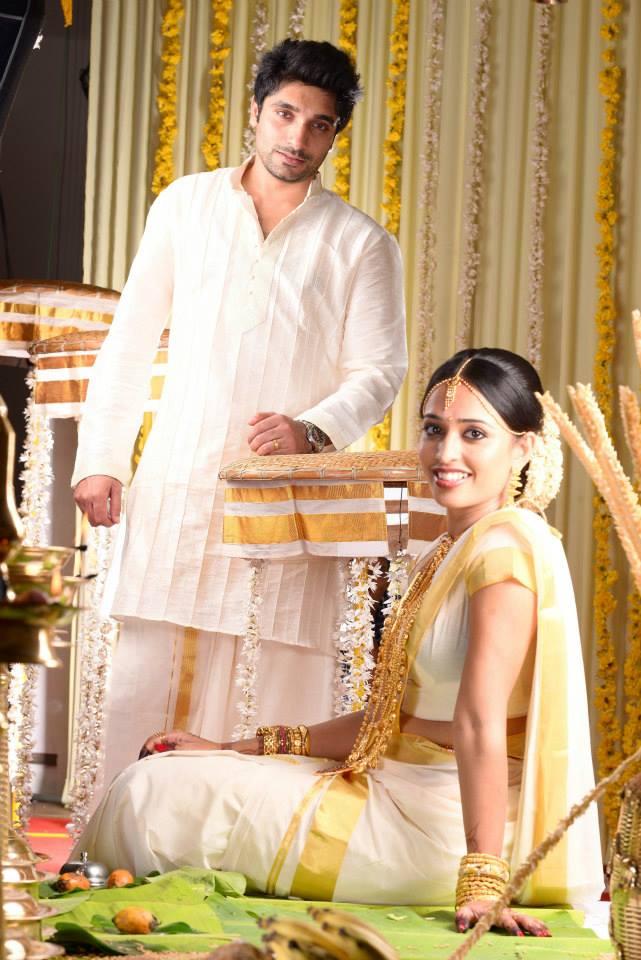 Latest Style Indian Wedding Lehnga -A beautiful multi coloured lehnga in neon shades, while the groom wears a neon coloured scarf to match the bride's look.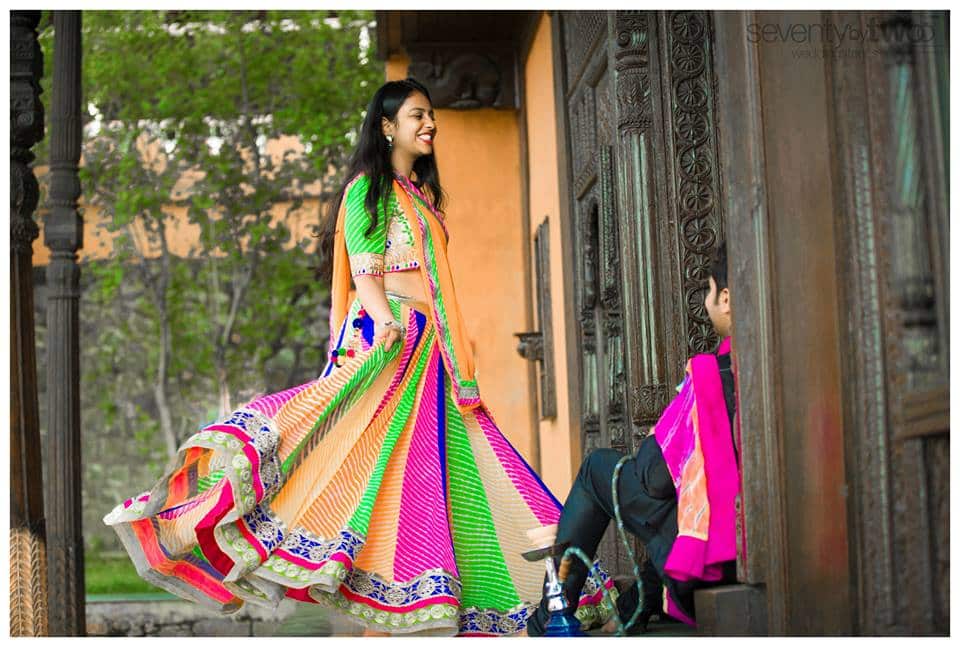 ↓ 16 – Pastel Coloured Dress for Wedding Guest
Beautiful pastel coloured dress, white and baby pink, the perfect combination for a reception event. If you love pastel colors, here are 18 Cute Pastel Outfit Combinations and Ideas to Wear Pastel.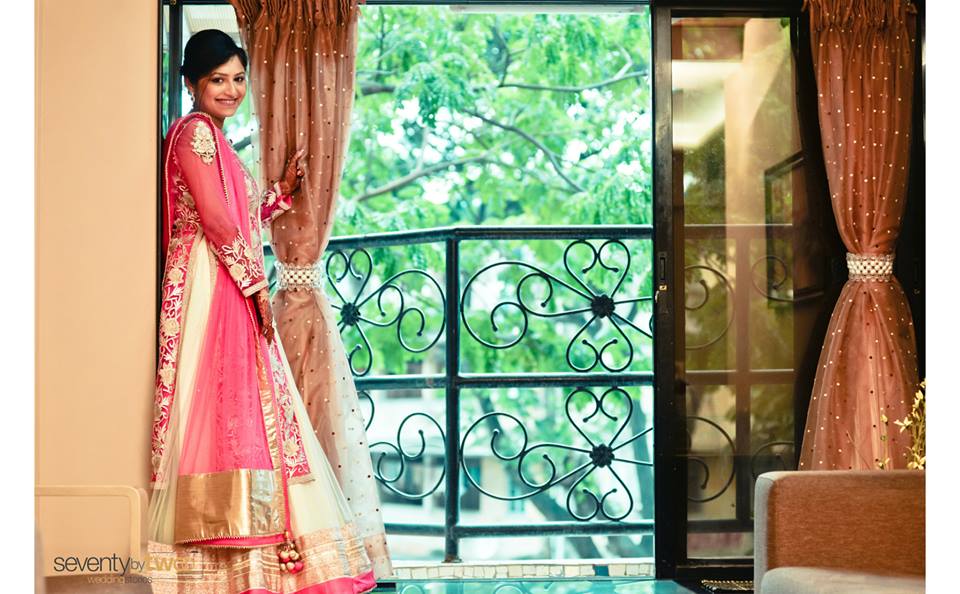 Pastel shade dress with dark blue and a beautiful smoky blue eye shadow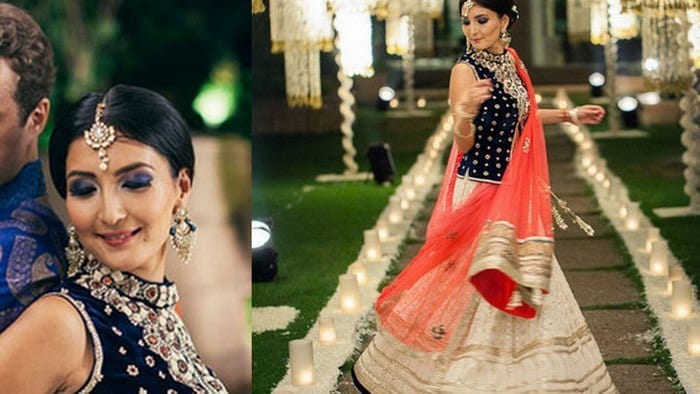 ↓ 15 – Indian Celebrity Bridal Outfit
Soha Ali Khan looks absolutely ravishing in her gold & orange Sabyasachi lehenga with a gold choker and a  side matha patti.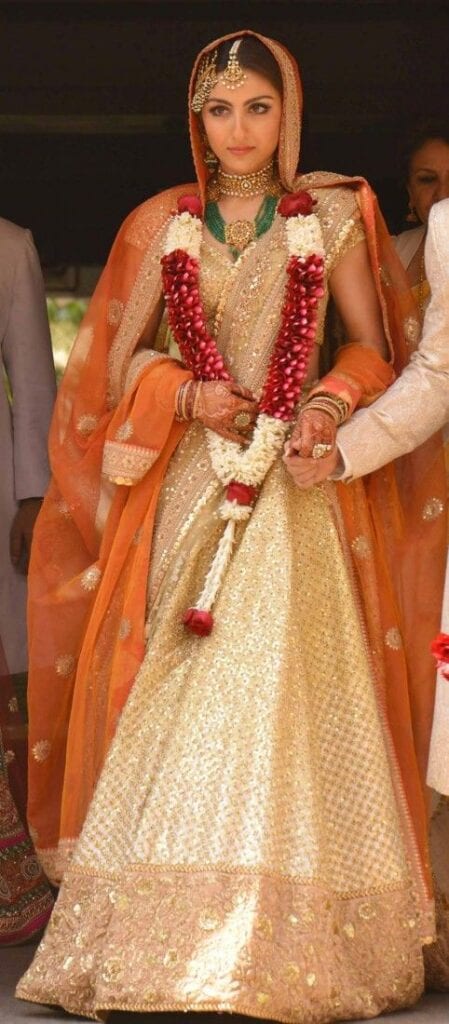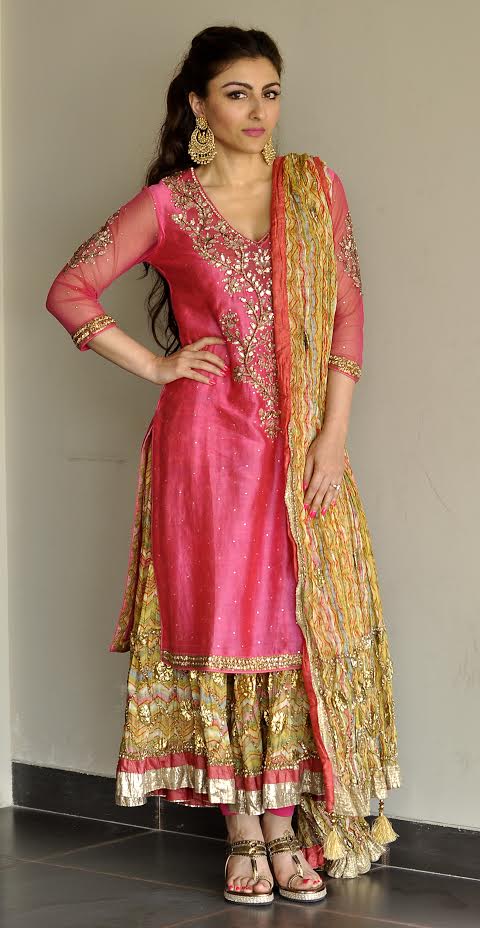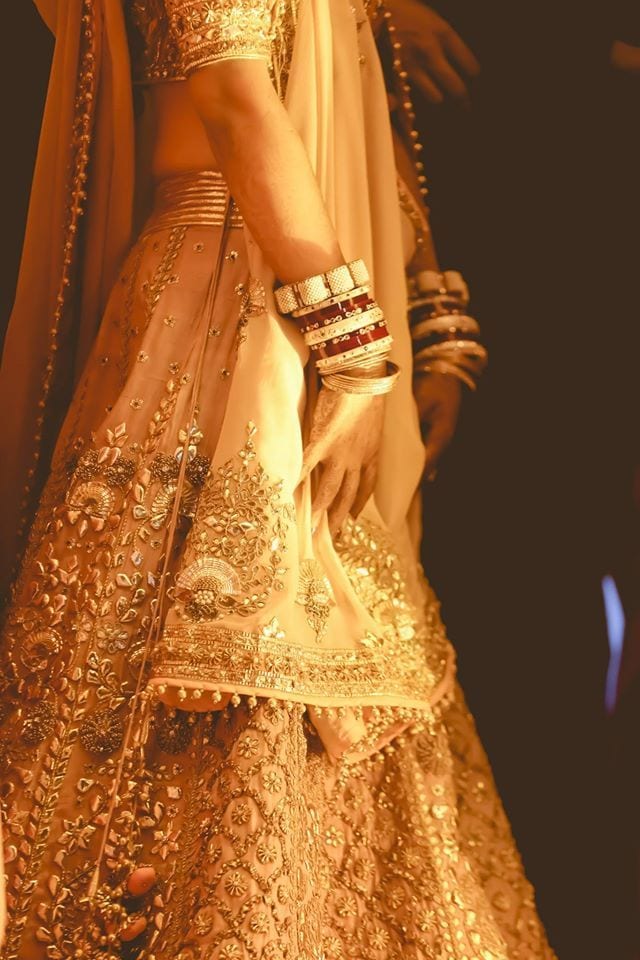 ↓ 14 – Deepika padukone in Bridal Dress by Manish Malhotra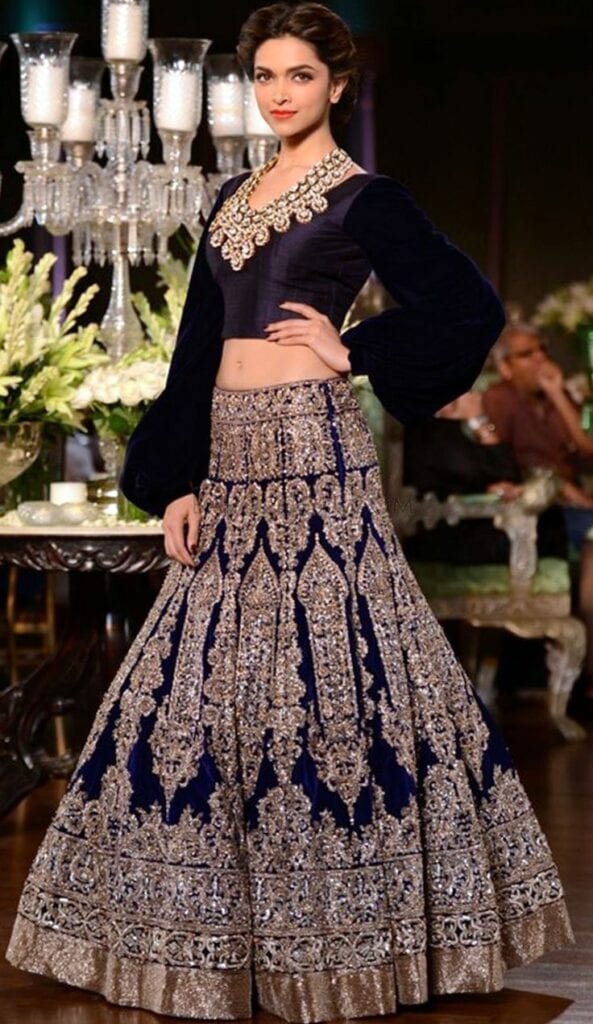 ↓ 13 – Hot Pink Designer Lehenga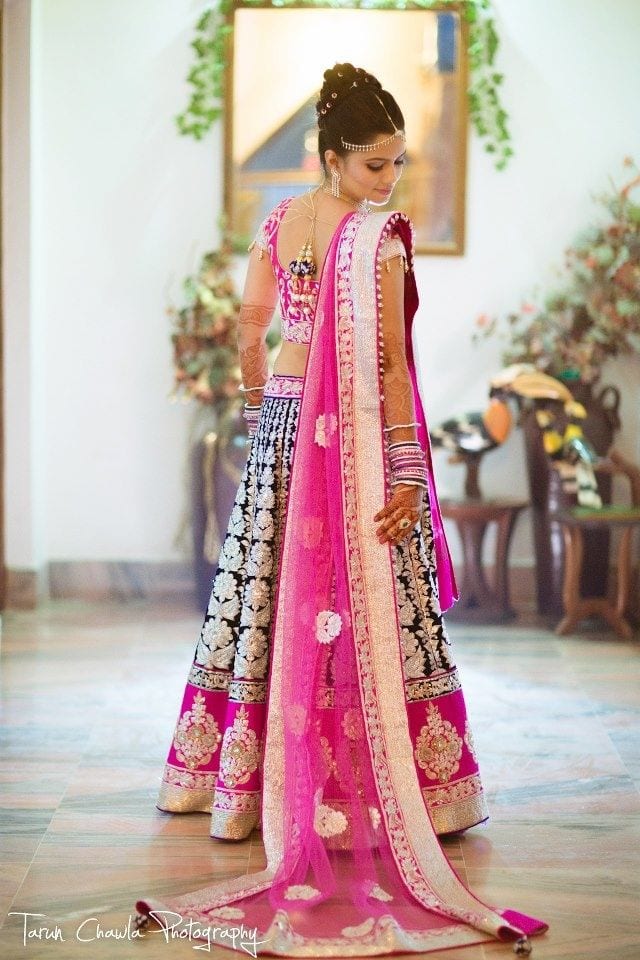 @Tarun Cahwala
↓ 12 – Red Indian Bridal Dress
RECOMMENDED: Cute Indian Couple Images-50 Cutest and Romantic Indian Couples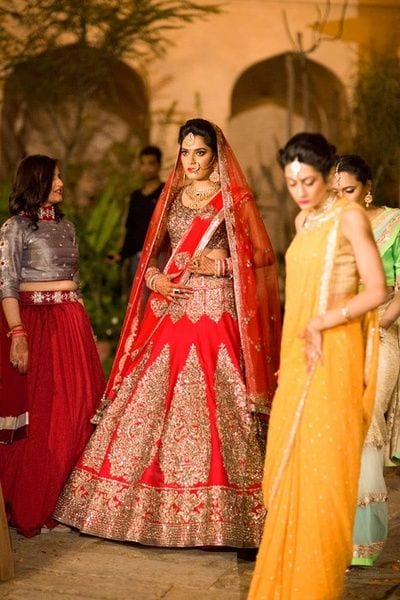 ↓ 11 – Outfit for Sangeet Night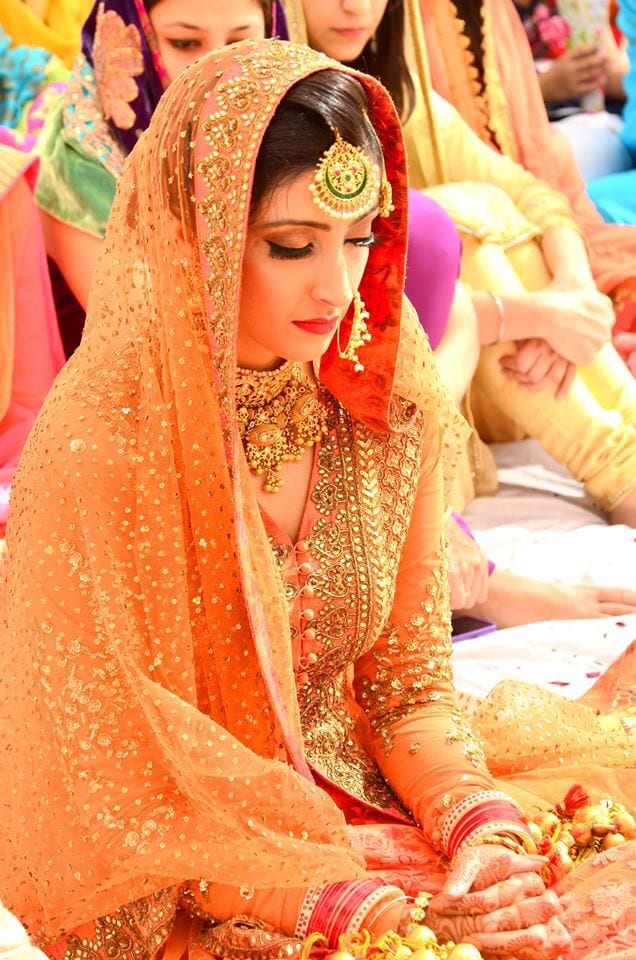 ↓ 10 – Pam Mehta Wedding collection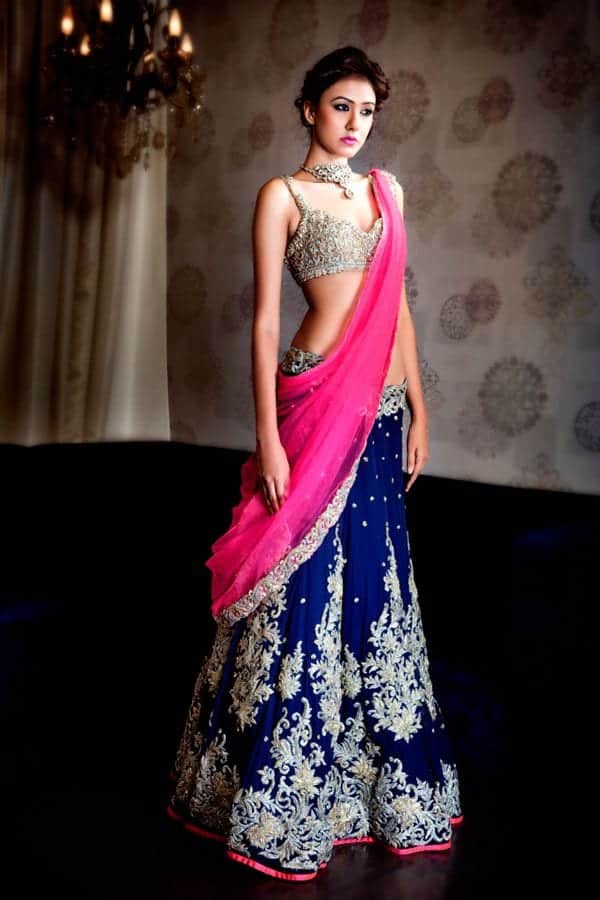 via
↓ 9 – Stylish Red Wedding Lehnga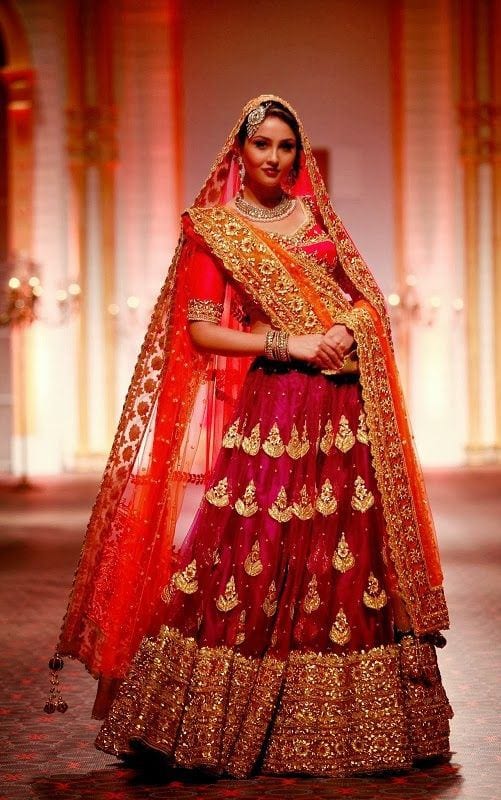 Source: www.fashionmostwanted.com
↓ 8 – Latest Indian Wedding Fashion Trends
The latest Indian fashion trends include outfits that are draped or incorporate some wrap design. For instance, have a look at this outfit by "The Label Rose", which is a Mumbai based brand. The outfit includes a stylish drape, and it can be used by both wedding guests and brides. The colours for this outfit too give off really elegant vibes with a touch of serenity – peach and gold is surely a classic colour combination that never fails.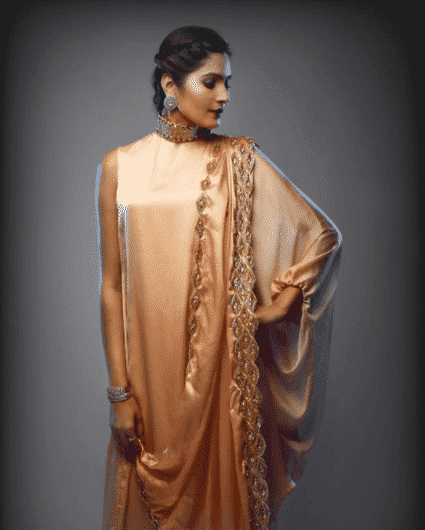 ↓ 7 – Saree for Indian Brides
When talking about Indian weddings, one can never ignore sarees. The saree for the bride has to be just the right amount of fancy and yet not too over the top. Have a look at this saree design, while the solid royal blue colour of the blouse and pallu keeps the look simple enough, the embroidered part of the border adds the bling that one needs for a wedding function. Moreover, a saree like this would always be much more economical than a fancy one that's filled with embroideries or crystal work. Here are 14 Most Elegant Saree Designs, with the best tips and ideas.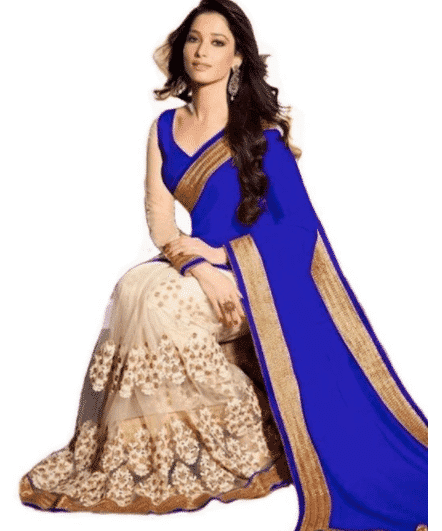 ↓ 6 – Outfit for Your Sibling's Wedding
Take cues from the gorgeous Sania Mirza who dressed up in a beautiful lehnga style gown, designed by "Varun Bahl Couture". In Indian clothing vocabulary, this is an "anarkali dress" and is usually paired with a churidar salwar. Sania Mirza looks drop-dead gorgeous as the pink and red floral motifs really compliment her. The hairstyle is also a good choice as it helps her show off her statement earrings.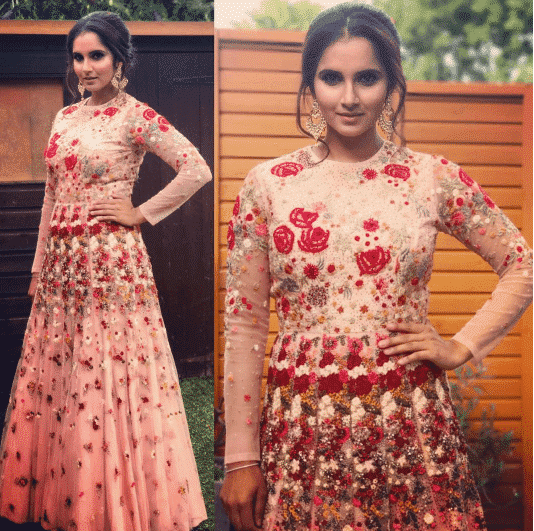 And since we're talking about sibling's weddings, here are all the looks that Sania rocked for her Sister's wedding in November 2016.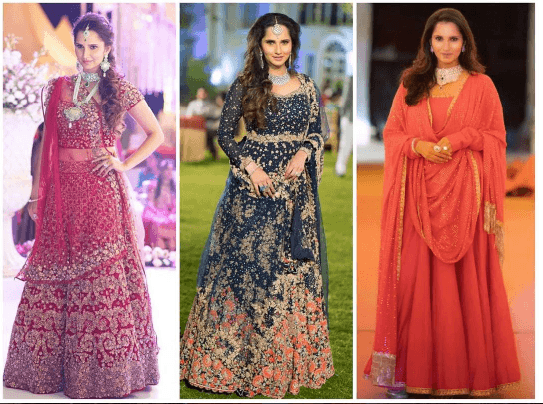 ↓ 5 – Indian Wedding Lehengas
If you're thinking of wearing a lehenga, then remember that there are several different lehenga styles, so be sure to choose one that looks best on your body shape. Here are the complete tips on How to wear Lehenga for Beginners in 10 Stylish Ways.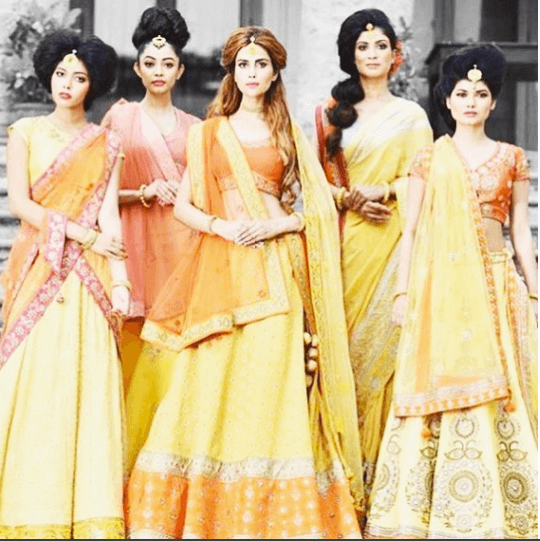 ↓ 4 – Combine Different Fabrics and Textures
It's always a good idea to go for a combination of different fabrics and textures to create a breathtaking outfit. For example, have a look at this royal outfit created by using velvet and net. Don't miss out these 20 Wedding Hairstyles for a Perfect Looking Bride.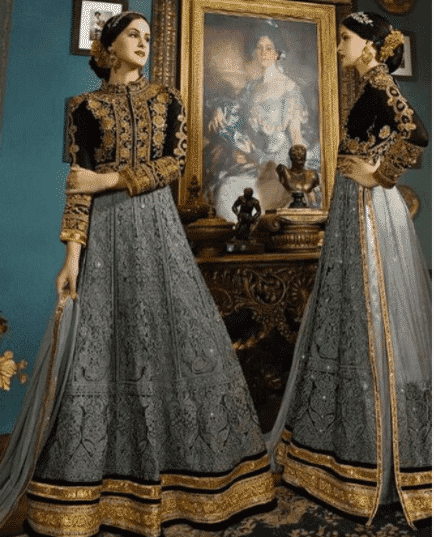 Via
↓ 3 – Lehenga Choli Outfit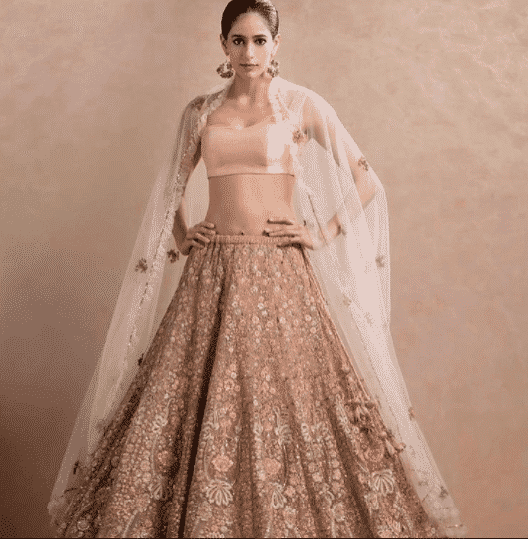 ↓ 2 – Fusion Outfits
A fusion of the West and the East always creates excellent outfits. Check out this wide-legged jumpsuit with a front cape and wing sleeves, designed by "Aashni & Co." It's perfect for any small wedding function as well as for formal wear.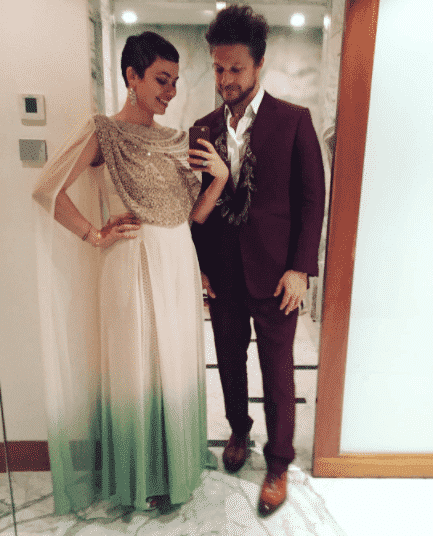 ↓ 1 – All White Outfit for Indian Wedding
White, Off-white and Ivory white is our favourite colours for the wedding season this year so do give them a try.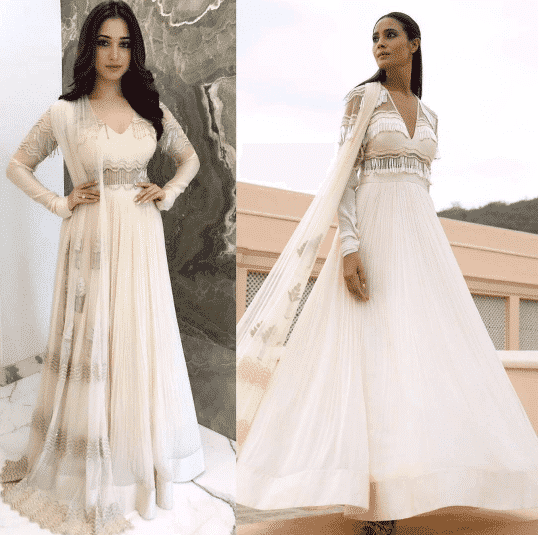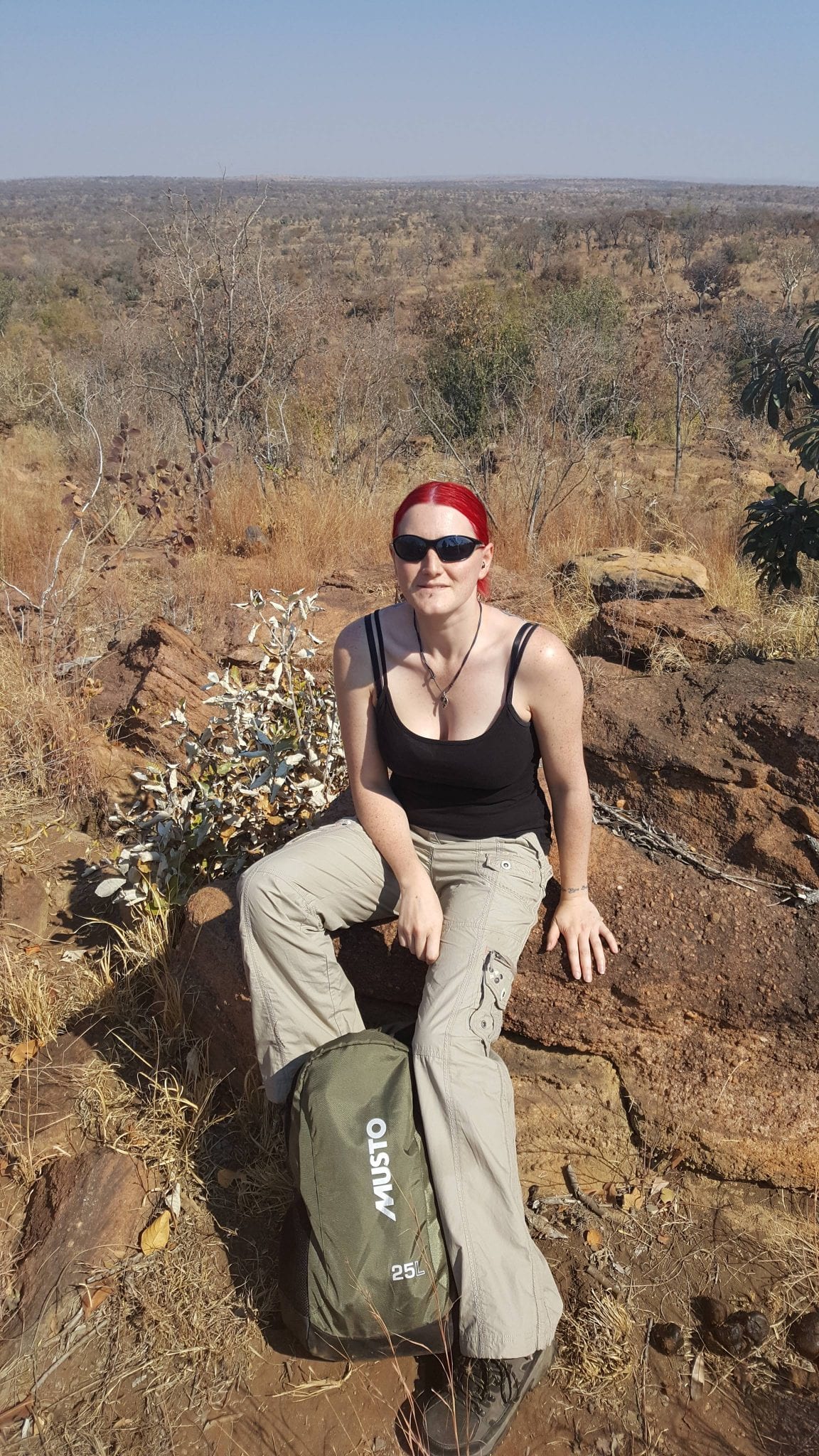 Caz, aka Vixen, has been freelance creative writing for several years. She has a lot of experience in different fields including high street fashion, tattooing art, and even the gothic and historical costumes. Caz has a Diploma in Fashion and Textiles and also a Bachelors Degree in Historical Costume and Corsetry. Her passion lies with gothic design, corsetry and any other styles considered to be taboo or unusual. Style-wise Caz has a love for Vivienne Westwood and her take on the punk era. Although Caz loves the weird and wonderful, she has a deep love for all fashion and allows this to show through her work.