What Shoes Look Best with Leggings. It seems that every girl loves wearing leggings, including celebrities. The best thing about leggings is of course that you can wear them in every season but they work best in Fall and Winter. And since Fall is just around the corner, we bring you some awesome styling ideas for your leggings.
It's hard to understand the best ways to wear leggings and wearing the wrong shoes with your leggings can ruin your day. So if you want to find out what shoes you need to wear your favourite leggings this season, read on!
How to Wear the Right Shoes with Leggings
Leggings are a life-saver for most of us as we can always rely on them, especially when a trip to the salon is due! They are so versatile that you can easily pair them up with anything in your closet to create a whole new look. Moreover, they are probably the easiest clothing item to dress up and down. We've already discussed in our earlier post, Legging Outfits & Bloggers Approved Looks, so today it's going to be all about the shoes to wear with leggings. As always, starting off with some general tips:
When wearing a dress in a bright or bold pattern, both your leggings and shoes need to be kept simple. A good option here can be nude heels, pumps or mules.
If your dress or top and leggings both are in a more subtle color, you can add a pop by going for bright colored shoes. You can even go for funky printed or animal print shoes.
With legging outfits, avoid wearing the same color from head to toe. A fun way to dress up here is by using different tones. For example, if you're wearing a light blue top or dress, you can choose shoes and leggings in a darker tone of blue, like cobalt blue or even turquoise.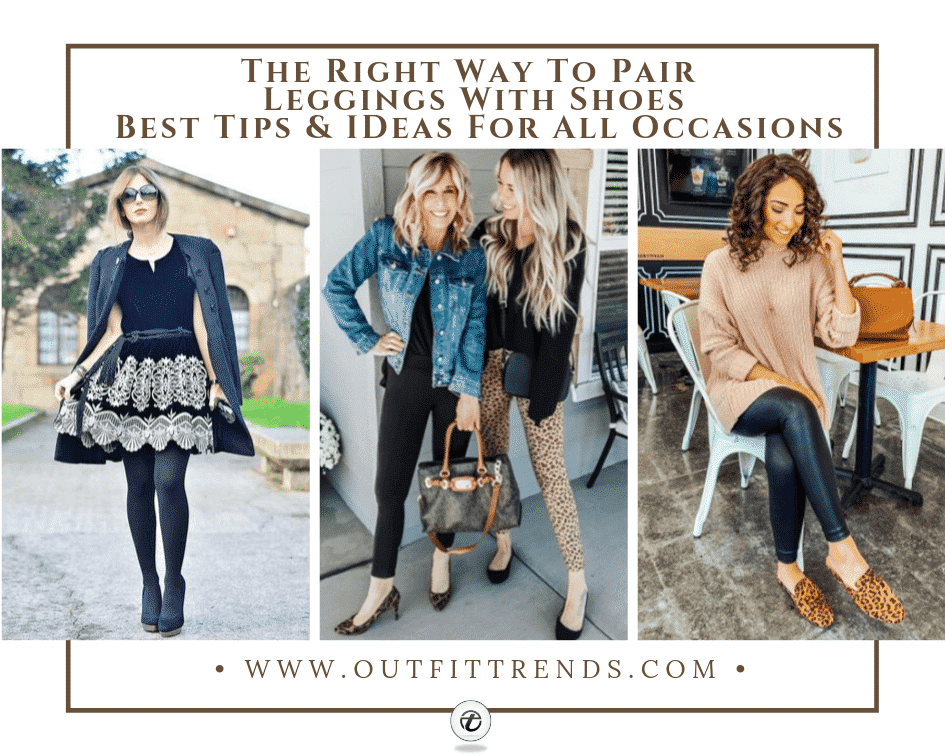 ↓ 20 – Biker Shoes with Leggings
If you're the kind of girl who wants to look both sporty and chic then this is the look you need. An elegant blouse with biker shoes. A perfect biker-diva kindof look!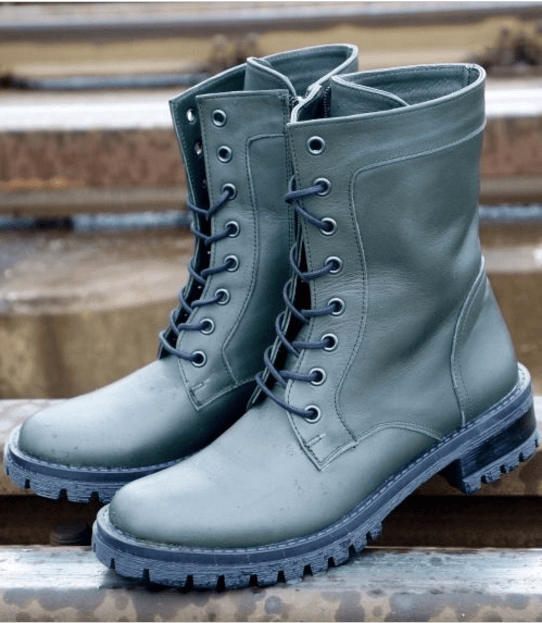 Via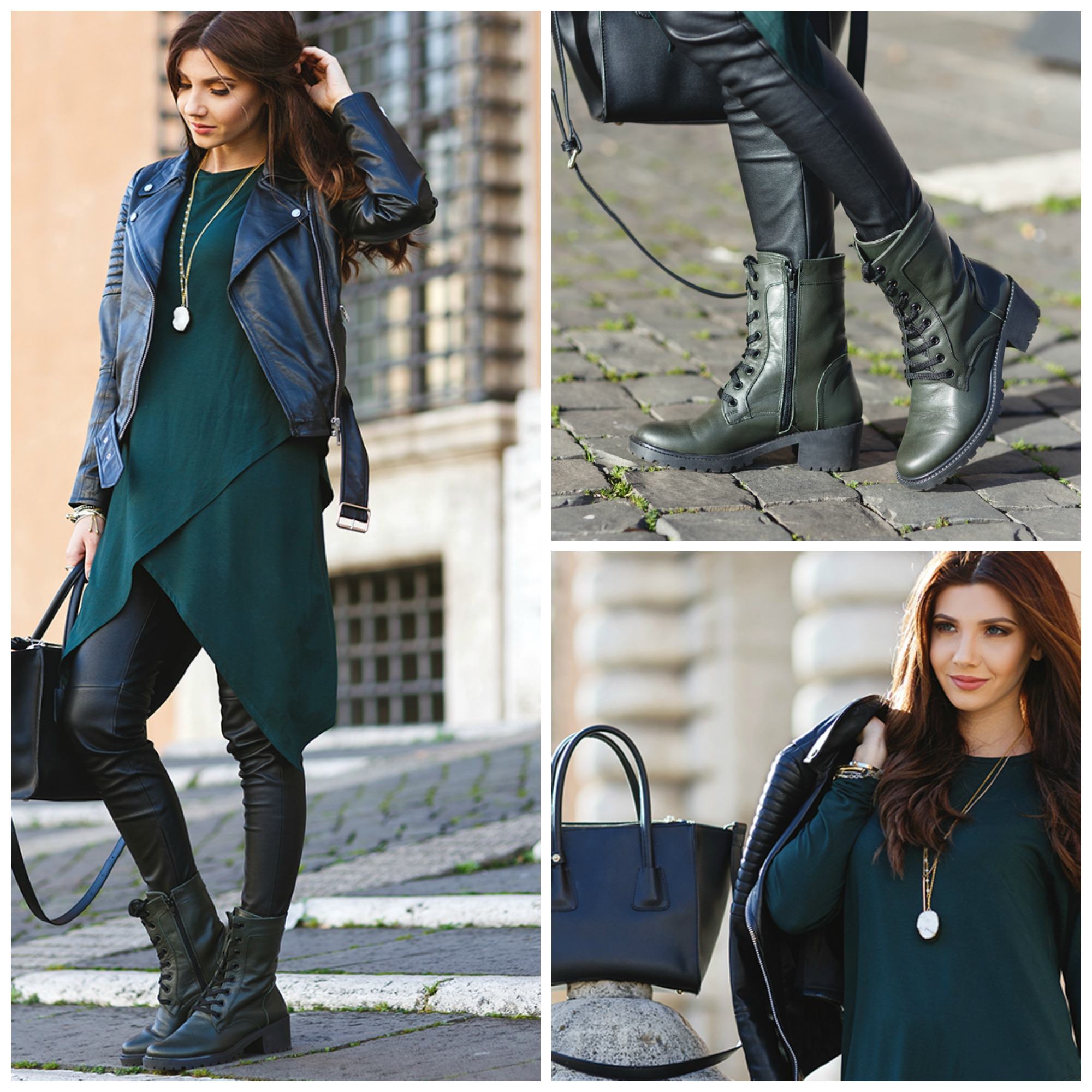 ↓ 19 – Leggings with Platform Heels for Short Girls
If you want to add a few inches to your height then these are the best shoes to get this year! For more ideas, here are some practical and easy to follow Fashion Tips to Look Taller.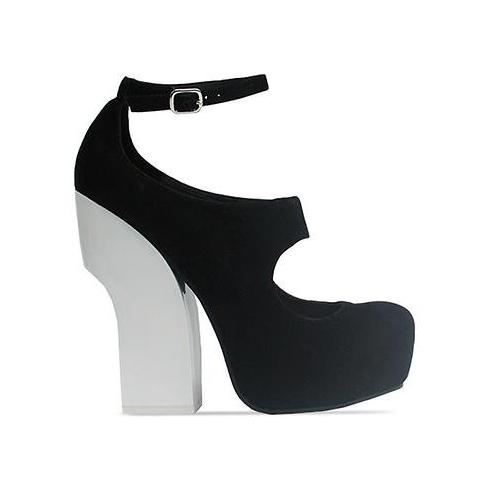 Via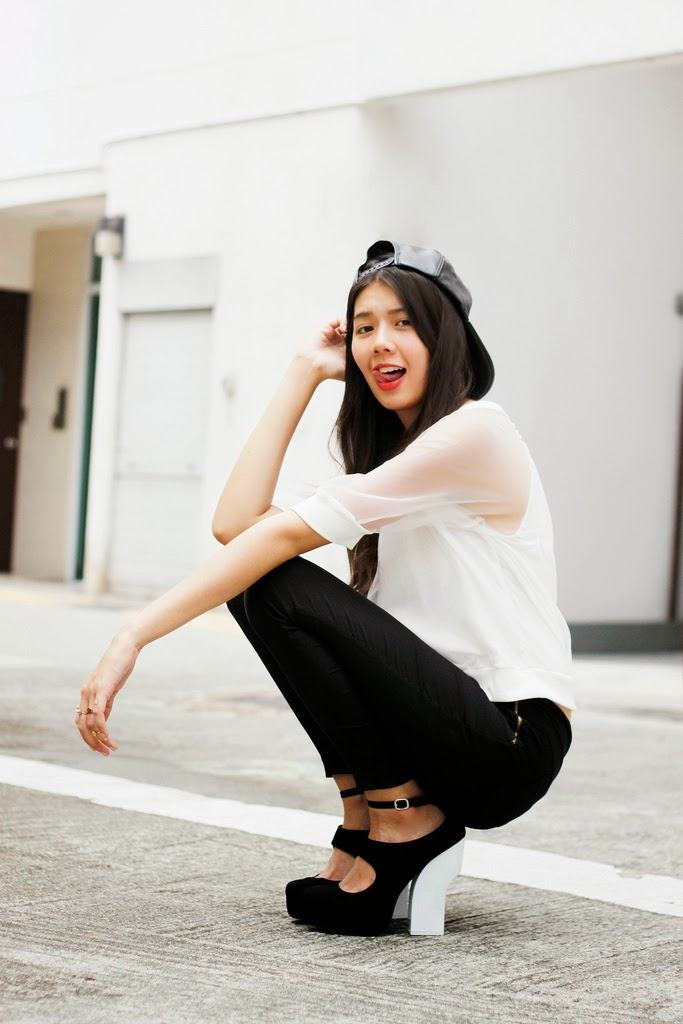 ↓ 18 – Leggings for Curvy Girls
If you're a curvy girl who loves to wear leggings then wedges are the shoes you need. Pair these cool orange wedges up with a sequin top and leggings for the ultimate girl's night out look. Check out our exclusive collection of Legging Outfits for Plus Size Women.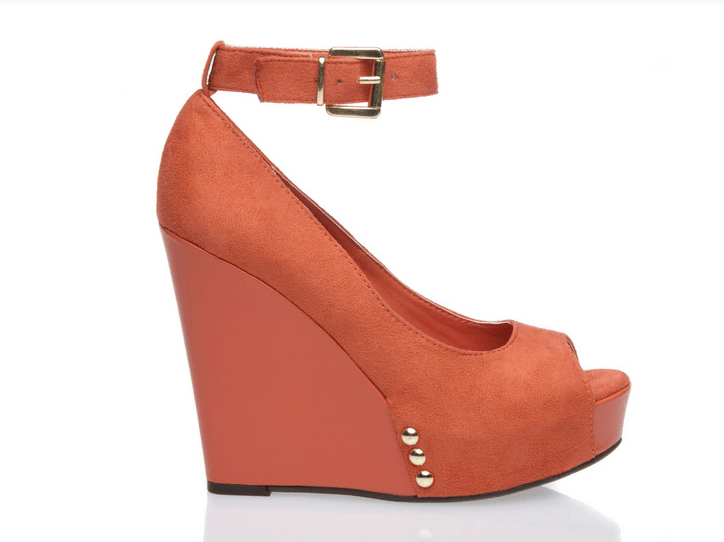 ↓ 17 – Leggings and Court Shoes for Date
Whether it's a date night or just morning coffee with your partner, this outfit and shoe combo won't let his eyes move away from you. A sexy pink blouse, lace leggings, and glittery court shoes are all you need for the most romantic date ever!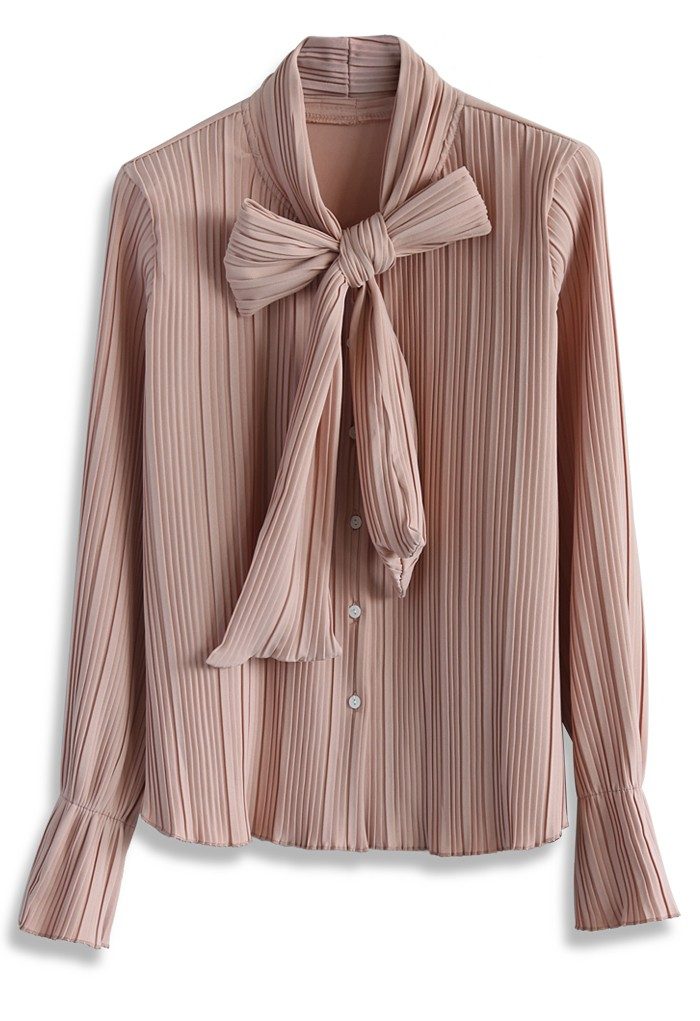 Via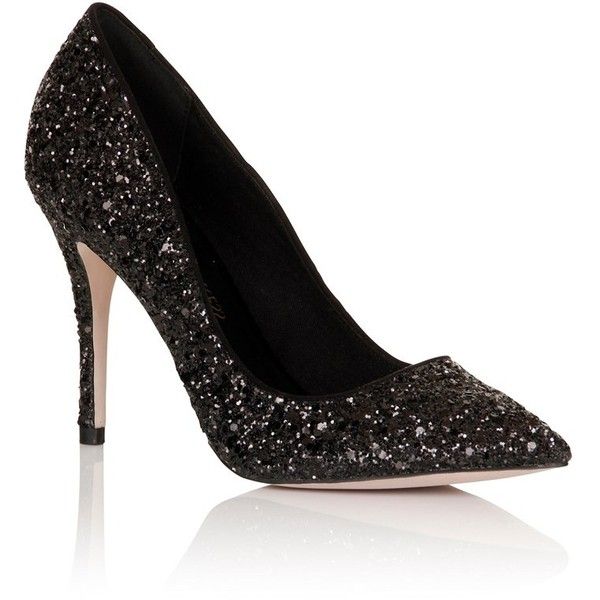 Via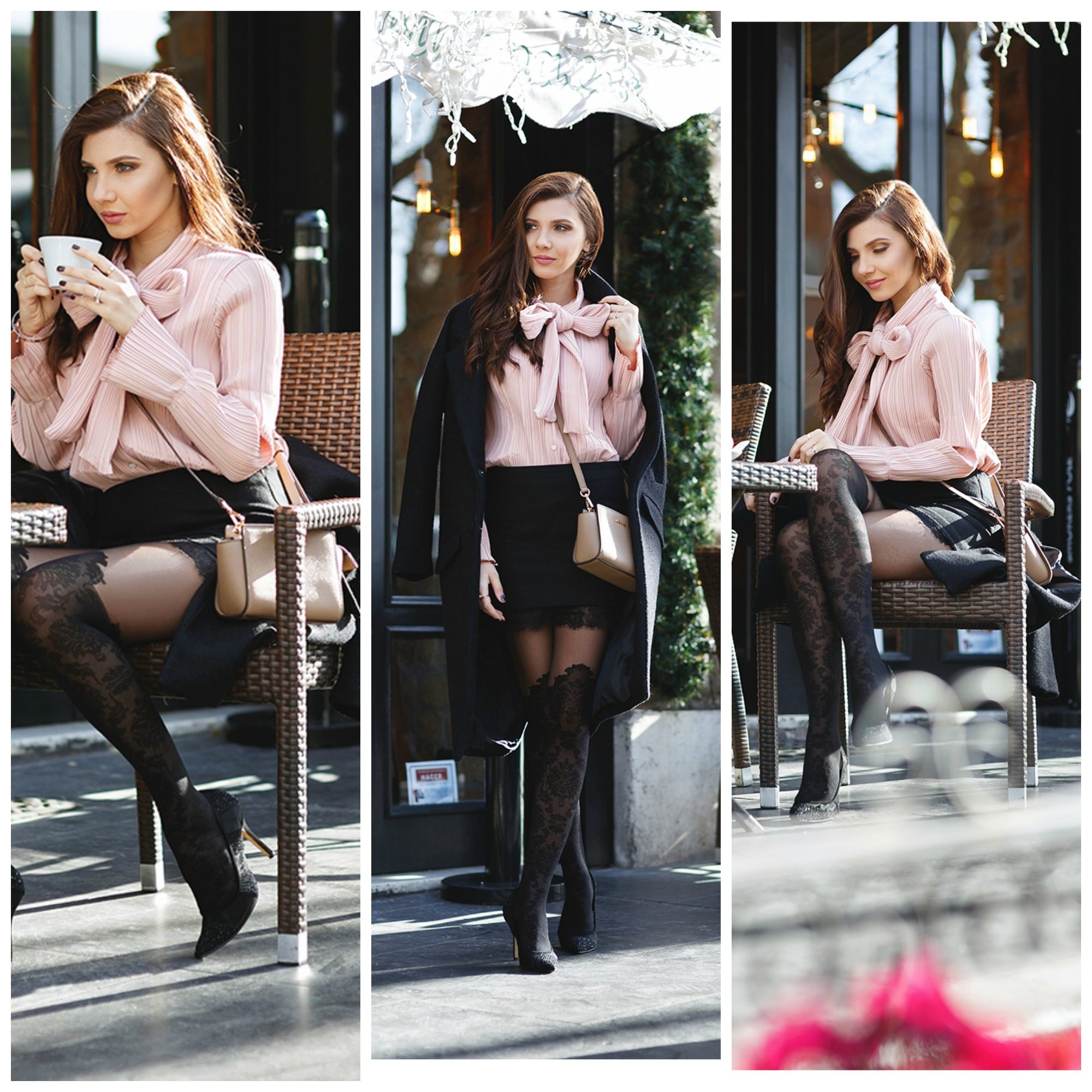 ↓ 16 – Leggings with Pumps
Pumps of all sorts go incredibly elegantly with leggings. The choice of pumps will, of course, depend on not only your outfit but also the occasion that you're dressing for. For casual work-wear, flat and comfortable pumps are the best choice as you can wear them all day long without having to compromise on style or comfort.

↓ 15 – Leggings with Booties for Mummies
Black leggings and black booties are another iconic combination that you can wear any day and at any time! In Fall and Winter, they look particularly good when paired with a plaid shirt.

↓ 14 – Leggings with Sweater and Sandals
For those lazy Fall days when you don't feel like putting in a lot of effort! Just hop in your comfy sweater and pair it with flat sandals.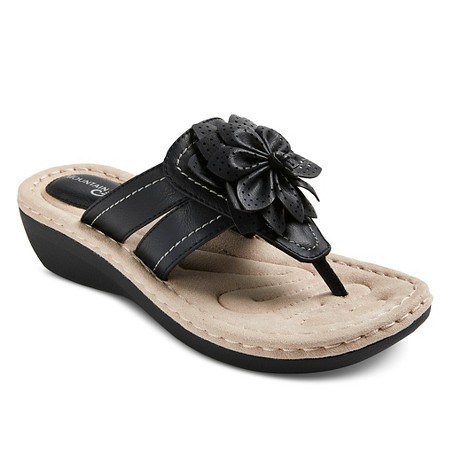 Via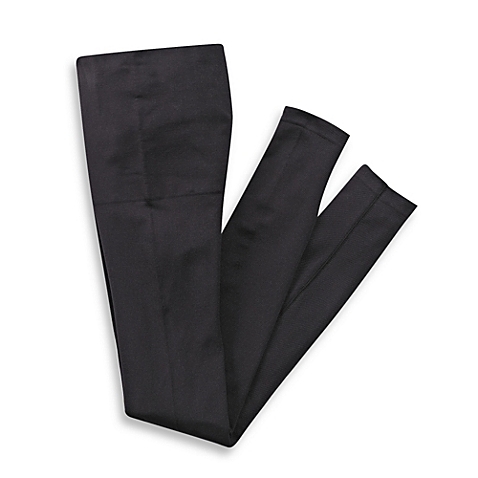 Via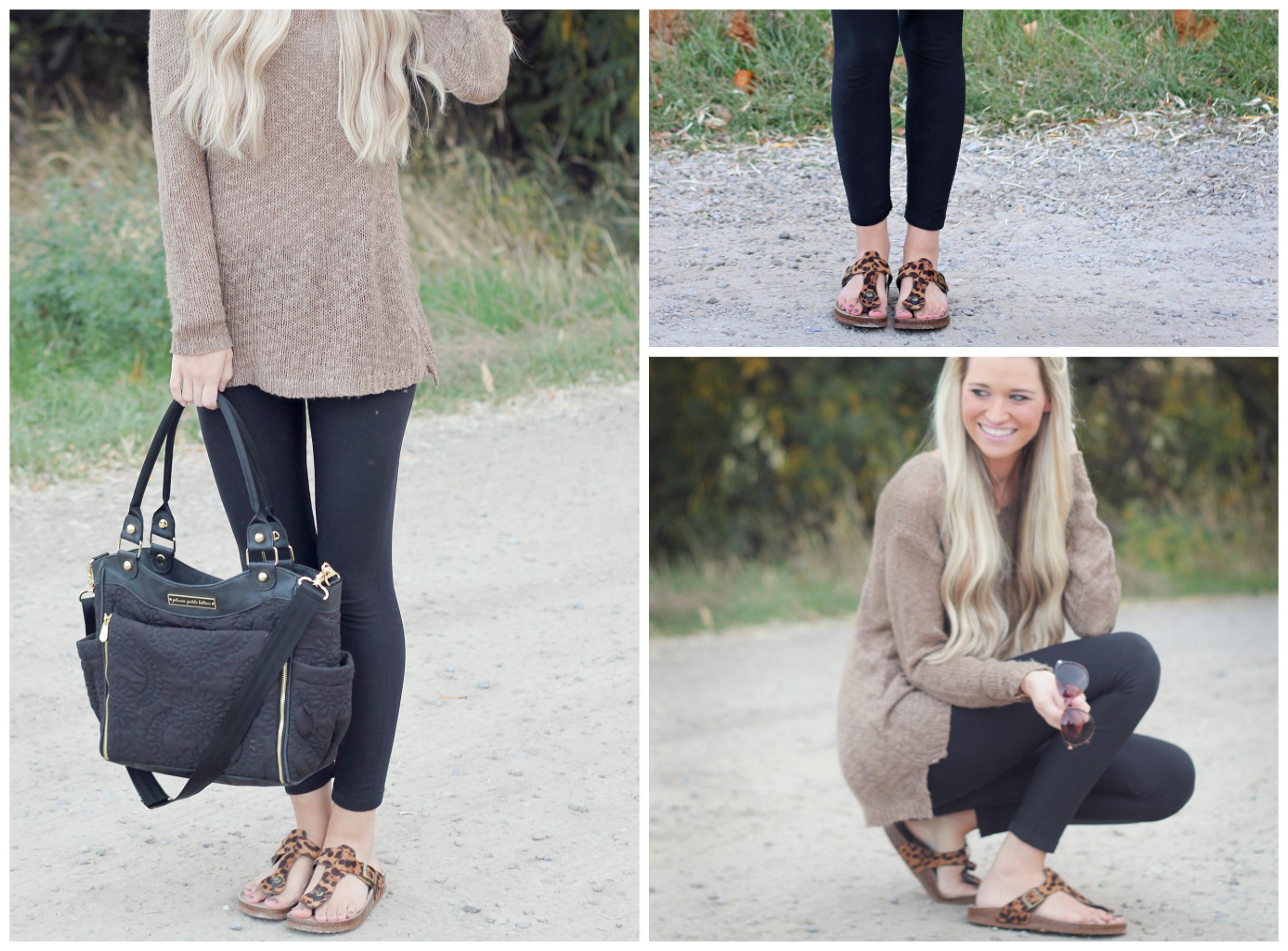 ↓ 13 – Floral Leggings with Sneakers
You probably know that floral leggings are a huge trend this year. I recommend investing in at least 2 to 3 good quality floral leggings, preferably in a neutral base color like black as they're easier to mix and match with other outfits. If you're comfortable with mixing different prints, then try wearing your floral leggings with polka-dotted shirt or shoes, you'll definitely love this look. And find below another one of our favorite combinations, created with floral leggings that you can literally wear in any season.
Imagine combining these white sneakers: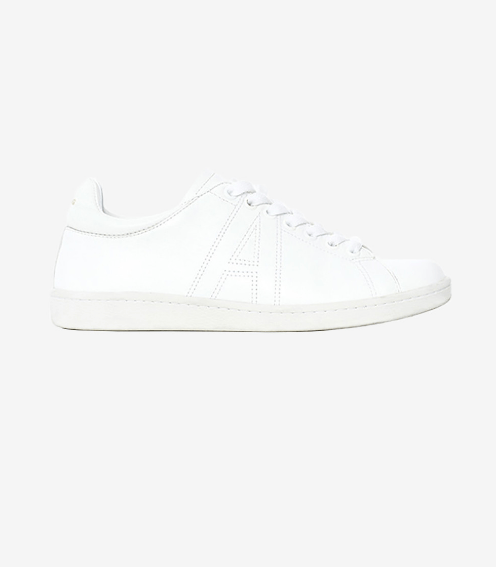 With a plain top: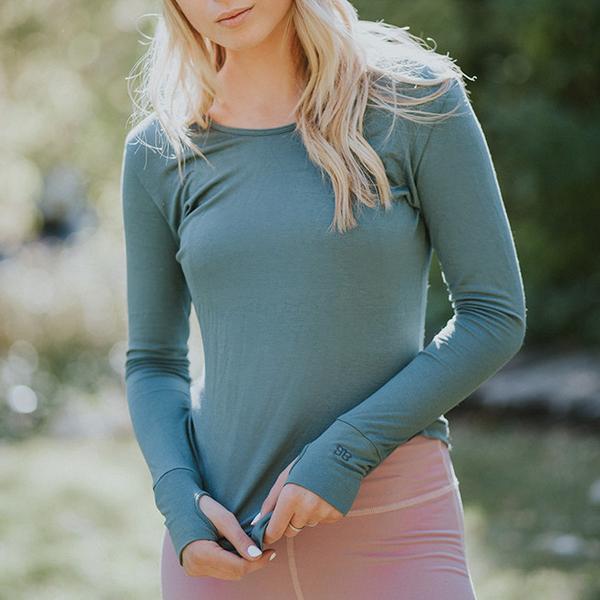 Via
And these beautiful floral leggings: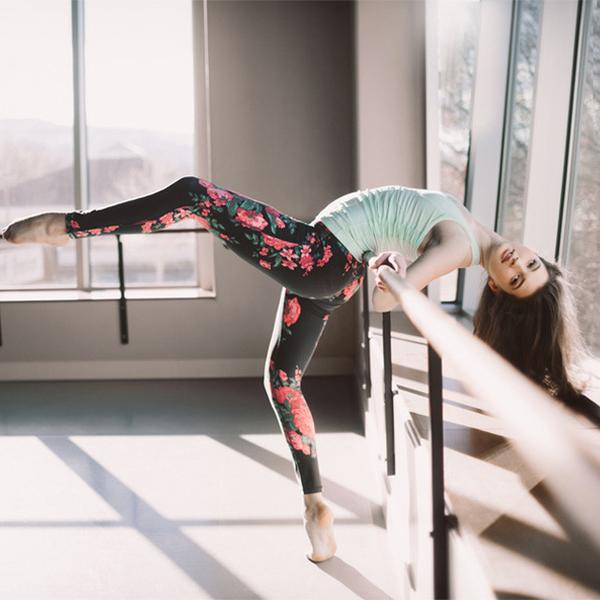 Here's the awesome result you get! Isn't it simply adorable!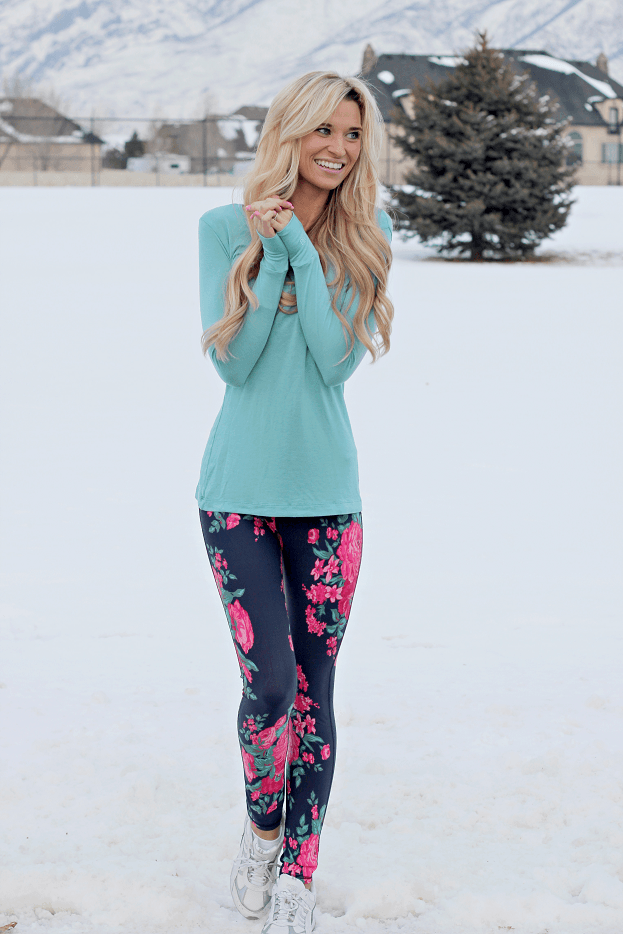 In case you don't have floral leggings, these sneakers look equally awesome with black Capri leggings, check them out: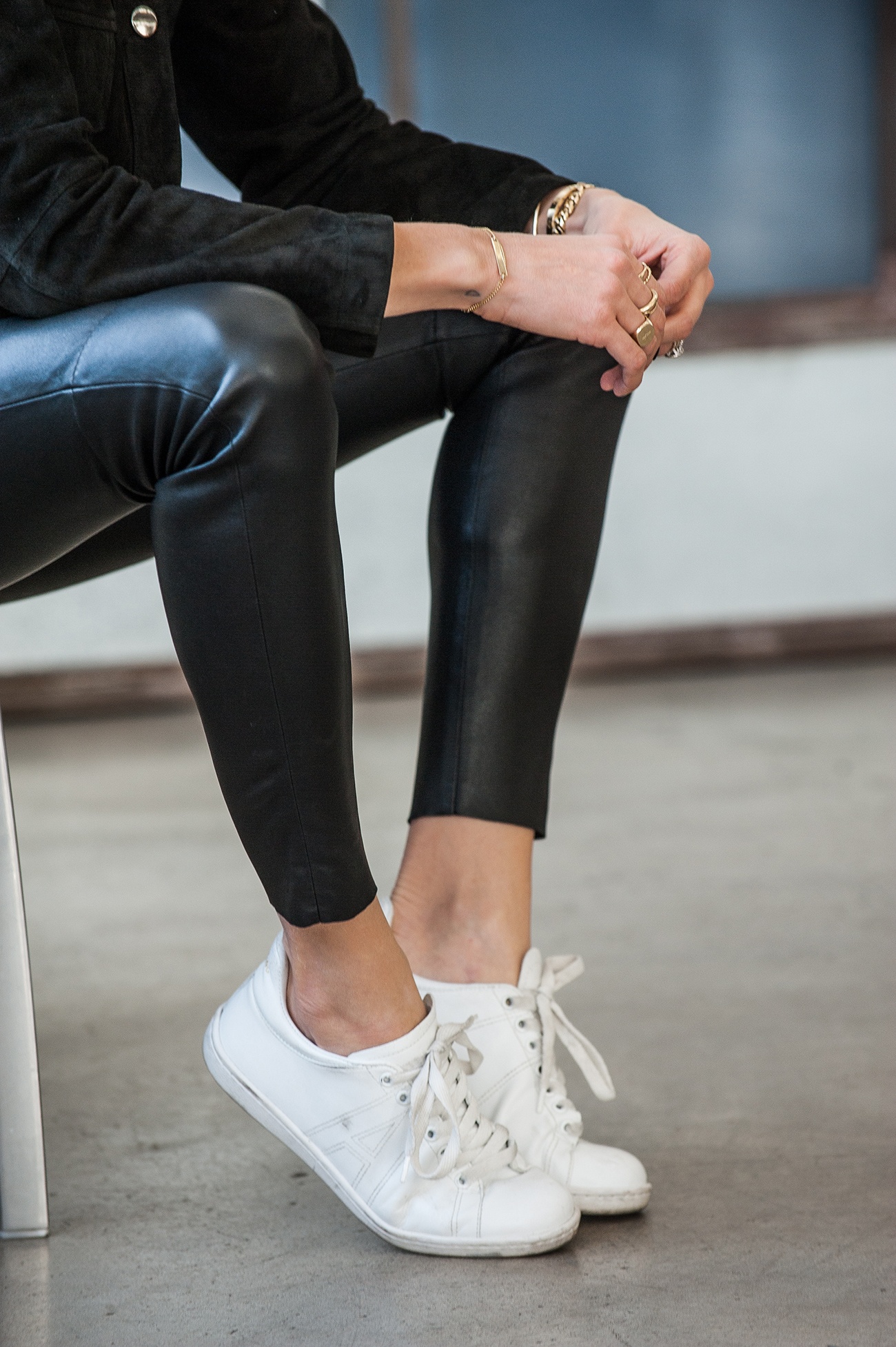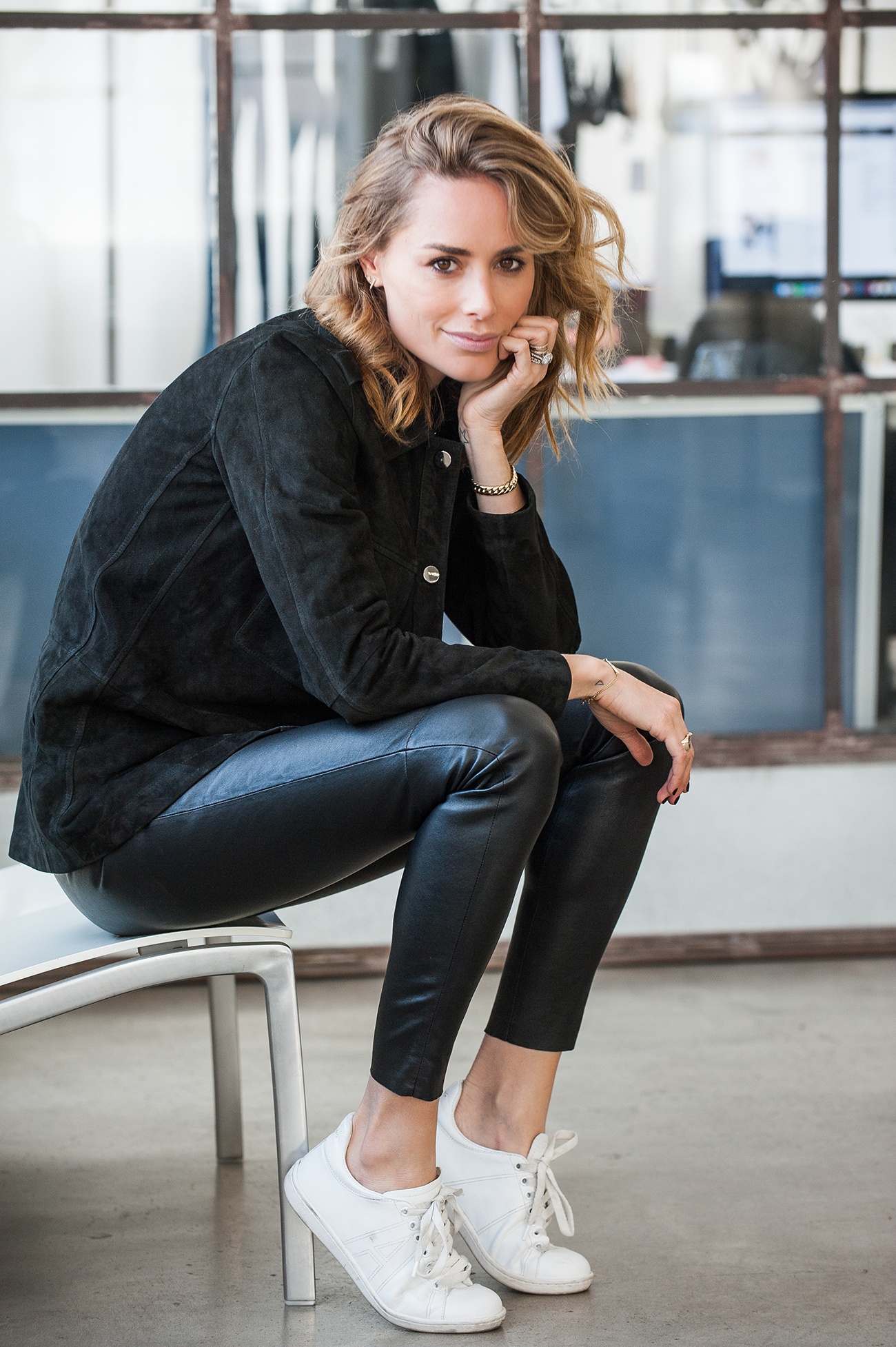 ↓ 12 – Hunter Boots with Leggings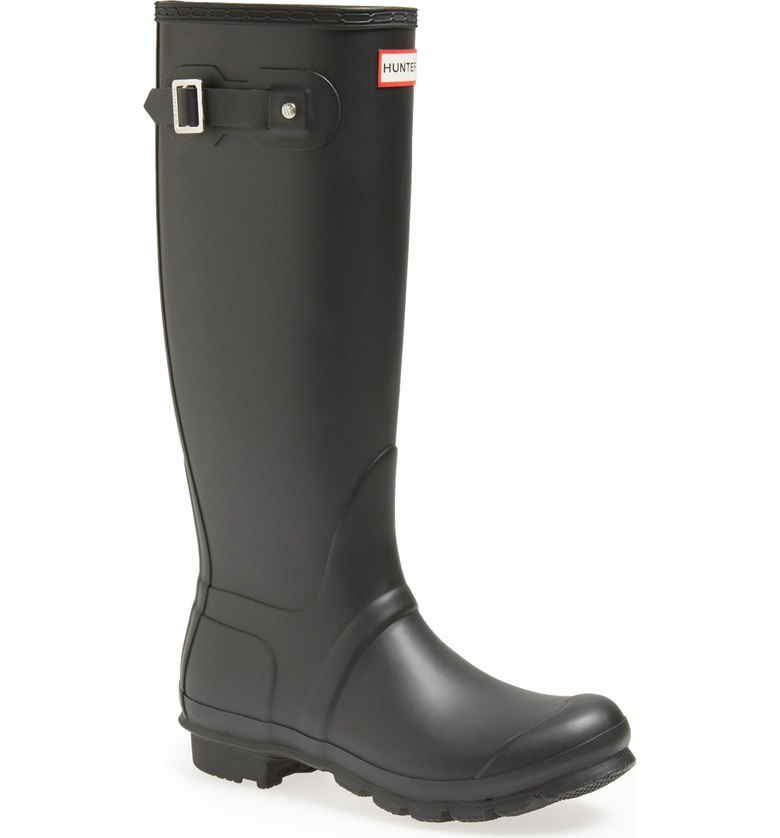 ↓ 11 – Leggings and Jordan Shoes for Camping/Hiking
Here are your camping essentials for the weekend:
1. A V Neck Tank Top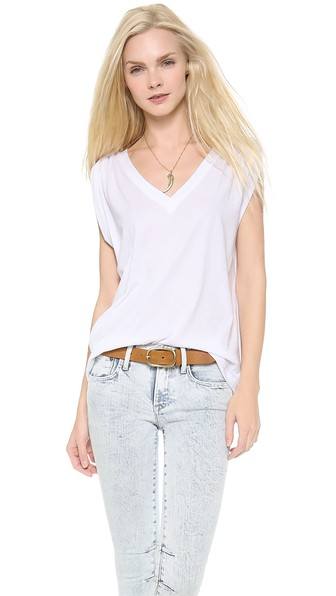 2. A long sleeve jersey to tie around your waist.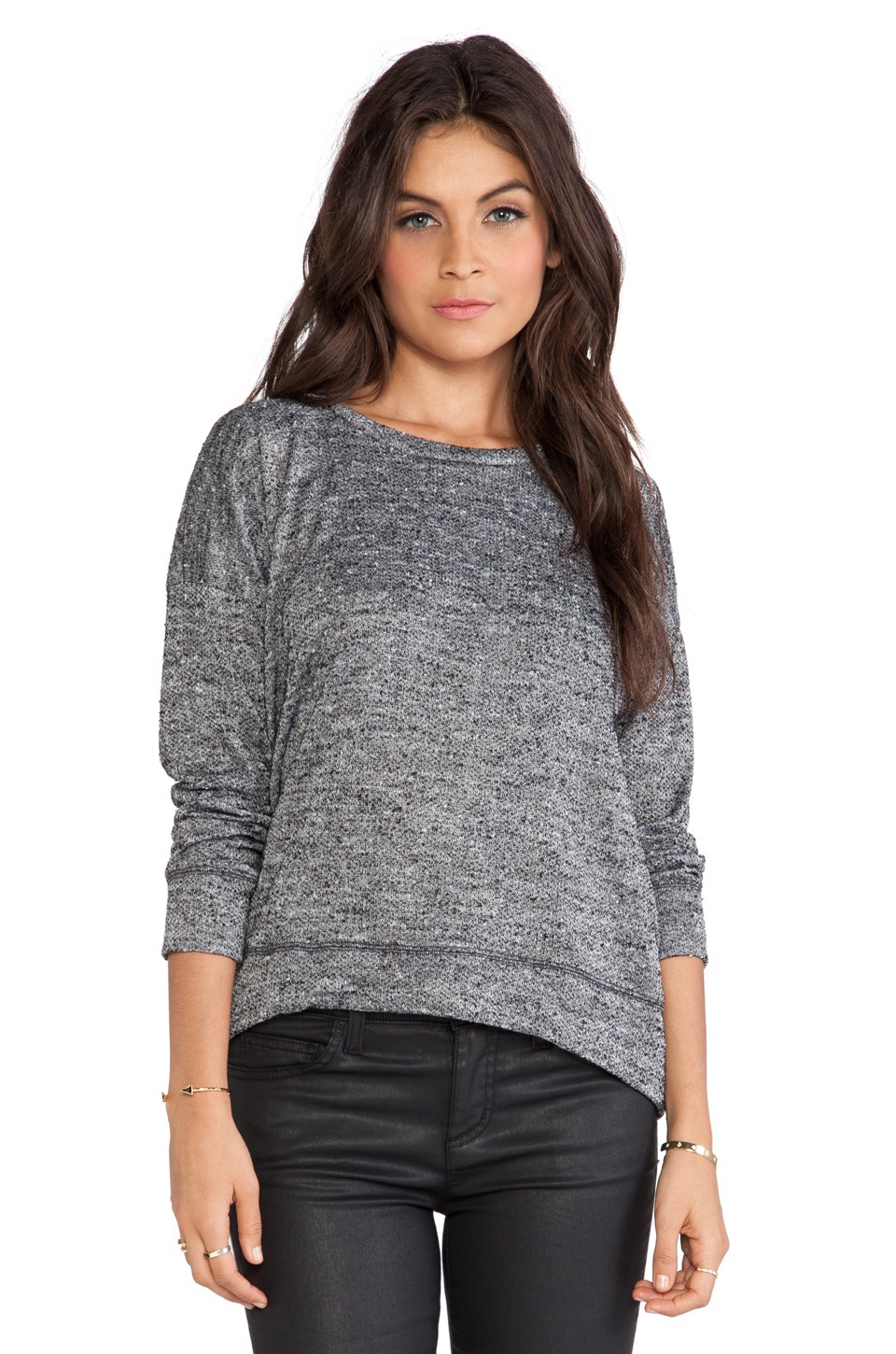 3. Nice Elastic Leggings
4. And a Pair of Jordan Shoes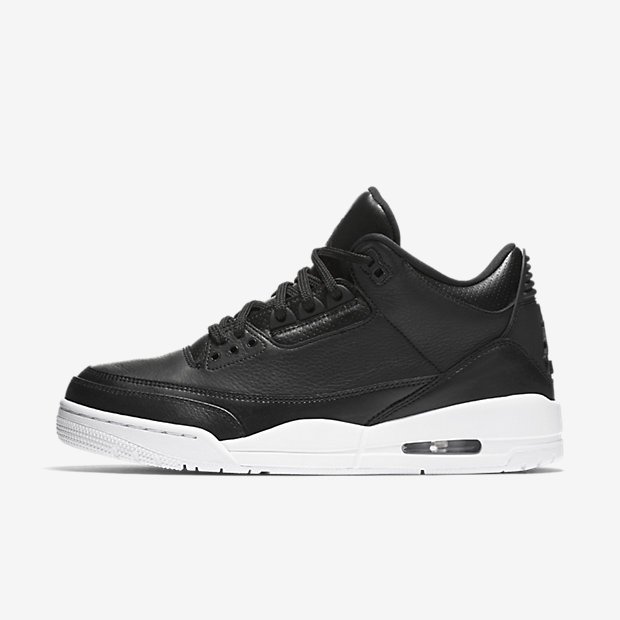 Via
And you're all set for a fun-filled trip in style!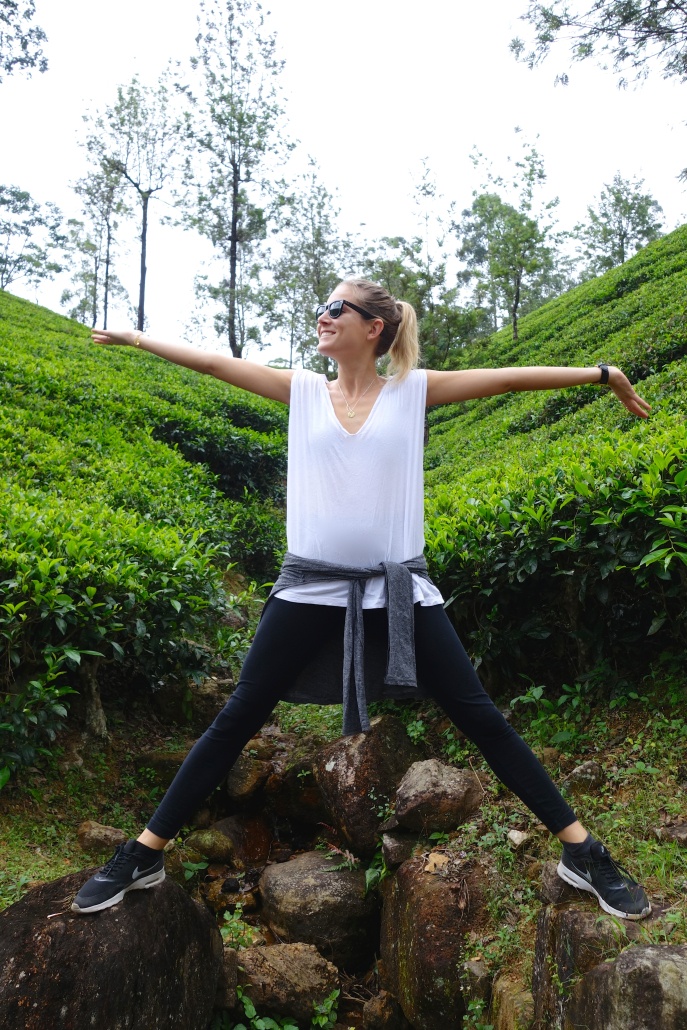 ↓ 10 – Leggings and Shoes for Workout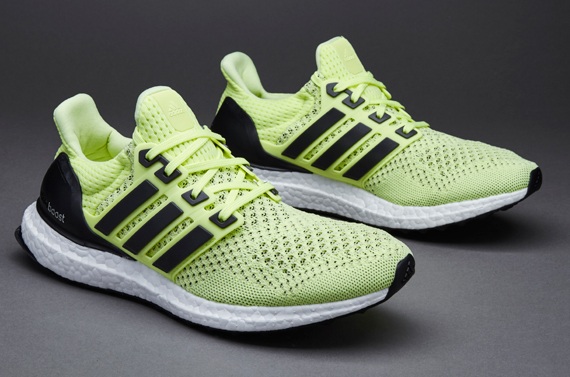 Via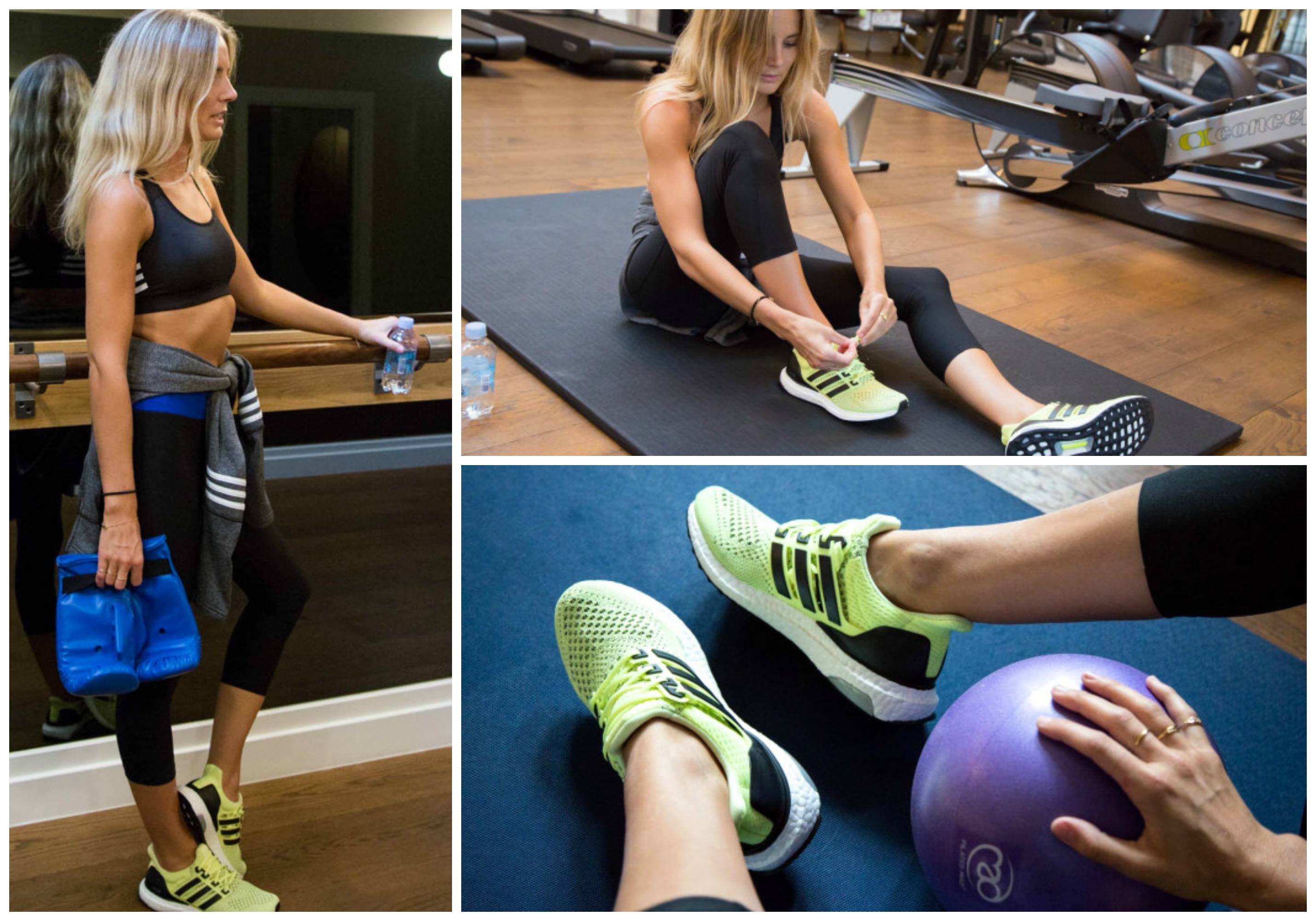 ↓ 9 – Leather Leggings with Pointy Toe Pumps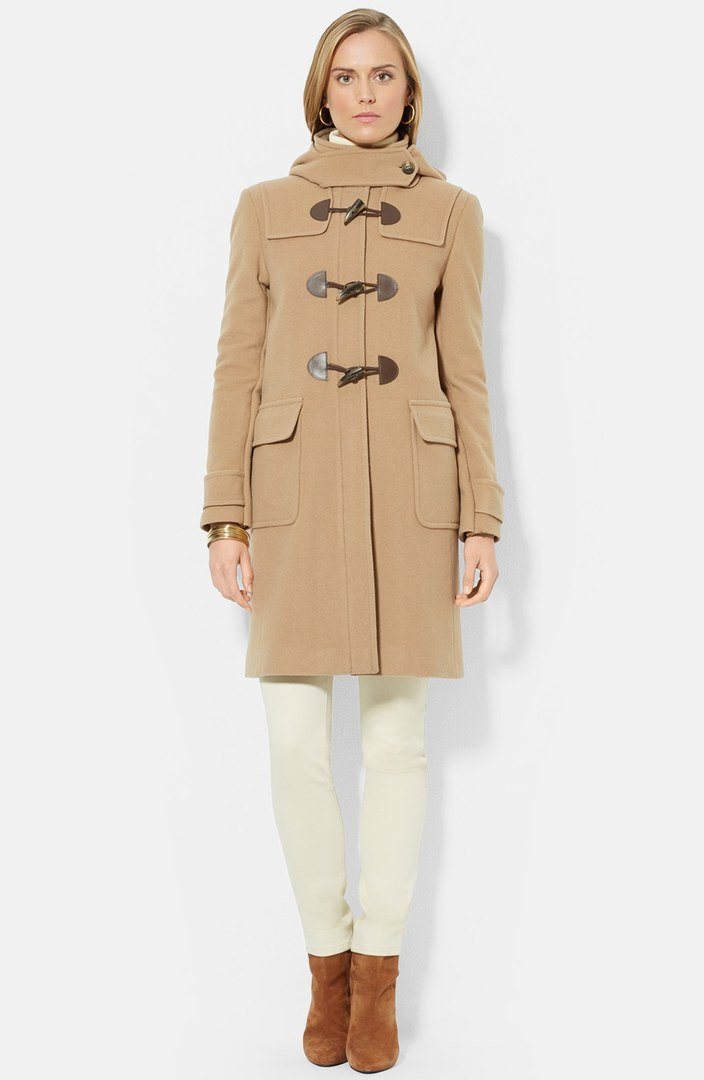 ↓ 8 – Leggings with Suede Boots for College in Winters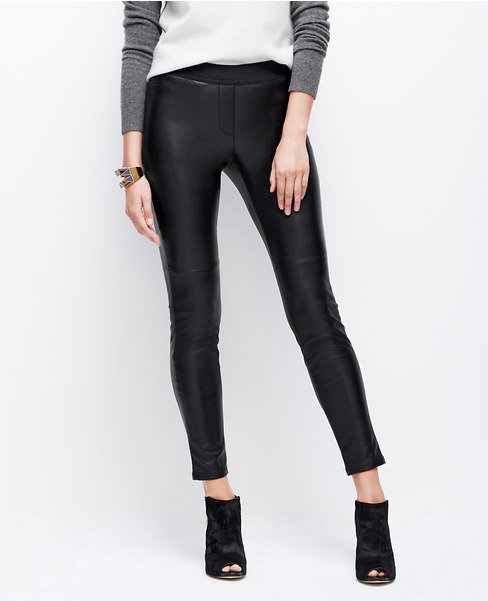 Via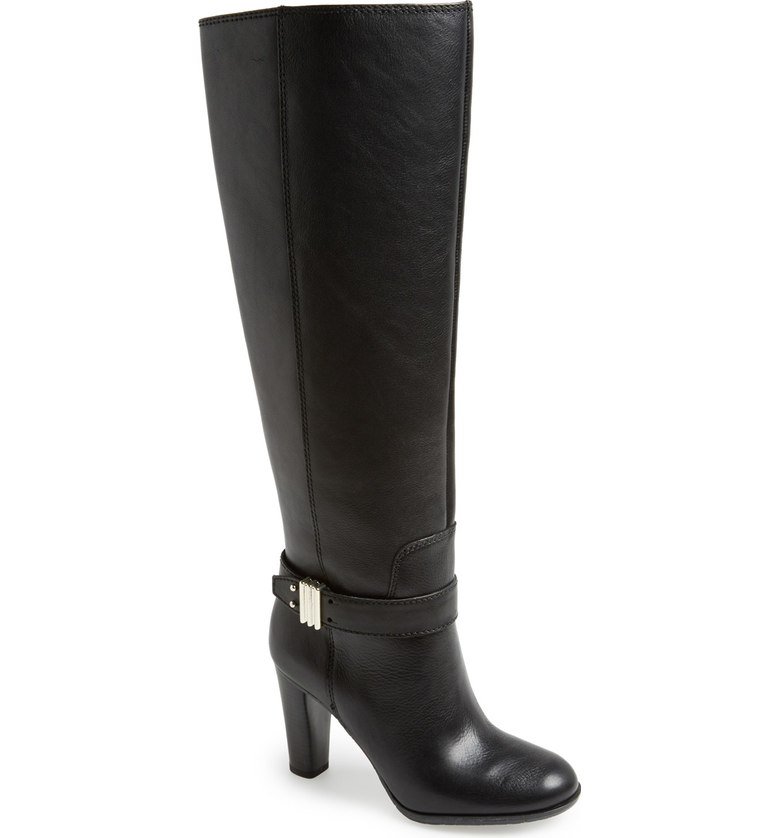 ↓ 7 – Leggings with Ankle Strap Heels in Fall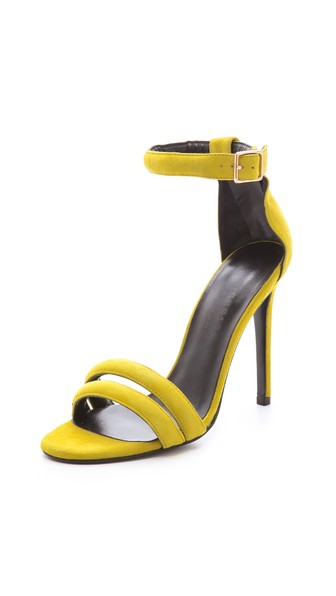 Via
↓ 6 – Leggings with Ankle Boots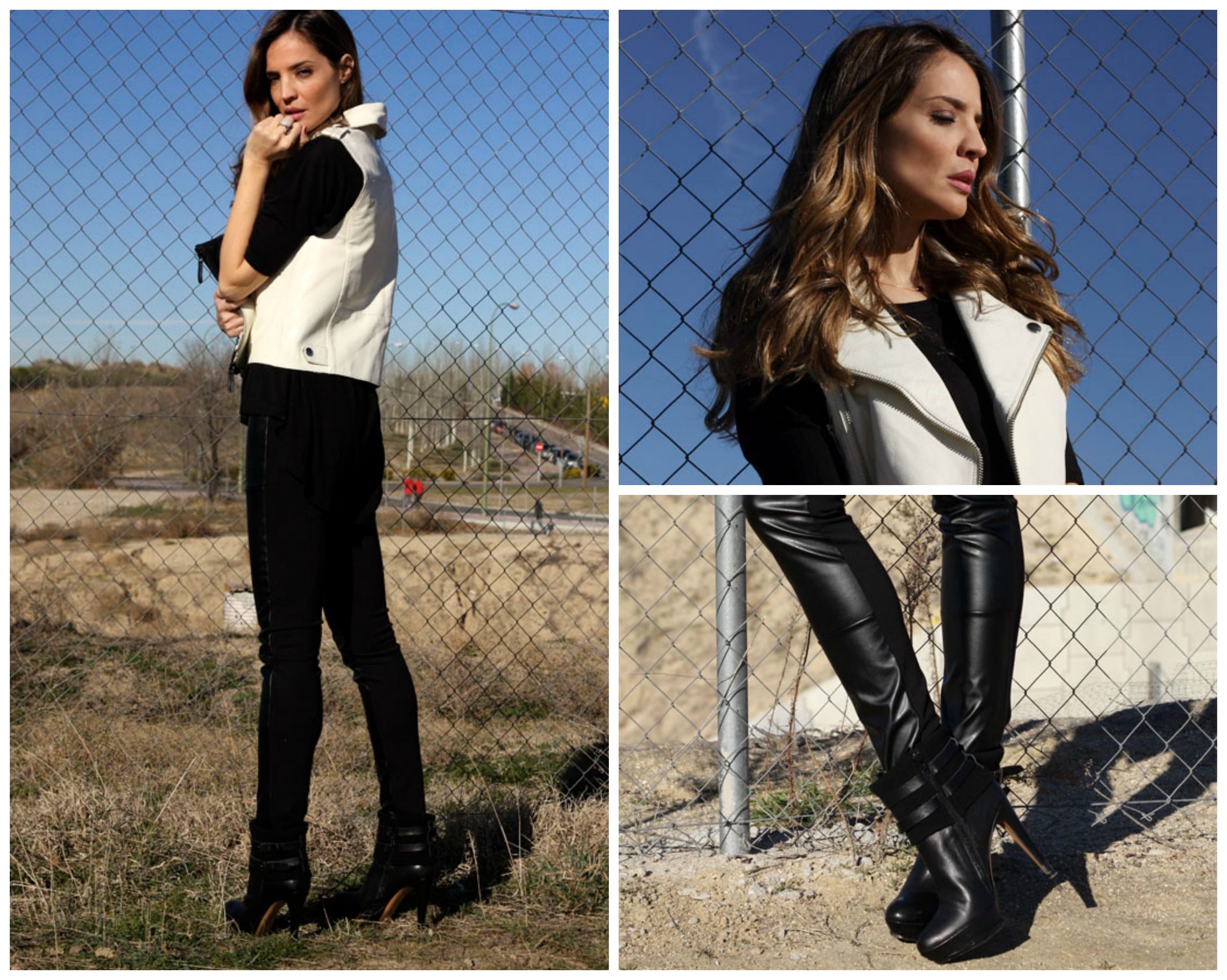 ↓ 5 – Leggings with Ballerina Flats
ANINE BING Collette leo ballerinas: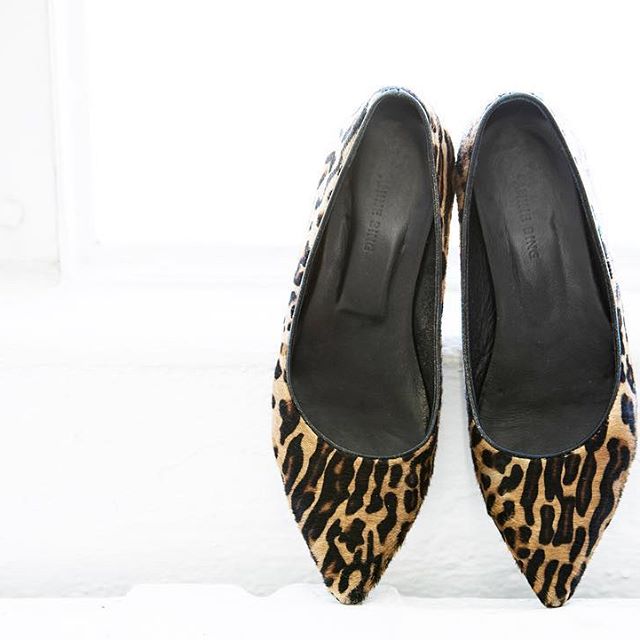 Los Angeles sunglasses:
Leather Leggings:
Via
Casual Tee: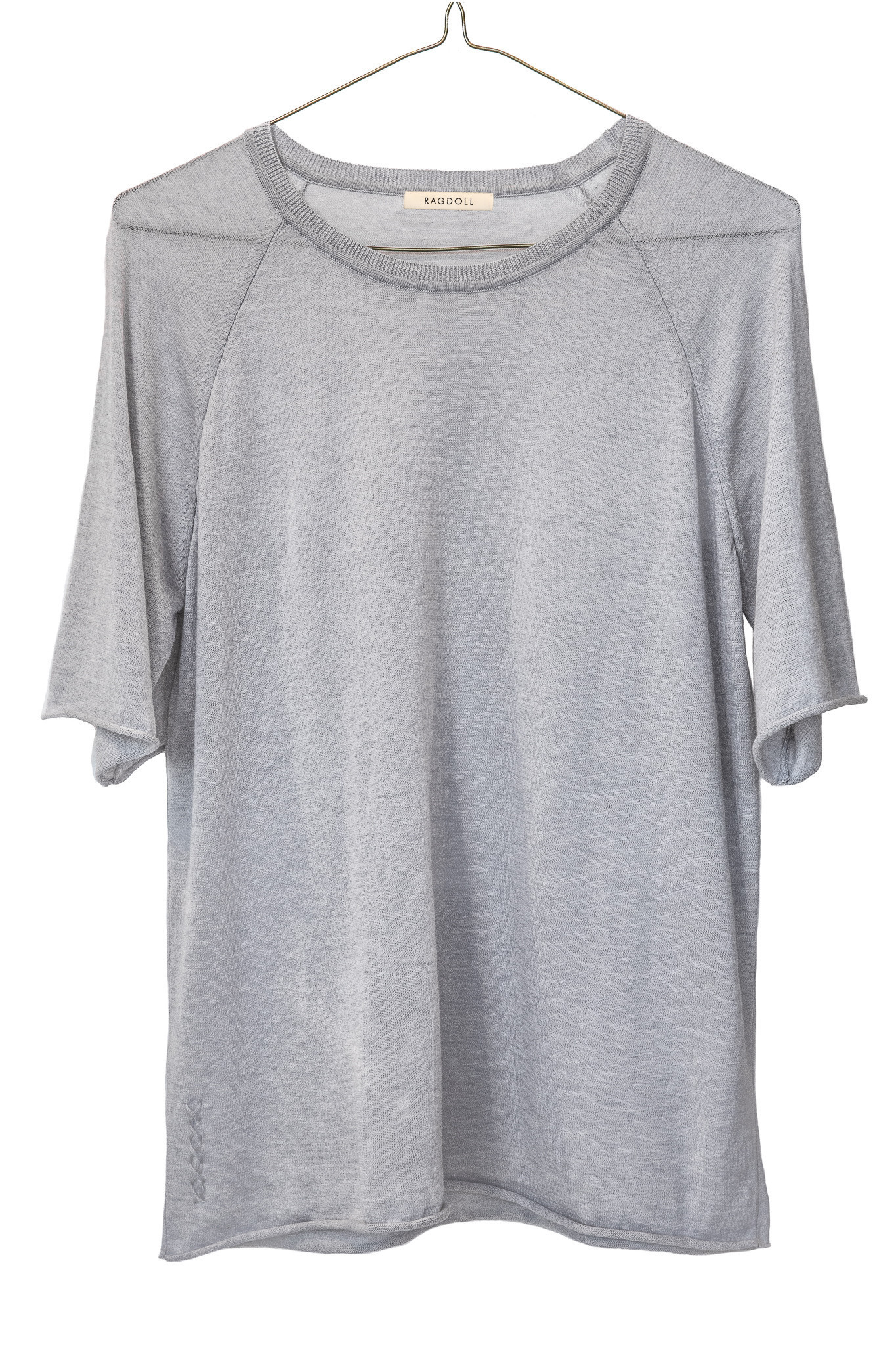 Via
And here's the mind-blowing swag look you get by combining all of these: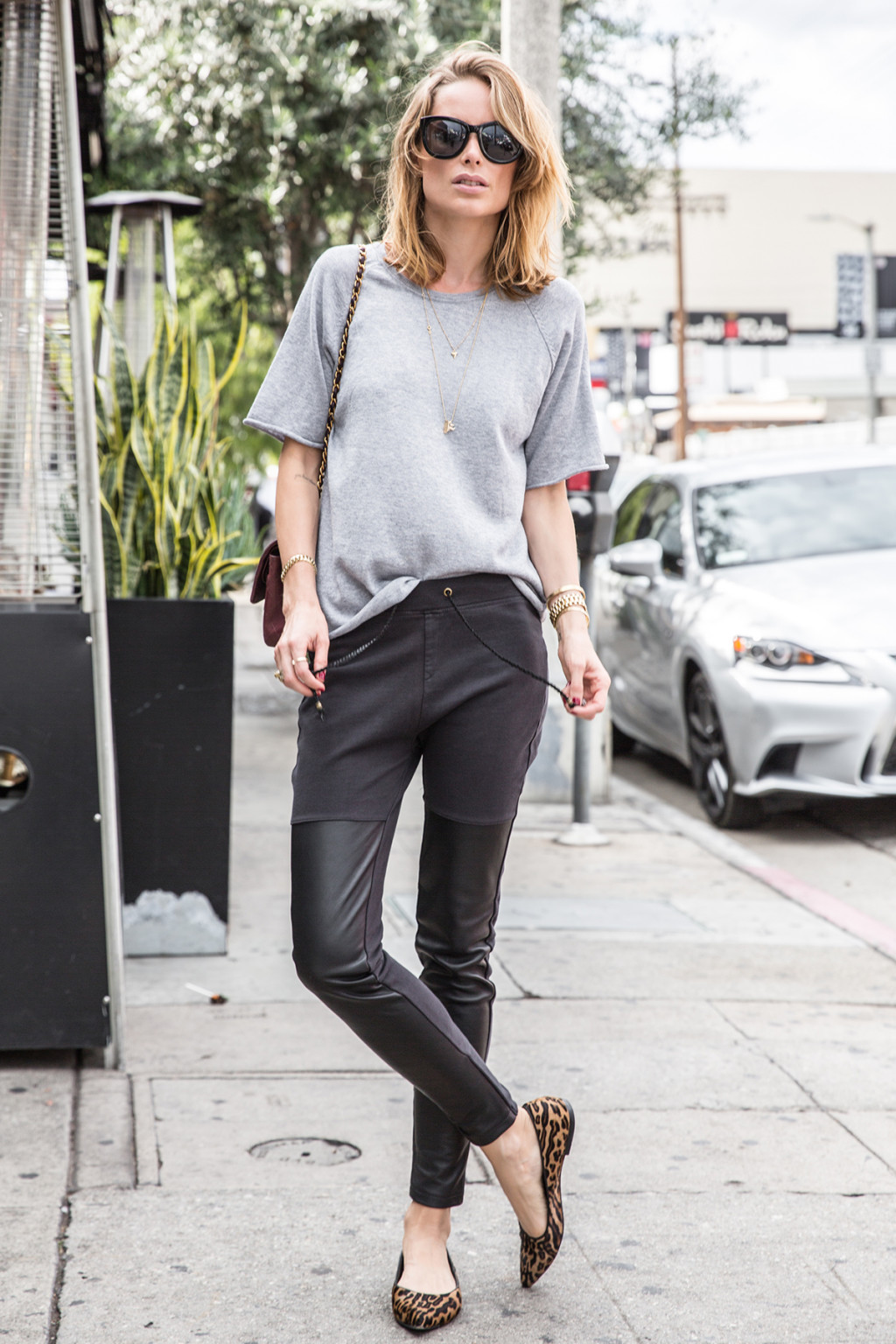 ↓ 4- Leggings with Strappy Sandals for the Club
Here's a very cool summer attire: soft skinny leather leggings combined with a gorgeous black silk top and strappy silver sandals: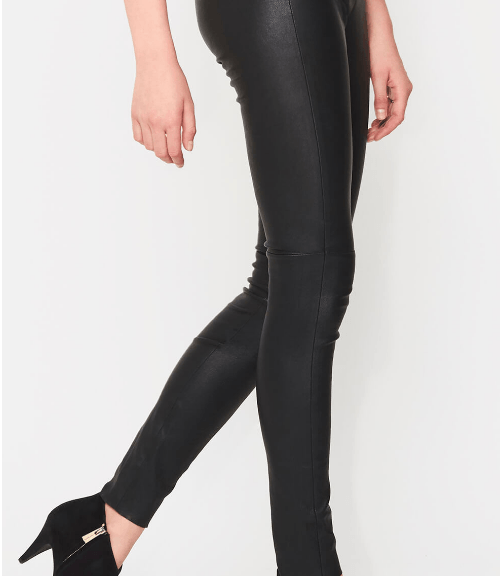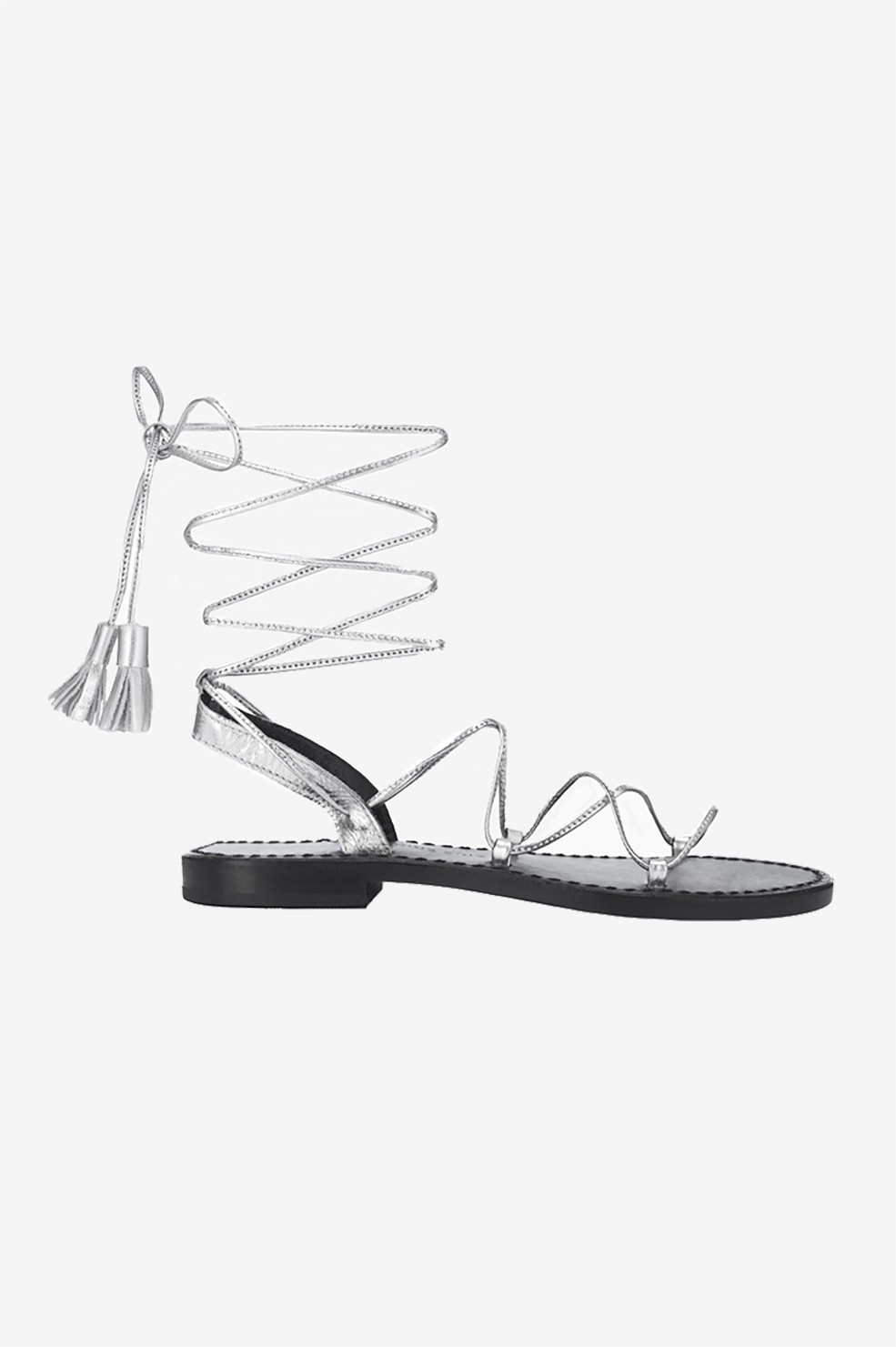 Via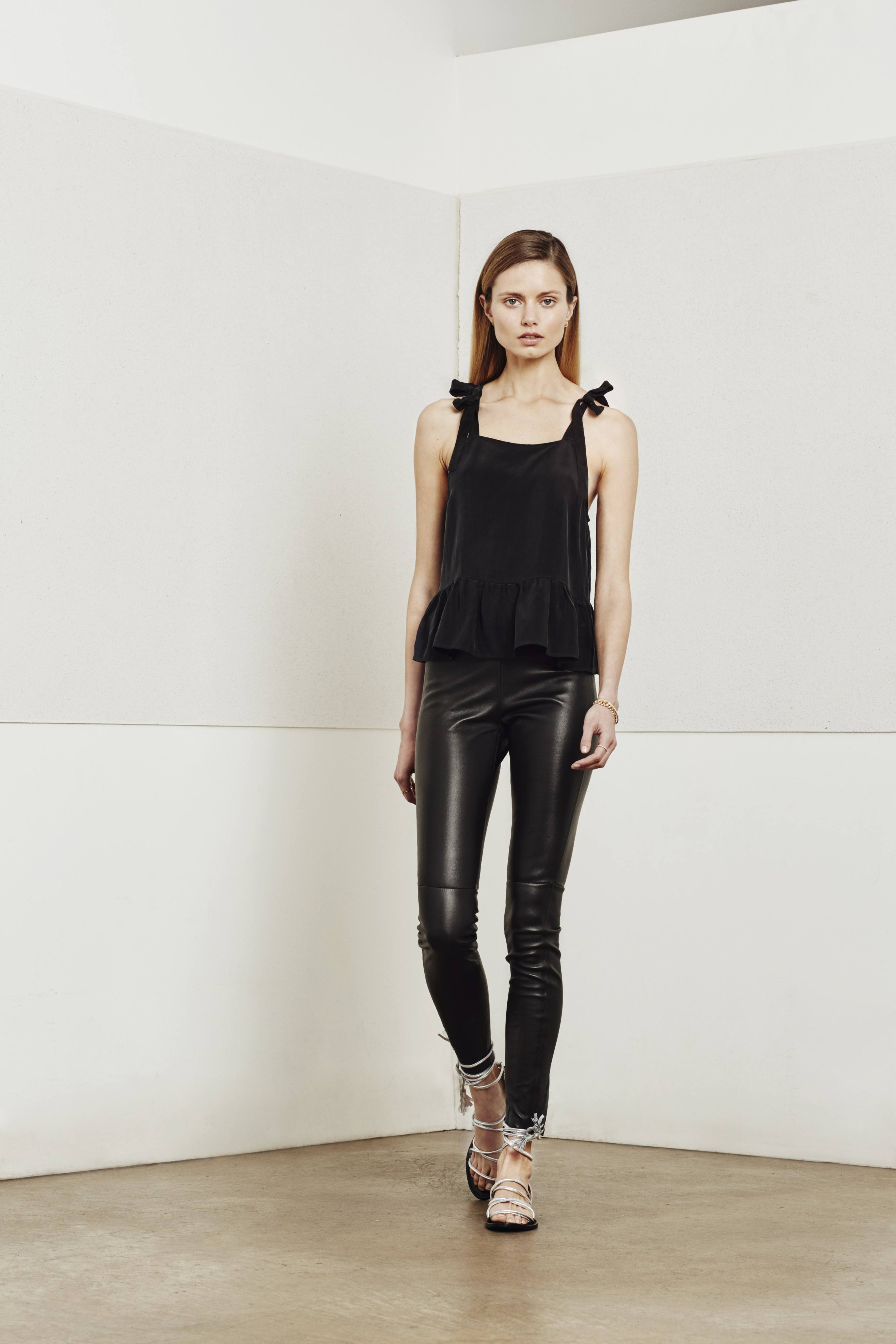 ↓ 3 – Printed and Coloured Leggings with Heeled Boots
For more ideas on styling your printed leggings, check out our viral post on How To Wear Printed Leggings.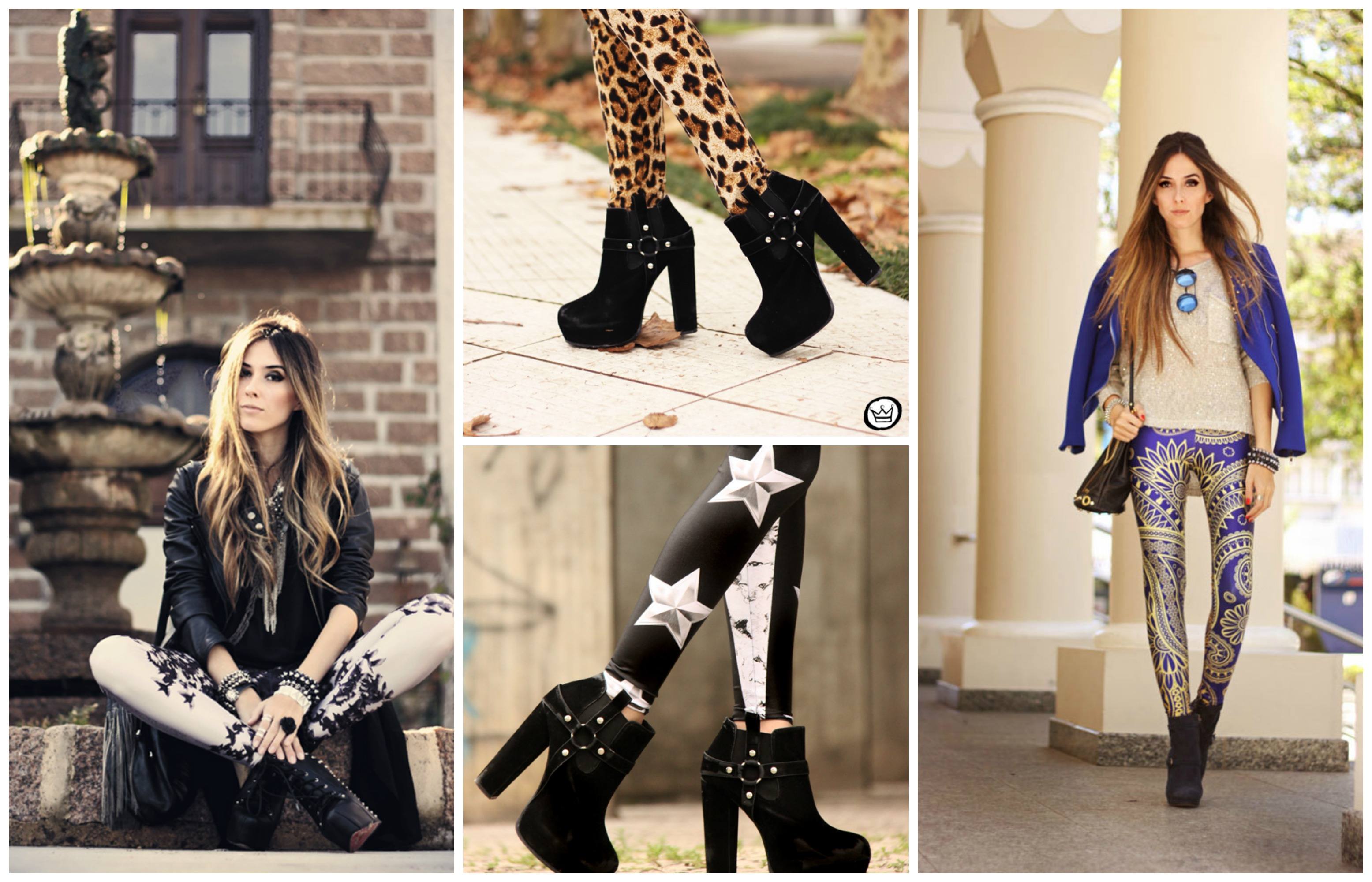 ↓ 2 – Leggings with Slip-Ons for Casual Weekend Ensemble
Classic Vans Slip Ons: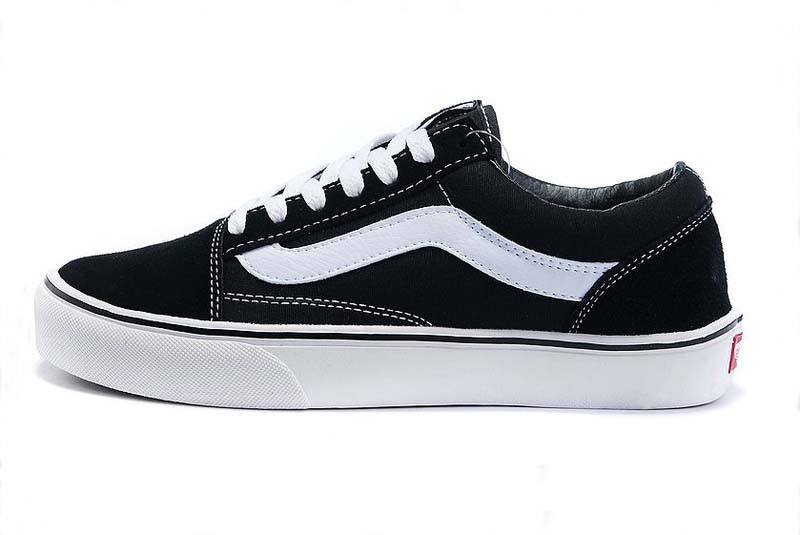 Via
↓ 1 – Celebrity Style
In celebrity style today, Selena Gomez looks super chic in her usual girl-next-door style in leggings and converse shoes: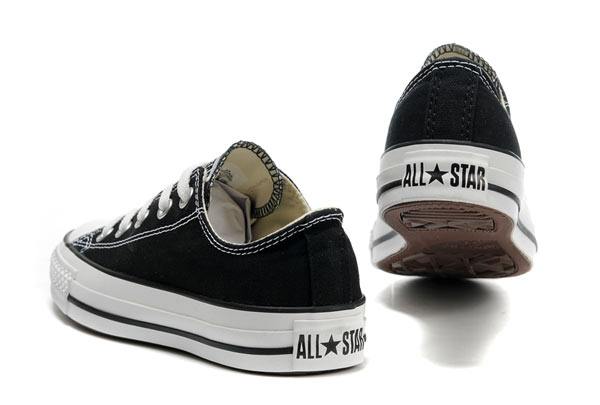 Via