What shoes to wear with shorts for Girls. Every girl loves wearing shorts and why shouldn't she, they are comfortable and sexy but the best part is that you can wear them everywhere. However, wearing shorts means that your legs and your shoes will be the center of attention so it's extremely important to choose the right shoes.
So here we are, with some of the most amazing ideas, tips and suggestions which will help you to choose the best shoes with different types of shorts and for all the different seasons and occasions.
Best Footwear with Shorts
It is said that a woman can never have too many shoes. So make sure that you have all these shoes ready to rock your shorts this season!
Sneakers
Converse shoes
Ankle boots
Wedge heels
Flip Flops
Stilettos
Low heels
Gladiator Heels
Long boots
Platform Heels
Chelsea Boots
Loafers
Ankle strap heels
Ballet flats
Espadrilles
Long Boots
Pumps
Peep Toe Shoes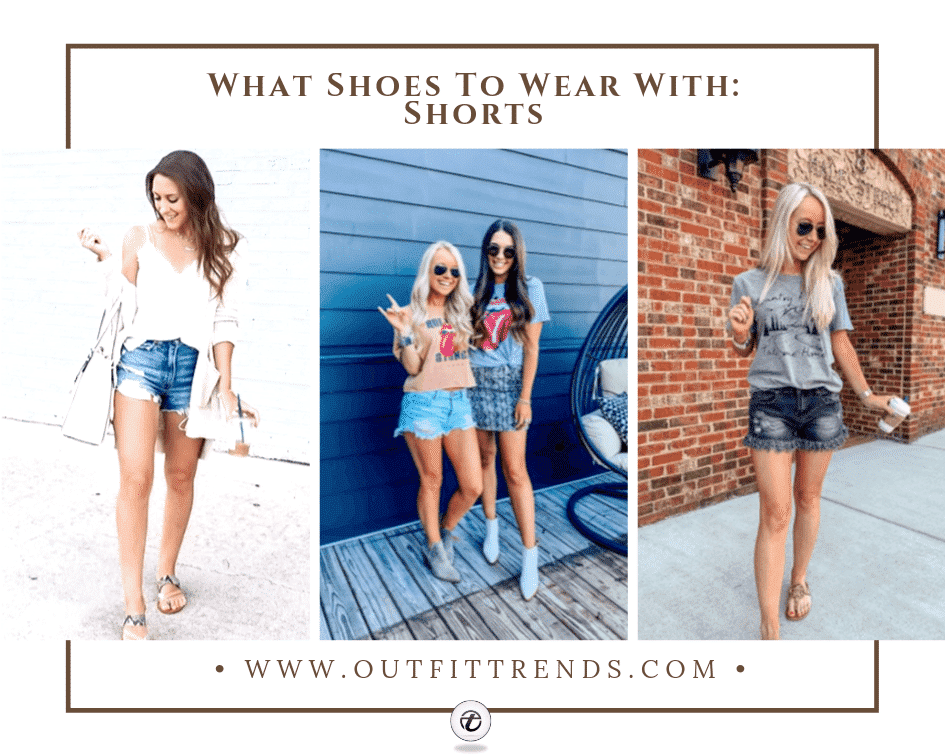 ↓ 20- Sneakers with Denim Shorts
This is what we call a hot casual look! Whether you're going out for a walk, hanging out with friends or just shopping, this look is indeed perfect. Here are 25 more cute outfits to wear with denim shorts.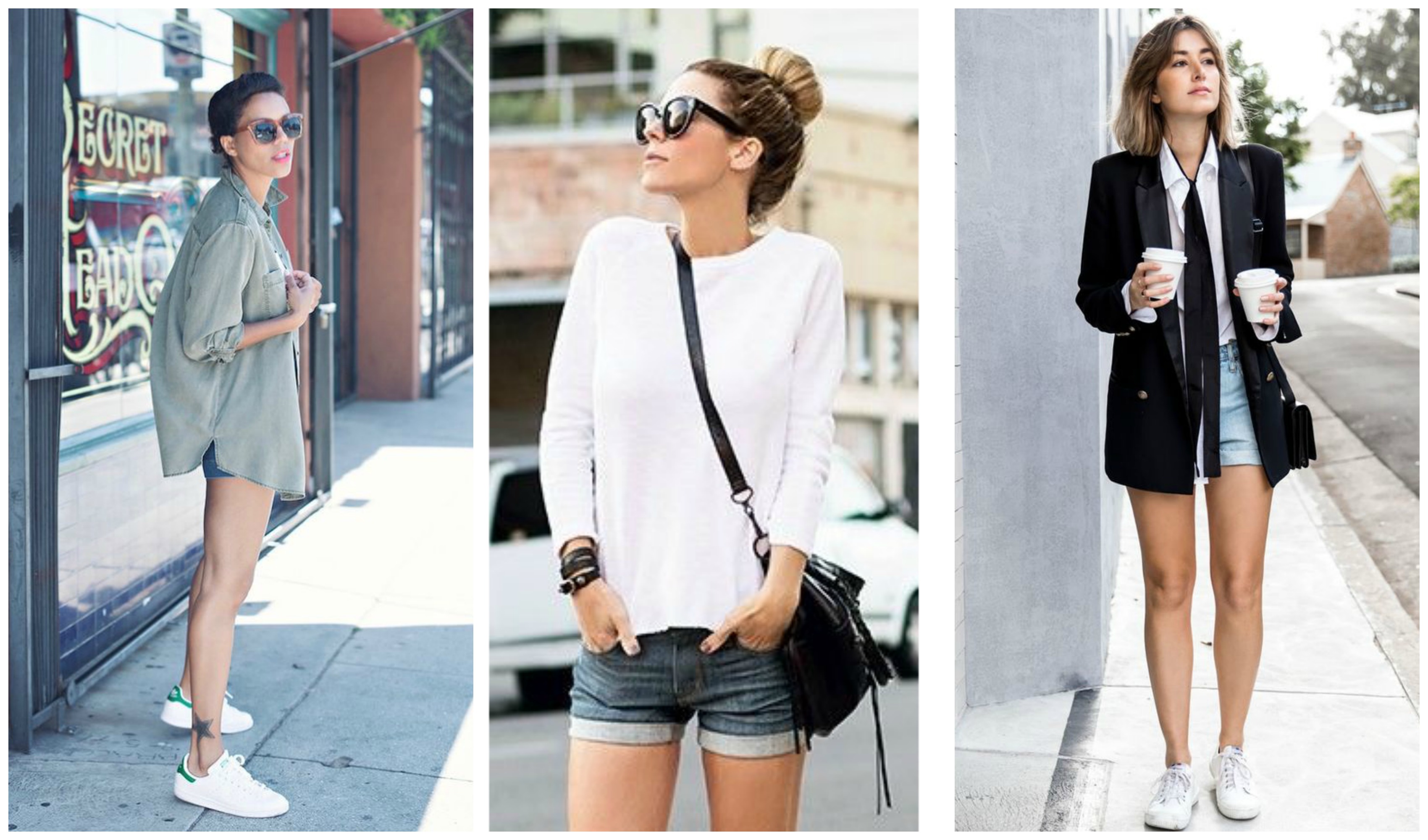 ↓ 19- Converse with Denim Shorts in Summers
Jeans shorts and converse shoes are the perfect combinations for a lazy weekend. Check out how you can wear them in both Summers and Winters.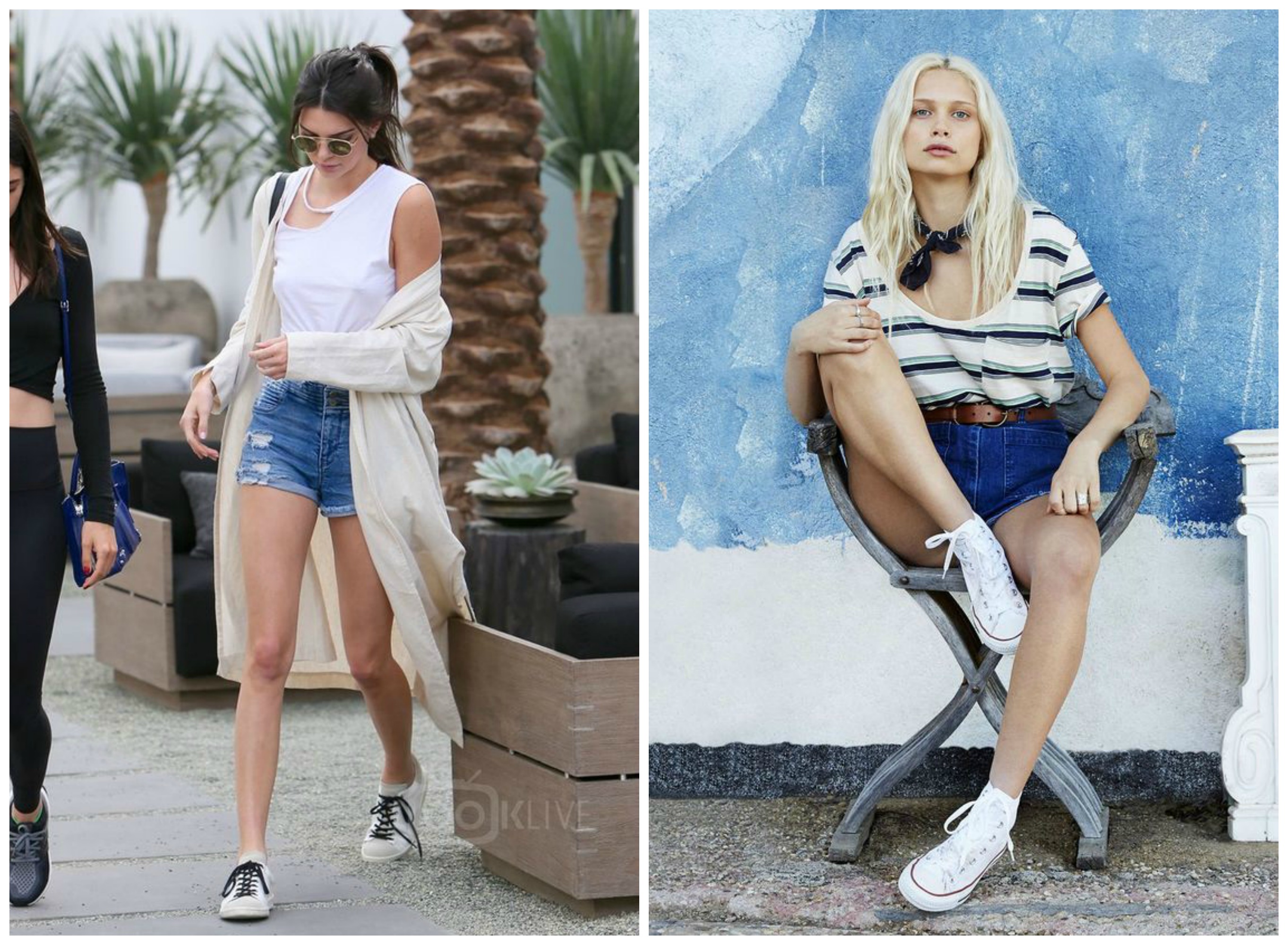 ↓ 18- Wearing Shorts in Winters
Gigi Hadid is looking amazing in that white turtle-neck sweater and black shorts. The outfit is surely setting some winter goals for us. Here is a complete guide on how you can easily wear shorts in Winters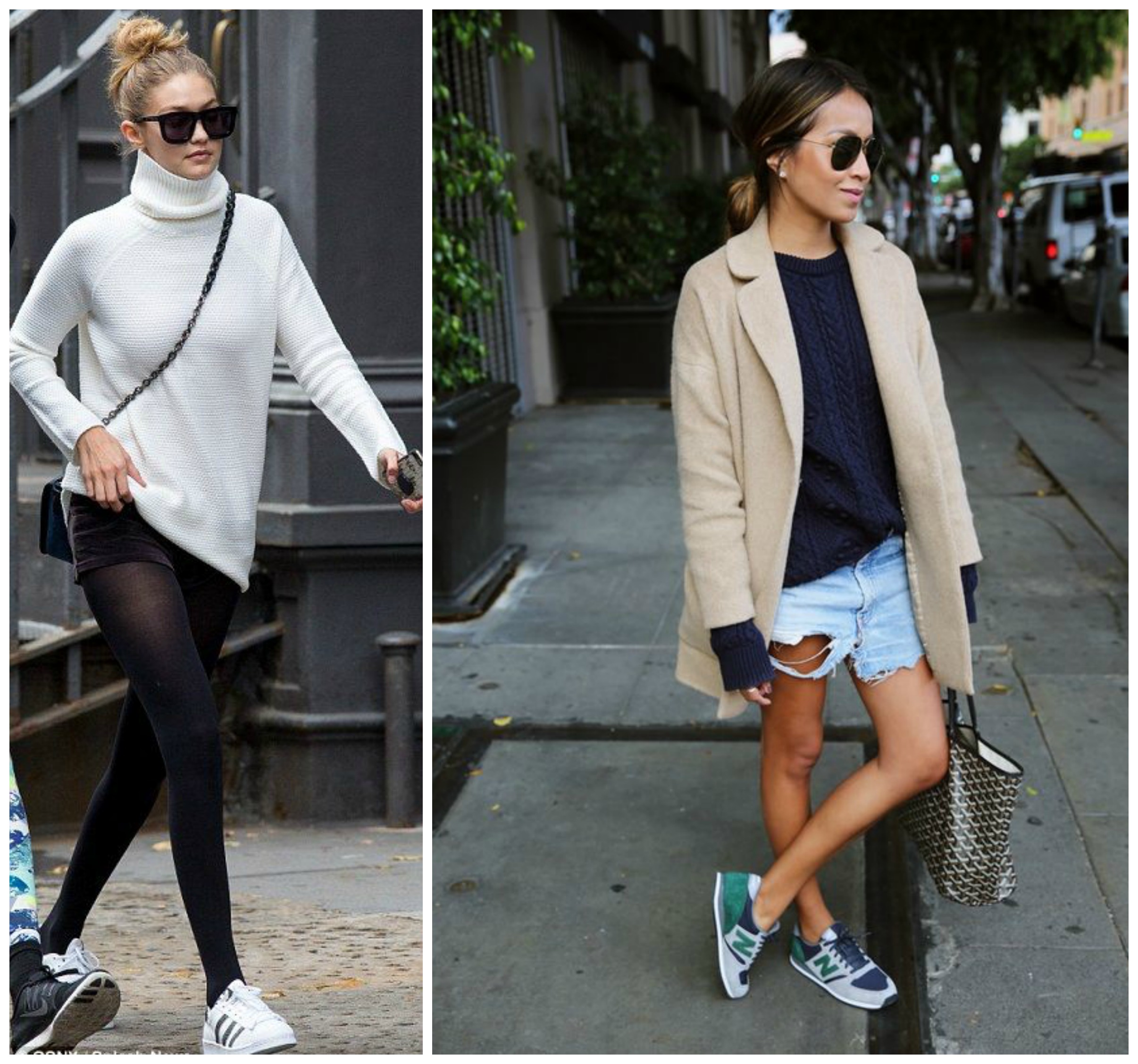 ↓ 17 – Ankle Boots with Shorts in Fall
When you're tired of wearing the same old shoes and wish to try something new, go for ankle boots. There are many great ways to wear them in every season.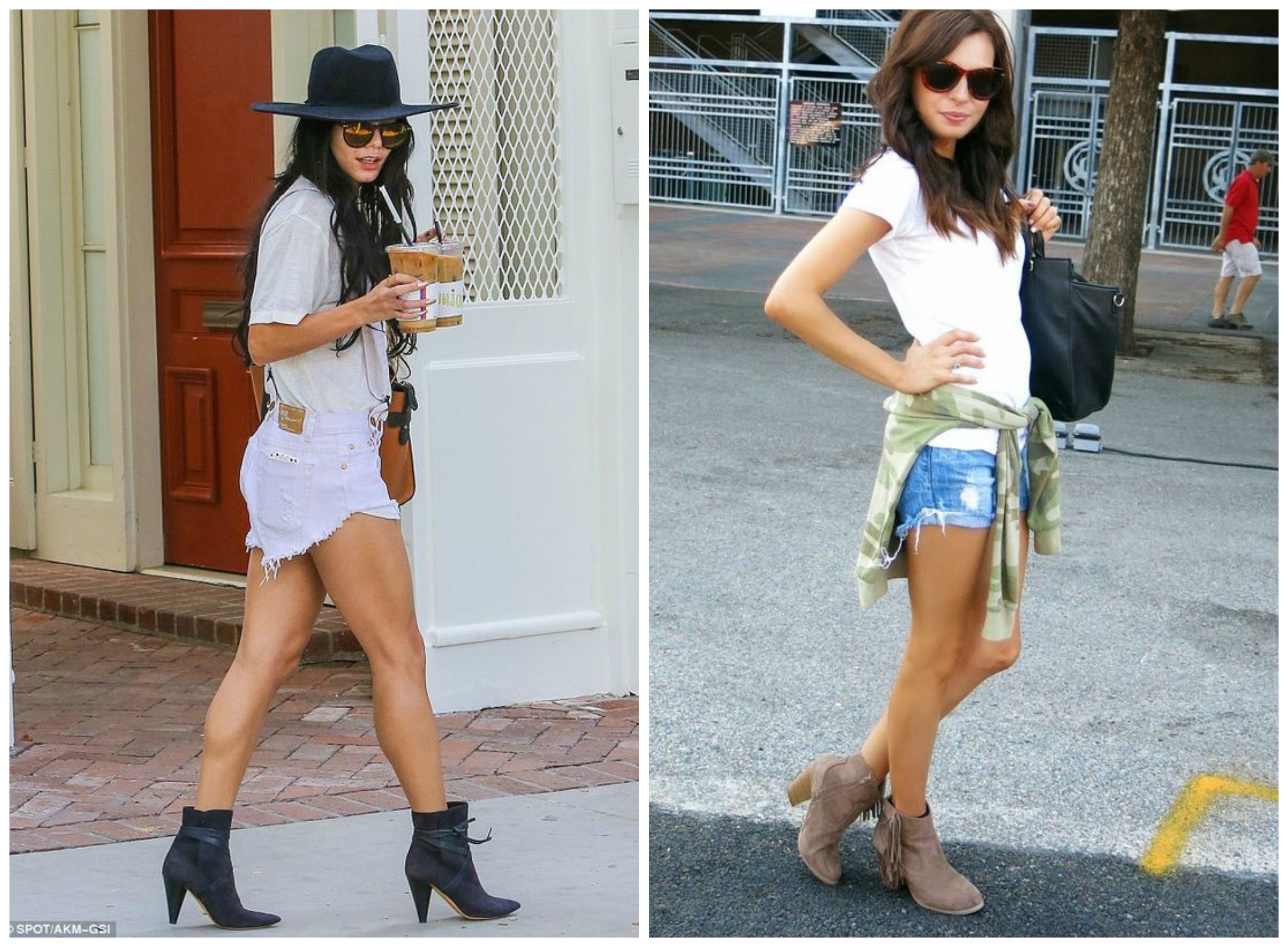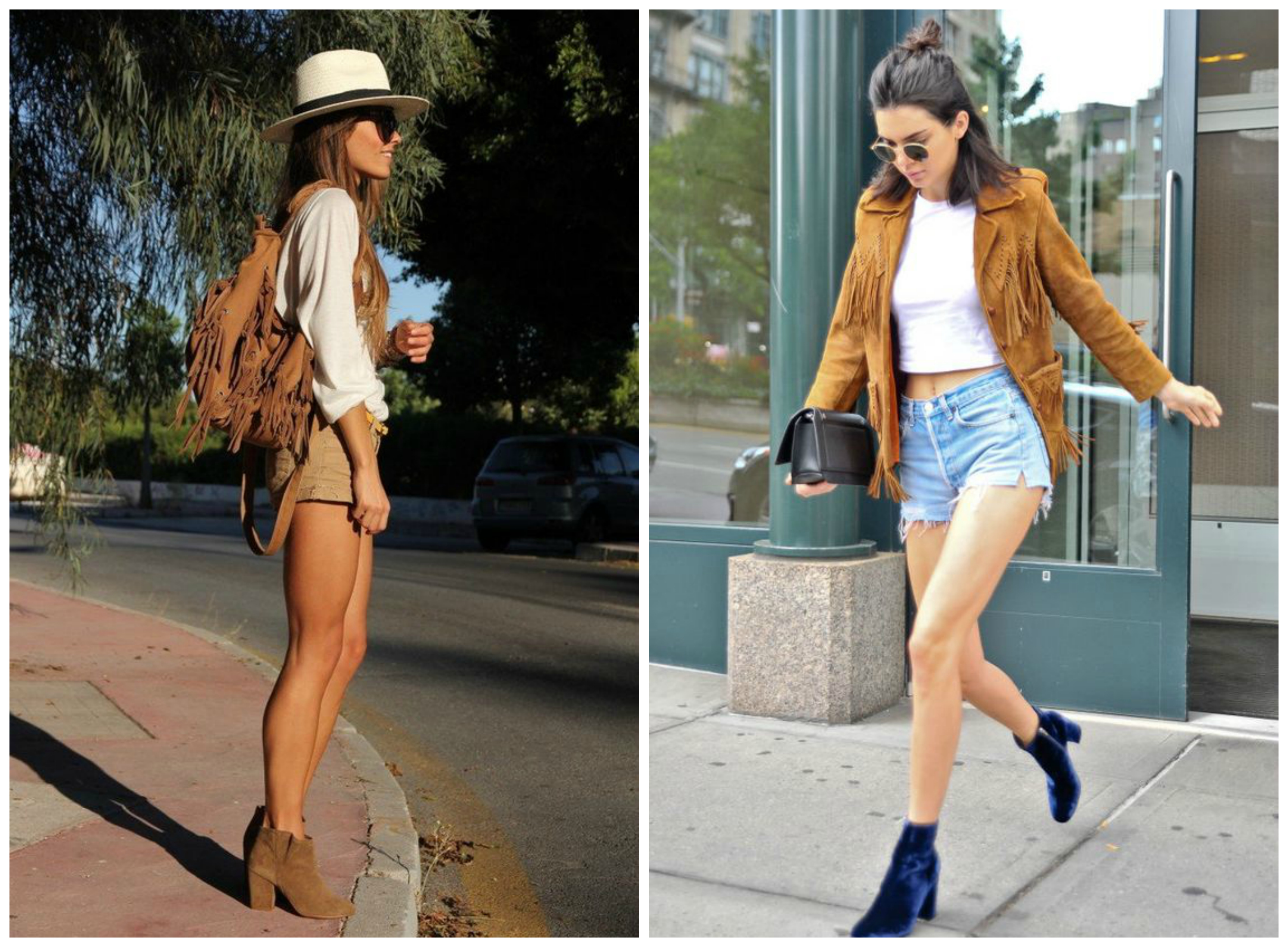 ↓ 16 – Wedges with Shorts
Jennifer Anniston loves pairing her shorts with wedges for the ultimate sporty look.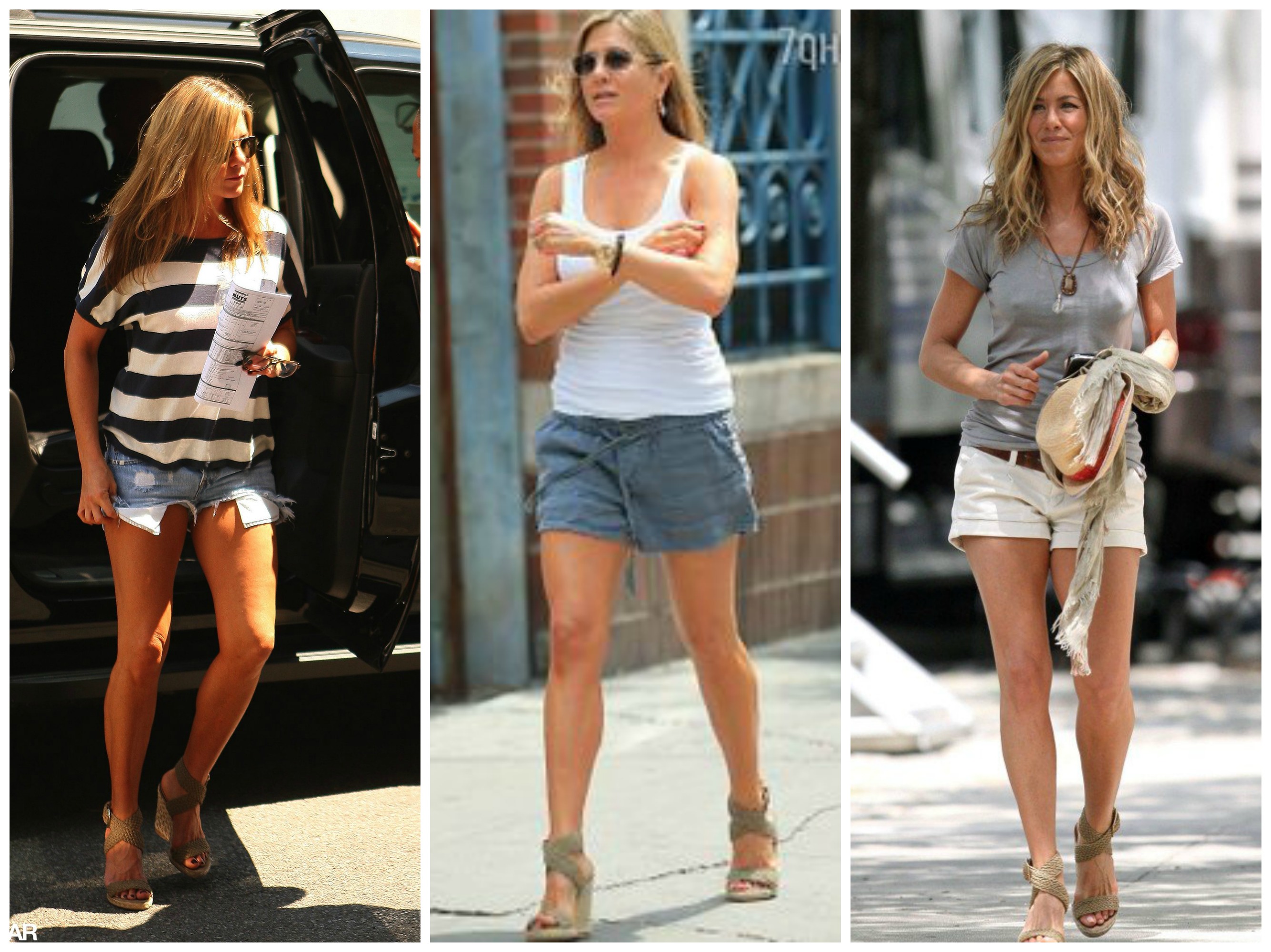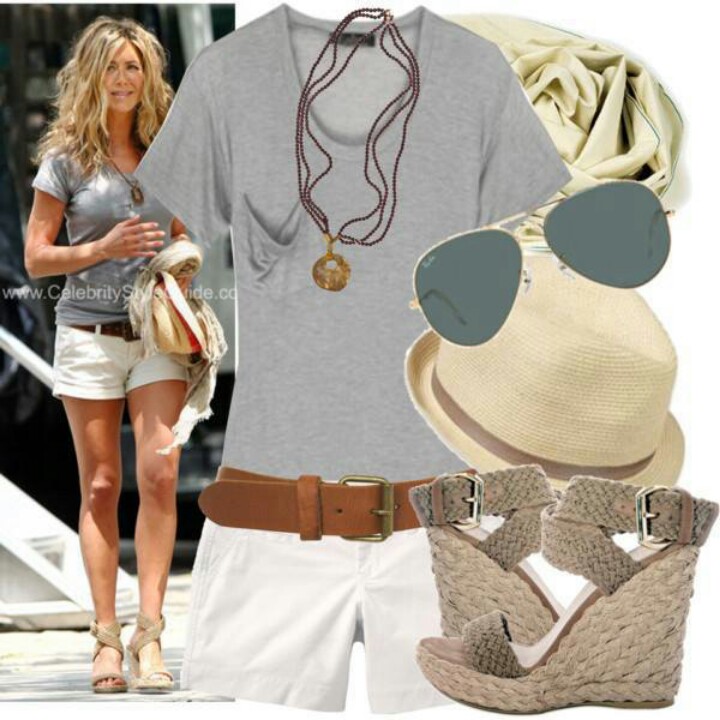 Via
↓ 15 – Flip Flops with Shorts at the Beach
Flip flops are an essential part of the beach trip and wearing them with shorts creates outfits that are made for the sun! Here are some interesting combinations to try with your flip-flops and shorts.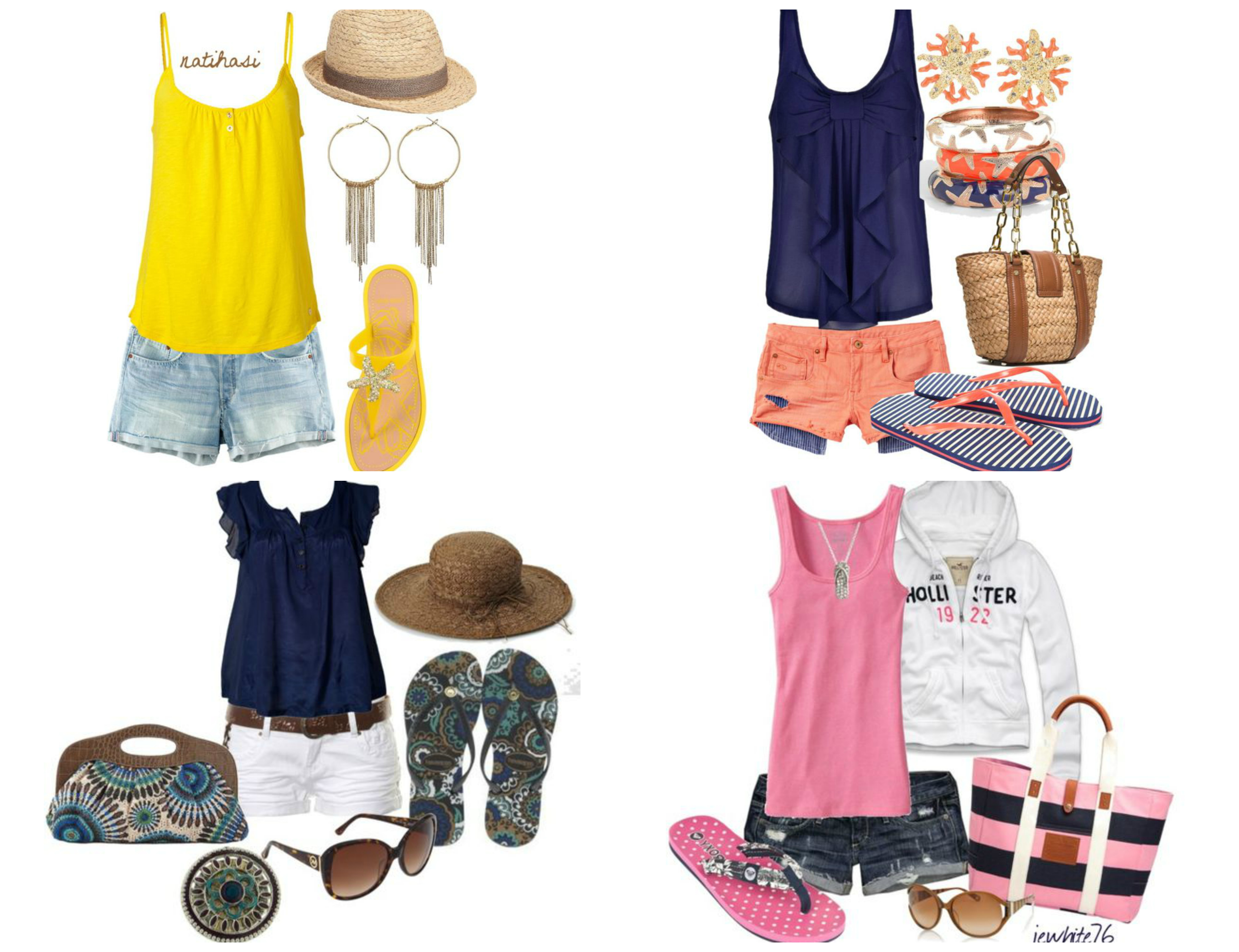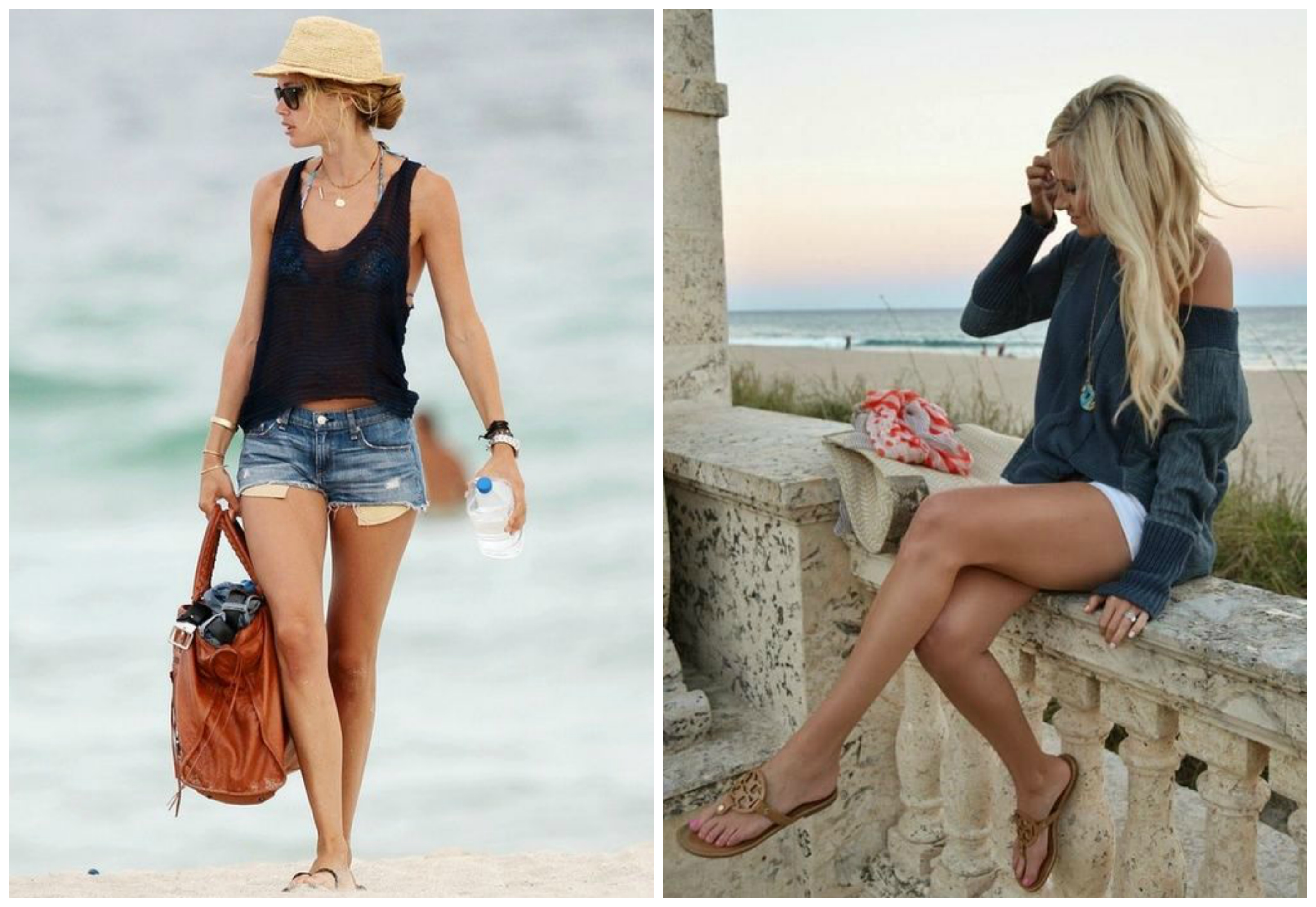 ↓ 14 – Shorts with High Heels for Parties
Whether it's a girl's night out, a night at the club or just another party, wearing sparkly shorts with stilettos is surely the best choice. If you don't have sequin shorts then any sequin top and shorts will work just as well.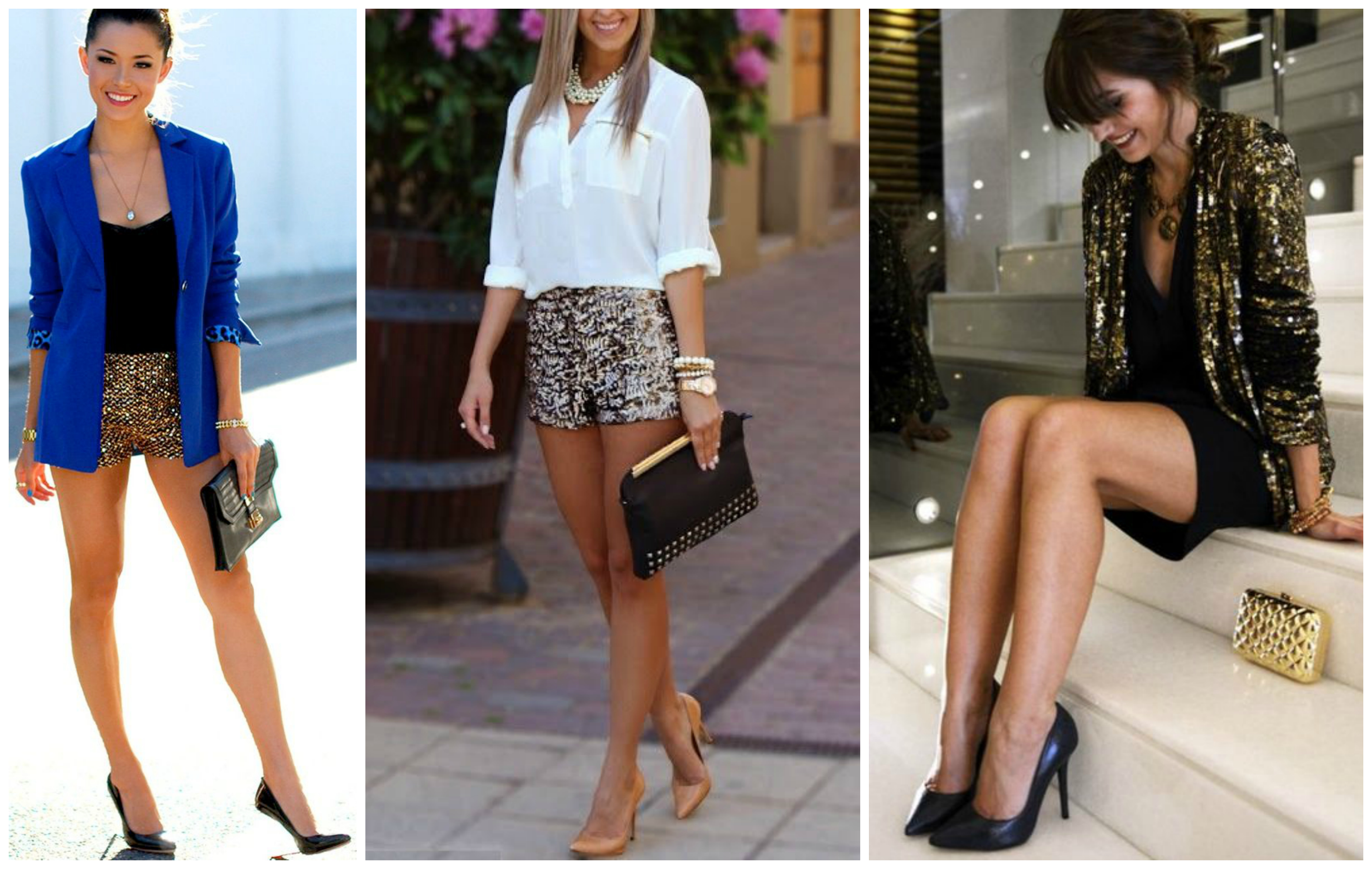 Wearing high heels with high waisted pants also creates a mesmerizing look. While the heels may not be totally comfortable but the praise you'll get will be worth the pain for sure. You can see how even the most casual outfit can be dressed up by wearing it with heels.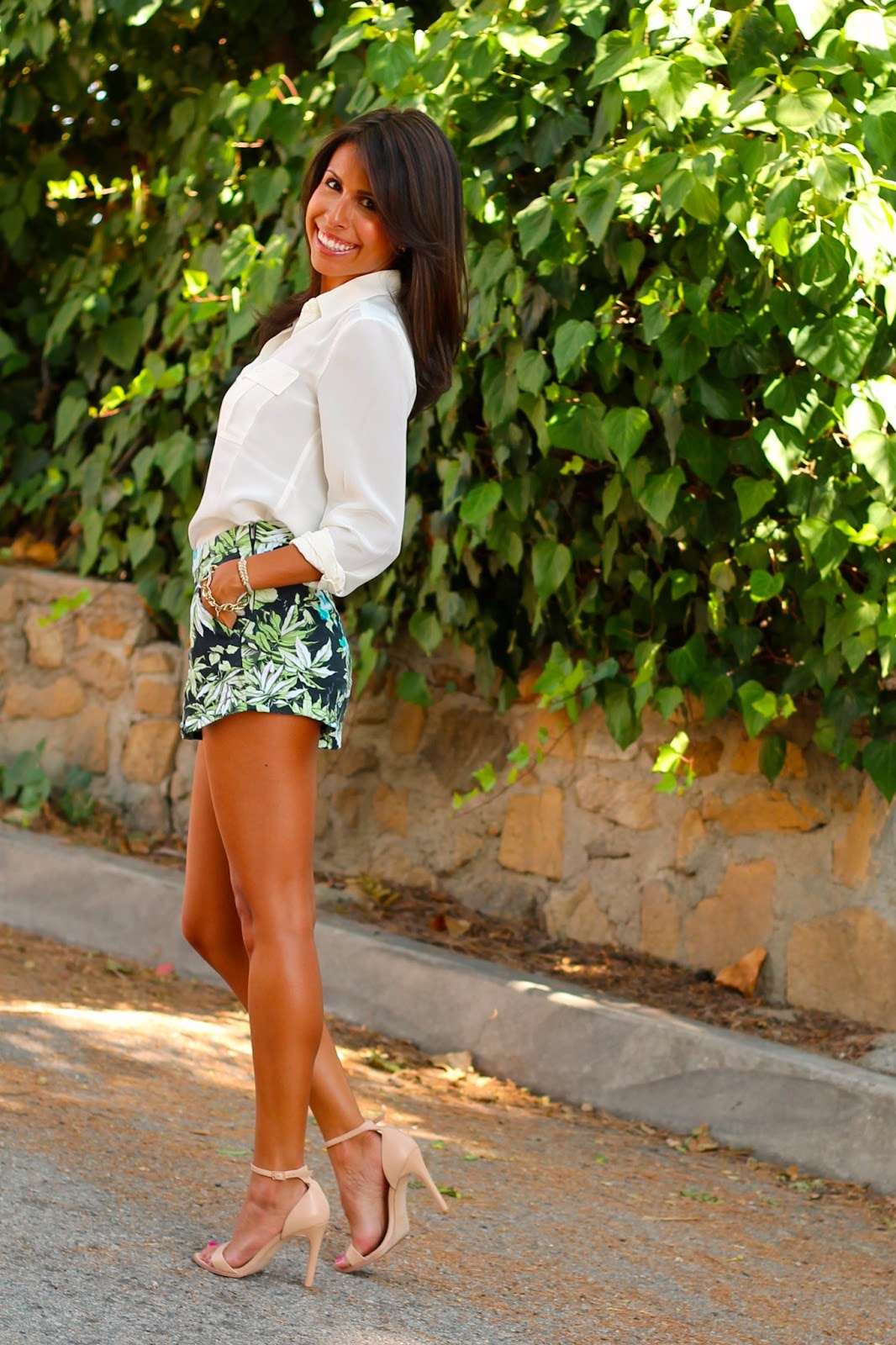 ↓ 13- Shorts with Low Heels for Work
Confused about how you can wear shorts to work? Our suggestion is to go for neutral-colored shorts that are of an acceptable length and wear them with any type of low heels for a dressy look. For more of a professional touch, add a blazer and tuck your shirt in.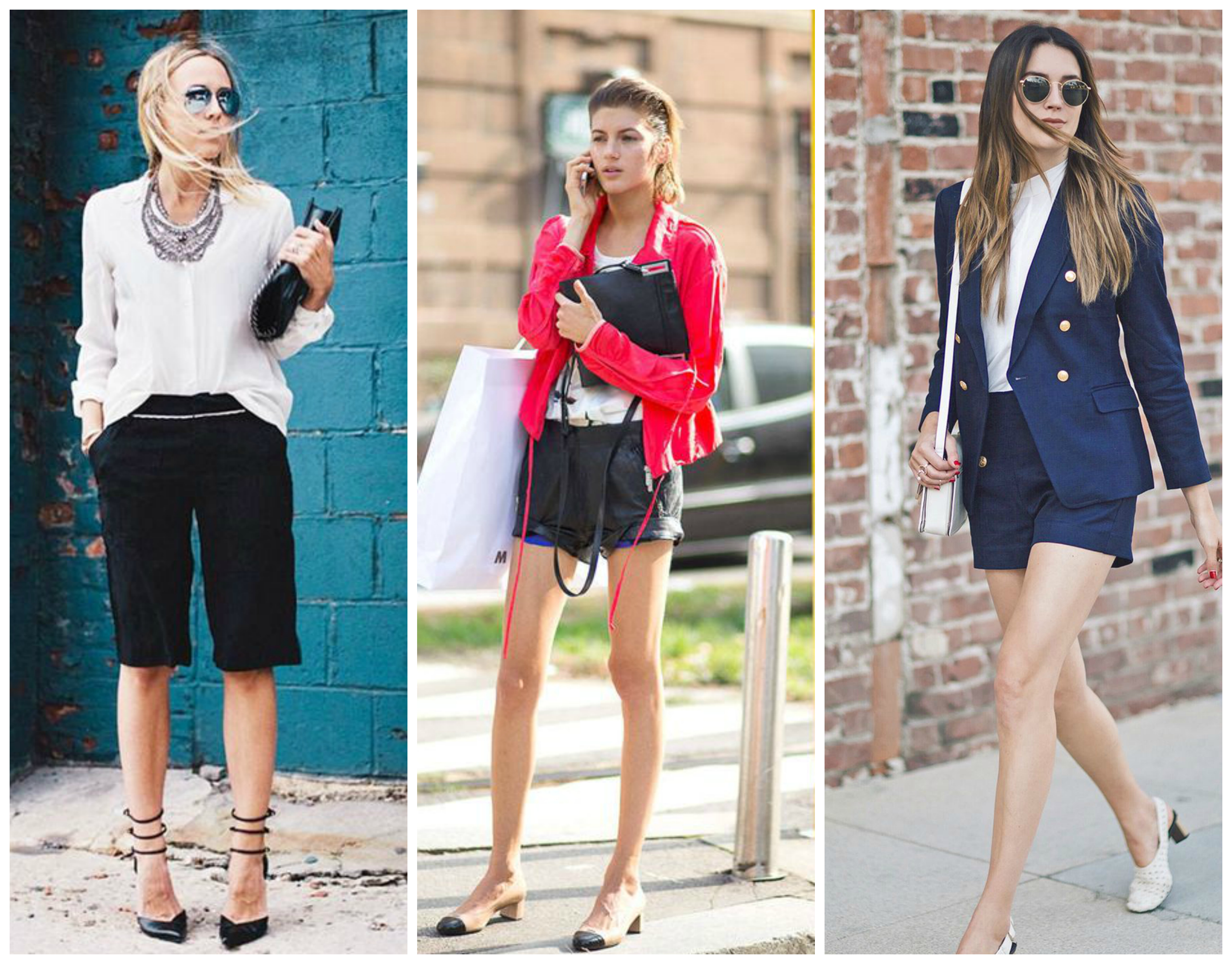 ↓ 12- Gladiator Heels and Shorts for Date Night
If you're a girl with a good height then gladiator heels are made for you! Check out this amazing outfit of Jennifer Lopez that she's wearing with gladiator heels, surely something worth trying for date night.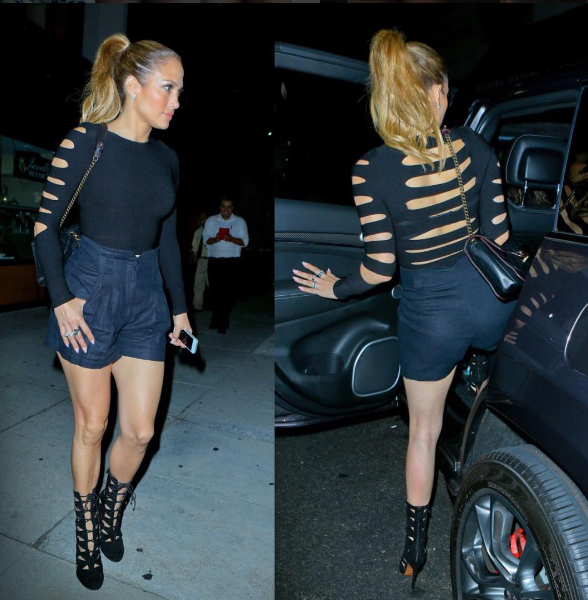 ↓ 11- Long Boots with Shorts for Spring
There's a general misconception that Winter and Fall are the only appropriate times to wear Long boots. However, Spring is the most amazing time to go out hiking, camping or just having fun outdoors and a country girl look is what you need for this. This look is, of course, incomplete without some sexy long boots which can add the X-factor to any outfit you wear. If it were up to me, I would wear Knee High Boots throughout the Spring season.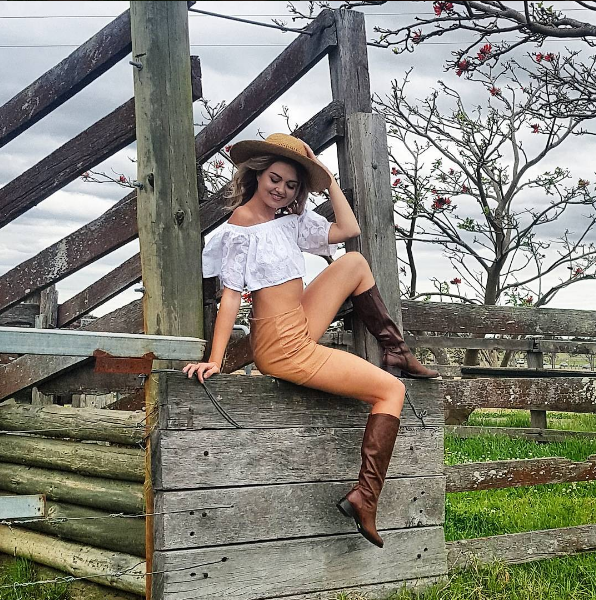 ↓ 10- Printed Shorts and Platform Heels for Spring/Summer
Spring is the perfect time to wear printed and floral shorts. Platforms heels are often considered a challenging type of shoe as we often see people looking ridiculous in them. But wearing them with shorts like these is the safest way as this is a look that girls and women of all ages and body types can carry well.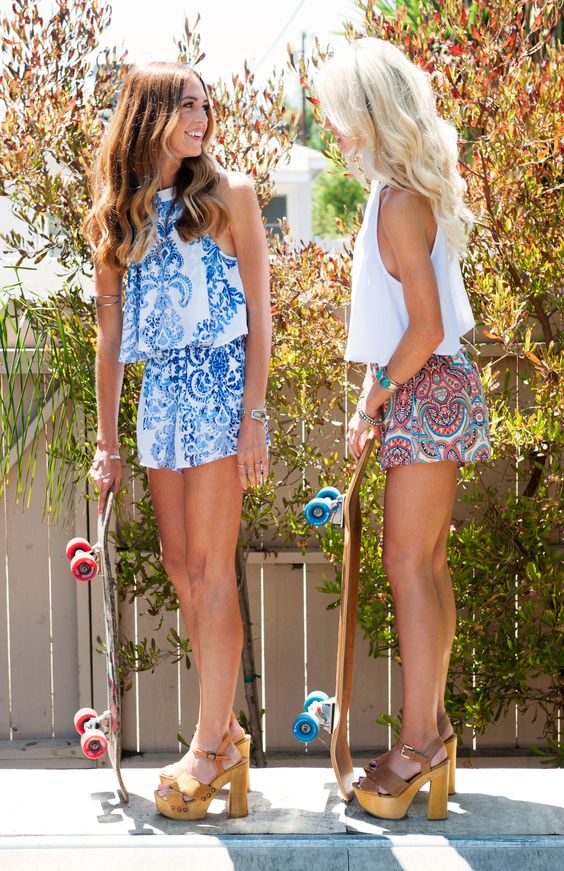 ↓ 9- Shorts with Chelsea Boots
If you don't have a pair of Chelsea boots in your wardrobe then you really need to get one now. The reason? They're the most trending shoe of the season, they look modern and can be worn for years to come because of their durability and the fact that they never go out of style. They're so easy to wear that they will become your perfect companion for the weekends, as you just slip into them every time you walk out the door.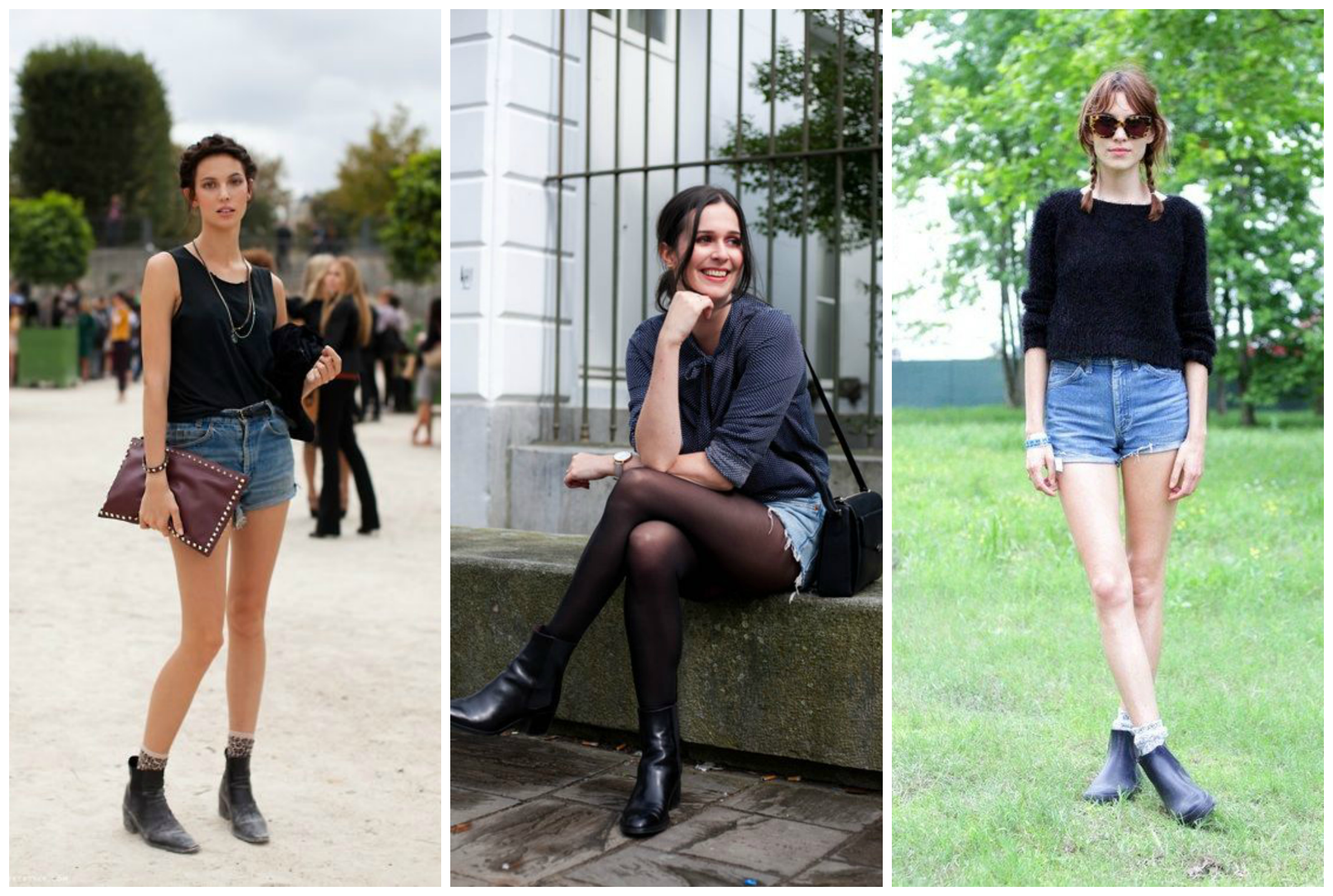 ↓ 8 – Shorts with Loafers
Have a look at the picture below to see how loafers can be used with shorts to create two completely opposite looks, on one hand, we have a casual street style swag look and on the other is a formal and sophisticated look that can work for both school/college and work.
↓ 7 – Shoes with Shorts for Plus Size and Curvy Ladies
Whether you are a plus size girl or just have big thighs, wedges and flat sandals are definitely the best choices for a curvy and chic girl look. Wedges are not just the most comfortable type of heels but they also help elongate your legs, moving the focus away from your thighs. If you are traveling a lot then wedges will be your best friends since they will help you stay in your comfort zone, while looking spectacular.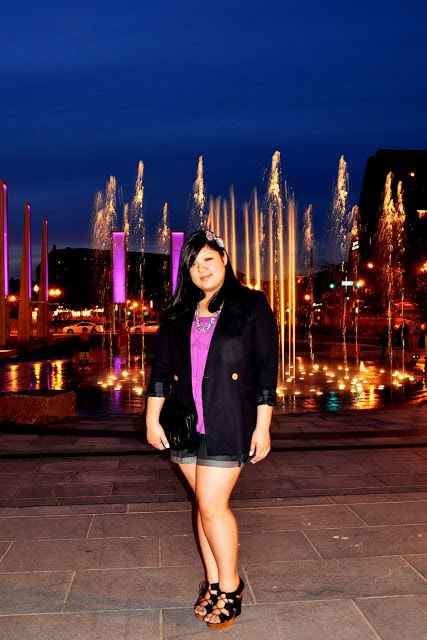 Another awesome choice for curvy ladies who don't like wearing heels is to wear shorts with flat sandals. Who doesn't love the combination of comfort and style, that's all sandals are about. They are available in so many cute and funky colors and designs these days that you can easily wear them for both casual and semi-formal occasions like birthday parties.
↓ 6 – Shorts with Ankle Strap Heels
The sophisticated shoes really add length to your legs an are being loved by celebrities this year. The reason they make your legs look slimmer? The ankle strap of course! It brings all the focus to your ankle and moves it away from your thighs. So if you're a curvy girl or have a short height then this is the type of shoe that you need. Wear them with some nice accessories and chic shade of lip color for a flirty look. Whether you're going for sightseeing or your morning coffee, these heels are perfect because of their minimalist style and can easily be paired with any type of shorts.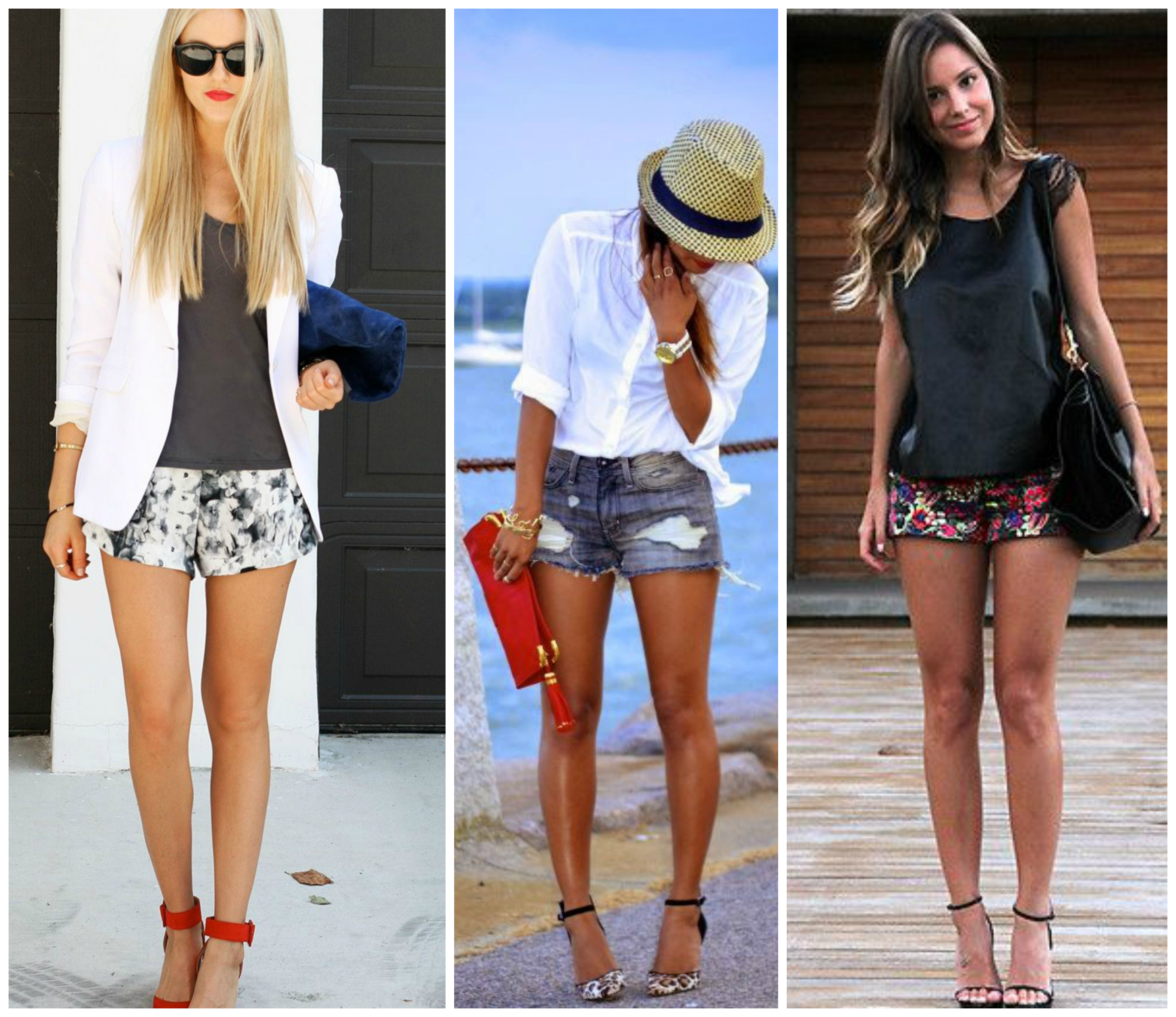 ↓ 5 – Shorts with Ballet Flats
Wearing your shorts with ballet flats can often be tricky as you have to find a pair of flats that goes well with your shorts. This is also not something usually recommended for girls with short height as ballet flats make you appear shorter, but you can avoid this by wearing flats that are of nude color or a tone lighter than your skin tone. They are also an excellent choice for all the mummies out there.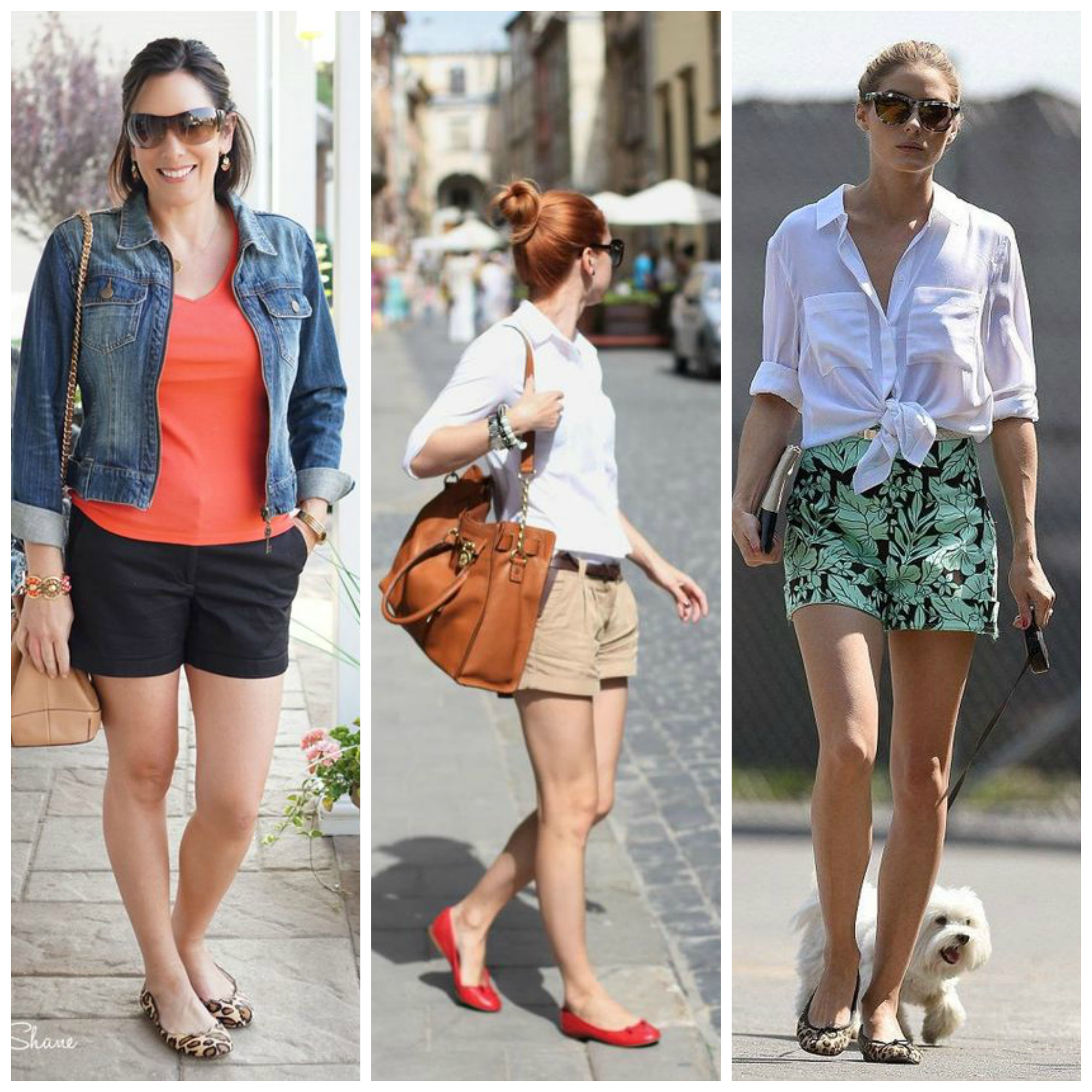 ↓ 4 – Shorts with Espadrilles
Espadrilles are basically flat shoes made of a light and breathable material that makes them perfect for Summers. They give both casual and comfortable vibes and when paired with shorts, they are something that you can wear all day long.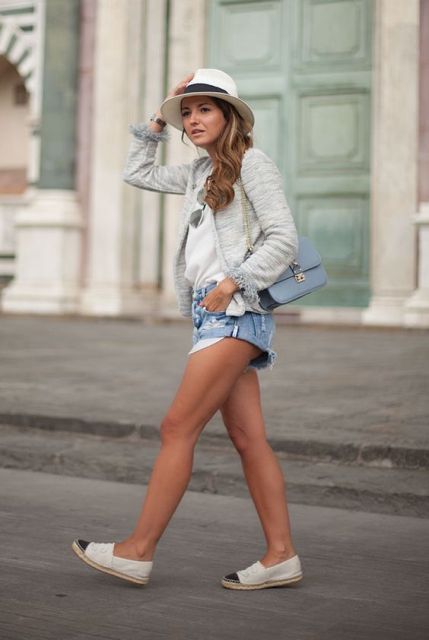 If you have espadrilles that match your shorts then you can definitely earn some extra points.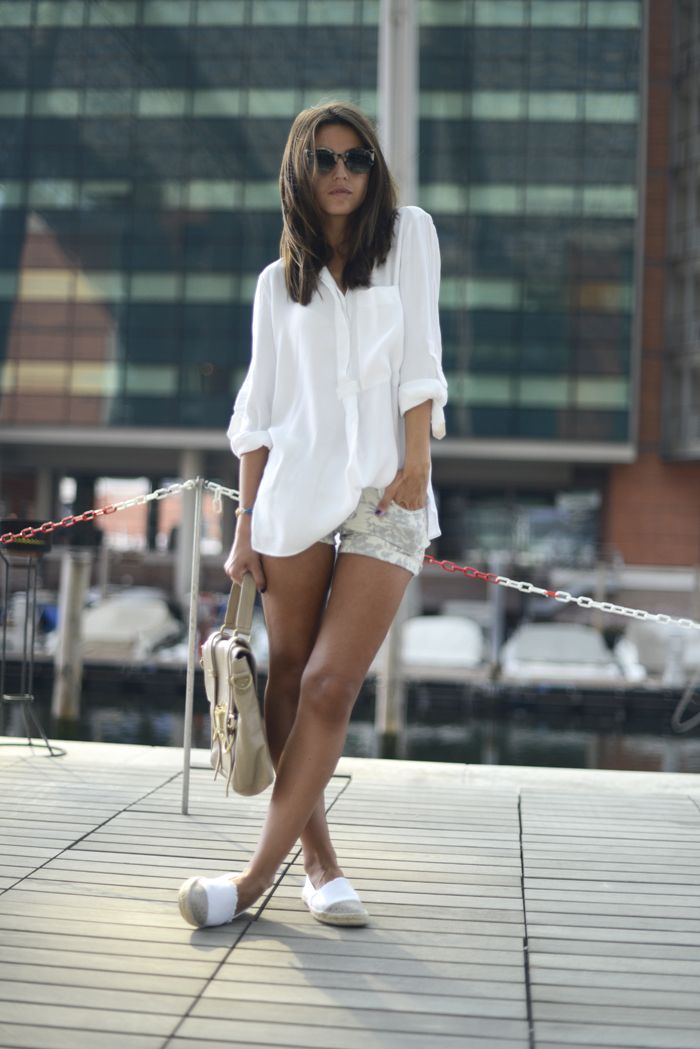 ↓ 3 – Long Boots with Shorts for Winters
A trench coat, long boots, tee and shorts, all set for the most classy Winter look.
For those with short height, wear these boots with tights and your legs will appear to be pretty long. But for this trick to work, you need to make sure that the boots and tights are of the same color. Here's an example: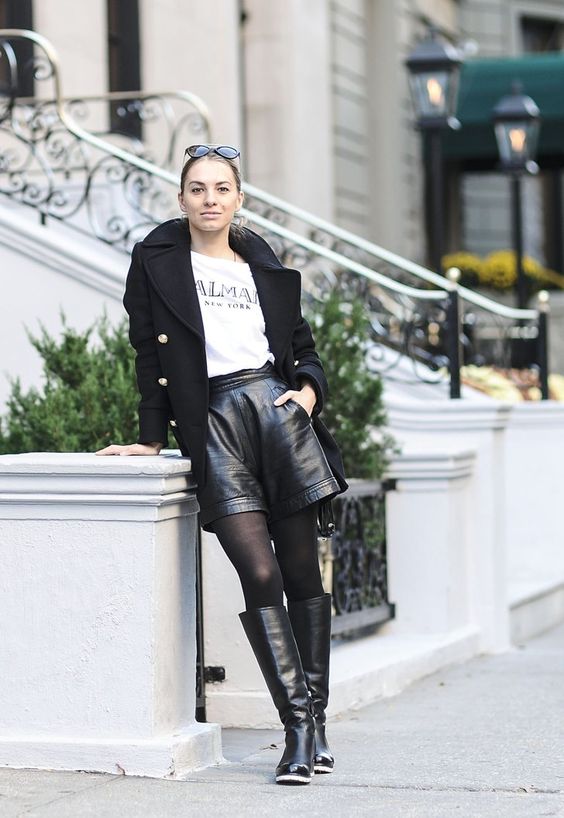 ↓ 2 – Bermuda Shorts with Pumps
When you get tired of wearing heels, nothing is more comforting than a pair of beautiful pumps. Every girl needs a pair of nude color pumps and they can go well with all types of shorts but especially with Bermuda shorts.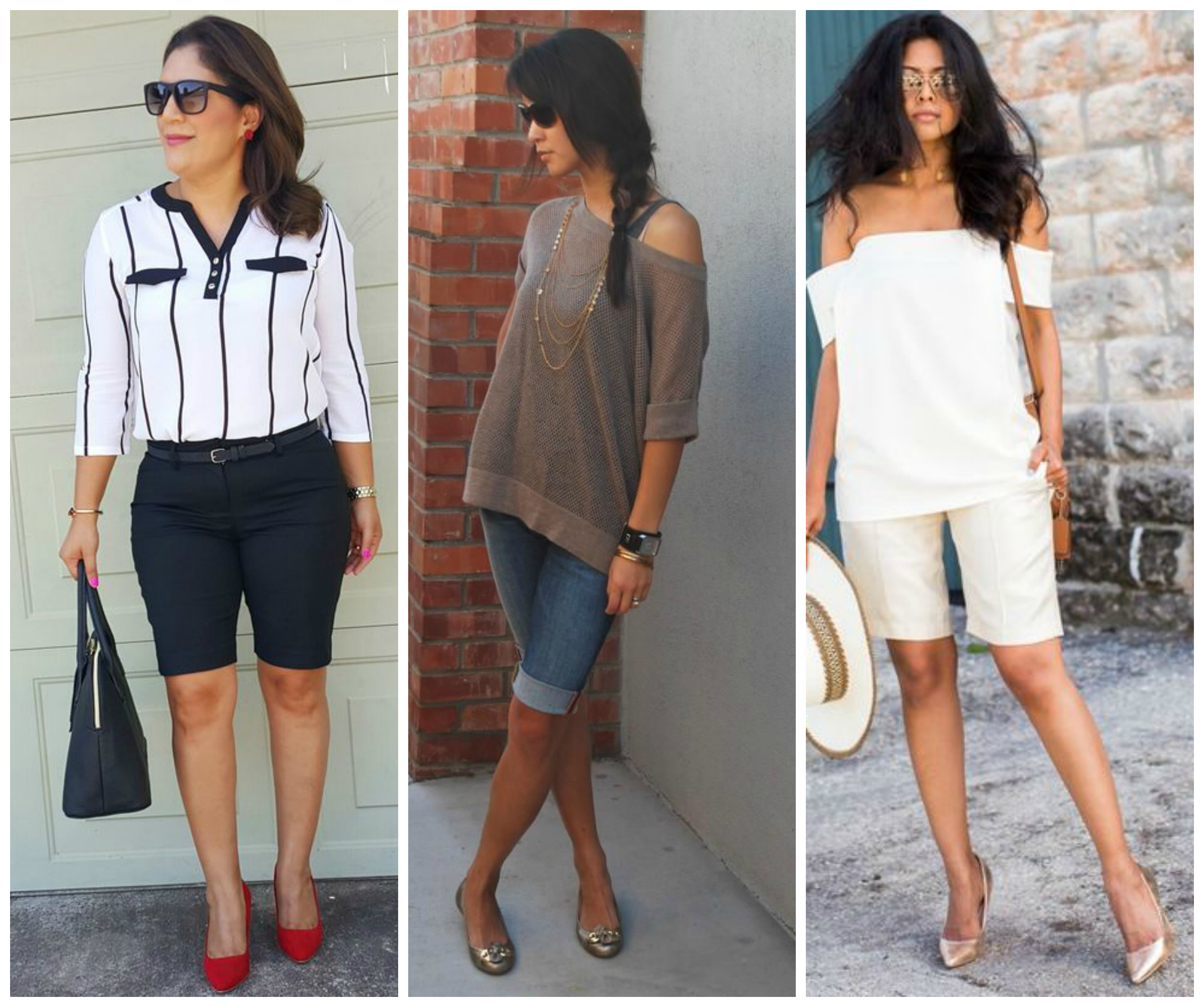 ↓ 1 – Shorts with Peep Toe Shoes
Peep toes are extremely sexy and can also be easily worn for work. They are available in so many different styles including flats and heels, so we can all surely find a peep toe type that looks good on our feet. Whether you have flat feet or extra small ones, peep toes can work for all! Here we see the style diva Taylor Swift, wearing peep Toe shoes with shorts in both summers and winters. You might notice how she chose a darker colored pair of peep toes for winters and more of a nude one for summers.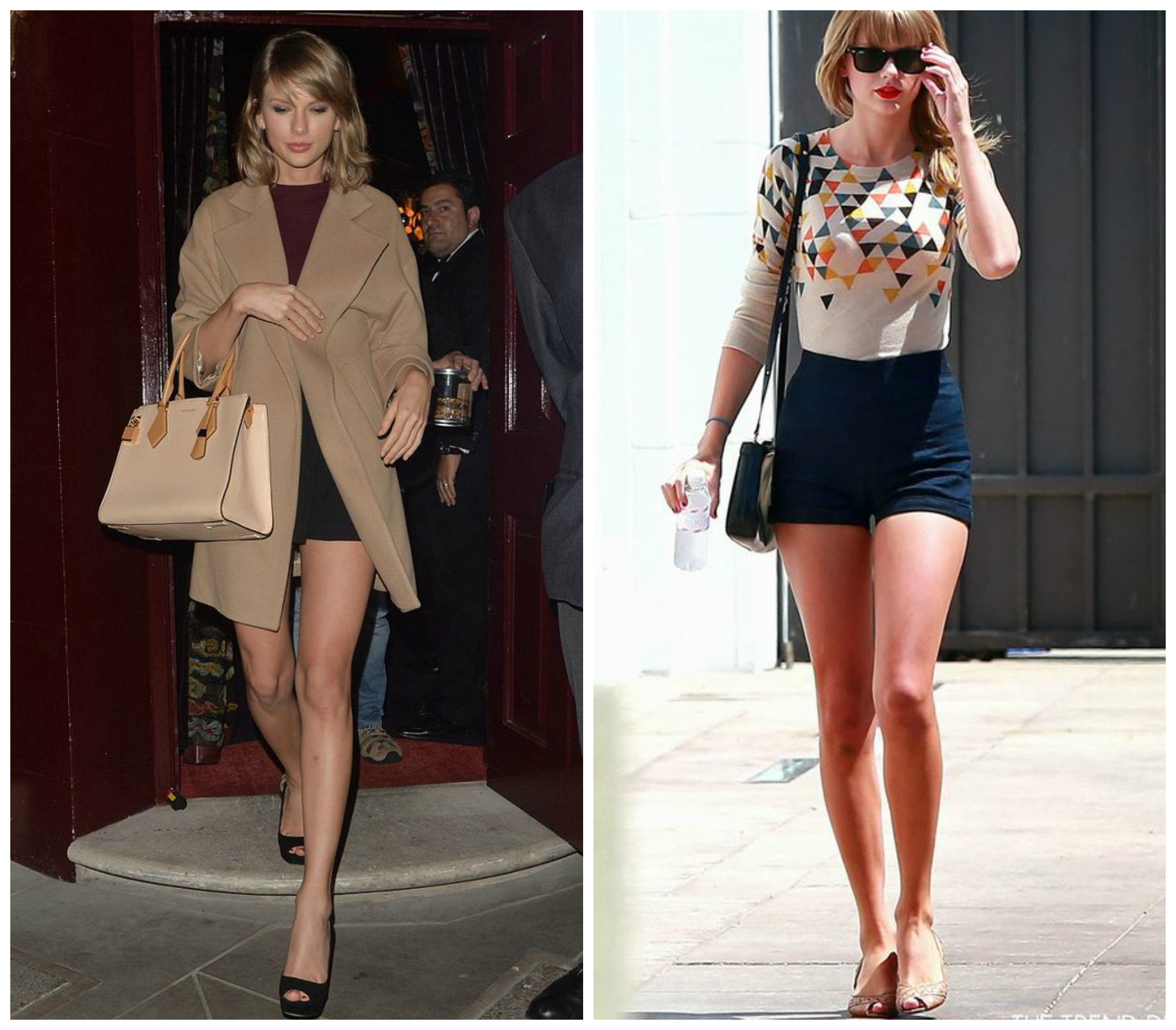 Here are some more amazing ways to wear peep toes and shorts every day. We hope you liked these styles and if there's any other type of shoe that you love wearing with shorts then do let us know in the comments!