Yellow Shoes Outfits for Women. Styling an outfit around yellow shoes might seem daunting at first, but rest assured, after today's post, it won't be daunting anymore! You will learn just what to wear with yellow sneakers, how to style a black dress with yellow shoes, how to wear yellow shoes with jeans and so much more.
What to Wear with Yellow Shoes?
If preschool kiddo outfits come to mind when you think of sporting yellow shoes, I don't blame you. Primary colors aren't always appreciated in the upper echelons of style and couture. Then again, there are so many shades of yellow to choose from.
Why do we limit ourselves? From mustard yellow to pastel, there is a range of shades out there we can pick and choose from when we are putting together a stylish outfit. Let's check some out.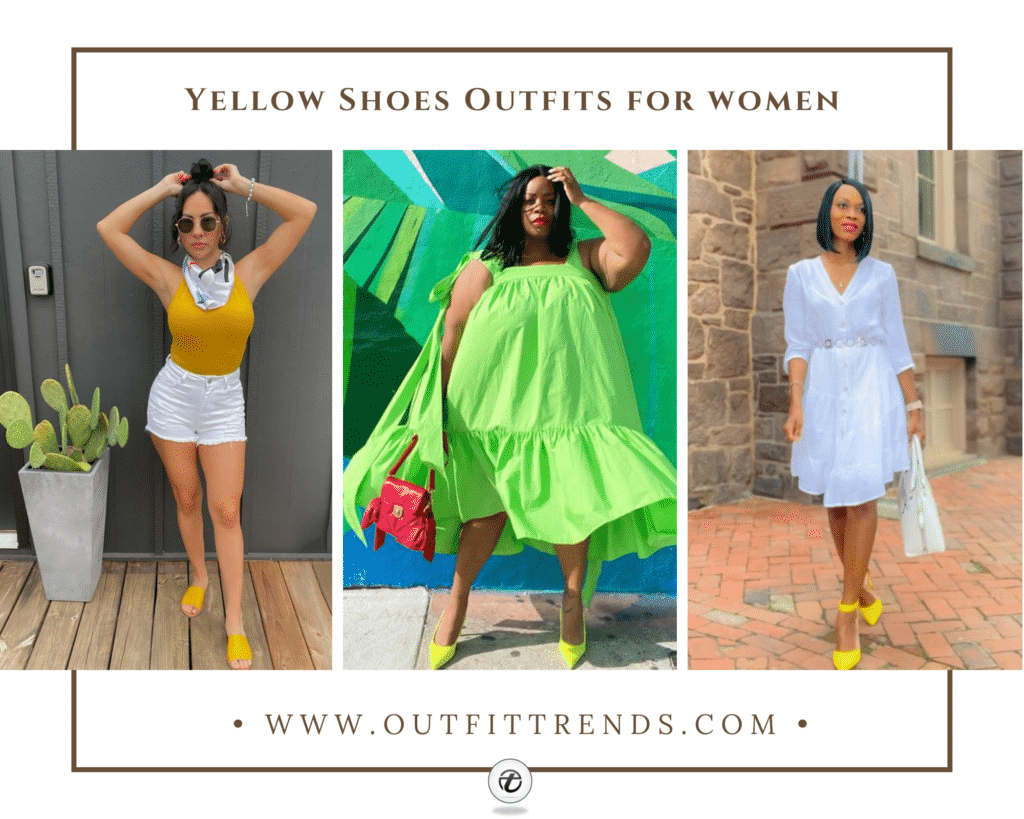 Styling Tips
Before we look at all those stylish ways to wear yellow shoes though, let's go through some quick tips for styling outfits with them!
In most cases, you will want to avoid wearing yellow from head-to-toe. While you definitely can, especially if you are trying to go for a monochromatic outfit (and I've got a few good examples of how to pull it off in the pictures below!), it's a pretty bold color like Hot Pink Skirts and when wearing such colors, there is such a thing as too much.
Be careful when putting together an outfit that includes yellow and black. (Unless, like Louisa from Me Before You, you really dig the bumblebee aesthetic.) While it is possible to pull off, most of the time you just look like the aforementioned bug.
Experiment with different shades of yellow. If neon yellow or primary color yellow is just too much to wrap your head around, try going for a pastel shade or a very pale yellow sorbet shade.
You can pair yellow shoes with more colors than you might think. Everything from red, blue, green, and purple are options, as well as white, black, and gray. You'll see plenty of examples of that in the outfits below so keep reading to check them out.
Okay, now that we have those tips in mind, let's get to the best part: the outfits!
↓ 26 – With Breezy White Top and Shorts
Skip the basic nude sandals next time you are putting together a summer outfit, and give some chunky mustard yellow sandals a try. They will elevate any outfit instantly.
↓ 25 – White Dress with Yellow Shoes
From dinner dates to parties, a floaty white dress is best set off with some fabulous t-strap heels the color of sunshine. This chic ensemble wouldn't be the same with metallic heels or basic black sandals. The yellow is a pop of color that ties the simple but stylish outfit together in the best of ways. Here are some more of my favorite Yellow Outfits For Women.
↓ 24 – Accessories to Wear With Yellow Shoes
Here are a few accessories that go well with yellow shoes. Gold-rimmed sunglasses, gold or silver jewelry, a white scarf kerchief, and a coordinating purse are all good options. Keep your eyes peeled for the different accessories you'll see in today's post, because they'll all work!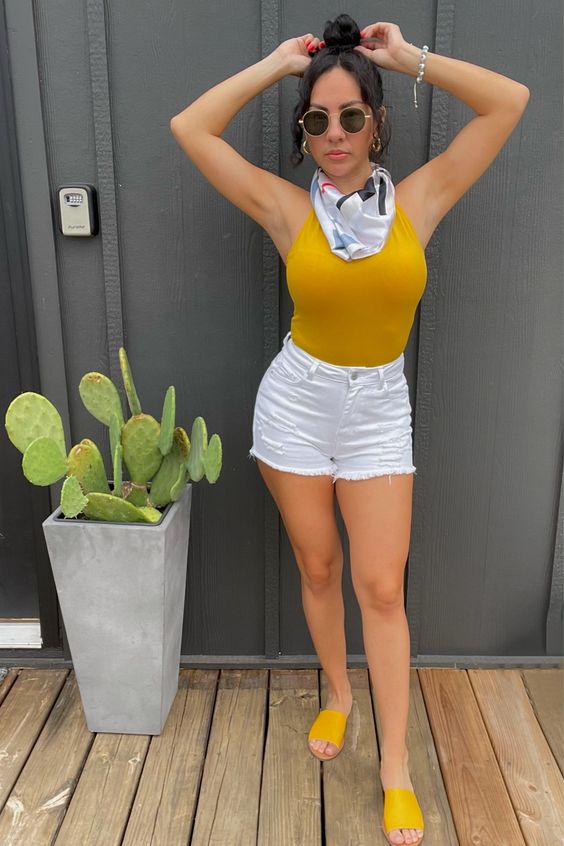 ↓ 23 – Yellow Shoes Outfit For Teenagers
Here's one way to style a black dress with yellow shoes. While you can go for a solid black dress, I prefer this gingham print which breaks up the strength of color and goes well with some muted yellow heels. For a teenager, I think this outfit does a good job of showing that balance between maturity and adolescence in a very repeatable way.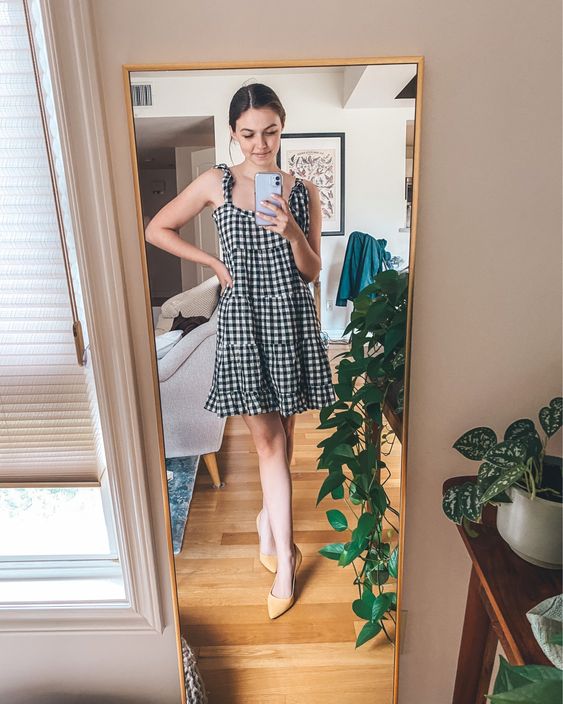 ↓ 22 – Dreamy, Semi-Formal Look
Got a date? A dinner? Headed to an event where you get to dress up? Now's your chance to try out some super bold, yellow heels to make your outfit pop! These pointy-toe, ankle strap heels are so fun and look truly great paired with a simple, satin dress.
↓ 21 – With White Jeans
I think every mom should have an outfit like this ready to throw on and go. It's stylish without requiring too much brainpower, and those little yellow heels kick it up a notch. Whether you are headed to brunch with your besties or attending your kids' recital, consider this ensemble a definite option.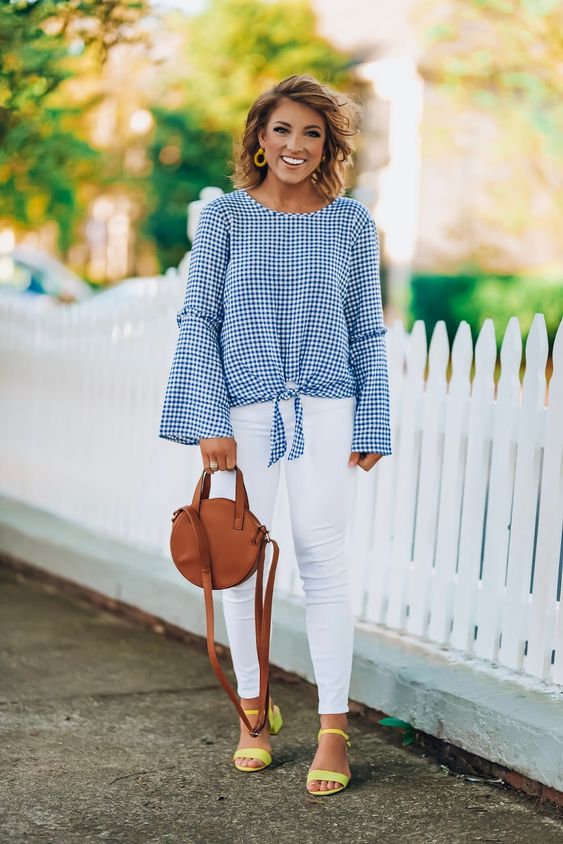 ↓ 20 – Yellow Shoes for Women Over 50
I love a lady who doesn't stop trying new things and having fun with her outfits! This super fun, funky look is totally rocked by a lady who is clearly living life to the hilt. From her yellow-patterned jacket to her red gingham pants and striped yellow flats, every bit of this outfit offers something fresh and fun to look at.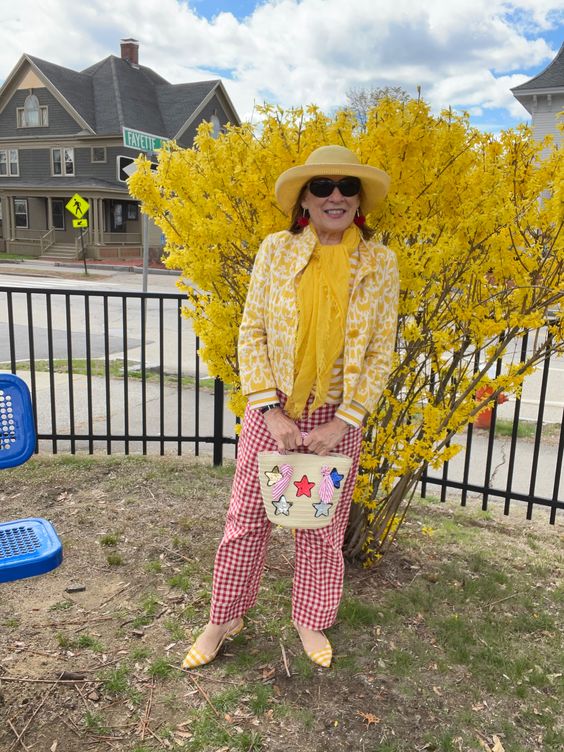 ↓ 19 – With Green Kaftan
If you love color, you simply have to try this outfit. This is one ensemble where confidence is a must so be sure you bring your A-game to rock it. Note that this model is also sporting a magenta handbag. At first glance, you wouldn't think the three could go together so well, but then you see this and you go OH!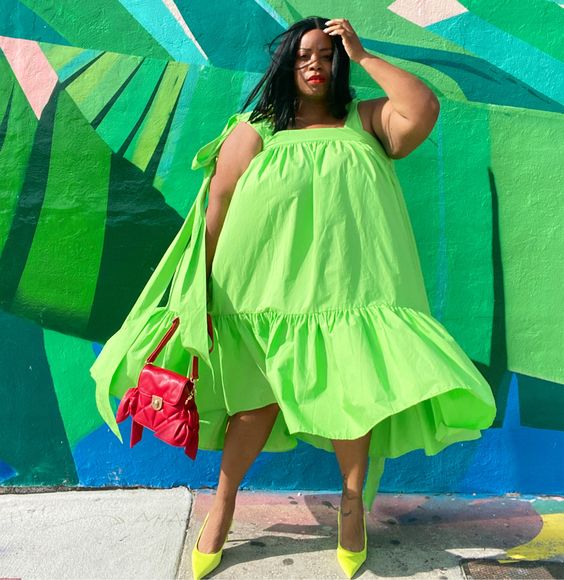 ↓ 18 – Shades of Red
Here's another color you might not immediately think of when looking to pair with yellow! But softer shades of pink – that veer into dark pink – clearly look fabulous with that note of yellow, especially when it's offset by some metallic accents. You can also swap the shorts with Red Pants.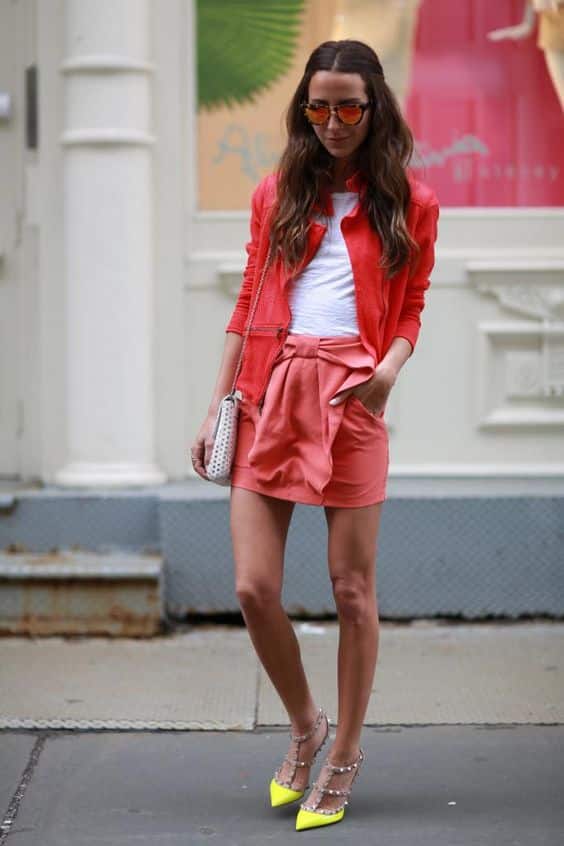 ↓ 17 – With Striped Sundress
For spring and summer stylings, it doesn't get much cuter than this! This outfit is perfect for any warm weather activity where you want to stay cool without sacrificing any of your style. As you can see, that note of yellow in the dress gets drawn out with the yellow sandals. Add a woven or straw bag and you have got yourself a whole look, ready to go.
↓ 16 – Black Tank with Peep Toe Heels
Leather happens to look really good with yellow, so give some leather pants a try with a lightweight cami and a matching mini purse. Some sunglasses and tousled hair finish off this look.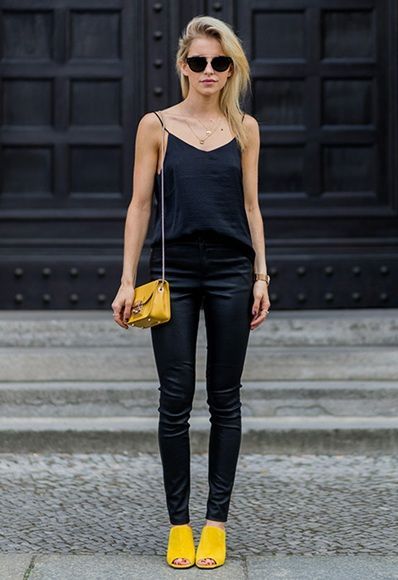 ↓ 15 – With a Skirt and Sweater
Don't you just love a good sweater and skirt combo? I know I do! Perfect for fall and winter, there's something wholesome and charming about this ensemble, especially with these old-fashioned yellow-gold buckle shoes! (Try saying that three times fast, I dare ya.) Yellow-gold is a great color too, by the way, and one you should definitely try.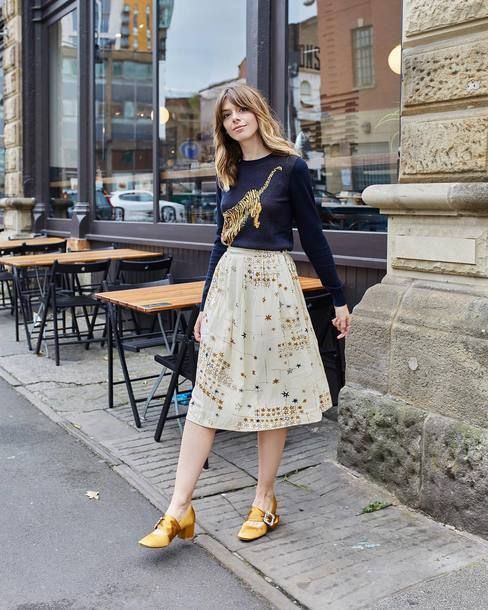 ↓ 14 – What to Wear with Yellow Sandals?
This casual but cute outfit just makes me smile! This gal looks totally at home rocking this floral jumpsuit that would be great both for chilling at home and running errands. You can dress it up or down according to what you need, which is always a plus in my book. Win-win!
↓ 13 – Mustard Yellow Heels Outfit
Remember how I said to try and avoid wearing yellow from head-to-toe? Well, here's how you do it right. After all, there's nothing overwhelming about this look, and I think it's down to the stripe pattern and the rather simple crisscross flat. This is a great summer party outfit. All you need are a few accessories and you're good to go!
↓ 12 – What to Wear With Yellow Heels
We all grew up with that very familiar image of yellow rain boots, and there's something nostalgic about this outfit that seems to give nod to it, but in the coolest, chicest way. Purple might seem like a bold choice to pair with yellow (and it is) but with a chic white top and white clutch, the color balance never feels too loud or extreme.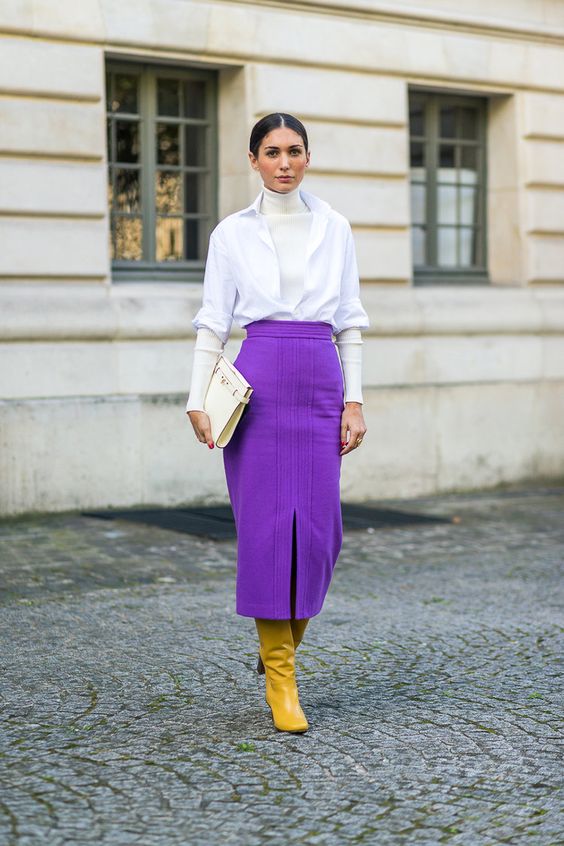 ↓ 11 – Old School Tights and Wool Coat
This outfit is decidedly old-school and has that artsy, "I live in the city and I'm chill about it" vibe. From the super pastel yellow seater to the cool gray coat and white skirt, everything is soft until you get to those jet-black tights and those super yellow black lace shoes! The colors here are well balanced, so it doesn't get too "bumblebee-ish" on us, which is always the goal.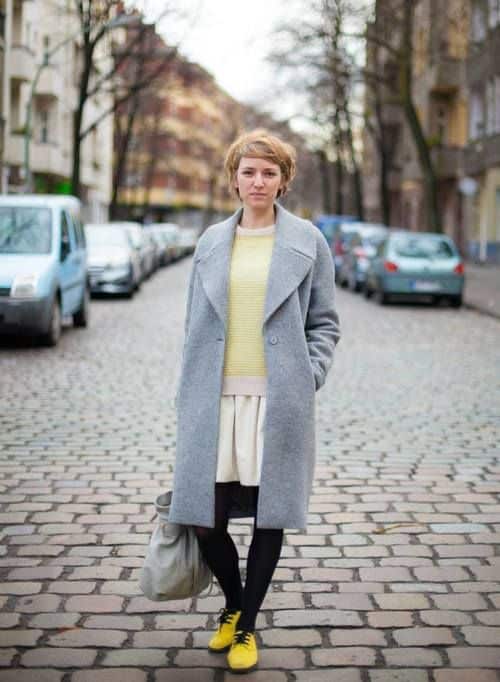 ↓ 10 – Simple Weekend Attire
Yellow tends to look pretty great with navy blue so throw on some striped, wide-leg pants and bright yellow heels and you've got yourself a simple weekend look you can feel great in. Here are some more of my all-time favorite Weekend Outfits.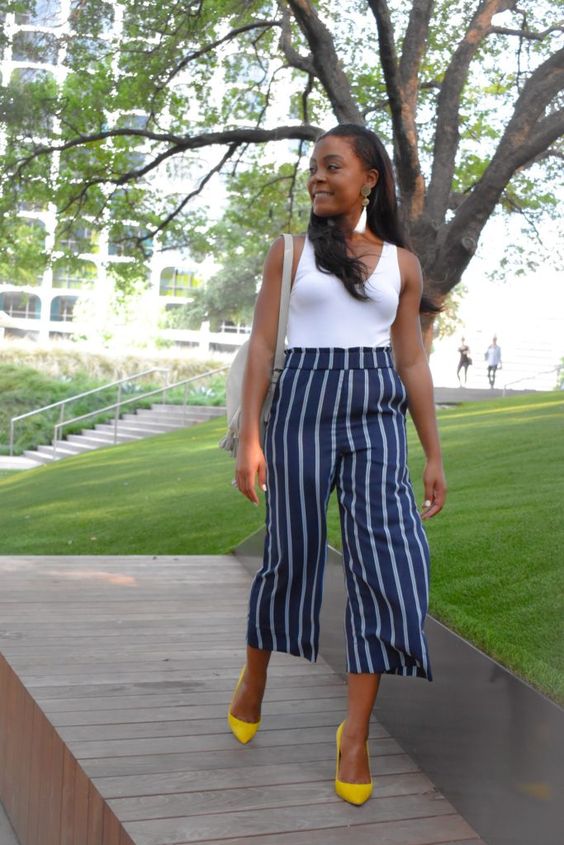 ↓ 9 – Yellow Shoes For a Wedding Guest Look
I love this adorable wedding guest outfit, which is feminine and stylish. These sandals are super pale yellow, which goes really well with the pink of this dress.
↓ 8 – How to Wear Black and Yellow Without Looking Like a Bumble Bee
Just because you should be mindful when wearing black and yellow in the same look doesn't mean you can't wear those colors altogether. Here's a basic outfit that does a good job of showing what you can do. Note that there are no stripes (which is where the bee comparisons might start) and there's some light gray color in there to offset the black. Easy, right?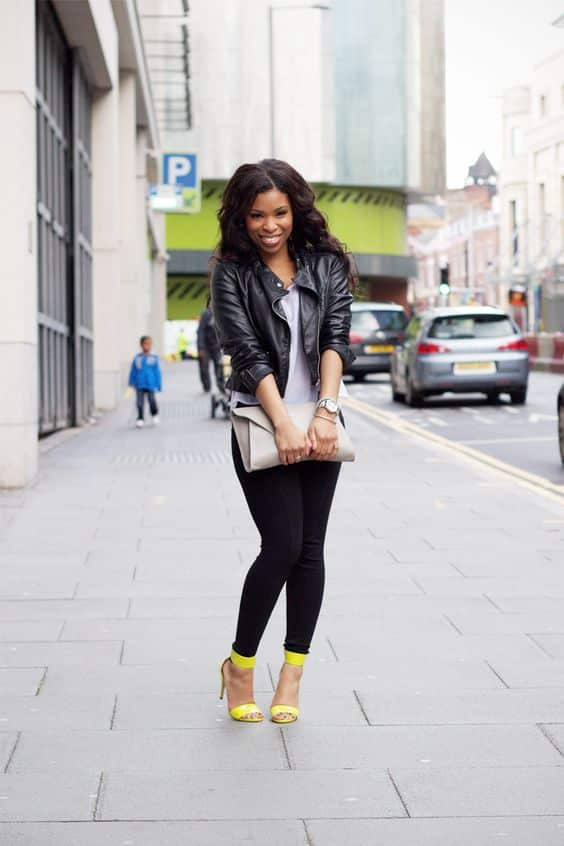 ↓ 7 – Mix and Match Patterns
Here's another good way to pull off wearing yellow and black in the same look. Mixing and matching prints is a daring style move that makes you instantaneously look like you know what you are doing (even if you feel like you don't!) and I prefer going for black on white rather than solid chunks of black and yellow.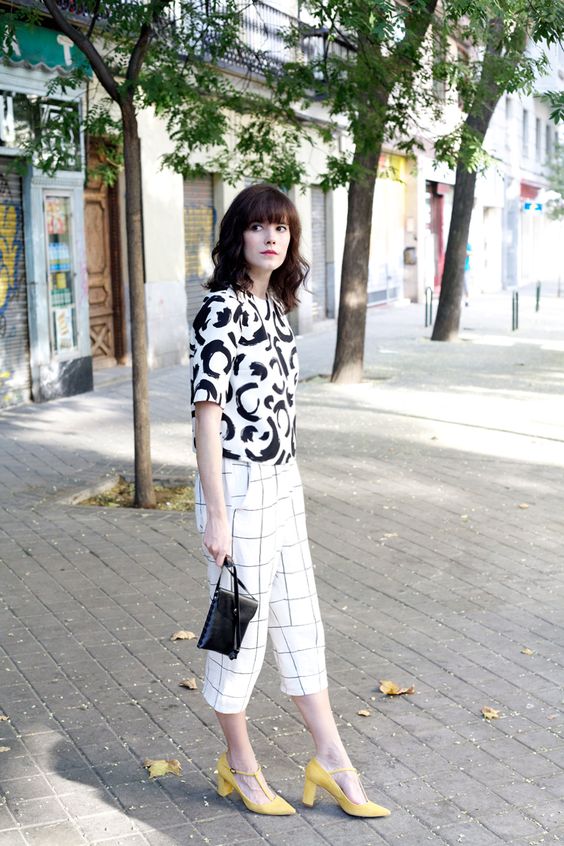 ↓ 6 – With White Dress & Yellow Handbag
Popular pairings for yellow shoes are white dresses. It's a good way to go minimalistic without sacrificing that helpful pop of color. For this look, the addition of a little "grandma" jacket and a yellow clutch is what ties the dressy outfit together.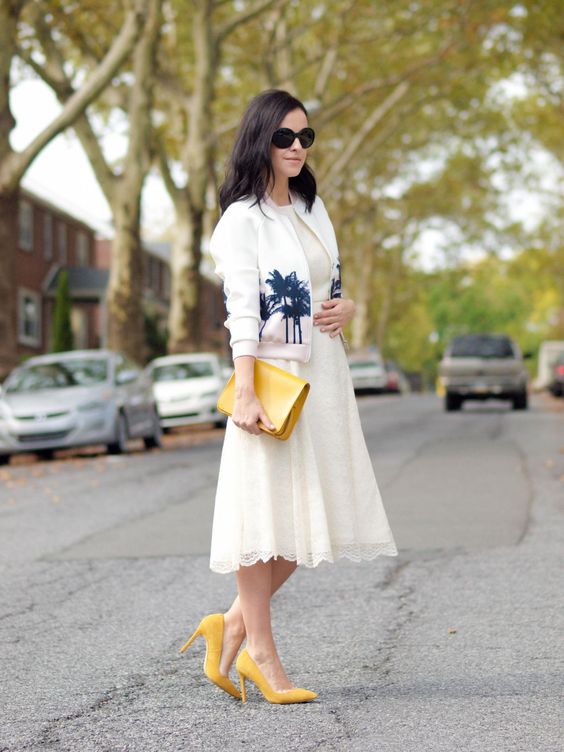 ↓ 5 – Colors to Wear With Yellow Shoes
If you are looking to bring some yellow into your fall wardrobe, give yellow pumps a try. You can pair them with a blend of blue colors, like this gal did.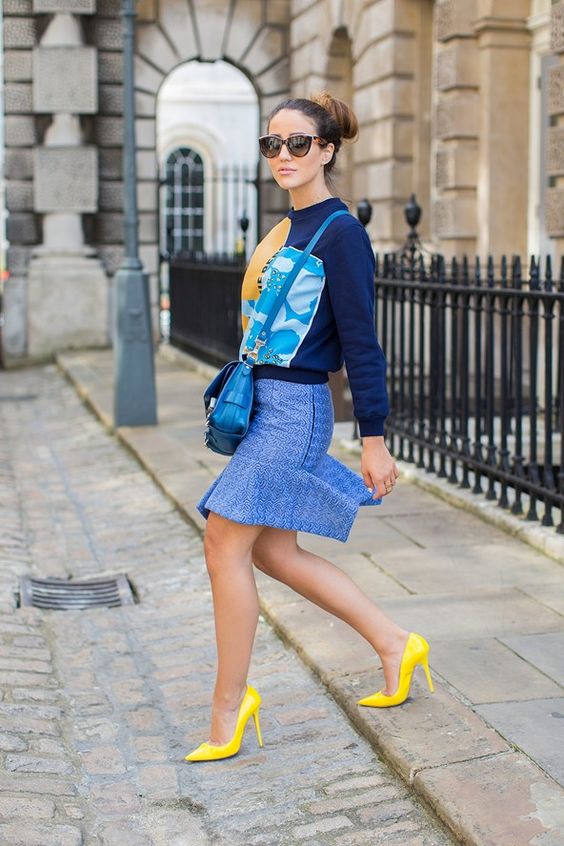 ↓ 4 – How to Wear Yellow Shoes with Jeans?
I love this blend of casual meets grunge meets chic. From the multicolor silk top to the ragged jeans and pointy-toe flats, this outfit is laidback and yet packs a serious style punch. Don't forget accessories because those yellow-tinted sunnies are the key to tying this look together.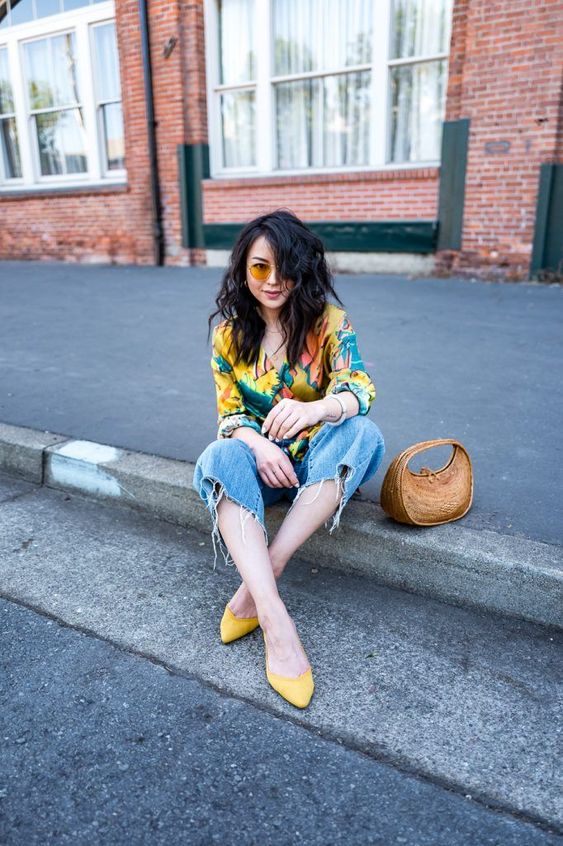 ↓ 3 – With Floral Matching Set
If you like a slightly tomboy-ish effect, try pairing some sneakers with a floral matching set. It's an easy way to get that perfect blend of casual girliness. Plus, it's just more practical!
↓ 2 – With White Blouse and Jeans
Here's another way to wear yellow shoes with jeans. This is one of those outfits that will always be around: a white blouse-style top, well-fitting jeans, and some fun heels. You can't go wrong with it, all you need is some bright lipstick and maybe a couple of accessories.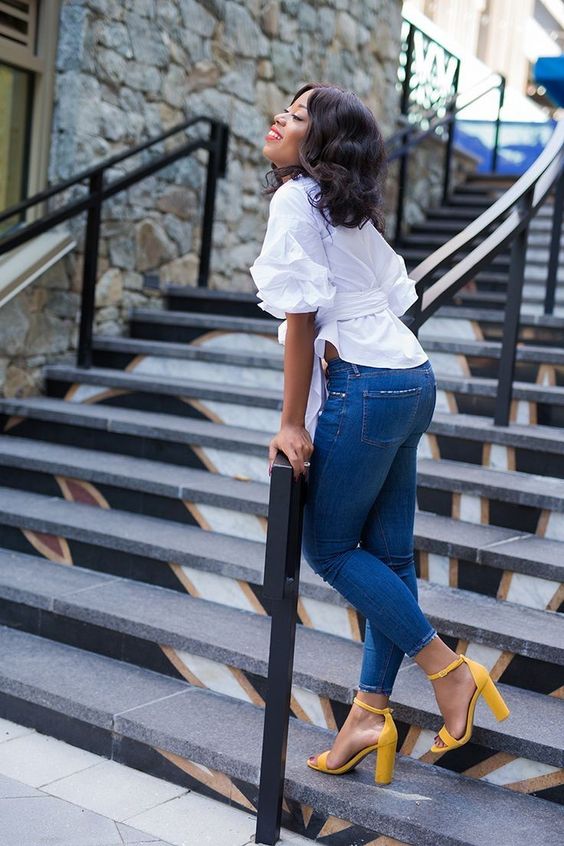 ↓ 1 – What to Wear with Yellow Sneakers?
Whether you're headed to the gym or just in the mood to rock some athleisure, this tracksuit – featuring some neon yellow stripes – would go really well with some neon yellow sneakers. Note that the base color of this jacket and joggers outfit is gray, which we've already learned goes really well with yellow. For more ideas on styling your favorite sneakers, check out our post on Outfits with Sneakers.
Frequently Asked Questions
Here are a few frequently asked questions about outfits with yellow shoes!
Q. Should I buy yellow shoes?
If this post has done anything, I hope it's shown you that owning a pair of yellow shoes can only improve your current wardrobe! So the answer to this question is definitely yes. Buy those yellow shoes, whether they are sneakers, sandals, pumps, or boots, and brighten up any outfit instantly.
Q. Where to buy yellow shoes?
Depending on the type of yellow shoe you are looking for will determine where you go shopping for them. That being said, yellow shoes are like any other shoe and will most likely be found in your favorite shoe store. Check out stores like Journeys or Sketchers, but also be sure to visit places like Kohls or Baker's for options other than sneakers. Online, you can get cheap yellow shoes on Shein or even Amazon.
Q. What to wear with mustard yellow shoes?
I think mustard yellow is a fun color to play around with. It looks great with medium blue, brown, and brick colors. Also gray, green, and even some shades of pink! Knowing what color works with this shade of yellow makes designing an outfit around some mustard-colored shoes a whole lot simpler. In Winters, they can also go very well with any of these Outfits with Mustard Yellow Sweaters.
And that wraps it up for us today. Let us know in the comments what your favorite yellow shoe outfit was!
R.H. Elias is a freelance writer, aspiring author, and freelance transcriptionist. She is a homebody all the way and loves curling up on a cold, rainy day with a good book and a warm cup of tea. Her favourite pastimes include reading, writing, and watching period films. She currently lives in Puerto Rico.