Styling Black Sweaters. A black sweater is a seriously versatile piece that we believe every lady should have on hand. And chances are you already have one hanging in your closet. Even a minimalistic wardrobe would likely include a black sweater.
Not only is this underrated piece such a staple for stylish outfits, but it can be dressed up or down according to the occasion. But if you are feeling stumped on just how to wear a black sweater in a stylish and modern way, this article is just the thing you have been looking for. In today's article, we'll cover 17 different ways you can wear a black sweater. From what accessories to pick to choosing the right color pants, you will discover all you need to style a black sweater and create a gorgeous outfit. Let's get started.
How to Wear a Black Sweater
First things first. A black sweater, when worn right, can prove to be quite the statement piece. So how does one wear it? Here are a few tips to keep in mind:
Prioritize material and quality. A good quality sweater (for example, cashmere) will elevate even the simplest outfit instantly. You can thrift a good cashmere sweater or opt for a similar quality piece (like Merino wool) so that your sweater becomes a luxury item and brings your whole look to the next level.
Lint-roll your, remove pills, and don't pull stray threads! (Cut them instead.) Keep your sweater in good condition and it should last you a long while.
Remember that sweaters aren't typically worn as a super form-fitting piece. However, a good sweater will hug you in all the right places, and won't look overly baggy (unless that's the style you are going for!) or sloppy. A too-small sweater won't be flattering so make sure you experiment with different brands and even sizes until you find the one that suits you best.
Try different sleeve lengths, collars, and styles. You may prefer a turtleneck or a mock-neck sweater. Or you might like a fitted, ribbed top.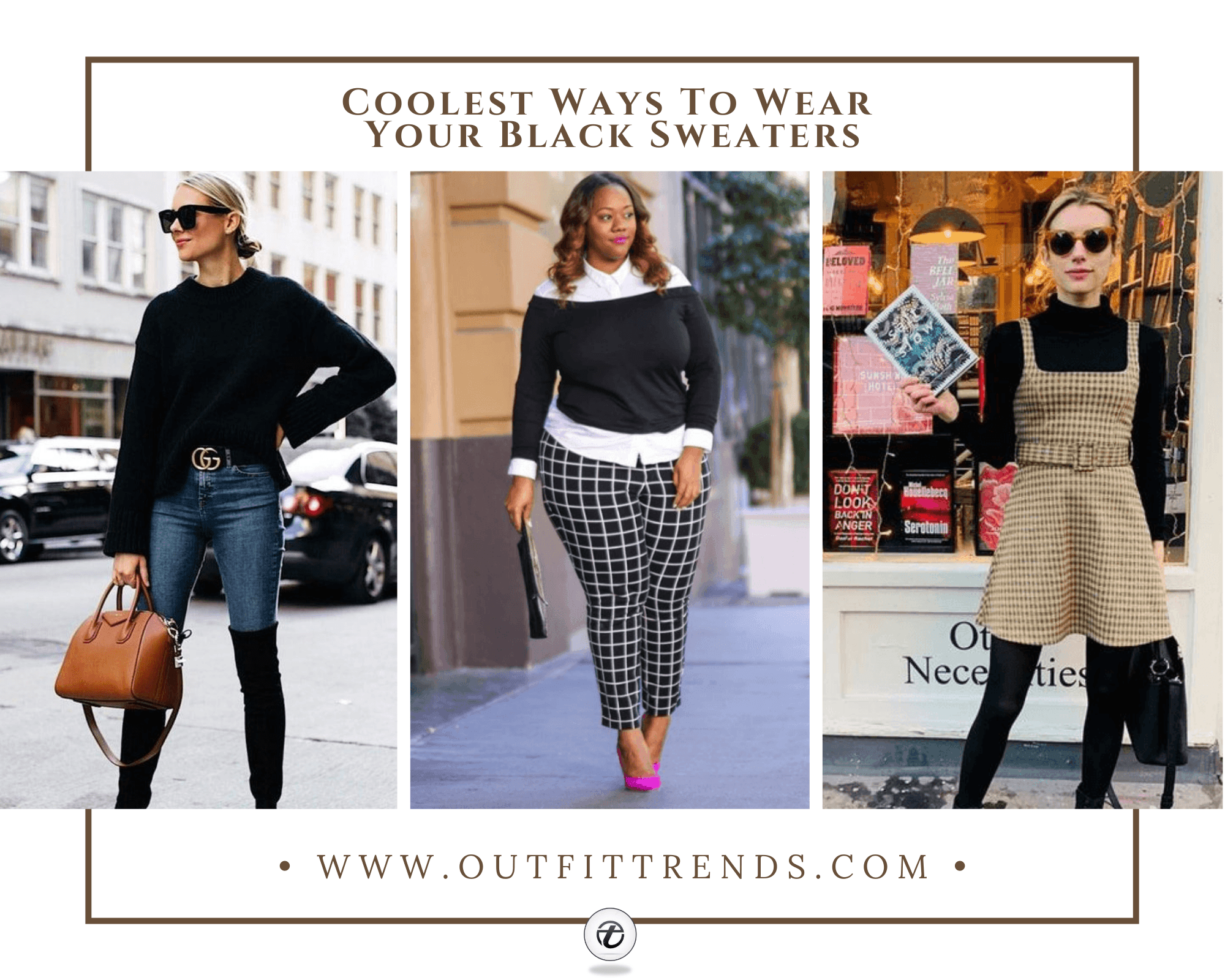 We have rounded up 18 outfit picks to show you exactly what to wear with a black sweater, from leather skirts to white trousers, giving you the most stylish options out there. Let's get started!
↓ 18. With Leather Jacket & Skirt
Let's kick things off with a cheeky Christmas look. After all, with the big day right around the corner, we wouldn't want to leave you hanging! For this ensemble, the black sweater is simply a background staple, making the rest of the look possible. A cute brick-red skirt will keep with the spirit of things, as will a bold red lip. Add a moto jacket on top and pop on a pair of tights to keep the leggos warm. Finish off the ensemble with a pom-pom beanie. Here are some more ideas on how you can style Leather Jackets.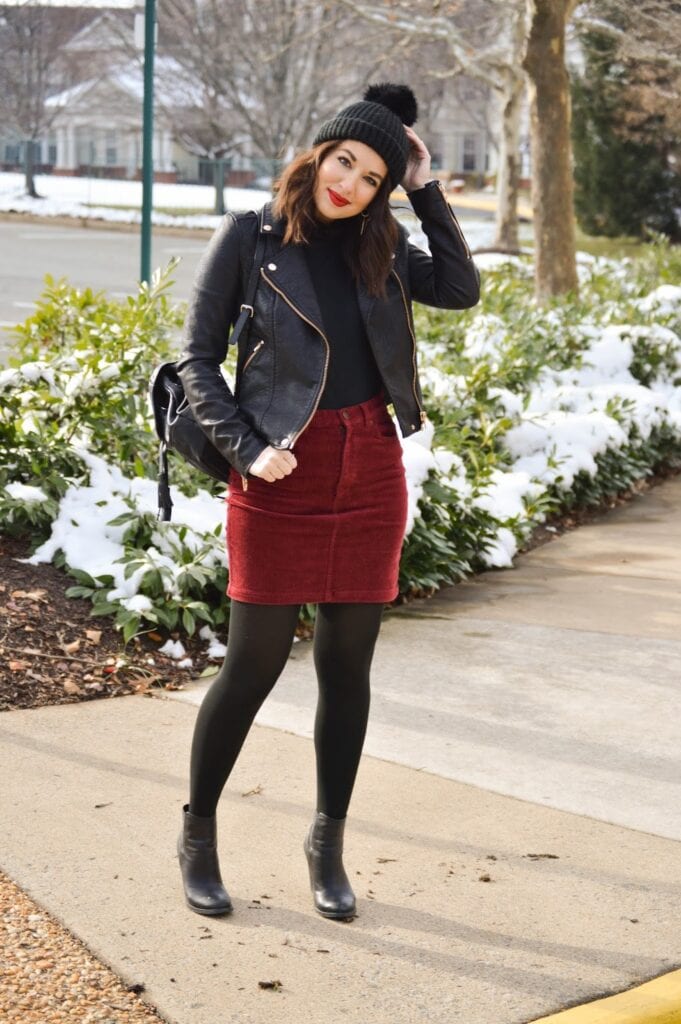 ↓ 17. With a Jumper
We love this look as worn by Emma Roberts. A mock-neck sweater worn under a gingham print jumper and paired with opaque tights is so chic. Finish off the ensemble with laced up boots, some funky sunglasses, and a big satchel purse.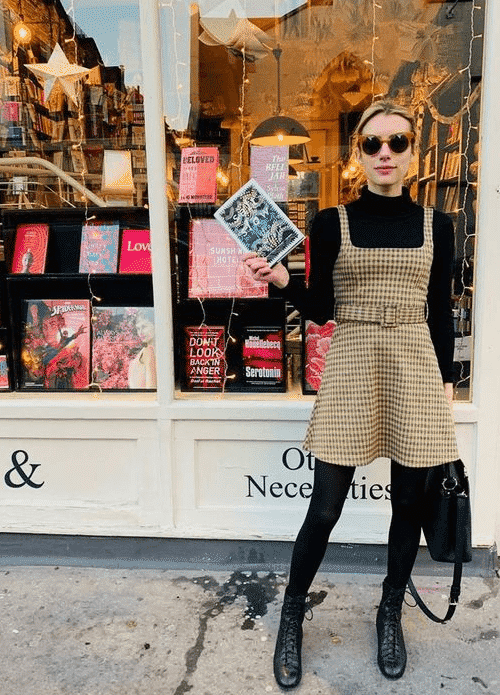 ↓ 16. With Dress Shirt
If you've been thinking you want to try pairing a dress shirt with your black sweater, here's the look for you. When it comes to what color dress shirt to pair with it, we would have to say that a white button-down won't let you down! They pair like cookies and cream and are fun to style. Add a bold lip color, some checkered trousers, and take it to the next level by pairing your lipstick to your shoes!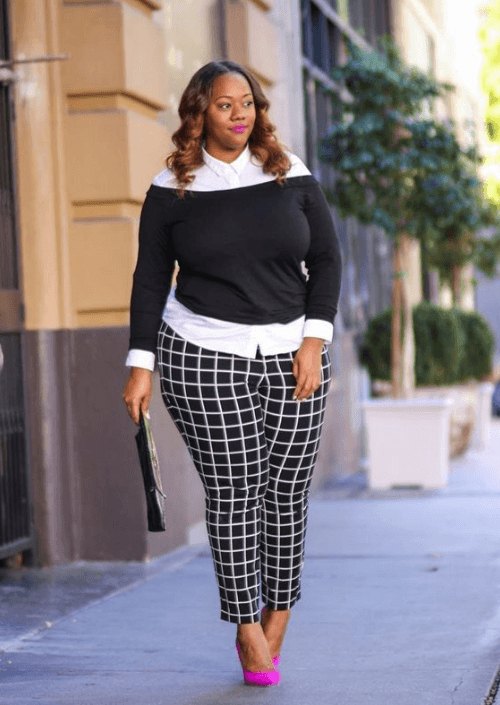 ↓ 15. With Sheer Polka-Dot Tights
This edgy look is such a stunner. Go for a slim-fitting sweater tucked into a pair of black shorts. Wear these over some polka dot tights. Next, slide on a pair of stiletto booties, and finish off with some black beaded accessories. A high ponytail is sleek and chic and will tie it all together.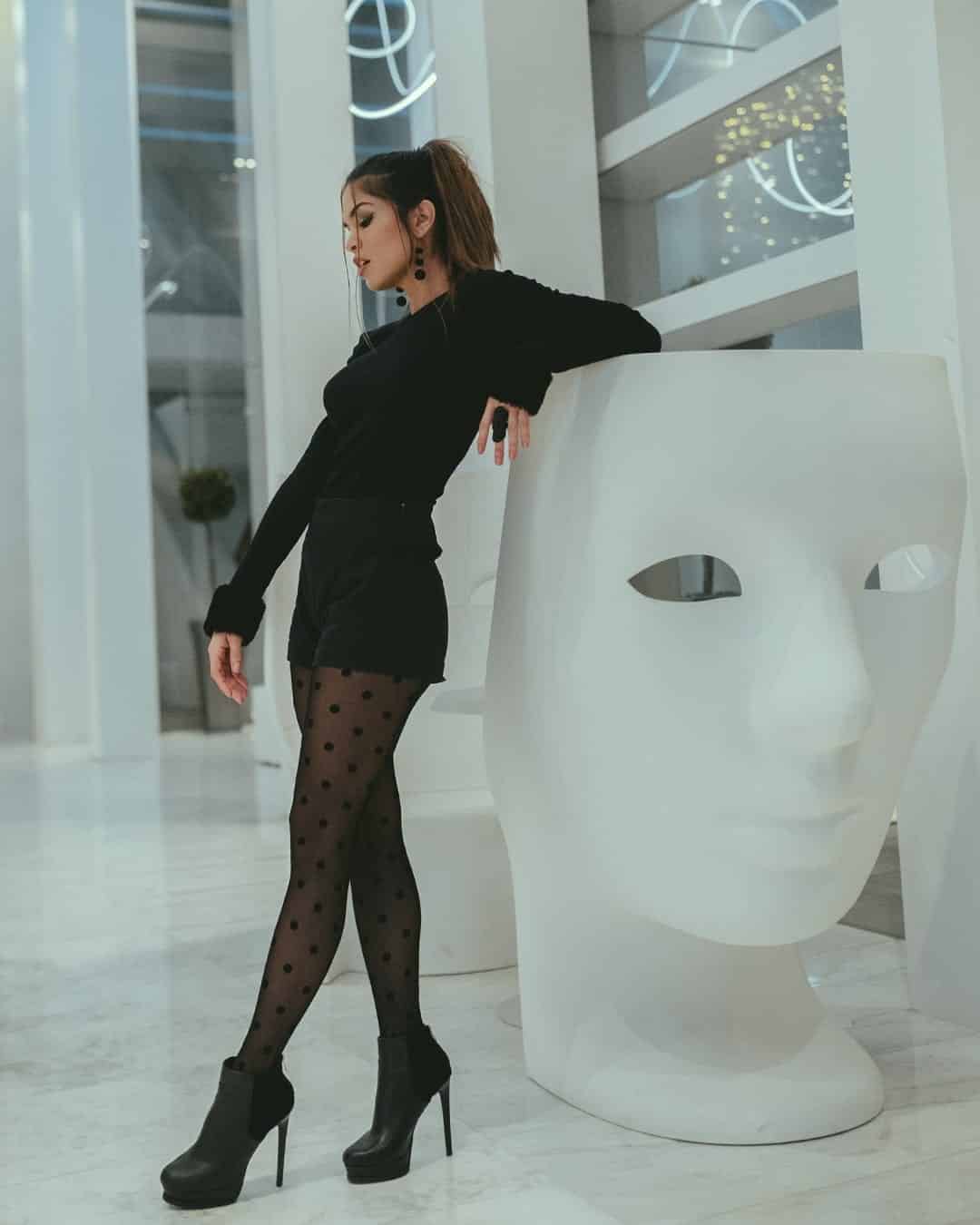 ↓ 14. With Over-the-Knee Boots
And this, ladies, is how to wear a black sweater with jeans! Simple yet endlessly chic, this is just one of the many ways you can style jeans with your favorite sweater. We are in love with the over-the-knee boots and statement sunglasses. Keep your jewelry minimal and let your outfit do the talking.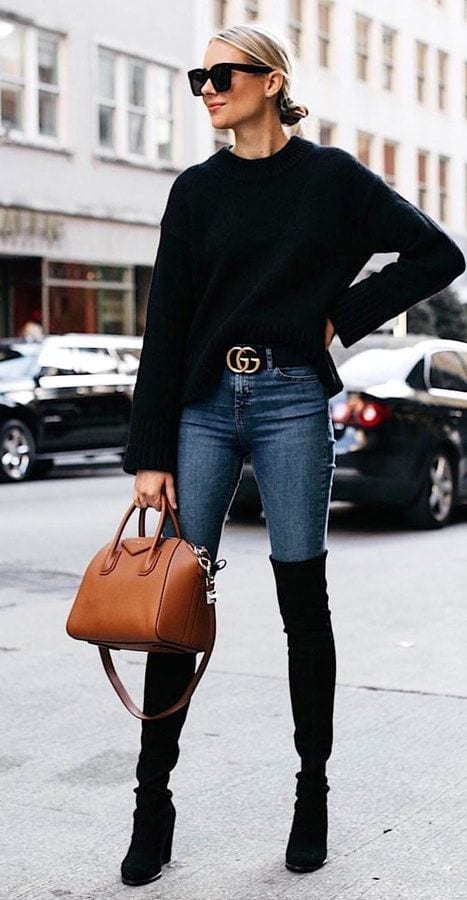 ↓ 13. With a Leather Skirt
For a high-end lewk, we love this diamante-detailed sweater tucked into a leather A-line skirt. This fashionista-approved ensemble is perfect for a Christmas work party. Some rust-colored knee-high boots ties the look together. Here are some more trending Leather Skirt Outfit Ideas.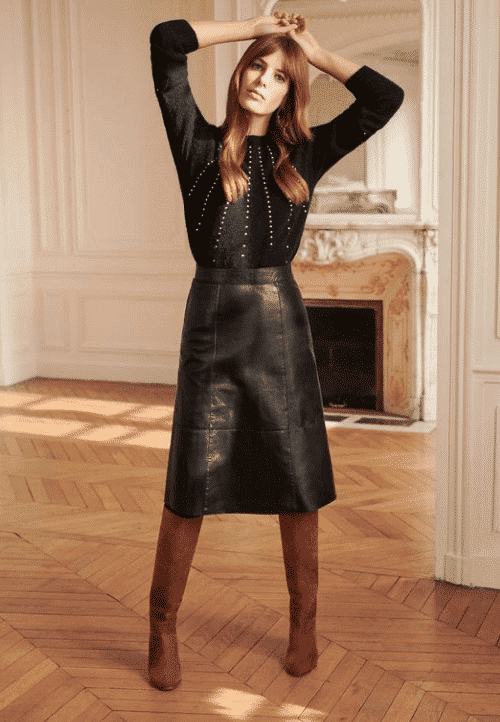 ↓ 12. With White Trousers
Want to play things up a bit? This black-and-white outfit is cute, stylish, different, and chic. Perfect for the college girl in need of some winter fashion help! Tuck a turtleneck into some high-waist trousers and add a belt. Next, pop on some fun sneakers. We like these polka dot print Converse. Add a coat on top and a little purse and you are good to go.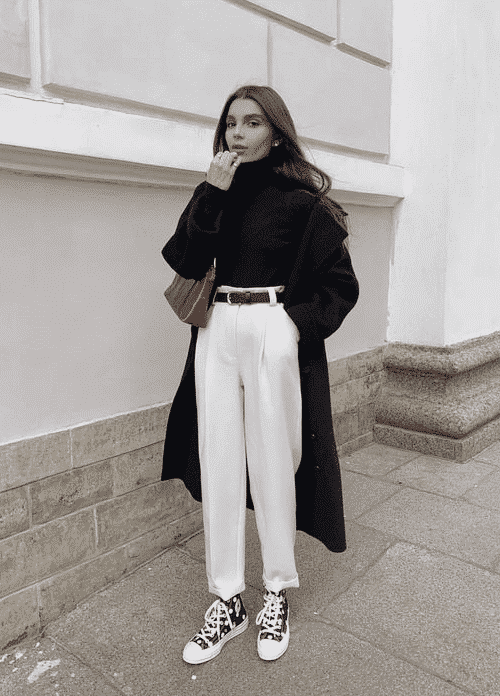 ↓ 11. With a Suit
Can't figure out what color pants go with a black sweater? (Hint: all of them do.) Not to worry. Go the Victoria's Secret model way and try a sleek suited look, opting for either an all-black ensemble or a navy blue suit. We love both! Note the tailored trouser and it's length, which is chic and super feminine as well.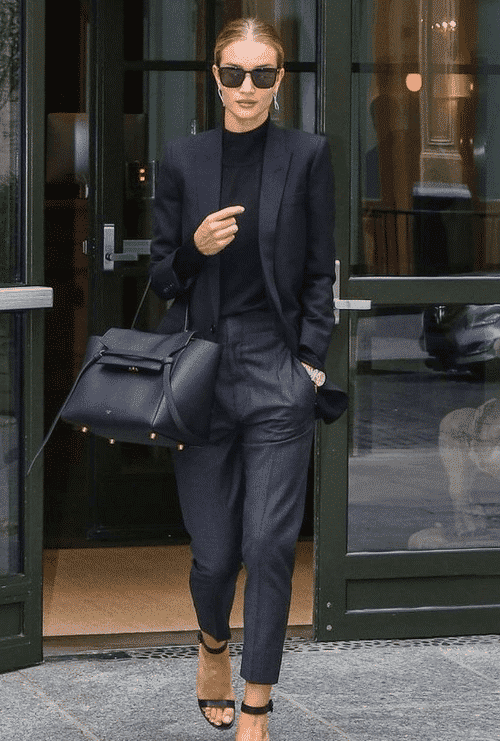 ↓ 10. With a Plaid Skirt
An assymetrical skirt in plaid print makes a serious fashion statement when paired with a turtleneck. Knee-high boots, statement sunglasses, and a brown purse tie it all together.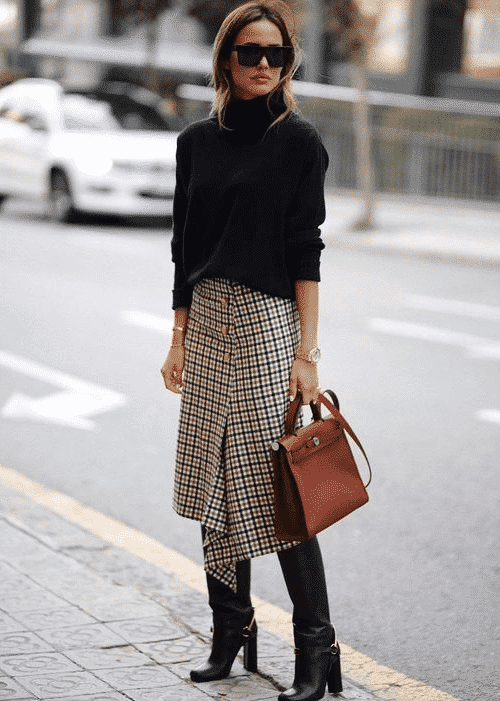 ↓ 9. With a Denim Skirt
Perfect for a chilly Spring day or a warm autumn day, this cute look is perfect for running errands, grabbing coffee, or having a casual date with your guy. Here are some trendy ways to style Denim Skirts.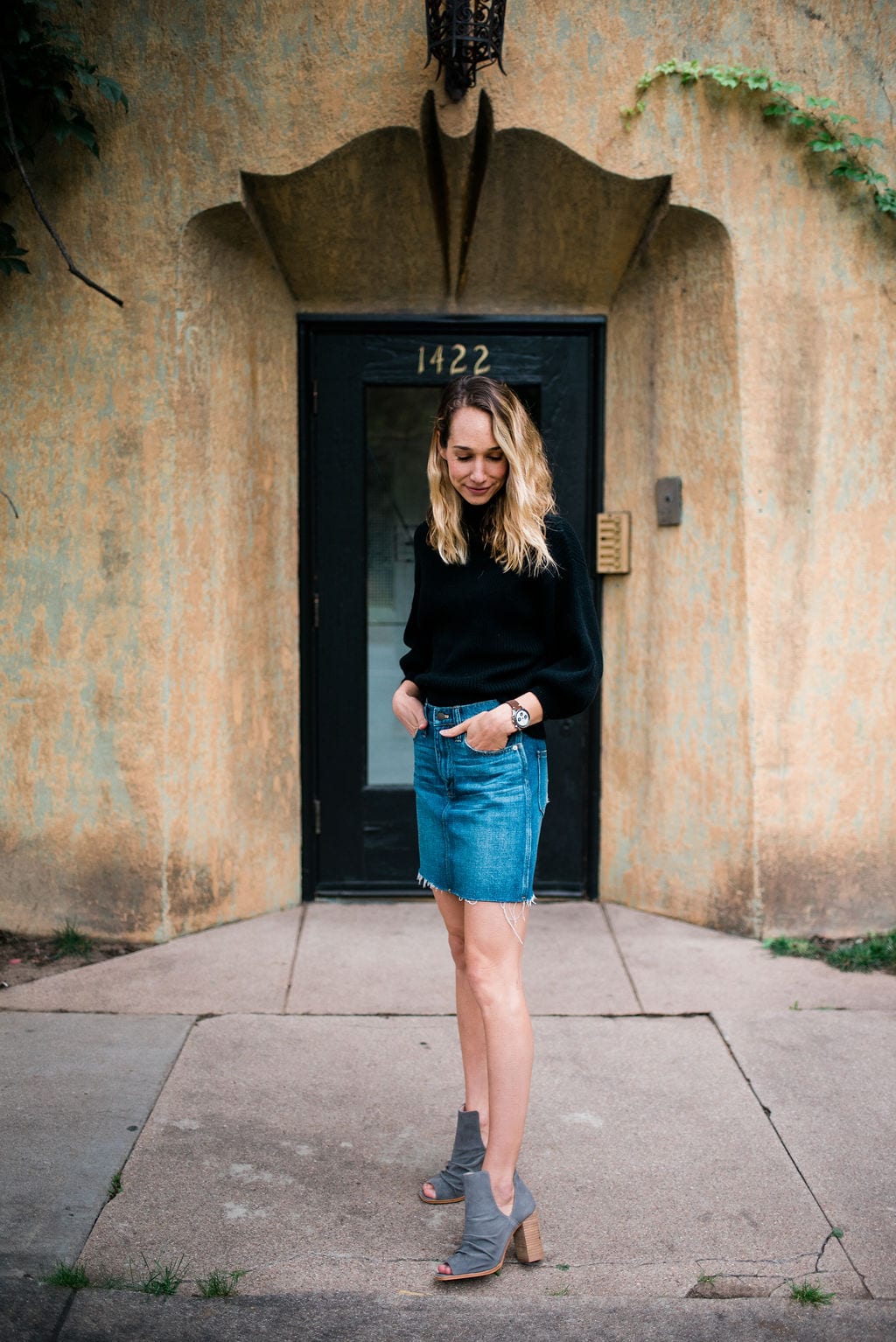 ↓ 8. With a Pleated Maxi Skirt
Have you ever tried pairing a maxi skirt with sneakers? If not, this is as good a time as any to give it a try. We love the laidback girlishness of this look, timeless yet distinctly modern. These neutrals are always elegant as well.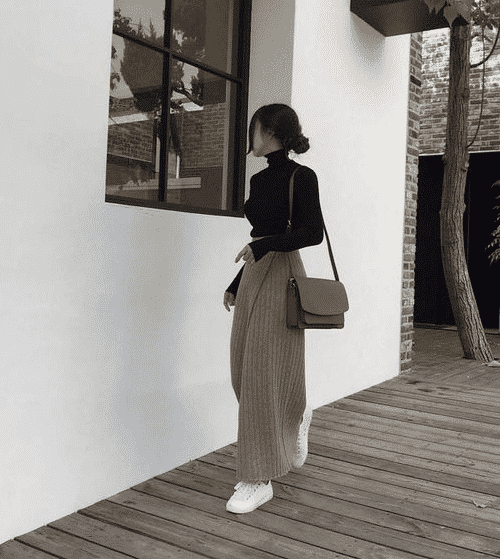 ↓ 7. With Suit Jacket and White Pants
Wondering what pants to wear with a black sweater? We have already shown you a few options, like the obvious (jeans) and the less obvious (trousers and tailored dress pants) but here's one more. Tuck your turtleneck sweater into a pair of high-waisted, rolled pants. You can belt the waist with a medium-sized black belt and top off the look with a slightly loose suit jacket. This doubles as a unisex ensemble so if you have a guy in your life who likes to stay in the style loop, share this pic with him! He could also swap out the white pants for a brown pants black sweater look.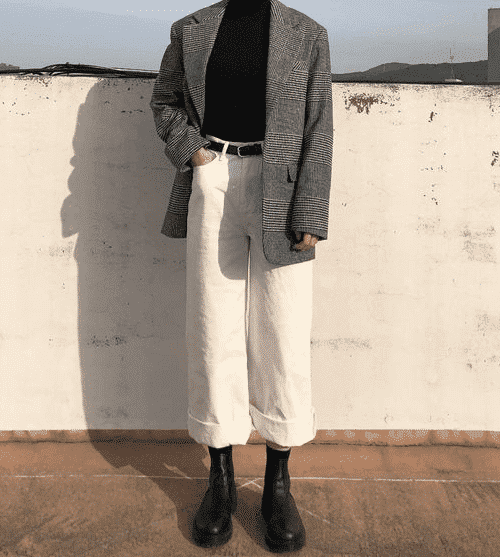 ↓ 6. All-Black Outfit
Want to try an all-black look? This one is perfection. A metallic belt buckle helps to keep the look from being too monochromatic and the short pant leg allows a pleasant break in the scape of black.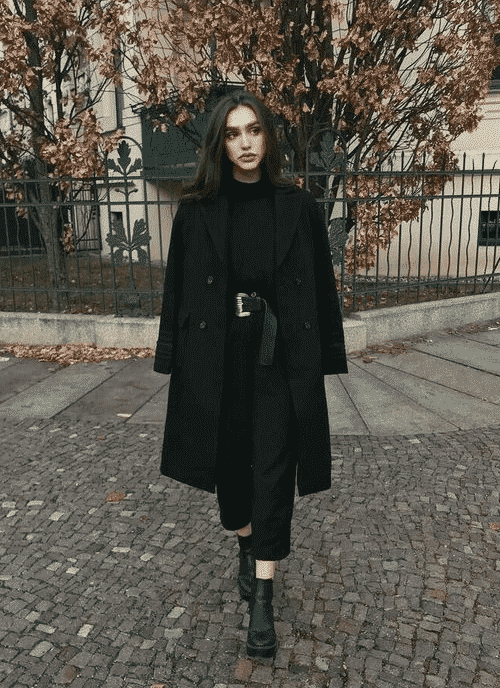 ↓ 5. With Cheetah-Print Shoes
When it comes to creating a vivacious look, there are a few key elements you need. A funky print, a bold lipstick, and a staple piece to tie it all together. This outfit delivers all three! Another plus? This is how you can wear a black v-neck sweater!
We love this fabulous ensemble, featuring a cozy, baggy sweater, ripped, cuffed jeans, and some seriously unique footwear.
This whole look also gives a great option for what makeup to wear with a black sweater. A glossy berry lip, smoked out eyes, and bronzed cheekbones is glam in all the right ways. If you like wearing animal prints, you have to check out my recent post on the Cutest Animal Print Outfits for Women this Season.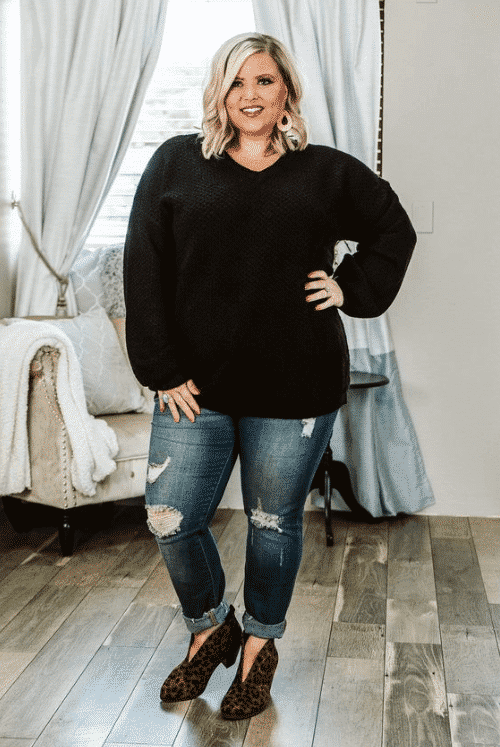 ↓ 4. With Gray Coat
For an easy-peasy street-style look (that is still super chic) try this one out. The long gray coat gives this ensemble a distinctly NYC vibe that we love.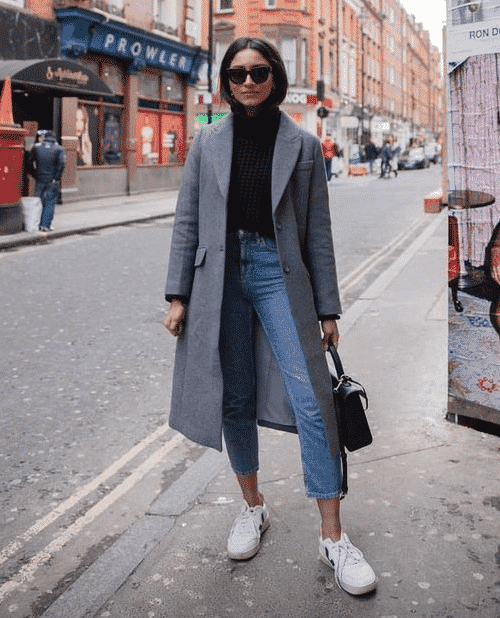 ↓ 3. With a Blazer and Converse
We love a great blazer and jeans outfit. Add a sweater and we are so there. Here is a super stylish and chic ensemble featuring high waist jeans, a crewneck sweater, a chic blazer, and Converse! This is a great street-style look and easy to put together. Accessorize with a cute belt, shoulder bag, or satchel, and keep jewelry minimal.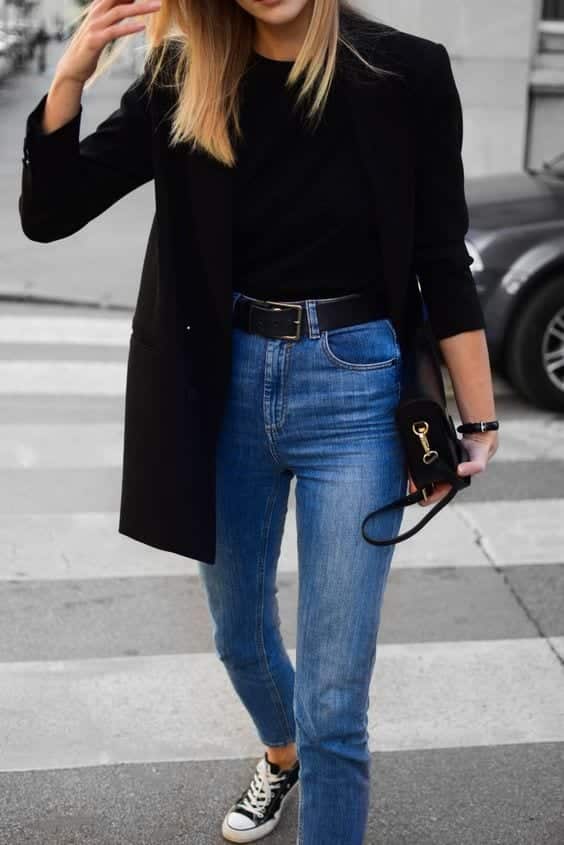 #2. What to Wear With a Sweater Dress
Have you ever felt stumped on styling a sweater dress? Not worry, so have we! One wants to look chic but still enjoy the comfort of a soft sweater dress… So here is one option we love. Style your sweater dress with a pair of leather knee-high boots and a leather satchel.
We love the combo of creamy cognac-colored boots and a dark green purse. But you can try different colors depending on what you like. Otherwise, accessories are not super necessary with this look. It's a statement outfit all around, simple but elegant.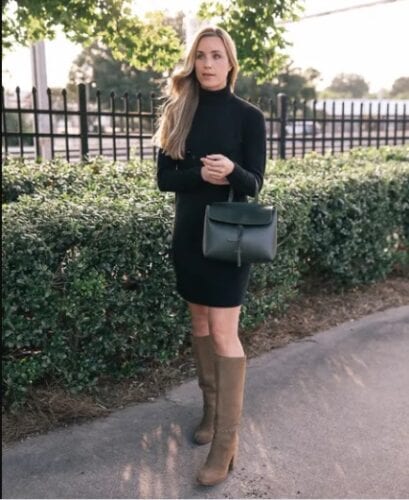 Here's another option (and to be totally honest, we're not sure which look is our favorite – both are gorgeous!) that is slightly longer and more elegant. This would be a great option for a dinner party, a holiday bash, or a family gathering. This longer, puffed-sleeve option also features a slit up the length, which is super alluring. For this look, it's all about the jewelry. For footwear, we recommend heels!
↓ 1. With Plain Old Jeans and Booties
Finally, we have a basic but stylish look that includes some boyfriend style jeans and some sleek booties. Toss your hair up in a messy top-knot and pop on your favorite shades. Voila! A street-style look we can all wear with confidence.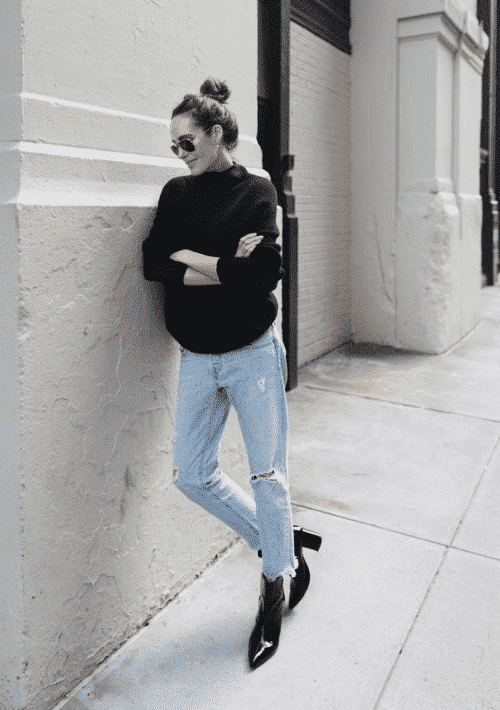 Frequently Asked Questions
Let's finish things off with some frequently asked questions about styling black sweaters. Check them out!
Q.

What should I wear with a plain black sweater?
A. Because a black sweater is so versatile, you can really have fun dressing it up. You can keep it casual by pairing it with some cute jeans and boots. Or you can go a little dressy with pearls, capris, and heels. Try it with leggings or tucked into a skirt. Or layer with a dress for a cute, girly ensemble. The sky is the limit so definitely try experimenting a bit.
Q.

Which color leggings go with a black sweater?
A. You can pair pretty much any color legging with a black sweater, but keep in mind, you may look a little goofy in bright red (red and black might make you look a little checkerboard-ish!) or bright yellow (did someone say bumblebee?). Try dark, rich tones like burgundy or brown. Or, go for light, warm tones like pale pink or soft gray.
Q.

Which color formal trousers should I wear with a black sweater?
A. A good color choice for trousers, when paired with a black sweater, are lighter neutrals like beige, tan, or cream. You can also try black trousers (but these may make you look like you are attending a funeral, so be cautious of that) as well as charcoal gray or white.
Q.

Where can I find a black cardigan sweater?
A. A black cardigan sweater is a darling piece to add to any wardrobe, minimalist included. If your local thrift store isn't producing any viable options, here are four you can consider:
Q.

Where can you buy an original black sweater?
A. If you are on the hunt for a plain black sweater (i.e. no logos, no lettering, etc.) we know the feeling! Those suckers can be tough to track down. But don't worry, we did all the searching for you. Here are our three top places to get a plain black sweater, in order of price:
Target. Good old Target. At Target, you can get a black crewneck pullover sweater for just $12.60. How's that for a bargain?
Old Navy. Looking for something a little cozier, maybe even ribbed? This soft, textured sweater does the job for just $20. We love it.
L.L. Bean. Wanting something a little more lush? This luxurious cashmere sweater by L.L. Bean costs $99 and will cover you like a (slightly fitted) glove.
And that's all for today! We hope this article answered all your questions about styling black sweaters. Let us know in the comments below what your favorite way to style a black sweater is!