Men's Fall Colors. It is time for the best season of the year! As the autumnal season is approaching, the color palettes all around us are changing. Be it nature's leaves or our own clothes, fall vibes are everywhere. And aligning your outfits with the seasonal change can be a bit of a challenge.
Along with the change in color tones, it is also getting colder by the day. Saying goodbye to your beach shorts and tanks may be a little hard but let us be honest, everyone loves fall fashion and styles. This is the best time to make your style statement and be creative with what you wear. You might think that you would have to go on a long shopping spree to put a fall outfit together but that is not true! We all have stuff in our wardrobes that has been lying there for a long time because we didn't know how to style it. Worry no more, after reading this article you will know exactly how to put them to use and create a perfect fall outfit with the right colors.
What Colors to Wear in Fall?
Fall outfits are all about knowing how to layer the right way and wearing the best colors. With a good sense of fashion and inspiration, you can turn the simplest pieces of clothing into an eye-catching outfit just by putting it together wisely. For selecting a fall outfit, the first thing you should know is what colors to wear. Generally speaking, shades of brown, yellow, and green will be your best friends. Here are a few colors that are in trend this fall and look absolutely awesome on men:
Burgundy – dark shade of red
Emerald or Olive green
Mustard
Orange
Brown
Camel
Navy Blue
Dark Turquoise/Teal
Gray
Now that you have a little sense of which colors to wear, take a look at our collection of 22 different fall outfits with different colors and styles. From hoodies to chinos, there's a little something here for everyone, no matter the occasion. Check them out!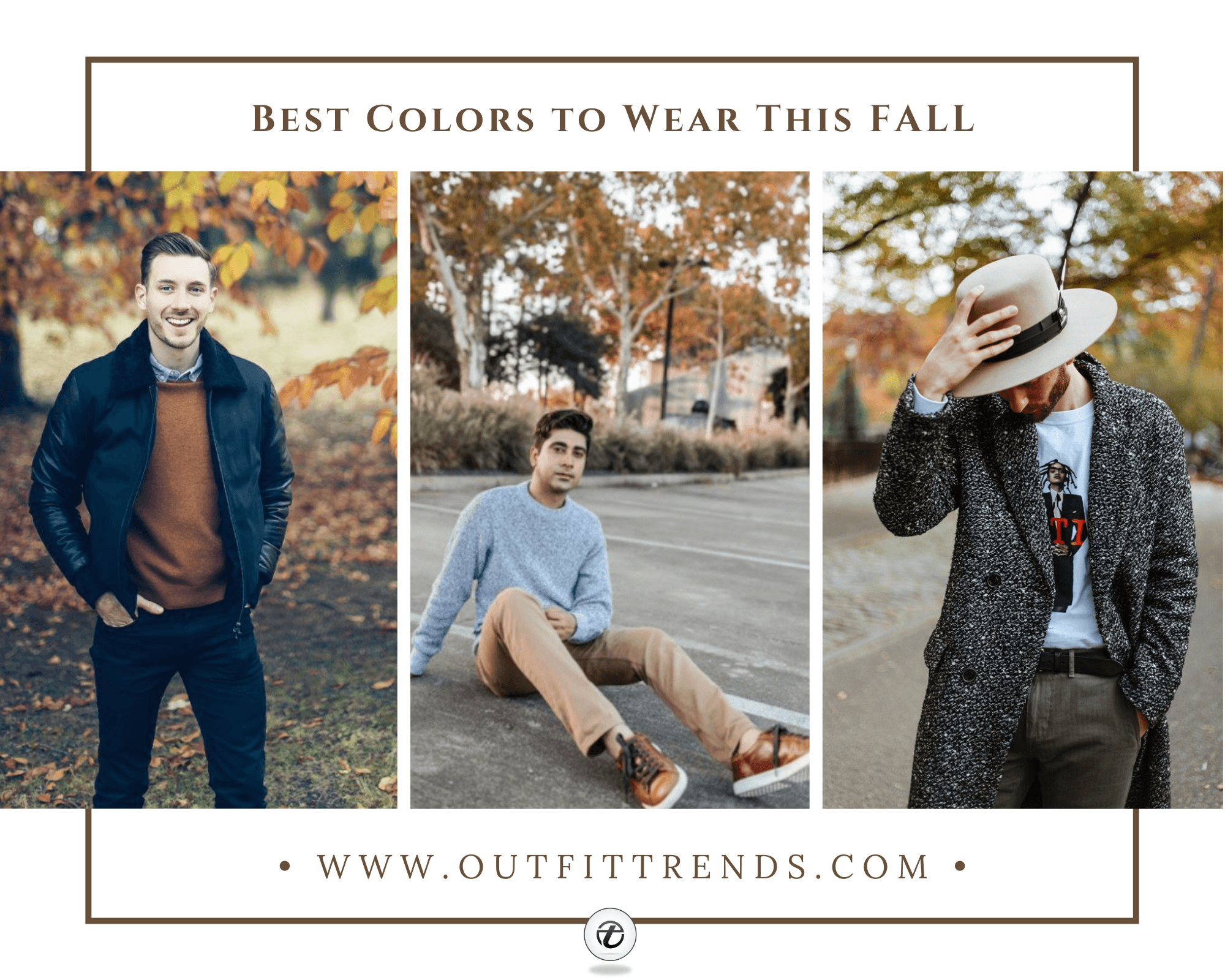 ↓ 22 – Classic Black Hoodie
Let us start with something basic and familiar – an item you probably already own. If not, maybe it's time to get one! A classic pullover hoodie needn't have a logo or some kind of flashy design. If you want to appear mature and put-together, get yourself a solid black or navy blue pullover hoodie with minimal detailing, like ties and buttons.
To get this look, pop on a dark-colored tee and add your hoodie over it. Next, pull on your favorite denim jeans and finish off the look with classic Vans, their slip-on. (Not pictured, but go for a neutral shade of taupe or gray!) Whether you're running errands or just want to look more huggable, this easy look is a go-to for all your casual occasions. Here are some more Ways for Guys to Wear a Hoodie Stylishly.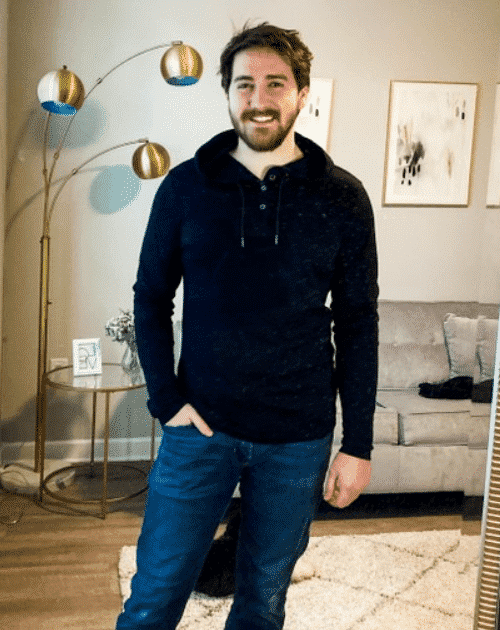 ↓ 21 – Soft Blue & Dark Brown
What says fall like a cozy sweater? Look for a cotton sweater with a checker stitch in pale blue and pair with slim-fit chinos and brown leather sneakers. This classic look will take no time at all to throw together and it's great for a date night, lunch with family, or a casual weekend outfit.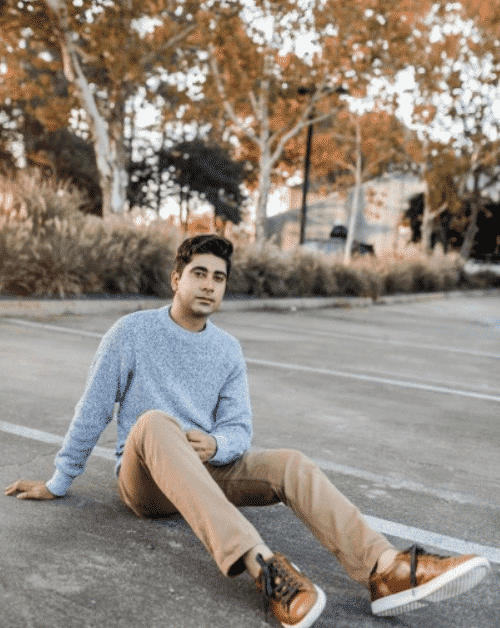 ↓ 20 – Brown & Chestnut
Textures are also important when it comes to creating fall outfits. A linen pant, while classically summer apparel, can definitely bring a new face to a basic look on a warm fall day. We love these brown linen pants paired with a long-sleeved Oxford shirt and cap-toe lace boots. The chestnut color of the boot paired with the brown pant and neutral shirt creates a warm, inviting, and intensely stylish ensemble!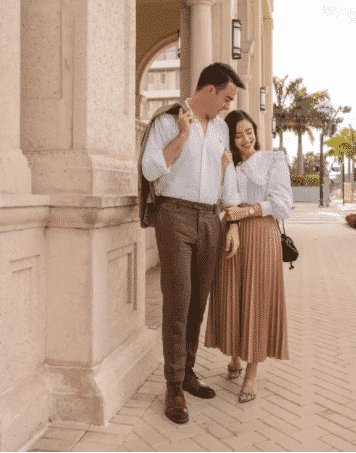 ↓ 19 – Plaid & British Tan
A British tan Oxford shoe is a great way to bring some warmth into a fall outfit. Pair with classic fit khakis and a plaid shirt. Accessorize with your favorite watch and sunglasses.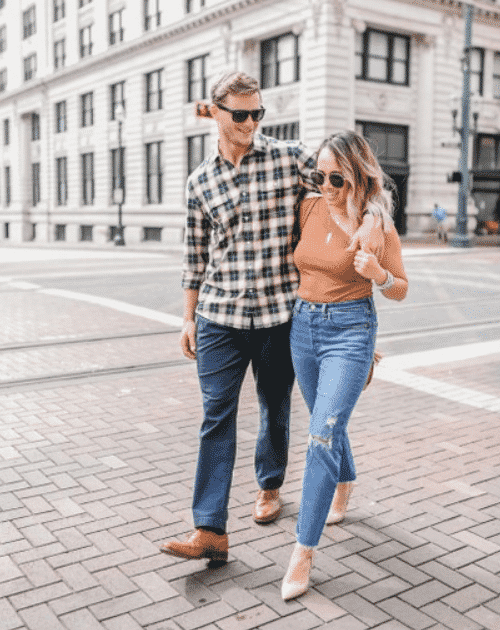 ↓ 18 – Navy Blue
You can't go wrong with navy blue. It's a less traditional color for fall apparel, however, it is definitely a deep and rich tone that will enhance any seasonal wardrobe. We also love the idea of opting for navy blue sweatpants versus gray ones. They will make you appear more put-together and stylish whereas gray sweatpants can often look a bit sloppy (they also stain a lot easier!). So pair up some navy blue sweatpants with a classic henley shirt and some minimalist mid-top sneakers. Simple but ultra-stylish and great for a variety of occasions. If you love wearing blue, do have a look at these Ways to Wear Blue Suits with Brown Shoes Ideas for Men.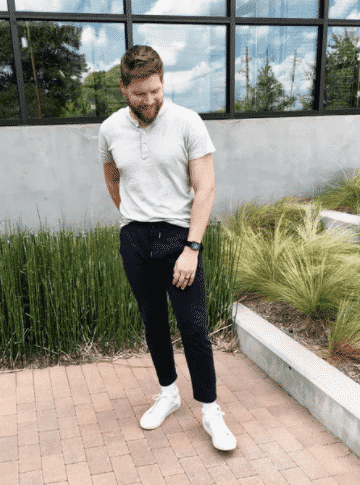 ↓ 17 – Maroon & Checks
Deep, rich shades of red are always a popular and a choice favorite when it comes to fall colors. So consider adding some maroon or burgundy to your wardrobe. This button-up shirt also incorporates a navy blue which is a great pairing for maroon. These perfectly tailored pants are the best complement to the look, especially when worn with some dark green shoes! This is a great business-casual look that will have you feeling autumnal and put-together all in one go. That's a win in our book.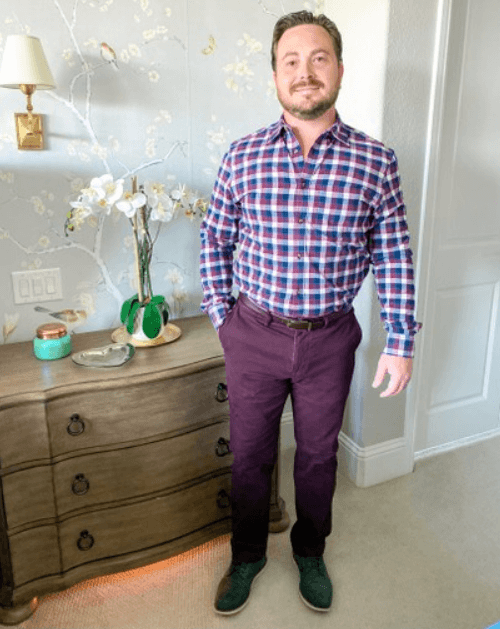 ↓ 16 – Joggers & Flannel
A flannel button-up shirt is about as fall as it gets. Get a little out of the box by pairing yours with joggers and Vans. This super comfy outfit is also stylish but in a lowkey way. Be sure your flannel shirt isn't oversized (you want a decent fit) and the same goes for your joggers. Opt for black joggers over a lighter shade and coordinate with some neutral-colored Vans.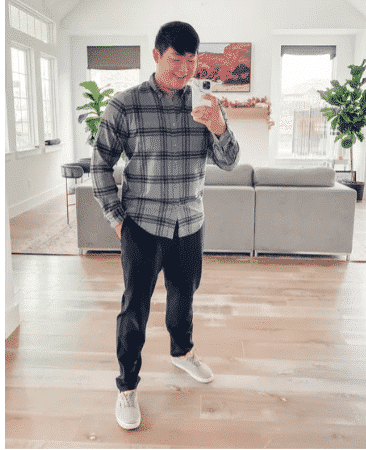 ↓ 15 – Emerald Green
Green tones, especially olive and emerald, looks amazing in the fall season. Don't be scared of experimenting. If you are going out casually, you can wear green pants with a subtle colored shirt or maybe a green shirt with neutral pants. Do have a look at these 40 Best Fall Fashion Tips for Men.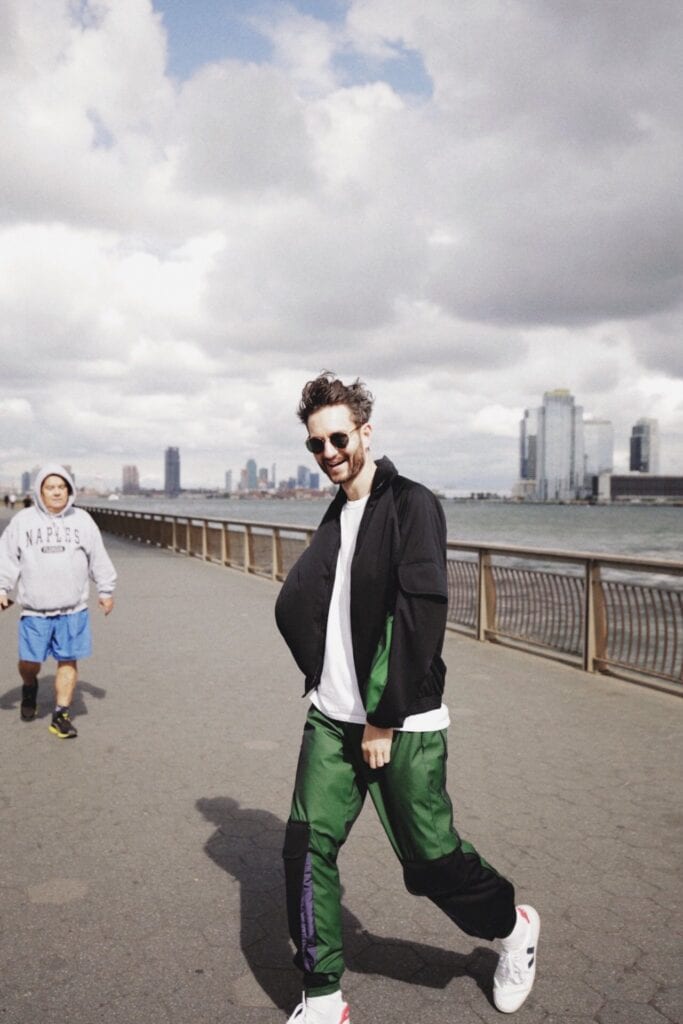 ↓ 14 – Colors for Semi Formal Events
If you don't want to look too casual, brown and its shades are your go-to colors. They look extremely sophisticated and decent. Pair a brown shirt or sweater with dark blue pants and you are good to go.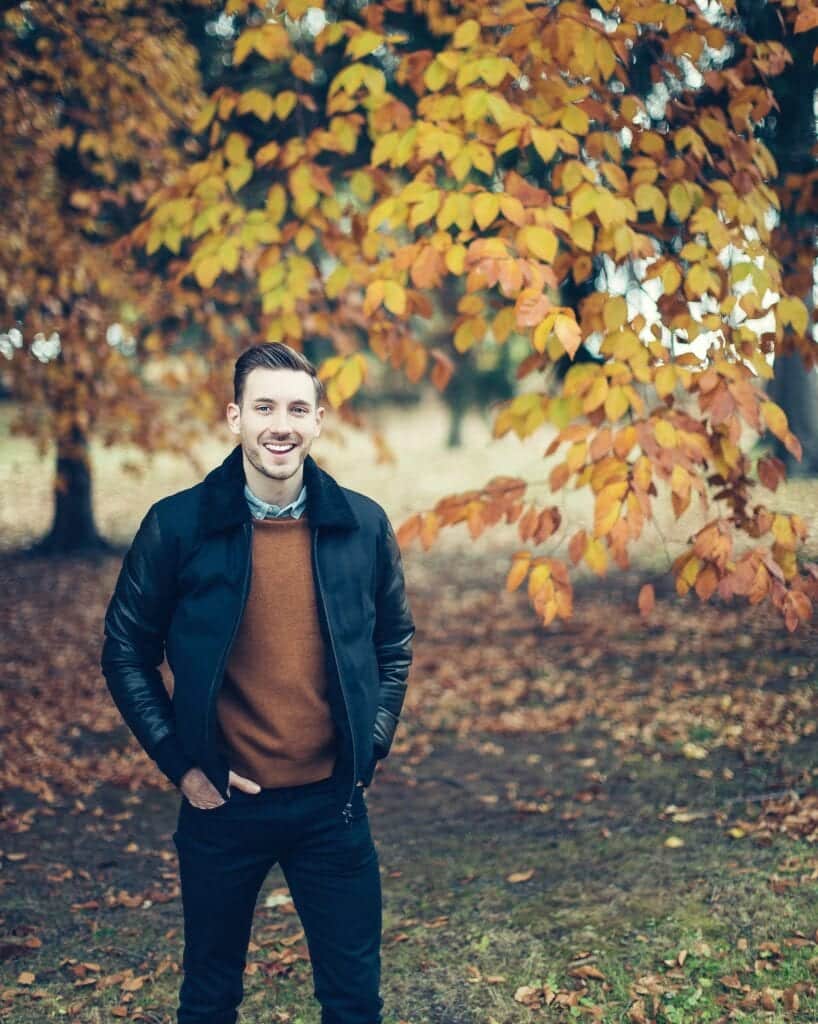 ↓ 13 – Denim
If you are someone who does not want to put a lot of effort into your clothing, simply pair a brown shirt with jeans, and your fall outfit is ready.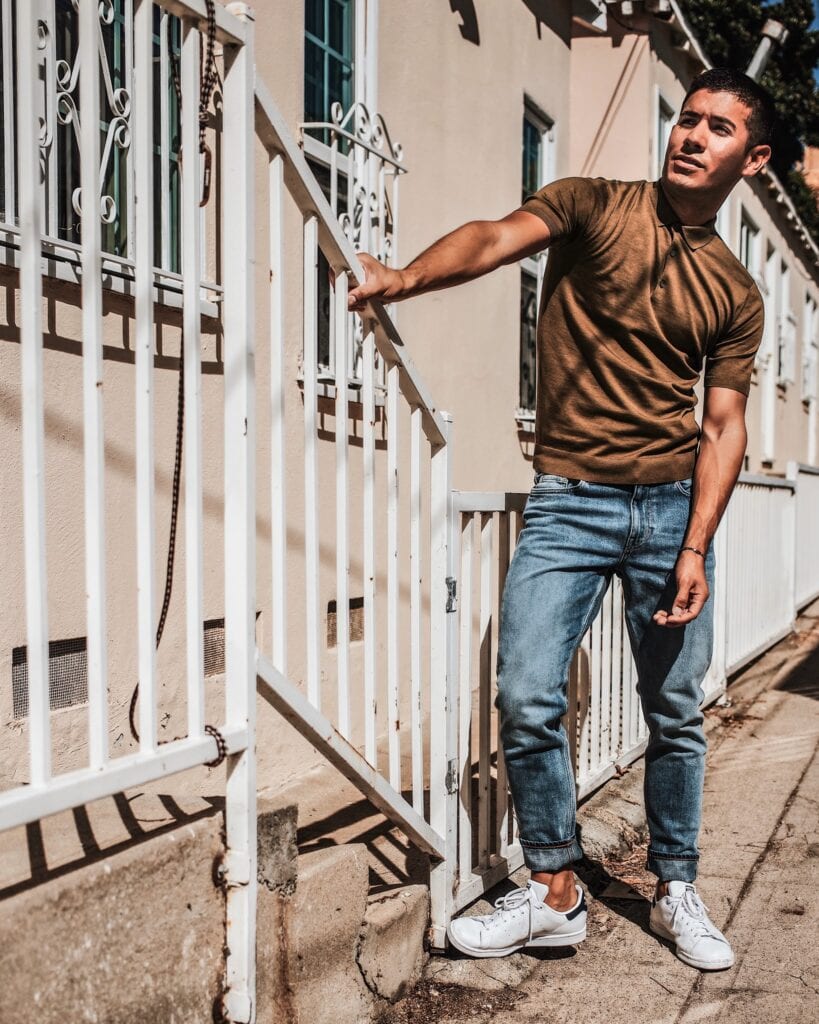 ↓ 12 – Shades of Red
Different tones of red such as maroon and burgundy are the colors of fall. And the best way to style this color is to wear a blazer of this shade which will not only make you look cool but will also keep you warm. And here are 30 Ways for Guys to Wear Red Pants.
↓ 11 – Sweaters to Wear in Fall for Men
If you like funky patterns, then fall is the perfect time to indulge!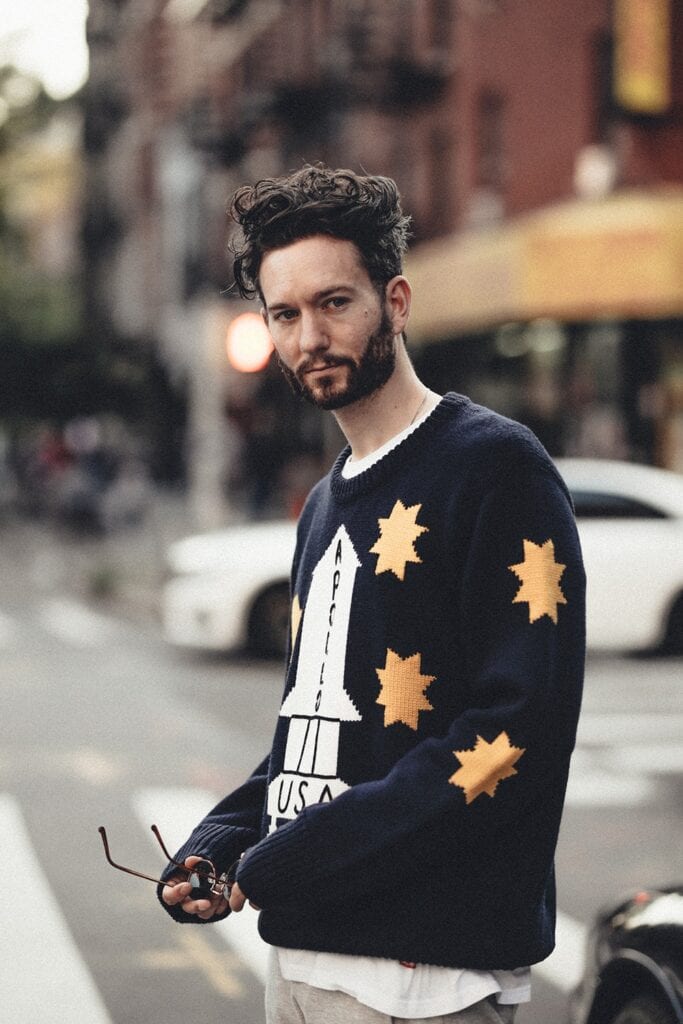 ↓ 10 – Beige Pants
This look is a great inspiration for your daytime looks. Gray shirt, olive green jacket, and beige pants. Fall outfits can't get any better than this! Do check out 20 Cool Ideas on How to Wear Sweatpants.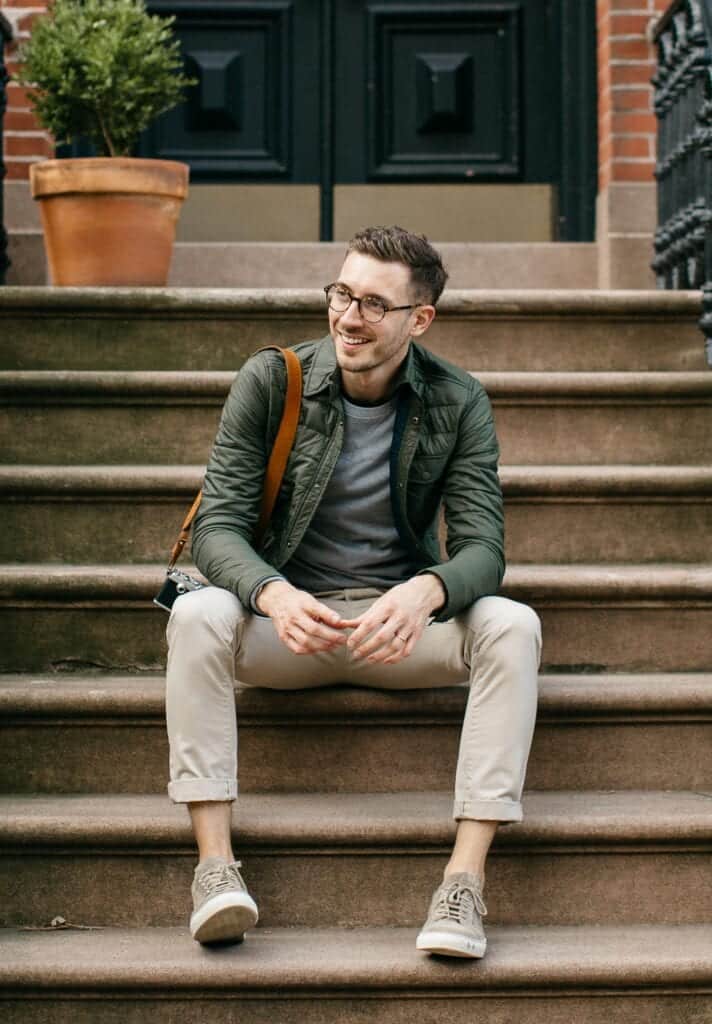 ↓ 9 – Gray and Denim
These jeans work well throughout the year. You don't need to get new pants for fall as these jeans if paired up with the right shirts and sweaters will give you the right look.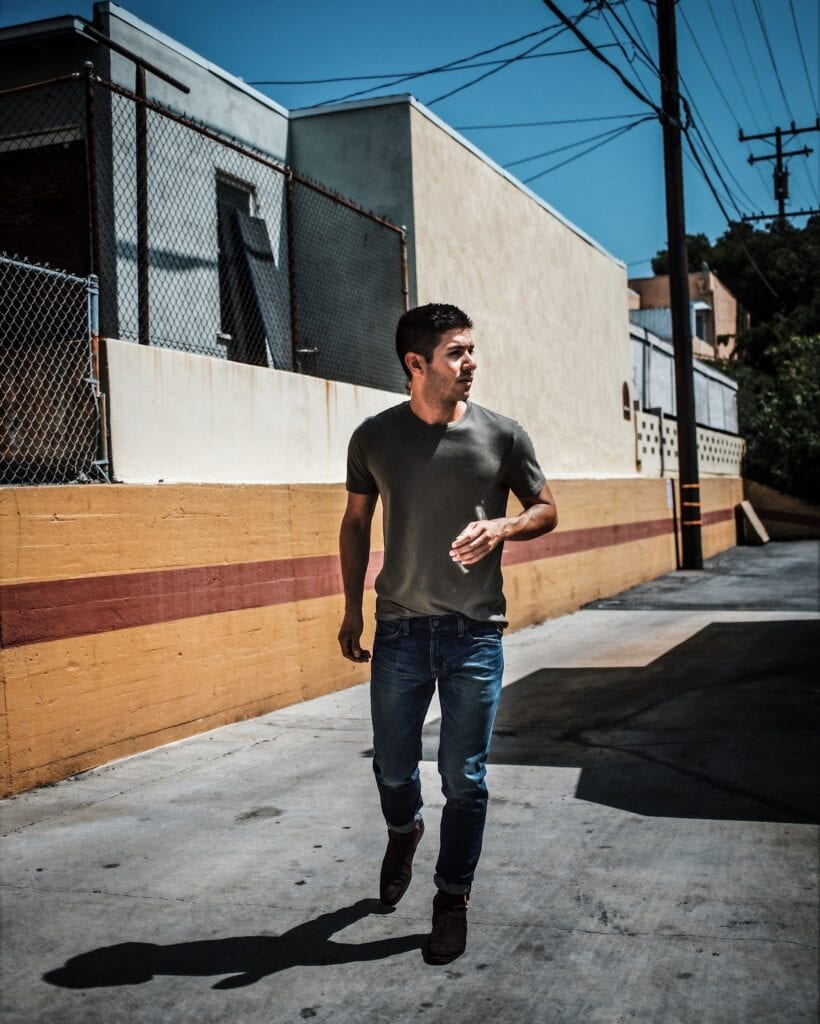 ↓ 8 – Color-Blocked Sweater
Teens and youngsters these days are all about sweatshirts. They are easy and comfortable to wear and look amazing. Try to go for one in shades of gray or brown. Check out these 27 Ways for Men to Wear Shoes without Socks.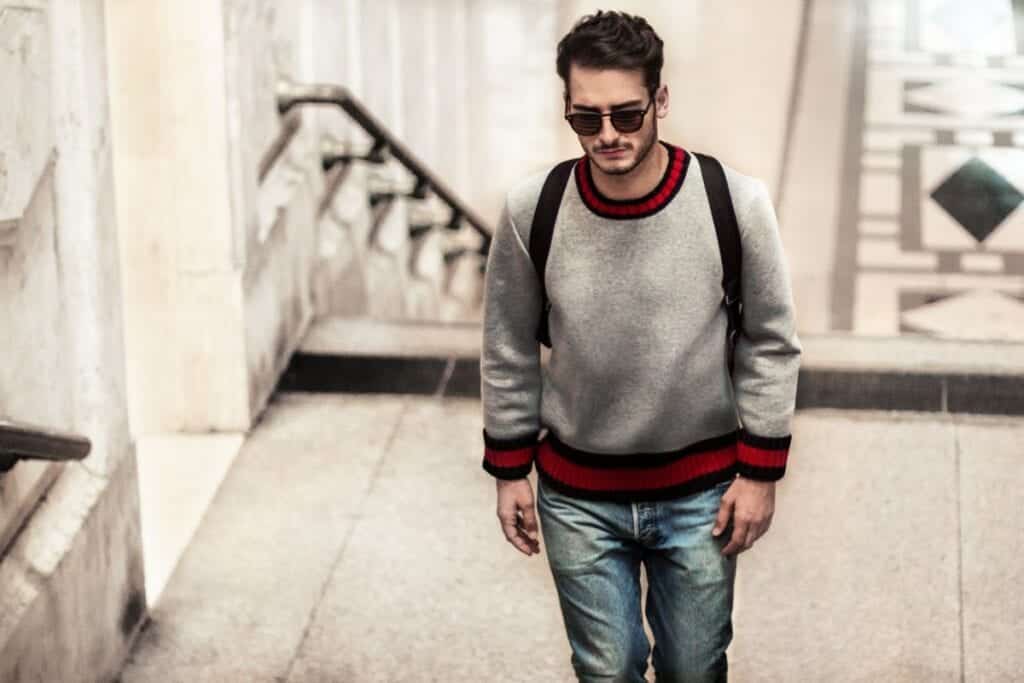 ↓ 7 – Soft Corduroy Jacket
You can't do with just one shirt at this time of the year as it has started to get cold. Try to select every layer in a different color. Your inner sweater can be patterned while the outer jacket or blazer should be simple.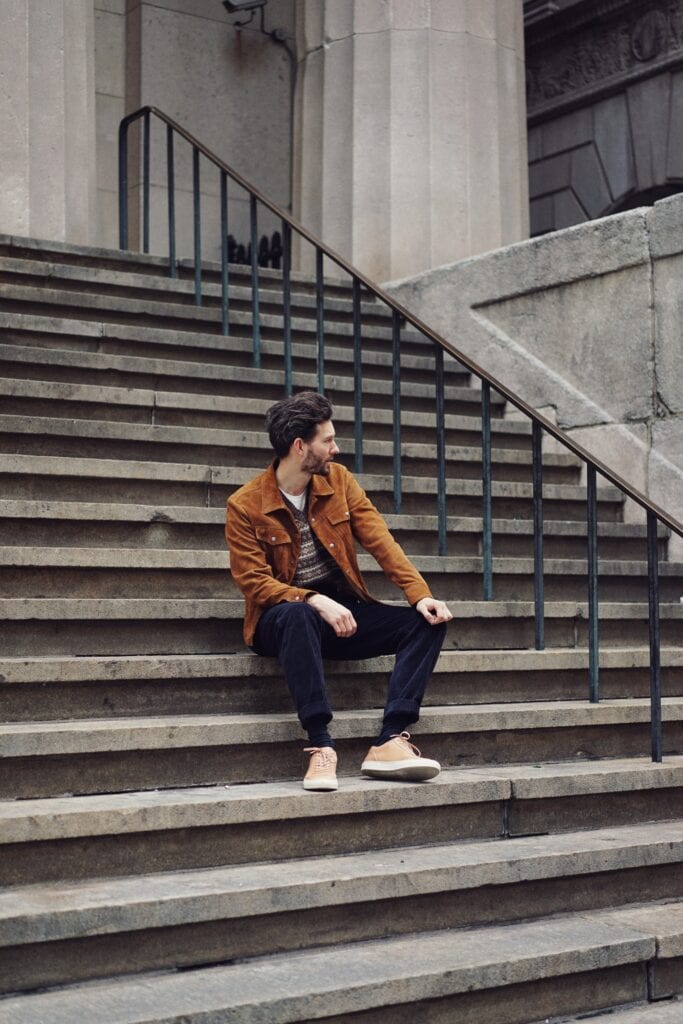 ↓ 6 – Ember
Most of the time, you like some unique color but you do not know how to style it with your outfit. Ember is one such color and looks awesome in fall if you know how to wear it. Since it is a very bright color, the rest of your clothing pieces should be dark to balance the look. Here are 18 Outfits with Bomber Jackets for Guys.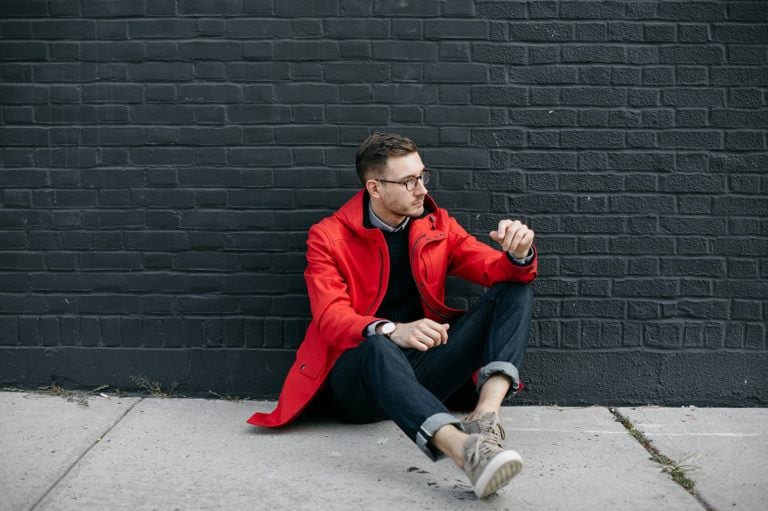 ↓ 5 – For Work And Meetings
The safest fall color to incorporate in your business and other formal attire is brown. Brown suits look great in autumn especially in the shade of camel. You can pair it with a white shirt.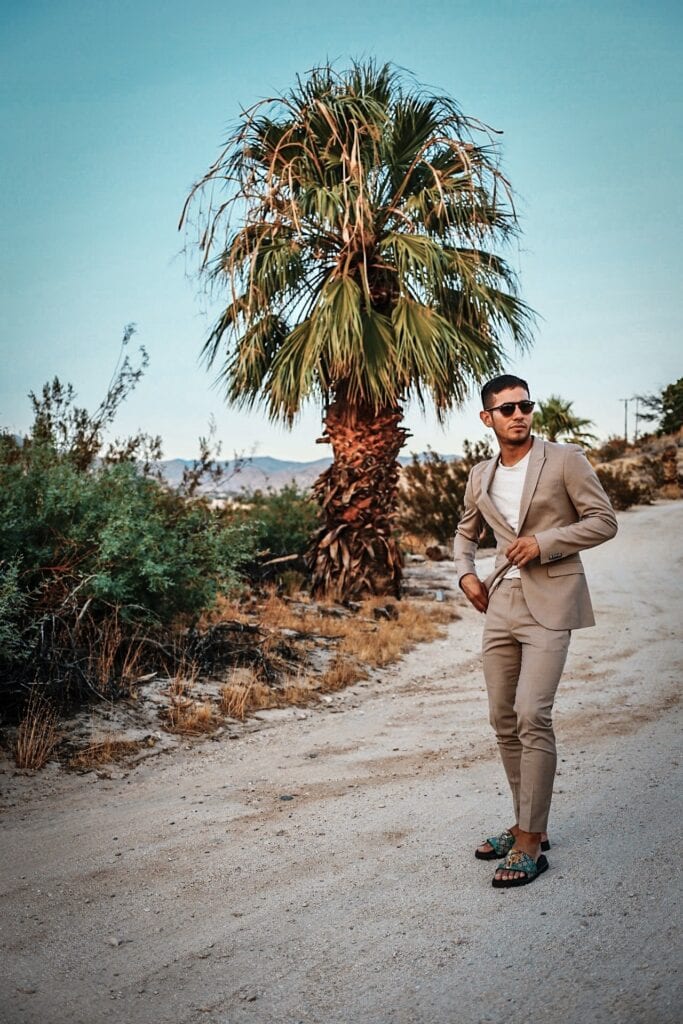 ↓ 4 – Patterned Turtleneck Sweater

↓ 3 – Fall Colors for Accessories
Make sure to match your accessories with your clothes! This brown hat is a great addition to your fall collection. Here are the Latest Men's Clothing Trends and Fashion Accessories.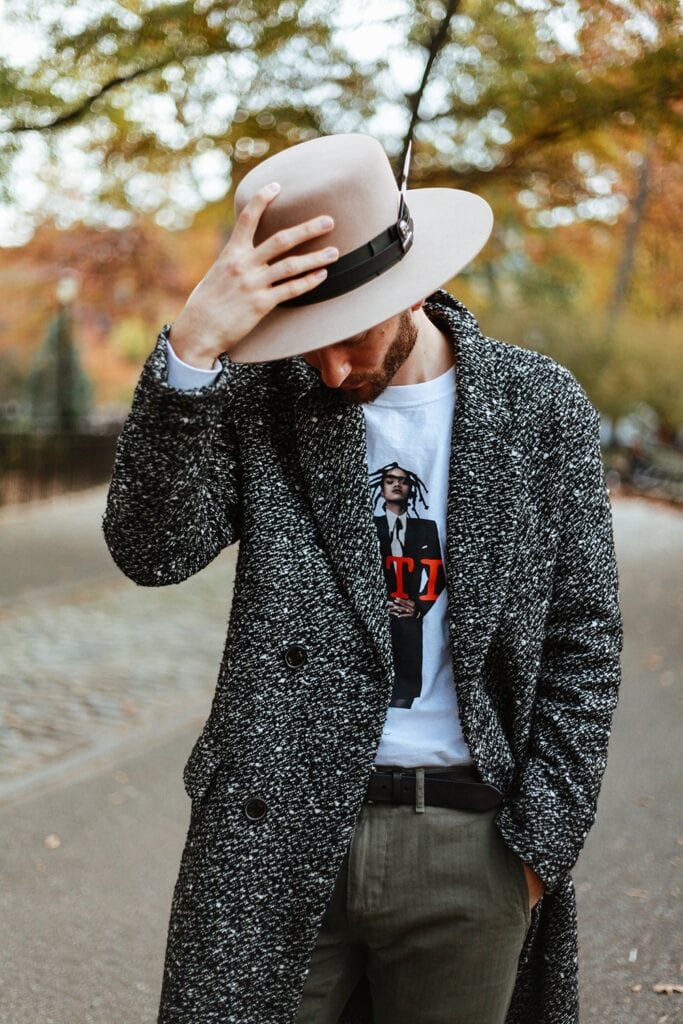 ↓ 2 – Shades of Blue
To be honest, the same fall clothing can get pretty monotonous and maybe even boring. If you are someone who likes to get outside the box, you can totally skip the typical colors and wear blues for a change without feeling out of place.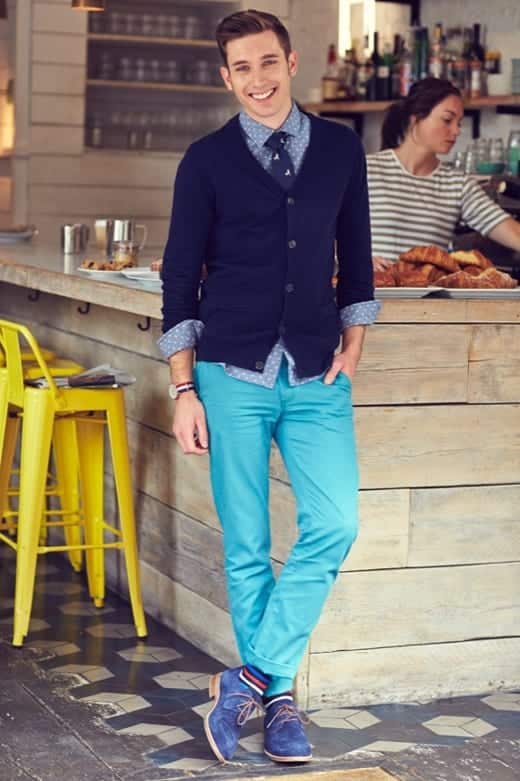 ↓ 1 – Men Shoes For Fall
Bring out those green, red and yellow shoes that have been lying around in your closet as this is the perfect time to wear them. Here is a major shoe style inspiration for you this season. Don't these green converse shoes look amazing? You definitely need to add one of these to your collection if you don't already have them.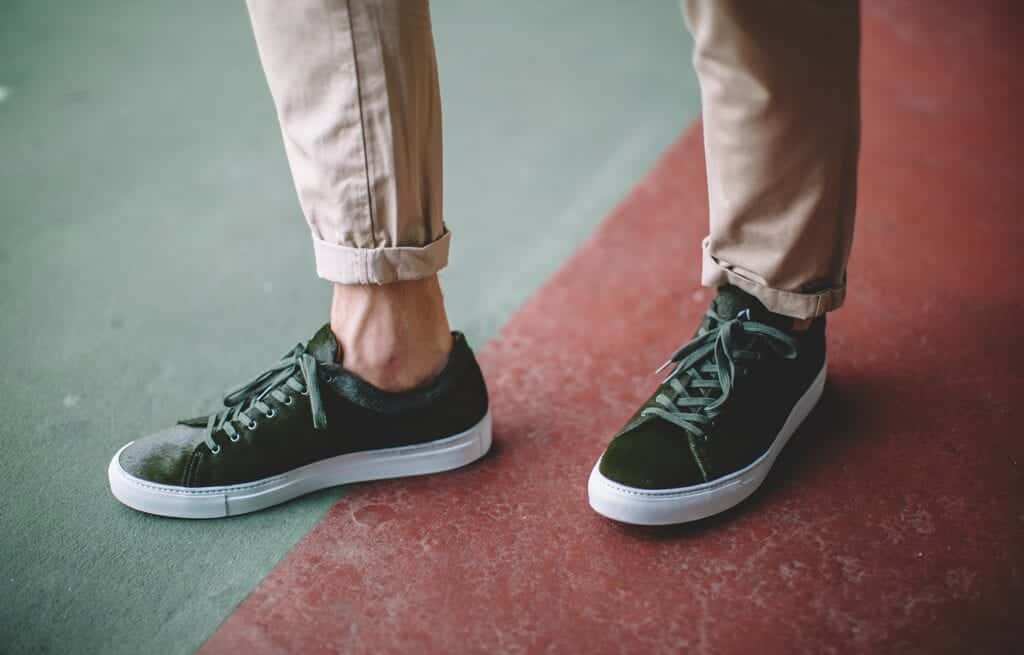 Frequently Asked Questions
Here are some frequently asked questions about not only the best colors to wear in the fall, but what to wear in the fall in general for men.
Q.

What should men wear in autumn?

A. What you wear in autumn will vary according to your personal sense of taste, what you like wearing, how cold you tend to get, and more. However, there are definitely a few general rules or guidelines you can stick to. Keep traditional fall colors at the forefront of your mind and then think about textures. Flannel, cashmere, suede, cable knit.

Incorporating one or more of these textures into your look will add effortless fall vibes. Corduroys and tweed are other popular favorites. Adding a scarf to your ensemble or a well-cut jacket are simple ways to get a more refined seasonal look.

You can also take another scroll through this article and try to imagine yourself in one or more of these outfits. What appeals to you most? What suits your personality best? Then take a peek at your wardrobe. Do you see any similar pieces? Do you see any similar colors? If so, you are halfway there! If not, it might be time for a little wardrobe upgrade.
Q.

What should men wear this fall 2020?

A. According to runway fashion, this fall men should be wearing denim (jeans, jackets, you name it). Head-to-toe red seems another trending look. Leather, from jackets to trousers, is making a splash. Checks (checkered shirts, pants, coats, etc.) is a timeless classic that's making its rounds through the top of the fashion world. Cardigans, shearling, and contemporary corduroy are also popular.

But if any of these feel too "out there" for you, consider incorporating some of these pieces in a small way. Maybe add a cardigan sweater to your regular ensemble. Or switch out the sweatpants for some corduroys. Get yourself a jacket with a shearling collar (hey, added warmth is always a bonus!). You probably already rock the denim but when is the last time you tried a denim jacket? Challenge yourself to try new things and have fun with it! Fashion can be a great hobby and a fun way to express your personality.
Q.

What are the best colors to wear in the fall?

A. Earthy warm tones like browns, red, orange, and greens are some of the most popular colors to wear in the fall. (Not sure what an earthy tone is? Just take a look at the changing trees. Those rich shades of red, orange, and yellow are your first clue what to look for!) But the list doesn't stop there. Deep blue, forest green, mustard yellow, camel brown… all these are common fall colors that will instantly upgrade your look, no matter what you are wearing.

We hope that this article will help you put together an outfit that makes all the heads turn! In the end, there are no strict rules for fall colors. Just look at all the nature around you and try to incorporate those colors in your clothing. Stay comfortable, stay classy – it really is as simple as that.