Yellow Pants Outfits for Men. Once upon a time, men were very skeptical about sporting colored pants. Good thing, those times are long gone. Today, bright colors are worn by both men and women alike. One vibrant color that looks very snazzy on men is yellow.
Be it the bright and lively yellow or the rather dull one; the look is undeniably super dapper. If you are bored of wearing the same old blue, black, gray, and white jeans, try sporting a pair of crisp yellow pants. Not only would that make for a different outfit, but it would also look undeniably cool. If you are afraid that you don't know how to style your outfit properly, don't stress. Here we have compiled quite a few styling ideas that you can make use of. With this dressing guide, you would be good to go.
How to Wear Yellow Pants for Guys
Let's begin with a few things that can be of help.
One vibrant color must never be combined with another. So if anyone suggests red and orange? Never try that combo. You have to make sure that the color combination won't be an eye-sore.
Pair yellow pants with blue, gray, black, white, and other such muted tones.
When going for casual wear, slip into a pair of cotton yellow pants. Those are comfy and easy to manage.
Yellow pants look best with brown suede shoes. Purple can be considered as well, but none of them can beat brown at its game.
Yellow is a bright color, perfect for summer and spring. It comes in various shades: gold, butter, mustard, lemon, honey, blonde, dandelion, daffodil, etc.
However, some colors are not advisable to mix with yellow. Try mustard yellow if you don't want to go for the brighter version.
Fit is king. Try not to look lousy or stiff, so have the "just the right size" of trousers. Avoid tight and baggy pants.
Like white jeans, yellow pants in brighter shades are prone to dirt. One can easily notice if you have stained them so avoid wearing them in places where you can't risk stains.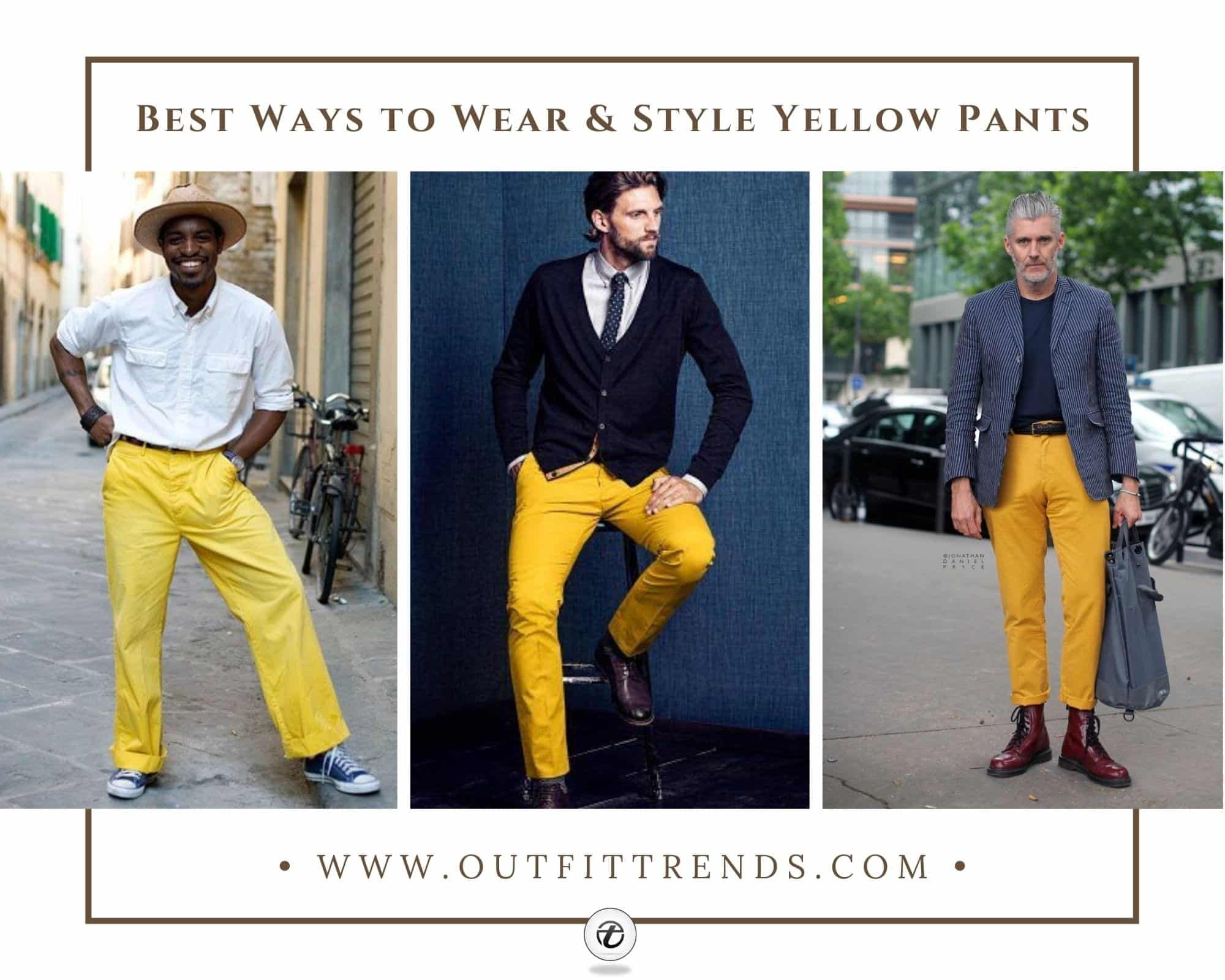 ↓ 48 – What To Wear With Mustard Yellow Pants
Mustard Yellow pants are perfect for parties, clubs, and other festivities because of the bright color. It is a total head-turner. A navy blue shirt with nautical prints makes a good match for mustard pants. Wear the shirt the casual way, and have a plain white tee or tank top as your undershirt for this outfit.
↓ 47 – What Shirt To Wear With Bright Yellow Pants
Yellow pants are not for minimalists. There's no doubt that not all men are willing to wear them, especially in a formal and corporate setting. Therefore, it is not a wardrobe staple. You can wear it to weddings in a yellow motif, as instructed by the host. Carry a smart casual wedding style by wearing a white button-down as an undershirt for a plaid blazer. Remember to tuck in the shirt. And use a brown or black belt, no other options.
↓ 46 – Yellow Pants With White Shirt
You can wear a white dress shirt with a black bow tie or a regular tie for corporate and semi-formal events. Or you can wear the shirt as it is. Don't forget to steam or iron the shirt to remove any wrinkles and fold marks.
↓ 45 – Mustard Yellow Cargo Pants
If you are tired of wearing chinos and sweatpants, channel a high street fashion vibe, and try cargo pants. Don't mind its crumpled appearance because it is what makes the garment unique. Choose a black garrison belt this time.
↓ 44 – Yellow Plaid Pants  For Short Men
If you are too short for your age, wearing plaids and flannels is highly recommended. It might not make any actual difference, but the checked prints and vertical lines make you appear taller, even for an illusion. Yellow plaid pants with a touch of black couldn't be any cooler to wear for a weekend gig.
↓ 43 – How To Style Corduroy Pants
Corduroy is a thick cotton fabric with velvety ribs. It is comfy to wear corduroy pants, especially on cold winter days. Wearing it gives you a soft and cozy feeling.
↓ 42 – Yellow Short Chinos
It is a good idea for the summer and spring seasons to don short chinos instead of pants. With the temperature rising, you might want to give your legs some room for ventilation that pants can't give. This is a go-to option for beach photoshoots.
↓ 41 – Yellow Pants In Athleisure Style
Hit the gym and get pumped with this bright honey yellow outfit consisting of a hoodie and sweatpants. Not only does it give you an unusual vibe that will help you get moving, but the outfit is also comfortable to wear. And I couldn't think of anything else suitable for doing vigorous activities.
↓ 40 – Yellow Pants In Smart Casual Look
Wear yellow pants with a button-down shirt, layered with a crew neck jumper.
↓ 39 – Yellow Suit As An Office Attire
Yellow pants aren't usually worn at the office. However, some companies are not so strict with the dress code.
↓ 38 – Yellow Pants In Business Casual
Yellow pants can be your business casual outfit. While khaki and black pants are the norms for school wear, most colleges nowadays allow students to wear what they want, yellow pants included.
↓ 37 – Formal Wear With Mustard Yellow Pants
Since a yellow suit is not a minimal choice of formal wear, you might as well make the most out of it. Accessorize with a brooch, a fancy tie, and a pocket square. However, you should still consider one thing – stick with a single color palette, like blue, for example.
↓ 36 – Yellow Pants As A Winter Wardrobe
For winter and autumn, pair up your yellow pants with a windbreaker. But you don't have to wait for the cold months to come; you can don a trench coat or a windbreaker when it's raining outside, and you need to go somewhere.
↓ 35 – Men's Yellow Pants Outfits for Summer
Create an unusual silhouette. Experiment by doing mix and match. You can try the trends promoted by fashion designers and brand influences online and on TV. Remember that yellow is a bright color, and you are more than welcome to try all the options in your head.
↓ 34 – Yellow Pants For Dark Skintone
↓ 33 – What Shoes To Wear With Yellow Pants
For suits and office wear, shiny dress shoes in black leather along with brogues and loafers are your timeless and classic options. But do not stop there. Wear boots and half chaps for winter and fall.
↓ 32 – Yellow Outfit As Sportswear
If you are out for a run, wearing a yellow tracksuit is a good idea. Psychologically proven, yellow stimulates the brain, so it's appropriate for activities like your regular cardio session.
↓ 31 – Chic Streetwear Look
↓ 30 – Summer Outfit
Summer is all about emitting chill vibes. Keep it cool with yellow trousers and a plain white polo shirt. The vivacious yellow color would suit the season, white will balance it out, and the overall look would be debonair as well. Here are 15 Best Ways to Wear White Shirts for men.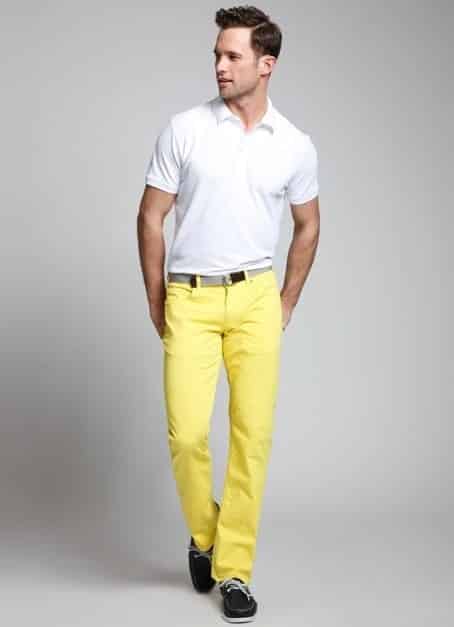 ↓ 29 – Winter Outfit in Yellow Pants
Check out this classy winter attire: Yellow pants with a blue and white check shirt. A light gray sweater and a navy jacket were thrown on for warmth.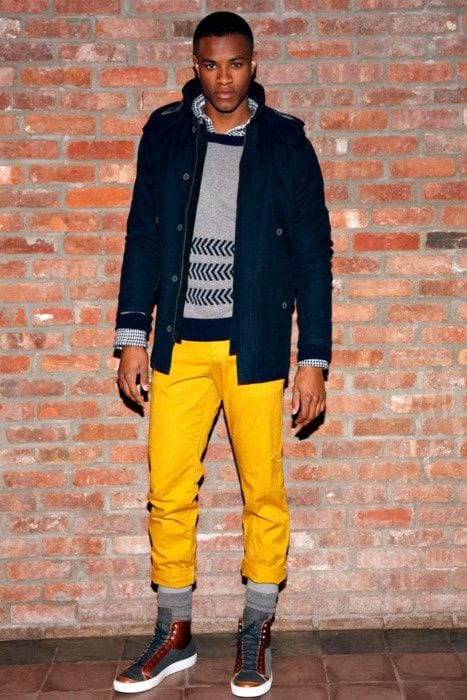 ↓ 28 – How to Wear Yellow Pants in Spring
For the steezy and breezy spring look, wear your yellow pants with a mint-colored tee. Check out these 15 Smart Spring Work Wear Outfits Combinations For Men.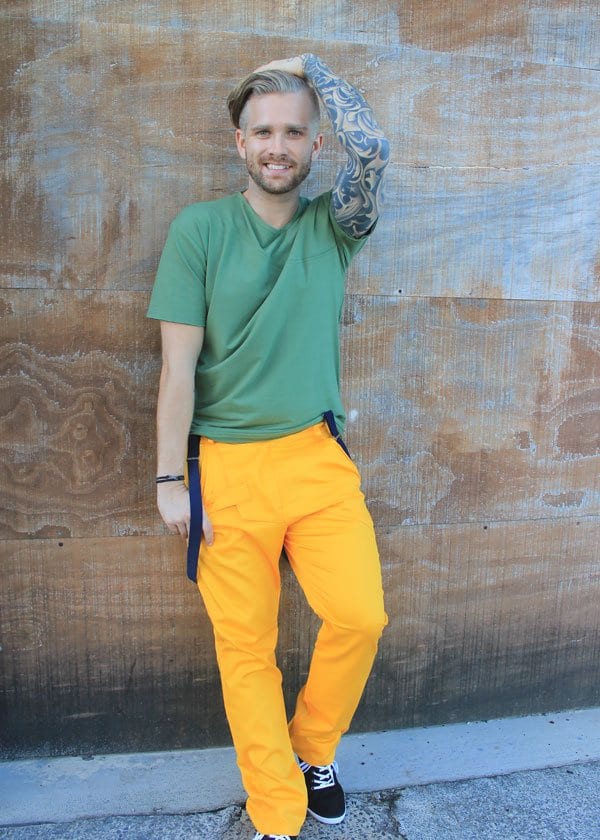 Via
↓ 27 – Party Outfit
A party calls for a fit and fancy attire. Slip into a pair of yellow jeans with a printed black and white tee worn over it. Throw on a black jacket for an eye-catchy look. Brown boots and a wristwatch. For the finishing touch, wear a snapback on your head. Do check out these Snapback Hairstyles for Guys.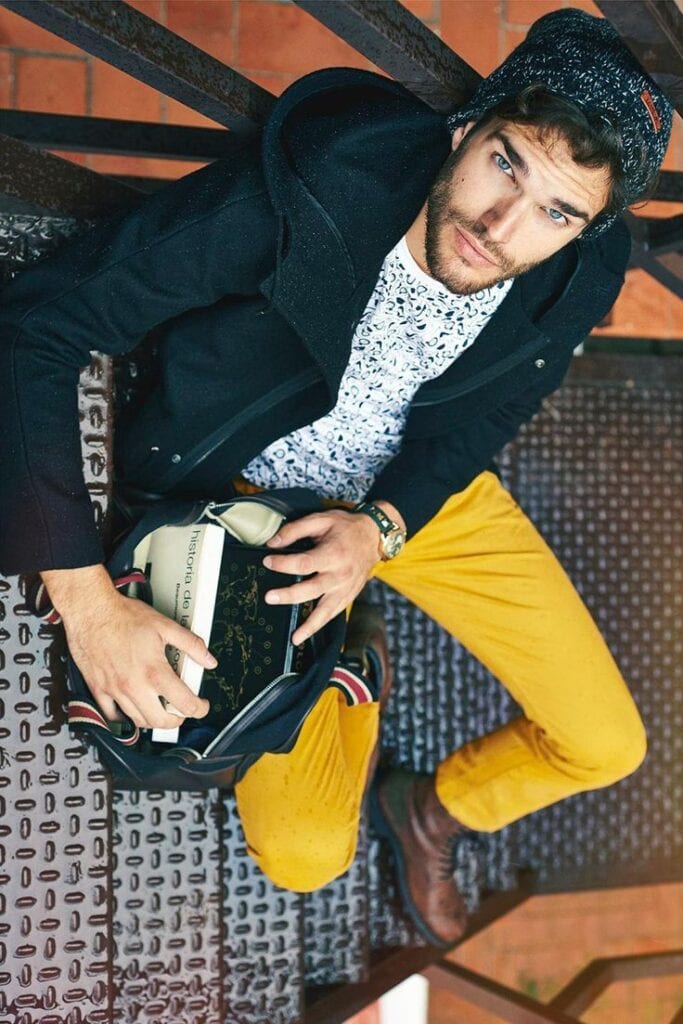 ↓ 26 – Funky Outfit
Want to be the center of attention? Pair the right showy colors for a funky look. A bright purple blazer, shocking pink dress shirt and yellow pants would do perfectly. Here are some awesome Black Pants Outfits For Men.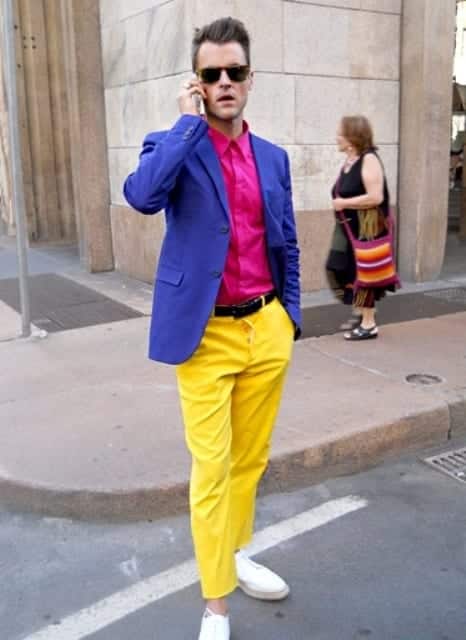 ↓ 25 – Work Outfit
Thinking about how to incorporate yellow pants in your work attire? Pretty simple! Combine the yellow pants with subdued light colors like gray, white, or sky blue.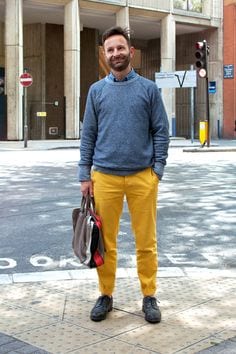 ↓ 24 – Casual Outfit
Wear a striped black and white or navy and white tee with yellow ankle-length pants. If the weather is chilly, keep the dress shirt plain white and wear a striped sweater over it for max style. Here are some more Casual Fashion Ideas for you.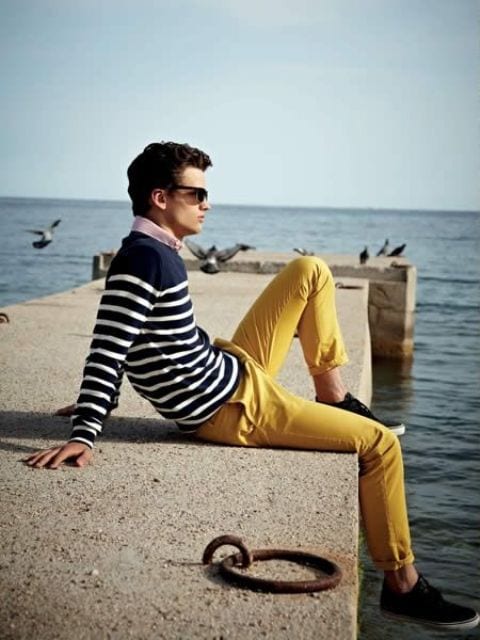 ↓ 23 – Business Outfit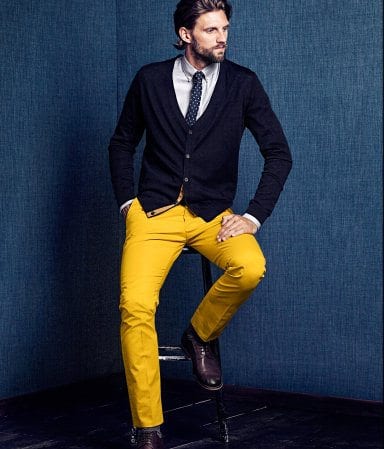 ↓ 22 – College Outfit
For a snazzy look, wear cropped yellow pants with a striped white and blue dress shirt. Throw on a gray blazer to complete the look. Choose to wear gray sneakers over brown ones. Do check out these 23 Cute First Day of College Outfits for Boys for Sharp Look.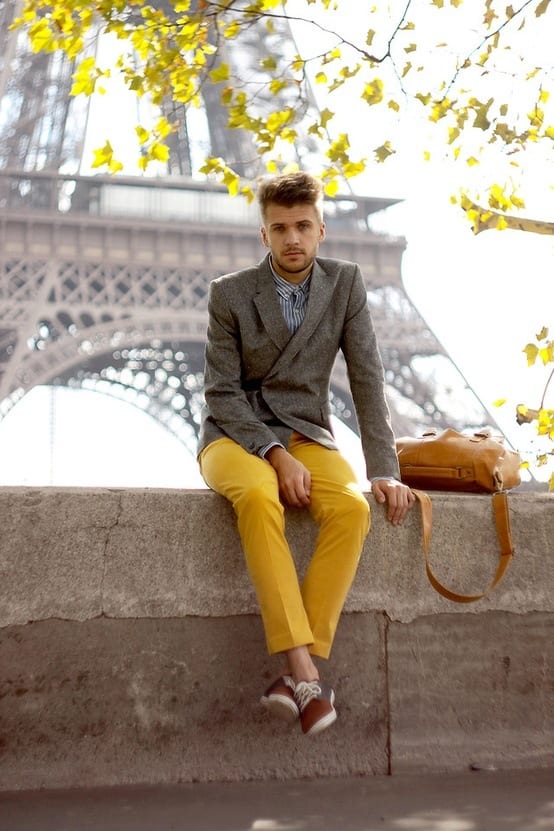 ↓ 21 – School Outfit
Keep the school outfit simple. Blue tee with yellow pants and gray loafers.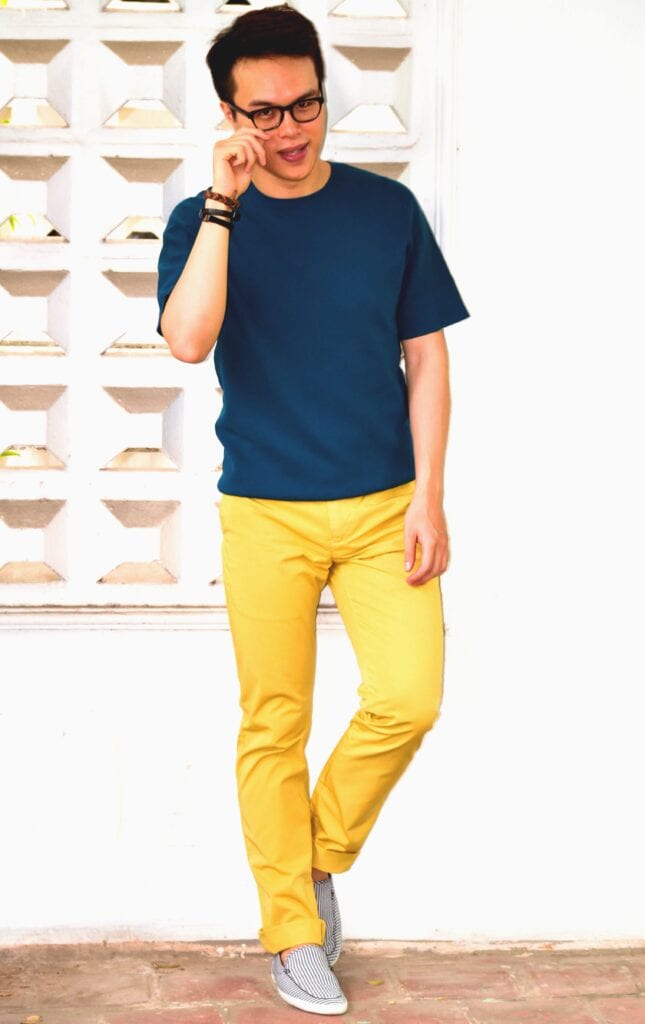 ↓ 20 – Swag Outfit
For a laid back yet dandy appearance, go for mustard yellow slim fit pants with a gray or white shirt. Throw on a navy leather jacket for glam and tough look. Here are 20 Most Funky Hairstyles for Guys and Men Swag Look.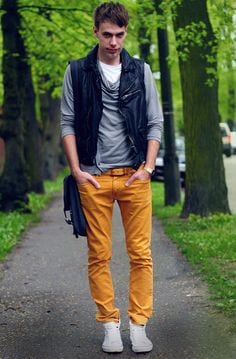 ↓ 19 – Hipster Outfit
Wanna look hip? Put on a mint dress shirt with yellow pants. Don't forget your hat behind.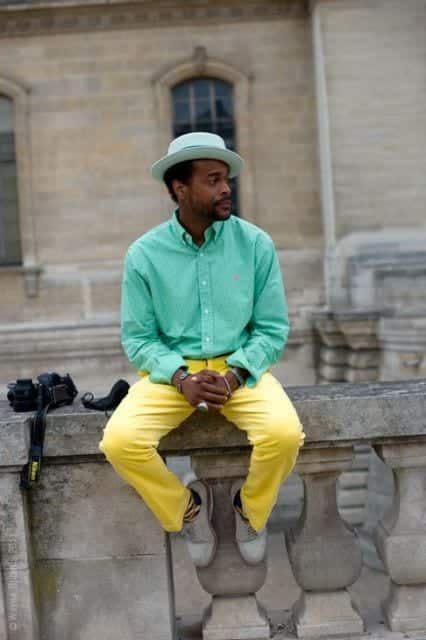 ↓ 18 – Travel Outfit
Wandering in a foreign land? Dress to impress. Wear yellow pants with a white tee. Throw on a blue button-down only to keep it unbuttoned for the sole purpose of gaining appreciative glances. RECOMMENDED: 15 Best Summer Travelling Outfit Ideas for Men.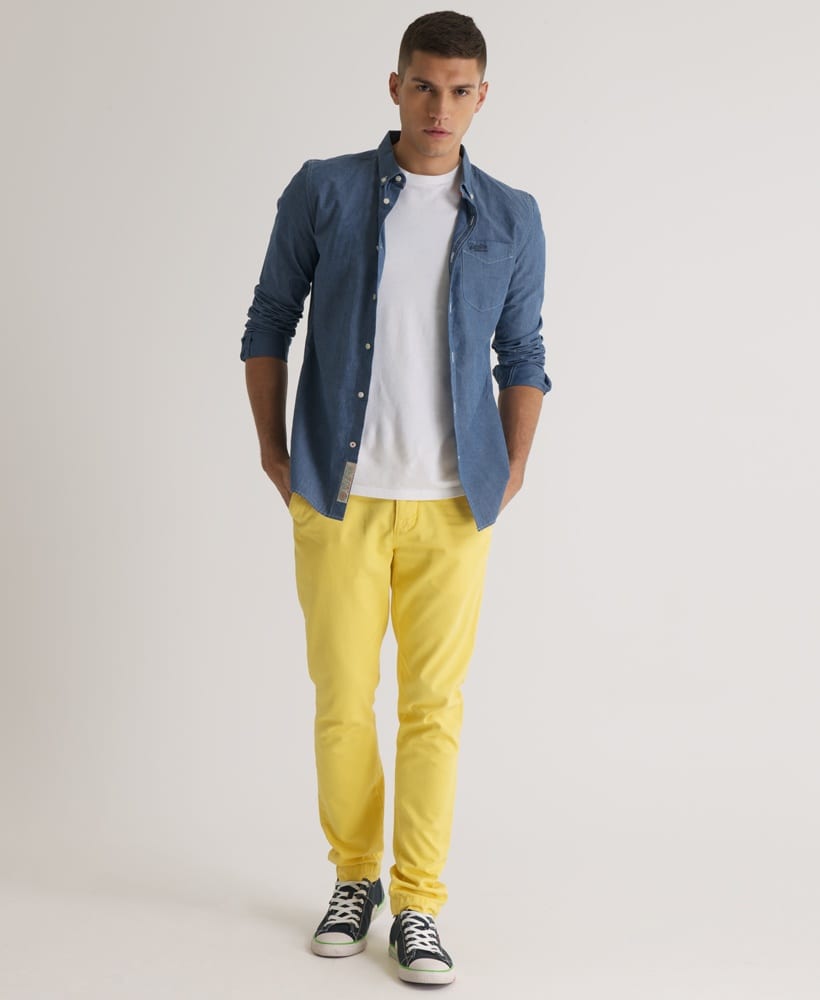 ↓ 17 – Street Style Outfit
Gray wool shirt with mustard yellow pants? Great choice!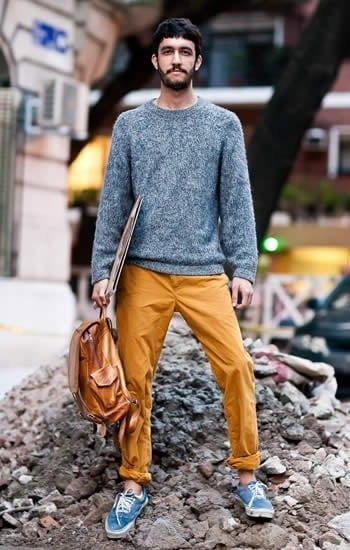 ↓ 16 – Brunch Outfit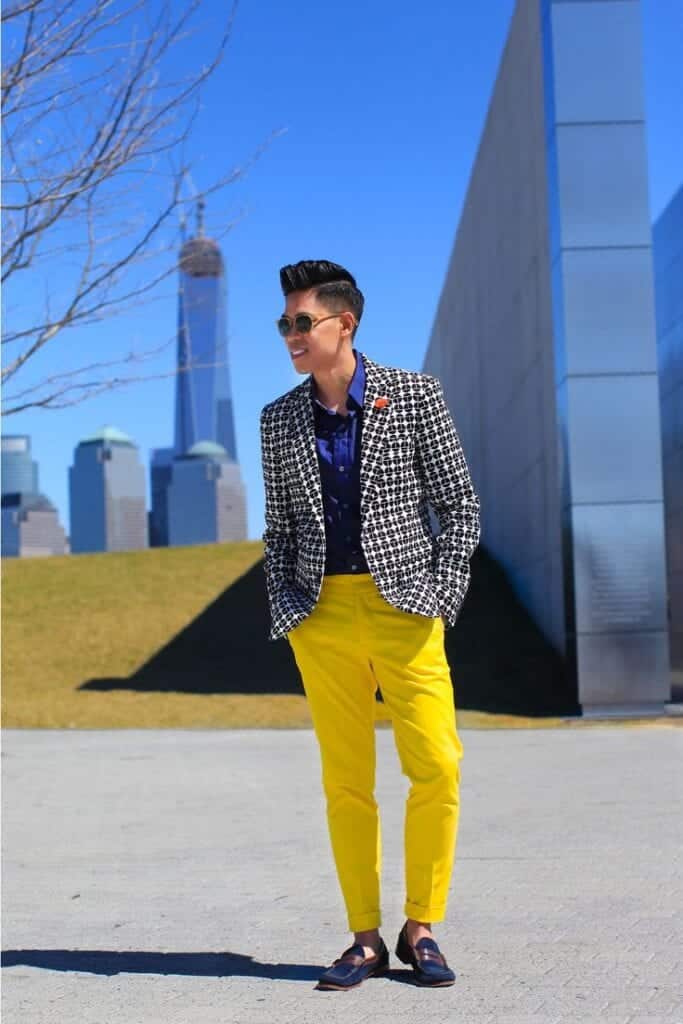 ↓ 15 – Wedding Outfit
Is your best friend's marriage ceremony coming up? Go for yellow pants this time with a white shirt, black bow, and black blazer. Here are some more interesting Ideas on What to Wear as Wedding Guest.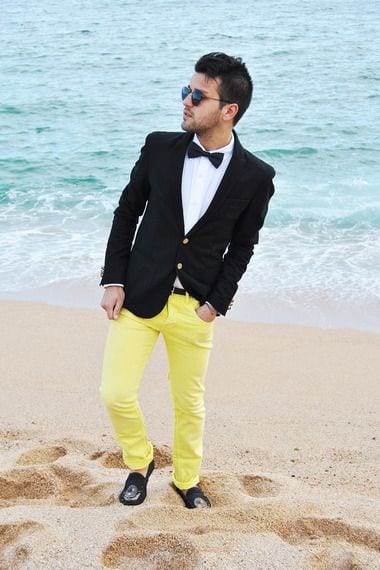 ↓ 14 – Street Style Outfit
Make sure your outfit for dance sessions is comfy enough to shake some legs in. Loose yellow pants and a white shirt would work.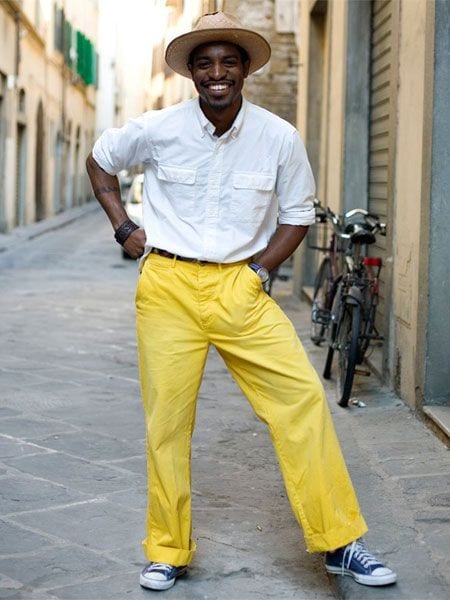 ↓ 13 – Comfortable Outfit
For a comfy and dashing look, try wearing a white tee with the yellow skinny jeans. A gray pull-over jacket would look classy and enhance the overall style.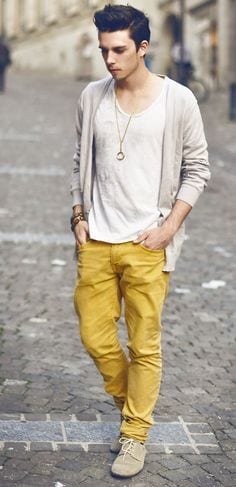 ↓ 12 – Sports Outfit
Yellow track pants and a blue tee can make for the ideal sports outfit. Here's a great collection of Shoes To Wear With Guys Sweatpants.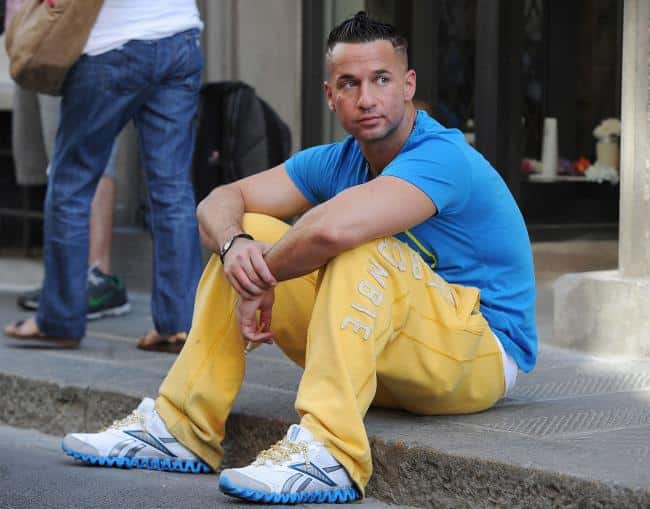 ↓ 11 – Yellow Dress Pants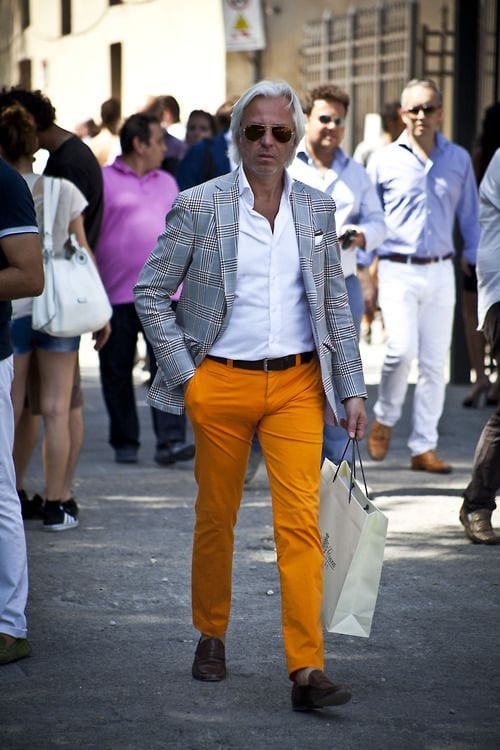 ↓ 10 – Yellow Printed Pants
Dare to wear yellow printed pants as well. Wear a plain shirt to keep it cool. If you love printed outfits, you wouldn't want to miss out these Floral Shirt Outfit for Men.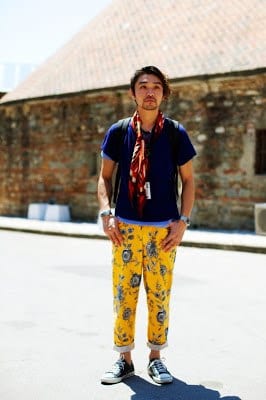 ↓ 9 – Yellow Chino Pants
Style the outfit by wearing a light blue or white dress shirt with yellow slacks for a nifty look.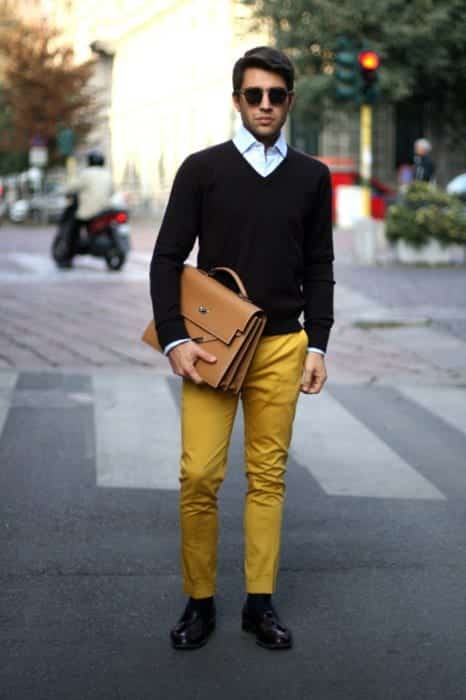 ↓ 8 – Yellow Track Pants
Yellow jogging pants with a black shirt for the cool look. Since the shirt is black, keep the footwear black as well.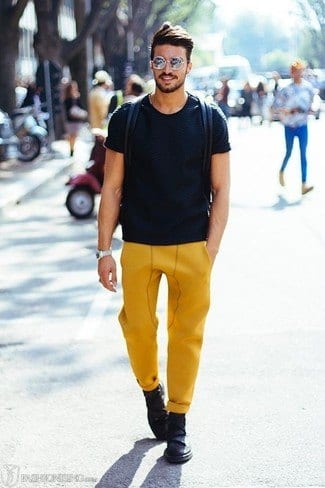 ↓ 7 – What to Wear with Yellow Jeans
Since jeans are forever voguish try wearing a yellow pair.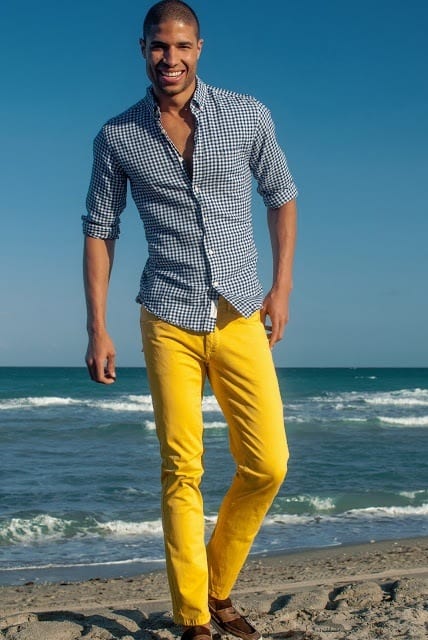 ↓ 6 – Yellow Cropped Pants
Cropped pants are gaining more and more popularity. No wonder they are as they look absolutely amazing!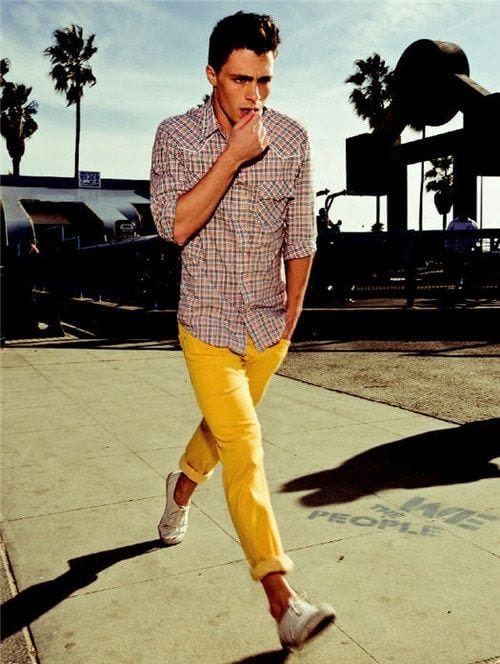 ↓ 5 – What Shirt to Wear with Yellow Pants
Which type of shirt you should go for depends on the sort of pants you are sporting.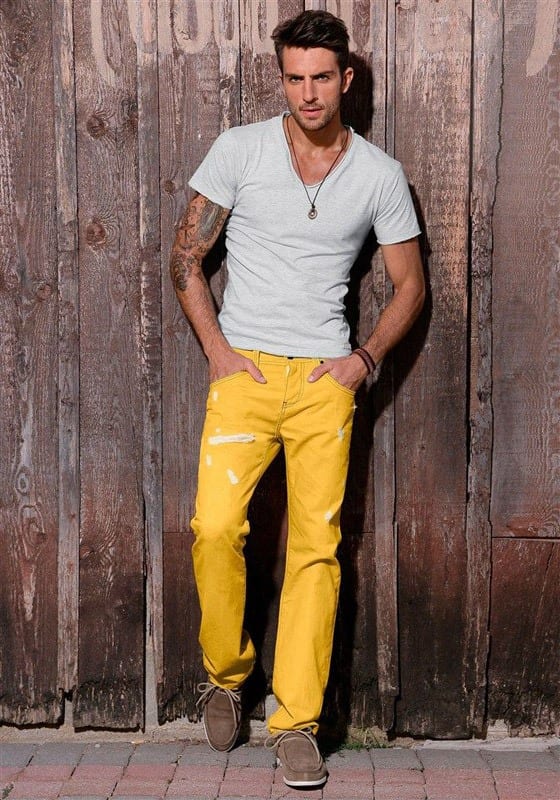 ↓ 4 – Color Combinations with Yellow Pants
Navy, purple, white, black and gray would make for ideal color options with yellow.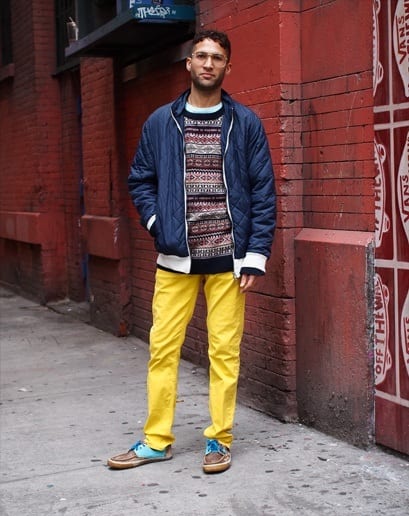 ↓ 3 – What Shoes to Wear with Yellow Pants
Go for the shoes that match your attire. Your shoes should basically go with the color of your shirt. If you can't decide between black and brown go for the latter.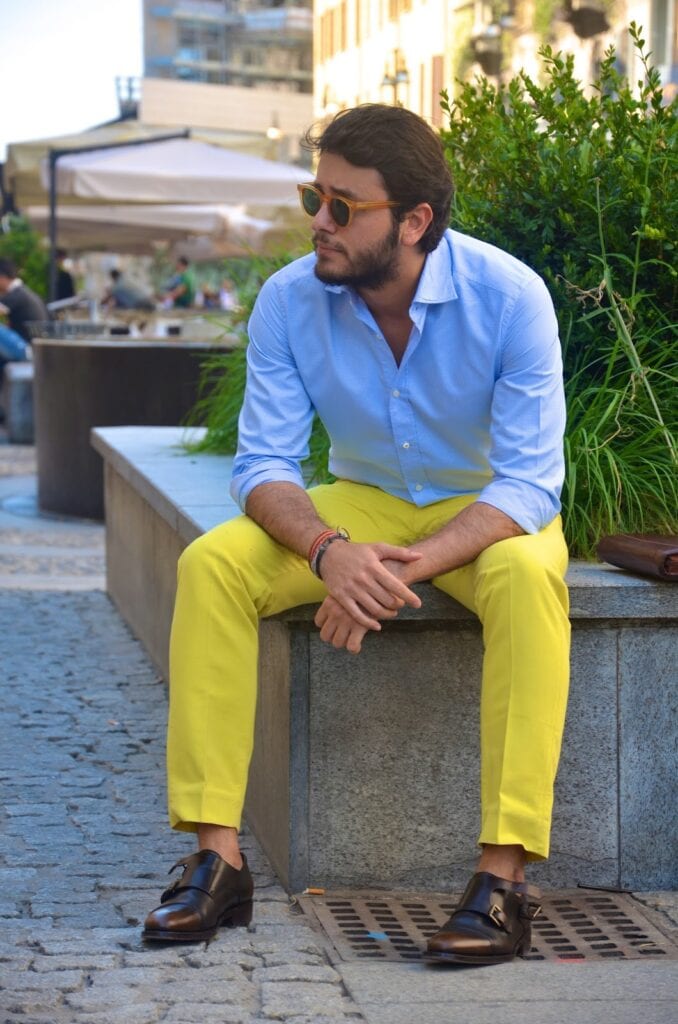 ↓ 2 – Yellow Pants Trend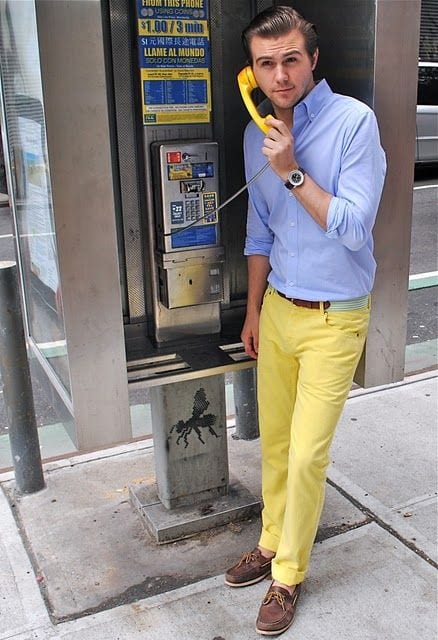 ↓ 1 – Celebrity Style
Chris Brown has rocked the color as well. This man sure knows how to dress! His yellow and black combo is on-point.