Men's undercut hairstyles. Undercut hairstyles are the total in thing these days! Well, the truth has been spoken. Men who go for undercut styles are absolutely on the right track. The best thing about undercut hairstyles is that you can pull off any number of looks with one basic idea, and it's hassle-free. Undercut hairstyles have been trending in men's hairstyles for a while now, and even women are going for it.
Contrary to old beliefs, even men can rock out their looks and alter their style. They can keep themselves up to date with whatever style is prevailing in town.
What is an undercut hairstyle for men?
It is a hairstyle that leaves length on top, but the back and sides are buzzed or cut. An undercut hairstyle accentuates hair volume and your facial structure.
It doesn't matter what hair type you have – straight, wavy, and permed. There's a perfect undercut style just for you. If you are trying a new hairstyle this year, you might want to consider undercut that gives a classy and refined look.
What's special about the undercut hairstyle?
It's so distinct that you can recognize it at first glance. It comes in different styles, and each of them is unique as the haircut itself.
Tips
Maintenance. If you plan on keeping the undercut for a long period of time, you will be needing some products and tools. And note that as your hair grows, the undercut will look a bit different. You can either keep it or you visit the barber to have it trimmed to your desired length.
Styling. Nothing that's worth having comes easy. Invest in good quality products and tools. Look for the best pomade, wax, brush, comb, and hair dryer. They are essential for your undercut hairstyle, especially if you're aiming for texture, volume, and height.
Ask For Opinions. Apart from yourself, you can consult your friends (and crush) to ask them what undercut variant looks best in you. In any event, the barber is the most reliable person for that matter.
Avoid
For Men With Oval Faces. While any man has the right to aport any hairdo they want, undecut just doesn't work for oblong face shape.
Bad Hairstyle. If you feel that a certain hairstyle isn't for you, you gotta trust your instincts and opt for something else. You don't wanna be a laughingstock for sporting a bad hairdo.
40 – Business-Appropriate
39 – Curly Triangle Undercut
I have always been jealous of men with curly hair. Curls come with high amount of texture. The hair is tousled for maximum texture, and the top portion has the same length all around.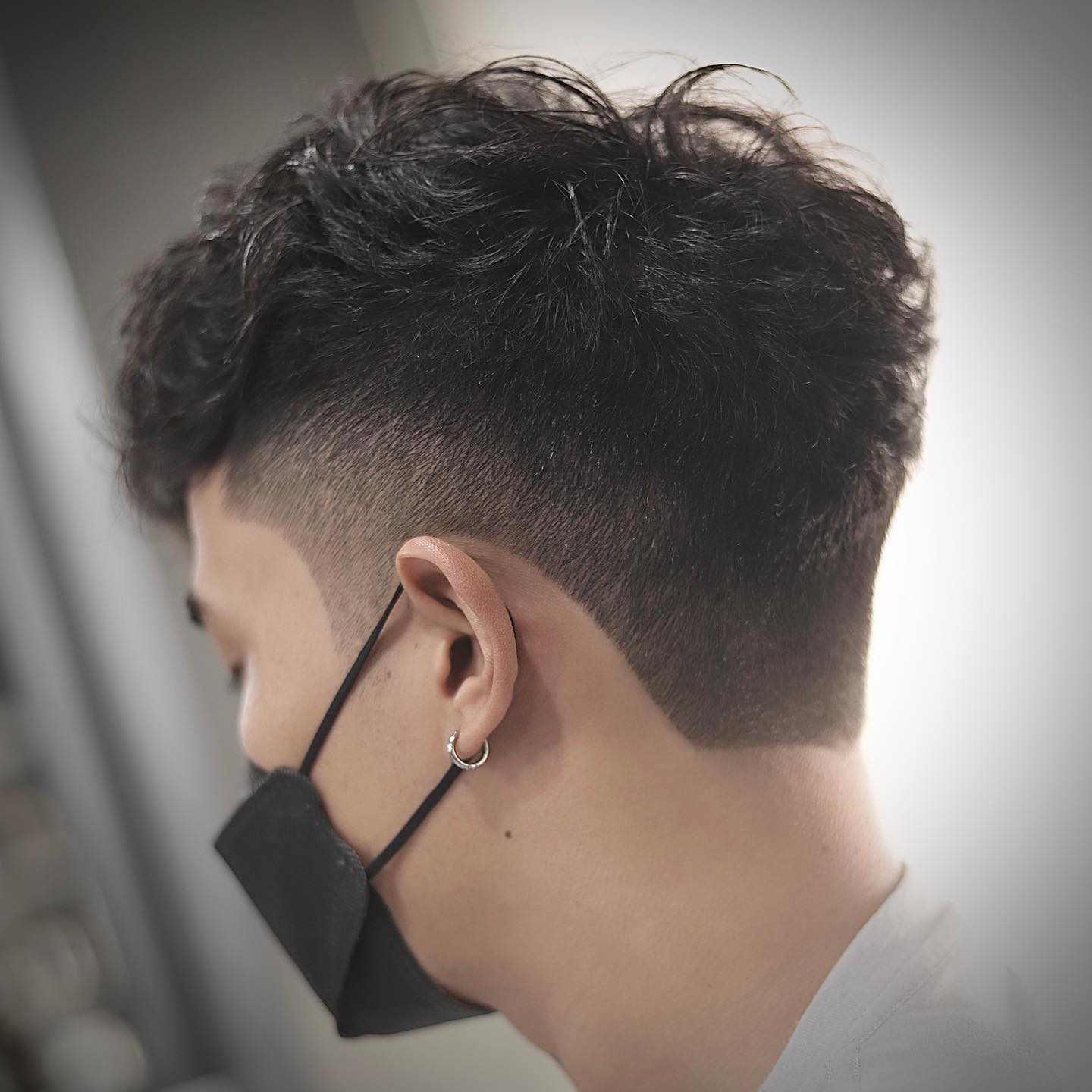 38 – Buzz Cut Men
Hard parts can be undercut style. There is an emphasis to the part here. Meanwhile, the sides are tapered for more "push" toward the top.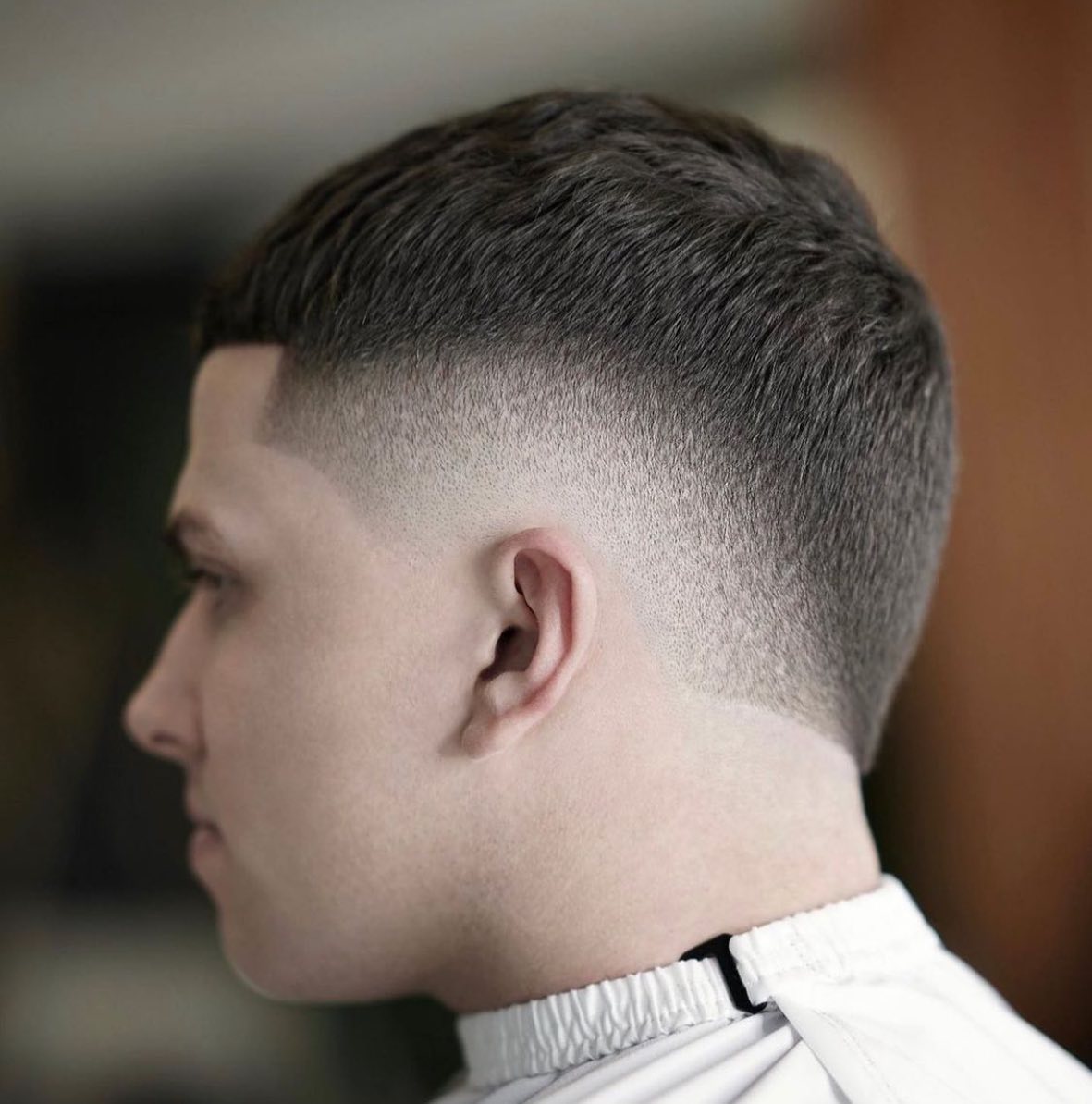 37 – Spiky Hair
To get it right, tell the stylist to brush up most of your hair.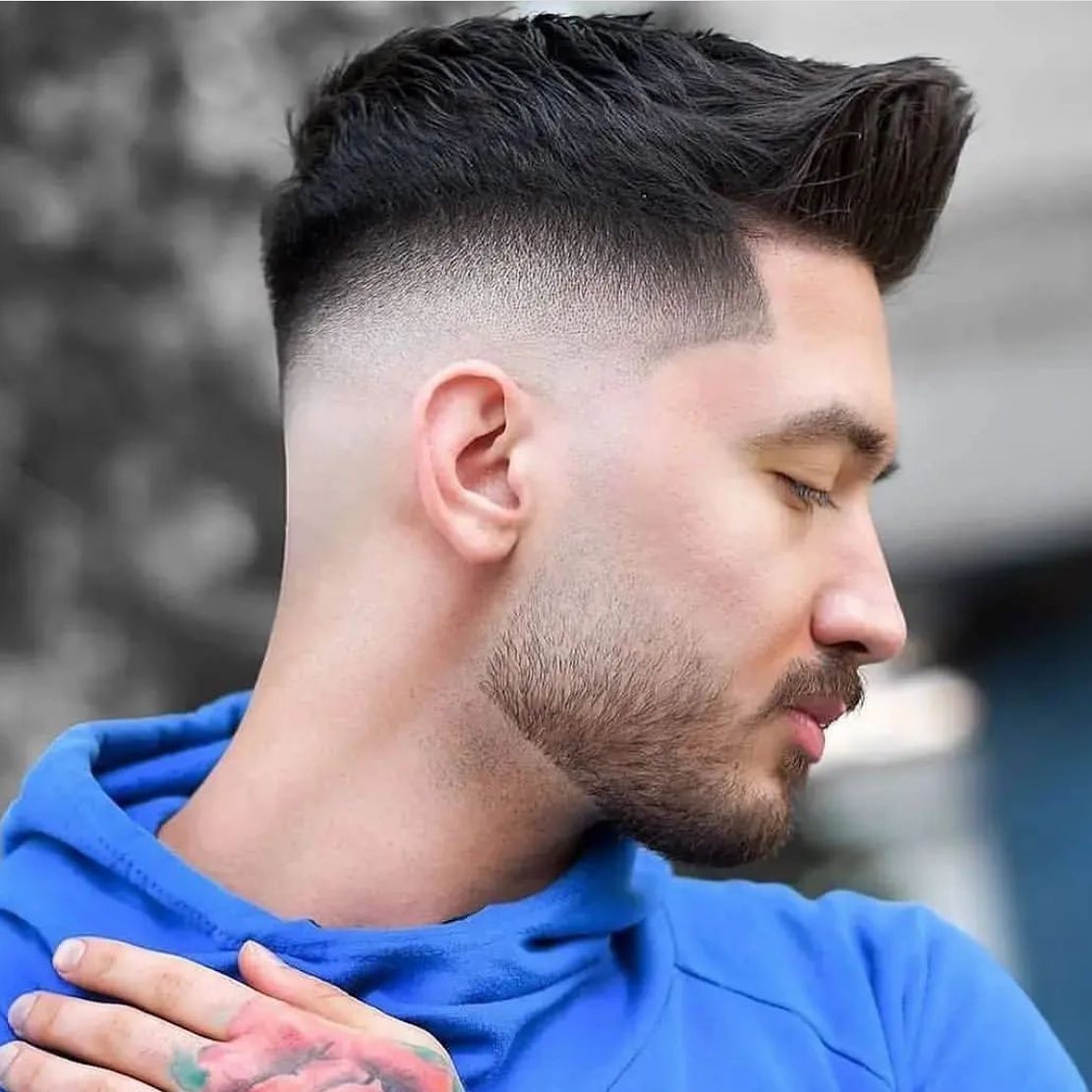 36 – The Boy Next Door
This is the medium-length undercut, which is ideal for men with wavy, thick and straight hair. Short sides and medium hair on top, you know medium undercut when you see one. 
35 – Undercut Long Hair
This also comes as high fade with a combed back texture. It's like a slicked back hairstyle, but with a faded line up.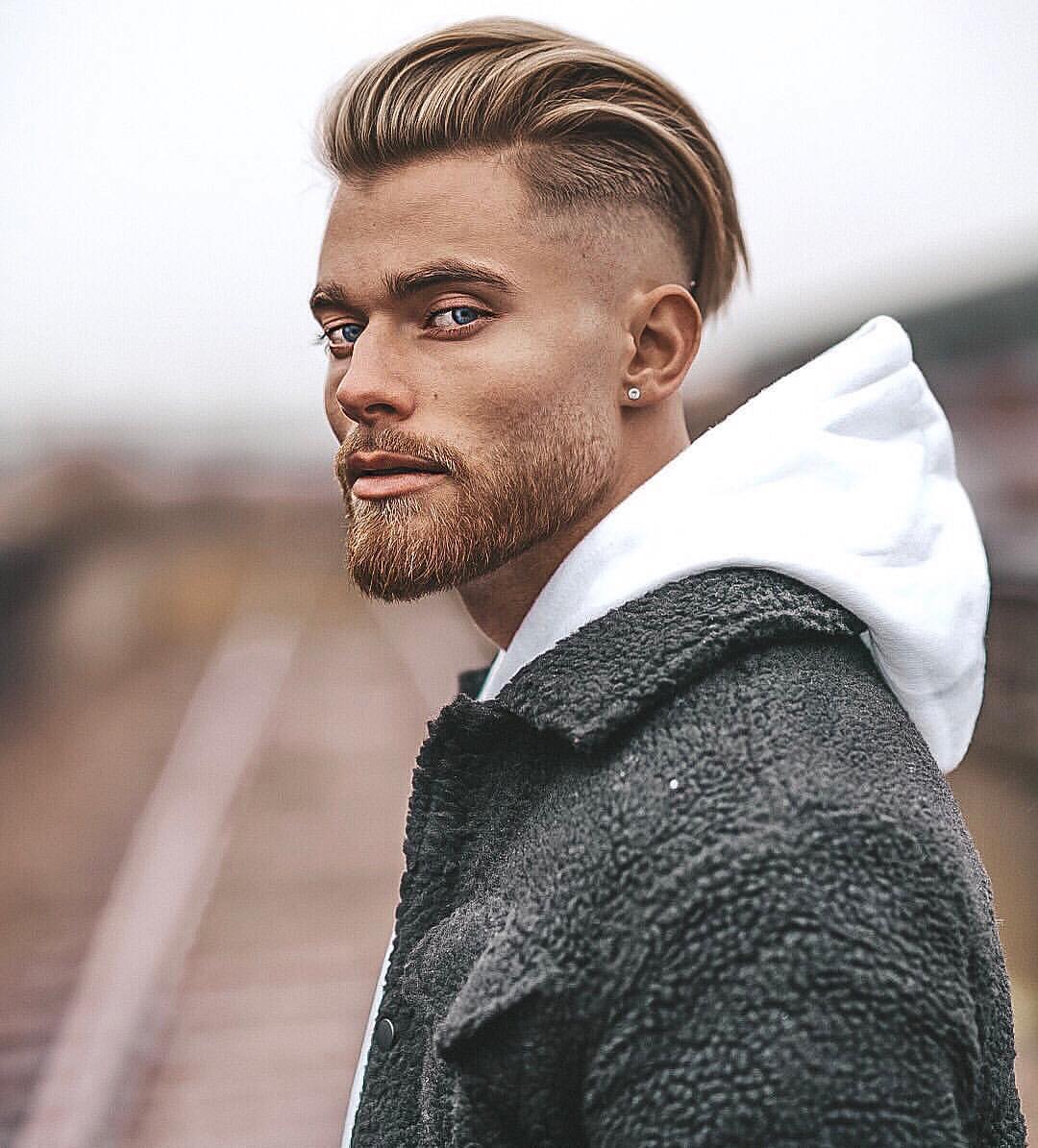 34 – The Classic Undercut
With lots of undercut variations, the world is your oyster. But don't forget to try the basic first. This is also a fail-safe option if you don't know what to choose. This simple and classic undercut style is ideal for any man testing the waters.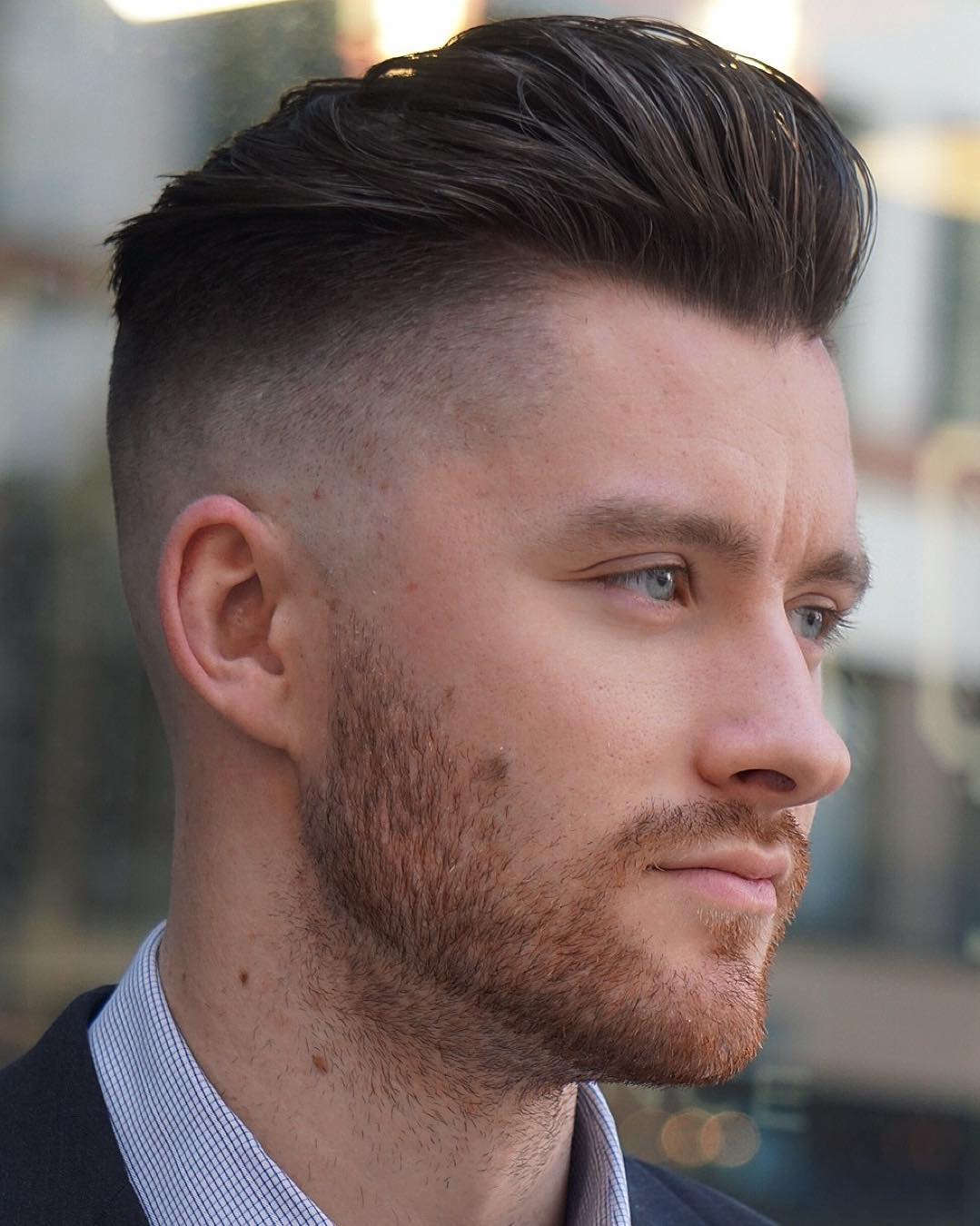 via
33 – The Undercut Fade
This is a timeless version of the undercut. The hair in front is brushed up. The rest is a bit messy, which is intentional to achieve some texture.
32 – Short Undercut
It's a proof of how versatile the undercut can be. This style gives you the leeway of having a cut with low-maintenance.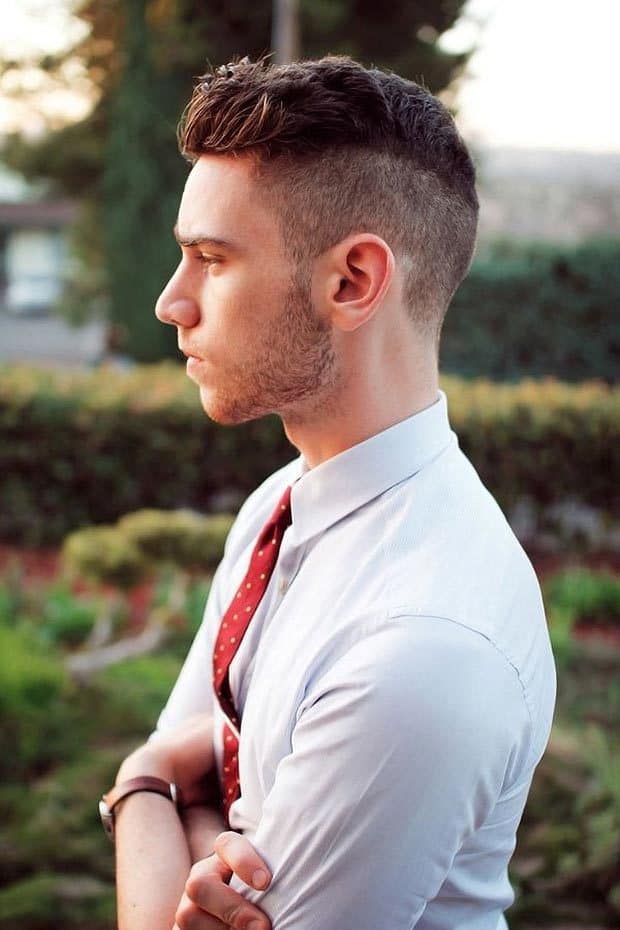 via
31 – Disconnected Undercut
It's a dramatic variation of the classic undercut. The hair on your top is "disconnected" from the sides with a nice and hard part. This strikes a thin line between short and long hair. The catch is that the hair can be cut at medium length, and styled to look like pompadour. For best results, use products with strong hold especially if you have a thicker hair.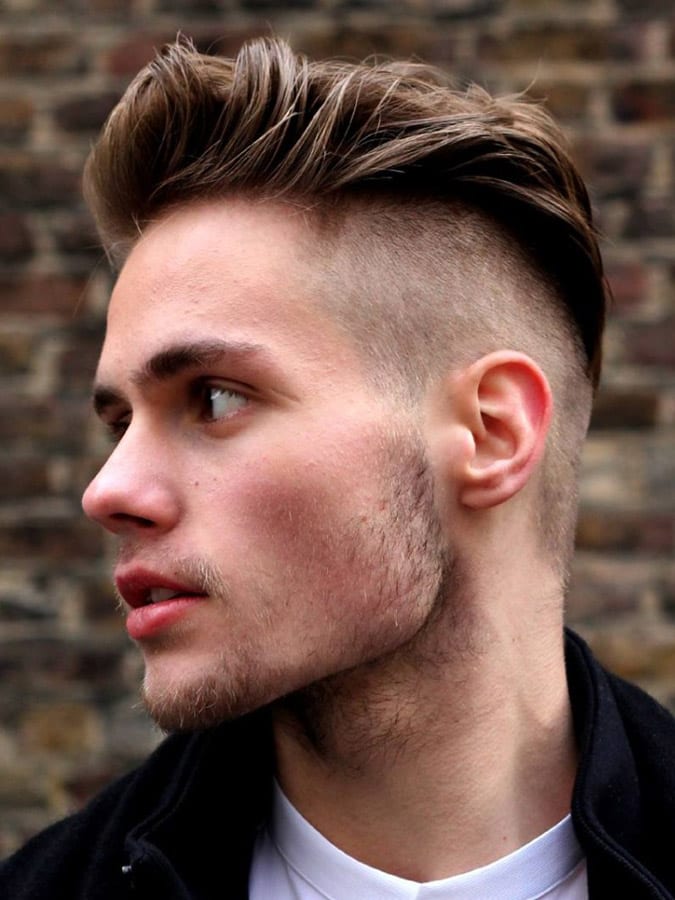 30 – Winter Times Haircut
Don't mistake short hair or undercut for summers; some people tend to think that way, but you can add multiple layers of clothing and carry out your undercut with medium-length hair without giving any summer vibes.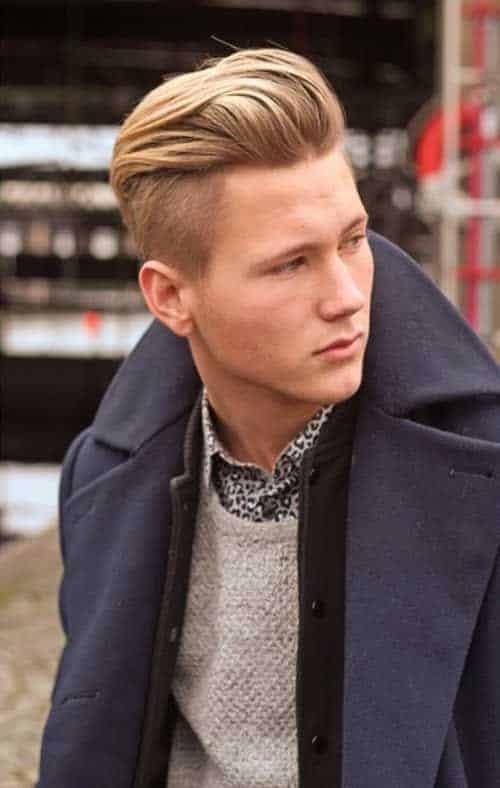 29 – The Color Mix and Undercut
Who says aging means only short and sleek hair? You can totally go for undercuts even when your hair starts turning grey in your older days. You can complement it with beards and some good dressing.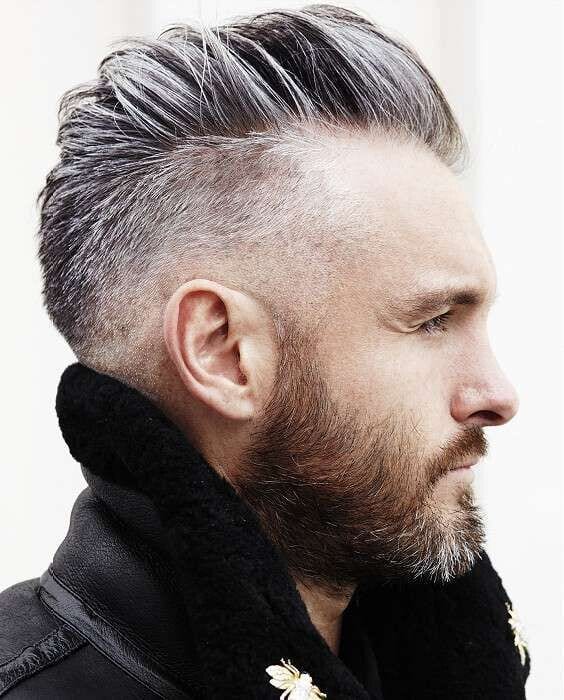 28 – The College Boy Look
School boys or teenage boys can also opt for this hairstyle, with hair slightly longer on the other side. This can be easily carried with everyday casual dressing or even a school uniform. Also, have a look at Men Sweat Pants Style-17 Ways to Wear Sweat Pants and Joggers.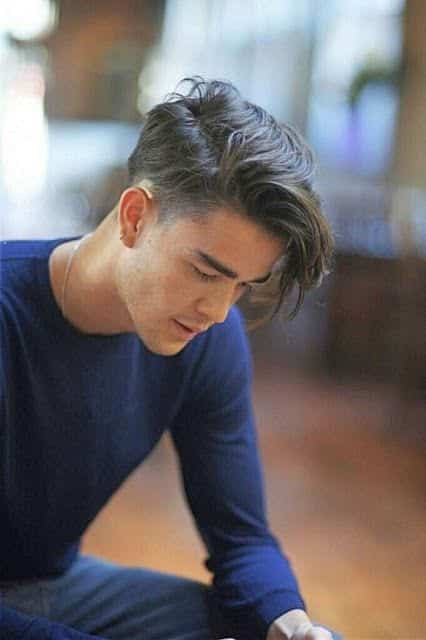 27 – Mr. Handsome's Style
Perfectly trimmed hair along with a perfectly trimmed beard automatically makes the men look more handsome and stylish, so why not go for an undercut along with this look? This looks 100 times more attractive!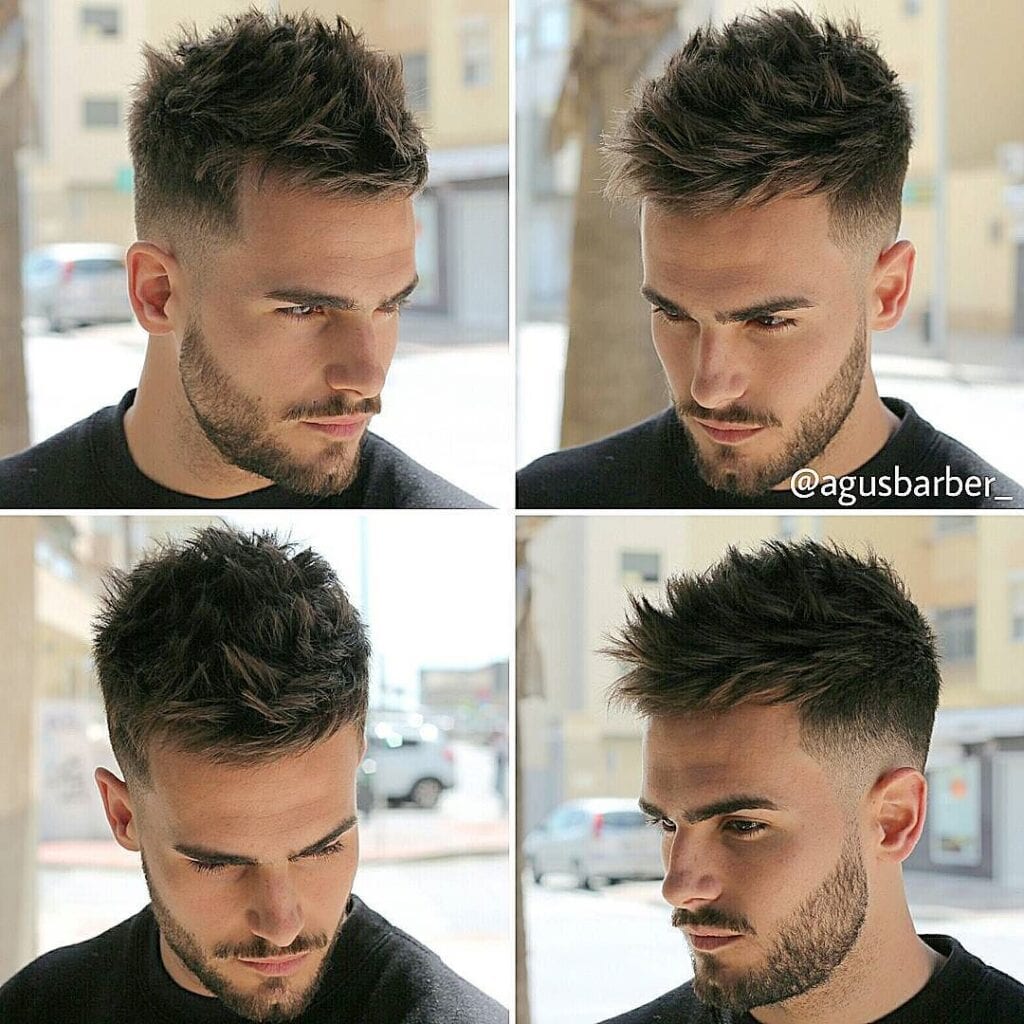 26 – The Blonde Hair
Who says men who go for blonde hair don't look good. Well, we can prove you wrong. Blonde hair with an undercut can look perfect if carried with ideal attire. Get an outfit that includes a cardigan or coat paired with a pair of jeans.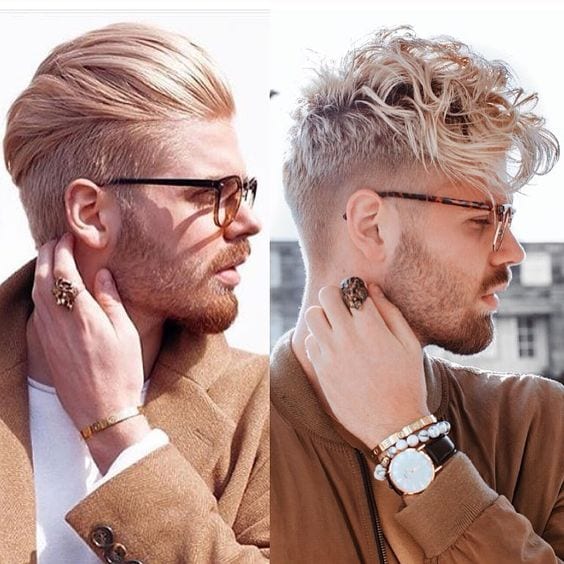 25 – Work Style Look
Trust us, and you won't look weird carrying an undercut to work. All you need is the right style to carry it. Pair your pants with a dress shirt and a long coat. Go for an undercut that isn't very typically bold, and you're all set to go!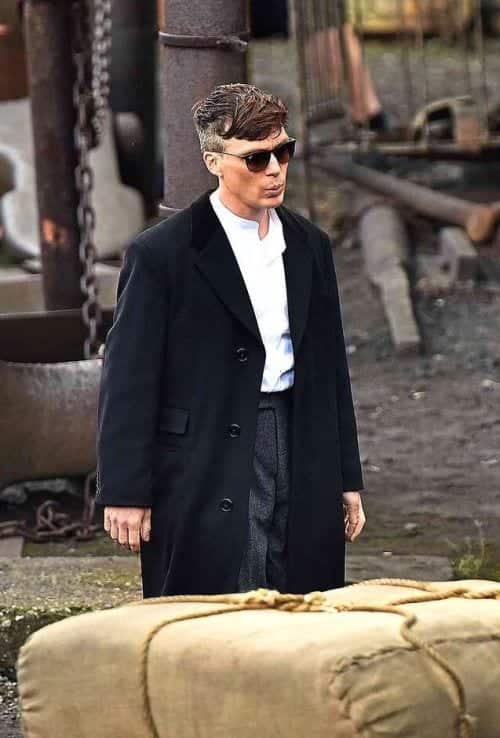 Via
24 – All Tattooed Up
Men with many tattoos can go for an undercut, which will further give them a rugged look. To make the gaze even more intense, they can add a full beard, and that's about it.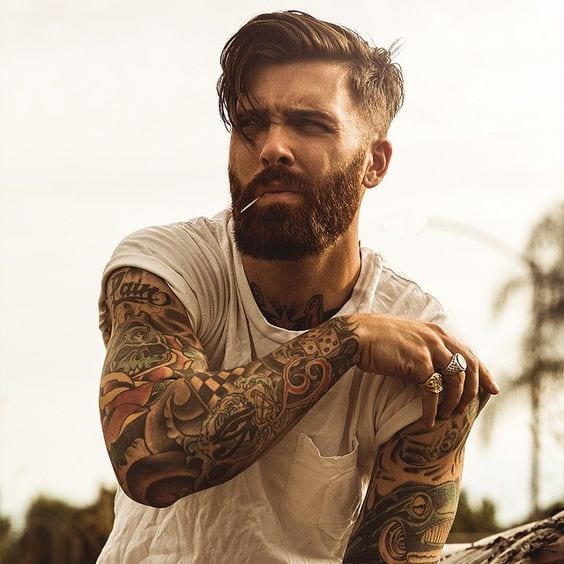 23 – The White Undercut
Who would imagine going for an undercut if all of your hair has turned white? Well, it's daring, but honestly, they do not look bad at all! Don't be afraid to experiment and just do it.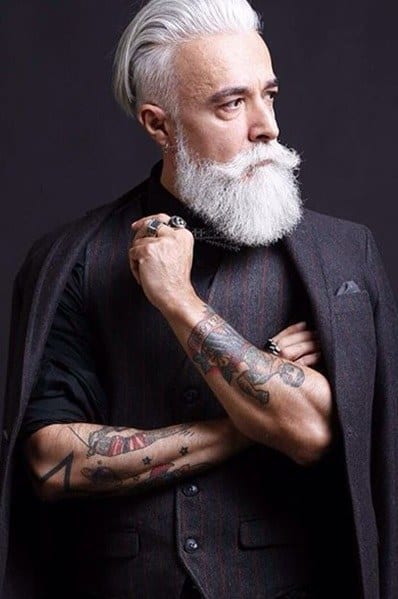 22 – The Professional Look
Who says fashion and decency aren't meant to go together? Well, you can look absolutely fashionable and decent at the same time. A decently trimmed beard with a not-so-drastic undercut can make you look very well composed.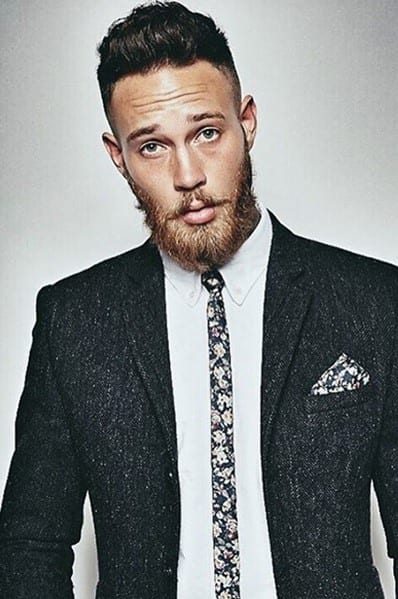 21 – Fun-days and An Undercut
Ready for a beach day or some fun day with your friends. Wear a simple tee paired with pants and pull on your favorite shades, and the entire attire will compliment your undercut.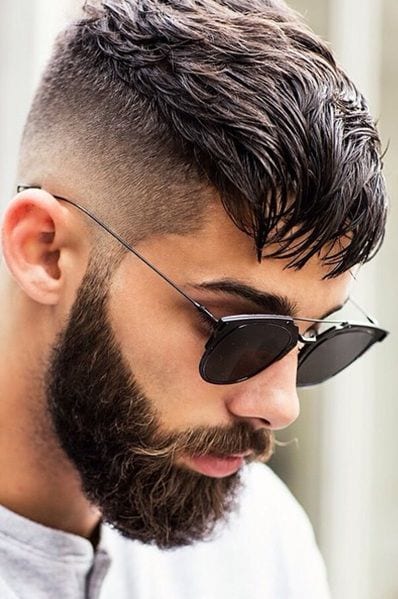 20 – Highlighted Hair
An undercut with the rest of the hair highlighted can do wonders, but you have to ensure that the color of highlights blends in with the rest of the hair so it doesn't make you look bad.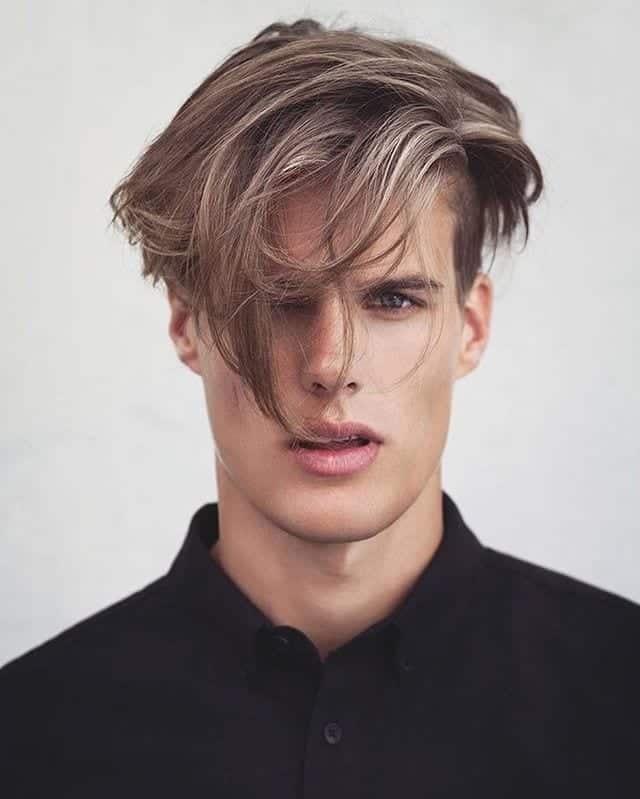 19 – Dress That Matches Your Hairstyle
You can totally impress your girlfriend's parents even if you have an undercut, don't worry what kind of impression they'll get about you. Dress well, wear a coat, trim your beard, and you are all set to impress.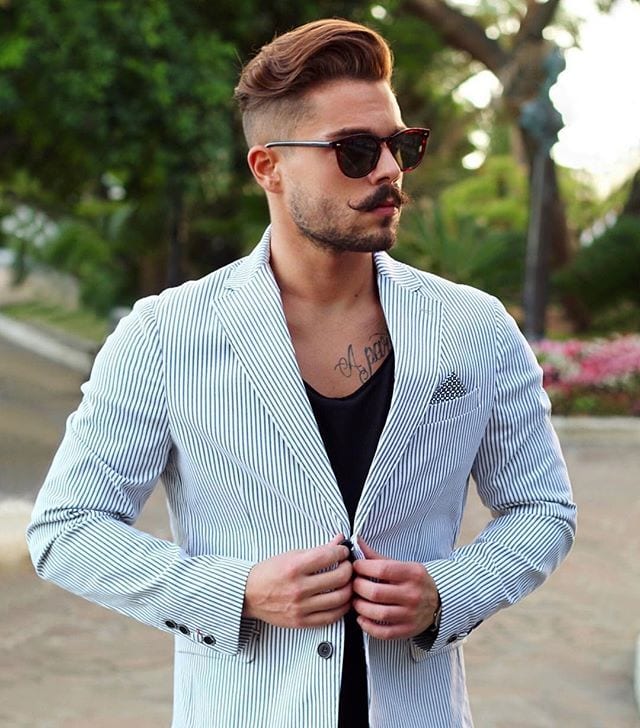 18 – Workout Style
Casually carrying your undercut is probably the best thing to do. Be it the gym look or simply going out to pick up some groceries, you can look absolutely perfect if your hair is in the right undercut style.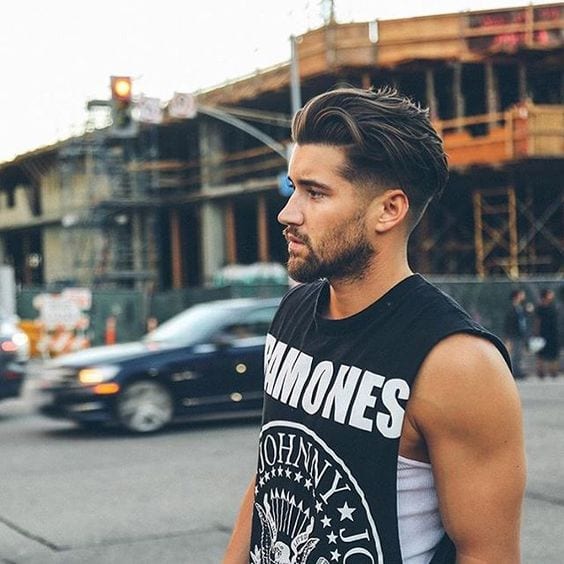 17 – The Nerdy Look
Yes, you read that right, stylish haircuts are not only for men who want to look stylish but can be carried out by anyone. Be it the guys who wear glasses, and they can also pull off the undercut even with maintaining their typical attire.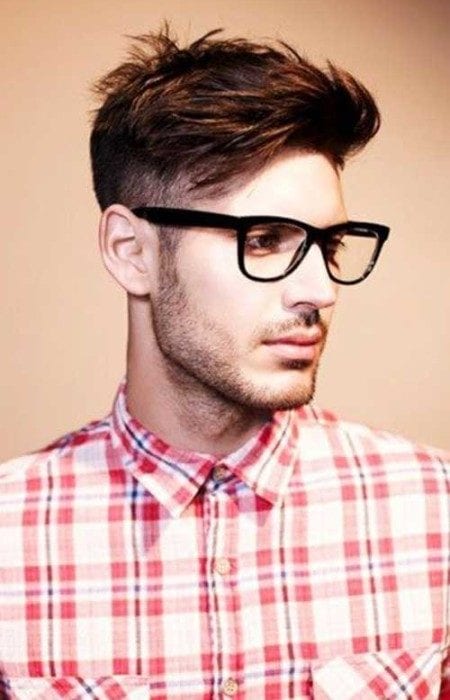 16 – The Mohawk
Mohawk hairstyle's not everyone's cup of tea, but if you can pull it right, then you are the game-changer. And yes, everyone likes game-changers.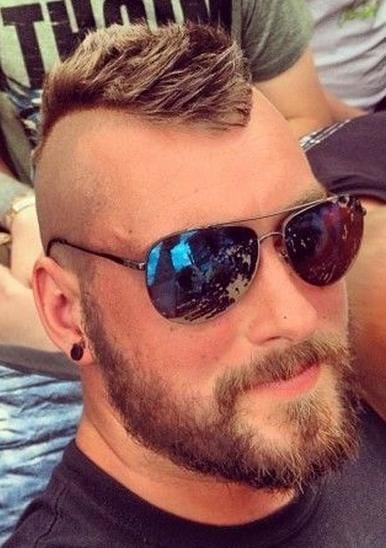 15 – Totally Shaved Undercut
Well, some men can shave up the remaining hair as undercut, and there is only hair on the central part of your skull. Sounds very daring, well who knows you can carry it well. For a sexy goatee beard to go with this hairstyle, check out 18 Long Goatee Styles and Tips How to Grow Them Rightly
14 – Spikes and an Undercut
Most boys are fans of spikes. They can combine an undercut and let the rest of the hair remain in spikes. Easy, isn't it?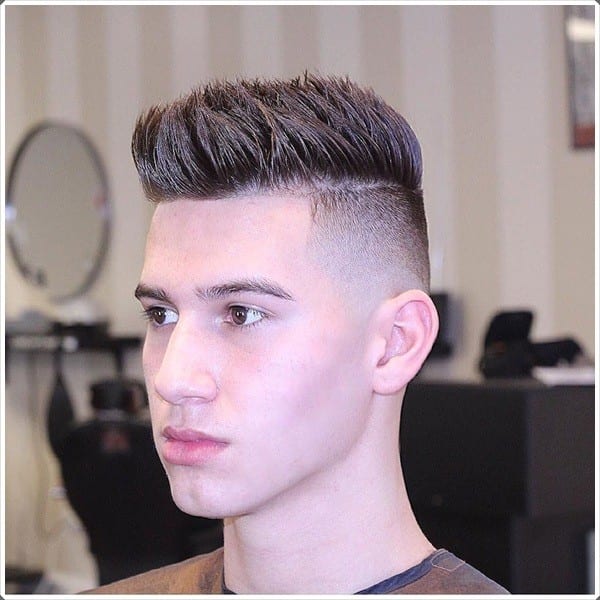 13 – Some Fancy Undercut
In the mood to experiment with your undercut? Men can totally opt to design their undercuts in different patterns that don't make their hairstyle look weird with their personas.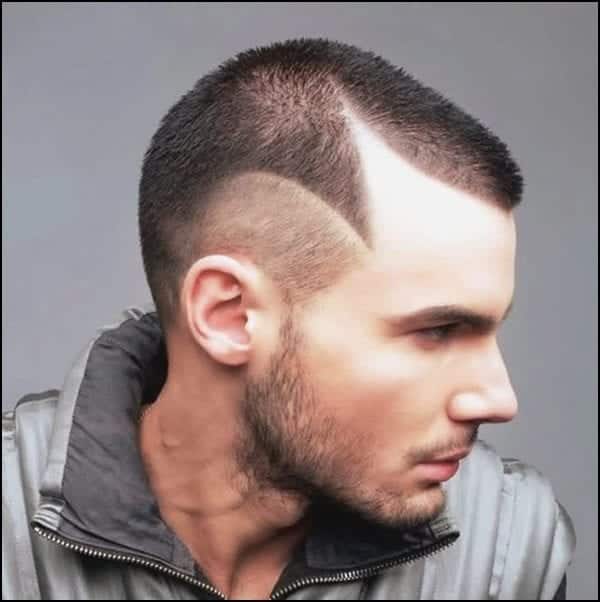 12 – David Beckham Style
David Beckham is a style symbol, and looking at him, we can see that he is an excellent fan of undercuts. Altering it in many styles, he is usually seen rolling an undercut, usually with a trimmed beard.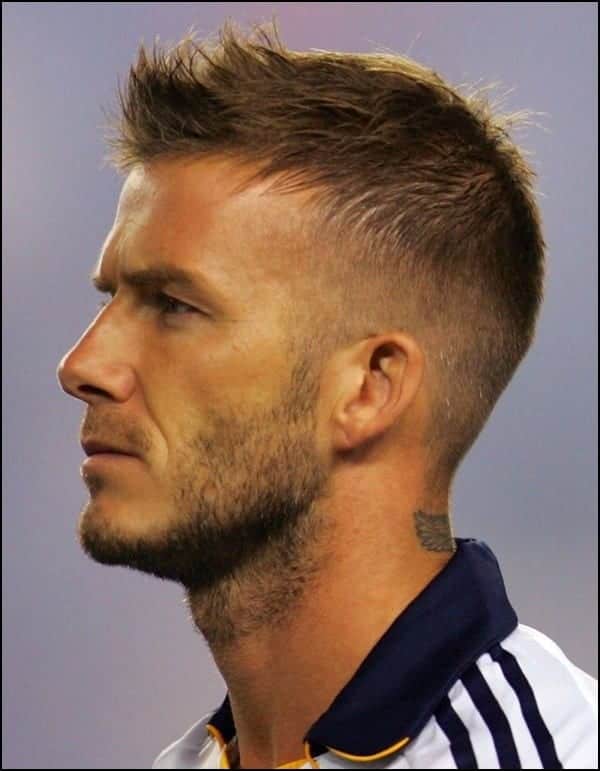 11 – Mohawks and All Formals
There is a perception that the Mohawk hairstyle can't be carried at formal events. Well, this isn't the case. If you dress well, then your Mohawk looks fantastic, even on formal occasions.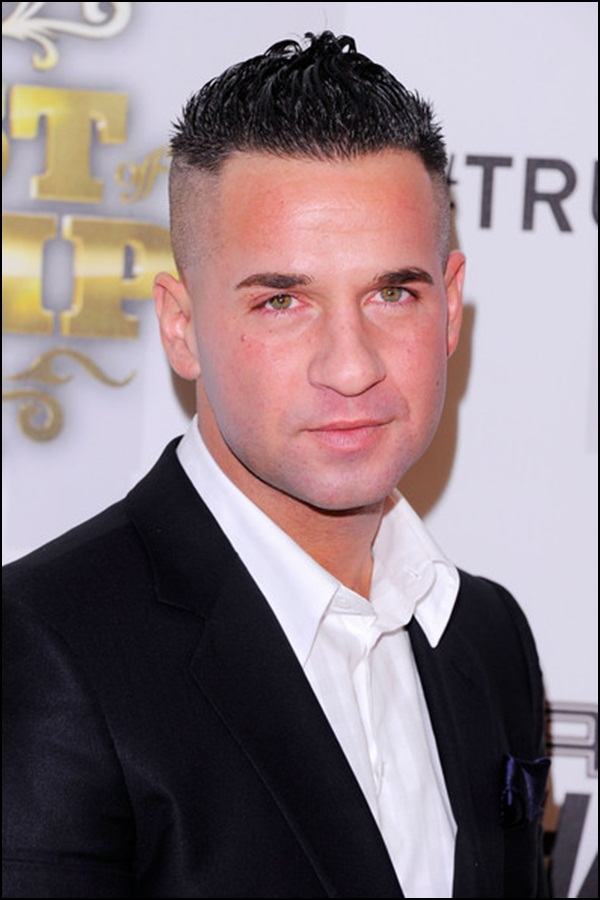 10 – Multiple Volume Hair
You can also opt for a haircut that creates multiple volume layers in your hair along with an undercut.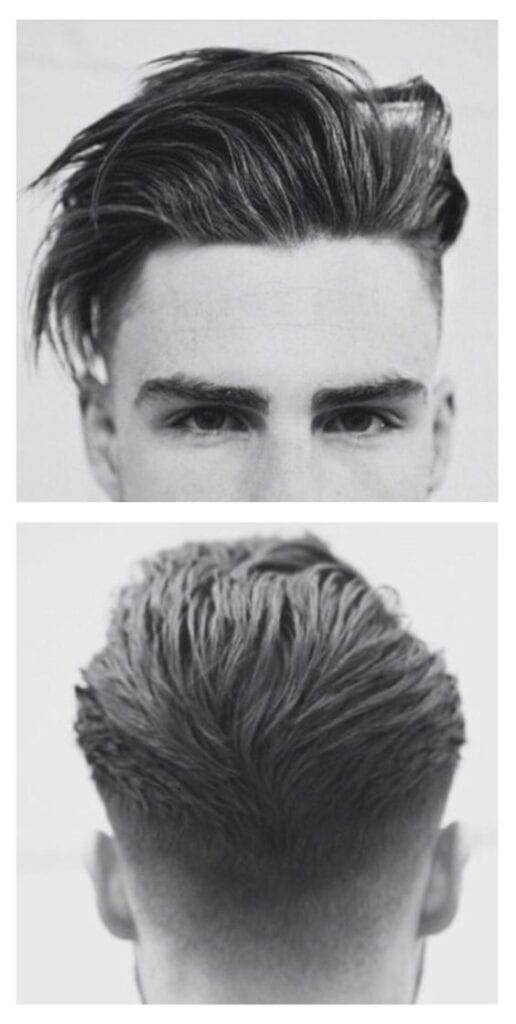 9 – The Brunette Undercut
The undercut is one hairstyle that looks really cool with even colored/dyed hair. Be it brunettes or blondes.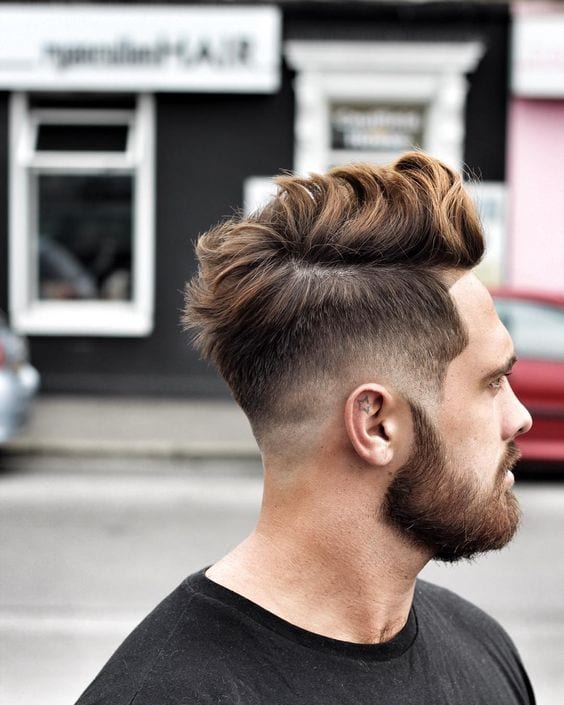 8 – The Man Bun
You can also tie up your hair in a bun with the undercut. This looks stylish and neat and can be easily carried with multiple looks.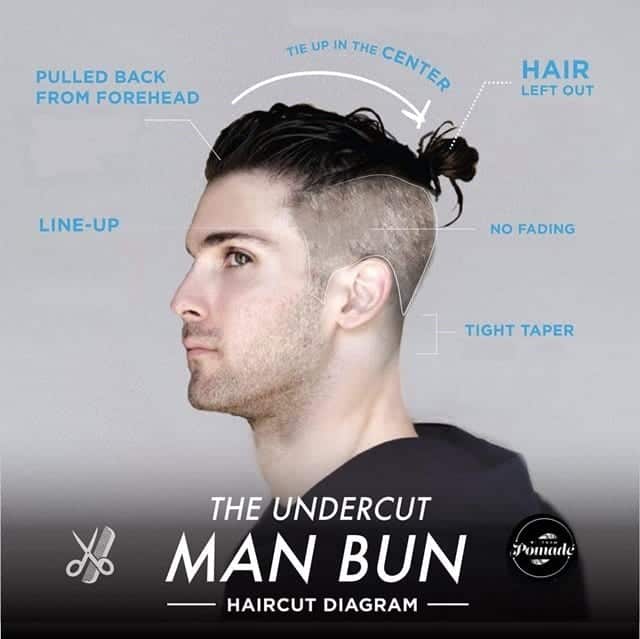 7 – The Crew Cut
The Crew cut involves an undercut with medium fading hair, giving the transition effect to your hair.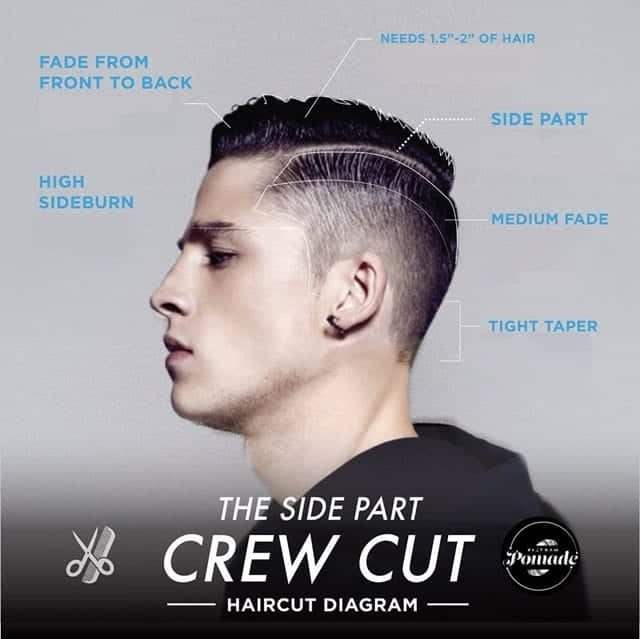 6 – Side Swept Undercut
This is a simple undercut with a little longer hair on the other side. Men can carry it well for a casual look.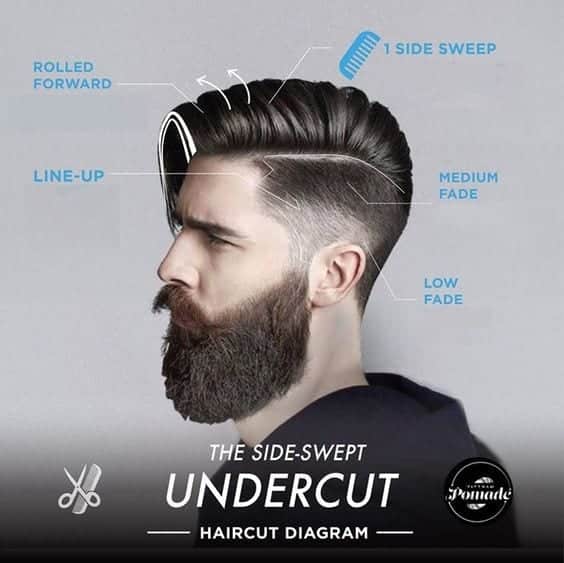 5 – Short Mohawk
If you're not too comfortable with long hair for Mohawks, you can always opt for shorter hair and pull them up in spikes to give the illusion of length.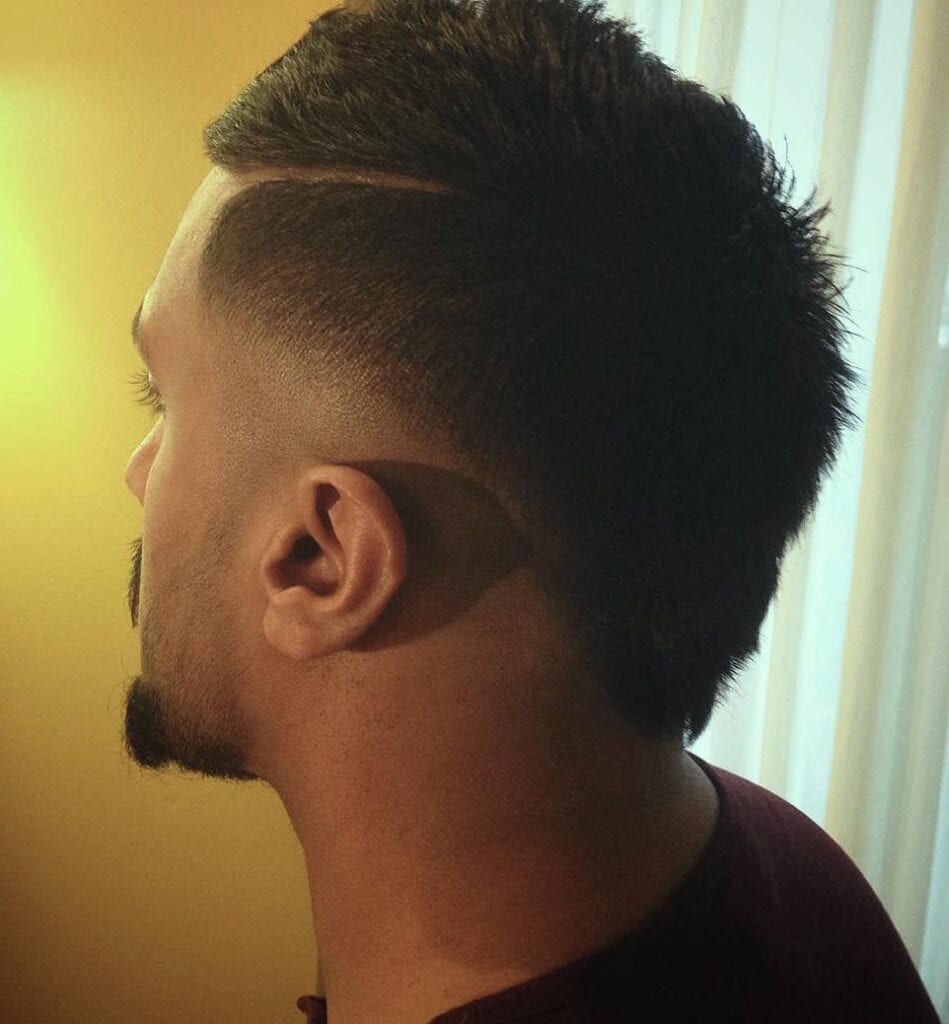 4 – The Edgy Undercut
You can make a statement with your undercut. A sleek full shaved hairline right above your undercut is one way to make yourself stand out among others.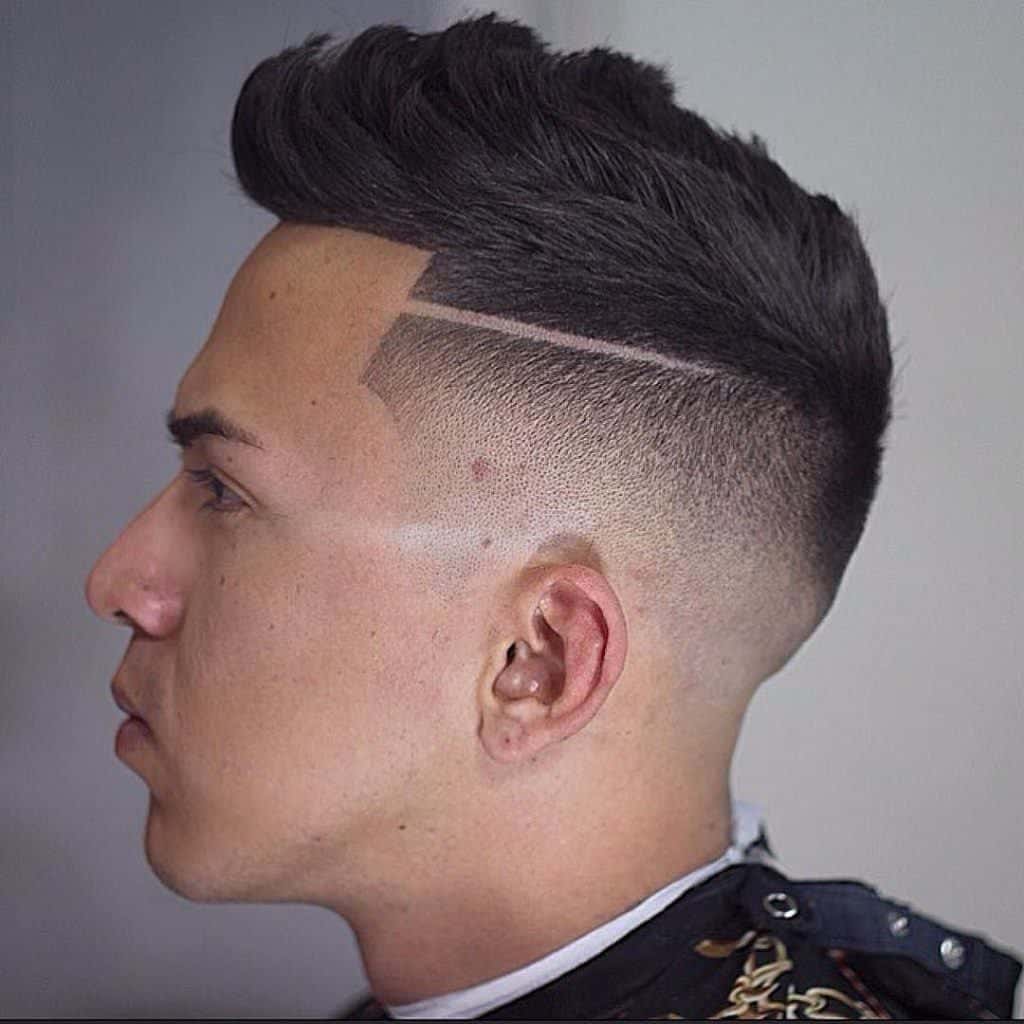 3 – Beards and Undercuts
One way to really look neat in undercuts is to combine it with medium-length beards, which adds a lot of decency to your entire look.
2 – Barely Bearded
Yes, you can also opt for similar looks by being barely bearded and rocking an undercut like a pro!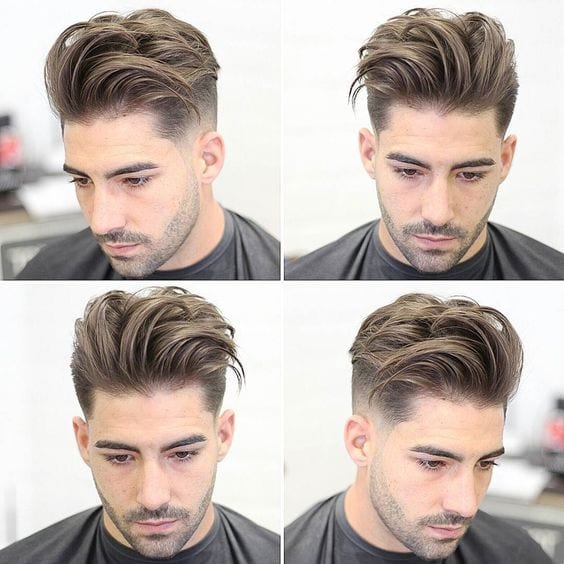 1 – The Super Casual Look
Casual outings call for an entire casual look, combine your favorite tee with a simple pair of pants, put on your favorite shades, and head out.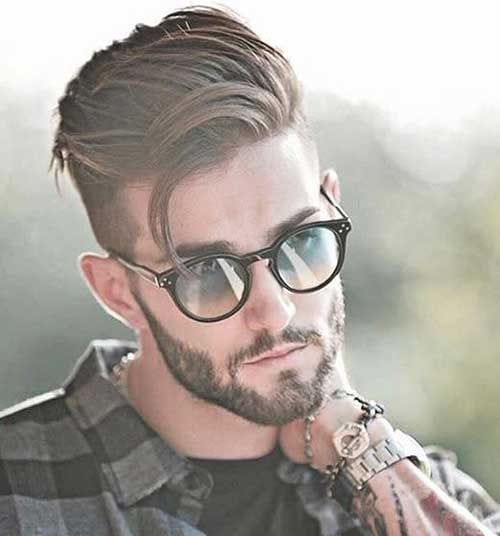 Frequently Asked Questions
Is undercut in-style 2022?
The undercut style has always been cool and striking for a man. Women love it until now. Why wouldn't they? An undercut can give you a badass appearance, especially if you have thick hair.
What face shape looks best in undercut?
The undercut is ideal for men with square faces. The same goes for men with diamond faces. But don't limit your choice with this belief; anyone has the right to rock undercut. Just get the perfect variation for you.
How can I get the undercut?
This hairstyle is kind of flexible when it comes to your hair length. There is really no particular requirement of having the exact length. But when the barber asks, tell them to give you at least a 2-inch (up to 6-inch) top. And buzz the sides as #1 up to #5. It's also helpful to show the barber a picture to be more accurate.
What are the best products for undercut?
Pomade, wax, clay, cream, and mousse are the hair products known to men – stylists and fashionistas alike. Choose from these products according to your desired style, hold, and shine. Suavecito and Layrite are two good brands you can try.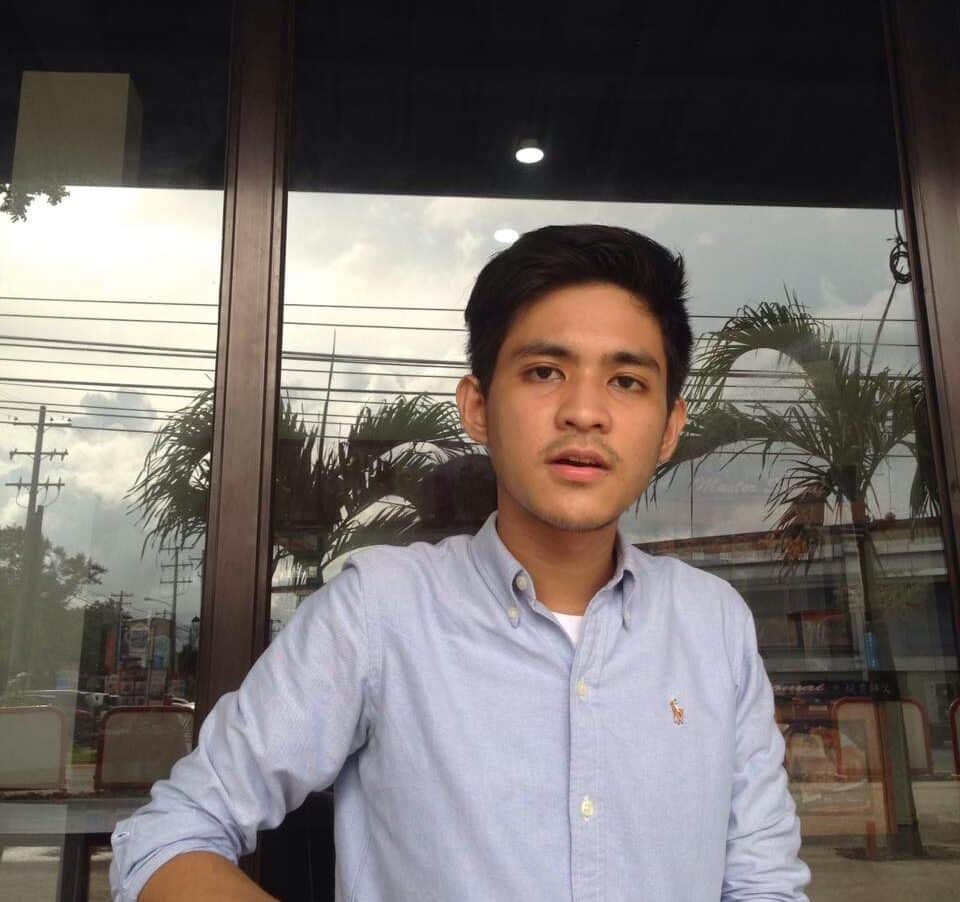 John Vincent studied Communication Arts in the Philippines.
Growing up, he's always had an eye for aesthetics. He enjoys writing a lot. Books, TV series, and movies are a big part of his life. His all-time favorites are Harry Potter, Game of Thrones, and Marvel films.
He believes that fashion is a pure form of art. You express yourself through your personal style – it's something you can't replicate.