Wear Jumpers in Stylish Ways this Winter. Winter brings with it a number of unique outfit ideas and clothing items, jumpers being one which is often dreaded as girls think they look boring and make one look fat. So today we will be sharing some great outfit ideas to help you look stylish in jumpers.
Read on for the best ideas ever!
How to Wear Jumpers Fashionably in Fall/Winters
Here are some tips that will help you style your jumpers in the most amazing ways this season:
If you have an oversized jumper, give it a more tailored look by wearing a belt on top of it.
If you're wearing a loose, baggy or oversized jumper then don't wear it with wide legged trousers. Instead, choose jeans or trousers which are either skinny or cropped or even both. This is because cropped skinny jeans will make your legs appear slimmer and longer and hence they go really well with baggy jumpers. This is also a great style tip for curvy girls.
If you're wearing a jumper as a dress or with short skirts or shorts, then it means that a lot of focus will be on your feet. So make sure that you choose a nice pair of socks and some trendy shoes such as pumps or cute boots.
RECOMMENDED: Sweater Styles 2017-18 Best Styles of Sweater for Women this Year
If you want to give your outfit a more formal or professional touch then wear your jumper over a collared shirt. If you can get your hands on a shirt that has studded or a nice printed collar then that's even better.
For a casual laid back look, wear overalls on top of your jumper. This cute, lazy girl attire is perfect for days when you don't feel like putting much effort in dressing up.
Jumpers go really well with leather so if you have anything made of leather like shoes, handbags, skirts or pants, then you really need to try pairing it with a jumper and you'll just love the look.
 ↓ 20 – Printed Jumpers
An excellent choice for school and college going girls. Love the messy bun hairstyle chosen to go with it.
If you're looking for something funkier then check out this jumper outfit of Selena Gomez. She's looking really chic and stylish in a Rexy jumper by Coach.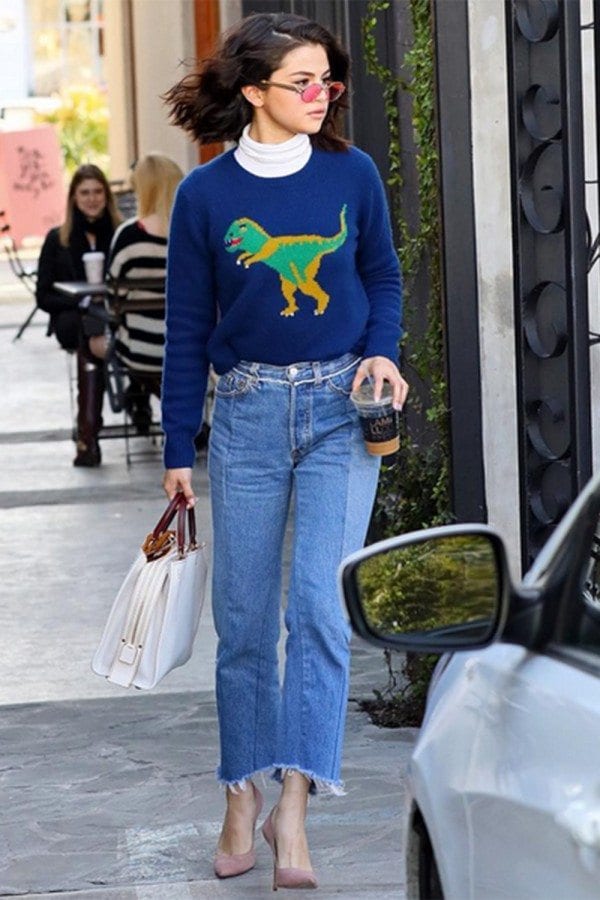 ↓ 19 – Celebrity Style – Wearing Jumpers as Dresses
Selena Gomez looks gorgeous as ever, wearing her jumper as a dress. If you feel that wearing a jumper as a dress makes your legs too cold then wear it with long over the knee boots.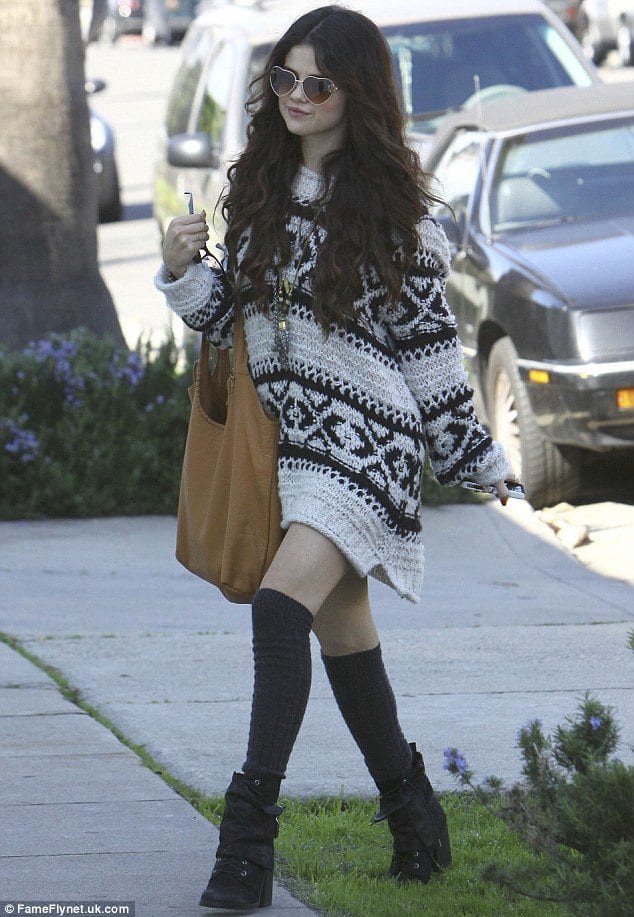 But here's the sweater dress that just won us over. Kendall Jenner wears a white hooded jumper over a dress and this is definitely the sexiest jumper outfit that we have ever seen.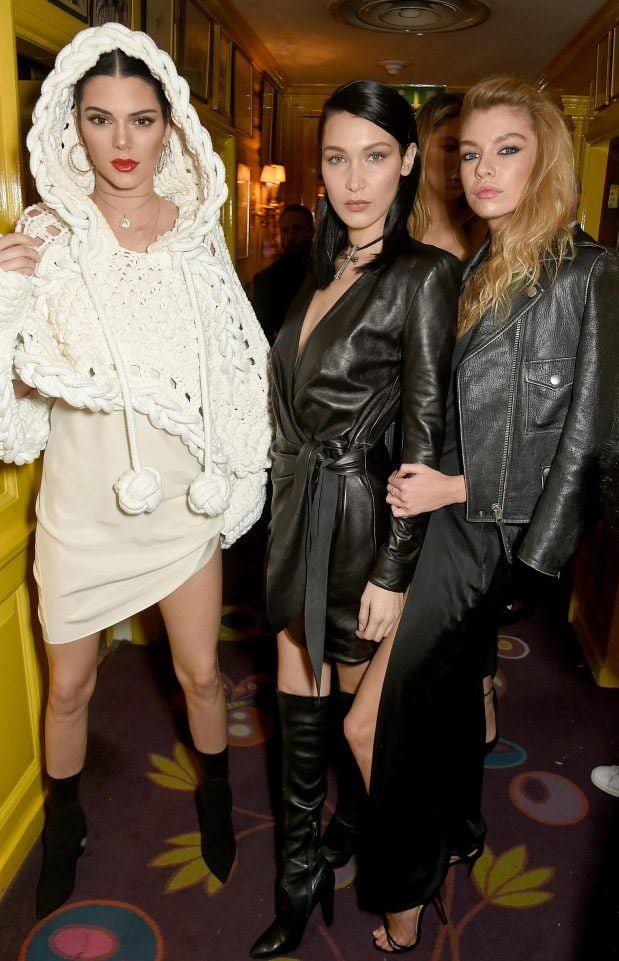 Here's another look of Kendall as she wears a black oversized jumper as a dress for a concert she attended.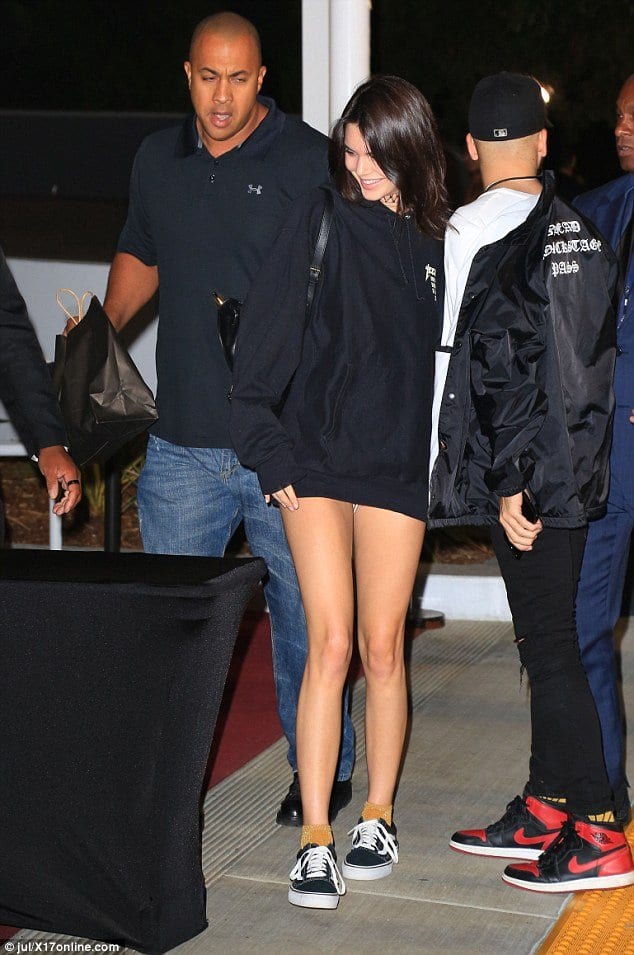 And if you're wondering what shoes to wear with a jumper dress then take tips from Kelly Rowland as she pairs a white jumper dress with tan colored Gianvito Rossi suede lace-up heeled boots. You can buy these shoes here for £662. Though they might seem expensive, they are a worthy investment since you can pair them up with any outfit for chic boho vibes.
 ↓ 18 – Matching Holiday Jumper Outfit for Couples
Who doesn't love dressing up like their partner? So find a pair of matching jumpers for yourself and your husband or boyfriend, especially recommended for the holiday season.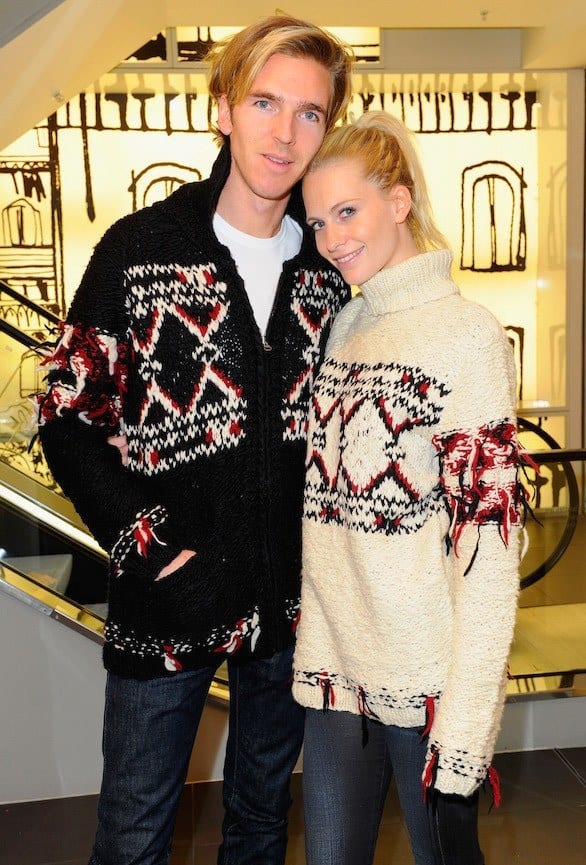 Also have a look at 100 cutest matching mother-daughter outfits on the internet so far
 ↓ 17 – Celebrity Style Christmas Outfit
Taylor Swift looks spectacular in her blue jumper.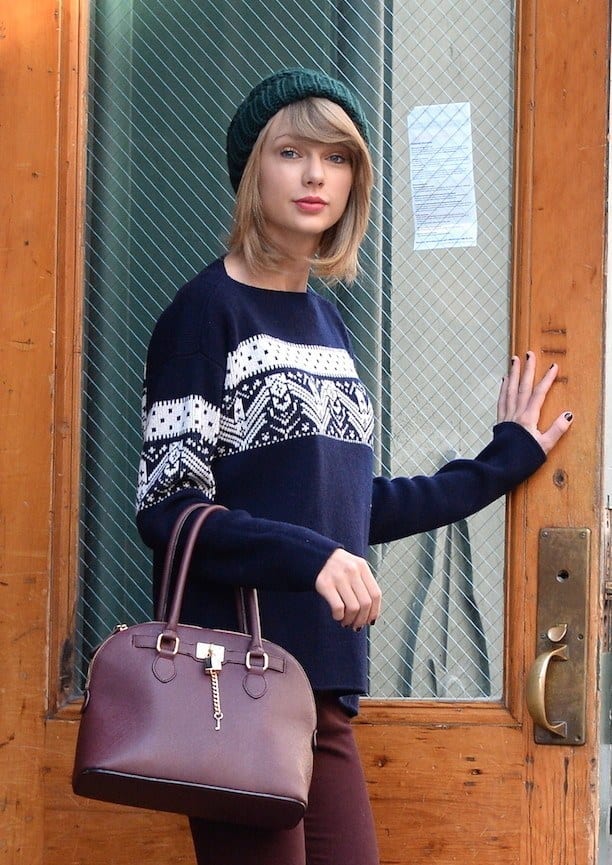 ↓ 16 – Classic and Warm Winter Outfit
Here we see a jumper worn over a dress for Winter. But if you want to make the dress prominent instead of the jumper then you can do the opposite and simply wear the dress on top of the jumper. Of course, for this, you need a more fitted jumper and a looser dress but the results are really worth the hassle. Check it out below.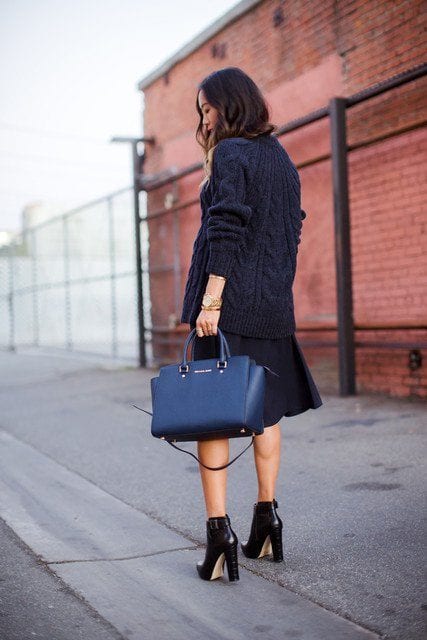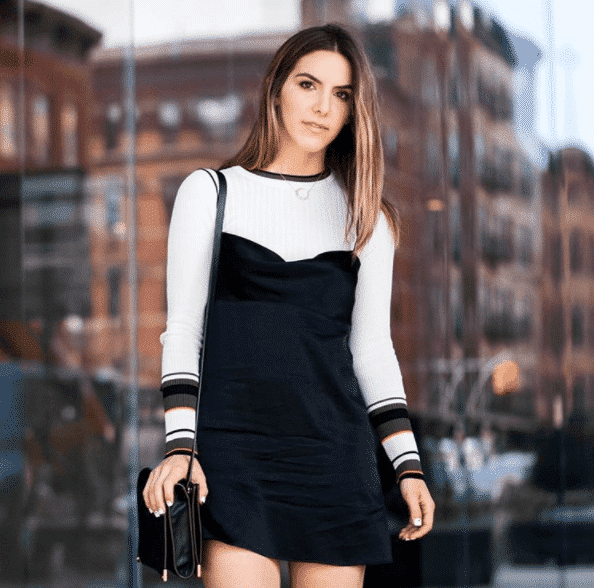 ↓ 15 – Tartan Pants with Jumper for School
Here is the perfect Fall outfit for school and college going girls. The hat is the best accessory to go with this look, if you're planning on buying a hat for the season then do check out Hats Outfits; 22 Ideas How to Wear Hats with Different Outfits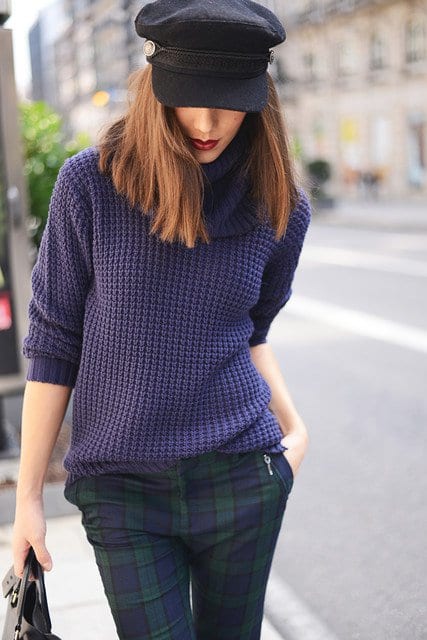 For more ideas, have a look at Tartan Outfits for Women – 18 Ways to Dress Up Fashionably
  ↓ 14 – For the Love of Pink
  ↓ 13- Black and White Look
Black and white is definitely one of the best color combinations around and wearing a jumper on a slip dress make this combination even better. Since many women are not very comfortable with wearing a jumper since they find it irritating to their skin, a slip dress is an answer to your worries. The dress does not just make the jumper comfortable to wear but also gives it a much better and polished look.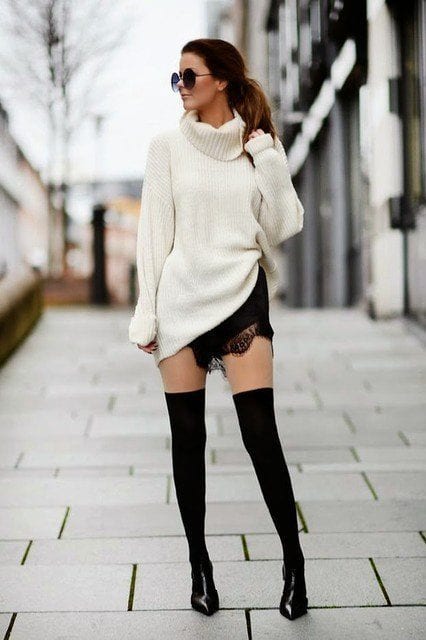 ↓ 12 – Add in some Floral Prints
One celebrity who loves wearing jumpers is Alexa Chung. Here we see her looking hot as ever, wearing a jumper over a floral printed maxi, surely a trend-setter.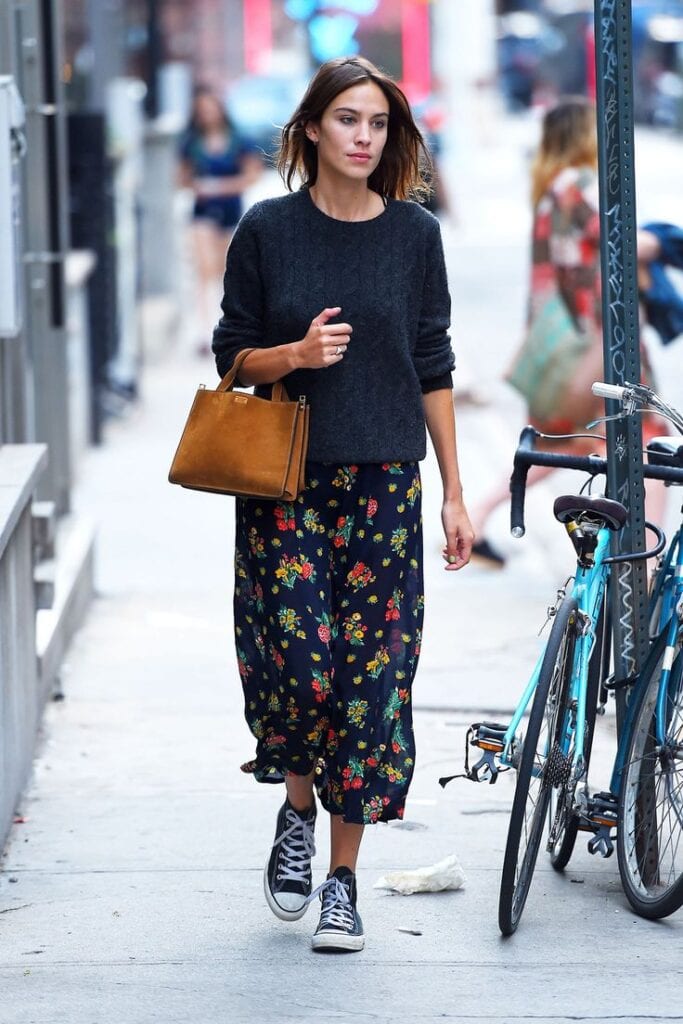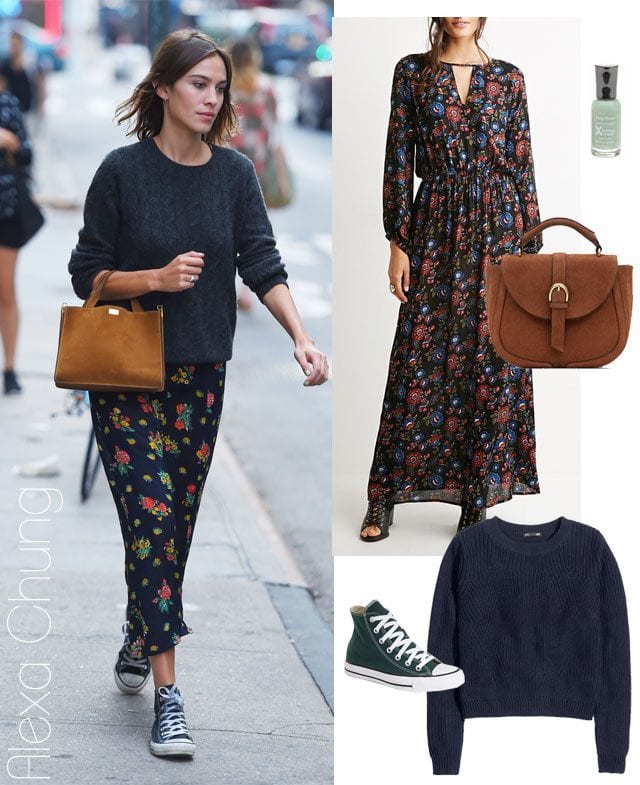 ↓ 11 – The Effortless Chic Outfit
If you too love being lazy in winters then this is the outfit for you.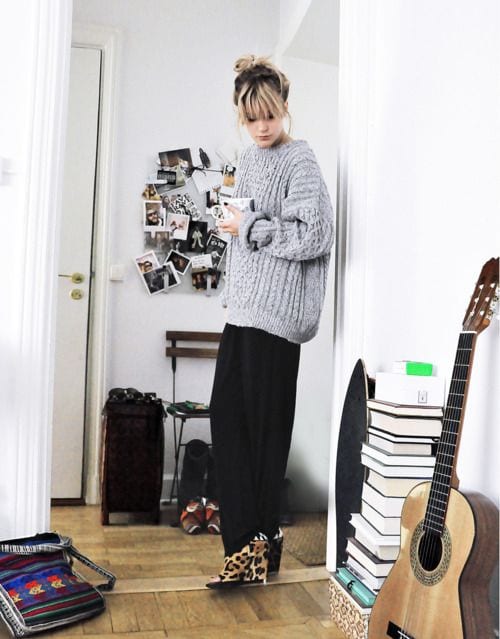 via
 ↓ 10- Jumper Outfits for the Beach in Winters
Mustard and Pastel blue are the most favorite colors you can wear to the beach this season.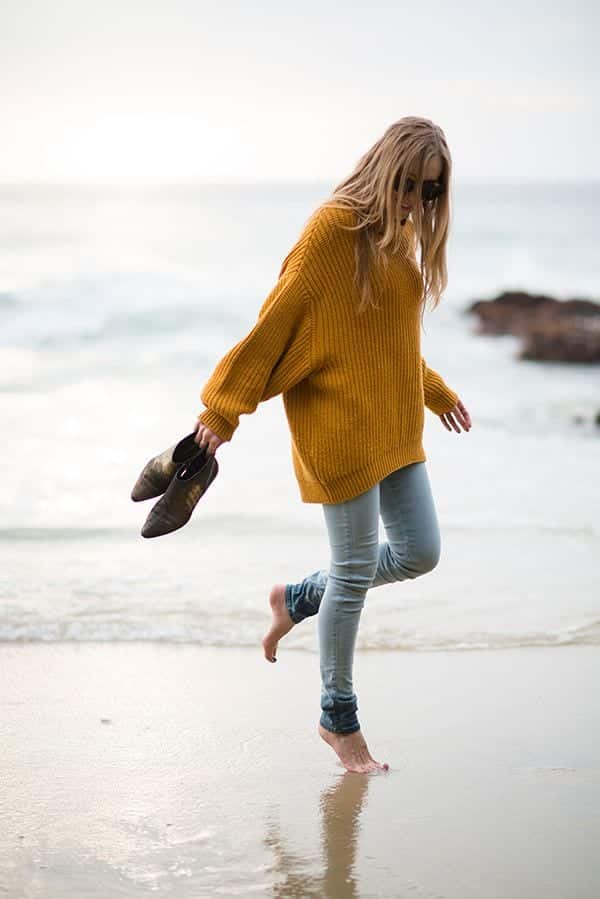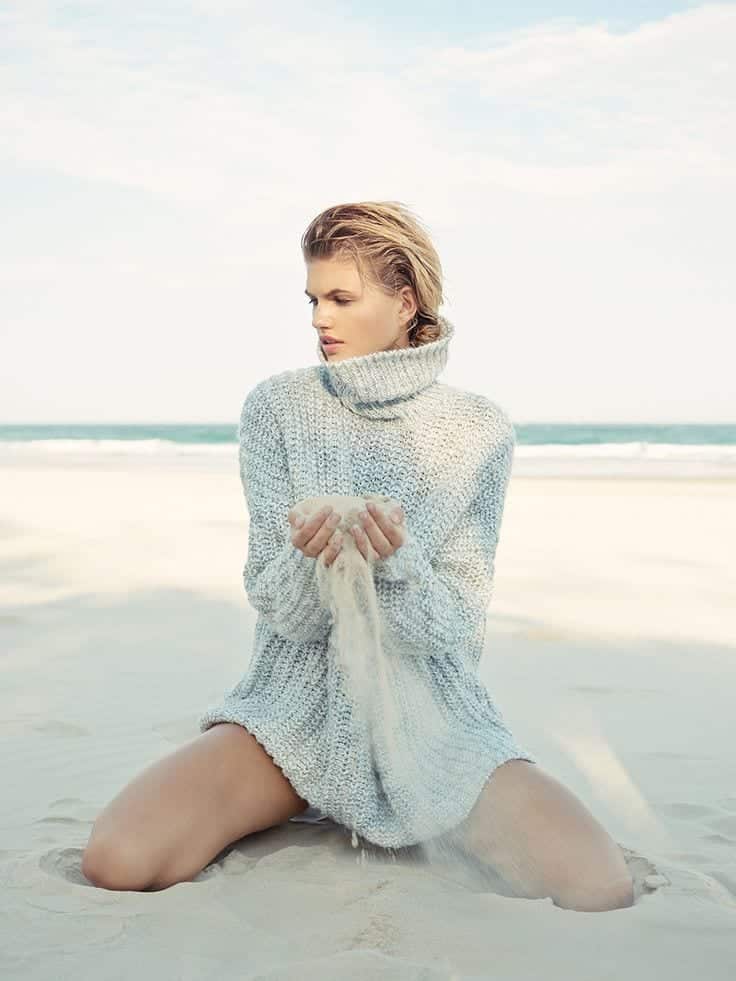 ↓ 9 – Holiday Party Outfit
Winter is the best season to wear your all black look. This black jumper looks just too sexy with the leather skirt. An outfit you must give a try at the next party this season.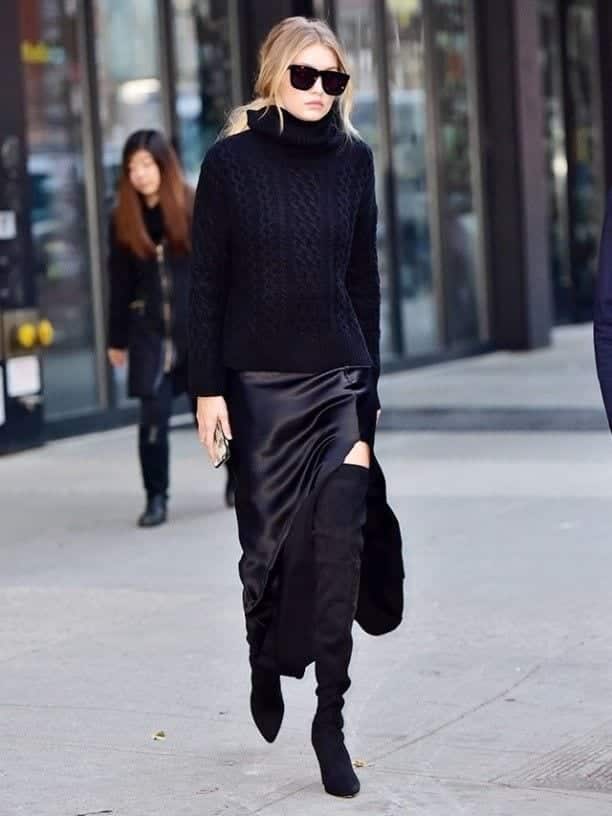 Have a look at 13 cute minimalist outfits for winters – Minimal Fashion Style
 ↓ 8 – Game Day Look – Celebrity Style
This amazing jumper of Emma Watson is perfect for a day out in the field.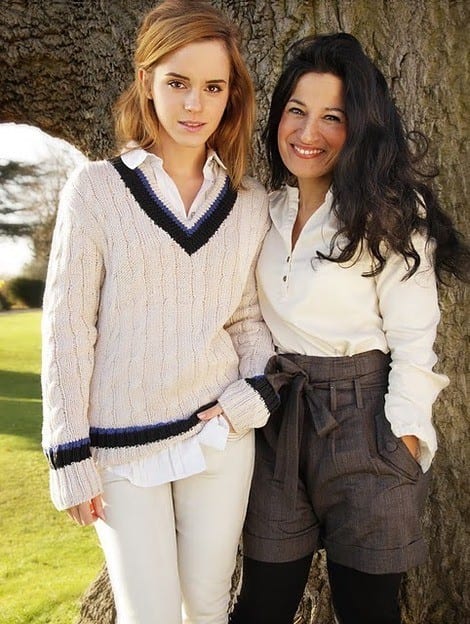 via
 ↓ 7 – Street Style Fashion
Tuck in your jumper a bit and show of your belt in street style fashion.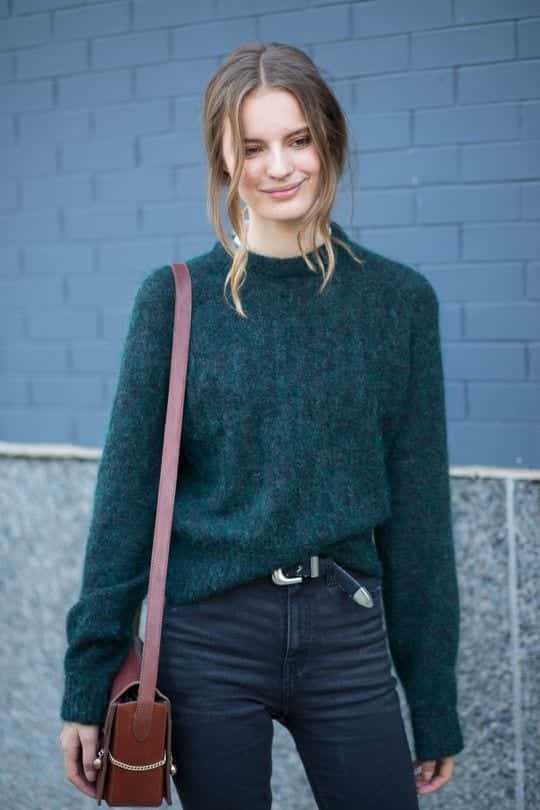 via
 ↓ 6 – Vintage Look for Girl's Night Out
This H&M jumper seems to be perfectly paired with the hat and jacket.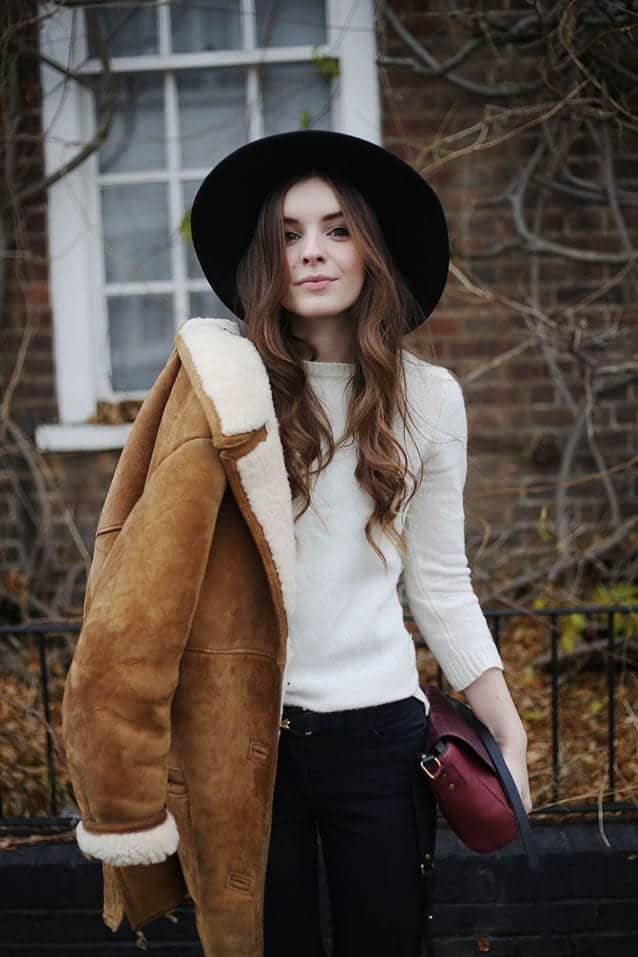 ↓ 5- The Perfect Nude Look
The beige jumper looks amazing with a nude make-up look. Really simple and classic for everyday wear.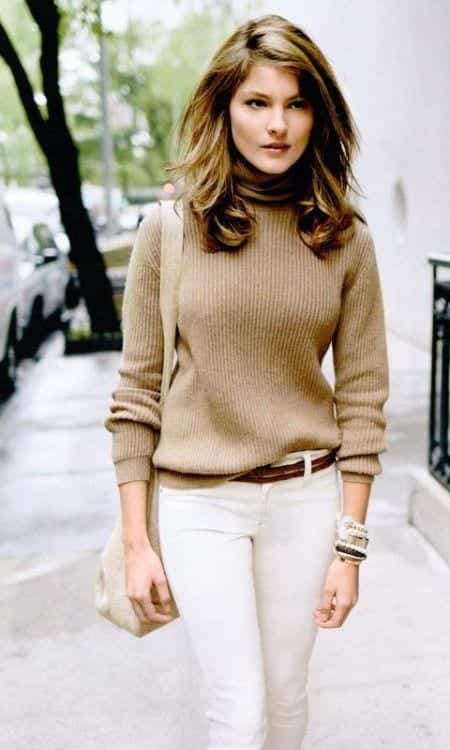 via
 ↓ 4 – Christmas Jumpers
An adorable outfit and colour for plus size girls.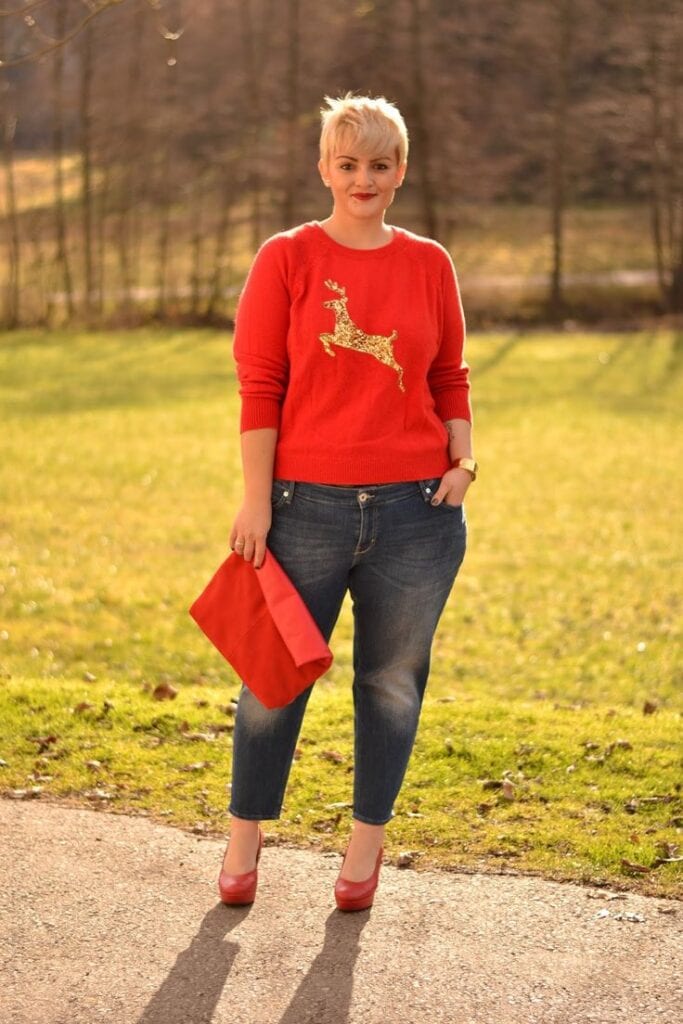 ↓ 3 – Professional Look for Work
A collared check shirt under your jumper is a really chic and sophisticated outfit for work.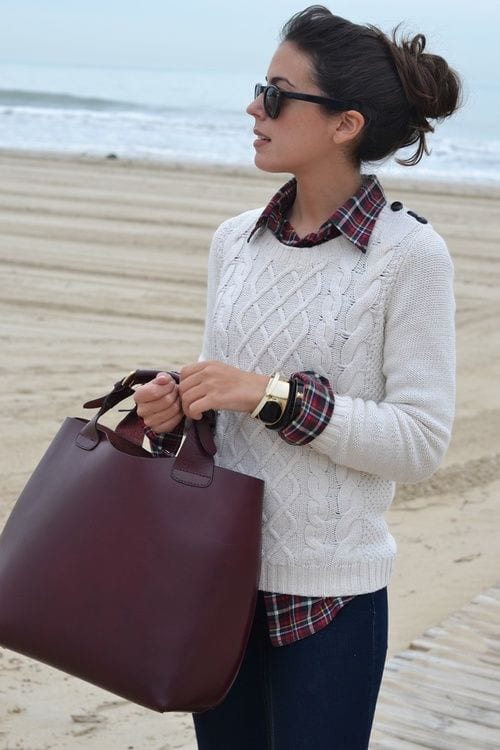 For more work outfit ideas, check out 17 cute winter workwear outfits for women or an elegant look
↓ 2 – Cute Schoolgirl Look
The heart elbow patches are absolutely lovable.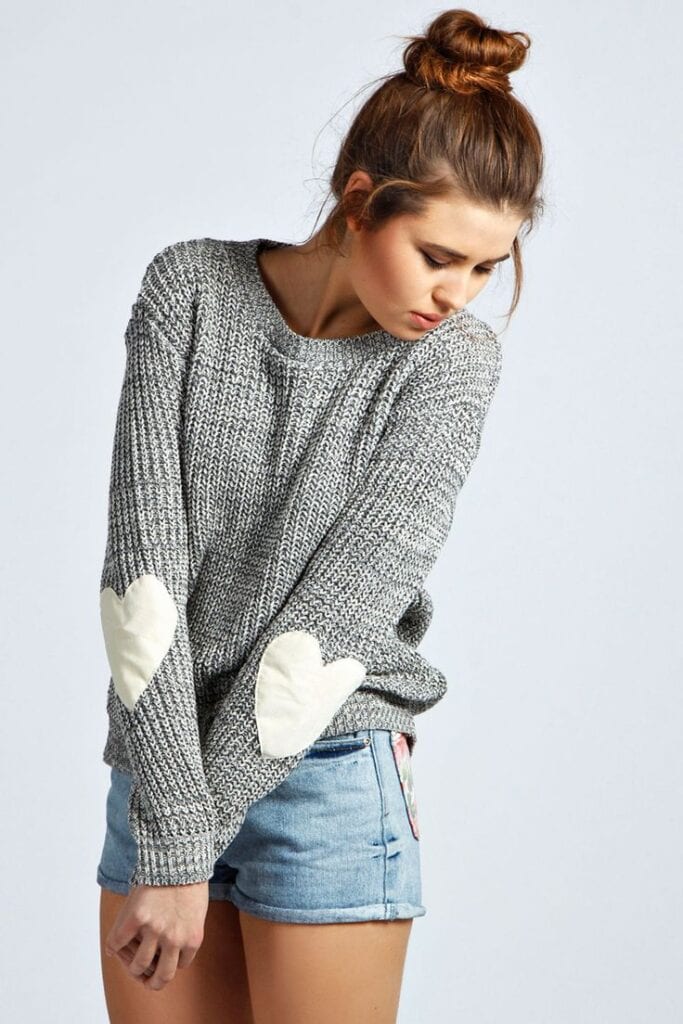 ↓ 1 – Turtleneck Jumpers
The turtleneck style of this oversized jumper gives it such a comfortable feel that one can wear it all day long.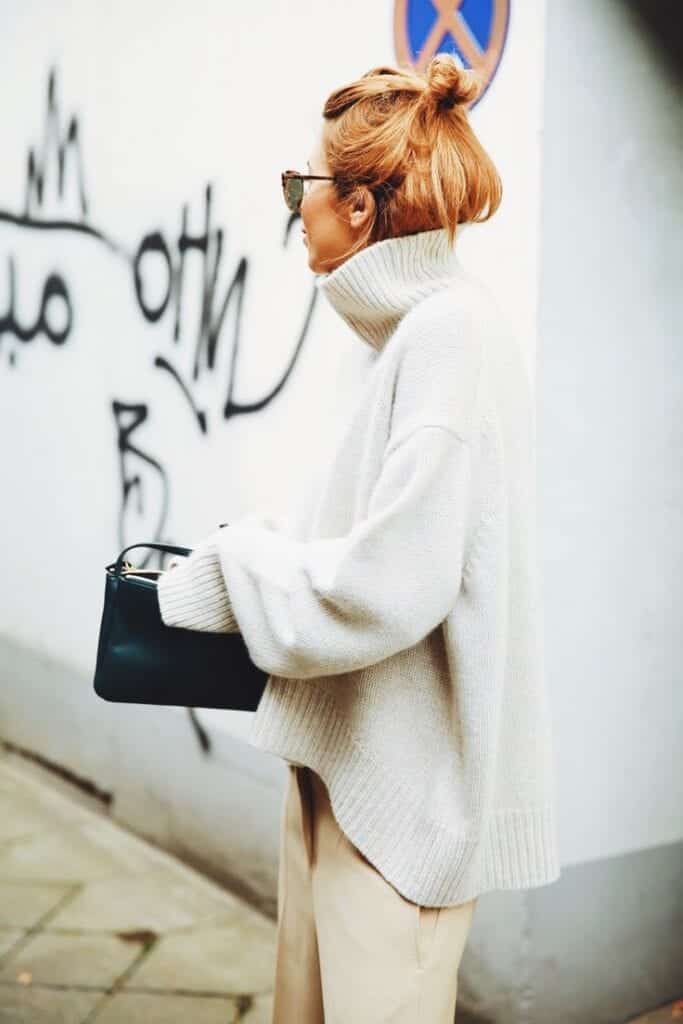 via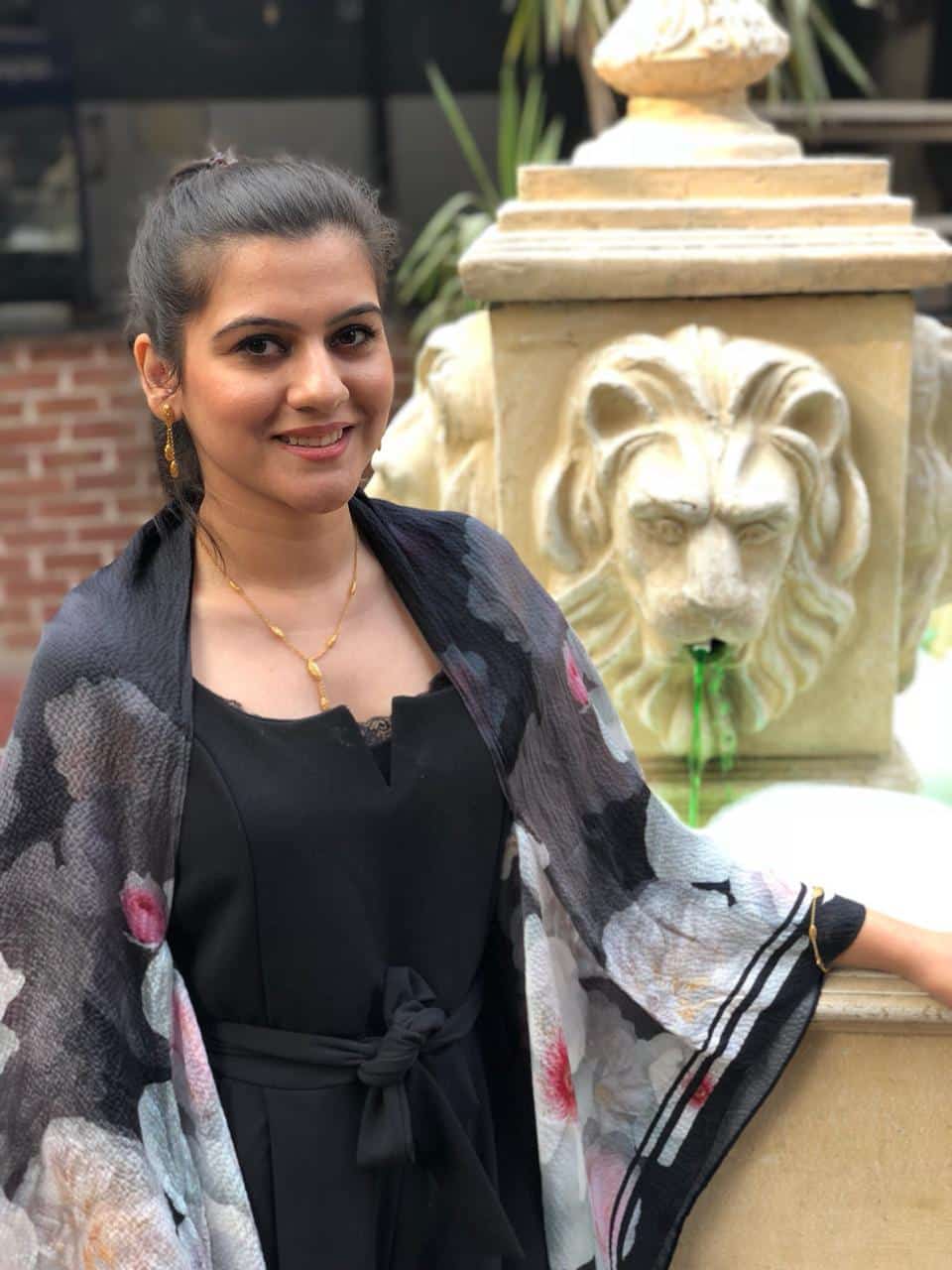 A content writer by the day and a reader by the night – two things that she loves the most. When Zoona isn't writing, she'll either be thinking of what to bake next or where to travel next. When it comes to writing, she has always been a storyteller and one of her short stories was published in 2014 in the Oxford University Press's anthology of contemporary short stories, I'll Find My Way.  Her love for fiction writing also drove her to complete a short course on "How Writers Write Fiction," at The University of Iowa. Her other interests include binge-watching Netflix or online gaming.