How to Style Jumpers for Winter. A jumper is one of two things, depending on who you ask: in Britain, a jumper is what Americans call a sweater. In the US, a jumper is a collarless, sleeveless dress, typically worn over a blouse.
In this article, we are mostly going to be giving you examples of the British version of a jumper, although we will also include the American version as well. Both are fantastic pieces to rock during those cold winter months and we need all the options we can get.
After all, looking stylish during the winter can often be a challenge. Staying warm is the first order of business, and so, finding ways to look cute is sometimes pushed to the backburner. But not today, friends!
Today we are going to show you 25 easy ways to style a jumper (both sweaters and dresses) so that you can look great and feel great when those low temperatures hit! Read on for the best ideas ever!
How to Wear Jumpers Fashionably in Fall/Winter
Here are some tips that will help you style your jumpers in the most amazing ways this season:
If you have an oversized jumper, give it a more structured look by wearing a belt over it.
If you're wearing a loose, baggy or oversized one then don't wear it with wide-legged trousers. Instead, choose jeans or trousers which are either skinny or cropped or even both. This is because cropped skinny jeans will make your legs appear slimmer and longer and hence they go really well with baggy jumpers. This is also a great style tip for curvy girls.
If you're wearing a jumper as a dress or with short skirts or shorts, then it means that a lot of focus will be on your feet. So make sure that you choose a nice pair of socks and some trendy shoes such as pumps or cute boots.
If you want to give your outfit a more formal or professional touch then wear your jumper over a collared shirt. If you can get your hands on a shirt that has studded or a nice printed collar then that's even better.
For a casual laid back look, wear overalls on top of your jumper. This cute, lazy girl attire is perfect for days when you don't feel like putting much effort into dressing up.
Jumpers go really well with leather so if you have anything made of leather, such as shoes, handbags, skirts or pants, then you really need to try pairing it with them and you'll just love the look.
What's the difference between a jumper and a sweater? Since this is a common confusion, we've decided to answer it here. The main difference is in the origin of the term, as we mentioned earlier that Jumper is a more common British word as compared to American. Moreover, while a sweater may have buttons or a front open style, a jumper is always in a pull-over style. Lastly, in comparison, sweaters are thicker in terms of fabric and hence much warmer as compared to jumpers that are usually made from cotton.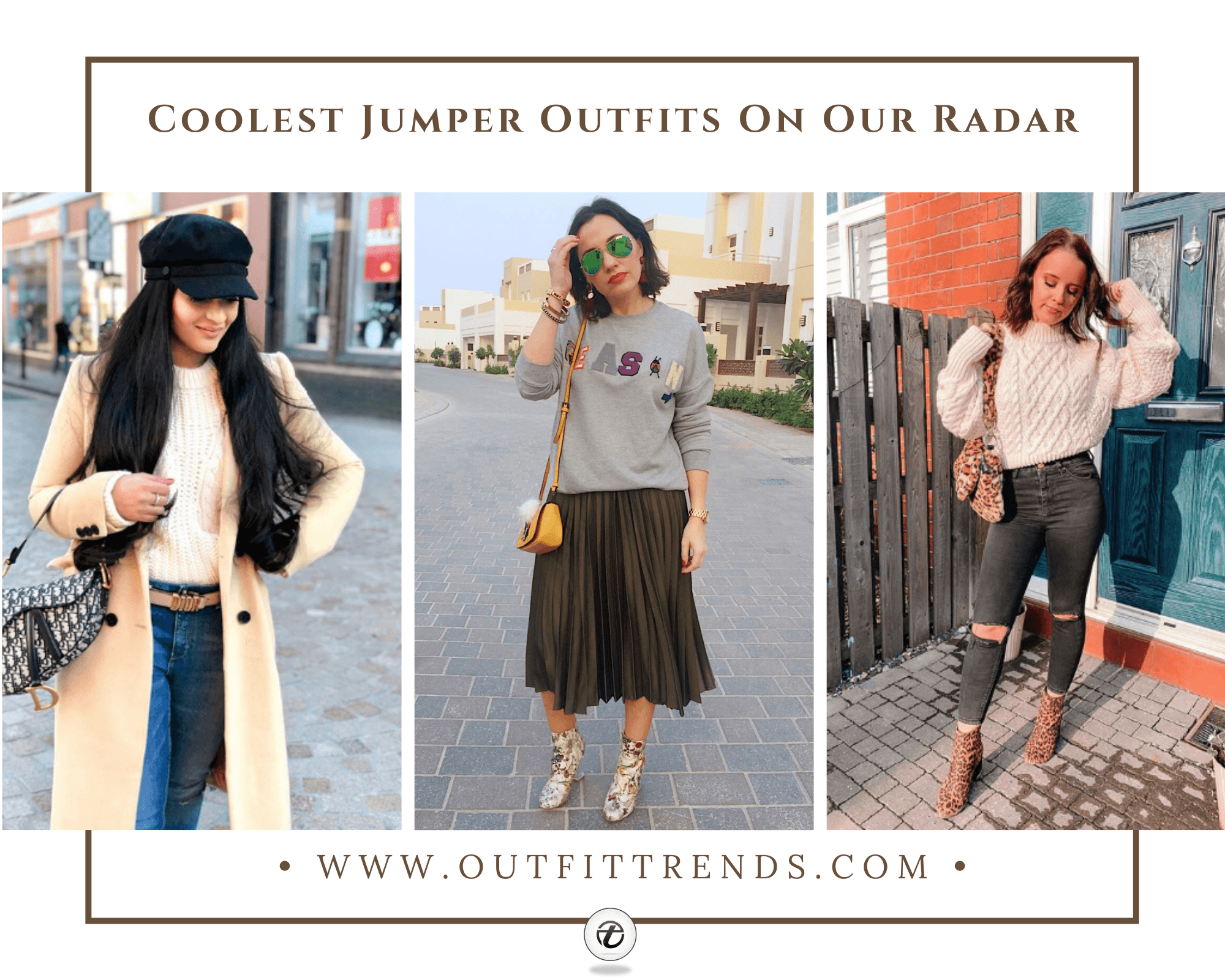 Now, let us look at some outfits!
↓ 25. Everyday Fall Outfit
We all love a go-to look. You know the one: it's the outfit you turn to when you are at a loss as to what to wear, the outfit you know you look and feel good in, the one you would wear every day if you could… that one. And for the cold weather months, what better go-to look than a jumper-and-jeans pairing? Not only will you feel cute, but you'll also feel warm, and that's worth its weight in gold. So do a little bit of experimenting until you find the perfect jumper that hits all the marks for you. Ask yourself these questions:
Do I feel confident in it?
Is the color flattering for my complexion?
Does it work on my figure?
Am I warm in it?
If you can answer yes to all four, then you have found your perfect partner, oh I meant jumper!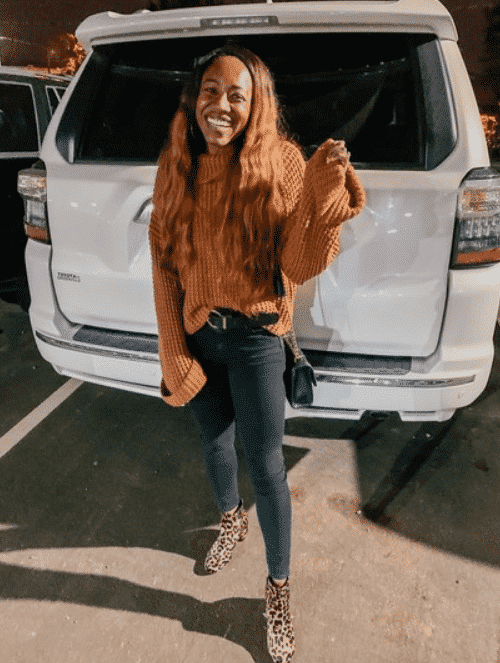 ↓ 24. Super Adorable Jumper & Poplin Top
We cannot get enough of poplin tops. Thankfully, they look absolutely adorable with a jumper dress… from the adorable ruffled sleeves to the cute little dress that is sure to be a hit no matter where you are headed, this little winter ensemble requires only a long coat to be complete. (Pro tip: swap out the sheer tights for a thicker pair if you are worried about your legs being cold!)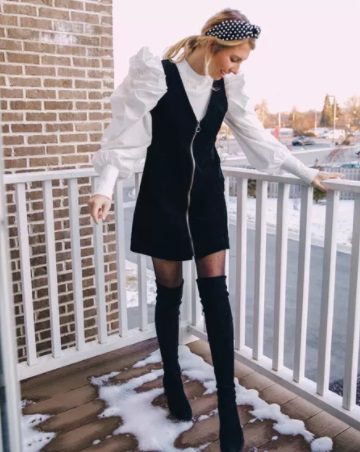 ↓ 23. Pom-Pom Sweater & White Jeans
If you thought pom-poms were just for the likes of the Golden Girls, you were wrong, my friend. For this look, grab yourself a kooky pom-pom sweater and pair it up with some white jeans and booties. This is a great travel outfit for those in-between days where it's not super cold but it's not warm either.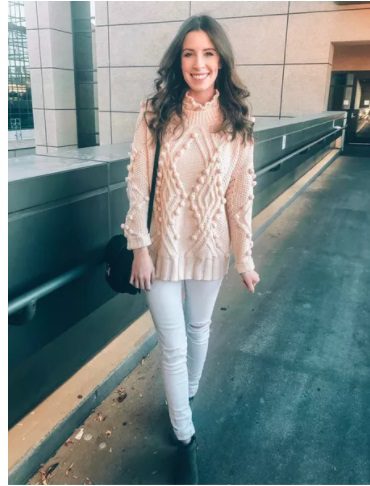 ↓ 22. Jumpers for Petite Women
Styling fall and winter outfits as a petite gal might be a little daunting at times. All those layers don't do your figure any favors and you just want to look cute, for crying out loud! But before you freak out, have a look at this sweet little ensemble. With this monochrome look, it's all about the prints. From a polka dot jumper to a striped skirt, your only job is to rock your style with pride. Because your upper half is carrying the majority of bulk in terms of fabric, make sure to go fitted on the bottom with tights and some cinched boots.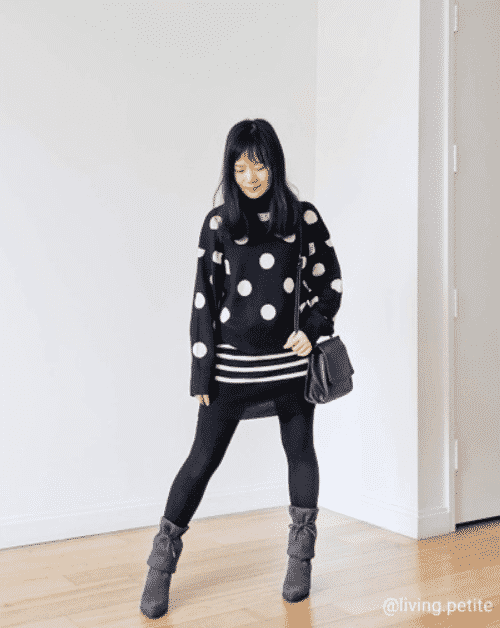 ↓ 21. Cute Go-To Fall Outfit
For an American take on a fall jumper outfit, check out this adorable ensemble. Start with a long-sleeved mesh top with a cute print and pop a jumper dress over it (this denim skater style is particularly cute). Add some printed sheer tights and Doc Martens and you have got yourself a look that you can rock all autumn long.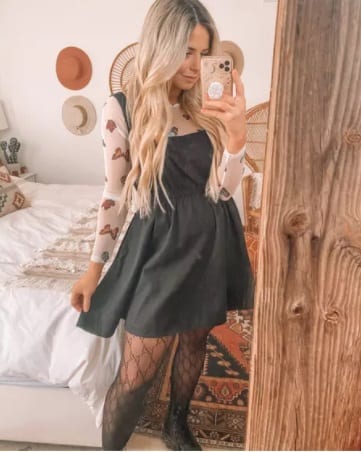 ↓ 20. Printed Holiday Style Jumper
When the holidays roll around, having a go-to jumper is a must. Choose one with a cute print for all your holiday parties. This is an excellent choice for high school and college girls. Opt for a messy bun to show off your features and not distract from your cute sweater!
If you're looking for something funkier then check out this outfit worn by Selena Gomez. She's looking really chic and stylish in a Rexy jumper by Coach.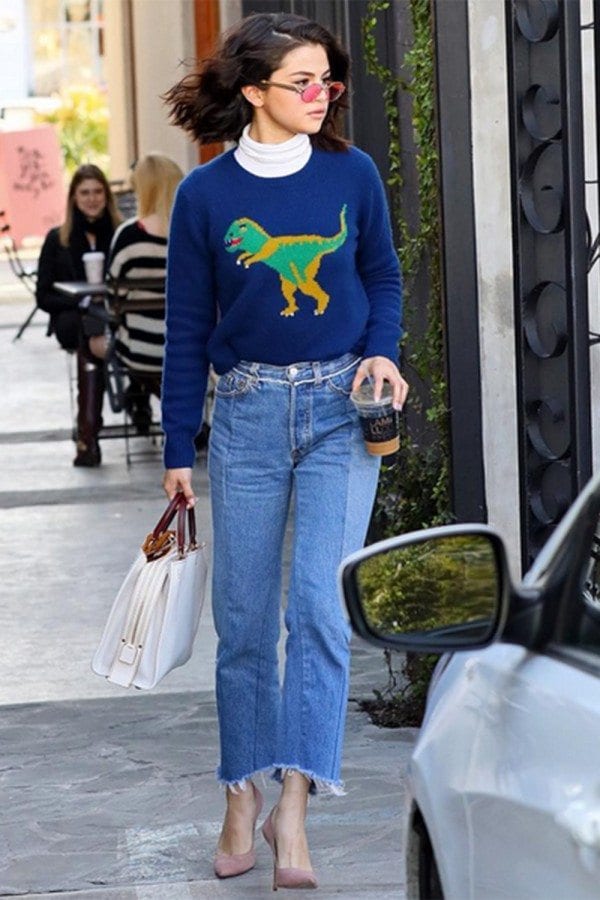 ↓ 19. Celebrity Style: Sweater Dress
Once again, Selena Gomez looks as gorgeous as ever, wearing her long jumper as a dress. You can pair a chunky sweater like this with tights or leggings to keep your legs warm or opt for over-the-knee boots.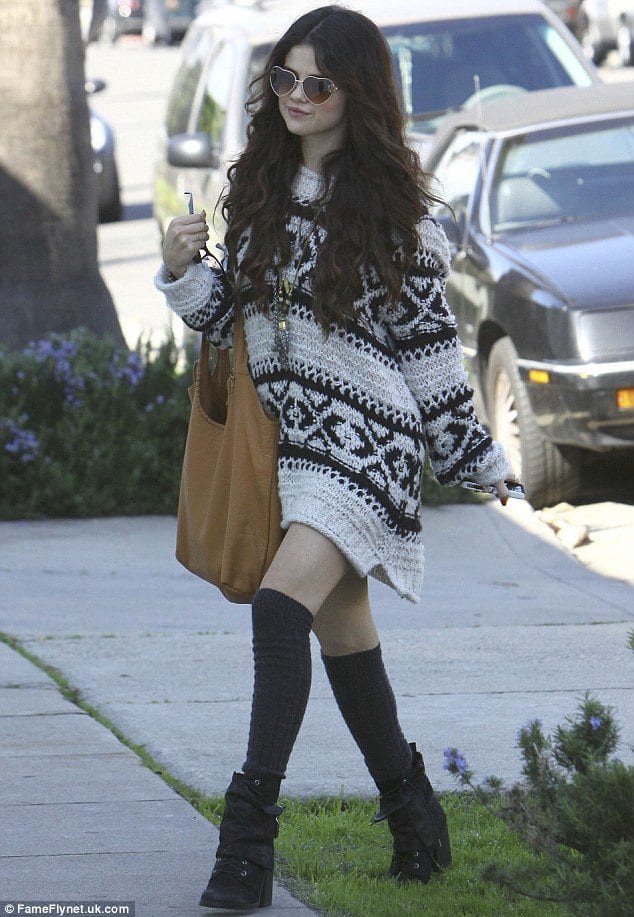 For a funky high-fashion take on a sweater dress, check out Kendall's look. She wears a super chunky, over-the-top sweater with a cream dress and looks absolutely fabulous.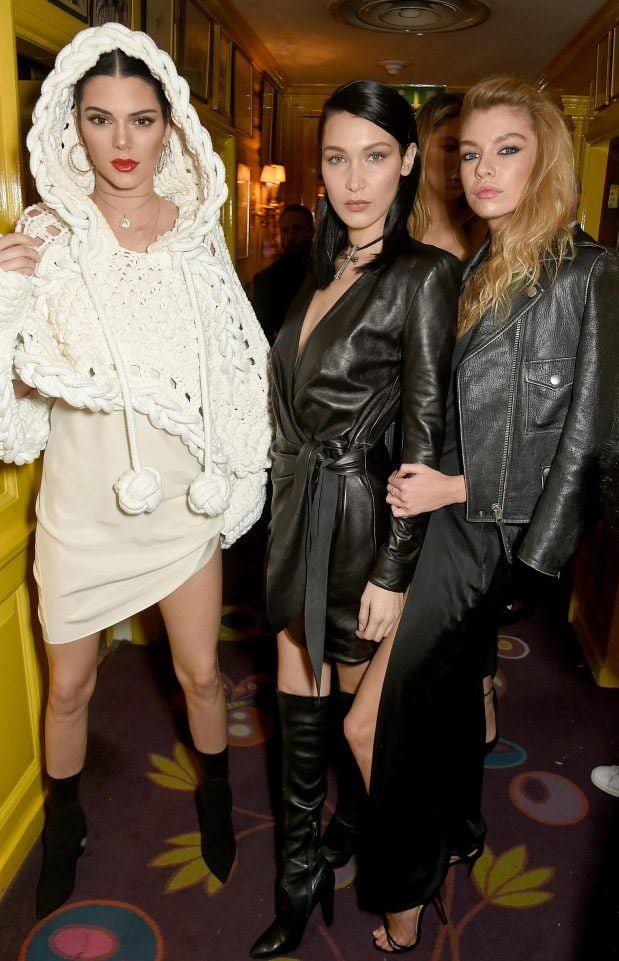 ↓ 18. Matching Holiday Jumper Outfit for Couples
Looking to instate a new tradition this holiday season? Why not rock a matching jumper with your significant other? It's a little bit nerdy but we kind of love it. Just make sure you get a picture to commemorate it! Also, have a look at 100 cutest matching mother-daughter outfits on the internet so far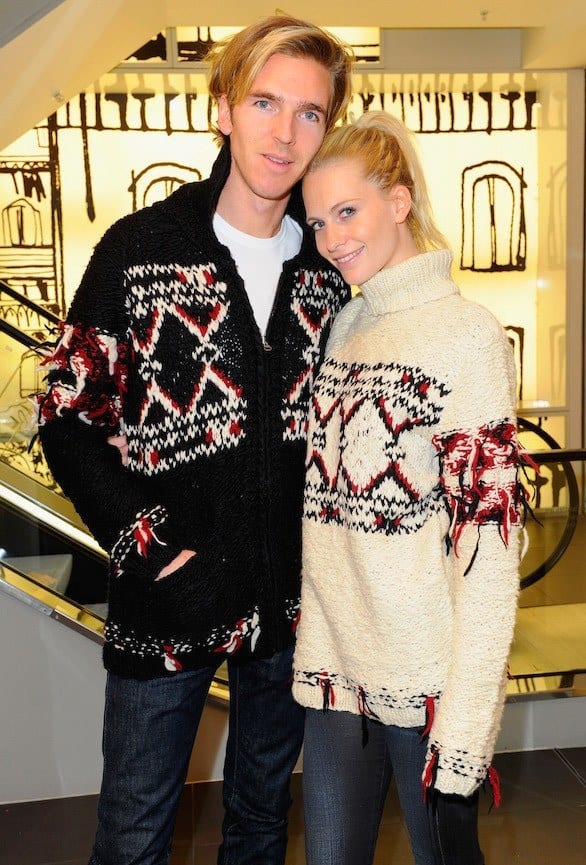 ↓ 17. Celebrity Style Christmas Outfit
Once again, Taylor Swift does it best. If you are looking to keep it lowkey this Christmas season, try this cute pairing of a deep blue jumper paired with maroon skinnies, a knit beanie, and a lush tote purse.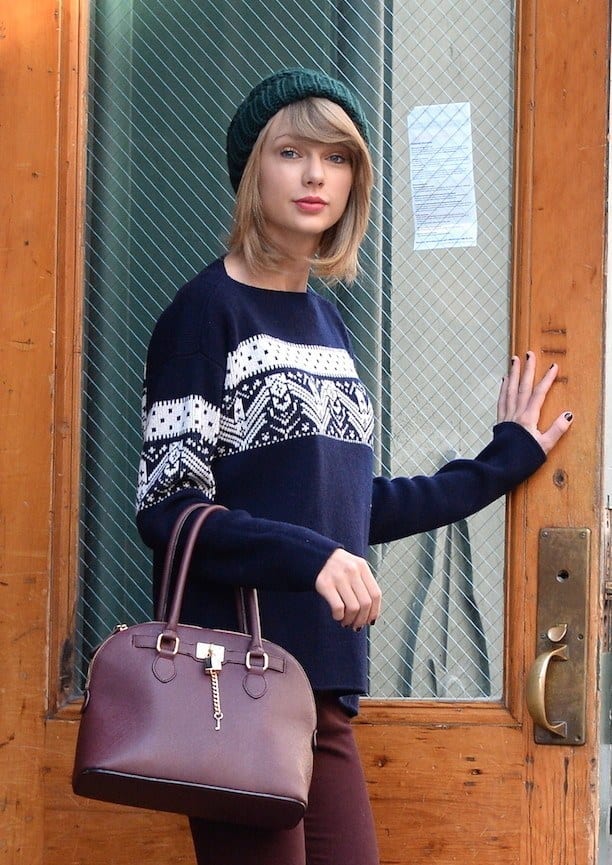 ↓ 16. Classic and Warm Winter Outfit
We have seen jumpers worn as sweaters and jumpers worn as dresses. But have you seen a jumper worn over a dress? Well, check it out. It's a cute and classic style that will keep you warm no matter how chilly the day gets. As always, add a coat if needed and consider popping on some tights for added warmth for your legs.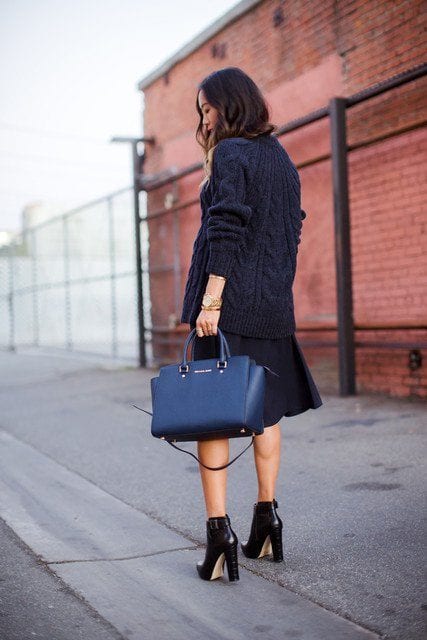 ↓ 15. Tartan Pants with Jumper for School
Here is the perfect fall outfit for school and college going girls. A hat is the best accessory to go with this look. If you are in the market for a new hat this season then do check out our viral collection of Hats Outfits.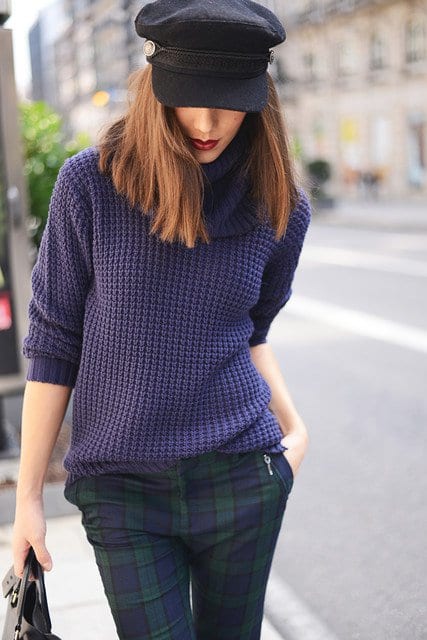 ↓ 14. For the Love of Pink
Bring some cozy warmth to your work attire this season by pairing a brightly colored jumper with a leather skirt and slouchy jacket. Not only will a bright color like this boost your mood, but it will also boost your coworkers' moods as well. Yes, please!
↓ 13. Black and White Winter Look
We love a spicy winter look (mostly because it's so rare) and this black and white one does not disappoint. Get yourself an ultra-cozy white jumper (the bigger the better) and pair it with a lace-hemmed slip dress. Pair with some thigh-high boots and accessorize with statement sunglasses. This is one fabulous look you'll love rocking whether you are headed for a date or are sitting down to dinner.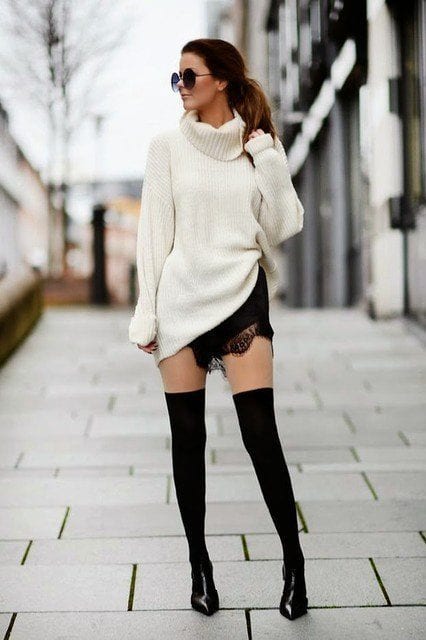 ↓ 12. Floral Skirt and Cable Knit Sweater
One celebrity who loves wearing jumpers is Alexa Chung. Here we see her looking beautiful as ever, wearing a jumper over a floral printed maxi skirt (or dress) with Converse… definitely a trend-setter, this one is.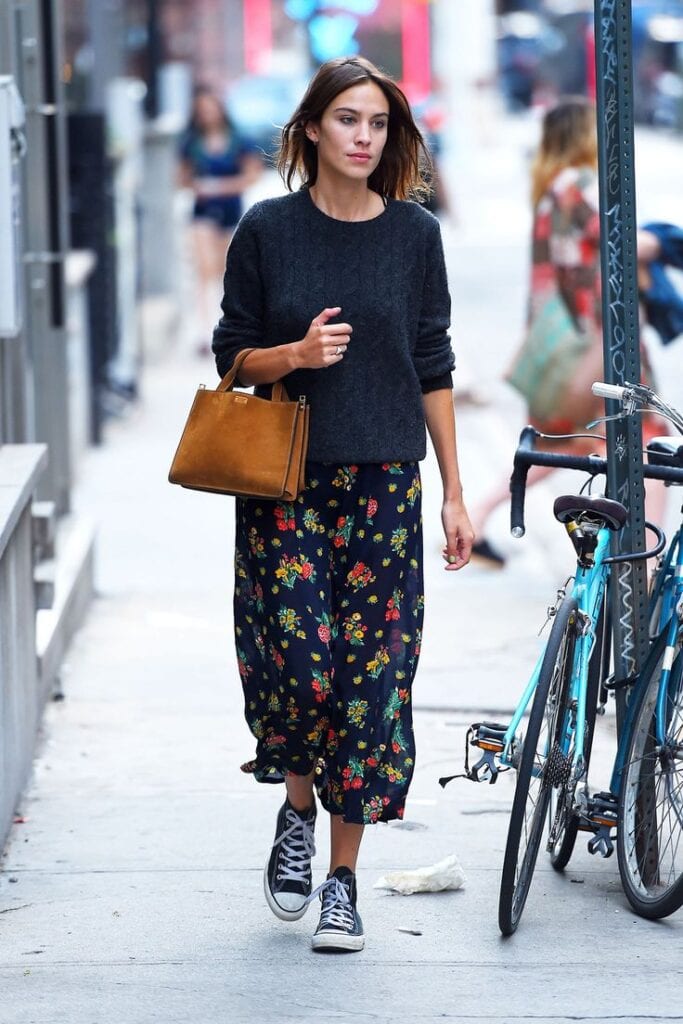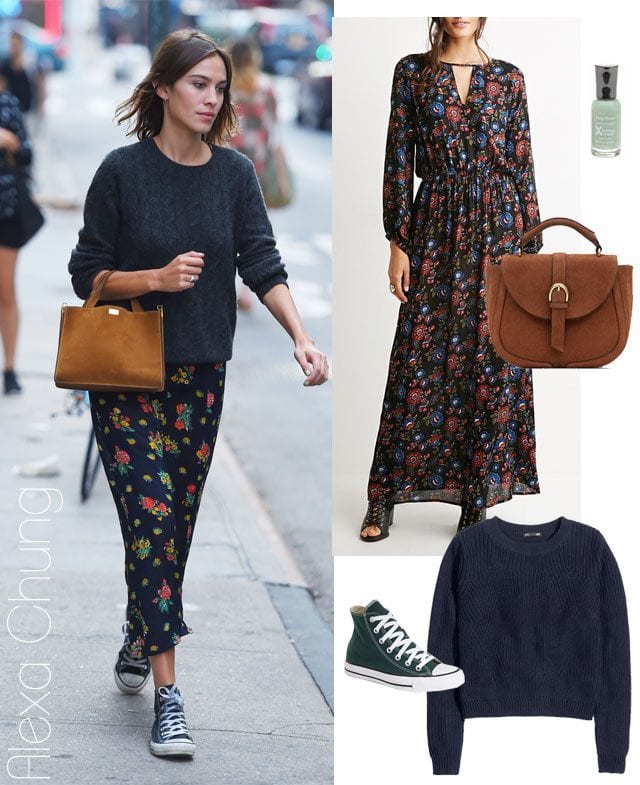 ↓ 11. Effortlessly Chic Staying-In Outfit
This outfit is perfect for a casual night-in when you still want to look cute but you also want to be comfy. Pair a chunky grey jumper with a maxi skirt (alternatively, you could also pair it with some wide-leg slacks) and some animal print booties.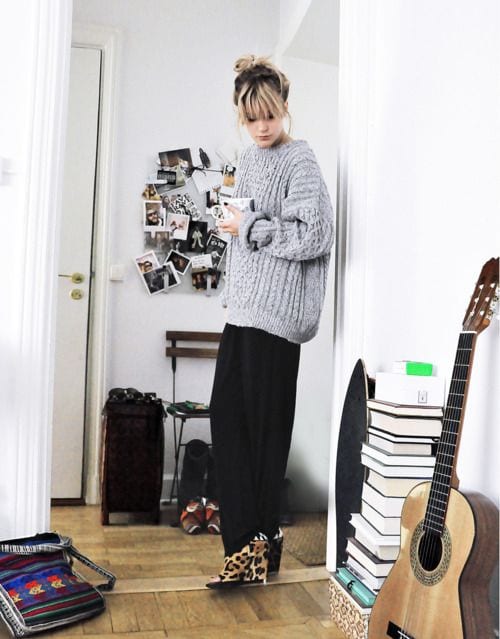 ↓ 10. Outfits for the Beach in Winters
Admit it, we have all envisioned frolicking on the beach in the dead of winter in an oversized sweater with our shoes dangling from our hands and our hair whipping about in the breeze… right? Well, you can make your wildest frolicking dreams come true by pairing an oversized mustard-yellow jumper with light wash skinnies and booties (which you can immediately take off if that interferes with the fantasy) and some UV-blocking sunglasses. Because even in a fantasy, one must protect from the glare.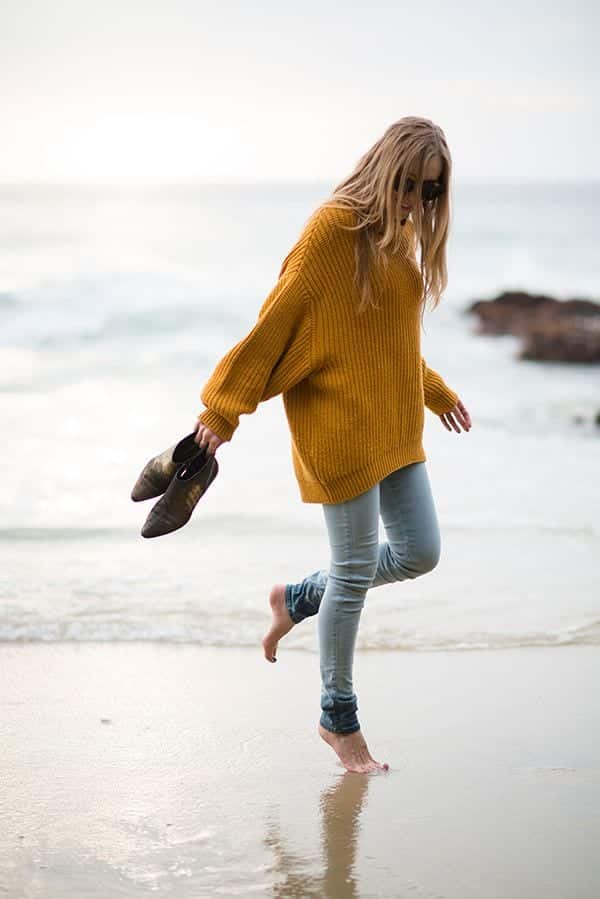 via
Oh, another whimsical frolic in a jumper? (Honestly, what are we all even doing with our lives if we are not frolicking on the beach in an oversized jumper?!) Maybe save this look for a warmer day or make it more practical by wrapping up in a coat and tights.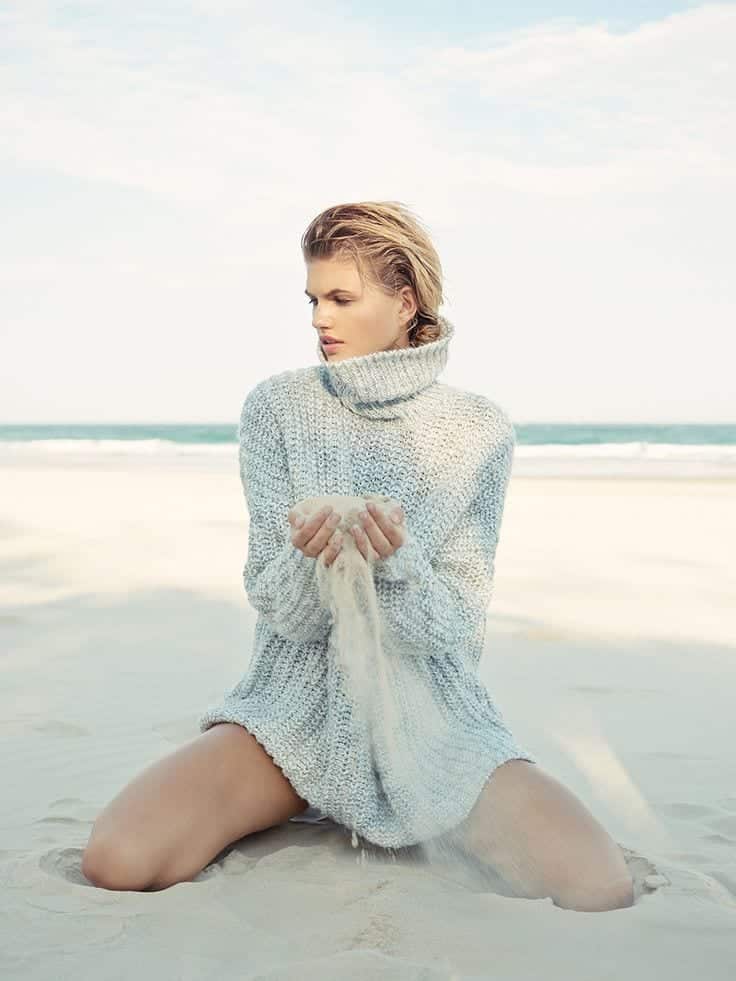 ↓ 9. Holiday Party Outfit
Nobody mugs it like a celebrity in a leather skirt. Get the look (figuratively and literally) by pairing one up with a cable knit turtleneck jumper and thigh-high boots. Make it extra chic by going all-black… your parents will love it if you roll up in this look for Christmas dinner, we guarantee it.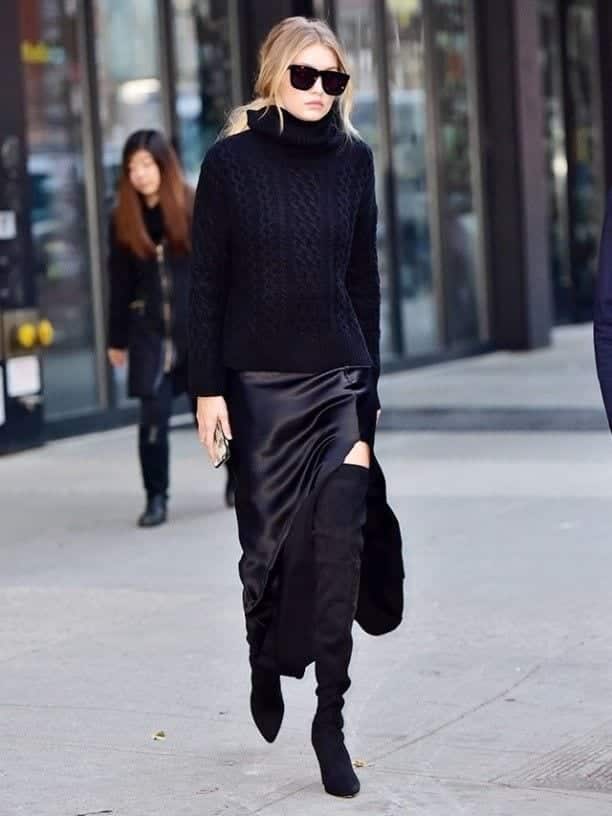 And of course, have a look at 13 cute minimalist outfits for winter because we could all use a bit of minimalism in the winter season.
↓ 8. Game Day Look – Celebrity Style
Young Emma Watson is a national treasure and this look proves it. Get the look if you have a long day in the field to contend with!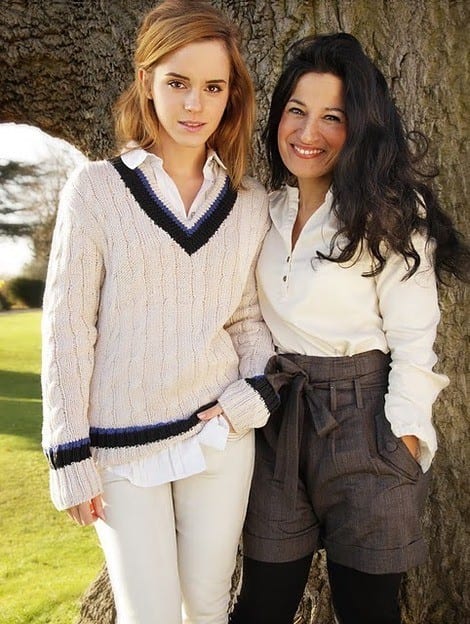 ↓ 7. Street Style Fashion
Strip it down to the basics this winter season. Tuck in your jumper a bit and show of your belt for some street style fashion.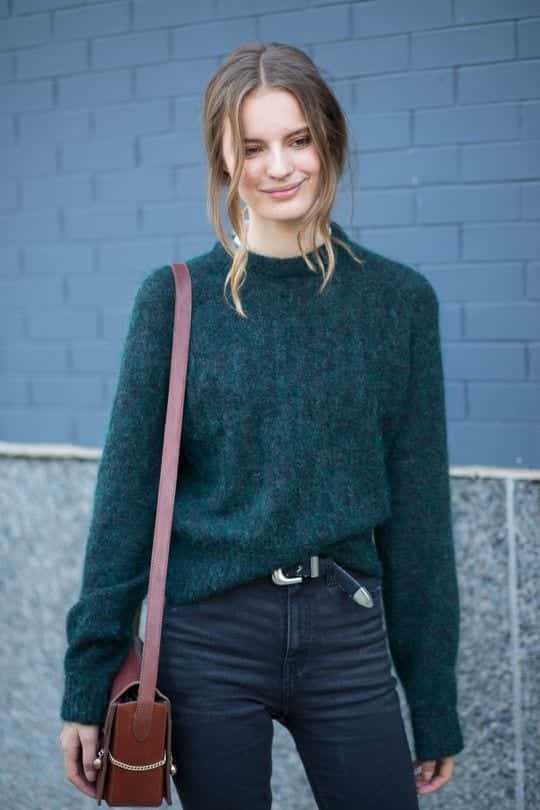 ↓ 6. Vintage Look for Girl's Night Out
This H&M jumper is great for petite figures as it won't overwhelm you. Pair it with some black skinny jeans, a thick sherpa lined coat, and a felt hat for maximum cuteness.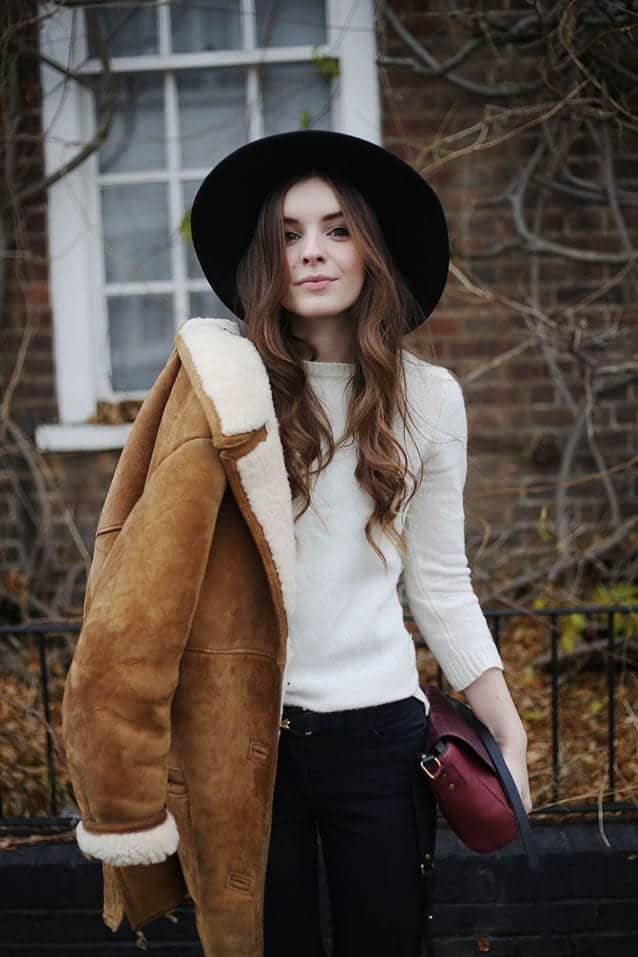 via
↓ 5. Stunning Neutral Ensemble
If you love the chic elegance associated with neutral tones, then you'll love this chic '90s inspired look. Pair a slim-fitting turtleneck with white jeans and style your hair in loose waves. Really simple and classic for everyday wear.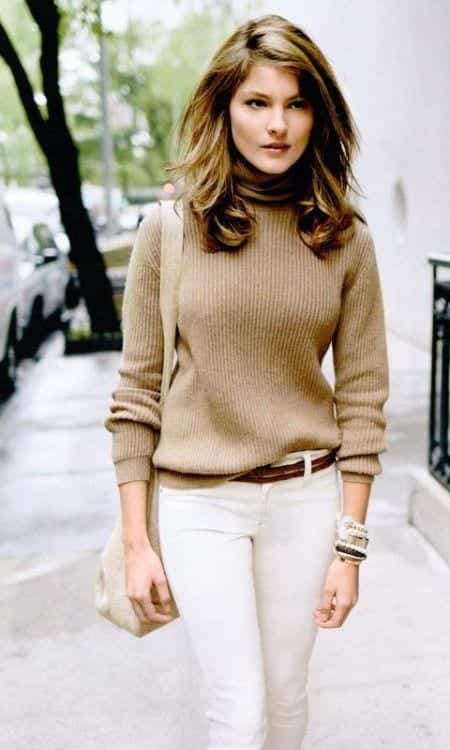 ↓ 4. Christmas Lunch Outfit
If you love a bit of kooky in your Christmas wardrobe, try a reindeer-emblazoned jumper in red. Pair it with a red satchel or clutch and matching red pumps.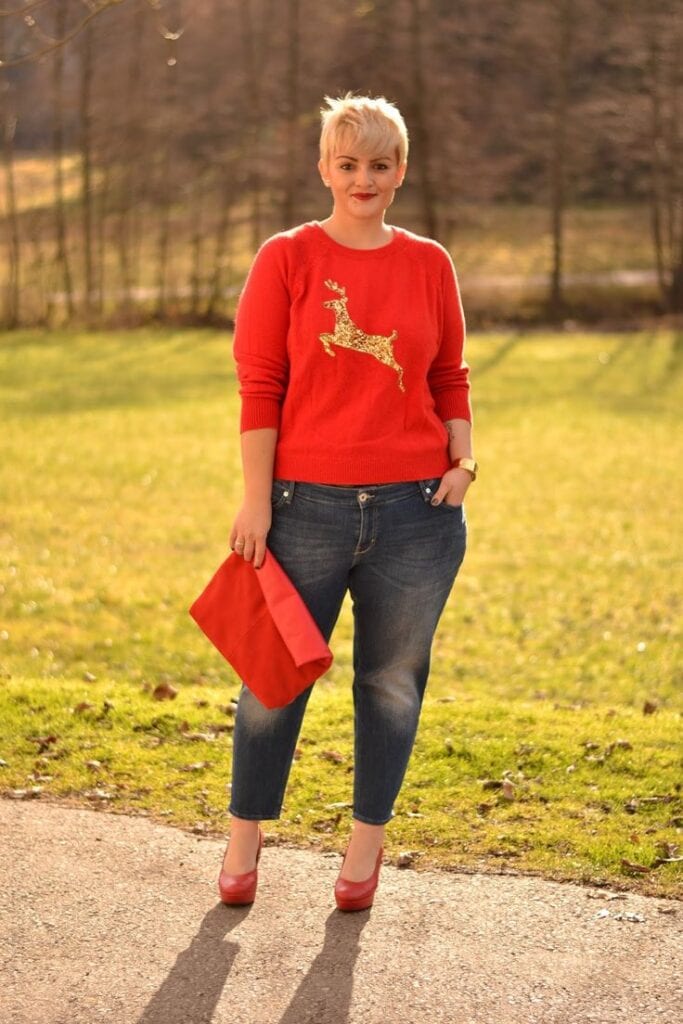 ↓ 3. Vacation Look for Winter
A collared check shirt under your jumper is a really chic and sophisticated outfit, perfect for traveling during the winter season. For more work outfit ideas, check out 17 cute winter workwear outfits for women or an elegant look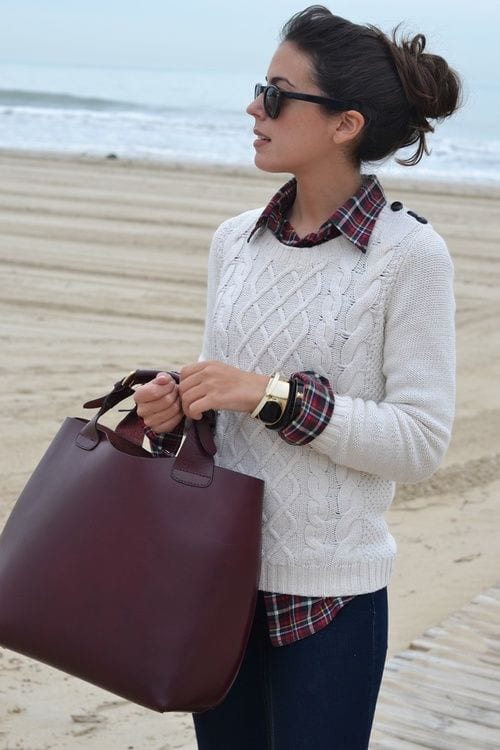 ↓ 2. Cute Staying-In Look
Staying in this weekend? Pop on a gray jumper with some cute heart emblems to feel cute while you catch up on your favorite Netflix shows.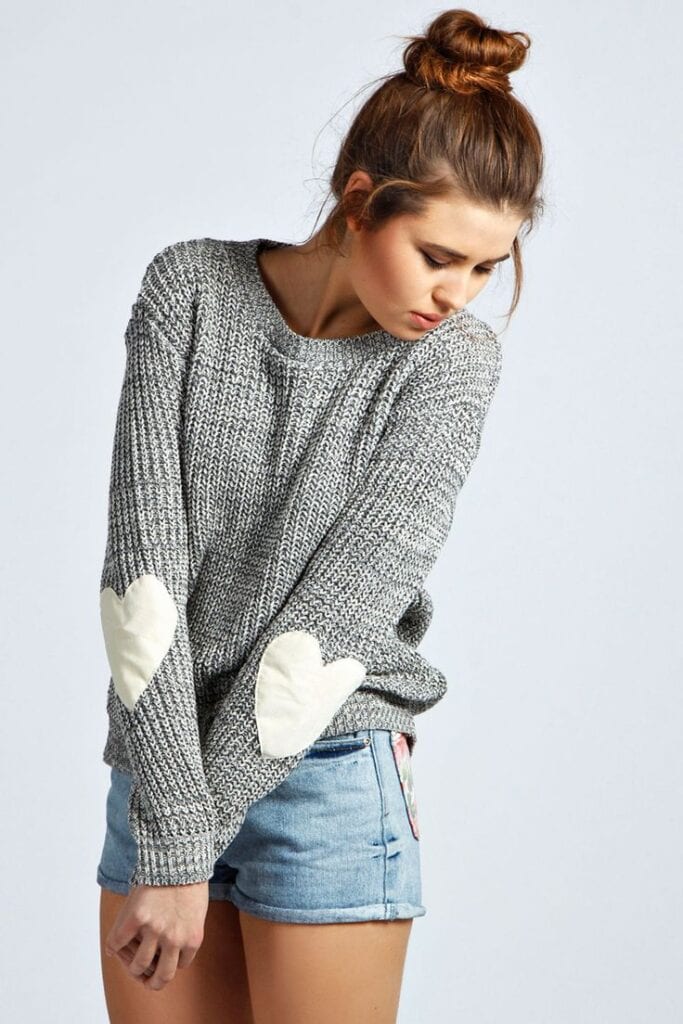 ↓ 1. Oversized Turtleneck & Trousers
The turtleneck style of this oversized jumper gives it such a comfortable feel that one can wear it all day long.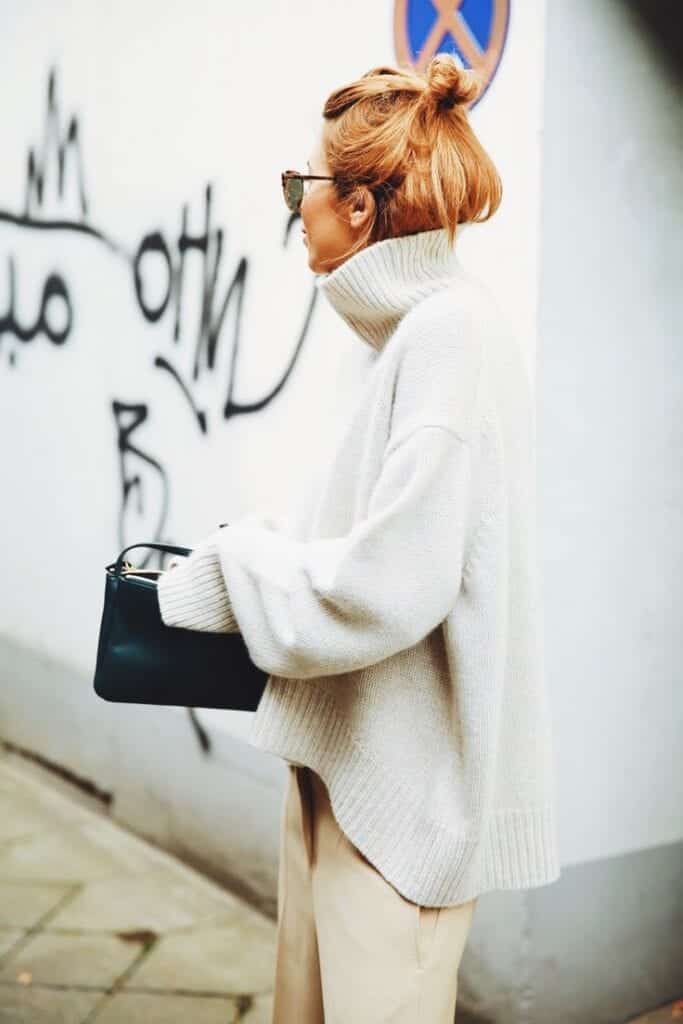 via