New Year's Eve Date Outfit Ideas. This year is almost over and the most important night of the year is approaching. That's right, New Year's Eve is just around the corner and if you have a date, then that is something to celebrate! But what do you wear for New Year Date?
If this is worrying you, rest assured, we have got you covered. Whether you are headed to a party with your guy or you are staying in, below you will find an outfit for any occasion, as well as some dos and don'ts to keep in mind as you plan your new year outfit. Keep reading to find out what they are!
What to Wear For a Date on New Year's Eve
Before we get started with the looks, let's talk about some simple dos and don'ts!
Do… dress for the occasion. Are you headed to a party? Is it a one-on-one date at a restaurant? Or are you staying in? The nature of the event will determine how dressy you should plan your outfit to be.
Don't… dress too casually. A date on one of the most notable nights of the year calls for pulling out all the stops! Use the opportunity to show off a new dress or piece of jewelry you have just been dying to wear and avoid the sweatpants or leggings.
Do… wear something you feel like a million bucks in. Choose an outfit that highlights your best features.
Don't… wear something that will make you feel uncomfortable. Are you headed to a party? There's no need to squeeze yourself into a tight-fitting dress or a skintight top if you are just not feeling up to it!
Do… wear comfortable shoes. If you have any inkling that dancing might turn up on the agenda, then make sure you wear shoes that will accommodate it.
Don't… forget to check the weather! Depending on your location, New Year's Eve can be quite a chilly day, smack in the middle of the coldest months of the year. Always carry an extra scarf, wrap, or shawl if you suspect the destination calls for it.
Frequently Asked Questions
Can you wear white on New Year's Eve?
Absolutely yes. In some places, it's actually traditional. Not only is white a chic and classy choice, but it works well for the season, too. Don't be afraid to don that new white dress or beautiful coat. New Year's Eve is the perfect time to do it.
How should you dress for a New Year's Eve house party?
If you are headed to a family member's house or perhaps a friend's party, you should still dress up. No, you don't have to bust out the formalwear, but you should treat the occasion like any other holiday occasion where you put a little extra time and style into your look. This is a good time to wear a dress and heels (but don't go bare-legged if you know you will be cold!) or a silk top with slacks. Keep reading for some beautiful outfit ideas below!
What colors do you wear for New Years?
Whatever you look good in! There are no hard and fast rules for appropriate colors on New Year's. Some people like to dress in the color they feel lucky in. Our recommendation is that whatever you wear, it suits your coloring, your complexion and that it highlights your natural beauty.
What to wear for New Year's Eve 2021?
Girl, we can't wait to show you. Keep reading for those beautiful outfit ideas we promised!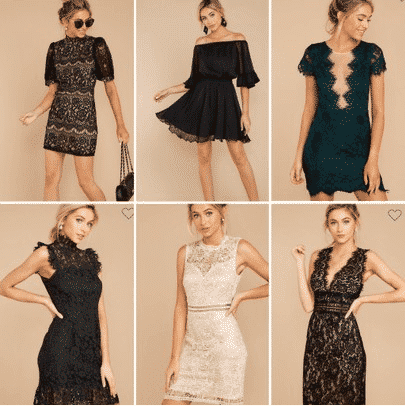 ↓ 22. Faux Fur Jacket & Sparkly Boots for Wintry Weather
We've already talked about Weekend Date Outfits and Movie Date Outfits in our previous posts but today, let's focus specifically on New Year Evening. For the gal that knows she'll be dealing with some chilly NYE weather: check out this ensemble! Don't feel like you need to sacrifice style for warmth, not on the biggest night of the year! Simply choose fashion pieces that double as warm layers. This faux fur jacket is the perfect example. Wear it over a white blouse (or a thin sweater if you need to) and leather leggings. Add boots and a matching purse and you are good to go.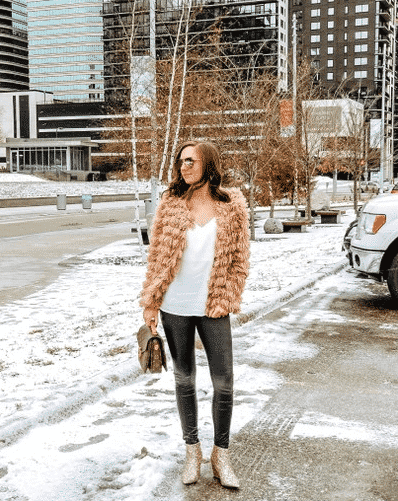 ↓ 21. Date Outfit for Staying In on New Year's
If you and your guy aren't the partying type and plan on staying in and having a home date on NYE, then this is a great outfit option for you. We know that figuring out what to wear for such an occasion might be a little tricky. After all, it's a big night and you want to look special. But you aren't exactly going to bust out the heels and cocktail dress for dinner on the living room floor. (Unless that is exactly what you are going to do, in which case, more power to you, girlfriend!)
Enter sparkling leggings. These little bad boys are the perfect solution as you don't have to sacrifice style for comfort. They are festive but not too flashy and look so pretty under flickering candlelight! Pair with a white tank and some pop-of-color flats.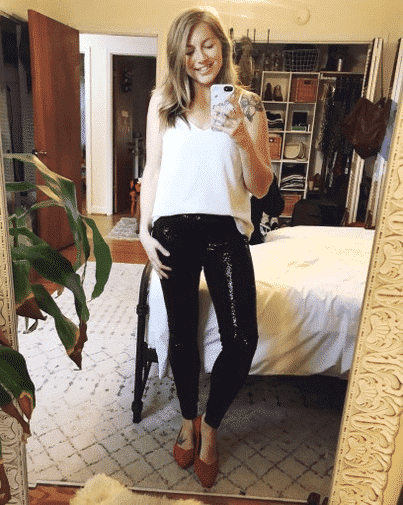 ↓ 20. Glitzy, Glam Sparkling Gold Dress
A date on New Year's Eve is the perfect time to indulge your girly side with some sequins! This form-fitting dress is stylish, modest, and classic. Pair with nude heels of a comfortable height. Here are some more Ideas on How to Wear Sequin Clothes.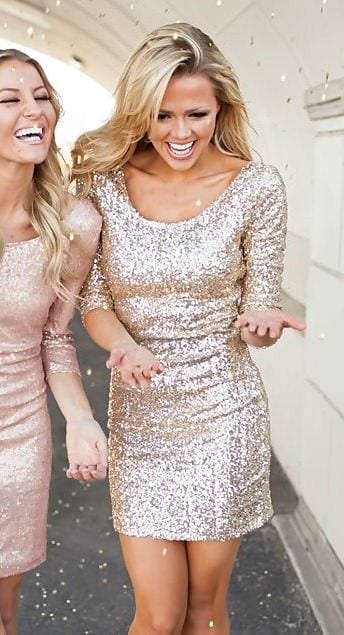 ↓ 19. Simply Elegant Black Dress
This look is a wonderful option for showing off your natural beauty and letting your face and hair be the main points of attraction. If you are a gal drawn to elegance and sophistication, then this simple dress is the one for you. Both the hem and the neckline are modest and keep from showing too much skin (a great option if you are concerned about being cold) and nude heels add elegance and class. And if you love black dresses, you have to check out this exclusive guide on What Shoes To Wear With A Black Dress.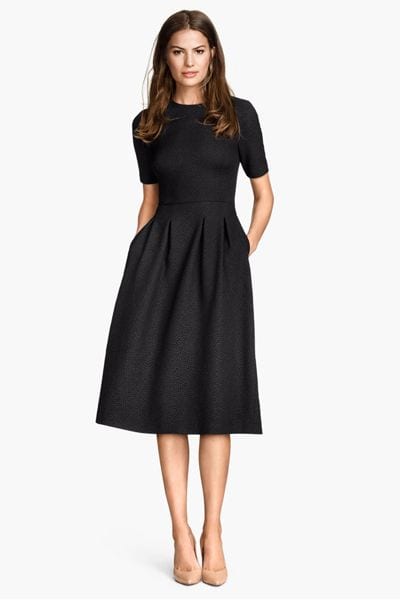 Pleated Black Swing Dress 33.99$
↓ 18. Faux Fur Jacket & Sequined Leggings
Headed to a New Year's Eve party with your date? Keeping with the fun and exciting theme of the day, this look will keep you in the right spirit of celebration.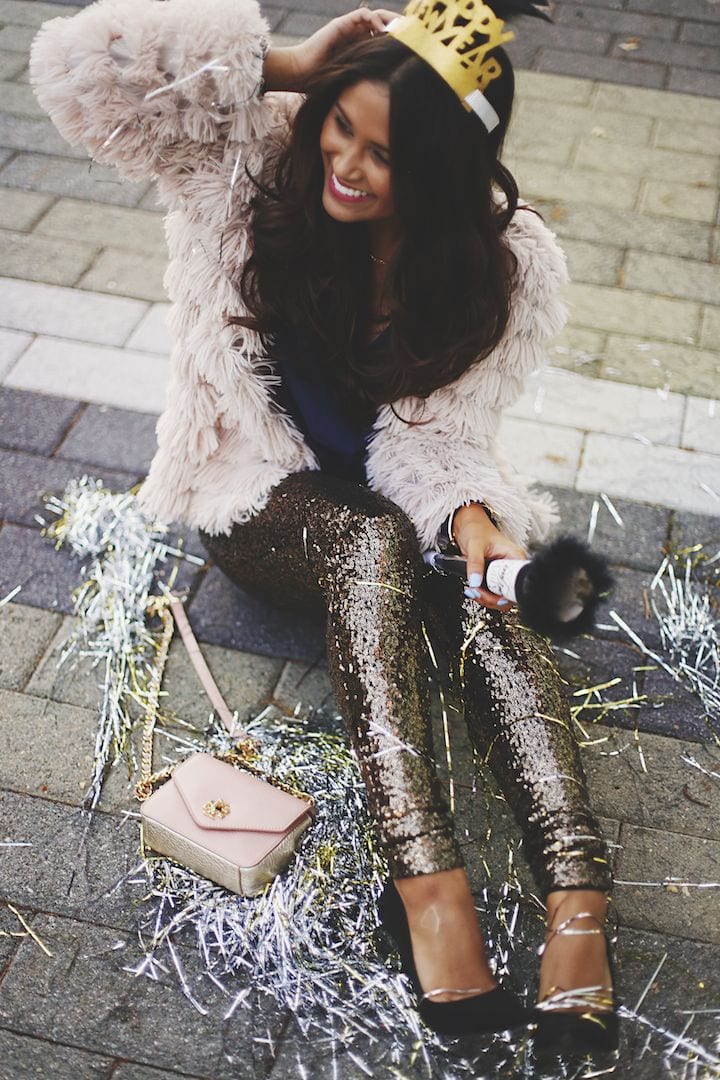 Black Pointed-Toe Heels 99.98$
↓ 17. New Year's Eve Party Ensemble
This is a bit of a daring look but it's super fun and a great way to show off the gams! We like that it steps out of the box of normal partywear with a chic jacket and collared blouse paired with some eye-catching sequined shorts. Wear with tights and heels for the ultimate NYE party look.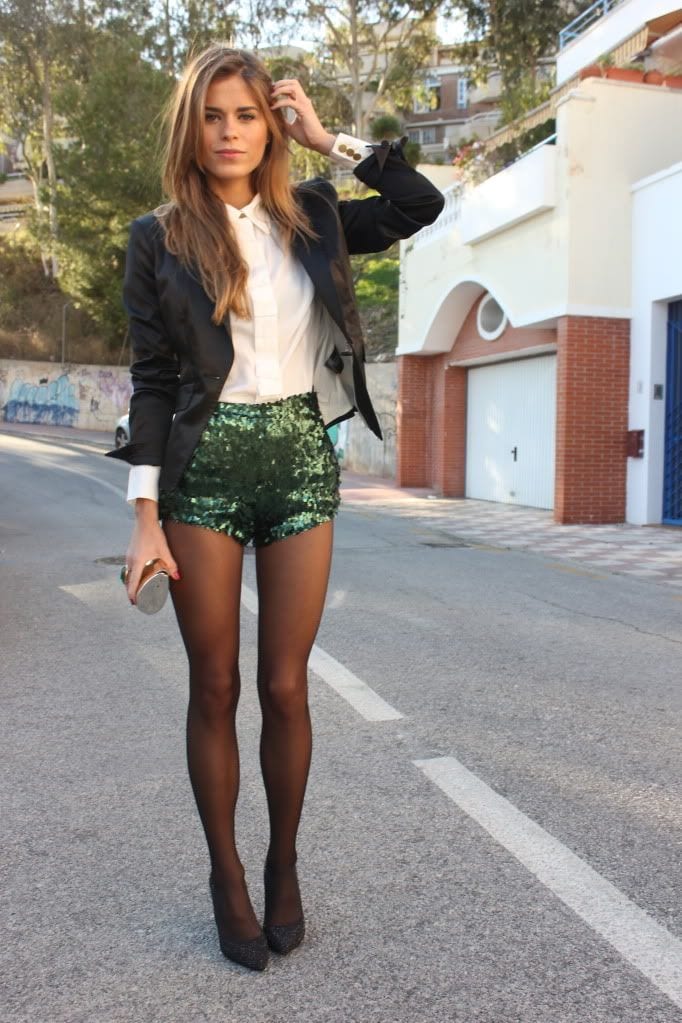 ↓ 16. Formal Glam Look for NYE Date
If you heading to a more formal NYE event with your date, then this is the look for you. Go glam with a mermaid styled sequined skirt and pair it with a white cropped top for a midriff-baring look. Accessorize with your favorite single-strand necklace.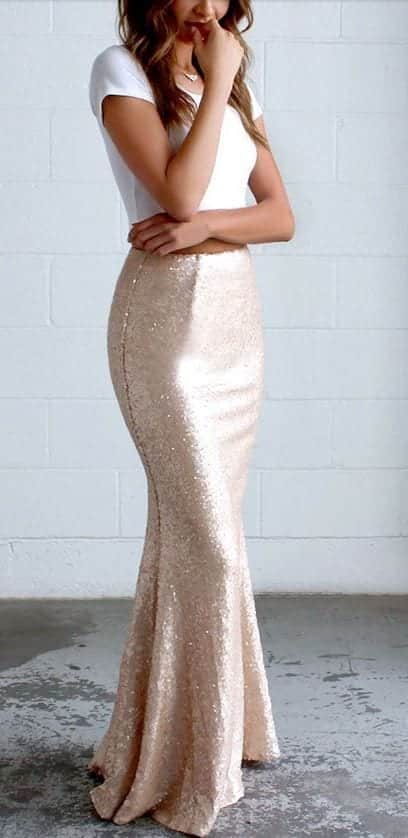 ↓ 15. Tulle Skirt For Chic Look
NYE is a great time to explore some more daring fashion inclinations of yours. Have you always wanted to try a tulle skirt? Use the upcoming holiday as the perfect excuse. We love this dusky purple skirt paired with a fitted gray top and two-toned heels. Dressing up a tulle skirt can get tricky so here are some inspiring Tulle Skirt Outfits.

source
↓ 14. Gorgeously Glam Dress and Metallic Heels
Sequins have been a theme with most of the outfits we have shown you so far. If you are not a fan of sequins then check out this gorgeous look.
When it comes to NYE outfits, you can't get better than this. A high-necked leather dress paired with metallic heels keeps with the theme of the holiday and looks especially great when accessorized with an eye-catching piece of jewelry like this one. Add a bracelet and purse to finish off the look.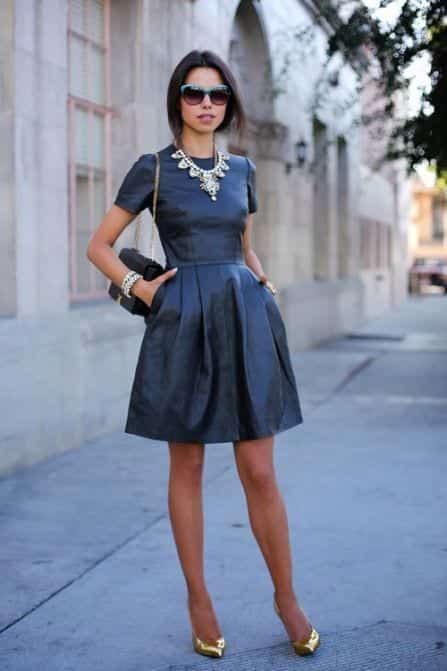 ↓ 13. Formal NYE Party Date Outfit
We love the simple glamour of this look and have a feeling you will, too. Look for a dress that features a similar waistline as this will visually draw the eye to the smallest part of your torso. The contrast of the gold-overlaying-black top and the long black skirt is the perfect combination for an NYE formal party look.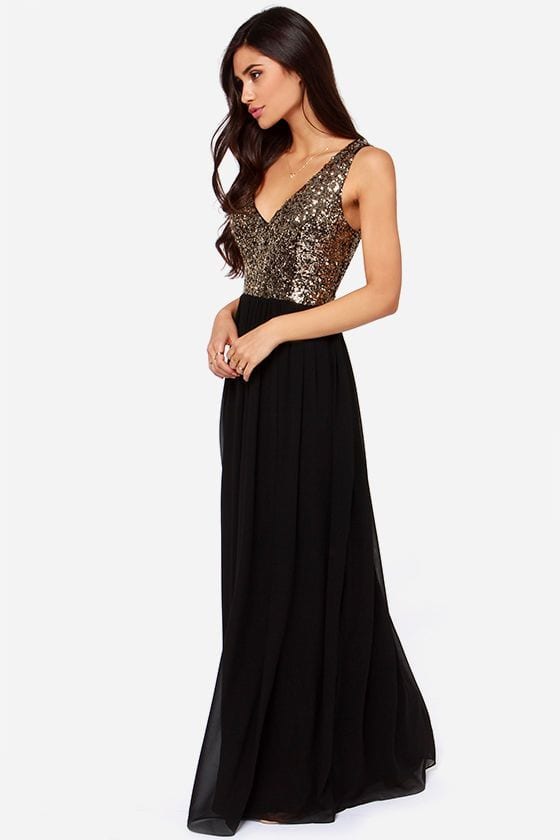 Source
↓ 12. Leather Jacket With Sequin Pants
This is a great outfit if you are headed to a restaurant. Start with a high-necked black top and cover up with a short leather jacket. Pair with some glitzy sequin skinny pants and classic pumps. Accessorize with a purse that matches your jacket and some silver stranded necklaces.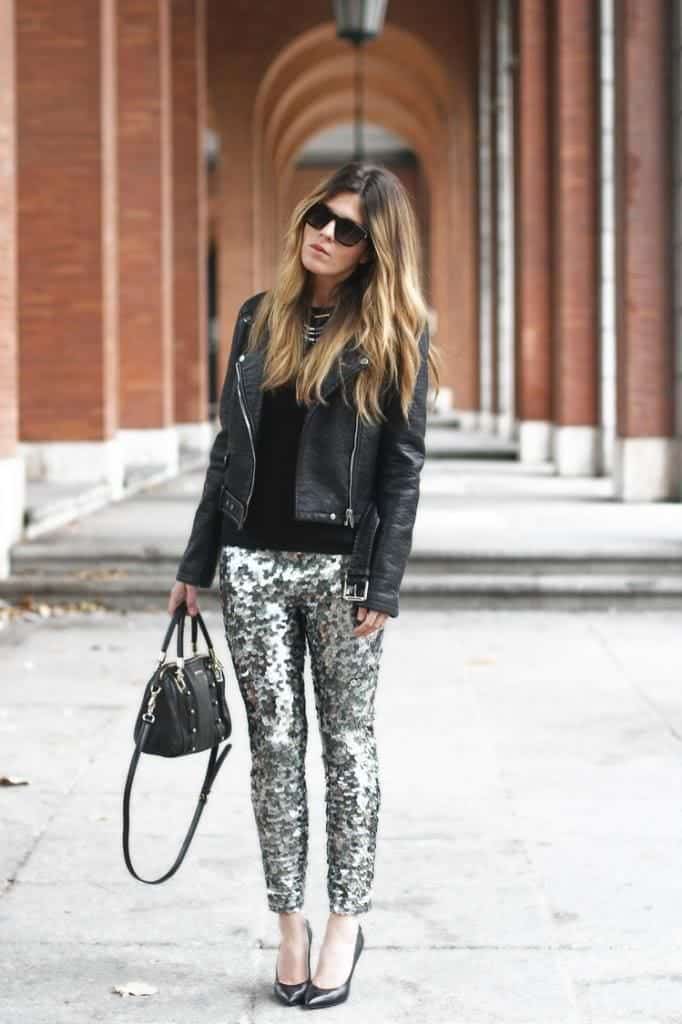 Black Leather Biker Jacket 45.89$
↓ 11. Edgy All-Black Party Look
For the gal that's looking for a more edgy outfit this NYE, check out this inspiration board. You can spice up a classic pair of black skinnies with some glammed up heels, sparkling nails, and a leather jacket. And don't forget that cute top! A graphic styled tank or tee is fun and youthful. Don't forget a glam purse to tie the outfit together.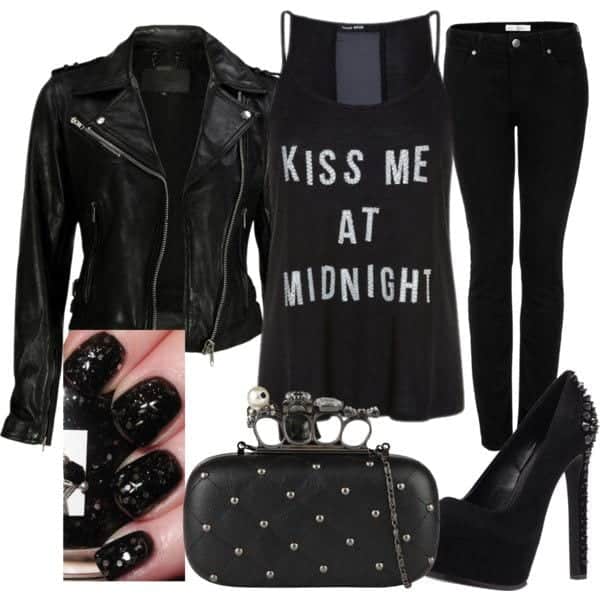 ↓ 10. Formal Evening Wear
Here is a formal gown that perfectly highlights the waist with a deep satin v-neck. We love the sheer layered skirt and the glamorous diamond earrings. This is a strictly formal outfit for an evening event or party. We guarantee your date will love it.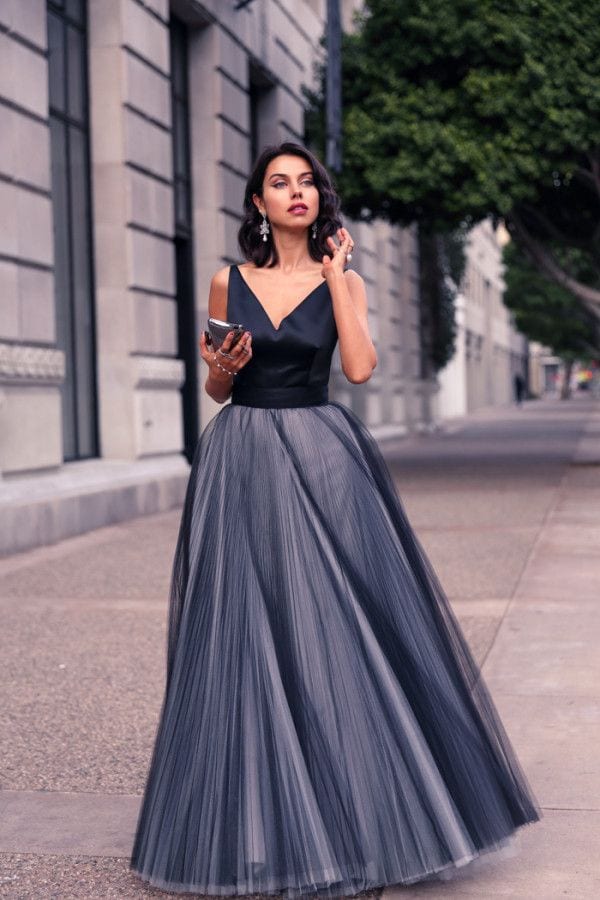 ↓ 9. Metallic Romper For NYE Night Party
A romper is such a great choice for NYE parties. Not only are they super easy to accessorize, but they are a great choice for dancing as well. Choose a color or style that embodies the holiday like this little metallic number.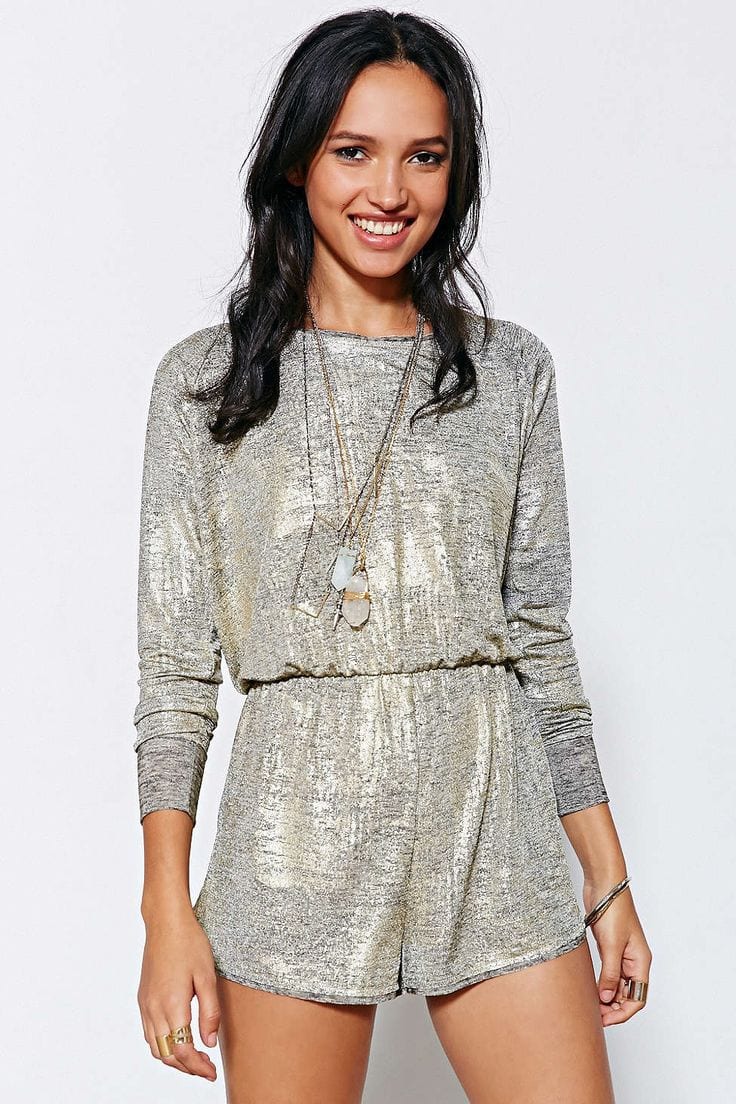 ↓ 8. Leather Leggings & Bright Red Coat for NYE Event
Are you headed to a special daytime NYE event with your date? This fun but still sophisticated outfit just might be the look for you. Get yourself a pair of leather leggings and top it off with a black blouse and bright red coat. These closed-toe heels bright a fun edge to the ensemble.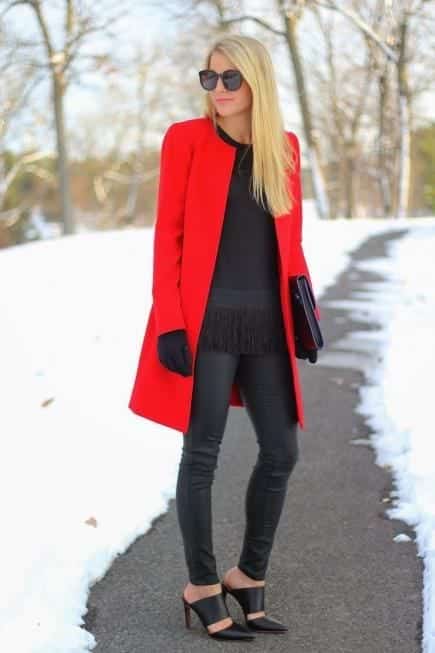 ↓ 7. Stylish Jumpsuit For Semi-Formal Look
If you are headed to a halfway event (halfway between semi and fully formal, that is) then why not try out a classy jumpsuit? This all-in-one outfit is super easy to accessorize and such a festive option for the holiday! Check out these Ideas On How to Style Jumpsuits.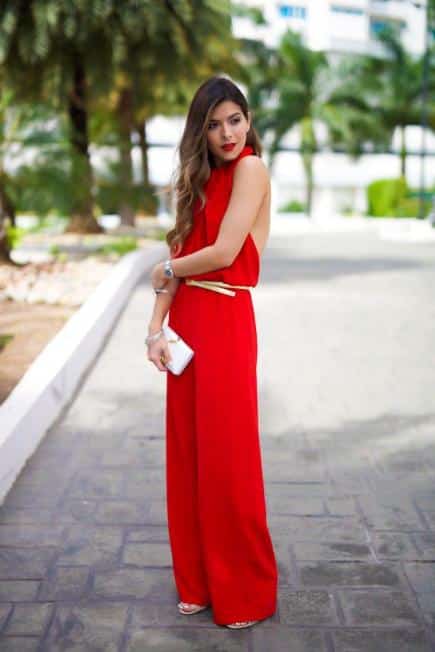 Red Halter Neck Jumpsuit 29.99$
↓ 6. Jacquard Dress For Funky NYE Look
A suitable look for the mature woman is a classy jacquard dress. This is a lovely option for a dinner date with your NYE date. Accessorize with complementary earrings (note the color coordination) and a clutch.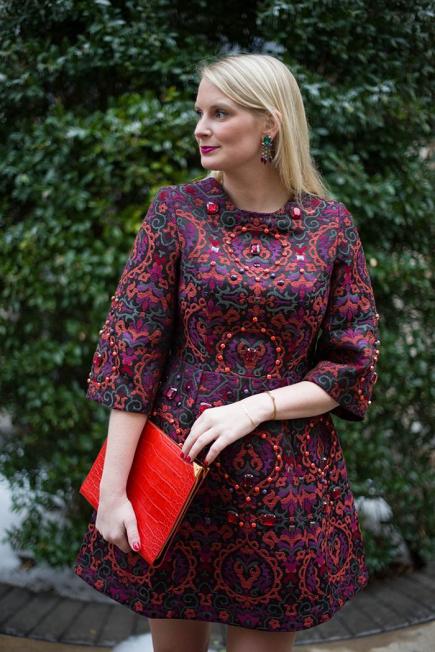 ↓ 5. Sheer Panelled Dress for Night On the Town
This gorgeous dress is best worn with some knockout heels or even boots. Avoid overwhelming your outfit by keeping accessories simple and letting your natural beauty shine.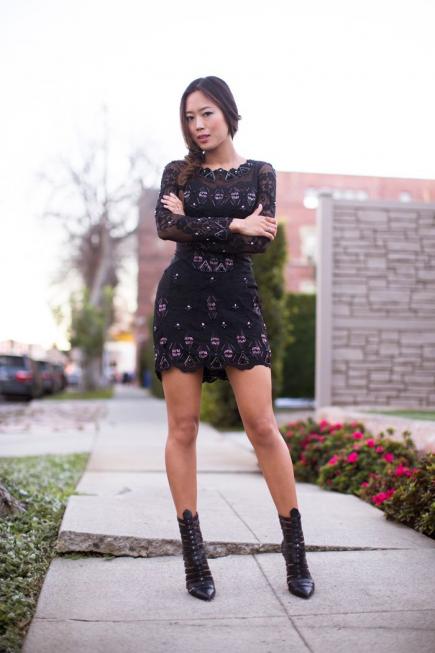 ↓ 4. Stunning Blazer & Black Dress Outfit
There is no better look for a midnight NYE rendezvous than this stunning out. Start with a simple black dress. A v-neck neckline is preferable. Top it off with a knockout blazer like this glittering piece! Accessorize with a matching necklace and black heels to tie the look together. For some celebrity style inspiration and tips, check out 25 Celebrities All Black Outfit Styles for Fall to Copy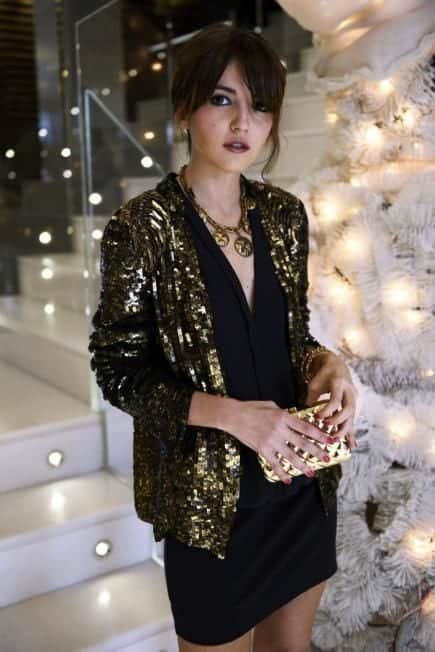 ↓ 3. Velvet Dress For Dinner Date
If you are going to a fancy restaurant or a hotel, this is the look for you! A gorgeous deep green velvet dress is THE perfect NYE date night outfit!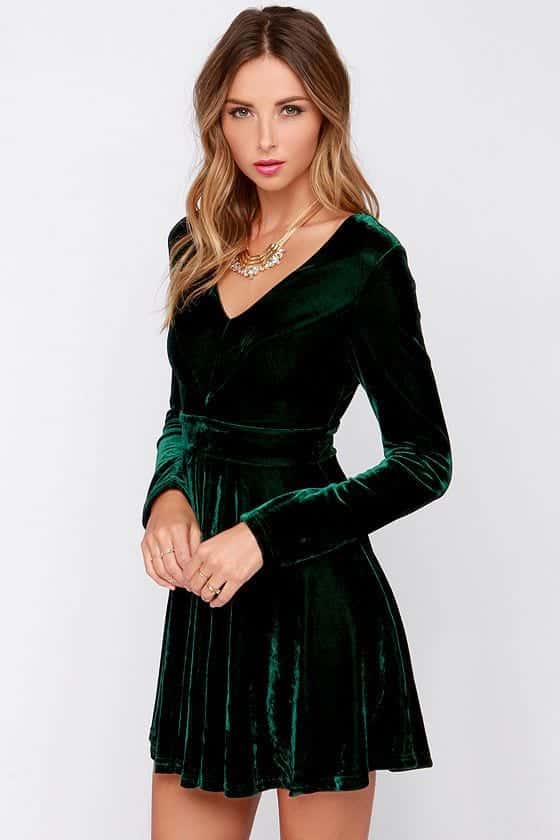 Green Velvet Swing Dress 25.99$
↓ 2. Glam in Black & Gold
You can never go wrong with a black and gold outfit for New Year's Eve. Check out this inspiration board for a totally glam and gorgeous look to don on your NYE date!

↓ 1. Date Night & Party Look for NYE
Our final look is a knockout one. Check out this little cocktail dress. A strapless deep blue bodice and gold lamé skirt is festive and looks irresistibly pretty when paired with some statement heels and a little white blazer. Accessorize with a matching necklace and clutch.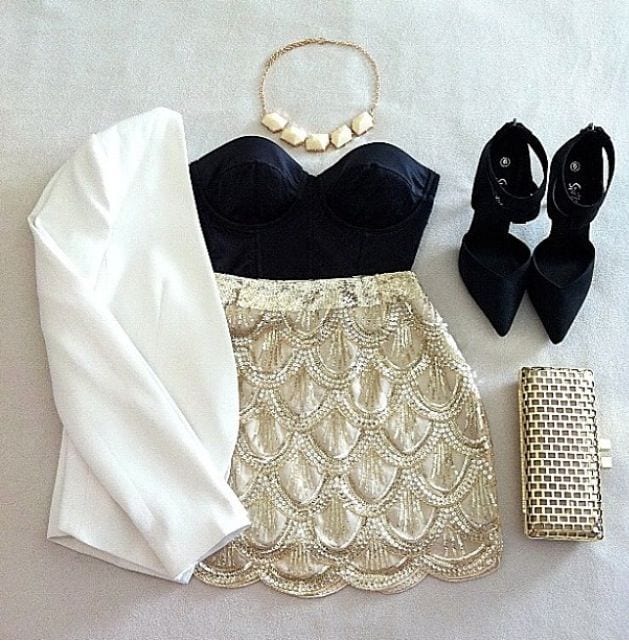 We hope this article helps you in your NYE date night outfit quest! Let us know your favorite look in the comments!