The new year is upon us and it is time to celebrate!
Whether you have a family gathering to attend, a party at your favorite club, or a dinner date with your significant other, we have rounded up some of the best outfits, tips, and tricks to help you dress your absolute best this NYE and give you a running start on the upcoming year.
There is something here for everyone so keep reading until you find something that sparks your interest.
What to Wear on New Year's Eve?
New Year's Eve is the most awaited time of the year. As everyone wants to celebrate the new beginnings with their loved ones in style. Therefore, it is very important to wear an outfit that not only reflects your personality but also looks celebratory at the same time.
Sequin outfit makes a great choice. For instance, you can wear sequin pants and pair them with some subtle top or a sequin dress for an all-glam look.
In addition, you can also try black leather pants with a sequin top or blazer to make yourself stand out.
Moreover, do not forget to style this outfit with a pair of statement earrings and suitable heels. If you feel extra cold, a sweater dress with tall leather boots makes a nice option for you.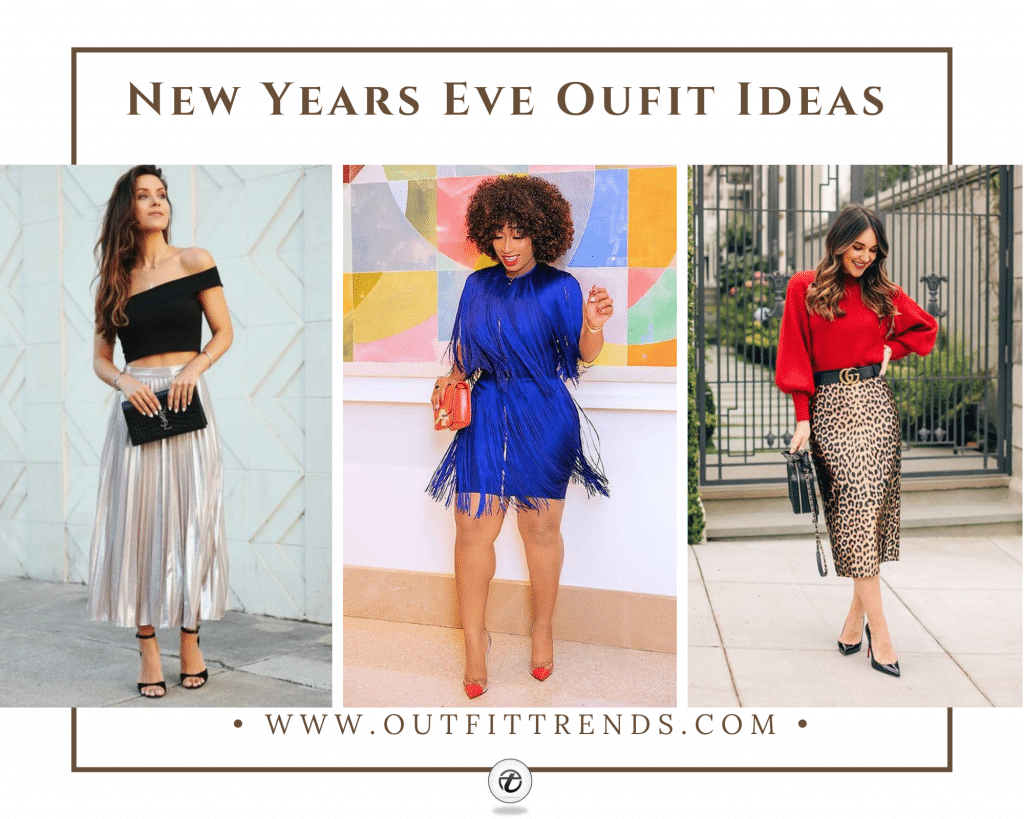 From sparkles to denim, party wear to casual styles, we have covered it all to guarantee your most stylish outfit to date! But first, let's get started with some simple dos and don'ts:
Do be a little unconventional. It's New Year's Eve and so it is the perfect time to get out of your comfort zone and experiment with something that you've never tried before!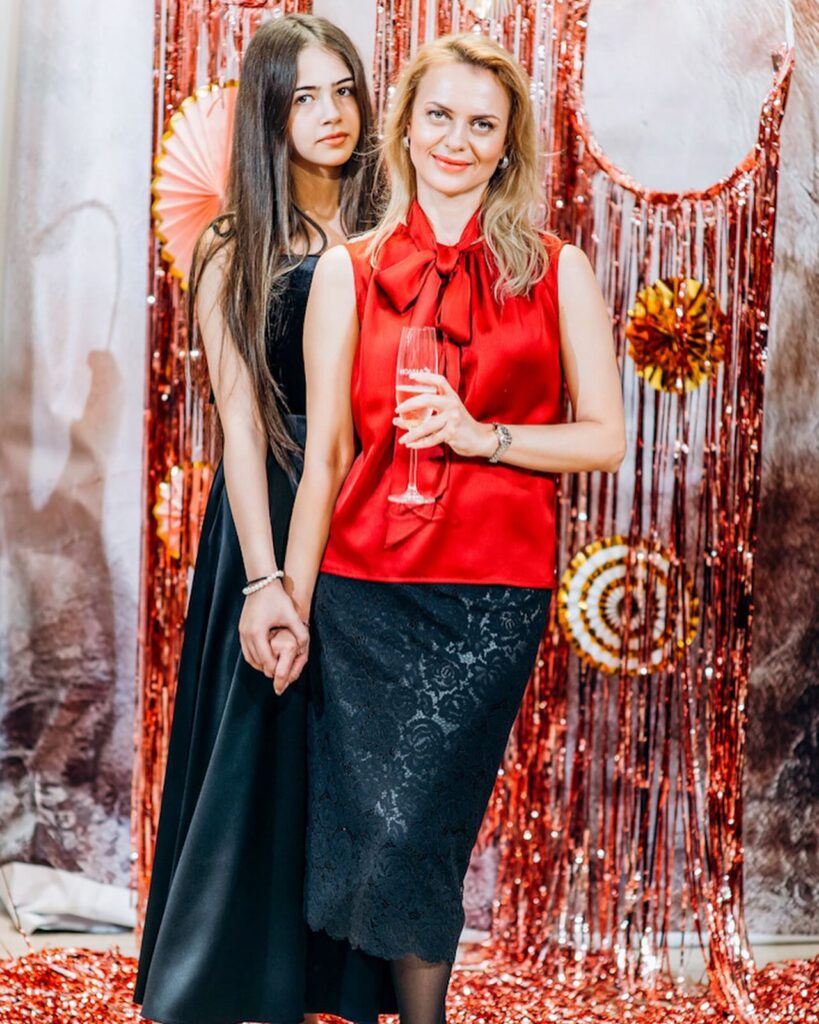 Do add some sparkle to your look. We predict that this will be the year of sparkles and glitter. We can already see them everywhere: actresses, models, bloggers, our favorite YouTube artists, and even girls around us are wearing glitter on their eyes, on their lips, on their cheeks, everywhere!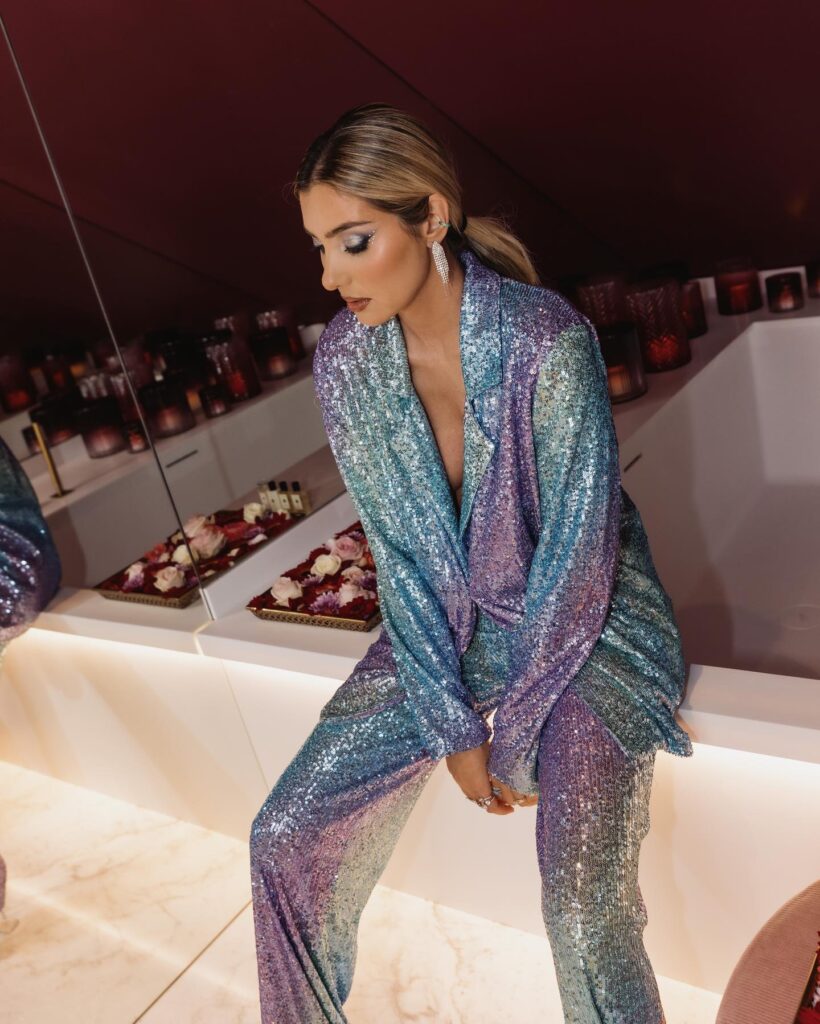 Don't forget to charge your phone fully before heading out (if you are going out, that is) as there is surely no quicker way to ruin your night than pulling out your phone to snap a picture and finding yourself on empty!
Don't forget to keep a jacket or wrap on hand to keep yourself warm, especially if you're planning to go to an outdoor party. Even if you're going to a club, you never know for how long you'll be standing in lines so it's better to be fully prepared.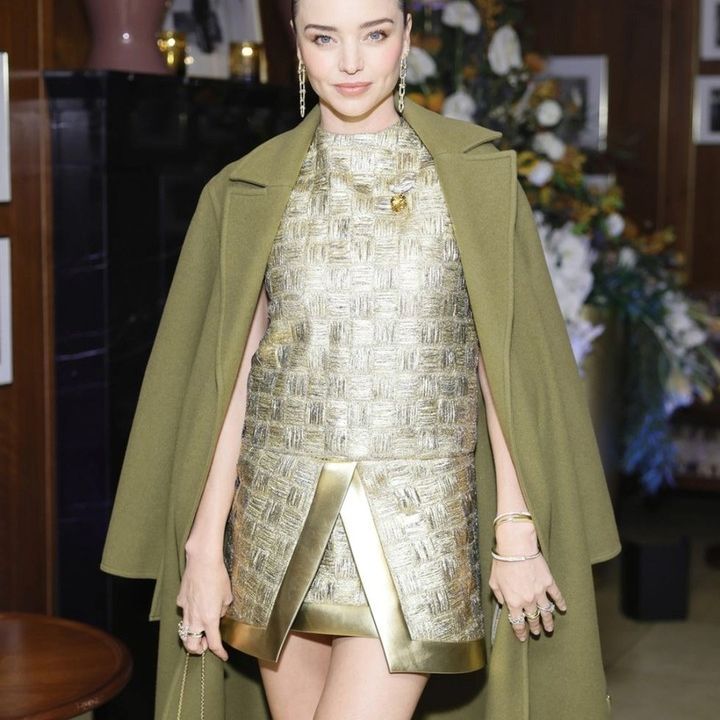 Last but not least, remember to have as much fun as you can since this night won't be coming again for another year!
30. Styling A Velvet Blazer Dress
A velvet blazer dress is the trendiest fashion nowadays.
The best thing about this dress is that it requires very minimal styling.
You can pull off a sexy, glamorous look by pairing this outfit with a pair of statement earrings and a chic pair of heels.
In addition, wear your make-up and hairstyle to match the party vibe of the outfit. Lastly, carry a formal clutch to complete the entire look with a hint of red.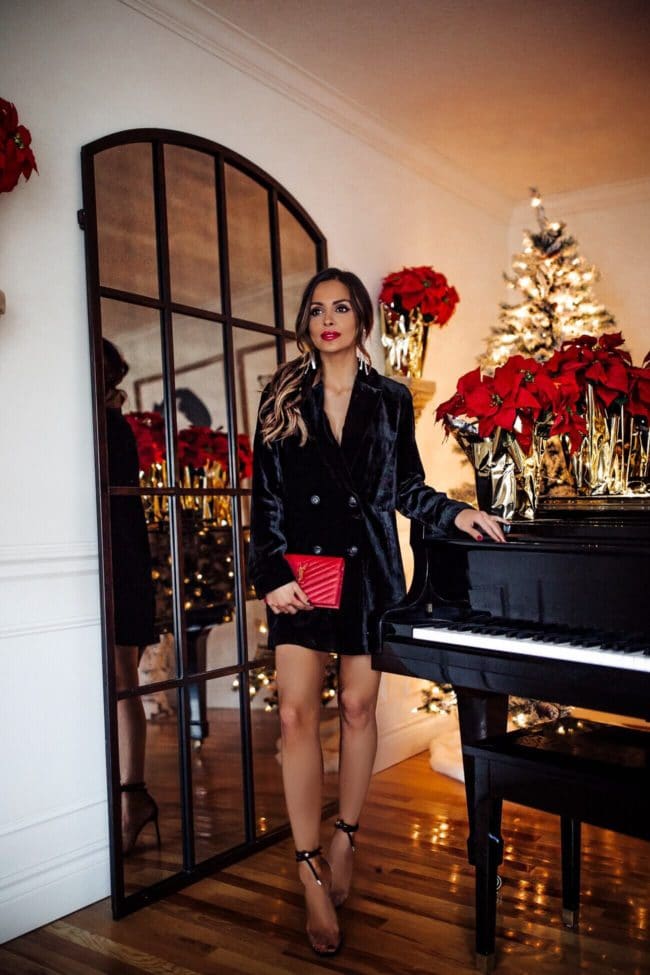 29. Unique Colour Block Look For NYE Disco Party
Wanted to experiment with something new? Something that looks stylish and makes you stand out from the rest? This color-block disco party jumpsuit outfit will surely make you a head-turner at your New Year Eve party.
In addition, make sure not to use too many accessories and makeup to enhance the bold colors of the outfit. However, you can style this colorful jumpsuit outfit with a decent pair of earrings and a pair of white ankle-strap heels.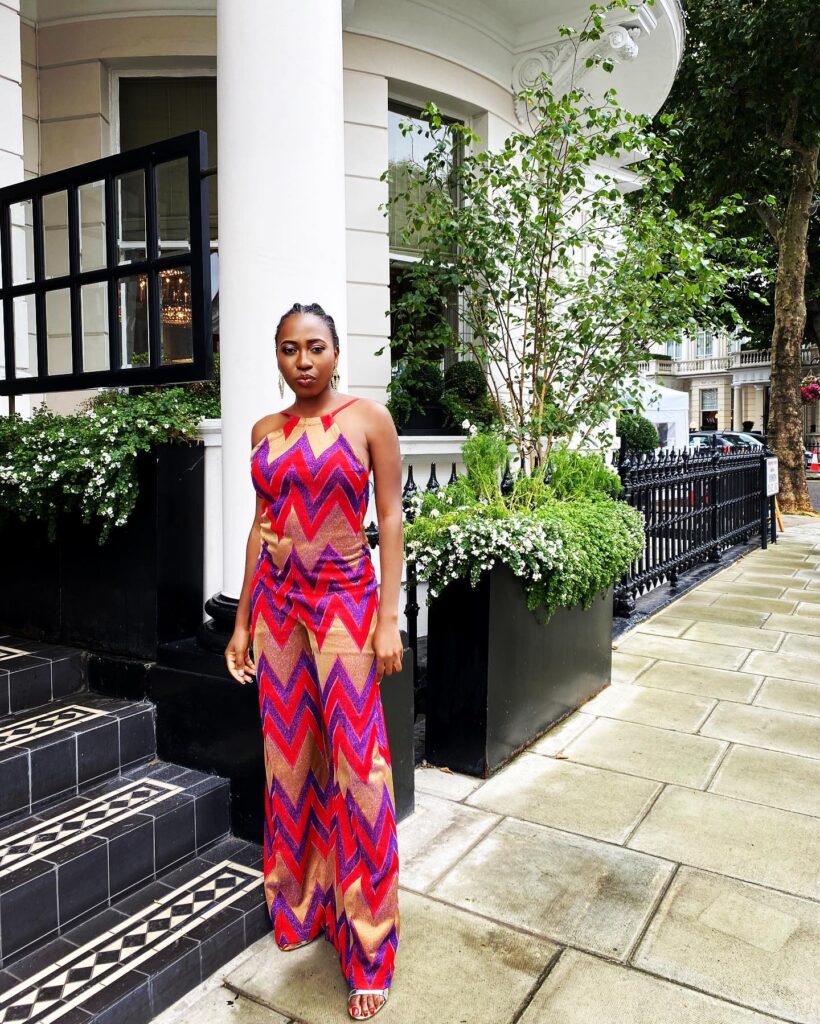 28 . Metallic Pleated Skirt For Some Glam
A metallic pleated skirt is a wardrobe staple and everyone's favorite piece of an outfit.
You can style this basic bottom in a variety of different ways. For Instance, you can wear a silk cami top, a jumper sweater, or an off shoulder crop top.
This versatile skirt will never disappoint you. Lastly, make sure to wear a few delicate accessories and a pair of suitable heels.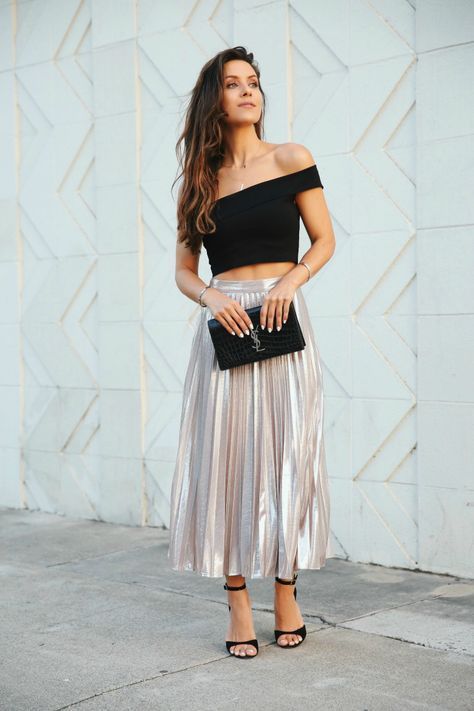 Silver Metallic Pleated Midi Skirt 36.99$
27. Blue Fringe Dress Trendy
In this world of sparkle and glitter wanted to wear something a bit more subtle but equally glamorous as a sequin outfit?
Then a fringe tussle dress is an ultimate dress for you.
You can style this dress with contrasting color accessories and footwear for a more alluring look with your fashion game in check.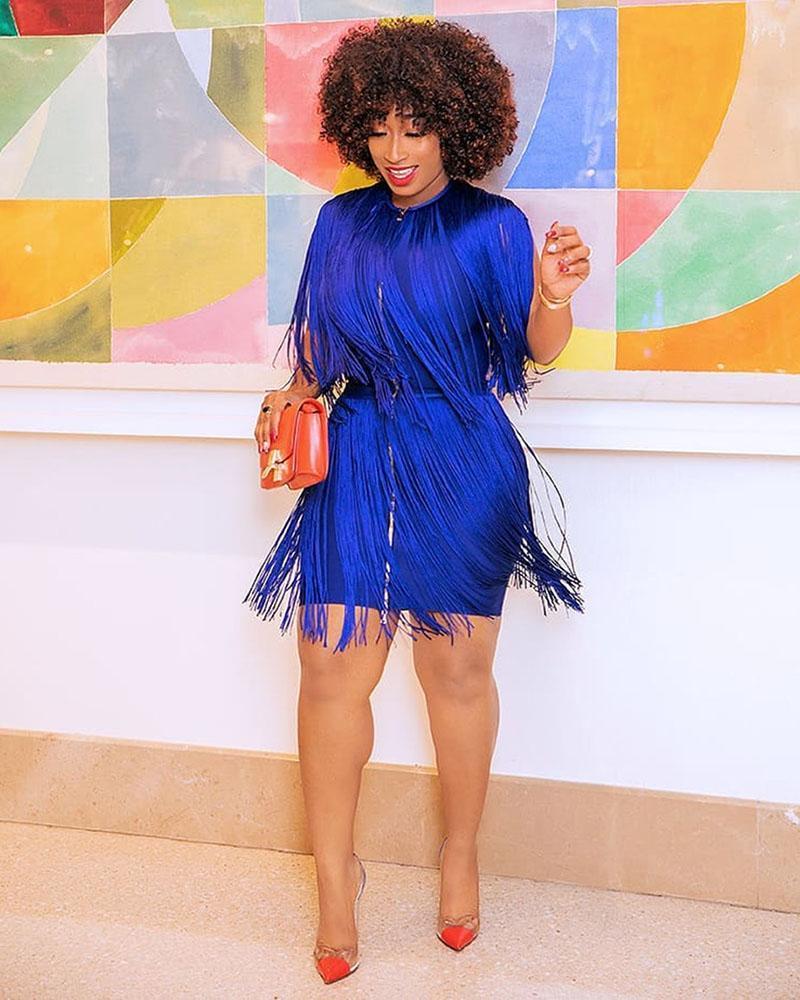 26. How To Wear Leopard Print
Leopard print has always been a unique style statement that can instantly elevate your entire look. You can style a leopard print in many different ways.
For instance, you can wear a leopard print scarf, shoes, or a blazer jacket. In this look we see a leopard print pencil midi skirt with a red balloon sleeve blouse.
In addition, carry a handbag with a stylish pair of pointed-toe heels for a more defined look.
Leopard Print Silk Midi Skirt 28.99$
25. Plus Size Outfit
In this world of slim and sleek figures, plus-size clothing has never been given much attention by fashion gurus and designers.
No worries, we have got you covered for your New Year's Eve plus size look.
A satin mid-length gown dress will not only look stylish but will also flatter your figure. In addition, you can style this look with a few accessories, a clutch, and a nice pair of heels.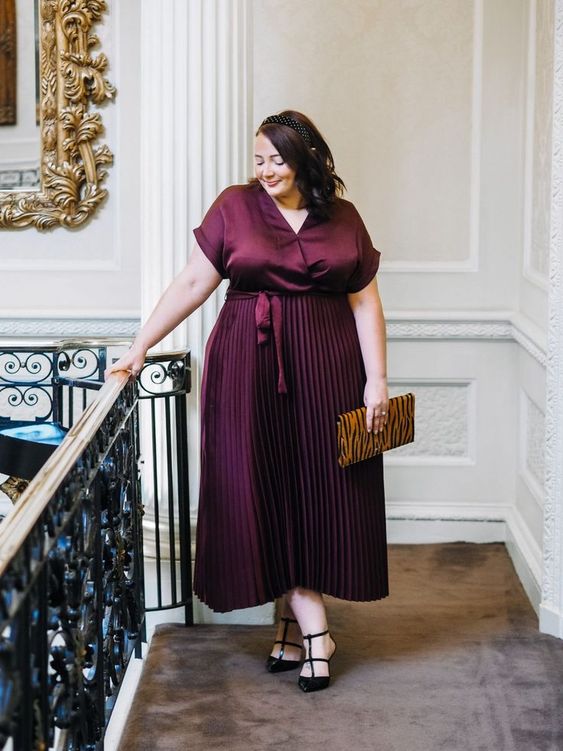 Burgundy Pleated Long Dress 48.99$
24. What To Wear On NYE In Cold Weather?
Don't have any clue how to style for New Year Eve in this cold weather?
The best answer to this question is layering. You can try wearing a stylish leather trench coat or a faux fur coat over your outfit and style it with a pair of winter boots. Do not let these frosting winds come in between your Eve fun!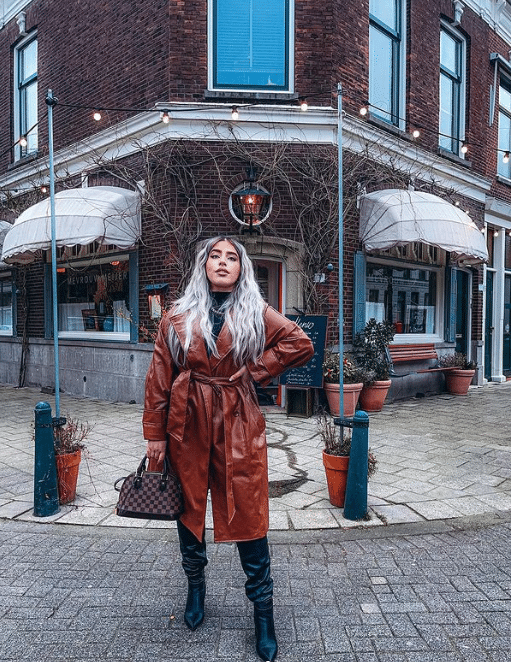 Faux Leather Trench Coat 89.99$
23. Cozy & Chic
For an outfit that covers all the bases, we present you with our first totally stylish and super cozy option! This is a great outfit and works for any occasion whether you are heading out or staying in.
Opt for a shimmering white or lovely cream sweater and pair it up with some festive silver sequin pants. Cluster earrings and a low bun will tie the look together, giving you the best of all worlds.
Here are some more ideas on the Best Styles of Sweaters.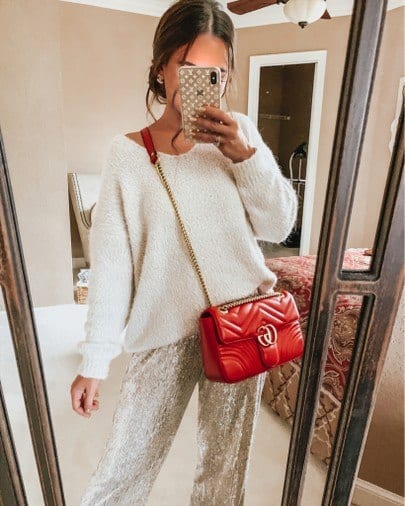 22. Sparkly Mini-Dress for Clubbing
This look definitely comes with the added tip of dressing according to the weather! Ways you can make this clubbing outfit work for a chilly night on the town is adding layers and stockings for traveling back and forth…
This outfit also works if you are hosting a party at home (and therefore, don't need to brave the middle-of-winter weather) or if you live in the tropics or on an island. (Like me!)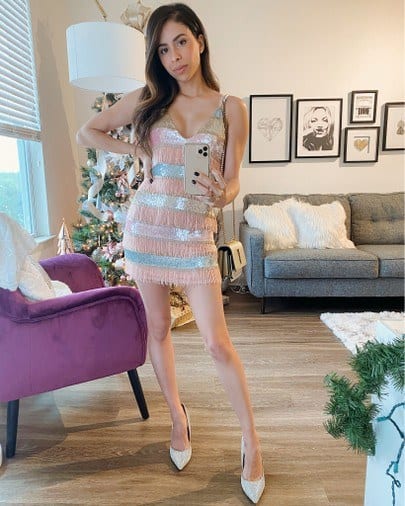 Love the look? Get this dress at the link below:
Revolve X by NBD Mini Dress $398
21. Outfit for Family Party or Date Night
A stylish (and practical) option for an outfit that may include heading to the family home or going to dinner on a date is this one right here.
We love that it incorporates chic and winter-ready pieces so that you can feel like a million bucks inside and out.
Top a simple white turtleneck with a faux fur vest and slip on your favorite mid-rise skinny jeans. Add booties and accessorize with stud earrings and a brand-name belt, and swipe on some red lipstick to tie it all together. Check out these ideas on How to Wear Fur Vest with Any Outfit.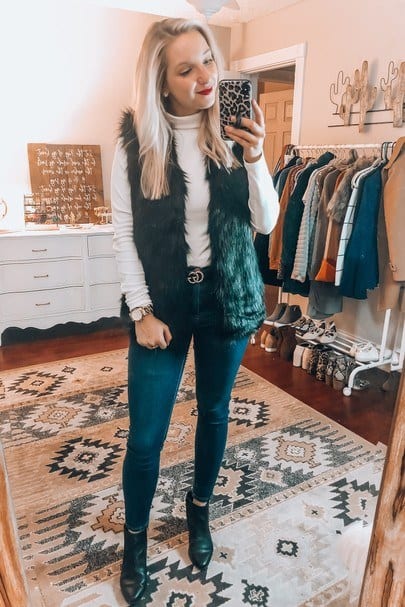 Old Navy Faux-Weather Western Booties $26.97
20. Sparkly Blazer For Parties
A sequined blazer makes for a great piece to add to your outfit. Everyone loves sequins on NYE! They are sparkly and fun and keep with the celebratory feel of the night.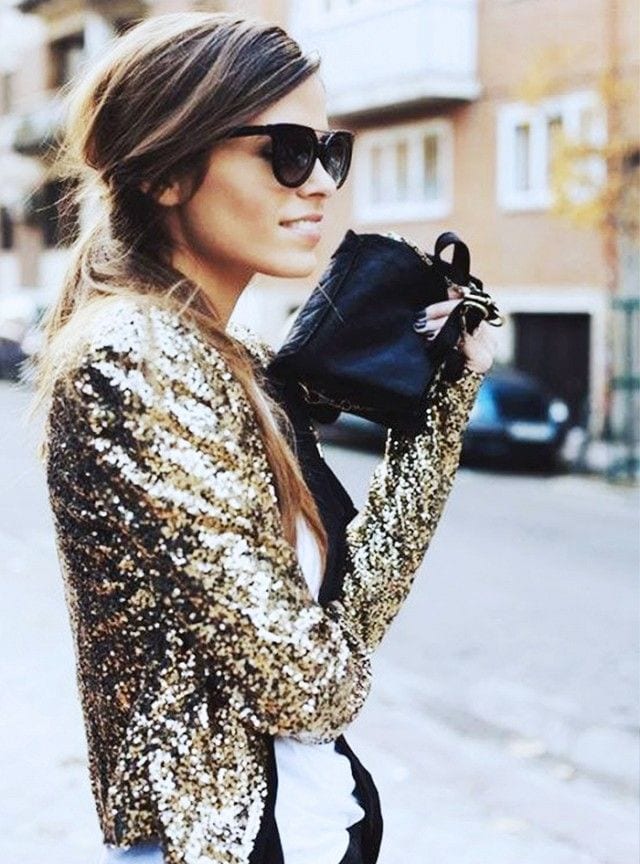 Gold Sequin Blazer Jacket 49.99$
19. Little Black Dress For Sophisticated Look
Jazz up a little black dress by opting for one that comes with extra detailing (like this incredible lace back) and add a gold belt for added glam. Keep your accessories lowkey and opt for a more natural makeup look to let your outfit shine.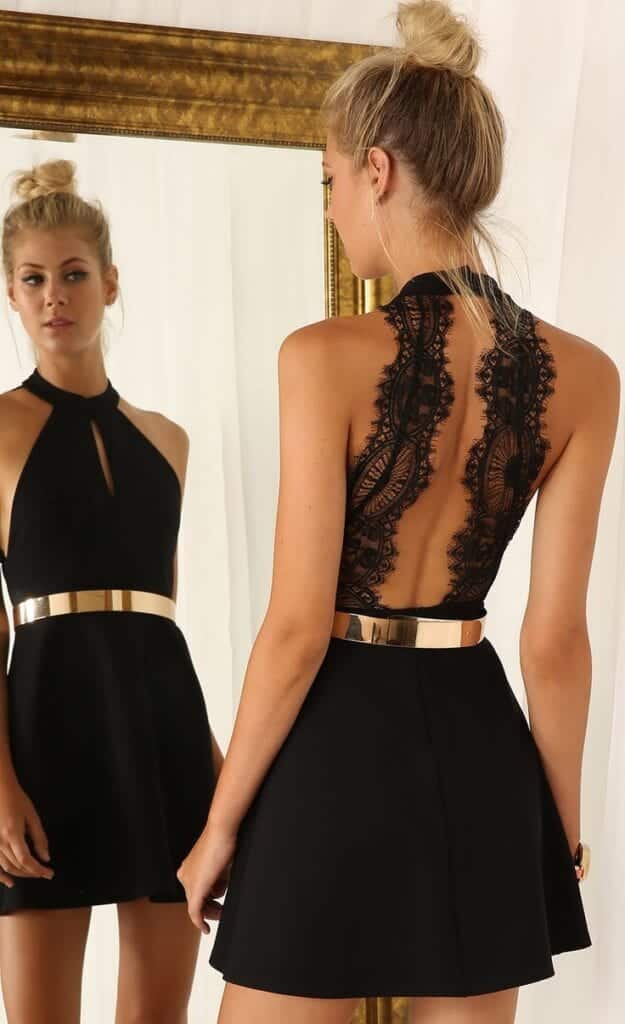 Black Halter Neck Party Dress 28.99$
18. Casual Maxi Dress for Staying-In on NYE
Not all of us are going to be cruising the town, so here is an option for you ladies who are staying in but still want to look put-together and cute.
Give a billowy maxi dress a try and add a long pendant necklace. Sandals or espadrilles would make for great footwear for this look.
Pro-tip: depending on the color of the dress you go with, adding a bold red lip will bring more of a festive feel to this ensemble.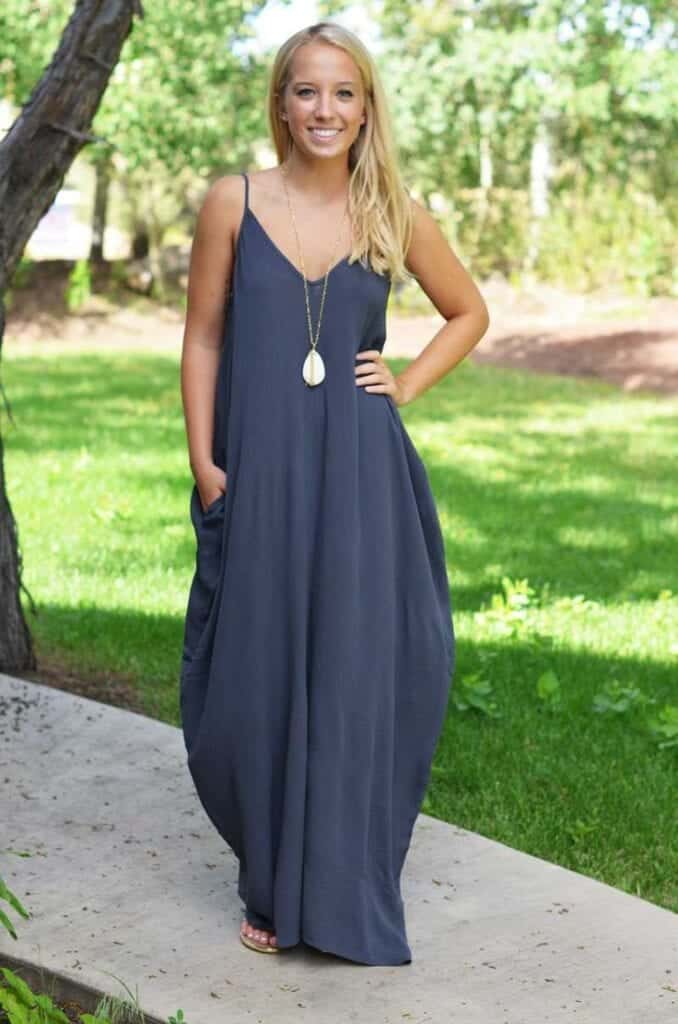 Black Spaghetti Strap Maxi Dress 23.99$
17. Sequined Pants For Chic Look
Here is a glam look perfect for parties, an NYE date, or clubbing. It is a refreshing take on the sequined pants trend and will wow all the crowds as it isn't your typical dress look.
Pair up some slim-fitting black sequined pants with a v-neck loose blouse, a red lip, and black heels. Tie it all together with a little gold and black clutch.
If you like wearing sequins, you wouldn't want to miss out on our earlier post where we talked about the best Sequin Outfit Ideas.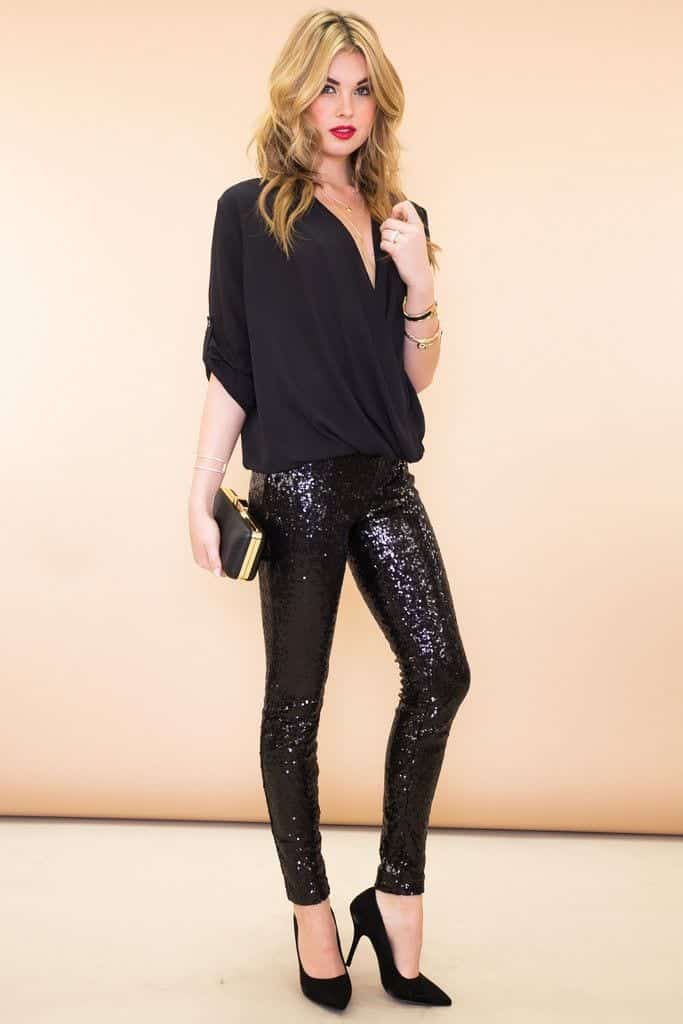 16. Beaded Gown For Formal Parties
Here is a gorgeous option for you: a floor-length gown featuring a mesmerizing array of tiny iridescent beads offers all the wow factors and looks stunning when paired with nude heels.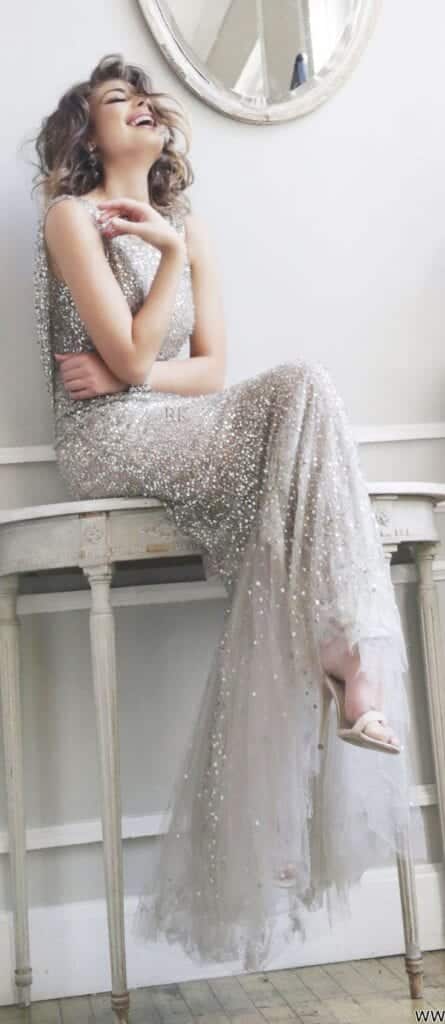 15. Elegant Embellished Metallic Dress
Another glam option for a formal or semi-formal event is this absolutely stunning dress.
Things to note: the silver embroidery is very NYE and the wrap detail on the waist cinches the figure which is very slimming. Wear with strappy metallic heels.

14. Glittery Dress For Cocktail Parties
This stunning little number needs no introduction. Pair with strappy heels and add a silk shawl for an added layer.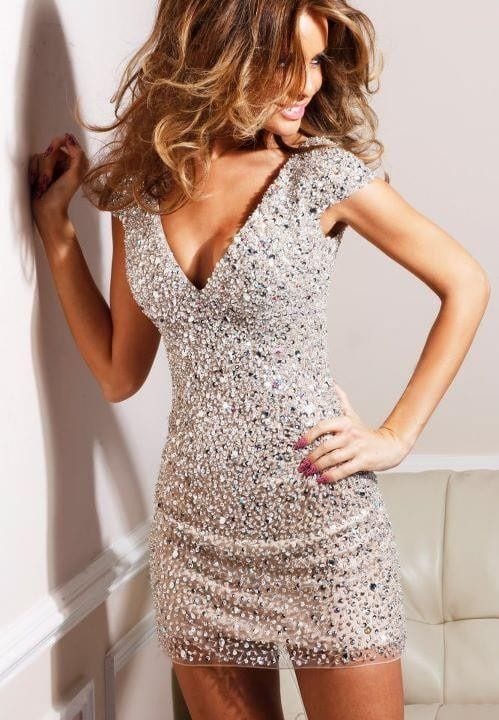 Silver Sequin Mini Dress 36.99$
13. Stylish Jumpsuit For Evening Wear
Have a fancy event to attend this NYE? Why not try a jumpsuit? This royal red looks stunning when paired with silver ankle strap heels and a chandelier earring.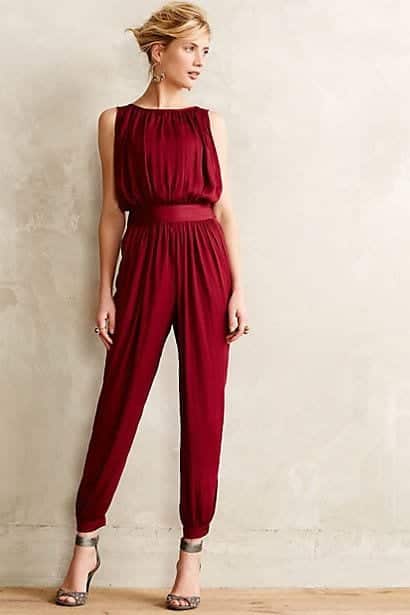 12. Celebrity-Inspired NYE Party: Silk Blouse With High Waisted Trousers
Gigi Hadid rocked this white satin blouse and charcoal gray trousers look. This chic and daring ensemble makes for a great outfit to party in. Accessorize with a choker and matching statement heels.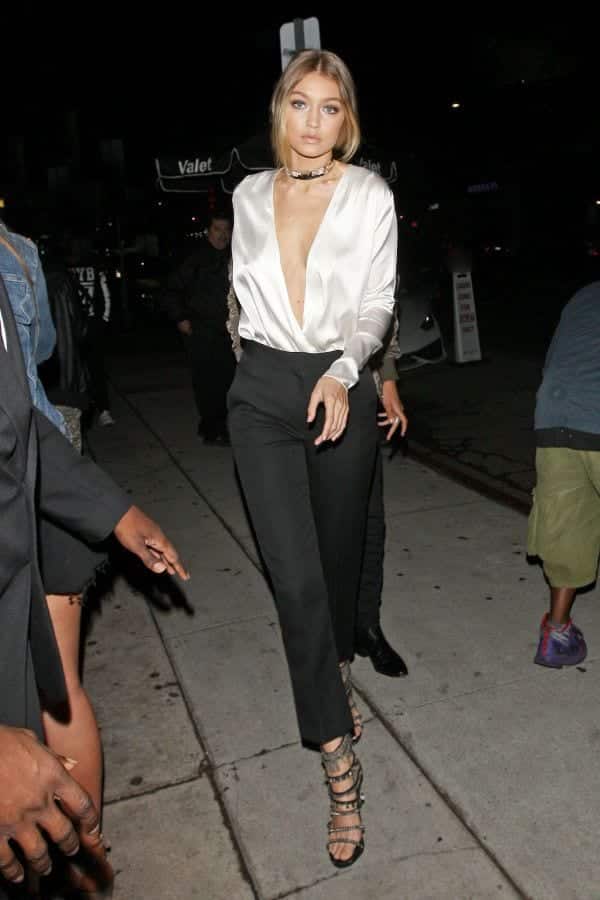 11. Cute Party Hairstyle
A cute braided updo is darling and sweet and is a fun way to style your hair for an event. The braided headband you see here is so simple that if you know how to braid, you can make this within five minutes.
All you have to do is part your hair in the center and then braid it on both sides. Once you're done, hold those braids from the bottom and bring them up towards the center of your head.
Pin in place with bobby pins and pull a few pieces loose to frame your face. And voila! Hair sorted.
Go for a classic makeup look with winged eyeliner and a soft pink lip to tie together the sweet and feminine aspects of this look.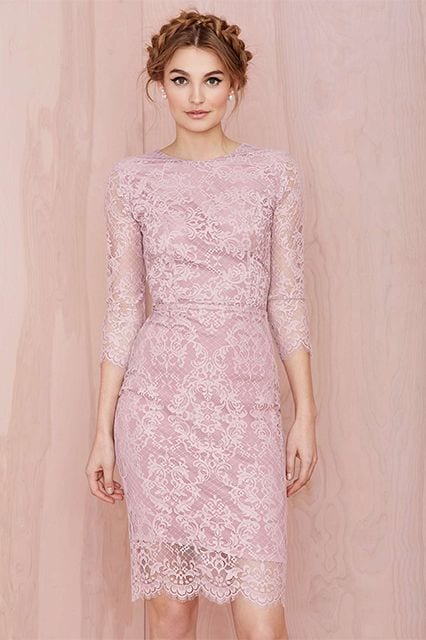 Video Lookbook: New Year's Eve Outfit Trends + Dresses
10. Tulle Skirt With Simple Top
Another idea for an outfit that doesn't include the typical cocktail dress is opting for a tulle skirt. Deep red is festive and keeps with the holiday spirit.
Pair it up with a simple top to not compete with the outfit's showpiece and black heels. Do check out our exclusive guide on How to Wear a Tulle Skirt.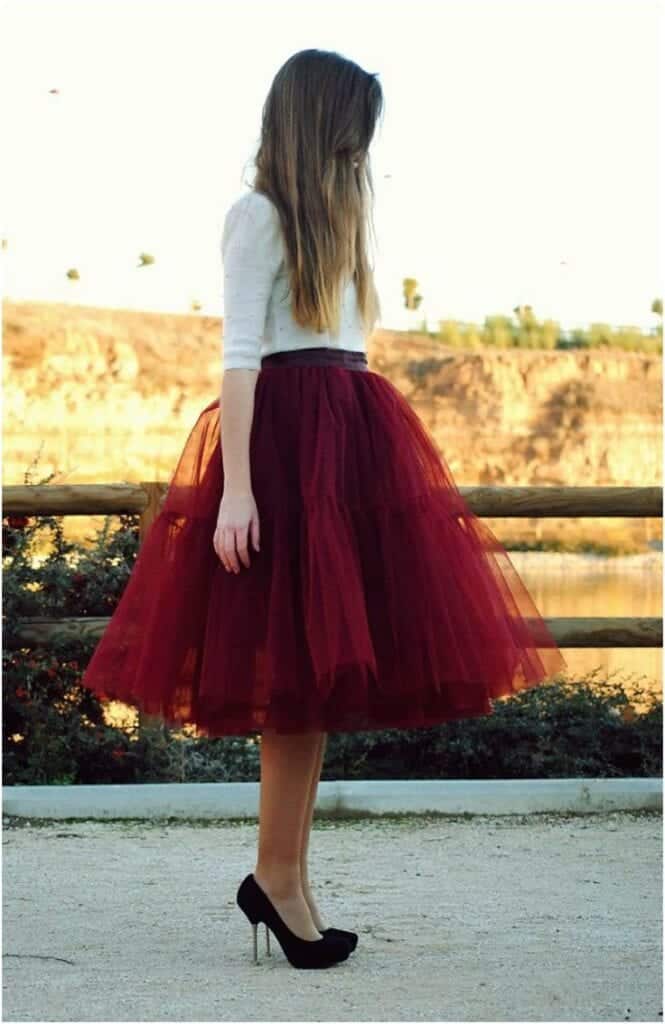 9. Elegant Two-Piece Dress
Go for a monochrome outfit by wearing a white crop top and skirt. Add all the glitz and glam to this outfit using golden accessories and eye makeup.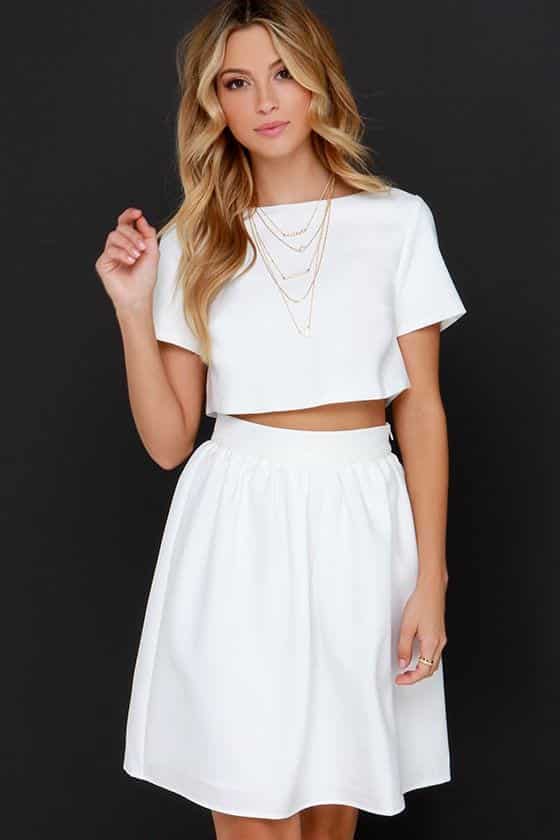 8. Pencil Skirt For Semi-Casual Ensemble
We love this untraditional outfit option. A peachy-orange cami looks darling when paired with a lace pencil skirt. A white or nude heel ties it all together. Go minimal with accessories. This look is great for an NYE date night outfit.

White Lace Pencil Skirt 24.80$
7. Semi-Casual Edgy
Not only will this jacket come in handy on a chilly night, but it makes for a great piece to add to a simple outfit, keeping it edgy and chic at the same time. Booties or stiletto heels would make great footwear for this look.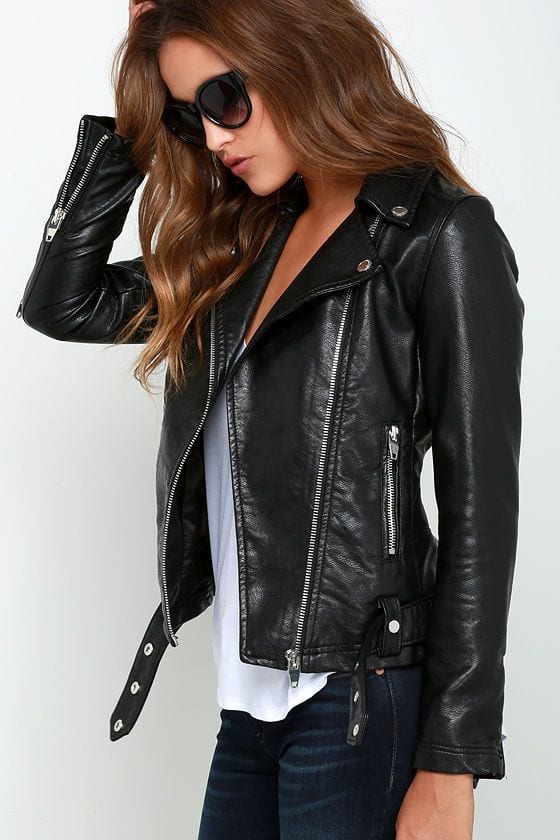 Black Leather Biker Jacket 49.99$
6. Glamorous Faux Fur Jacket
Who doesn't love a furry jacket? This glam piece is great to wear on NYE, not only to stay warm but to bring your outfit to a whole new level. Pair it up with a little black dress and layer on the silver jewelry to accessorize. For more styling ideas, you can check out these Outfits with Faux Fur Coat.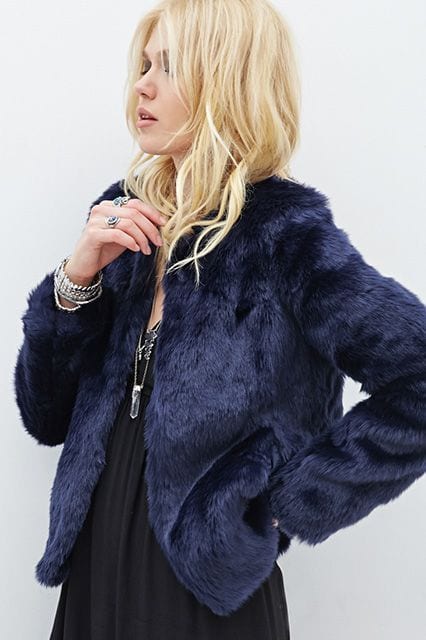 5. Chevron-Printed Romper and Gold Detail
We love this one-and-done romper outfit that is both cute and stylish. Pair with metallic heels to tie in with the gold detailing on the waist.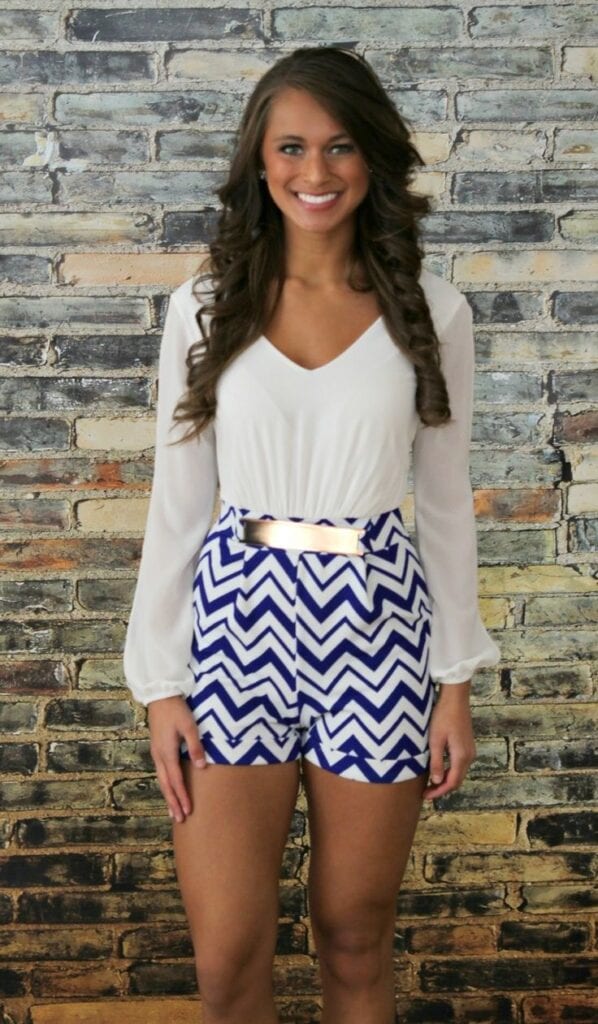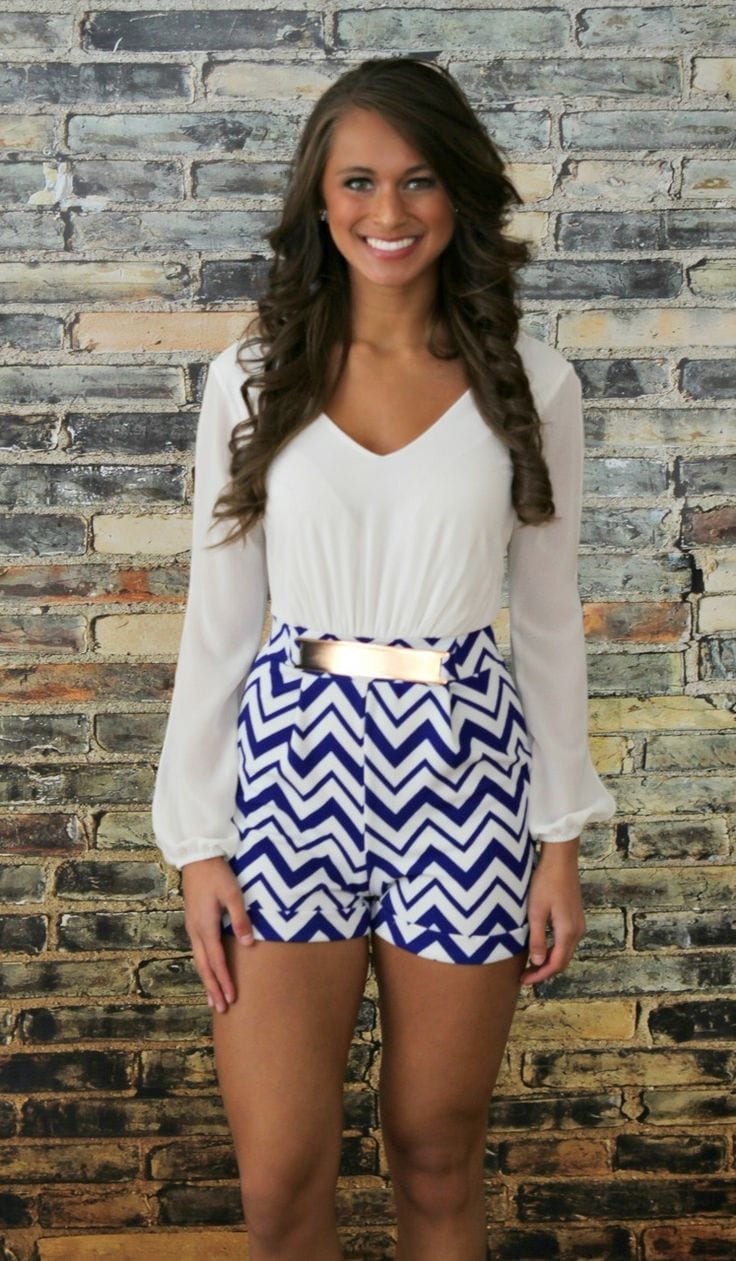 White Balloon Sleeves Blouse 26.65$
4. Super Chic and Stylish
The most important thing at parties is to be comfortable. You can wear one of these stylish coats for outdoor events that will not only keep you warm but also look cool and fashionable.
Khaki or camel coats will definitely be the best choice this year. Also, have a look at our viral post on How to Style Camel Coats.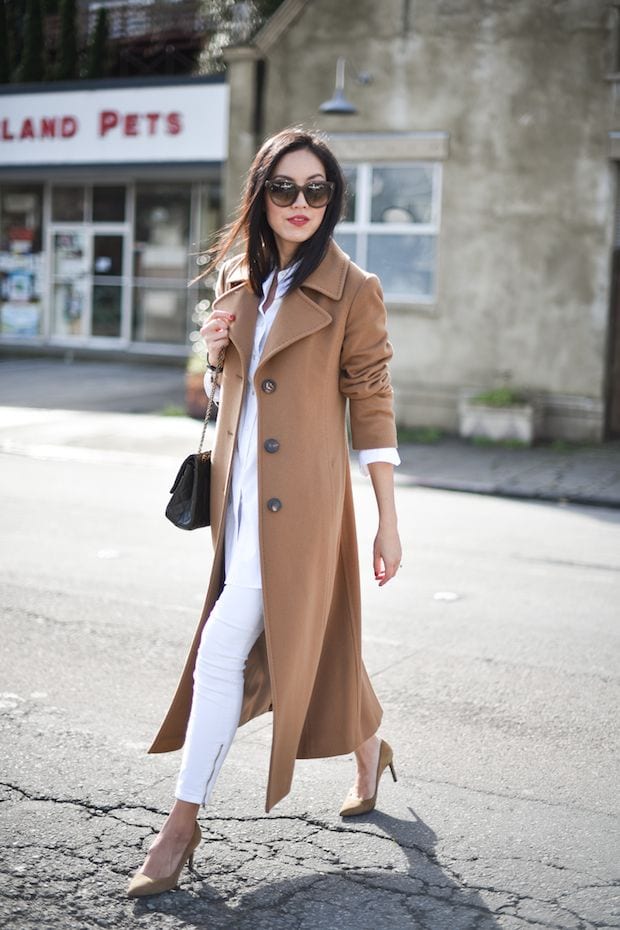 3. Beautiful Crushed Red Velvet Dress
This wine-red dress is definitely perfect for the holiday season and would make a great option for the biggest night of the year.
With a dress like this, you can keep your accessories and even makeup very minimal and pair it up with nude or metallic heels.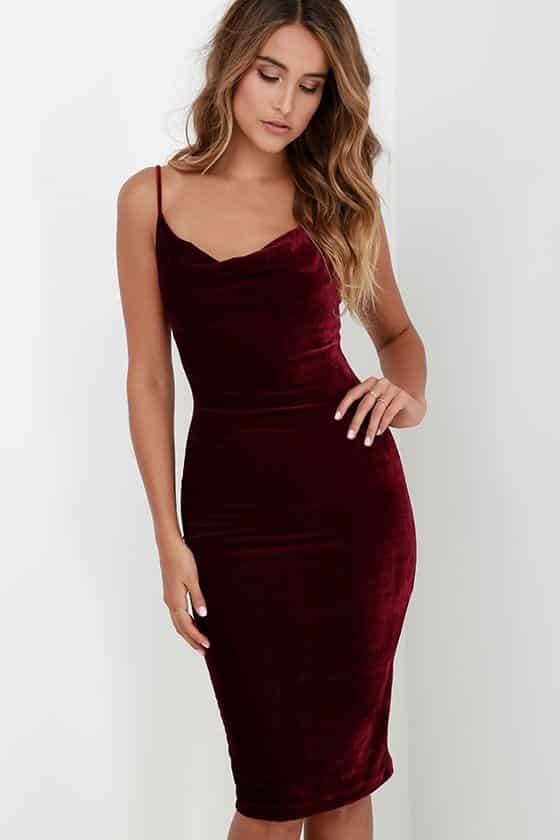 Burgundy Velvet Bodycon Dress 29.99$
2. Outfit For Teen Girls
The detailing on this blouse is perfectly complemented by the silver clutch. Pair up this top with some slim-fitting jeans and some platform heels.
You can also swap out these heels for some booties with a smaller heel (great for dancing). Here are some more ideas on Shoes to wear With Skinny Jeans.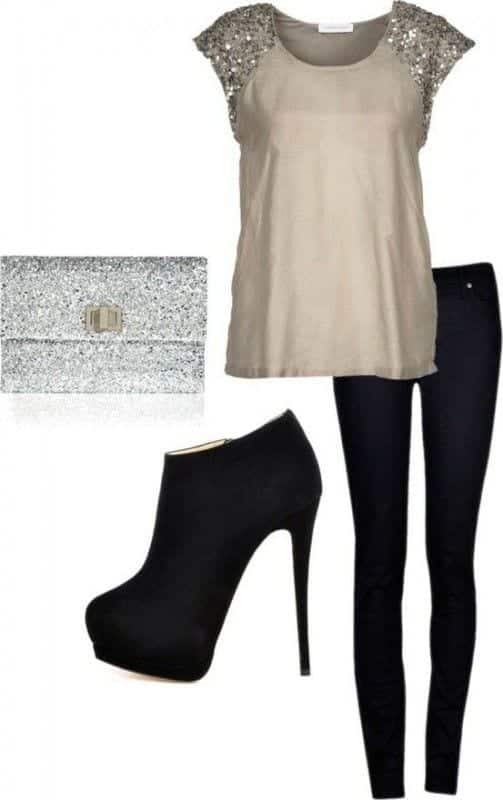 Silver Glitter Evening Clutch 24.99$
1. The Ultimate NYE Outfit Look
Our final look is what we consider the ultimate NYE look. It combines so many great elements and still manages to slay without going overboard.
This Topshop sheer metallic top is a stunner. Tuck it into a pair of high-rise Mom jeans (flattering and great for holding everything together… if you know, you know!). For footwear, these stunning and festive silver booties are so NYE, plus they are great for dancing in! (Always a plus.)
Add a little crossbody purse to tuck your essentials in and accessorize with simple silver jewelry. And voila, you are ready to blow the town away in this great ensemble.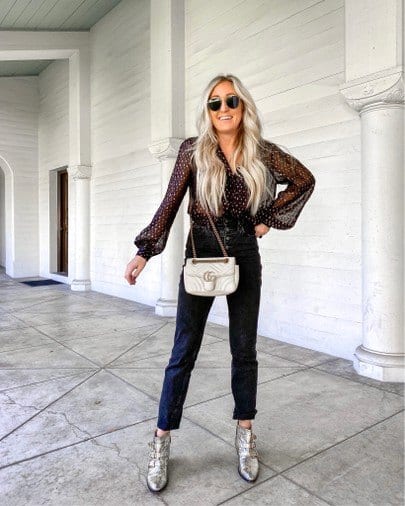 Metallic Pattern Blouse Top 27.99$
Nordstrom Topshop Colorful Metallic Blouse $68
Nordstrom Chloe Susanna Stud Buckle Boots
Gucci Mini GG Marmont 2.0 Matelassé Leather Shoulder Bag
So what are you waiting for? Style your outfit for the last party of the year using these tips and ideas for any kind of party. Keep in mind that the key to pulling off a flawless look is to be comfortable in what you wear and carry it the right way. Kickstart a new year in your own style, be the star of the party and dance the night away!
Frequently Asked Questions
Q: What do you wear to a house party on New Year's Eve?
Ans: A house party is an essential part of New year's Eve. Therefore, you must dress well for such parties. Since it's a house party, you should choose an outfit that is casual and presentable at the same time. For instance, you can wear a floral dress and pair it with a leather biker jacket and Chelsea boots. In addition, if you wanted to wear a bit glam look, you can wear a bodycon velvet midi dress and pair it with a trench coat and pointed-toe heels to complement the entire look. Moreover, for a more relaxed look, you can try wearing a sweater top with a pair of jeans and a suitable pair of footwear.
Q: What color should I wear on New Year's Eve?
Ans: However, there is no rule that defines what color to wear on New years eve but green is considered the best color to wear on new year's eve, as it symbolizes a new beginning and abundance. On the other hand, in many American cultures, blue is referred to as a color of hope and good health, making it another good color for new year's eve parties. In addition, you can also try wearing shades of white, it not only looks trendy and classy but also believes to bring serenity and calm into one's life.