How to Style Knee-Length Dresses: Knee-length dresses are considered universally flattering. All thanks to their length falling in the middle of the spectrum, they offer a world of styling. Whether it is your graduation ceremony, prom, a beach visit, or your friend's nuptials– the midi length is the safest option to rock on any occasion.
The versatility of this hemline does not just end there. Women of every age bracket are bound to have at least one knee-length dress in the closet. What is even more fascinating about the length is that everyone can put a personal spin on it, given the weather situation. Now you do not have to wait for summers to roll out or winters to go away before manifesting your liking for knee-lengths.
Outfits To Wear With Knee-Length Dresses
Getting your hands on the right outfit is one thing and rocking it another. Suppose you have got your perfect dress or have been contemplating buying one. In that case, you sure need to keep some key features in mind, and following valuable suggestions will help you big time.
Tips For Styling Midi Dresses
Footwear: Like the stars to a night, footwear is to a dress. Do not overlook what is going on your feet while styling a mid-length piece. While everything from sneakers to heels can go with mid-lengths, opting for a suitable one can change the style game by 180 degrees.
Accessories are no longer considered extra. Your bag choice or trinkets in your arms or ears will accentuate your persona and make the heads turn around you.
Hair is considered a woman's crown, so a perfect hairstyle is bound to elevate your knee-length dress shirt, frock, or cocktail.
Fabric choice is essential to consider suiting not only the occasion but your body shape as well. While a cotton frock looks cute for a beach visit, a silk dress is perfect for late-night parties. You should spend a few more minutes selecting the suitable fabric before purchasing it.
Another critical factor you would like to consider is the color of your dress. Your summer A-liner will always look best in lighter colors, while your winter knit dress will stand out in a nude or brown pallet. Midi length is not really for color blocking, but pastels are hot in trend and can work for any dress length.
Layering, if done right, can spice up any outfit immensely. If you add a jacket or scarf to your midi, you must find the right way to do it.
18 – Nude Dress With White Knitted Sweater
You sure have one or two flowy dresses in your closet that you don't often consider wearing, thinking they are boring and basic. Well, it's time to pull them out and put a chic spin on them with layers.
Your long sleeve cardigans can go well with your flare dress in striking colors. Whether a plain-on tiered or printed baby doll dress, a jacket or a blazer would always heighten the look. The knit sweater waiting in your closet for winter can spruce your X-line dress in spring when mixed in the right hues—tag along a leather crossbody or kelly to finish strong.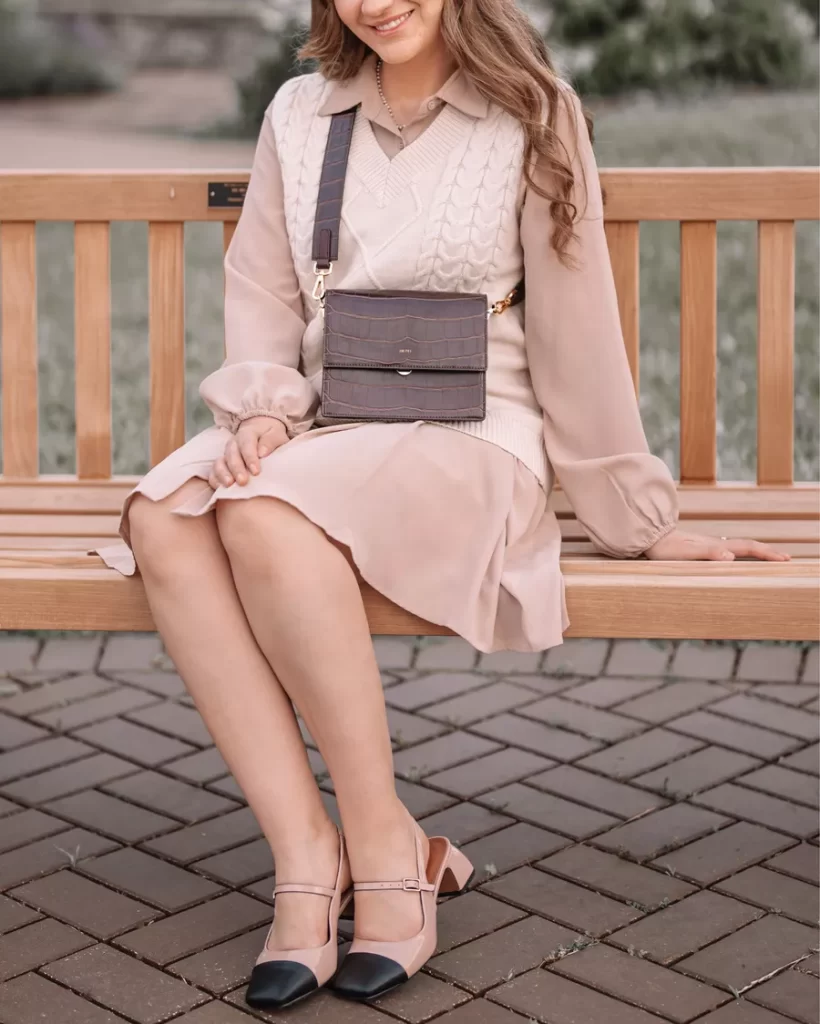 17 – Knee-Length Patterned Bodycon And Beach Waves
When we don't feel good about our bodies, a bodycon can cheer us up with how it accentuates our curves. For summer, we recommend you opt for florals and prints while buying the next halter neck hugging dress.
Always finish strong by adding beach waves to your locks and letting them loose on the shoulder since they accentuate a fitted dress and give you a high-maintenance chic look with little effort. A perfect handbag in your palms will add a bit of extra effect.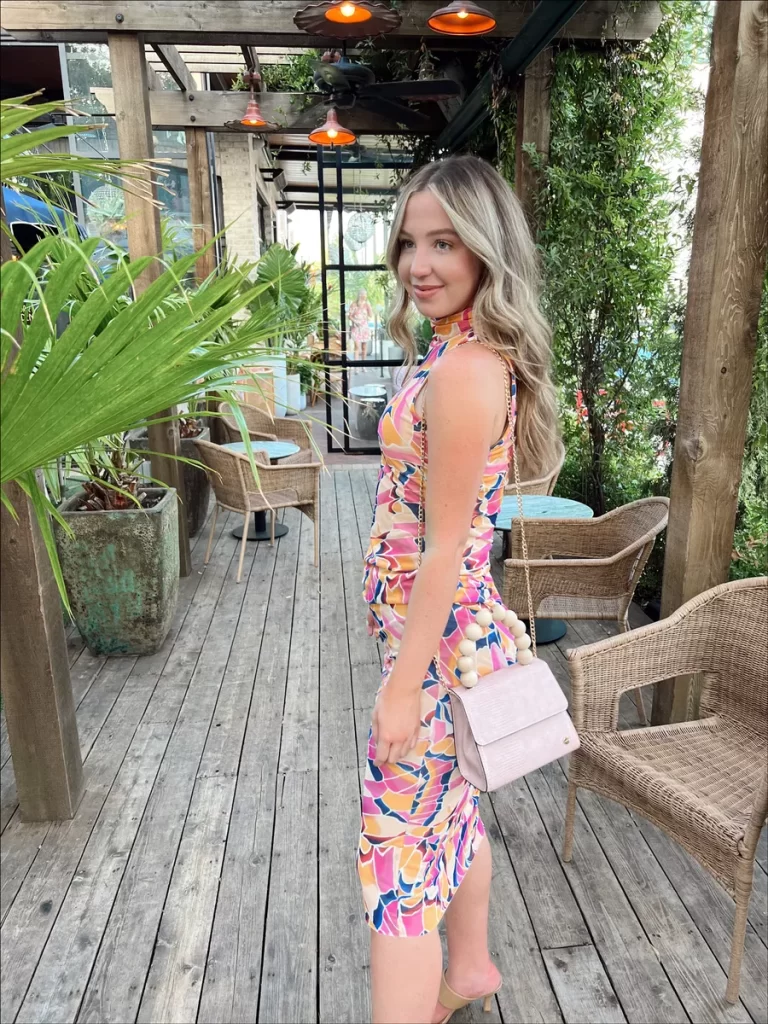 16 – Black A-line Dress With Matching Heels
The high-low flare dress in black makes a great impression on any occasion. You can always add the extra touch of your personality by tieing your hair up in a bun or by accessorizing it with some elegant statement pieces to elevate the look.
15 – Waistcoat Coupled With Blazer & Satin Skirt
Style is always in the right balance of colors, fabric, and garments. Silk is usually considered for night-out parties or formal events, but that is not always true. Marry your midi silk skirt with the right waistcoat in a softer fabric and a boxy blazer, and rock the look in the office or restaurant. Finish the look off with pearly or beaded studs and strappy sandals.
14 – Knee-Length Denim Skirt With New Sweater
Among the most versatile pieces in your wardrobe is the midi A-line denim skirt. You can pair it with your shell top, crop top, graphic tee, striped tee, or turtle-neck outfit. Dress it up with leggings, and a trench coat for the chilly winter days, and down with just sneakers and sandals to stay comfy in the summertime.
13- Knee-Length Jumper With Bright Suedes
Add variations to your wardrobe by adding a midi jumper. This piece always makes a convincing case for on-the-go moments. In addition to that, a variety of your shirts can work beneath it. Make sure the tones of your shirt are always in contrast with the shade of your jumper to uplift the whole effect.
You can spice it up with colored footwear like suede or flats. Further, toughen up the look with the right bag according to the scenario and a perfect hairstyle.
12 – All Black Two Piece Set & Straw Hat For Beach Days
On family beach trips, you deserve to look cool with ease. If swimsuits and bikinis are a no-no for you, skirts are there to your rescue. You can maintain a modest yet sophisticated look on a beachside picnic with swim skirts and a straw hat. Add a stylish tote and contrasting flats to complete the look.
11 – Copper Midi Dress With White Braided Heels
We all know cocktail dresses are an important wardrobe staple, but the real challenge for us is to make them look alluring and exciting. To stand out among your friends at the next party, pick your next cocktail in metallics rather than opting for cliche black and white.
Hold a clutch in neutral white or cream tones and adorn your lobes and wrists with some chunky statement pieces to make an impact. Finish off the look with rhinestone braided sandals to be the star of your party.
10 – Maroon Dress With Black Ankle Strap Heels
Wrap dresses are unanimously favorite among ladies. An interesting spin can be put on a wrap suit with tailoring details. You can achieve your next best summertime look with the color maroon paired with a black ankle strap heel.
The addition of low-heel pointed sandals, a black shoulder bag, and sunnies uplifts this look immensely and portray this look as high-street.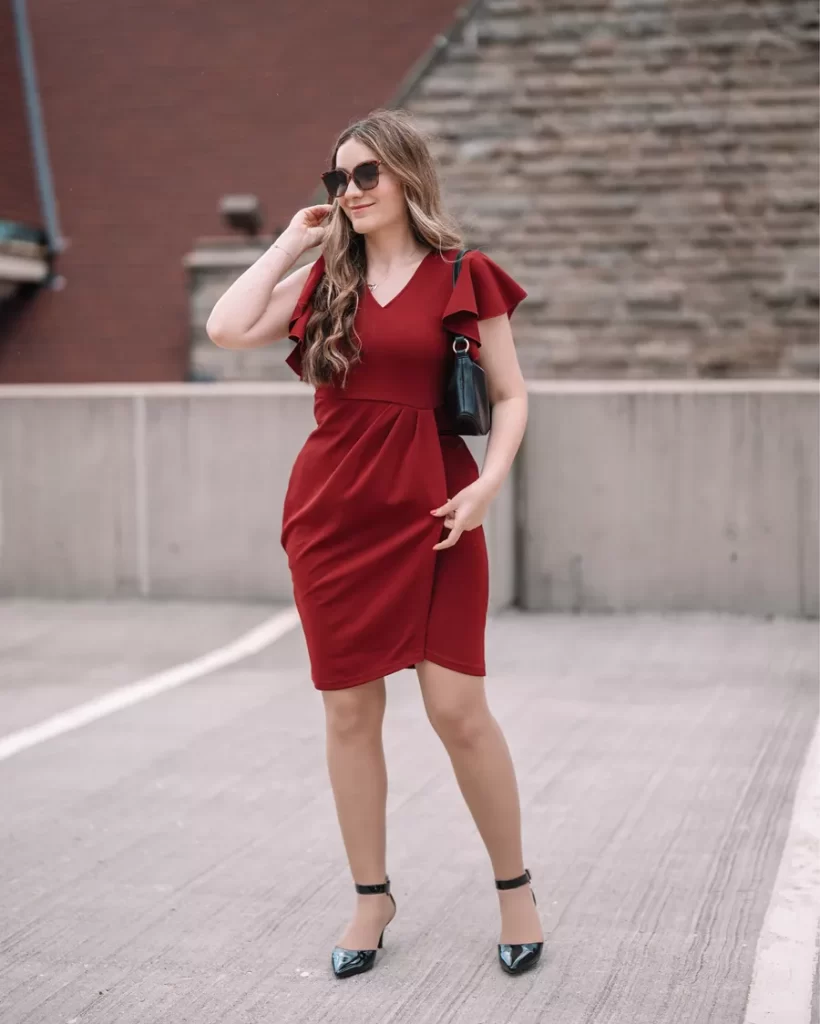 9 – White Tank Top With Black Wrap Skirt
Sometimes, you need to think creatively to make a single clothing article work in multiple ways. When worn with a dark-hued top like chocolate brown, a black wrap skirt gives a sudden look of warmth and, with ankle boots, becomes a perfect ensemble for winter days.
You can rock the same black wrap skirt for breezy days of summer by pairing it with a plain white shirt or your swimsuit. The monochrome ensemble is sure to stand out. Choose metallic flats and one or two delicate jewelry pieces to achieve a more balanced and put-together look.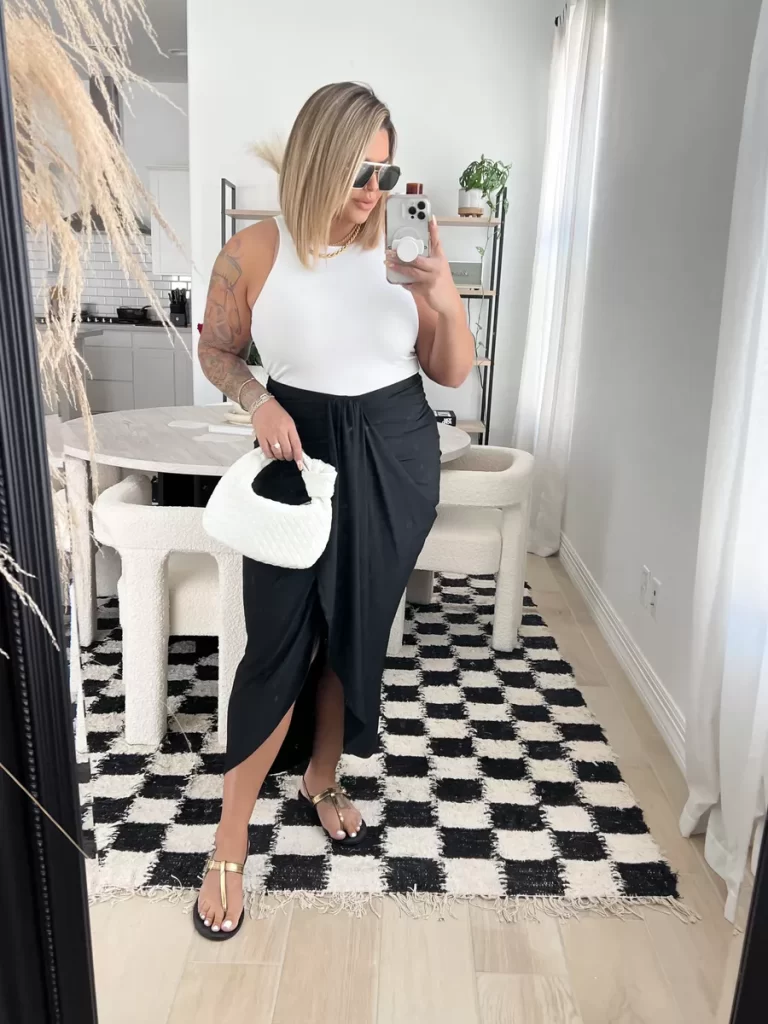 8 – Halter Neck Dress With Boohoo Print
A midi halter neck dress in light fabric like chiffon is a timeless fail-proof addition to your closet. It offers a wide room for styling. You can either let it flow like a river on your body or tie it up at the waist to accentuate your curves.
Create an edge to your look either by adding a crossbody or shoulder bag. You don't have to worry much about what to put on your feet since, from flats to sandals to boots and heels, anything will work.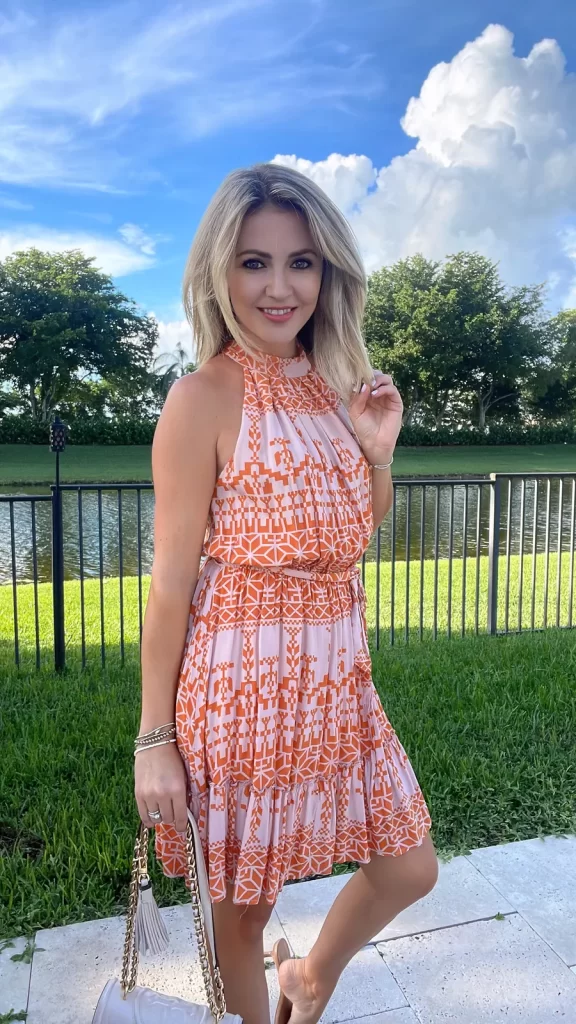 7 – Asymmetrical Black Dress With Clear Heels
If you are a minimalist who likes old-school black cocktails but at the same time wants to turn this classic into a modern fit, go for the unconventional details. The look we have shared below can give you massive inspiration for achieving a refined look while keeping things minimal.
Adorn it further by adding a bit of metallic gold to your ears and neck. Your outfit can be improved by adding transparent heels, and you can be the event's star without wearing anything that is too out there.
6 – Peach Denim Dress With A Pink Crossbody Bag
A key piece for knee-length dresses is a shirt dress outfit. It's roomy, comfy, easy-breezy, and could be your go-to piece to run errands or a casual day out with family or friends.
A shirt dress, being a single piece in a single shade, can be spruced up by adding some colorful accessories. If you don't know how to style a crossbody bag, then it's about time you learn because this look is incomplete without that bag.
5 – Patterned Cardigan With Green Skirt and Knee High Boots
Plain always seems like a safe option. However, getting out of your comfort zone is vital to improve your style game. Your next purchase should be a patterned cardigan to match your skirt.
The key to achieving this look is to find the right balance between the pattern you are picking and the color of your bottoms. Seal the attire by adding knee-high boots or downplay with ankle boots. I recommend not adding any chunky jewelry pieces to seem more refined and elevated.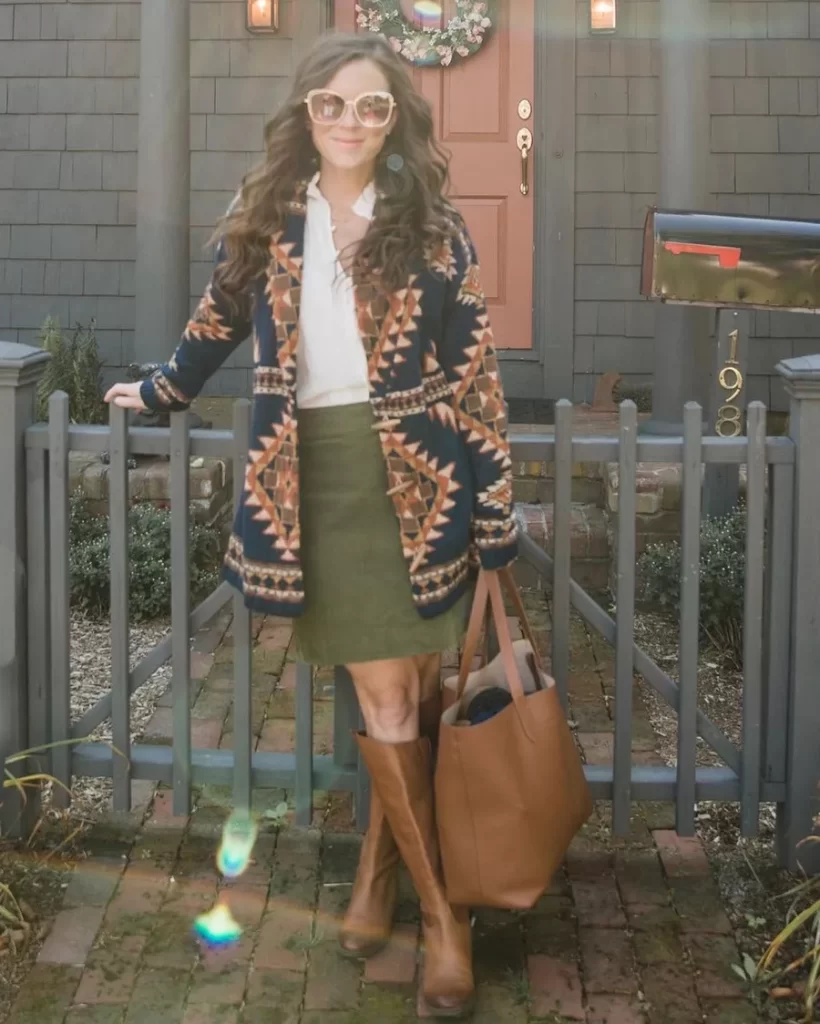 4 – Ribbed Dress And Block Heels
We have seen countless people sporting a knit bodycon. To stand out from the crowd, you need a knit wrap dress to enjoy the flow while staying warm and cozy.
This ensemble comes out as very high-street and feminine. Add a lovely structured handbag in striking shades to rock the look.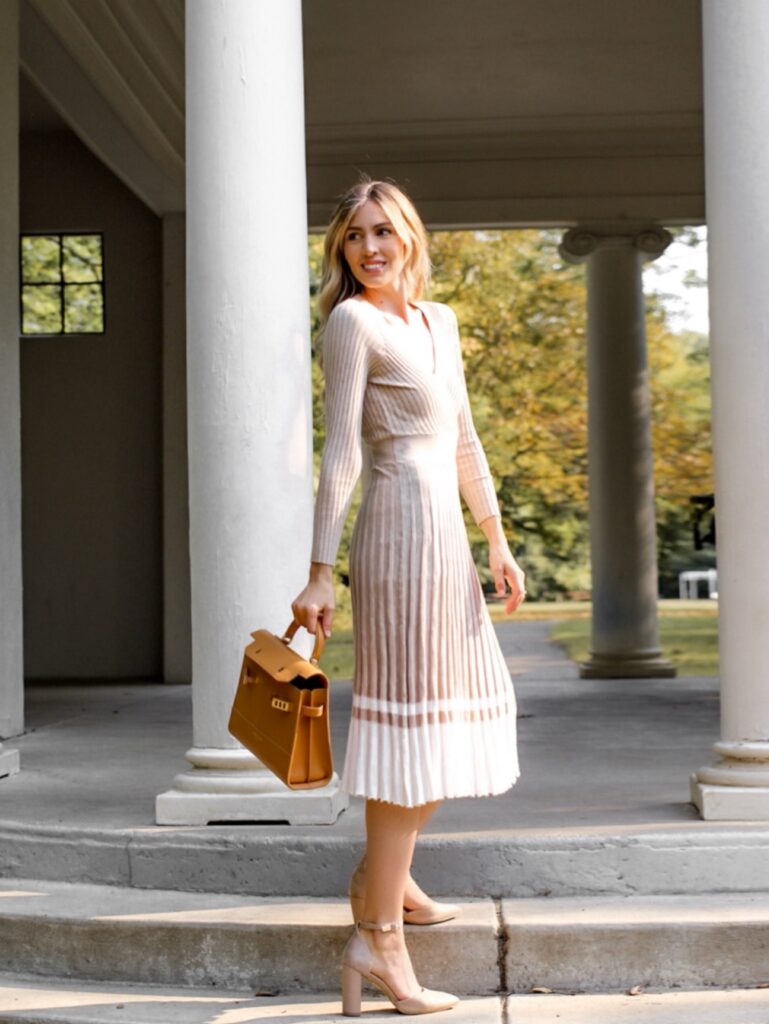 3 – Striped Dress With Brown Matching Loafers
You can never go wrong with stripes. This pattern adds an alluring charm and elegance to any attire. Your next midi dress in chunky lines with mules or flats in dark contrasting hues is sure to make people turn their heads.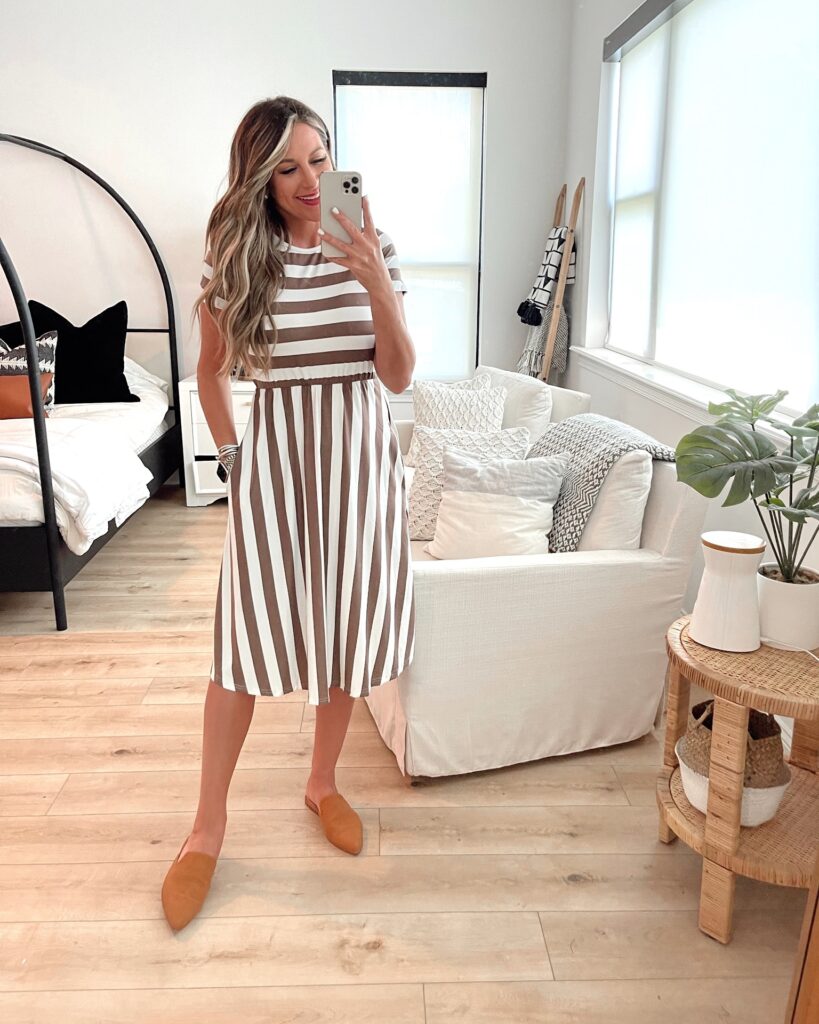 2 – Rust Off Shoulder Ruched Knee-Length Dress
In our era, we juggle and hustle all the time. We want to look our best by putting in minimum effort, and that's where a ruched dress comes in.
The asymmetric design and the vibrant color of a satin ruched dress will help you look gorgeous and dress up in an effortless way. To strengthen the attire, team up with espadrilles, dainty chains, and studs.
1 – Pastel Pink Blazer With Light Blue Pleated Skirt
The last look here is a personal favorite. Recently we have witnessed the trend for pretty things and pastels and how effortlessly they turn every outfit into a chic one. Swap your boring grey blazer with a powder pink or powder blue one, and pick a skirt in a color that is in a contrasting pastel.
A white top always plays the role of the balancing factor around colors. Mix and match the elegant accessories in silver and finish the look strong with white pointed slingbacks to achieve a corporate yet cool style.
Frequently Asked Questions
Q. What are some flattering Knee-length types and silhouettes?
Ans. There is a massive range of midi dresses that anyone can rock. Most feminine outfits are A-line, X-line, flare, high-waist, and baby doll dresses. Additionally, midi skirt outfits also look very striking when paired with the right top and shoes. Knit-shirt dresses and body cons can be your winter wardrobe staples.
Q. How do you style plain knee-length dresses?
Ans. Layering, ornaments, bag choice, and the hairstyle you choose can enhance any plain dress. Choose any jacket, cardigan, or coat in complementary colors and make your necklaces or bracelets statement pieces.
Q. What are the best knee-length dresses for wedding guests?
Ans. Cocktails, body cons, and flare dresses make some of the best ensembles for a wedding guest. Your jewelry pieces and hairstyle can make or break your persona as a wedding attendee. Fall wedding guest dress outfits are actually easier to create because weddings are super common in that season and there are loads of ideas to choose from!