How To Style Fit And Flare Dresses – Dress outfits are gorgeous, but you can make them more stylish and attractive by experimenting with new trendy fashion. You can make a statement by styling your simple dress outfit in creative and unique ways. There are many different midi and maxi dresses available; one of them is the fit and flare dress. These dresses have a fitted bodice and a flare-like skirt on the bottom. The great news is that it is suitable for all body types. These dresses started in the 90's never stroke to lose their trend till now in the 20th century. In short, this dress style is here to stay forever.
These dresses look great on women of all ages, and any woman may wear them and look stunning. They are available in different designs and even in a single hue. To make your dress more appealing, you may mix it with various accessories. You may wear your outfit both during winter and summer. In the winter, combine with a jacket and tights, while in the summer, wear a sleeveless dress with a fashionable hat for a beach look. You may also accessorize your attire with a waist belt to make it seem even more stunning.
Outfits To Wear With Fit & Flare Dresses
If you don't already have a fit and flare dress in your collection, get one now because this article will make you fall in love with these super gorgeous dresses. In this article, I've gathered some stunning ideas for the fit and flare dresses that you can try on. But, before we get into ideas for how to style them, there are a few styling tips you should know about these dresses.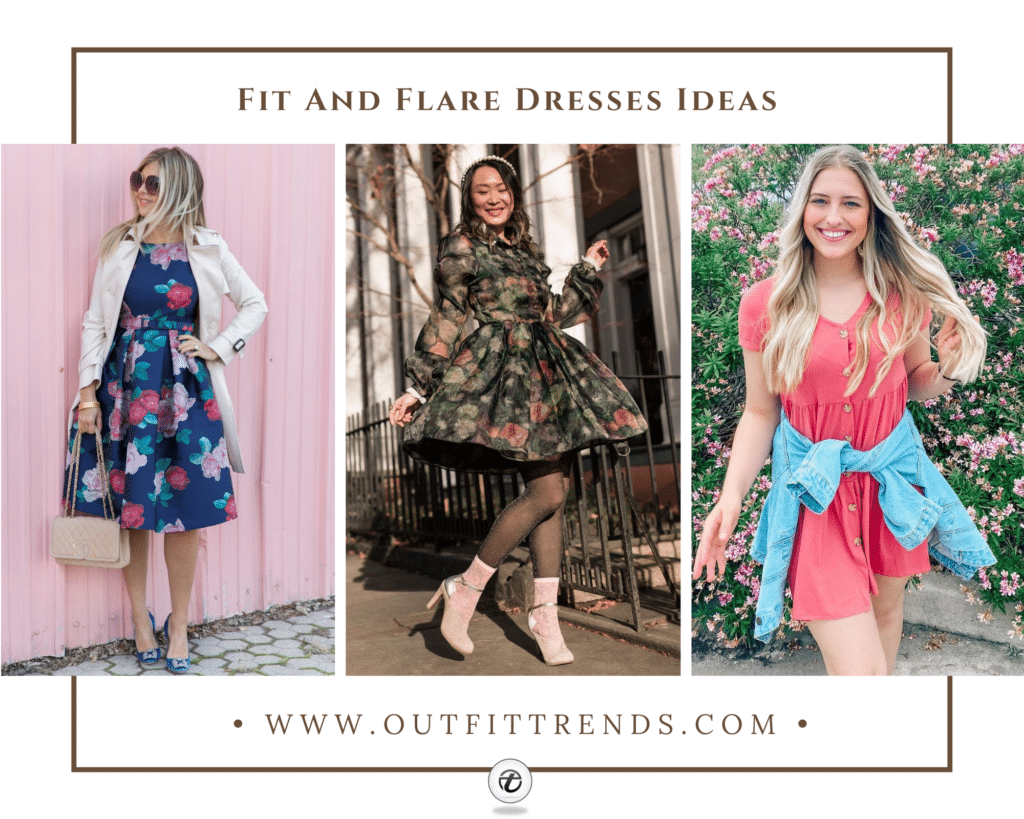 Tips For Styling Curvy Dresses
In the winter, pair with a jacket or a long coat, and for footwear, wear it with knee-high or mid-calf boots.

You can wear fit and flare dresses to the office and can create a formal look by dressing it up with a blazer or trench coat.
If your dress is loose, you may add a waist belt over your dress to get the proper fit.
Experiment with colour by wearing dresses in various hues and patterns like white floral dresses.
Wear a stunning dress with matching heels and jewelry to make yourself look elegant for a festive look.
20 – Elegant Blue-Green Dress With A Clutch Purse And Black Heels
Instead of layering an item with your dress, accessorize it with some chic accessories to make your outfit stand out. Here's the first idea for styling fit and flare dresses. Accessorize your lovely gown with a stunning clutch purse for a festive look and handbags for casual wear. To complete this look, you can wear heeled sandals in the same colour as the bag. Remember that if you're wearing dark colors, there's no need to add more colour combinations to your clothing because it will seem too heavy. If you're wearing a hue like this green, you may create contrast with black purses and shoes. This look is appropriate for a party or a wedding.
19 – Beige Linen Dress With Sneakers Perfect For Summer
As previously said, you may wear these dresses in any season. Wear a linen dress in a light hue for summer, such as beige, sky blue, mint green, or other lighter colors, as these colors are great for summer. You may wear your dress with sneakers for comfort when heading out or with sandals for a more formal look. Women can acquire these styles for vacations and for going out to meet friends. You may accessorize this outfit with a beautiful crossbody purse.
18 – Peach Pink Mini Dress With A Denim Jacket
This lovely peach front button dress paired with a denim blazer looks great. You may get the same look by wearing your dress with a denim jacket. If it's not too cold outside, tie your jacket around your waist. It will look great and might be comfy for you. Wear matching or white shoes with the outfit and accessorize with a wristwatch and a backpack purse.
17 – Stars Printed Black Dress With Knee High Sequin Boots
Everybody's favourite colour is black, and you may get a full-black appearance with your gorgeous black dress. Wear a lovely fit and flare dress like the one in the picture with knee-high suede boots. These boots will look great with the outfit and cover your legs if you want to. Also, you may use black heeled sandals instead of knee-high boots if you don't want to wear them. Complement the look with a matching black shoulder bag. You may get this style with any similar dress you own and contrast the accessories based on the colour of your dress.
16 – Retro Style Pockets Light Blue Dress With A Cute bow
Here's an example of how you can wear a dress in a retro style. Women in the 1990s used to embellish even their most basic dresses with creative accessories to make them appear more attractive. You may also try this by accessorizing your attire with some eye-catching items to make them stand out. To get the 90s look, wear a fit and flare frock dress with a contrasting bow around your neck. Use a contrasting purse with your attire, and for footwear, you can choose ankle boots or even comfy sneakers.
15 – Black Neck Embroidered Dress With Puffy Sleeves Shirt And Flare Jeans
These body-shape dresses can also be paired up with pants. Wear your gown with denim flare pants. If your dress is sleeveless, you can layer a plain full-sleeved shirt underneath your flared frock. Add matching sandals and a beautiful bag with the outfit. If you're going out during the day, put on your sunglasses. You may style your hair in a bun or center-parted open hairstyle with this look.
14 – Knotted Tee Shirt Over A Peach Plain Dress
You can put a tee shirt over your single-color dress. Wear a plain dress in any colour with a contrasting t-shirt over it. Make sure to wear a patterned shirt so that you appear attractive. Make your attire more eye-catching by knotting the t-shirt from the front. Add some jewelry, such as a beautiful pendant and a matching bracelet, and you may also wear a watch. You can wear any flat sandals or matching heeled sandals with the dress.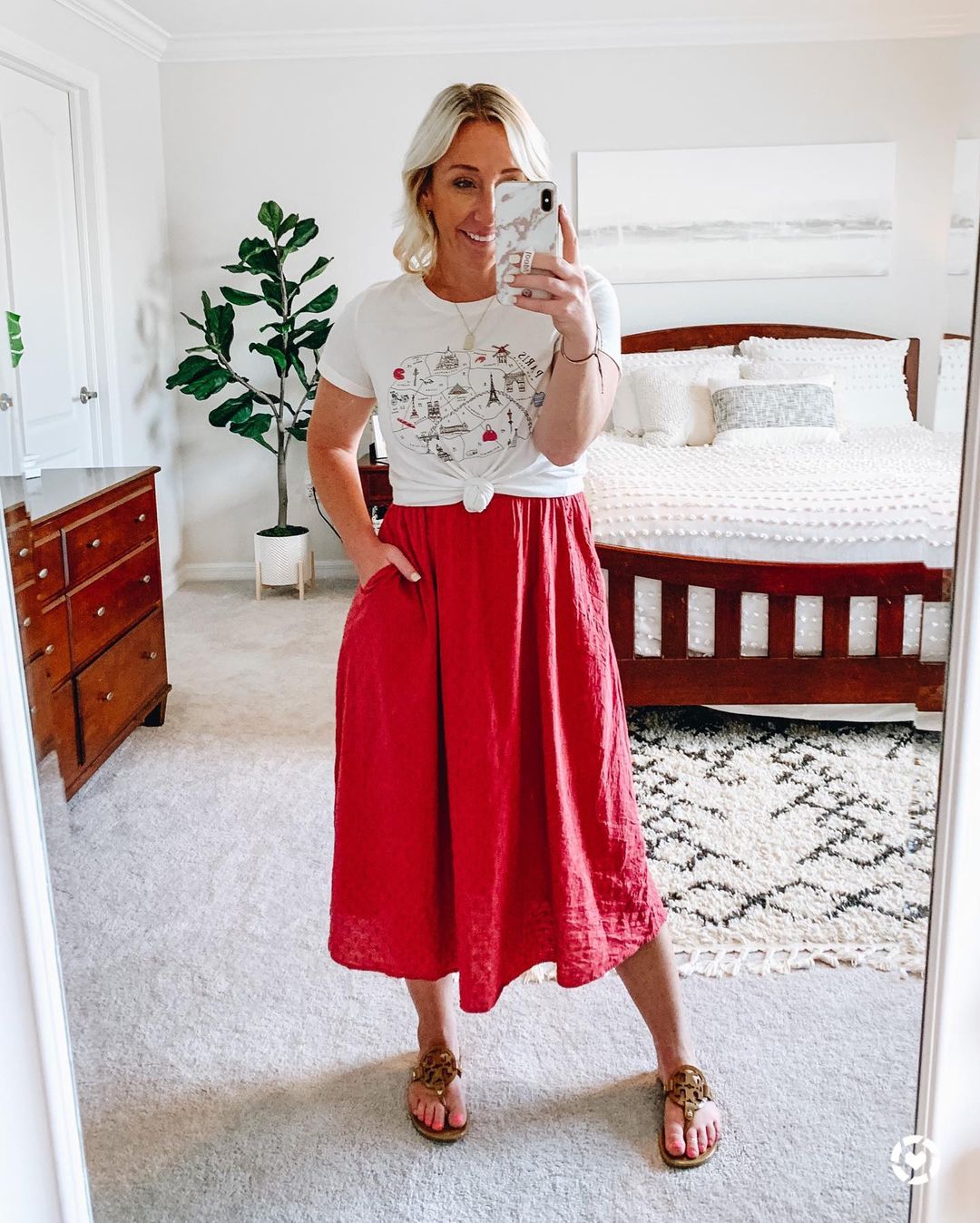 13 – Accessorize A Plain Red Dress With Waist Belt
I talked about wearing a shirt with a flare dress above, but if you don't want to wear a t-shirt or are going to a party, you may accessorize the same dress to make it elegant and trendy. Instead of wearing a shirt, add a fashionable waist belt in white around your waist, as white can go with any hue. Now, for footwear, you may wear the same flats, and instead of flat sandals, you can also wear matching heeled pumps, as they will look much better. You can do some modish hairstyling and carry a fashionable purse. You're all set to head to the party tonight.
12 – Pair A Floral Print Dress With Beige High Boots And Matching Hat
Here's the cutest dress attire that you may style to make it appear even more attractive. Get a printed fit and flare dress in your favourite hue; pink is the ideal option if you like girly looks. Wear a large hat and high boots that complement the outfit. If you're wearing a printed bright dress, choose a lighter colour for your cap and boots. You may also wear white sneakers with this outfit and look stunning.
11 – Sage Green Dress With Cute Matching Bag
Colors such as sage green are popular nowadays, and they are ideal for summer because they make you feel light and fresh. Wear your lovely pattern fit and flare dress with a nice purse in contrasting colors. To complete the appearance, pair your attire with lighter-colored sandals. Your summer outfit with a fit and flare dress is complete.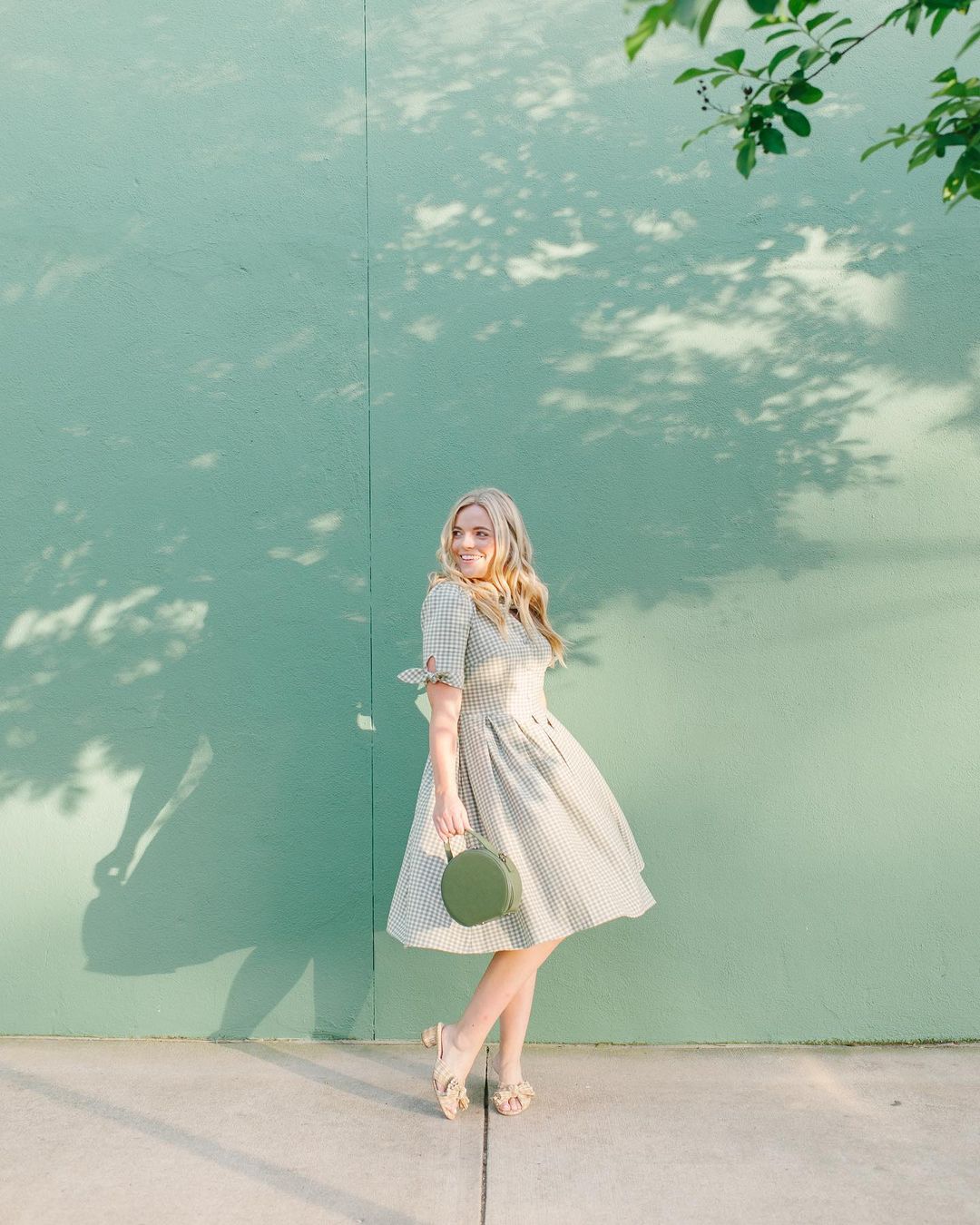 10 – Floral Printed Short Dress With A Subtle Grey Sweater
Some women prefer wearing sweaters over jackets or coats because they are light weighted. You may wear a light sweater instead of a jacket or overcoat with these outfits. Wear your favourite fit and flare dress with a matching sweater over it. Remember that if you are wearing a printed dress, don't wear a printed sweater over it; instead, style it with a plain sweater. When heading out for the day, complement your look with white lace-up sandals and sunglasses.
9 – Midi Printed Bright Yellow Dress With Stylish Jute Bag
Accessories are a vital aspect of your overall style as they enhance the appearance of your outfit. The beautiful yellow fit and flare dress combined with a lovely stylish jute handbag looks stunning. Every woman can try this look by wearing a maxi dress with a stylish purse. Pair your outfit with white sandals, and you are ready to go.
8 – Blue Floral Dress With A Beige Trench Coat & Matching Channel Purse
As earlier said, you may layer your dress with everything. The trench coats are also ideal for layering over a long dress. Wear a lovely floral patterned frock dress like this one and pair it with a beige trench coat. Carry a trendy handbag that complements the coat. Wear a pair of heeled heels that suit the gown. This appearance works well for both day and evening occasions.
7 – Wear A Black Floral Dress And Shimmer Leggings With Beige Heeled Boots
Women can also wear these dresses with net tights. We may wear any dress with matching leggings as it will cover your legs and will look elegant. Wear your favourite dress with matching shimmering tights. If you're wearing a black dress, go with shimmery black leggings; if you're wearing a light colour dress, go with the same shade of tights. In this photo, beige sandals are paired with pink socks; you may also wear the same colour socks or avoid socks altogether, as it would seem more beautiful without socks. Complete the appearance with some decent jewelry and hair accessories, and you're ready to go.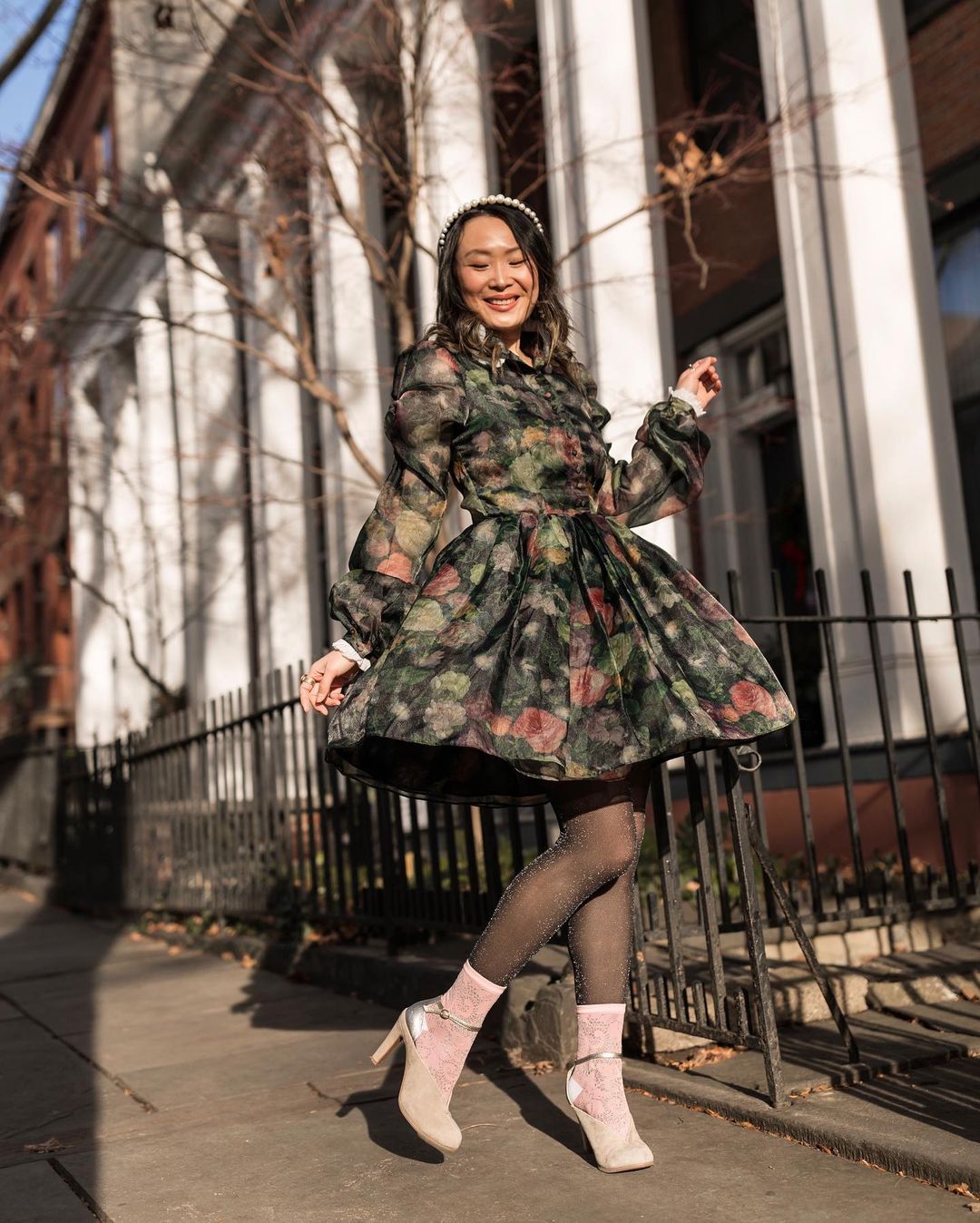 6 – Valentine's Day Look With Red Fit And Net Gown
There are those occasions when you want to appear stunning with the perfect dress and accessories. Valentines Day is one of these days, but you do not have to worry because I have a great outfit idea for women to try with the fit and flare gown. Wear your lovely red dress on your Valentines' Day date. Red is such a lively and beautiful hue that it does not need any other colour to make it seem more attractive. Pair the dress with black heeled sandals and make some lovely hairstyling, and your Valentine's Day look is ready.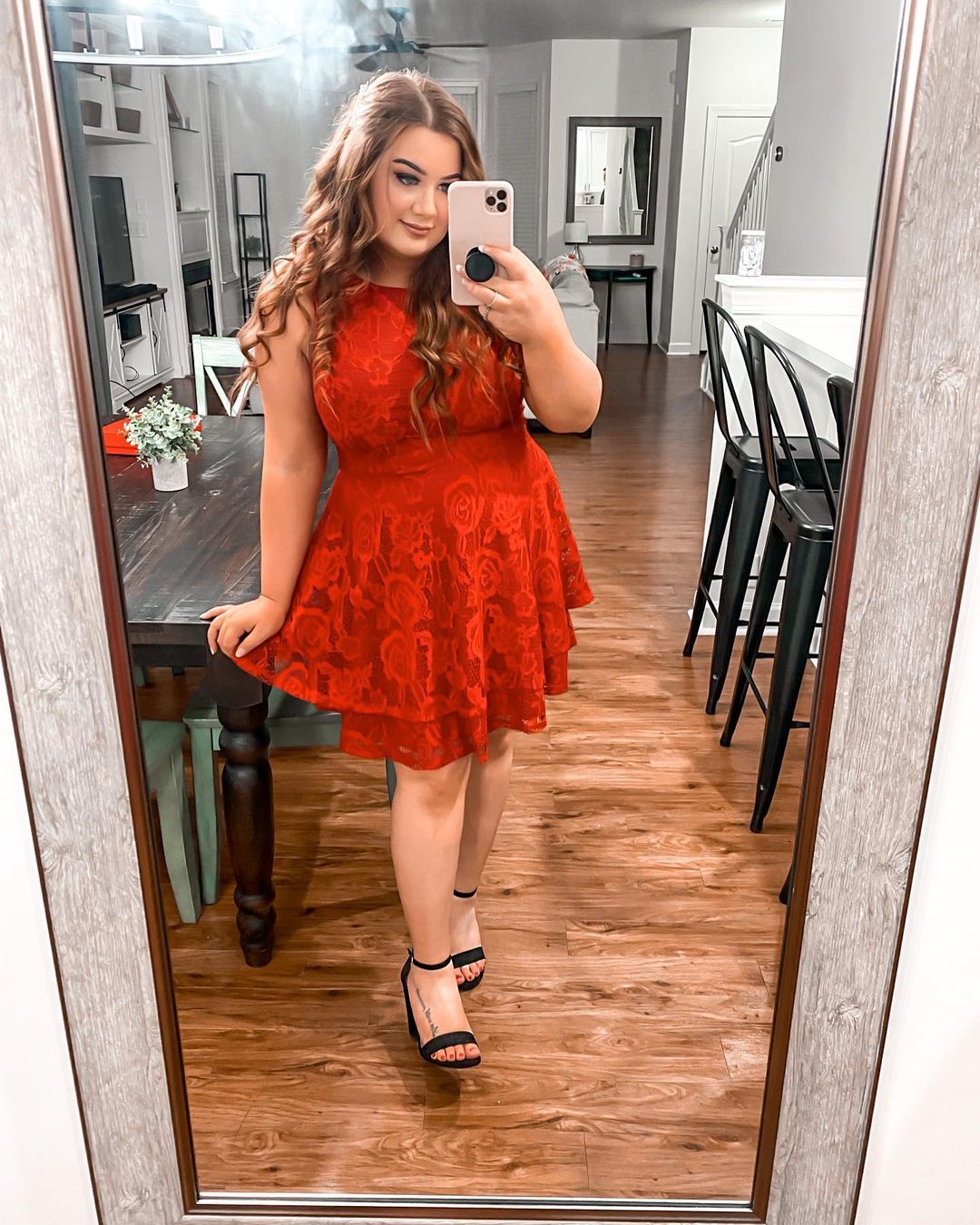 5 – Add A White Collar Shirt Over Plain Black Dress
Furthermore, the dresses can be used to create a professional look. Get a black simple midi dress and a white plain shirt. The contrast between white and black is always ideal. For this look, put the shirt underneath the gown or over the gown; both methods will look amazing. Keep in mind that if you wear the collared shirt over the dress, you should keep the buttons open and wear it as a blazer. Take a black and white shoulder bag that matches your outfit and finalize the look with black shoes. You may also pair this dress with black ankle boots.
4 – Pair A Pink Flare Dress With a Printed Black Jacket
Here's another dress for women to try on. We've already talked about using denim jackets or long coats with these dresses, but this time a printed leather bomber jacket combines with a stunning pink fit and flare dress. This outfit is ideal for teenage girls. Teenage females may create this look by wearing a lovely pink dress with a black bomber jacket over it. Match the dress with pink sandals and a pink bag and add some minimal jewellery to the ensemble, and your look is ready. This outfit is excellent for birthday celebrations, and you may also wear it to university or college by wearing this dress with black or pink shoes.
3 – All White Outfit With White Dress And Matching Shoes
White is the most lovely hue, and every white outfit looks beautiful. It's ok to use contrasting colors, but a single shade might also work well. Here's a look at how to wear a white dress. Ladies can wear a lovely white gown with complementing white heels. Carry a fashionable white clutch purse with your outfit to add more white to the ensemble.
2 – Lavender Gown With A Beige Bag And Sandals
Lavender is a colour that is now popular among women. Put on a lovely purple maxi gown and pair the outfit with a trendy beige purse and the same beige sandals. Furthermore, you may add a beaded headband to your hairstyle to make yourself appear more attractive. However, if it's hot outside, you can tie your hair in a high ponytail.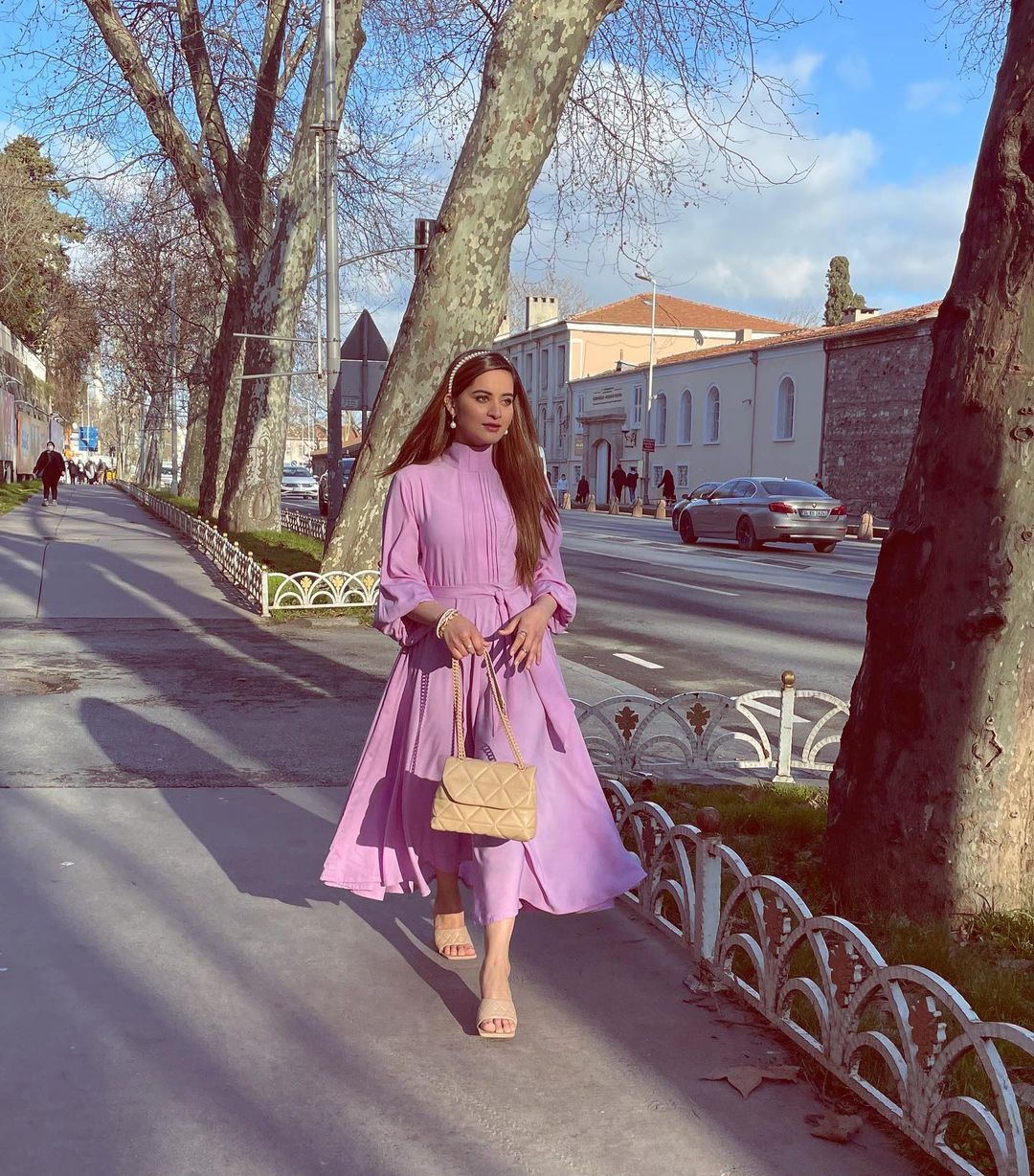 1 – Pleated Blue Fit And Flare Maxi Dress
Frequently Asked Questions
Q. Can you wear a belt with a fit and flare dress?
Ans. Using a waist belt with these dresses will help your yellow dress have a flawless look and gives you the perfect fit. You may wear a fancy belt with a plain dress to make it eye-catching. Furthermore, you can contrast matching belts with the dress.
Q. How do you style a fit and flare dress?
Ans. It can be styled in various chic ways, including adding jackets, sleeveless trench coats, and even denim jeans. We can get attractive formal and fancy looks with these gowns by pairing them with fashionable accessories such as trendy purses, waist belts, and jewelry.
Q. How tight should a fit and flare dress be?
Ans. This dress is fitted on top and flared like a skirt on the hips. Women should wear such dresses in perfect fitting since loose dresses often look unflattering.