Outfit Ideas with Printed Pants: Printed trousers offer a simple method to liven up any ensemble. Easily paired with an edgy blazer or a subtle blouse, this tendency is versatile to be a must have for everyone.
These are the best pick of designers and are the perfect solution to reveal your impeccable fashion while being fabulously and comfy on the ongoing trend. Most of the curvy or heavy bottom women find it a bit difficult to wear printed pants but until unless you have the courage to do anything for looking good, do not hesitate to take a risk. From street styles to runways, it seems like printed pants are the new It item, and the options are endless. So nobody can stop you from wearing the trendiest staple of the season.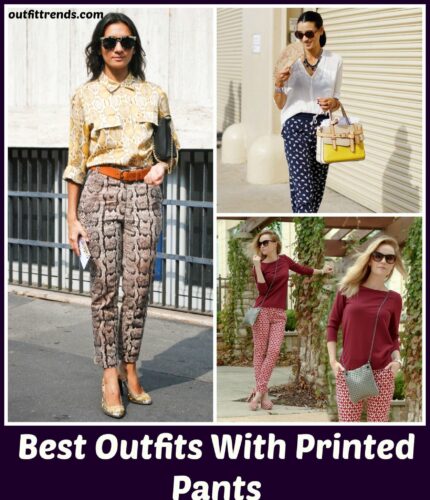 How to Wear Printed Pants Everywhere
While you go for shopping, there are pants available in florals and tribal patterns to simply sweet prints. So this means there is something for everyone. Now everyone is sure to find the perfect pair to match their unique personality. But we can help you out that which outfit can go with your body type.
Tips for Wearing Printed Pants
Here are some of the descriptions and tips to wear this trouser with style and look impeccably fashionable in your own way.
A fitted cut and beautiful design are sure to add the right mix of delicate and edgy to your overall look.
Tailored pants perfectly achieve an elegant style with their ladylike print and simple color pallet.
Add a little bohemian vibe to your look with these lovely pants. Simply create a classic look with a tucked-in structured shirt or show your free spirit by pairing these with a tunic.
The color is a very important ingredient, choosing the right color for your printed pants would help out greatly for those of you who are bottom heavy. Dark colors will give off a slimmer look.
You need to play with different types of prints. Here are a few things to consider when you're looking at an outfit. i.e. Size of Prints, fitting and color. Allover patterns or placement patterns should be judged rightly. Otherwise, they can ruin your look.
Geometric or Floral Print Outfits
Most of the time, you can figure out what kind of print will look good on you by determining if you look better in structured clothes or flowing clothes.
#17- The Chic Date Night Outfit
This is indeed an important event, so go for something flirty and sexy. A colorful floral printed pant with peach blouse looks very cute and attractive. Keep the makeup a bit light and let your hair swing.
For more date night outfit ideas, check out [highlight]How to dress up for winter date-30 cute winter date outfits[/highlight]
#16- Fashionable Outfits with Trendy Pants
You can be as crazy as you want but always find the best fit, with the right color and the print which can give a more composed look to your body. Never chose a print or color which does not compliment your personality.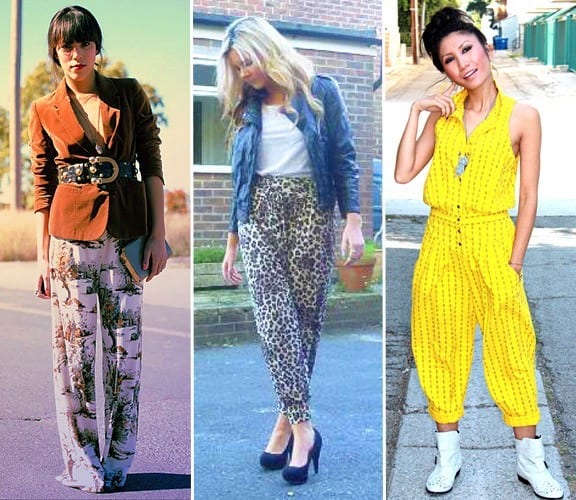 #15- How to Wear Floral Printed Pants in Spring
For a more feminine look, you must go for floral prints. They can look fabulous on any occasion just chose the right blouse. Do not ignore the size of the print. On plus size body, bigger flowers may look weird. So always keep the size of print in mind.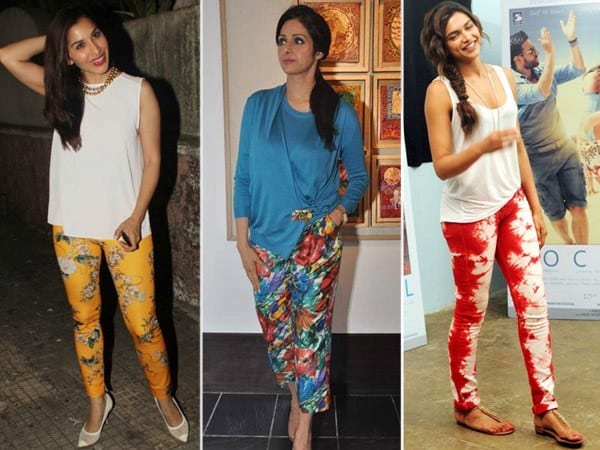 #14- Street Style for Young Girls
You can go as crazy as you want. Just choose the right pattern and a button-down crop top with some stylish accessories this can make you look amazing.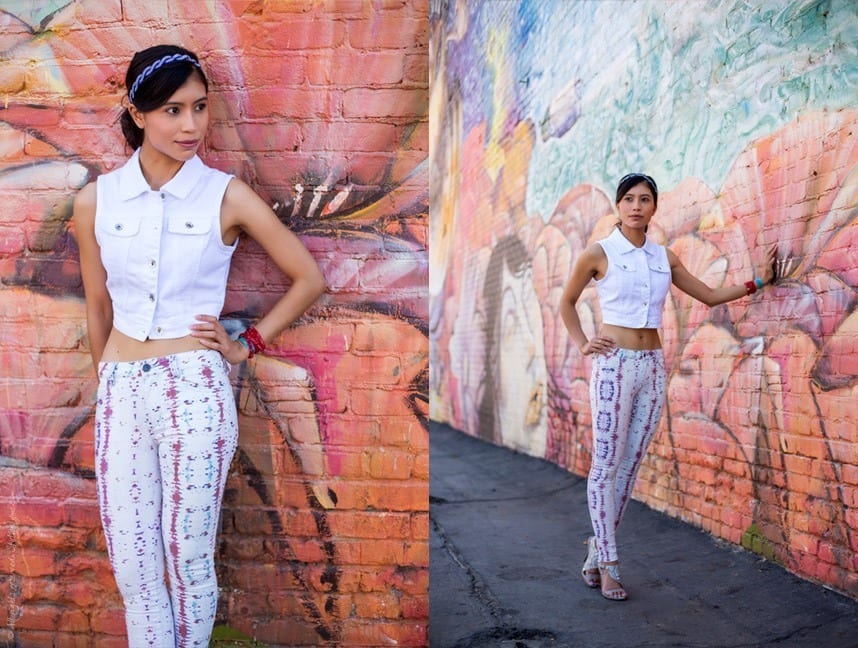 #13- Trendy Summer Outfit with Printed Pants
White looks angelic and soothing in summers. Put on your favorite color pants and a pop of some bright color shoes to look fashionable in summer evenings.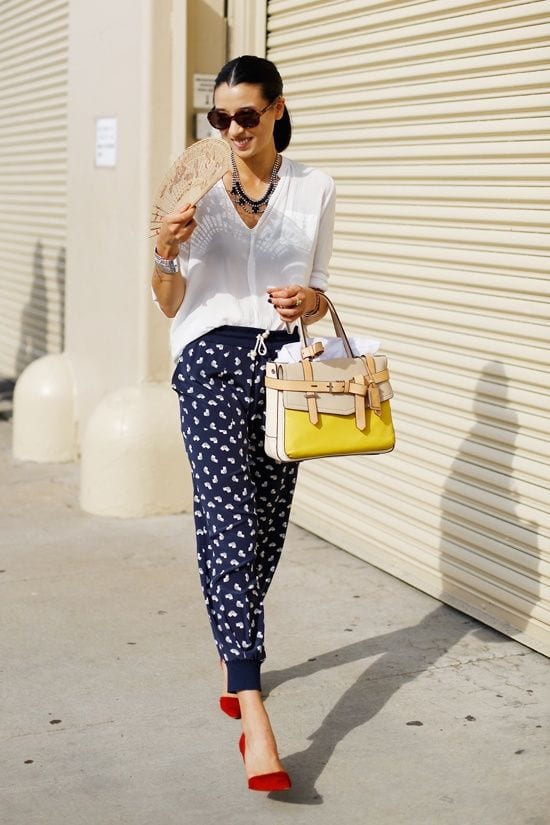 Source
#12- The Fashionista Style
Whether you are bottom heavy or not, printed pants are utterly wearable to you. So long as you choose the right color, the right patterns, and the right kind of pants, you will definitely look stylish in a pair of printed pants. If you want to play safe then go for slim lines on broader lines and outshine like a Diva.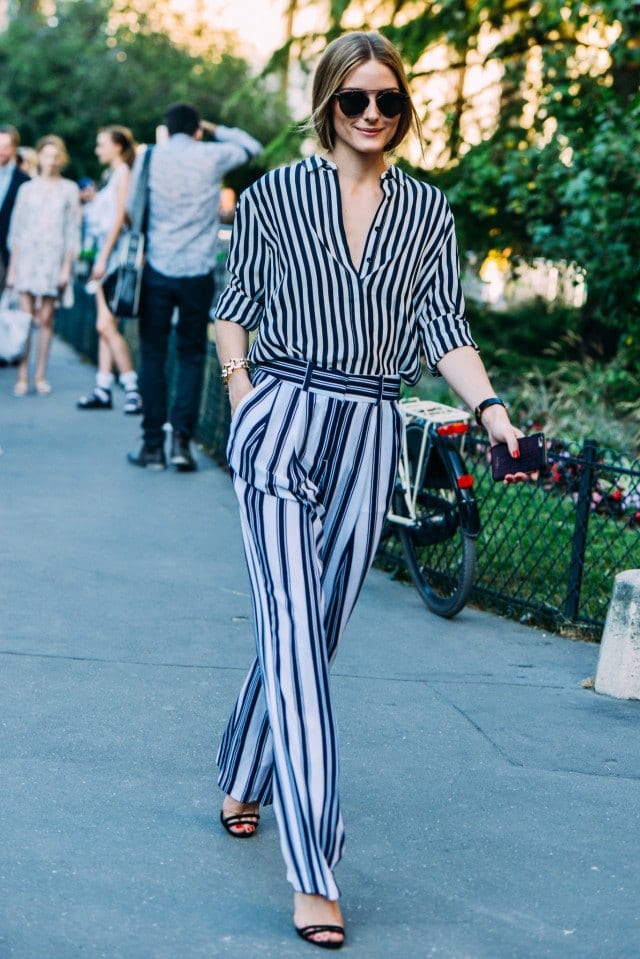 Source
#11- Flattering Casual Outfit For Women- So when you can have lots of choices with this staple, it can be used for casual dressing as well. Vertical slim lines on black color give a sleek look, so heavy bottom or curvy women can look good in such pants.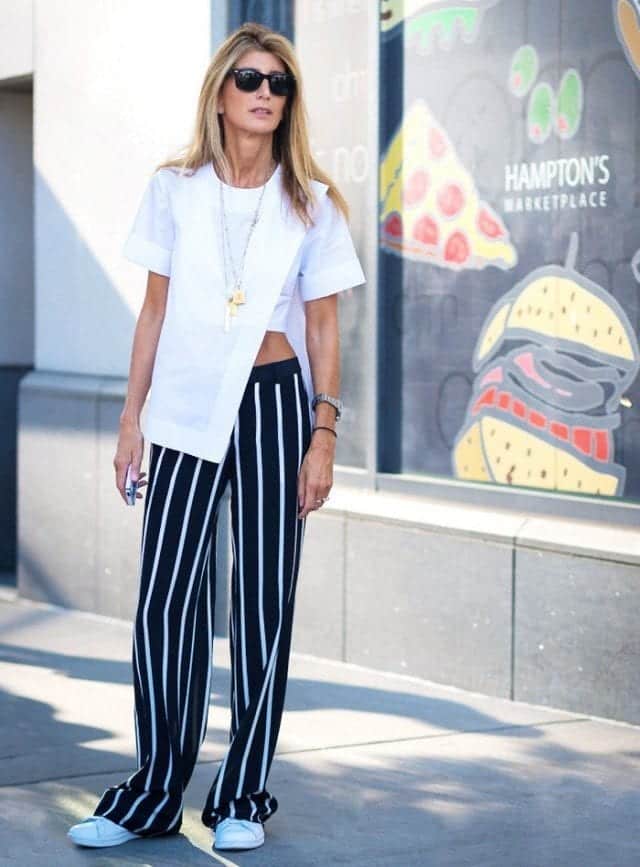 Source
#10- Chic Work Outfit
Indeed, the White and Black combo is a savior for all. The check box printed pant with a white sexy blouse is really an awesome combination for women with heavy bottoms. It keeps their figures in symmetry and adding some fashionable accessories outshine the look.
Source
Looking for more elegant work outfits? You must check out [highlight]17 cute work wear outfits for women for an elegant loo[/highlight]k
#9- Elegant Dress Idea With Tailored Printed Pant
Tailored pants are an easy and chic way to add a little menswear-inspiration to your look. You can make it a bit feminine and look classy by adding your own glam. Having pump heel or platforms with this dress can give you a formal look as well.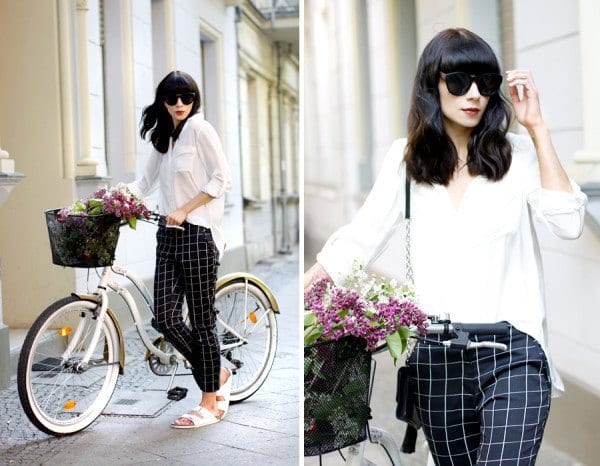 #8- The Cute College Girl Outfit
If you are going to try print pants, keep the rest of the look toned down.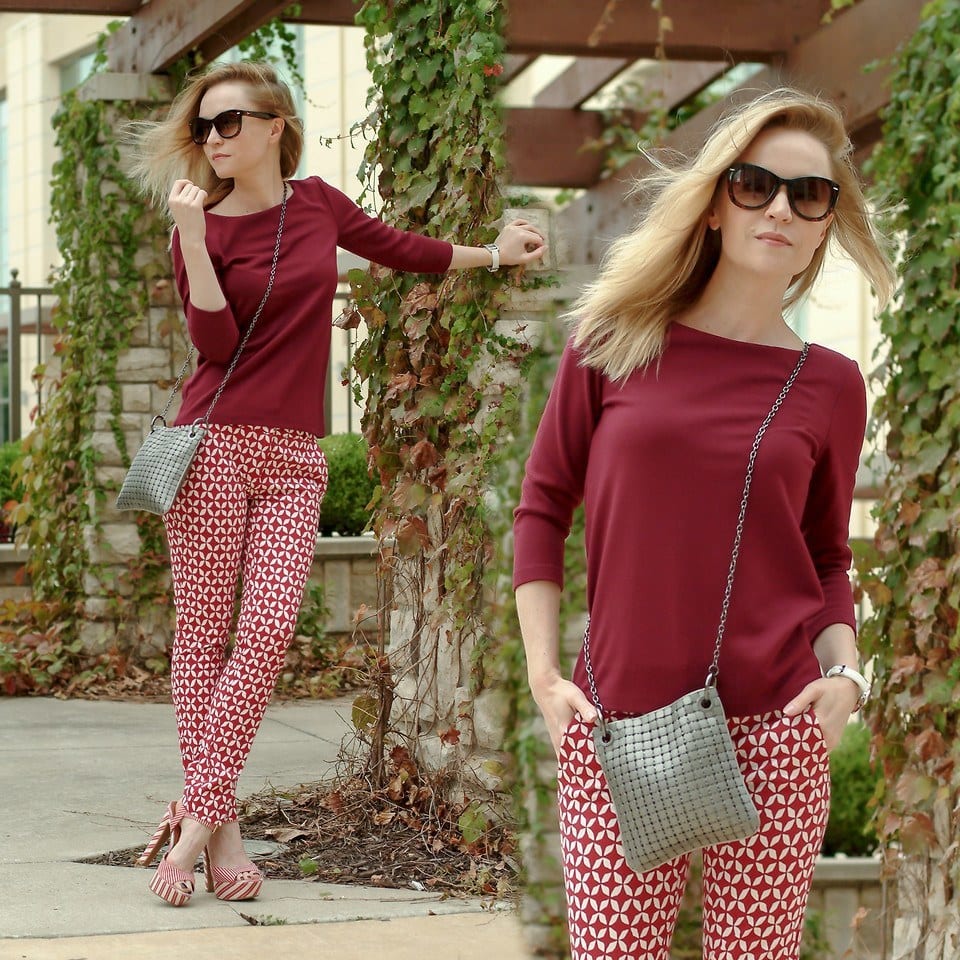 Source
#7- Wear Printed Pants as Semi Formal Outfit
Attractive layout and a fitted cut will definitely add the proper combination of edgy and delicate addition to your appearance. Couple these with a basic top for a daytime trip, then simply add a leather jacket for a night out fun.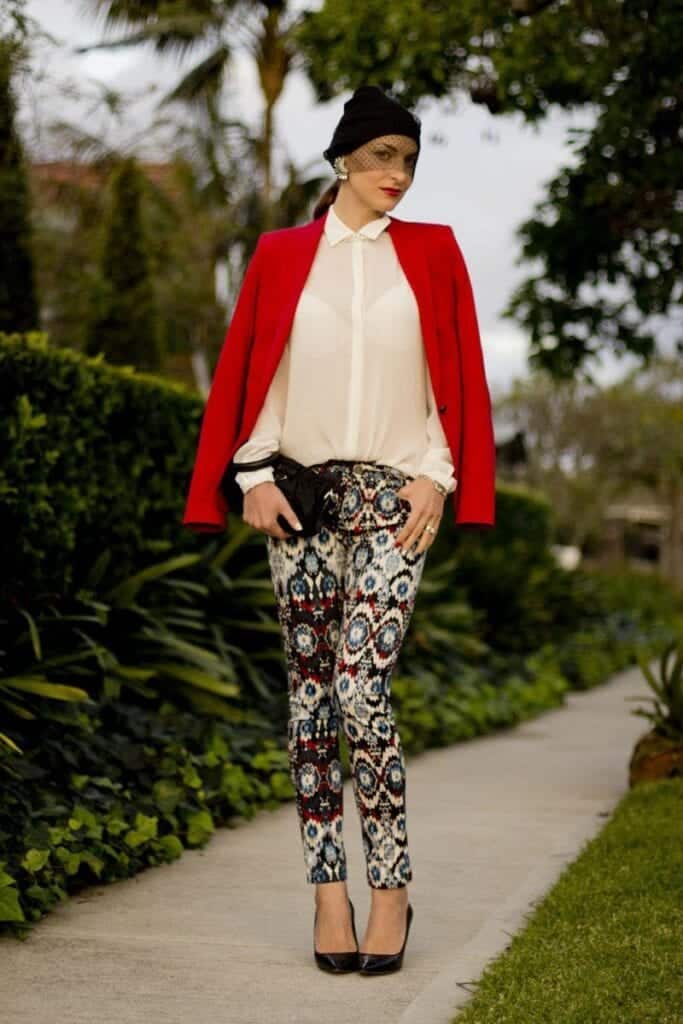 Source
#6- Casual Chic Printed Pants Outfit
Get an updated 'Mod Girl' look with these multicolored pants. Pair with sandals for a casual look or with your favorite platforms for a unique tribute to '70s style.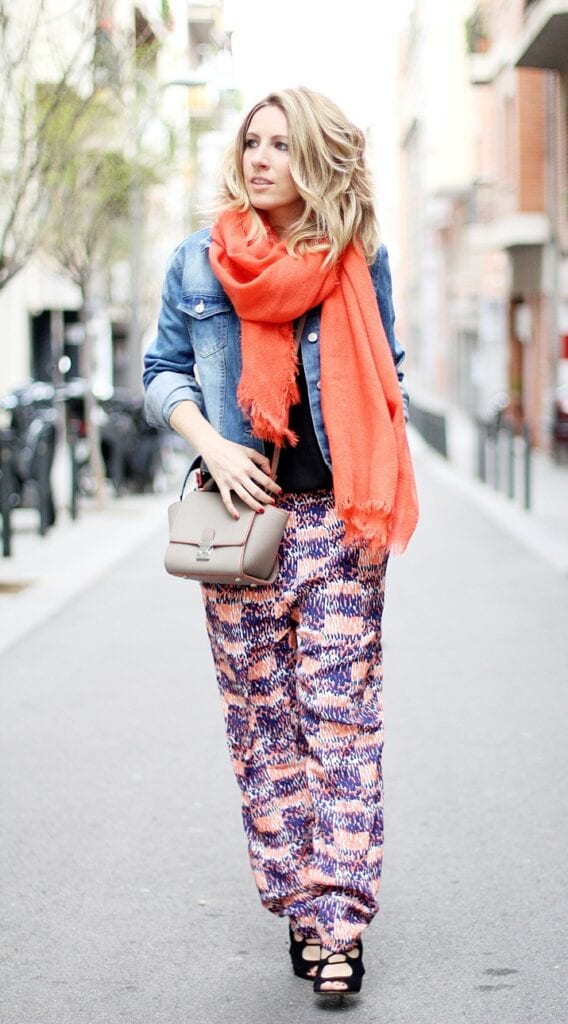 #5- Stylish Printed Patterned Harem Pant Street Style Outfit
This is one of the latest and chic outfits. Harem pants are very much popular nowadays, and from your college to casual hangouts, they are with you in every adventure.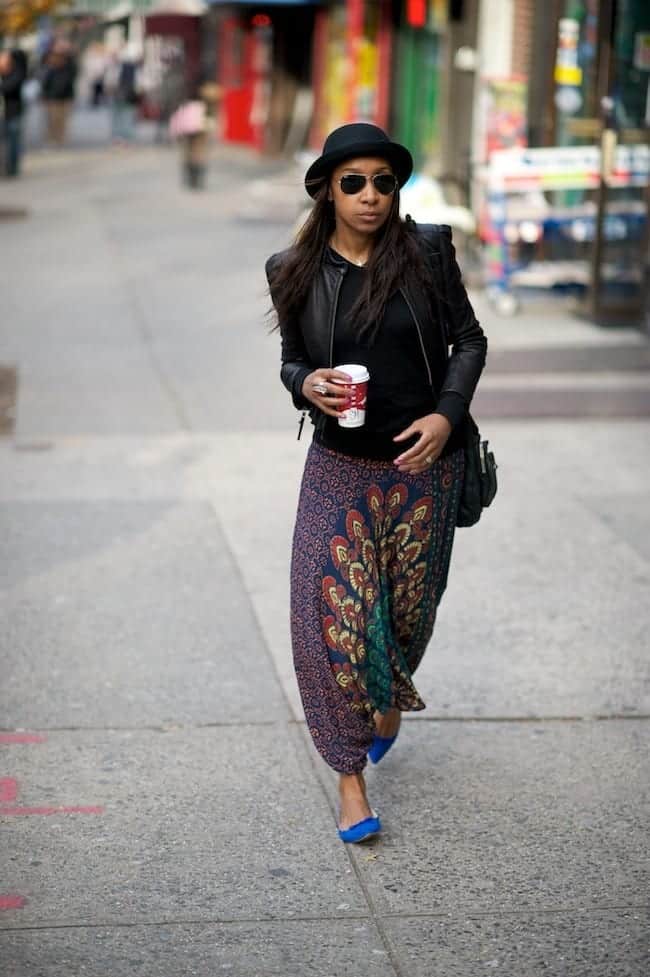 Like the outfit? You will love to learn about [highlight]what outfits to wear with harem pants? 14 ideal combinations[/highlight]
#4- Simple Fall Outfit for Women
Do not take any hassel and just pick your favorite blouse, long coat and enjoy the fall evenings. A black printed blouse with the self-print and bright colored pants are easy to carry for every body type.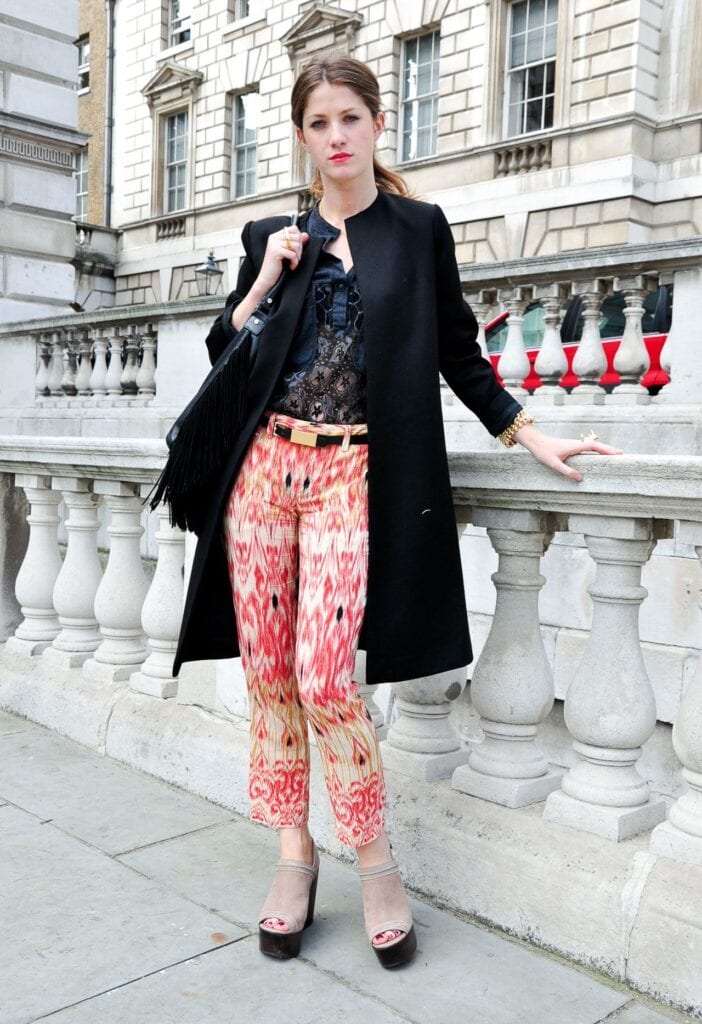 Source
#3- Sexy Party Dress for Teen Girls
If you have good figure then why not to show off. A crop top with straight loose printed pant looks very sexy on sleek and tall girls.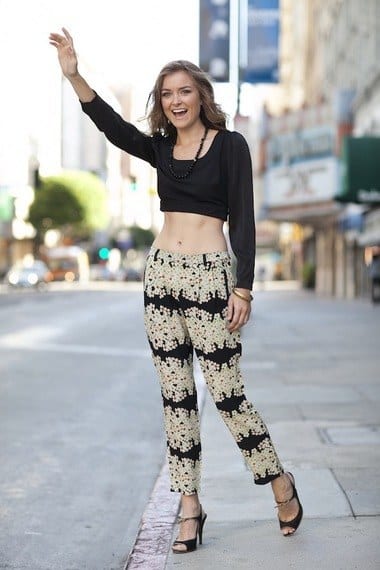 Source
#2- Smart Outfit for Mature Women
You can't go wrong with metallic or snake print, and mixing the two puts you in a go big or go home mind frame. Playing with prints is not easy but if you have good taste then be confident over your choice.
#1- Comfy Winter Dress
Just put on your favorite sweater with military print and choose from pumps to booties. This can save your life from experimenting with your favorite pants.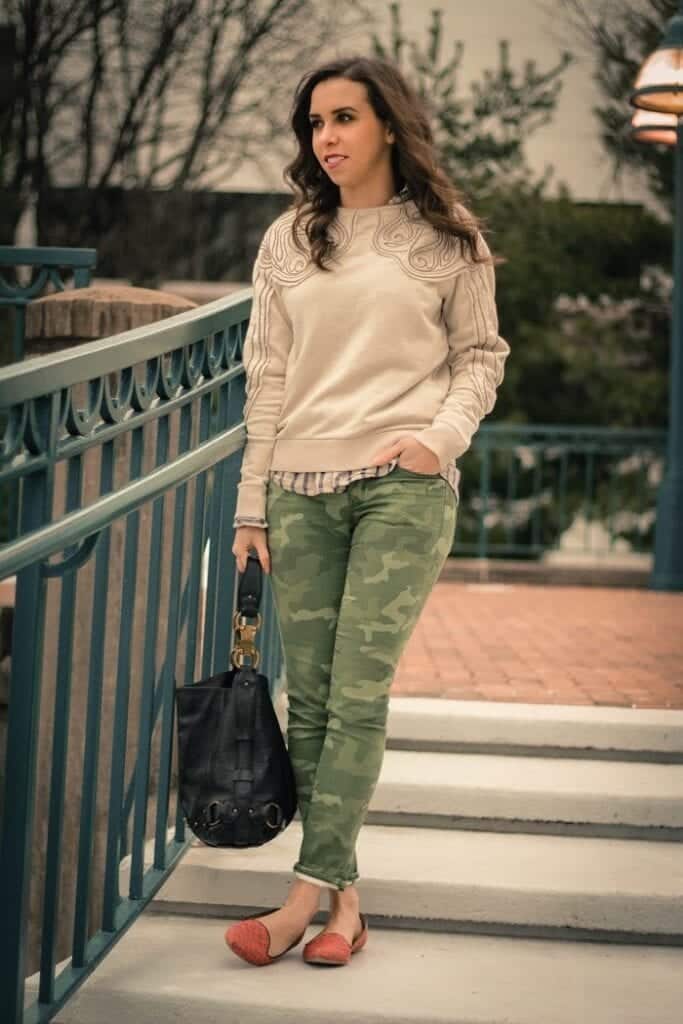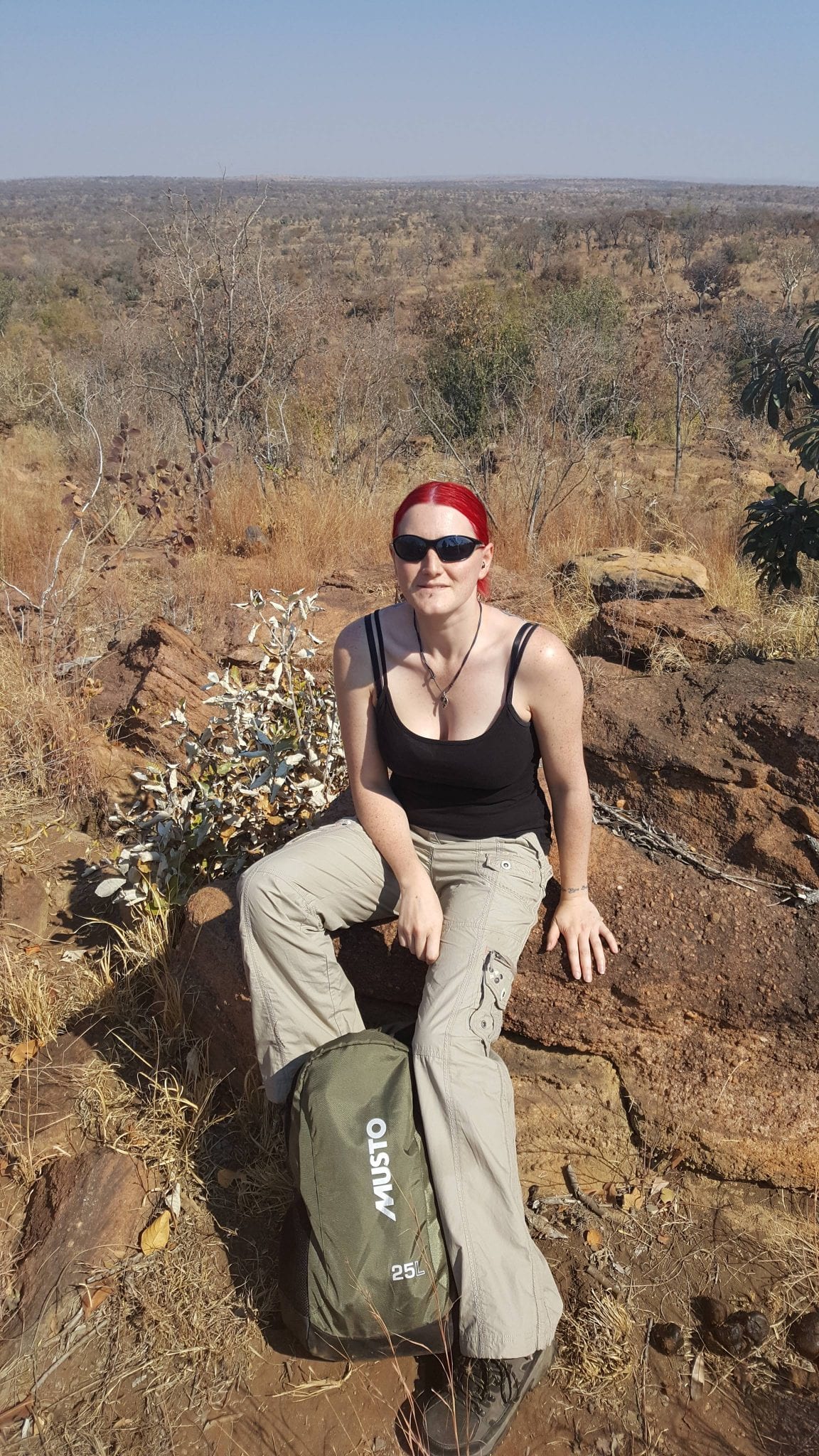 Caz, aka Vixen, has been freelance creative writing for several years. She has a lot of experience in different fields including high street fashion, tattooing art, and even the gothic and historical costumes. Caz has a Diploma in Fashion and Textiles and also a Bachelors Degree in Historical Costume and Corsetry. Her passion lies with gothic design, corsetry and any other styles considered to be taboo or unusual. Style-wise Caz has a love for Vivienne Westwood and her take on the punk era. Although Caz loves the weird and wonderful, she has a deep love for all fashion and allows this to show through her work.