Skater Skirt Outfits: Are you tired of your same old wardrobe? I have got the perfect solution for you. If you are someone who loves to feel feminine and beautiful and want to look your best on any and every occasion without looking like you have made a lot of effort, then skirts are the way to go! But more specifically, skater skirts!
Skater skirts have been around for quite a while but have been overshadowed by newer fashion trends, recently. Therefore, today we will talk about everything skater skirts and delve right into all the fantastic looks you can create with this once-wardrobe-staple. After all, we are here to revive this trend and make it fashionably mainstream again!
How to Style Skater Skirt?
There are a lot of fool-proof and easy methods to make a skater skirt look super cute. Grab a fitted top with a high-waisted skirt and throw on combat boots with a jacket tied at the waist. Sounds simple, right? It actually is, and it looks super chic too!
On the other hand, you can create a stunning look with a puff-sleeved, detailed blouse and heeled booties for a soft, feminine look. Ultimately, it all comes down to your personal preference according to your taste. However, the options for styling and making a skater skirt look cute are endless!
36 – Cardigans & Knitted Sweaters are a Great Way to Keep Warm & Stylish on a Chilly Spring Day
The key to wearing a buttoned-up cardigan or sweater is tucking. You must learn all the different ways to style your top by tucking it, as it will help create a flattering image of your figure. In most cases, a french tuck (where the top is tucked in halfway) is favorable as it will never fail you regardless of what you wear!
35 – Go for a Bright Striped Blazer With a Solid White Outfit
This outfit is great for a brunch date and can be made fitting for a work-related event too. You only have to swap those sneakers for a pair of pale blue or white stilettos, and you're ready to go!
Here are some more of my favorite striped suit outfits.
34 – Velvet Skirt With a Sequined Top are All you Need to Gear Up for the Holidays!
This gorgeous fit reminds me of the holiday spirit and festive season. After all, you want to glitter and glam on top of staying warm in this super cozy time of the year!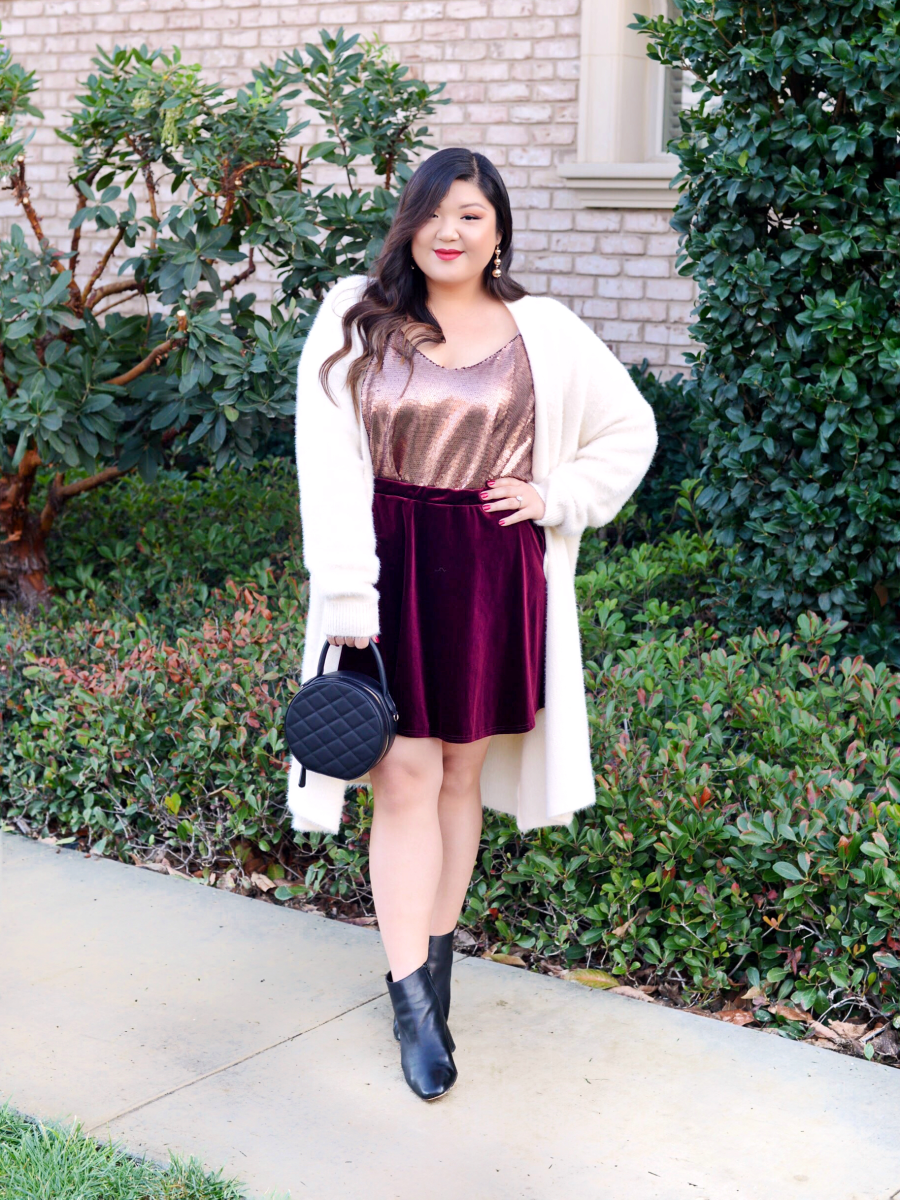 33 – Style Your Skater Skirt in Perfectly Messy Street Style!
And here we have skater skirts entering the street vibes and making a statement effortlessly! This outfit is put together fabulously and gives you a perfectly messy yet chic vibe. I adore how cute the accessories are in this fit. The chunky hoops along with the headband are a major part of what makes this outfit a hit!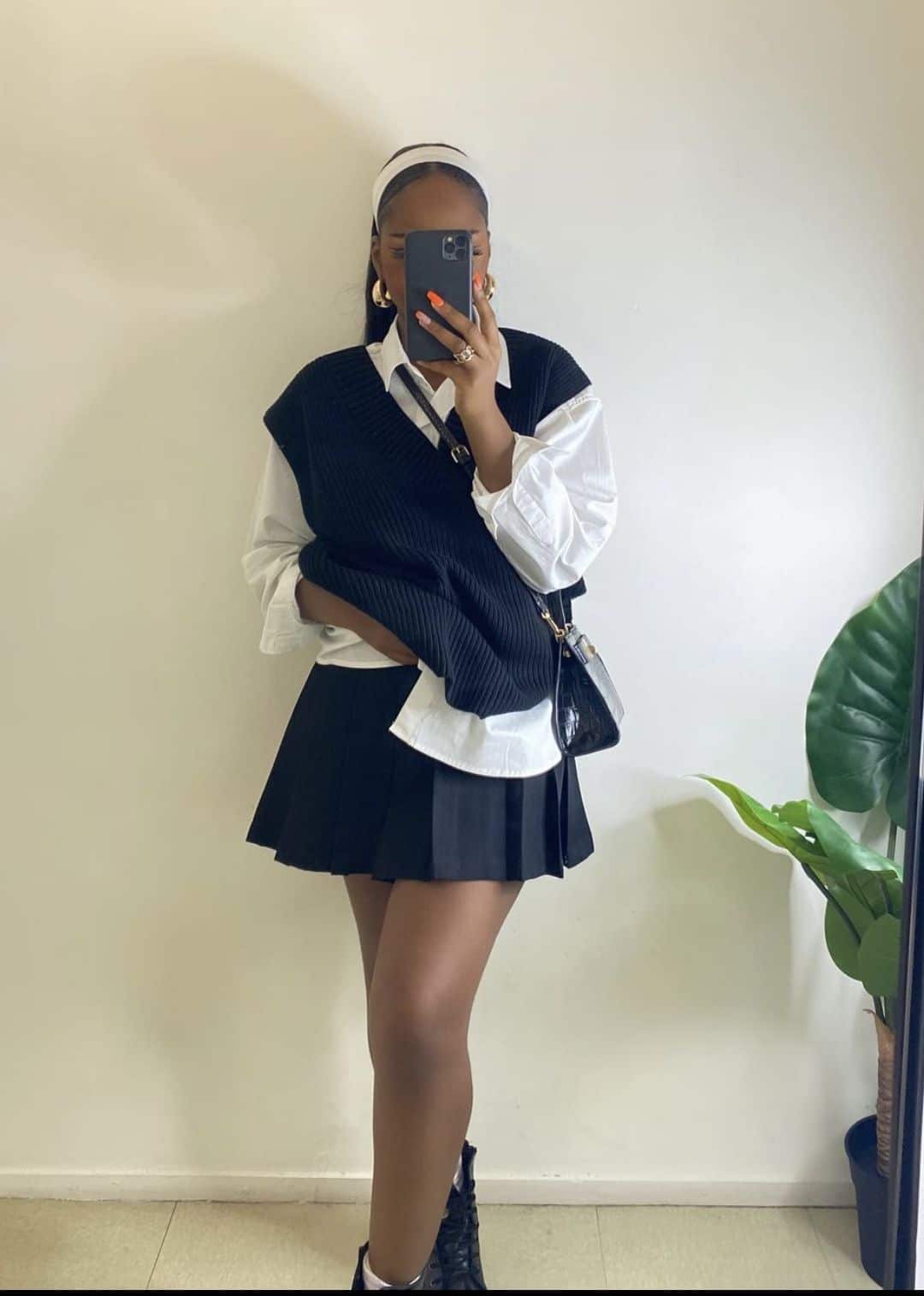 32 – It's All About the Accessories So Make Sure to Elevate Your Styling Game
Pastels are largely popular these days, especially lilac. This outfit is an excellent way to stay trendy and chic all day long. Moreover, the trendy accessories tick all the marks and make this outfit stand out on a whole new level. Therefore, it is safe to say that you can not go wrong with pairing white with pastels!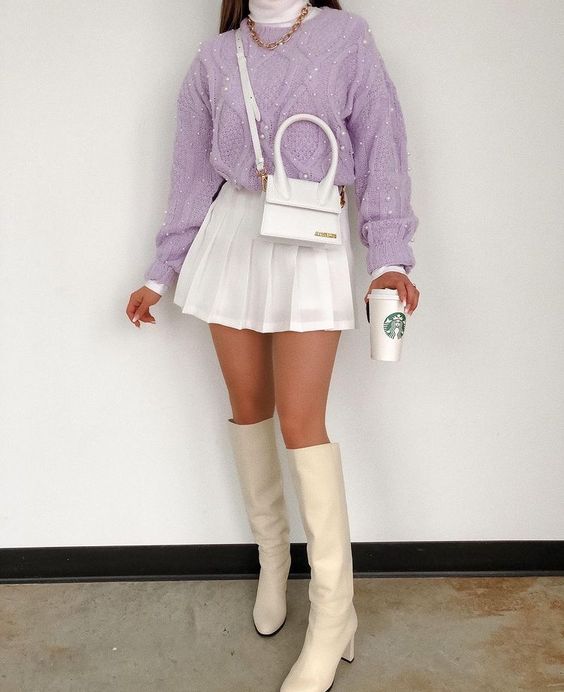 31 – Thigh-High Boots are What Your Skater Skirt Needs on a Chilly Spring Day
This gorgeous monochrome skater skirt outfit had my heart at first glance. It sure does seem simple but the way all the pieces compliment one another help attain a stunning overall look.
The white sweater highlights the pattern of the skirt and the thigh-high boots truly knock this look out of the part because they are a winner!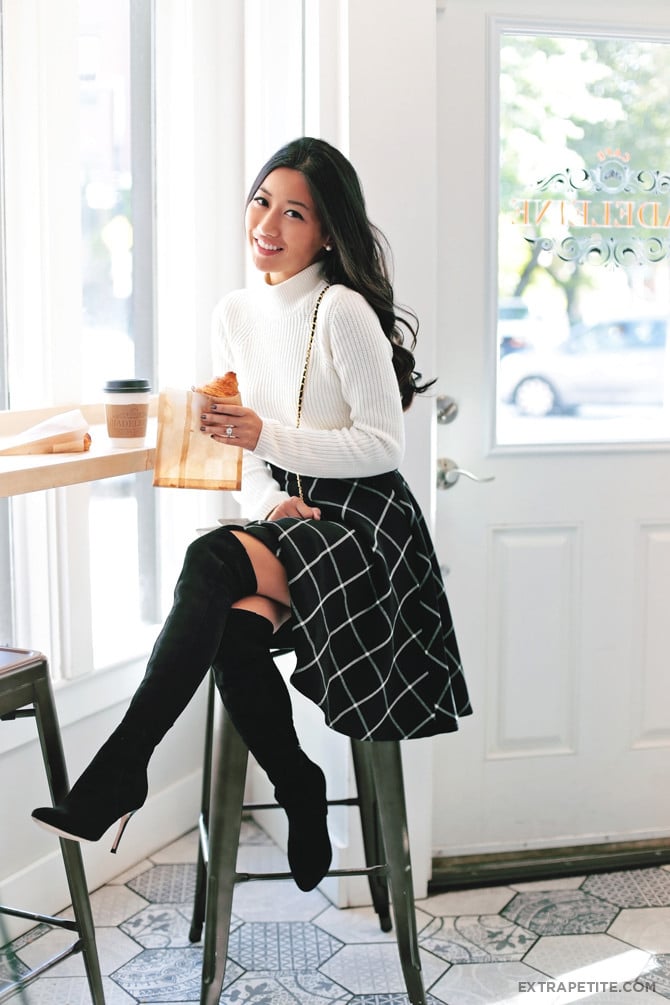 30 – Pair a Simple Tee With an Oversized Vest Tucked Halfway In
If you can't find anything worthwhile to wear in your closet, it is time to raid your brother or dad's closets! Grab an oversized vest with an oversized tee and fold one end of the sweater and tuck it in to add a bit of emphasis on your figure. Style your hair in a half-up half-down hairstyle!
If you like this look, do check out these Ideas On How To Wear Oversized Clothes.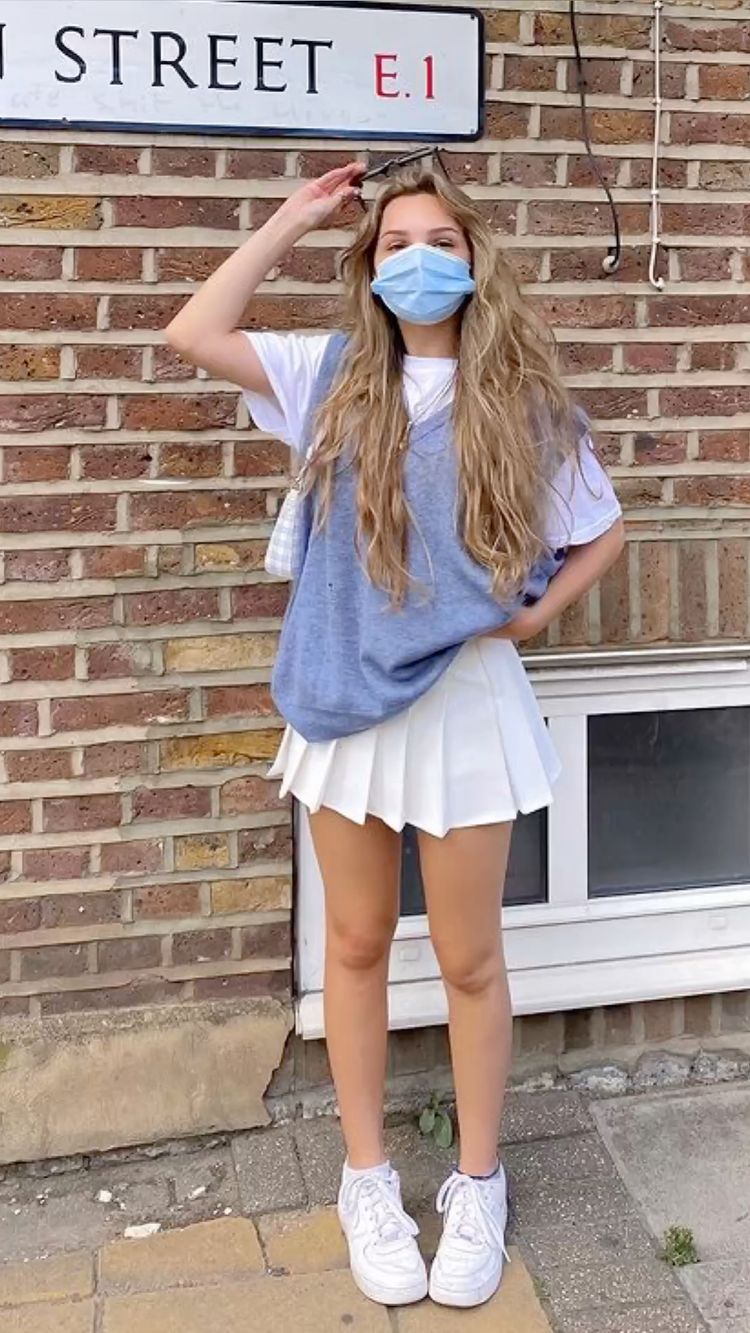 29 – Add a Statement Belt to Draw Attention to Your Waist
Belted waists are a "yes please!" when it comes to skirts! They spice up the simplest outfits and leave you looking high-end and fashionable. This gorgeous outfit is a personal favorite and that cute floral skater skirt deserved to be adored!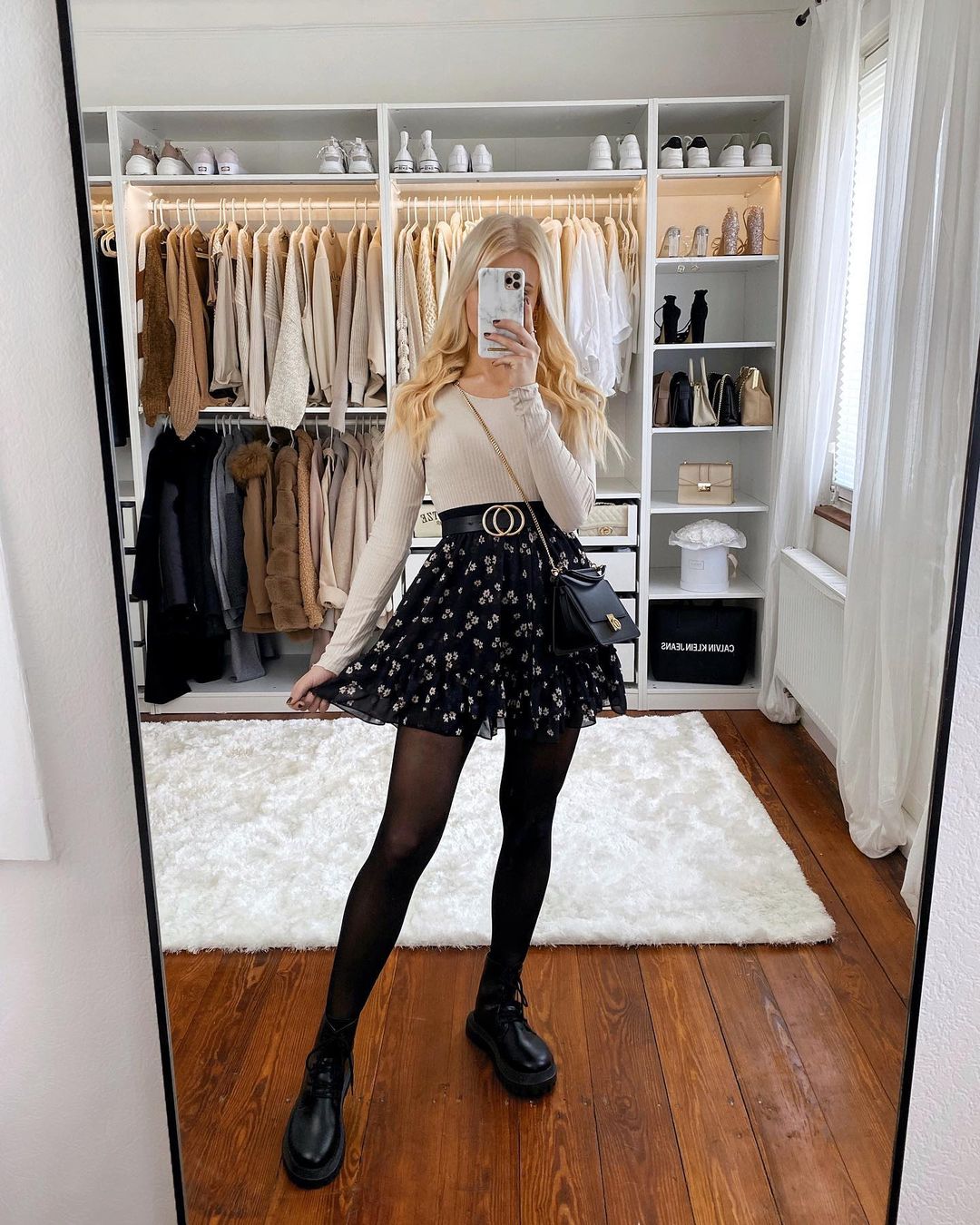 28 – You Can't Go Wrong With an All-White Outfit
An all-white skater skirt outfit is all that you have been missing in life. This look is clean, charming, and looks stunning, especially for plus-size ladies! I adore the sleek bun with chunky earrings as it adds character and edge to this simple yet gorgeous outfit.
Throw on a pair of white sneakers and you are all set!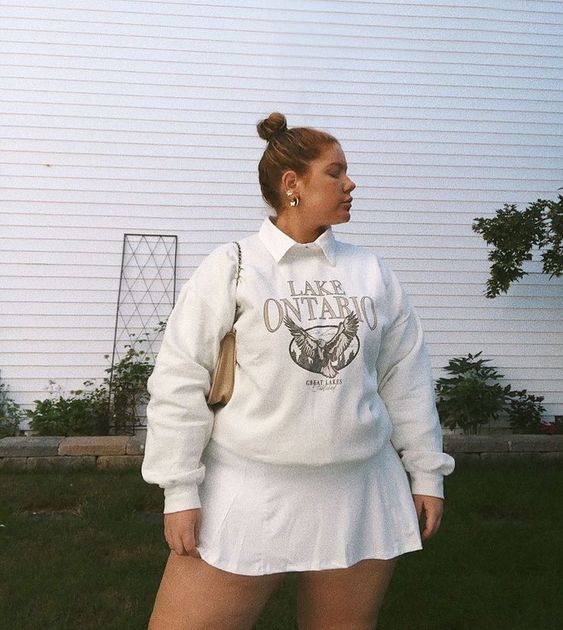 27 – Neutrals are Here to Save the Day & Your Look!
The best way to make neutrals stand out is to introduce a darker color subtly into your fit. This outfit is a great way to learn how to elevate neutral colors. The black boots and purse help create a statement and the glasses are the perfect way to tie this entire look together.
Complete your look with these Ideas on What Shoes to Wear with Neutral Outfits.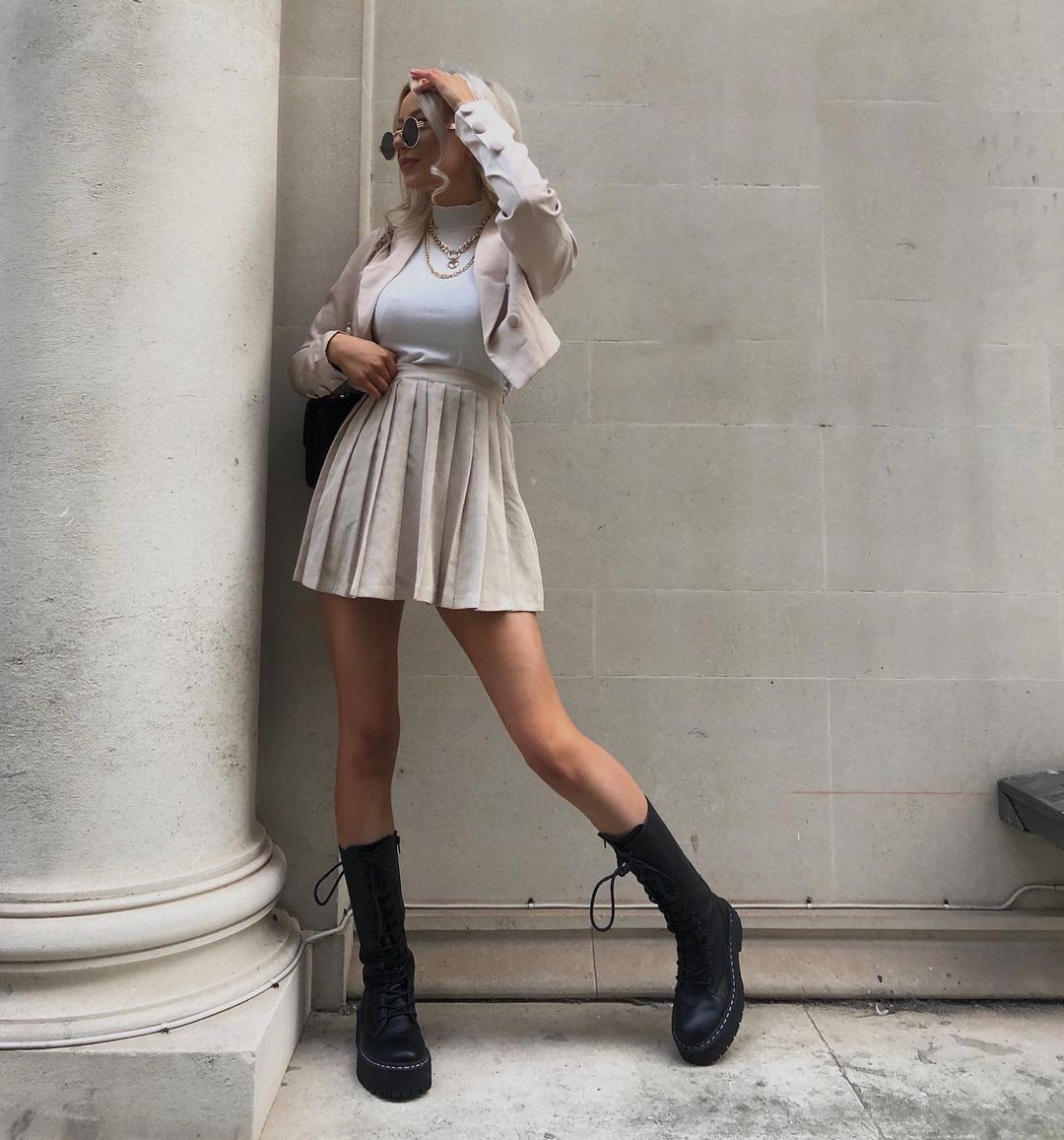 26 – Nail the Picture Perfect Pastel Look This Summer in This Gorgeous Outfit
Ge this summer look by opting for a stunning blouse with a wrap-around skater skirt. I suggest adding dainty gold accessories to your outfit as it will add detail to this gorgeous look.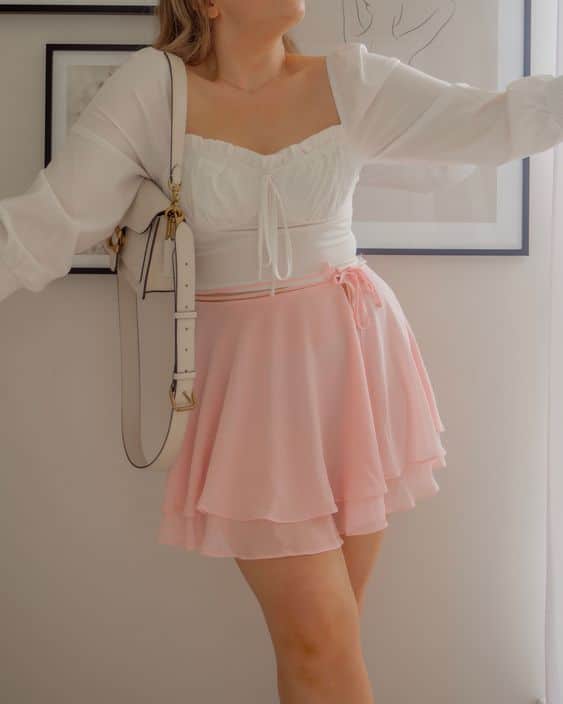 25 – Funky Accessories & Prints Are the Ideal Match to a Bright Skirt
Who would have thought that the bold zebra print would contrast so wonderfully with an electric blue skirt?! That is what you get for thinking outside the box and not shying away from expressing yourself. Throw in bold yellow accessories to the mix and you are a walking talking statement girl!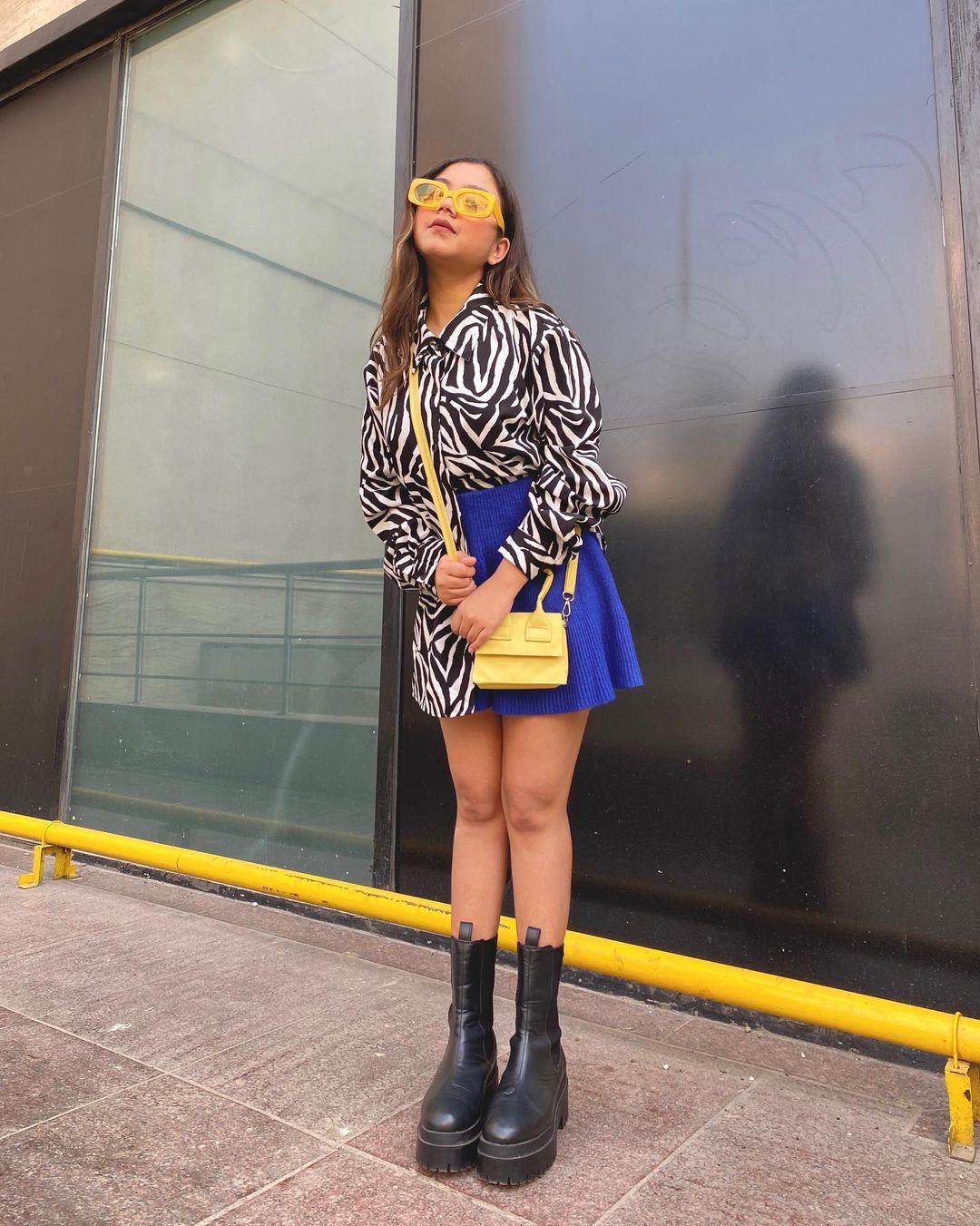 24 – Tie a Lightweight Cardigan Around Your Waist When Styling a Mini Skater Skirt
This outfit is super cute and simple to style. To add a little more depth to your look, you can opt for a camel leather jacket and tie it around your waist. It will help you create a fashionable look and keep you warm too in case it gets chilly!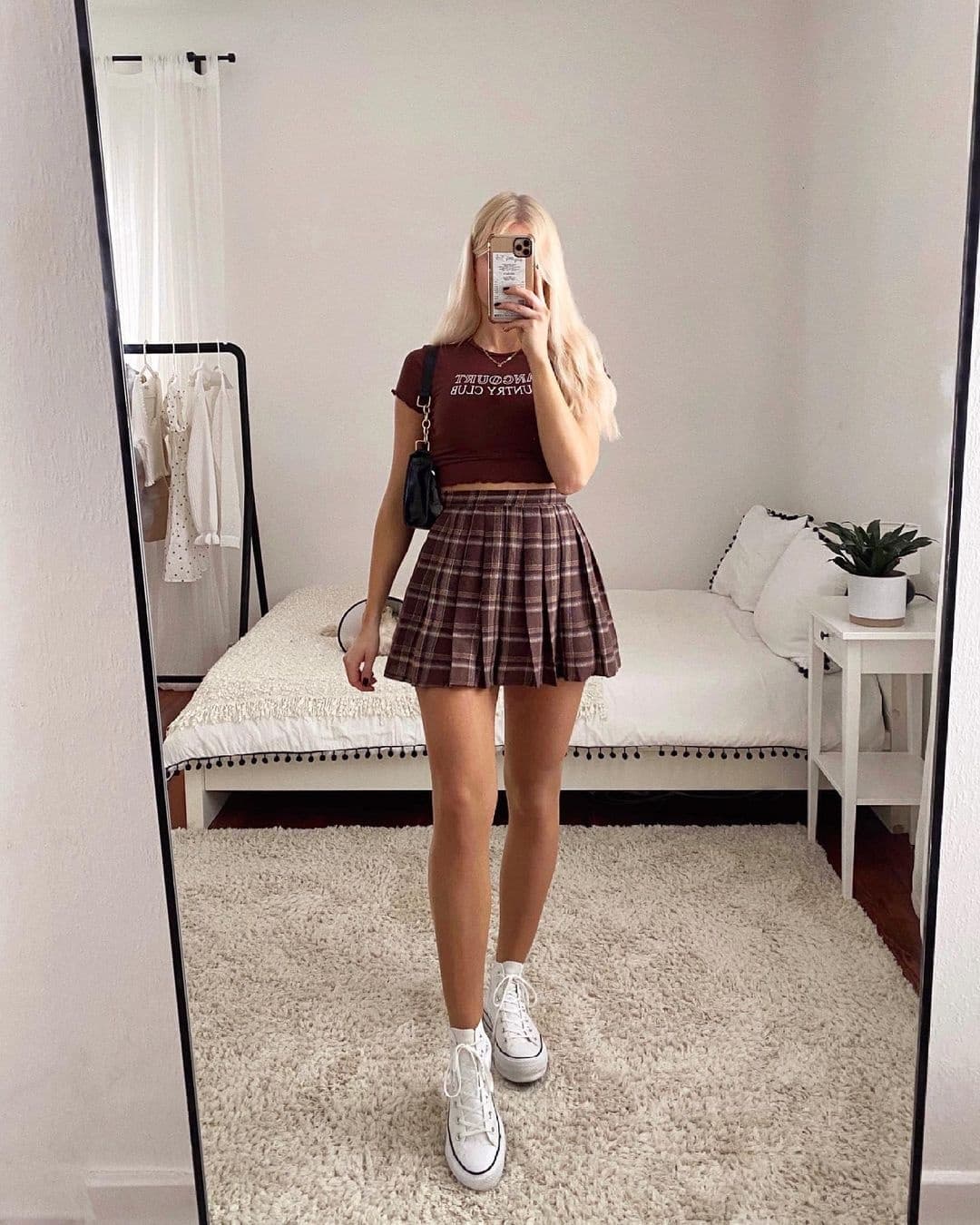 23 – Swap Those Heels for a Pair of Trainers of Stiletto Pumps for a Formal Look
These types of heels are a bit outdated these days. Instead, you should opt for a pair of gorgeous court shoes with a stiletto heel or trainers if you wish to style down and get a more casual, everyday look.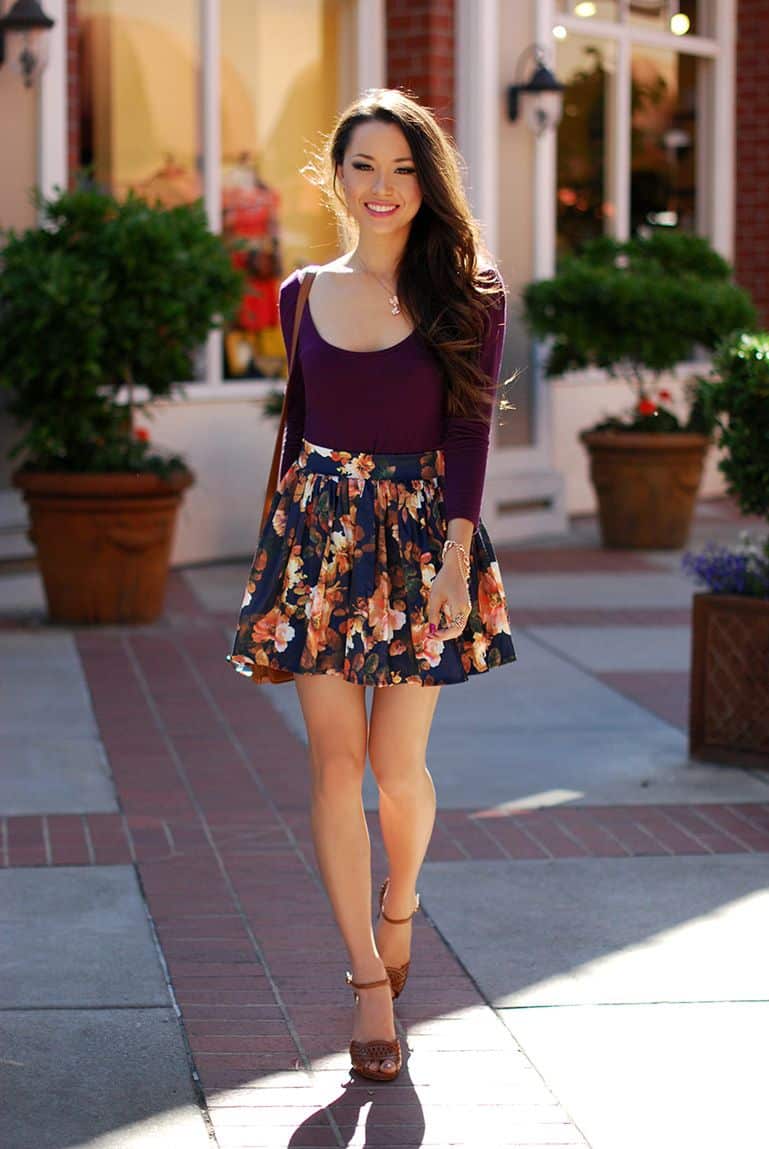 22 – Casual Skater Skirt Outfits for an Everyday Look are What Every Woman Needs!
21 – Play Around With Various Solid & Bold Shades This Season to Stand Out
Go bold with this season by pairing two vivid colors – who no one would have thought of pairing – and stun the crowd!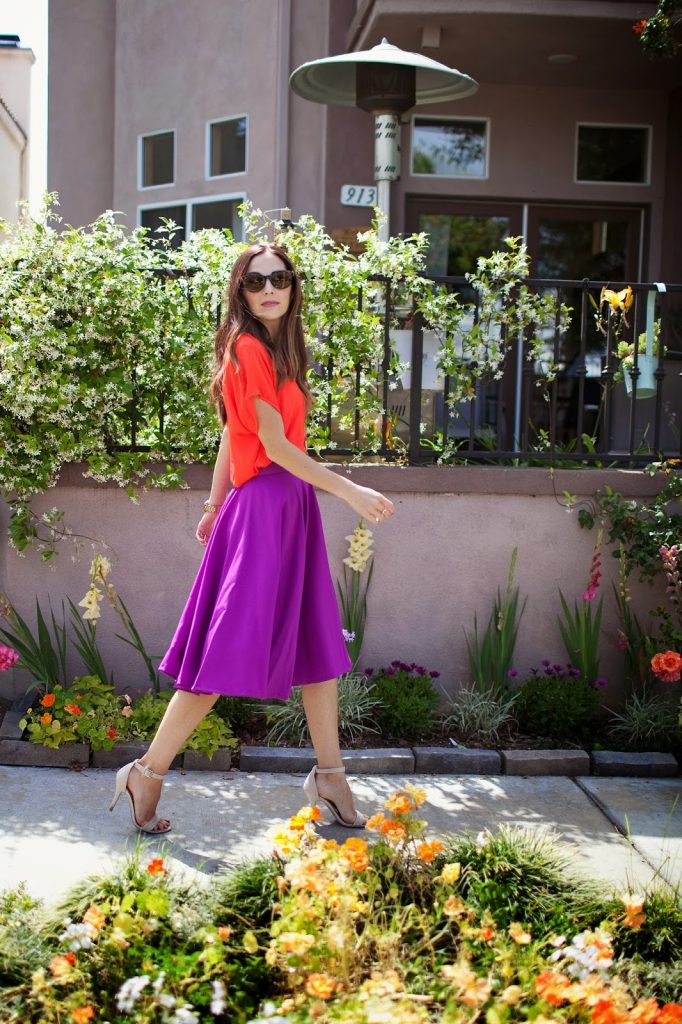 20 – Nail That Bumble Bee Vibe in Black & Bright Yellow!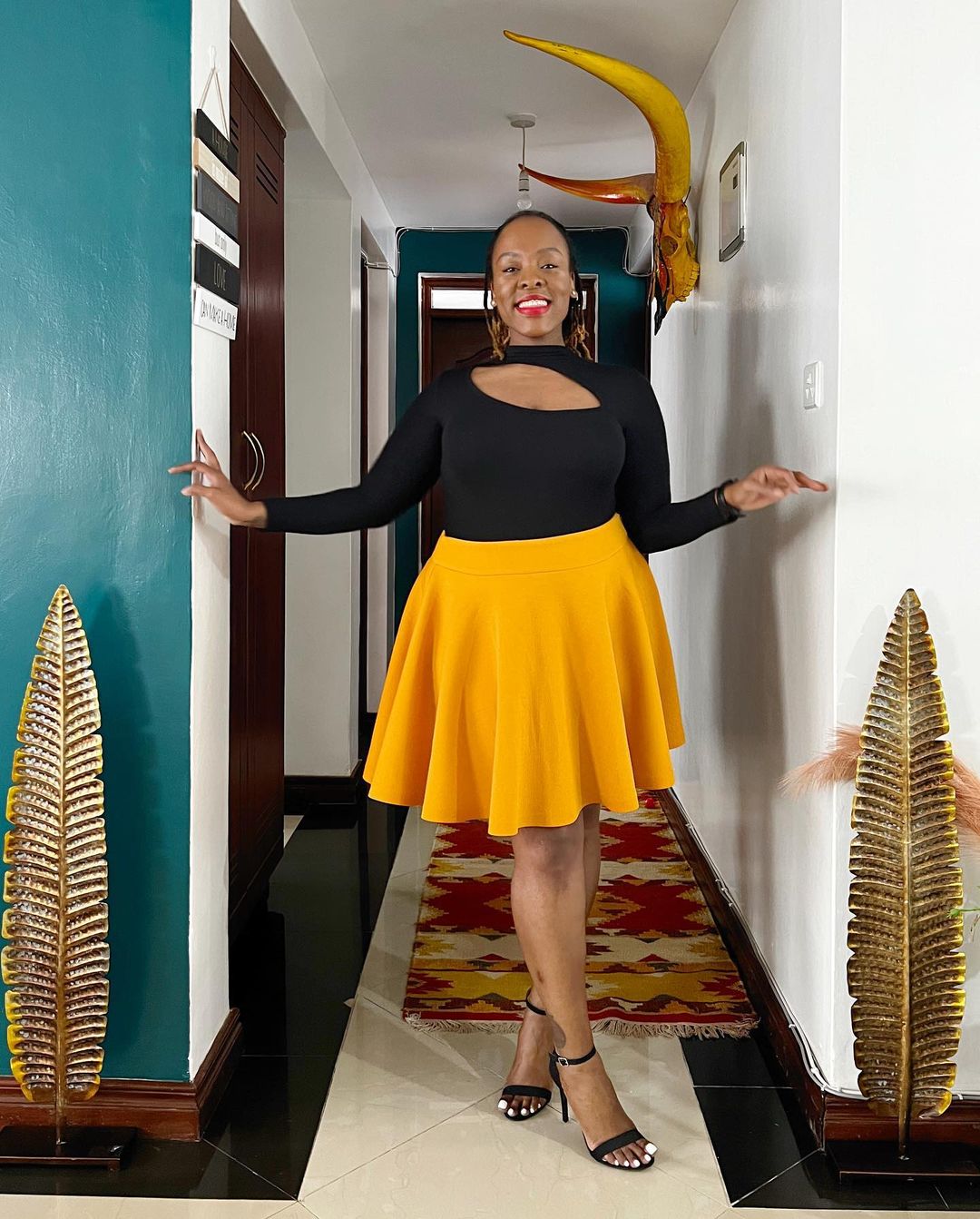 19 – Style a Polka Dot Skater Skirt with a Ribbed Crop Top for Vacationing!
Polka dots are a timeless pattern that will rule the fashion industry in the countless years to come. And with how gorgeous they look, I am glad this fashion trend has stayed despite all the years.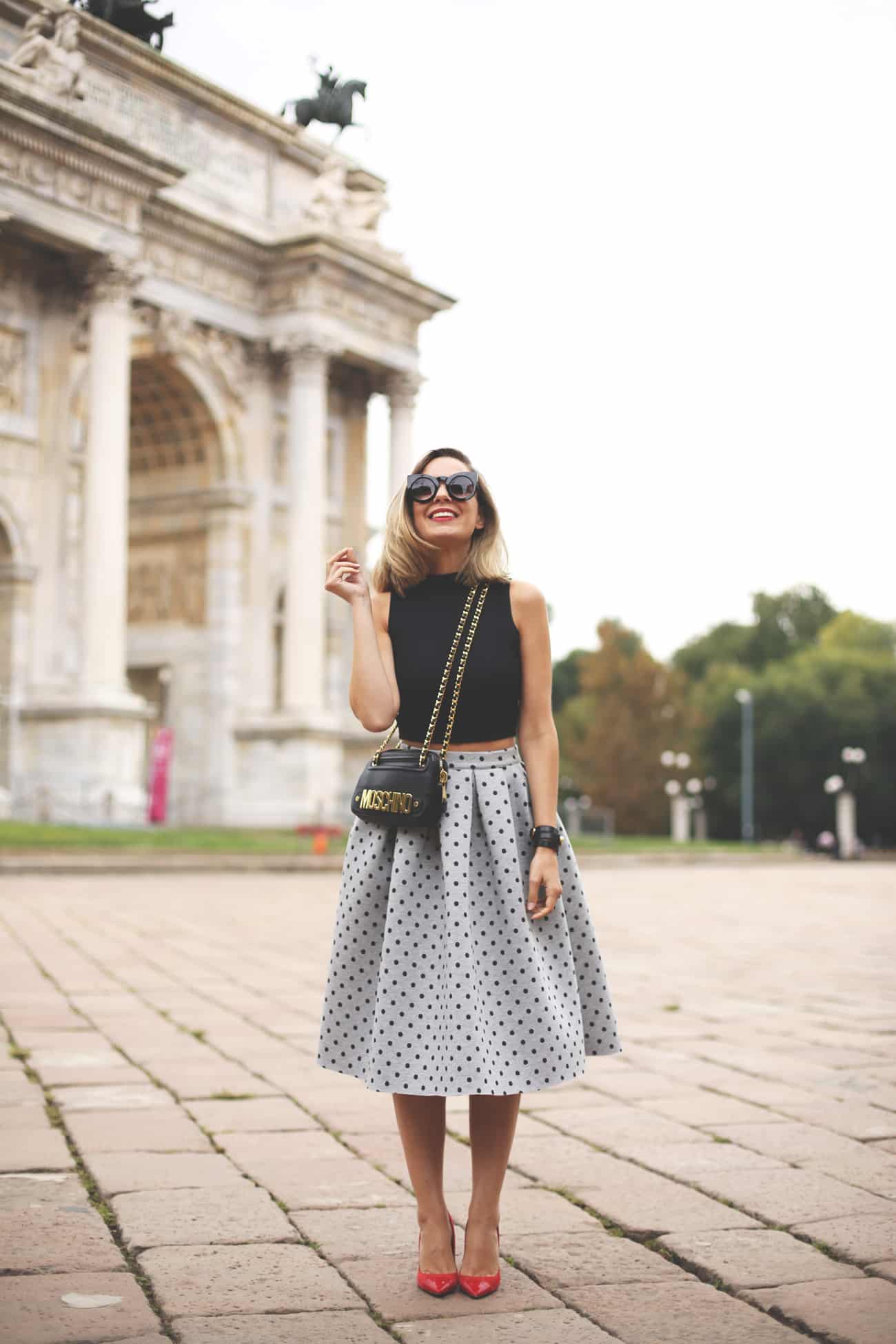 18 – Bring Out the Colors of Your Patterned Skirt Through the Shirt & Accessories
Long skater skirt outfits look extra special when the skirt is printed! Match your lip color to the wearable shades in the pattern for an outstanding overall look.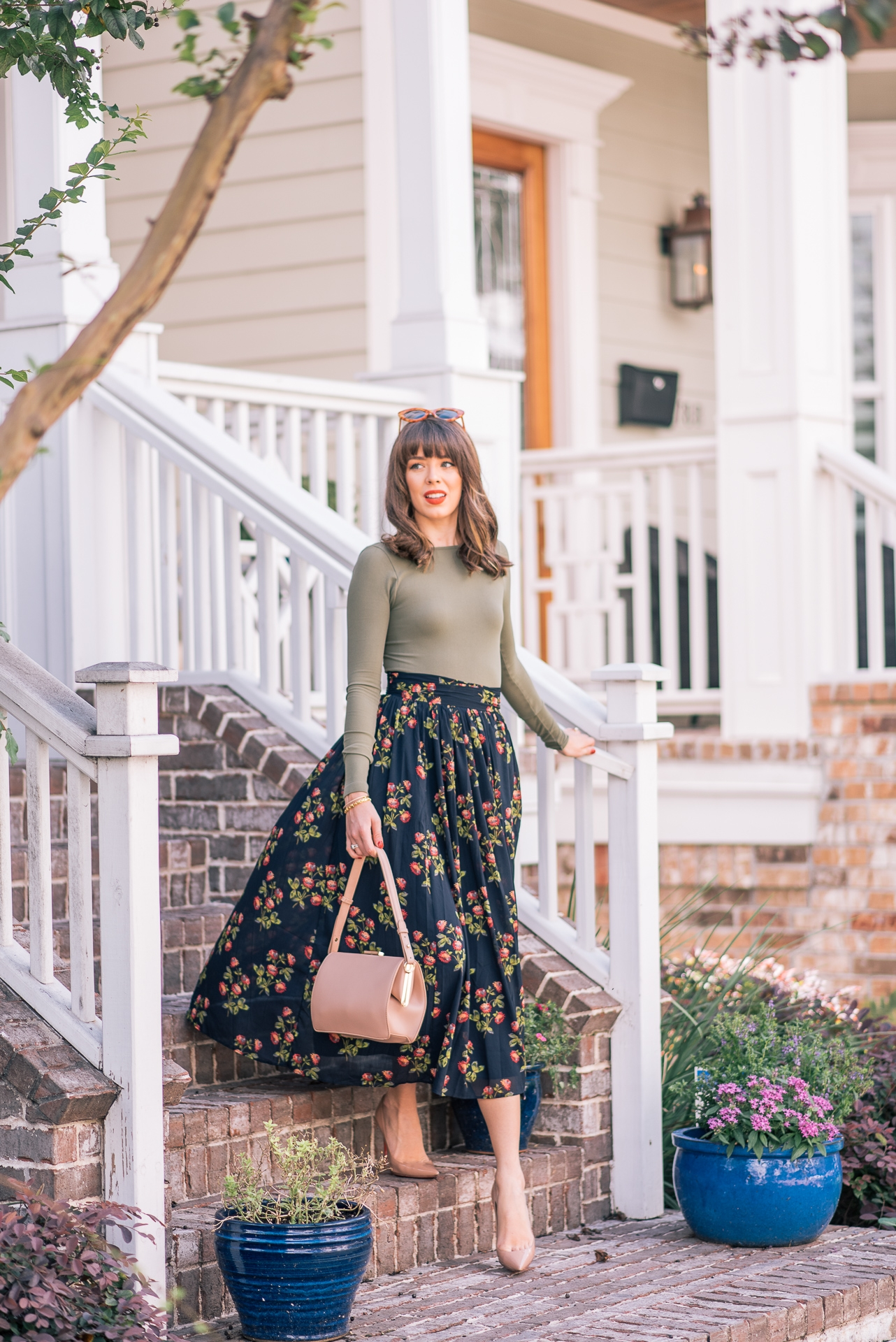 17 – When in a Rush, Opt for a Matching Skirt & Jacket Set!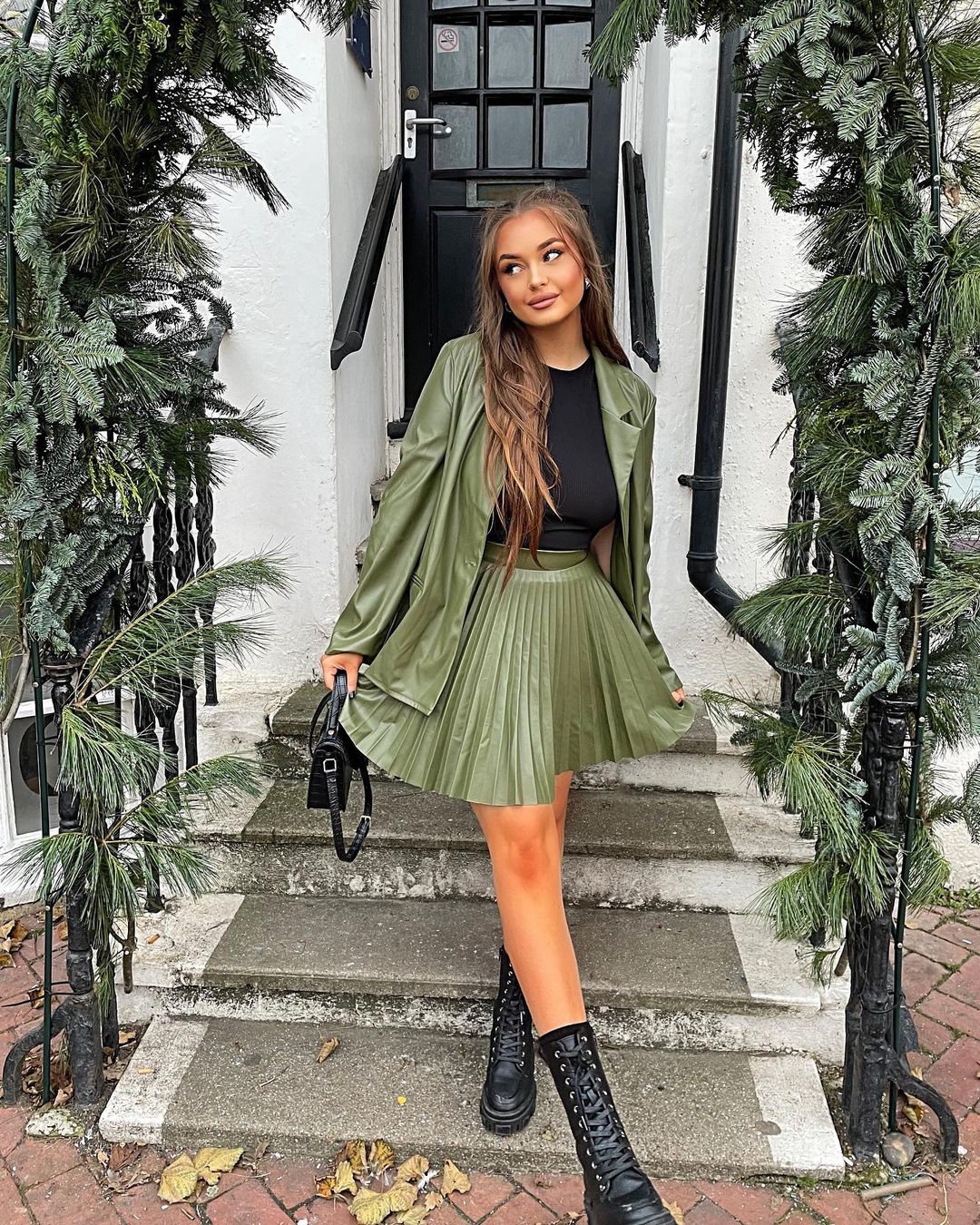 16 – Add Chain Details to the Waist of Your Skirt for an Elevated Look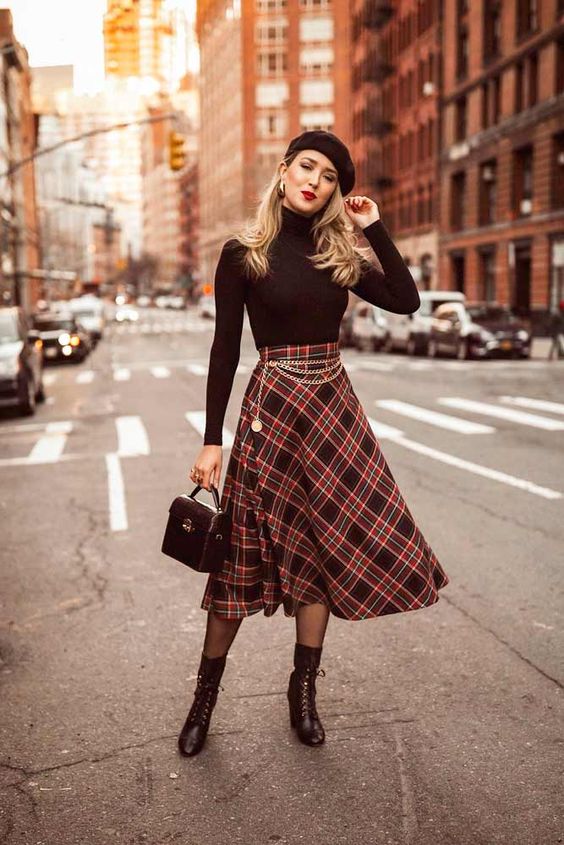 15 – Style Your Short Skater Skirt With Knee-High Socks & a Graphic Tee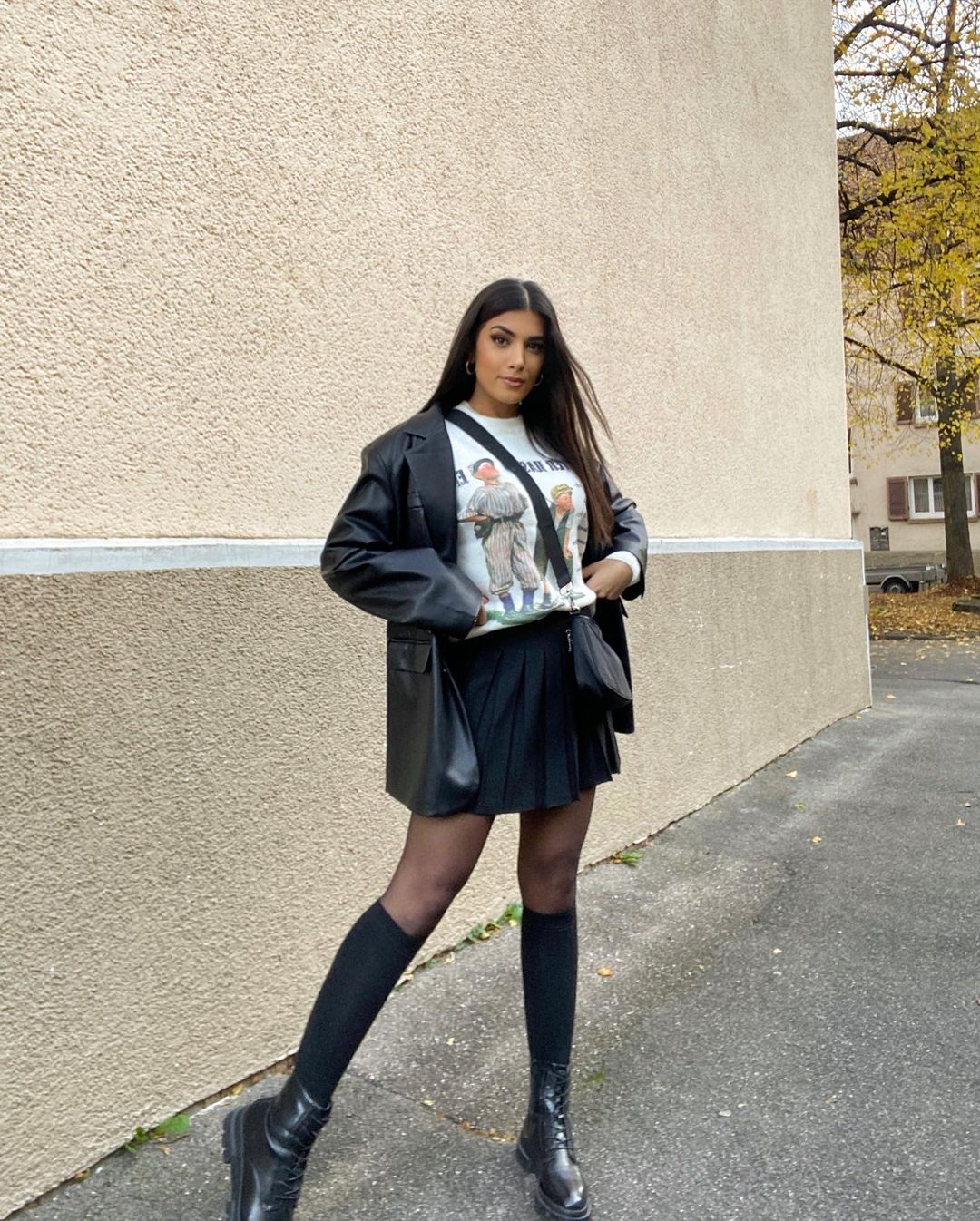 14 – Fishnets and Stockings are a Great Way to Keep Your Legs Warm During the Cold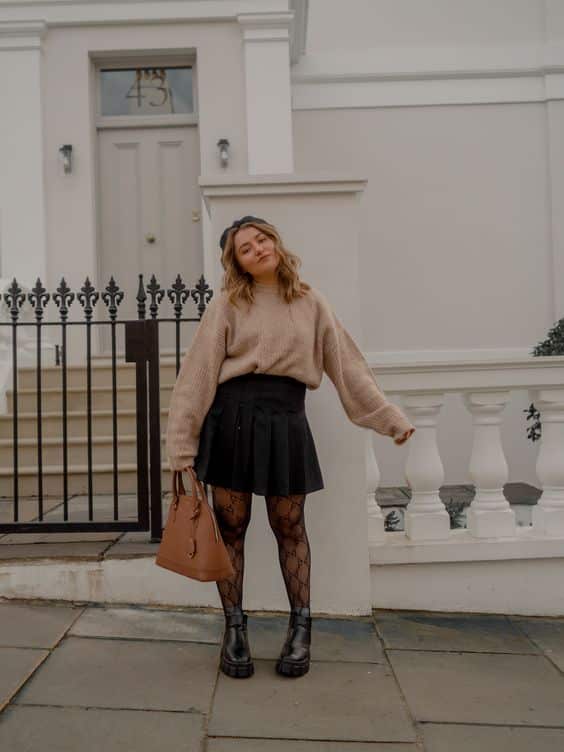 13 – Opt for a Belted Tartan Skater Skirt for a Unique Look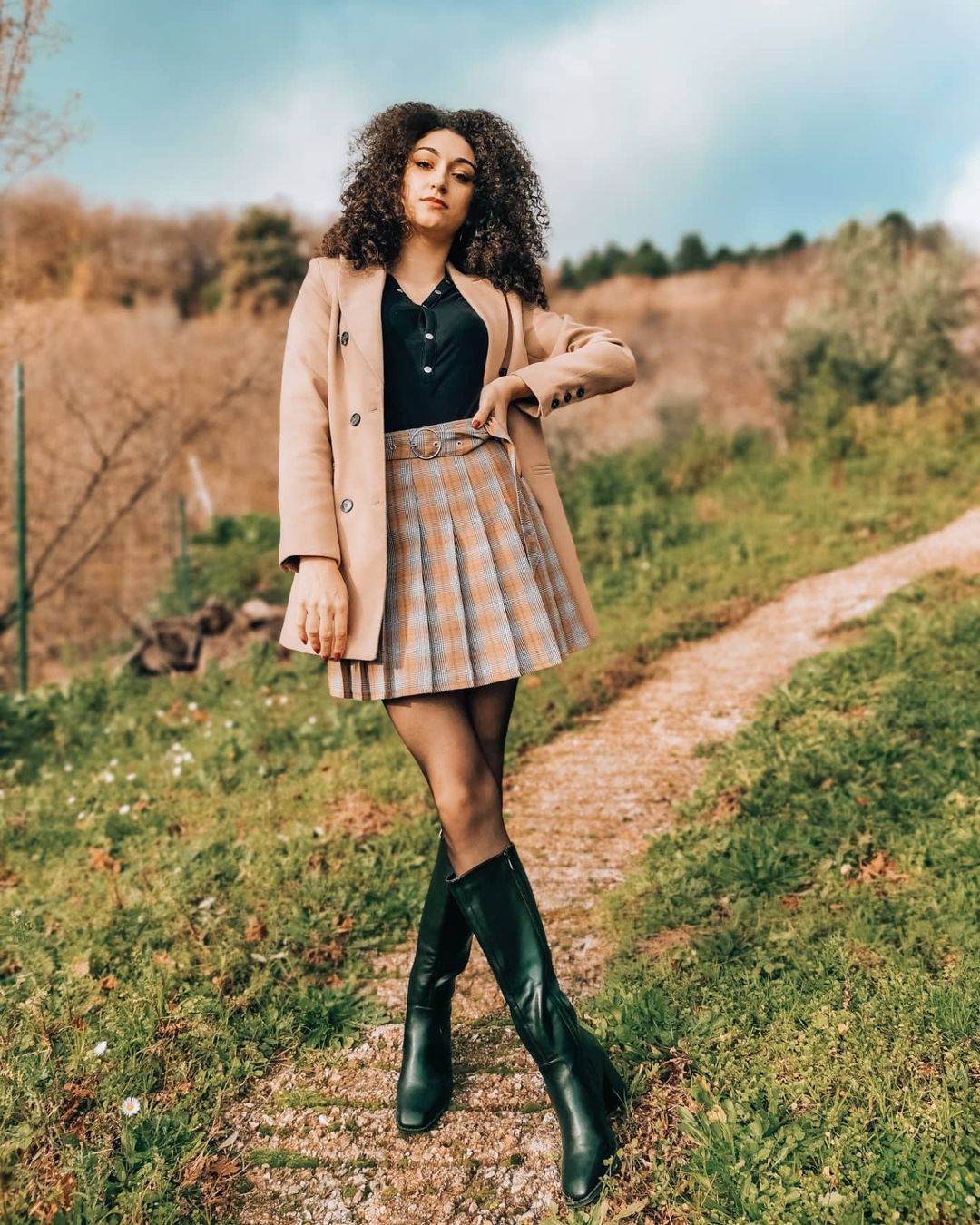 12 – Get the Perfect Fall Look in Rich & Earthy Tones of Brown & Black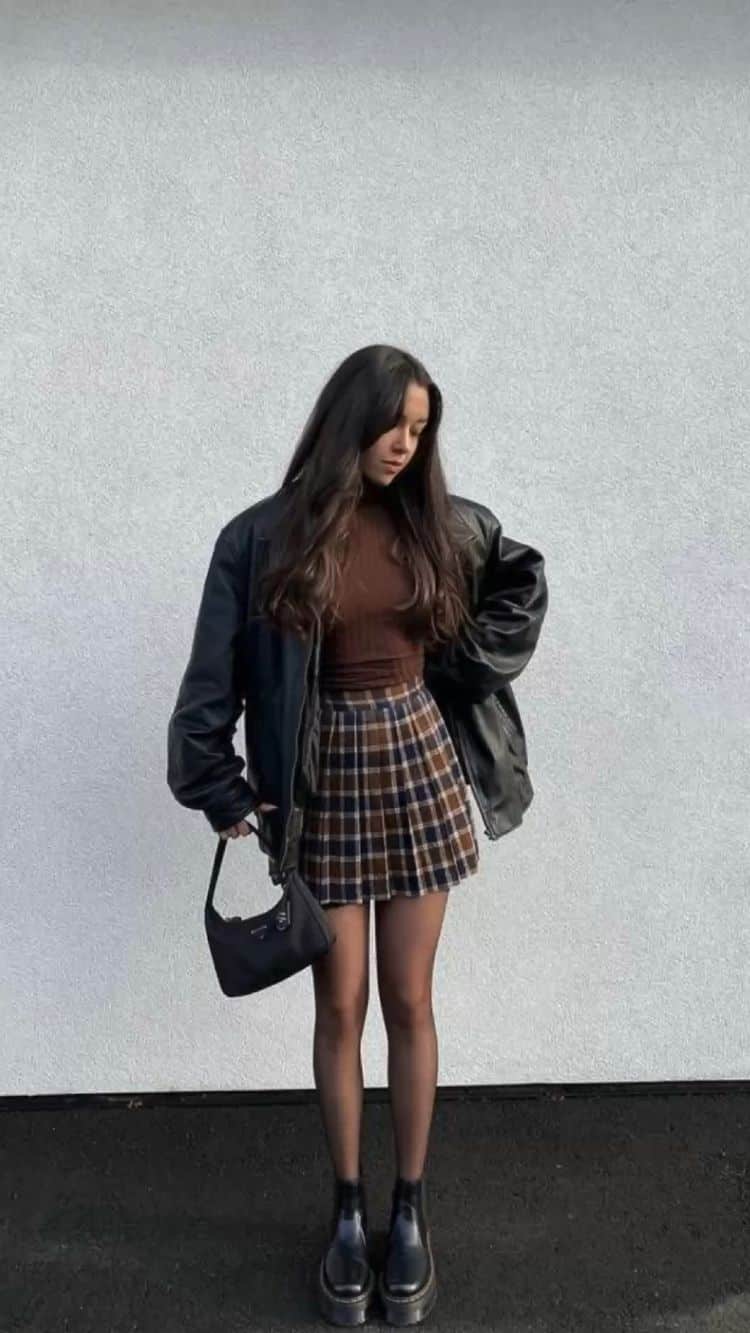 11 – Chunky Combat Boots & Oversized Jackets are the Way to Go!
10 – Color Block Your Outfit With Your Plaid Skater Skirt
A long skater skirt outfit in plaid in warm tones is the perfect pick for the fall and winter seasons. The pairing of plaid and warm tones screams cozy and right on brand with the weather outside.
Therefore, grab your coziest sweater, and your favorite beanie and bundle up in different layers for a warm and fabulous look!
Here's our detailed post on How To Wear Color Blocking Outfits.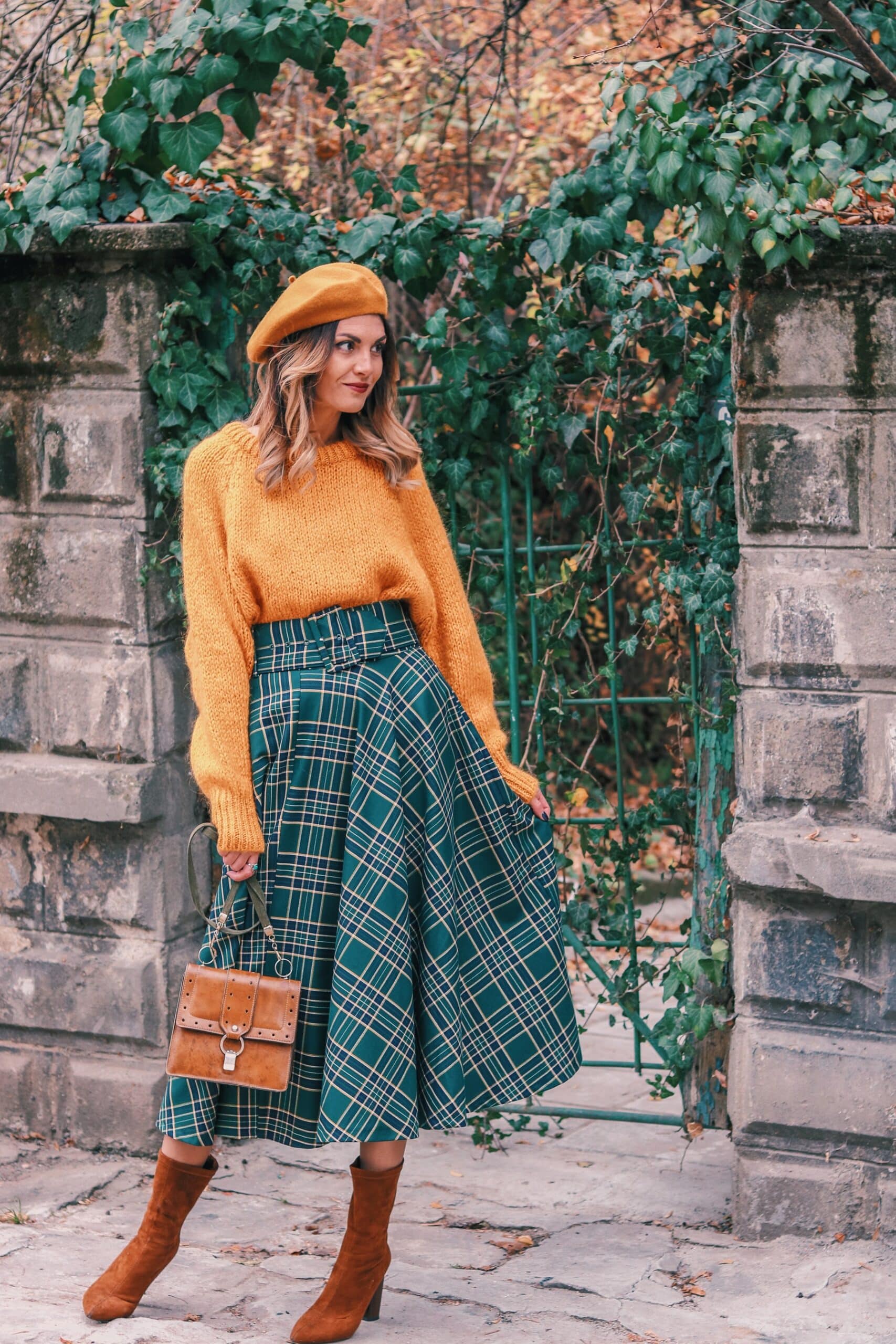 09 – Get the Indie Skater Skirt Outfit Aesthetic With Leg Warmer & Oversized Sweater
Here is a cute skater skirt outfit for teenage girls! This outfit is the perfect blend of indie and edgy aesthetics and I am here for it! From the oversized sweater to the stockings, and leg warmers, you can easily pull off this look on a chilly winter morning.
Moreover, the minimal and glowy make-up complements and contributes to the entire aesthetic of this look. In fact, you can go for similar make-up for any daytime gathering if you wish to show off your beautiful features.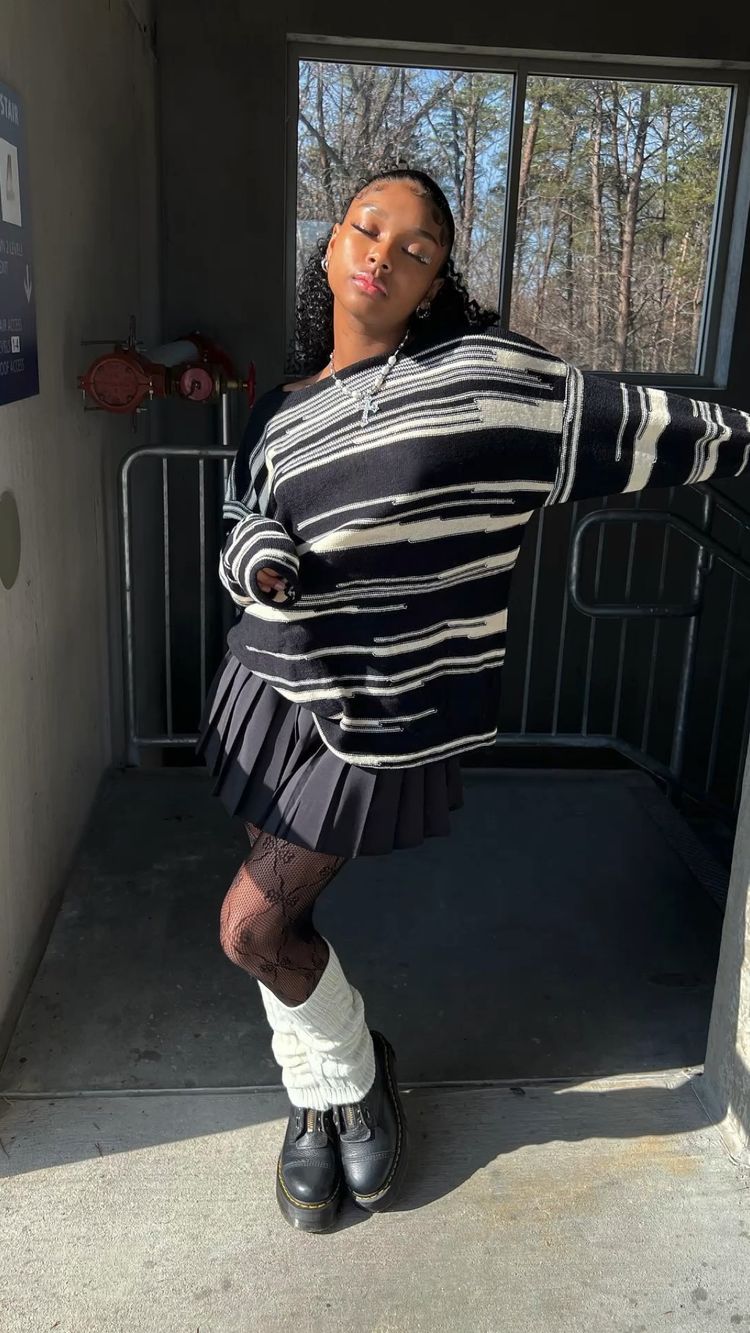 08 – Master the Art of Tucking Your Oversized Sweater to Show Off Your Skirt
Leather skater skirts are a must-have for every girl out there! Even if you don't believe yourself to be a leather kind of girl, you will be pleasantly surprised at how much you like the garment. The best part is, if black is not your color, you can go for any other color in faux leather that you wish to style.
The options for styling a black leather skirt are endless. It is a staple for edgy and grunge streetwear and looks flawless on a moody winter evening too. Style a similar look to the image below or keep it simple with a turtleneck, oversized blazer, and combat boots. You will end up looking like a diva either way!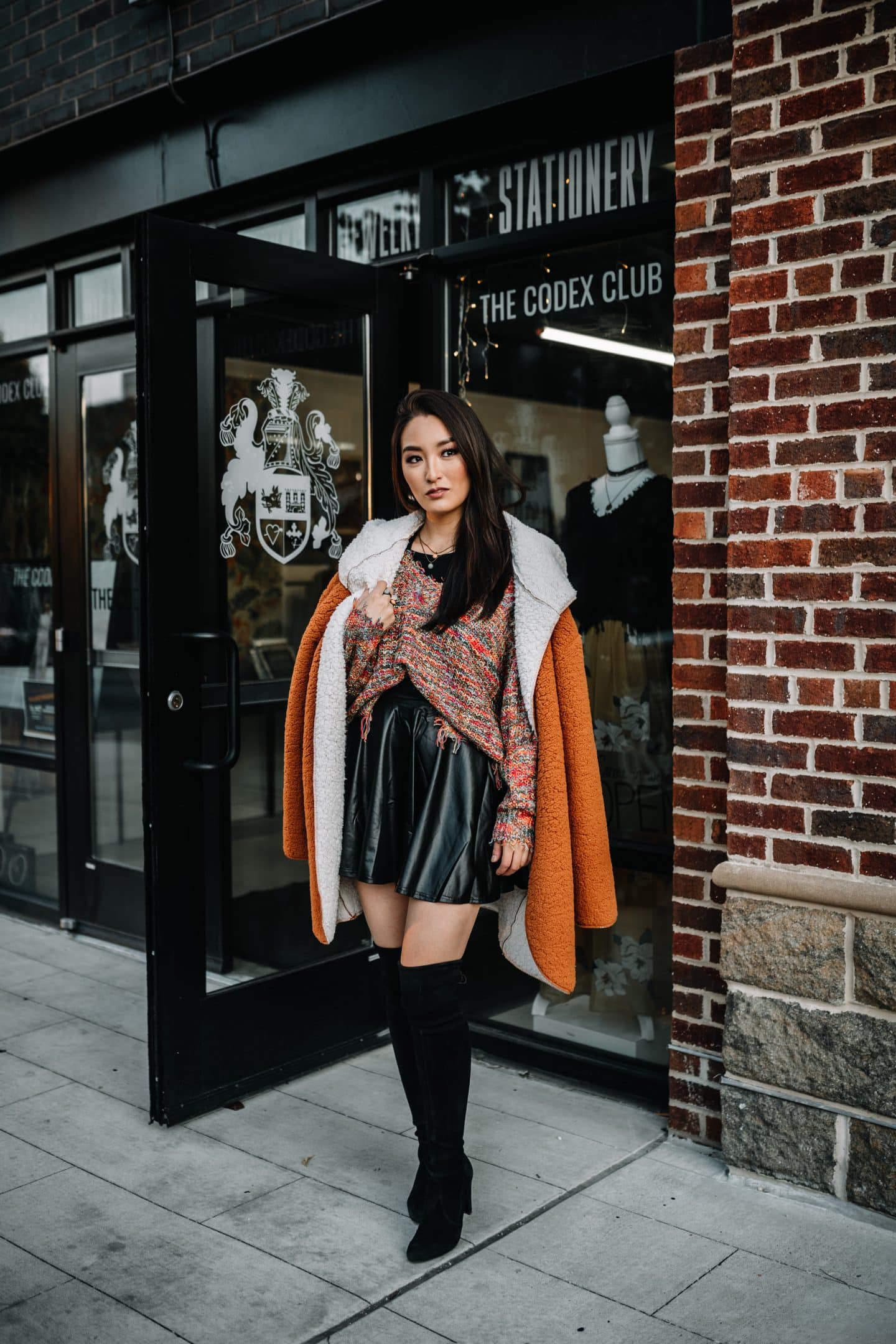 07 – Style a Floral Skater Skirt Outfit With a Blush Cardigan & Boots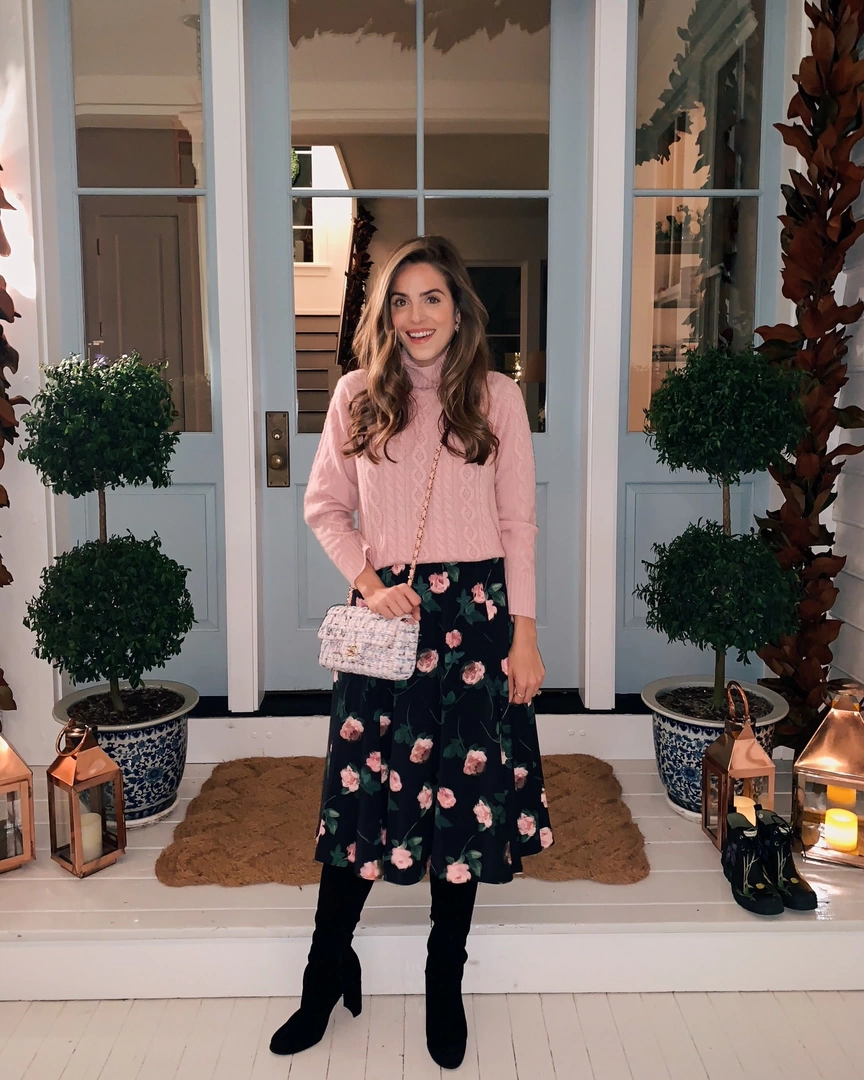 06 – Skater Skirt Outfits With Leggings to Try Out This Winter:
05 – Style a Midi Skater Skirt for Winter by Mixing Pastel & Darker Shades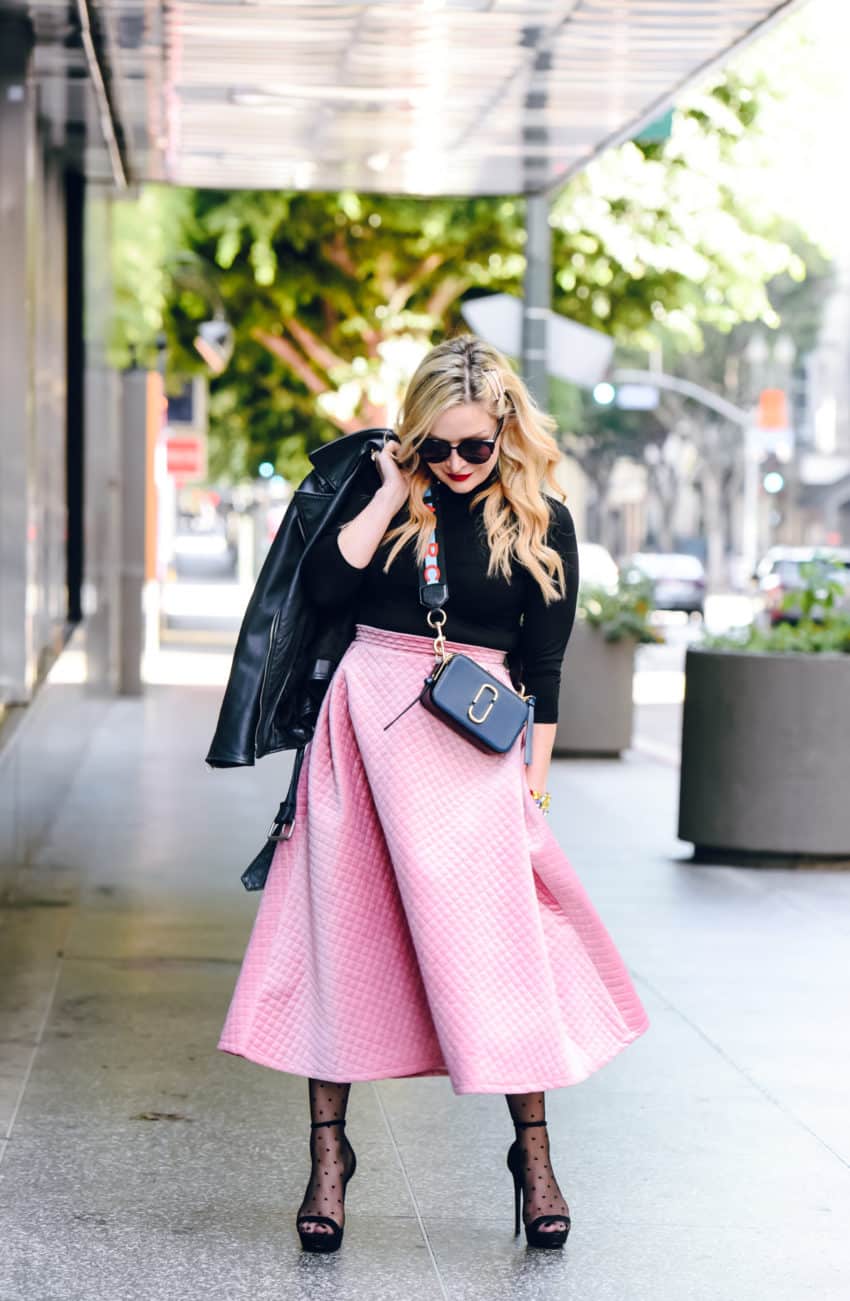 04 – Search for Trendy Shoes That Help Unify the Individual Pieces in Your Fit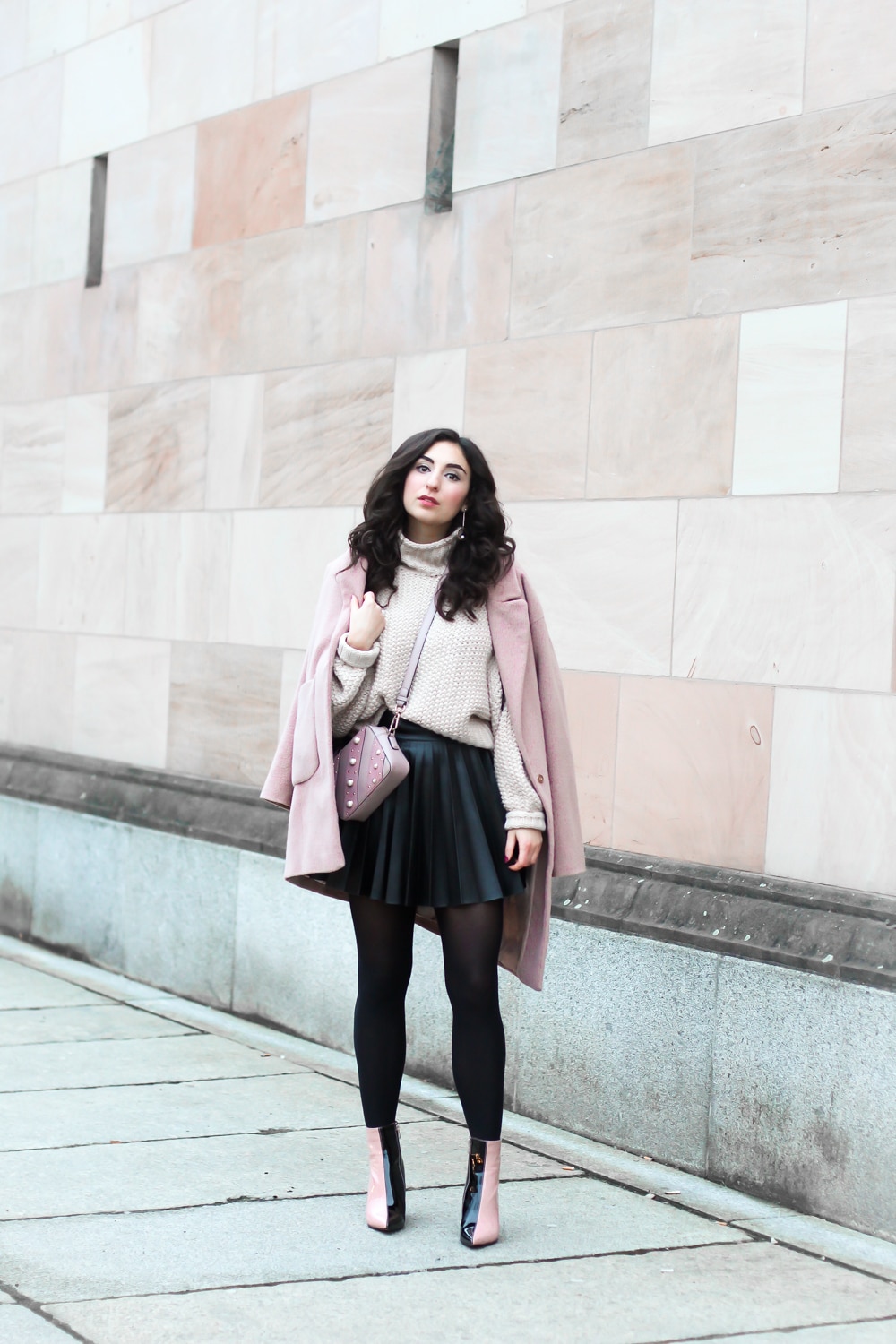 03 – Make Your Skater Skirt the Statement Piece by Styling it With a Black Outfit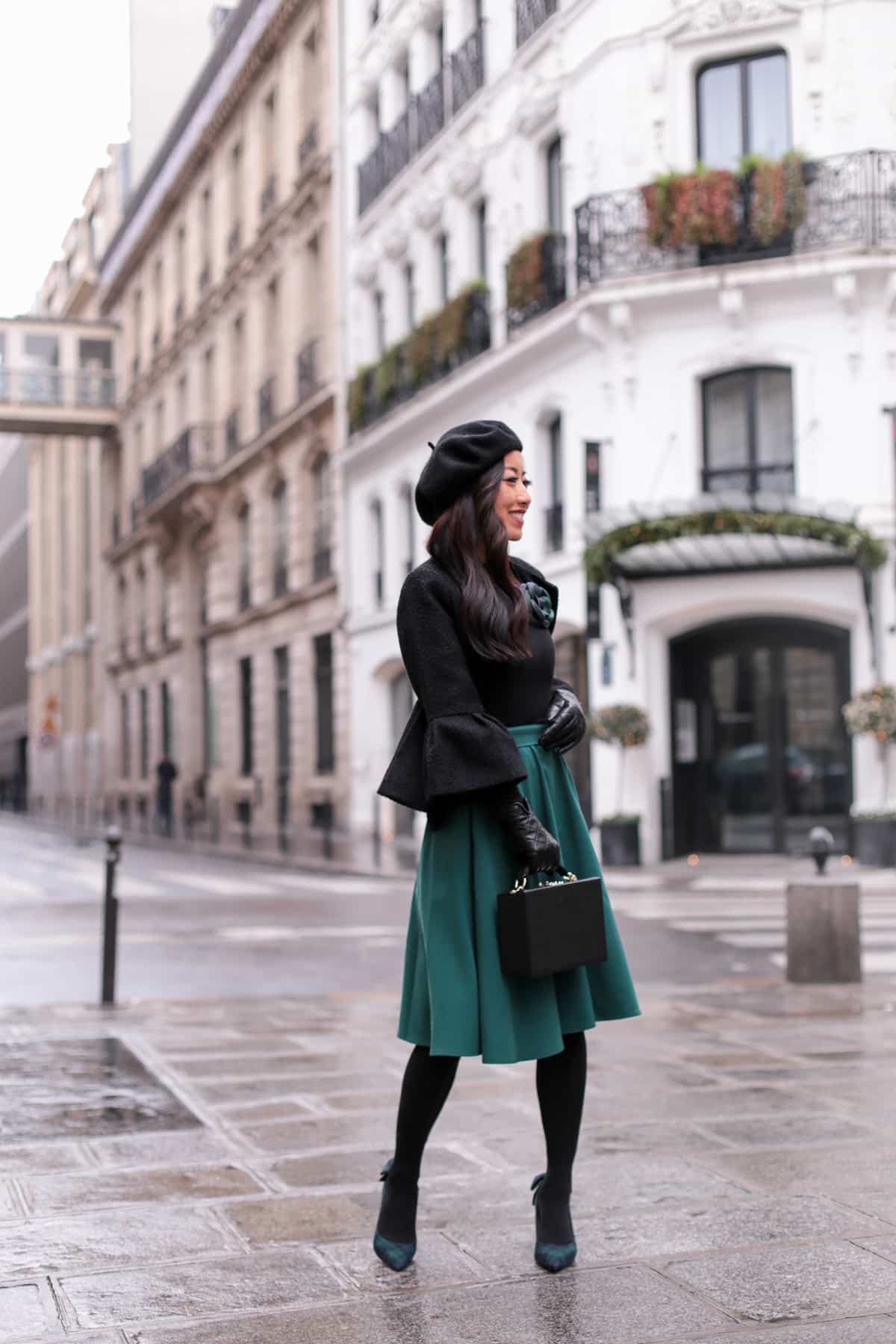 02 – Style The Perfect Date Outfit With Minimal Make-Up & Jewelry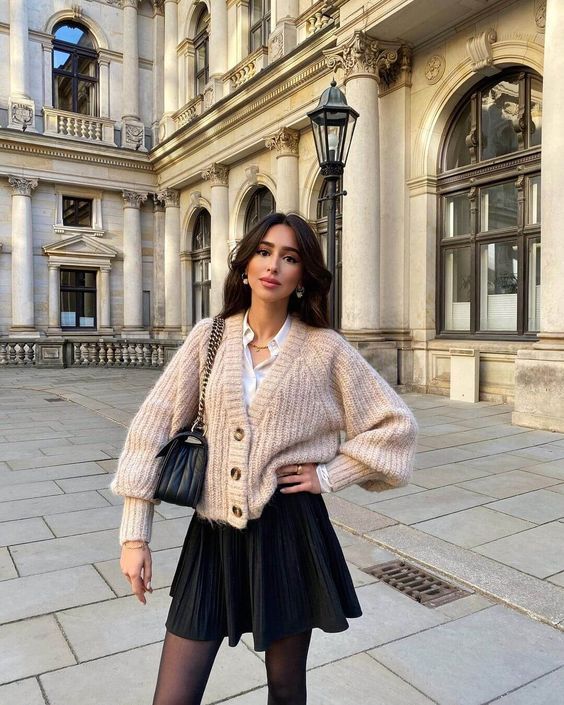 01 – Get the Work Look Down With an All Black Outfit & Plaid Blazer
Frequently Asked Questions
Q. What is a skater style skirt?
Essentially, a skater skirt is simply another style of skirt in the countless variety available out there. This skirt is also called a circle skirt, and it is true to its alternate name because this style of skirt flares out to form a circle when it is laid flat on a surface. The waistband ties at your actual waist and gives an A-line appearance on the wear.
Q. Are skater skirts still in fashion?
Lately, the skater skirt fashion trend is slept on as other, newer trends are emerging. Therefore, it is safe to say that they are declining and are probably buried somewhere in the back of your -or your mom's- closet.
However, it is a shame because they are incredibly versatile, fun, and easy to style. Therefore, this is the part where you do your own thing and style the outdated fashion trends to make them famous and stylish again if that is what you want!
Q. How do you wear a skater skirt with leggings?
Leggings and stockings are excellent garments that help create a unique and stunning look that keeps your legs warm. The easiest way to create an effortless look is by pairing your skirt and leggings with a fitted, full-sleeve top and an oversized leather jacket. Add combat boots to the mix, and you will have an edgy yet fashionable look at your end.
If you plan on wearing stockings or fishnets for the summer, you can opt for a crop top and an oversized cardigan. You can also opt for a detailed blouse in black with a patterned skirt and fishnets for a different but equally stylish look. The options are endless, and it all comes down to your taste!
Q. Where to buy skater skirts?
Here's a list of all the best places you can shop for skater skirts!