Skater girl outfits: Skateboarding started in the 1950s when surfboarders wanted to do something fun when the waves were low. This trend is one of the most famous trends these days and it basically revolves around skate culture.
Skaters wear a mix of oversized and gothic styles. They will usually wear oversized clothes with distressed denim. They love to wear chains, beanies, and beater sneakers. They are seen flaunting their style, which also keeps them comfortable during the activity. They love to experiment with colors. They will be seen wearing all sorts of colors, from bright yellows to blacks and browns.
What to Wear Skating?
The percentage of girls to boys in skate culture was very less but this was the case decades ago. However, it is not the way things work nowadays. Girls love to be involved and most of them seem to be better at this sport than the boys.
Styling Tips on How to Dress Like a Skater Girl:
• Ankle-high sneakers look best with figure-hugging clothes and low-top sneakers look good with baggy clothes.
• If you want to wear an oversized shirt but don't want it to come all the way to your thighs then tie a knot with it and it'll be better that way.
• Make sure your shoes are comfortable enough to be able to can skate in them for hours.
• USe accessories such as baseball caps and beanies to keep your hair out of the way when skateboarding.
• It could be dangerous to wear baggy jeans when skating so make sure you roll them up a bit so that you don't trip because of them.
↓ 21- Classic Black Converse Outfit
This outfit looks super cool. Every skater would die to wear this outfit! The oversized graphic tee goes perfectly with the black baggy jeans and black converse. You can add chains and make this outfit ever cooler.
Black is the perfect color and everything looks good in black so it's no surprise that this outfit looks great. It will keep you comfortable and as well as looking classy. Here are some more Stylish Ways to Wear Converse Shoes.
↓ 20 – Oversized T-shirt With Biker Shorts
Biker shorts are a sensation. Everybody loves them because they are extremely comfortable and look amazing. These shorts are figure-hugging and look perfect with oversized T-shirts, hoodies, and just crop tops.
Wear these shorts with a graphic tee and some Nike air force 1s to have a fun outfit. Don't forget to wear a chain or two. Here are some more tips on How To Wear Oversized Clothes.
Of course, you can also wear such baggy tops on your own: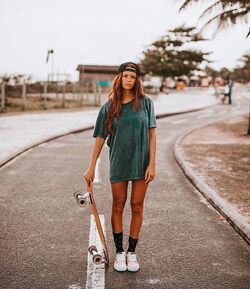 Or with jeans: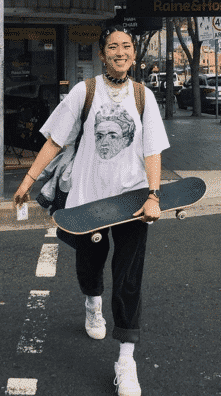 ↓ 19 – White Tank Top With Mom Jeans
Tank tops are the most basic piece of clothing that looks good with anything and everything. Every skater needs a tank top in their closet. You can pair a tank top with shorts, jeans, and even skirts. Tank tops keep you cool during the heat and make your outfits effortlessly chic.
You can pair this outfit with some chunky sneakers and of course your favorite skateboard. Here are some more Chic Ideas on How to wear Mom Jeans.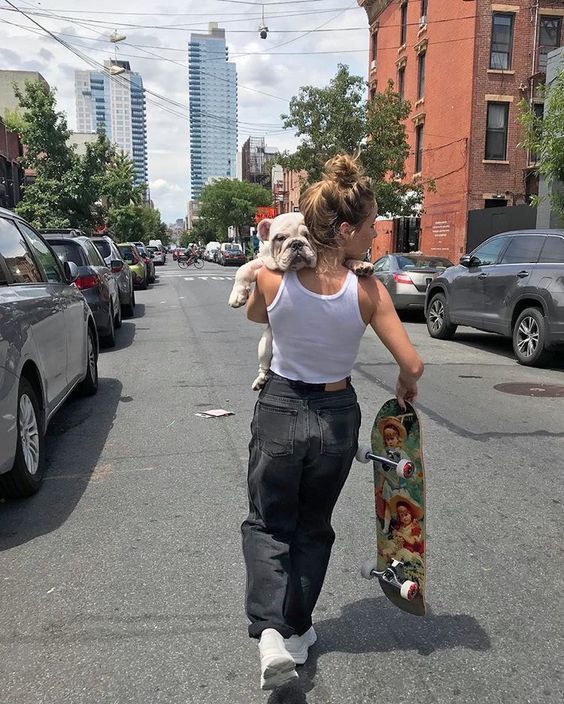 ↓ 18 – Distressed Denim
Ripped jeans will be a skater's best friend. They give the perfect look to your outfits. You can wear anything you like with these jeans and they will never fail you. Try wearing an oversized tee with some light blue distressed denim jeans.
Pair this outfit with some beater sneakers, a chain, and maybe some sticker tattoos if you don't have real ones yet!
↓ 17 – Black And Red
This outfit is simple and will be super easy to put together. You just need to grab a plain black crop top or tube top and wear it with black jeans.
↓ 16 – White And Black
Oversized t-shirts with undershirts look the best. You should definitely buy some undershirts if you want to get into skater style. Try wearing a white undershirt with a black t-shirt and black cargo pants. The white and black will create a nice contrast that you can then take forward with wearing white sneakers like the Nike air force 1s.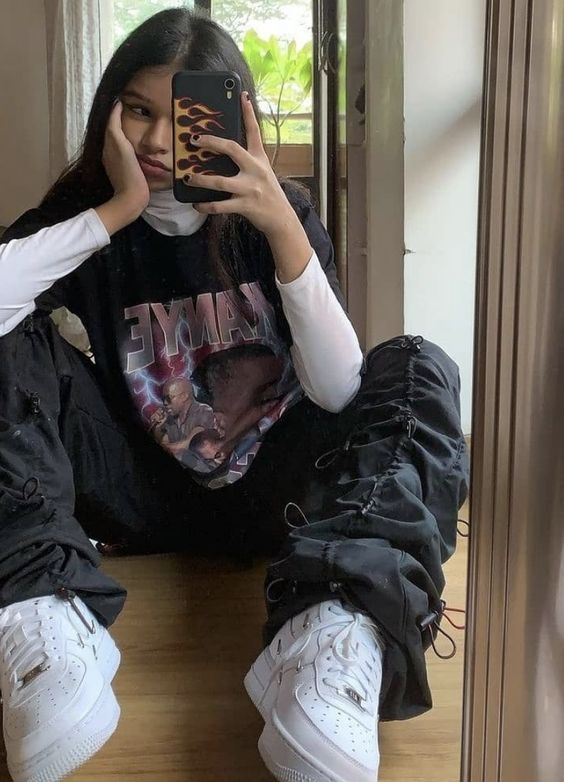 ↓ 15 – Beanies
If you're wearing a white shirt with beige/white pants and you want to add a pop of color to your outfit then wear a bright-coloured beanie. Matching jewelry would enhance the beauty of this outfit even more. Wear your favorite beater sneakers to complete the look!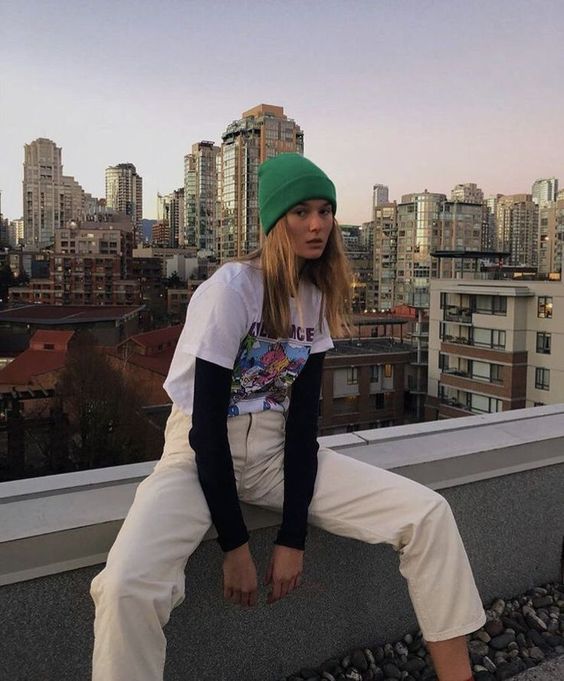 ↓ 14 – A Little Bit Of Plaid!
Plaid shirts are always fun to have around. You can throw one on a plain crop top and some sweatpants and voila! Baseball caps are also something skaters like to wear so pair one with your outfit occasionally.
Sweatpants will keep you comfy and the plaid shirt will keep you looking chic. Nike air jordans are another perfect skater shoe to sport.
↓ 13 – Splash Of Pink!
Don't think that skaters don't wear colors! Yes, they do and in the best possible way ever. Some ways to wear fun colors are to either wear colored t-shirts or tops with jeans or maybe a plain shirt with a colored skirt or shorts.
You can also wear colored sneakers but the easiest way would be to wear a colored t-shirt with denim jeans. Try wearing bucket hats too if they match your style!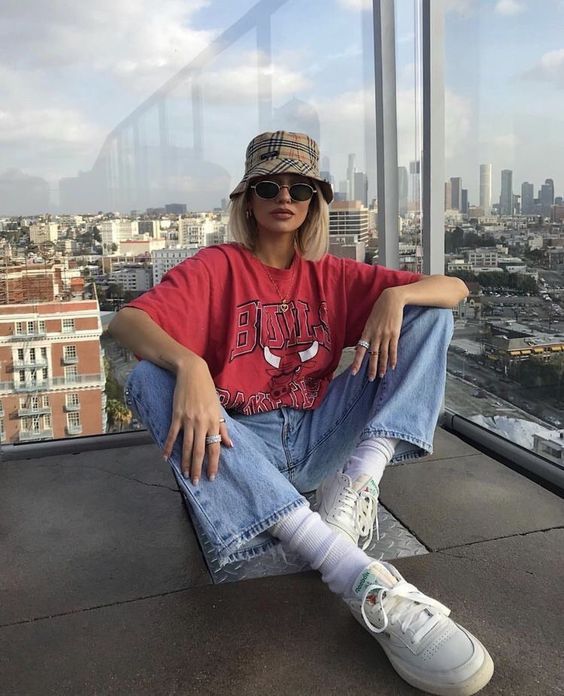 ↓ 12 – Pastels
We will never get over pastels and we don't mind! Pastels always look good. Pair an oversized pastel tee with some ripped mom jeans and your favorite beater sneakers for an easy but fun outfit. Wearing chains will add more glamour to your outfit and don't forget your sunglasses! Here are some of our favorite Pastel Outfit Combinations for this season.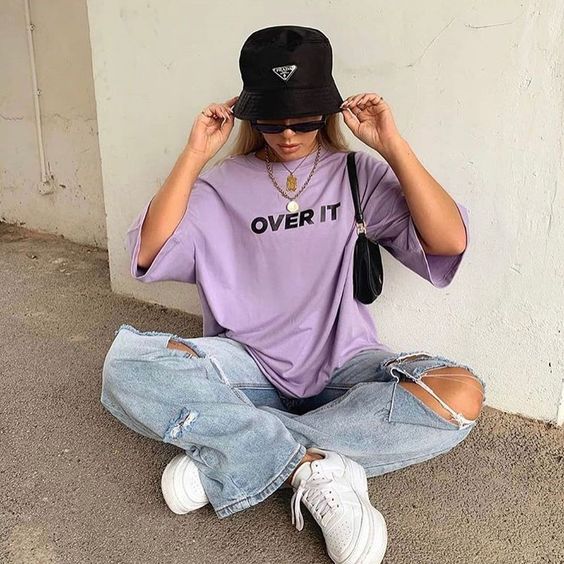 ↓ 11 – More Plaid!
These plaid pants look super cool. You will definitely be turning heads when you wear them. You can pair these pants with a plain t-shirt as that would look best but if you want to go all out you could also wear these pants with a matching plaid shirt.
Black sneakers with a matching colorway would look best! Fanny packs are a cute accessory that you should try if you still haven't!
↓ 10 – Red With Nike Air Force Ones
This red Nike shirt looks super cute with a black undershirt. Straight jeans are the best because they're not super tight and not super loose, either. They're the best in between and look good with just about everything. Wear this outfit with your favourite sneakers, and you won't regret it!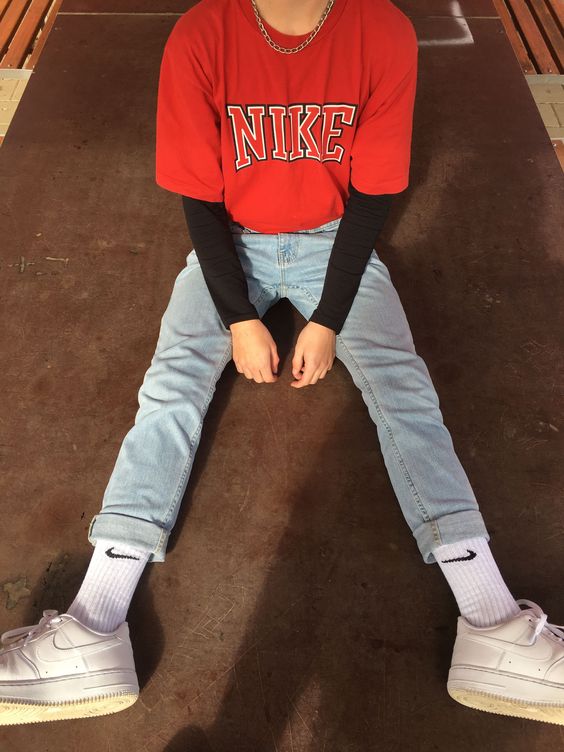 ↓ 9 – All White With A Hint Of Denim!
This outfit is a mix of all designs, plaid, stripes, and whatnot. It's a cool outfit, something not everyone would be able to rock. Wearing plain shirts with printed undershirts is always a good idea. The checkered Vans really bring the whole outfit together. A black beanie would be the cherry on top!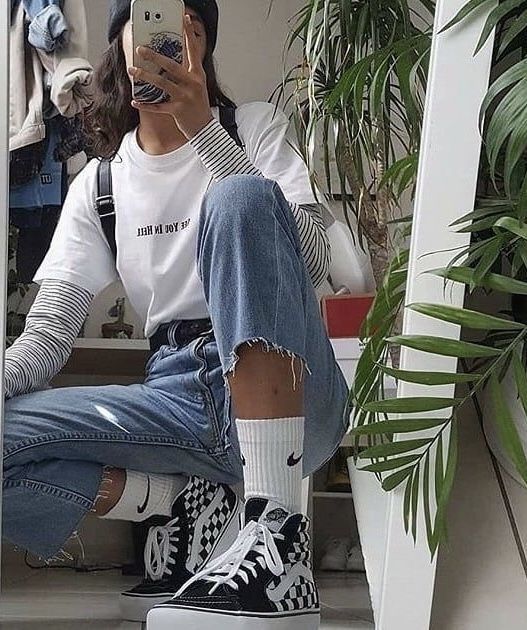 ↓ 8 – Rule Breaker Outfit!
An oversized shirt with some baggy pants and sneakers is the easiest and simplest outfit you'll ever get your hands on. Try it and experience it for yourself.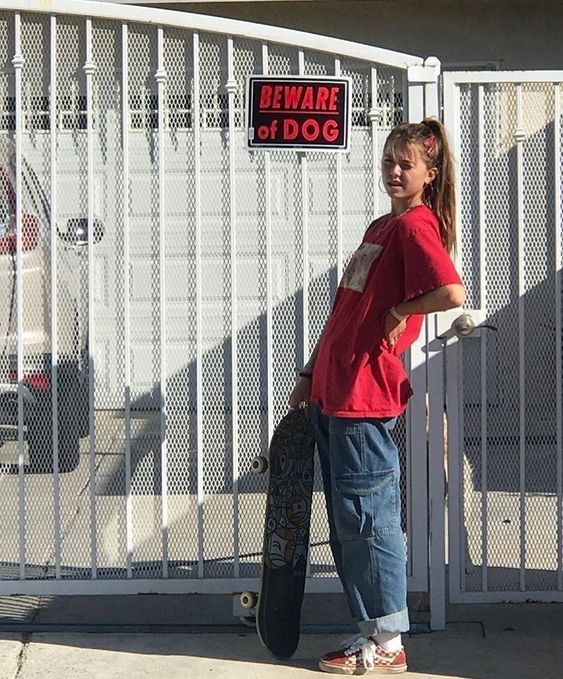 ↓ 7 – Croptops With Black Converse
Crop tops are another way to add some spice to your skater fits. Matching sneakers will bring the whole outfit together. Another super cool accessory would be a belt. Printed, colored, and ones with gems on them. Try them out if you still haven't!
↓ 6 – Electric Purple!
Purple is a stunning color if you know what to pair it with. This purple outfit is so stunning because everything matches everything in a very subtle way. The purple sweats and the oversized graphic tee are gorgeous and they are paired with purple Nike air jordans.
The accessories are what matter most and they match too which makes this outfit perfect!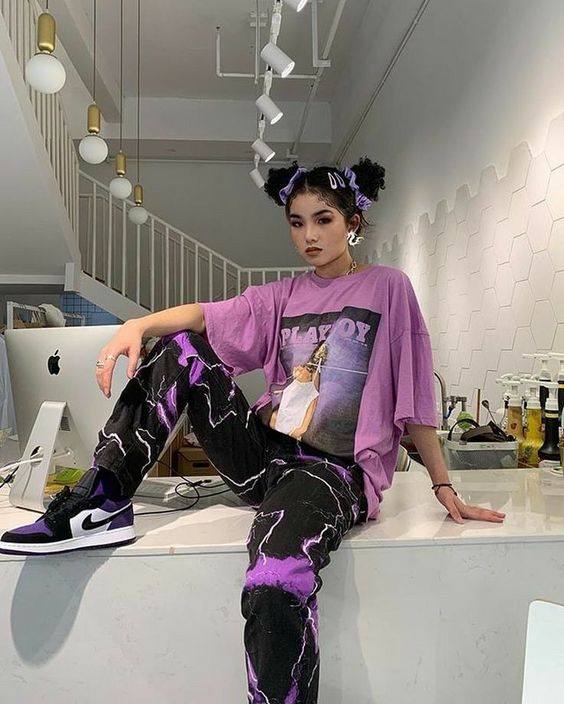 ↓ 5 – Comfy Fit
Just throw on a pair of sweats and an oversized tee on days when you don't feel like putting effort into your outfits. Pair them with your favorite pair of sneakers and you're done!
↓ 4 – Skinny Jeans With Croptops
It might seem like skinny jeans arent something skaters wear but it depends on people. Everyone has different preferences and some skaters might love to wear skinny jeans. Such crop tops look great with skinny jeans, ripped or regular. Ankle-high sneakers look better than normal sneakers with skinny jeans. Here's a list of the best Shoes With Skinny Jeans.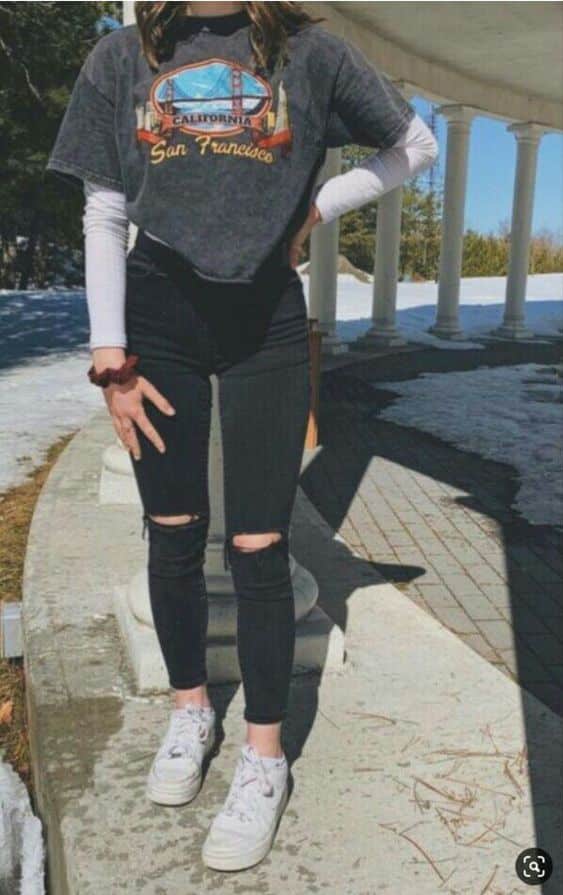 ↓ 3 – Varsity Jacket
A varsity jacket is something that everybody needs. If you don't own what are you even doing? These jackets look good with even the simplest of outfits and make them the best. You can wear these jackets with jeans, pants, shorts or anything else. Pair a black varsity jacket with black jeans and white sneakers for a cute look.
↓ 2 – Baggy Fits For Days!
Baggy clothes are the comfiest and you'd have to agree with us on that! An oversized zipper hoodie, baggy jeans, and a baseball hat always make the best outfit. Let's not forget the Nike air jordans.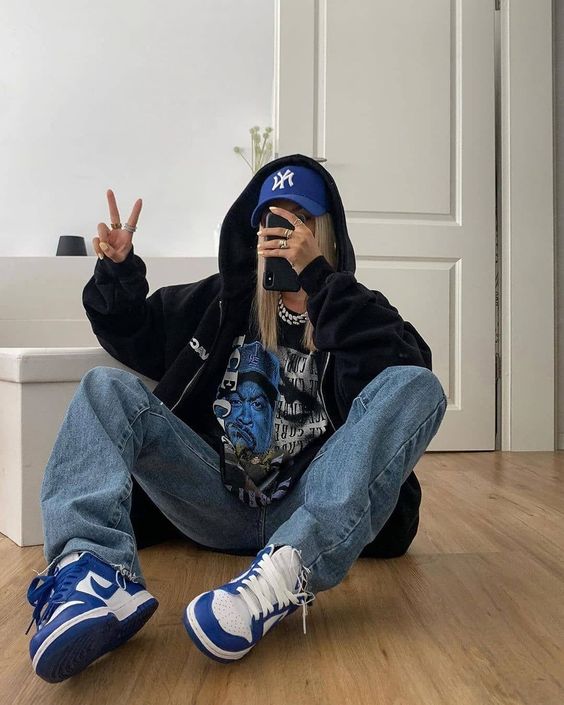 ↓ 1 – Hint Of Gothic!
Who said you can't be a bit goth and a skater? You can always mix and match two styles your own way and create a unique outfit. You can wear an all-black and add some chains to it and a baseball cap. The cap will give it the skater vibe but the rest of the outfit will be goth.
Skater Girl Shoes Ideas:
All skaters have some specific shoes that they love to wear the most. These are the shoes we have seen skaters wear most commonly. These sneakers are comfy, classy, and exactly what skaters need!
Nike Air Force 1s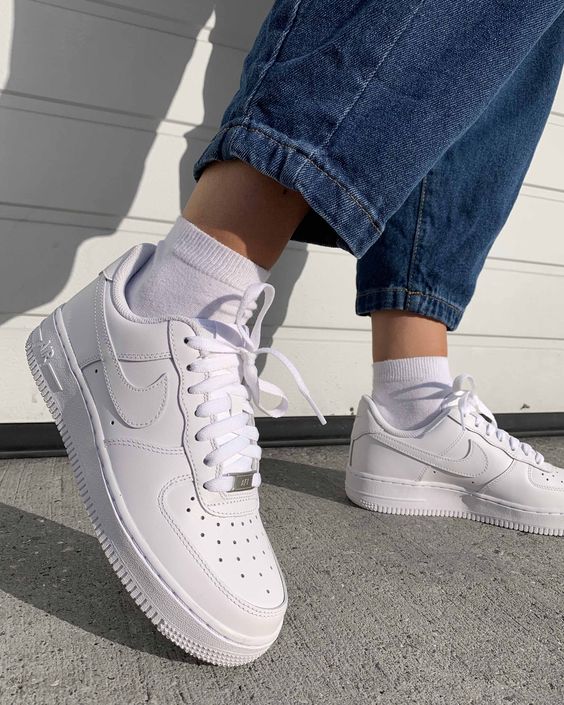 Nike Air Jordan 1s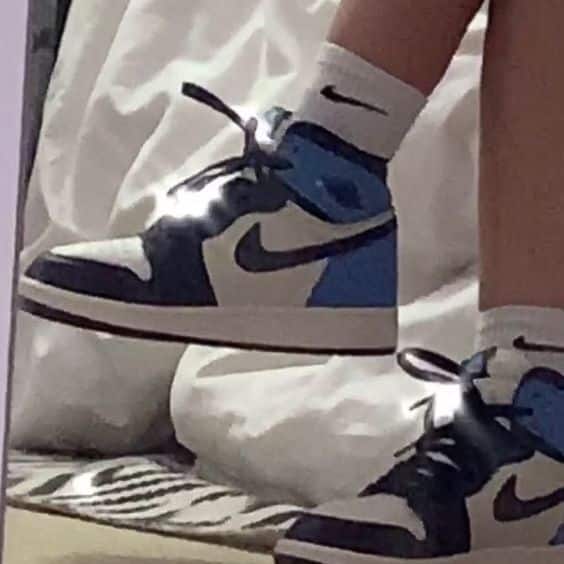 Converse All Star Black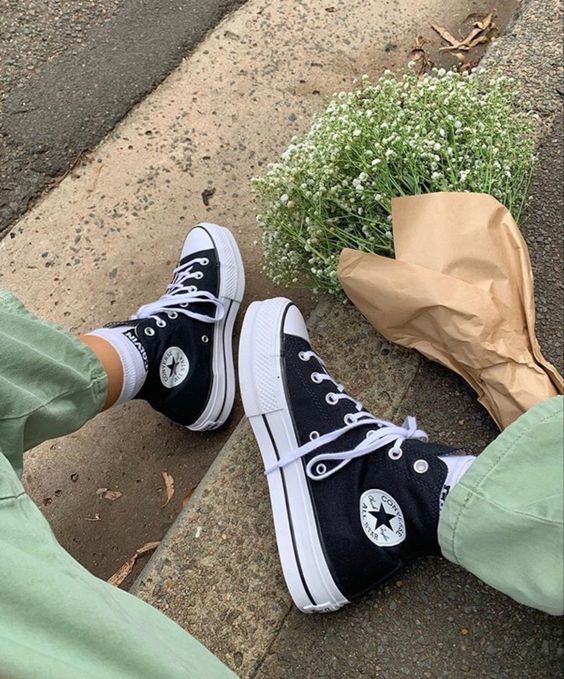 Nike Dunk Low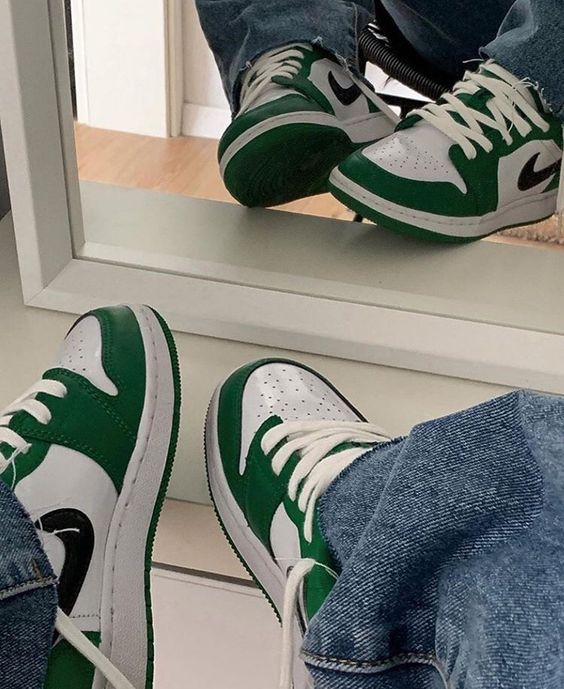 Skatergirl Accesories:
Colorful Jewelry
Jewelry always enhances your outfit, try to wear it when you feel like your outfit is missing something.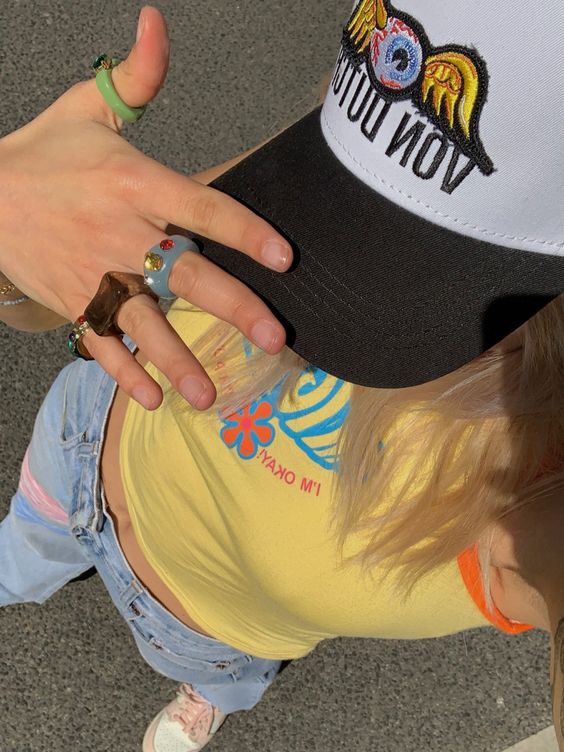 Beanies
Beanies are a cool way to hide a bad hair day and look cool as well!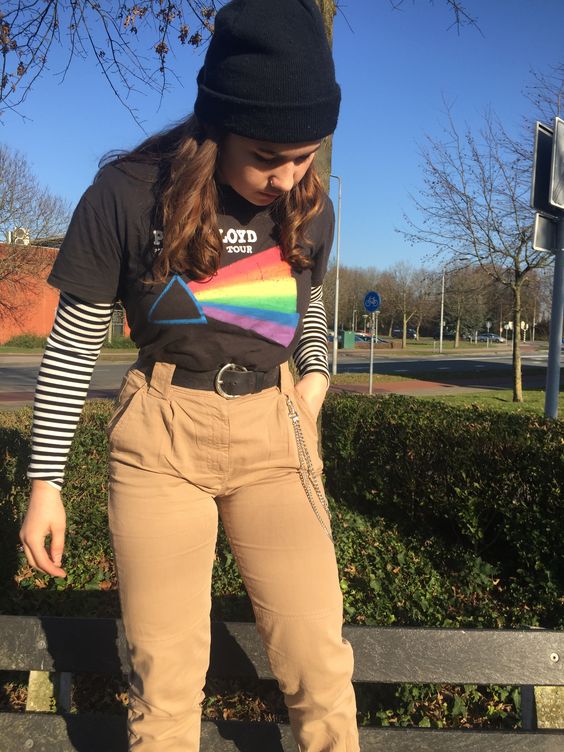 Frequently Asked Questions
Q. What do you wear to skate in the summer?
A. The summers can be a bit harsh and it is quite hard to go outside and skate but who said you can't look cool even in the summertime? Skaters love to wear oversized t-shirts so that is their go-to in the summertime.
They wear oversized shirts with jeans, shorts, and skirts. Crop tops are another thing that you can wear if it is really hot outside but just make sure to pair it up with some chains and the perfect beater sneakers. Overalls are also something you could wear because they are the perfect outfit for skater style. Go for bright colors because they will look stunning in the summertime.
Q. What do most skaters wear?
A. Mostly, skaters wear oversized clothes. It depends on the person wearing the clothes but usually, that is what skaters like to wear. They like to mix and match between lots of different oversized clothes such jeans, hoodies, T-shirts, and undershirts.
Skaters will be seen wearing loose jeans with an oversized t-shirt and an undershirt underneath it in a contrasting color. Skaters will almost always have the best beater sneakers too. They have Nike air force ones, Nike air jordans, Vans, and every other cool sneaker brand that you could think of.
Skaters also have the coolest accessories and the best part is that they know how to style them. A beanie, chains, and colorful jewelry are just a few of the many things they like to wear.
Q. What are some girly skater girl outfits?
A. Girly skater girl outfits would include skirts, stockings, dresses, and rompers. The way that skaters make these outfits one of their kind is by adding their touch to them. For example, you can wear a tennis skirt with an oversized graphic t-shirt and some worn-out stockings.
You can wear dresses with knee-high buckle boots and chains. You can also wear denim rompers or denim jackets because they are super cool and match skater style. You can also try wearing bodysuits with skirts and knee-high socks with black converse.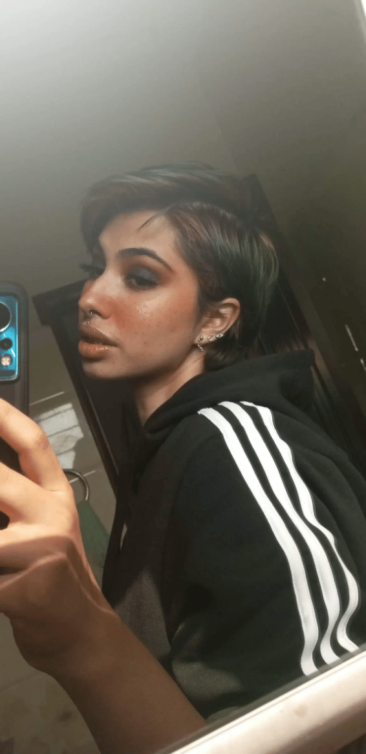 I am a women's holistic health coach and student that enjoys history, experimenting with makeup and skincare, playing sports, working out, and doing all things adventure-related.