Best Accessories for Women Over 50- Asian fashion has become increasingly significant in local and global markets. Fashion is something that every woman in the world loves. Changes in the fashion of costumes often take place regularly so you have to keep yourself updated about it but the fashion of accessories is all up to you.
One of the biggest myths about getting older is that you no longer care about being attractive. That's wrong, you can still express your style and look beautiful! You don't have to be a designer to create a stylish look in your own small room. Some additional attraction can be added to the outfit by wearing stylish and appealing accessories. Below are 20 best accessories for women over 50 for any season.
What Accessories To Wear In Your Fifties
Here are some tips to remember when choosing accessories:
Avoid being too matchy
Don't wear more than 3-4 large accessories
Set your priorities: either bright clothes or eye-catching accessories
Remember that large rings don't suit everyone
Choose items that enhance your features
Pick accessories that go with your complexion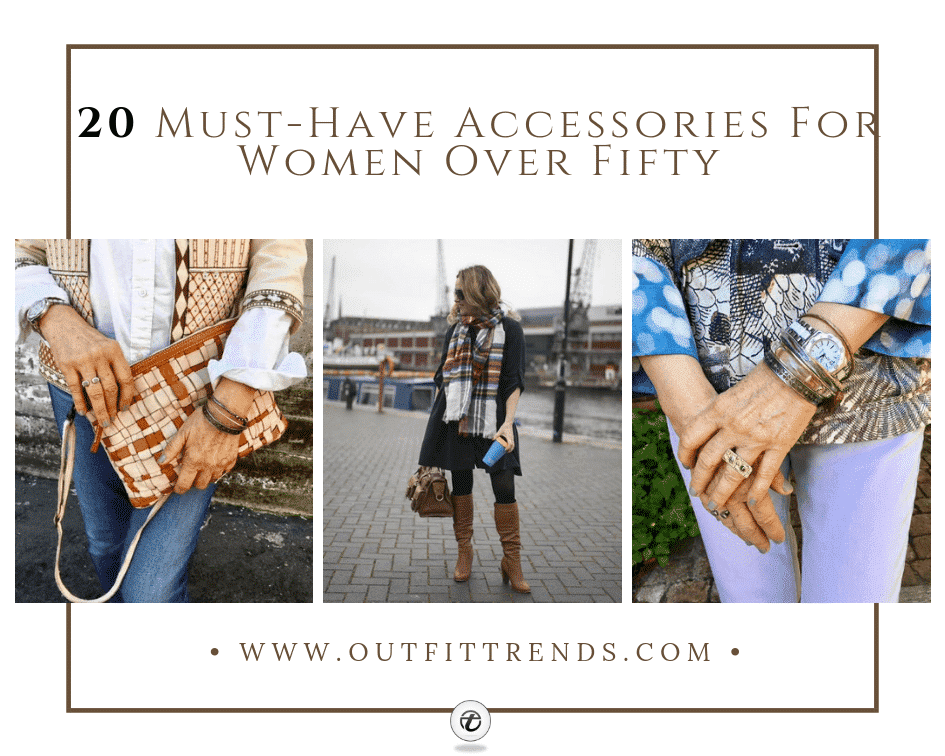 ↓ 20- Eye Catching Earrings
You can wear big earrings or small ones according to your face shape and your personal taste of course. If you have an oval face and your forehead is not too wide then the best earrings for you are pearls. If you have a round face then long dangles would look stunning. If you have a narrow face then earrings with lots of volumes would go best! Also have a look at these 18 Outfit Ideas on How to Wear Capri for Women Over 50.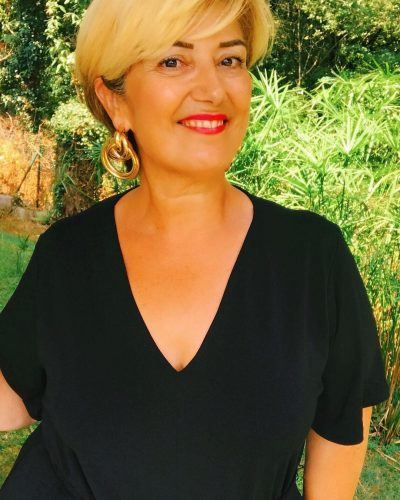 ↓ 19- Statement Necklaces
A long pendant necklace is something that almost every older woman owns. Longer necklaces make your neck look prettier and they elongate your figure too. If you are tall and thin a and have delicate bone structure then prefer wearing smaller jewels. Wear necklaces with the outfit to make your outfit look even more attractive. Chokers are really trending these days so do give them a try. If you are looking for the perfect size of necklaces then you have to decide it on your own according to your body!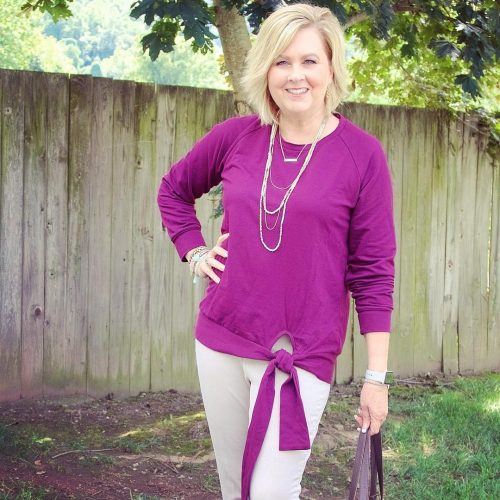 ↓ 18- Beautiful Bracelets
Try to match the colour of bracelets with your outfit. Or you could just go for the classic ones, mix and match to create new looks every day.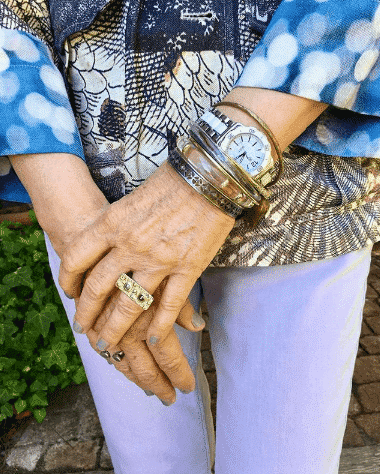 ↓ 17- Decent Watches
Watches have always been in fashion. Forget the iPhones and digital clocks when it comes to telling time in style, its all about watches. They not only show you the time but also look really decent and appealing. You can wear a watch with any kind of outfit. Watches would suit more on women over 50 who have long arms. Women over 50 can wear jewellery watches, fashion watches or classic watches. Gold, rose-gold and silver watches are classic colors that are worth investing in.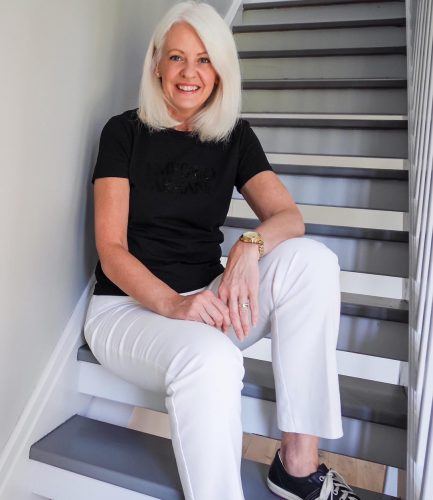 ↓ 16- Elegant Scarves
Here are some reasons on why you need to invest in good quality scarves:
Scarves are something that you can wear with anything as they complement your outfits.
You can wear them with the eastern outfit as well as the western outfits.
Scarves also help you keep warm.
Scarves are affordable and can be worn in any season.
Scarves have always been in the fashion and women over 50 can easily wear scarves with their everyday outfits.
And many women find them to be a great accessory to hide the neck wrinkles.
But be cautious with multi-coloured scarves as in most cases they don't contribute to your look in a positive way. Even if you wear multi-coloured scarves then don't wear a multi-coloured top or jacket as it might have a negative impact on your look. A simple way of wearing a scarf for a woman of 50 years would be to just wear it casually.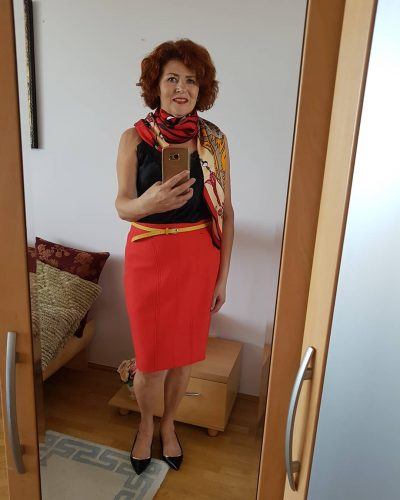 And you don't necessarily have to wait for Winter or Fall to wear your scarves. Simple silk scarves can be worn throughout the year, around your neck instead of jewellery, also known as the neckerchief.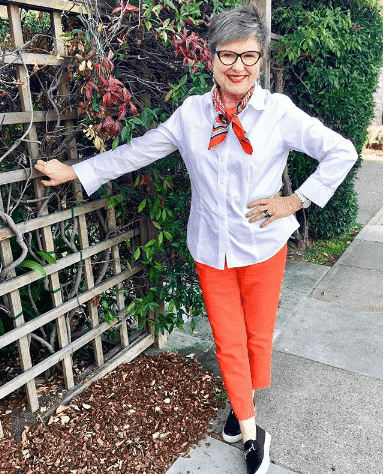 ↓ 15- Sophisticated Handbag
You can carry the best handbag that you can afford along with your outfit. It will not only give you a sophisticated look but it can also let you keep your things safe inside it. Just like you don't wear the same clothes every day, similarly don't carry the same bag everyday too. Add variety to your wardrobe by going for different styles and colours of handbags. You should also have at least one black, one white and a few nude coloured handbags or clutches as they match with almost every outfit. Clutches are preferable for formal wear while crossbody bags are a practical choice for casual everyday wear. Here are 20 Best Outfit Ideas with Jeans for Women Over 50.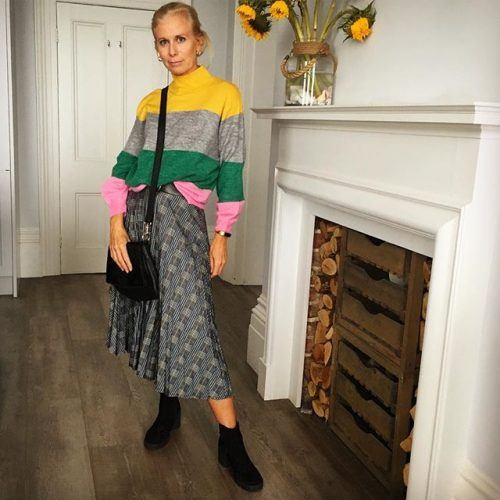 If you need more style inspiration, you should follow Melinda who's a super stylish over-50 fashion blogger. Here she's seen wearing a binnywear dress with a minimalist clutch from SweetCharlotteStudio. You should also check out Sweet Charlotte Studio for some really gorgeous outfits and accessories that are designed for mature women.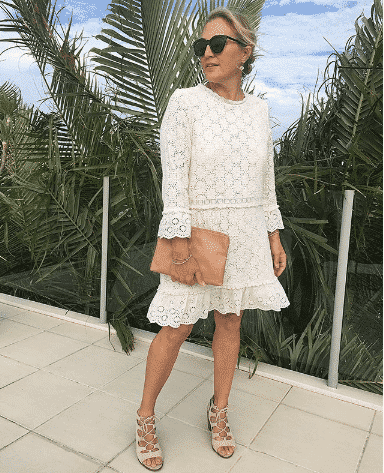 ↓ 14- Comfortable Footwear
Footwear represents much more than we expect them to. If you are wearing jeans then running shoes would be a good idea. They will also encourage you to follow your dream of fitness. They will motivate you to start your exercise plan. You can also travel and visit new places in running shoes as you will be more comfortable wearing them. Women over 50 can also wear flat shoes. They also look pretty. You can wear high heels too as they will remind you that you are still sexy no matter what your age is. But when you choose to wear heels remember not to sacrifice on your health. High heels may cause health issues for women over 50 so you can go for more comfortable shoes like ones with air soles.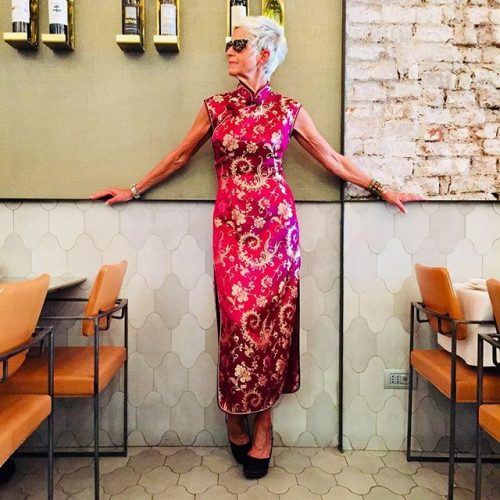 ↓ 13- Exquisite Toe-Rings
You can not wear toe rings if you wear closed shoes like pumps and joggers but if you are wearing shoes that are open from the front then you can wear them as they will make you look even more beautiful. Women over 50 can wear toe rings but some women might feel it irritating and hurting.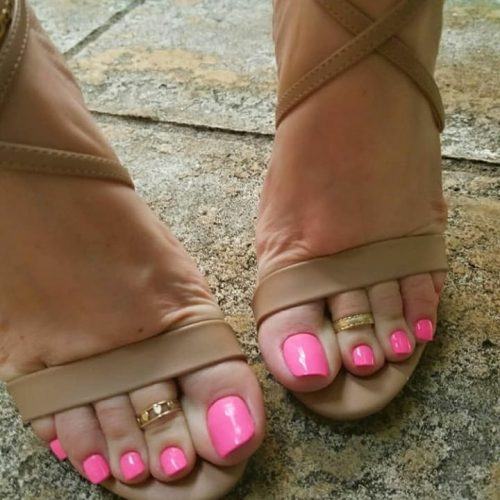 ↓ 12- Anklets
This is usually worn by married Indian women. It is known as the marriage symbol for the Indian women. Make your day even better by wearing them. Women over 50 can wear them when they are on vacation somewhere tropical and you are thinking to wear it on the beach so YES it is the right choice! But if you are in a professional work environment then it might not be appropriate as many believe that it's quite distracting. Wearing anklet during the business hour may weaken up your credibility regardless of your age so don't wear anklets during the business hours!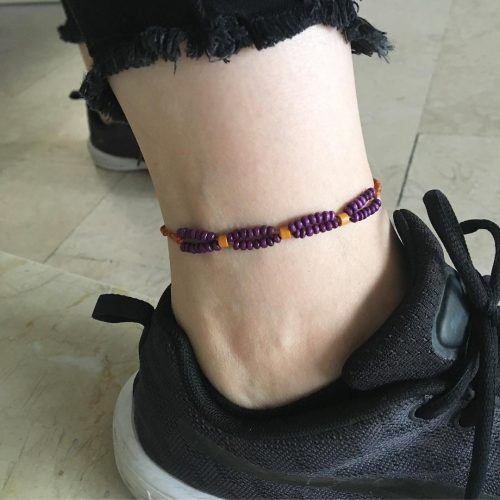 ↓ 11- Nose Rings to Add Charm
Nose rings have great value in the Indian traditions. They are also called 'naths' and they give an elegant look. Nose piercings are much more accepted these days then they were before regardless the age. Some people say that women should get their right nostril pierced. Women over 50 can wear nose rings when they wear traditional clothes as they complete the traditional look. However, nose piercings look equally beautiful with jeans, skirt and other outfits too.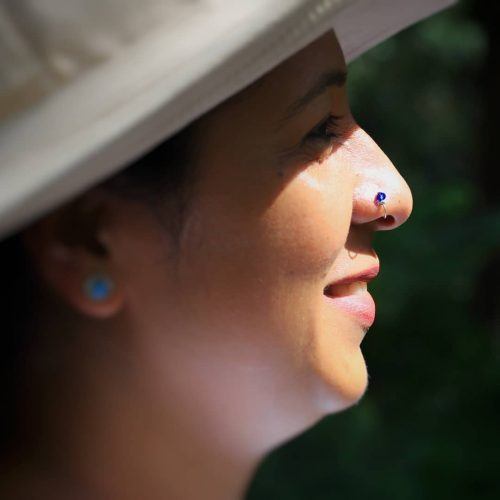 ↓ 10- Hats
Hats are one of those accessories that most people don't really consider when they are getting ready for a fancy event. There are many reasons to wear a hat as they give you shade and they cover up your hair too. It's quite popular to wear furry hats on your head. It keeps your head really warm. Mostly women over 50 feel colder so its good to wear caps to keep yourself warm. Women over 50 should prefer wearing light colours. Just go light! Light could mean light pink, light blue and etc. It lightens up your face as well! Can you wear a hat with a dress? how about with jeans? Should you even consider them wearing with anything you wear? The answer is YES. You can wear a hat as long as you wear it correctly. A hat can be that one accessory that sets you apart from other people at an event. Just don't match your hat too perfectly with the outfit. Hats can really be a fun and stylish accessory no matter where you are going! You may stand out from the crowd by wearing one, but then again, you are a standout! Don't miss out these 10 Most Productive Hobbies for Women Over 50.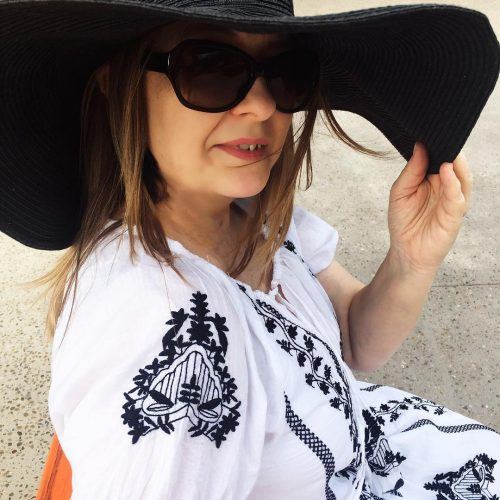 ↓ 9- Gloves
In the late 1950's women wore gloves when they wanted to look fashionable and gorgeous. Gloves not only give you a glamorous look but also protect your hands from the freezing cold. Gloves can be worn anytime when you are going on dinners, dance, wedding, church. Gloves must be removed when you are eating, drinking, smoking and putting on makeup. Gloves should not be taken off when you are shaking hands with someone. The most important part of choosing gloves is to make sure that they are comforting. White or beige gloves are the best choice as they go with every costume. Black gloves also look really good. Coloured gloves are now coming back in trend. It is considered very smart if you wear matching gloves with the outfit. The length of the glove is decided according to the fashion. Long sleeves gloves are usually worn with formal dresses while short gloves can be worn anytime on any informal event. Just remember never to wear rings along with the gloves but you can wear bracelets if you like.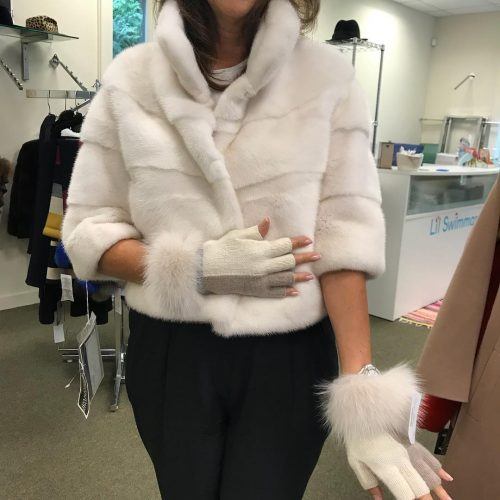 ↓ 8- Hair Accessories
Hair bands and buns are the best accessories for women over 50. Women over 50 mostly prefer short hair so hairbands would go best with short hair. If you are wearing a headband with the outfit then you should keep your other accessories simple. You should choose a sophisticated colour that goes with the tone of your hair. Women over 50 should not wear hair bands that have a bow on it as they are not appropriate. After a certain age, hair bands can be very tricky to wear, but not impossible.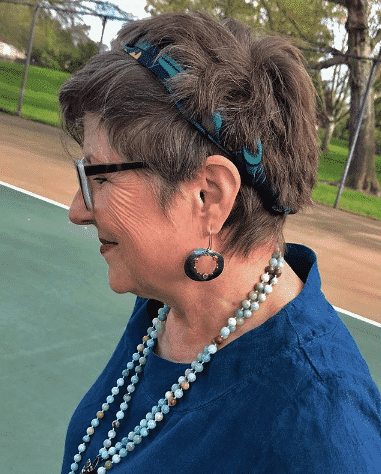 ↓ 7- Eyeglasses
If you wear glasses every day then consider your glasses to be the best accessory. When deciding what eyeglasses to wear for women over 50 then three things should be kept in mind, your face shape, your hair colour and your personality. A round face benefits from squarer sunglasses and thick, bold lenses would go best with the oval-shaped faces. If you have a pointy chin then opt for egg-shaped lenses.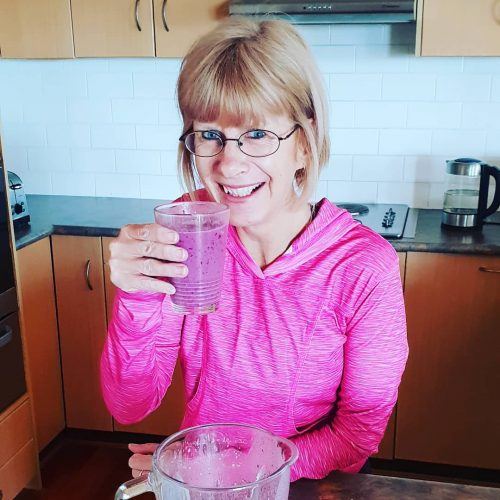 ↓ 6- Belts-Yes or No?
Belts can make an attractive statement and are an important part of your wardrobe. But, if you want to follow the rules of technical dressing, don't use them to hold your clothes in place. Tailoring can accomplish this much more effectively, freeing you up to choose accessories that make your look rather than shape your look. Belts suit almost everyone so yes if you thinking of wearing belts with your outfit you're making the right decision!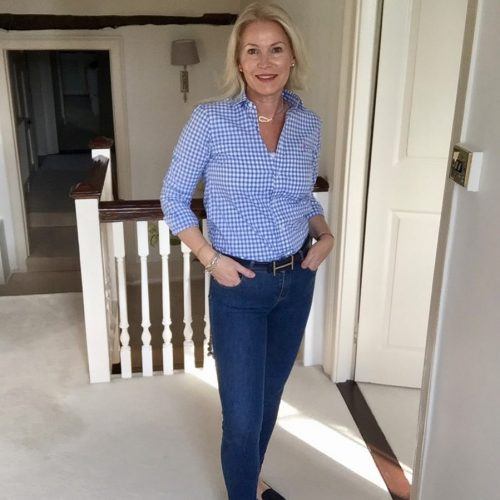 ↓ 5- Sunglasses
Styles have changed and so have the shapes of faces. Sunglasses are an essential part of the accessories. Women over 50 can wear sunglasses as it hides the eye bags that develop due to ageing. It is recommended not to choose the glasses that are same as your face. That means if you have a round face then don't select round frames. Remember to choose those glasses which make you feel comfortable and protects your eyes too! Here are 30 Best Traveling Outfits for Women over 50.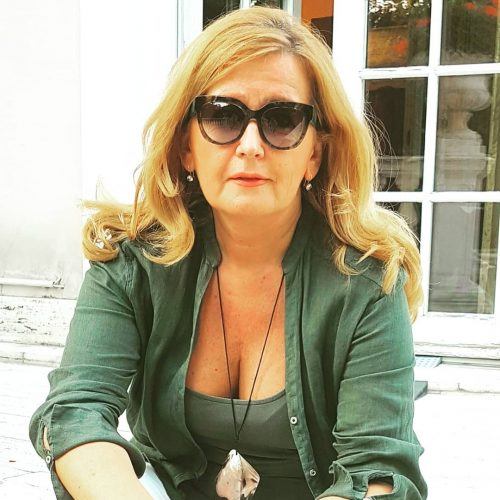 ↓ 4- Rings
Almost every woman is crazy about rings regardless of the age. Women over 50 can wear delicate rings as that would suit them more. Huge rings don't usually look good but if you feel like they suit your hand, feel free to set your own rules.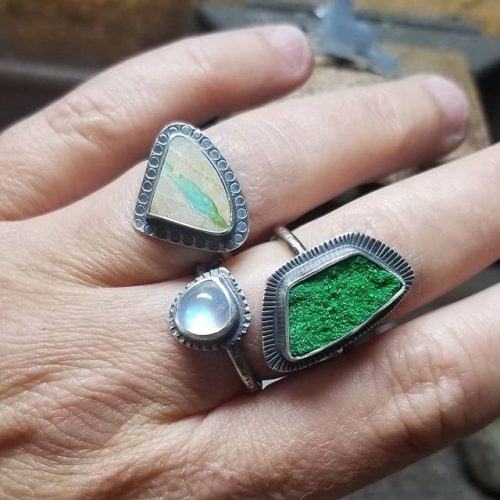 ↓ 3- Where To Shop For Accessories?
There are a lot of accessories brands from which stylish and appealing accessories can be bought for women over 50. You can also order accessories online. The rise of online shopping along with its speedy delivery and excellent customer service (usually) has made shopping very easy. Three of the really good accessories brands include Gucci, Chanel, Michael Kors. Some of the more budget-friendly options include ASOS, Marks & Spencer's and Nordstorm.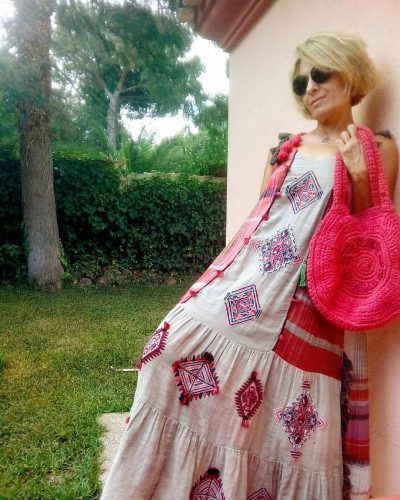 ↓ 2- Trending Accessories 2021
The trend of accessories can be set by you yourself. It doesn't really matter what's trending, what matters is how good they make you look. But some of the most popular accessories this year definitely are straw bags and hats, floral accessories and fluffy jackets.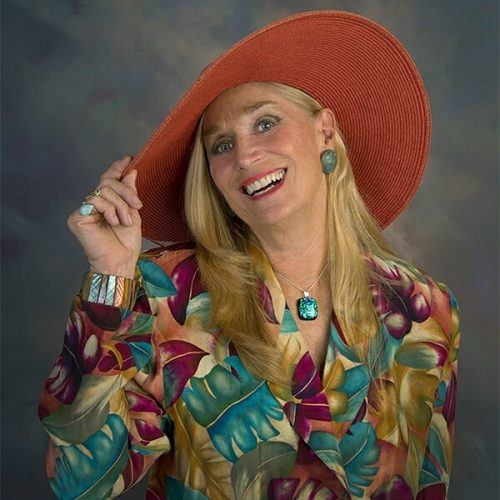 ↓ 1- Makeup
Of course makeup is an accessory since you choose whether you want to wear it or not. When you reach your 50s, it's high time to upgrade your makeup as you would now want to go for more mature lip colours, nail paints, etc. Your choice of simple things like sunscreens and foundations also change at this point. Many women even choose to go for a different shade of foundation and concealer in their fifties.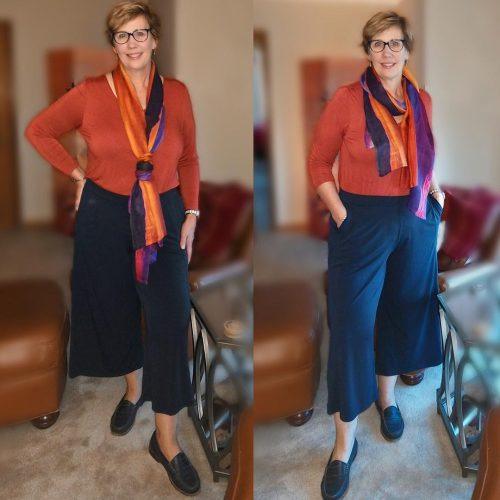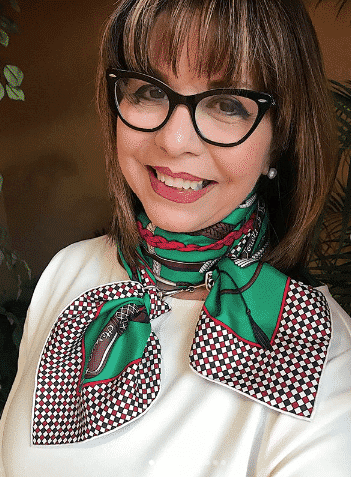 Frequently Asked Questions
Q. How do you wear jewelry over 50?
A. You wear jewelry over 50 the same way you wore it at 20. However, you might want to tone it down a bit, but who decides that women over 50 cant wear chains like teenagers do? If a woman likes it, then she can wear it. Women over 50 might be uncomfortable in heavier jewelry so that might be one reason why they should stick to simple and light earrings and necklaces.
Q. How do you look elegant and classy over 50?
A. As long as you stay true to your style and your true calling, you will always look elegant. Not everybody wants to be old and elegant. Some people want to be bold and noticeable even in their 50s, so let them be. Let everyone do whatever they want, but if you want to look elegant then, of course, you should go for simple outfits, little to no jewelry, and makeup.
Q. What are the best hair accessories after 50?
A. One of the best hair accessories ever is a bandana. Bandanas will look good on a 15-year-old the same way they'll look good on a 50-year-old. You can never go wrong with bandanas because they will keep your hair in place and also keep you looking cool at over 50. Silk scarfs are another similar hair accessory that can truly up your hair accessory game.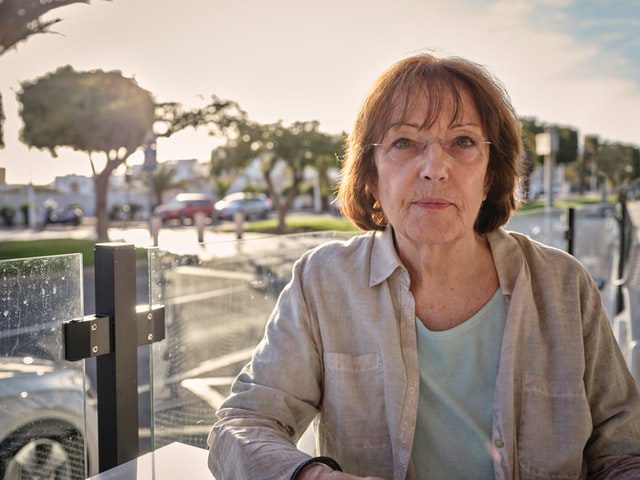 Living my 50s in style doing what I love the most!