First birthday outfits – A birthday is an occasion of great festivity and joy, especially when it is a kid's birthday. They invoke positivity and happiness among the family members and boost the birthday kid's self-esteem.
This day holds a special place in the parents' hearts, and it is also something significant to remember over the years. So people usually try to make this day as memorable and perfect as possible for their young ones. Parents go to all lengths to make their little one's birthday as unique as it can be. They choose a cartoon, superhero, or even a color theme revolving around their child's favorites. The costumes and decorations are also decided accordingly. This makes the kid feel even more special and loved.
Deciding an outfit for your baby girl's first birthday can be a little challenging because you have to keep the weather in mind and choose an outfit that's fancy yet comfortable. Here we have a list of the top 20 cute birthday outfits that are ideal for your princess's first birthday bash.
Birthday Outfits for Baby Girls
Choosing a perfect outfit for your little one's big day is quite a difficult task. There are a lot of things to keep in mind and a lot of boxes to check. One usually finds himself very confused and conflicted between all the wide range of choices today. 
As parents of a baby girl, the trouble of deciding between choices for finding her outfits, matching shoes, accessories is understandable. It is essential to find the perfect outfit for that special little bundle of joy, with it being a memorable day. 
There are some do's and don't's that would help you choose your baby's perfect outfit and give you a little bit of relief in the process of doing so. 
Always put the baby's comfort first. Them being comfortable and happy is the top priority. 

Try to synchronize the outfit with a theme, if you have one. 

Keep in mind the season because kids need extra care from the cold weather and get annoyed if they feel too hot. 

Choose casual and comfortable clothes, preferably not pure white, as there will be many running around and licking chocolate-dipped fingers. 

Make sure that the shoes are comfortable and feel right on the toes. 

Do not overwhelm your kids with many accessories and especially pointy ones that could pose a danger to them.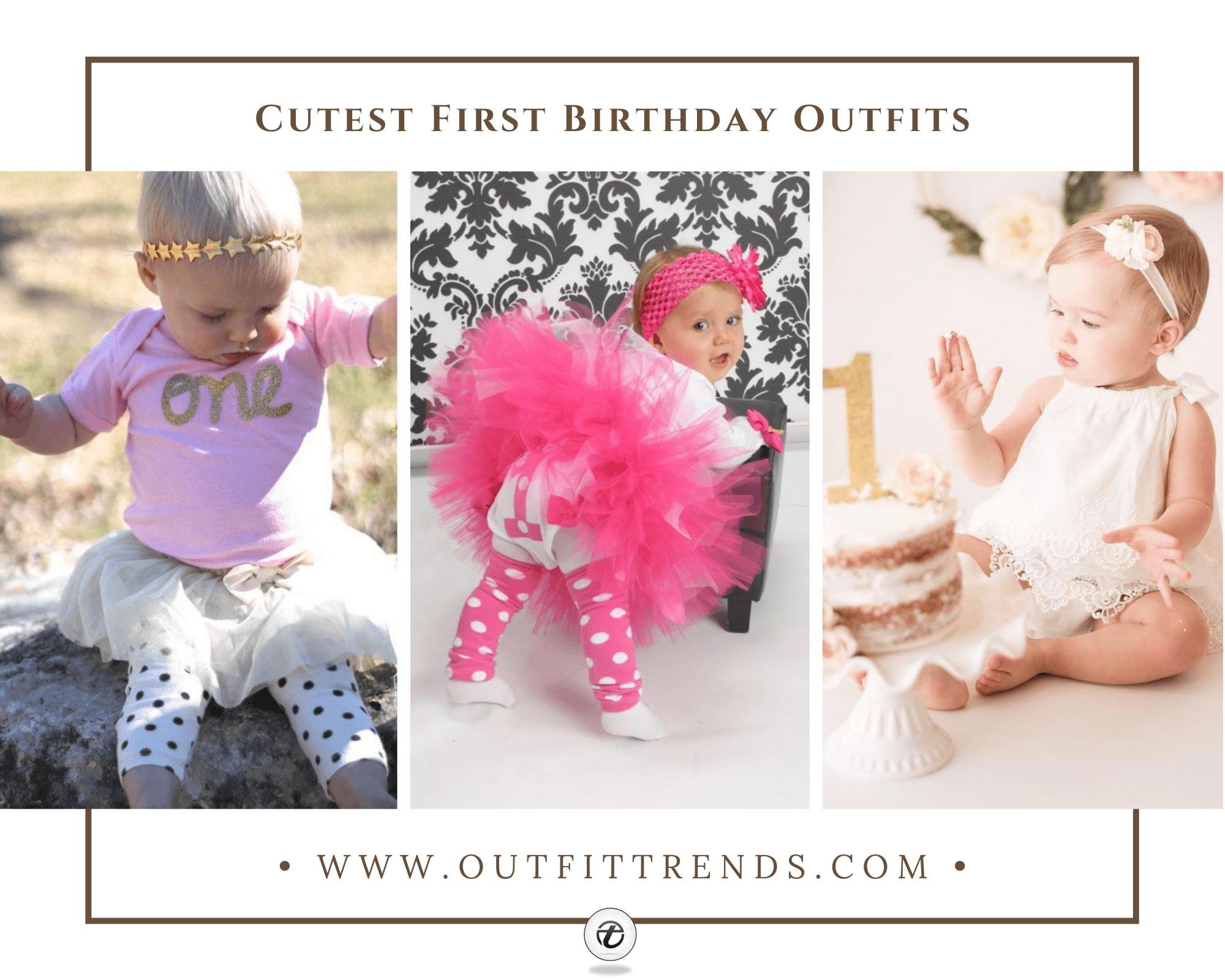 These outfits would be dependent on the time of year that your baby's birthday falls in, so I will split these simple ideas down into seasons. That way, you will have an idea about how to dress your little one up for each season. 
↓ 20 – Spring Birthday Outfit
Spring is full of Easter wonder, so why not incorporate this annual event into your baby's 1st birthday outfit for the spring season? Tiny chicks, cute lambs, and flowers all make for fantastic spring outfits. Costumes are an obvious choice for an annual event such as Easter, but for your baby's 1st birthday, try and keep it more about them. Pastel pinks, greens, blues, and yellows make for great color choices at this time of year.
RECOMMENDED: 25 Cute Easter Outfits for Babies and Toddlers This Year
In case your girl's birthday is on easter, here is a perfect outfit.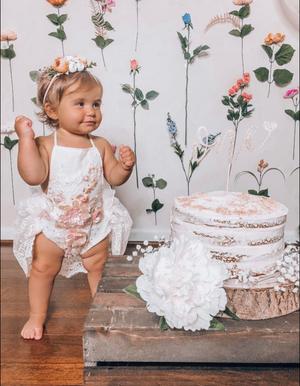 ↓ 19 – Summer Birthday Dress Idea
Styles that include flowers, polka dots, or even creatures such as bees and ladybirds are famous for this season. Bright and bold primary colors such as yellow, blue, and red are great for making your baby girl stand out on her special day.
During the warmer weather, stick to shorts, t-shirts, dresses, or even adorable tutus, available in multi-colored fabrics, are fantastic for adding a splash of color. You can likewise go for a cute white lacy dress.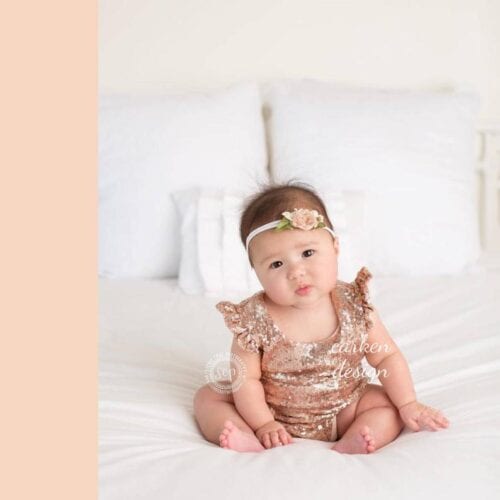 ↓ 18 – Autumn Outfit 
This season brings in more subtle and warmer tones. Browns, oranges, bronze, and auburn are lovely choices for autumn. With the colder weather starting to creep in, you can begin introducing back in the woolies, tights, and booties, so dresses are still an option. For a baby's 1st birthday around Halloween, why not venture towards a slightly spookier themed birthday costume? Cute pumpkins and bats are always winning outfits for this time of year. You can surely find some inspiration from these Kids Halloween Costumes.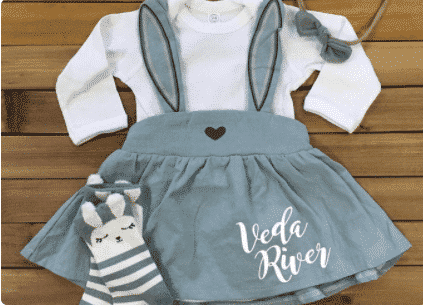 ↓ 17 – Winter Birthday Party Outfit Idea
For your princess 1st birthday, you can opt for a royal-purple party dress, tights, cardigan, and booties. Nearer to Christmas, it is optional to dress with seasonal twists such as holly, robins, and mistletoe. This idea is great for keeping the Christmas theme alive without taking the thunder away from your baby's birthday. You can also get a lot of ideas from our previous post on winter kids' dresses.
Do not forget that it is also a standard yet brilliant option to have dresses or t-shirts with prints of the number 1 or baby's first birthday on them. Now, it is even possible to have personalized images with your baby's name, so why not take full advantage of this for your little one's big day?
Have a look at the following images for inspiration and create that gorgeous bundle of joy, a fantastic and personalised 1st birthday outfit that no-one will ever forget.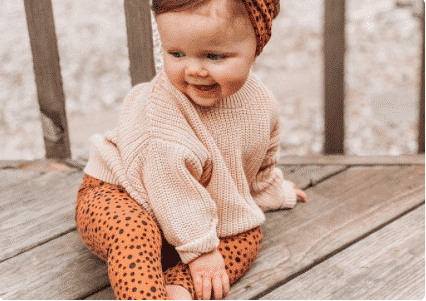 ↓ 16 – Personalized Dress
Personalized outfits can add a feeling of warmth to the birthday party, and you will cherish the memories and enjoy looking at the photographs even years later.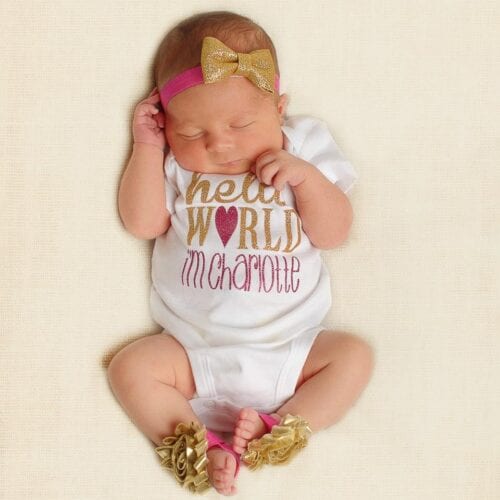 ↓ 15 – Mini Mouse 1st Birthday Outfit
Dress up your baby girl as a mini mouse if you don't want to follow the traditional barbie and princess theme.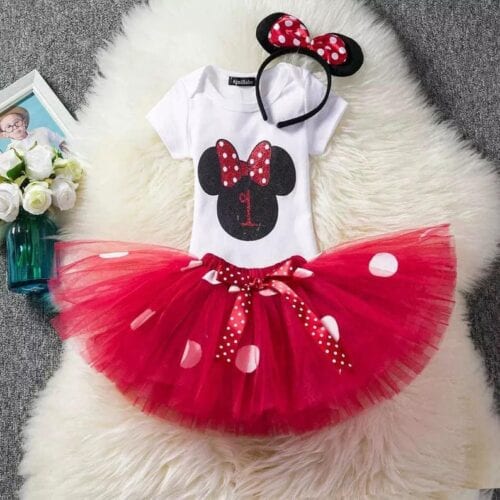 ↓ 14 – Pink Dress with a cute Head Band
Headbands look extremely cute with infants and toddlers. You can make your baby's outfit 10x more appealing just with the help of the right headband. These headbands add a lot of cuteness and color to your baby's outfit, instantly making them more attractive. They look best with dresses and may also work with other outfits like dungarees and tees.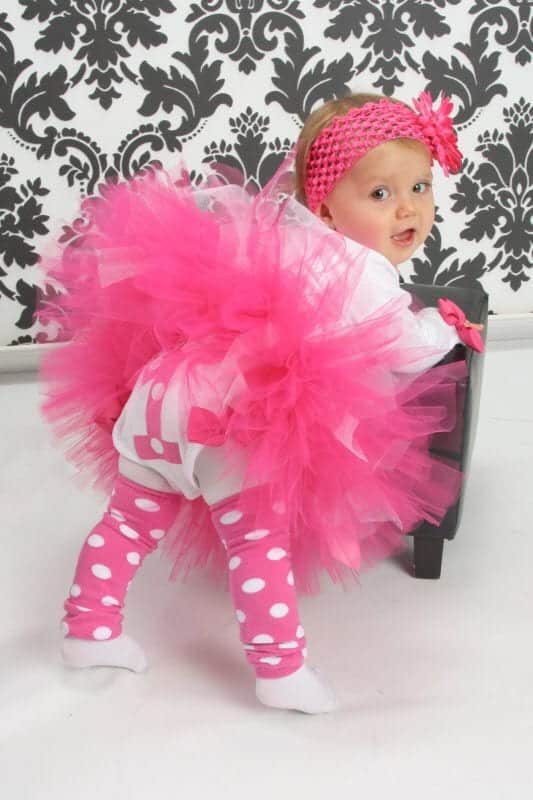 ↓ 13 – Top with 1 Written On It 
 Nowadays, there are so many dresses available in the market that have numbers monogrammed on them and are they're easily available in mini sizes. Get one such dress and make your little princess wear it on her first birthday, and trust me, she will rip up the dance floor. Do add a cute polka dot bow headband. Here are some cute Christmas outfits for babies and toddlers This Year.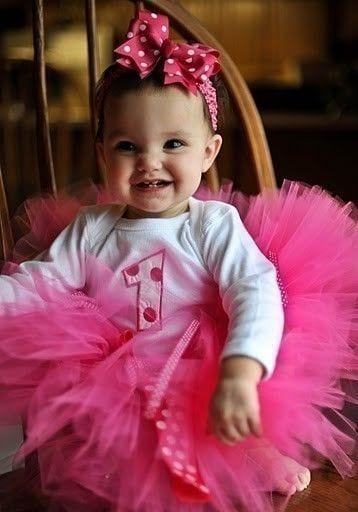 ↓ 12 – Pink Top with Polka Dot Perfect Combo for The Spring Season
Check out this perfect birthday combo for a perfect birthday. A shirt with your baby's age written on it will go great with a skirt or leggings. Add a cute little headband for an even more adorable outlook. Also, this outfit will provide the utmost comfort to your baby, keeping them happy all day.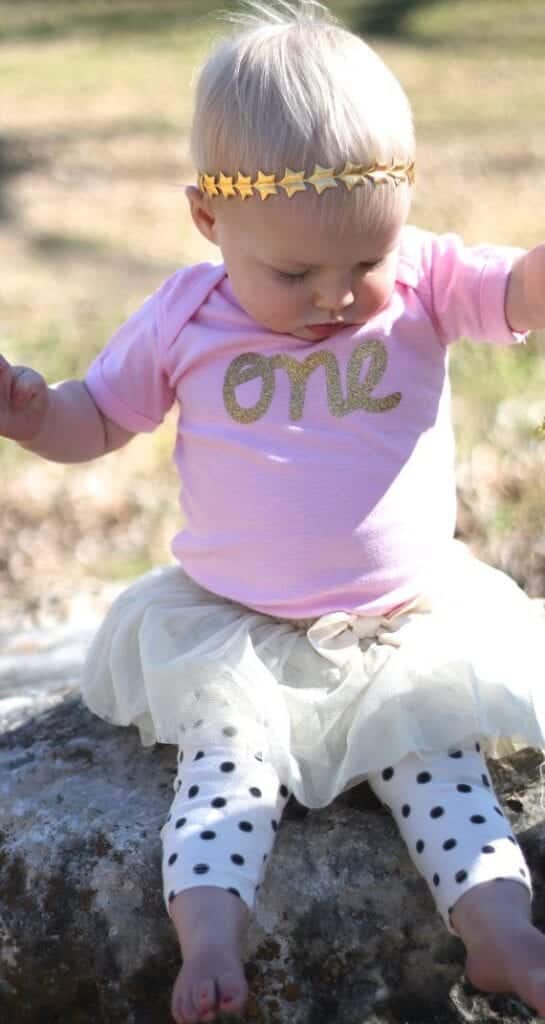 ↓ 11 – Add a Flower Headband 
Floral headbands look great with babies dressed in frocks and skirts. This outfit looks best in pastel colors and makes your baby look innocent and beautiful.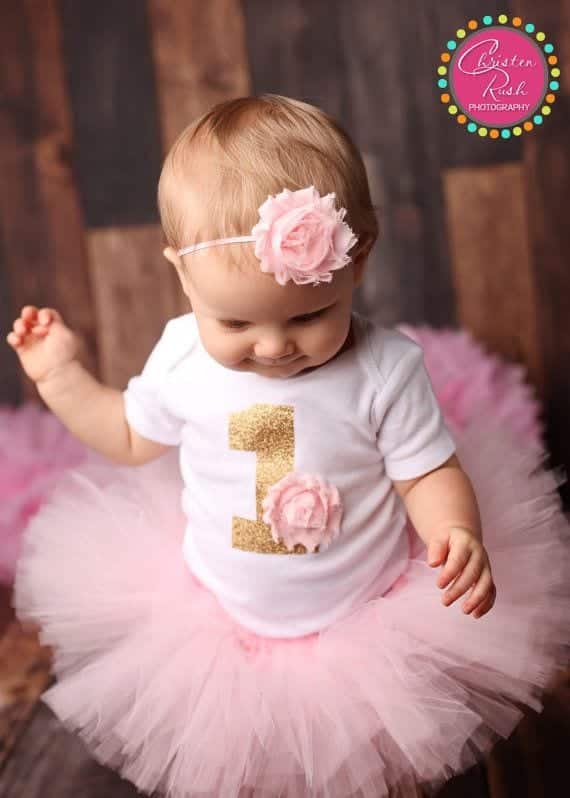 ↓ 10 – Pink and Gold Outfit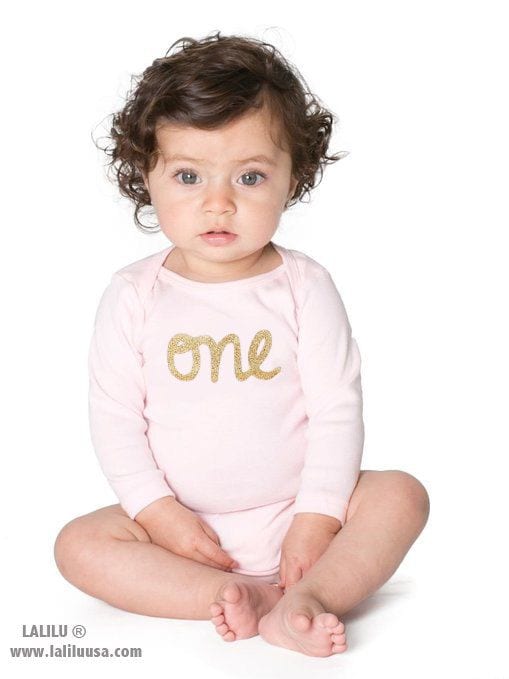 ↓ 9 – Beach Birthday Outfit
If your birthday party theme beach and Hawaii, then this outfit for the star of that birthday party is a perfect idea. For this birthday party outfit idea, you can go for a green-colored short net skirt and then make her wear a yellow-colored mini top as a combo. For accessories, you can wear or add as many cute pieces as you want to. You can go for beaded necklaces, floral headbands, floral belts, and floral sandals to match the theme.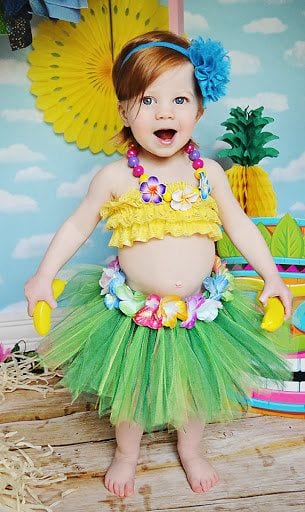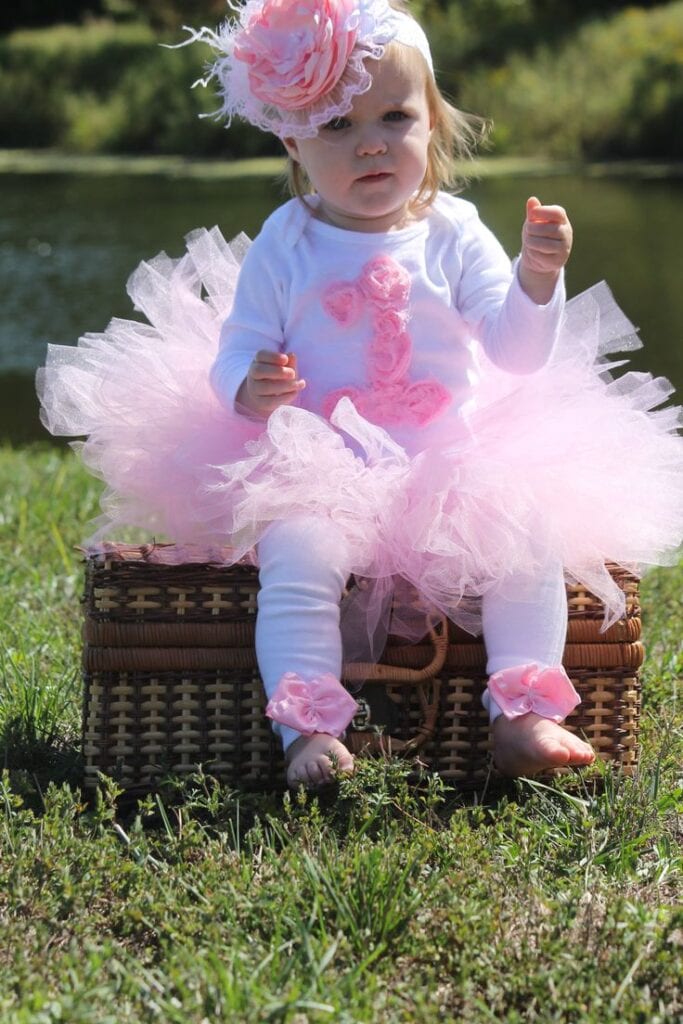 ↓ 8 – For Theme Party
You can never go wrong with your little princess's birthday party theme to be all princessy. The princessy theme for a one-year-old's birthday party is an all-time favorite. For this theme, all you have to do is to put everything in pink and white color at the venue. From glass cakes to chairs, everything has to be either pink or white. And for the little princess, she can wear a cute pink dress with a net skirt. For more details, she can also go for wings and magic sticks.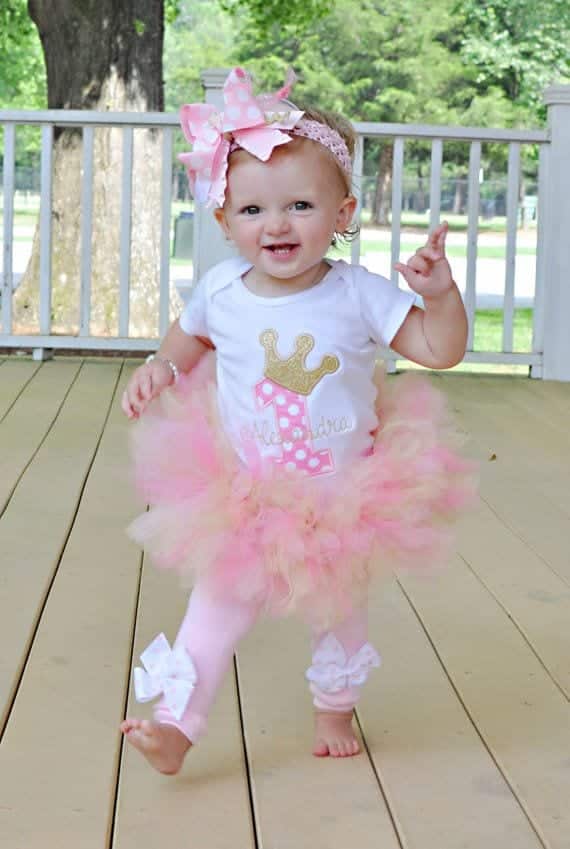 Sparkle dresses also look very cute and adorable for cute little girls. If you don't have one, you can easily make one all by yourself using all the things you have at your own house. You can make your girl wear sparkly shorts or a mini skirt for a DIY set and pair it with any white or matching t-shirt. Don't forget to tuck in the shirt to give it a frock look.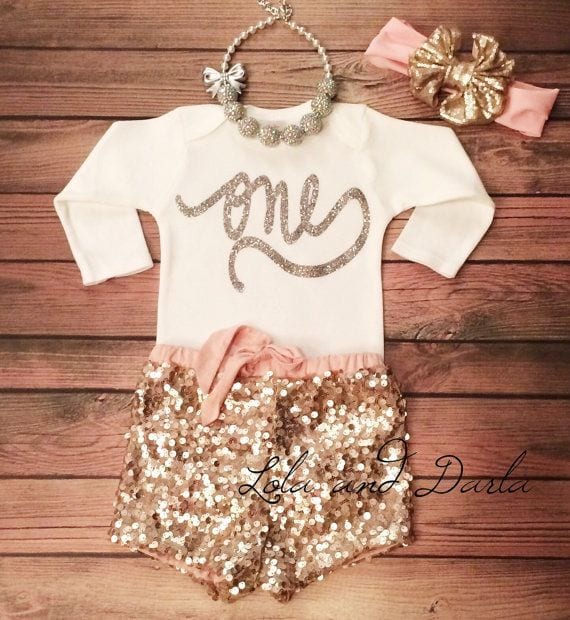 ↓ 7 –  1st birthday Princess Dress
First birthdays are most awaited as compared to all others. This is because they hold a great sentimental value in the family's eyes. For your baby's first birthday, go for a fancier outfit and put a lot of thought into it. This outfit looks royal and will give your little princess an aura of grandeur and royalty. 
↓ 6 – Yellow Sleeveless Dress for Summer Season
Yes, you don't have to go for a pink and white-colored dress only for your little one's birthday. There are so many different colors available out there for you to choose from. For example, if the party is in summer, you can go for a yellow dress, or if it is winter, you can go for a red dress with a black coat on top. And since we're talking about yellow, how can we forget minions. Minions are the cutest thing in the world, after your babies, of course, so why not have a minion themed birthday? Check out these 12 Cute Minion Outfits for Babies/Toddlers That You will Love.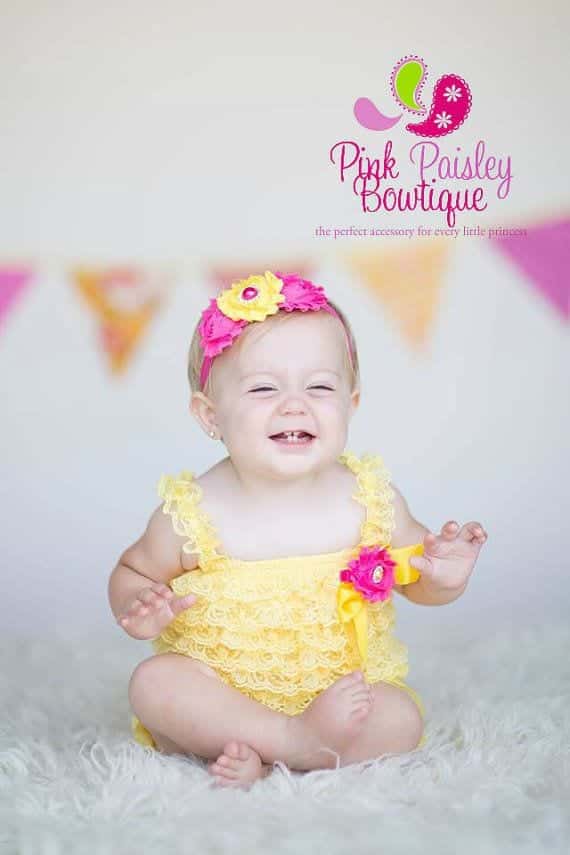 ↓ 5 –  1st Birthday Tutu Outfits
All parents of little girls adore tutu dresses. They prefer dressing their child up in cute short tutu dresses because they look so adorable. With cute headbands and bracelets, they look even better. These dresses are relatively popular on first birthdays but may also work on all others.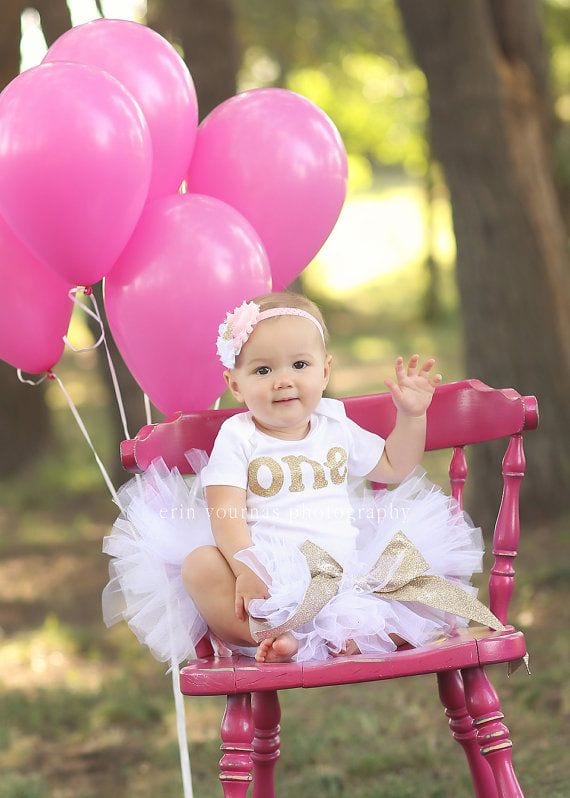 ↓ 4 – Pink and White Frock
↓ 3 – Swag Birthday Dress for Baby Girls
Multicolored dresses are so adorable on little girls. If you can't decide on one color, then make sure that your little princess wears her first birthday party dress in rainbow colors rather than going for only pink or white.
If you want to keep the dress sober, then you can make her wear a plain white shirt with a multi-colored net frock. Oh, and don't forget to add a cute flower headband. Do check out these Swag Outfits for Kids for a Perfect Look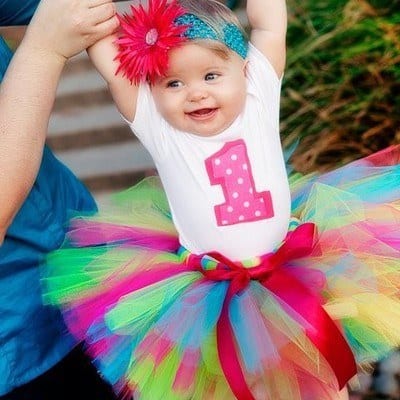 ↓ 2 – Personalized Spring Dress
Rather than going for net frock dresses that are overly formal, you can also go for something that is moral casual. Little girls look adorable in cotton dresses, especially if you're having an intimate birthday with just immediate family and friends. These dresses can be worn in any color but make sure to give full attention to your little one's shoes and extra accessories.
↓ 1 – Beautiful Patchwork Easter T-Shirt
Patchwork is a trendy kind of design for children's clothing. Because it is so comfortable and looks terrific, many parents prefer to dress their children in cotton shirts with patchwork rather than overwhelming them with uncomfortable clothes.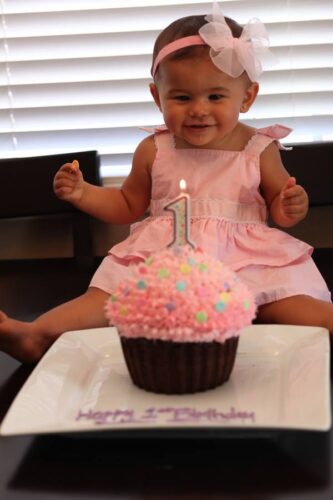 You can buy all these lovely and sweet dresses online from ETSY and eBay at a very reasonable price. You will also find lots of other varieties like shoes for a baby's first birthday, different accessories,  birthday gift ideas, and much more. Good luck.
FAQs
Q.

What costumes would go best with a jungle safari theme?

A. If your baby is an animal lover and attracted to nature, then a jungle safari theme would be perfect for her birthday. There are a lot of costumes that you can go with that would match this theme. The best ones are animal onesies, which are incredibly comfortable and the cutest option to existing. Other than that, you can get cute animal-themed hats and wigs for the little ones to wear. 
Q.
I'm having a pink-themed birthday party for my girl, who turns one; what outfit will go best with the theme?
A. First birthdays are usually much more impressive than the rest because of the family's hearts' sentimental value. Most people go with color themes for first birthdays as they do not have any favorites by that age. For a pink-themed birthday party, dress your child in a pink net dress with cute white shoes and a floral headband.
Q.
My little girl loves mermaids. How can I incorporate that into her birthday outfit?
A. Little girls are usually big fans of Disney characters like The little mermaid. Some children are also obsessed with aquatic life. If the theme of your child's birthday revolves around that, there are two choices that you have regarding their outfit. A- you can get a store-bought mermaid costume, or B- you can try to assemble one with the things available. A purple shirt and green tutu skirt with some green leggings and many glitters would look very mermaid-like.