Kids Halloween Costumes –  Halloween is celebrated every year on 31st October and it is the one day of the year where you can be anything you want to be without worrying about people's judgments. And undoubtedly, kids enjoy this day much more than adults do.
Especially since the kids get to enjoy all that candy, but it's not just the candy that matters for kids, as a good Halloween costume can make your child's day exceptionally great. We've rounded up a number of different Halloween outfits that can work for kids of all ages and for both boys and girls. Do let us know what you think about these and how you plan on dressing up your kid this Halloween.
 How to Dress Your Kid for Halloween 2018?
So what should the perfect Kid's Halloween costume be like? Here are some tips to remember:
For starters, it should preferably be scary but if your child is not comfortable with scary costumes, you can go with whatever he likes, for example, a superhero costume or a policeman.
Let your kids choose to be whatever they want and you can always help them come up with unique and different ideas.
If you want to help your child choose a Halloween outfit, there are several tools that you can use to make their decision easier like visual aids. But it's important to make sure that the child understands that once they choose a costume, they can not change it. And do your best to involve the children in making the costume so they can get in the holiday spirit and you can both enjoy these special moments together.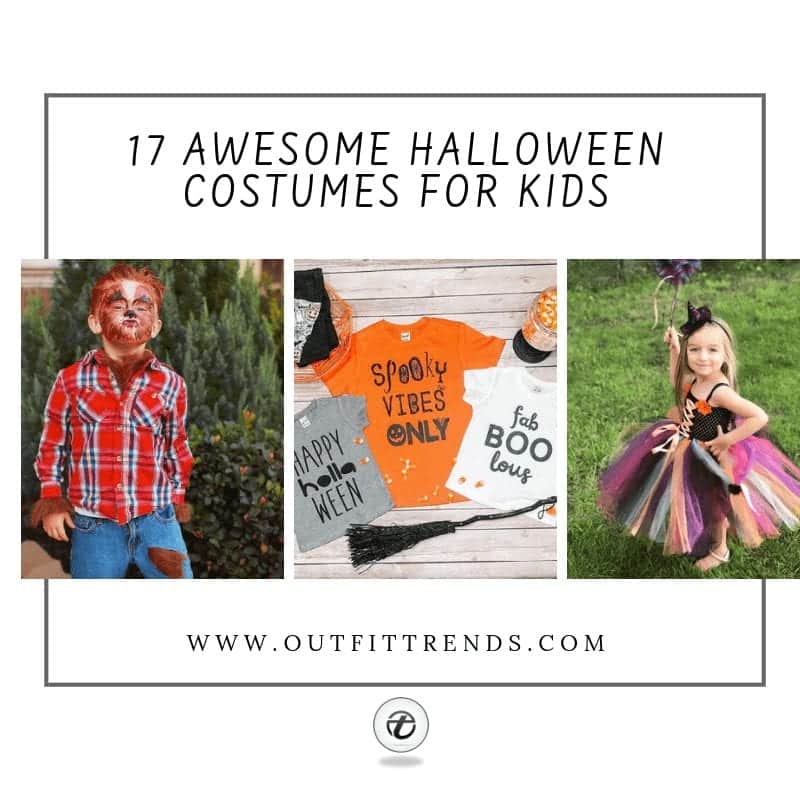 For younger kids, comfort is extremely important as an uncomfortable costume can ruin their entire day.
 If your child is under two years old then you're extremely lucky as you can use them as props and dress up as whatever you want. This is a luxury, not all parents can enjoy so do make the most out of it.
If you decide to make an infant child wear a mask, make sure that it isn't too tight and that the child can properly breathe through the mask. Masks are not just a choking hazard but they're also known to cut off circulation to body parts if they're too tight so always be careful with them.
If you're handing over an accessory to your child, check it thoroughly to make sure that it won't hurt him or her in any way.
For parents who plan on going trick or treating in a crowded neighborhood, it's always a good idea to go for bright and colorful costumes as they make it easier to keep an eye on the kids. You can also use accessories like glowsticks for this purpose.
If the costume comes with a cape, make sure that its not a very long one. If it is, try cutting it to make it shorter as longer capes are a tripping hazard for both adults and kids.
If you're going with a DIY costume, it's always a good idea to opt for flame-resistant fabrics as children tend to get awfully close to candles and other flames on Halloween.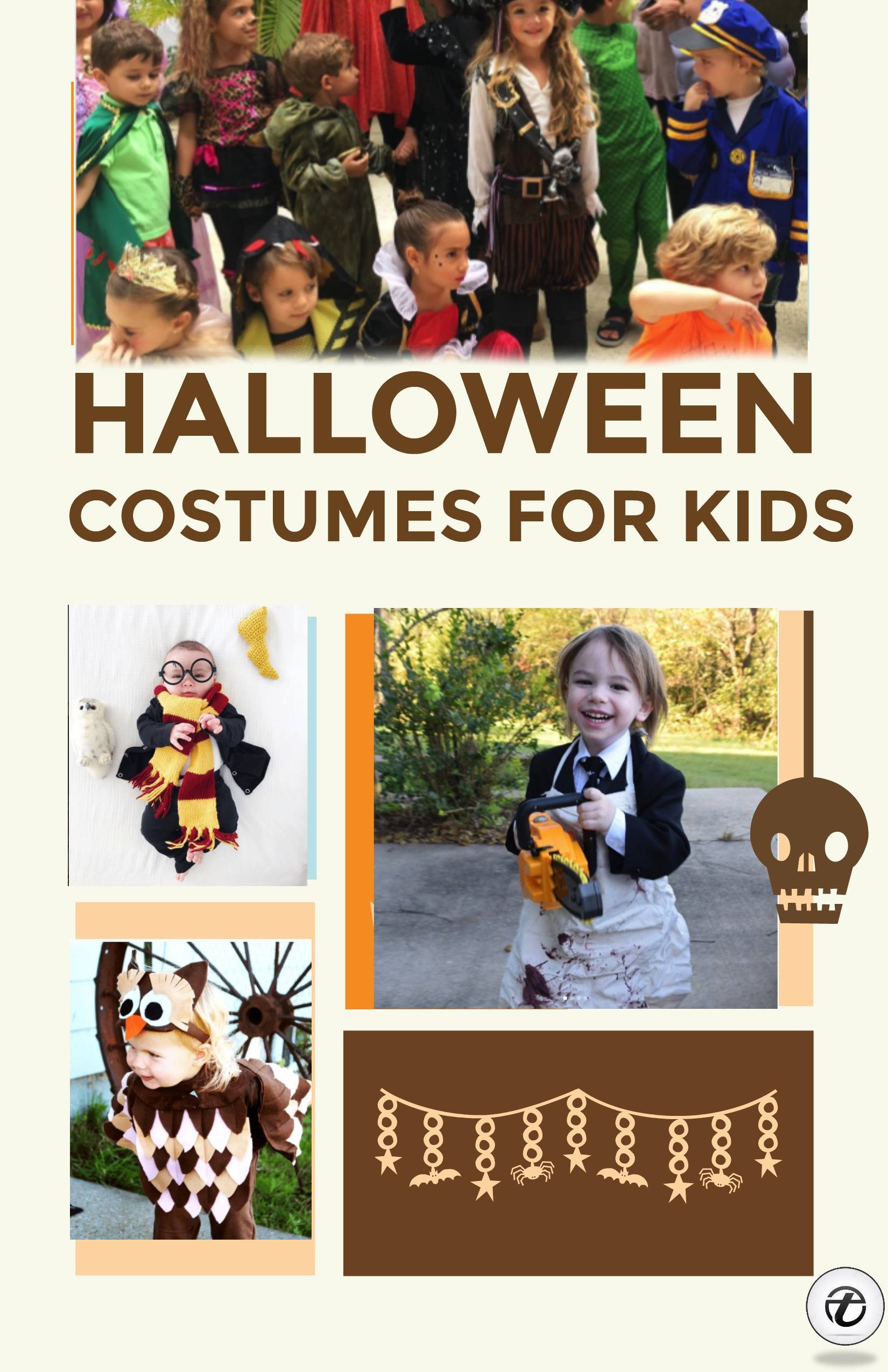 ↓ 17 – Matching Halloween Costumes
They say Halloween isn't a holiday, its a lifestyle, so why not live it to the fullest by going for simple but statement-making matching costumes. Here are some cute ideas on matching Halloween costumes along with links on where you can get them from.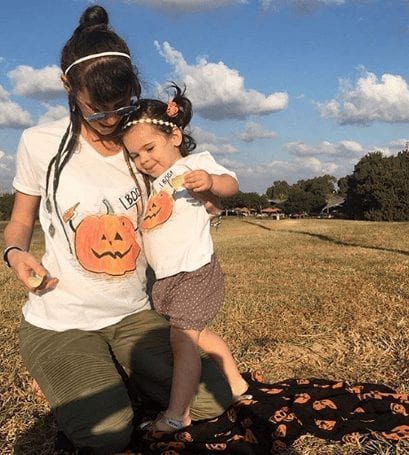 HALLOWEEN Matching Mother Daughter Pumpkin t-shirts USD 60.00
Back in 2017, stylist Charisandra Perez managed to get hold of the last minute costume for herself from Target and since she was too late to buy one for her baby, she had to resort to a costume from PetSmart's inventory. And even though they both still look super cute, there's still time for you to get these such cute matching costumes for yourself. And if you're late, you now know that you can always rely on PetSmart as a backup.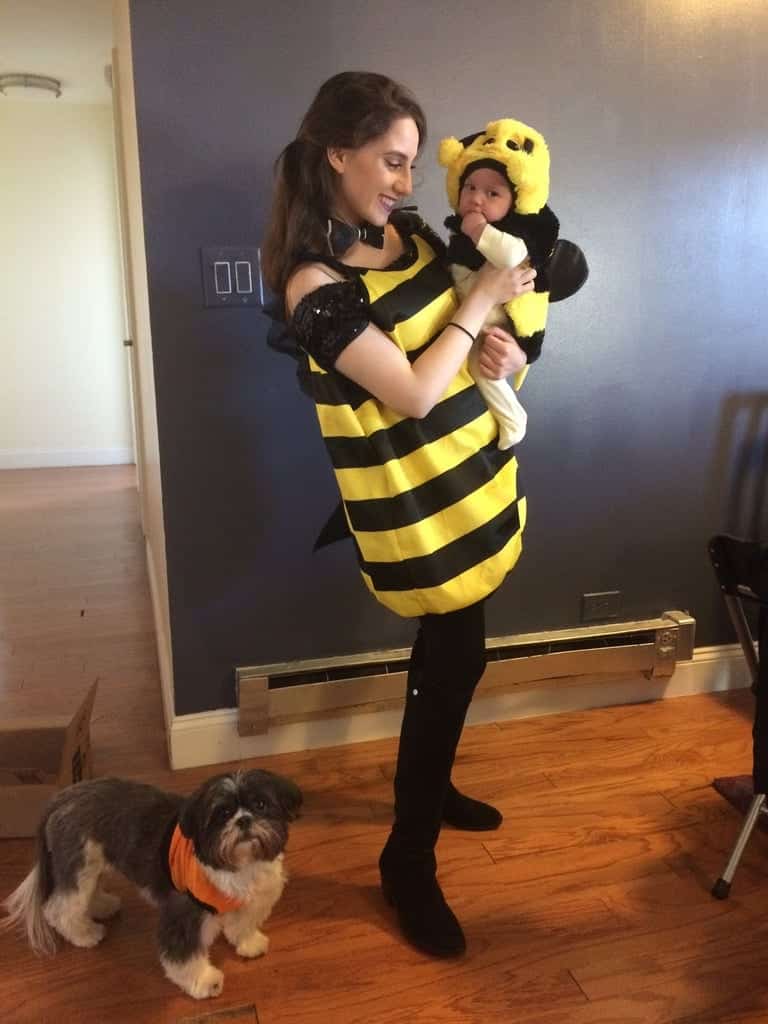 Buzzy Bee Costume for Kids (0M to 18M) $24.99 & Women's Deluxe Beguiling Bee Costume $15.99
If you're looking for costumes for the whole family then HalloweenCostumes does some amazing group costumes. There is a whole range of themes and ideas to choose from, including animal costumes, classic, Disney, funny, historical, scary, superhero, video games and so many more. Group costumes for a family of four, including two children and two adults, would cost somewhere between USD 100 and 250, depending on what theme and sizes you want.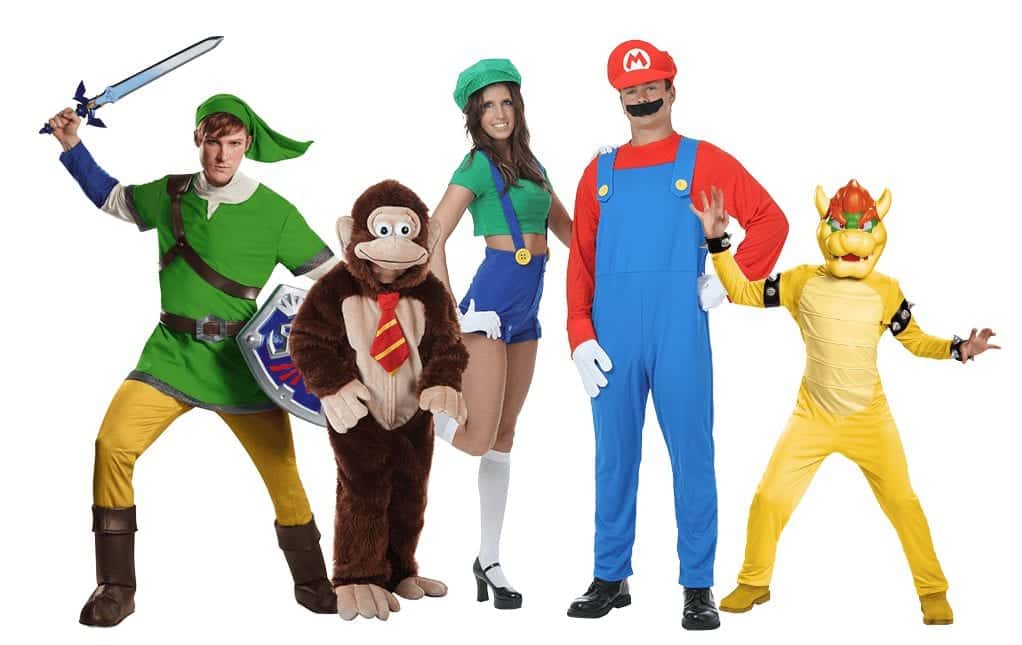 ↓ 16 – Superhero Costumes
Superhero costumes are both easily available and easy to make using DIY tutorials, and they are loved by kids of all ages. You can find sets of superhero capes and masks for as low as USD 1.50 on Etsy and the more complicated, cosplay level costumes go up to USD 1500. But you can see here how adorable a simple cape and mask can look at a child if you style it up the right way.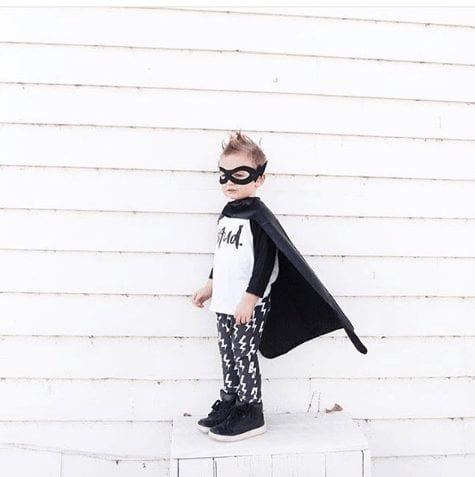 ↓ 15 – Magical Costumes
When it comes to magical costumes, nothing beats rainbows and unicorns, both of which are a favorite for most girls and even mommies. Our favorite rainbow costume is by Superkidcapes this year as they have a really awesome collection of costumes, at reasonable prices and most of them can be delivered on the same day so do check them out. And you can also get personalized unicorn costumes with your child's name written on them.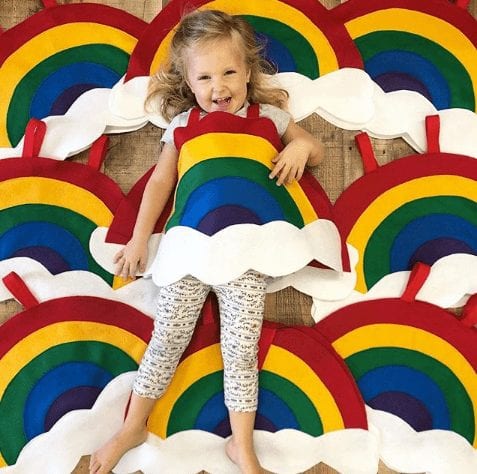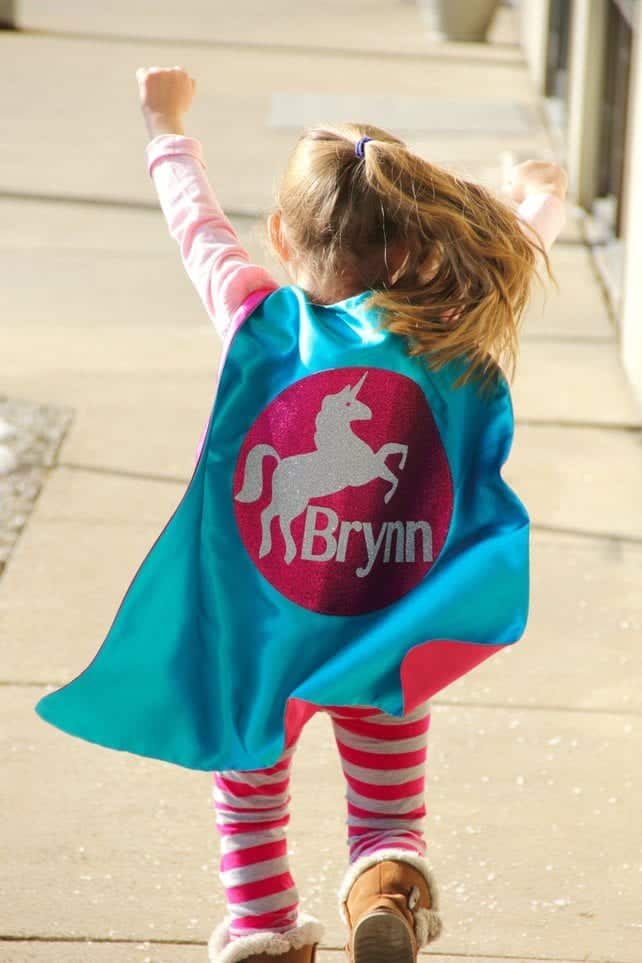 ↓ 14 – Halloween Makeup for Kids
This step by step video tutorial will help you get ideas on doing Kid friendly DIY makeup for Halloween.
↓ 13 – Easiest Costume Ever
All you need for the simple and basic cat costume is a headband, a marker, and some artistic skills. However, when going for a costume like this, it's important to carefully read the labels on markers and face paints. Always go for FDA approved and non-toxic ones as it is always best to avoid taking any risks when it comes to kids.
Before applying the paint on the kid on Halloween day, do a small allergy test a few days before by testing the marker/paint on a small patch of the kid's arm or leg.
Last but not the least, no matter how tired you and the kids are, always remove all makeup and paint from the kid's skin before they go to sleep to avoid any irritation or reactions.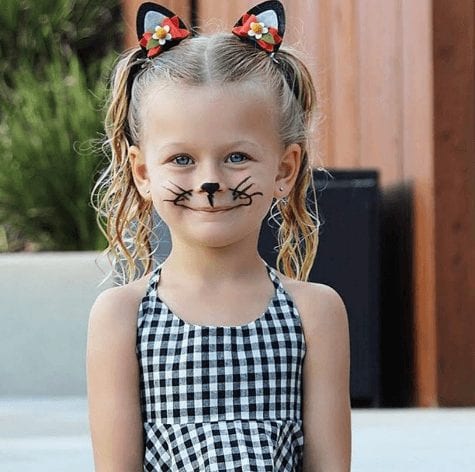 ↓ 12 – Budget-Friendly Werewolf Costume
This costume is always a hit for little boys. We love this tutorial as it's about making a Halloween costume on a budget which is extremely important for many busy moms.
↓ 11 – Dress Em Up as Your Favorite Drink
If you're obsessed with Starbucks, why not try a mommy-baby matching Starbucks themed costume? Youtube Raven Elyse has created an awesome tutorial on this as she dresses up her daughter as the cutest little frappuccino.

↓ 10 – Cutest Last Minute Halloween Costume for Kids
Didn't get time to find an outfit for your little one? Worry not because the outfits shown here are so simple that you can set them up even one day before Halloween. After all, Halloween costumes don't have to be fancy or complicated, they can be simple enough and still look awesome on your cute babies.
For the first idea, simply use a monster beanie. You can find a huge range of these crochet beanies online as well as in shops. Here are Cute Beanie Hats for Babies with 17 Amazing Crochet Hats Patterns.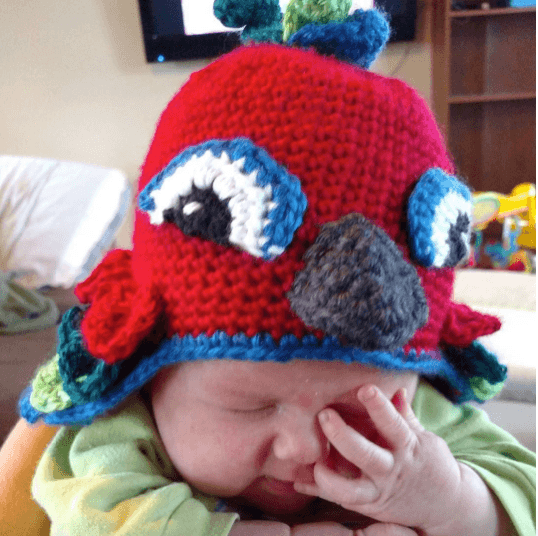 Or you could buy a nice hoodie that will not just look awesome but also go with the Halloween spirit while keeping your baby comfortable. Kids under two years old hardly have any idea about what Halloween is so why make them wear any uncomfortable Halloween costumes. Simply go for such cute Halloween accessories so both you and your kid can enjoy the day.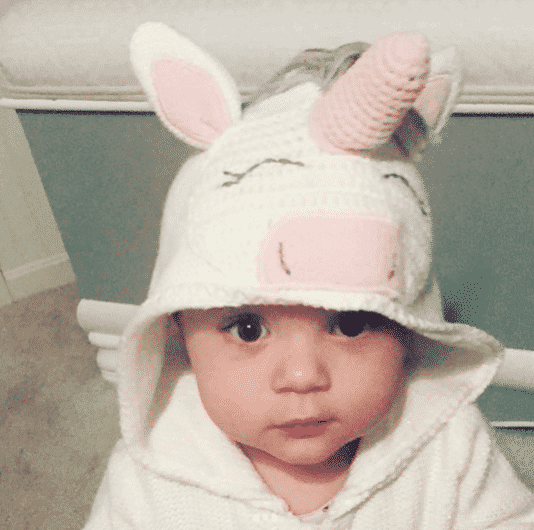 Here's a simple last-minute costume for kids above 3 years old. Let them wear a dirty white apron that you can stay with ketchup and hand them one of their toy saws or knives. this serial killer costume goes with the Halloween theme and it is enjoyed a lot by kids.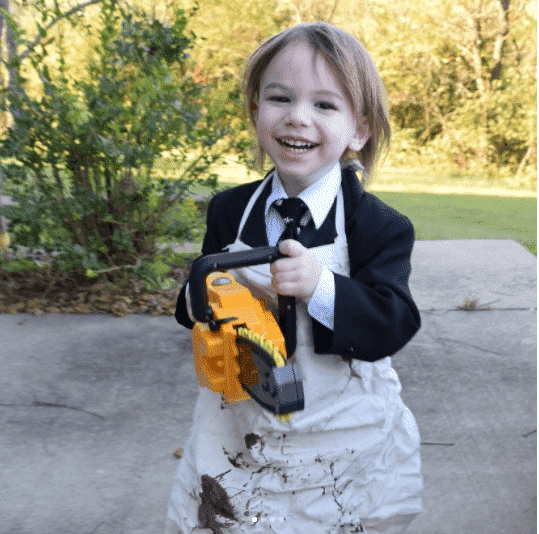 This next costume can work for both girls and boys, let them wear a black outfit and top it off with a skeleton mask that you can either make yourself using online templates or simply buy it.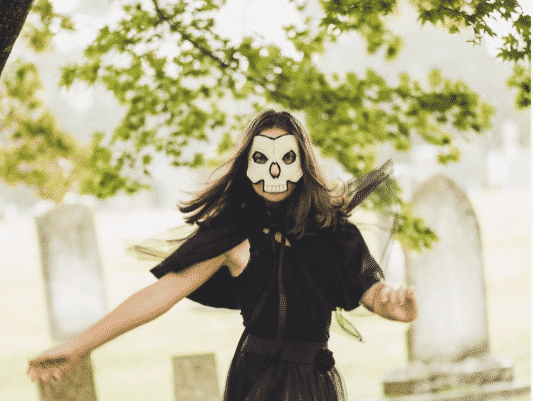 And if you don't have time for making or buying the mask, simply use some paint or marker to turn your baby into an adorable little monster.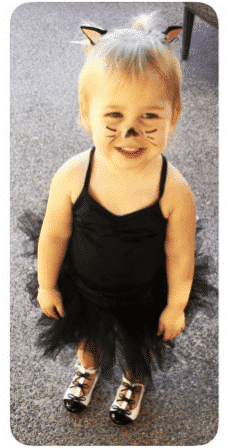 ↓ 9 – DIY Halloween Costume
If you're into DIY stuff, here's a really cute costume that you can make. For more details on this costume, you should check out this guide.

Here's how your final costume should look like, though you can always choose colors of your choice.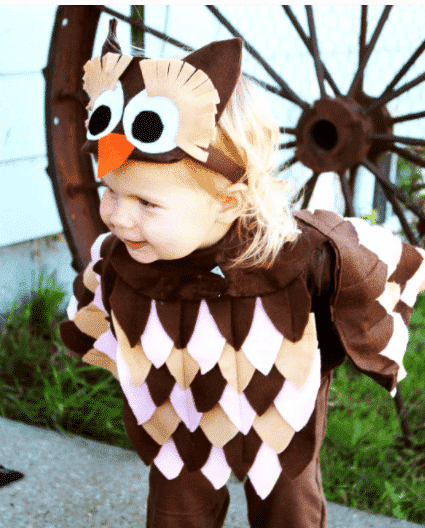 ↓ 8 – Unique Toddler's Halloween Costume Idea
What could be more adorable on a toddler than a pumpkin costume? For little newborn girls, instead of a full costume, you can go for an orange tutu skirt and headband. For newborn boys, an orange shirt with pumpkin eyes and a har would work as well. This is definitely the best costumes for any child's first Halloween.

↓ 7 – Homemade Halloween Costumes for 10-Year-Olds
Our favorite Halloween outfits for kids over 10 years old include Maleficient and cat-woman for Girls and Minions or Joker costumes that can work for both boys and girls. You can check out a complete range of minion outfits from these 12 Cute Minion Outfits for Babies/Toddlers You will Love.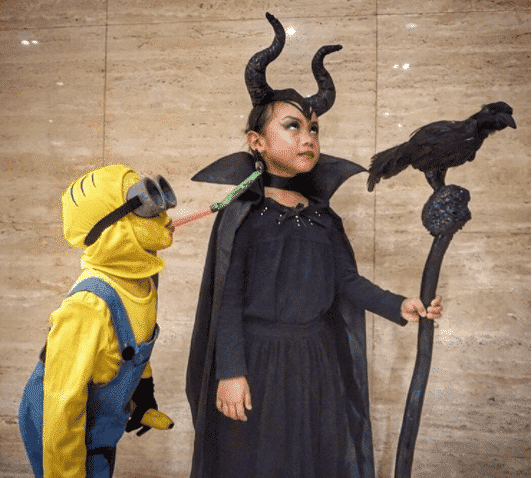 Cat woman costumes can work on girls of all ages and they're the simplest ones to manage.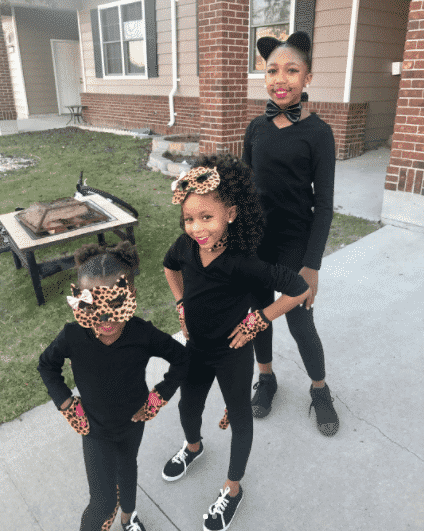 ↓ 6 – Easy DIY Harry Potter Costume for Kids
An everlasting classic, Harry Potter, continues to be an unbeatable Halloween costume. The greater the amount of effort and creativity you put into this costume, the better it will look. Some must-haves include a scar on the forehead, round-framed glasses, a black gown and a red-yellow scarf. You can top things off with accessories like a white owl and a broomstick.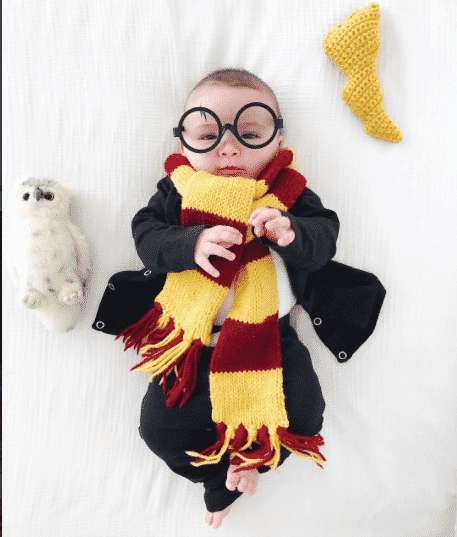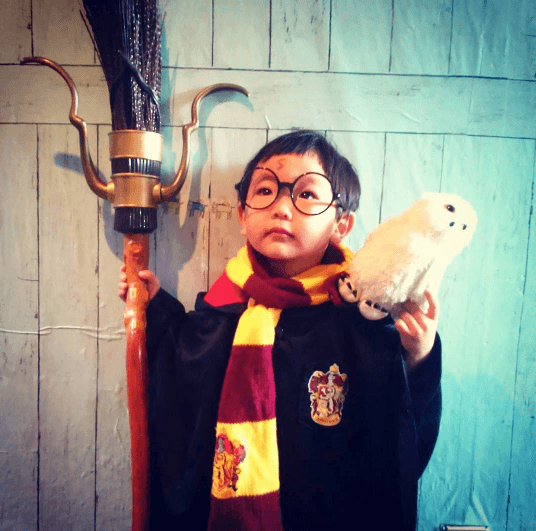 ↓ 5 – Most Trending Costume for Baby Girls this Halloween
Nothing can beat the wonder woman costumes for girls this year. You'll surely be seeing lots of grown up girls and women dressed up in the wonder woman costume so why should your baby not follow the trend. Moreover, the colors look perfect on babies.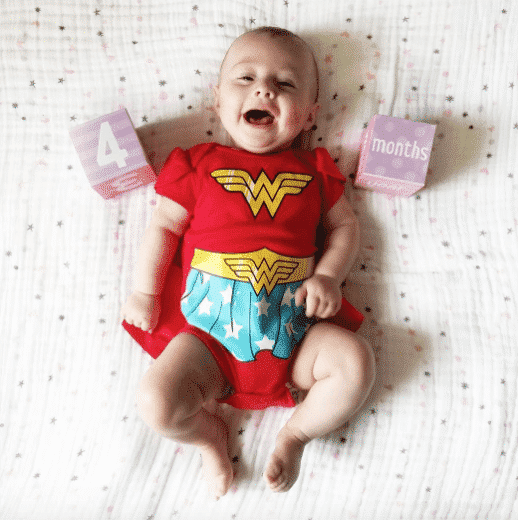 ↓ 4 – Royal Costume for Siblings
Bring in some royal feel by dressing your kids up like royalty. You should also have a look at these 20 Swag Outfits for Kids for a Perfect Look.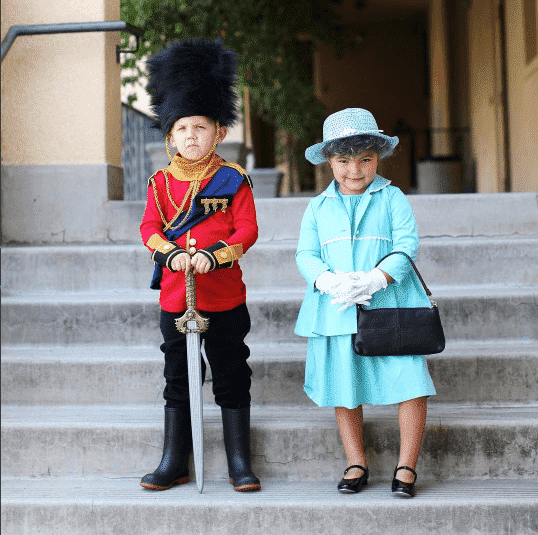 ↓ 3 – Alice in Wonderland Costume for Boy and Girl
Adorable Alice in Wonderland costumes for babies are simply adorable.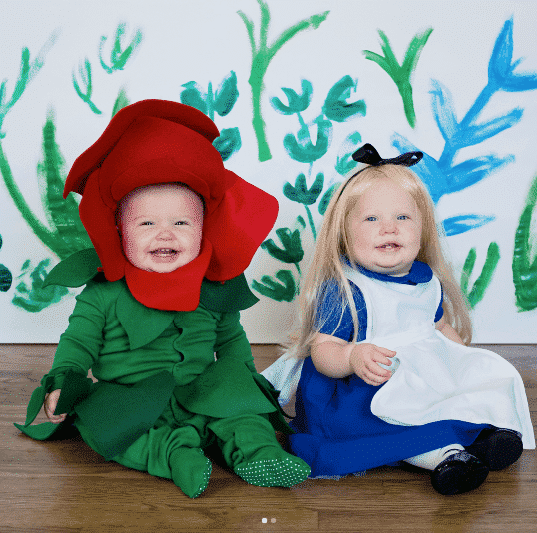 ↓ 2 – It Costume for Kids
This Halloween you'll be seeing lots of clowns around because of the "It" movie but do something different by dressing up in a yellow jacket with a red balloon. This is not just a scary costume that goes with the Halloween vibes but it is also very easy to manage. Also, have a look at these 18 Super Cool Fashion Ideas for kids.
↓ 1 – Stranger Things Themed Costume for Babies
With all the hype around Stranger things, they are sure to be a hit costume for this year. For girls, you could go for Barbara or Eleven's look. Both of which are really simple. For Barbara, you'll need some glasses, a plaid shirt, pants, and a redhead wig. For Eleven, you can work with a pink frock, jeans jacket, and her favorite snacks, eggos! There is also a huge range of characters to dress up as for baby boys like Will, Chief Hopper or Mike.