First Day of School Outfits for Girls. All children will have the typical mix of first-day emotions when starting school: fear, excitement, nervousness, anxiety, happiness. This is completely natural for everyone and should never be frowned upon.
Some children will be more nervous than others, some will take that day by the reins and run with it. This post will look at some great ideas for girls starting preschool. How they feel in their own clothes play a huge part in their emotions even though you may not think so. A great outfit makes for self-confidence, pride, and self-esteem even at this age.
How to Dress Up Girls on the First Day of Preschool?
Let's start with some Tips For Dressing Your Little One For Preschool/Kindergarten:
Keep to your budget. Children at this age will almost always be coming home from preschool covered in paint, glue glitter, etc. There is no need to go extreme with their clothing in the sense of paying out a fortune. The last thing any parent wants is their daughter's brand new Gucci or Burberry dress coated with paint.
Keep accessories simple. The more you dress her up to look like a barbie doll, the more garments and accessories will get broken or torn. Necklaces and bracelets (whilst they look super cute on little girls) are never the best ideas for preschool. The likelihood of them going missing or getting broken is very high. Instead, stick to the simple choices. Tops, jeans, skirts, and leggings are a great start for preschool. Simple items for winter periods such as gloves and scarves are ideal accessories.
Be sensible. Younger children at preschool will be on their feet most of the day. Sensible shoes are the way forward. Stick to flats. Simple plimsols or dollies are great for summer, while a nice pair of boots are ideal for winter. These can also easily be matched with any outfit making your job even easier.
Don't forget to take some pictures. It's a very special day of your life and it definitely deserves to be documented so keep your camera and phone ready, and perhaps some tissues too as it can be a teary-eyed moment for some of us.
Here we have 20 great outfit ideas for your little one's first day of preschool.
20 First Day of School Outfits for Girls
Every little girl is different (some will love bows while others prefer overalls) so we have included outfits to suit a range of personalities. Simply scroll through until you see a look that you think your little one will love wearing and then try and replicate it! Also, keep in mind, these are the first day of school outfits, so they are a little more special and fancy than what your kiddo will probably be wearing throughout the school year.
↓ 20 – Apple-Print Dress
Does your little lady have a favorite color? A cute school-themed dress in her favorite color is a fun way to help her feel excited about her big day! This dress printed in apples with a matching red hair bow and red shoes with ruffled socks is so stinkin' cute and a great option for her first day of school.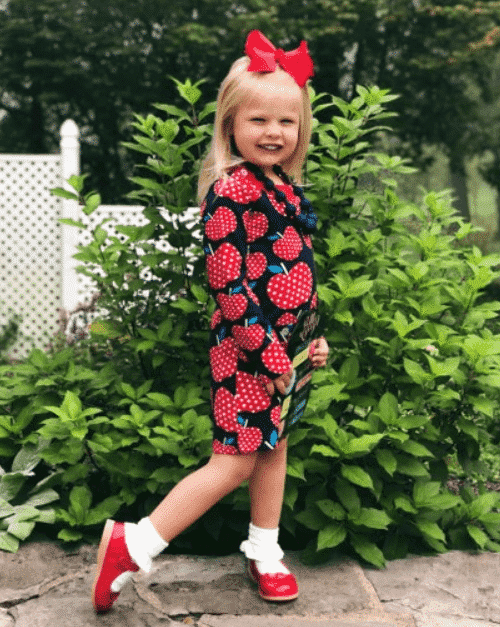 ↓ 19 – Denim Jacket and Converse
Is there anything more darling than a little girl in a denim jacket?! We don't think so! Let her pick out a dress in her favorite color and layer it with a denim jacket, a bow headband, and white Converse. And don't forget your tissues because this look will have you feeling all types away about your sweet little one!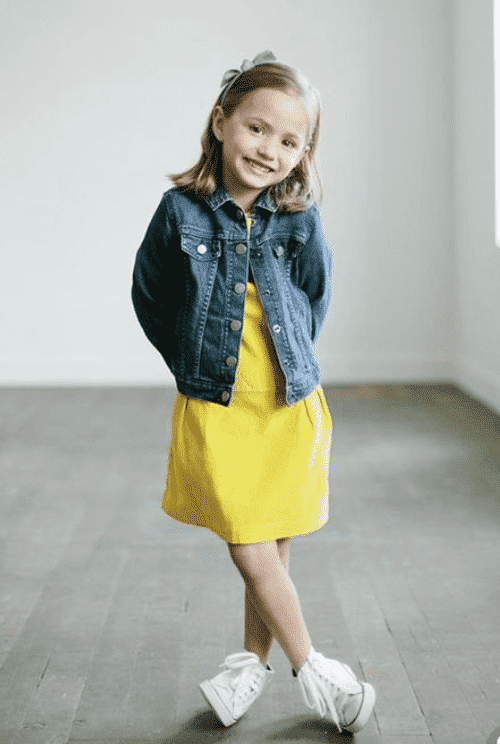 ↓ 18 – Collared Pastel Dress
When in doubt, a pastel dress will fit the bill every time. We love this puff-sleeved dress with a collar in pastel blue. Paired with an oversized hair bow and buckle shoes, this adorable look is too cute to skip. Knee-high socks will complete the look and protect her little legs as well as provide a teensy bit of warmth.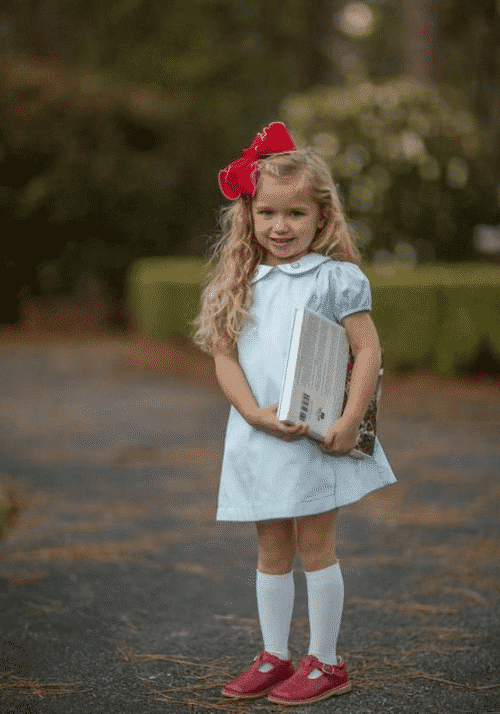 ↓ 17 – Solar System Print Dress
Does your little lady love the solar system? Is she a fan of science? Does she love colorful outfits? Then a dress like this just might be the one for her. A tee-shirt style dress is also comfy and versatile and is much more practical than a ruffled chiffon dress. You can layer this frock with leggings or tights and pop some sandals or sneakers on her feet to complete the look.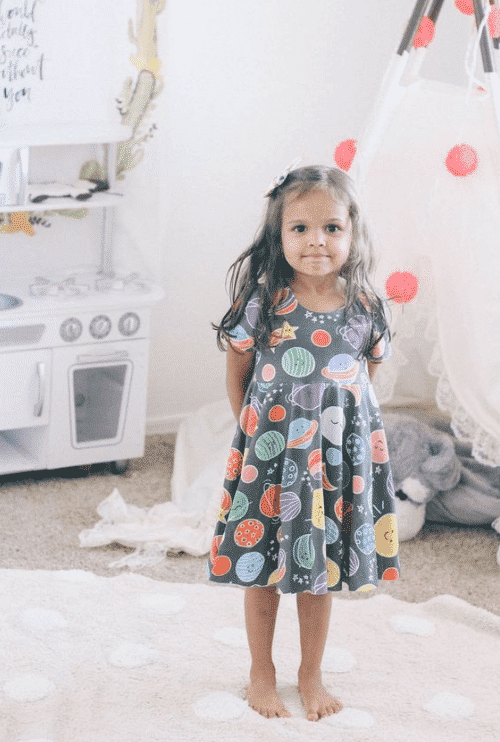 ↓ 16 – Personalized Dress
A personalized clothing piece is a great concept for a little girl's first day of school. Her teacher and new classmates will appreciate the extra help when they are introduced to her! This little dress is especially perfect for school with its applique school bus. We also love the colors yellow, green, and gray for school. Plus a navy blue bow to tie it all together. For footwear, we recommend Mary Janes or buckle shoes for this look.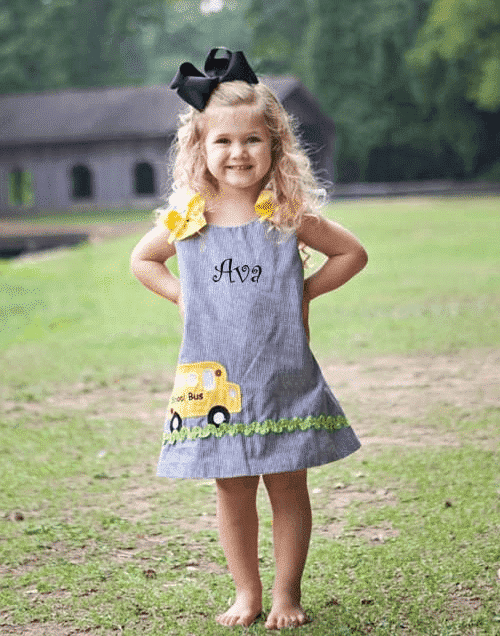 ↓ 15 – Sleeveless Dress and Mary Janes
We love a classic combo and a dress with Mary Janes is definitely one. Most of us wore Mary Janes as kids and getting to see our little ones do so now is a wonderfully nostalgic experience. This cute little shift dress from Nordstrom is an adorable option paired up with Princess bow Mary Janes. Add a hair bow and a little silver backpack and your baby girl is ready for her first day of school!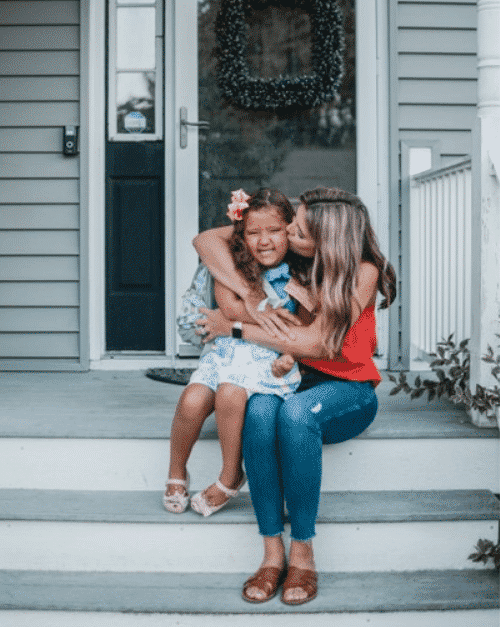 ↓ 14 – Jeans and Converse
A great shoe for kindergarten goers is Converse. They're cute, stylish, and super practical as well as sturdy. (If your little one is prone to spills and stains, a color other than white might be a better option though.) Pair up some little jeans rolled at the hems (how cute!) with a pleated blouse, low-top Converse, and a matching hair bow.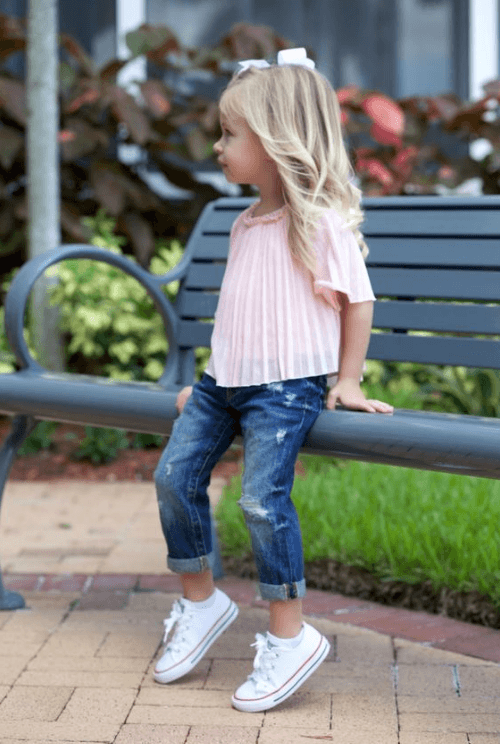 ↓ 13 – Pink Head-to-Toe
If your lovely little one loves pink then she will love this utterly adorable ensemble. A stripey pink dress paired with ruffled tights and glittery velcro sneakers will have her grinning ear-to-ear! Add a bow and your little girl will be cheesing for cameras everywhere.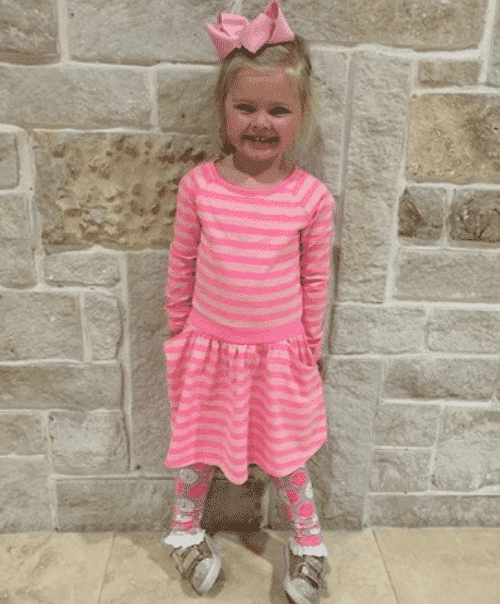 ↓ 12 – Embroidered Shirt and Riding Boots
Do you have a little horse lover on your hands? Then she will love these riding boots! Dress up your little one in a long-sleeved embroidered shirt (this look is perfect for fall) and jeans and a sturdy pair of brown boots. A long braid tied with a bow will add a bit of girliness to the look – and we bet she'll love the braid, too!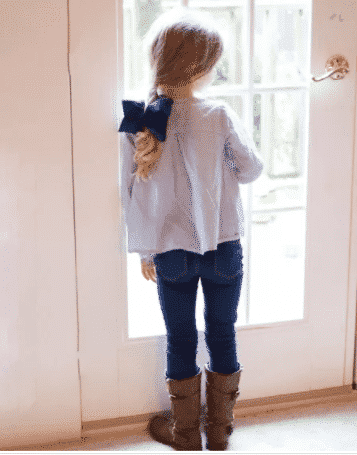 ↓ 11 – Bows and Colorful Sneakers
If your little girl loves pretty bows and colorful sneakers (but still needs a practical outfit to go run and play in) then this cute little outfit might be the one for her. Not only is it an affordable one (all pieces are from Walmart) but it's girly and fun too. Start with a long-sleeved embellished tee and match it with a large hair bow. Next, a basic pair of leggings paired with fun colorful sneakers will tie the look together. And there you go!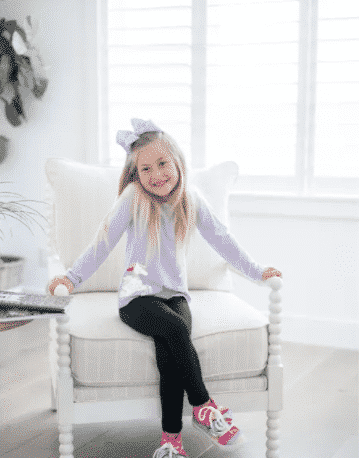 ↓ 10 – Ruffles
Ruffles are all the rage this year, as we discussed in our last post on Outfits with Ruffle Tops, and you better believe they're equally popular amongst little ones! Most little girls love wearing ruffles; they're fun and so cute. So a dress with ruffles will surely be a good first day of school outfit as your little angel learns to fly.
via
↓ 9 –  Stripes and Pinks
Lots of little girls love pink. This simple style is perfect for the first day at preschool. It's cute with simple accessories.
And you can't just pair pink with black and white stripes, but literally with any color of your choice. As you can see here, a multicolored dress has been layered over with a pink jacket, making an adorable combo.
↓ 8 – Personalized Wear
Once again, these are super cute and a great idea for your little one which gives her confidence and a sense of self. For more ideas like these, check out our collection of 20 Adorable Back To School Outfit Ideas For Kids.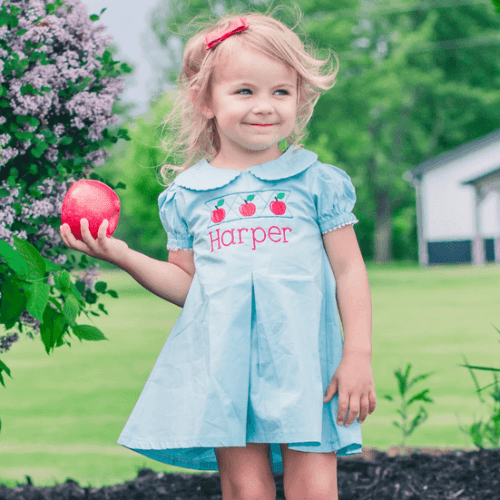 via
↓ 7 – Loose Fitting
Loose-fitting clothes like Meredith dresses are great for kids. Running around all day at preschool; this idea for an outfit will leave them cool throughout the day.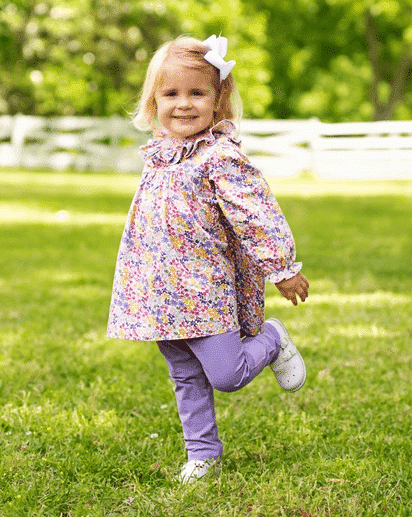 via
↓ 6 – Plaids
Plaid patterns are gorgeous on any girl but preschool age just looks adorable. A bold look with some sturdy jeans is a perfect combo for that first day.

↓ 5 – Matching Outfits for Twins/Sisters
Little twins always look cute in matching outfits. Preschool outfits are really easy for twins as you can create nice looks whilst sticking to a budget that suits you and your duo. Just matching accessories or a cardigan will do the job nicely. Here are three options for your little twinning chicas!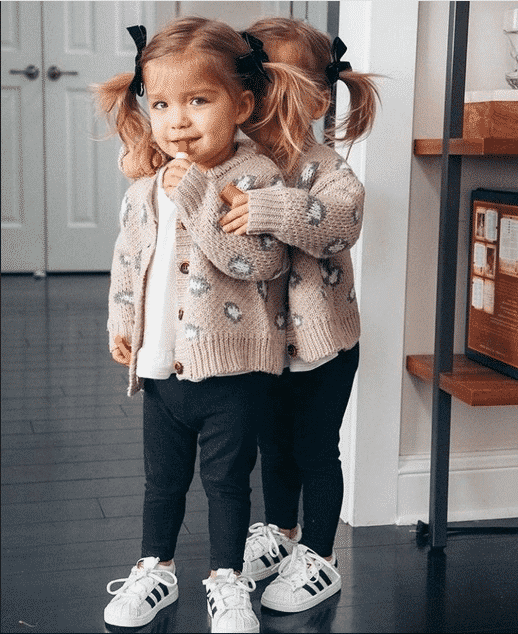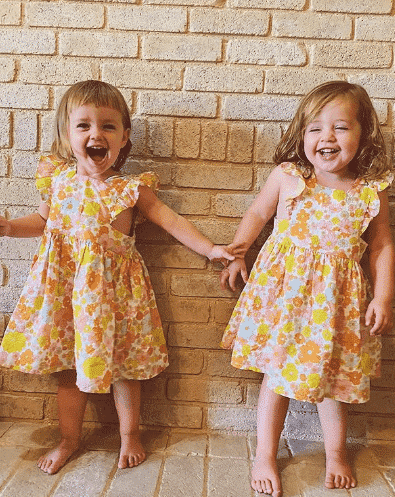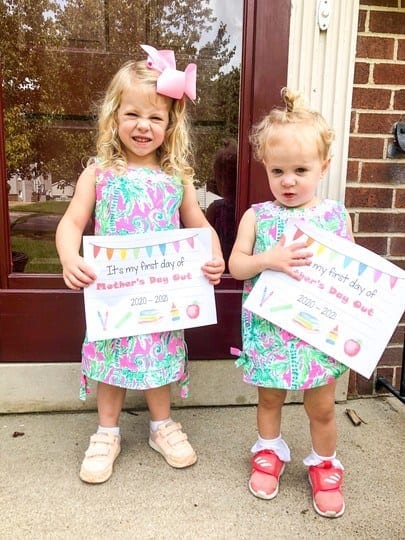 ↓ 4 – Warmer Wears
A cute short-sleeved jumper top with a long sleeve under top, leggings, and Ugg boots makes for a cute and crisp look. Simple yet stylish and easy to execute. Your little angel will feel so fabulous.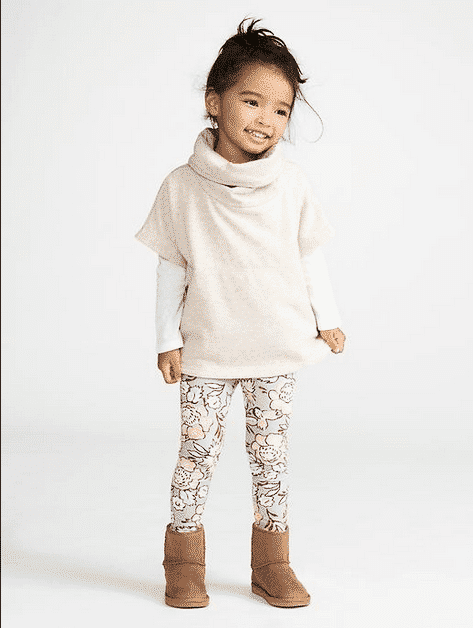 ↓ 3 – Raincoats and Pastels
While they are considered an obvious choice in children's clothing, raincoats are a good go-to for the first day. Not only are they super practical but they come in such a diverse range that bright colors, patterns, and styles are easy to find. Always make sure your little gal has a raincoat on hand!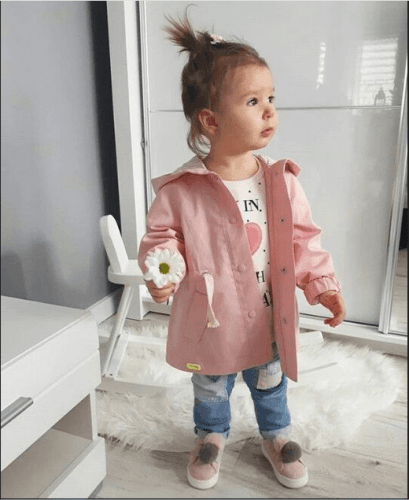 ↓ 2 – Dungarees
Dungarees are a cute choice for the first day of preschool. Not only are they sturdy items of clothing but also very versatile. Warm day? Short-sleeved top. Cold day? Dress her in long sleeves. Dungarees go with most clothing items so making a style with them is easy. She will also love how easy they are to run and jump and play in.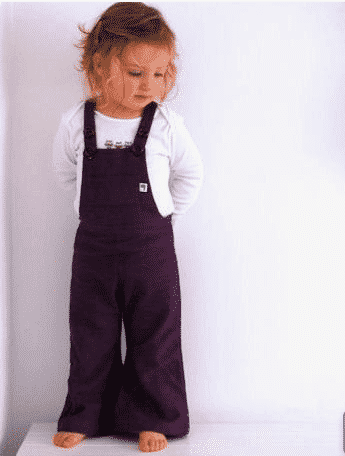 ↓ 1 – Simple Solids
This cute little yellow dress shows just how eye-catching simple styles can be. While this has a summer vibe to it, an autumn or winter feel can be created by adding a pair of tights and a cardigan. For more ideas, head on over to our post on Cute Kids Winter Outfits.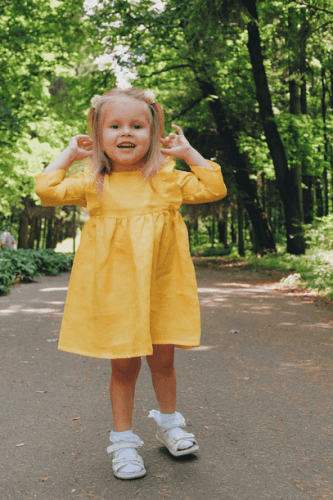 Frequently Asked Questions
Q.

Where to shop for little girl's school outfits?

Here are some of the most popular clothing stores that are loved by mums around the world:
Macy's
Amazon
Old Navy
Wren and James
Lilly Pulitzer
The Children's Place
What are some good first day of school outfits for girls?
Children's first day of school outfits can be just a little bit more special and fancy than everyday school outfits. On a child's first day of school, usually, lots of pictures are taken. Parents want to commemorate the momentous occasion… and a little kid might like feeling a little bit dressed up, especially if they're feeling nervous. As you can see from the outfits we rounded up in this post, first-day-of-school outfits can vary, but they all have at least one thing in common. They are clean and they are cute! Here are three easy-peasy first-day-of-school outfits to dress your little one in:
Jeans, a cute tee, and sneakers. Add a hair accessory to make it extra special.
Dress, leggings, sandals.
A long-sleeved top, jeans or leggings, and boots.
What are some tips for shopping for preschoolers?
Shop the sales rack at your favorite stores for quality clothes (kids clothing gets laundered a lot so they need to be able to withstand lots of wear and washing)
Scour thrift stores and consignment stores
Buy movable, practical pieces (restricted clothing makes it hard for little ones to play freely!)
Invest in good shoes (don't skimp out on quality foot support)
Find out what your little girl likes wearing (she may not know how to verbalize her likes and dislikes so pay attention to the pieces she loves wearing and look for similar pieces or items when shopping)
If you have any tried-and-true tips for dressing little girls on their first day of school, feel free to share them in the comments below! Let's learn from each other!