Children's outfits for Easter are what brings life to the party, when done right. They are full of life and color. Cute, frilly dresses for girls and gentleman shirts and ties for boys are always popular during Easter.
However aside from the typical dress up for kids, there are also particular costumes that can make the day much more special for them and the people around them. Incorporating flowers and animals in clothing for children is a brilliant addition to this day and must be experienced by every parent out there celebrating Easter this year.
Pastel colors are seen constantly throughout this season as they add to the soft vibes of this occasion, so why not dress your children up in pastels? Girls and boys both, because boys do not always have to wear dark.
Aside from solid colors, rainbow colored outfit can be styled to match the occasion just as well. So if you want something more vibrant than pastels, I'd recommend rainbow themed outfit.The multi color theme is seasonal and keeping up with Easter. Add to these a nice pair of dolly shoes or pumps which can either be plain, patterned or embellished with flowers or even little rabbits.
Tips for dressing up your child on Easter:
For those mommies worried about their babies staining their clothes, you just have to let it slide every now and then especially if your child is going to stand out among the other kids!
Easter bunnies are seen everywhere around this time of the year so why not use it to its full potential and incorporate them into your baby girl's outfit through bunny ear hand bands!
The great thing about baby wear is that they will look amazing in any festive attire so why not go the whole nine yards and go for a full rabbit, lamb or even Easter egg costume?
Romper suits or onesies are more fitting for babies than toddlers.
Dungarees, sleeveless jumpers and waistcoats are fitting for baby boys, given that they match the climate and weather of you live so your child does not feel cold.
Though girls and boys dress up has been strictly differentiated between for years but now gender norms are changing and cuddly lambs and flowers are not limited to girls only so do not be afraid to slip your toddler into whatever you think looks best on them.
Baby accessories will depend entirely on the outfit you have chosen, such as a plain pastel outfit with some bunny ears.
Make sure to get clothes that are made of washing friendly material because as soon as your child smears some chocolate on their outfit, it will be time for it to go to the machine.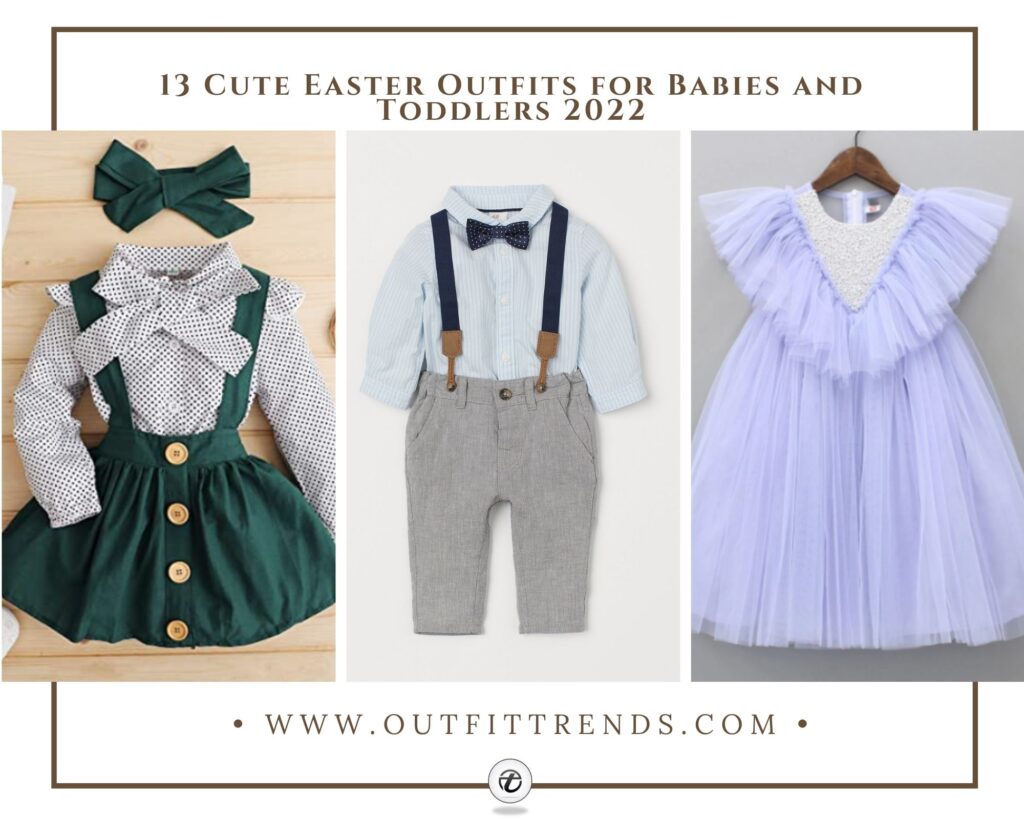 1. Pastel Bodysuits
Babies look absolutely adorable in bodysuits, especially colors that scream 'baby" pastels. These colors are lightweight and fresh, they are cool to the eyes and do not look over the top either for an occasion like Easter. These can be worn on top of white turtlenecks to present the perfect spring color palette in this year's Easter family photos. Not only will your baby be cozy but pulling the best style out there.
2. Bunny Printed Bodysuits
What better way to represent Easter other than rabbits? The best part about newborn's and babies outfits is that they come in every style ever! There is so much variety and finding bunny printed bodysuits will not be a difficult task for you. You can make it easy for yourself and order them online, along with matching accessories like bunny ears headband for your baby to rock. Your baby will feel like they're in pajamas all while the decorative details shine in photos.
3. Baby In Suspenders
This is the most classy look a toddler can manage! Get your baby boy a plaid collared shirt with some formal pants and a suspender, preferably that comes in a set and watch him grow into an ultimate gentleman this Easter. This outfit will definitely make everyone turn their heads in awe at your son. The most suitable colors to choose from would be all the rainbow colors, as dull or neutral colors are too formal for the occasion. The suspenders should definitely be black or grey so they can be conveniently worn by your baby on other occasions as well.
4. Overall Skirt Set
Take your baby girl's style to the next level with this skirt set that screams lady. It consists of a cute polka dotted button up paired with a green overall skirt which perfectly blends in with the button up. Slip your toddler into some comfy school girl shoes, which I am pretty sure every toddler owns because of how convenient they are; easy slip ons. This ensemble works perfectly fine for an occasion like Easter.
5. Frilly Princess Frocks
Your little one will look the most angelic kid on Easter in this pretty pearl embellished lavender gown. Frilly dresses like these look best on toddlers because they can walk and the dress fits them perfectly rather than a baby that does not know how to walk yet. Pair this dress with some white tights so your child does not feel cold, which it may be in some parts of the world. A matching white pair of Mary Jane pumps will uplift this look even more!
6. Floral Frocks
There is nothing sweeter than floral prints to greet the spring time. This Easter, dress your little one up in a floral printed dress which will definitely be more convenient than other options. Alongside it being convenient, your child will feel like a little family in the Easter environment, especially if you get her some sparkly wings to go along with it. Little girls love nothing more than flowers, sparkle and putting on a show. Purchase floral dresses for your toddler right away from your nearest kids' store.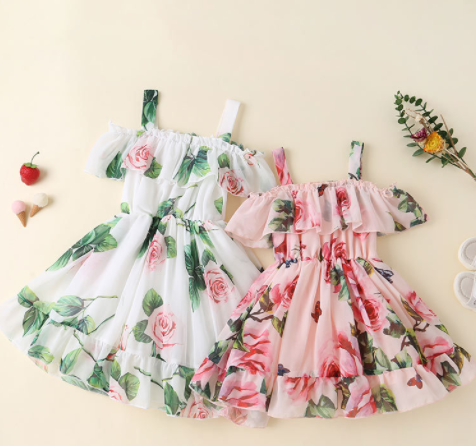 7. Vintage Set
You can not get any more classy than vintage dresses on your little ones. We're obsessed with puffy sleeves because of how intricate they are, so why not add a dress with puffy sleeves to your list of baby shopping. There is nothing better than neutral colored dresses with the perfect twirl to begin spring and welcome Easter. You can top up your toddler's wardrobe with these from anywhere because many shops offer a section of vintage clothes for children. Furthermore make sure to match these dresses with white tights and shoes with a little bow on them to compliment the overall look. Easter will never be boring if you put in such effort for your children's clothes, trust me.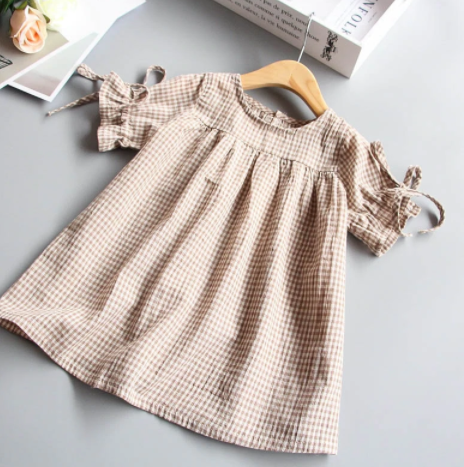 8. Bunny Costume
The ultimate bunny costumes is for those babies who are busy snuggling with you on the couch rather than being able to hunt for eggs outside. Therefore it is vital to make them feel included in this event somehow, which can be done in the easiest way possible by dressing them up in such a costume. A soft oonesie with bunny ears attached to it will have the whole neighborhood gushing over your baby for the day. Easter is not Easter until someone shows up in a bunny costume! Hand your baby a carrot plushie to complete their look.
9. Chick Costume
This is the most cuddly Easter outfit out there for your baby, especially first time moms who want their baby to be a part of all the festivities while remaining as toasty as possible. The chick gives a nod to the festivities of Easter as an egg that has just hatched, so go traditional this Easter! Plus the yellow color is ideal for spring. Moreover such costumes are easy to find once Easter season hits because shops are competing with each other to provide the best outfits for all the Easter mommies out there, so you need not worry about any difficulty in finding this outfit. You can also order it online from Amazon, where it has received top reviews.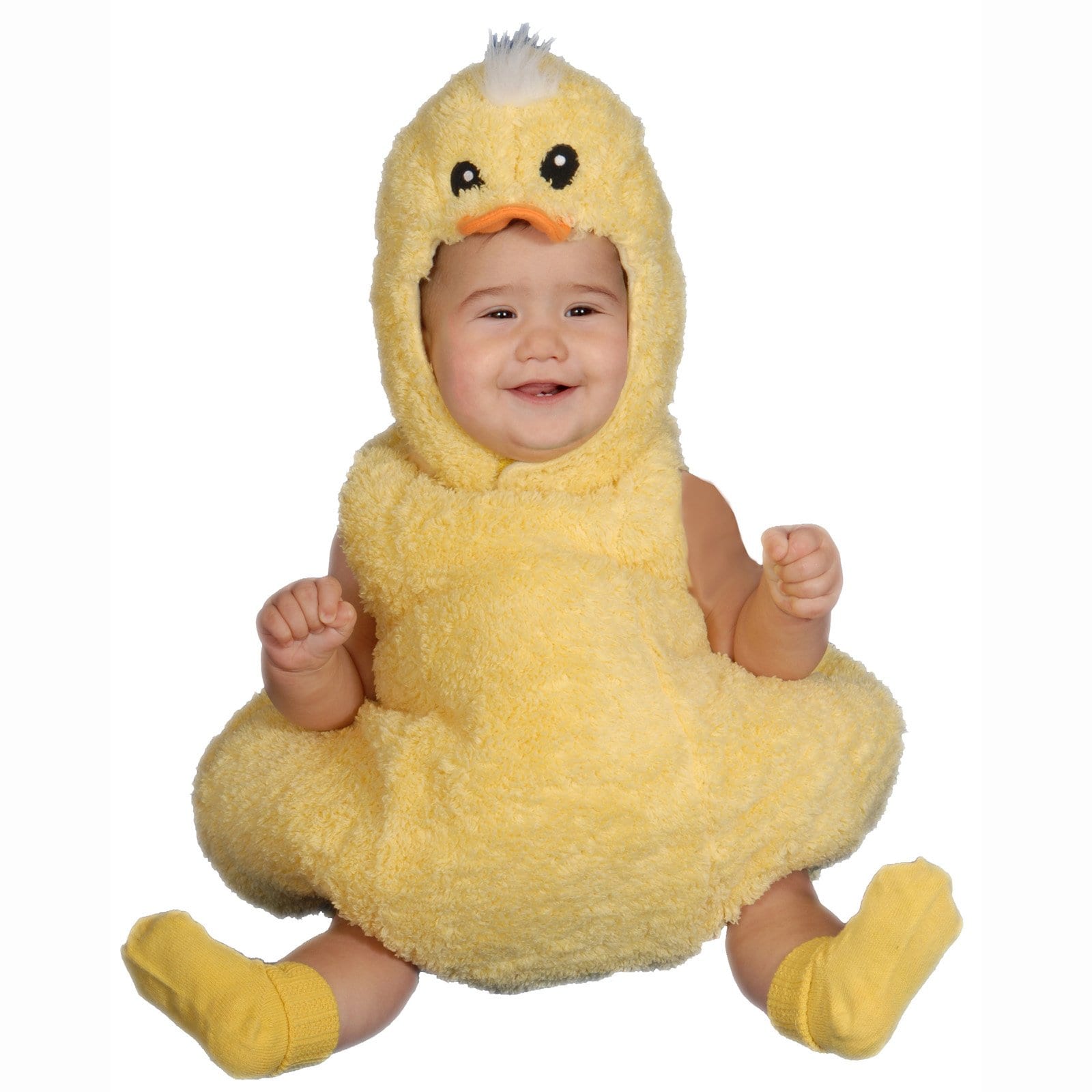 10. Bunny Ties for the gentlemen
While many parents dress their baby boys in suits and formal wear for Easter, they tend to forget to add a tie to it or even if they do, they do not get a tie that matches the spirit of Easter. My point being that with such formal wear, you have to add a small burst of color or a token that represents Easter as well. For example ties with bunnies embroidered on them or a golden and white print to commence the festivities. By purchasing such significant pieces you will have an Easter outfit for your baby ready on the go always, as you can dress them in anything as long as you add a little touch of Easter to it.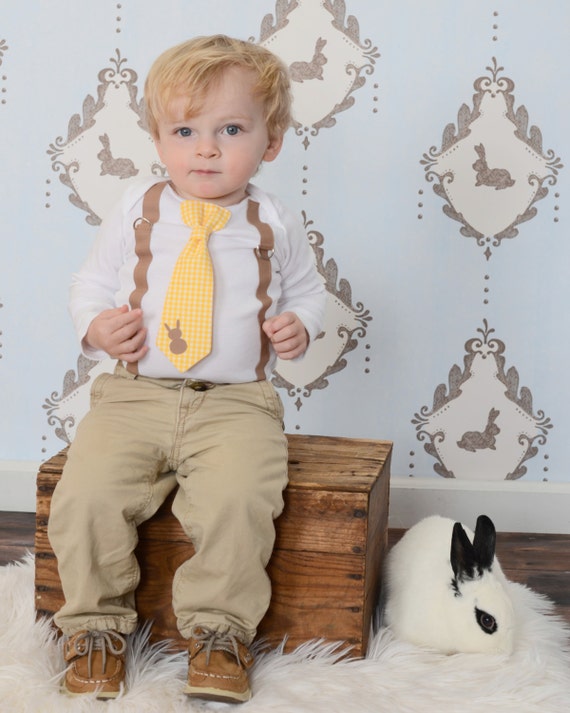 11. Dungarees with a twist of Easter
This dress is available at amazon and made from pure cotton which makes it 100% washable and can be worn on many other occasions by your baby along with Easter. The sweet addition of bunny ears makes it perfect for Easter but also keeps the dress subtle for any other event as well. If the spring in your area starts off cold then pair this dress with some white soft tights otherwise your baby will pull it off with a pair of shorts as well. The cutest pairing with this dress will be some bunny pumps which you can also find easily on Amazon. An outfit brought to you by Amazon entirely!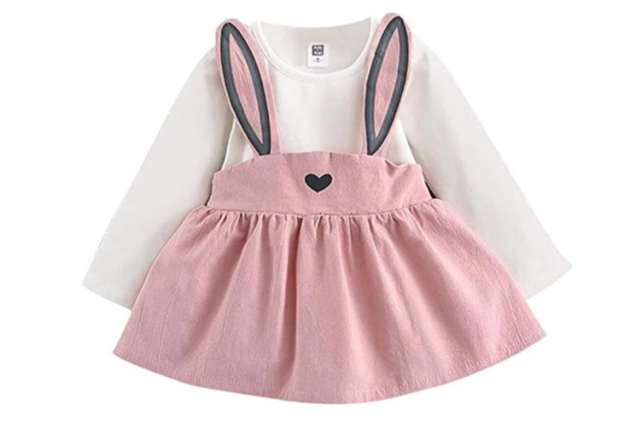 13. The Perfect Easter Basket
For Easter it is essential that you not only plant eggs in the yard but also leave little hints of the festivity throughout your house. There is an easy way to do this for mothers with babies because on your next trip to the toy store, purchase some stuffed toys that align with Easter, such as bunnies, carrots, eggs, chicks etc. By doing this you will be making your baby happy with a bunch of new toys as well as signing up for a lifetime of Easter props at your house now! There is nothing more convenient than this idea so you should definitely try it out. You can also order them from Amazon where they come in a customized Easter basket.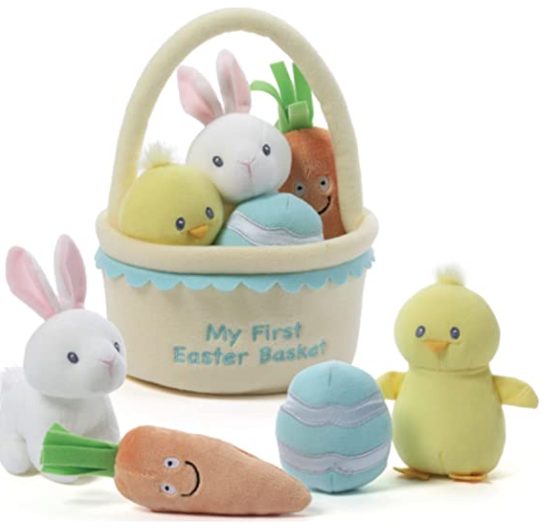 Frequently Asked Questions
Do children dress up for Easter?
Easter is a day filled with love and joy, and what more is joyful than a child? So definitely dress up your child on Easter, and not just in anything either. Make sure you dress them up in correspondence with the occasion.
What should boys wear on Easter?
Pairing dress shirts with khaki pants is every baby boy's go to on Easter, so it can be your baby boy's outfit this year as well! However if you want you can dress them up in a costume too such as an egg or carrot costume.
What should girls wear on Easter?
Girls can wear plain plaid dresses or frilly dresses with pretty embellishments or embroidery, there is no comparison between either! Do not forget to add cute little jewelry to your baby girl's outfit.
Can my child wear navy for Easter?
Sure, they can. However it is best to pair the navy with white by incorporating white into their outfit somehow. That will tone down the darkness of navy colors and add a bit of Easter vibes to the outfit overall.
What color is worn on Easter Sunday?
The most worn and best picked colors for Easter have to be white and gold. However you do not have to restrict your child to these and can dress them up in whichever color suits them best, as long as it is not too dark for the occasion; all black.