Kids Timberland Outfits – These days, kids are no longer behind in fashion. Everyone wants their kids to look the coolest among all. Fashion trends are not only limited to the adults instead the kids are equally invested in the latest fashion trends. They know what they want to wear, and what looks good on them. Instead, American, Asian, and European children all love to wear high fashion. Such high-fashionable outfits include wearing stylish shoes. One of the most stylish and popular boots out there is Timberland shoes. This is why we have compiled a list of the best kids' clothing combinations with timberland boots. Don't forget to look at our huge collection of kid's fashion ideas.
What Are Some Timberland Outfit Ideas?
Timberlands can be worn outdoors and indoors, with a whole range of wardrobe choices. You won't have to think much about how to style your kids with these shoes as they look good with literally any outfit. Jeans, tops, and shirts are the easiest way to style your kids with timberlands for parks and outdoor activities. Jackets and hoodies can be added on top of that in winter. Apart from that, girls can also wear dresses, skirts, and shorts with them. Timberland shoes are fun to style and comfortable to wear hence this can be a good investment for your kid's wardrobe.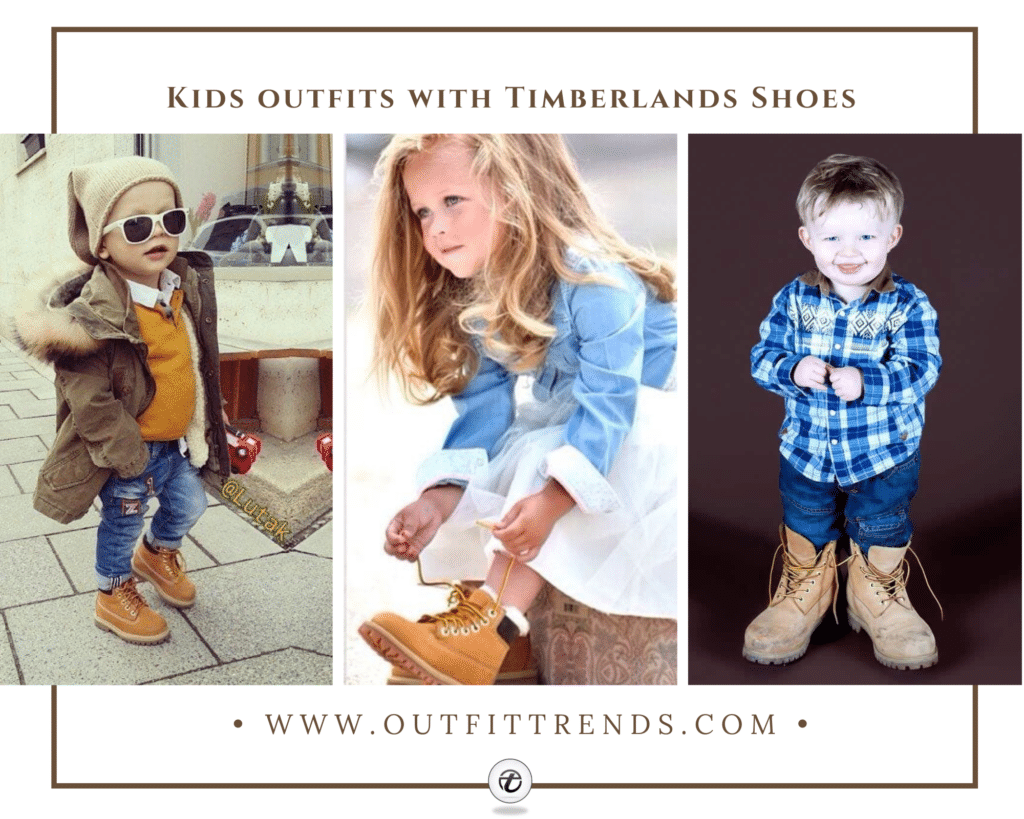 Tips For Styling Kid's Timberlands
Timberlands look the best when they are paired with denim. So either you can go with an all-denim look for your kid, or pair them with denim shirts and jackets.
Timberlands can be paired with casual and basic outfits as well as formal wear.
Make sure to buy the correct size of the shoes so that your kid is comfortable wearing them.
13 – Dressy Kid In Plaid Shirt
Toddlers look adorable when they are all dressed up and for all the dressy children out there, here's an outfit for you! Parents can style them by leaving their blue plaid shirt open, and pair it with a blue jacket, jeans, and cute little timberland shoes and your baby is all ready for a formal party.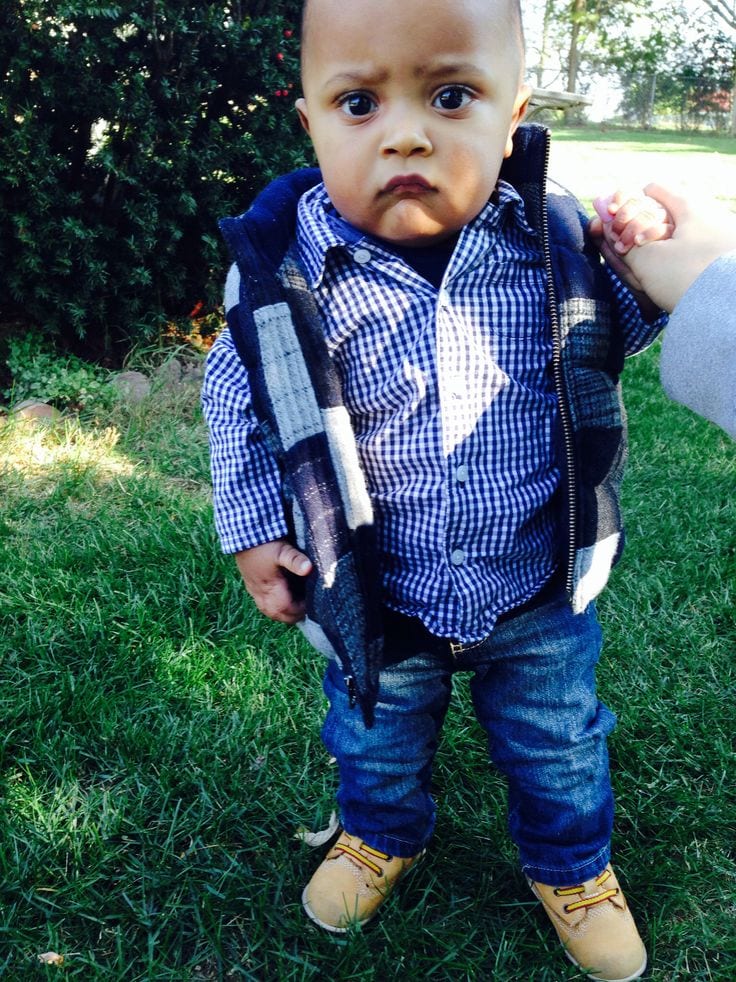 Timberland Kids' Toddle Tracks Hook and Loop Ankle Boot(Similar) $59.99
12 – White Skirt With Denim Shirt And Timberlands
Every girl has a craze for different and stylish outfits and here is a chic outfit for all the fashionable little girls out there, you can pair your Timberlands with a white chiffon skirt and denim jacket.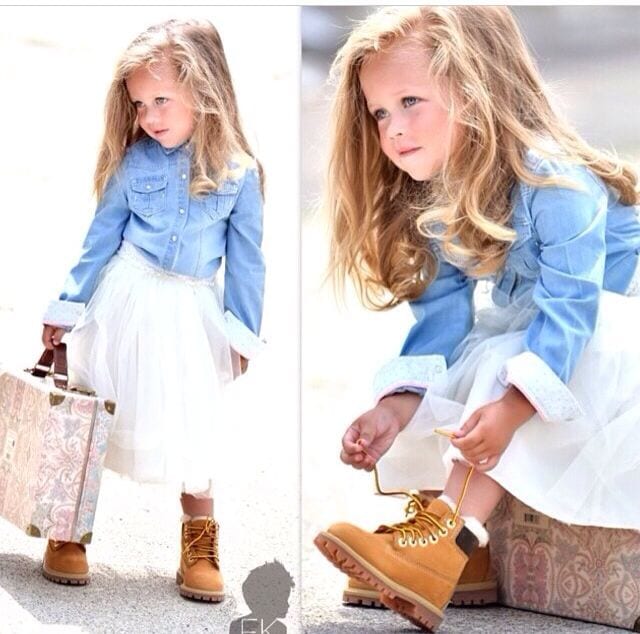 Timberland Little Kid/Big Kid 6″ Premium Waterproof Boot $189.00
11 – Black Top And Skirt With Boots And Chains
This little girl got all the swag with that simple black frock with a large, chunky gold chain necklace and a high bun. She looks ready to rock the ramp walk just like models.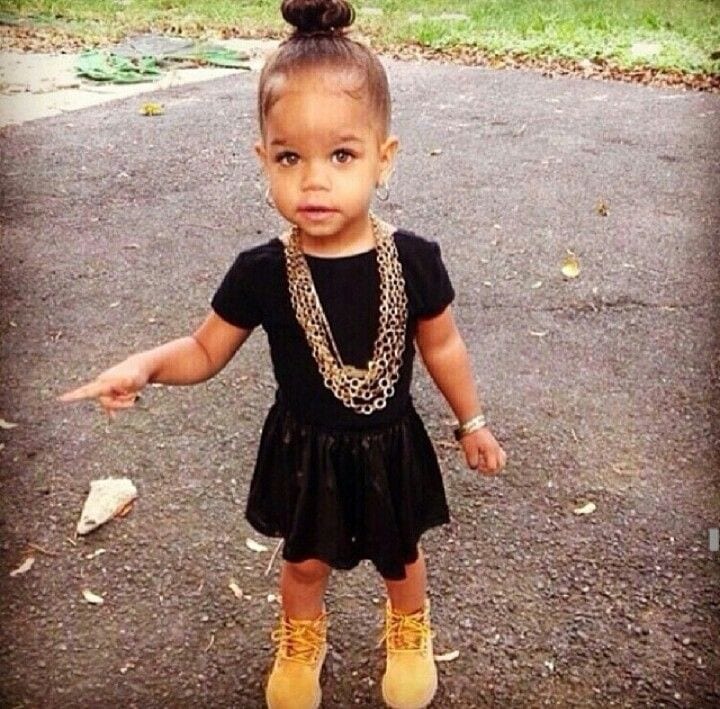 RABBIT SKINS Toddler Girl Cotton Short Sleeve Dress $15.96
10 – Mommy-Daughter Twinning In Timberlands And Denim Shirts
Many times mothers want to twin with daughters but can't find the perfect outfit that suits both of them. So, here is an outfit idea, you can wear all denim, from head to toe. This looks better when choosing different shades of jeans.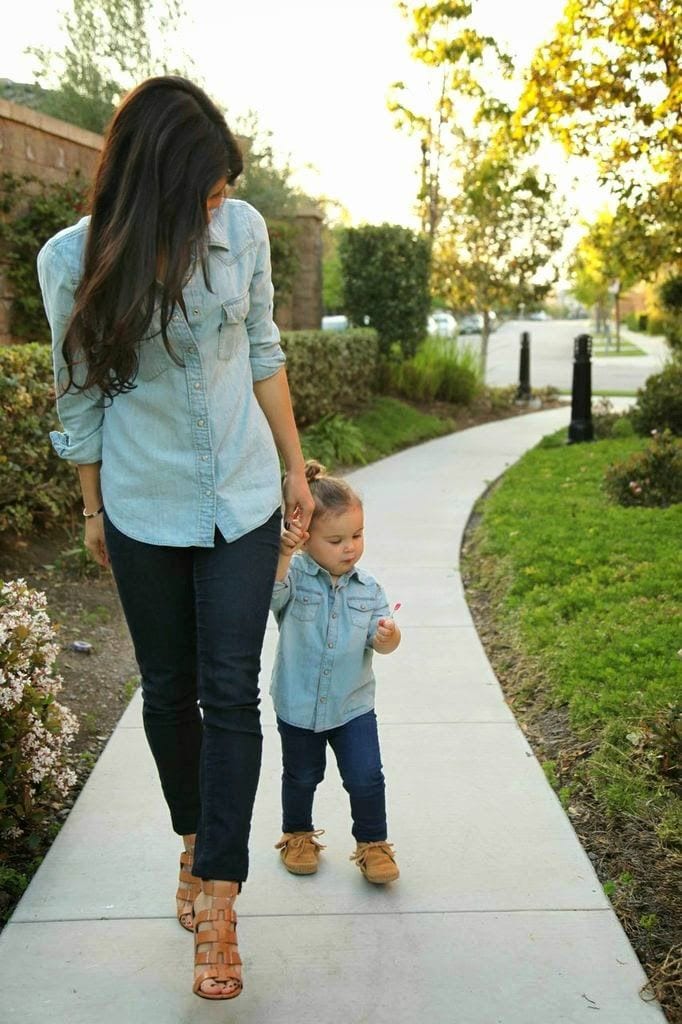 Women's Button Down Denim Shirt Collared Casual Long Sleeve Pocket Tops $34.99
9 – Timberland Shoes With Cheetah Print Trousers
Cheetah print is never fading away and looks stunning with timberland shoes. Girls can wear cheetah print trousers with a shirt or jacket, paired with timberlands, a high bun, and some cute small earrings.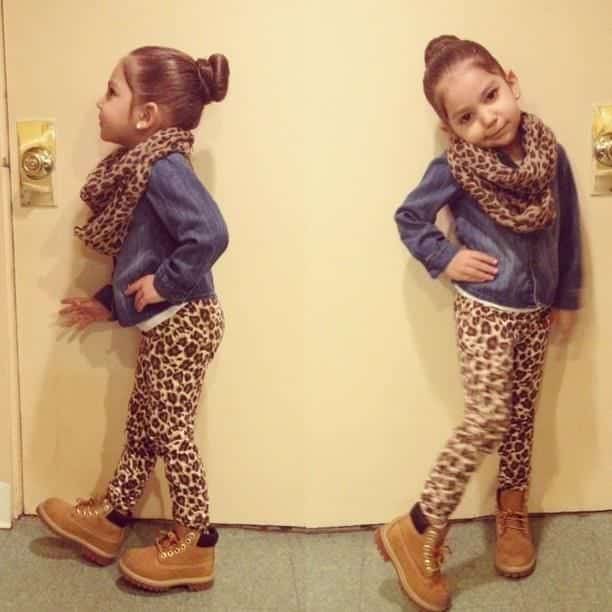 Hudson Baby Unisex Baby Cotton Pants and Leggings $26.99
8 – Timberlands With Suit For Formal Wear
For preppy little boys, this lined suit can be perfect with dark brown shoes. This outfit is perfect when you want your kid to be a little formal for an event. Don't forget to add that cute bow or a tie to this look.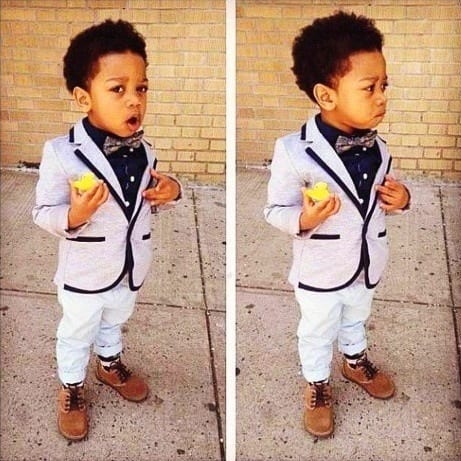 Timberland 6″ Premium Boot with Closure
7- Sporty Girl Style With Athletic Wear And Timberlands
Finding a perfect sporty yet fashionable outfit for your little one? No worries, we got your back. Little girls love sporting athletic wear and add a fancy touch by dolling it up with a pearl bracelet.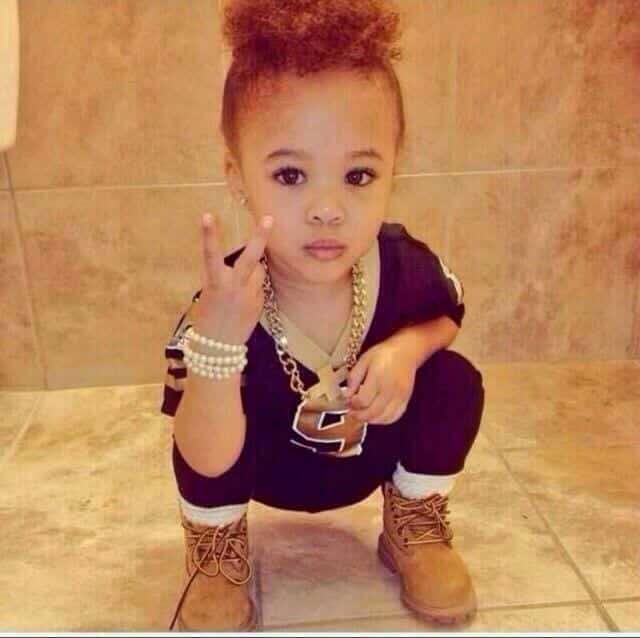 6 – Red Sweatsuit With Timberland For Boys
A sports look for boys is also very important. Remain classy yet sporty and keep your swag high with all-red sports attire paired with tan-brown boots.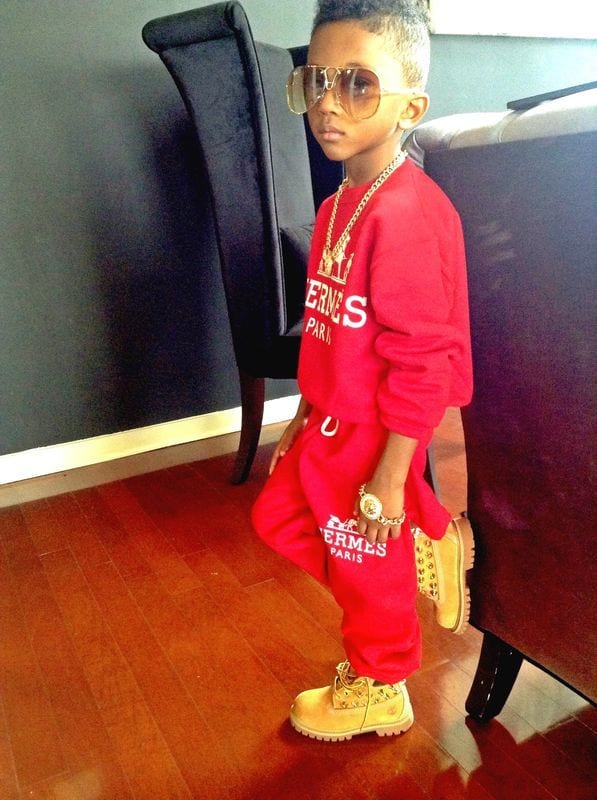 5 – Casual Winter Style For Girls With Black Jacket, Jeans And Timberlands
A polyester jacket can be paired with a large New York Basketball cap, with brown shoes for a casual winter outfit for little girls.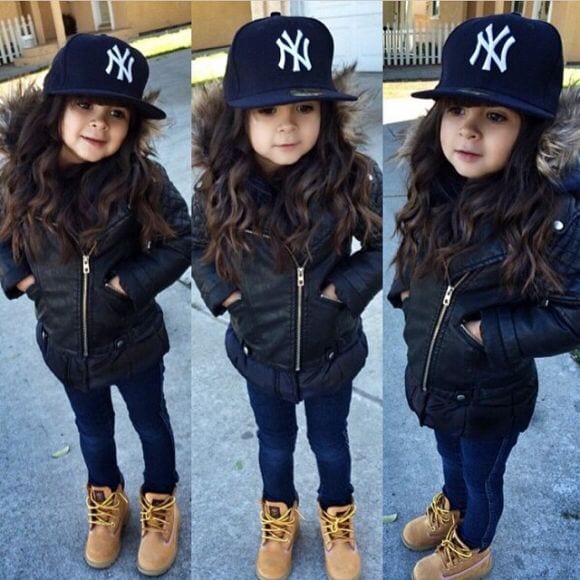 Columbia Girls' Benton Springs Fleece Jacket $25.05
4 – Modern Day Chic Style With White Tie-Dye Shirt Around The Waist
All the fashionista girls out there, you should wear this! Do not forget to wear a tie-dye shirt and wrap it across your stomach.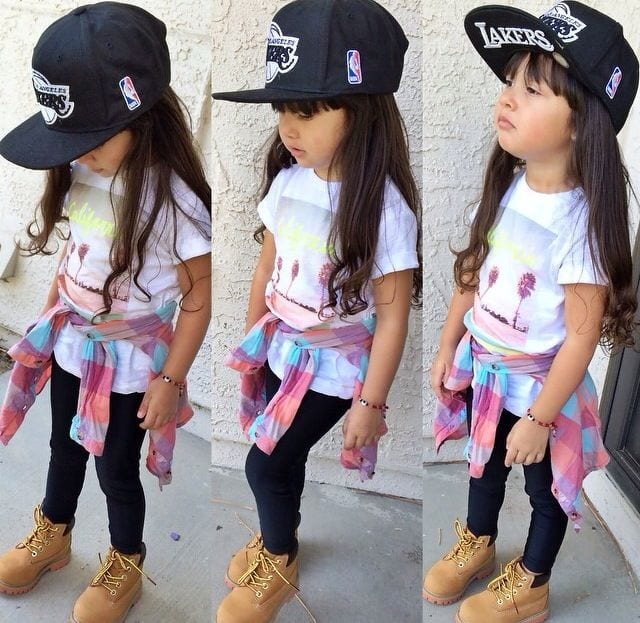 Los Angeles Lakers Black White MVP Adjustable Hat $25.99
3 – Denim Shirt With Timberlands In North West Style
Kim Kardashian knows how to style her daughter, so seek inspiration and wear denim!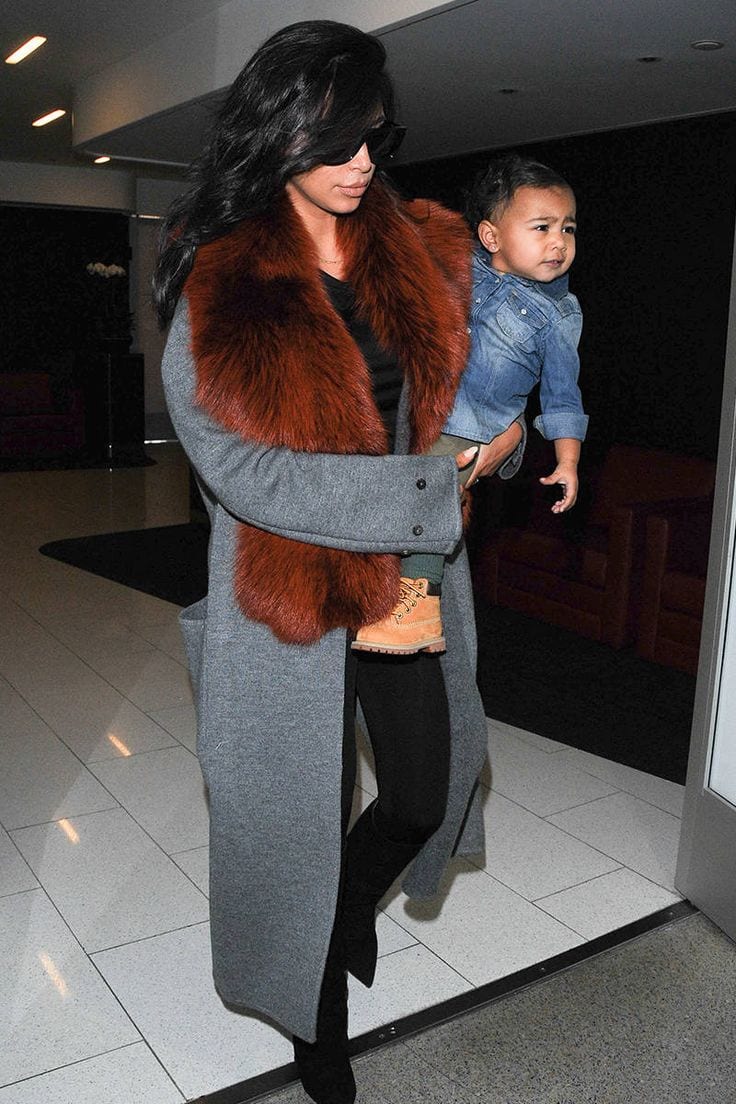 2 – Collared Ankle Timberlands With Flannel Shirt For Toddlers
For cute boys out there, this outfit will look adorable on you!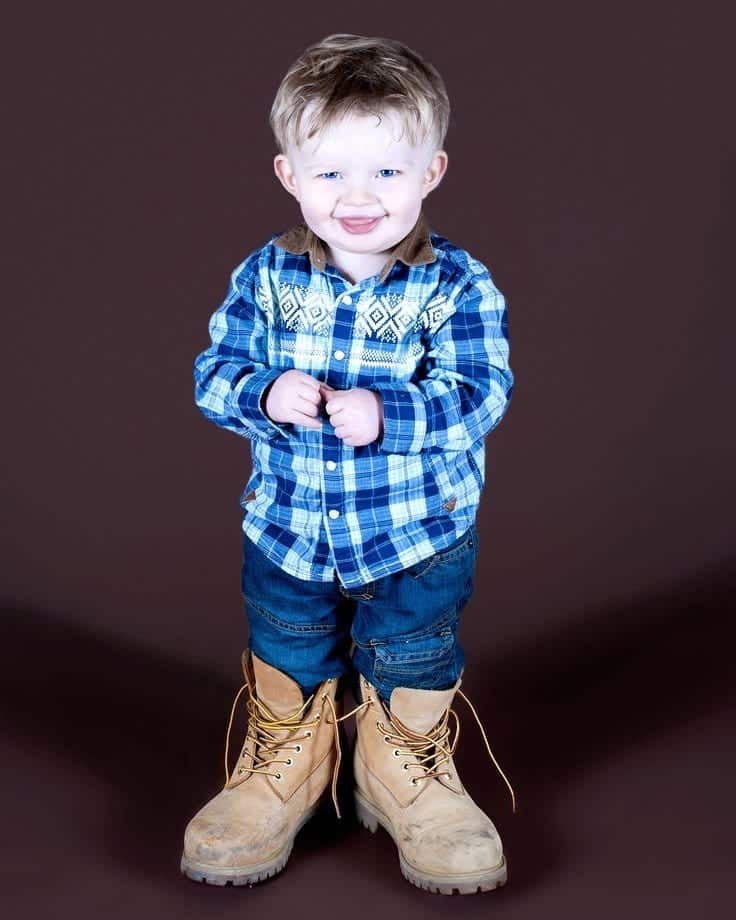 Timberland Unisex-Child 6″ Basic Boot-Contrast Collar Ankle $150.00
1 – Sporty Yet Fun Style For Boys With Shirt, Jeans, And Timberland Shoes
Boys love to explore the great outdoors, and this outfit is perfect for that! Keep it simple, casual yet fun, and don't forget to wear your brown shoes along with it!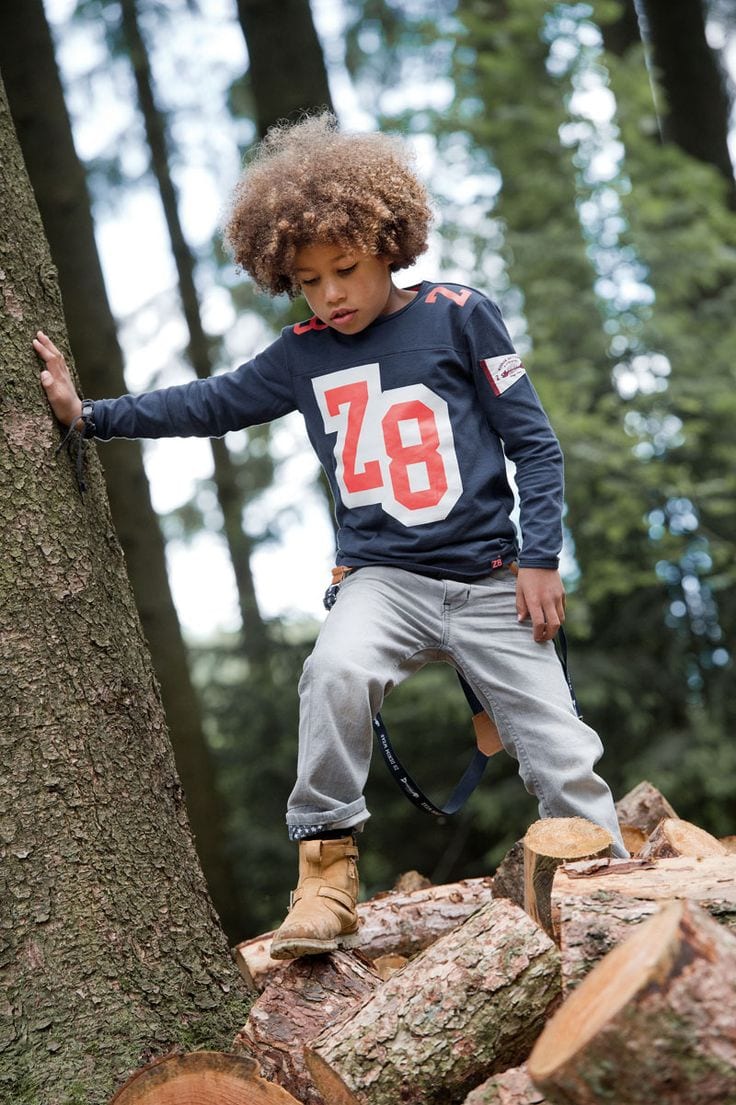 Frequently Asked Questions
Q. How to style timberland shoes with different outfits for kids?
Ans. Kids' timberlands can be styled with various outfits differently. Boys can wear t-shirts and jeans with these shoes for a casual look while girls can go with tops and jackets with timberlands. For formal wear, little boys can wear a suit and girls can wear cute little dresses with these. Just like that, you have a variety of options to style your kids fashionably with these shoes.
Q. Are timberlands good for toddlers?
Ans. Timberland shoes not only look good with different outfits but they are also very good for your toddlers as they are lightweight, reliable, and waterproof as well. They can be perfect to wear in winter and can be very useful for wearing for outdoor and adventurous activities. Unlike their appearance, these shoes are not heavy to wear and gives no harm to your toddlers.
Q. Are Timberland kids true to size?
Ans. These shoes can be a bit tight and very fit when you wear them for the first time however they usually stretch out after you wear them two to three times. The best thing is to make your kids wear the shoes and ask them if they are comfortable or not. And it is better to take a larger size if the kid is not comfortable.