Back to school outfits for kids: With summer vacation ending, it is time to hit the stores for new stationery, books, and clothes for kids. The smell of white blank pages and pencils are filled with nostalgia. A new year begins, and children will make new memories, learn new lessons, meet new people, and wear new clothes. Your child might not be as excited about school, but if you take them shopping for back to school clothes, they might want to wake up at seven and get ready for school.
Kids fashion can be tricky. Just because they are seven years old does not mean you can make them wear anything, even if it is mismatched. The way you dress your kid reflects on your taste and aesthetics. We might not be as rich as North West, daughter of Kanye and Kim West, to dress our six-year-olds in Chanel coats and custom Louis Vuitton bags, but we can dress them good in our budget. Get some inspiration on how to dress your little ones from this article and let us know what you think in the comment section below.
How to Dress Your Kid for School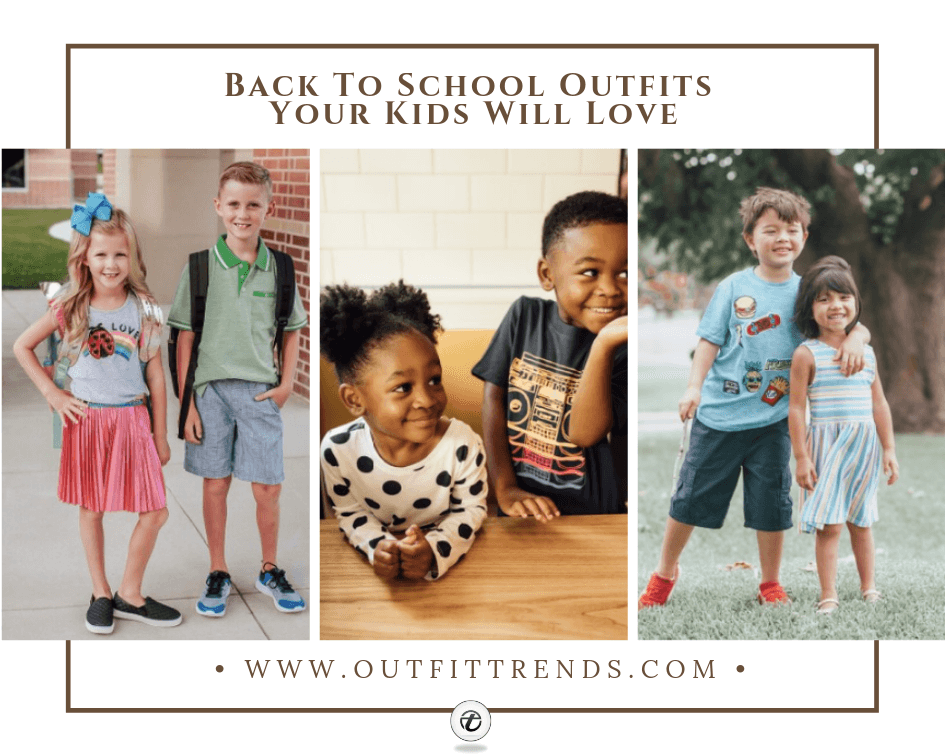 Tips on how to dress your preschoolers wear back to school
Don't go too overboard: Be mindful of the kid's age and do not make them wear what would be considered adult people's fashion articles. Some people dress their kids beyond their age, and that looks ridiculous. Fashionable does not mean that your 7-year-old daughter has to wear sexy looking skirts and makeup.
Don't put makeup on your kid: Again, it is absurd to let your child wear makeup. With the Internet age, we have seen a lot of preschooler Instagramers and Youtubers wearing a full face of makeup. A cute tinted lip balm or gloss can work, but things like concealer and foundation should be avoided as they can harm the sensitive skin.
Hairstyles: Keep your kid away from heating electronics such as a hairdryer or a straightener, as well as from chemical products. A kid's hair is very sensitive, let it grow naturally. As for hairstyles, buy adorable scrunchies and clips so that they let you tie their hair up. Untied hair looks pretty, but it is not good on a daily basis. The hair will get rough and dry. Instead, tie them up in braids or ponytails.
Keep your kid's choice in mind: It is important that he /she likes what they are wearing. Do not force them to wear something they don't like. This is why it is better to take them with you when shopping for their clothes.
Keep things cute and playful: The best thing about dressing kids is that you have unlimited options for adorable clothes. Bright and vibrant colors cover the entire closet. You can mix and match clothing articles and play dress up with them.
Bags and accessories: Get your kid a bag that is big enough to carry all their books and other stuff. You can even go for ones that come with a matching lunchbox, bottle or a geometry box.
Do not go over your budget: Kids grow out of clothes very quick at this age so try not to buy anything that can upset your wallet. You will need to get rid of the clothes by next season.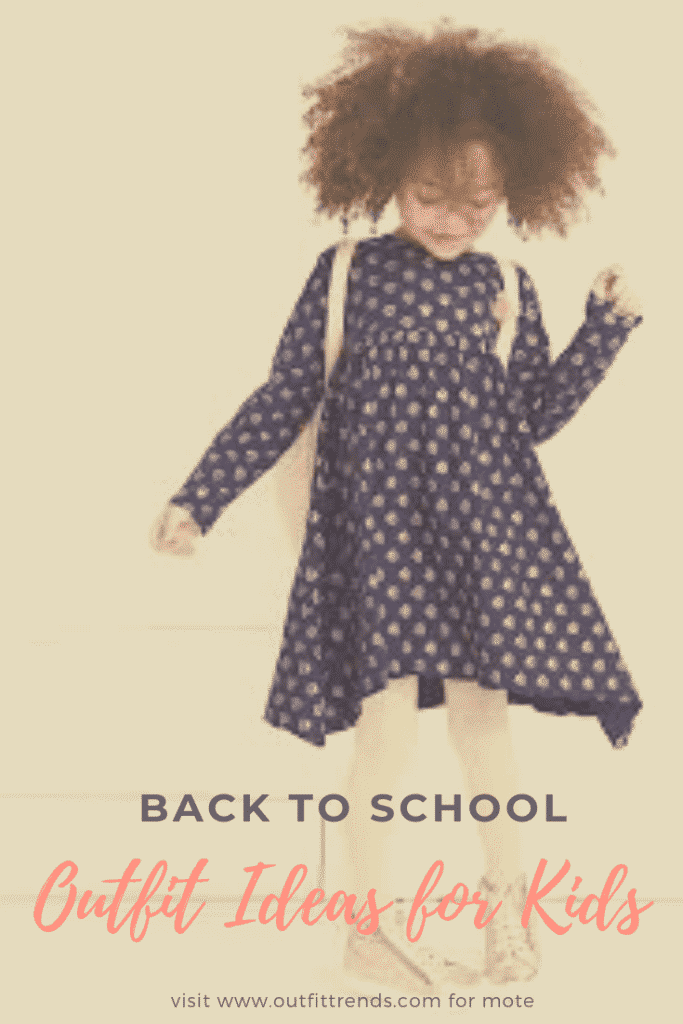 ↓ 20 – Spaghetti Strapped Dresses
Kids dresses with thin spaghetti straps give the frocks a cute little look. These frocks are usually knee-length and come in wonderful designs. Red and white is an attractive combination for kids, especially if it is a white dress with red patterns on it. Stripes are a very popular print as well as they look elegant on any occasion. Here are some more Casual Outfits for Kids that you might find inspiration from.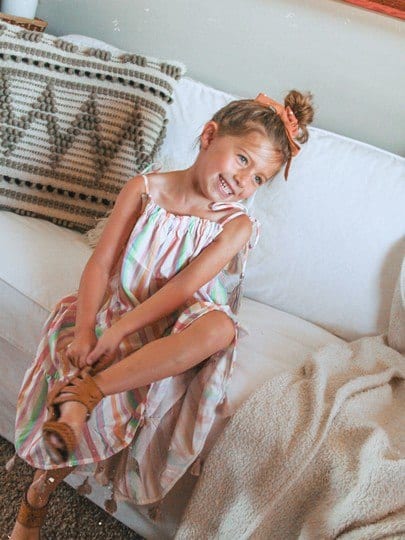 SHOP THE LOOK HERE:
Chic Wish Rainbow Candies Stripes Maxi Dress – $36.90
↓ 19 – T-Shirts
T-shirts are a blessing from God Himself. They work for every gender, every age, and every casual occasion. Sit at home doing nothing in a T-shirt is as appropriate as going to school in the same T-shirt. Kids shirts are full of cute graphics. You can dress your kid in a shirt with his / her favorite cartoon or just a simple message. Kids' t-shirts are fun and colorful, just like their childhood. Pair them up with jeans or colored pants.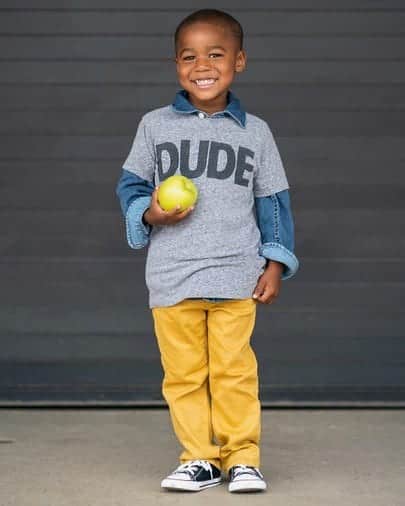 J. Crew Boys "DUDE" T-shirt 
J. Crew  Kids' Chambray Shirt
↓ 18 – Playful Leggings
Patterned leggings are one of the things about childhood that you miss the most when you grow up. On kids, they look adorable. Legs covered with happy faces or cute little caterpillars? Can not imagine anything sweeter. Leggings are best worn with dresses or frocks. Contrast leggings with the dress and headband. When buying leggings, try not to buy nylon fabric as they irritate the skin. Buy thermal tights for winters to keep the kids warm and cosy.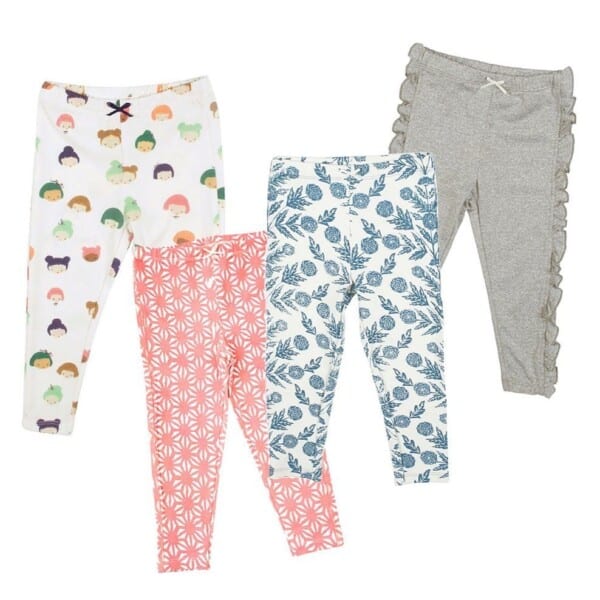 ↓ 17 – Cute School Bags
One of the staples for school kids, and trust me it is their favorite thing to go shopping for. School bags need to spacious, but not too big that your child's delicate shoulders do not bruise. School bags should also not be too small that it does not fit all the books and supplies. Some come with lunchboxes and bottle sets, which does your job of having to buy them separately.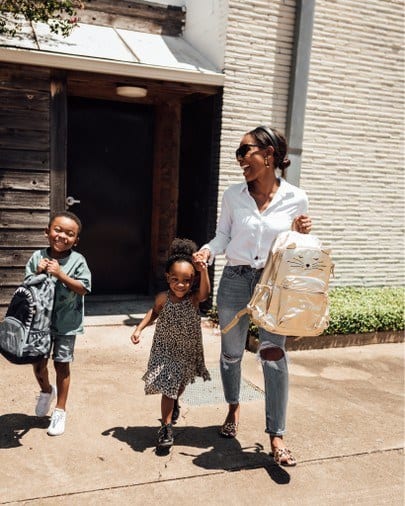 SHOP THE LOOK HERE
Mackenzie Critter Shark Boys Backpack
Pottery Barn Kids, The Emily & Meritt Gold Kitty Lunch Box
Pottery Barn Kids, Spencer Bento Box Containers
↓ 16 – DIY Headbands and Bandanas
You can do a little DIY project with your daughter and make cute headbands for her school days. Custom make these with most of the dresses so that it looks like a complete outfit. You can use leftover cloth for this project rather than buying supplies. Add some glitter and beads as a cherry on top. Scarves and bandanas too can be styled in many ways. Or you can put ribbons in your daughter's head.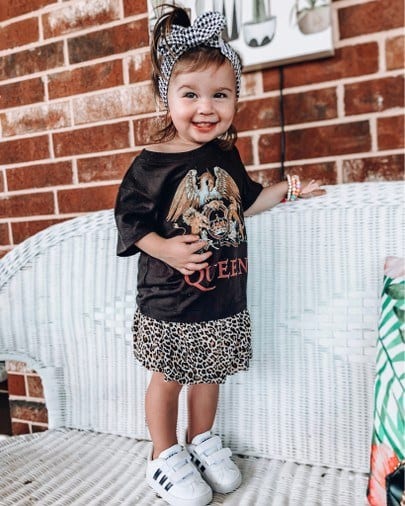 SHOP THE LOOK HERE:
Adidas Toddler Baseline Shoes – $27.00
Girls Cotton Black Romper  Bodysuit Top + Leopard Shorts + Headband – $12.00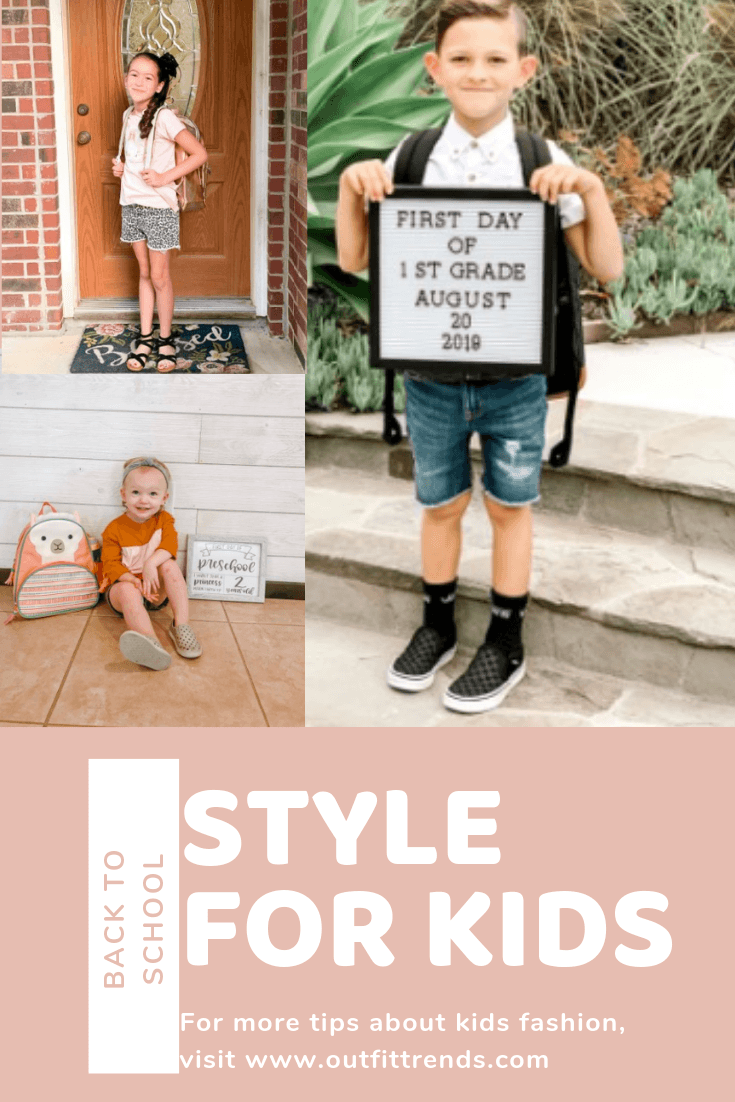 ↓ 15 – Plaid Dresses
Plaid is a pattern that consists of vertical and horizontal bands. This cutesy pattern looks decent and simple on dresses. Choose the dominant color from the dress and match the shoes with that color. Or just go with basic colors like black or white.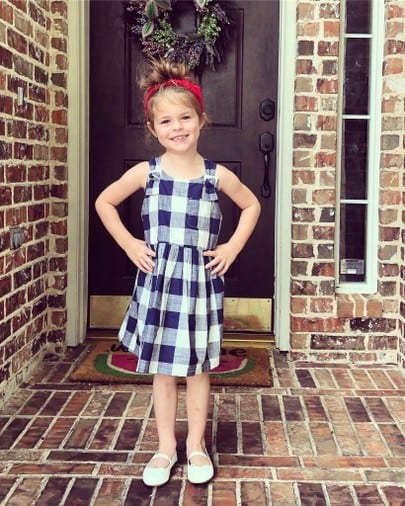 SHOP THE LOOK HERE:
Girls' plaid dress in black and white
↓ 14 – Matching Clothes for Sisters
Matching your kids' clothes is fun and adorable.  There is no other way to let the world know about the immense love between the sisters. That might be an exaggeration, but still. It is cute to look at two tiny human beings roaming around is similar outfits. The outfits do not have to be identical; it makes dressing up more fun that way.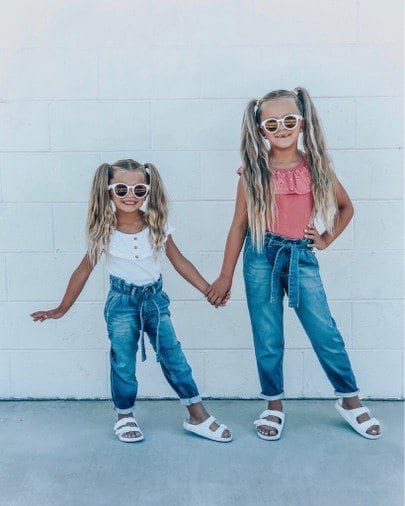 SHOP THE LOOK HERE:
Abercrombie Kids, High Rise Paperbag Waist Jeans – $59.95
Abercrombie Kids, Off the Shoulder Ribbed Leotard – $19.95
↓ 13 – Braided Hair
Most little girls love playing with their hair and tying them up in different hairstyles. Wearing hair in braids will keep the dust out of their hair and keep hair tangle-free. It is better to tie your daughter's hair up to save them from hair fall and tangles. You can make a simple braid or look up tutorials for stylish braids on the Internet. French braid and Dutch pigtails are the easiest and most popular types of braids. With cute hairstyles, she will feel more pretty and confident.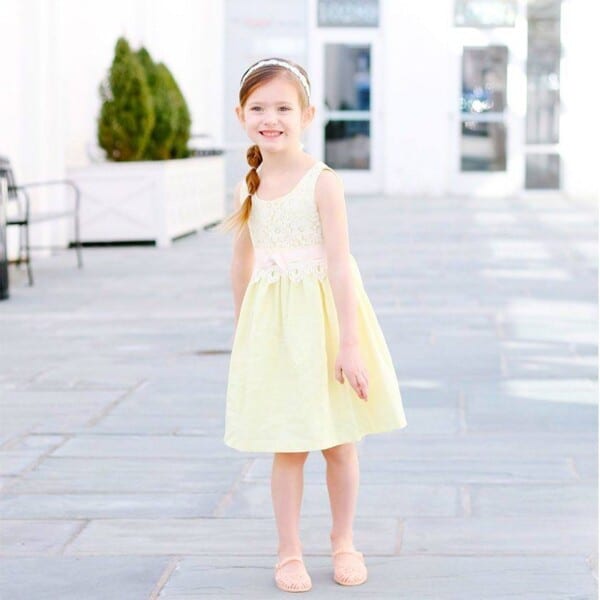 ↓ 12 – Pigtails
When we think of little girls, we imaging ponytails and frocks, and that basically sums up their entire childhood. Two ponytails on the side make little girls look like angels. And the best part is that smaller the hair, cuter the pigtails look. Imagine glasses with pigtails, aww my heart is melting. You can add a dainty hairband on top to make this hairstyle look even better.
↓ 11 – Summer Hats
Hats are the ultimate go-go. Summer hats and dresses give a very meadow fairy vibe. This cute top with flutter sleeves and a flower in hand shows a very innocent side of childhood.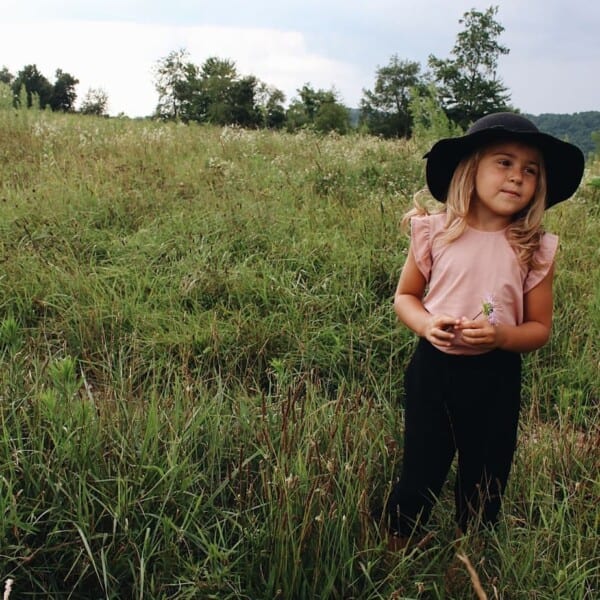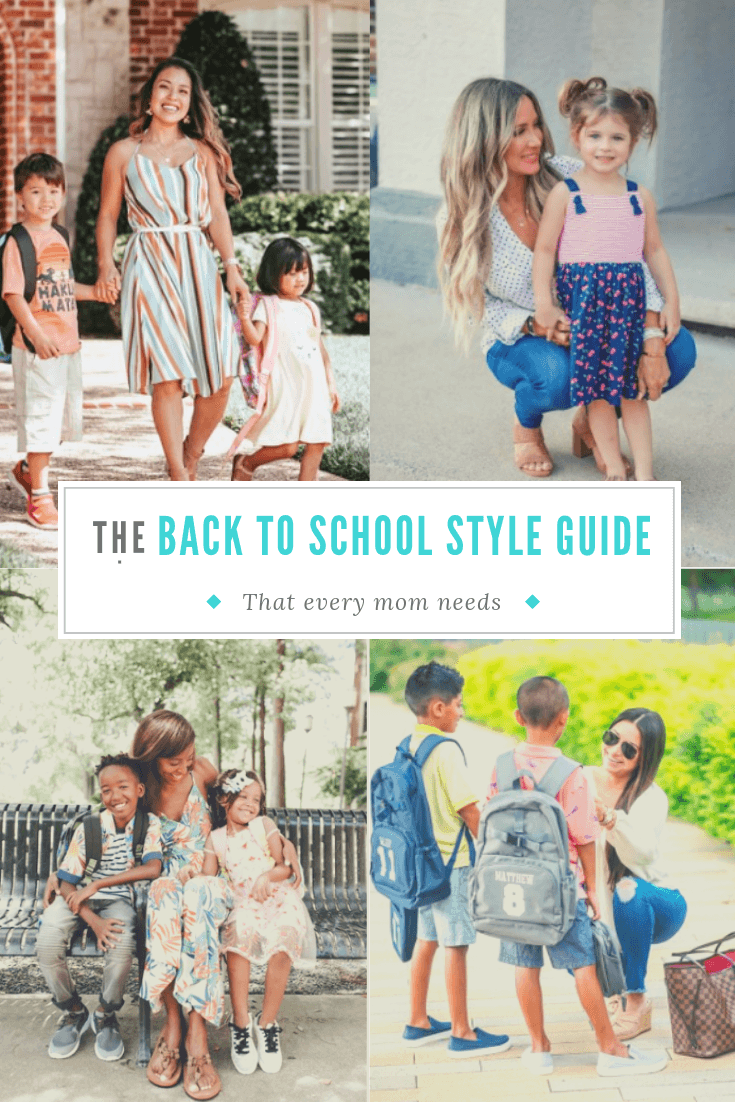 ↓ 10 – Like a Gentleman
For special days you can dress your little boy in an adorable suit. Bonus points for a formal hat. A gentleman look can make him every teachers' and every seniors' favorite kid. People will look at him in awe and with heart eyes. Here are some Super Cool Fashion Ideas for kids.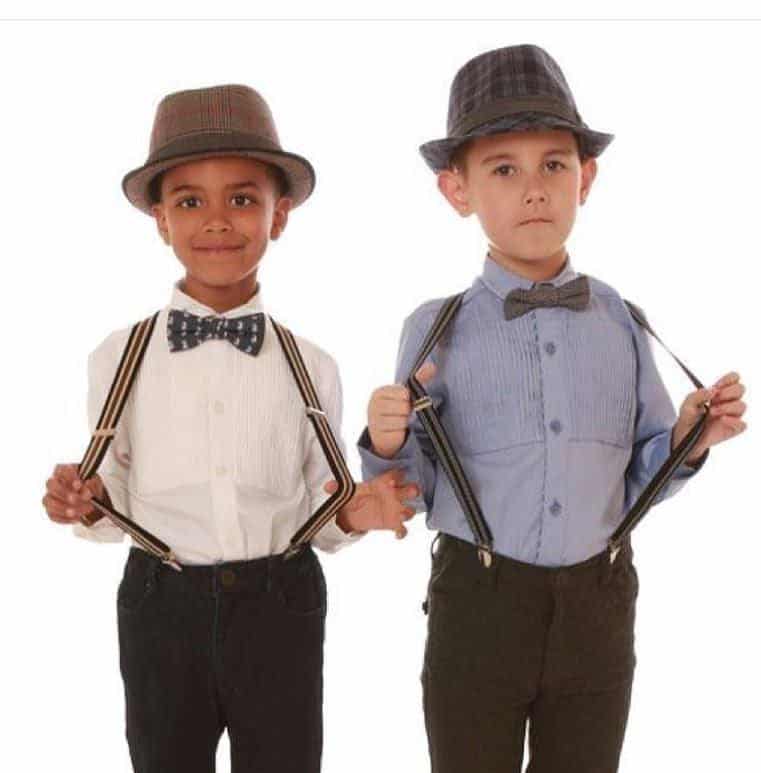 ↓ 9 – Romper
Rompers are all the rage for every age group nowadays. Jumpsuits might be a little uncomfortable to wear, though so only keep it for days when your kid wants to wear them. Couple jumpsuits with sandals and hats to get the ultimate summer glam.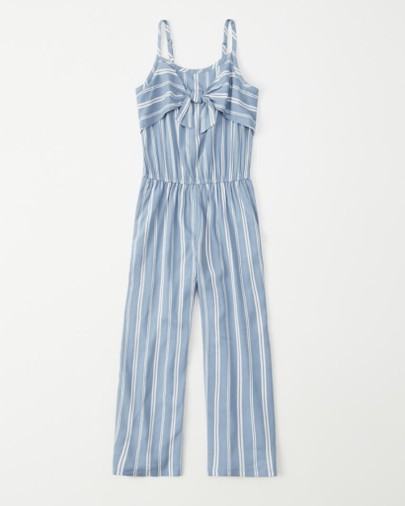 SHOP THIS LOOK HERE: 
Abercrombie Kids, Strappy Tie Front Jumpsuit – $16.99
↓ 8 – Frocks
This is the age to wear colorful frocks, summer dresses, and maxis. Wearing frocks is my favorite part of being a young girl. The market is full of mesmerizing patterns, screaming colors, and gorgeous designs. Pair them with adorable little sandals and a charming headband. Moreover, frocks are comfortable, which makes them perfect as daily school wear.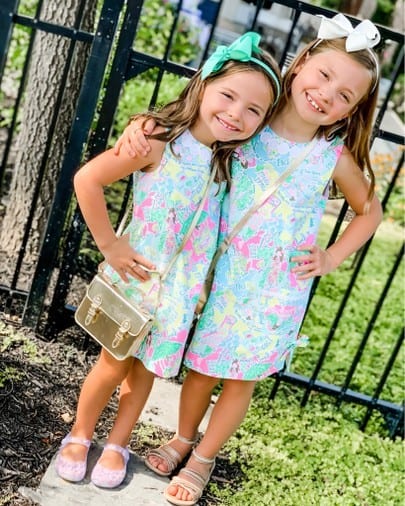 SHOP THIS LOOK HERE: 
Bencolle, Summer Baby Girls Dress – $8.79
Wonder Nation Children's Casual Jelly Shoe – $3.00
SIQUIK 20 Piece Bow Headbands with Bows – $16.99
Weefy Girls Fashion Sequins Metal Chain Handbag Shoulder Bag – $8.45
↓ 6 – Adorable Sunnies
Kids wearing sunglasses is an underrated version of kitten pictures on the Intenet. Not only are they adorable, but they also save your kids sensitive eyes from the sun's harmful rays. Plastic sunglasses are the best option for kids because the expensive ones might be money down the drain in the play area.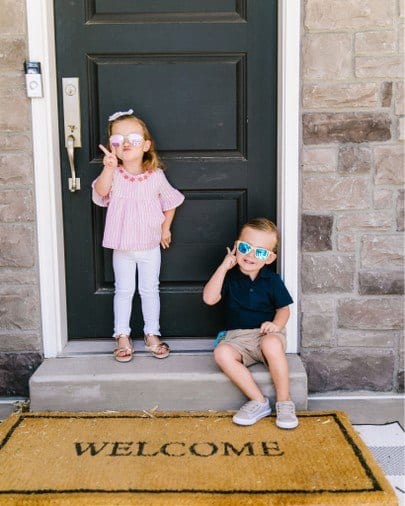 SHOP THIS LOOK HERE:
Wonder Nation Ruffle Sleeve Top – $5.00
Wonder Nation Boys' Casual Canvas Play Sneaker – $1.00
Gerber Stretch Leggings with Bow, 2-pack – $8.00
The Children's Place Belted Flat Front Chino Short – $4.50
↓ 5 – Pastels 
Pastels reflect the softness of a child and the innocence of their age. Mellow shaded dress, a cute bow on the head, and adorable little shoes make your kid cuter than she already is. Go for sweet patterns like stripes and polka dots, and of course, flowers. Don't miss out these Swag Outfits for Kids for a Perfect Look.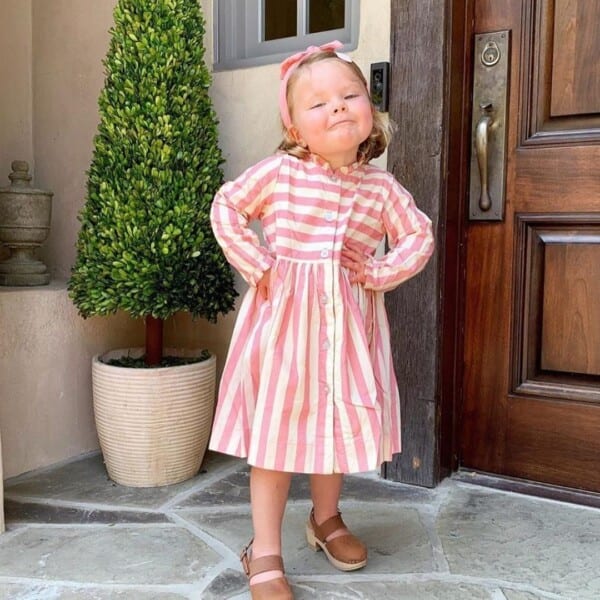 ↓ 4 – Traditional Dresses
You do not have to go overboard with these. Plenty of cloth is left when you stitch your own clothes, which can be tailored into adorable little boho style dresses for your kids. Most of these patterns are floral, giving a spring look. Braids with flowers on them would be a pretty cute hairstyle with traditional prints.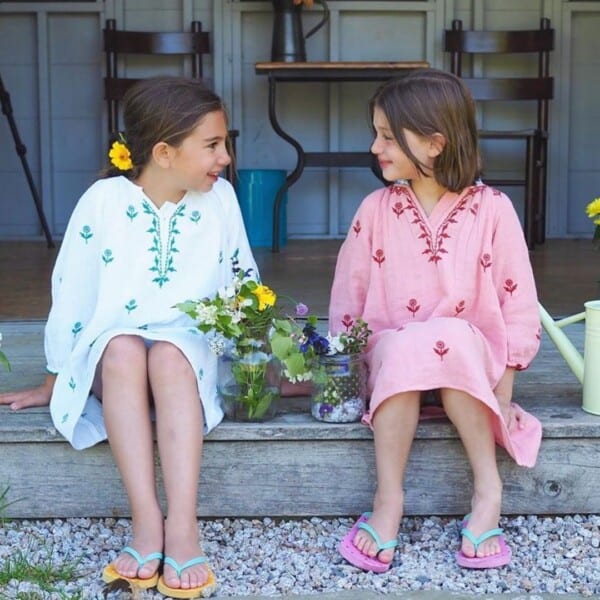 ↓ 3 – Velvet dresses 
In a few months, summer will end and enchanting winter days will take over. Velvet frocks will keep your child warm, and look beautiful while at it. Winter sales start as soon as the season begins, so make sure to browse through the racks before all the good deals are gone.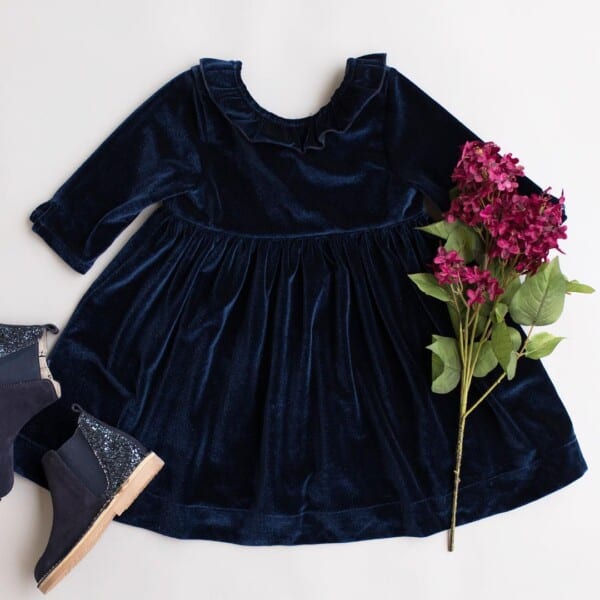 ↓ 2 – Footwear For Your Kids 
The footwear is very important. Kids run around all day, and they jump around in the playground, which is why it is better to buy shoes that fit properly. It is better to bu shoes with laces so that they learn how to tie laces at a young age. Also, teach them to clean their shoes after a long day of playing in mud and dirt. This is the age to make them learn good habits.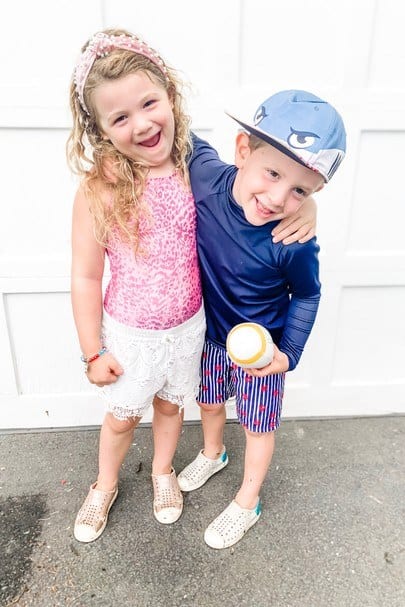 SHOP THIS LOOK HERE:
Ingear – Kanu Surf Boys' Short Sleeve Shirt – $10.95
Zappos, Native Kids Shoes Jefferson Bling Glitter – $45.00
Loinhgeo, Vintage Twisted Pearl Beading Knotted Headband – $2.79
↓ 1 – Jeans
Wearing jeans is an easy look to wear, but that also means there could be fashion mistakes. Though kids clothing is not judged by the fashion police, there are still some things that should better be avoided. Firstly, make sure that you buy the right size of jeans for your kid. Oversized jeans will only make them uncomfortable, and they will have to keep pulling them up all the time.
Similarly, wearing tight jeans can also be annoying for kids. When folding the jeans, make sure the cuffs are not sloppy. Another rule to be kept in mind is that they do not wear boots with baggy fits. Boots only go with skinny jeans.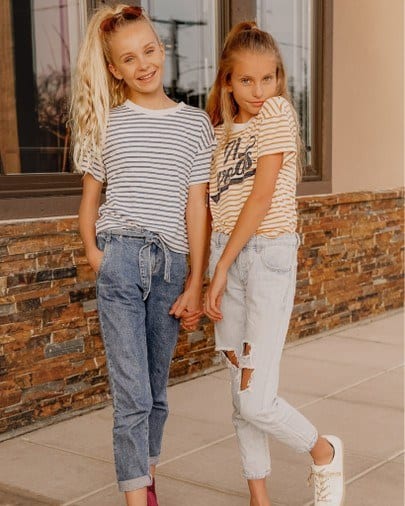 SHOP THIS LOOK HERE:
Ten Sixty Sherman Stripe Lettuce Edge Tee 
Hollister Girls Advanced Strech High Rise Jean Legging 
Forever 21 Girls Distressed Jeans
If you're someone who likes to make a shopping checklist before heading out, we highly recommend using this simply excellent back to school outfits checklist by PinEditor: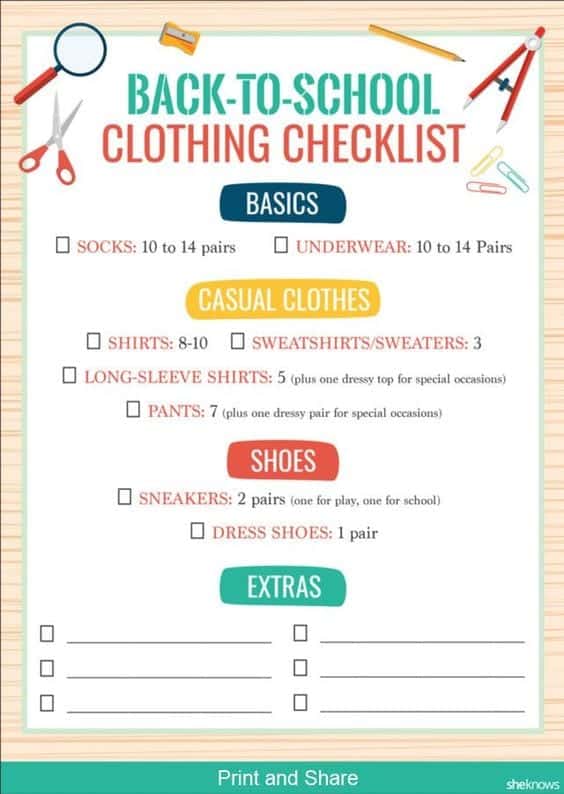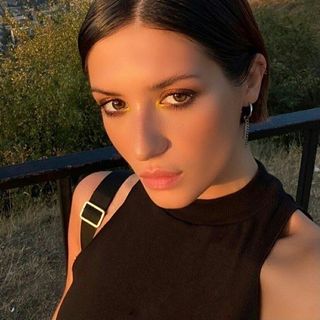 Avid reader and Fashionista. London Based freelance lifestyle editor