Kids eid outfit ideas – Kids are the liveliest part of any occasion, and the same goes for Eid as well. Mothers tend to be very selective about their kid's everyday outfits and they get both excited and nervous when it comes to kids' festive outfits.
It is seriously not an easy task to buy fashionable and comfortable clothes. You will find tons of options, which will only confuse you more.
We admit that our hands get full at these moments and we end up buying clothes that are of no use. If you want to succeed in your quest, then you have to work smart and make a list of the styles and colors you want to go for.
What Should Kids Wear on Eid?
The good news is you do not need to fret! We are here to help you in this regard. So, let us dive in and share some eid outfit inspiration for kids. Before we start with ideas, keep in mind these tips when you choose clothes for your children.
Tips And Tricks For Choosing Eid Dresses for Your Children
Comfort is the first thing that one should look for in kids' clothes. It does not matter if the clothes are casual or fashionable; comfort should be the top priority. These clothes will allow ventilation that is necessary for your child. It is better to look for those pieces that give you this edge.
Choose clothes that are washable. We all know how babies are messy and how often we have to wash their clothes. So you should go for styles that are practical and will not wear off with several washes. If you are choosing clothes with bead or thread work, see whether it is reliable or not.
Babies grow faster than you think. You should buy clothes that kids can wear after one year as well. If your kid is between 2 to 3 years, keep in mind that the fitted clothes you buy today will not fit them after a few months. If you are going for cotton clothes, they shrink after the first wash. It is recommended not to buy fitted clothes so that there is room for growth.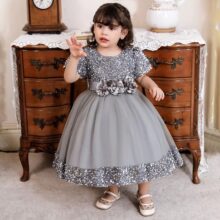 Kids love to run and stay active. Choose colors that are bright rather than going for pastels. Light colors get easily stained and appear messy. Bright colors are also unisex and can be easily spotted from far away. These colors come in handy for many different reasons.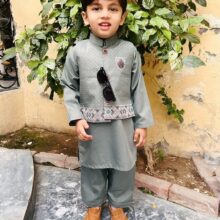 When you are choosing accessories for your little ones, make sure they are safe. For your little girls, go for jewelry that suits them and is harmless. Don't put accessories that are pointy on your kids because they might harm them.
If you want to apply henna on your girl child, ensure it contains no chemicals. Moreover, henna designs for small hands need to have the right patterns.
How Should Boys Dress Up on Eid?
20 – White Kurta Pajama for Boys
Eid is the favorite time of the year to try out different styles but no style can beat going all-white. This casual kurta is enough for Eid fashion. If you are unable to find it in the stitched form, you can use white fabric and design this according to your kid's preference.
You can also pair it with a black waistcoat. Coming to footwear, go for either black shoes or casual sandals. Your kid is ready for the Eid festival.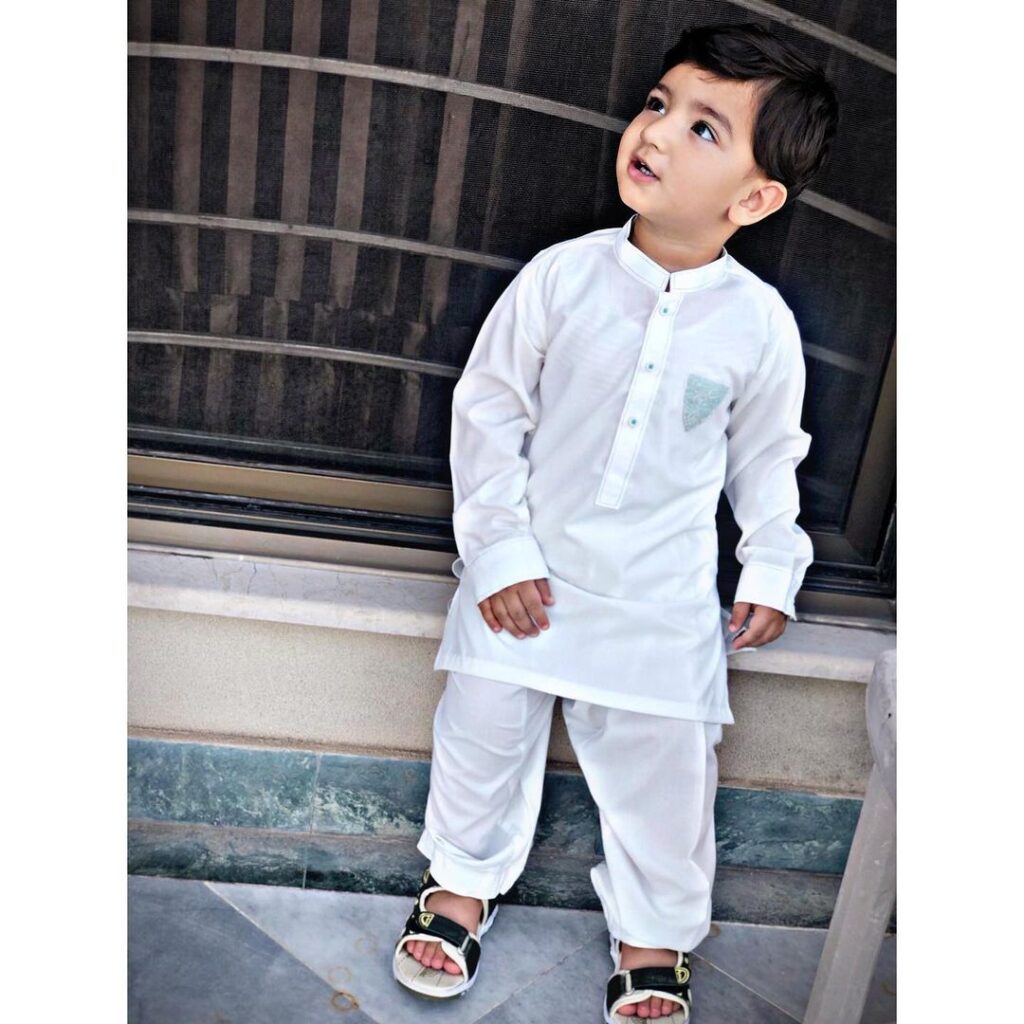 19 – Yellow And White Look Great in Festive Season
This Eid outfit for kids has both style and comfort. The combination of yellow hues with white pajamas gives your child a bright aura. You won't see little kids wearing this color a lot, and it will make your child look unique and amazingly handsome.
When it comes to footwear, go for black shoes to complete your child's look. They will definitely look unique in this attire.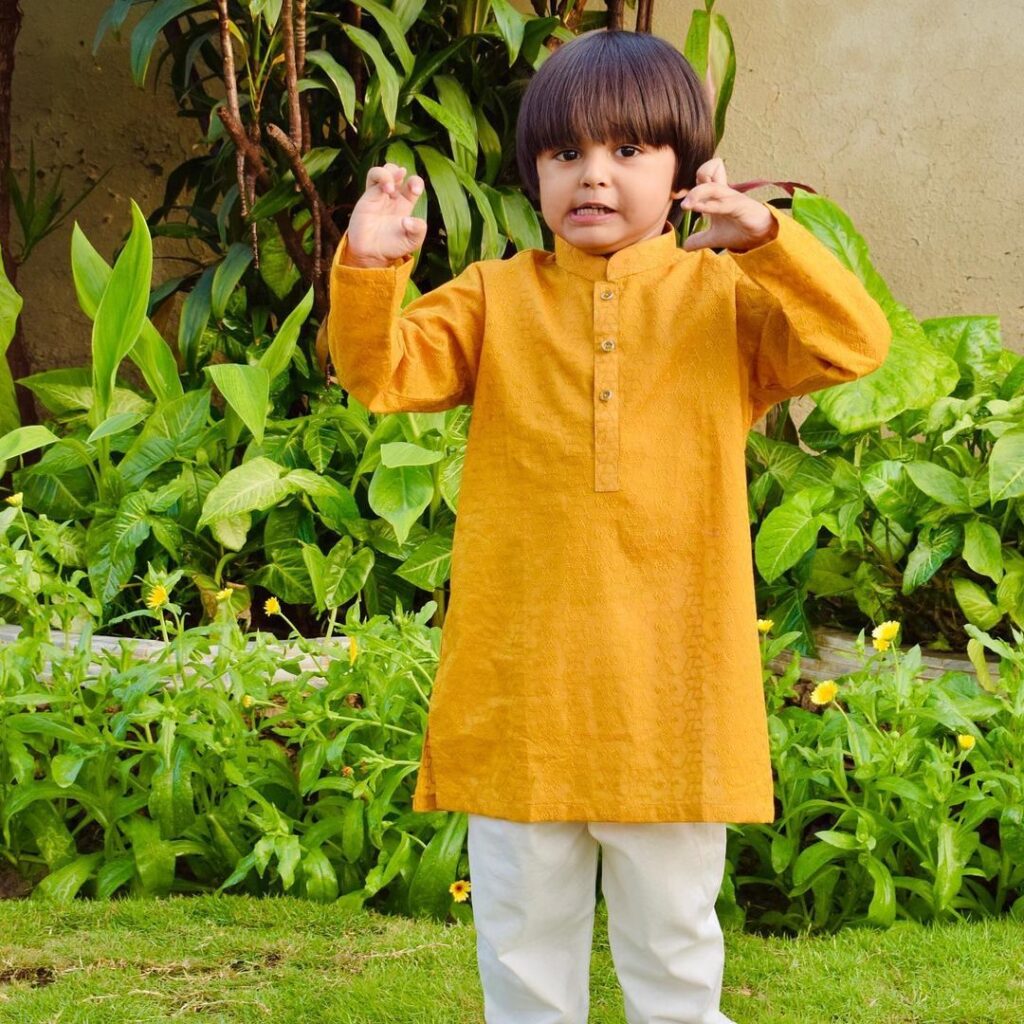 18 – Matching Outfits for Siblings
Eid is all about sharing happiness, and you can give it a unique touch by coordinating your kid's clothes. We all want to try out different fashions but what about your kids?
This matching attire with mirror work is the highlight. There is no doubt that peach and pink colors match perfectly. The waistcoat and lehenga keep this outfit alive.
When it comes to footwear, go for khussa shoes. This ensemble is the perfect blend of comfort and style, and your kids will steal the spotlight on this special day.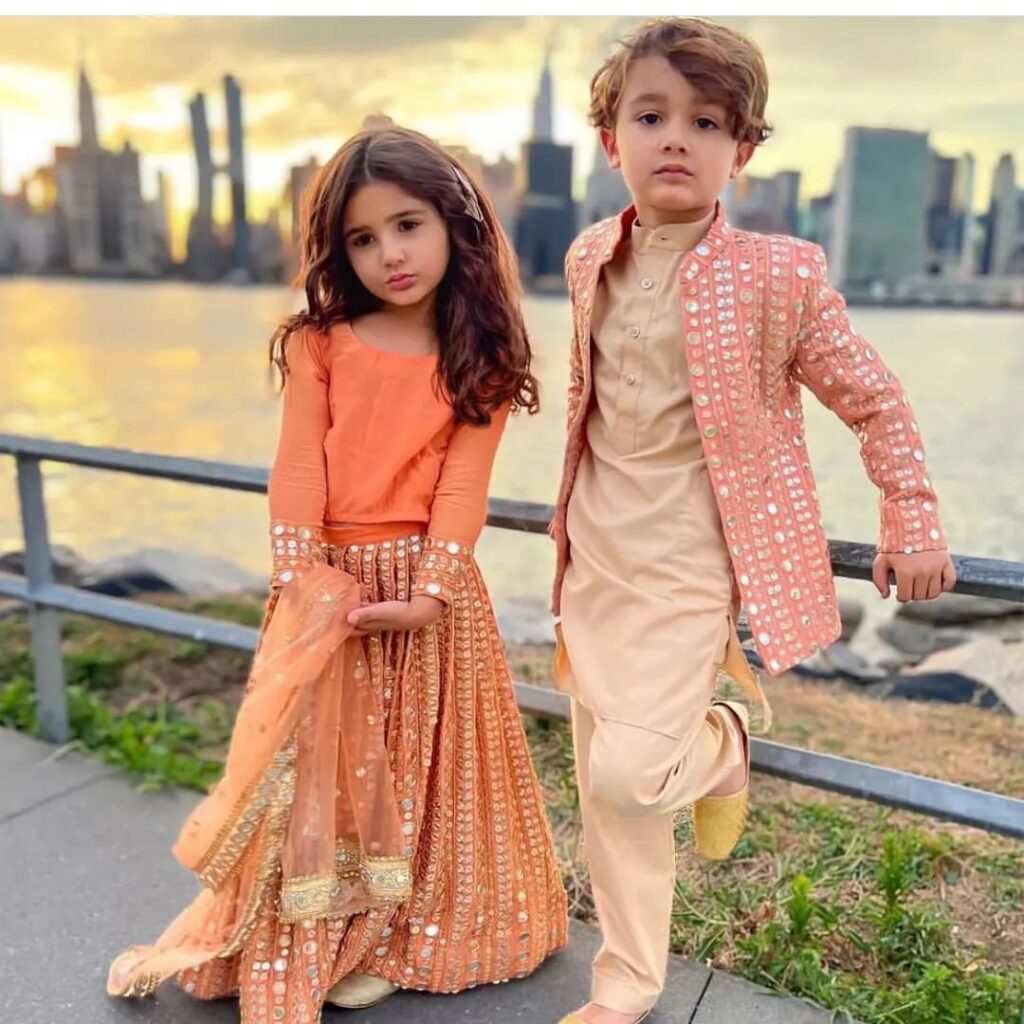 17 – Suits Are Never Out Of Style
It does not matter if you are a man or a little kid, you can always stay relevant in a suit. They are a versatile piece that is suited for every occasion, including Eid. This matching blue shirt with a suit will look dashing on your kid.
Add a matching tie and they will be a treat to watch all evening. If your child struggles with cold weather, consider investing in timberlands shoes as they will keep them warm and complement the suit.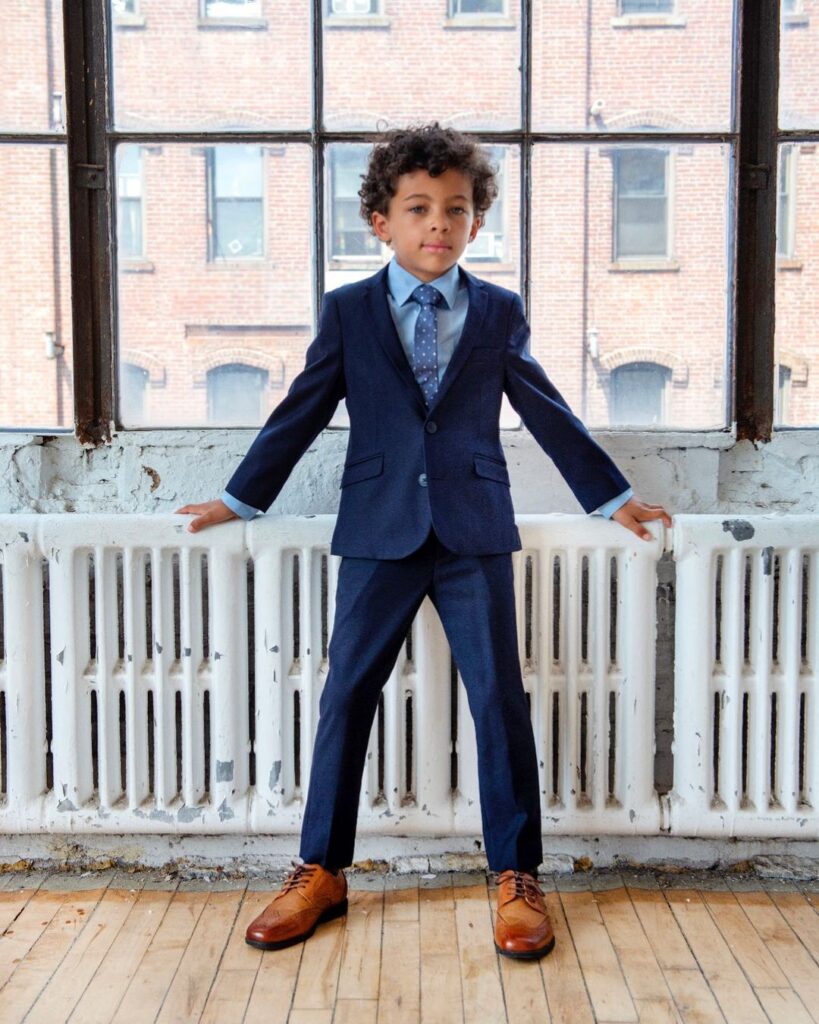 16 – Black Waistcoat Over Kurta Pajama Looks Royal
If you are choosing a plain kurta for your little darling then pair it with a matching waistcoat. Pair this fit with brown Chapli sandals, and they are ready to enjoy Eid.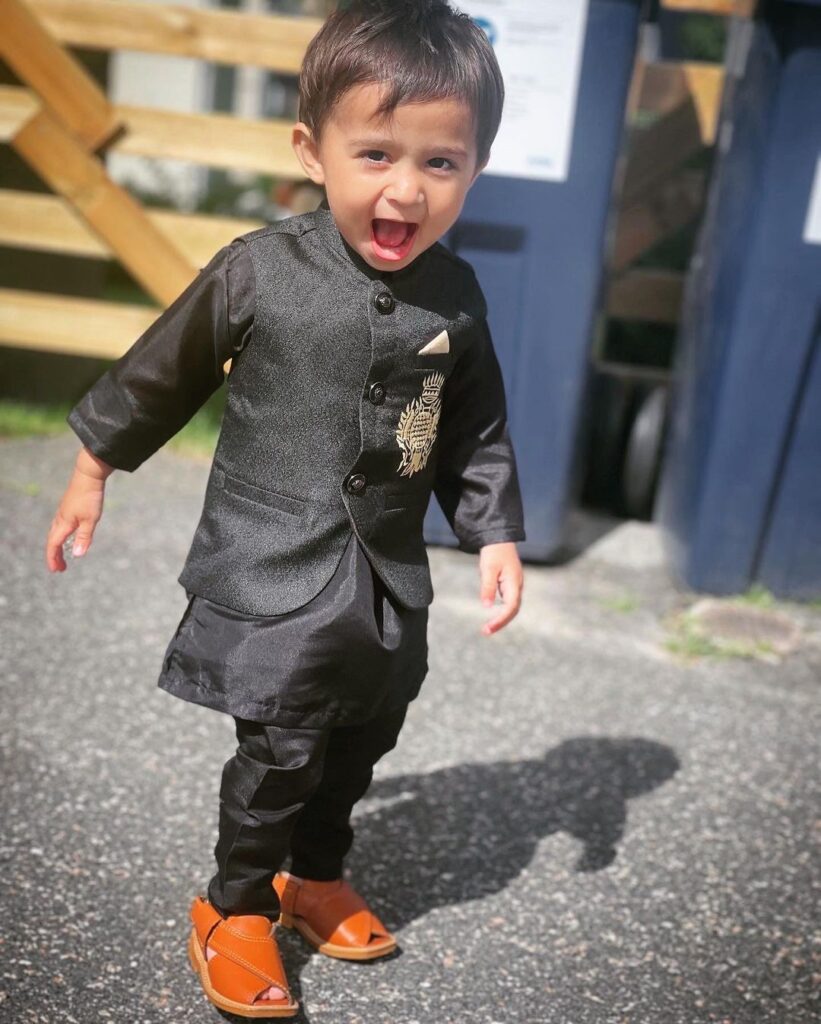 15 – Traditional Eid Wear For Kids
It is a long robe with full sleeves, and it comes in many colors and patterns. You can see for yourself what suits your child the most.
This traditional attire is ideal for places that are hot and windy. The gray color with printed patterns on the pocket and collars gives this outfit a unique look.
Wear black boots with this dress. Your child will slay in this fashionable yet simple outfit.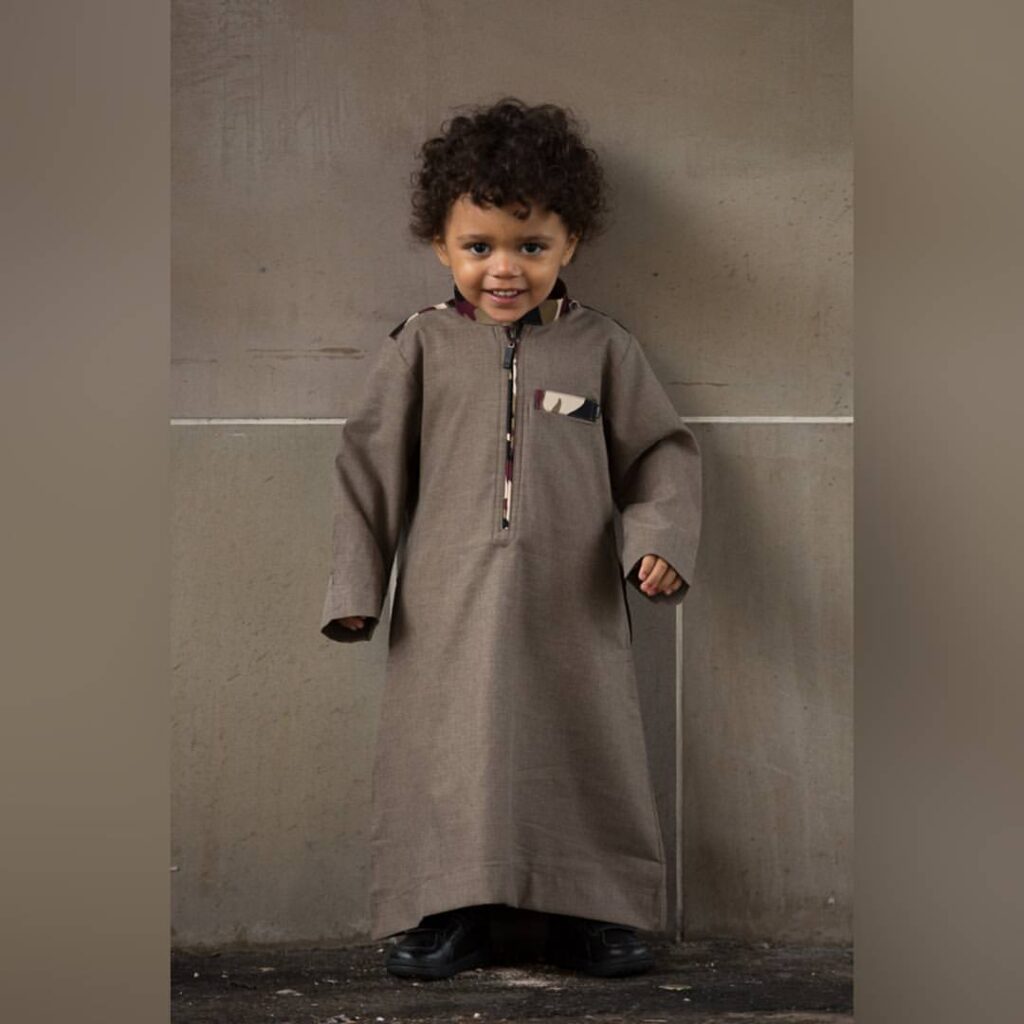 14 – Blue Embroidered Upper And Pajama
This style is new, and I agree not many people have seen this. The overall idea is to make your kids stand out at the particular event, and this attire will do this job wonderfully. The blue embroidery on the sleeves and the pajama is the highlight that makes it look stunning.
Pair this outfit with matching boots or sandals and your child will give off a royal vibe. What are you thinking about? Buy this for your little one and give them something exclusive to wear.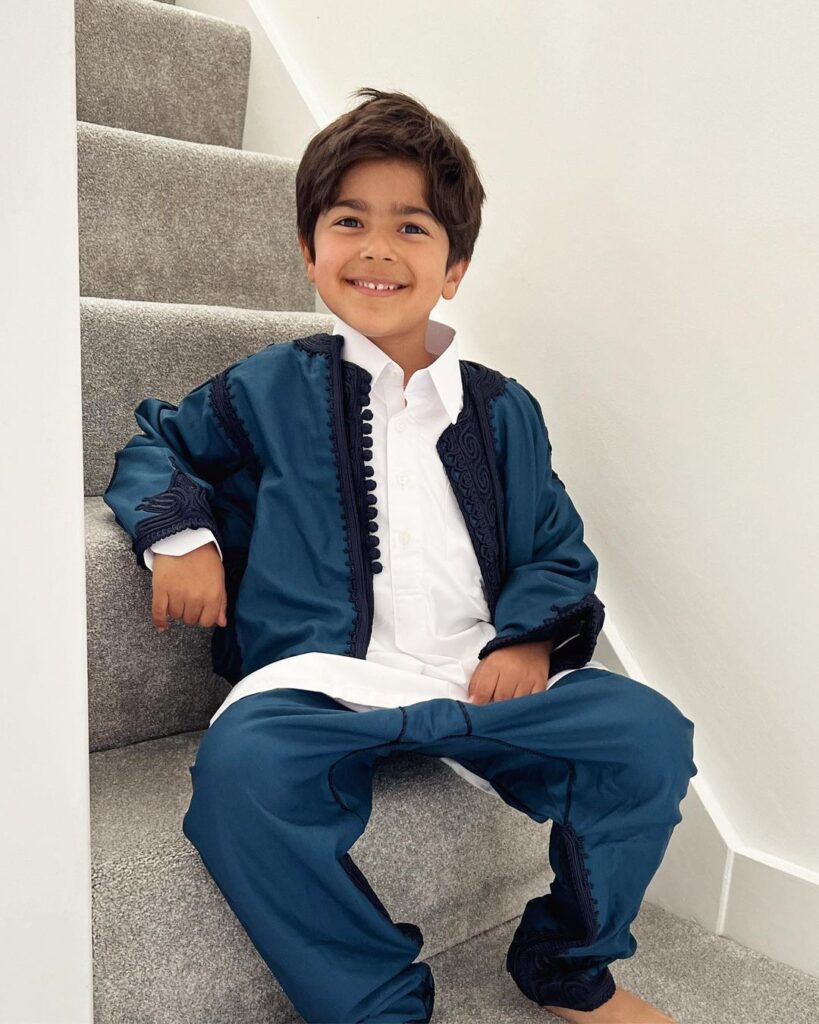 13 – Printed Waistcoats Are The New Fashion Trend
Eid is the perfect time to try out different styles and enjoy them all. How about a printed waistcoat? There is something about this outfit that you cannot simply ignore.
The peach color with printed patterns gives your kid a lively look. On the other hand, this outfit is simple, comfortable, and modern. Your child will look like a fashion tycoon, and what more can you ask for?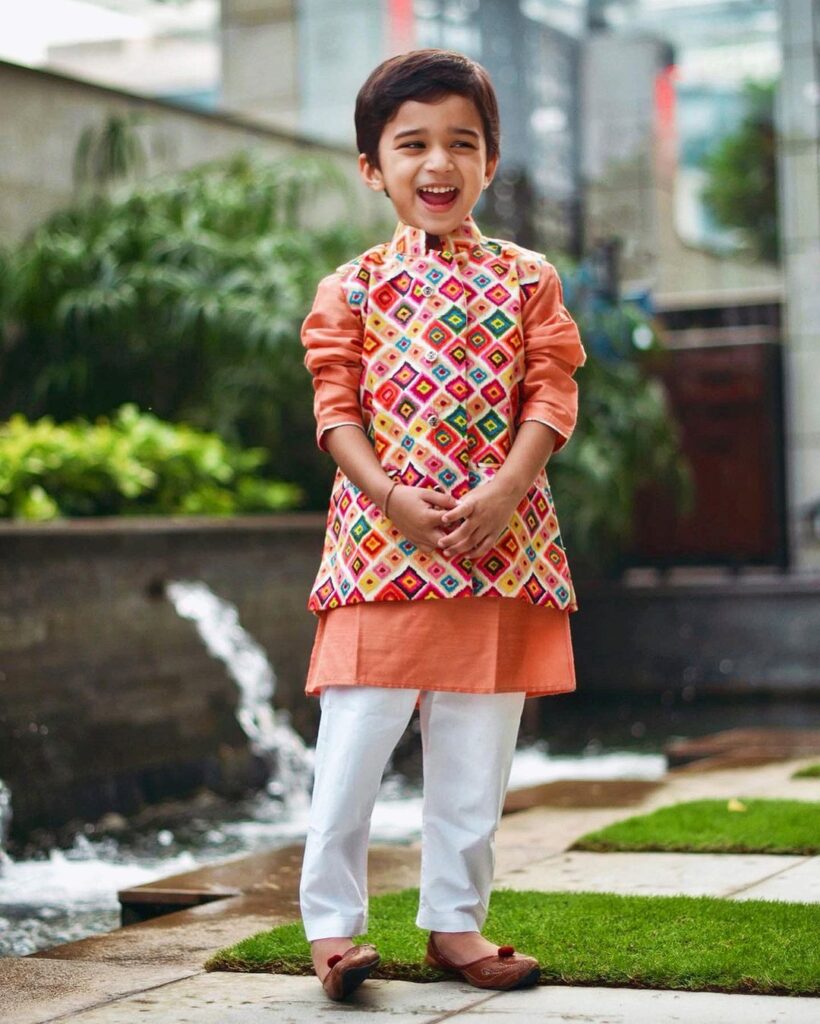 12 – Floral Patterned Kurta for Boys
Who said that only girls could wear floral patterns? Everyone can wear them, the only thing is how you carry them. This pink outfit is something to look forward to.
Lastly, pair it with Khusa shoes, and your child is ready!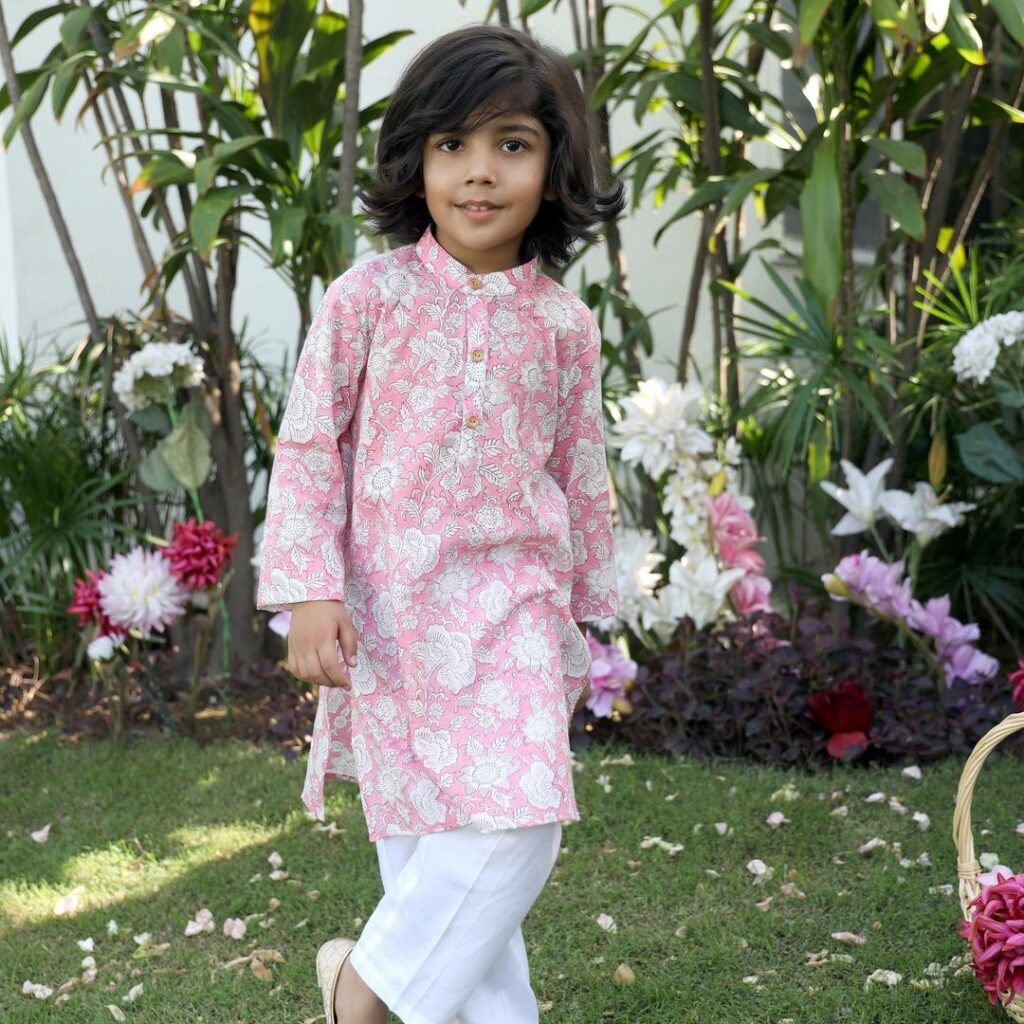 On Eid, many people go for traditional wear. However, there is no harm in going for pants and a shirt. This black shirt with a mix of brown patterns will look great on your little one.
Moreover, pair it with white sneakers or casual shoes and this is the perfect look for any Eid day.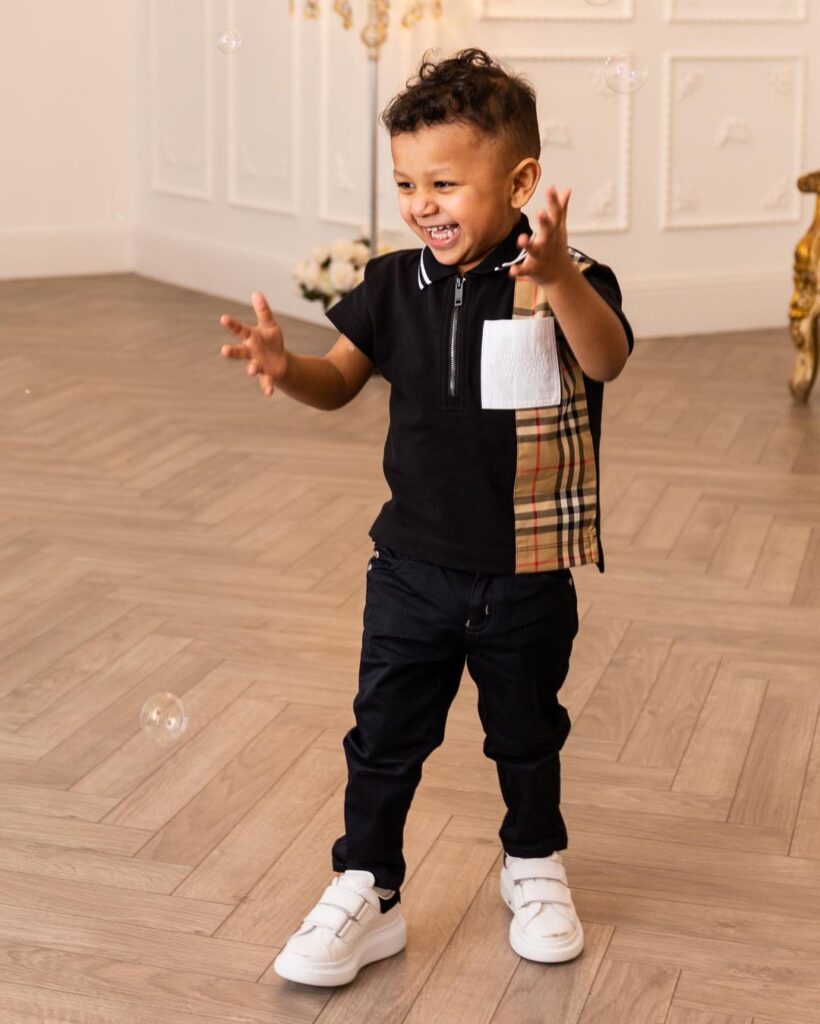 Beautiful Eid Dresses for Girls
10 – Pink Choli And Lehenga
Can you think of one word to describe this dress? If you ask me, it's breathtaking! Your daughter will fall in love with this dress.
The net lehenga gives off a royal vibe and the beadwork adds elegance to the suit.
On the other hand, you can add minimal accessories to this outfit, like bangles and a necklace. Lastly, add pink Khusa shoes to give this outfit the final touch.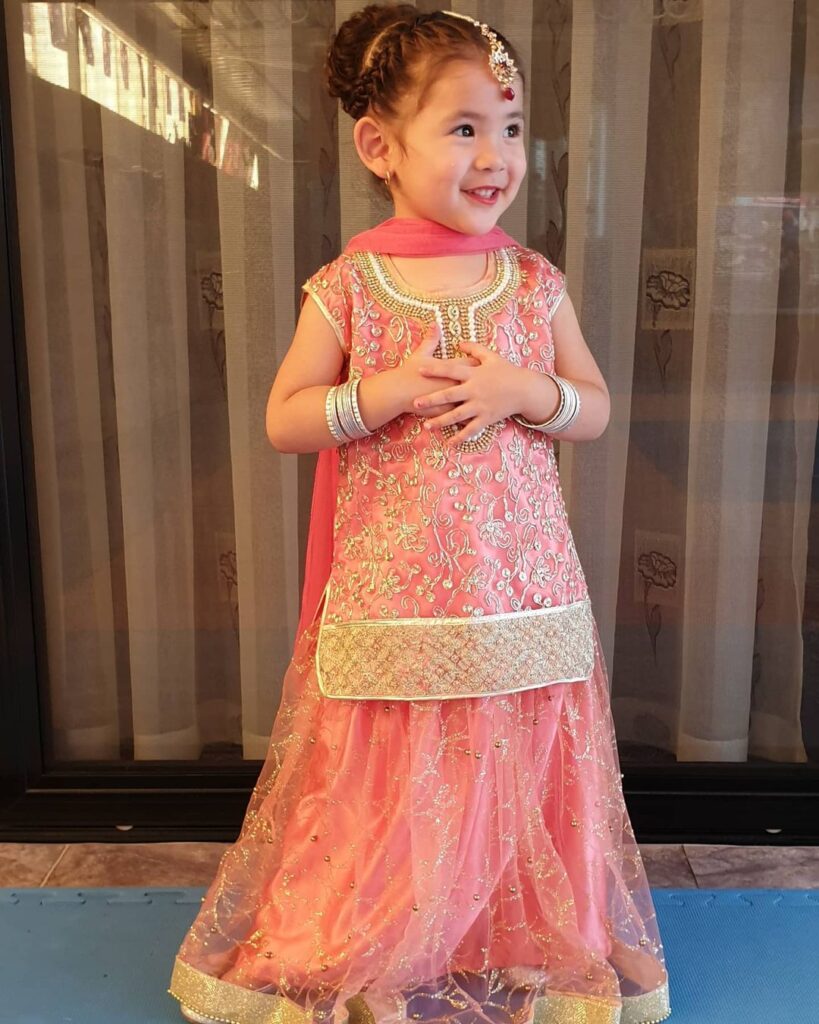 9 – Pair All Black Suit With A Colorful Dupatta
Fashion trends keep on changing, but the one thing that remains constant is all-black attire. Firstly, this ensemble is complete on its own. The simple embroidery on the front with a colorful dupatta looks exquisite.
Finish this look by adding red pumps, and your princess is ready.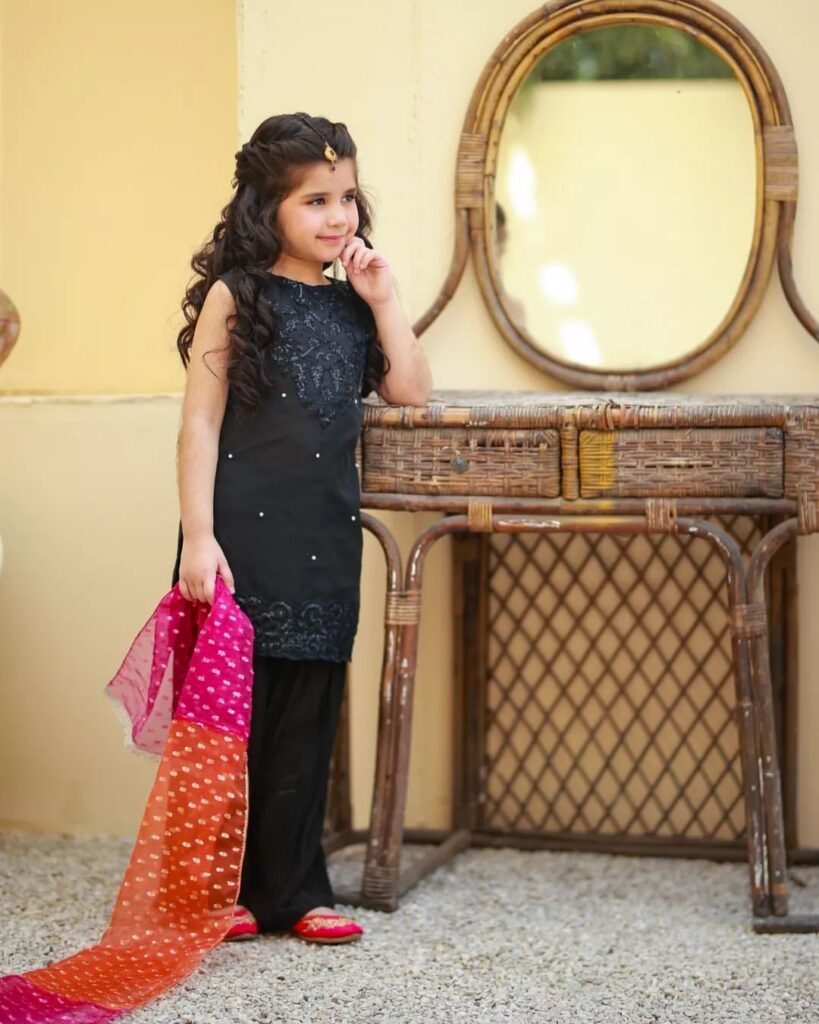 8 – Simplicity Is The Key
A gray suit is an excellent outfit for any Eid day. The yellow floral embroidery on the gray shirt looks flawless. The little white beads give extra detail. On the other hand, the fading pattern on the palazzo pants looks perfect.
This attire is the ideal choice for the festive season as it is adorable and comfortable.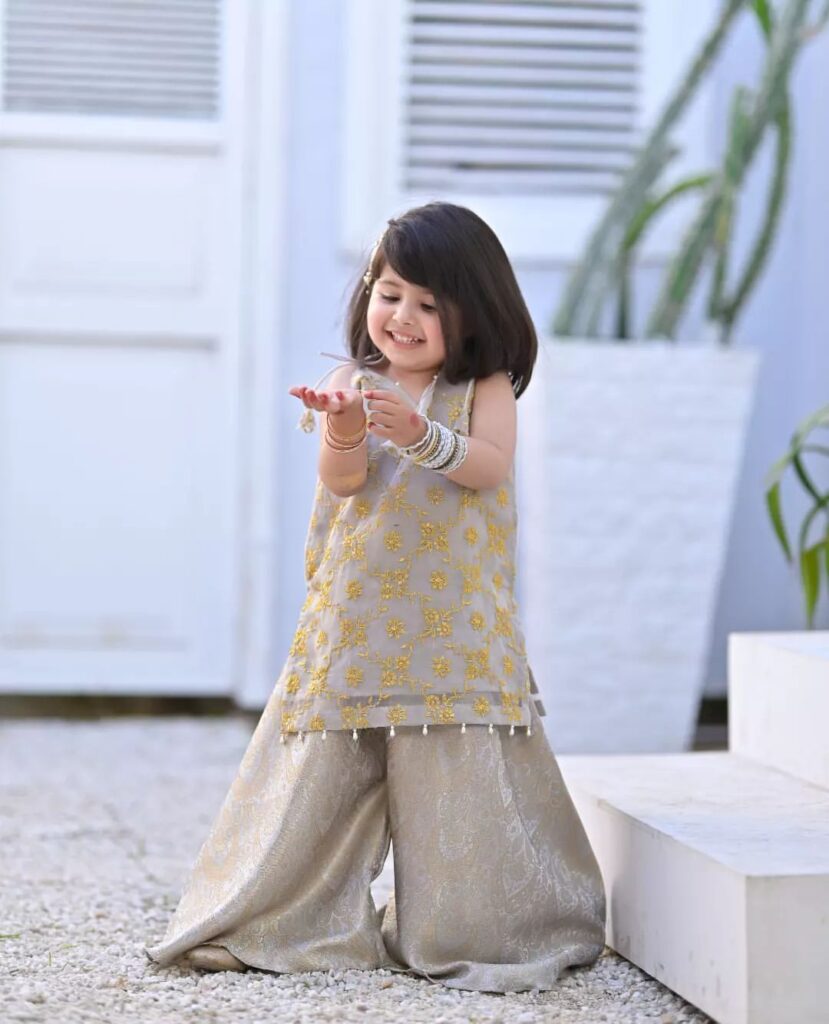 7 – Mix And Match Of Yellow And Brown
This is another trendy outfit for little girls. The sleeveless choli with lace on the bottom makes you think that this look is rather simple. However, the lehenga makes up for it. The mix of yellow and brown work on the lehenga is beautiful.
Lastly, finish it with some hair accessories and stylish flats. Your child will definitely slay this look.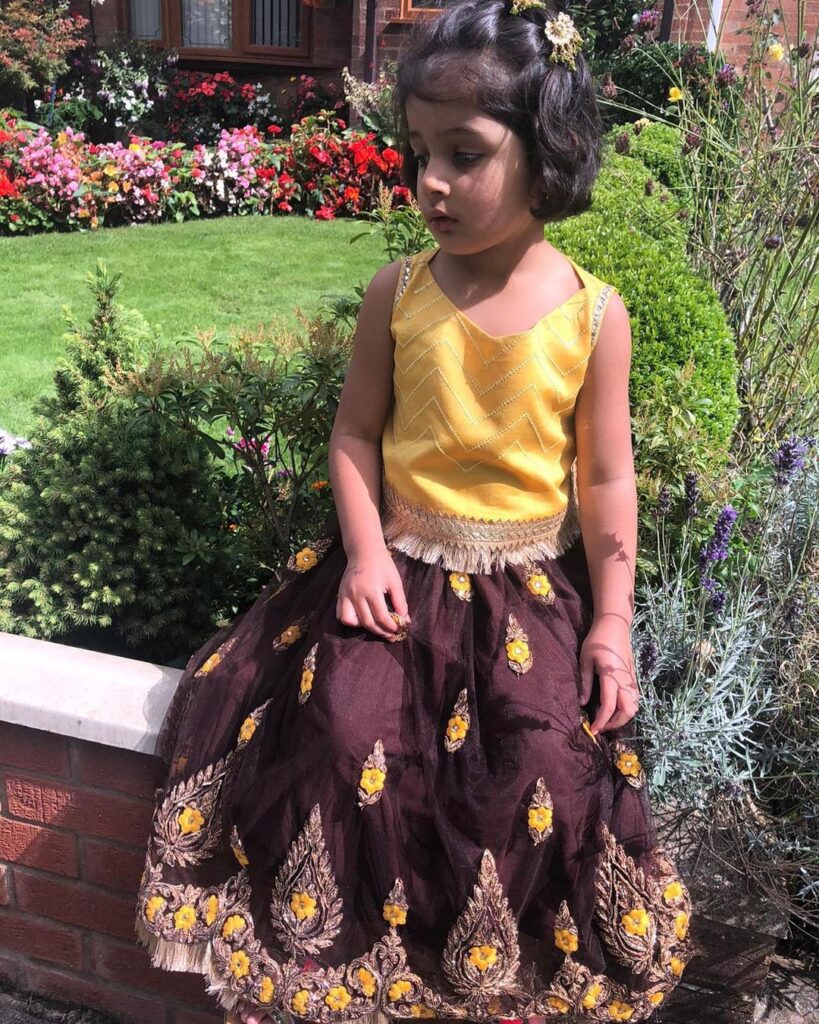 6 – Red Kameez And Trousers
If you are looking for clothes that your child can wear on the second day of Eid, this dress is the answer. Mixed color embroidery is so vogue nowadays.
Add on golden pumps and put your baby girl's hair in a half ponytail. You will adore them in this attire.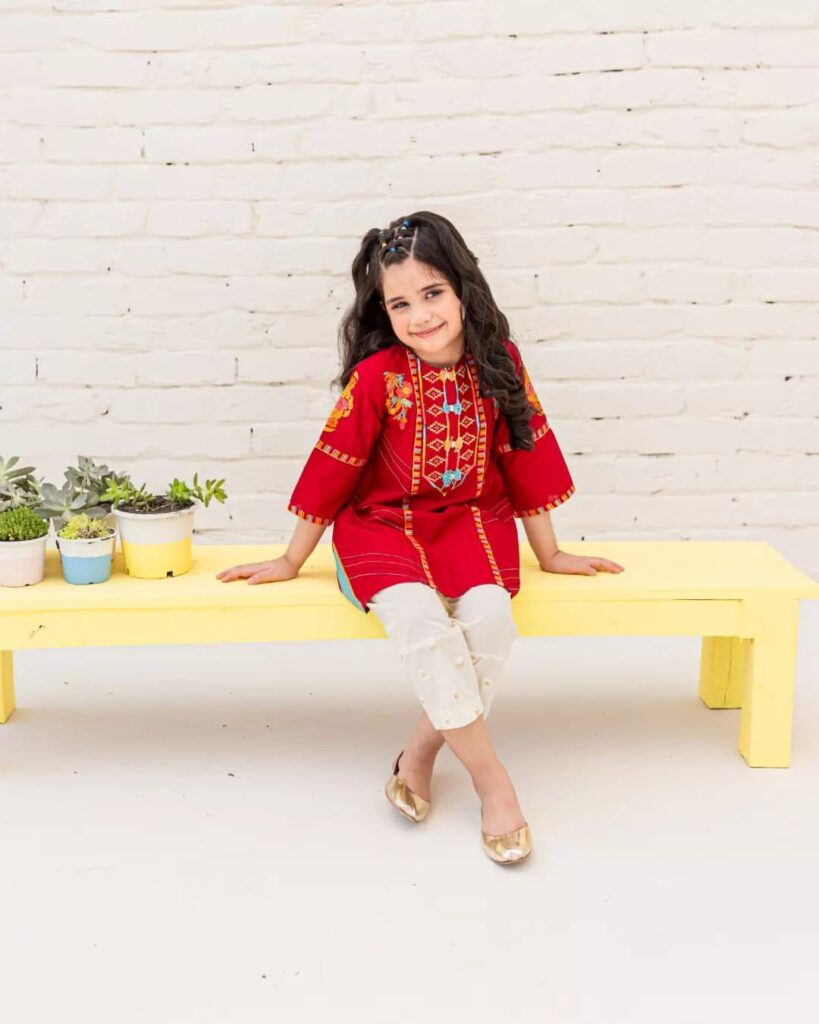 5 – Pink Frock And Puffy Sleeves
We all know how much little girls adore the pink color. It is their dream to have a dress that gives them a princess vibe and this dress does exactly that for them. The puff sleeves are a great detail that differentiates this dress from all others.
Give your little girl some hair pins and bangles. This dress will take her to her dreamland on this auspicious occasion of eid.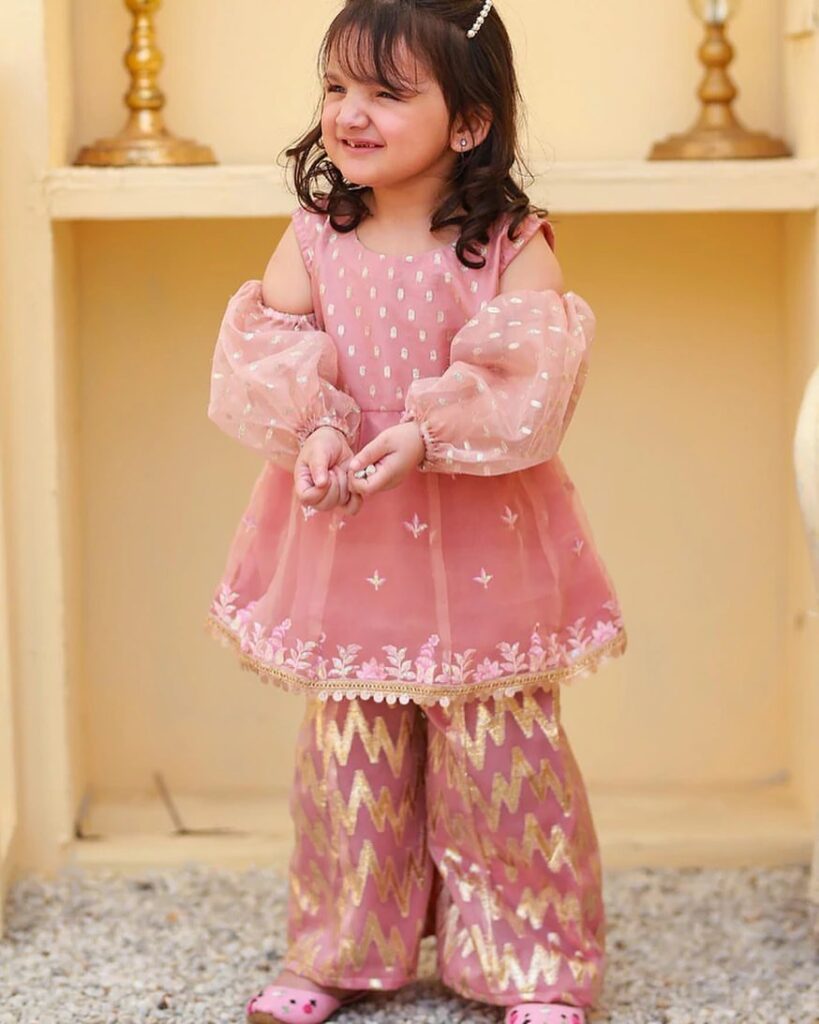 4 – Lilac Looks Adorable on Children
Nowadays, coordinating the clothes of your kids is the new trend. This simply looks amazing. The sharara and purple kameez look simple but give off elegant vibes.
On the other hand, a Purple kurta and pajama on your boy make him look handsome. These light colors bring out the pureness of your kids.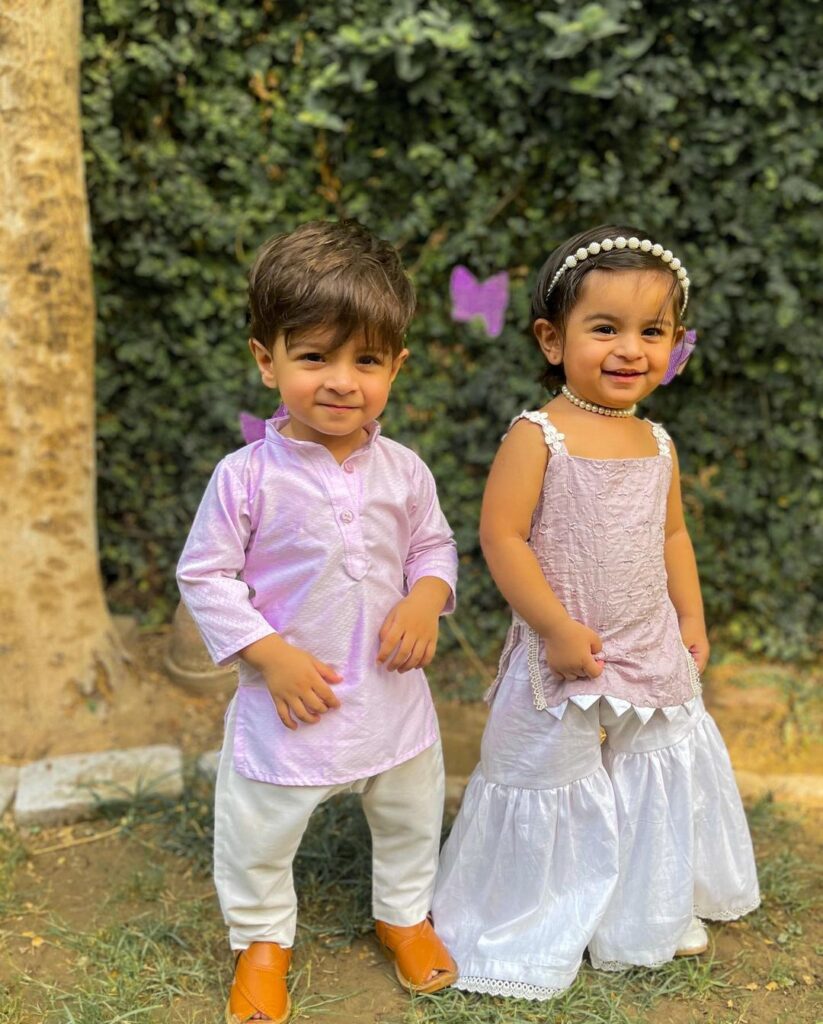 3 – Go Little Fancy This Eid
This play of colors will look exquisite on your baby girl. The embroidery and mirrorwork with lace on the bottom make this attire worth trying.
Let the hair fall on their shoulder and add little accessories to complement the ensemble.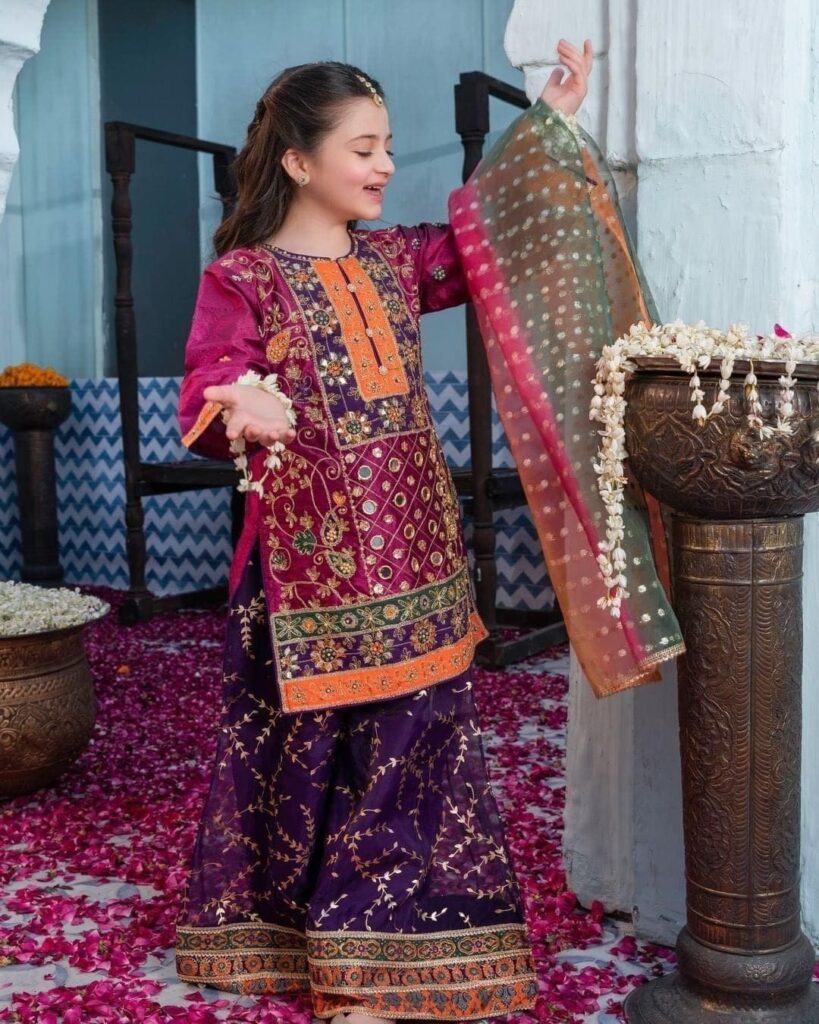 2 – Peach Lehenga And Cream Kurta
There is a craze for lehenga and kurta on every occasion, and Eid is no exception. The simple net lehenga with a cream shirt is ideal for your kids.
The simple green and pink embroidery with a net dupatta will surely grab the heart of your little one.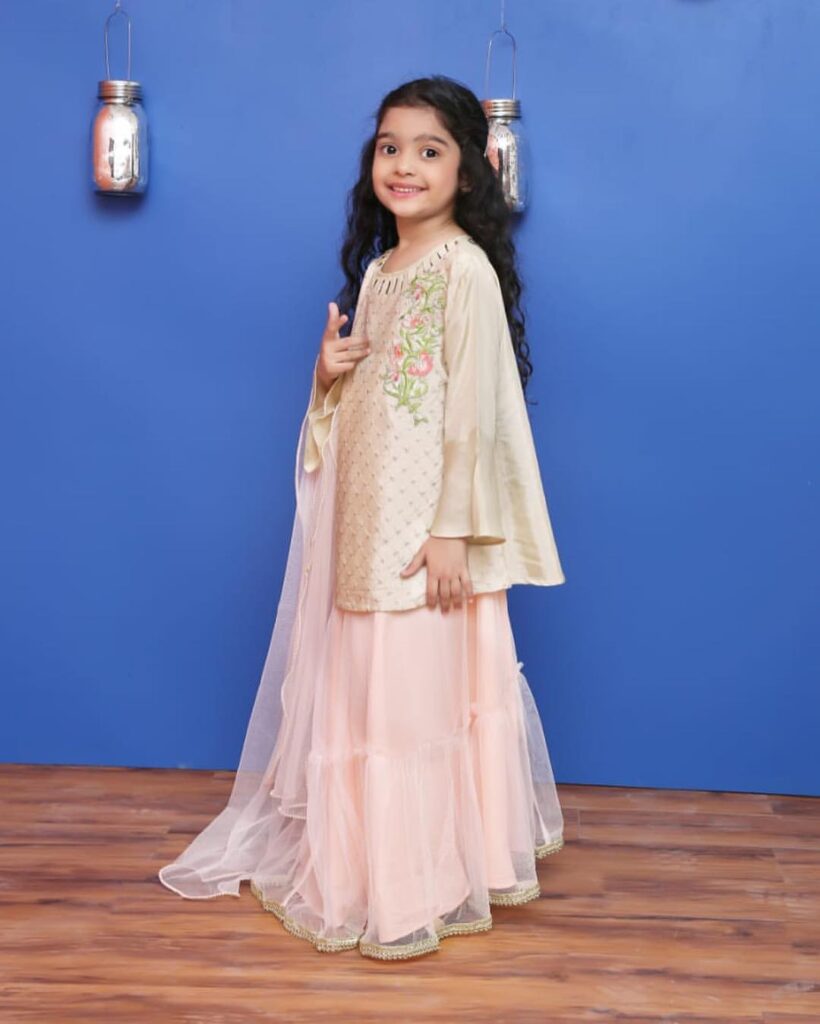 1 – Red Sharara And Sleeveless Kameez
Who does not love going all red on any occasion? Kids love this color as it takes them to their fantasy land.
This sleeveless kameez and sharara with net dupatta will help your child steal the spotlight. Help your baby girl in making a twisted hairstyle, and she will look nothing less than a princess!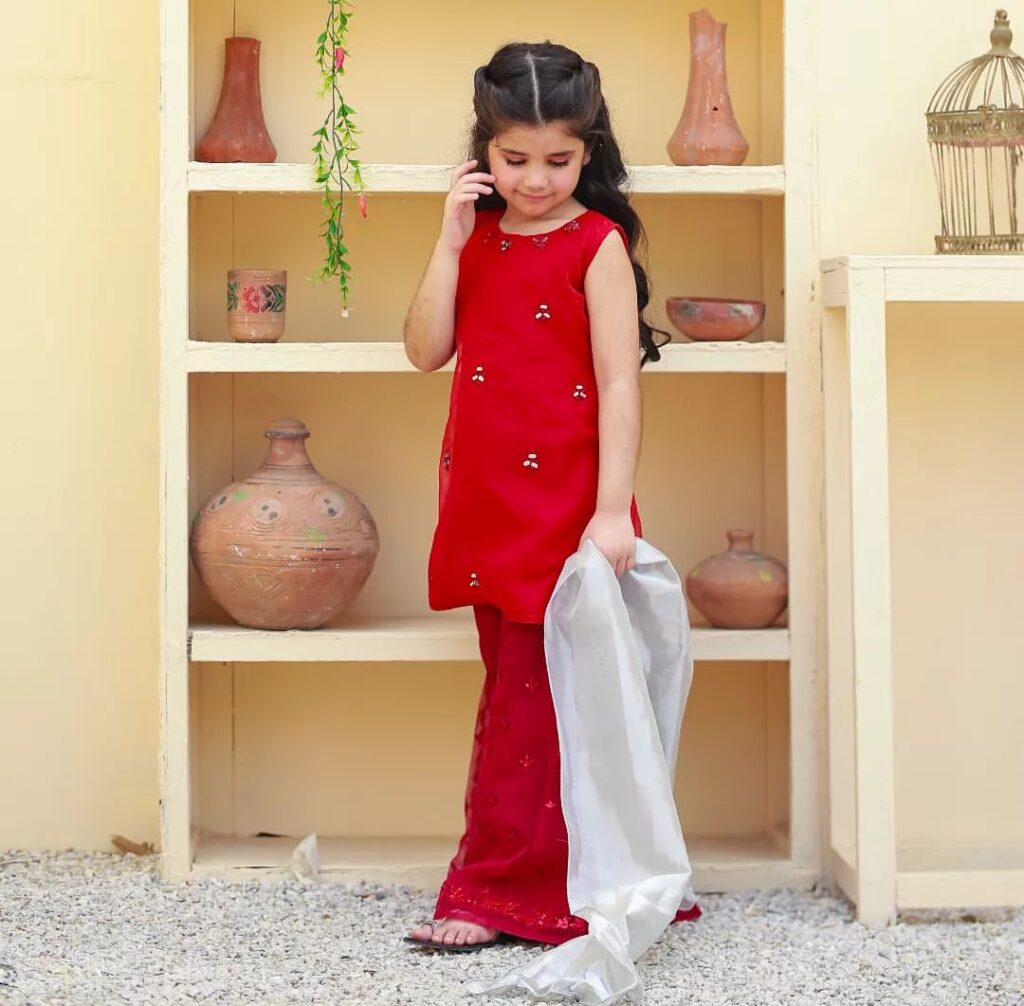 Q. What are the best Eid outfits for kids in the year of 2023?
A. These days, the clothing industry is always coming up with new ideas regarding kids' fashion. You can find a wide variety of fashionable dresses for Eid in different markets. Lehenga choli, salwar suit, or a mix of eastern and western clothes are best for girls. You can go with matching accessories to complete the outfit. For boys, you can shop for a designer kurta pajama and pair it with a waistcoat. You can also go for a Pathani suit with open footwear. There are endless ways to mix and match the Eid outfits for your kids as well.
Q. How to style a waistcoat with Eid outfits?
A. Sometimes kurta looks incomplete without a waistcoat. Waistcoat gives the graceful touch that you are looking for. If you are wearing a white dress you can go for both bright colors like black, brown or blue and pastel colors as well. You can also style your kids in an all-black kurta with a waistcoat but it is better to go for bright colors as it will suit their personality more.
Q. Which fabric is ideal for kids' Eid clothes?
A. You should keep in mind that you are dealing with kids, hence, the fabric needs to be comfortable and washable. Look for seasonal requirements as well when choosing the fabric. Cotton is ideal in this case as it is durable and breathable as well. It is suitable for kids as it does not induce any allergy.
Q. What hairstyles are best for girls on Eid occasion?
A. You can try back to school hairstyles on eid such as fishtail or french braid, sleek ponytail, loose buns, low ponytail, and loose half-up tied knots.