Halloween Inspired Tattoos – Fall is here. And like every year, many have started their preparations for Halloween. All hallows eve is a festival that occurs on the 31st of October in honour of dead spirits. The celebrations include different activities like having traditional food with family & friends, playing many games, and getting dressed in costumes. When it comes to Halloween, the to-do list goes on and on.

This event allows all of us to spend quality time that we miss out on the whole year. Clearly, it is the most awaited festival by kids and adults. On the other hand, it brings out the inner child of older people. But what if you take your Halloween preparations to the next level this year? Indeed, getting a tattoo sounds like a fun thing to make your Halloween more spooky.

Best Tattoos for Halloween
If you are getting a Tattoo for the first time, you should first take care of a handful of things. For this purpose, I have jotted down a short guide for your better understanding.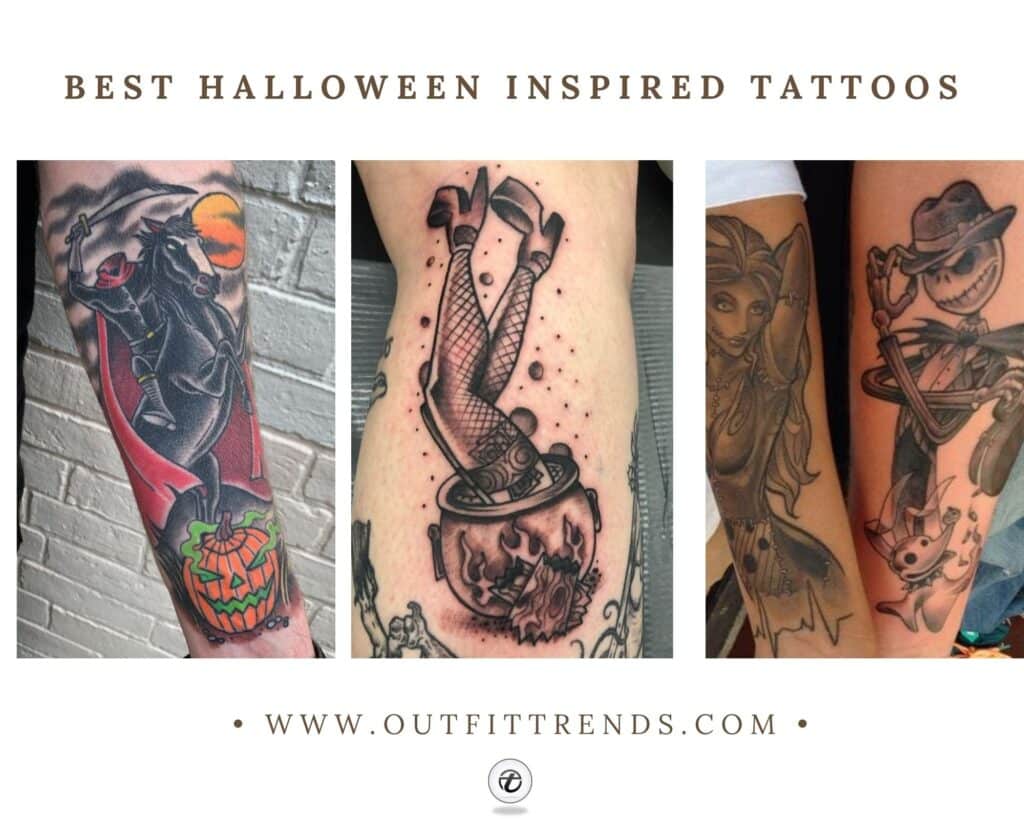 Tips:
Check out what are the trending Halloween-themed tattoos.
You can find a bunch of ideas on Instagram & Pinterest.
You have to decide which part of your body you want to ink.
It mostly depends on your comfort zone.
Find out the best Tattoo artist near you. It is crucial because you might have a bunch of doubts in your mind. Above all, a professional artist can offer you a better experience.
Fix a meeting with the Tattoo artist to talk about the ideas you have in your mind.
Especially, discuss things like how much pain you can undergo.
↓ 20 – Dancing Cat In A Witch Hat
If you are a mom/dad of a cat, why don't you get a tattoo of your baby? However, with an exciting twist. You can go for a simple cat, but it would be more special for you if it is your own cat. It is like killing two birds with one shot. Finally, to make it more fun add ghosts and stars around it. In addition, don't forget the sorting hat. Certainly, if you are a Potterhead, you already get what we are talking about here. Don't you?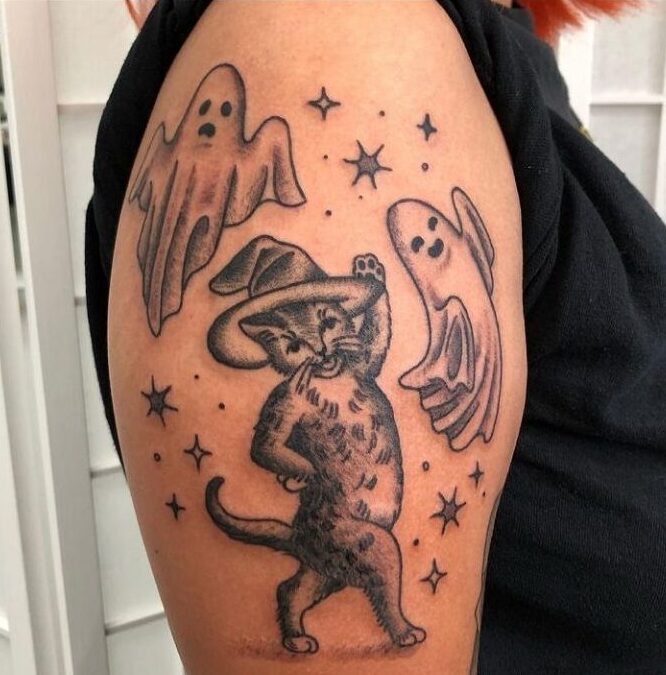 ↓ 19 – A Witch Cauldron
It is such an underrated statement but, not everyone is a fan of fairies & barbies as a kid. People like witches too. Raise your hand if you agree. If we check the history, we can find many examples. Apparently, Cruella was also a witch, or was she not? The cauldron we saw in every cartoon always makes us excited. To relive your childhood memory, you can always recreate a witch cauldron tattoo. If you are searching for Halloween tattoos for women, then this is the best option for you. Do check out the rest of our amazing & latest tattoos ideas.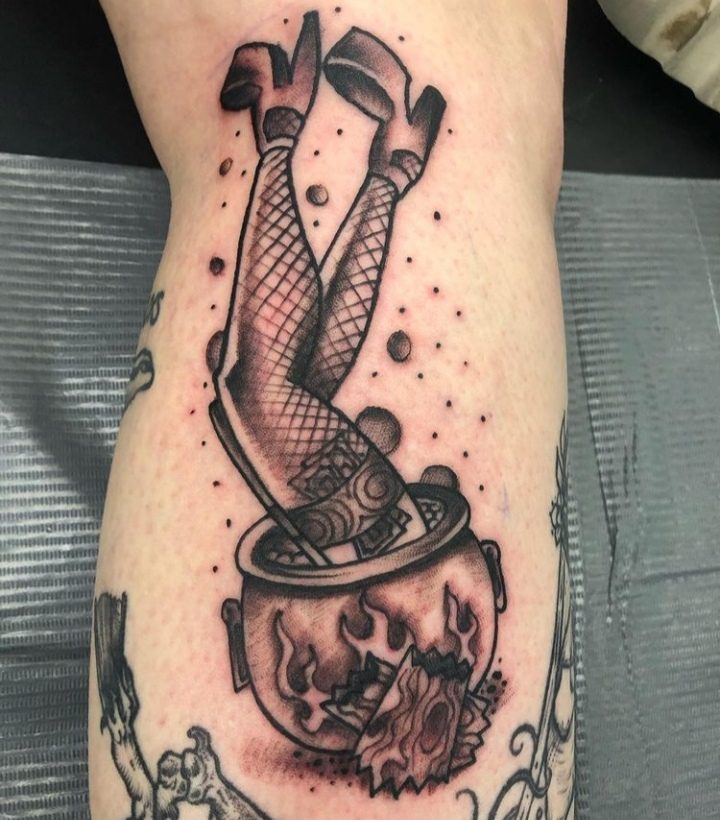 ↓ 18 – Magical Toad
After watching Disney movies as a kid, I always wanted to pet a frog. Is it weird? The fact that witches mostly kept a toad with them eventually becomes a Halloween symbol. That is a reason why toads and Halloween always go hand in hand. It is one of the favorite Halloween creatures by kids. And no doubt it seems to be the perfect Halloween Tattoo Art for you this year. Finally, add flowers and a hat to make it look cuter.

↓ 17 – Spooky Lunar Cycle Moth
Moths & Lamp are among the top-picked couple costumes on Halloween. You can change the trend into Moth & Lamp couple tattoo this year. In particular, to go for a moth tattoo shoulder is the best part of your body. Moreover, if you wear an off-shoulder dress, the tattoo will be at its full display. With this in mind, choose a black sleeveless outfit for Halloween, and you don't need to put much effort into looking spooky. On the whole, this tattoo is enough.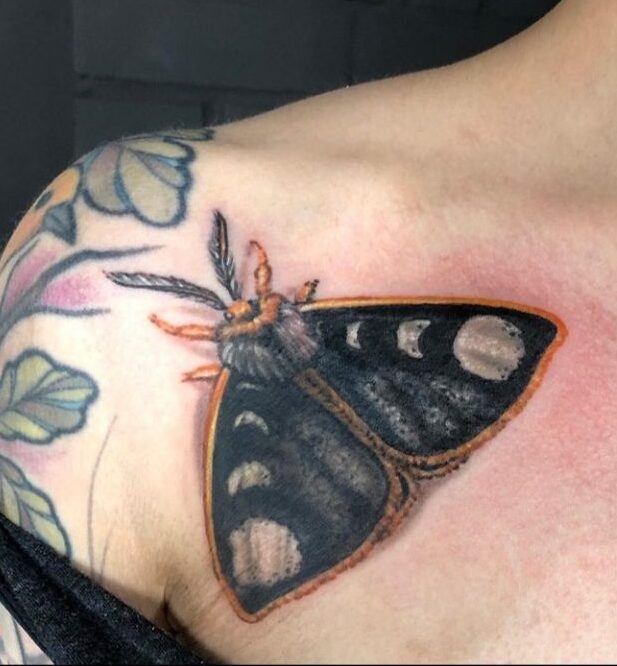 ↓ 16 – Chucky Doll
It was 1988 when the movie Child's Play introduced the fictional character Chucky and since then, this redhead doll became everyone's favorite. The only purpose of this doll is to become your friend and be a serial killer. Eventually, it becomes a trend to dress like Chucky for Halloween. Therefore, to show your love towards Chucky, get yourself a Colourful Chucky tattoo.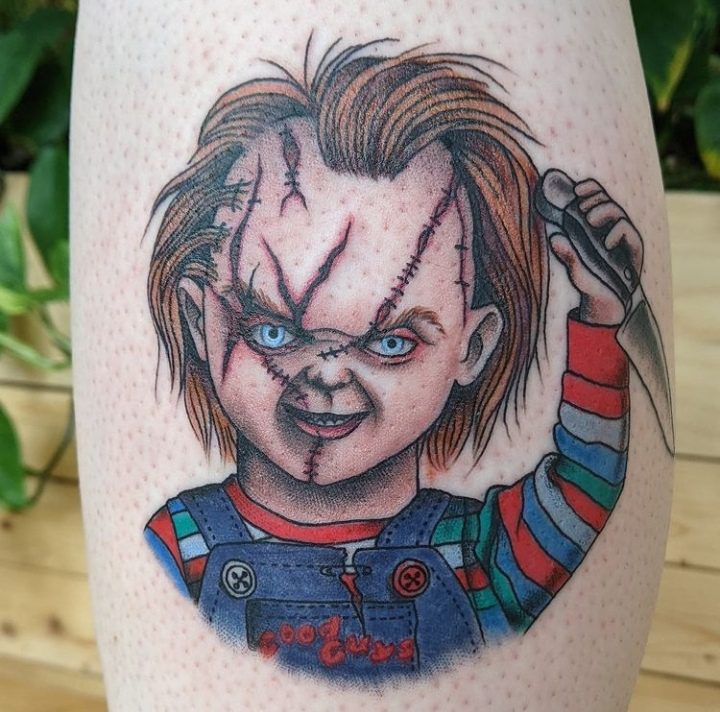 ↓ 15 – Haunted House
Next on the list comes a haunted house tattoo. Your Halloween will be incomplete without a haunted house theme. Go for a black and white Halloween-themed tattoo. Moreover, the detailing is pretty important. The moon and the bats will add an extra spooky element to your tattoo and the pumpkin will complete the whole Halloween theme.
↓ 14 – Witchy Woman
If you want to do a little extra, then go for this witchy woman tattoo. This tattoo has a feminine touch. It screams power, magic, & wickedness—a perfect definition of a Halloween woman. Here, the hat, the earings, one eye necklace, in short, each and everything complements this whole theme. And, don't forget to add a pumpkin. Is it even a Halloween tattoo without a pumpkin?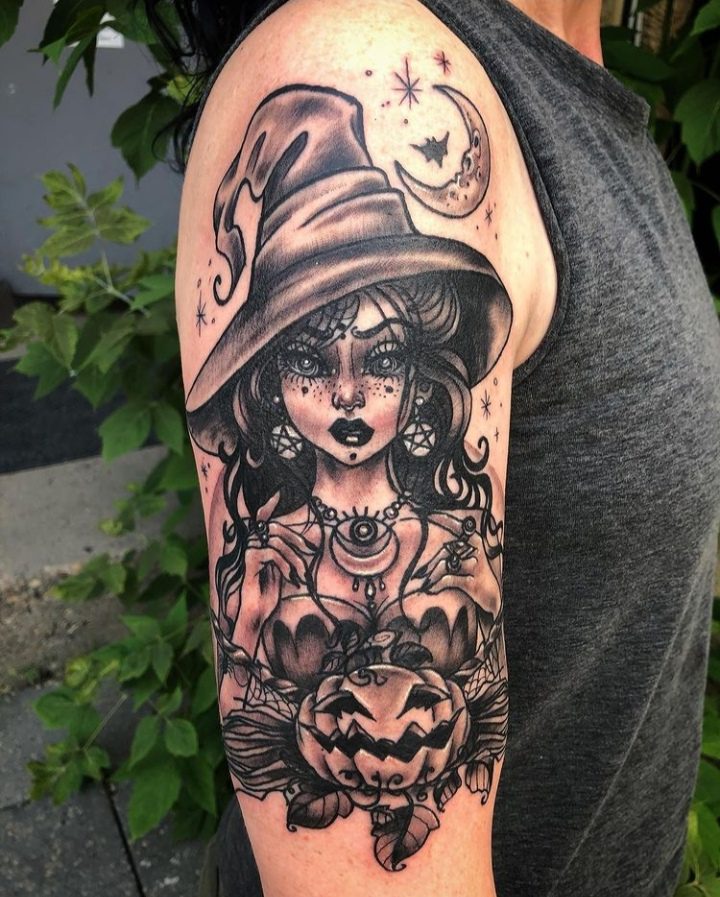 ↓ 13 – Frankenstien Couple
If you are a Literature fan like me, then Frankenstein doesn't need any introduction. However, if this name doesn't ring any bell to you, then here is a little back story. Frankenstein is a gothic novel of the Victorian era by Merry Shelley. The element of death and horror in this novel makes it so perfect for a Halloween inspiration. Victor Frankenstein was the name of the protagonist. However, Mary Shelley never named the creature. Eventually, everyone started calling the monster by the name of its creator. Frankenstein and its bride is the perfect tattoo for you and your beau to get this Halloween.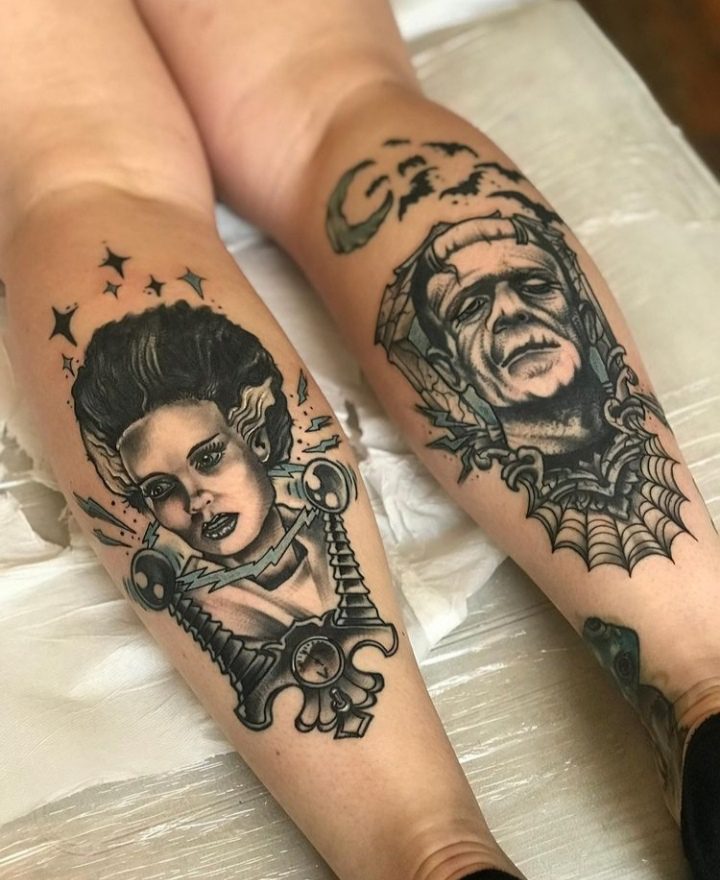 ↓ 12 – Little Ghost Kitties
If you are looking for something minimalistic, then check out this ghost kitties tattoo. Cutely celebrate your Halloween by inking kitties in little ghosts and a cauldron. You can get this tattoo anywhere on your thighs, arm, or maybe neck. It'll fit right anywhere. The addition of sparkles around is the cherry on top. Here are some more cute tattoo ideas.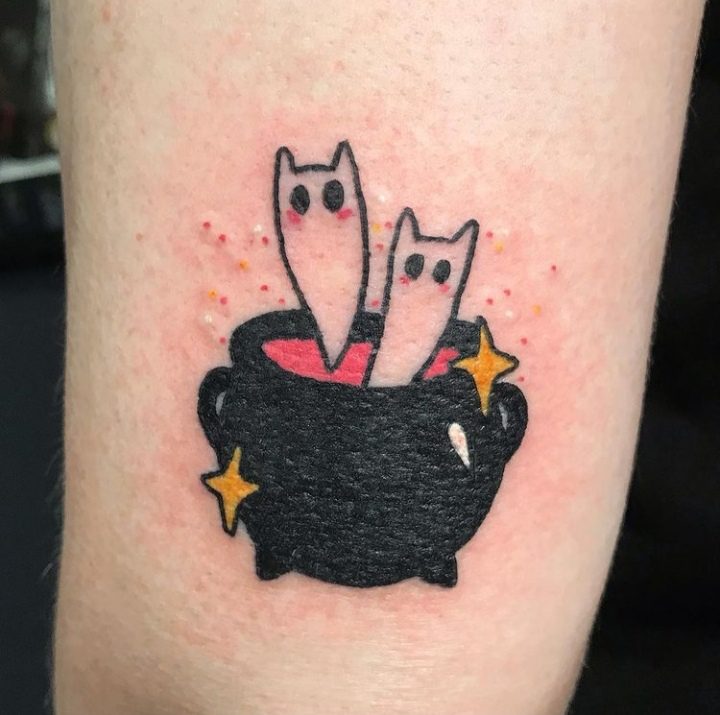 ↓ 11 – Dead Lover
The whole purpose of celebrating Halloween is to remember the dead spirits, good or bad. Isn't it? Therefore, the addition of a skeleton in any Halloween Party is a must. Check out this extremely well-crafted Dead lovers skeleton that you can create one of the scariest halloween costume ideas from. It is a sleeve tattoo with the addition of flowers on the skeleton head. On the whole, it seems like an excellent way to celebrate Halloween this year.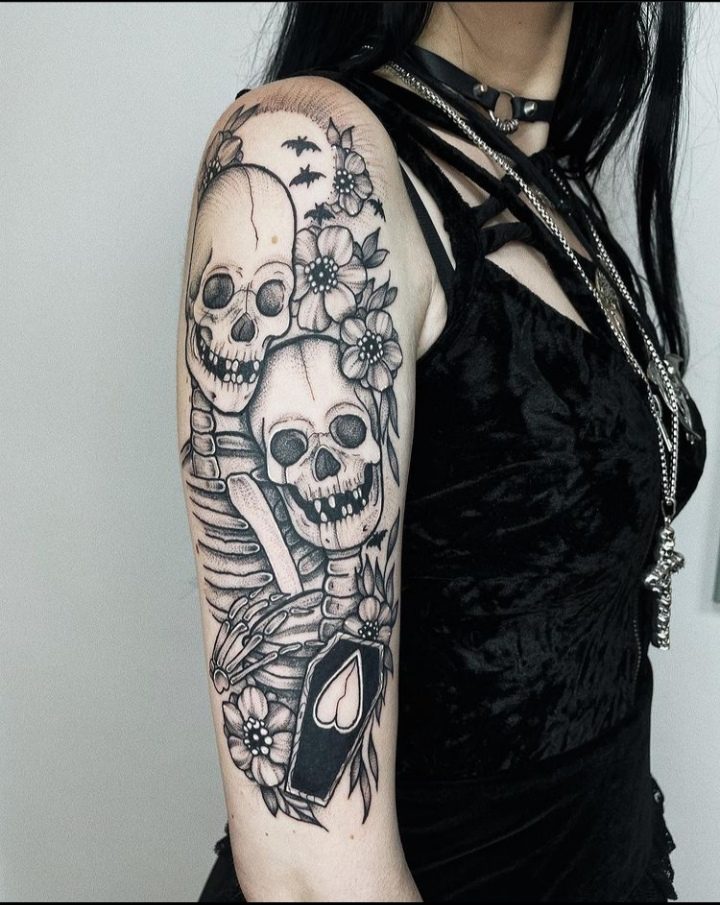 ↓ 10 – Pin-Up Girl
Next on the list is this pin-up girl tattoo. The blending of red and black shade gives flawless night vibes. It is surely a time taking thing but will definitely be worth your time and patience. In addition to this, the detailing of the broom and hat with the bats around all these things together make this tattoo a whole package.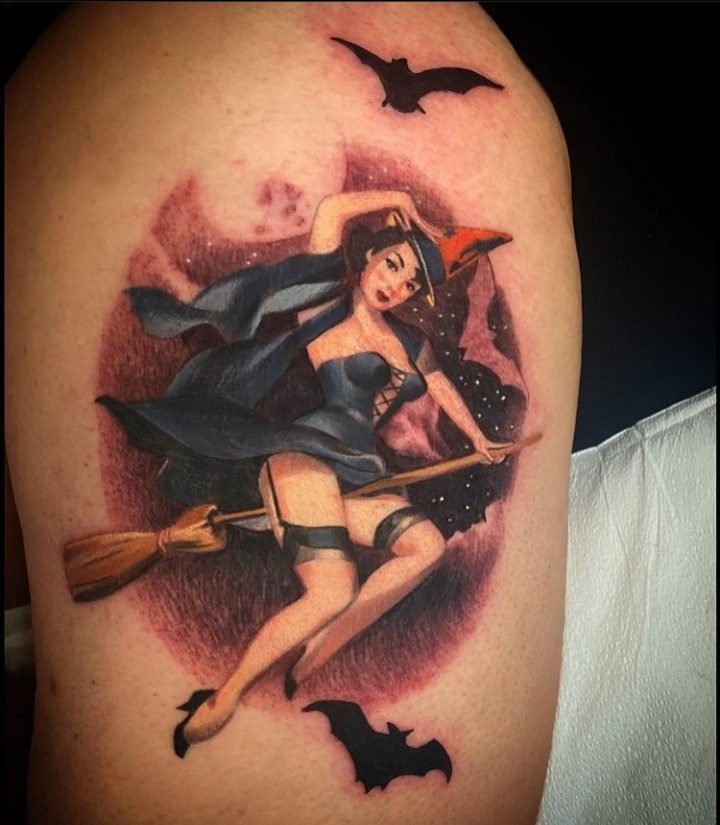 ↓ 9 – Spooky Stickers
Another creative way to get inspiration for Halloween tattoos is stickers. You can purchase a bunch of Halloween stickers, choose the best one you like, show it to your Tattoo artist, and voila. You are all set to get spooky this Halloween. On the other hand, what about getting matching Tattoos with friends? That sounds like a fun way to go creative. For this purpose, here is the cue for you to do it: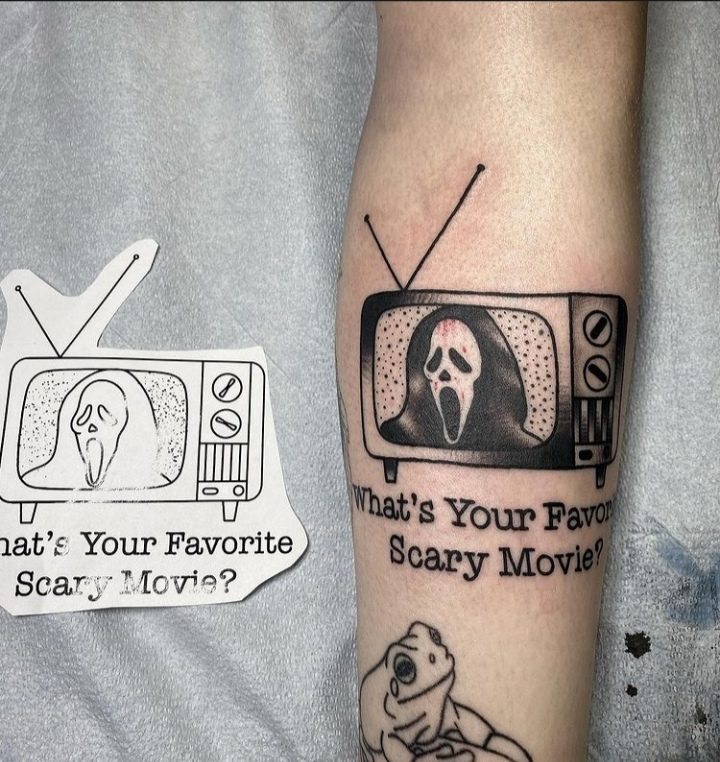 ↓ 8 – Casper The Friendly Ghost
No doubt, talking about the ghosts and not mentioning Casper the great would be a total injustice to him. Casper is a fictional character featured in almost 55 cartoons. Moreover, the one thing which makes Casper so popular is his cuteness. Therefore, add the Casper Tattoo to your wishlist to get a happy Halloween this year. To give more of a Halloween vibe, add the pumpkin and flowers along with it.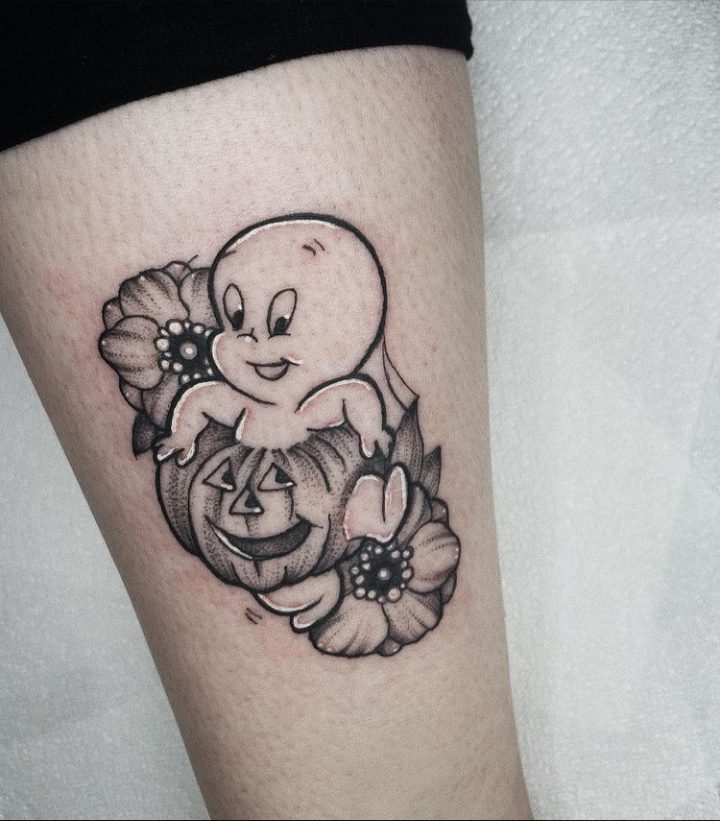 ↓ 7 – The Bat
Nothing makes Halloween spookier than bats. Halloween is associated with the elements of death and horror. So, do the bats. Interestingly, all the nocturnal creatures, only active in the dark, are associated with death. That is the reason why bats are the perfect companions for Halloween.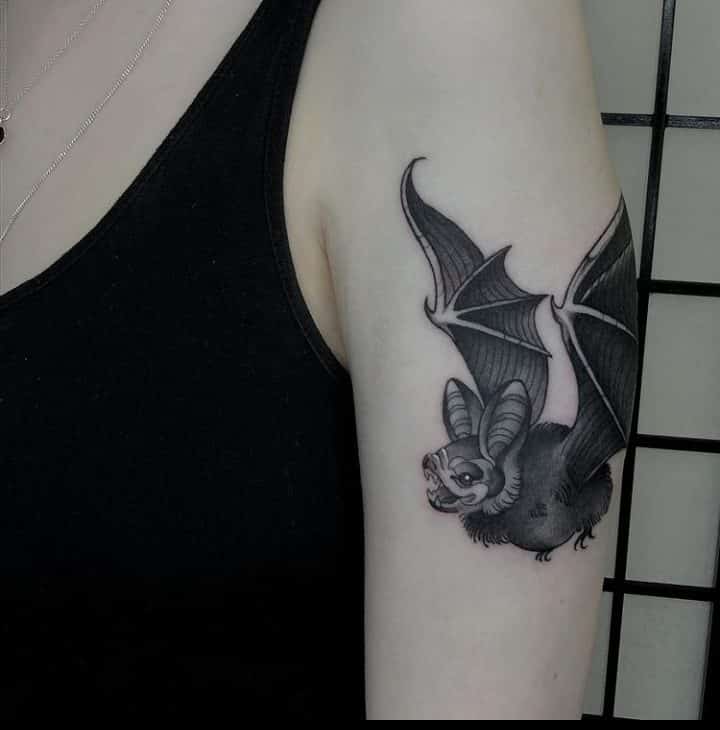 ↓ 6 – Headless Horseman
Now, let's talk about some Halloween tattoos for men ideas. Boys usually prefer the sleeves tattoos. Therefore, here is the headless horseman tattoo inspiration for all the boys out there. The tattoo gives off mythical vibes. It seems like an artwork crafted from a comic book. Moreover, the smoke clouds and the orange sun perfectly represent the dark side of the headless theme.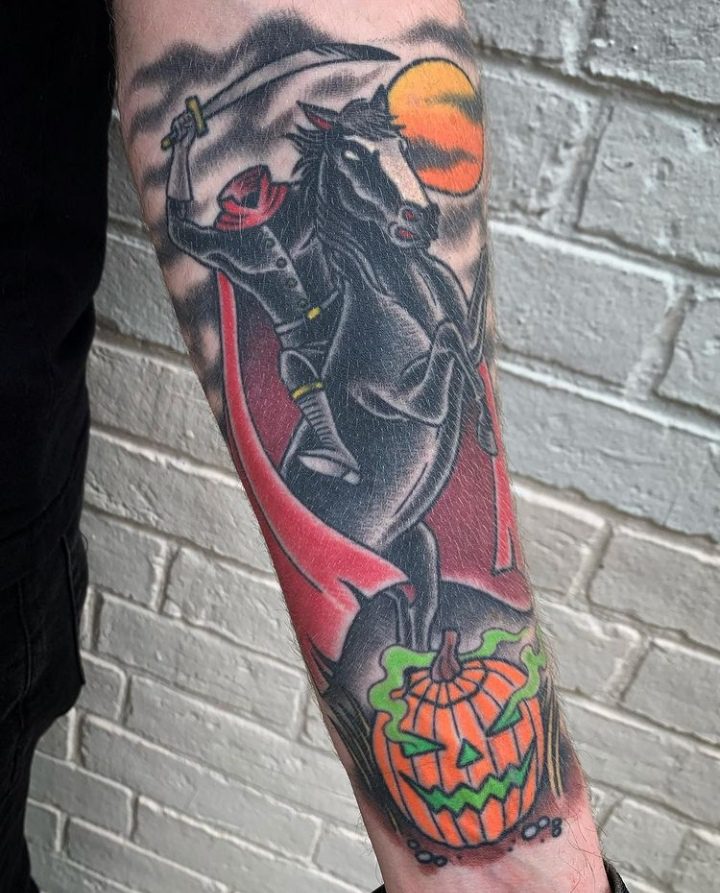 ↓ 5 – Hello Kitty Grim Reaper
You might have seen the grim reaper in many movies. Or maybe you are a fan of The Grim Adventures of Billy and Mandy, like me. According to mythology, a grim reaper appears at the time of your death to take you. Sounds scary. Isn't it? A skeleton appears in a black cloak when your times end. But that's what they are known for. Certainly, wearing a grim costume would be fun, but getting a tattoo of the grim reaper with hello kitty on the cloak is more exciting. If you still haven't decided on your costume then check some of our best halloween costumes.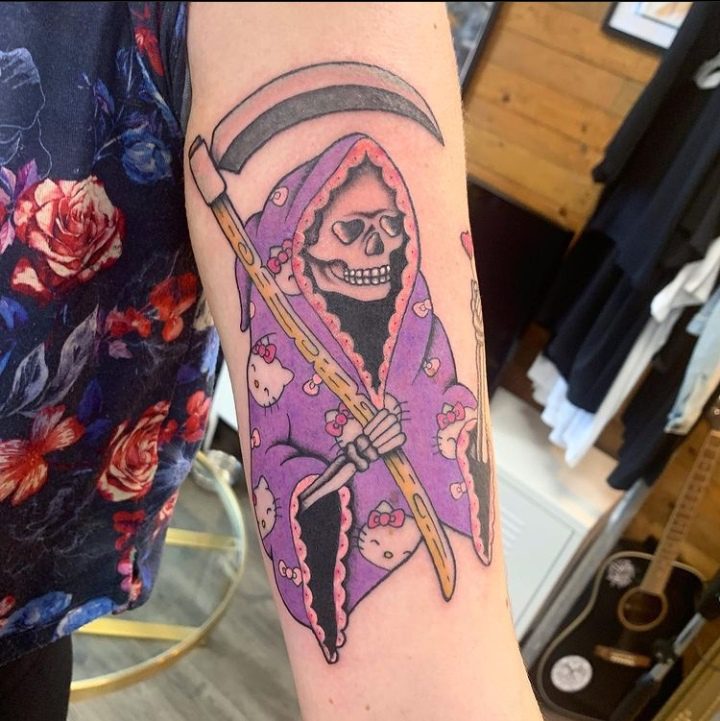 ↓ 4 – Skeleton Key
Here is another idea for you if you want to keep your tattoo small yet spooky. A skeleton key is the best way to represent Halloween mysteriously. You can go creative with your key shape. However, to make it more dangerous, wrap a snake around the key.
↓ 3 – Pumpkin Spice Latte
Is it even possible to celebrate Halloween without a pumpkin spice latte? Hell, no! Apparently, decorating houses with pumpkins were the initial thought. However, now when it comes to Halloween, pumpkins surround everything. Therefore, if you like the idea of pumpkins on Halloween, get yourself a tattoo to express your love.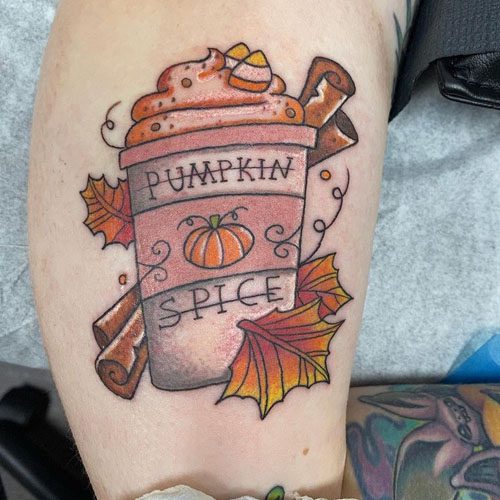 ↓ 2 – Happy Skeleton
Skeletons are always associated with fear and horror. However, this Halloween, I suggest you go with a little extra. Let the skeletons go on skating. And get yourself a happy skeleton tattoo. Eventually, the purpose of celebrating these events is to be happy and cherish everything while you are still alive. Therefore, add some spices in your latter as well as in your tattoos.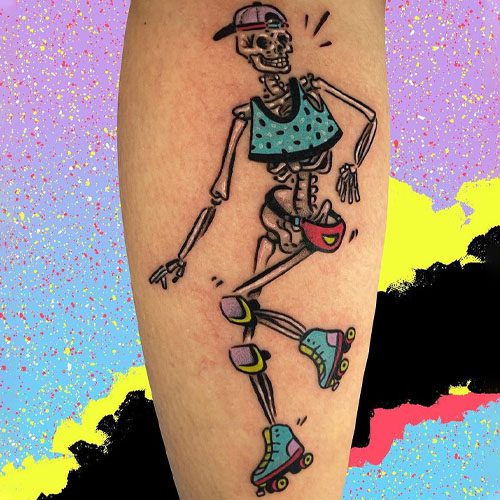 ↓ 1 – Jack & Sally
On top of my list comes a Jack and Sally Tattoo. Romance never dies, whether your love story is cute or dark. In the movies The Night before Christmas, Jack and Sally fulfill all our spooky fantasies. Therefore, a tattoo inspired by Jack and Sally is highly recommended. Moreover, you can also add quotes from the movie to make your tattoo more fun. For instance:
"I'm a master of fright, and a demon of light."— Jack Skellington.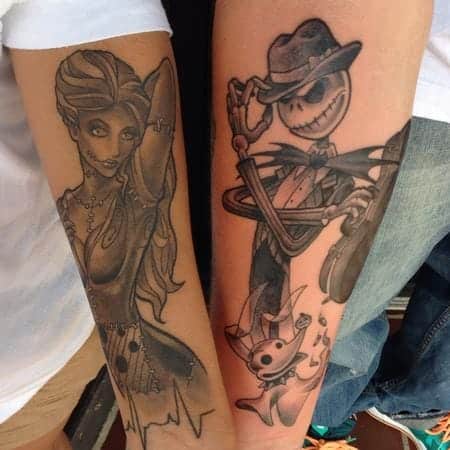 Frequently Asked Questions
Q. What are some feminine tattoos?
Ans: Usually, people are confused about what a feminine tattoo means. Of course, you can find several ideas for gender-neutral tattoos. However, some tattoos are truly meant for the ladies to own, such as witch tattoos, pin-up girls tattoos, and shoulder moth tattoos. I have featured all these ideas for you above. Apparently, these types of tattoos have a feminine character in themselves.
Q. Are Halloween tattoo sleeves trending?
Ans: Tattoo Sleeves are pretty trending. Fortunately, you can get temporary sleeves stickers if you don't want to ink your full arm permanently. Precisely, Tattoo Sleeves are in high demand among boys. Above, you can find many ideas for tattoo sleeves. You can always go for them and let me know how it goes.
Q. What are some scary tattoo ideas?
Ans: If you are wondering which tattoo looks the scariest for Halloween, you need to go for a face tattoo this year. However, you might not be comfortable getting your whole face inked in the tattoo. Isn't it? Therefore, getting a temporary face tattoo for Halloween is a better option.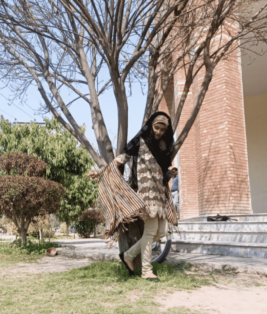 Javeria is a student and a content writer. She is good at public speaking, leadership, and management. She is passionate about writing, reading & music. She is an ambivert and is always up for a new friendship adventure. As an English literature student, she thinks fiction is more fun to read than nonfiction.