Plumeria tattoos Ideas: In today's world, tattoos are considered an art and fashion. They capture aesthetic feelings, and tattoos are popular among those who appreciate nature and beauty. People get tattoos for a variety of purposes, including relaxation and stress relief.
Sometimes people get tattoos to remember their loved ones whom they have lost. And some people get tattoos of their lover's name to show their love for their partner. You can get tattoos anywhere on your body, considering the area where it will be more prominent.
Plumeria, often called frangipani, is a beautiful flower. In Hawaii, plumeria is highly popular.
Plumeria is a flower that represents love, beauty, dedication, and positivity. This flower comes in a variety of colours, including yellow, pink, orange, and white so you can choose to get it tattooed in tons of colours other than black.
Frangipani flowers are usually used in weddings and receptions to express love. It is also used in graveyards to express emotions for a dead loved one. When it comes to frangipani tattoos, most people get them to express their love for special people, as flowers are already a symbol of love. Frangipani is said to be the most beautiful flower with the sweetest fragrance in Hawaiian culture. People also get these tattoos to represent their connections to the island.
Plumeria Tattoos Styles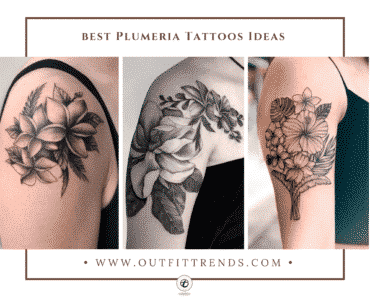 Tips For Getting A Plumeria Tattoo
While getting a tattoo, make sure you're comfortable and fully prepared for the process, bearing in mind all of the possibilities that may occur afterwards.
Wear loose, comfortable clothing when getting a tattoo. You will be uncomfortable if you wear tight and fitted clothing while having a tattoo.
Avoid applying unnecessary creams or lotions on your tattoo since they may aggravate sensitivy of the skin. Take your expert's advice on which products to use on tattoos. Also, keep it covered to avoid cross-contamination.
Make sure you get a tattoo from an expert. He must have a license since any mistake he makes, might harm your skin.
Remove the plastic or bandage wrapping the tattoo as directed by the artist. To protect your skin, wash the tattoo with lukewarm water and antibacterial soap.
Keep in touch with your artist or expert and visit him immediately if any problem arises. Any act of carelessness can result in serious repercussions.
↓ 20 – Realistic Frangipani
These realistic tattoos can be the best option for people who are impressed and obsessed with the beauty and colour of frangipani flowers. It's as though having an actual plumeria flower. These lovely, realistic plumerias offer you a pleasant vibe.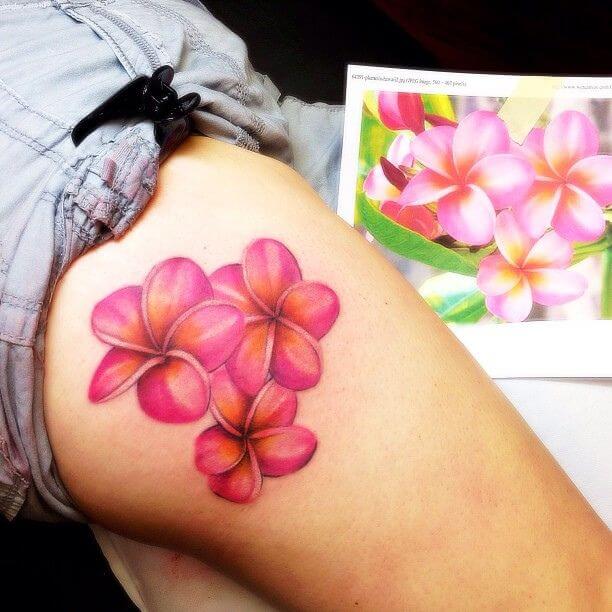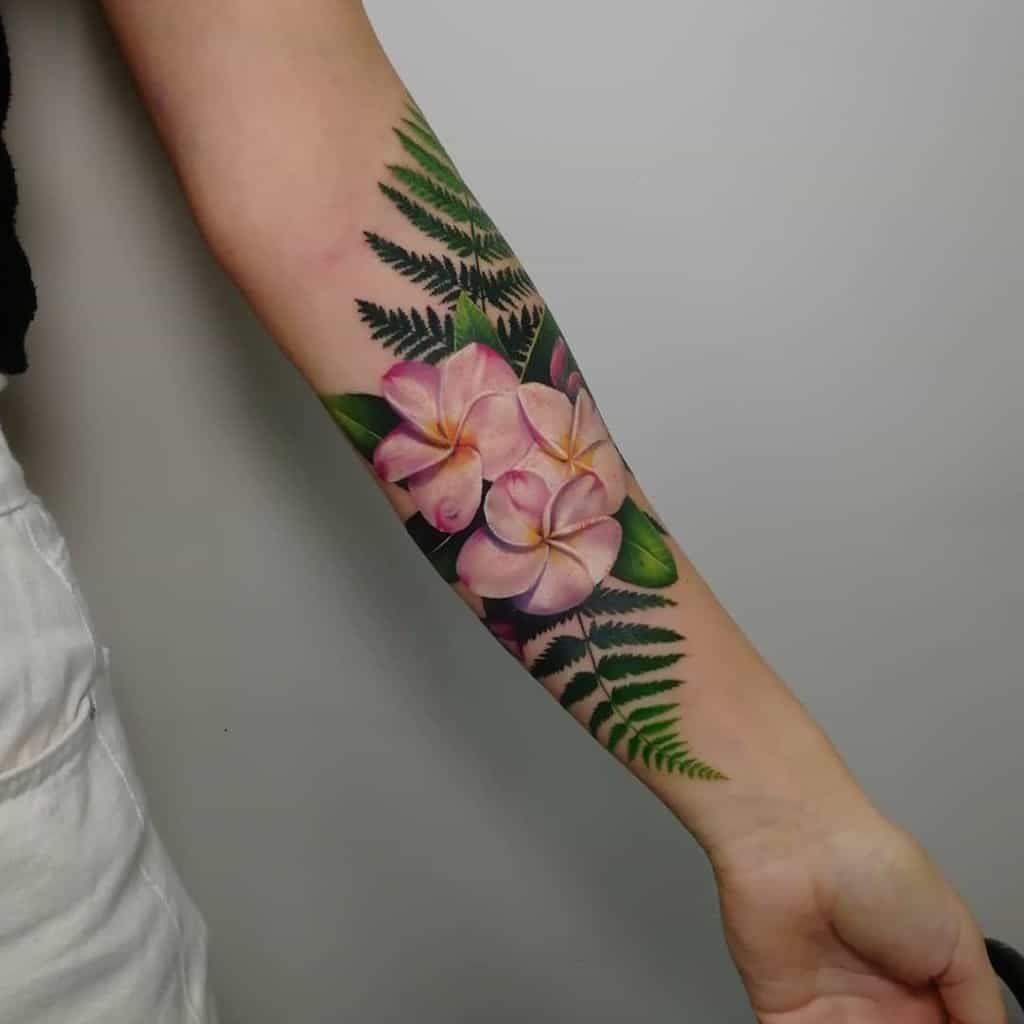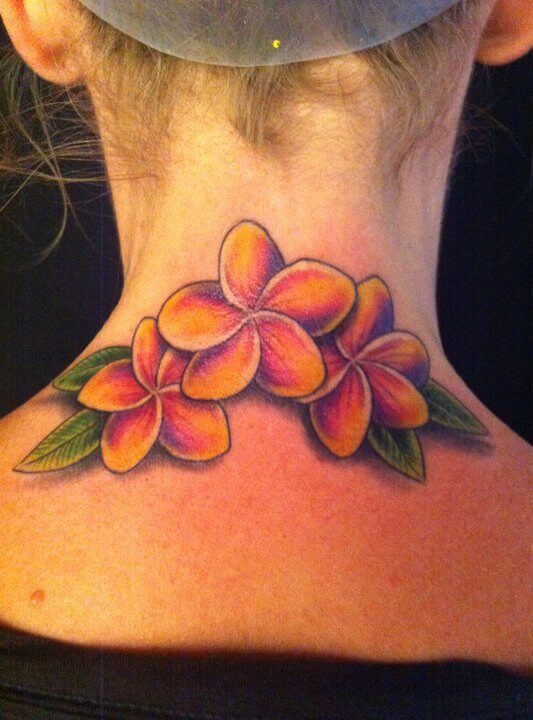 ↓ 19 – Black And Grey
The black and grey are appropriate for adults with mature personalities who dislike colours and prefer black and grey. These tattoos provide an aesthetic look and can be done anywhere on your body. Women can get plumeria on their backs, hands, ankles, or anywhere else they want. These black and grey frangipani tattoos are suitable for both men and women.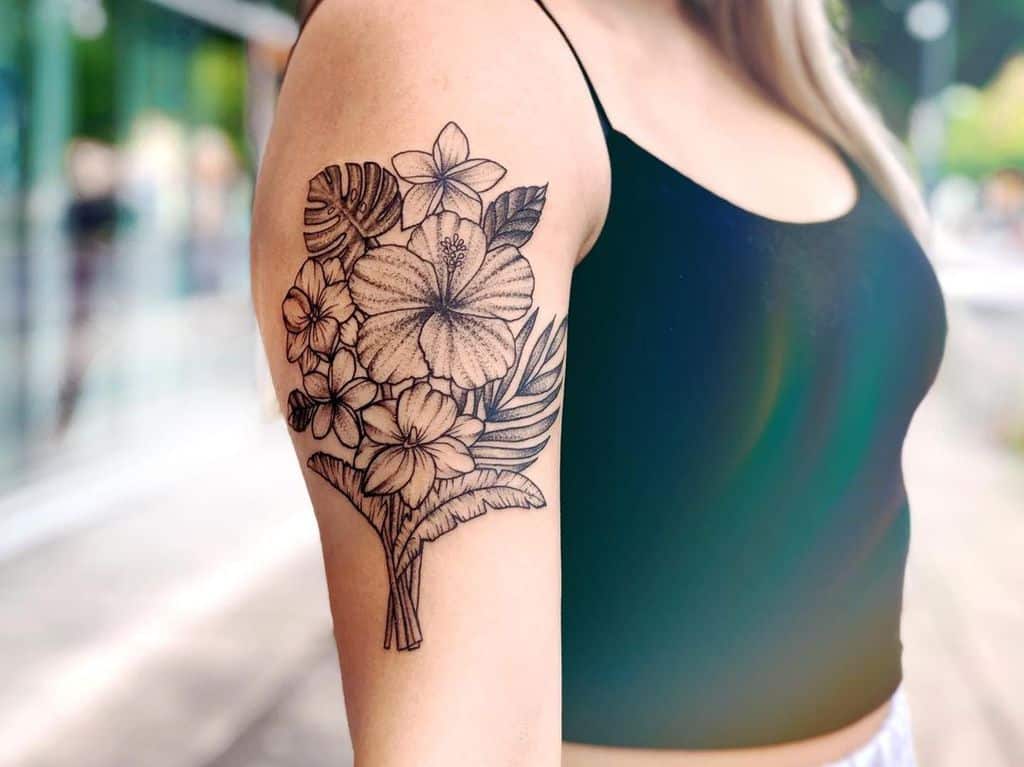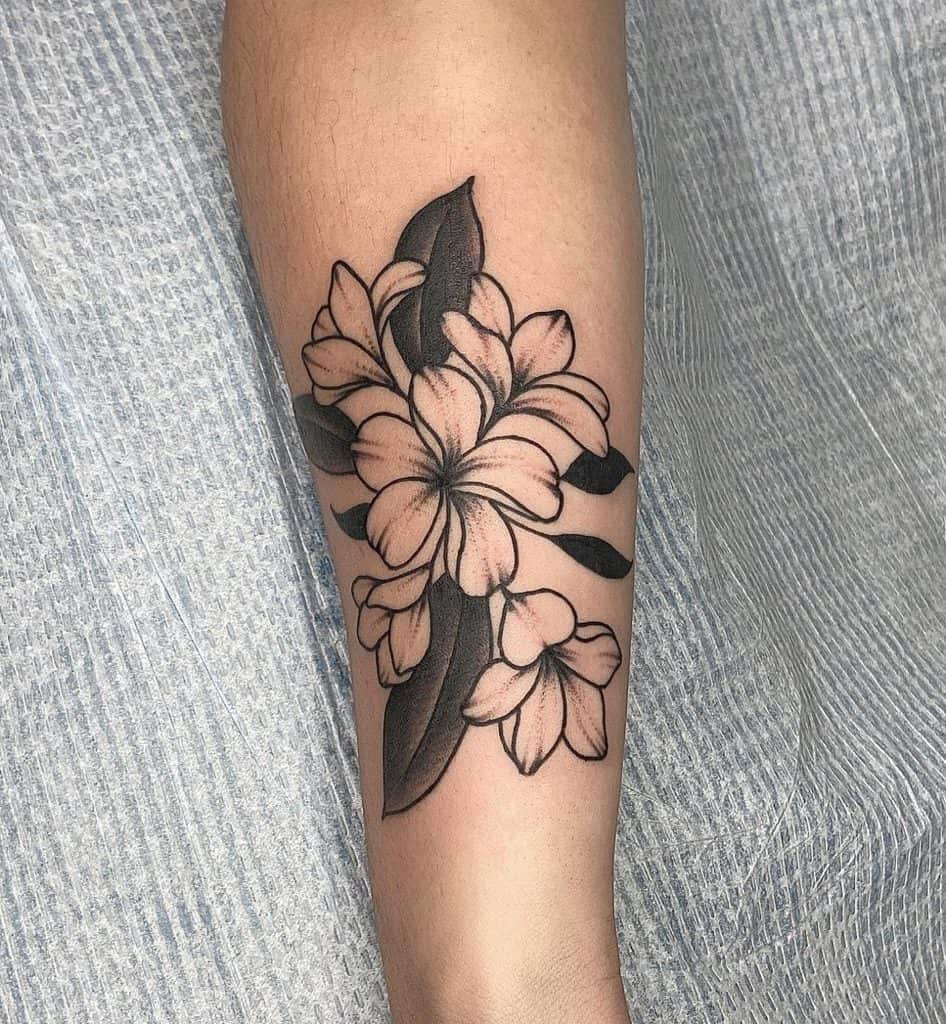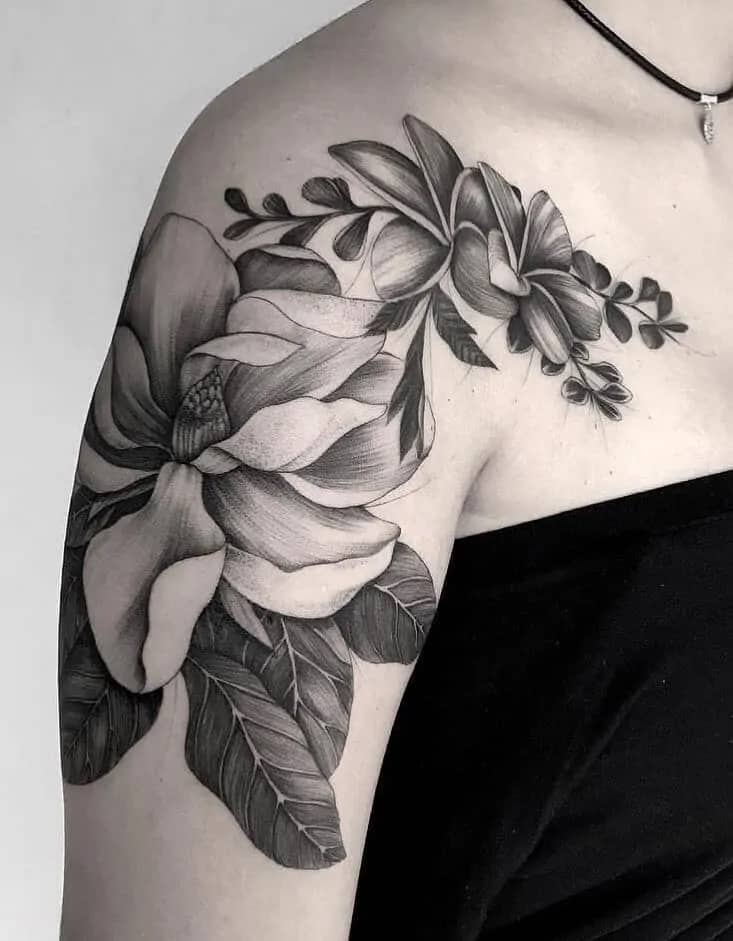 ↓ 18 – Colorful Frangipani Tattoos
Certain lovely multicoloured plumeria are for people who love flowers, are obsessed with colours and patterns, and prefer unique tattoos. These vibrant tattoos will not only colour up your body but will also brighten up your life. You may include all of the beautiful plumeria hues into your tattoo. Cute Emoji Tattoos are another fun tattoo idea to try!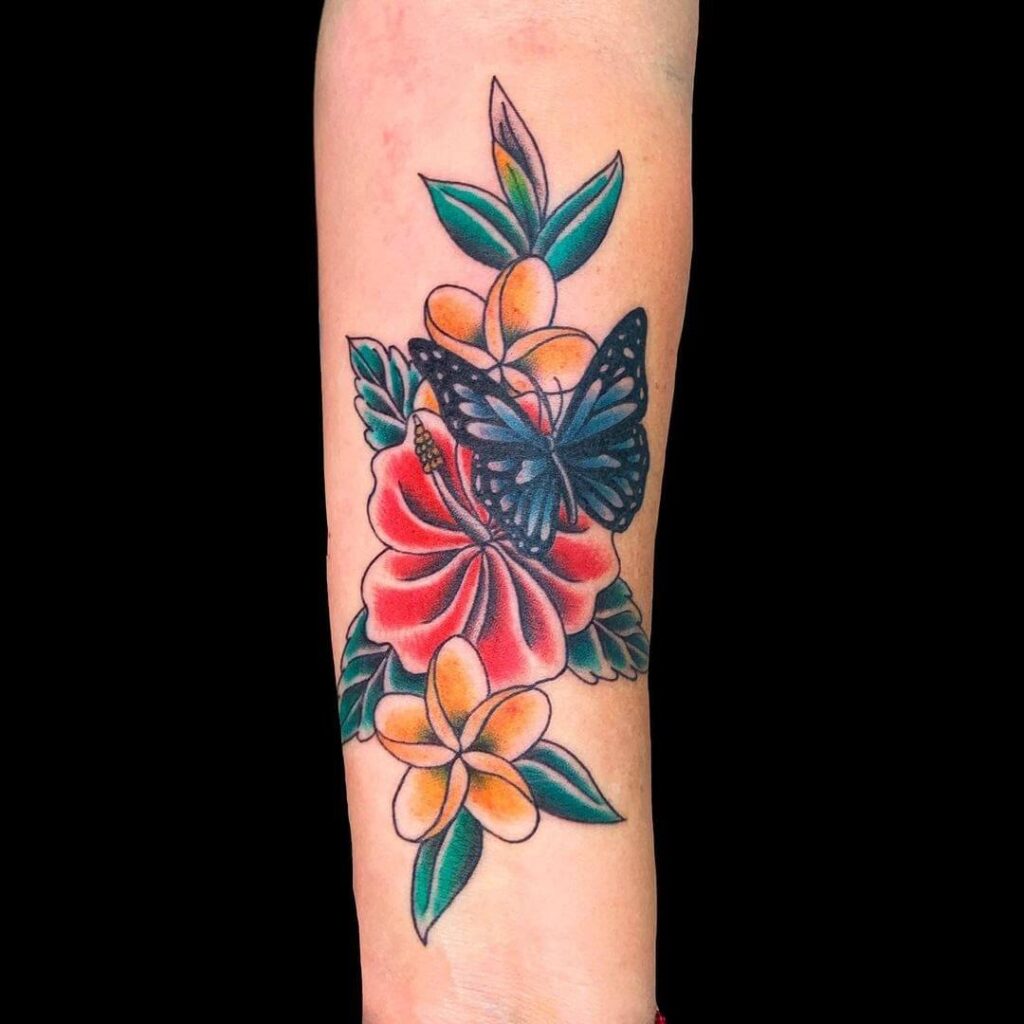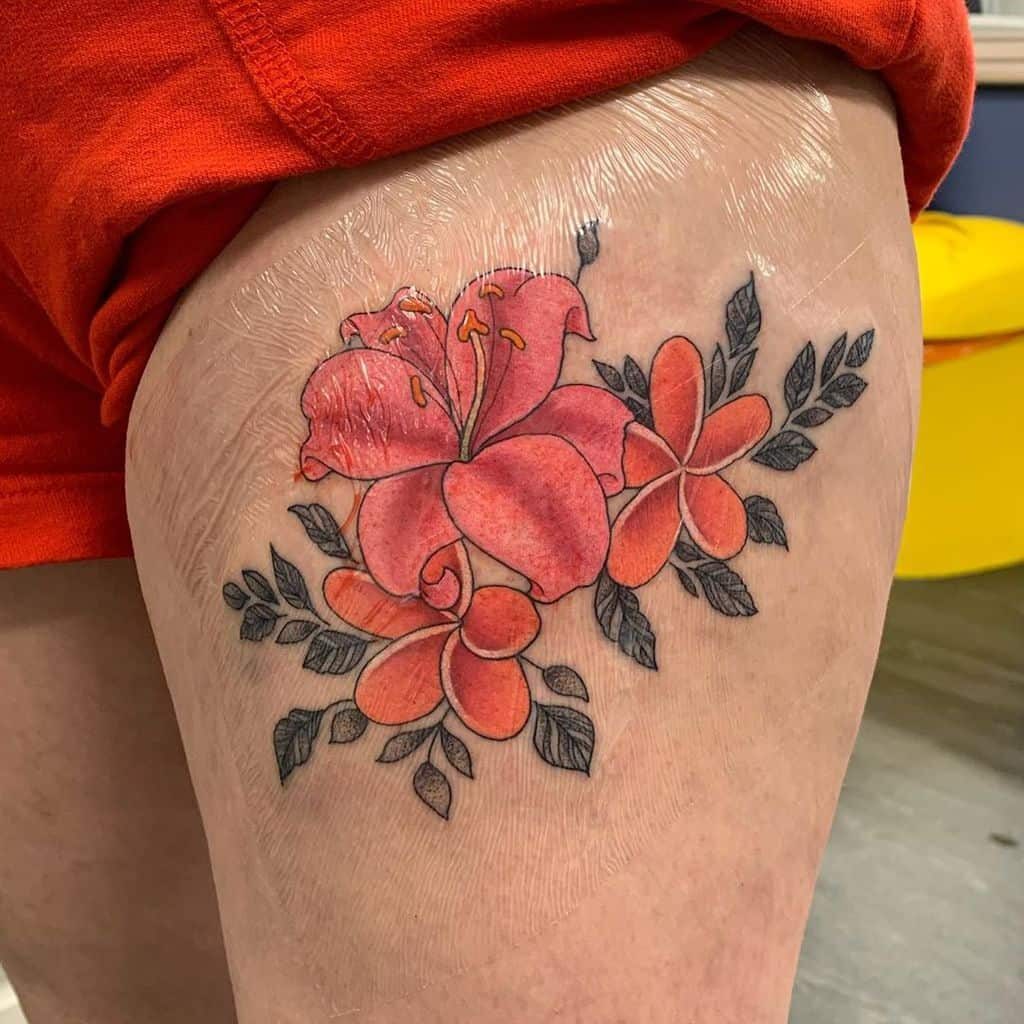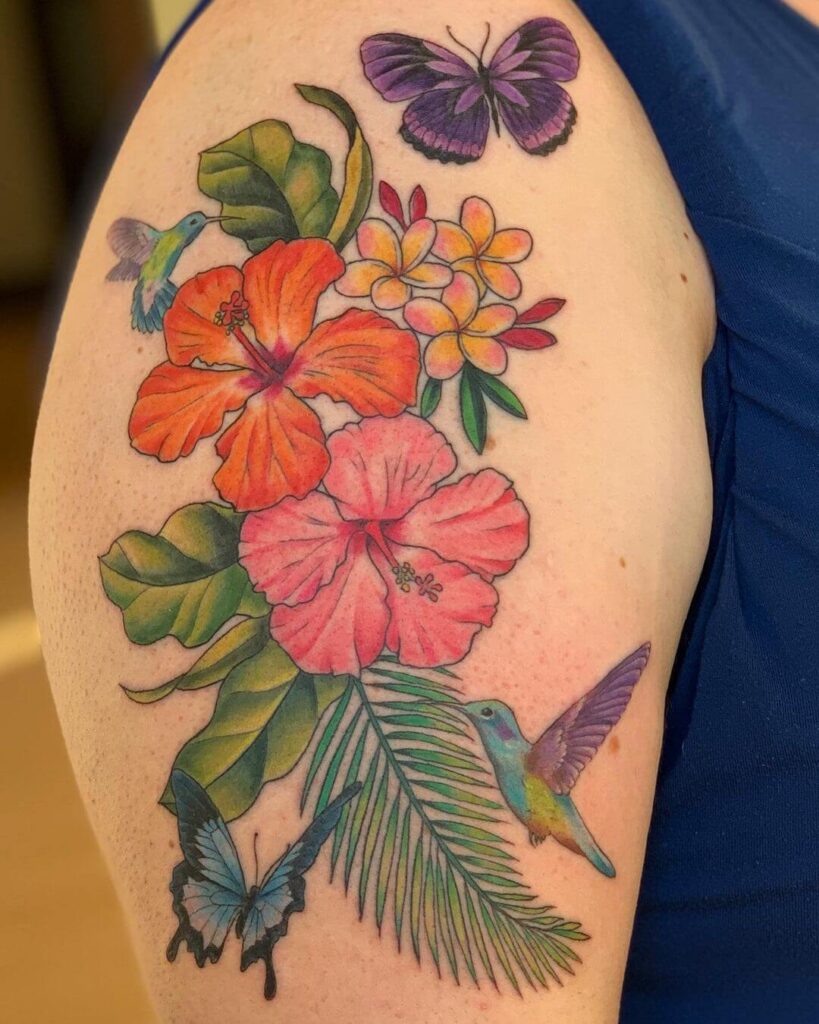 ↓ 17 – Animals
Animal lovers can get frangipani tattoos of their favourite animals. If you have a pet, you can get a tattoo that features your pet's artwork. Also, if you have lost your pet, this is a lovely way to remember them since they will be with you even after death. You may have a tattoo of a turtle, dog, lion, or other animal and combine it with plumeria petals to make it more attractive. Butterfly Tattoos is another great idea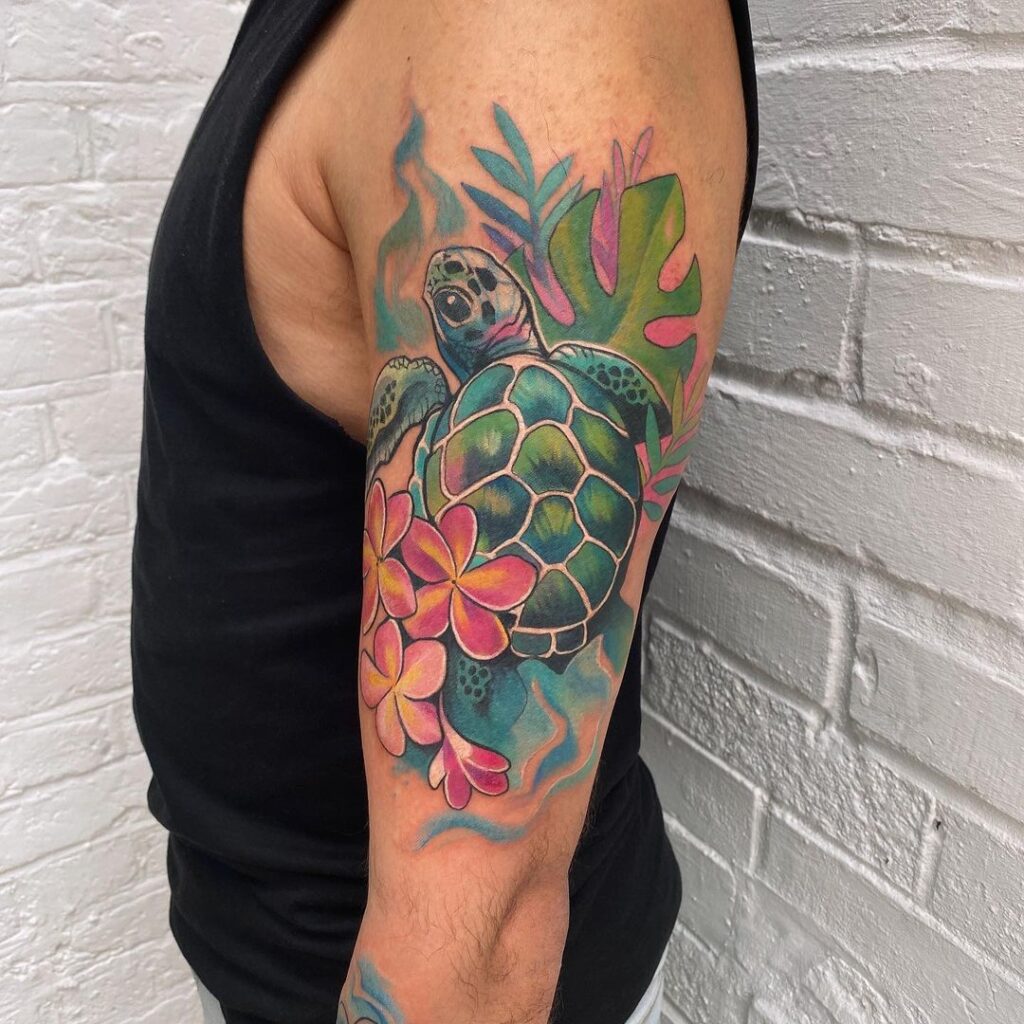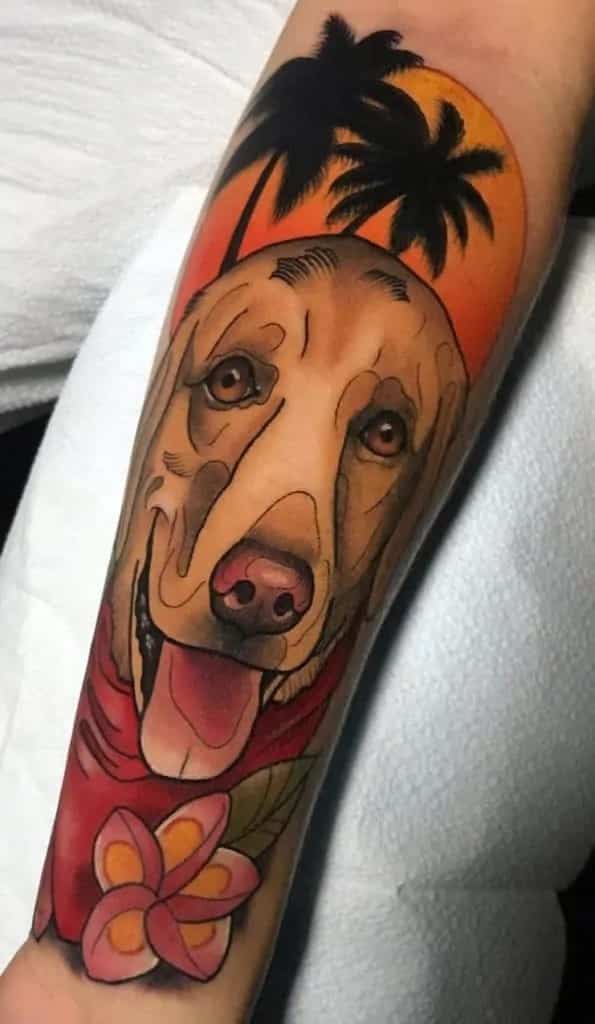 ↓ 16 – Fruits
Yes, you may mix your favourite fruit with frangipani in a tattoo. You may get a tattoo of any fruit that you enjoy. It will have a cute and colourful appearance. You may also include a hibiscus flower into your tattoo to make it more aesthetically attractive.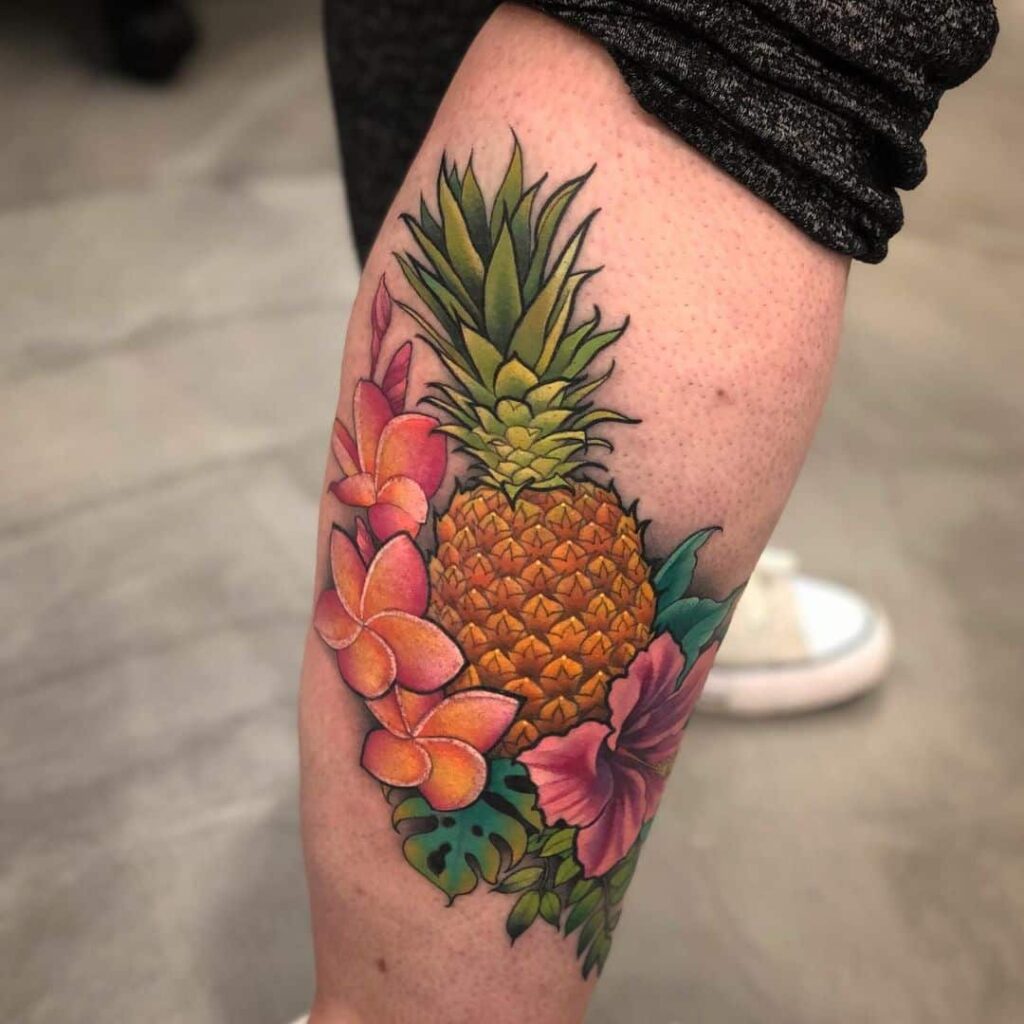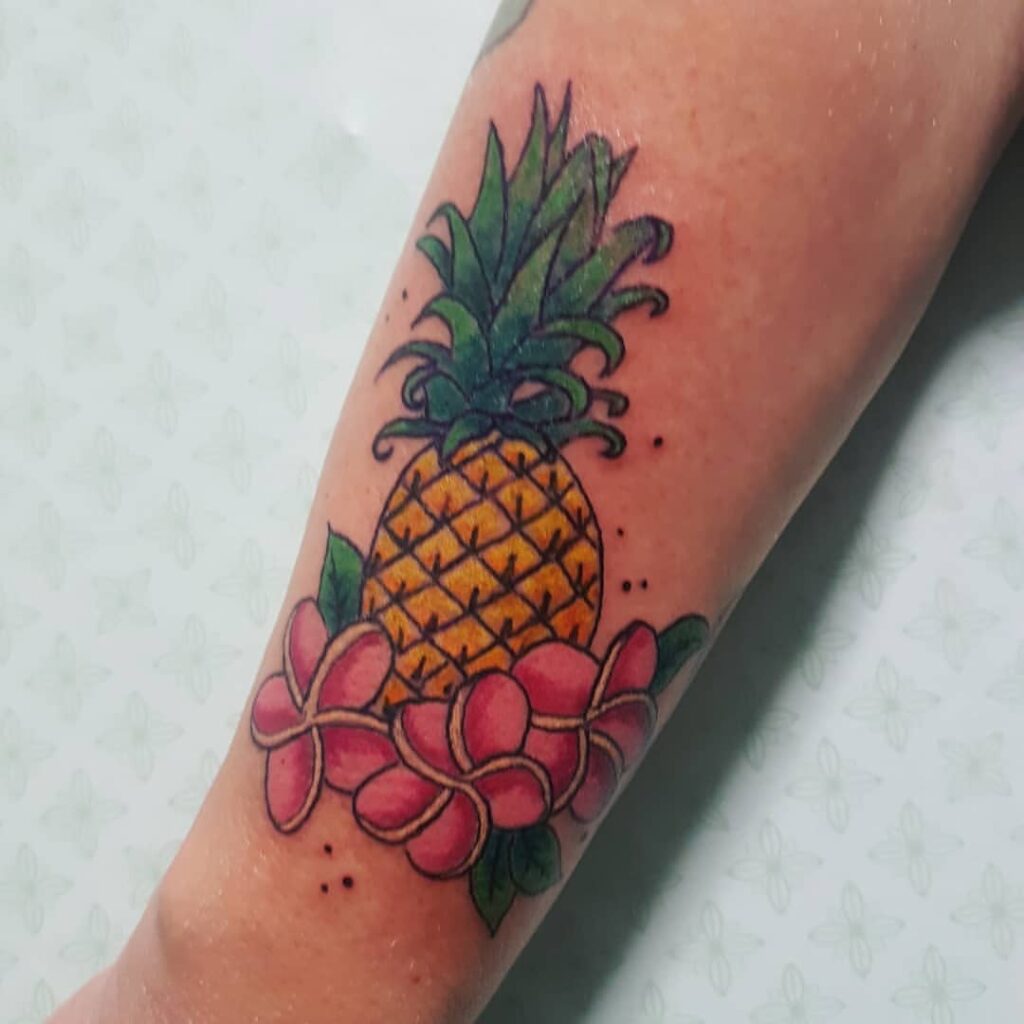 ↓ 15 – Tribal Designs Plumeria
Are you a fan of tribal design? Then these plumeria tribal tattoos are ideal for you. These tribal patterns are beautiful on their own, but when combined with plumeria blossoms, they make a stunning combination. To give yourself a stylish look, try these tribal patterns tattoos. You can have it on your thigh, hands, or wrists. You may also have a look at Tribal Pants Outfits to match your tribal tattoo.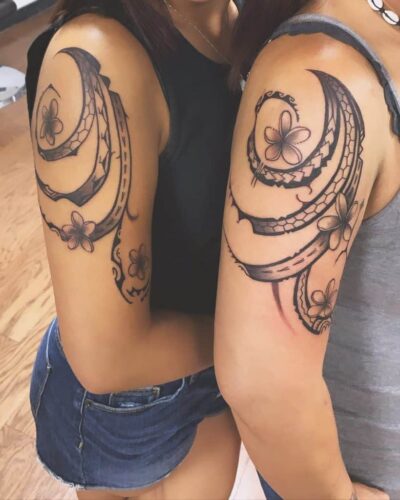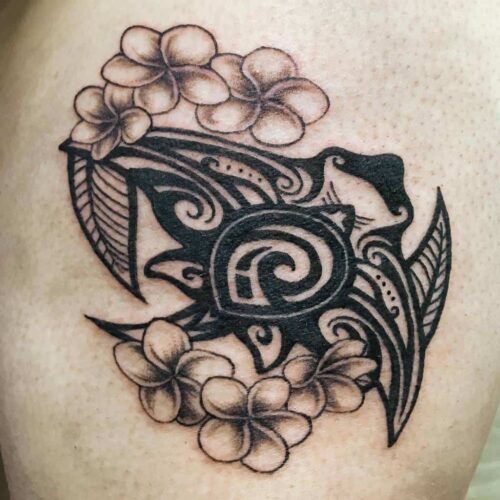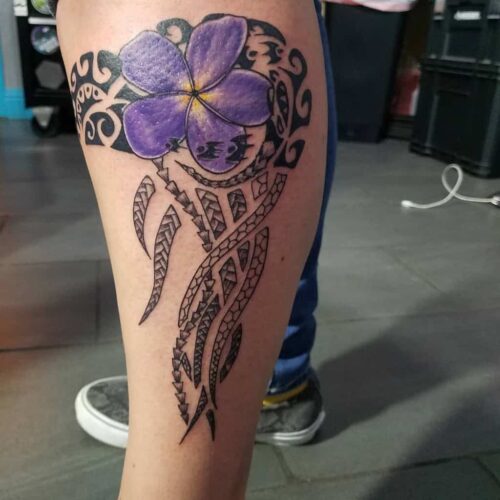 ↓ 14 – Off-Shoulder
Women who like wearing off-shoulder outfits may take ideas from these off-shoulder. This plumeria on your shoulder will look lovely and give you a girly vibe. Shoulders are the best place to get a tattoo because it looks classy when females wear stunning off-shoulder dresses with a beautiful tattoo on their shoulders.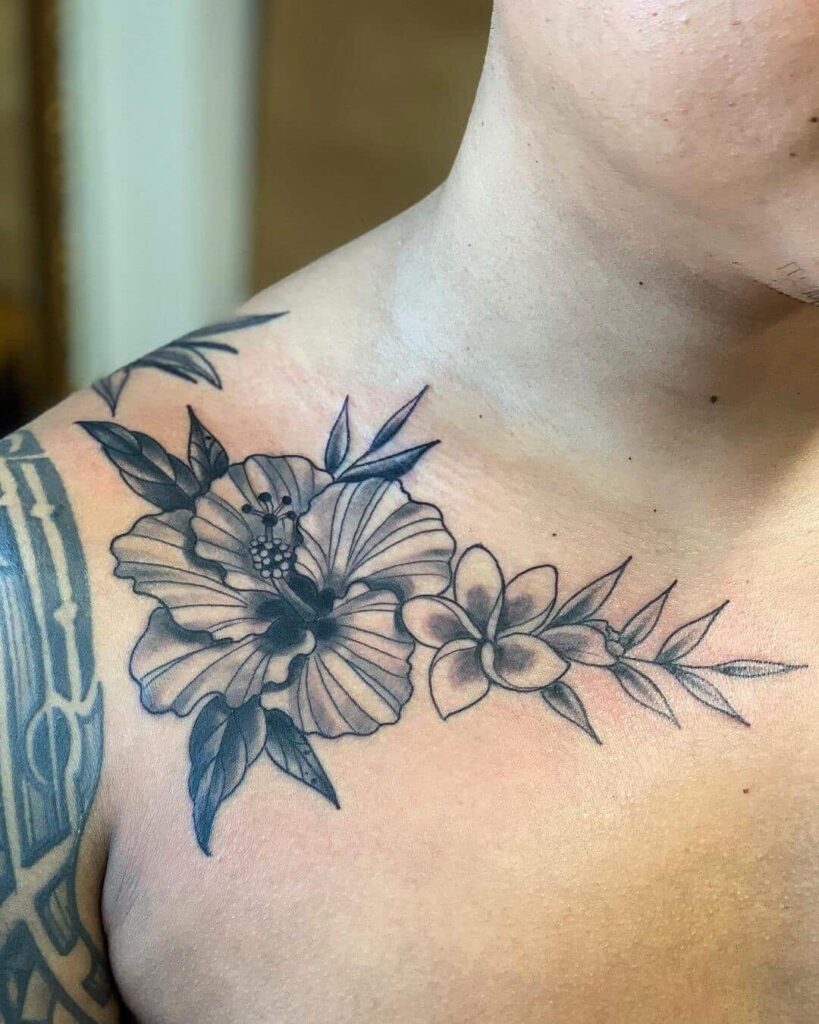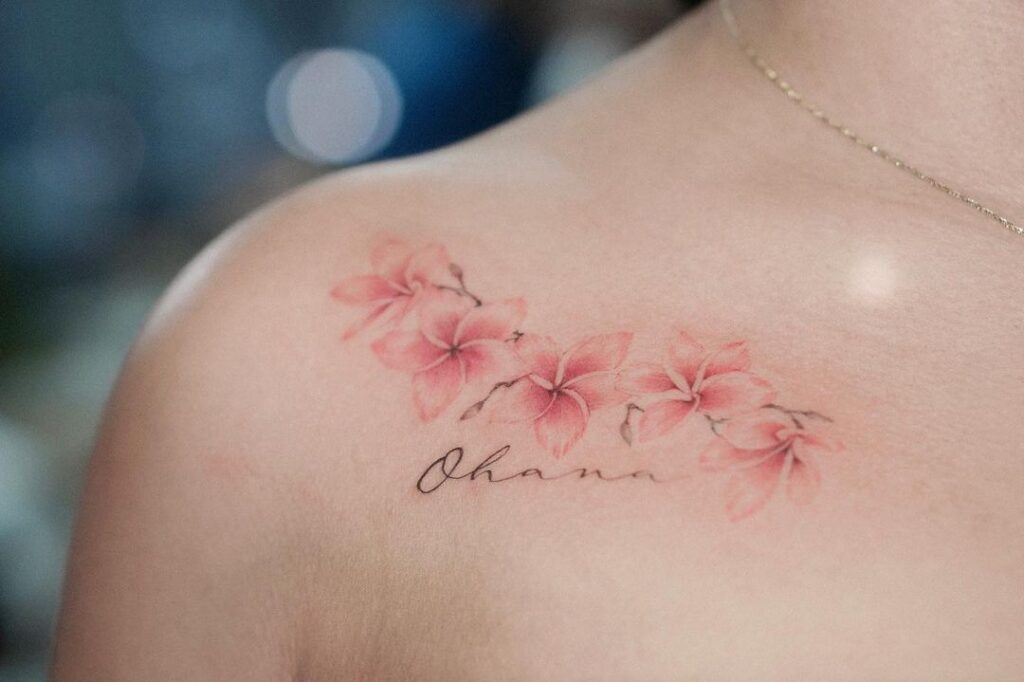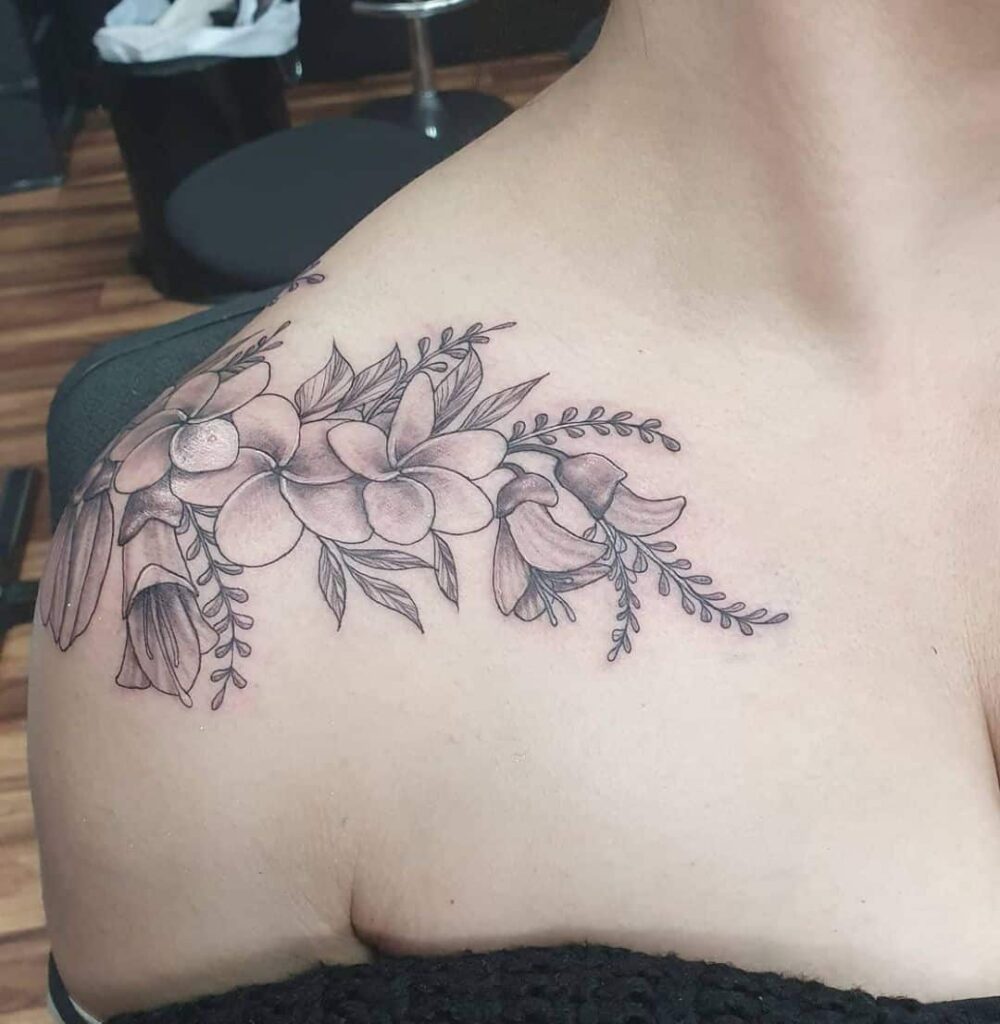 ↓ 13 – Hibiscus
A combination of plumeria and hibiscus flowers is another eye-catching design for floral tattoos that you may try. Hibiscus and plumeria make the best tattoo combo. You may combine these two flowers in your tattoo to make it more aesthetically pleasing.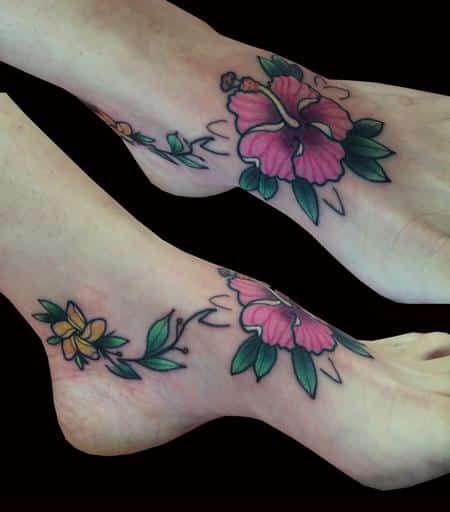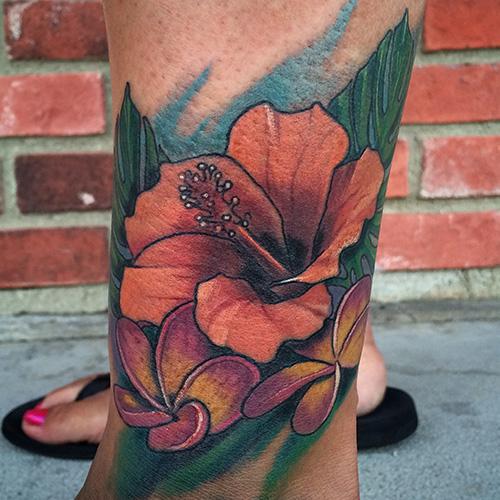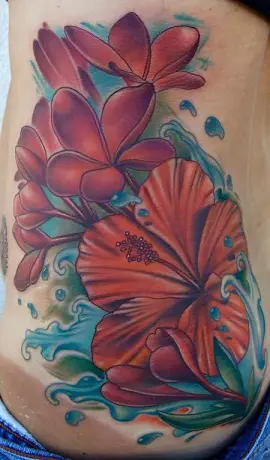 ↓ 12 – Disney Theme
You may include your favorite Disney character in your tattoo. Combine it with the petals of frangipani or plumeria flowers. It will look stunning on your arm or anywhere you want.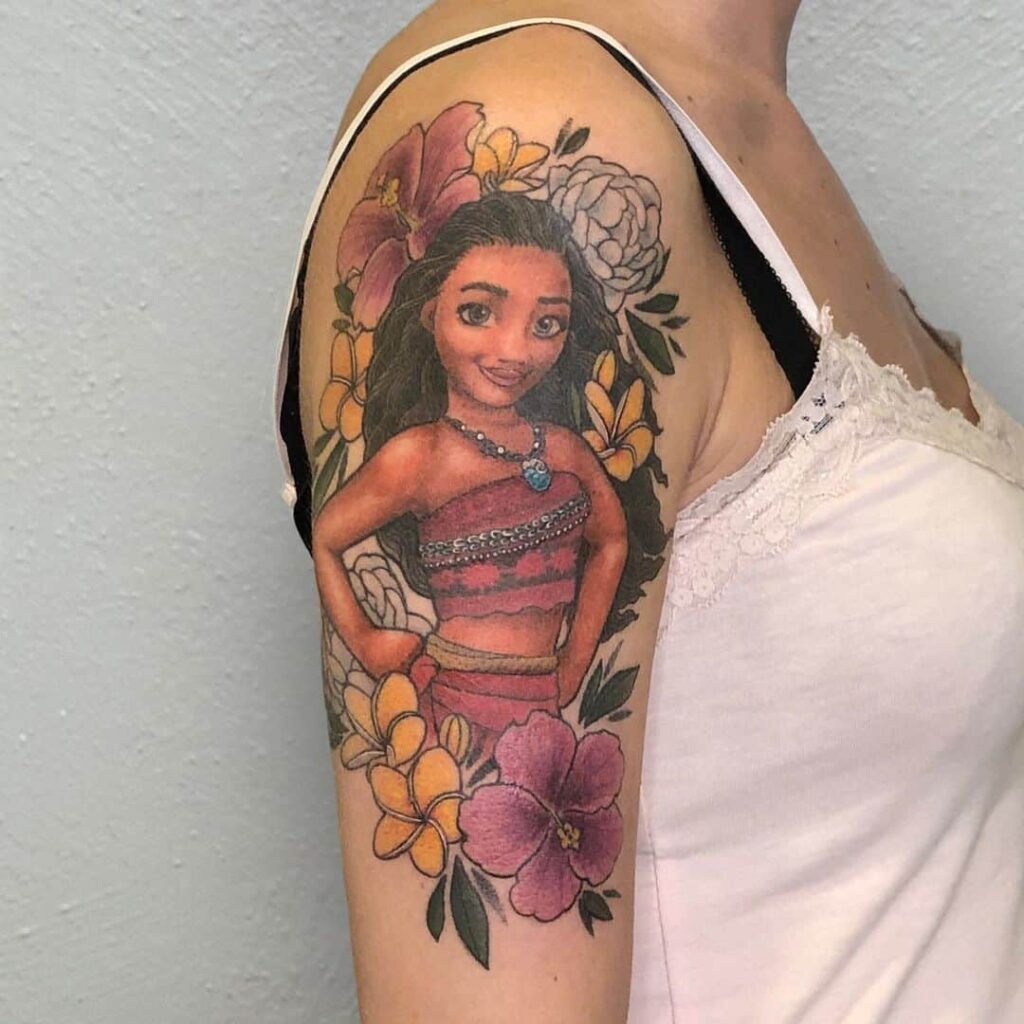 ↓ 11 – Frangipani Wrist Tattoo
Tattoos on the wrist look great on anyone. Girls who enjoy wearing bracelets might have a plumeria on their wrist, which resembles a bracelet. These frangipani wrist tattoos come in a variety of patterns.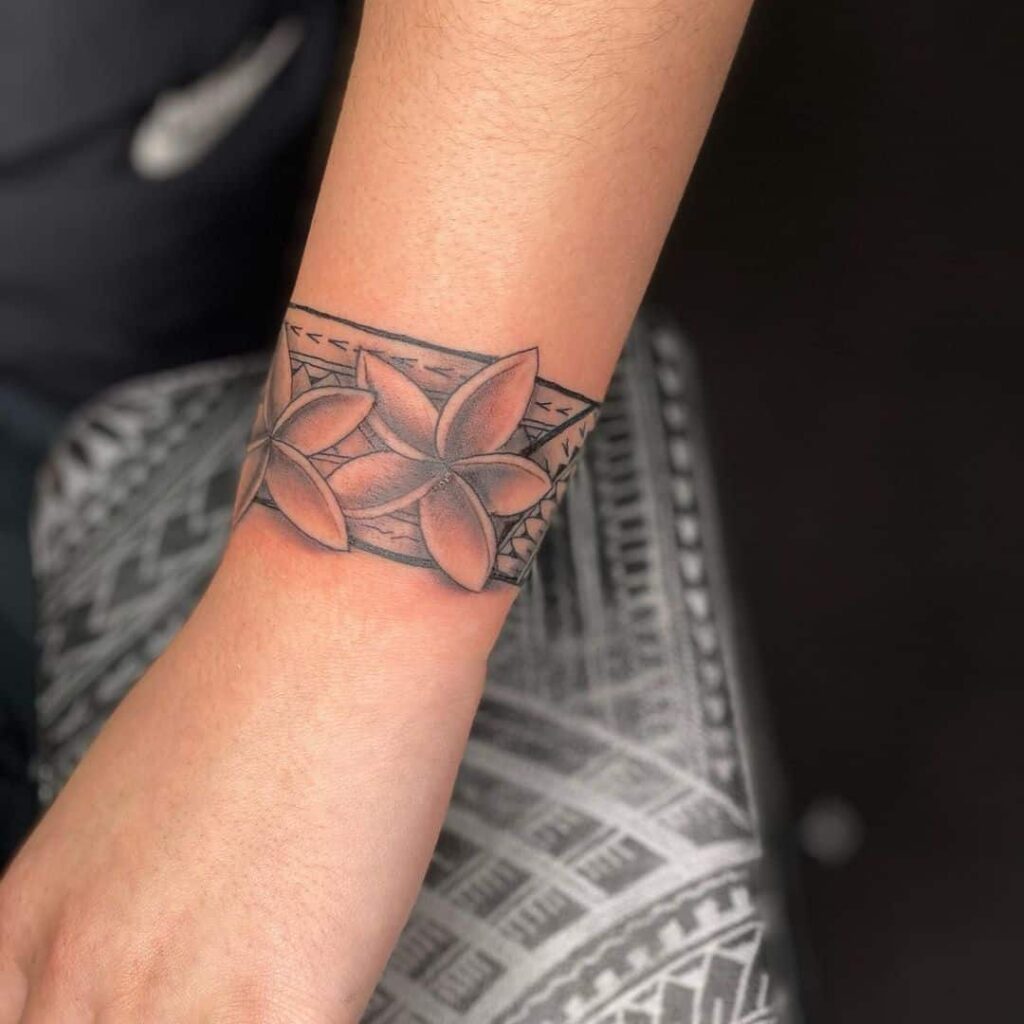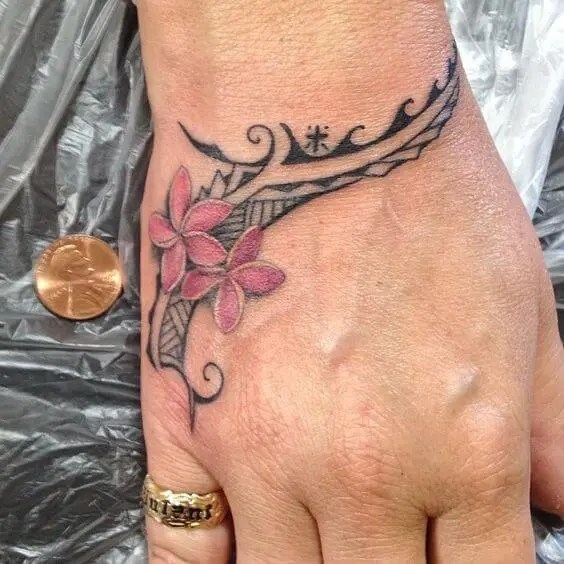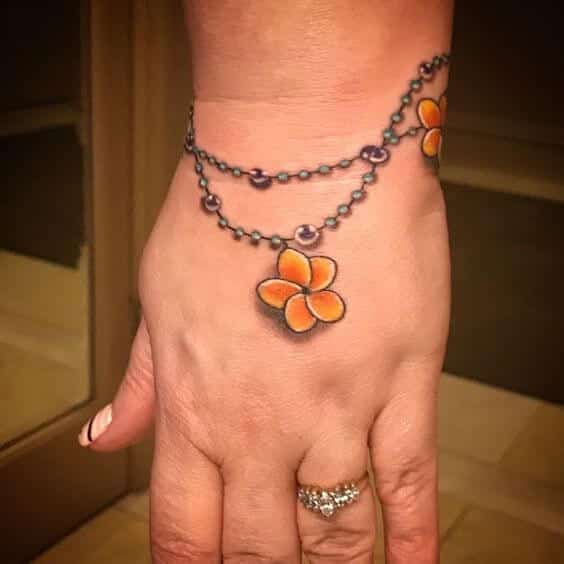 ↓ 10 – Cute Little Designs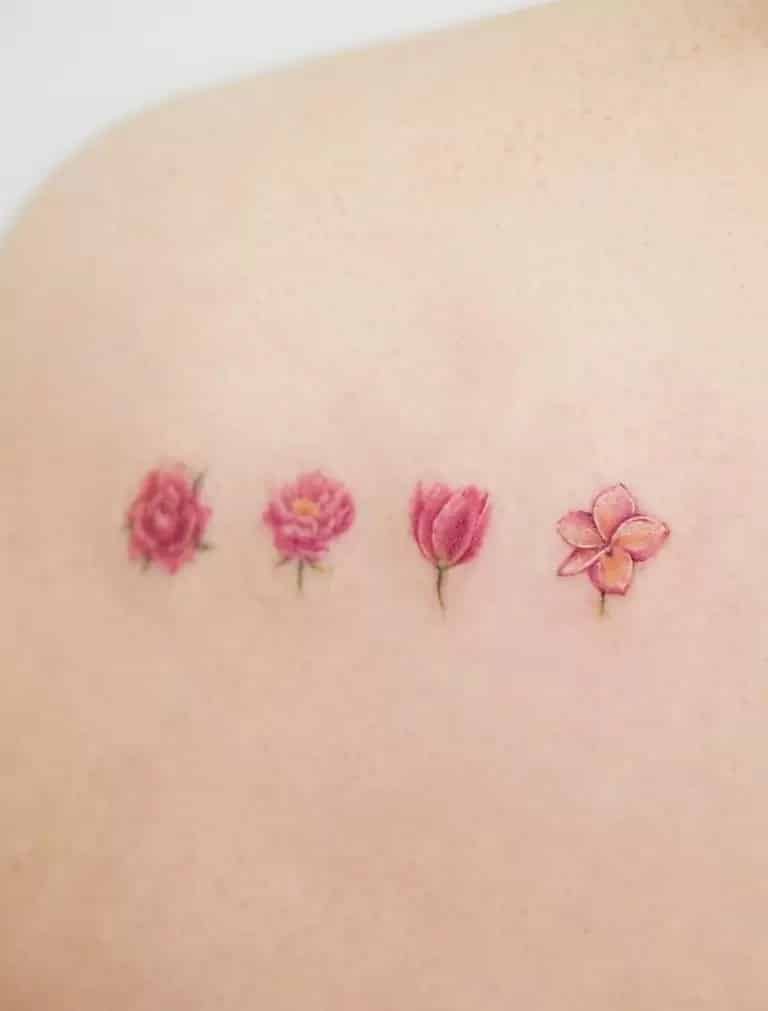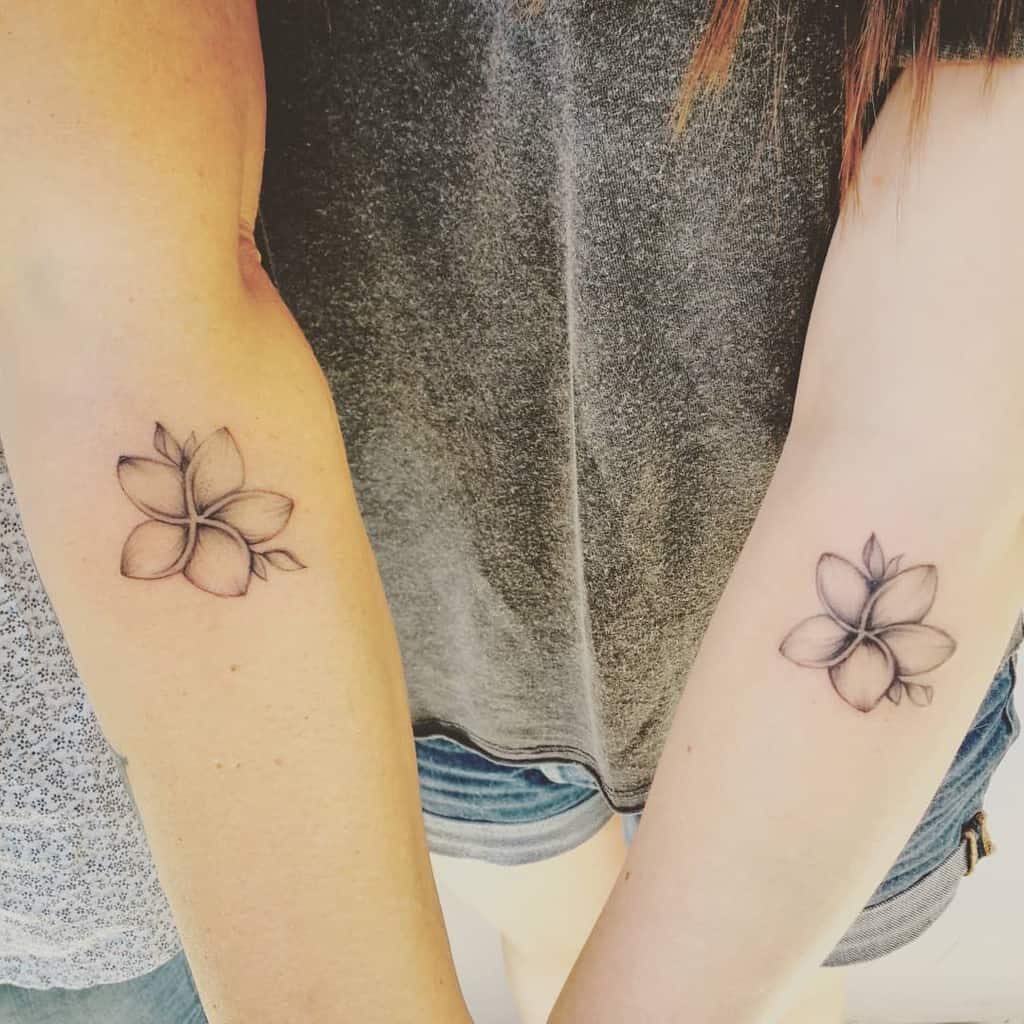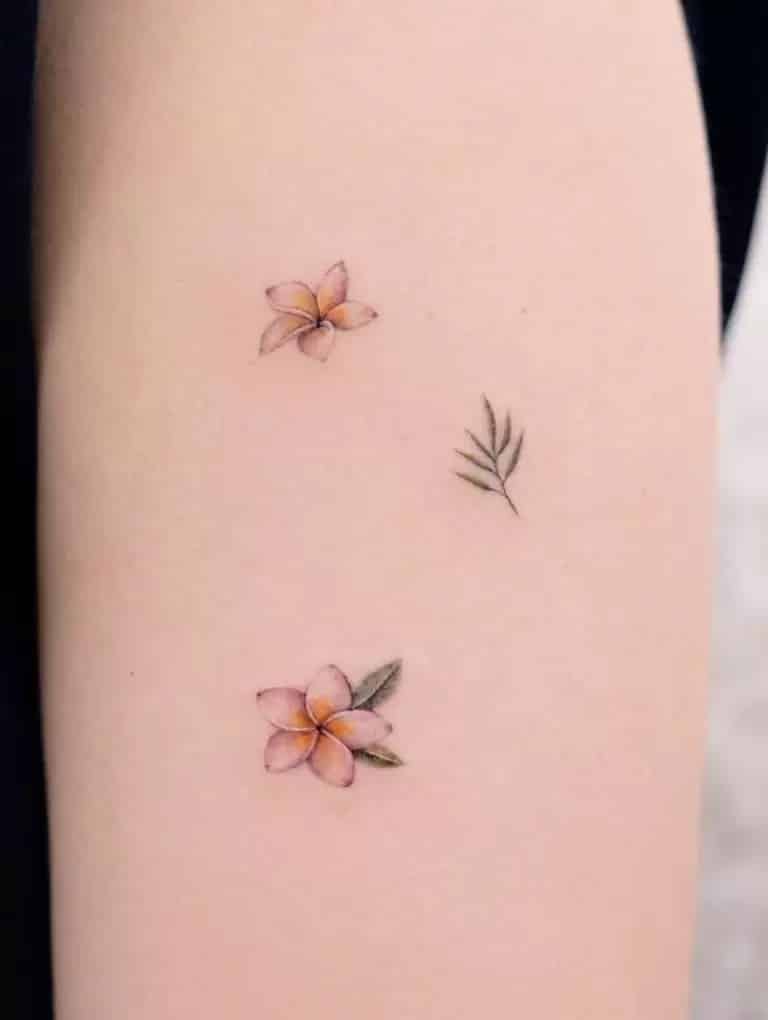 ↓ 9 – Designs for Legs and Ankles
Imagine wearing trendy shorts with a tattoo on your legs or ankles. Sounds perfect, but it will look much better if the tattoo is of a plumeria flower. That's a great idea for females, and when you pair it with a cool colour top, your perfect look is complete.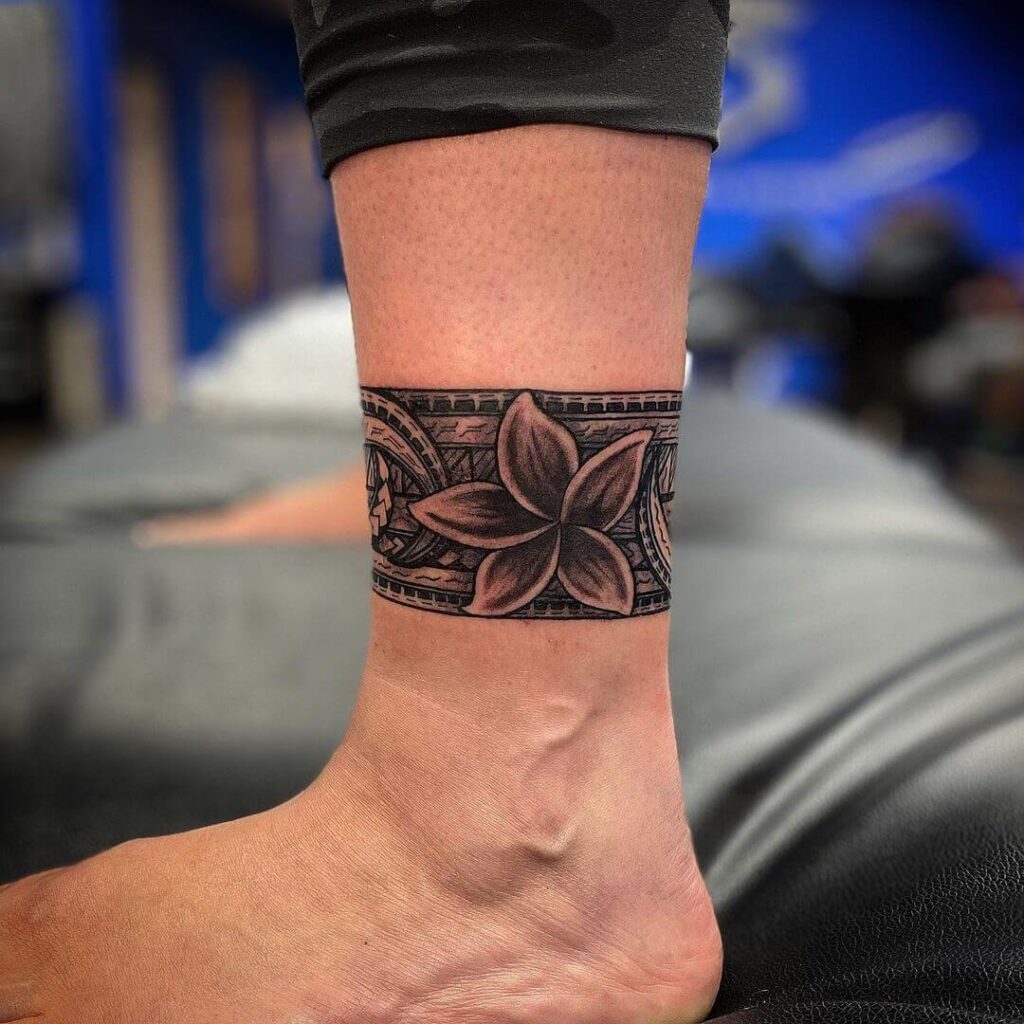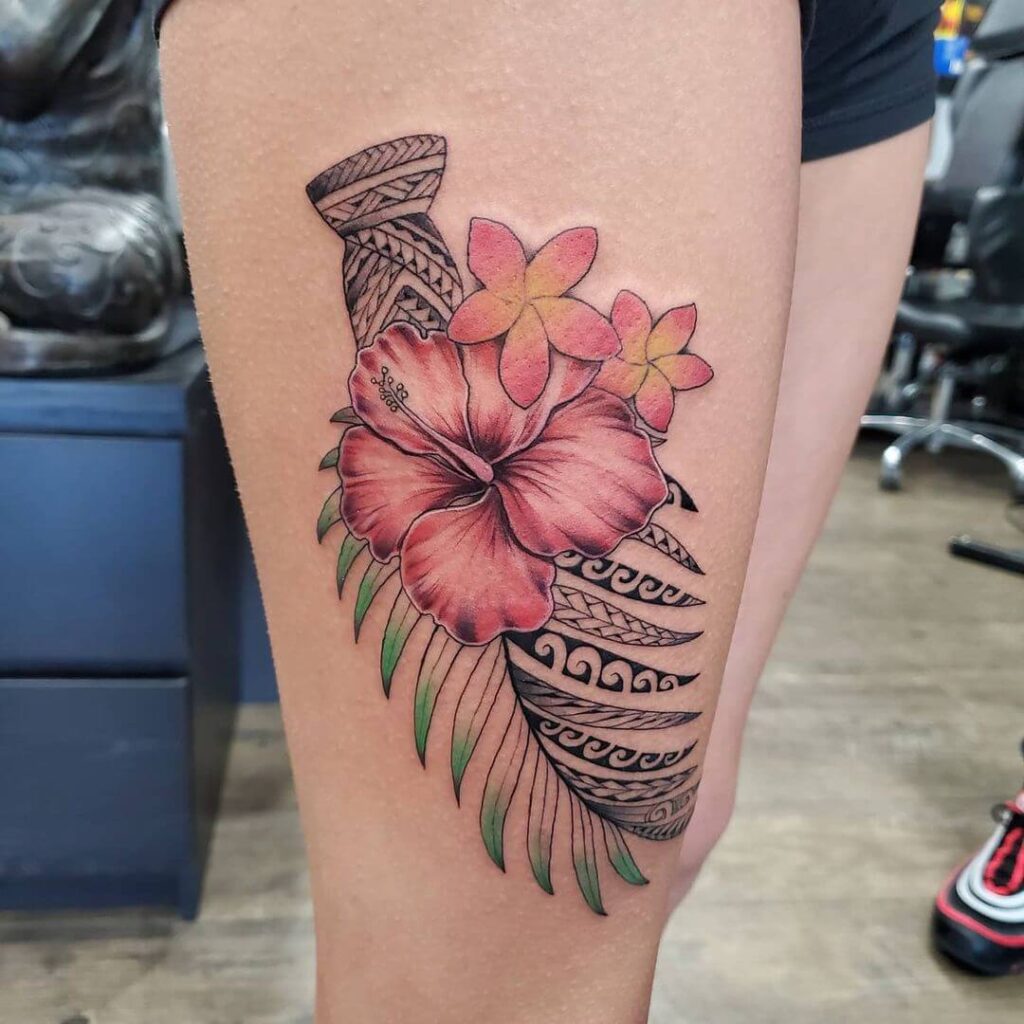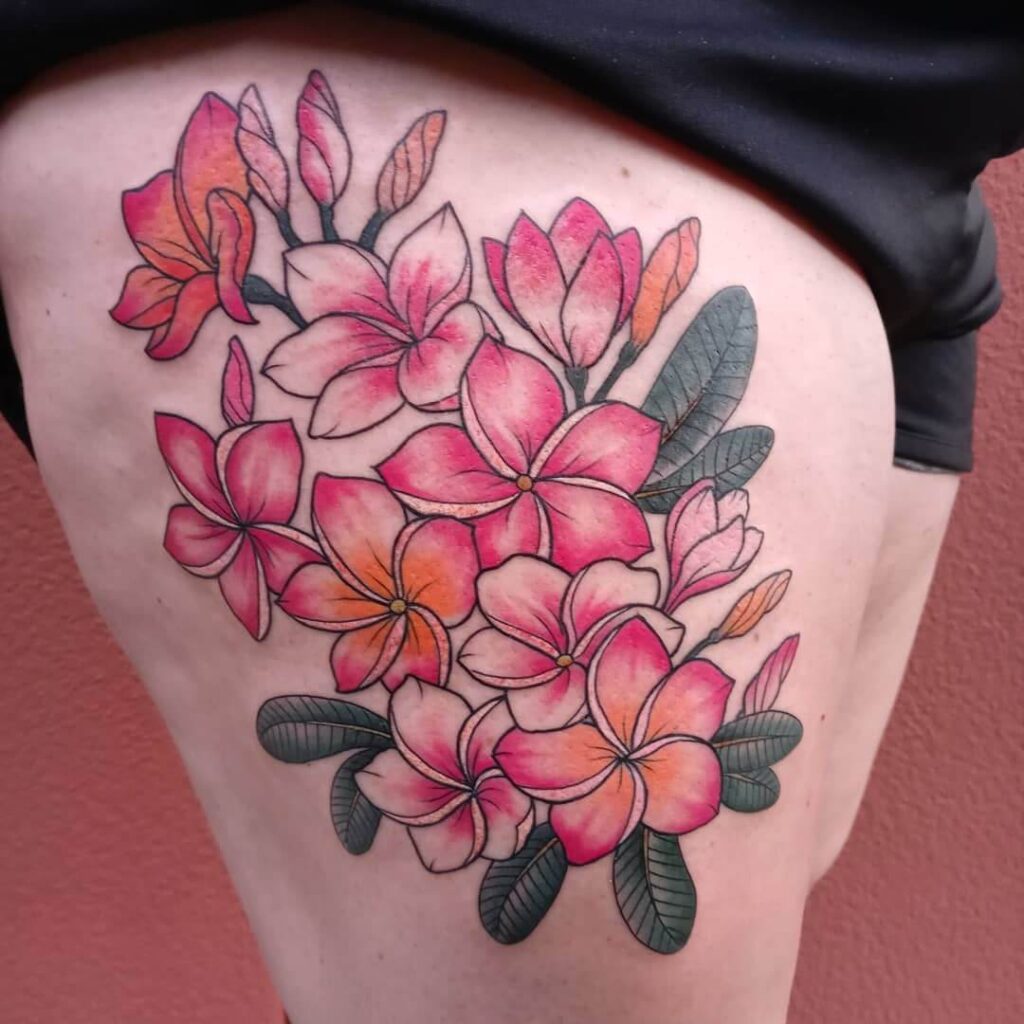 ↓ 8 – Designs for Back
Tattoos on the back are ideal for females. It looks great when created with multiple colours of plumeria flowers. You may complement this tattoo with a great haircut, but keep in mind that your hairstyle will not hide your tattoos.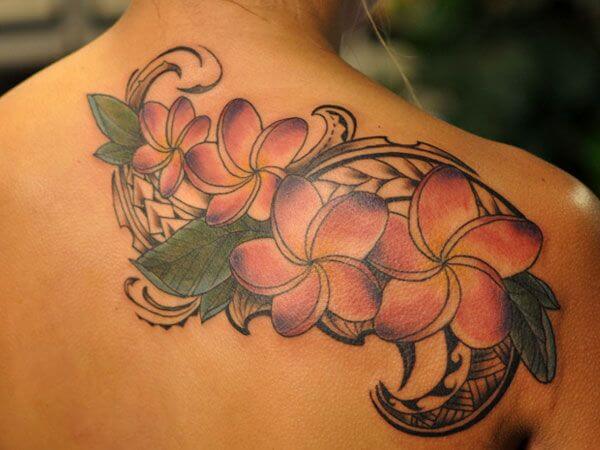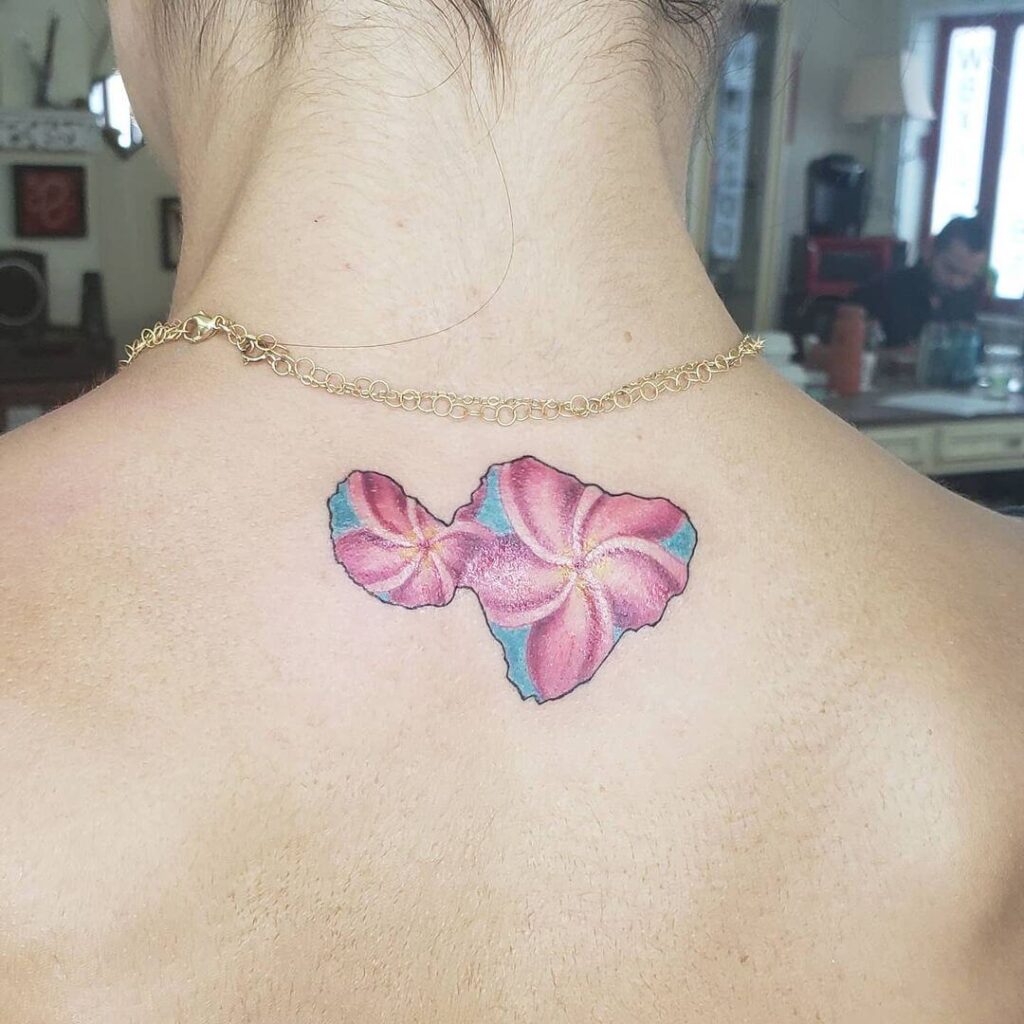 ↓ 7 – For Men
Who says that guys can't have flower tattoos? These tattoos are also suitable for guys. Yes, males may get plumeria on their shoulders, wrists, feet, or wherever they choose. However, plumeria on a man's big hefty shoulder seem fantastic and will give you a dashing look.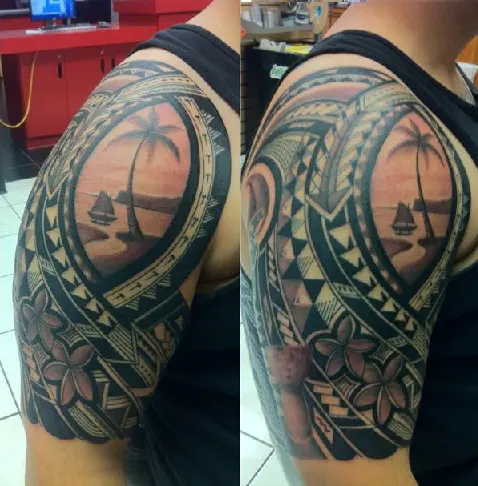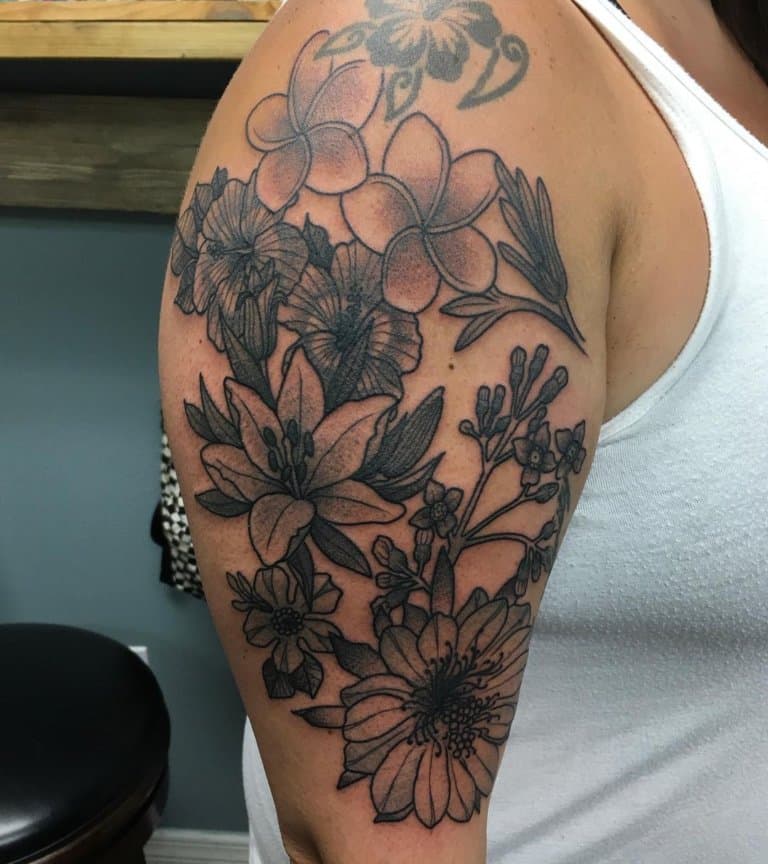 ↓ 6 – For Ears
Girls can get these subtle tattoos if they don't like big ones. In Hawaiian tradition, a plumeria behind the left ear indicates that a female is unmarried. And, plumeria on the right side signifies that a girl has been taken or married.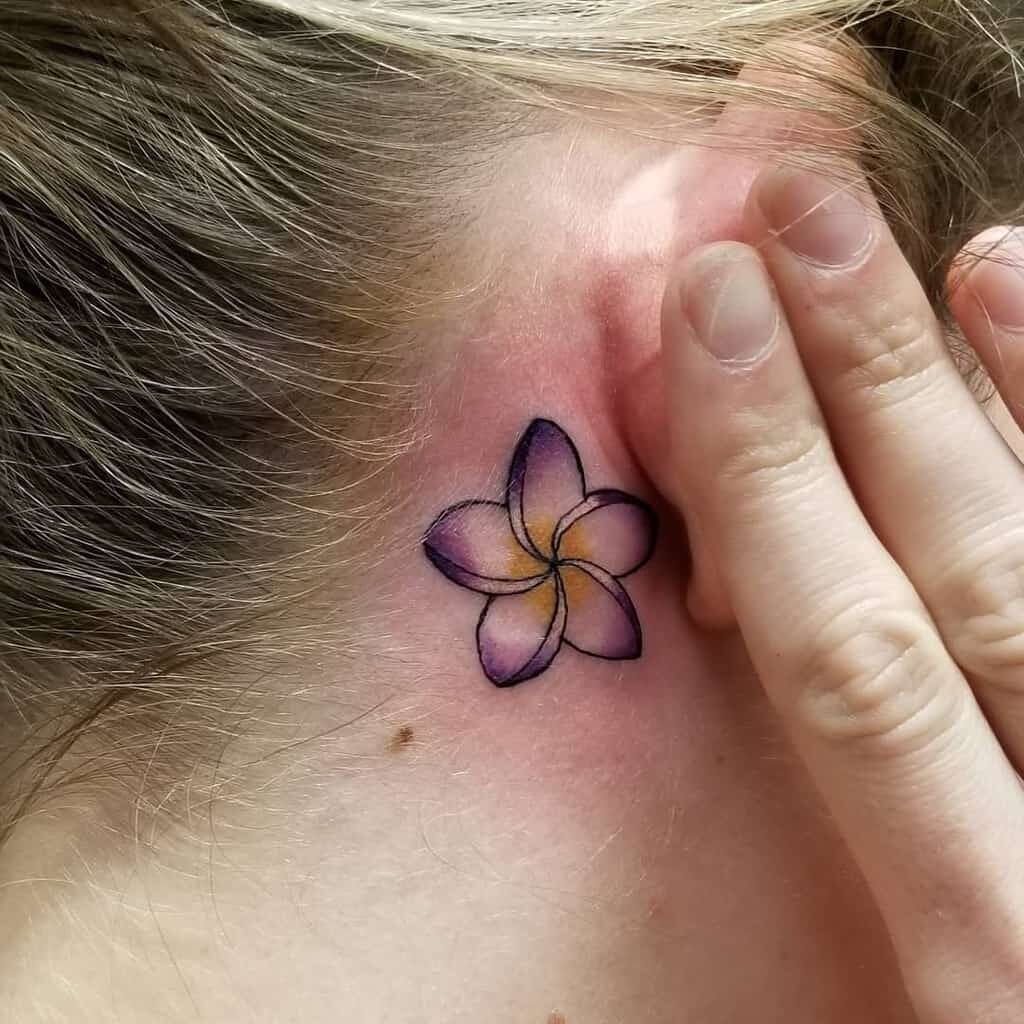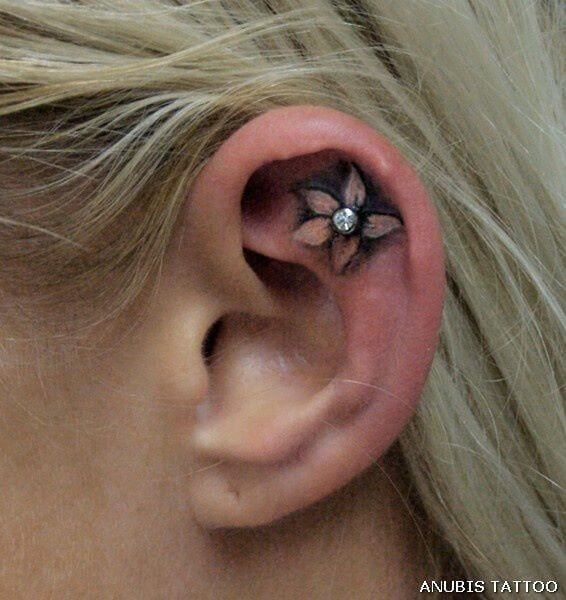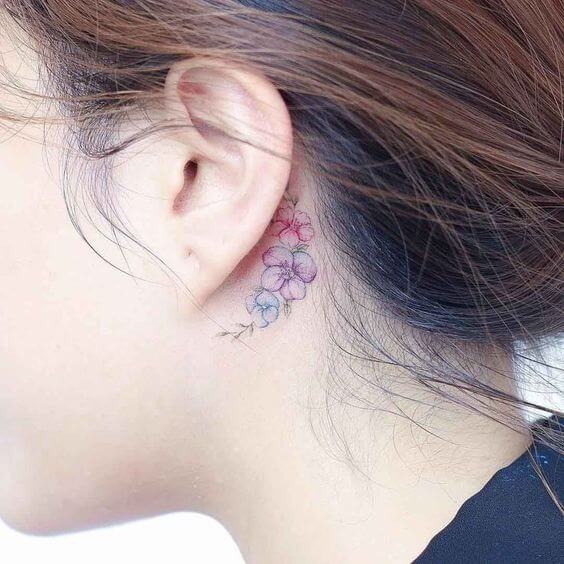 ↓ 5 – Frangipani Portrait
Tattoos, as previously said, can also be used to memorialize a loved one who has died. Yes, you can have a tattoo of a photo of your loved one. Such tattoos are an excellent way to express your feelings for a loved one. And your loved one will remain with you for the rest of your life because of the tattoo. Add some plumeria flowers to your tattoo to make it appear more elegant. This tattoo image will make you pleased, and your loved one will be delighted to witness your affection for them. If you have lost your mother or father, get these portrait plumeria on your hand so that they will always be with you and, you can see them through the tattoo.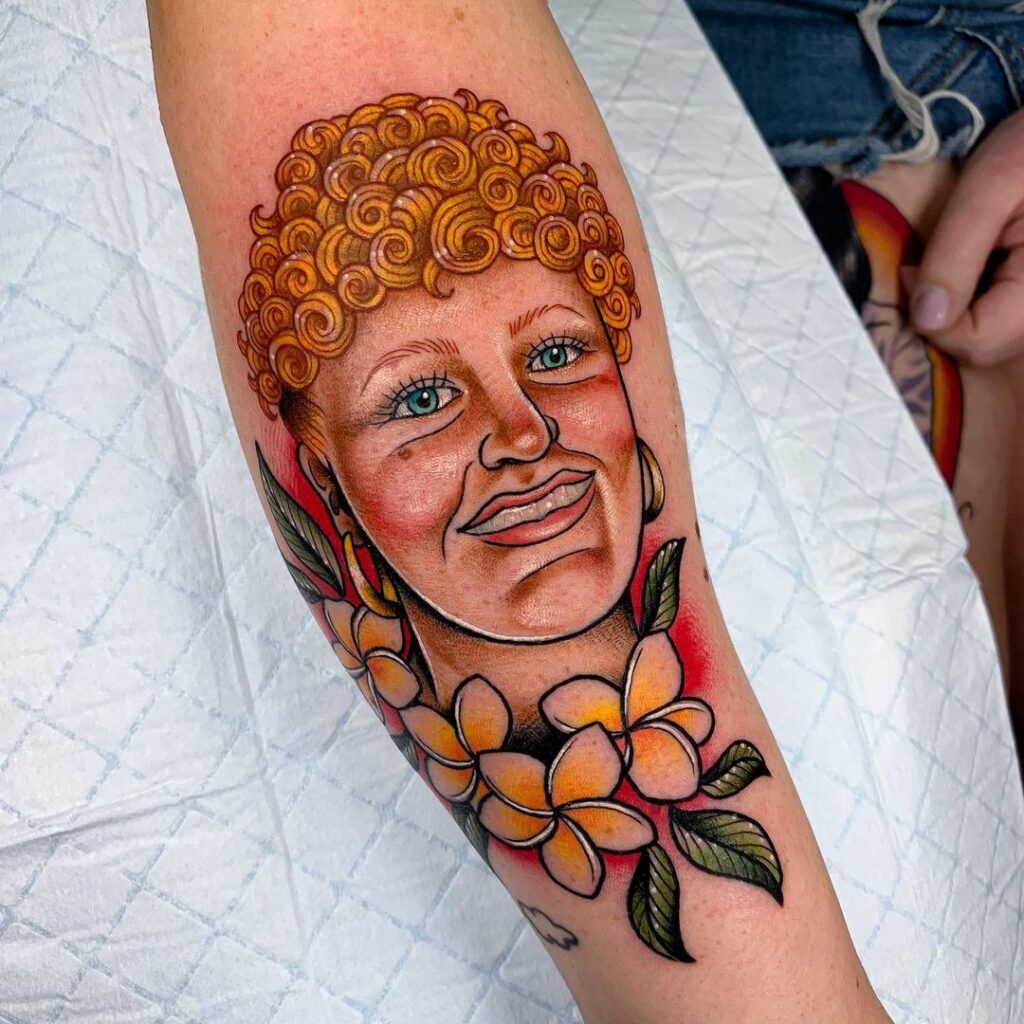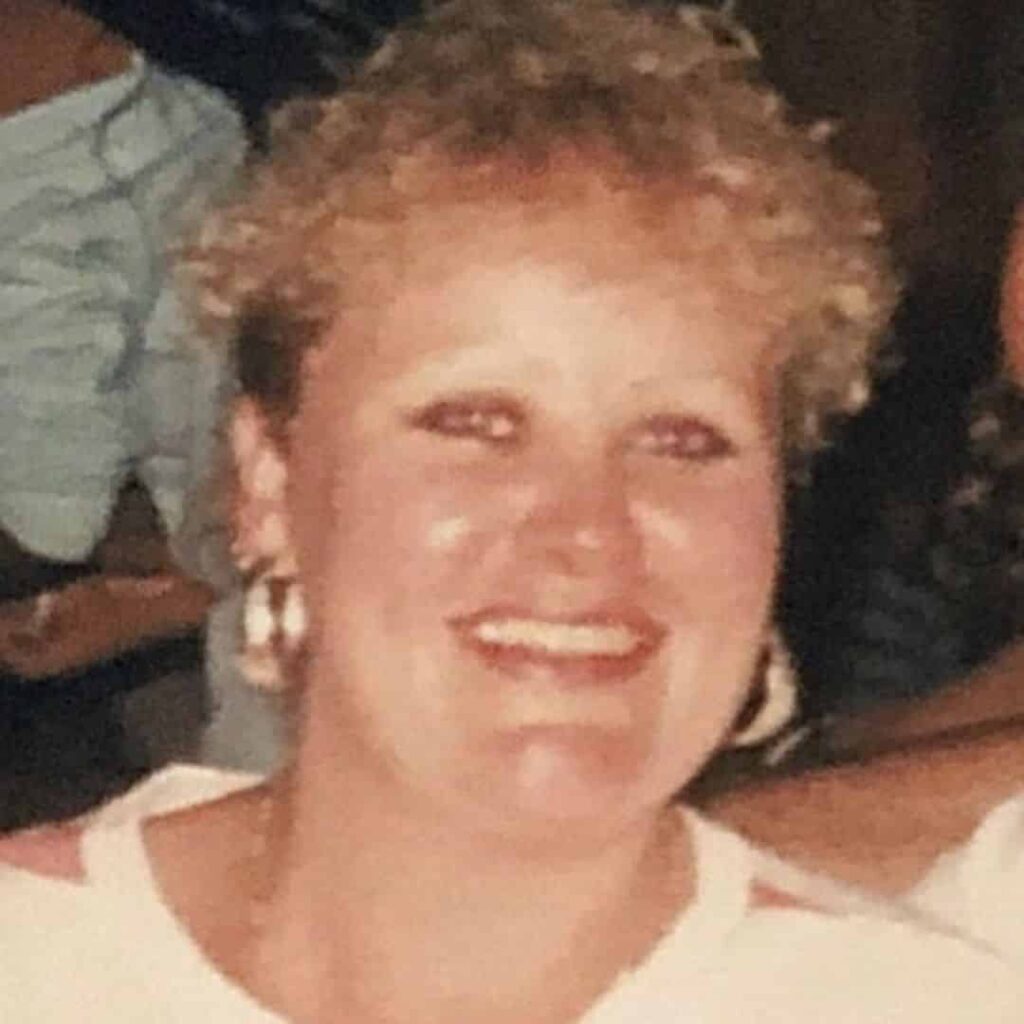 ↓ 4 – Polaroid Frangipani Tattoo
Polaroid photos are popular these days. You can even get a Polaroid tattoo done. Yes, you read that correctly: you may design your favorite frangipani tattoo as a Polaroid. It will look cute, and your friends or family members will like it as well.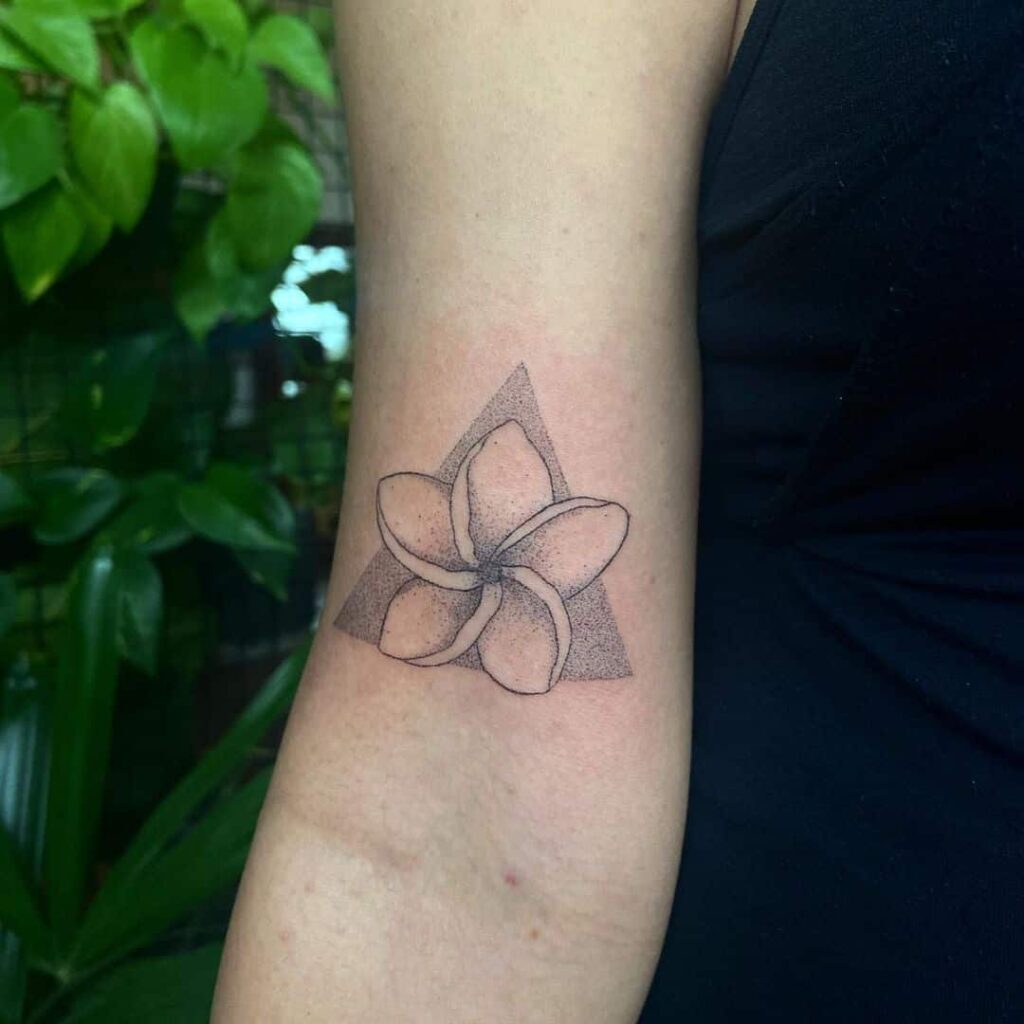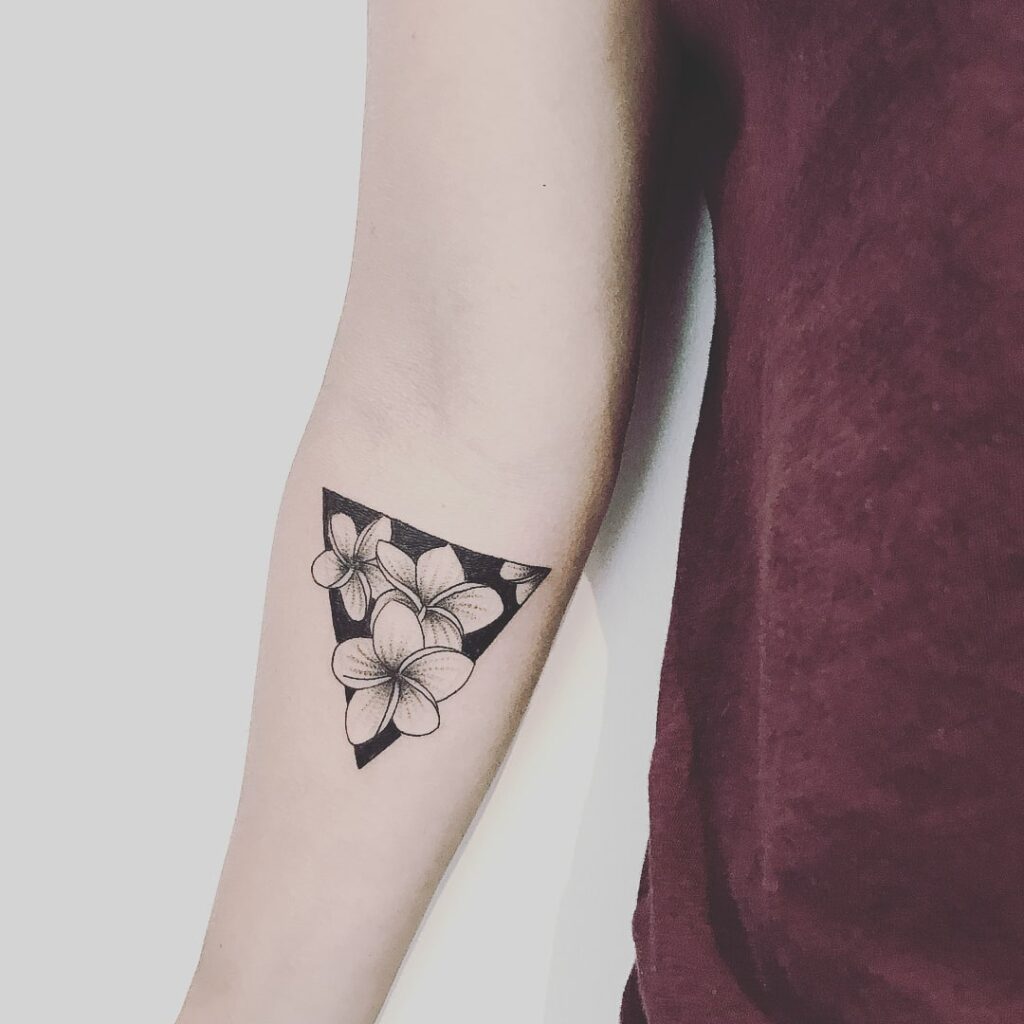 ↓ 3 – Artwork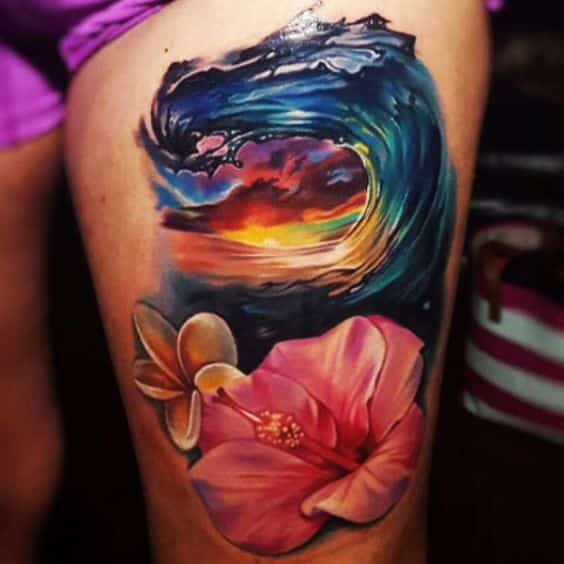 ↓ 2 – Plumeria With Quotes
What if you want a quote tattoo that is more than simply a quote? Add plumeria blossoms to your quote tattoos to make them more attractive and catchy. Furthermore, these tattoos will attract attention, and everyone will notice your tattoo and quotation. You may even have a plumeria that includes your name or another person's name. As some people get tattoos of their names, put a plumeria flower around or in the corner of your name to make it appear fascinating and fancy.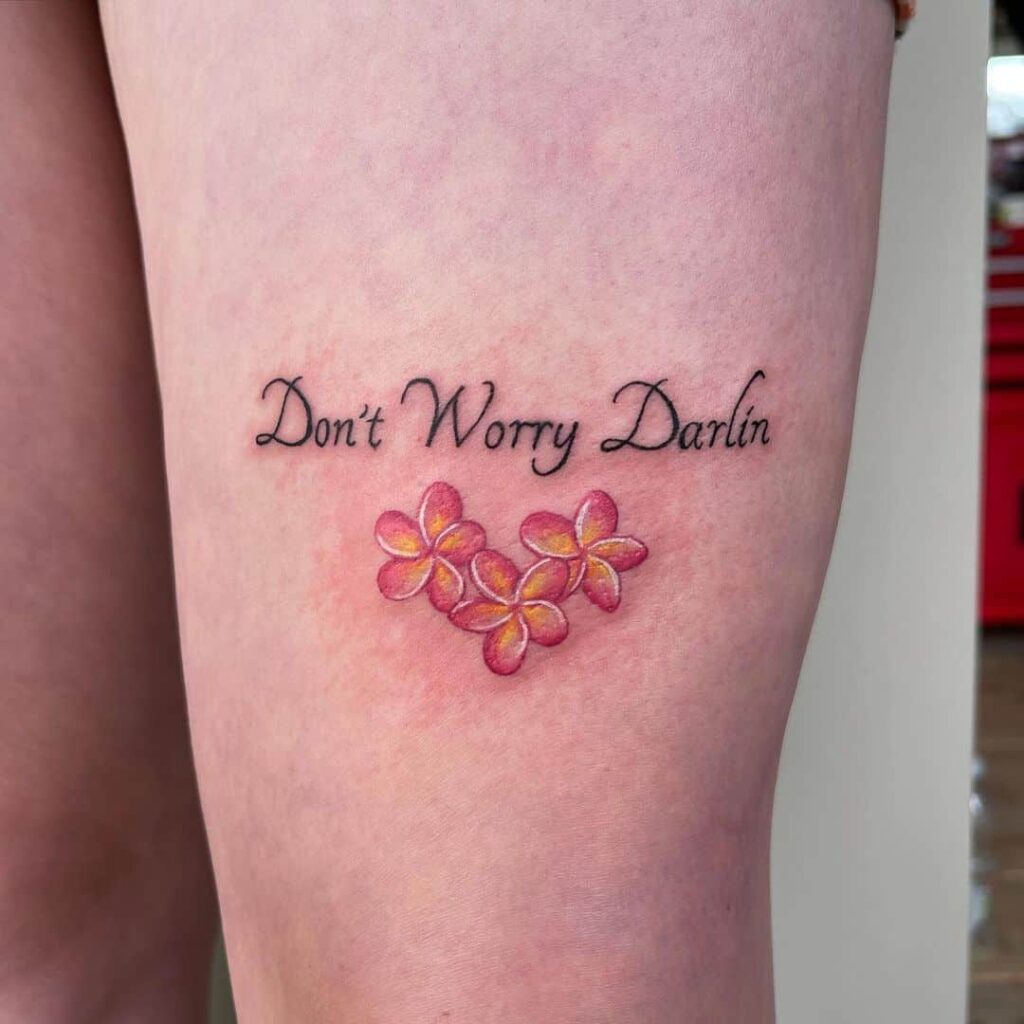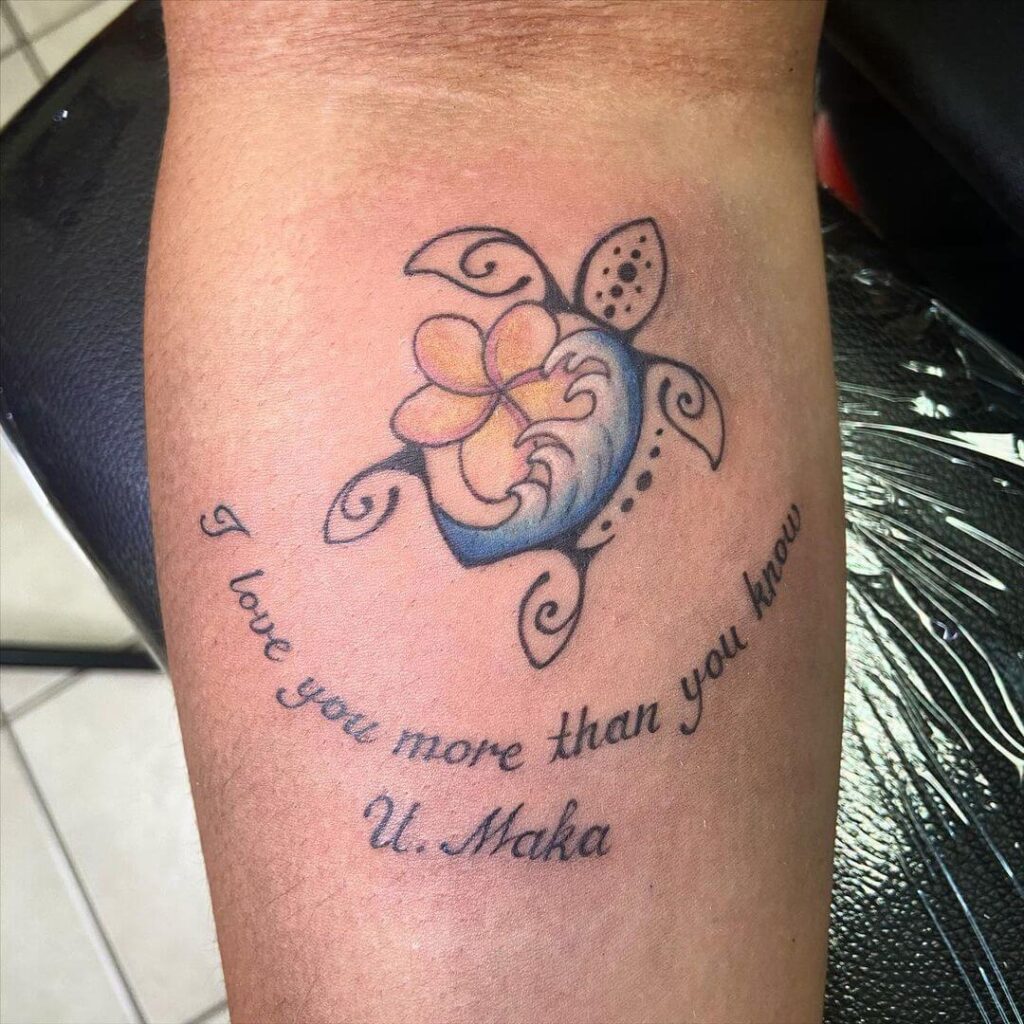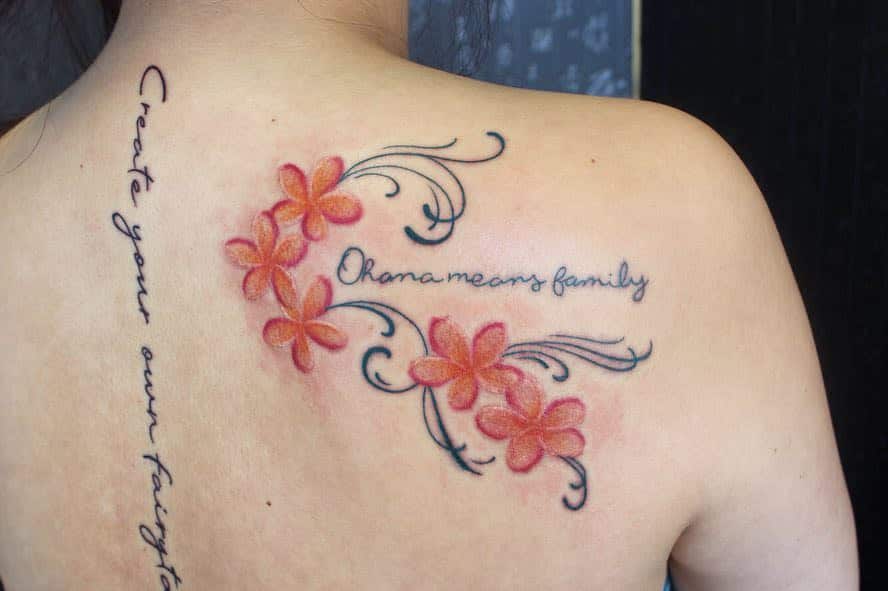 ↓ 1 – Classy Plumeria Designs
Every lady wishes to look classy. Get a plumeria above your hips or on your stomach to make yourself appear even more attractive. Everyone will notice your tattoo, and your significant other will undoubtedly like it, and they won't be able to take their eyes away off of your tattoos. To seem sassier, choose a classy and elegant outfit.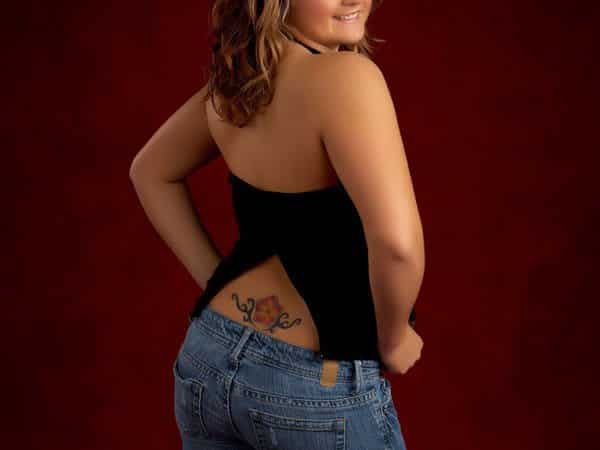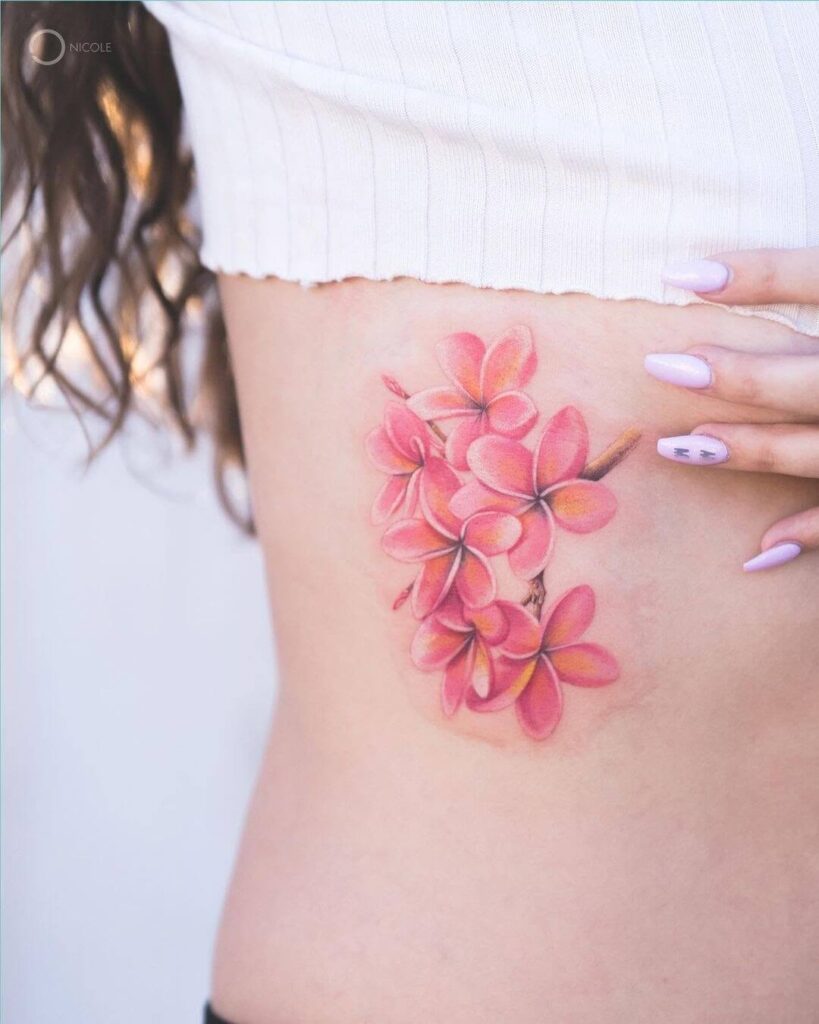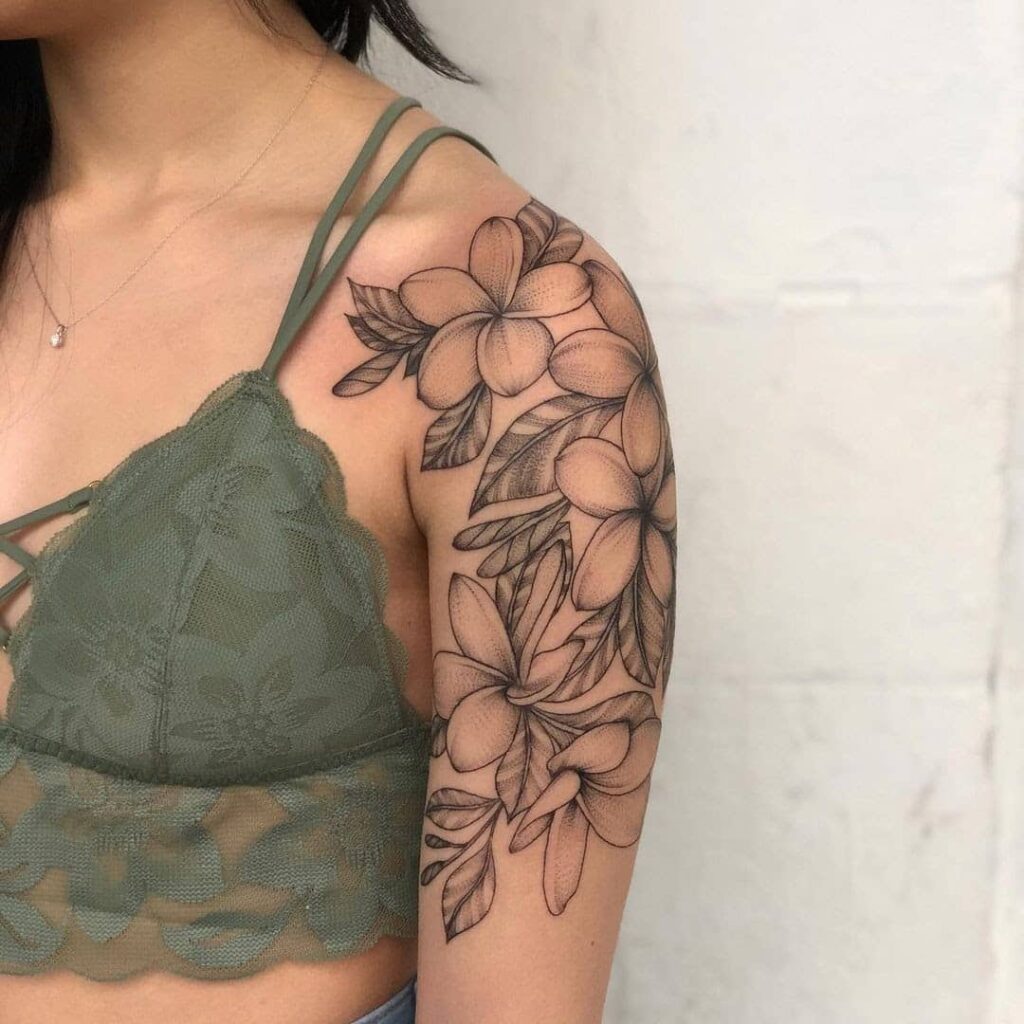 Frequently Asked Questions
Q) What does a plumeria tattoo mean?
Ans. This tattoo is a symbol of love, beauty, devotion, and positivity. Plumeria flowers use for a variety of purposes on various occasions. Such as during weddings, funerals, and greetings. Also, Plumeria flower bouquets use as a gift for special ones.
Q) What color is plumeria?
Ans. Plumeria is a beautiful flower with a pleasant aroma with four pretty colours: yellow, pink, orange, and white. Every shade of plumeria has its unique beauty and features. Plumeria flowers are not only coloured differently, but each colour has its history and speciality. Plumeria comes in a variety of colours, all of which are beautiful.
Q) Does a tattoo hurt for the first time?
Ans. Yes, getting a tattoo is a painful process. However, the pain varies according to the skin type and its sensitivity. Experts recommend getting a tiny tattoo for the first time to experiment with your skin type. And as you gain experience, you may be able to get a bigger one as well.
Q) Can we remove a permanent tattoo?
Ans. While getting a tattoo, you should be mentally prepared for it, keeping in mind that it will not be easily removed. Yes, you can get your permanent tattoo removed. However, the only method to erase a permanent tattoo is through a laser procedure and that procedure is both painful and expensive.
Q) What should I wear when getting a tattoo?
Ans. Well, while getting a tattoo, you should wear loose and comfy dresses. Outfits such as loose T-shirts and elastic waist bottoms will make it easier for you to pull up or down and get your tattoo. When getting a tattoo, avoid wearing skin-tight clothing. Though when having tattoos, If you wear tight jeans, tight shirts, or uncomfy outfits, they will cause you discomfort.