Rose Tattoo Ideas: Tattoos grow popular with each passing minute. Many people get a tattoo for fun. However, most people attach a deeper meaning to the tattoo. These people get the tattoo for specific reasons, such as to show their love for someone special or get a quote inked that inspires them every day.
It might also remind them of someone or even get a tattoo of their favourite celebrity. These days, flower tattoos are on the trend list, and rose flowers tattoos top the list.
The idea of getting a tattoo is really exciting. But, the process of getting one is long and sometimes even hectic. It would help if you were sure of what you want because even a small error can lead to lifelong regret. Hence, everything should be perfect in order to get your favourite tattoo smoothly. So, if you wish to get a rose tattoo, stay tuned as we got some amazing rose tattoo ideas for you. Moreover, you can also find the meaning behind these tattoos.
Best Rose Tattoo Designs
Rose tattoos are quite common in body art since they are rich in symbolism. Rose tattoos are not just appealing but also versatile. There are numerous styles, designs, techniques you can choose from. However, the meaning behind your ink can change depending on what you choose. For example, you can add a skull or animal, such as an owl tattoo with a rose to make it unique. Besides the design, colour plays a very important role. Because there are a variety of designs and shades to choose from, we bring you different styles and colours with the meaning attached to them. By the end of the article, I hope you get everything sorted and find the best rose tattoo for you.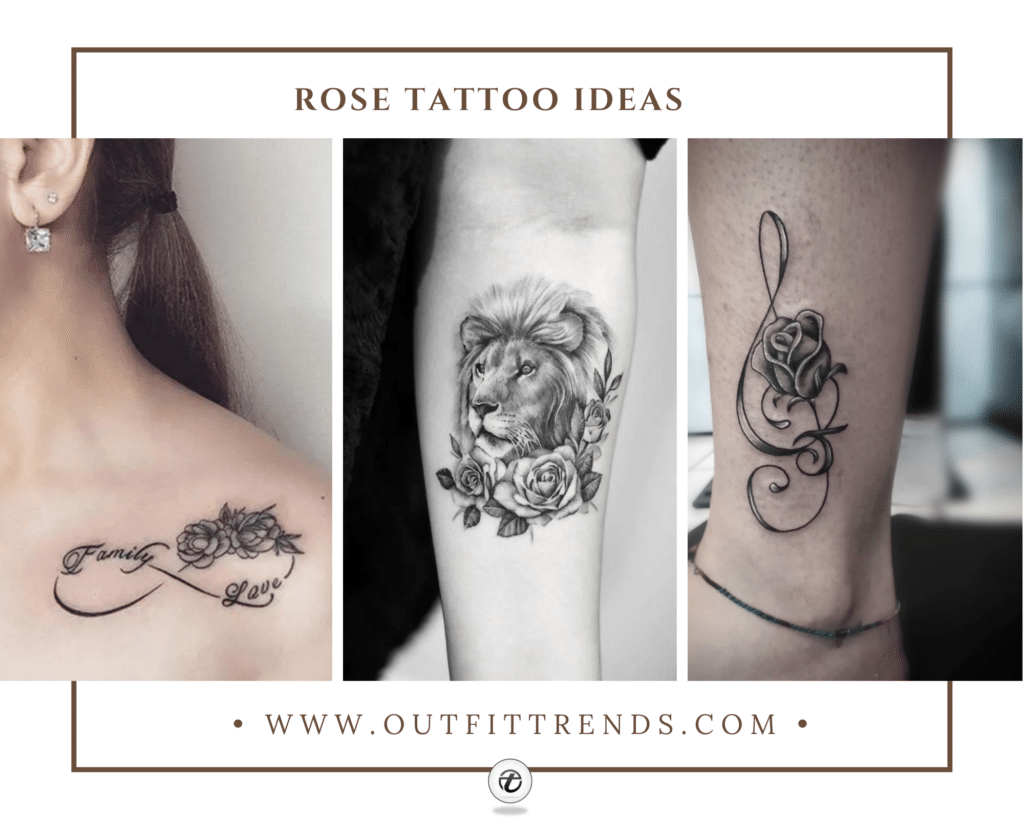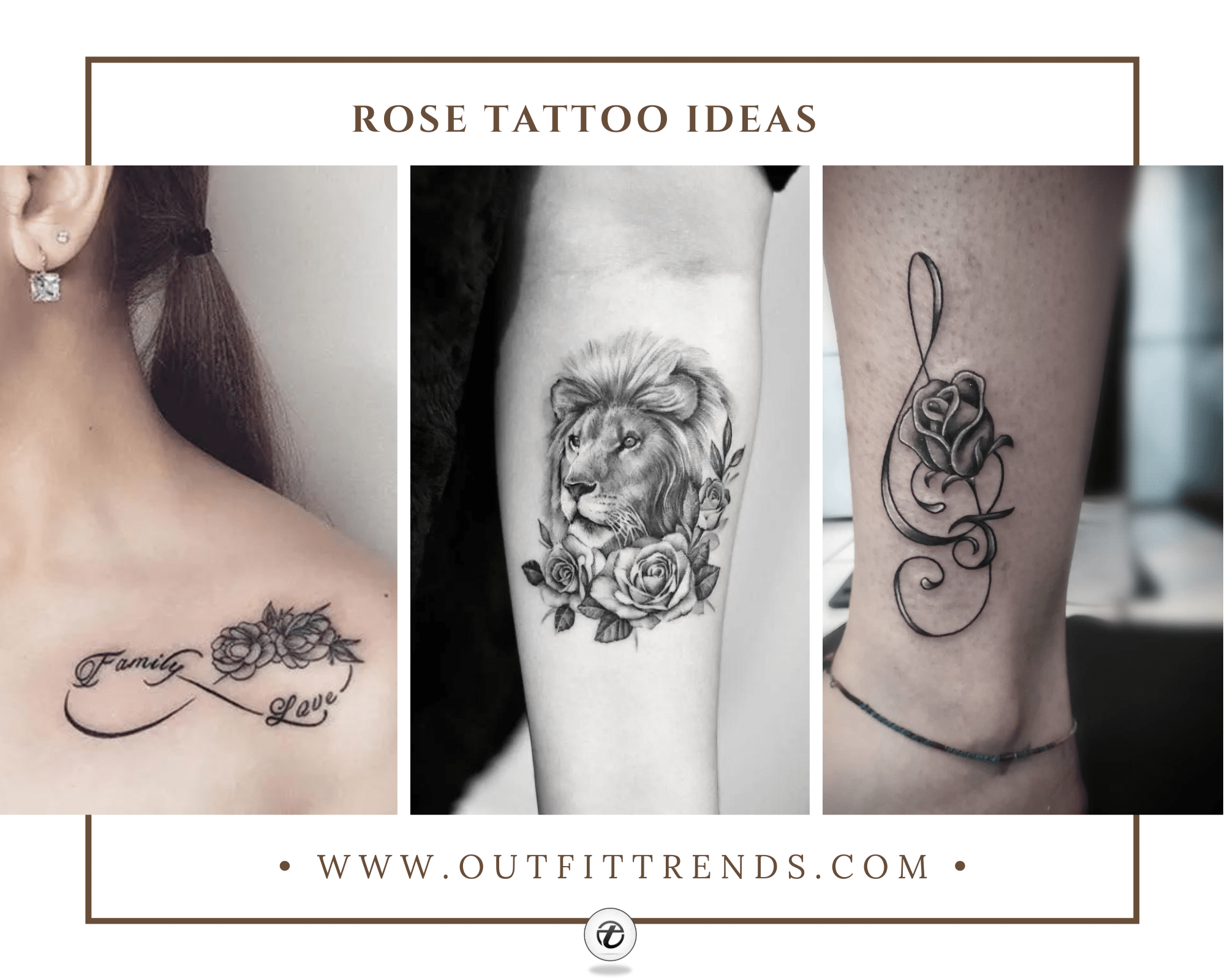 Tips
If you wish to get a rose tattoo, I would suggest to not rush. Carefully research about the design you want.
Combine your rose tattoo with different things such as flowers, animals, infinity signs to make it attractive and unique.
If you are getting a tattoo for the first time, a smaller rose tattoo would be easy and less painful for you.
Research about the tattoo shop. Read reviews, meet the tattoo artists, and discuss the design with them.
Always book a certified tattoo artists to do your tattoo to prevent undesirable result. Besides, even a little mistake might harm your skin.
Most importantly, the process to get a tattoo is painful. So, please you mentally prepare yourself.
Carefully follow all post-tattoo instructions.
Choose the where you want to get the tattoo. If you are unsure about choosing the body part for your tattoo; scroll down and read the FAQs section.
If you are looking for something other than rose tattoos try Latest Tattoos Design Ideas.
20 – With A Cross Sign
A cross sign holds significant meaning to Christians; it not only reminds them of the crucifixion of Jesus Christ but also honours their personal belief in God. However, many people wear a cross sign because they feel safe and close to God. Whatever the reason is, if something is special to you then it deserves to be seen. A cross sign tattoo combined with roses is a tattoo for the men of faith; it is rich in symbolism and design of course. Moreover, the rose represents hope, love and the combination of a cross sign and a rose is surely a timeless one.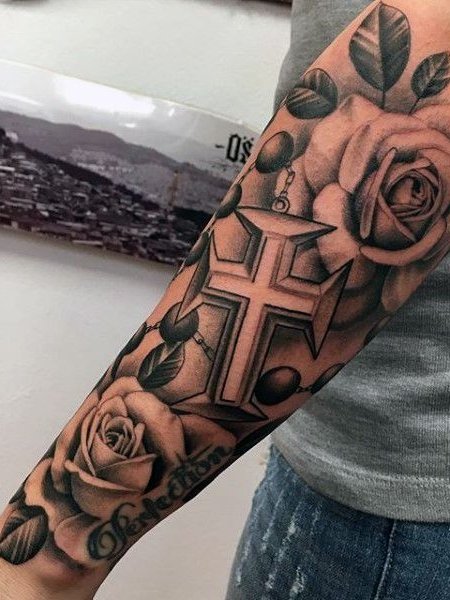 19 – Owl Rose Tattoos
Owl is best known as the bird of darkness because it can see in the dark. Since an owl has more than one design, it has numerous meanings. Many cultures believe an owl is the protector of the dead. However, owls have also been viewed as bad luck. But, the owl is a symbol of wisdom, knowledge, birth, mystery, and magic. Whereas, the rose represents purity, hope, and love. Rose and owl together make the most aesthetic and eye-catching tattoo anyone can have. Besides, the size of the owl's eyes shows the strength of his vision. The tattoo with the owl's eyes represents intelligence.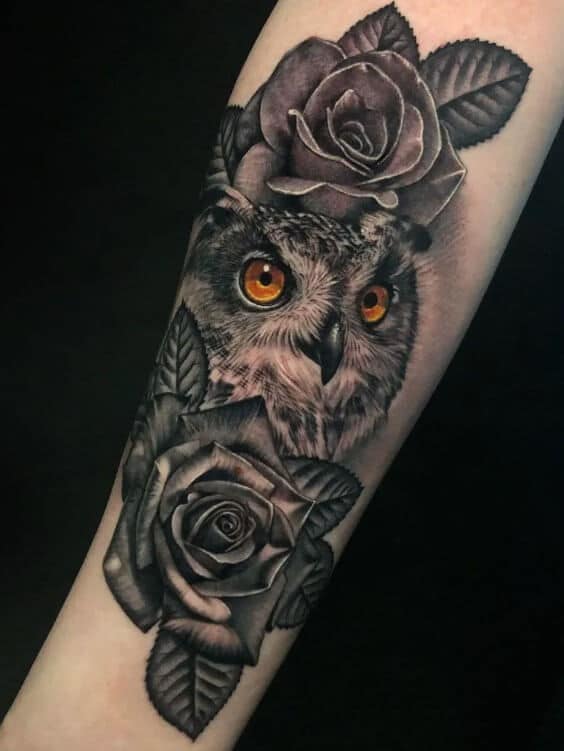 18 – On Arms
If you are in search of a meaningful tattoo design, then the clock and the rose tattoo would be an amazing choice for you. The clock and rose represent life and love; it is a symbol of everlasting love. The combination of these two means you honour and celebrate a relationship and focus on the importance of time. Other than that, it's also visually appealing.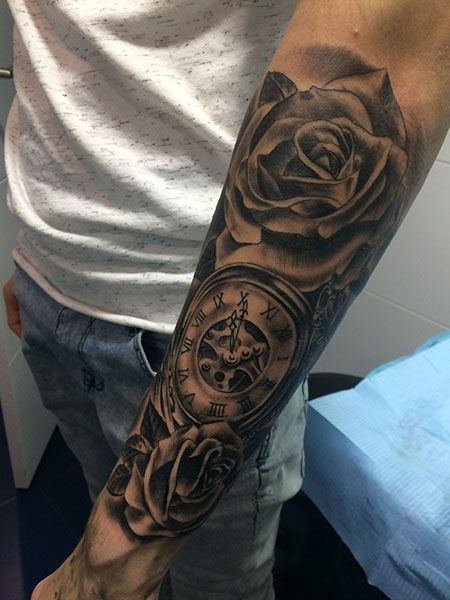 17 – Lady Gagas Tattoo
Most celebrities love body art, they express their deepest emotions in the form of the ink on their body. Lady Gaga surely is one of them. Gaga shared her beautiful rose tattoo, from the top of her neck straight down her spine, on Instagram with a caption "Happy Valentines Day, my spine is now a rose" The rose is paired with the phrase "La vie en rose" The ink is a nod to the classic Edith Piaf song, which holds special meaning for Gaga. She also paid tribute to 'A Star Is Born' through her body art.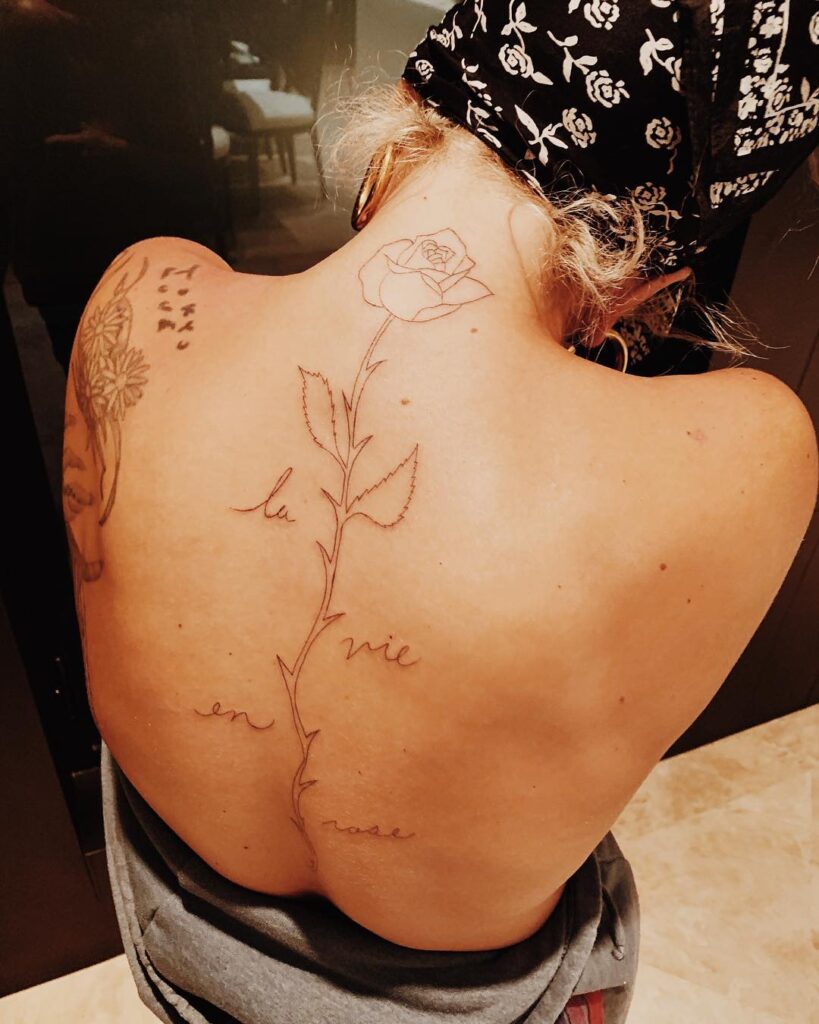 16 – Add A Butterfly To The Rose
A butterfly and rose are popular choices among people who want to let their feelings out through their body art. The butterfly is a powerful sign of freedom, change, and beauty. A flower tattoo is a great way to show your love and honour towards mother nature. Rose and butterfly tattoos symbolize feminity, freedom, and growth. It's a beautiful and classic tattoo choice that will never get old or boring.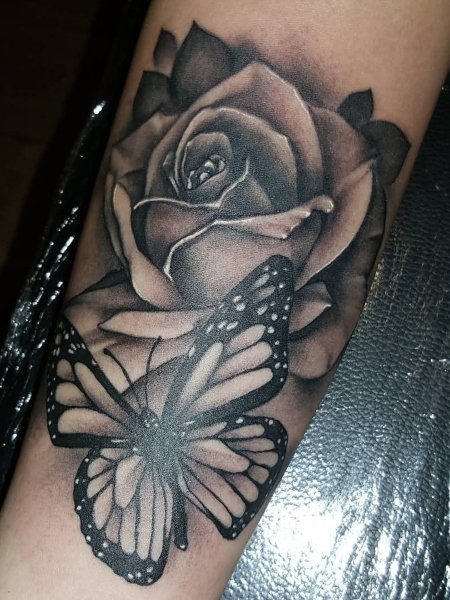 15 – Anchor With Two Roses
The combination of a rose and an anchor looks great. Anchor tattoos usually symbolize stability, strength, and passion. The anchor is combined with other elements such as roses, infinity, wheels to make it visually appealing and create a unique meaning. Also, anchor tattoos are often seen paired with a powerful statement like this one in the picture which says, 'Be the one to guide me but never hold me down.'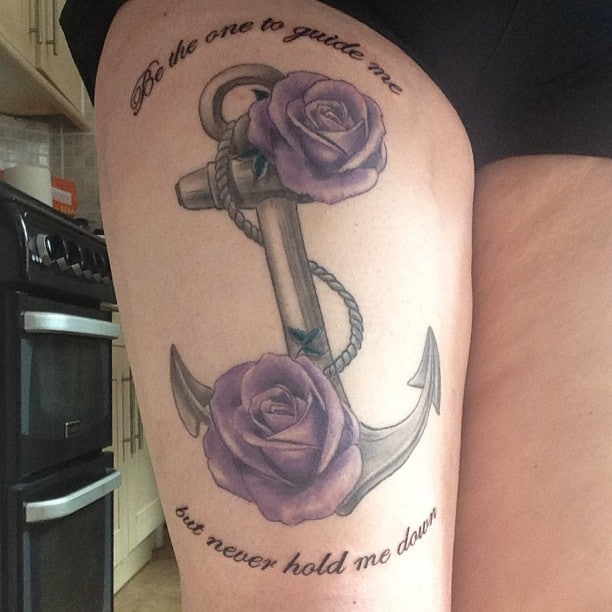 14 – Do It Justin Biebers Way
Justin Beiber has many tattoos inked on his body. However, one tattoo that led to the controversy was the rose tattoo on the neck. The Justin Bieber and Selena Gomez tattoo controversy was of the rose tattoo on Justin's neck. Although everyone thought it was a tribute to Selena Gomez, Justin revealed his body art's strong message. The singer stated that the rose on his neck is a reminder of self-acceptance. The tattoo reflects all the difficult periods he has gone through. Moreover, it reminds him that even though he is flawed, beauty can shine through rough edges.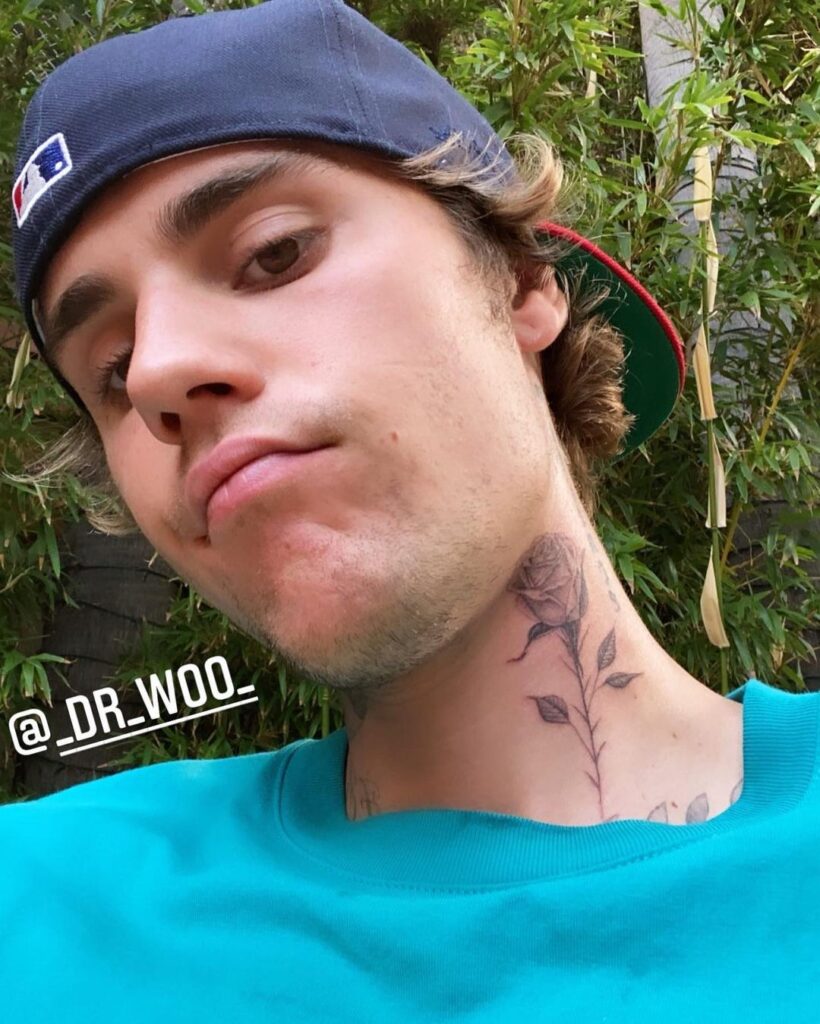 13 – Skull And Rose
The skull and rose tattoo represents the beautiful and ugly times; the struggle between good and evil is projected through this artwork. but on their own, a skull symbolizes life and death. Whereas, a rose represents beauty, hope, and love. It's a unique choice for those who have been through hard times and wish to show it with their body art.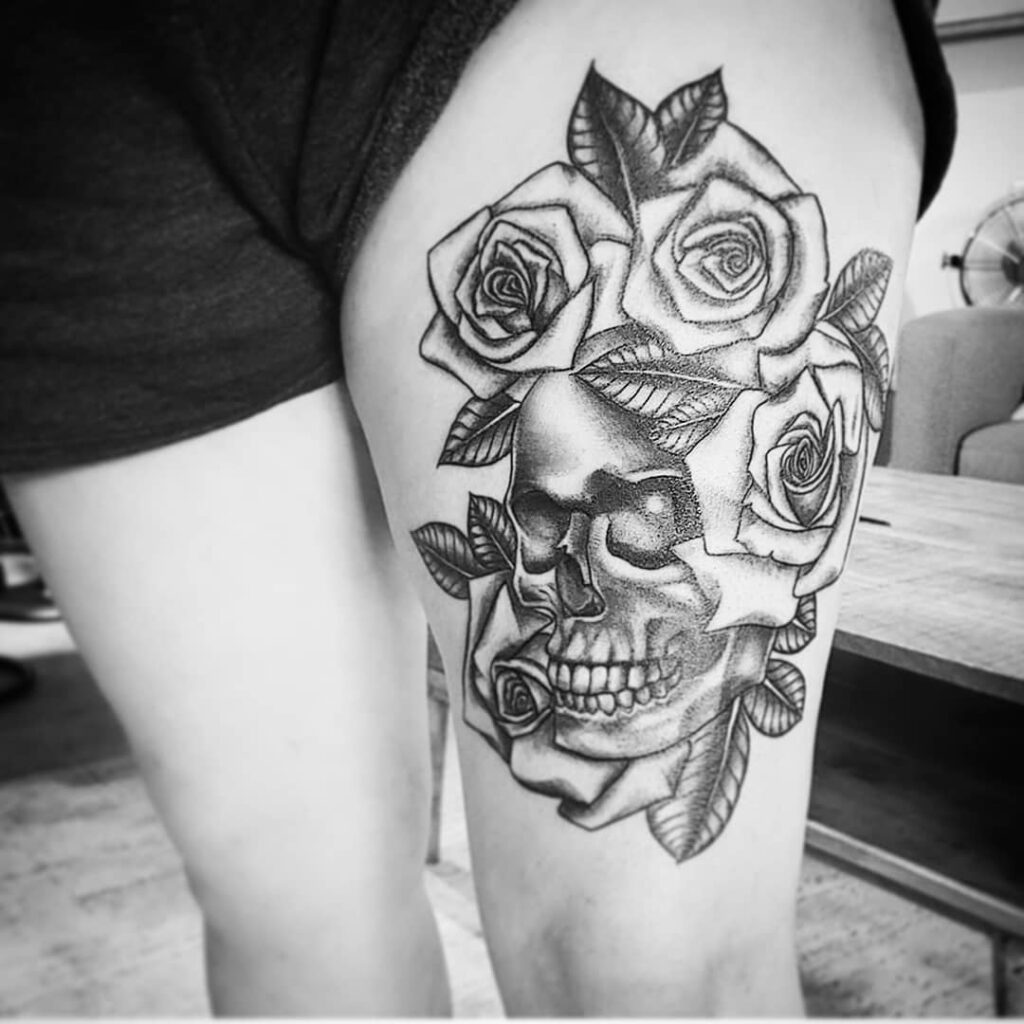 12 – Tiger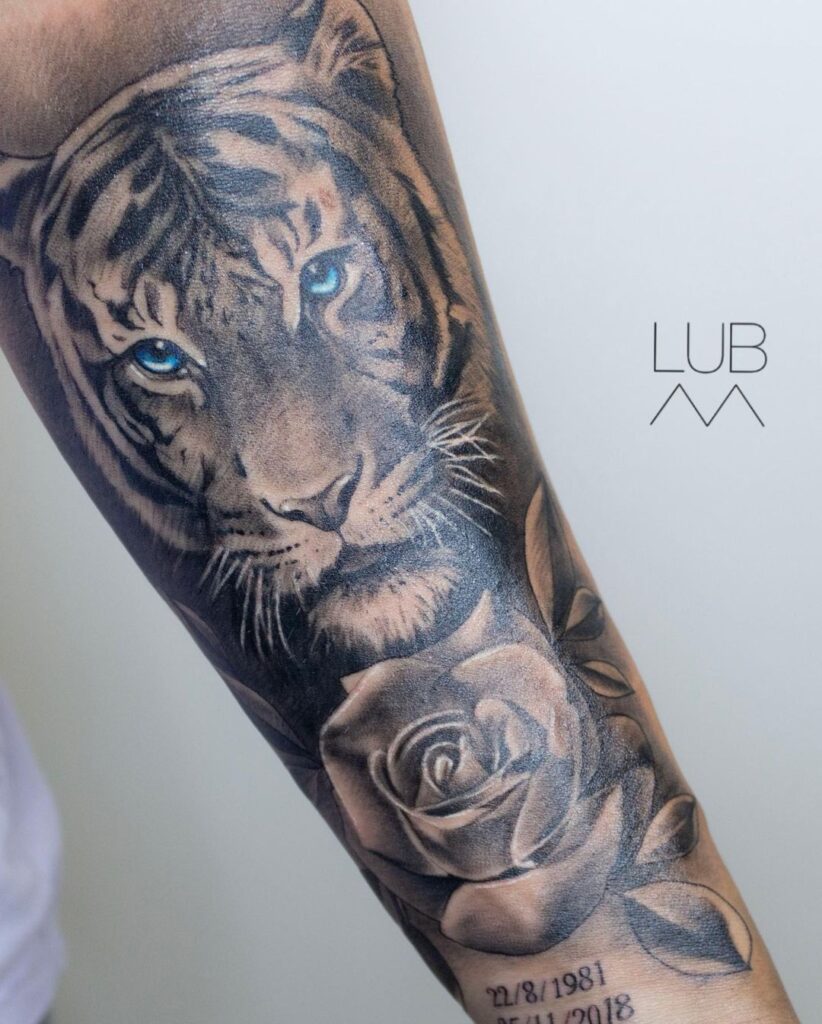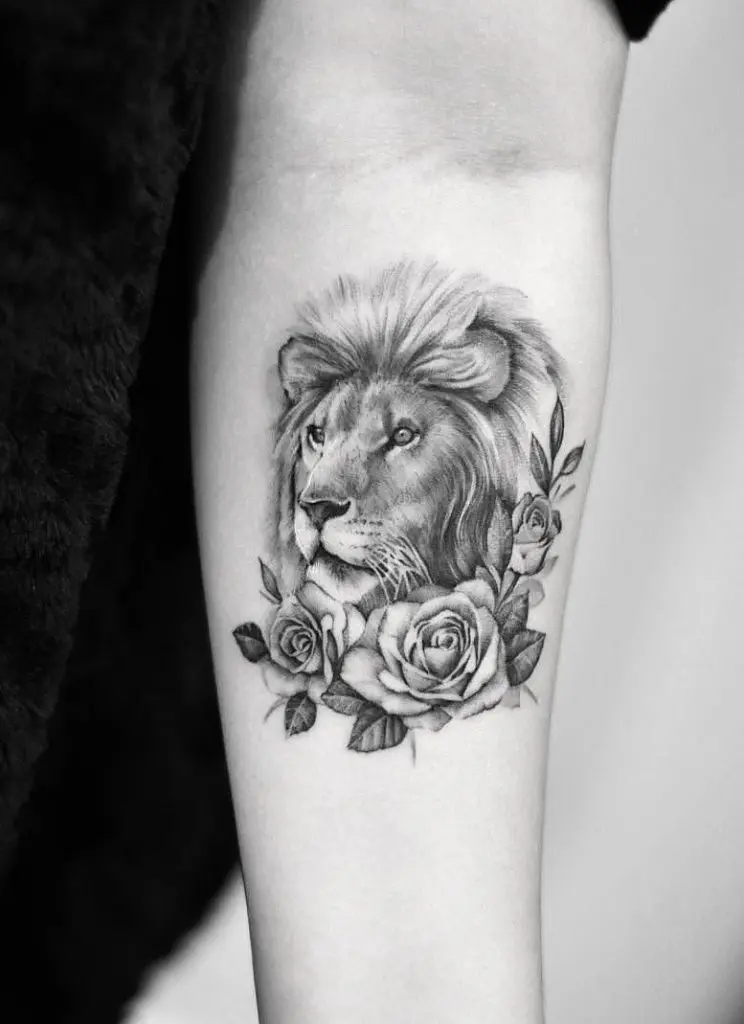 11 – Smaller Tattoos For Fingers
Here we bring you the cutest finger tattoo. Ring tattoos are symbols of something or someone important in your life. Hence, this is such a special gesture for your partner. Consider getting this rose tattoo on your ring finger. Having a cute little tattoo is the most beautiful and romantic thing you will ever do for your partner. Since the permanent tattoo will always be with you for the rest of your life, it will always remind you of whatever it symbolizes. Other than this, the placement is easy and elegant.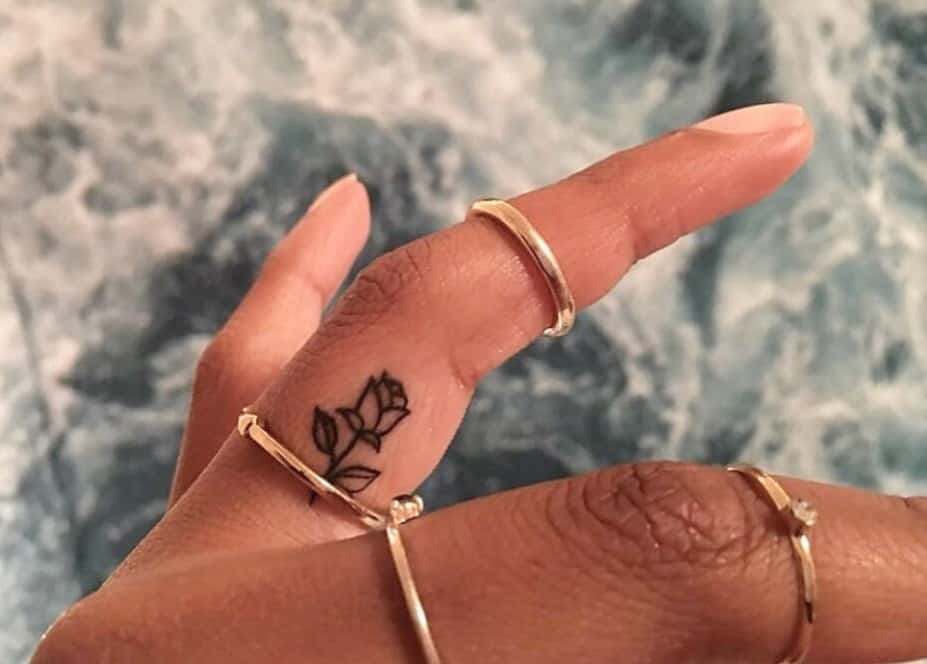 10 – Single Needle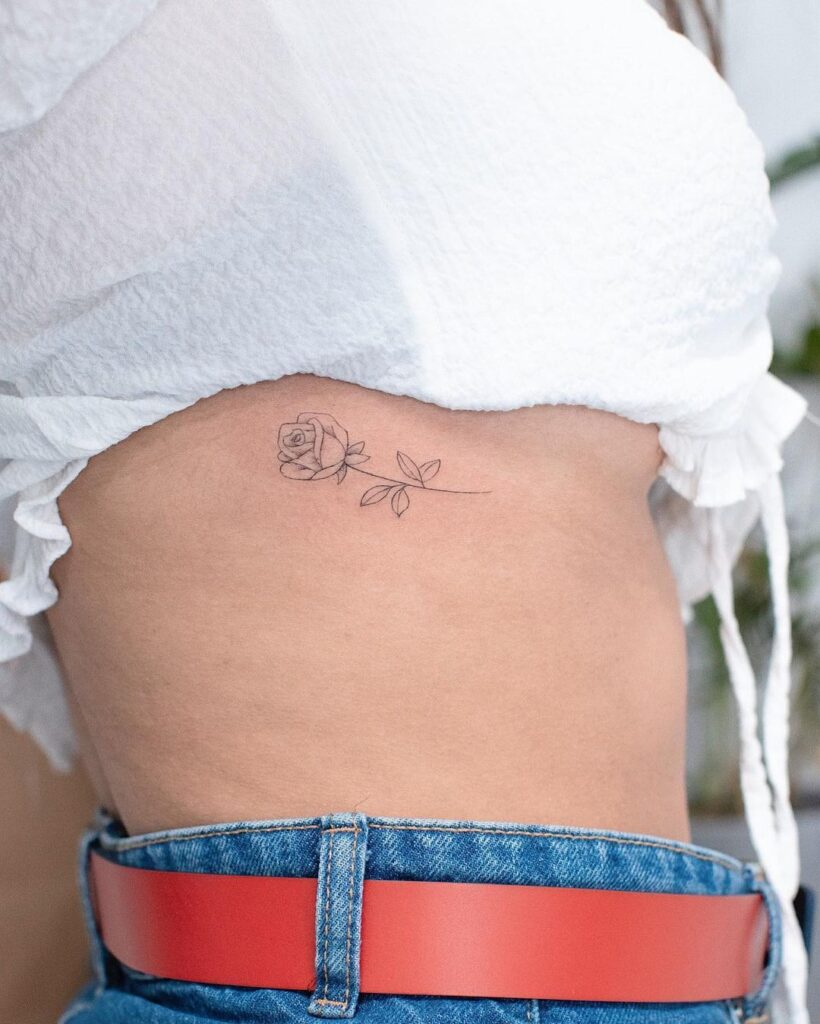 9 – Music Note
A minimalistic tattoo to define your love and passion for music!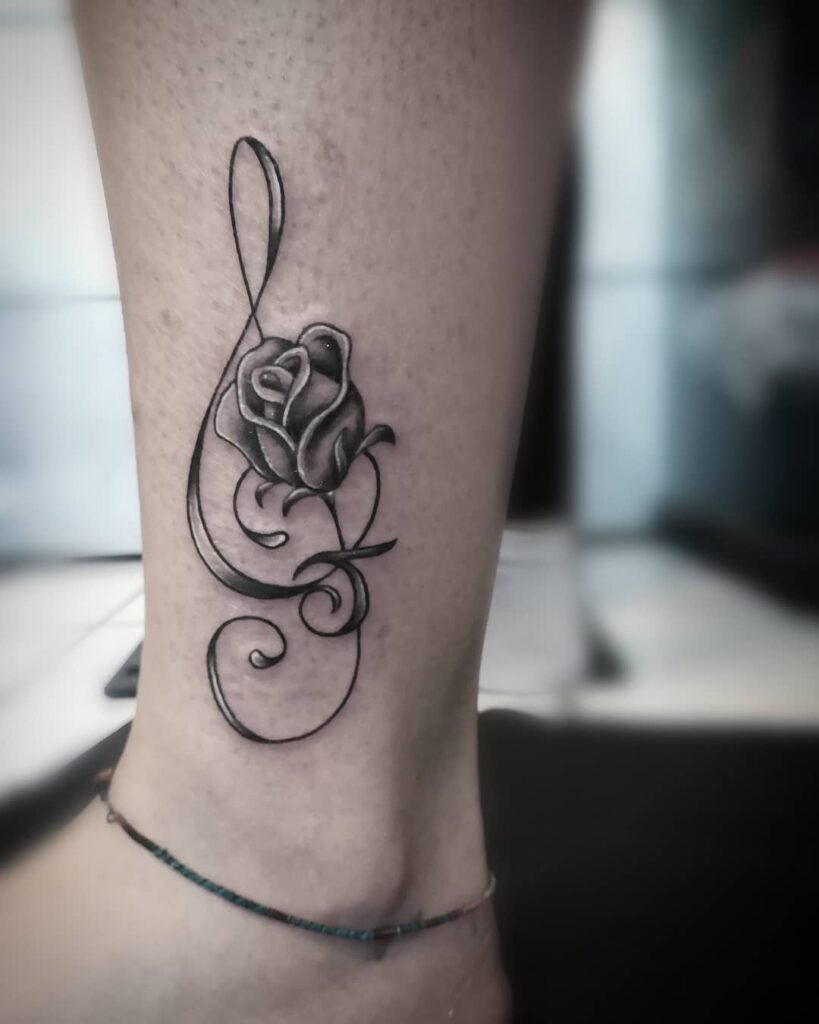 8 – Infinity And Rose
This one is certainly one of my favourite tattoos from the list. A very elegant and modern tattoo, I must say. The infinity sign is said to symbolize an endless circle of life, meaning the soul's immortality and change in life. The infinity sign paired with the beauty of the rose looks really aesthetic and appealing. In addition, you can also adjust the names of someone or something really special to you.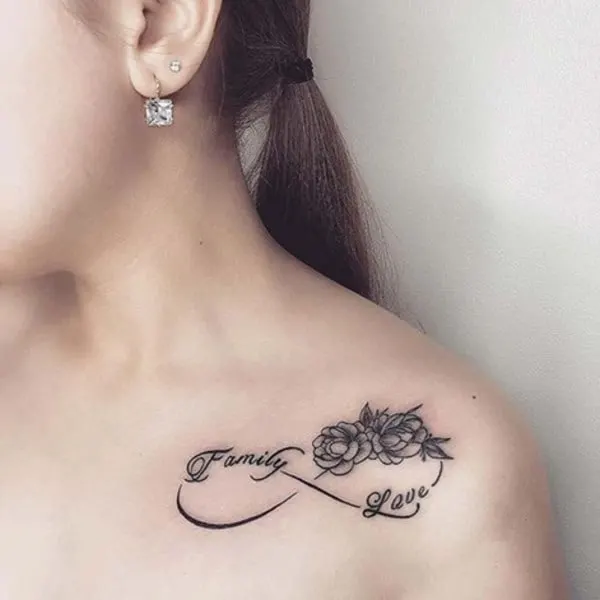 7 – Outlined
Detailed tattoos are all cool and amazing but if you are on the lookout for a really classy and appealing tattoo then this one is for you. A rose outline tattoo for people with a minimalistic approach towards life. Although the design is basic, it still looks powerful. Moreover, there are some benefits for getting an outlined tattoo such as it costs less and does not take too much time to complete.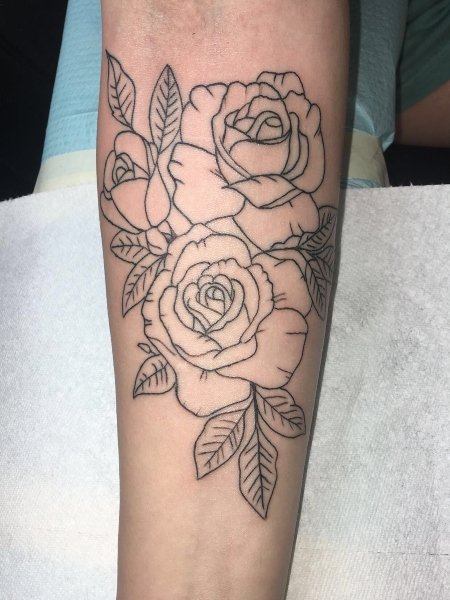 6 – Coloured Roses And Their Symbolism
Every colour has a meaning attached to it, therefore, many people choose rose tattoos in a colour that defines their personality the best. You will find different coloured tattoos with different meanings below but let's start with a pink rose tattoo first. A pink rose represents grace, gratitude, and affection. Here we have three pretty pink rose tattoos; the tattoo here is a watercolour flower tattoo which has been really popular these days.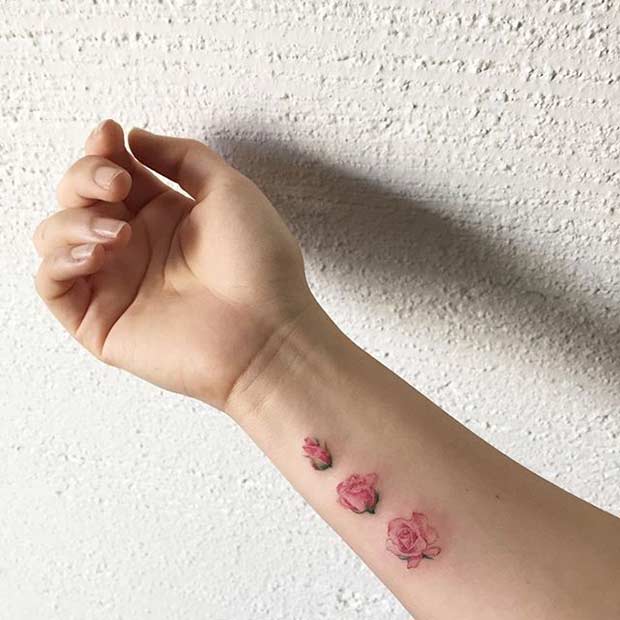 5 – 3D Tattoo
If you wish to add a twist to your tattoo, let me introduce you to the purple rose tattoos. Purple roses have been used to symbolize royalty and enchantment, and it is often associated with success and achievements. Besides the beautiful meaning associated with the purple colour, they look classy. The purple rose tattoos will work great as the background but combine with A 3D effect for a timeless look. For instance, here we have this rose in the background combined with triangles and leaves, making the overall body art look really appealing. Since this is a piece with small details, consider getting a tattoo like these on your back shoulder.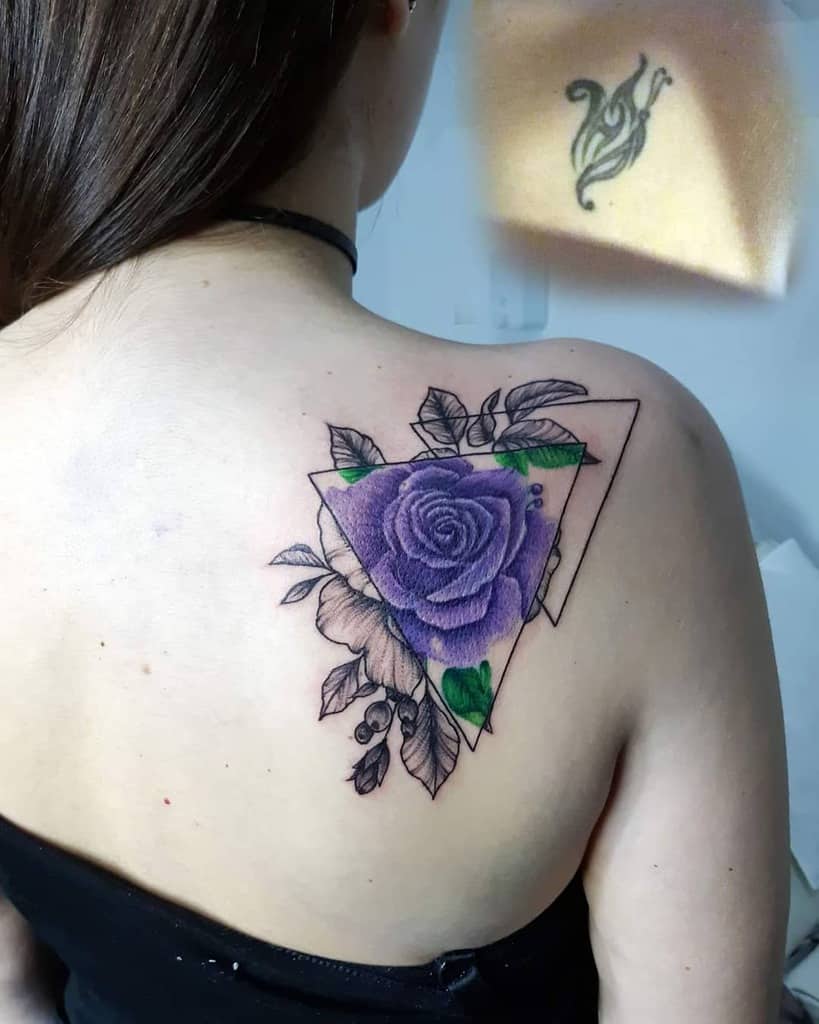 4 – Yellow Rose
Yellow is a vibrant and cheerful colour. People give yellow roses to express their non-romantic love and loyalty; they are symbols of friendship. Everyone in your friend's circle can have a matching tattoo expressing loyalty towards each other. Another idea that you can incorporate into your inking is to get this tattoo and complement a person's name, perhaps any special date, or a quote that is significant to all of you. Whatever you choose, just make sure to complement it with the design. Besides, the colour yellow also represents joy and happiness so you can have a yellow rose tattoo representing these things.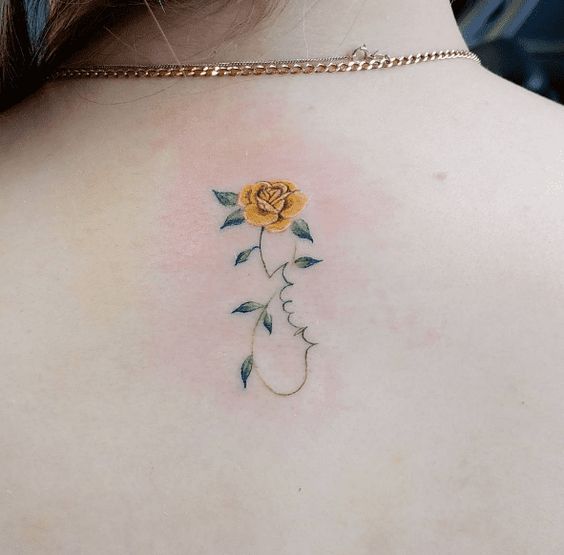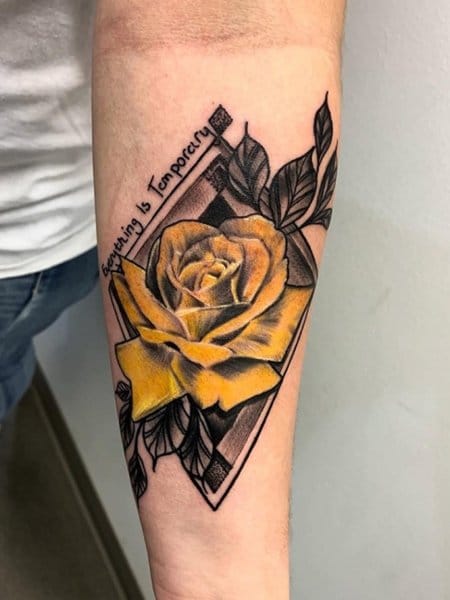 Via
3 – Rose Tattoos in Blue
A blue rose tattoo reflects a mysterious, imaginative personality; it also signifies the impossible and unattainable.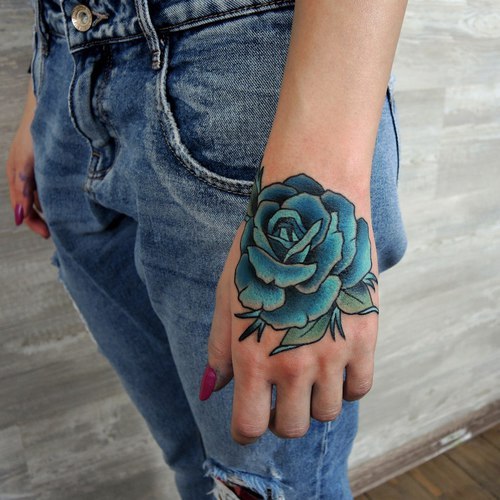 2 – White Roses
A white rose tattoo is an aesthetic choice for anyone looking for something unique; it symbolizes purity and magic. It is also associated with marriage and virginity. According to Christian Legend, a bunch of red roses turned white after Virgin Mary put her coat on top of the flowers. White ink can create a masterpiece. People who can get tattoos with white ink may want something less noticeable. Another reason is that you can cover them easily with make-up. Here we have a red and white rose tattoo, and it looks incredible and unique. Perfect for people who would like to try something new for tattoos.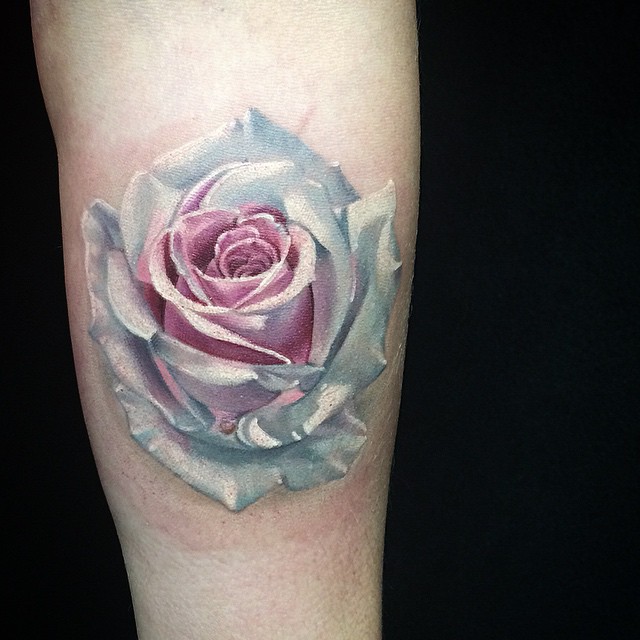 1 – Red Roses
Traditionally, people give red roses as an expression of endless love. There are numerous associations with red roses. It means to love and passion, while it means courage, respect, and power for others. Besides the meaning attached to the colour, people get red roses inked due to their appearance. Red rose looks stunning. Just choose the surrounding body art colour that goes well with it. For instance, you can choose black leaves with red roses or inspiration from the picture below.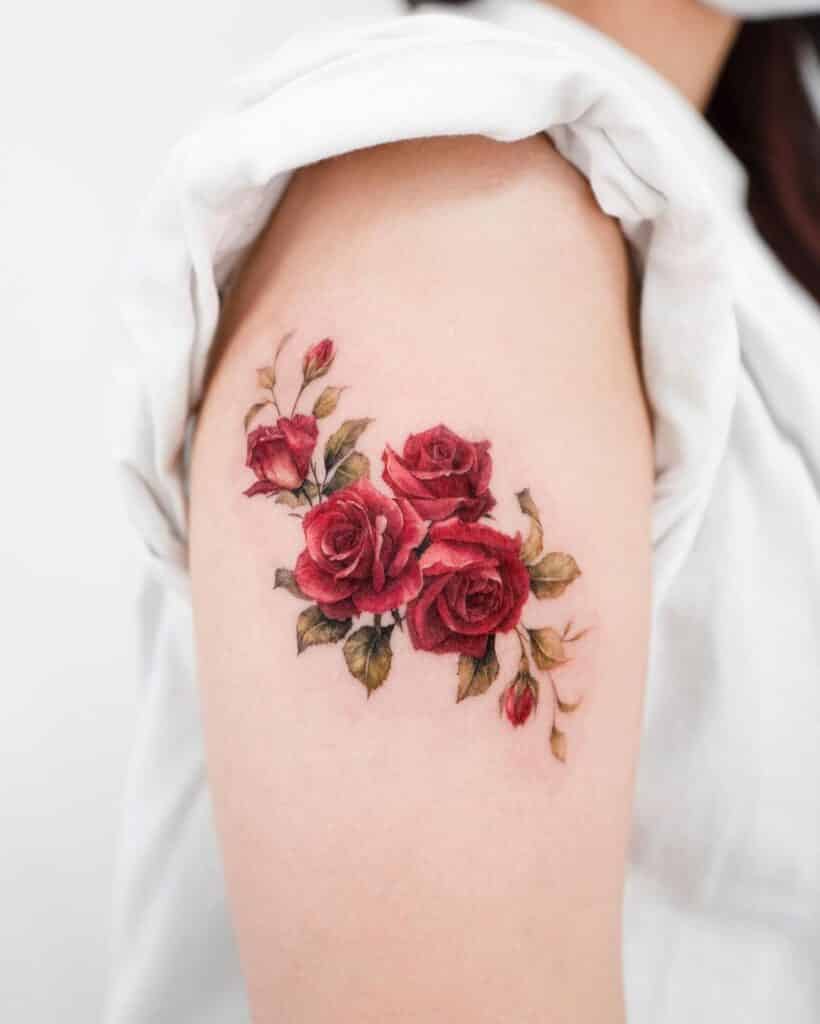 Frequently Asked Questions
Q: Where to get a rose tattoo?
Ans: A rose tattoo would look beautiful anywhere on your body. But, it depends on your personal choices mainly. For instance, if you want to show off your body art hands, arms, neck, and shoulder are preferred. If you want the least painful body part to get tattooed then choose areas with thick skin, more fat, and fewer never endings. Avoid getting tattoos on bony areas since they hurt a lot. Moreover, it also depends on the tattoo design and style, and size.
Q: Why is rose the most popular flower tattoo?
Ans: Rose flower tattoo is the most popular tattoo because it comes in many colours and designs. With different colours and designs, you get a different meaning. Hence, you get to choose a rose tattoo that carries deep and personal meaning for you.
Q: Is a rose tattoo girly for a guy?
Ans: All floral tattoos are considered very feminine. But, men can have a floral tattoo too. When it comes to rose flowers, it appeals to both men and women because of their rich symbolism. Men can get rose tattoos but if you want a more masculine appearance to your tattoo, consider combining other images to it such as that of an animal. Plumeria tattoos are also another style that men can try out.