Matching sister tattoos – Compared to many other ties you'll come across, the bond between siblings is the strongest. Although relationships and friendships may come and go, your family will always be there for you.
So, a tattoo is a fantastic way to express your love for her; we know she'll be ecstatic with the thought. Your relationship may even become stronger if you have matching tattoos. It's much better if you can come up with a tattoo idea that has significance.
Best Matching Tattoos for Sisters
It's wonderful to share a creative relationship with your sister. The tattoo can serve as a continual, uplifting reminder of the bond shared with you and your sister. You can both express yourselves this way.
In order to come up with something you both agree on, sit down and discuss ideas together. Check out our ideas for inspiration and consider using memory or another object as the basis for a tattoo design.
Tips and Tricks on Selecting Tattoos
Preplan your design; tattoos are something that is permanently inked onto your skin, so it is vital that you decide on the matching tattoo that you want to get with your sister beforehand rather than making impulsive on the spot decisions.
Go for a design that holds some meaning behind your sisterhood bond. Aesthetically pleasing tattoos can wait, but when you want to get something similar to your sister, it would be best you opt for a symbol or writing that emotionally connects the both of you.
There is no restriction on getting the identical tattoo in the same location as your sister.
Nevertheless, you can get inked on your arm while your sister can get her design on her thigh or her back. Whatever suits you two, according to your style.
In my opinion, you should go for something colorful if you like. Colors make your body art stand out, especially when you are seeking to get something girly or cute with your sister; you should definitely go for colors.
Make sure you visit the right tattoo parlour, tats are permanent, and you would want to visit a credible artist. Inform them of all your skin conditions that might cause a hurdle in your inking process; a renowned artist will know what to do according to your situation.
20 – Celtic Knot Tattoo
The most well-known sisterhood sign is the "Celtic knot." Since there are several varieties of "Celtic knots," the term "Celtic knot" can be a little misleading despite its Irish heritage.
You can get similar inks on your skin with your sister; the deep meaning behind this symbol would make you fall in love with this design.
A common symbol for sisters is a stylized "triquetra" (triple helix) embroidered with a heart. The maid, mother, and wise woman stages of femininity are represented by the triquetra's three components.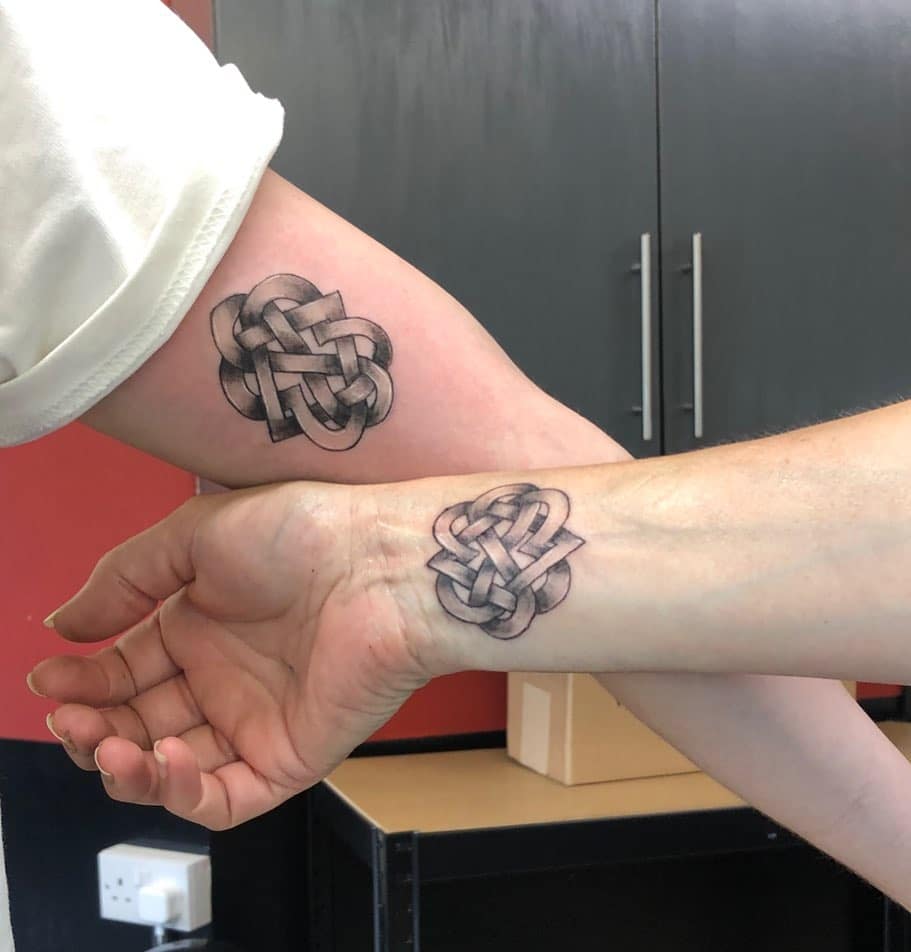 19 – Lil Sis And Big Sis Tat
Big sister and little sister tattoos are scriptable and come in a variety of font styles. Depending on whether you are the elder or younger sibling, yours may be larger or smaller than your sisters'.
To illustrate your age, her age, or the age gap between the two of you, it's also a wonderful idea to include one or both of your birthdates on the tattoo.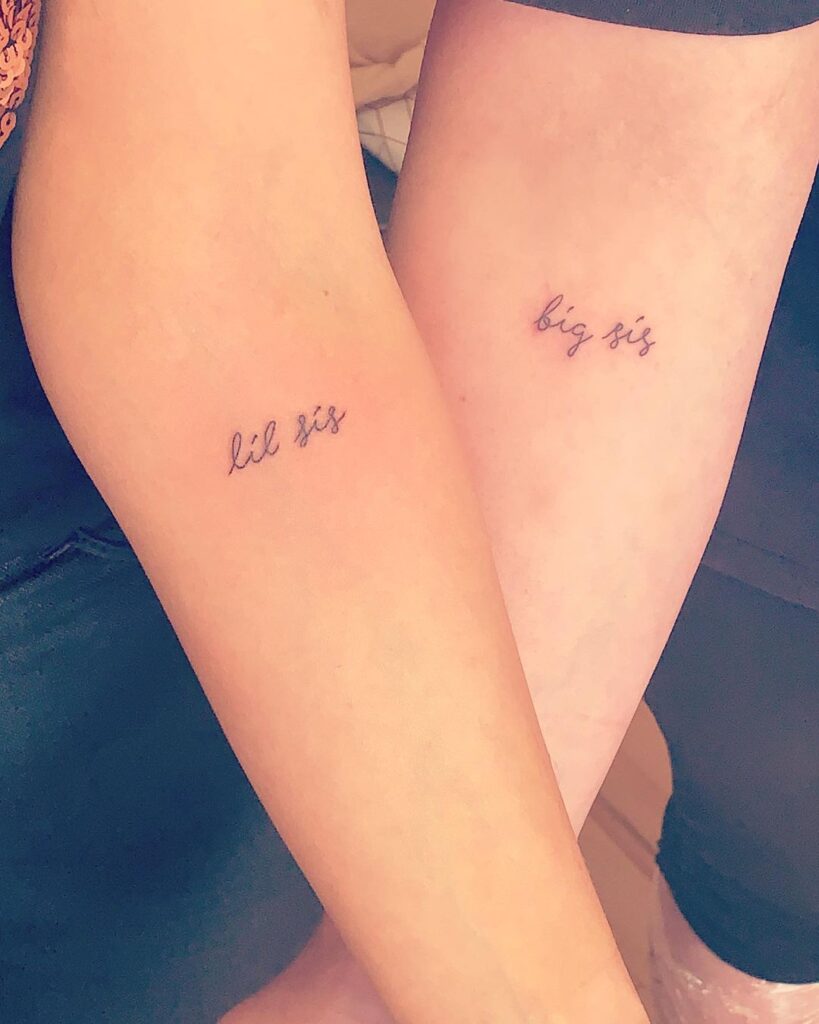 18 – Cursive Surnames
One of the simplest yet meaningful tattoos that you can get with your sister is getting both of your surnames printed onto your skin forever. Being proud of your last name and the family tree is something that would also make your parents happy.
This parental-approved tat, when done in cursive, is clean and minimal, nothing too out of the ordinary, and it will remind both of you of your origins no matter where you are and let you stay humble and loving throughout your rough times.
Besides, it's a plain one word tattoo perfect for people who wants something minimal and beautiful.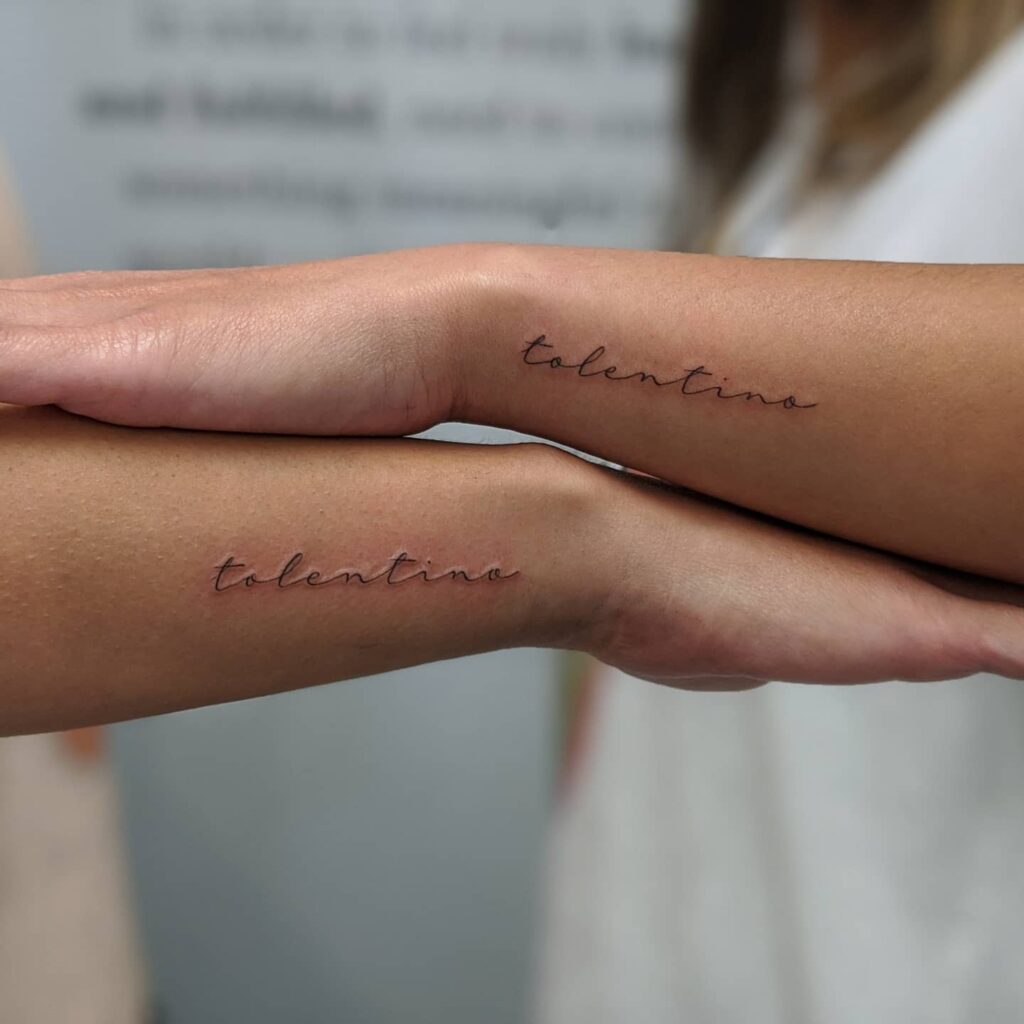 17 – Matching Snapdragon
There are several interpretations of snapdragons. They can stand for strength since they can survive in rough, inhospitable environments, but they can also represent concepts like cunning and elegance.
Sometimes people wear snapdragons as a charm to ward off lies. They may also stand for the concept of grace under strain or the inner fortitude required to get through trying circumstances.
You can even get color filled in them as there are around 40 different types of snapdragons with various colors, and each color holds a different meaning.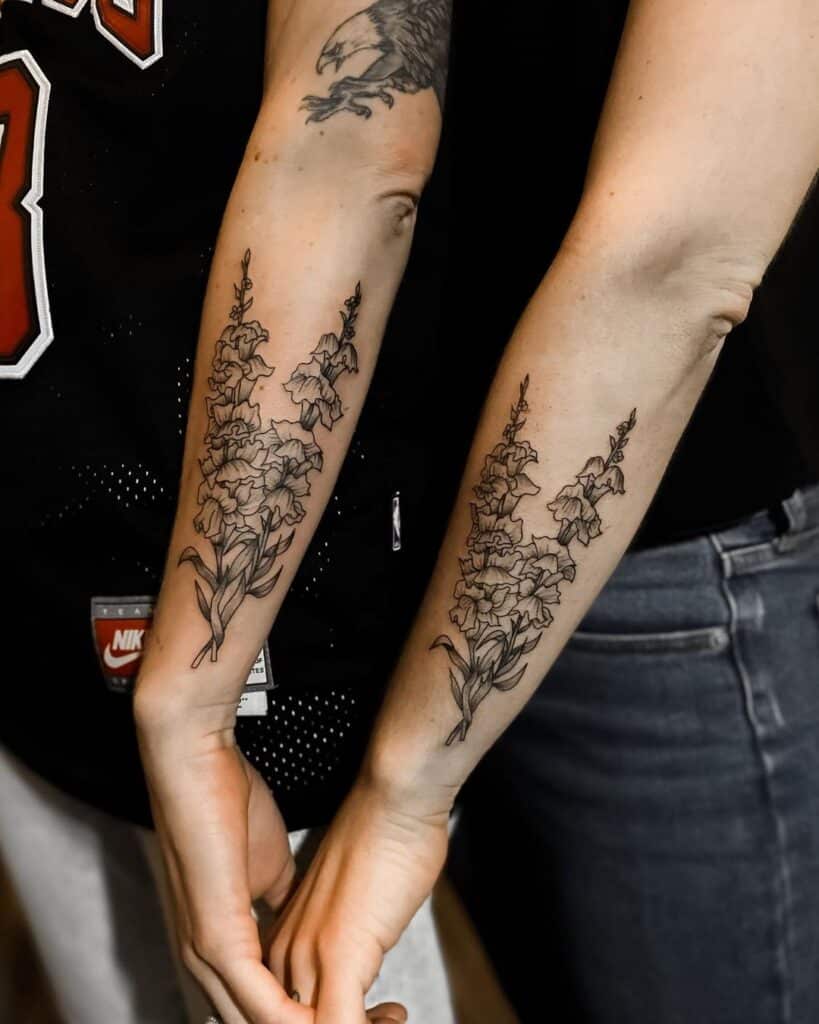 16 – Core Memory Tatted
Maybe you and your sister used to do things together on a daily basis back in the day, like playing Super Mario Brothers on the sofa after school.
These experiences may have been some of your best childhood recollections. See whether you and your sister have any similar symbols, and if you do, consider incorporating them into a tattoo design.
Have a look at this colourful poison apple design that is a core memory for two sisters and they decided to get it inked.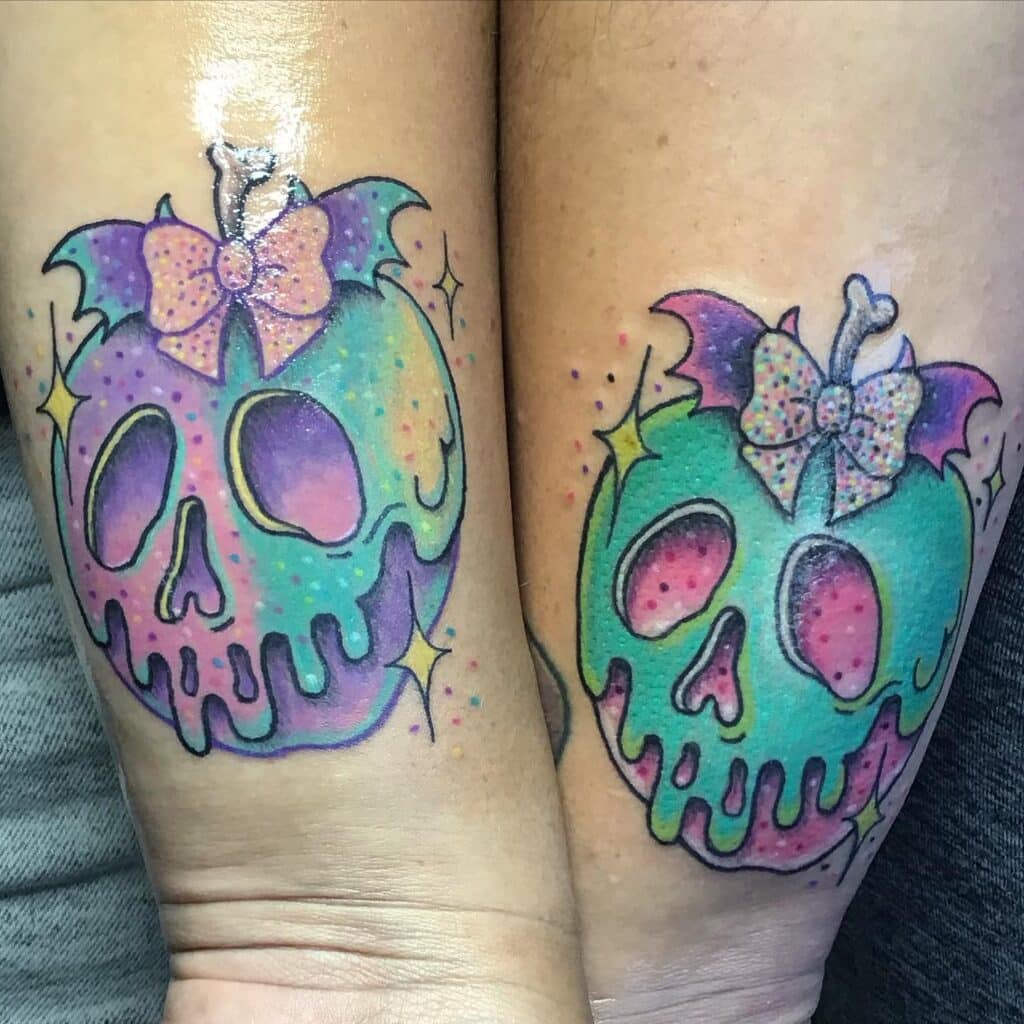 15 – Date and Year of Birth Tattoo
It's a highly sentimental notion to get a tattoo of the day or year your sister was born. Or if you are twins, you can get the birth year tatted or just the year of a very important event for both of your lives.
Everyone who sees it will understand that the date somehow relates to you. In contrast, getting a tattoo of something like a love heart won't immediately make people associate you with your sister. But make sure the design you choose has the most significance for the two of you.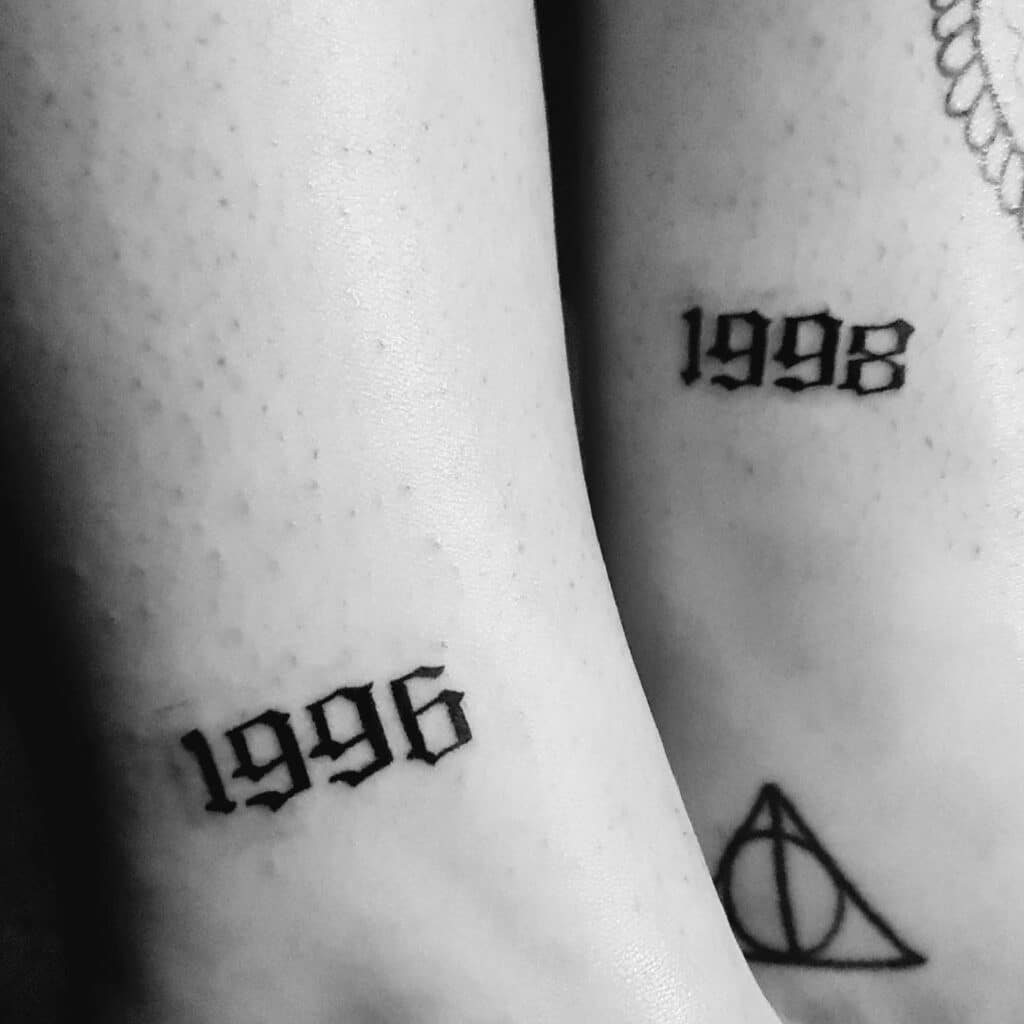 14 – Colorful Flower Tattoo
Tattoos with vibrant colours tend to catch the eye more quickly because they stand out. Colour detail is very noticeable in flowers. Decide if the flower tattoo design would appear better in black ink or colour after giving it some thought.
To make them even more heartfelt, you can also get them in the colour that best reflects you. We wouldn't be shocked if your parents used to outfit you exclusively in one or two colours when you were a child if you're close in age.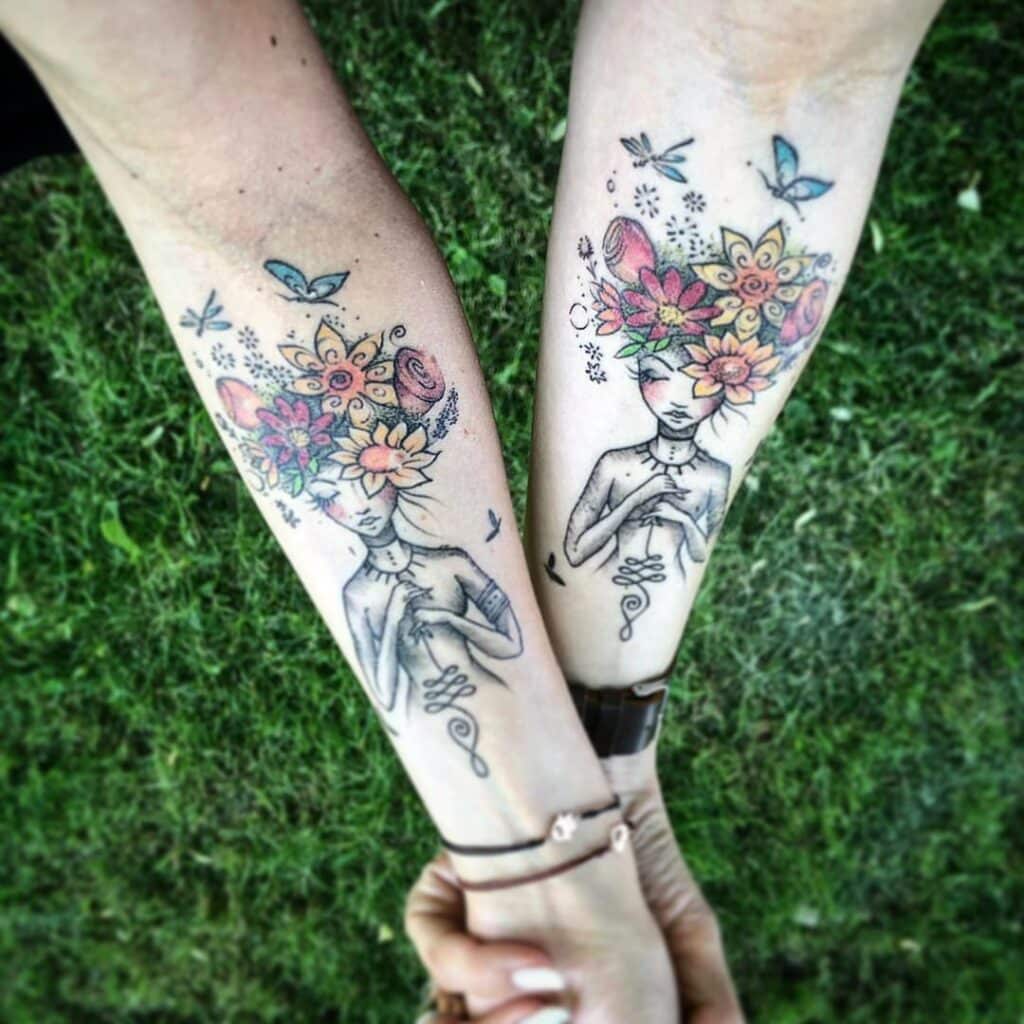 13 – I Love You
You can always go for something in sign language; for example, this symbol means 'I love you' in sign language.
In order to make it funkier, you can get skeleton hands instead of your everyday natural hands tatted on your skin.
As mentioned above, body arts do not need to be in the same place; one of you can get yourself inked on the back or your chest, whereas the other can get the tattoo on your arm or your ankle.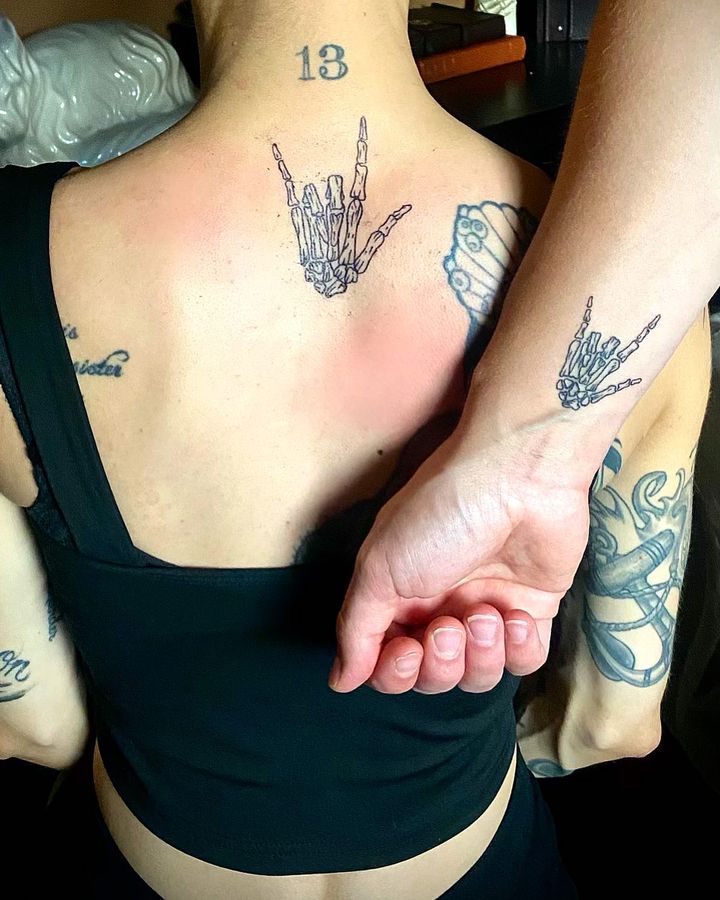 12 – Unusual Childhood Memory
Tattoos that symbolize some part of your childhood, growing up together, or any other part of your relationship is always a great way to spark a memory every time you look at your tatt.
This design could be something like this image of two toasts with different bright colors communicating through a string or two girls talking through a string cup. You can even gett a line from a book you used to read together before bed tattooed on you.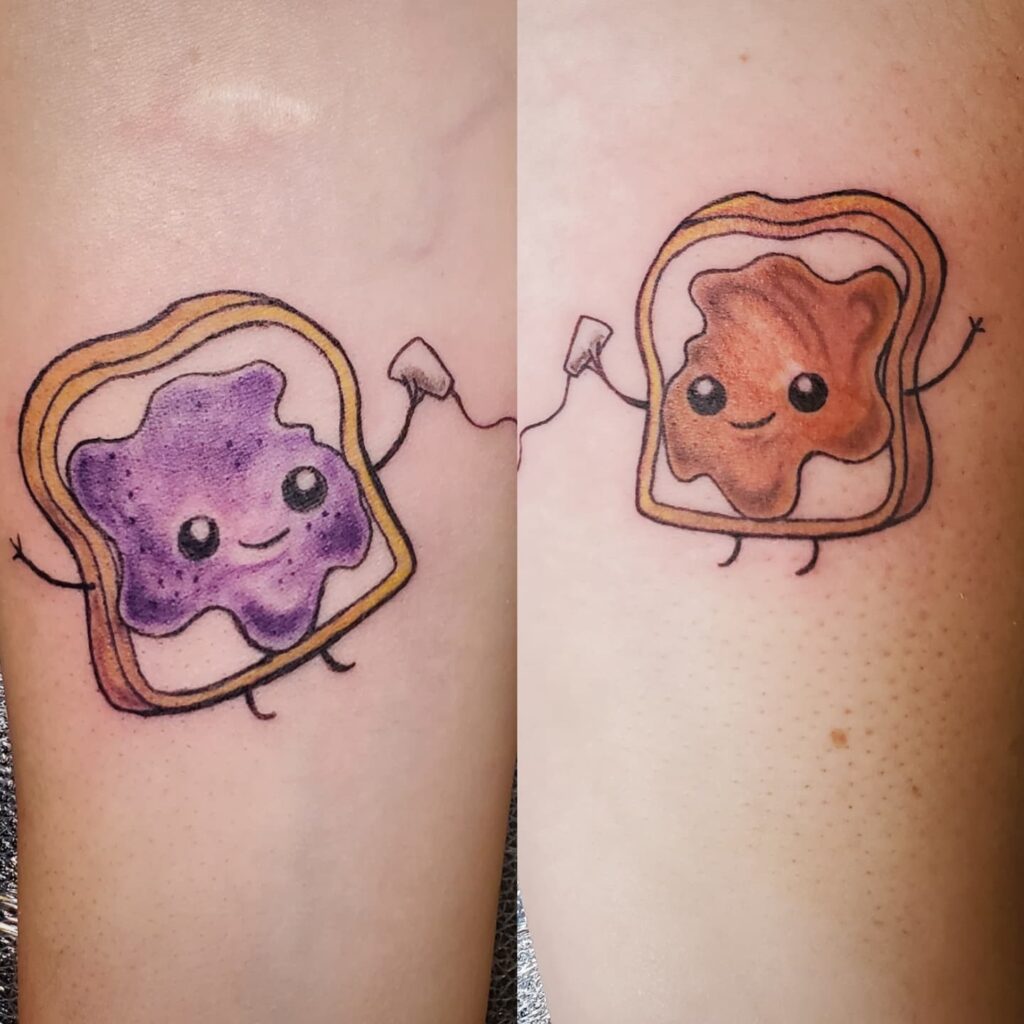 11 – Wings Together
You and your sister can get a single wing tatted on your arms or your body; when joined together, they complete one another.
This would mean that you both crave freedom and love to fly high, but only with the help of one another is it possible for you to do so.
You can also get a pair of wings each on your arms, which will be identical; you can also fill in colors if you like. Any form of wing, regardless of style, is often a representation of freedom and the capacity to cast off the chains of whatever confines or ties one.
If anything has been holding you back for a while, or if you just want to feel free to live your life the way you want to, you should utilize this wing tattoo meaning.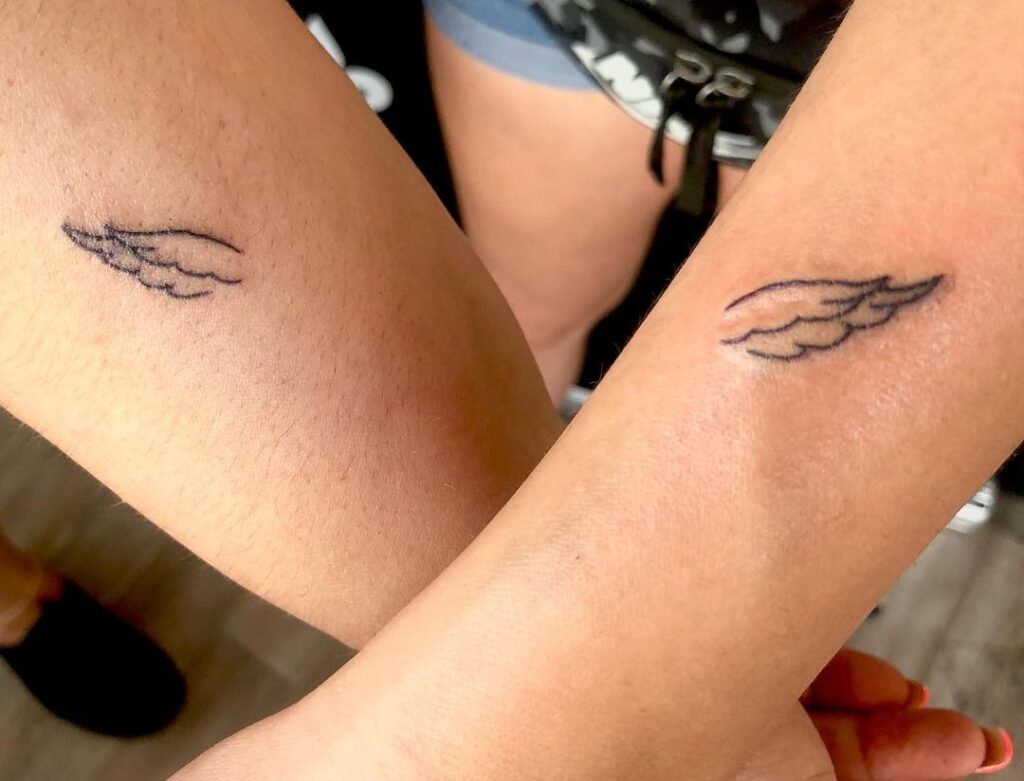 10 – Meaningful Designs
Meaningful sister tattoos can range from just getting the word "sister" tattooed on you so that it is clear who it is to get a design of anything that makes you think of your sibling.
There are several styles available that would highlight your own tale. You can even make a tat in memory of a loved one, like your late father, to remember him and his love for you two forever.
A tattoo like this will not only emotionally connect you two, but it will also be a constant reminder of your loved one.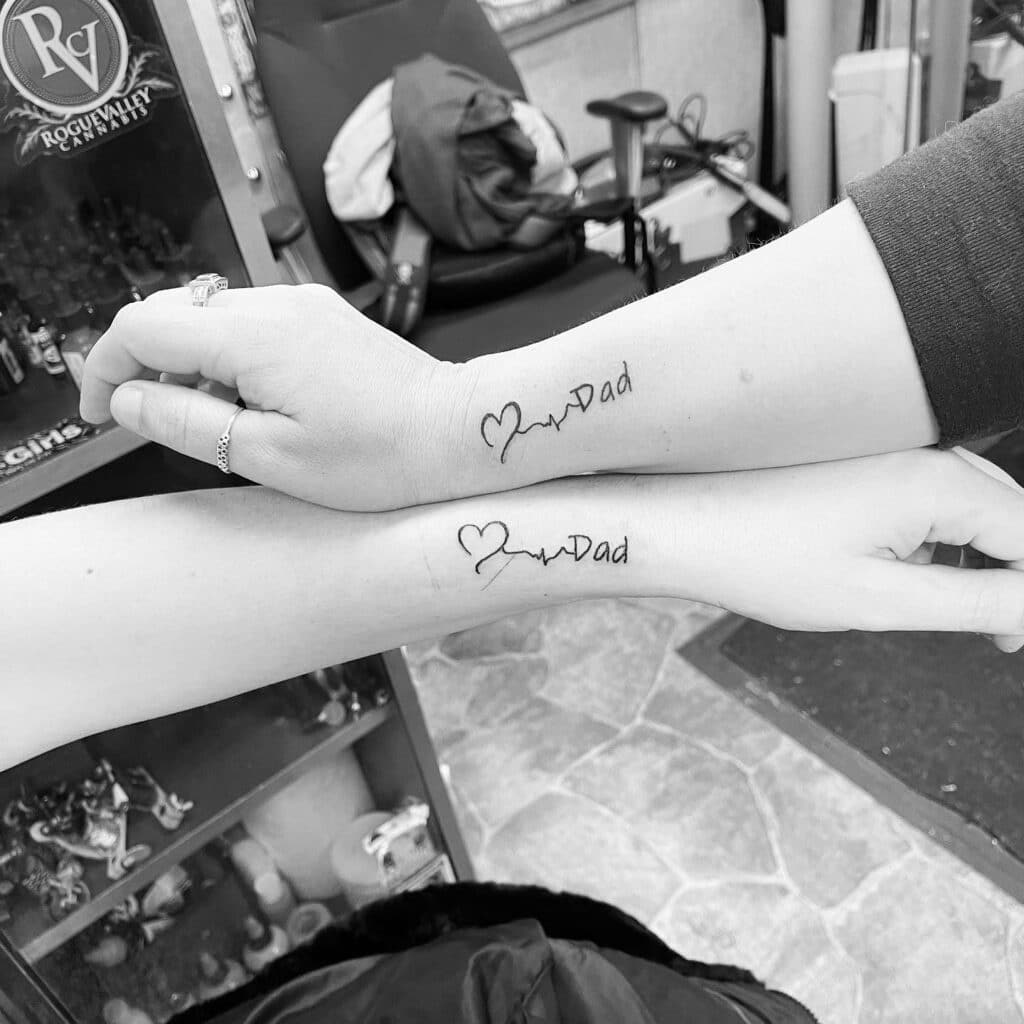 9 – Simple Matching Tattoos for Sisters
It usually takes a bit more consideration when there are three of you getting a tattoo together. If you're getting matching tattoos, you must either choose a memory that involves all three sisters or a design that appeals to each of you individually.
You can get a symbolic sun, star, and moon design. The sun and moon are extremely potent patterns that are full of meaning. As well as adding to the overall message, adding stars to your tattoo will make it more intricate.
The cycle of life, death, and rebirth may be represented by it and connected to the cosmos.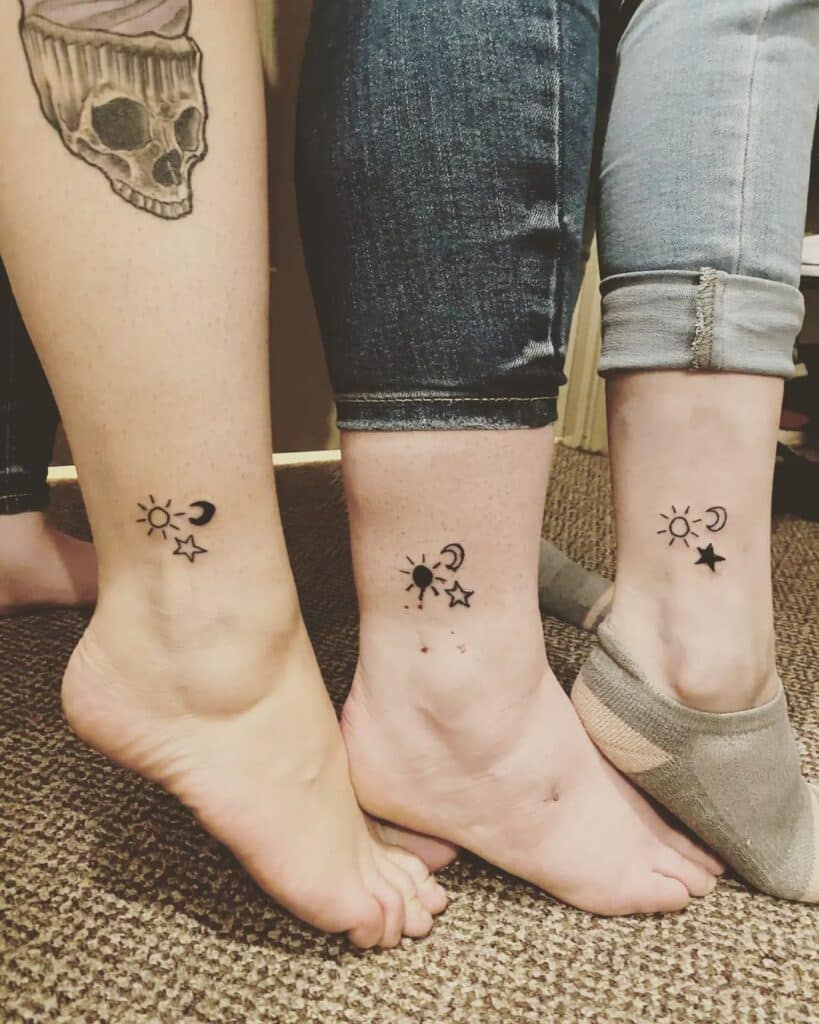 8 – Flower Tats
A simple tattoo design to use is a flower. If you and your sister truly can't agree on anything, ask your sister how she feels about having a flower tattoo. You'll discover that most ladies won't be against getting some kind of flower inked on their bodies.
Perhaps there is a symbolic memory associated with this, such as the game of "he loves me, he loves me, not" you and your sister used to play with the daisies in your backyard.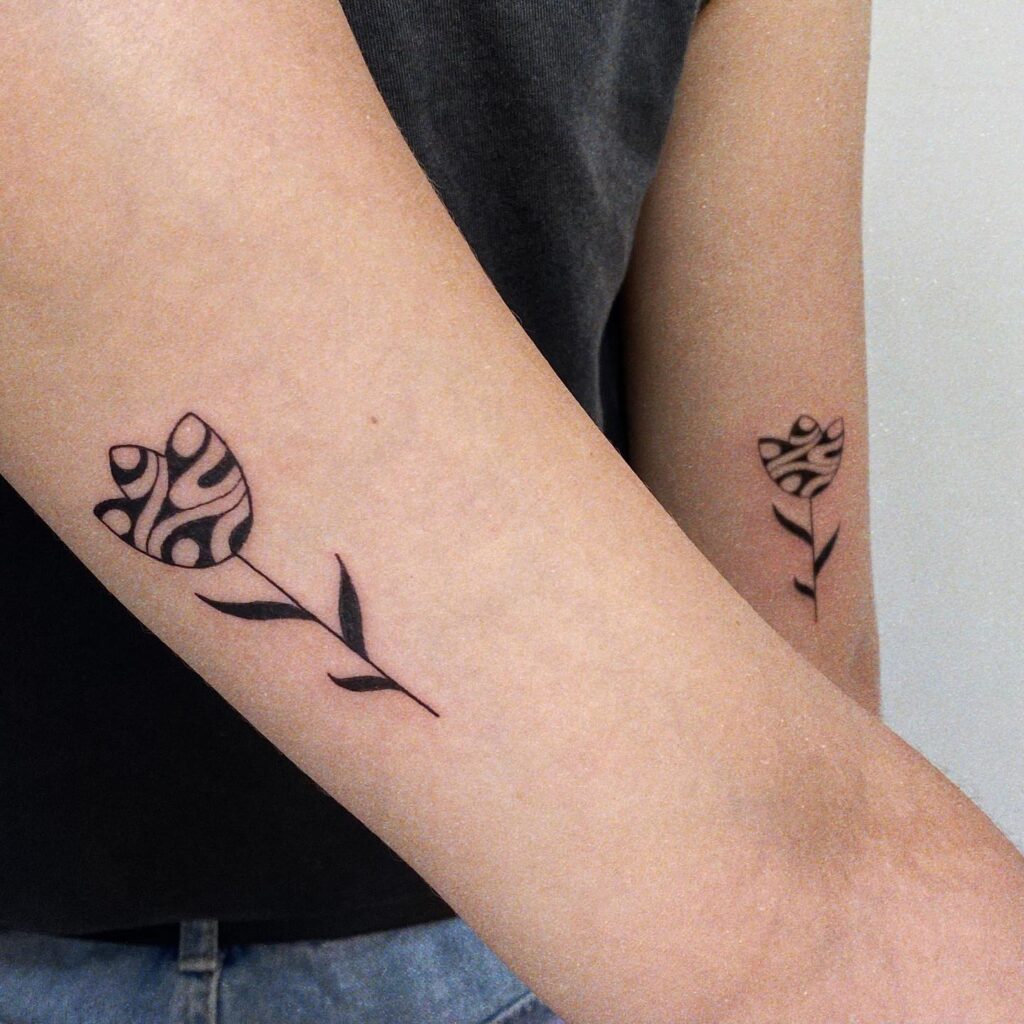 7 – Yin-Yang
The yin-yang motifs in the paisley are attractive and functional. Yin and yang is popular Chinese tattoo design that describes interconnected forces.
You may fill them up with whatever you wish and provide details specific to your partnership with your sister.
You and your sibling can ink a whole set together, or you can divide it in half. Both would look good, the real meaning of the ying-yang paisley still staying there.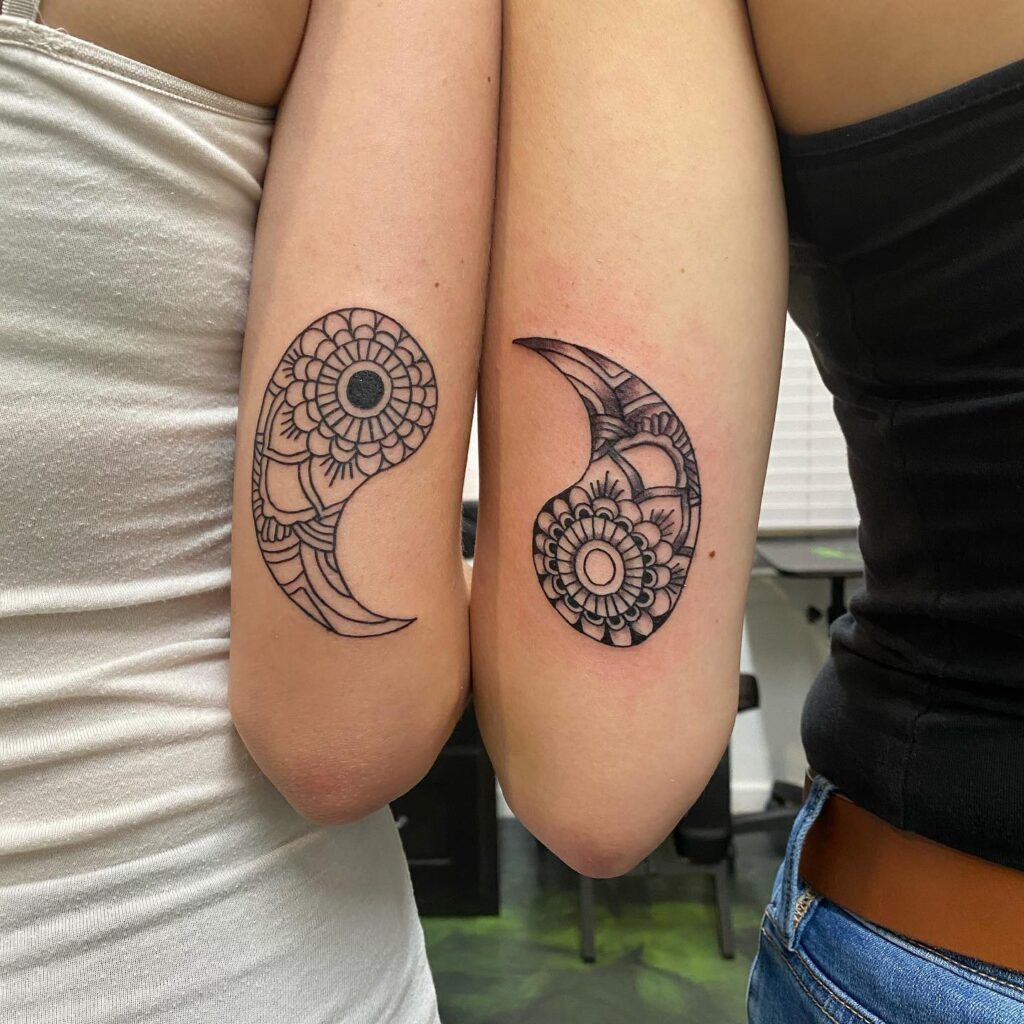 6 – Similar Yet Different
You can get a design similar to this picture; the flowers remain similar in both of your tats, whereas the only difference is of the sun; while one has it, the other just has an outline of it.
This can hold a deeper meaning of one being the brighter or the more positive sister who brings light in life while the other receives the love that the prior sister gives and reflects it back with simplicity and peace, indicating the simple and disciplined dotted line.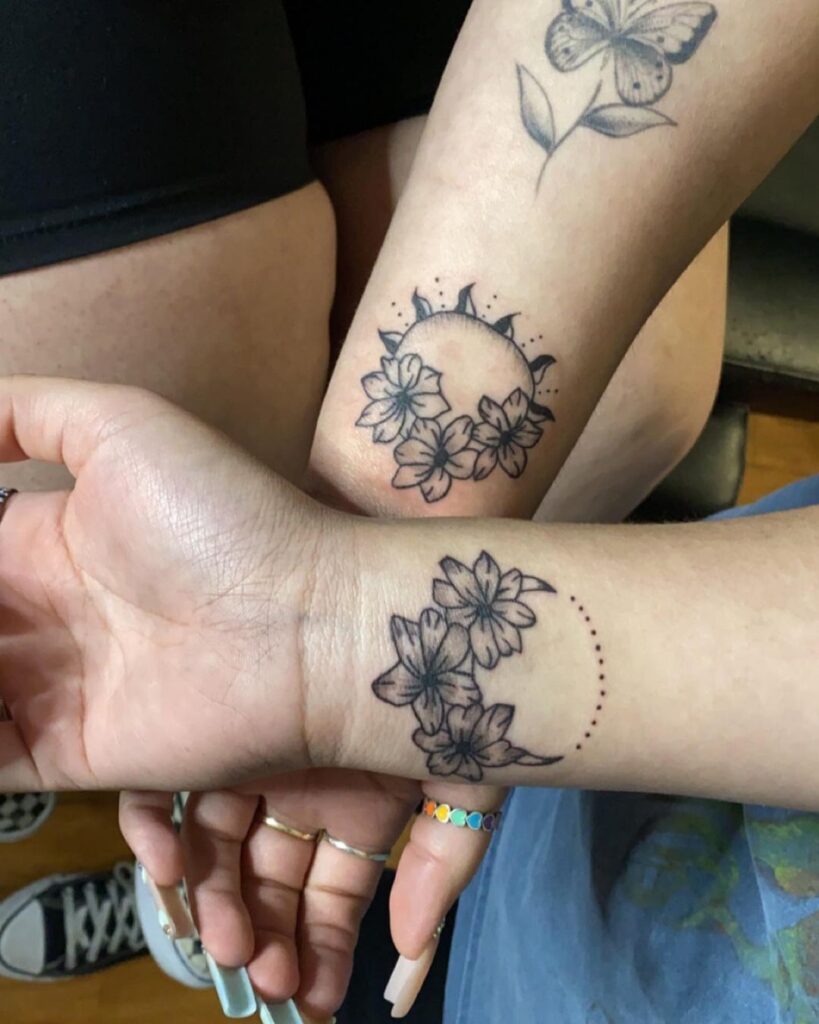 5 – Sister Tats for Three
Another sister tattoo for three. This one is a lot bigger than the first. The flowers hold a message of purity and closeness to one another.
The symbolism of flower tattoos is as varied as it is complex; in prehistoric societies, flowers were a clear representation of god's satisfaction.
These days, flowers frequently serve as a symbol of romantic love. However, flowers may also represent love, femininity, and beauty in tattoo form. Additionally, they simply have a lovely appearance, which is sufficient justification for some flowery ink.
If you share a bond of three sisters and want to go for something extra that all three of you will never forget, then this one is definitely for you.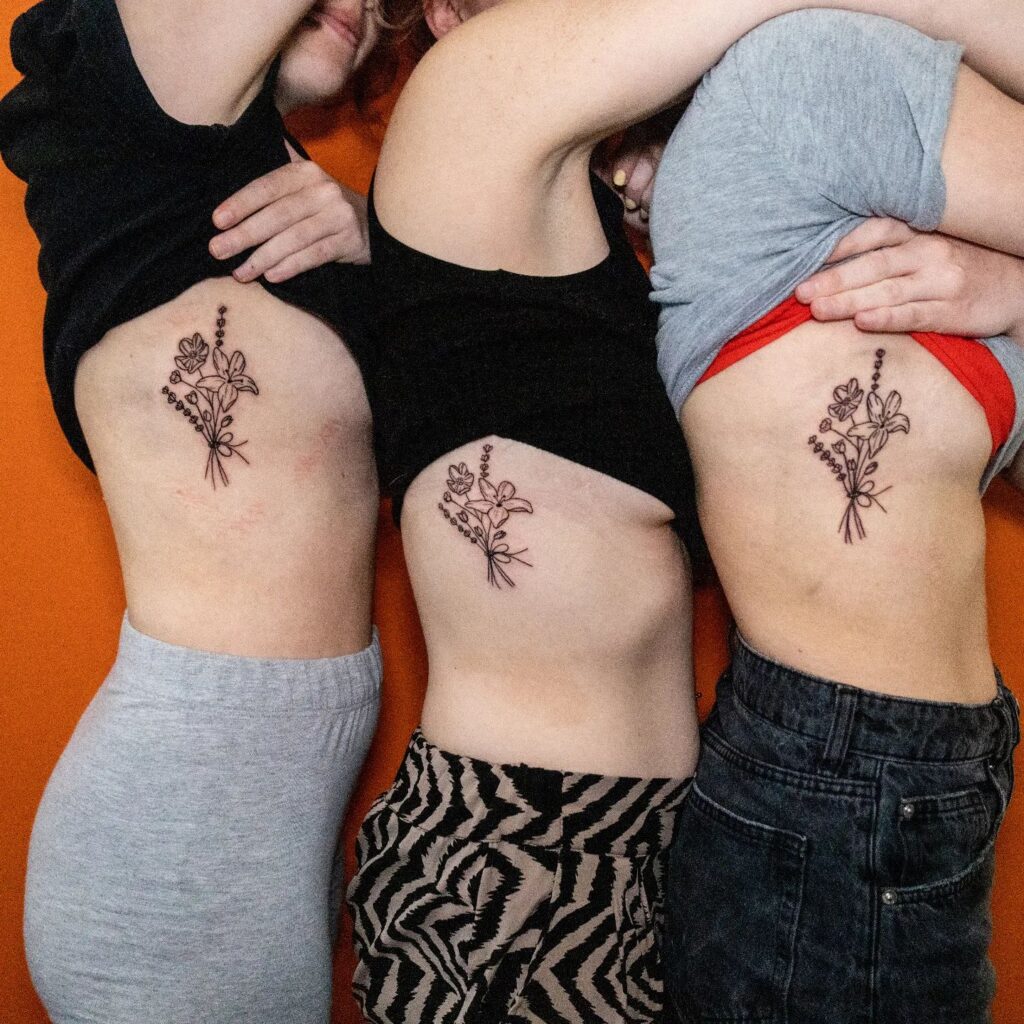 4 – Connecting Patterns
Since you and your sister are the only ones having tattoos, you can make it meaningful. Consider tattoo patterns where you both receive a portion of the design, which is then completed when you stand together.
Otherwise, consider meaningful patterns like the "pinky promise" tattoo. You may envision that one hand is yours and the other is hers using this pattern.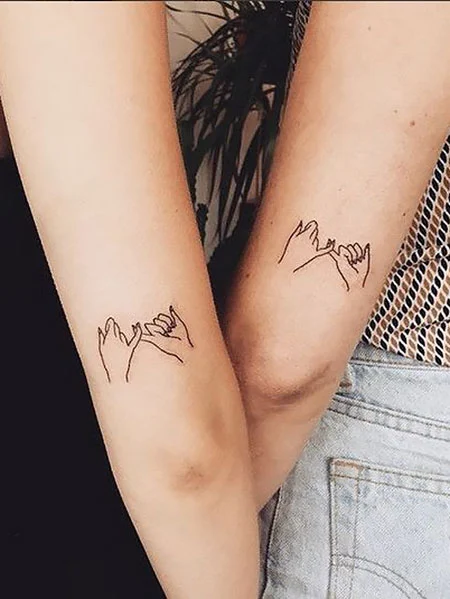 via
3 – Twinning Tattoo
If you and your sister are twins and you want to have matching tattoos, why not do that? Get a tattoo that will be partially visible until the two of you are joined.
For some people, mandalas have a spiritual significance. Others may only view them as attractive designs. However, this split mandala sister tattoo is appealing to both parties. Use a skilled body artist to ensure that it properly suits you.
Alternatively, you may get the term "my twin" tattooed on your skin along with your birth date, or you can get matching tattoos. When choosing a twin tattoo, you have a variety of possibilities but bear in mind that all of your choices will resemble sister tattoos.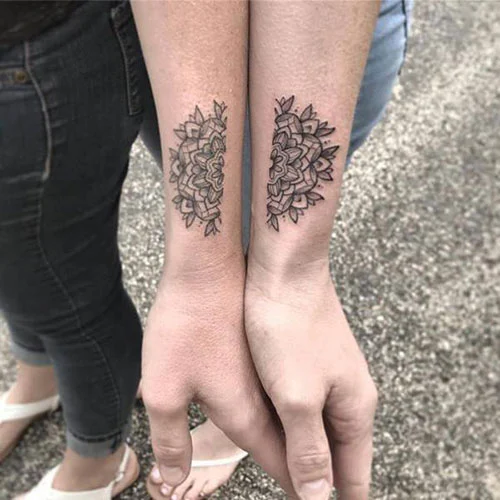 2 – Quote Sister Tattoo
This might be a fantastic tattoo idea if you have a statement that both you and your sister agree on or that comes from a book of poetry. It's essential to locate a tattooed statement that captures your connection or expresses the closeness you have.
Typically, "we'll be alright" is a quote that would always uplift one another when looked at; you will remember your sibling and vice versa. This would also mentally encourage you and give you a sense of connection and a feeling that you are not alone.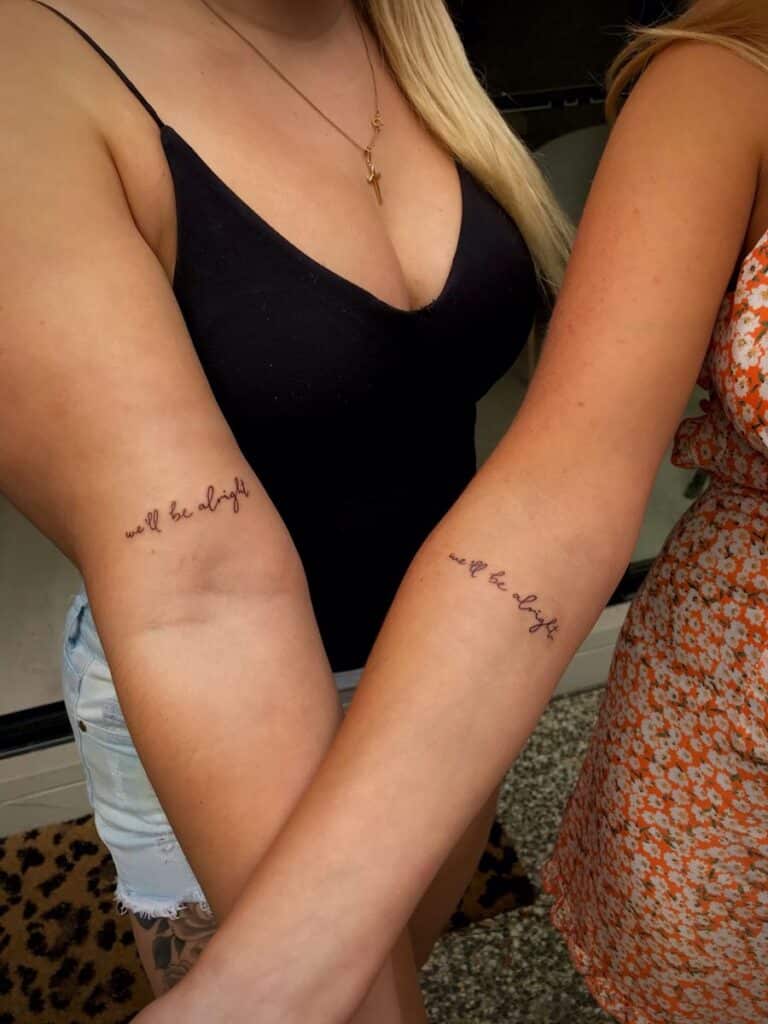 1 – Simple Heart Design
Simple tattoos may still have a lot of significance behind them while still being cute and discrete.
Getting identical heart tattoos is a wonderful way to express how much you love and cherish your sister. A great entertaining concept is to have two tattoos, one on either side of the other, and you can even color one of them.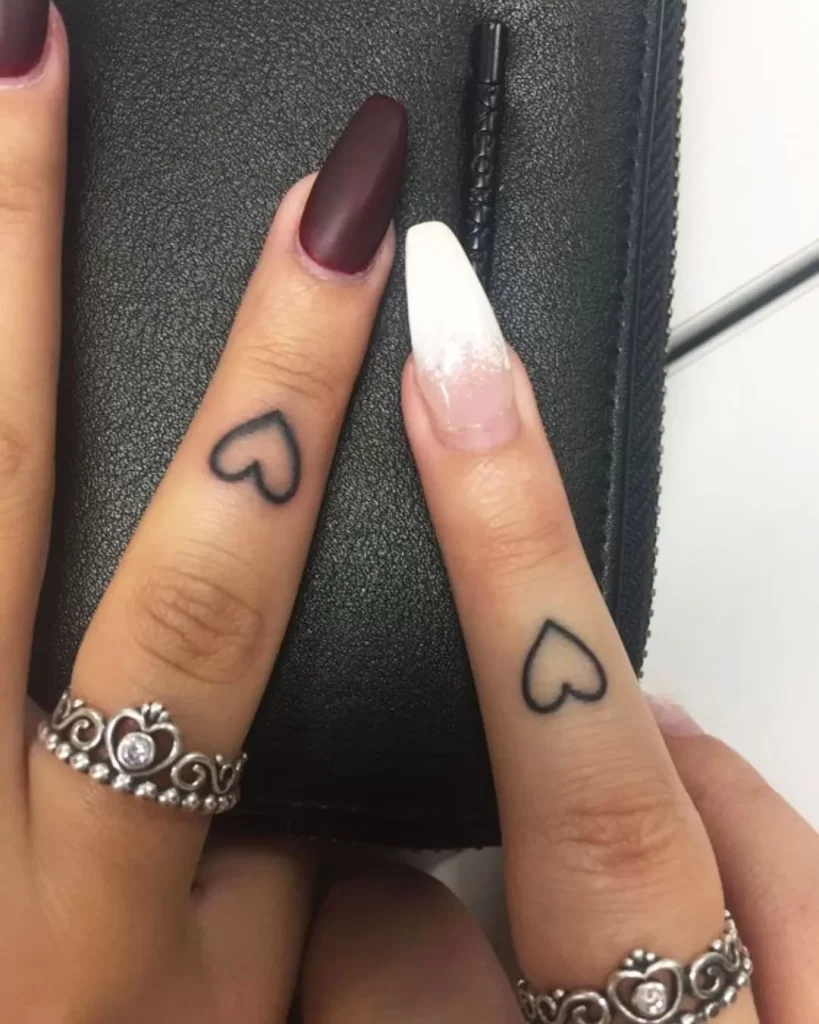 Frequently Asked Questions
Q. What is the symbol for sisterhood?
Ans. The Celtic Sisters Knot represents sisterhood and the solid, enduring connection that people have with their sisters and friends. An unbroken thread representing an unending love may be seen in the complex Celtic knot heart. The Celtic knot heart's stylized triquetra, or triple spiral, represents the three stages of womanhood.
Q. When should you get matching tattoos?
Ans. It's a pledge to keep the bond strong for as long as the tattoo. For a variety of reasons, sisters acquire matching tattoos. Some people get a sisterhood tattoo to mark a significant occasion in their relationship or to remember a common experience. Other sisters do it to have an enduring representation of their affection.
Q. Where does tattoo hurt most?
Ans. Your ribs, spine, fingers, and shins are the areas that tattooing on might be the most painful. Your forearms, stomach, and outer thighs are the least uncomfortable places to receive a tattoo.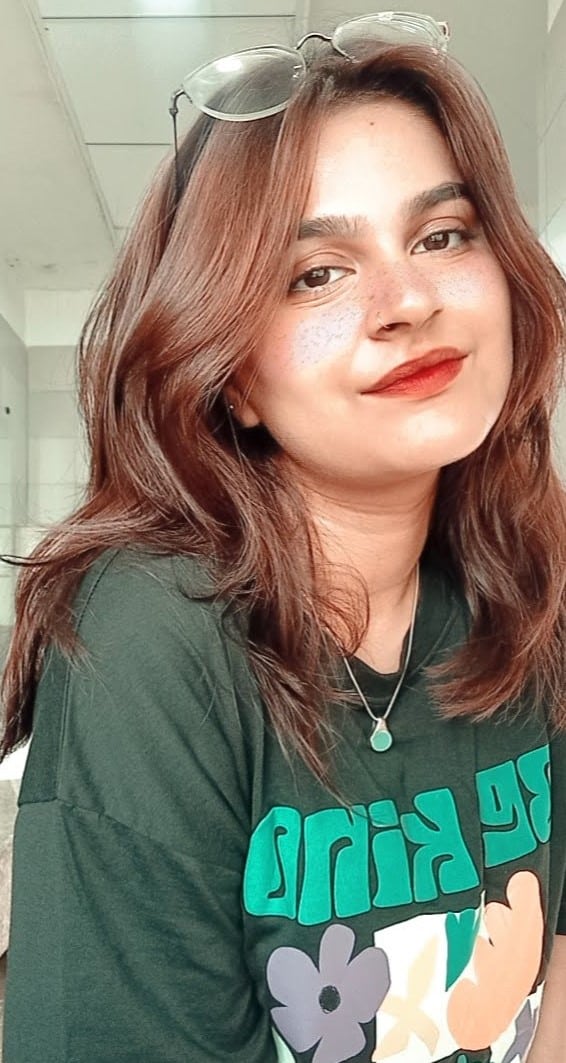 Adeena is studying Media Sciences at IoBM. She is a freelance content writer and graphic designer with experience in UI/UX as well. Adeena loves writing about fashion, taking photographs, making videos, and exploring many artistic things in her life.