Meaningful flower tattoo ideas: let's check out some flower tattoos that you will love to have this year. Tattoos give words to our inner feelings. What is better to express your affection and desires better than putting a flower permanently on your body.
The beauty of flowers speaks for itself. It is an emblem of love and gives a strong message. People want to engrave these delicate natural beauties into their bodies to make themselves feel fresh and serene.
The growing trend of these flower tattoo designs in recent years might have multiple reasons. They are an impressive means to express your inner radiant self and the fact that they are also a cute way to pay tribute to your close ones makes them much more desirable. These tattoos are also very popular among many prominent celebrity figures. You can say that it has become a fashion trend these days.
Which Celebrities Have Flower Tattoos?
Many famous celebrities are killing the meaningful flower tattoos look. The Disney star and teenage crush of millions Miley Cyrus is one of the most loved personalities when it comes to singing and carrying new fashion trends. She came up with a recent Instagram post showing off her new flower tattoo and disclosing what it actually meant with the caption: "Vegan for life! 💚."
Justin Bieber's wife and fashion model Hailey Bieber has also placed a small flower tattoo on her hand as her second marriage ceremony with the Canadian singer is approaching near. The British-American actress Lily Collins is also famous for her beautiful tattoo designs. However, the recent tattoo on her foot is really creating a buzz in the fashion world.
It is an amazing rose with the words, 'The nature of this flower is to bloom' attached to it. According to the actress, the only petal of the flower that can be seen falling is there to show that she might look delicate but she is strong as a rose. American singer Demi Lovato also revealed her two rose flower tattoos in a picture that she uploaded on Instagram.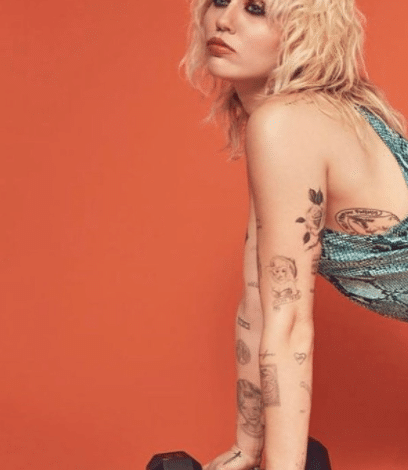 Dos and Donts of Getting a Tattoo:
If you really like inking these little beauties then just go for it but you have to be fully prepared for the thing. Here are some of the important points that you should not forget before going for a tattoo.
Avoid the intake of substances like alcohol or caffeine about 48 hours before getting a tattoo as they both make your blood thin and more prone to bleeding.
Keep yourself fully hydrated to make your skin flexible to handle the long session of needle pressure.
Do not take any medicines like aspirin at least 24 hours before getting inked as they can also make your blood thin.
Wear comfortable clothes so that the area where you want a tattoo is easy to approach.
After getting a tattoo make sure to keep it covered to save it from any kind of infection.
The post care of the tattoed area is necessary so keep it well moisturized.
Avoid bath tubs or swimming pools for a few weeks after getting a tattoo.
Do not wear extremely tight clothes after the tattoo process.
Getting your body inked with a needle is one painful thing. So, get yourself mentally prepared for that.
Carefully pick your design because once you get it done it stays there for a good while.
It is better to decide the placement of the tattoo well before time rather than getting confused on the spot.
You should tell all your skin issues or sensitivities to the tattoo artist.
Select a credible artist for inking.
Ensure that the tattoo shop and all the equipment used during the process are fully sanitized.
You should also check out these Sunflower Tattoo Ideas.
Best Floral Tattoo Designs for Women
18 – Flowers with Butterflies on the Back
Get ready to feel amazing with new ideas for your tattoos but where can you find an appealing design? Well, you can collect pictures online. It is not compulsory that you follow the exact art from the picture. Once you get an idea it is better to bring some changes and style your own tattoo design.
You can also search through the portfolio of the artist to follow the latest trends. Keep in mind that the placement of your tattoo is also considered significant in creating an amazing design like this one.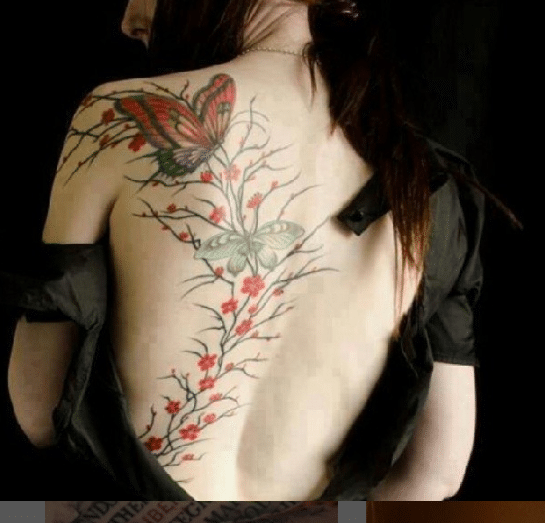 17 – Add Color to Your Tattoo
Flowers are one of the most colorful and delicate things that are always used as a symbol of love because they are naturally beautiful and colorful. Flower tattoos also have various meanings but one thing is for sure they always give a positive feeling.
A blossoming flower is a symbol of life and if you add your favorite colors to your flower tattoos it can make them immensely attractive.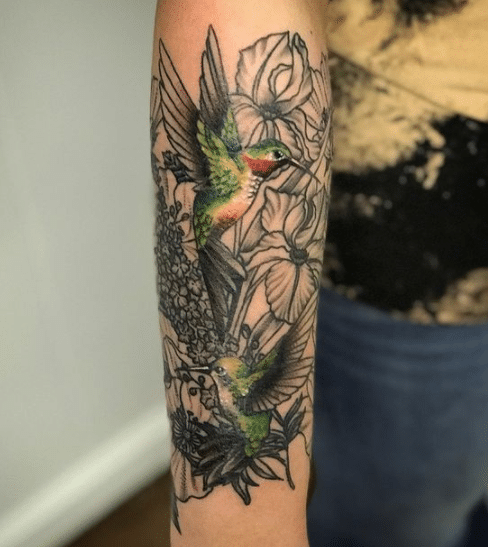 16 – On the Shoulder or Upper Arm
The "Queen of Flowers" is one of the favorites here too. Yeah, you guessed it right we are talking about roses. But flowers like lilies, jasmine, lotus, and daisies are also quite popular among people for tattoos. It seems people are inclined towards these flowers for inking because of their unique designs and alluring range of colors.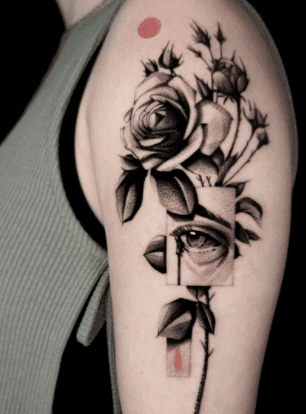 15 – Flower Tattoos Meaning Strength and Power
Though flowers are fragile and mostly represent a strong bond of friendship and love but did you know about flowers that are the symbol of strength? Yes, there is one cute flower gladiolus that means strength, faithfulness, and honor.
Another flower that is the representation of strength and grace is the very famous snapdragon. So, flowers are no longer just delicate beautiful things they can also be your power booster.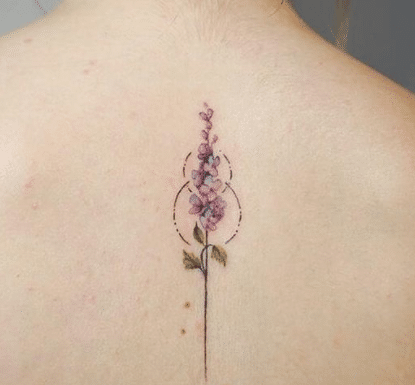 14 – Flower Head Tattoo on Forearm
Have you seen the amazing trend of the flower head tattoo designs? These are simply awesome. The best thing is you can have thousands of ideas for this. Flower heads can be combined with other pictures or designs.
For example, you can use a bunch of flowers as a head and then combine it with any unique design like a woman's body or any other famous theme that you like. The flower head tattoo designs are quite popular and among one of the oldest.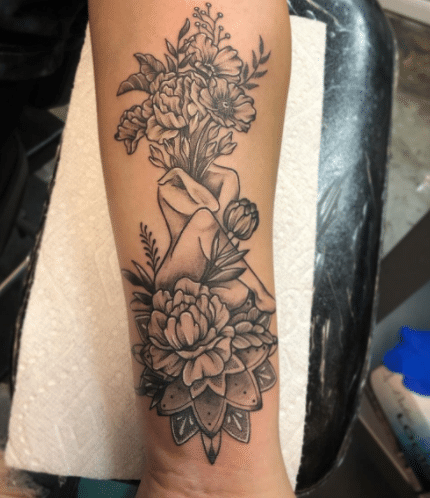 via
13 – Latest Wildflower Tattoo Trend
Wildflower tattoos are among one of the most adored designs and are etched in bunches. The small flowers wrapped around leaves and branches make up a pleasant image.
Though usually, wildflowers are a symbol of joy and happiness they also have now been associated with positivity and good fate in unplanned and impulsive decisions. Sunflowers, daisies, daffodils, and lotus are some frequently inked wildflowers.
Also have a look at these Best Rose Tattoos And Their Meanings.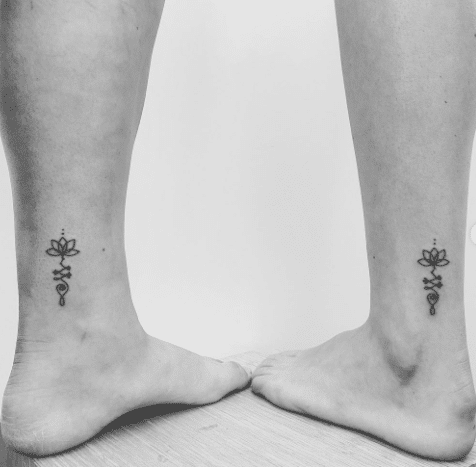 12 – Flower Tattoo With Names
If you are a romantic person and you want to show this side of yours to your loved ones then just go for a flower tattoo that has their names or initials in its petals. A flower tattoo design itself is simply gorgeous and what makes it even more beautiful is the name of your dear one engraved in it.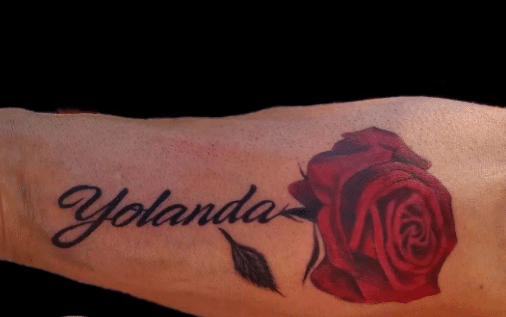 11 – Flower Tattoo Designs on Hand
Flower tattoos look wonderful on your hands. From subtle artistic designs to bold and beautiful symbolic designs. You can style your tattoo according to your liking. Hand flower tattoos always look cool and are considered the most expressive.
A large-sized rose tattoo is quite popular among not only girls but among boys as well. You can also add your favorite colors if you want. Girls are more into small hand flower tattoos or beautiful inking on fingers.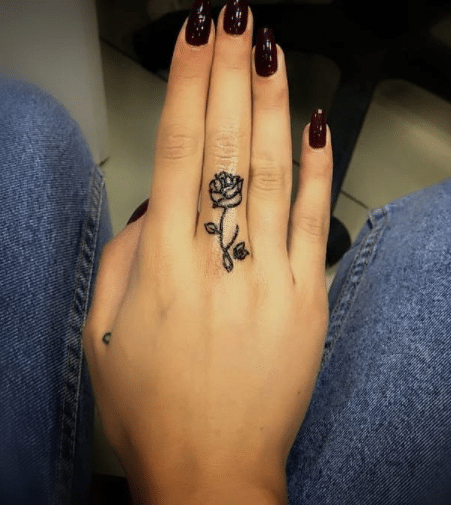 10 – Tattoos of Lotus Flower
A lotus flower tattoo is unique in itself and looks extremely elegant even if it is just a single flower on the hand. Generally, the lotus flower is believed to be the symbol of becoming a good person by dominating your temptations. Whereas, the Hindu religion believes that the lotus is a symbol of purity of heart, charm, and spiritual awakening.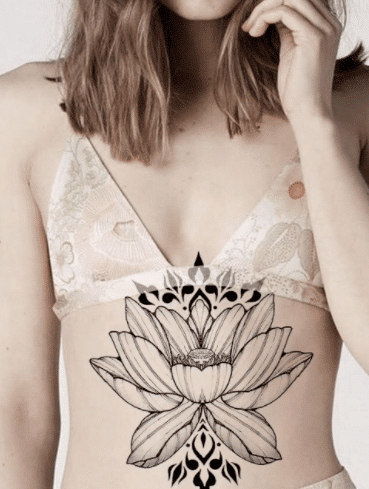 9 – Feminine Flowers
Flower tattoo designs are mostly feminine and pretty, no wonder these blooming little beauties are trending right now, especially for women. They are delicate and have a symbolic value that's why they are so popular among women who can choose from various tattoo designs including some amazing artwork.
These flower tattoo ideas also describe the creative side of women as they can also customize their own tattoo designs.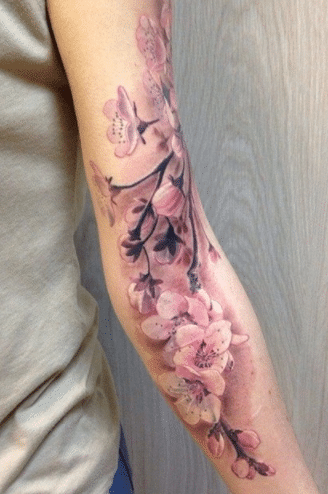 8 – The Beauty of Flower Shoulder Tattoos
Floral tattoo designs are always trending in the fashion world. They show how body art can put forward a style statement and be versatile at the same time. The flower tattoos carry various meanings and look good on any body part but if inked on shoulders they look breathtakingly pretty.
Here are some of my favorite Dove Tattoo Designs.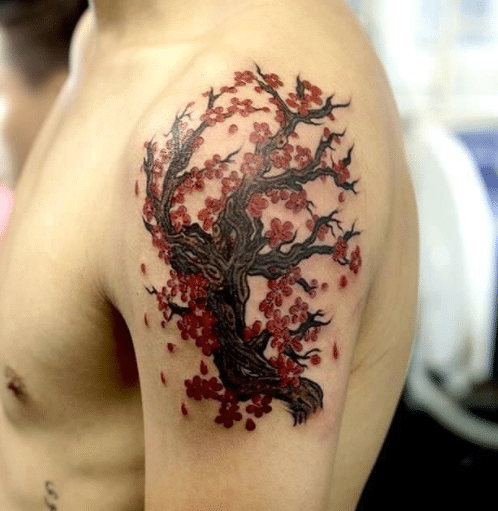 7 – Meaningful Birth Flower Tattoos
Just like there is a zodiac sign for every birth month you can have birth flower tattoo designs for each month. So, if you don't want a birthstone or zodiac sign inked on your hand then a birth flower is a cute alternative for it. Let's find out then if you are going to have an October sunshine marigold or an April baby daisy.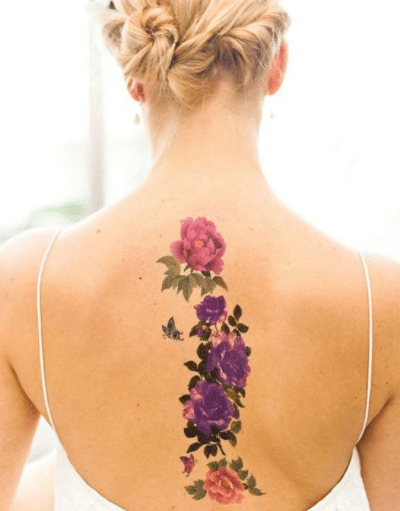 6 – Colourful Floral Tattoos
Though most people like to have black-inked tattoos on their bodies, colorful flower tattoos have their own fan base. They are quite striking and give positive vibes as flowers come in so many radiant colors which make your tattoo ideas much more expressive. Then choose your favorite color and just go for it.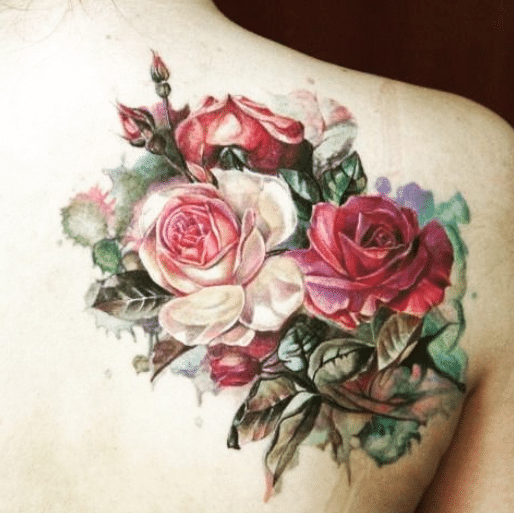 5 – Rose Flower and its Never-Ending Trend
Rose flower tattoo trend never dies as roses make gorgeous tattoo designs. Rose tattoo designs are an old tradition and have always been considered a symbol of love and affection. One reason that they are adored so much is that people have a lot of choices as they come in a huge color range. Hand tattoos of roses are trending right now.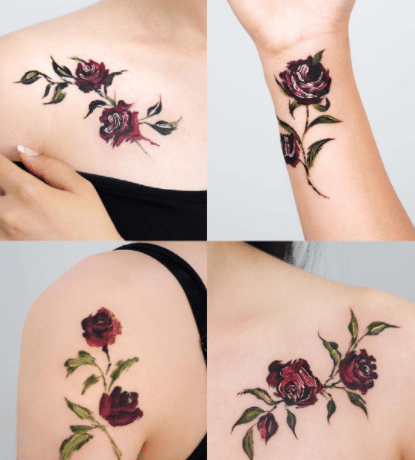 4 – Small Tattoo Designs
People love small flower tattoo ideas because these minute-inked flowers can also be put on the fingers of hands and feet. No matter where you place them they will look pretty and intricate. If you want to have a low-key tattoo look then these tiny beauties are perfect for a subtle display of art.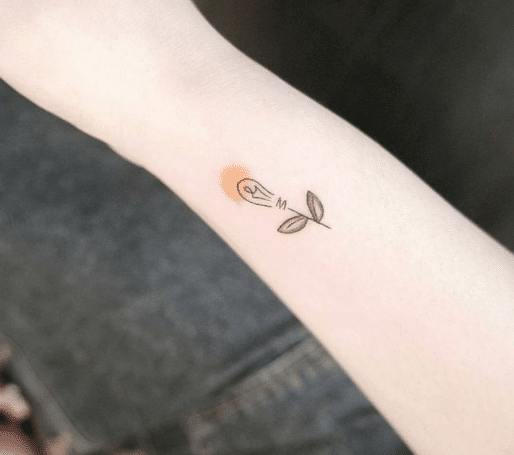 Floral Tattoos for Men
3 – Traditionl Designs
The traditional flower tattoo designs are mostly roses having five petals and various green leaves attached to them. They are simple inked drawings that look good on your body. These traditional tattoo designs are quite popular even until now and that is because they have evolved while also sticking to the roots at the same time. They carry a strong message that we should honor and appreciate our historic art.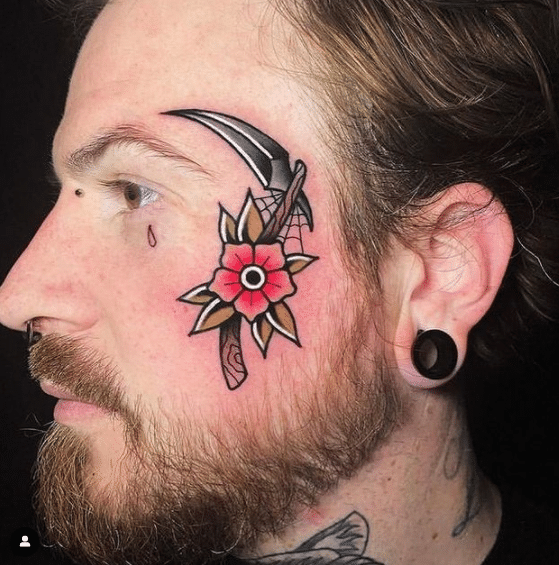 2 – Tattoos Over Scars
If you want to hide a birth scar or a childhood scar then a tattoo is a good option for you. Much better than many other cosmetic treatments but avoid tattooing fresh scars as it may cause damage in some cases.
Just keep in mind that it would be much more challenging for the artist to make a tattoo over scarred skin. An experienced artist would be perfect for the job so choose your artist wisely.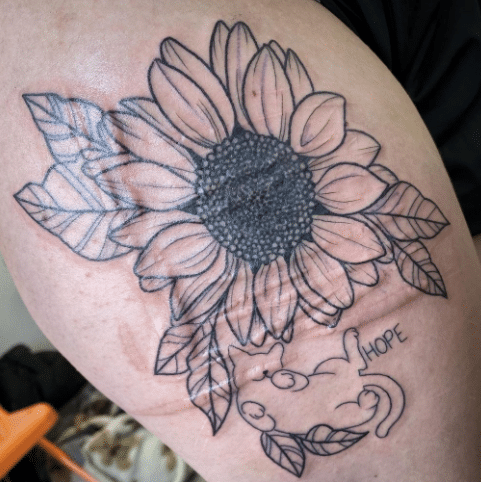 1 – Sleeve Tattoos
Sleeve tattoos are very popular amongst men and adding floral elements to them truly makes them stand out. Here are some ideas: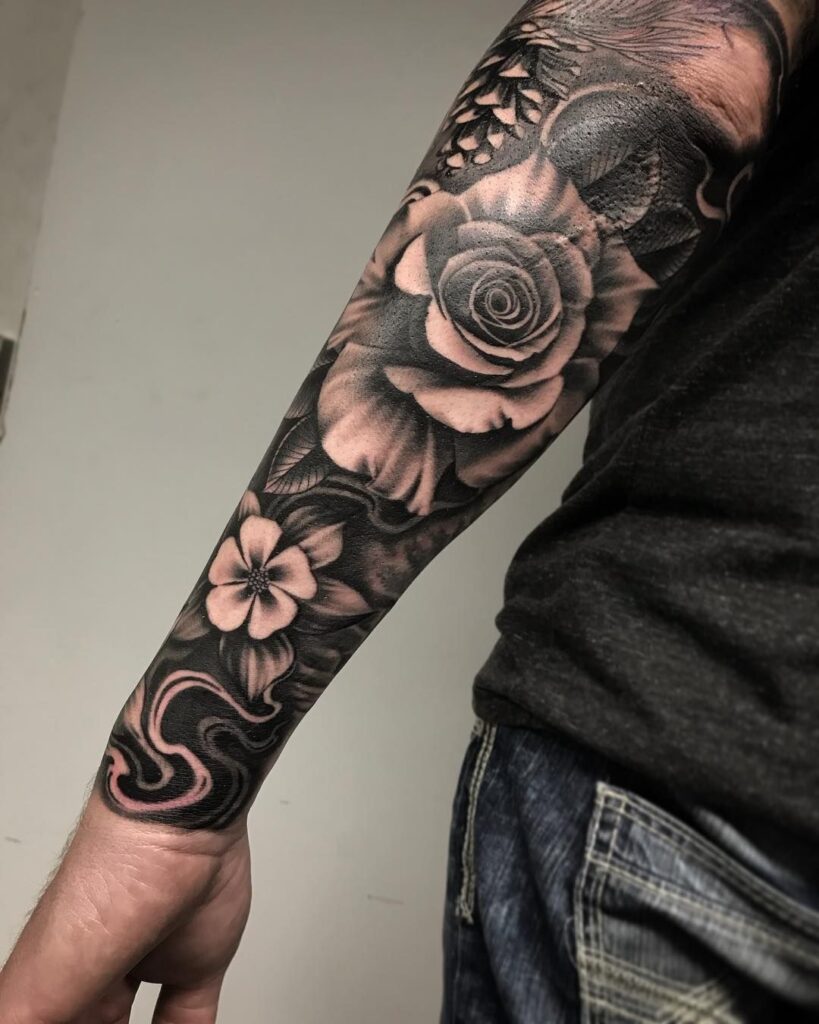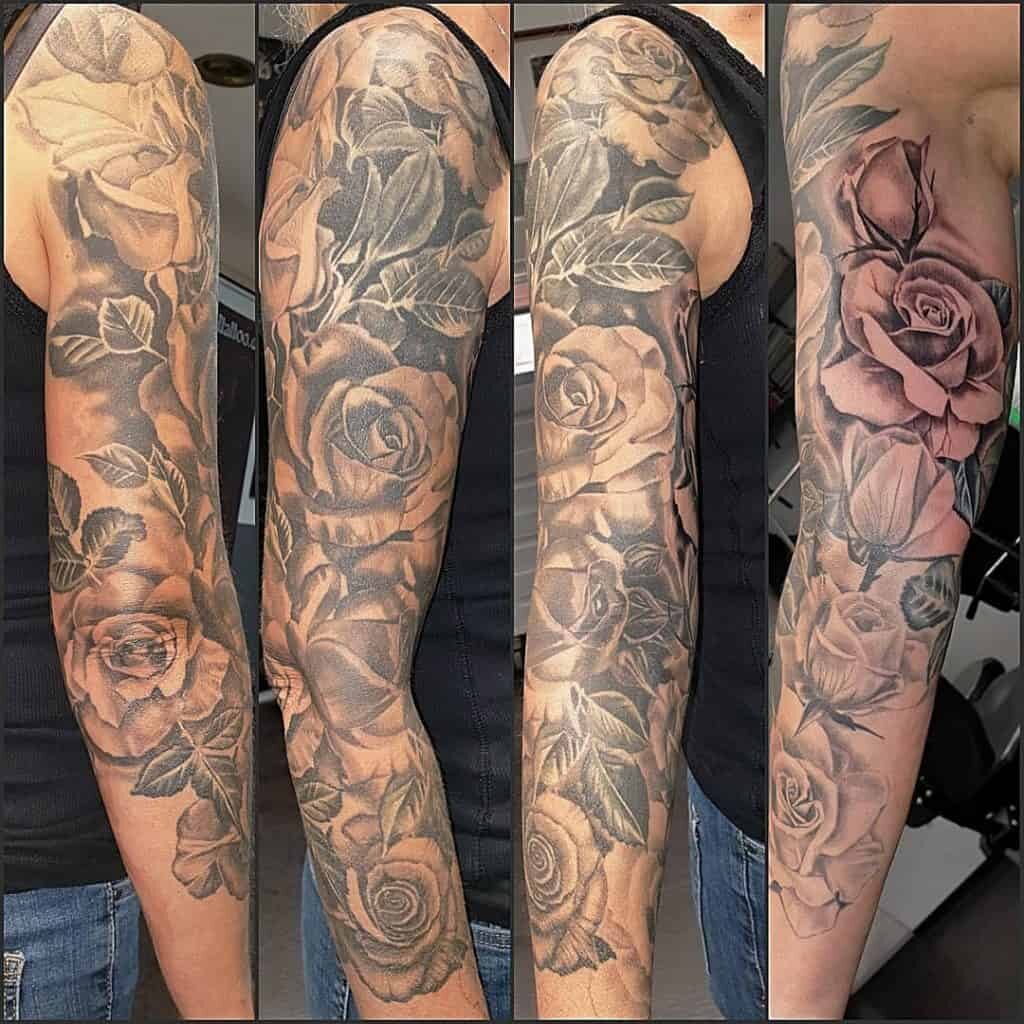 Frequently Asked Questions
Q – Are flower tattoos worth it?
Flower tattoos are totally worth it. Not only are they downright gorgeous but they have meanings that radiate your inner feelings. They are not just for women. In fact, flower tattoos are a popular choice for men these days. Plus you won't fall short of designs as flowers have a variety of looks and meanings.
You can also go for vintage flower illustrations to give your tattoo an extra elegant touch. Vintage flower ideas of tattoos look good as inspirational quotes, names of your loved ones, or simply your initials. So don't wait if you have made up your mind for inking then just pick your favorite design and go for it.
Q. What are the most popular flowers for tattoos?
The blooming flower tattoos are always trendy because they are not just cute but each flower also has a symbolic representation. Apart from that most flowers make up amazing tattoo designs because they are versatile in nature and have a wide range of colors. Some of the most liked flower tattoos include rose, lotus, lily, jasmine, hibiscus, peony, daisy, iris, poppy, and magnolia.
The most tattooed flower is none other than the rose as it is the depiction of beauty and affection. Whether it is a small simple inked rose on your fingers or a huge one on your arms the sheer beauty of the rose is inevitable.
It looks mesmerizing when you add colors to it as a rose is known for its amazing variety of colors.
Q. Are flower tattoos girly?
Many people are of the view that flower tattoos are feminine which can be true to some extent as they are delicate and cute. However, it is also famous among males as flowers are not all about fragility and cuteness. They have other deep meanings to them and if attached with other images they can look masculine too.