Tattoos for older women – Inking oneself when one is older is a brilliant way to go against time and aging. You can become the cool grandparent or parent you've always wanted to be!
Tattoos are a kind of art. No matter your age or identity, getting a tattoo may be another wonderful experience you have in life. Don't wait any longer; getting your first tattoo later in life may be an amazing way to commemorate your life.
Best Tattoo Designs For Older Women
It's never too late to try getting a tattoo if you've never had one before. If you feel the need to finally rebel and get something inked on your arm or back, go for it.
Scroll down to find some of the best tattoo ideas. The ideas might motivate you to make an appointment for yourself.
Tips and Tricks on Selecting Tattoos For Older Women
As you age, there is a certain love-hate relationship that you have with your body. Tatts can help you through it. You can always cover up an undesirable region with your new tattoo.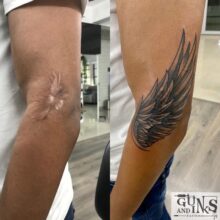 In my opinion, certain body areas, like the wrists, ankles, and shoulder blades, are easier to conceal depending on what you're wearing because they don't vary much over life. If you are unsure about having a pattern permanently imprinted on you, these are the safer and better solutions for you.
Make sure you go to a professional and well-equipped tattoo parlor; your skin becomes more sensitive as you age. You should be more careful about who to go to at such times.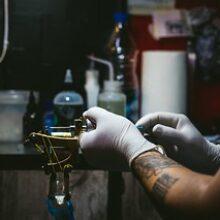 Your tattoo can represent a unique relationship with that person, a spiritual practice, or it can be a reflection of how you personally live. Your tattoo is all about conveying a sense of commitment therefore put some thoughts before you get inked.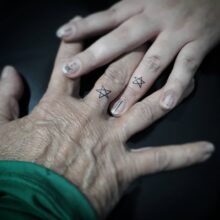 It's important to take care of the tattooed region once you've had one. Whether a tattoo will look well after healing depends on aftercare. Wash, moisturize, and refrain from touching the affected area. Additionally, once the tattoo has fully healed, use sunscreen if the tattoo is exposed.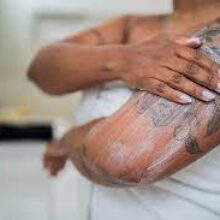 20 – Flower Tattoos
Choose a tattoo with an inherently soft design if you're concerned that it will harden your appearance.
Because you may choose to have a little, delicate design or a larger one to hide scars and stretch marks and yet appear feminine, floral tattoos are fantastic for women.
It's not necessary for tattoos to hold a special significance for the individual obtaining them. They could occasionally only be an artistic expression this is why you will find plenty of flower tattoo ideas. Besides, they look so lovely and enduring.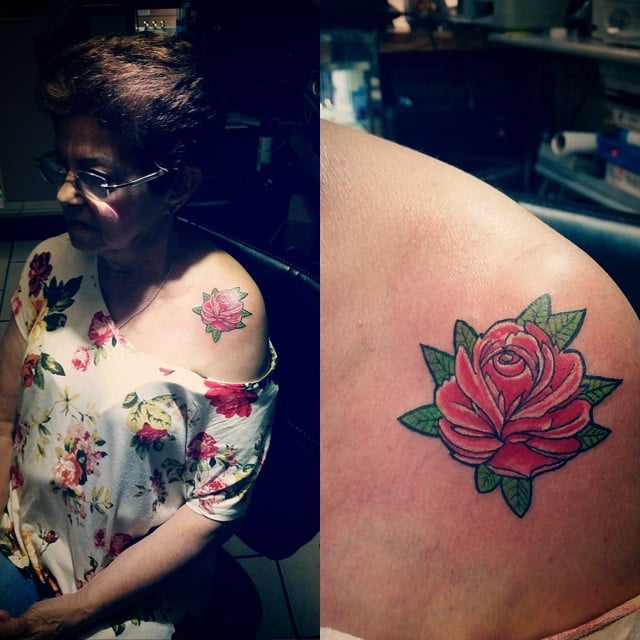 19 – Matching Initials With Your Partner
Give a lovely gesture to your partner and get their initials inked on you.
Scale it back to simply your partner's first name initial if a matching tattoo is too cliché. It has a lovely, sleek, and sophisticated appearance.
You can also make use of font creativity by putting symbols above the letter, such as a heart or a crown.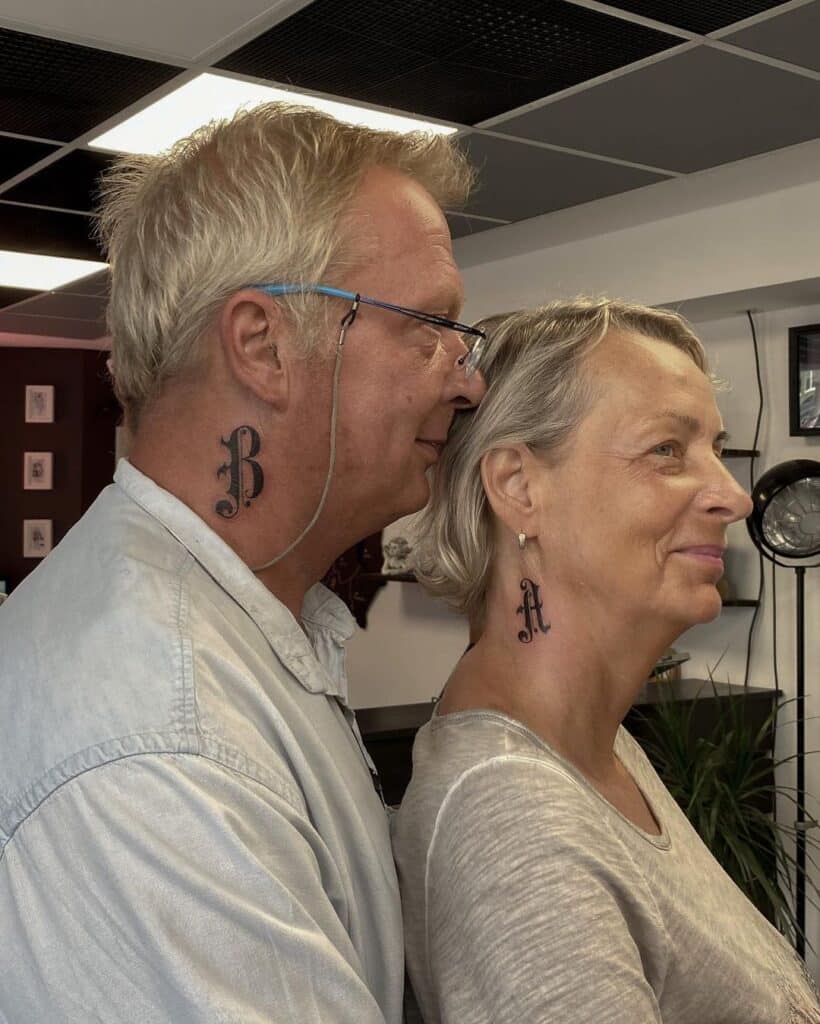 18 – Chest Tattoo
While some ladies prefer delicate, tiny tattoos, others prefer huge and flashy designs. Whatever your preference is, don't be afraid to get a tattoo around them.
Have a look at this impressive assortment of tattoos. She not only has tattoos covering her entire chest, but she also displays a more daring side for someone her age by getting snakes and skull tats.
The basic flowers are preserved on the sides of the design, which is incredibly fierce and somewhat reminiscent of those old-school goth tattoo designs. It's a beautiful way to show her darker side.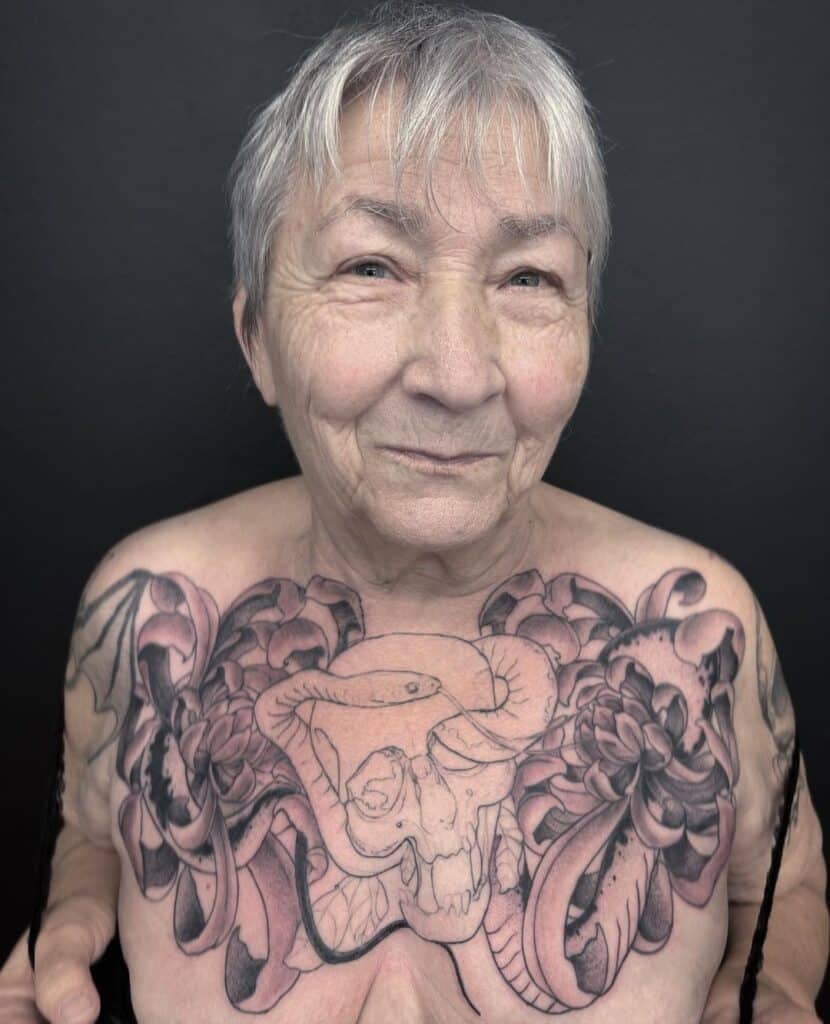 17 – Filigree
Filigree became popular in the mid-1600s. You can be sure that filigree won't go out of style because it has been used as an ornamental design element for ages.
Latticework may be incorporated into tattoos in countless ways, from standing alone as a delicate pattern to serving as an accent to a bigger piece.
It will give you a feeling of nostalgia, and if you do not want to go too over the top, you can get a minimalistic filigree design as well. In either case, it makes for a stunning and elegant female tattoo for all the older women out there.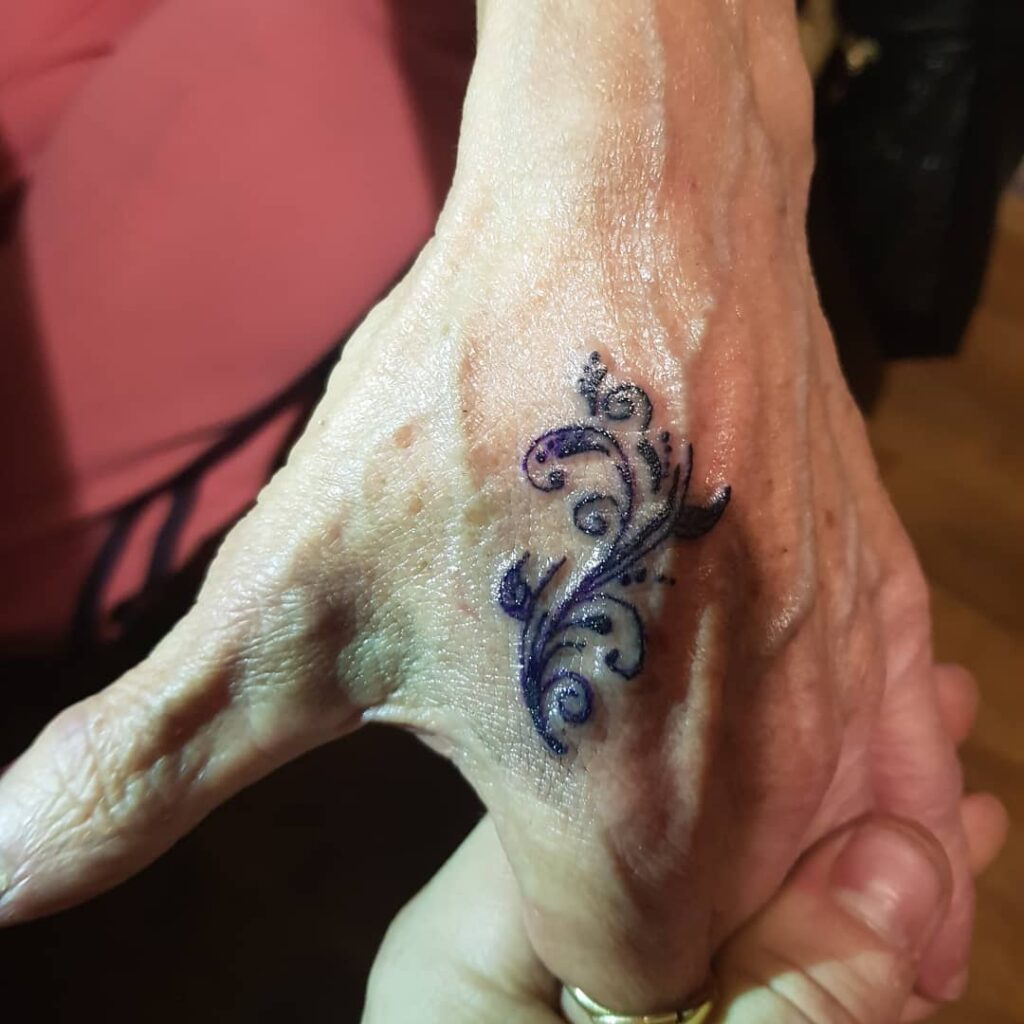 16 – Evil Eye Design
You are never too late to get your first tattoo, like this lady who got an evil eye inked for the first time at the age of 77.
A tattoo of an eye may represent a variety of things, depending on the design you choose. For instance, you can also get The Third Eye and the Eye of Horus tatted; they are two well-known ocular objects.
The talisman is said to provide the user with protection, shielding them from negative energy and fostering good karma. It is a wise choice for you to get your first tattoo portraying protection from the evil eye to you.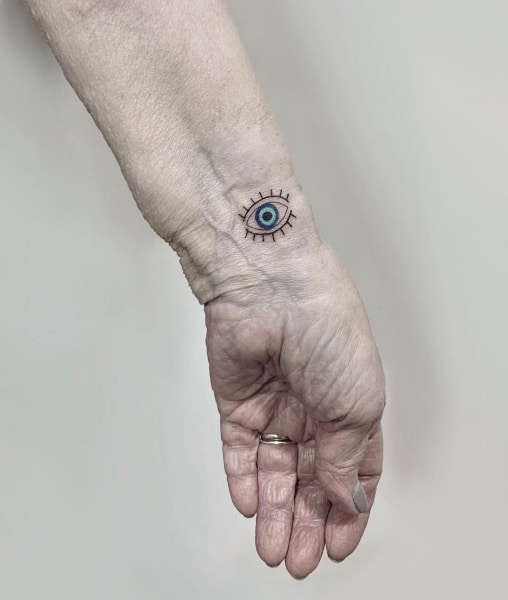 15 – Lettering
Eliminate the thought of colossal tattoos in the form of graffiti. A classic, subtle entry into the world of permanent art may be made through lettering.
Quotes and phrases have always been adored. Besides, the initials of a loved one all make great first tattoos.
Since women over 40 are less inclined to purchase anything current and are more confident of the words, quotations, and figures of speech that have enduring value to them, lettering is particularly well suited to a more mature demographic.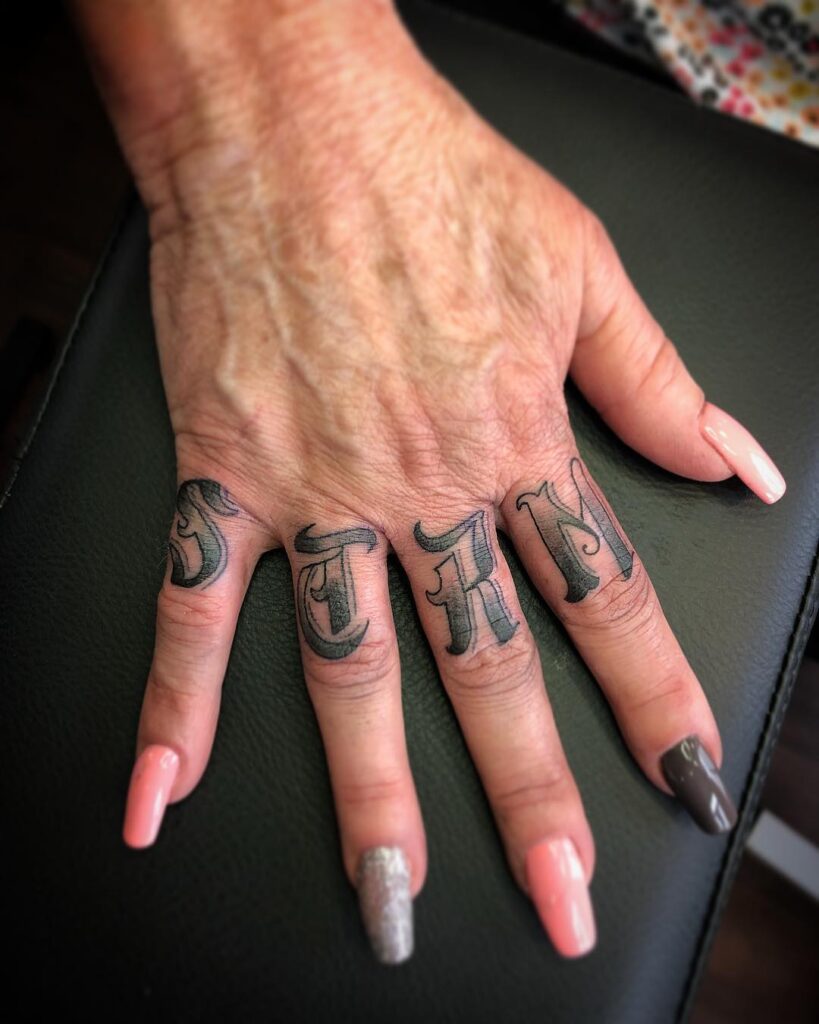 Some people wish to get a tattoo to show their love for the seaside and the water, which they live and breathe. This woman did act in such a manner.
A woman at 68, revealed her newly healed tattoo for her Instagram followers to see while basking in the sun at the beach.
She recently had a stunning dolphin tattooed on her leg along with her grandson's initials. The dolphin appeared to be launching itself out of the water. You can tell she's a beach girl through and through based on her tattoo.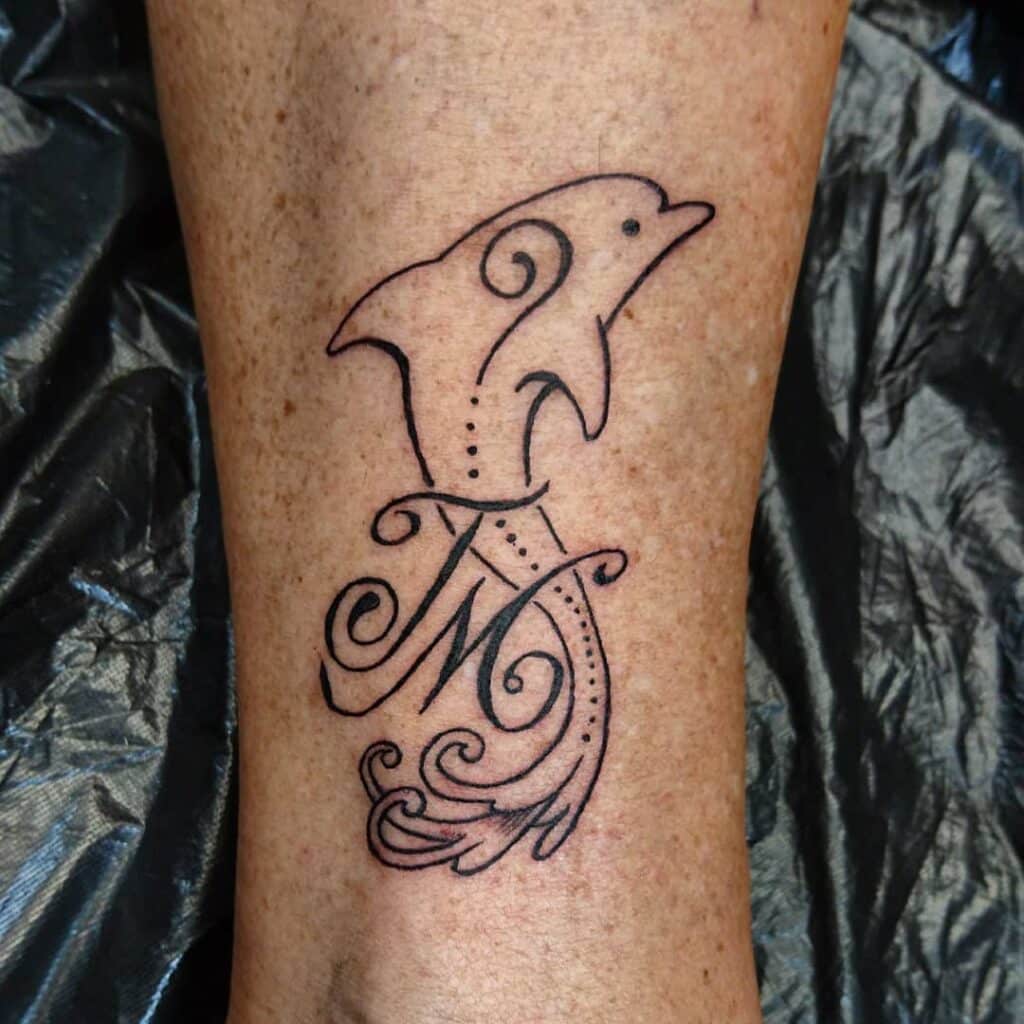 13 – Best Back Tattoo
You are free to choose whatever design you choose. Since women are naturally youthful in heart, get the tat "Forever 18" on your back. Another illustration of linework tattoos is a flowery blossom. As you can see, the design has delicate, subtle lines that give it a light appearance.
Back tattoos are enjoyable since they aren't very obvious. Most of the time, unless you get a glance at yourself in a mirror or window, you don't even realize you have them.
They also give a nice surprise. Depending on the blouse or dress you're wearing, the tattoo is concealed until you decide to show it.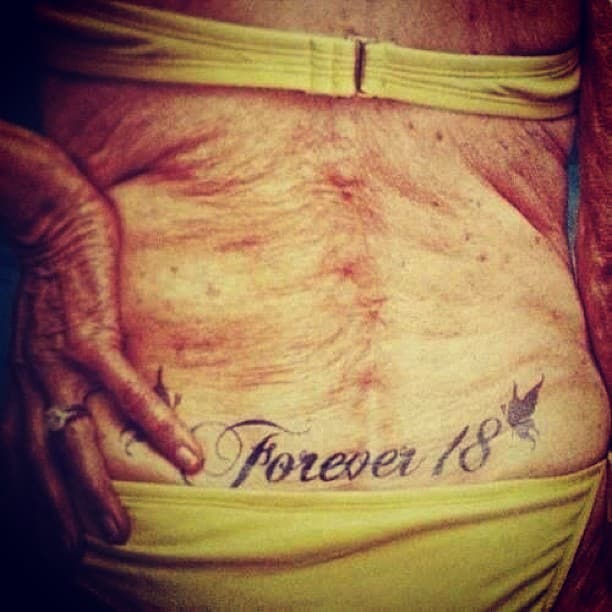 12 – Grandmother and Granddaughter Matching Tats
Grandmothers and their grandchildren are increasingly getting matching tattoos as a means to strengthen their generational bonds and have fun together.
To cherish your bond, you two might have matching tattoos of flower designs or life messages. The phrases would be more interesting to look at than the conventional flower sprigs. The grandma was inked just near her wrist on her arm, and her granddaughter did the same.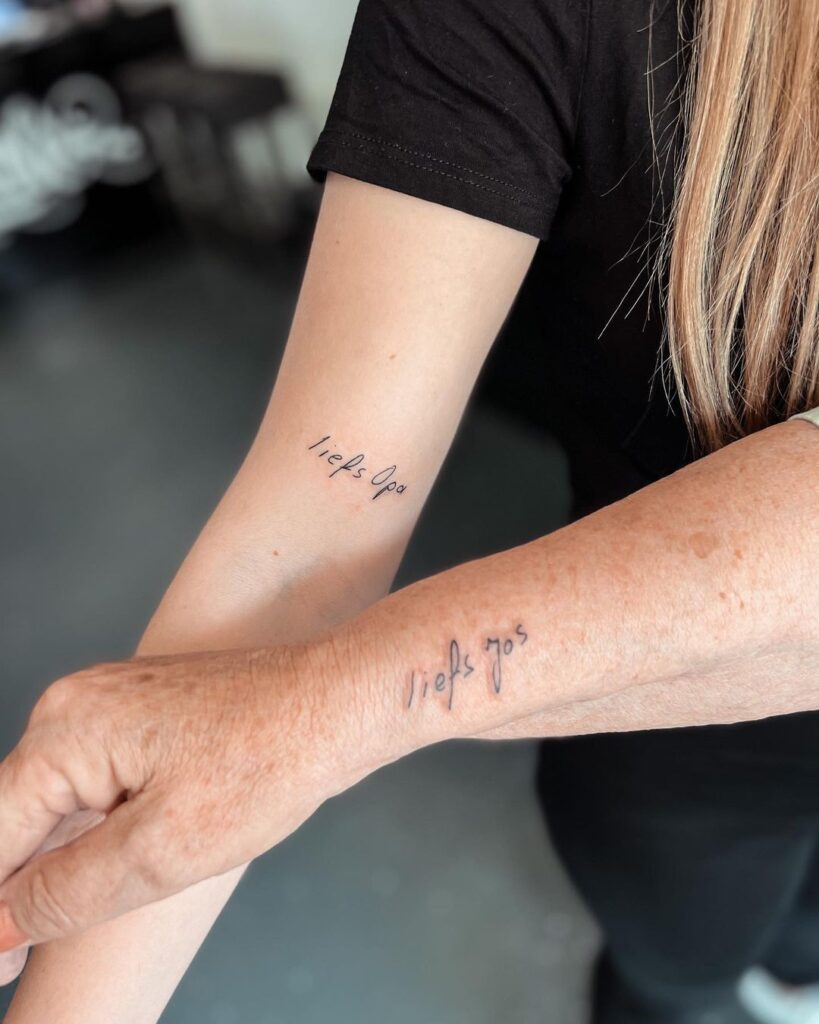 11 – Dream Catcher Tattoo Design
Let your inner personality come through with the aid of a tattoo if you were a hippy in your childhood and are still one at heart. This woman forced her way into a tattoo shop and had a complex dream catcher tattoo designed elegantly on her forearm.
The geometric pattern is stunning and intricate, so it doesn't matter that the ink was large and covered most of her forearm. The design seems tidy rather than cluttered because of the delicate line work.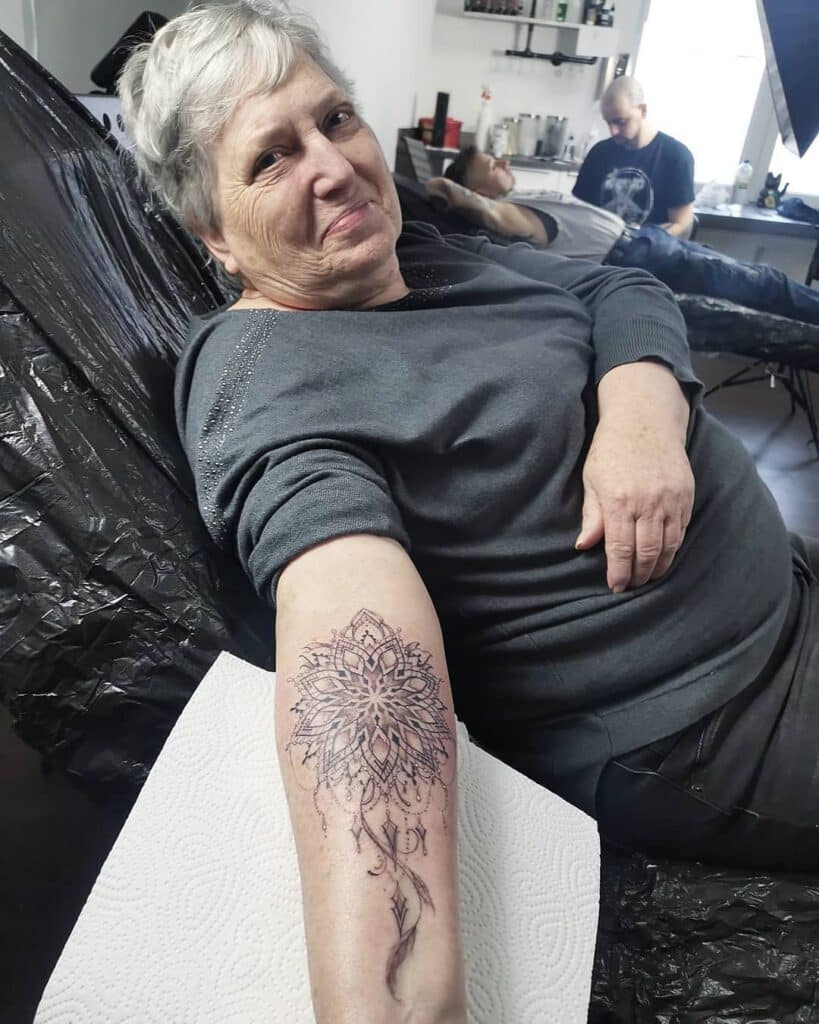 10 – Make Use of Freckles
One of the innovative options is to make use of your freckles. Like this mother of a tattoo artist who had two freckles on her forearm and decided to turn that into something adorable.
She asked to connect her two freckles into a smile by tattooing a brown smile line. The minimalistic tattoo was loved by everyone in her family.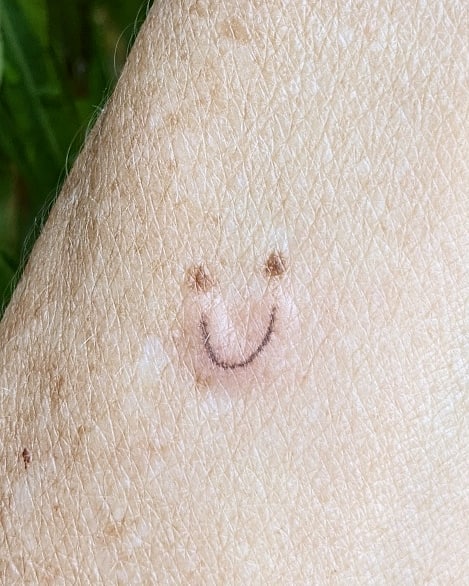 9 – Uplifting Quotes
You may always choose to have delicate tattoos if you don't like having large graphics on your arms and chest. Christiane, who is 72 years old, just added two new tattoos to her collection.
You can see that she already has two fresh text tattoos in addition to the Chinese lettering tattoos she had on her wrist for many years.
Seize the day is written on her wrist, and "cogito, ergo sum," which translates to "I think, therefore I am," is written on her forearm.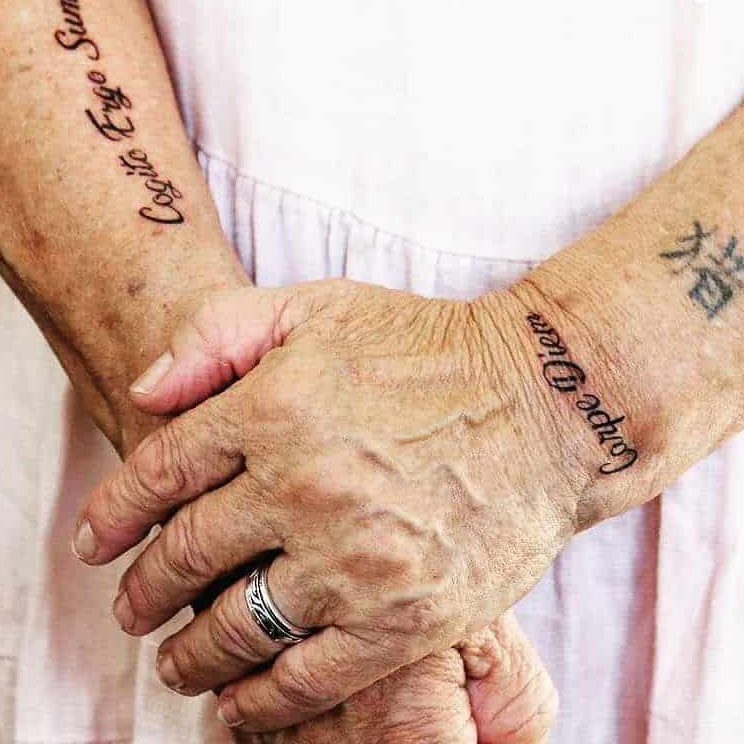 20 – Unicorn Ink
The tattoo business has seen a lot of interest in the trend of unicorns. The sort of unicorn you get tattooed with will determine what meaning it conveys. Unicorn tattoos are something special.
These tattoos will undoubtedly help you find what you're seeking, something special and enchanted.
These inks have a feminine flair and will make you feel young and pure.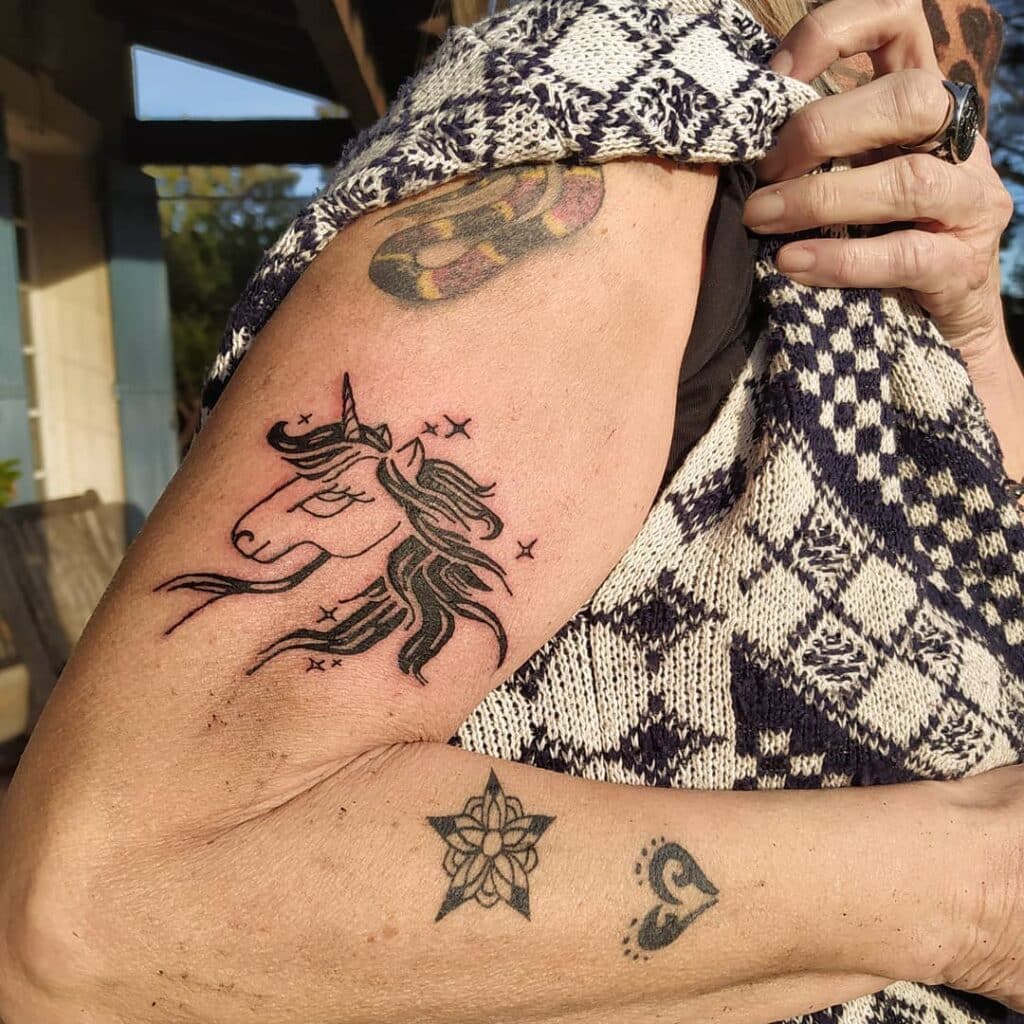 7 – Neck Design
Neck tattoos frequently have a negative connotation, yet if done correctly, they may be elegant. To avoid overwhelming your decolletage, the solution is to have a modest tattoo. (Except if you want to be daring and are okay with large tattoos.)
If you'd like something more delicate, get an idea from this woman's tattoo. Additionally, you might get a saying or perhaps a path of flowers tattooed around your neck.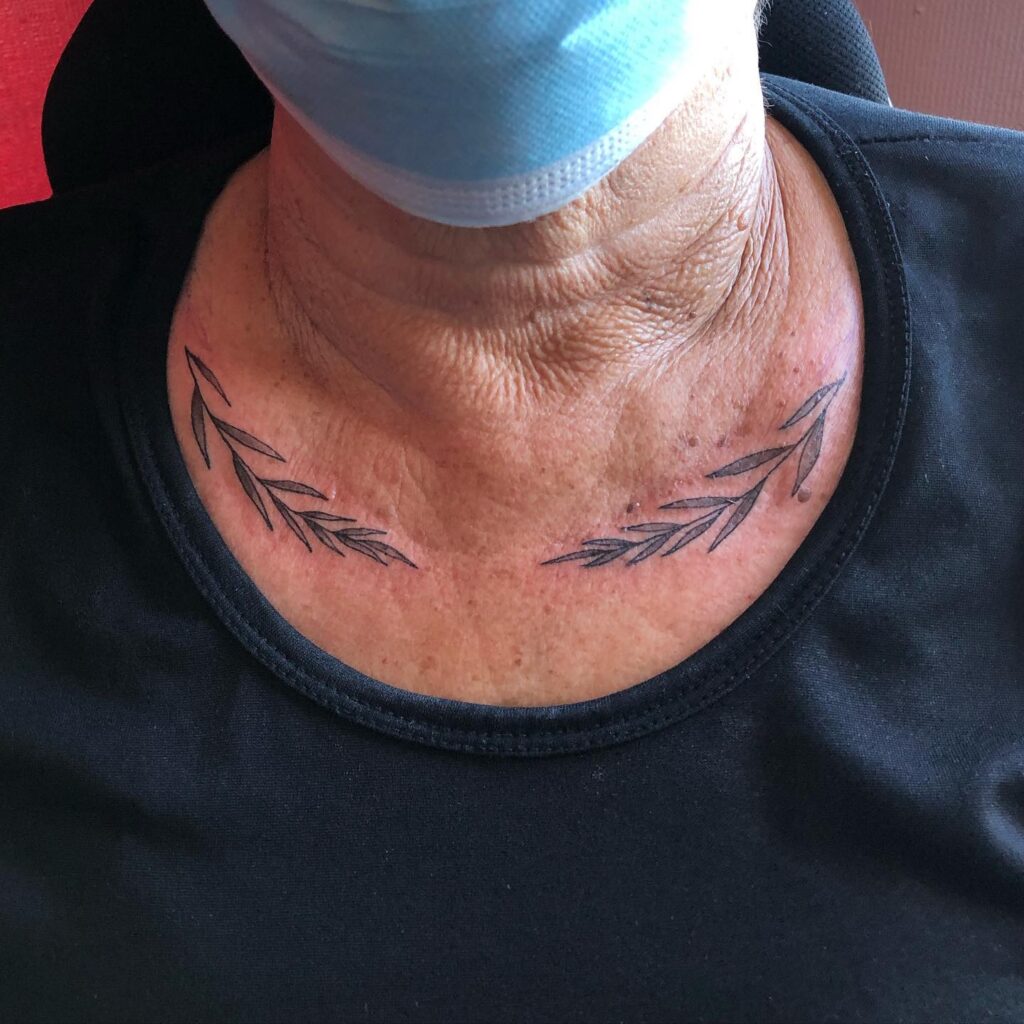 6 – Get Matching Name Tattoo With Your Sister
Getting a matching tattoo with your sister is special. You can get a simplest yet meaningful tattoo just like this name tattoo. Moreover, you can also get your surname printed on your arm.
One of the popular matching sister tattoos is getting your date and year of birth inked.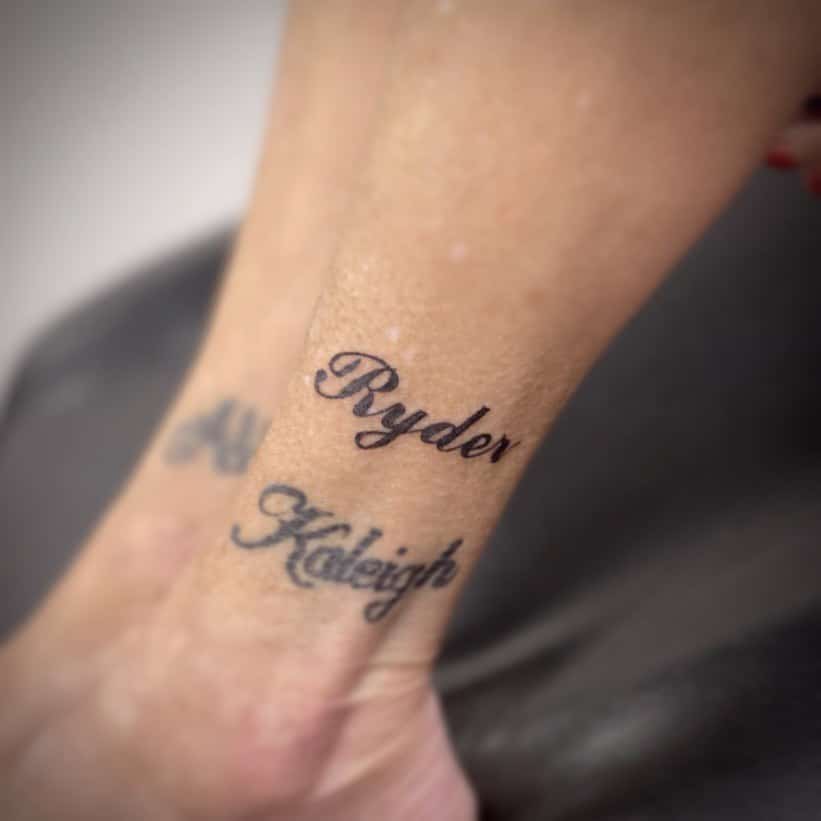 5 – Collection of Tats
Some people acquire a variety of various tattoos all over their bodies, treating them like a collection. It is also never too late to start your collection right now.
Some designs, like a sentence or a dedication, may have significance, while others are selected only for amusement. The outcome is a playful skin-based extension of their creative personalities.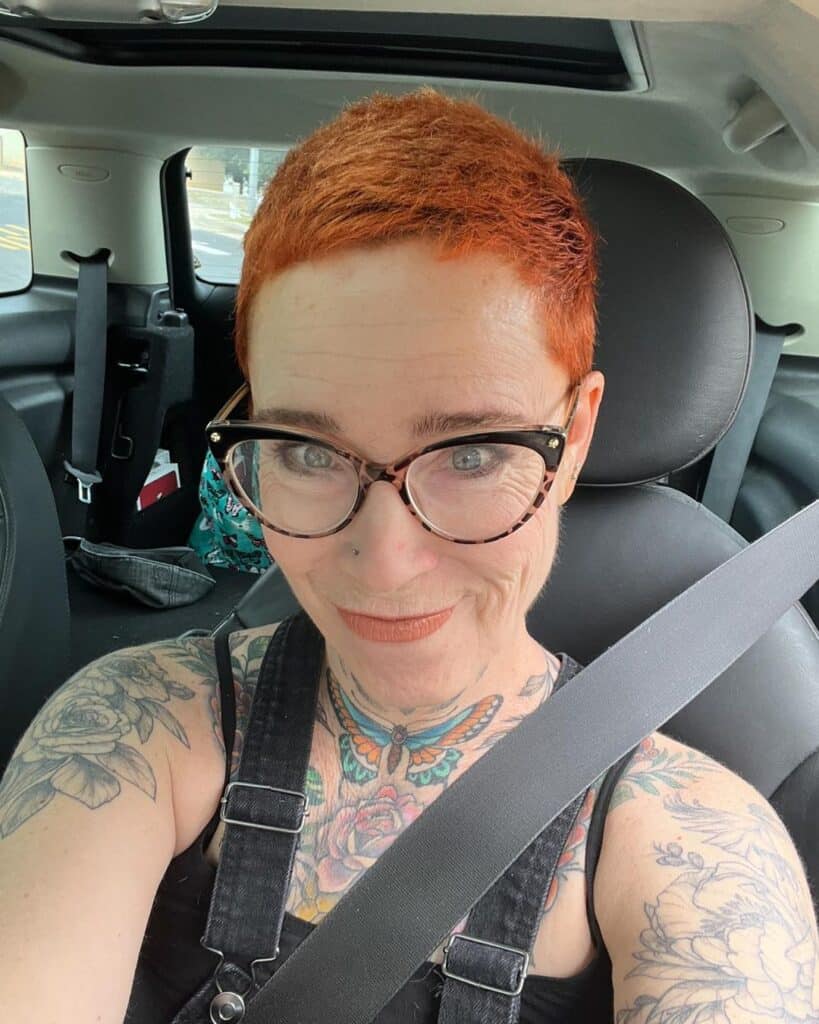 4 – Micro Stars
For individuals who are considering getting their first tattoo, there is a fun micro tattoo trend that is a perfect choice right now. These little patterns are ideal for people who want a tattoo but don't want it to stand out on their bodies because of how small they are.
You won't have to spend hours sitting in a chair at the tattoo parlour because it is also a quick tattoo.
The family of Maria Angel is symbolized by eleven lined-up stars. She received her first tattoo when she was 82 years old.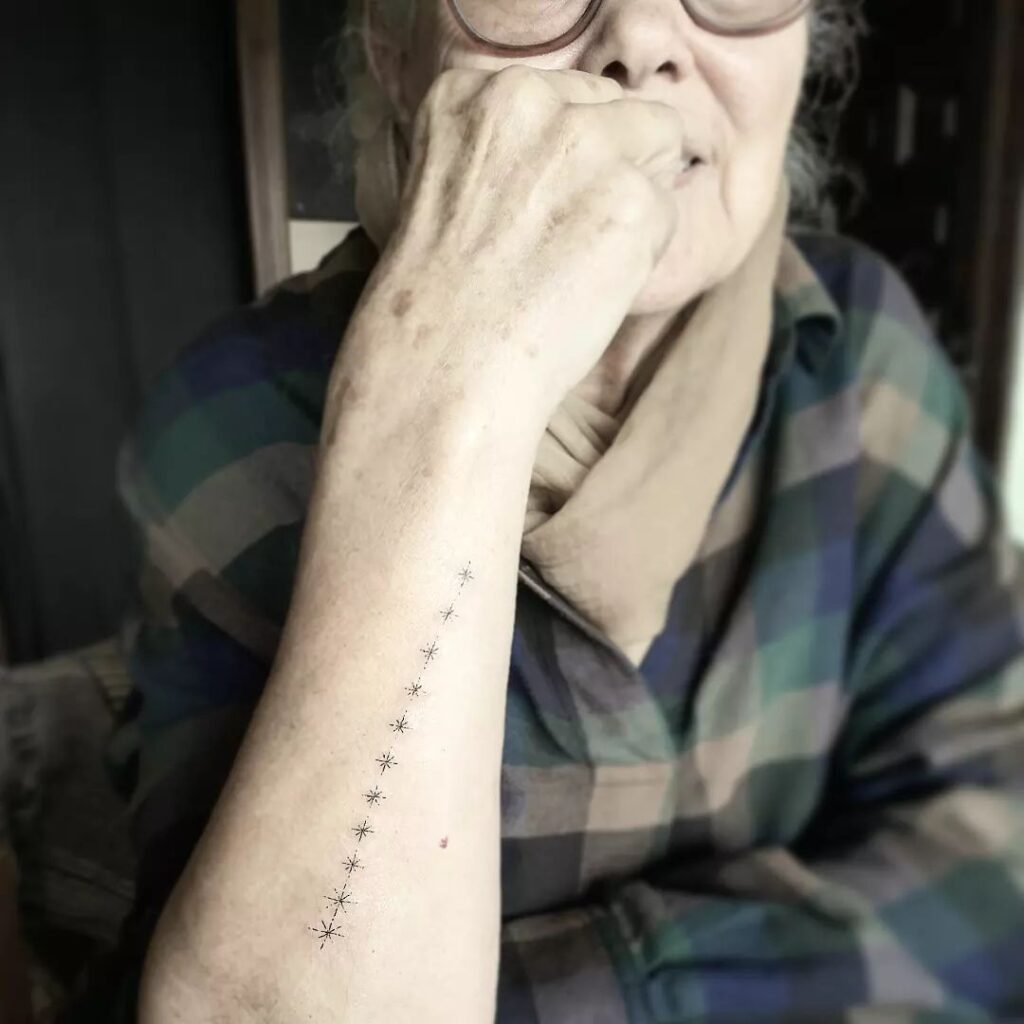 3 – Tattoos for Arms
Because they are so obvious, sleeve tattoos are seen to be on the riskier side. Sleeve tattoos are not only for people who conform to particular stereotypes.
You have the freedom to be anyone you want to be, whether you want to be feminine, a businesswoman, or a granny. It just matters that you went with your instincts and didn't allow other people's opinions to stop you.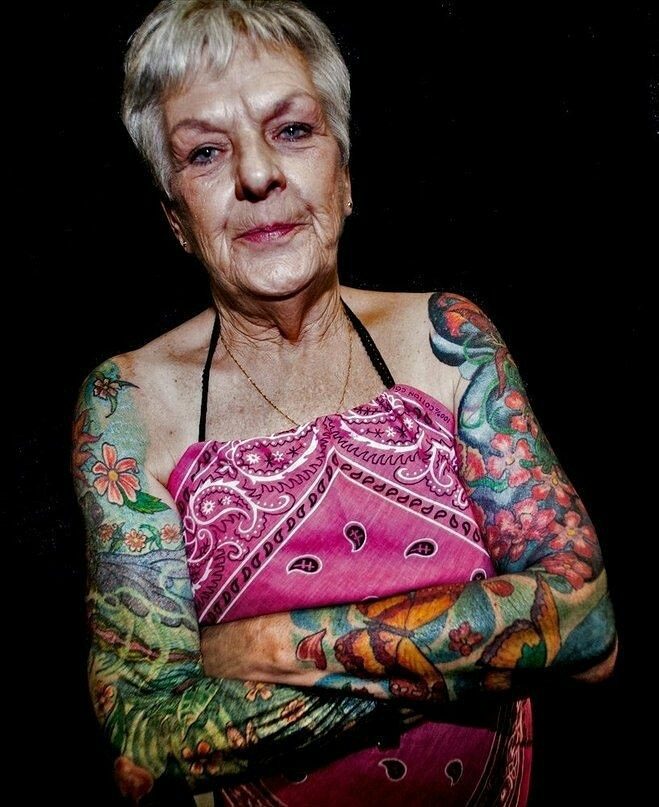 2 – Lavendar Springs
It's not necessary for tattoos to hold a special significance for the individual obtaining them. They could occasionally only be an artistic expression. This is why flower tattoos are so well-liked; they are lovely and enduring.
A lavender sprig was placed on this woman's sleeve. It is a great way to keep spring close by throughout the entire year and is feminine and pleasant. Getting a tattoo of a flower is a wonderful place to start if you want one but aren't sure what to get.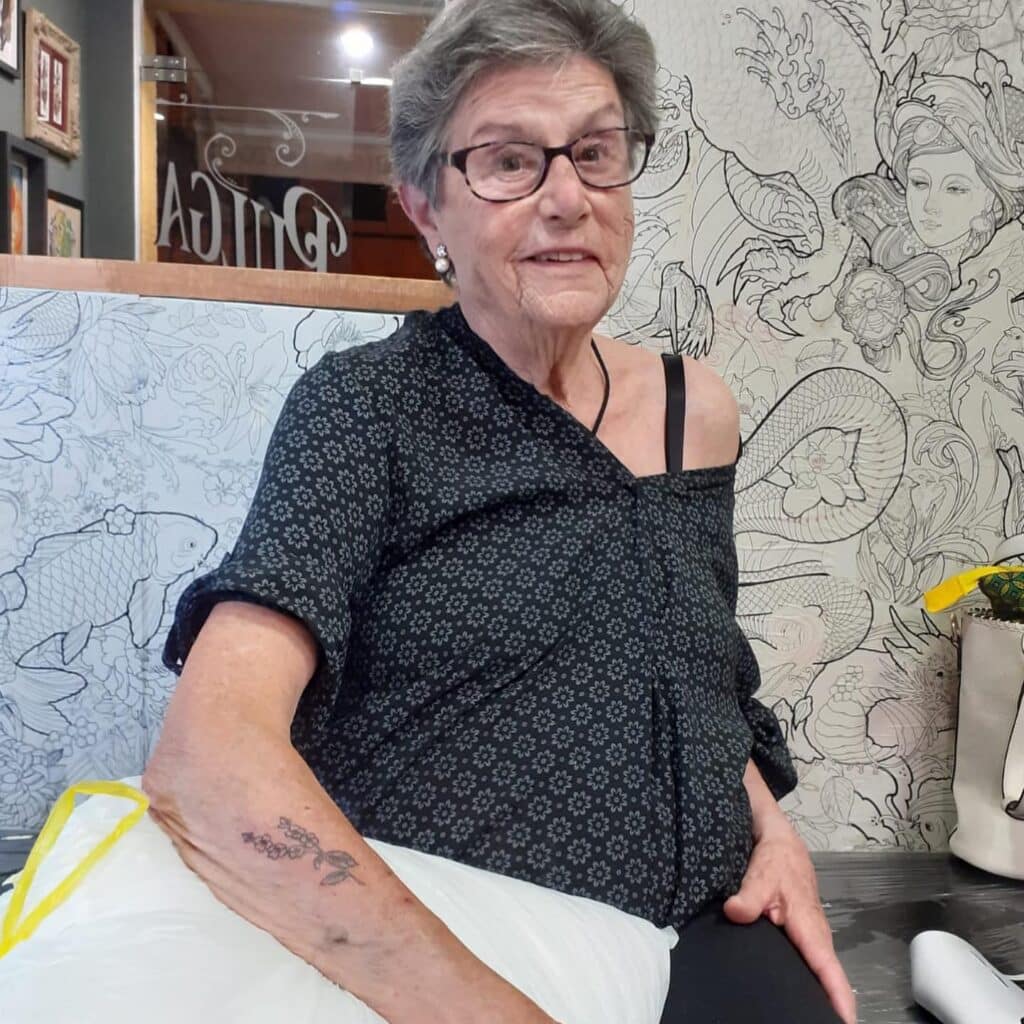 1 – Minimalistic Heart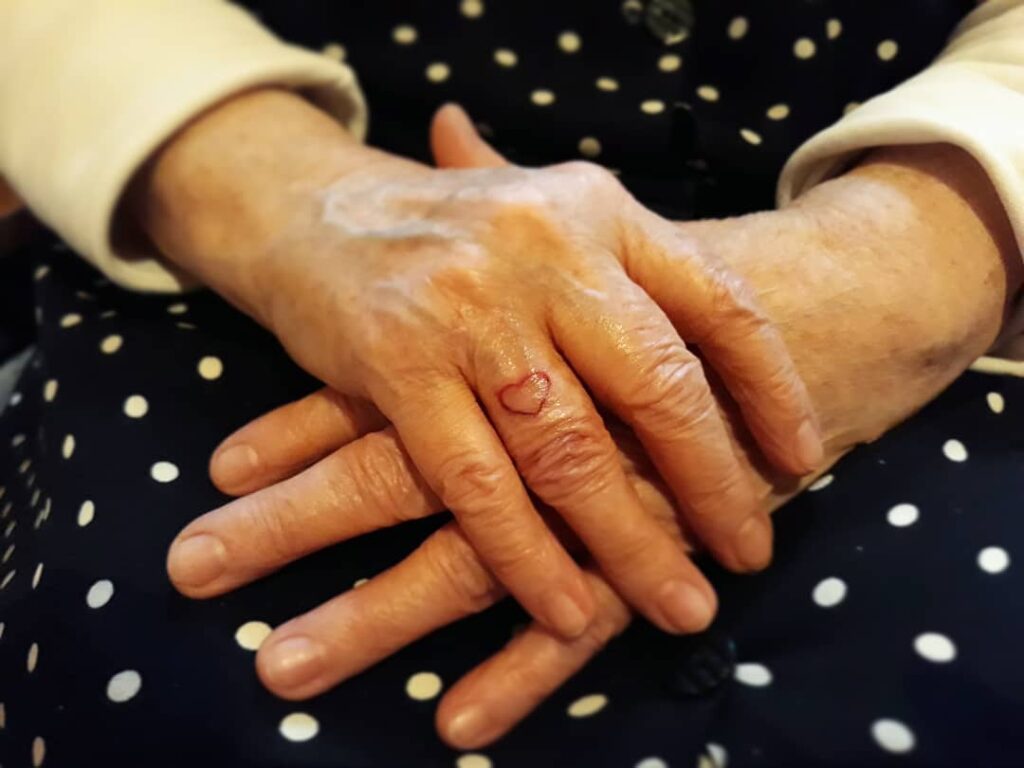 Frequently Asked Questions
Q. Where should an older woman get a tattoo?
Ans. You can get a tattoo anywhere on your body, but certain body parts show fewer signs of aging, thus lesser changes of your ink sagging. Some of those places are the inner forearm, the upper and outer areas of your chest, the back of your neck, and the center of your lower back.
Q. Should a 60 year old woman get a tattoo?
Ans. Yes, you can get one whenever you want. You shouldn't be concerned about it because it is not something that only affects young adults. Don't consider your age if you feel the urge to express yourself, be impulsive and rebellious.
Q. Do tattoos look good when you get older?
Ans. Generally speaking, the ink will still appear nice. However, lines may blur, and the lettering may become less distinct. Additionally, taking care of your tattoo while maintaining your health is fantastic.
Q. Are tattoos more painful the older you get?
Ans. Although not proven by a study, getting a tattoo as you get older and heavier might likely be more painful. In comparison to younger skin, older skin may be more prone to bruises or discomfort. Skin that is looser and perhaps more susceptible to tattoos may be present in heavier individuals.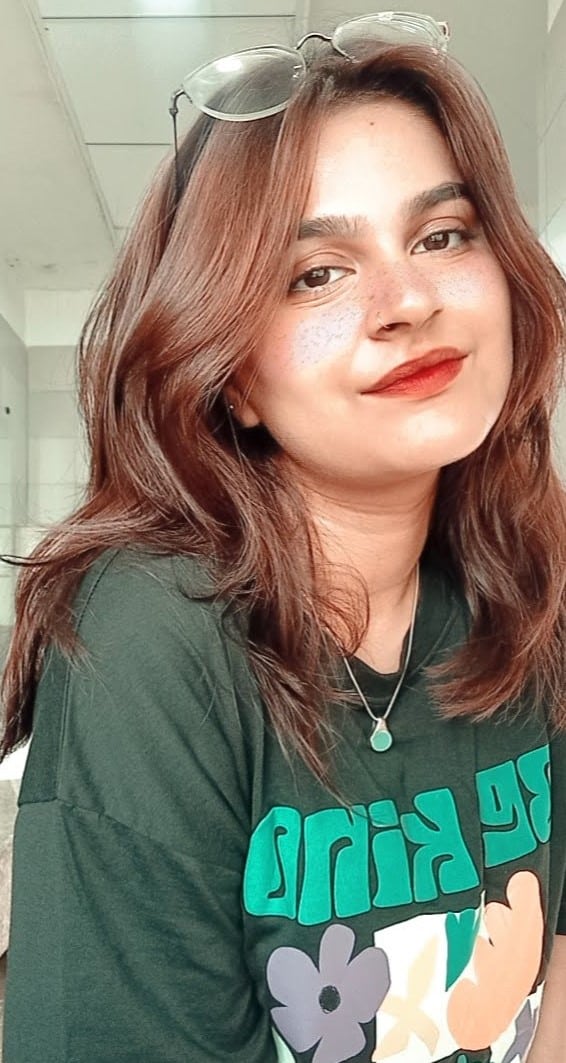 Adeena is studying Media Sciences at IoBM. She is a freelance content writer and graphic designer with experience in UI/UX as well. Adeena loves writing about fashion, taking photographs, making videos, and exploring many artistic things in her life.