Dolphin Tattoo Designs With Meanings: Dolphins are extremely intelligent and interestingly very playful. People love to have them tattooed on their bodies as it makes them feel more compassionate, free-spirited, graceful, and create a bond with themselves.
A dolphin symbolizes many things due to its association with different cultures. Being one of the most beloved creatures, they have been a constant symbol for several cultures. People choose dolphin designs due to various reasons, including their eye-catching beauty, noble and peaceful nature, depth, and symbolism.
Tattoos have different meanings based on the design that you choose and the color scheme you go for. Looking at the dolphin through history, they have played several roles, some of which are realistic while others are considered imaginary.
Dolphin tattoos symbolize different things including friendship, harmony, and community. Out of all the different symbols in tattoos and art, dolphins are considered to be ranked very high due to the variety in their meanings. This playful and intelligent mammal can be tattooed on everyone as it will look good on all the body parts including the wrist, arm, ankle, thigh, back, or anywhere you may like.
Tips And Tricks For Getting A Dolphin Tattoo
Instead of stating the size of the tattoo as small, medium or, large, try to give proper dimensions in inches. This will help in making sure that the size is exactly how you want.
Always get referrels before selecting the artist. Make sure that he/she holds a good portfolio and is recommended by others.
Before leaving, make sure that you go through the aftercare instructions, these may vary according to the way the artist adapts to protect the tattoo. For example, if your artist uses plastic wrap, you can remove it after a few hours. In the case of bandage, you need to leave it on for three to five days.
Don't pick or scratch your tattoo. Also avoid hot baths and exposing the tattoo directly to the sun. Always put on sunscreen to make sure that the tattoo is protected.
Don't overwash your tattoo as this may lead to dry skin and can cause serious irritation.
Feel free to contact a specialist in case you experience extreme pain or bleeding.
You can combine your dolphin tattoo with flowers to make it look more playful.
Be cautious if you have sensitive skin, understand your skin before deciding to get tattoo.
20 – Tribal
Made up of geometrical shapes, the dolphin tribal tattoo designs signify prosperity, meaning you have a chance to recreate yourself. This tattoo is created using black ink, however, you can go for the color of your choice too. You can easily pull this tattoo off irrespective of your gender. This tattoo design looks best in mono-chrome and suits every skin tone. You can effortlessly get this design on your back, arm, or even your ankles. This tattoo will be the best choice if you are looking to add a significant meaning to life.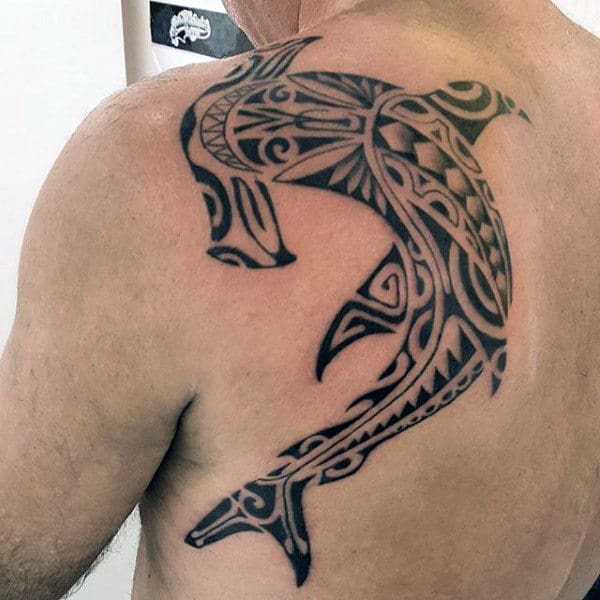 19 – Sun And Dolphin
Going back to ancient Greece, the dolphin is associated with gods. Dolphin with the sun has several meanings, it indicates health, intelligence, renewed personality, and life. People who go through massive changes in life should get this sign as this indicates new or renewed life. This design can be on your arm, back, or even on your neck. You can definitely check this design out.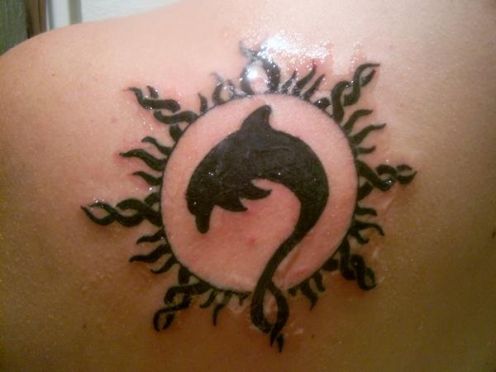 18 – Realistic Tattoo With Flowers
This design symbolizes open heart and attachment and provides a feeling of lightness. This design is more popular among women. However, it is preferable for young girls. This design looks good in both mono-chrome and different colors. Those with any skin tone can try this design out.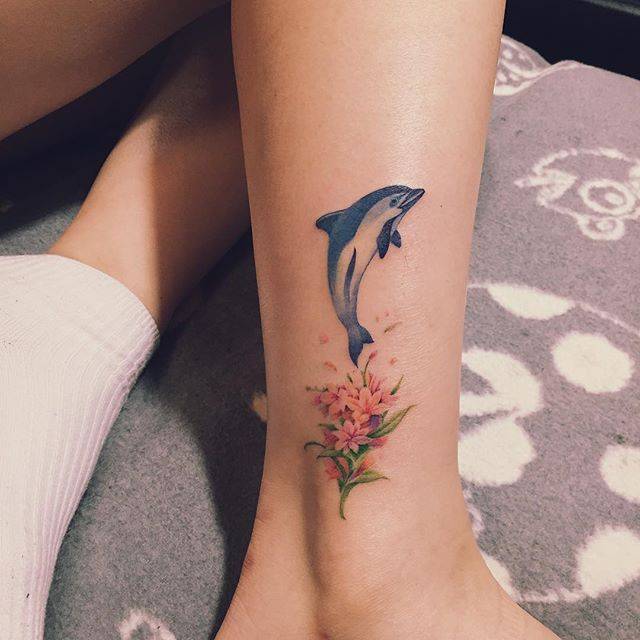 17 – Dolphin With Hearts
This design symbolizes warmth, aspirations, preservation, honesty. The people who opt for this tattoo design are elegant and have a sense of direction in life. This tattoo will look best on the arm, neck, or back. This design is a safe option if you want to go for a size that's not too small nor too big.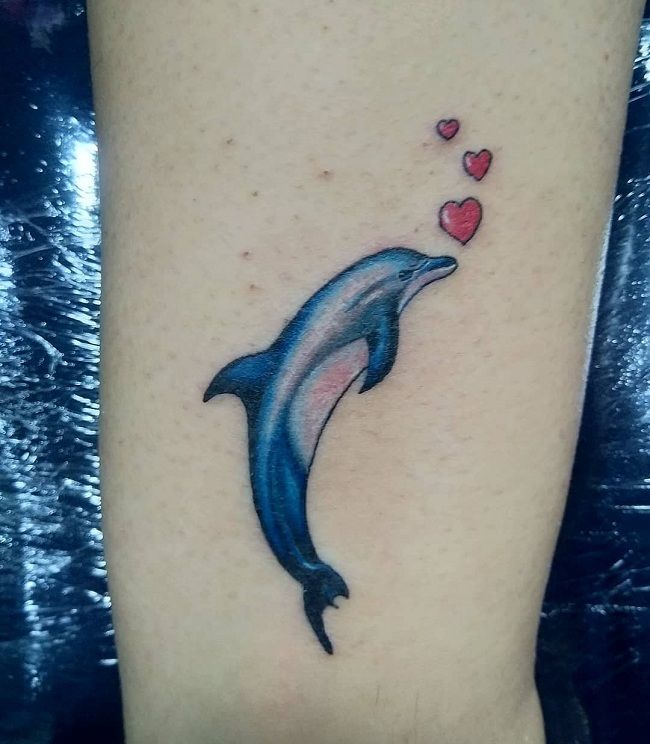 16 – For Couples
In case you are looking for designs that you can go for as a couple, this is just the design to go for. This simple yet elegant design is easy to carry and symbolizes love and trust. You can opt for any color, in my opinion, blue will be the best choice as this color depicts the tattoo's association with the ocean. This design will look great on your neck, wrist, or even your waist. You should opt for a small size if you like to keep things lovely and not over the top. This versatile design can be carried effortlessly by both men and women.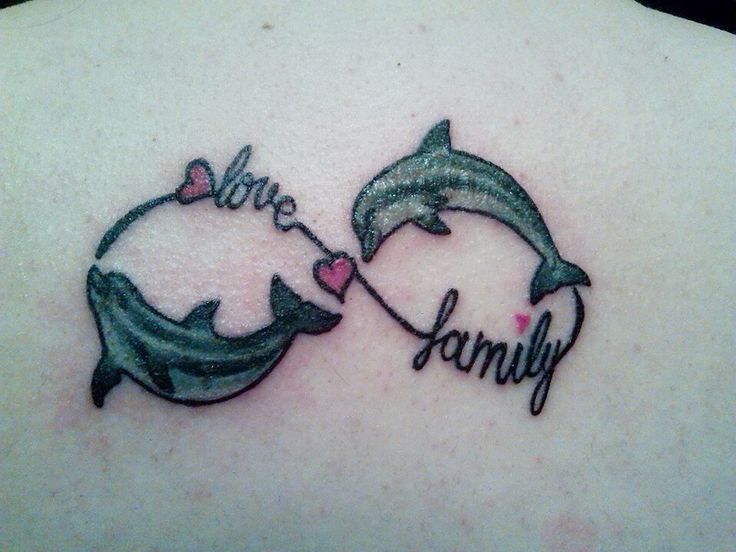 15 – Dolphin In A Wave
A tattoo in a wave symbolizes love, passion, faith, hope, and grace. The person wearing this tattoo comes across as a wistful, loving person who likes to keep their loved ones happy. This tattoo is more popular among young adults but can be pulled off by both men and women of any age.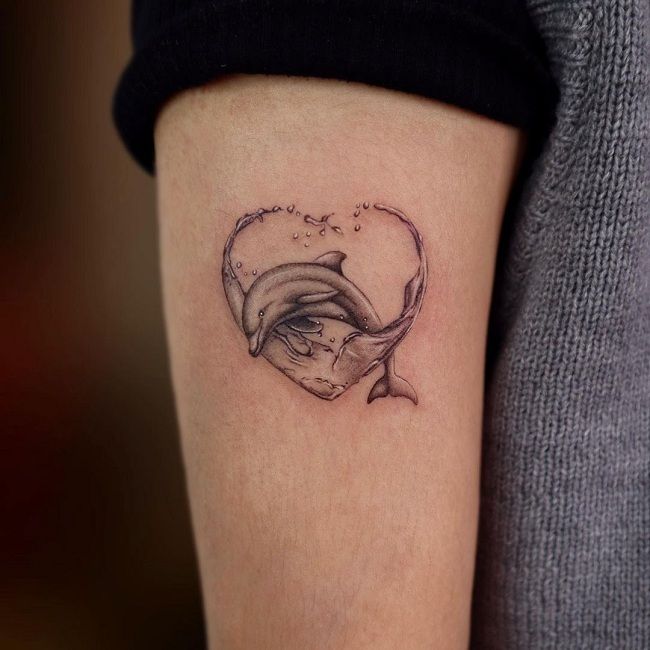 14 – Designs For Ankles
This design on the ankles symbolizes energy, intelligence, and health. Depicting spiritual powers, this tattoo design represents good quality of life and signifies good intuition. You can try this design in any color or you can even go for a monochrome look. A person of any skin tone can try this design out. This design is more suitable for women and gives a more modern look.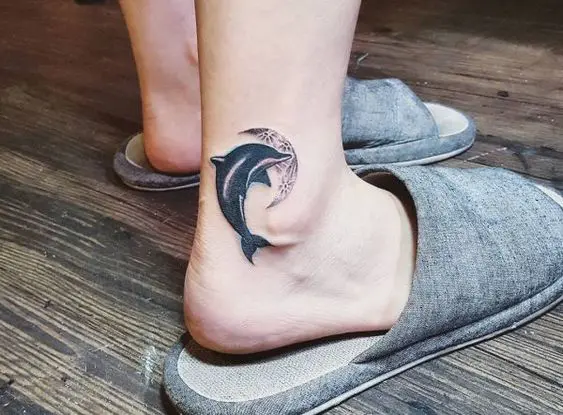 13 – Dolphin Inside Yin Yang
The yin and yang symbolize fascination and intriguing nature. This is an ancient symbol where the black side is called 'yin' and the white side is called 'yang'. It represents the concept of duality and depicts that balance is the key to upholding the universe. To give a yin and yang look, you can definitely go for a circle between two dolphins. This tattoo looks great on the leg or arm and a colorful tattoo will look even better. This tattoo will look good in a larger size and can complement every skin tone. This funky tattoo design is worth trying if you have a playful soul and like to keep things chirpy.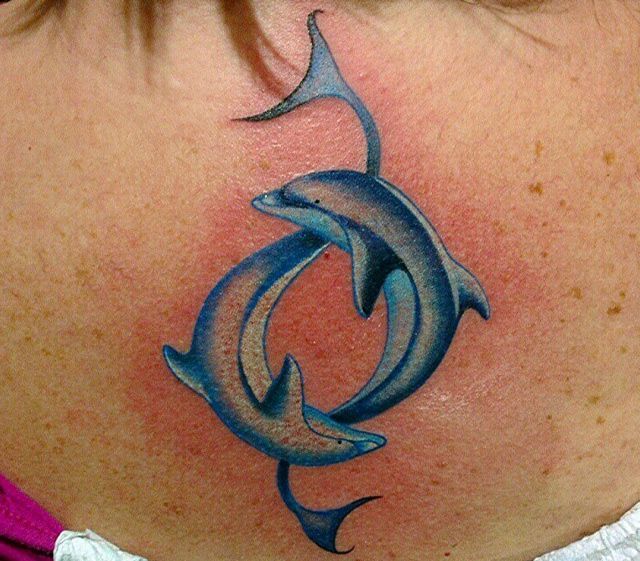 12 – Anchor Design for Men
This design symbolizes safety, hope, and salvation. The dolphin and the anchor are associated with the ocean. Both dolphin and anchor together mean that the person is more loyal and wants to keep their loved ones safe. This design looks best on the arm. The size of the tattoo can be medium or large depending on your preference. It looks best with different colors and will be more suitable for men of any skin tone.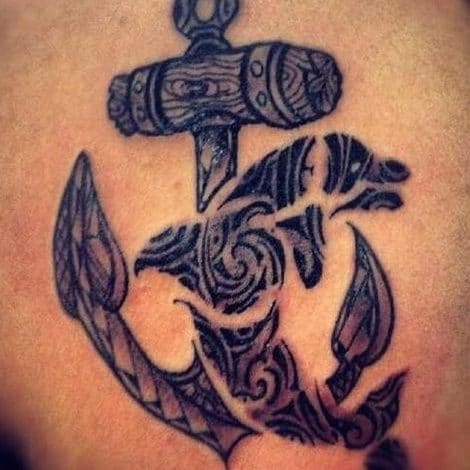 11 – Small Dolphin With Birds
Tattoo with birds signifies limitless possibilities, capability, spiritual mortality, peace, and love. The wearer of this design is depicted to be devoted, brave, and faithful. This design is super pretty and will look best on the wrist or neck. You can play with different colors to make the design look more happy and cheerful.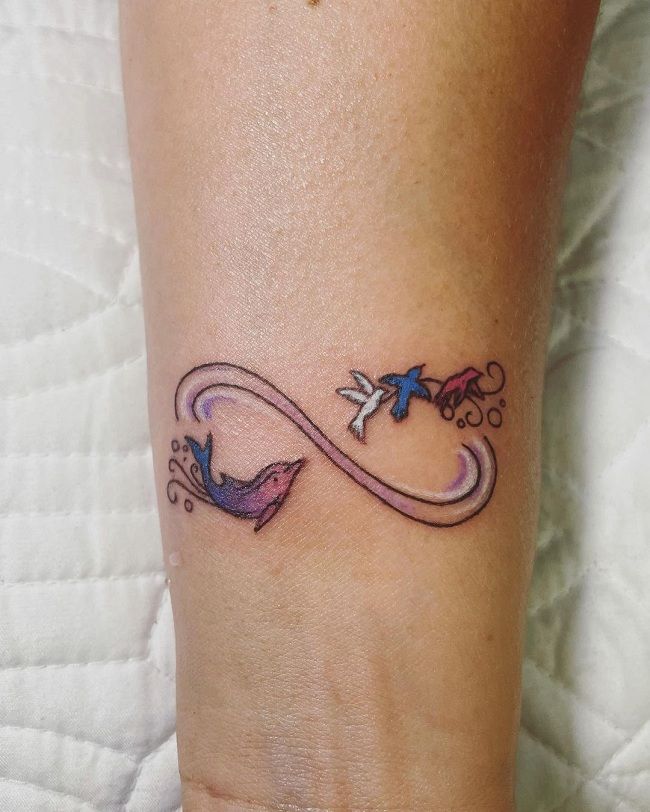 10 – Designs with Quotes for Female
This depicts depth in meaning signifying power, strength, intellect, free spirit, freedom, and inspiration. You can go for this design if you have a favorite quote in life that you live by or inspired you or made you stronger. The wearer of this design comes across as emotional yet strong, innovative, and is capable of creating their own life story. No matter what your age is, you can rock this design by adding your favorite quote.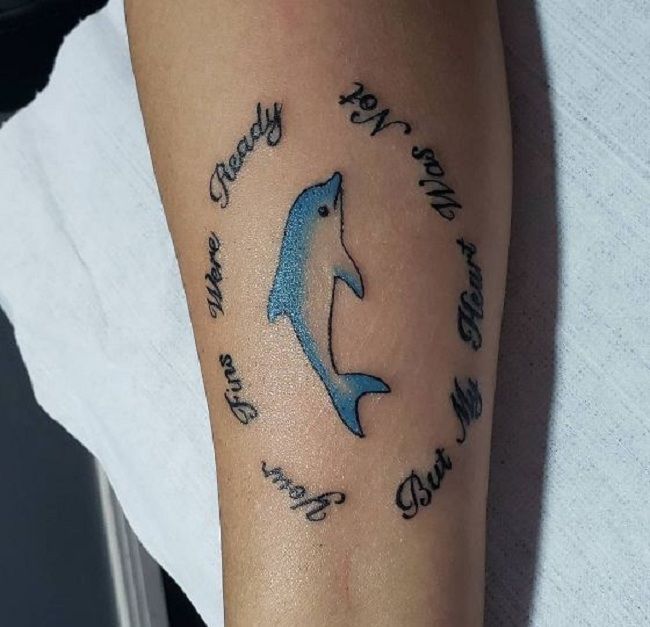 9 – Tattoo With Names
To add a personalized touch to your design by, adding your own or your loved ones' name. You can do different variations by adding waves with dolphins and adding your name to make the design more personal. This design will suit everyone and any skin tone. You can go with this design if you like to be experimental and playful.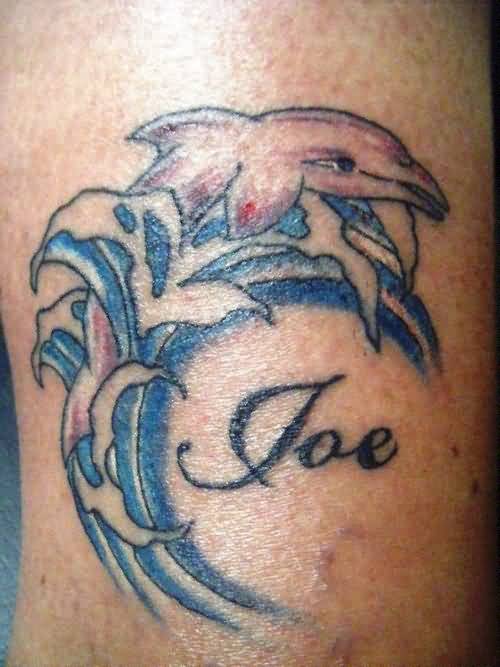 8 – Island Dolphin
This versatile tattoo design is not limited to just quotes, names, and dolphins, you can also portray the dolphin's home environment and can add different ornaments to make them look brighter, more colorful, and alive. The eye-catching view is interesting and worth trying if you are looking to have a tattoo of a larger size. You can wear this design on your back, arm, or even legs if you like.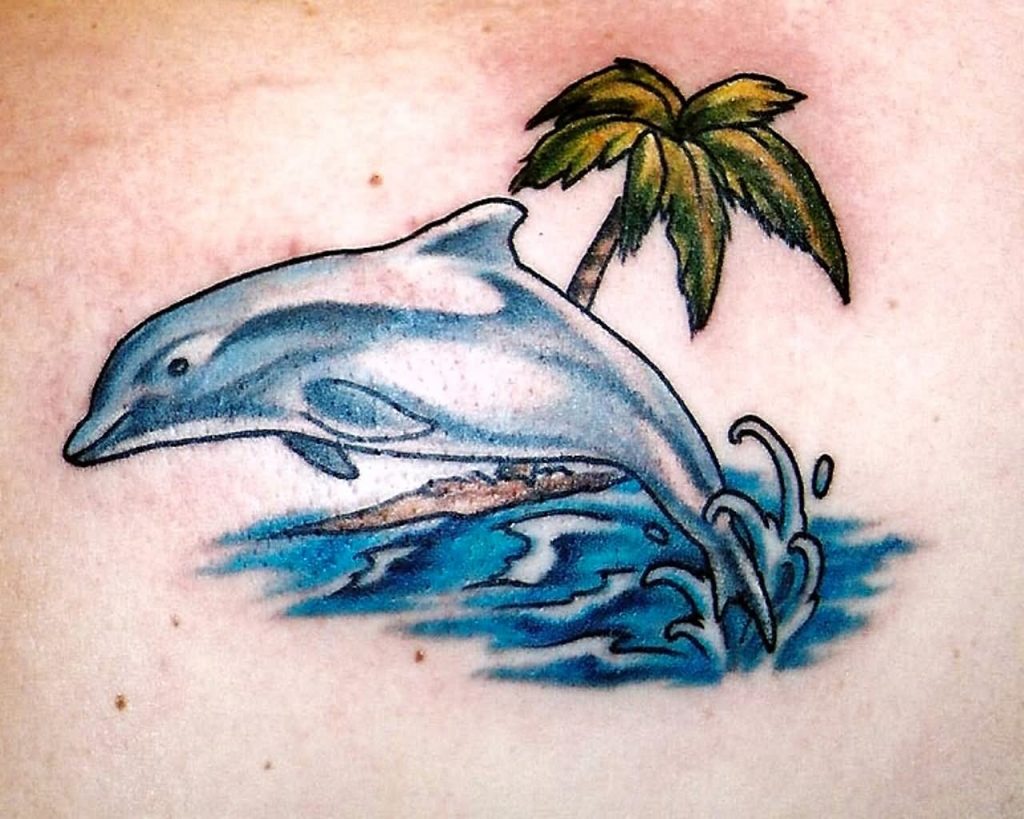 7 – Dolphin And Rose
This tattoo design symbolizes hope, desire, love, grace, passion for your loved ones, new beginnings, respect. This tattoo design will look great on both males and females. You should definitely go for this design if you like surrounding yourself with love and trust and are passionate about who you love. This tattoo design will look perfect on arms or legs but you can definitely wear it anywhere you want.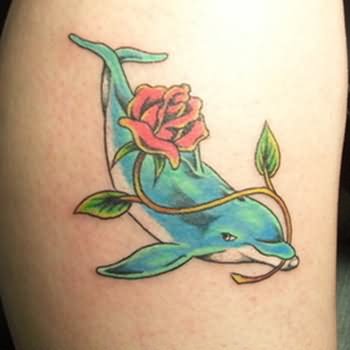 6 – Dolphin And Butterfly
This tattoo design signifies joy, peace, beauty, and change. If you like to do things your way and be independent, this is the design for you. You can make different variations with this design according to how you feel. This tattoo is more suitable for young adults and women and will look great on either your neck, arms, or legs. Butterfly tattoos tend to be liked by people all around the world so why not mix it up a bit?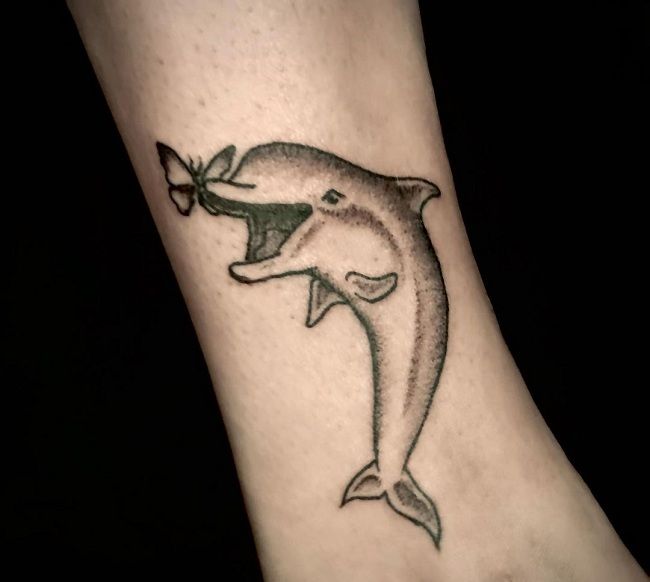 5 – Dolphins On Your Wrist!
Dolphins represent a deep connection with the ocean and people who wear this tattoo design on the wrist like to keep things close that are important. You can definitely go for this design if you want something that will always be in front of your eyes. This tattoo design will be good for every person regardless of what age they are. You can take inspiration from this design. You can go with flowers, ocean waves or any other design.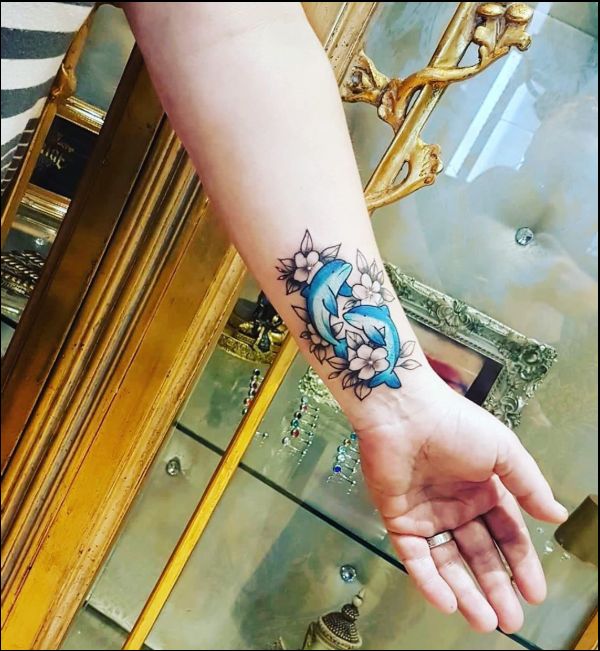 4 – Moon Dolphin
This lunar dolphin tattoo design symbolizes dreams, conception, and hidden dreams. The dolphin in this design signifies femininity and is opted more by women. You can go for a crescent or even a full moon tattoo and this design gives an endearing look and is the most popular choice among teens. If you are still contemplating getting a tattoo, this is the design for you.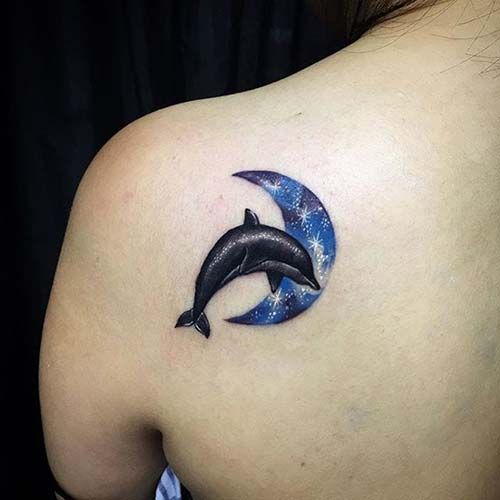 3 – Designs for Men
A pirate dolphin is an excellent choice for people with good muscles. This design is masculine and is super trendy. This design will look great on big arms. This design will look good on men of any skin tone. If you like something that will allow you to flaunt your macho muscles. This design is the right one for you.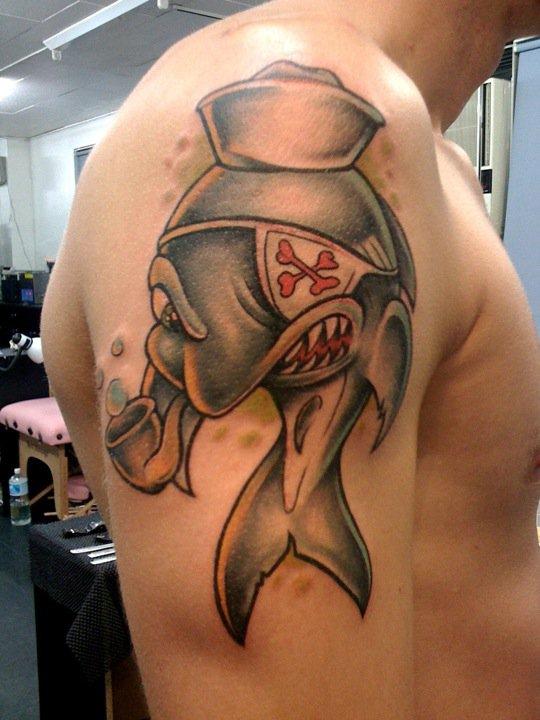 2 – Baby Dolphin Tattoo
Big tattoos are not for everyone and if you are looking for a design that will look cute even in smaller sizes, opt for this one. This design is cute and carries a deep message. Little dolphin tattoos symbolize freedom, honor, joy, love, and so on. Young modern people can go for this design as this design symbolizes inner strength and meaning. This tattoo will look good on people of any skin tone and fits all personalities.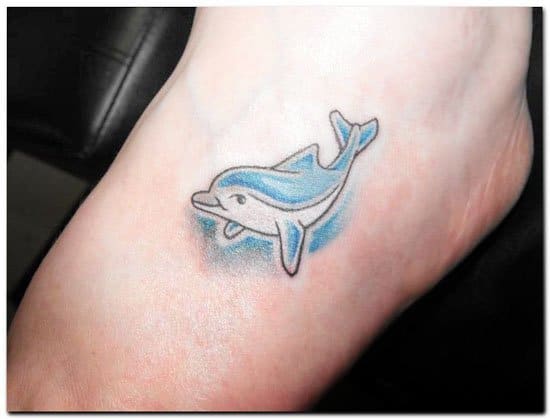 1 – Celtic Dolphin
This design is similar to tribal dolphin designs and is made using shapes belonging to tribal castes. This design is perfect for people who like artistic designs that are closer to nature. This tattoo will look great on either your chest or back in a big size. Bright colors will look good and this tattoo will suit people with fair skin tone and is perfect for teen girls.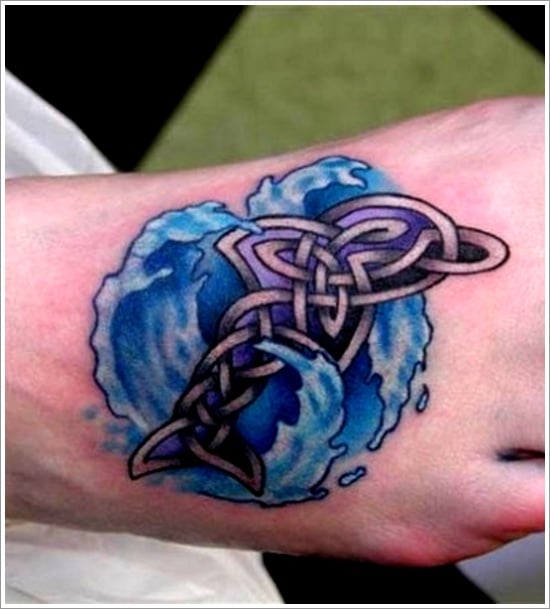 Frequently Asked Questions
Q: What do dolphin tattoos symbolize?
Ans: Different tattoo designs have different meanings. Dolphins are associated with playfulness and fun and appeal to people with a free spirit.
Q: What style of dolphin tattoo should I get?
Ans: This is a popular design inked in color or black and gray. This article provides different dolphin tattoo design options according to your style.
Q: What are some good spots for getting a dolphin tattoo without hiding it?
Ans: You can get it on your wrist, the edge of your forearm, shoulder, or nape of the neck.