Heavy Metal Tattoos. Tattoos are a sign of confidence and sturdiness, they give a robust image to the personality and make you look more strong. Tattoos have been in fashion since ages, and have roots even in olden times. With time the tattoos have also widened in the spectrum and have become the style statement for many.
In the current era, heavy metal tattoos have become a fashion statement as well as they depict the dark and stronger side of the personality. Some of you may be in a hunt for the perfect tattoo for yourself but still be confused. So we have gathered 27 bad-ass tattoos design for you.
Impressively Badass Metal Tattoos for Men and Women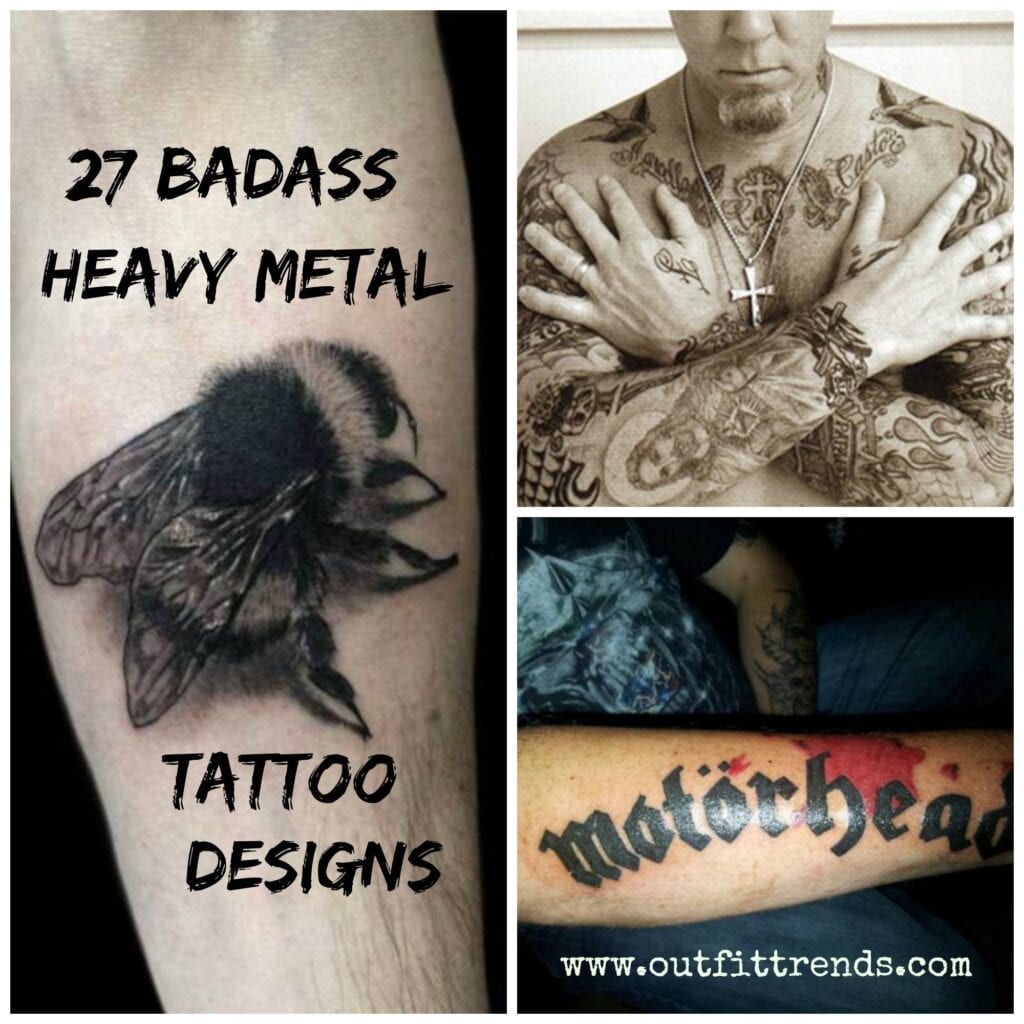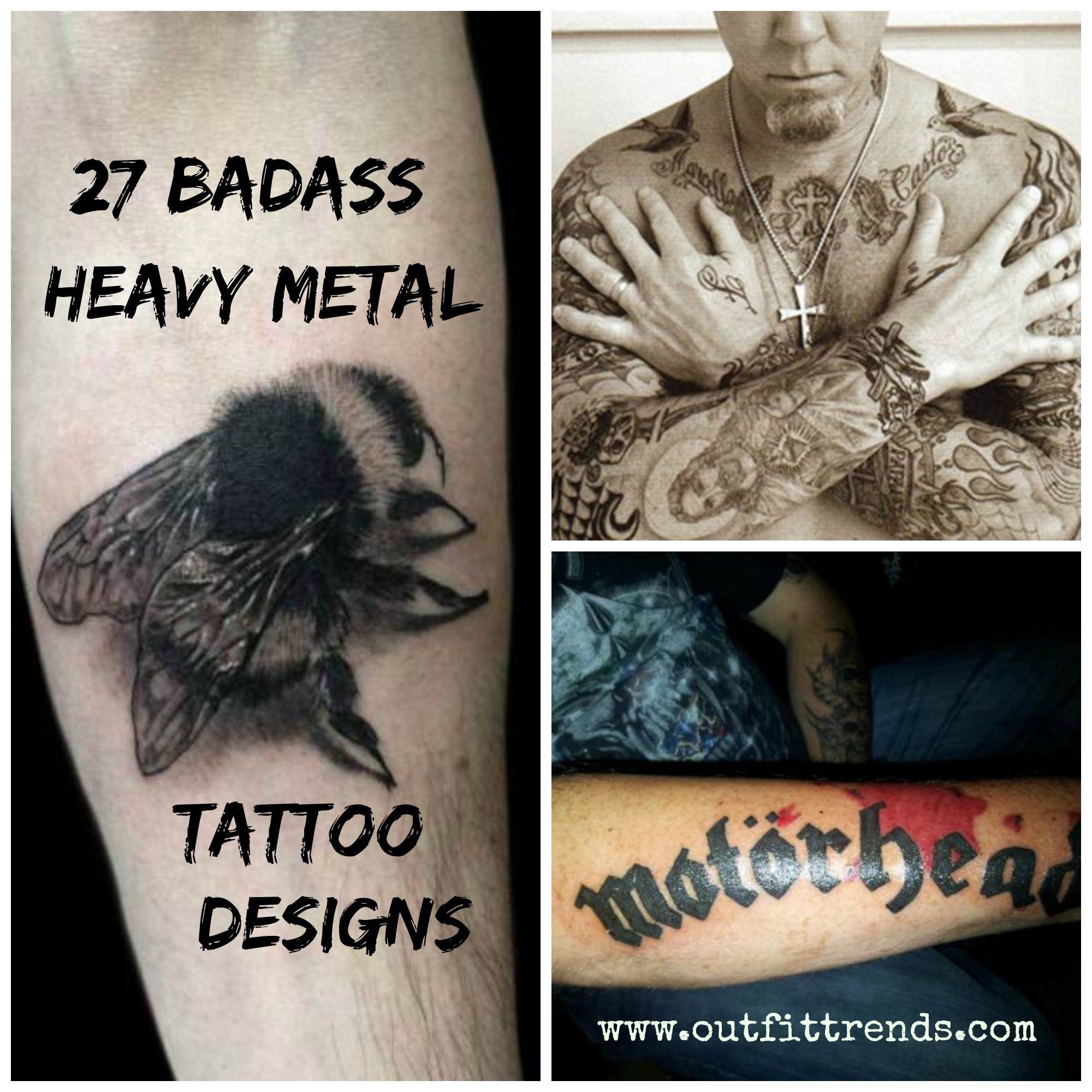 RECOMMENDED :Getting A Tattoo Tebori Irezumi Style; All You Need To Know
#27: The Riff Life Tattoo
Want to keep things minimalist yet want it to make a heavy impression, well opt for the Riff life tattoo as shown in the picture. This is very prominent yet saves from the hassle of huge designs.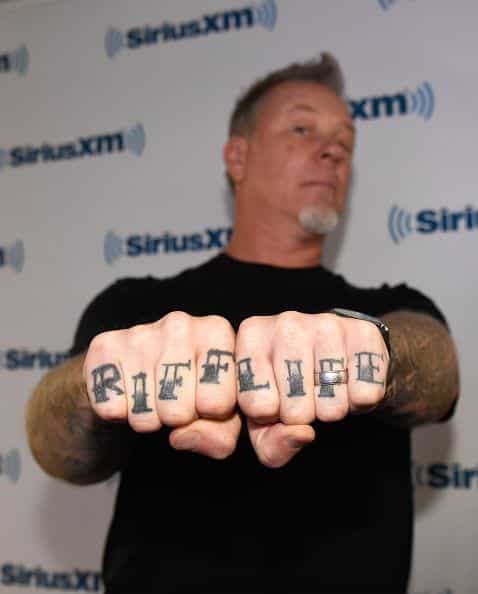 Via
#26: Tattooing the Entire Body
This idea may not appeal all, but if you are a risk taker and have lots of guts then tattoo up your arms and body. This gives a total heavy metal impression to the personality and many heavy metal die hard fans opt for such design.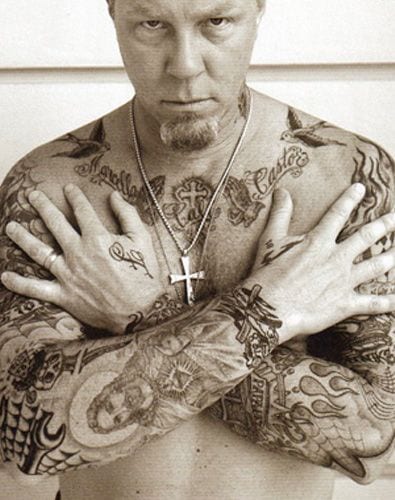 #25: The Lady Designed Tattoo
An image of an antique mirror or a vintage styled lady is one of the prominent heavy metal tattoo design. This can be opted by both men and women, depending on their likeness and how much intense heavy metal fans they are. Do have a look at Tattoos For Permanent Cosmetic Purposes; Complete Guide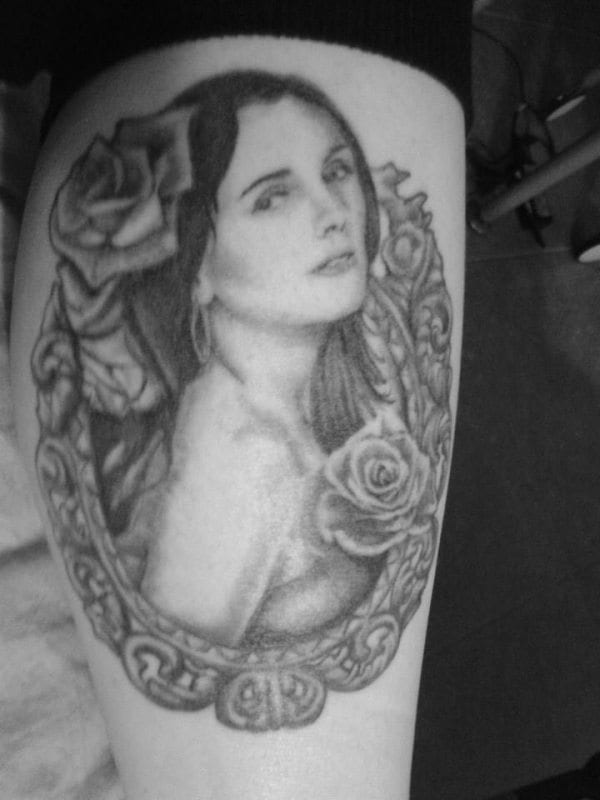 Via
#24: AC/DC Fans
Well, who isn't aware of AC/DC? All the Heavy metal fans are fan of AC/DC, so how about a tattoo designed with the initials of AC/DC. Yes, this is a simple yet a catchy design and can gather lots of praise in no time.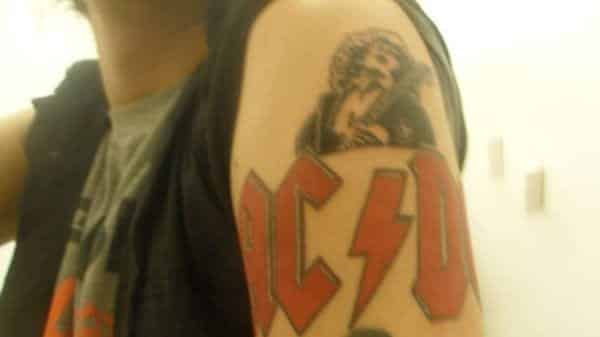 Via
#23: Heavy Metal Quotes
Heavy metal is known for its deep and dark quotes, so one interesting and different option for a tattoo can be getting a tattoo of any of your favorite heavy metal quote. This is especially appealing for those who are opting to get tattoos for the first time.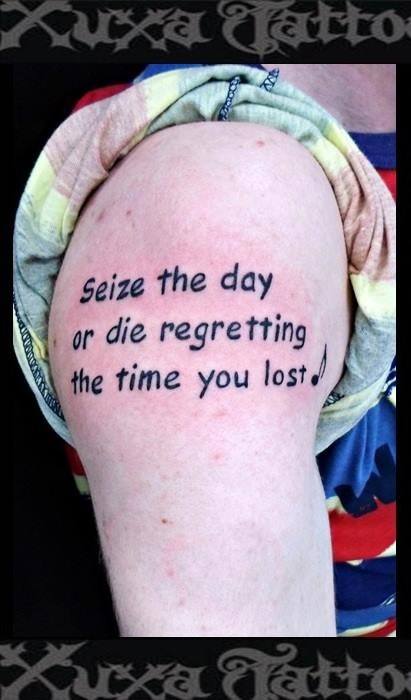 Via
#22: Princess Leia Tattoo Design
One of the most prominent and fearless character of Star Wars, Princess Leia can be glorified even in tattoos. For all those heavy metal and Star Wars fans this is a great catch for a tattoo design, which fits well and looks bold.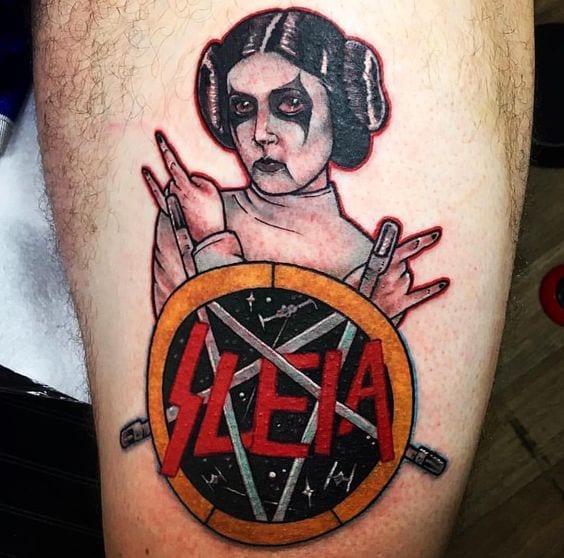 #21: The Sabbath Black Tattoo
The most prominent heavy metal band of the 60's, Sabbath Black shall always be remembered in the golden words. How about getting a tattoo of it, paying tribute to the great heavy metal band and giving yourself a hardcore identity. Check out Getting A Tattoo Yantra Style; What You Need To Know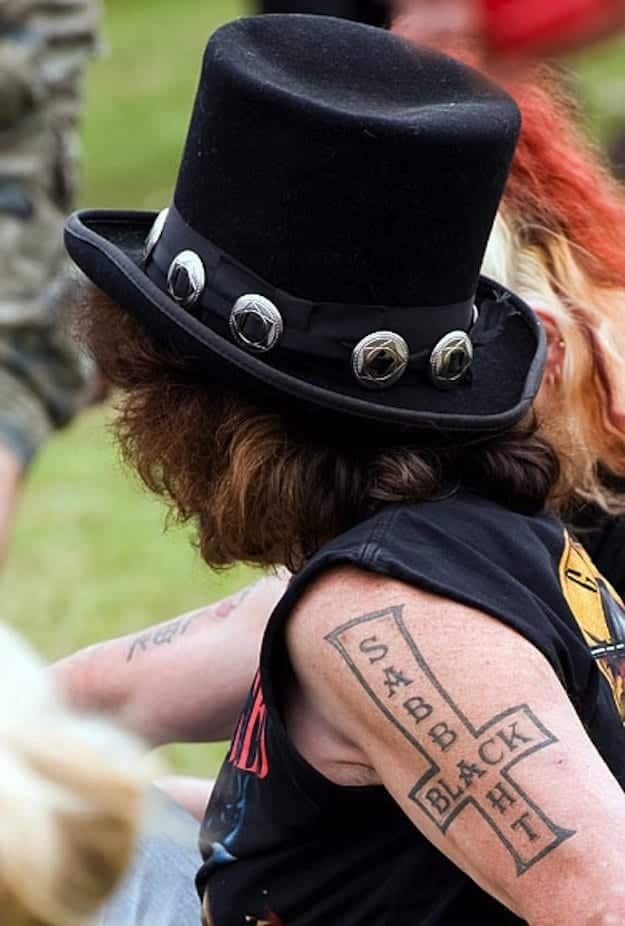 #20: Slayer It Up
Slayer is another famous, American heavy metal band. They have a huge fan following and their fans can totally go for a huge Slayer named tattoo. This is easy and can be made on arms, leg or any other part of the body.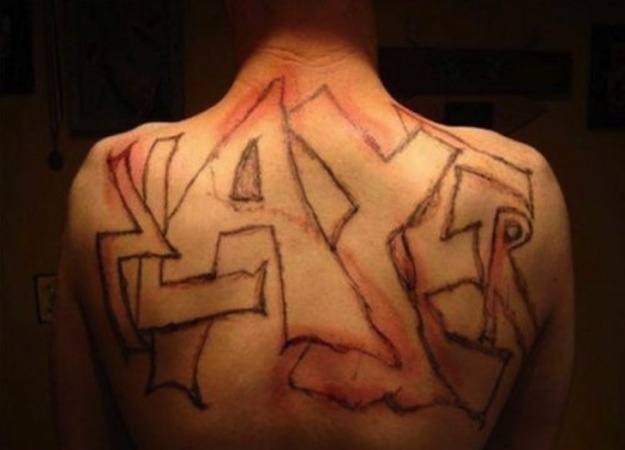 #19: The 50 Shades of Slipknot
Slipknot had always their different way and distinct recognition. You can do the same with your tattoo design, give it varying Slipknot personas. This may seem dark but it has got its own class and proves you full of guts.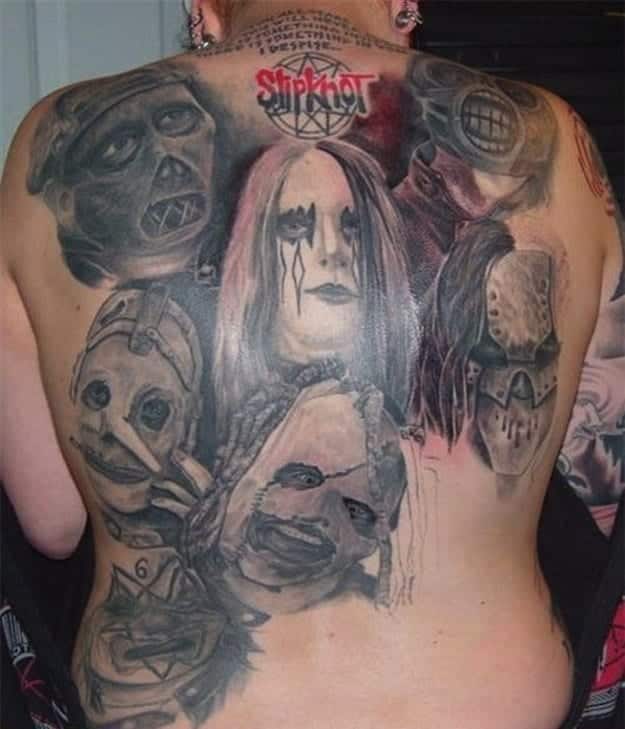 #18: The Forever Favorite, Ozzy Osbourne
Ozzy Osbourne is genuinely the most renown name in all the heavy metal fans all around the globe. So why not tribute him in the tattoos? Well an Ozzy tattoo on legs or the arms is a perfect tattoo design.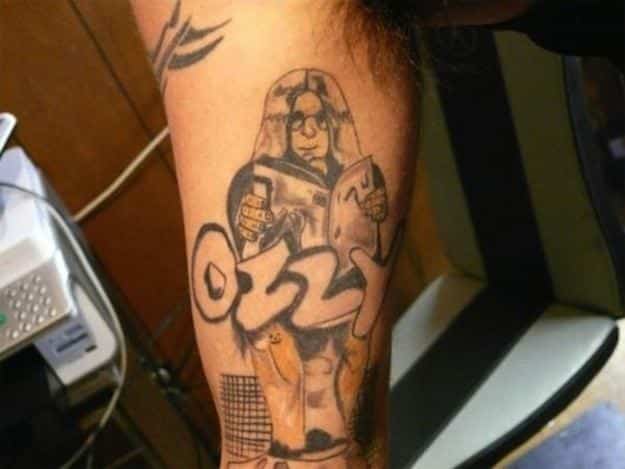 #17: The Complete Rugged Look
For heavy metal fans, it is most essential that they are maintaining that certain look in their personas. You can get a tattooed body, give yourself heavy tattoos on arms and the chest and go for some hair cut which matches the entirely tattooed body. Don't miss out 
Thigh Tattoo Ideas-20 Famous Tattoo Designs for Thighs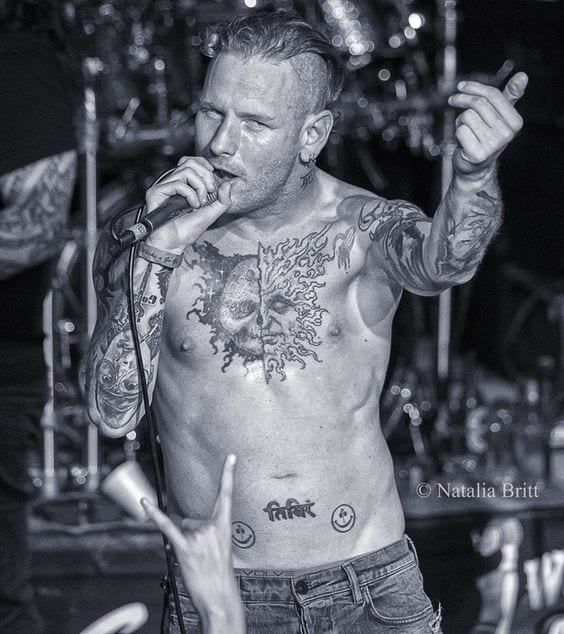 Via
#16: The Deadly Looking Design
When you add a little bit of color the entire design can look even more alive. Like the eyes in the picture are simply colored red, this give the entire design a more deadly look and adds more life to the look.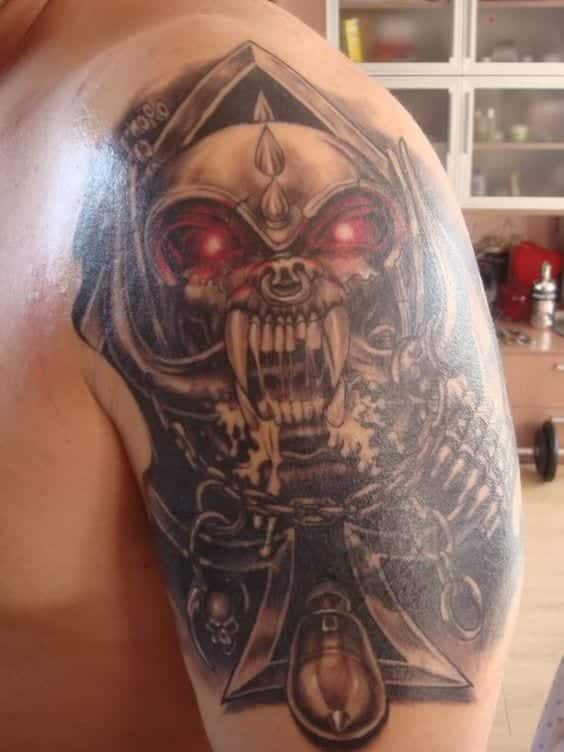 Via
#15: Motorhead Logo
Yes, Motorhead the heavy metal English band is another option which can be used as a tattoo design. The initials can be tattooed on the arm, giving it a fuller and prominent look.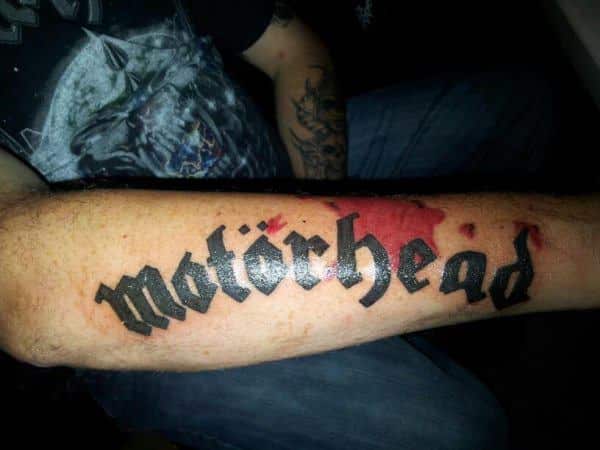 Via
#14: Quotes and Design
Like previously discussed about heavy metal quotes, why not combine it with some design, adding weight-age to the entire tattoo.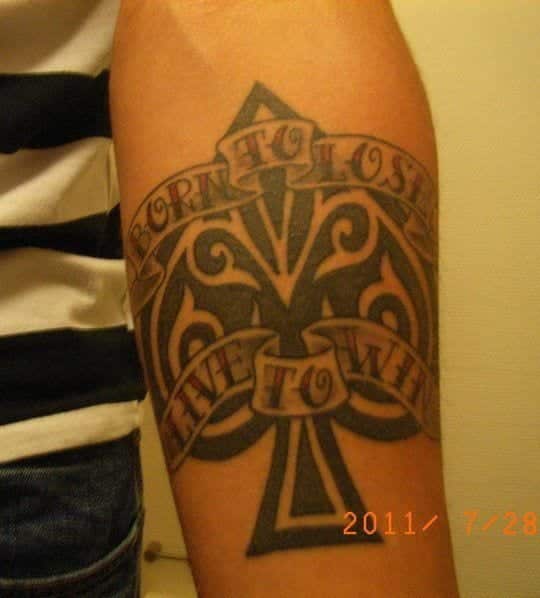 Via
#13: The Single Arm Design
Another interesting way to change the tattoo is by making it on only one arm and ensure that it is prominent in the design. This gives a bold and exciting look.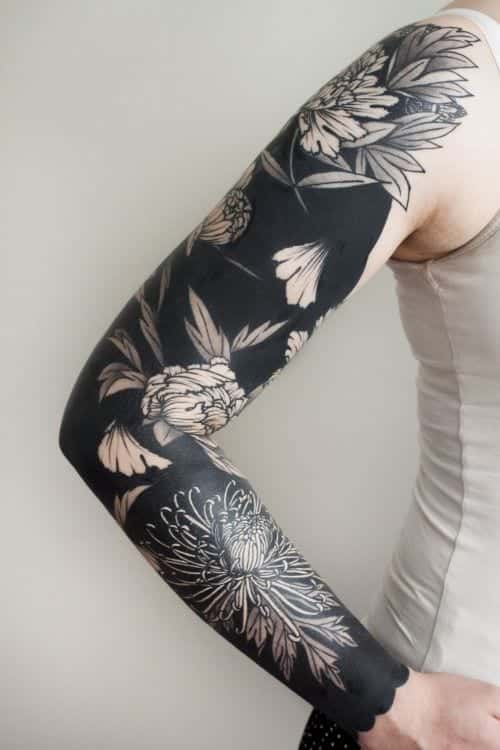 Via
#12: Tattoos for The Ladies
Many ladies are also heavy metal fans and they also deserve the chance to get themselves tattooed. Ladies can get heavy metal designs on their shoulders, arms and that too colored.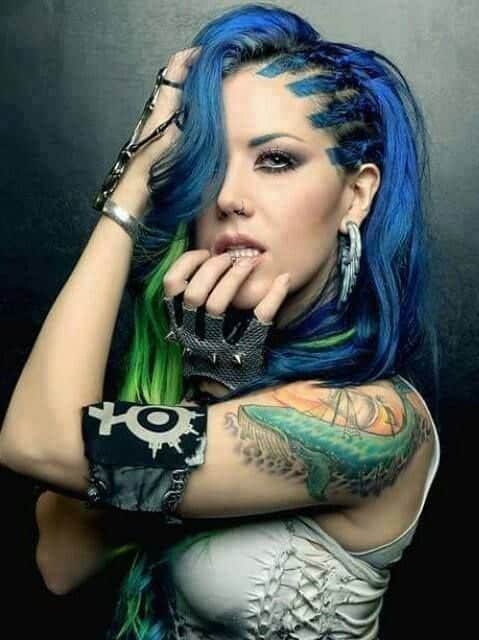 #11: The Wild Flowers
Ladies who want to add feminine touch to their tattoos can go for some wild flower designs on their arms, giving them a cool yet hardcore look at the same time. You'll love these Cute Emoji Tattoo for Girls-10 Best Tattoo Designs These Days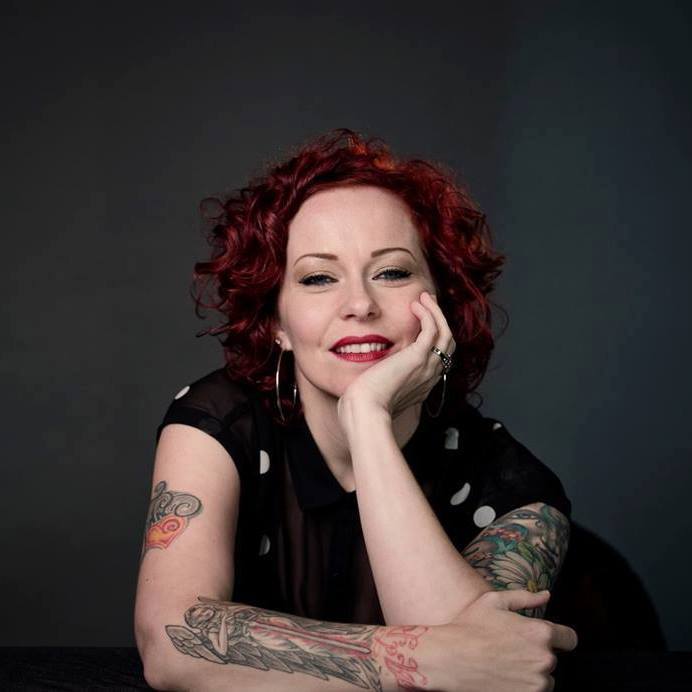 #10: Skulls, The Easy Way Out
Skulls are one of the most prominent sign in heavy metal, so instead of looking into multiple designs, simply opt for some skull design and you have the perfect heavy metal tattoo.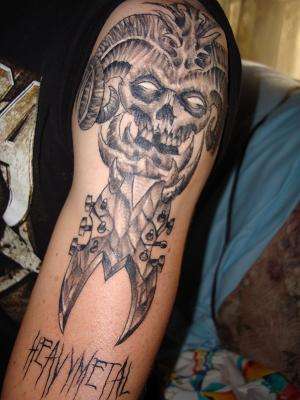 #9: The Music Fanatics
Heavy metal fans are known for their peculiar taste in music, so they can simply add a bold abstract musical designed tattoo and that's about it!
#8: Quote on The Neck
Want to prove yourself full of guts, well why not get a heavy metal quote inked on the back of your neck. This is highly prominent and different way to carry a tattoo.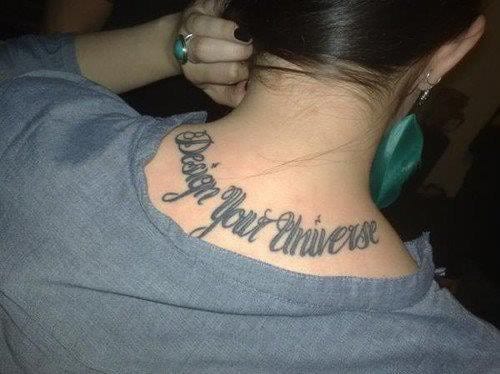 Via
#7:  Led Zeppelin Fanatics
Led Zeppelin is another famous name in the heavy metal world, so get their iconic design inked on your back or arms, wherever it is easy to show off!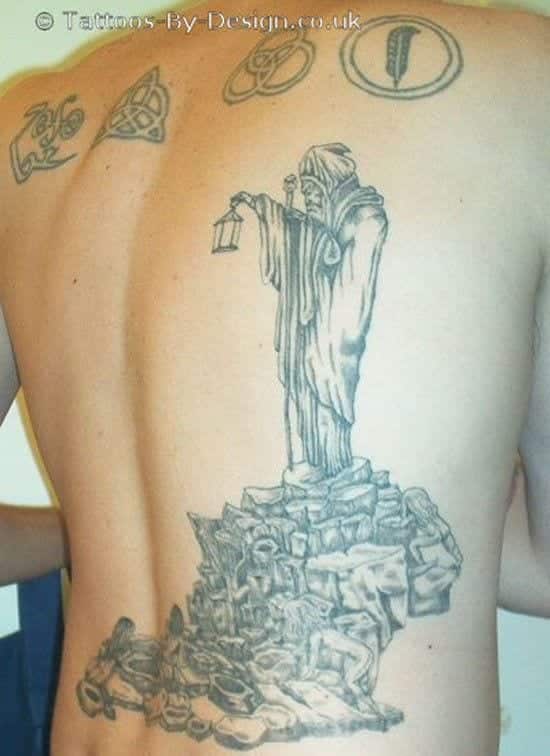 #6: Operation Ivy for the Rescue
If you want something small and eye catching, then Operation Ivy's logo is your perfect answer.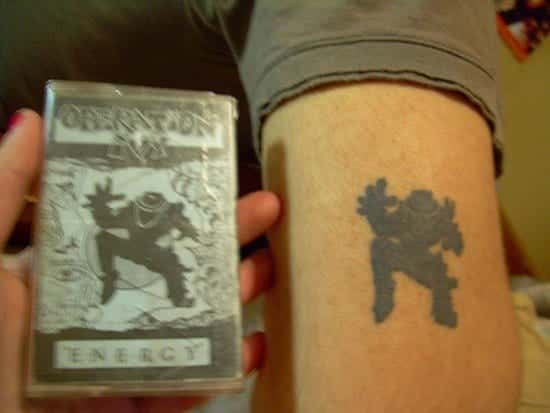 #5: The Realistic Bee
If you want a minimalist yet a dark design then a little 3D design, like this bee is all you need.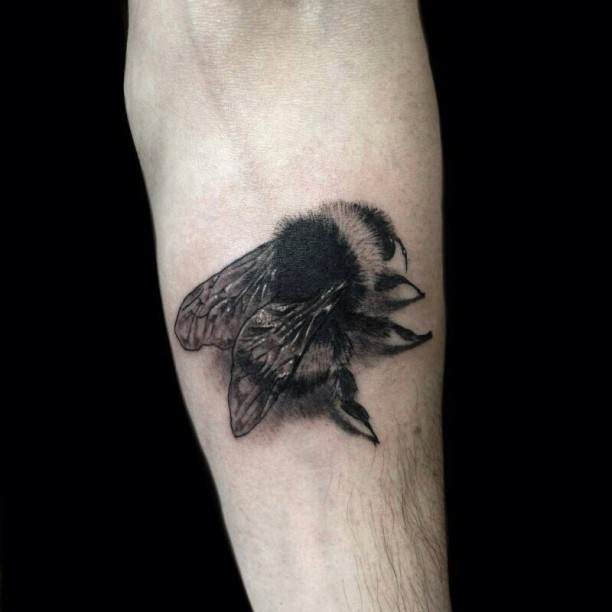 Via
#4: The Death Human Design
As famous for its genre, a death human design can also serve your bad-ass tattoo purpose and will be a great hit!
#3: Keep Slaying with Slayer
Slayer's designs are the most fascinating and can be made in various ways, giving a different look every time.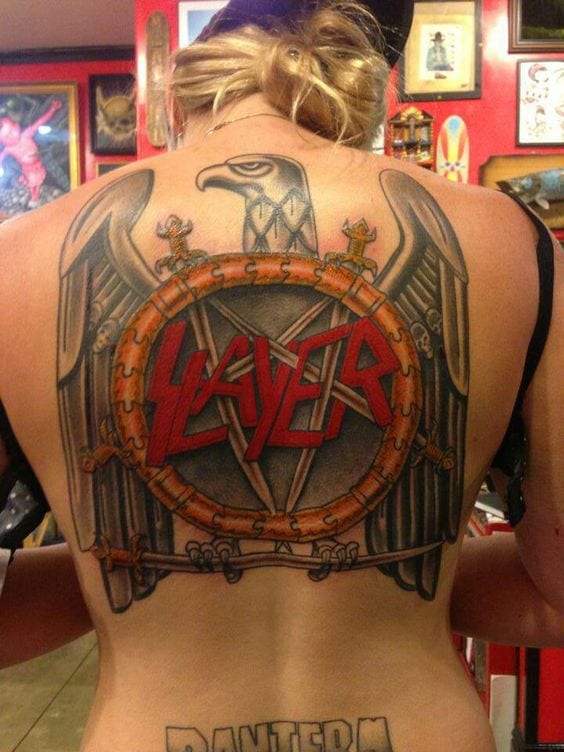 #2: The Deadly Tools
You can also add some deadly tools like blades and knives to your design and give them uniqueness.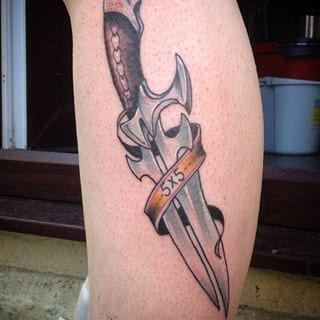 #1: Slayer Quote Design
Combine a Slayer quote with a colored design, and there you have your perfect tattoo.