Thigh Tattoo Ideas. Do you want to know which cute designs are best for thighs? Look no further! A tattoo originates from tribes worldwide where certain tattoos were classed as a rite of passage. Later on, it transformed into the common trend in the west. We have many designs such as tribal, geometric, floral, anime, animals and even realistics. If you wear short mini skirts, shorts and love showing off those legs then why not get a tattoo on your thigh? A great way to get those heads turning and will definately get you noticed on those hot days in summer.
What are The Best Thigh Tattoo Designs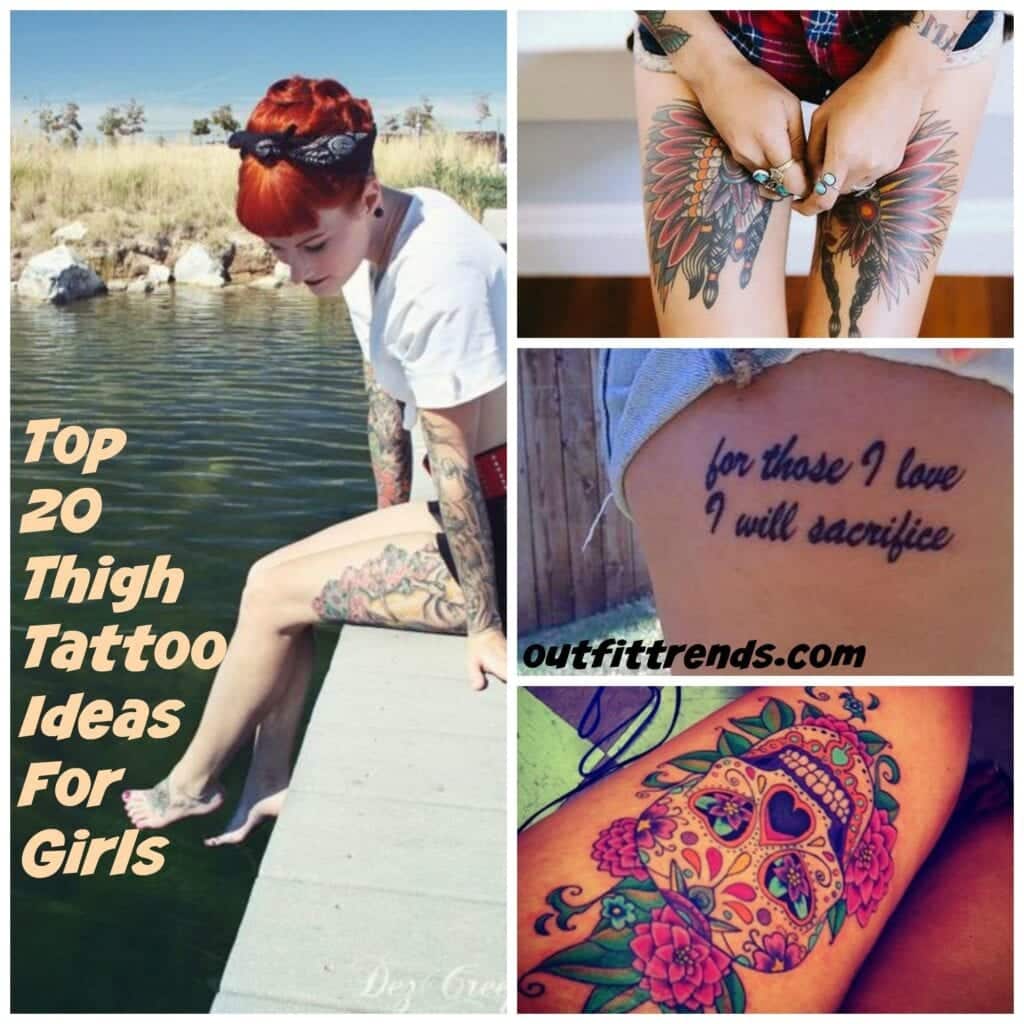 Are you a tattoo freak? We are living in the era where tattoos are considered mainstream yet can look amazing if done correctly. Most people can wear any print on their skin regardless of whether they may look weird or crazy. It completely depends on how confident you feel. Tattoos on the thighs look stunning on women and some guys can pull them off too! Have a look at the following designs to get ideas 🙂
#20- Floral Tattoo
Floral tattoos can be mainstream yet captivating! Why not put a twist on a contemporary floral design an add images such as bird cages, birds, butterflies and even pocket watches.
Also have a look at [highlight]Getting a Tattoo Tebori Irezumi Style-All You Need to Know[/highlight]
#19- Cupid tattoos
A cupid or cherub symbolizes love. Why not get it one on your thigh to celebrate valentines? Carry it with black  mini skirts and red top and it will look amazing!
#18- Old School Red Roses 
Red roses are the most common of floral designs but also have that rock 'n' roll feel. Use them with banners for an old school look.
Also check out [highlight]Tattoos for permanent cosmetic purposes-complete guide[/highlight]
#17- Skull Spiced Up With Floral Tattoos
Skulls can be classed as gothic or dark, but incorporated with roses or other flowers and you have a full design for girls with a touch of attitude.
#16- Phoenix Leg Tattoos
The pheonix is a greek mythical being which symobolises being reborn. Rising from the ashes and into a new life this image is perfect for women who want a tattoo that symbolises strength.
#15- Sugar Skulls
Simple sugar skulls look mesmerizing on both thighs. These are simple images with a lot of colour. They will definitely make you stand out from the crowd.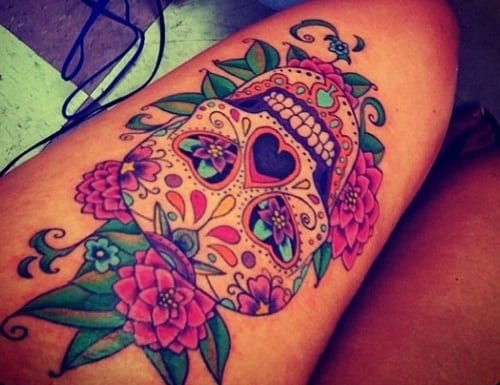 #14- Anchor Tattoo 
Why not try an anchor tattoo? Denoting a nautical theme, this image has become more common than not. With white and blue clothing these can look amazing.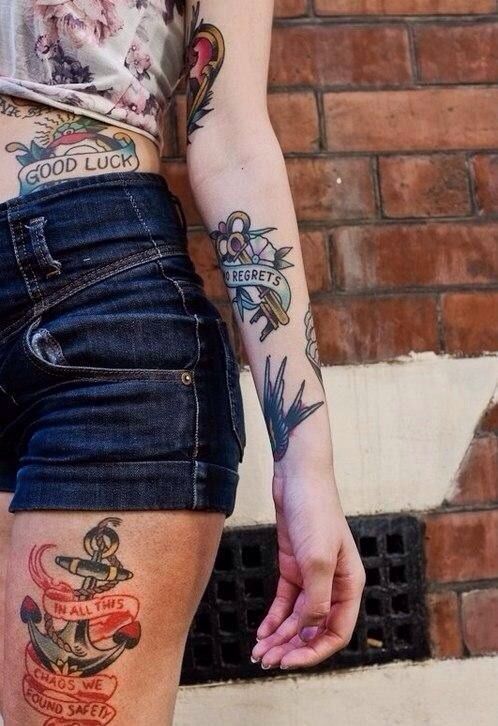 #13- Octopus Tattoo
The octopus has many meanings in mythology from the Kraken to the Gorgon. This image portrays a predator and so, in turn, denotes power!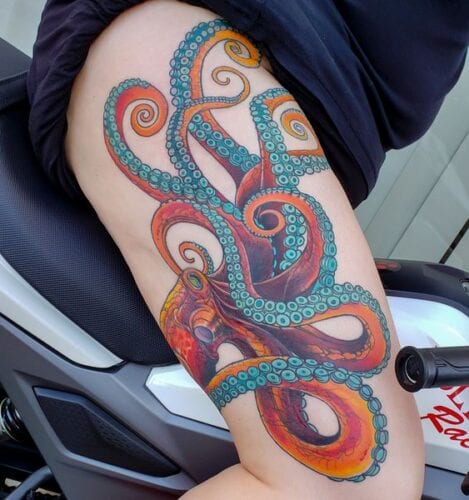 Don't miss out our guide on [highlight]Getting a Tattoo yantra style-what you need to know[/highlight]
#12- Fresh River Otter  Sketch Tattoo

Any wildlife always looks cute, especially as a tattoo. Why not try a sketch or watercolour style tattoo? This otter may look messy, but it is captivating and gorgeous.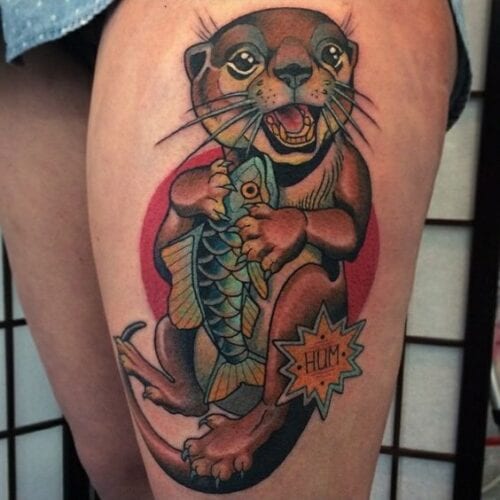 source
#11- Fox and Rose 
A combination of animal and floral print will also appear amazing!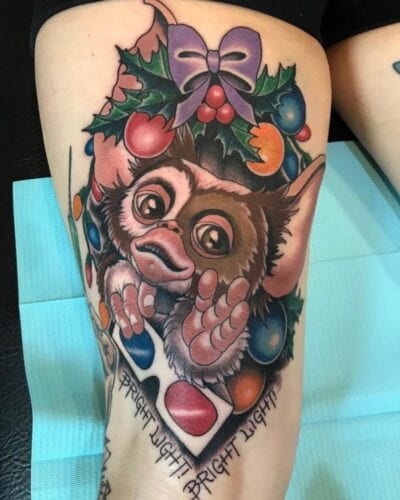 #10- Disney Ariel 
If you love Ariel the mermaid, draw her in the form of tattoo on your thighs and it will surely be an amazing thing! 🙂
#9- Cool Skull Tattoo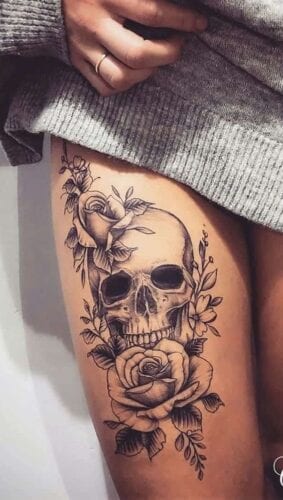 #8- Animal Tattoos
#7- Magpies

#6- Wise Owl Tattoo
Owls and keys are becoming a new craze and why not? The have a magical appearance and feel.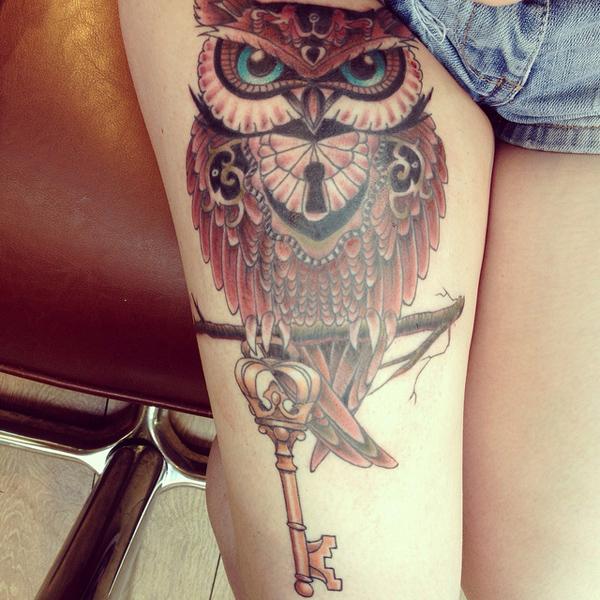 #5- Simple Floral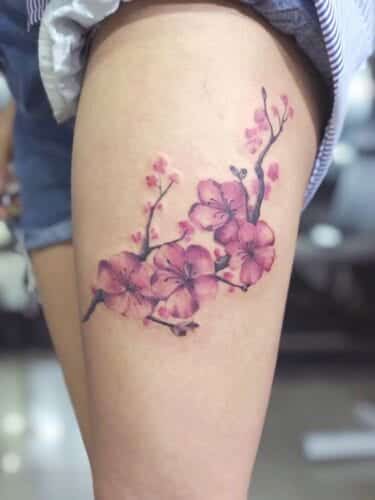 source
#4- Pirate tattoo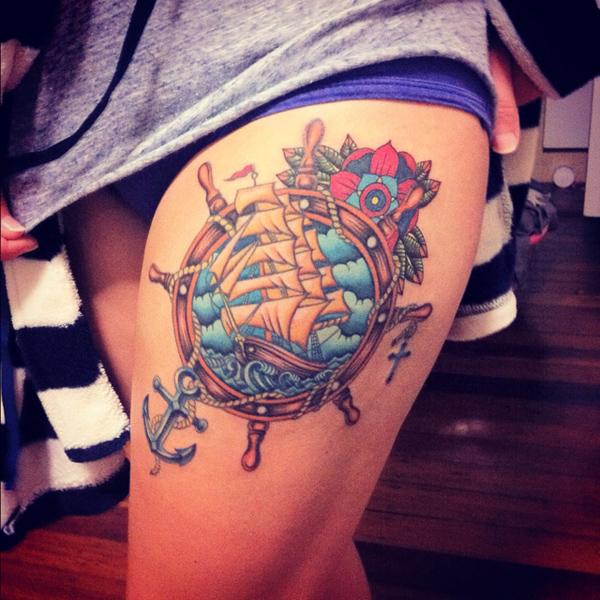 #3- Corset Style Tattoo

#2- Traditional  Tattoo
Here's a lovely native American pattern for thigh tattoos.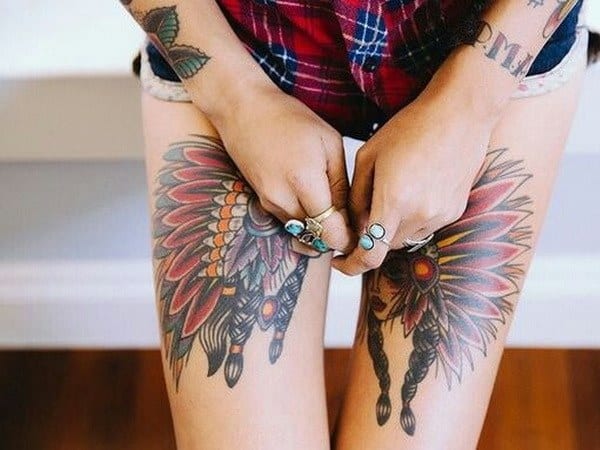 #1- Tattoo Quotes
Words are a great form of tattoo. Certain lettering can look beautiful on thighs. Top tip for lettering tattoos: Make Sure It Is Spelt Right!!!!!!!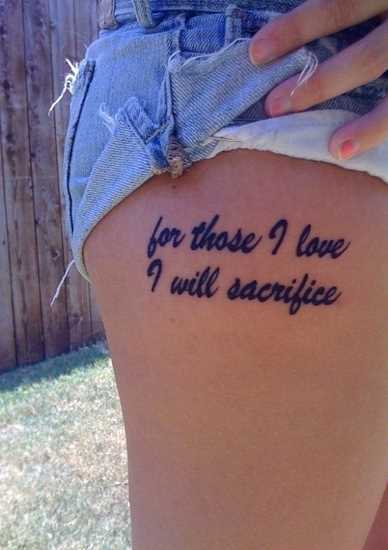 source