Matching Friendship Tattoos: There are different stories behind different tattoos. Some people get the ink because they think it's art, but others get a tattoo as a memory. Correct memory; is a beautiful reason to get a tattoo.
Because it represents your feeling, love, and emotion for that person, it can be any person, but it's a best friend nowadays in most cases. Therefore, they get matching tattoos to symbolize their best friend forever promise or shared memories. You share a strong bond with your friends, stay by each other's side in thick and thin, and happiness too.

When you go through so much by each other's side, why not get matching design to appreciate the bond you share. Undoubtedly, it's a small sign to show affection to each other to cherish the bond you share. Moreover, getting tattoos is a small gesture, but it means a lot to best friends when they know the shared bond and memories behind it.
Bff is a best friend forever. When you call someone BFF, it means you want them to stay permanently in your life. You choose them as your family. Someone you can rely on and with whom you can share life. That's why to strengthen this bond, most BFFs go for matching designs.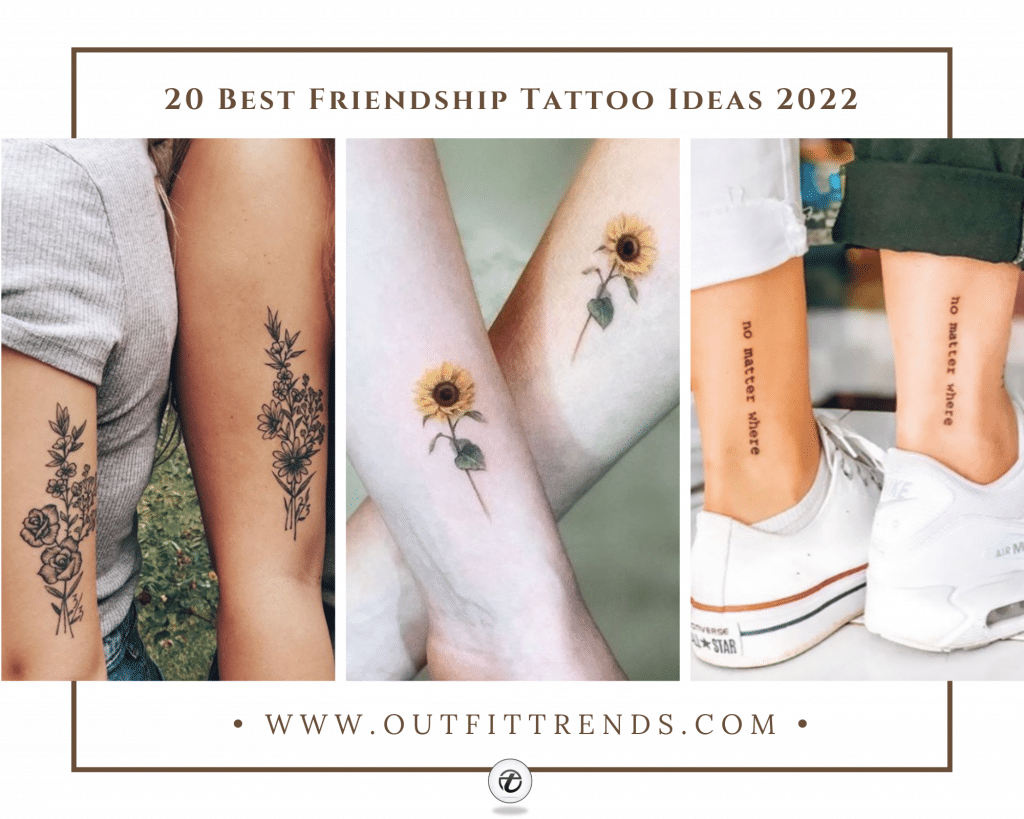 Tips For Getting Matching Tattoos
While choosing this tattoos you should be taking into account both of your interests because you are doing this whole matching in honor of your friendship. However, it can be challenging for both of you. Therefore, before getting a friendship tattoo, take your time to ask and discuss yourself and your best friend.
Make sure whatever tattoo you and your best friend choose reminds you of each other. Because it shows the bond of you together and the same passion or hobby.
Discuss the size and placement of the tattoo whether you want it big or small and loud or hidden. It depends on you but makes sure you do it with mutual understanding. It's great to have matching ones with your best friend. But if your likings are different, you can find ideas that work for different placements or sizes.
The matching BFF tattoos don't have to be complex to be meaningful. If you and your best friend are looking for tattoos that match your friendship, then go for a simple tattoo. It is a perfect choice. Matching tattoos should be kept simple. Most people choose to get each others' initials. It could include simple geometric shapes, lines, or dots.
20 – Wine Glass Tattoo
You start with the wine glass tattoo, which looks fascinating and perfect for club buddies. The best placement for this tattoo is the side of your arm straight in the line above the little finger. Another place that is best for this tattoo is the ankle. Moreover, there are two ways you can get this tattoo. The first is to go for a black and white one. It gives plain and modest vibes. However, another way is to ink it with red wine color, which will give the tattoo a more realistic look.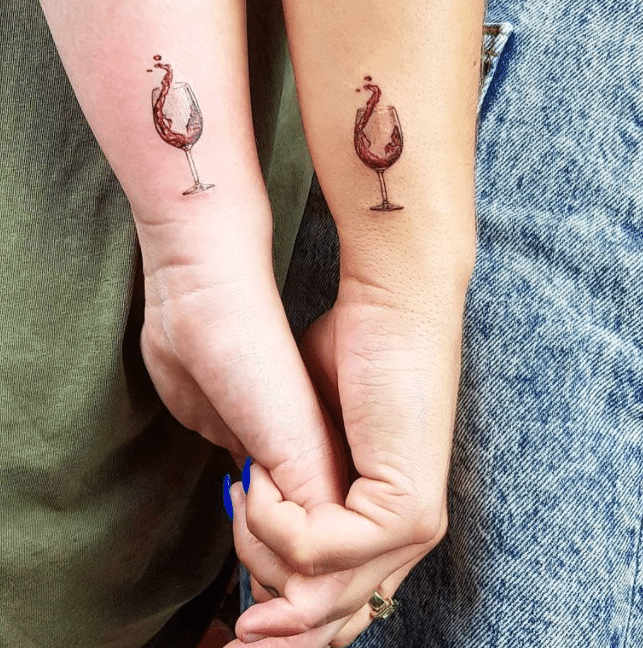 19 – Crescent Moon
If you don't want an extensive tattoo that will be more prominent, go with a small tattoo. No doubt, small tattoos are popular these days, and in 2022 all you will probably see is more hype in this popular culture. For this purpose, nothing is better than a crescent moon tattoo for you and your best friend. Moreover, it will look more extraordinary if you get your moon filled and your friend leaves it unfilled. It represents that one moon is incomplete without another or like one is the shadow of another.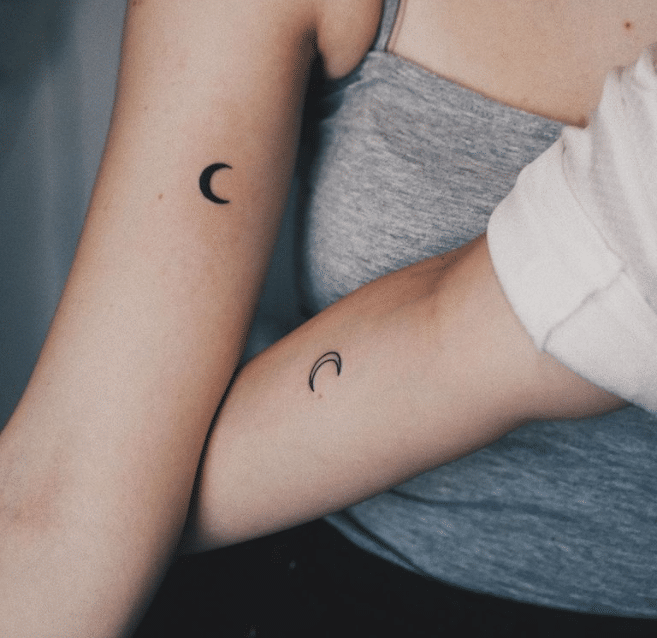 18 – Birth Year Tattoo
Next comes this birth year tattoo. If you and your friend are of the same age, this tattoo will look more attractive. Recently, this tattoo became popular after Jungkook of Bts revealed his tattoos. If you are familiar with k-pop, you are very friendly with the 97 liners squad, BTS' Jungkook, GOT7's Yugyeom, and BamBam, SEVENTEEN's Mingyu, The8 and DK, ASTRO's Cha Eun Woo, and NCT's Jaehyun. The tattoo Jungkook got is similar to the Got 7's Yugyeom and BamBam, representing their group. After they revealed their tattoo, this birth year tattoo has become a popular trend.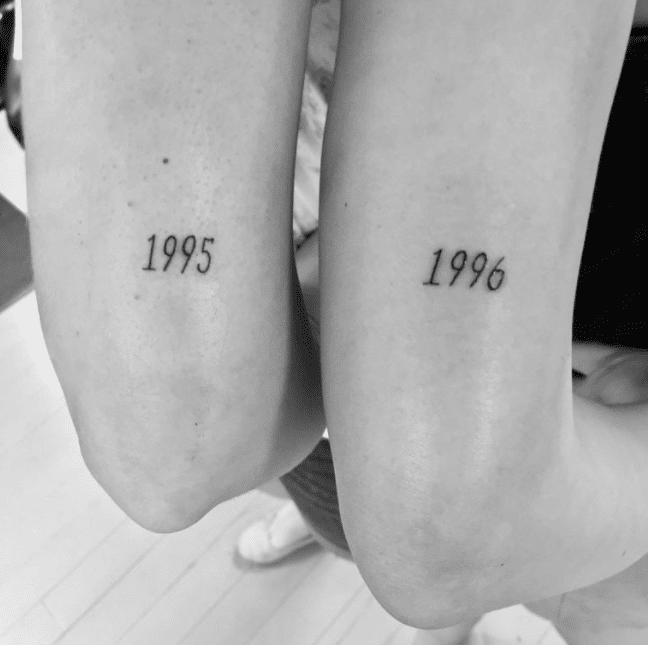 17 – Matching Arm Tattoo For Friends
This one is for those who like big and prominent tattoos. And nothing is a more prominent placement for tattoos other than arms. However, the symbol of friendship for flowers is yellow roses. But, no worries, you can get whichever you and your friend like because the purpose of this matching is to create a memory with your friend, which you are doing anyway.
16 – Potterheads
At this age, who isn't a Harry Potter fan? So, this tattoo is dedicated to all those crazy Potterheads who love every bit of this masterpiece. The Deathly Hallow symbol from the seventh part of this movie is a vertical line and circle enclosed by a triangle. This symbol represents three iconic artifacts: the Elder Wand, the Resurrection Stone, and the Cloak of Invisibility. Therefore, this tattoo represents unity with all the Potterheads worldwide who are as crazy as you about this movie.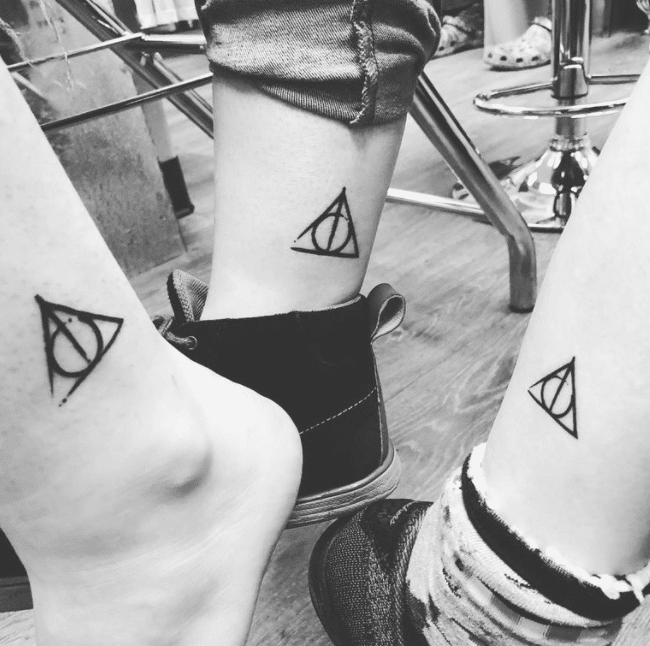 15 – A Moon & A Sun
The moon represents the night, and the sun represents the day. The significance of this tattoo is that both are incomplete without each other. It is a fact that to complete a circle of 24 hours, the moon and sun come one after another.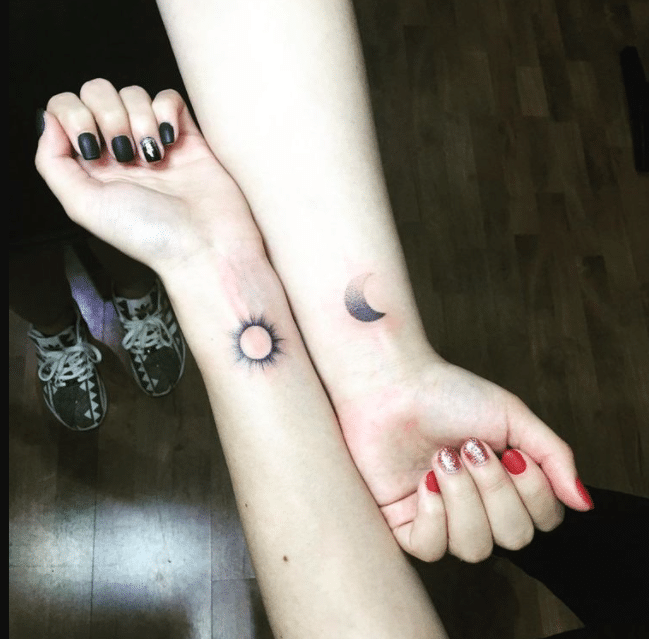 14 – Yin And Yang Tattoo
If you are looking for a friendship tattoo that you can get with your male best friend, then the yin and yang tattoo is your cue. Moreover, this symbol comes from Chinese philosophy and represents two opposite but complementary personalities. Therefore, the yin symbolizes feminine nature, and the yang represents qualities related to masculinity.
13 – Long Distance Friendship
We all know those best friends who live miles away but are still each other's perfect partners in everything. No matter wh0 the tattoo is dedicated to, friendships make it possible no matter where they live.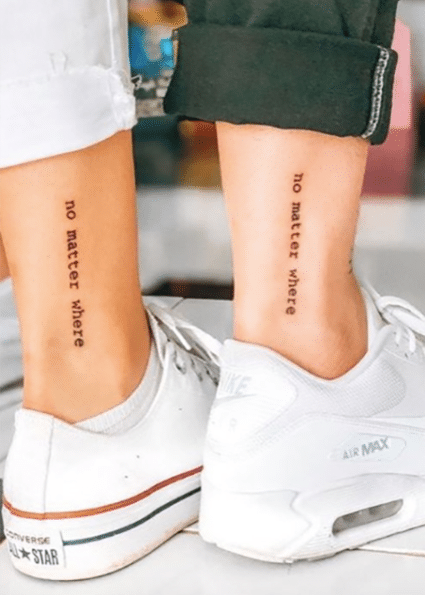 12 – One Word
A one-word tattoo comes at the top of the list of small tattoos. Always is the word which represents the emotions of infinity. However, you can also choose other words which have a thoughtful meaning.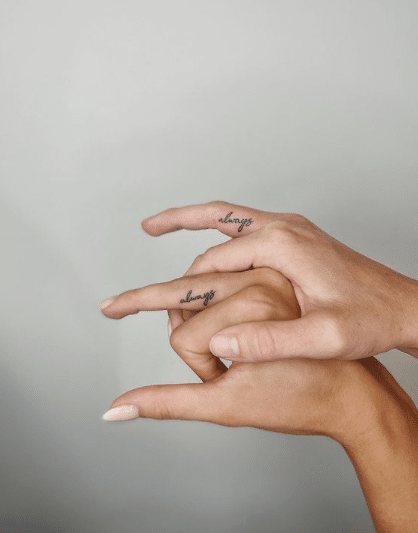 11 – Sophie Turner's Tattoo With Her BFF
We have seen Sophie Turner and her all-time best friend setting Bff goals many times. However, this time they melt everyone's heart by getting the date "07.08.09" tattooed on their arm. Moreover, insights told that this is the date they met.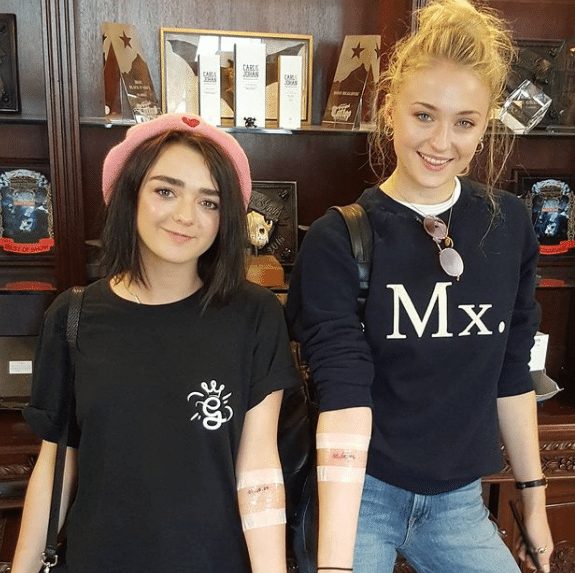 10 – Powerpuff Girls
We all have those childhood friends with whom we watched Powerpuff girls. I bet you and your girls have already decided who's Bubbles, Blossom, and Buttercup concerning your personalities. Therefore, take this a step further and get the Powerpuff girls tattoo with your best friends.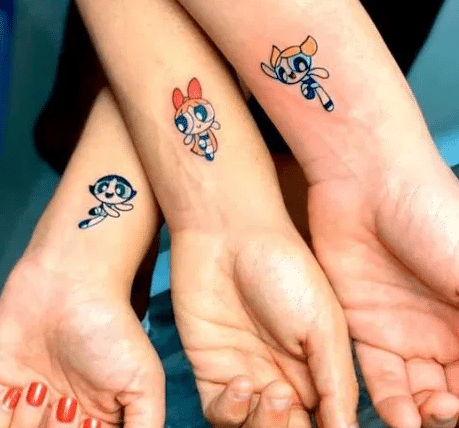 09 – Puzzle Pieces
Best friends are those who can understand you even when you haven't said a word. They are your true soulmates. If they are not with you, it feels like your other part is missing, just like the puzzle pieces.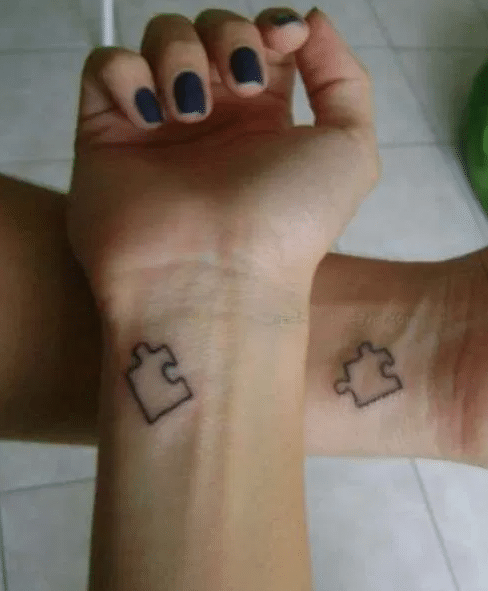 08 – Meaningful Tattoo For Friends
Every tattoo has a meaning. Some meanings are easy for everyone to understand, and others are understandable only by those who get them. However, getting a meaningful tattoo is very important because whenever you see that tattoo, the memory of others comes into your mind, and that's how you will never forget each other no matter where.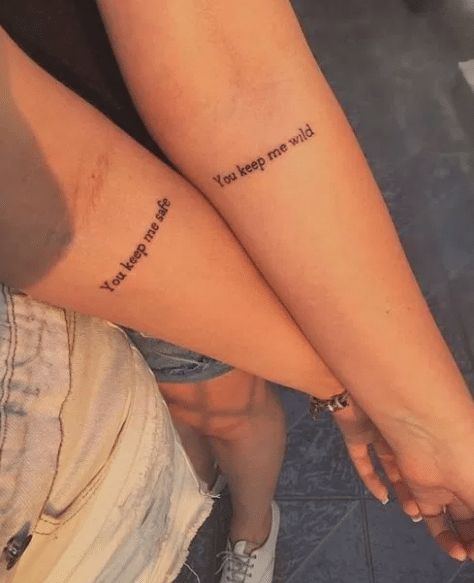 07 – Promise Tattoo
The promise tattoo is something that sounds close to heart. The best placement for this tattoo is the back of your arm right above the elbow.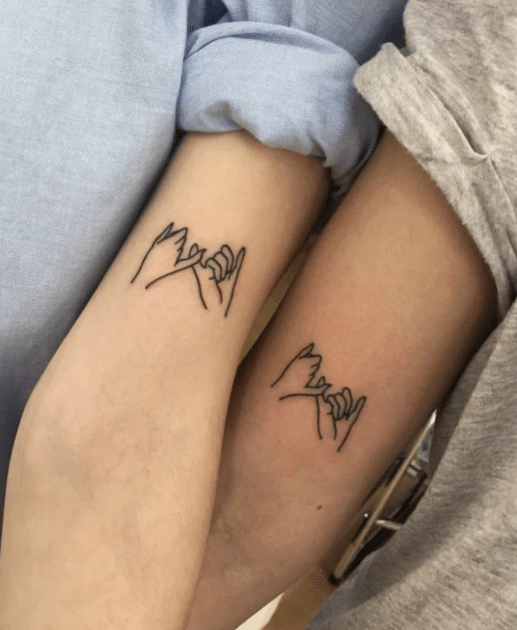 06 – French Fries & Burger
It would be best to get this tattoo with someone as dear to you as french fries. If you are a foodie, you can understand the importance of this tattoo.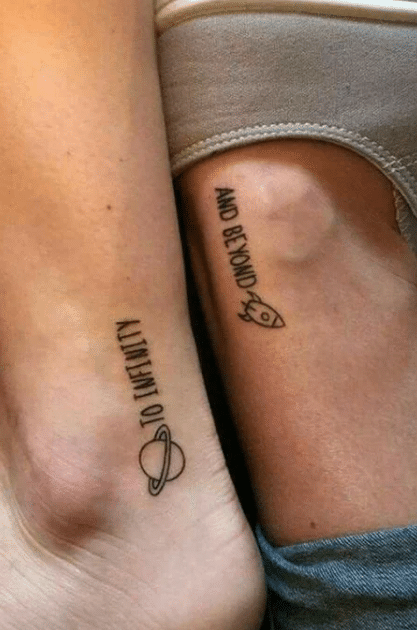 05 – Rock, Paper, Scissors
Keep your tattoo game more vital by getting a Rock, Paper, Scissor tattoo with your homies. Indeed, this tattoo looks super cool.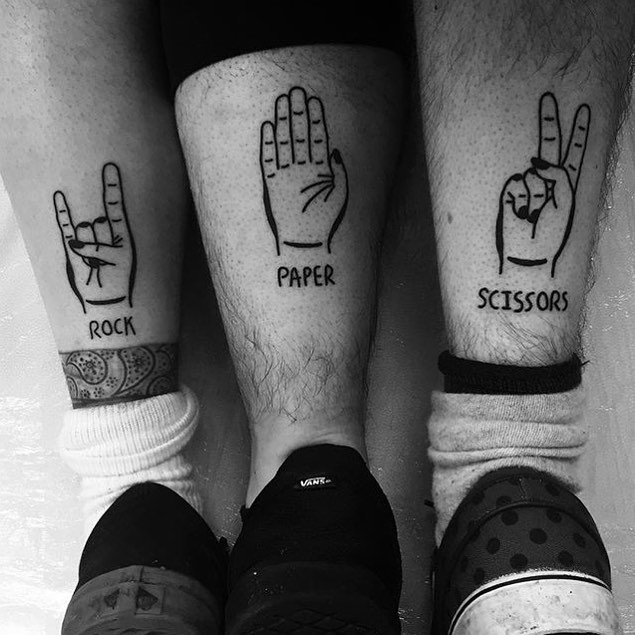 04 – Completing Each Other Tattoo
It is widespread and popular to get a tattoo in which half of a tattoo is with you, and the other half is on your friend. Undoubtedly, the butterfly tattoo is the perfect way to get this, and such types of tattoos are called "Completing Each Other Tattoo."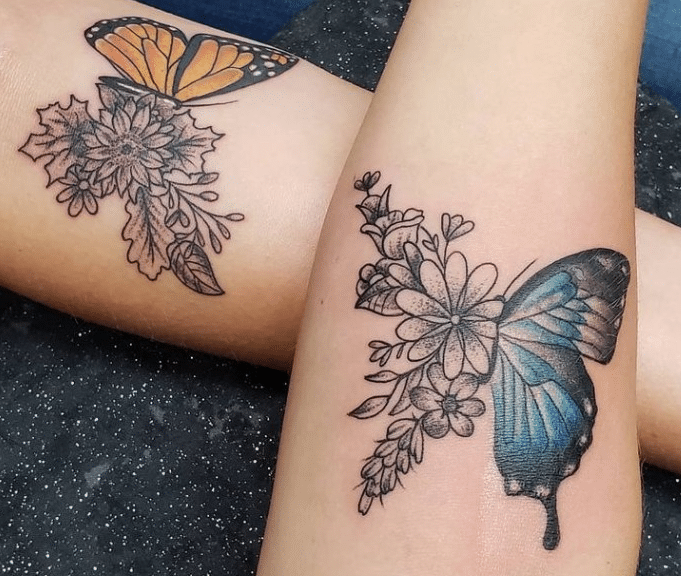 03 – The Sunflower
The sunflower is a quintessential way to get a colored tattoo. Moreover, this tattoo also gives off aesthetic vintage vibes. Therefore, don't waste any more time and get this aesthetic tattoo with your best friend.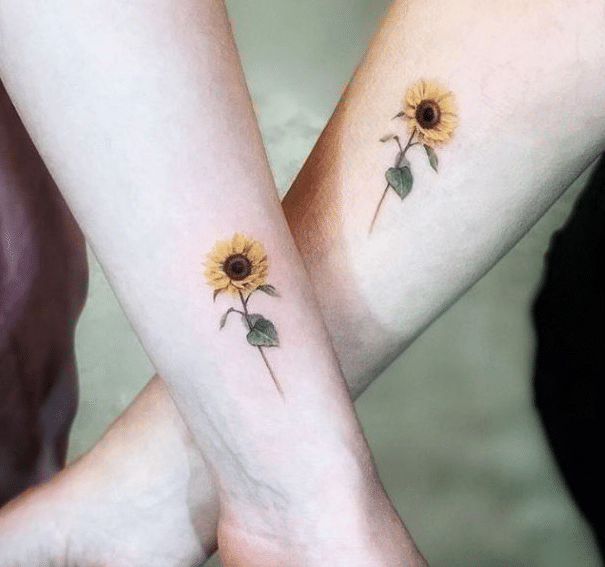 02 – Minimalistic
Hakuna Matata translates as "no worries" in Sawahili. However, in English, this phrase gets famous from "The Lion King." No doubt, this tattoo looks flawless on the shoulder and is an ideal minimalistic tattoo. Moreover, words from other languages which represent thoughtful meaning are pretty famous in the list of minimalistic tattoo ideas.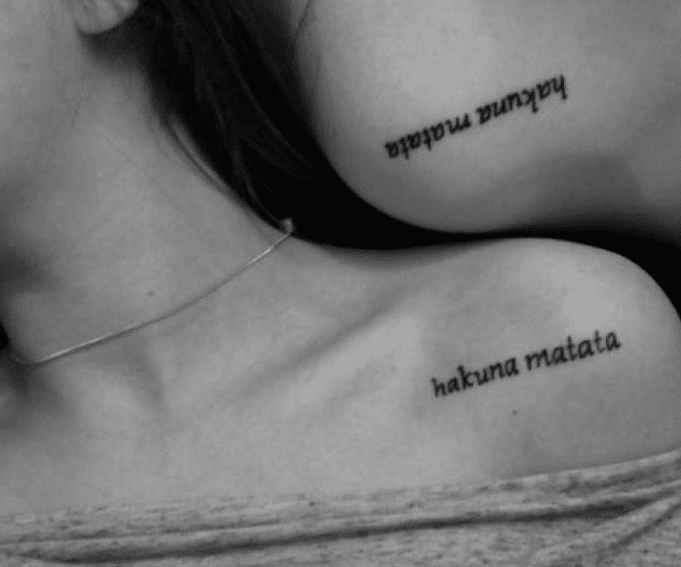 01 – Ohana
Of course, "Ohana" has to be number one on this list. Ohana means family, and this tattoo is dedicated to all those friendships which are more than this title.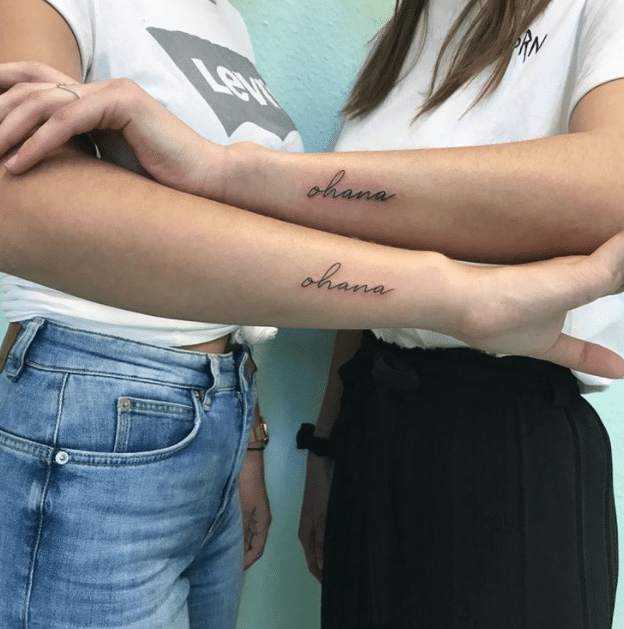 Frequently Asked Questions
Q: Why do best friends get matching tattoos?
Ans: They are a symbolic and classic friendship step to take. It shows the shared memories like years spent together, the hard time they have gone through, things they have lost and achieved, or numerous other experiences that they share.
Q: Do matching tattoos have to be in the same spot?
Ans: They are a representation of a strong friendship bond. So, if you plan on having one with your best friend, feel free to get creative when placing your tattoos. It would be best if you did this whole thing with mutual understanding. So, it doesn't matter if your tattoos are on the same or different spots. Its primary purpose is to commemorate your friendship. The popular and most famous placements for matching best friend tattoos include the wrist and fingers, and even though the tattoos are small, you will always be able to see them.
Q: What type of tattoo should you go for?
Ans: As matching tattoos are a symbol of bond and friendship, then they must represent something cute, loving, affection, and inspirational to which you and your best friend can relate. When choosing a tattoo with your best friend, it's better to do your research. There are many types of tattoos with different meanings, so there's bound to be one that shows how you feel about each other. You can go for many options, such as cute tattoos, symbols, quotes and sun, moon tattoos, etc.
Q: Why do people prefer tree & quote tattoos over cute tattoos when it comes to friendship?
Ans: Most people always go for cute and playful tattoos. They look sweet and give tender vibes. But when it comes to tattoos, especially friendship tattoos, people prefer tree and quotes tattoos. The tattoos should have meaning and feelings. Owl tattoos are the perfect tattoo for friends.

Because they represent growth, wisdom, protection, and eternity, it is a metaphor for a friendship that will stand the test of time. However, as far as quote tattoos are concerned, they have been a popular tattoo choice for so long. You can write your favorite quote describing your feelings and ensuring we never forget them.  It can be a line from a play, movie, book, or song lyric, and quotes are a meaningful choice.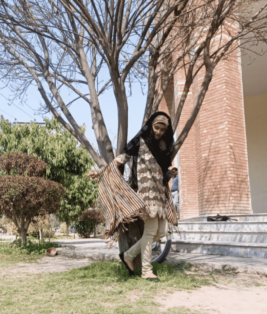 Javeria is a student and a content writer. She is good at public speaking, leadership, and management. She is passionate about writing, reading & music. She is an ambivert and is always up for a new friendship adventure. As an English literature student, she thinks fiction is more fun to read than nonfiction.