Wolf Tattoo Ideas With Meaning: Tattoos are trending and are a way of expressing yourself. A new trend is to get your spirit animals tattooed on your body; hence animal tattoos are gaining rapid popularity. Wolves being one of the most courageous animals, are also one of the most popular tattoo designs.
Some people get attracted to the bold designs, while some people tend to get more attracted to their meanings. If you are one of them, we have listed plenty of wolf tattoo ideas with their meanings for you in this article. So scroll down and choose a design for your next tattoo.
Such tattoos are not only bound to simple tattoos instead there is a wide variety of designs and meanings behind them. From a simple wolf head tattoo to a pack of wolves, all the designs have different and unique meanings.
If you want a simple and small design, then you can get a tribal wolf on your wrist and ankle, and similarly, if you are hunting for a huge design, a sleeve tattoo and geometric tattoos are some of the designs to look out for. Not only this, but you can also get them according to your preferences and your choices. The designs can be transformed and modified according to your selections.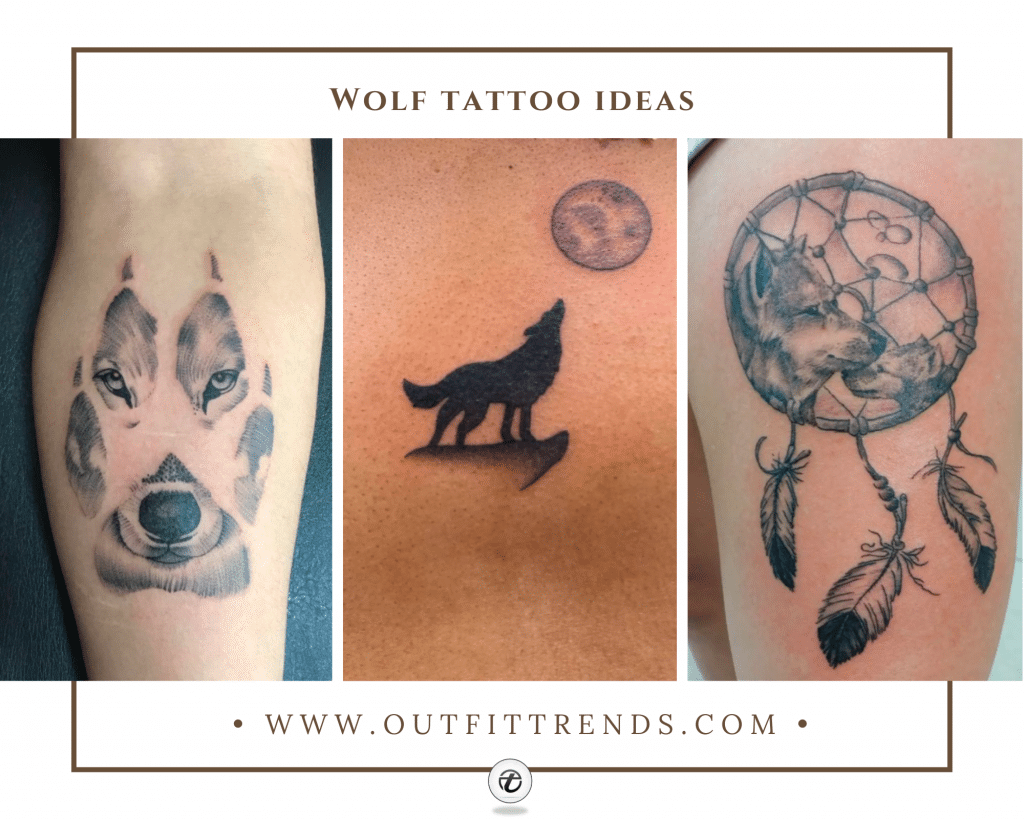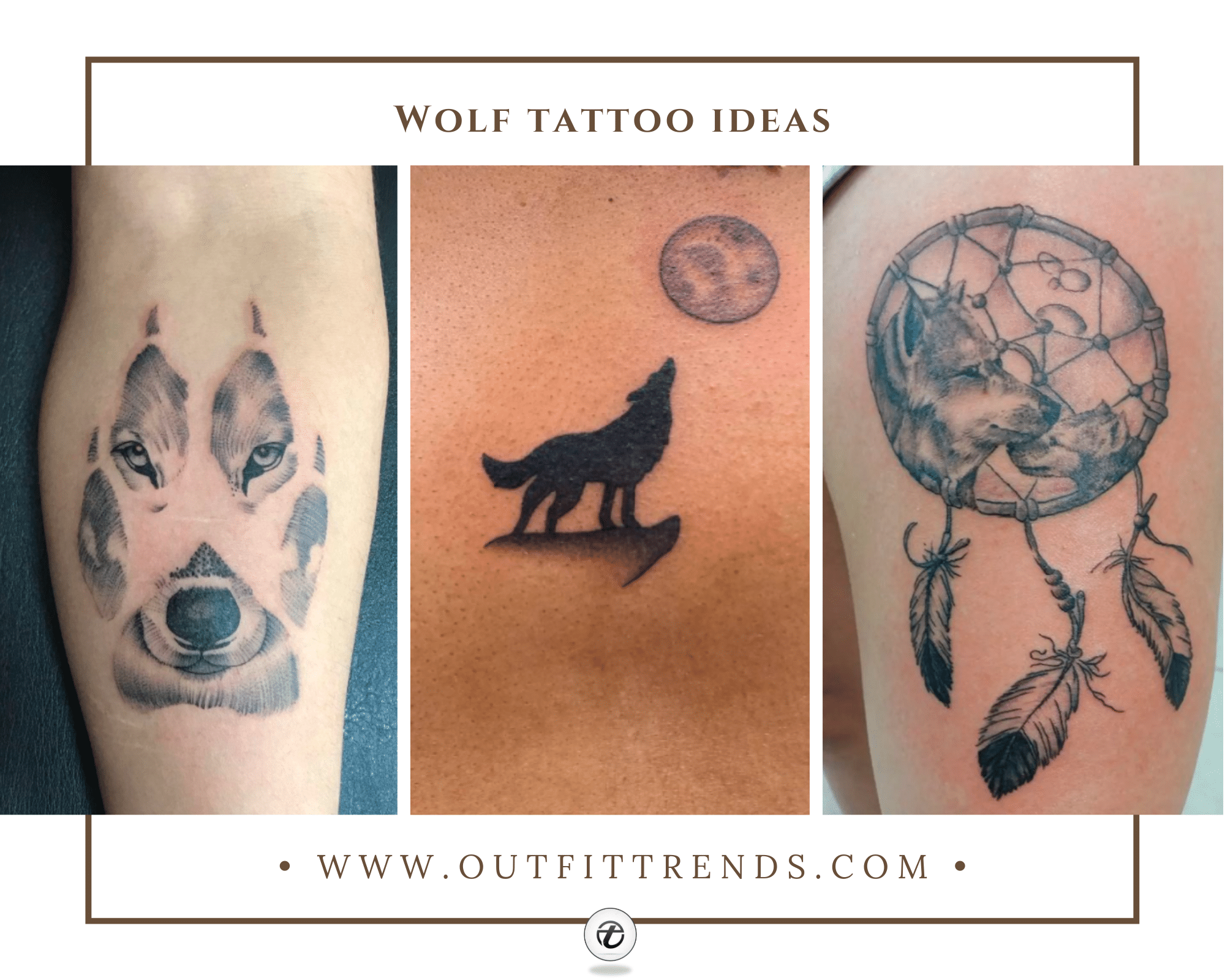 Tips For Getting A Wolf Tattoo
The process to get a perfect tattoo starts with deep searching. No one can tell you what you want better than yourself. So, do deep research about the designs, their meaning and their placement ideas and then make a decision by yourself.
The next step is to find a skillfull artist. Make sure that they can perfectly make your desired designs.
Discuss with the artist about the design. How you want it to be, how many sessions it will take to complete the tattoo, and how much pain you will have to bear. All these questions should be answered beforehead to avoid any confusion.
If you want a unique design, add more elements to a wolf tattoo, like flowers, trees and other animals.
20 – Wolf Pack
If you are a person who is really close to your family or wants a design to dedicate to your family, you can consider getting a wolf pack tattoo. Wolves travel along with their pack, which is their family, and that is why such tattoos also symbolize strong family bonds and loyalty to loved ones.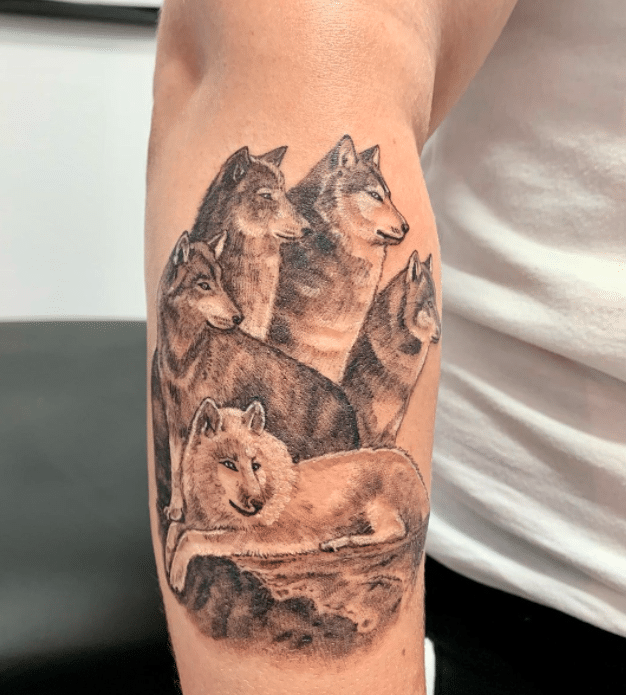 19 – Wolf And Owl
When it comes to owl tattoos, they are often considered as bad luck while in reality, they represent mystery, magic, and wisdom. Wolf and owl tattoos, both have some strong meanings and if you feel like you have the traits of both then you can get this tattoo. It is a huge design and needs some sufficient space so it can be placed on your back, arm, or thigh.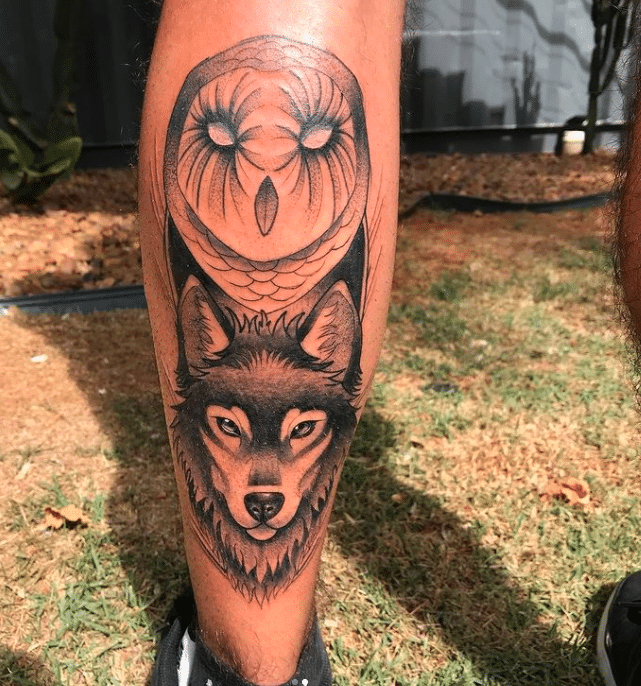 18 – Wolf And Dream Catcher
This design looks quite unique and it is hard to identify its true meanings. Let me tell you the mystery behind this tattoo as a dream catcher tattoo symbolizes positivity and protection from negative thoughts. Wolf tattoos on the other hand also have similar meanings. You can make this design creative by adding more elements and colors to it.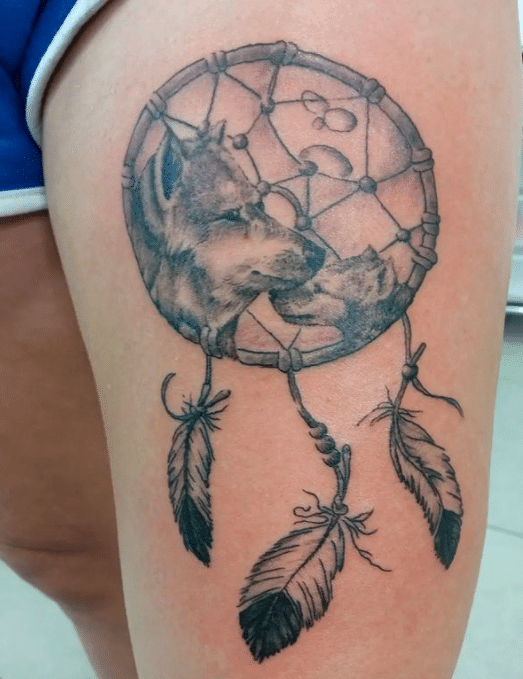 17 – Howling Wolf
Howling wolves looks really fascinating and so does their tattoo. This design looks simple but holds a deep meaning in it. It represents that you have strong relation and bonding with your loved ones because wolves howl to communicate with their pack. This can be placed on your back or your arm.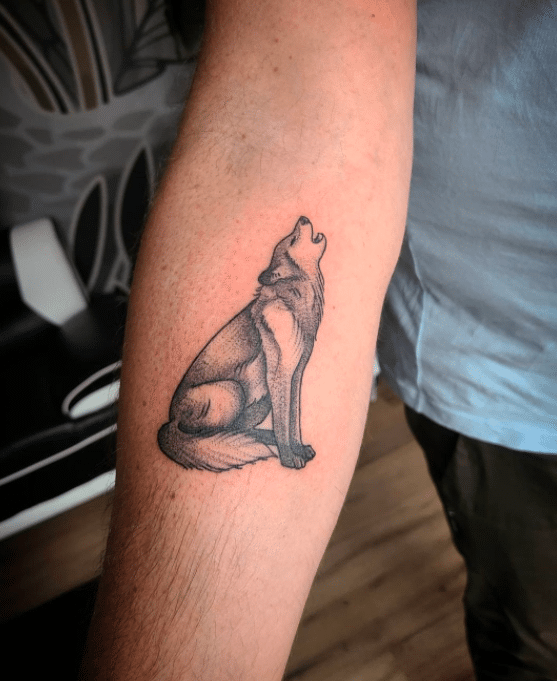 16 – Celtic Wolf
Celtic designs represent eternal life, spirituality, and the bond between humans and nature. It is also believed that Celtic people used knots to communicate with each other. These designs are becoming popular and give a balanced look to your tattoo. A person who gets Wolf and Celtic knot tattoos can be seen as someone who is fierce and strong. These tattoos are unique and stand out from other designs. So, instead of getting a simple wolf, you can give it a Celtic touch.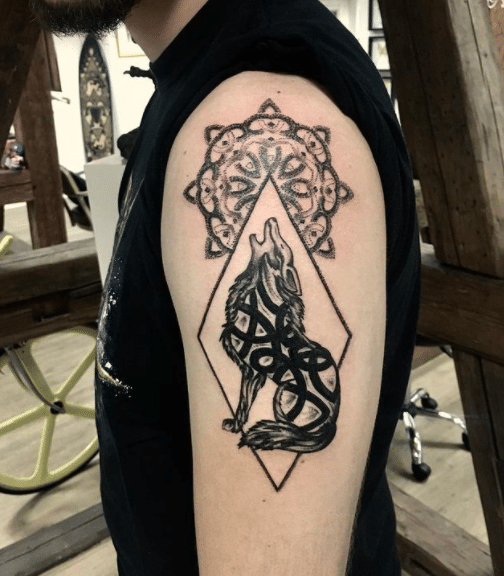 15 – Geometric Wolf
Geometric tattoos are very popular these days and it has become a trend to combine them with other designs as well. In this way, they add more symbolic meaning to your designs. These designs represent order, harmony, and balance in your life. A wolf tattoo with geometric designs will symbolize strength, wildness, and connection to nature. It is an ideal design for those who want a really simple yet meaningful tattoo.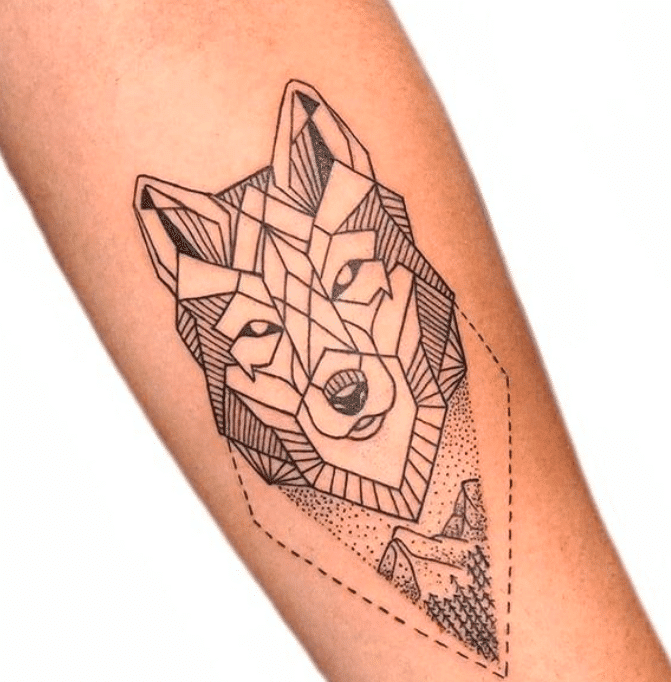 14 – Hand Tattoo
Hand tattoos are always a great choice to perfectly display your tattoo. If you want a really impressive and unique design then you can get a growling wolf on your hand. It symbolizes that you are fierce and wild and don't step back from anything. This design looks eye-catching and perfect for people who want to try something new.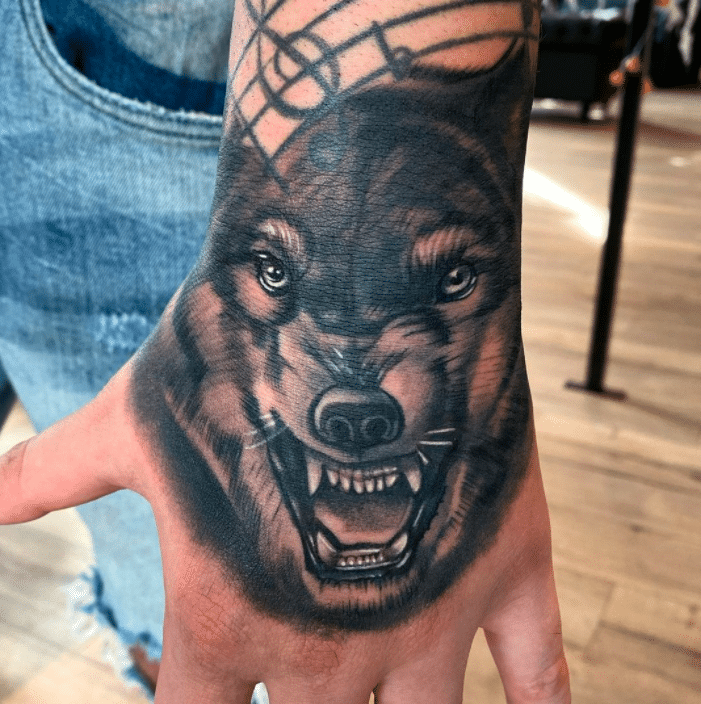 13 – Realistic Design
Realistic tattoos are those that are super close to reality and catch your attention at first glance. They are carefully done with black or grey shading. A realistic wolf tattoo is an ideal design for tattoo lovers however it will require a highly skilled artist. The blue eyes of a wolf are more prominent and would make the design more intriguing. This design can be a bit complex and require a lot of time but the results are definitely worth your time and money.
12 – Wolf With Rose
For all the ladies who want a feminine touch to the wolf tattoo, here is the idea for you. Getting a wolf tattoo with flowers and animals represents your love for nature. Rose is the symbol of love and affection, when paired with a wolf tattoo it will symbolize loyalty and affection to your companion. Wolf with a rose tattoo can be placed on your back and forearm.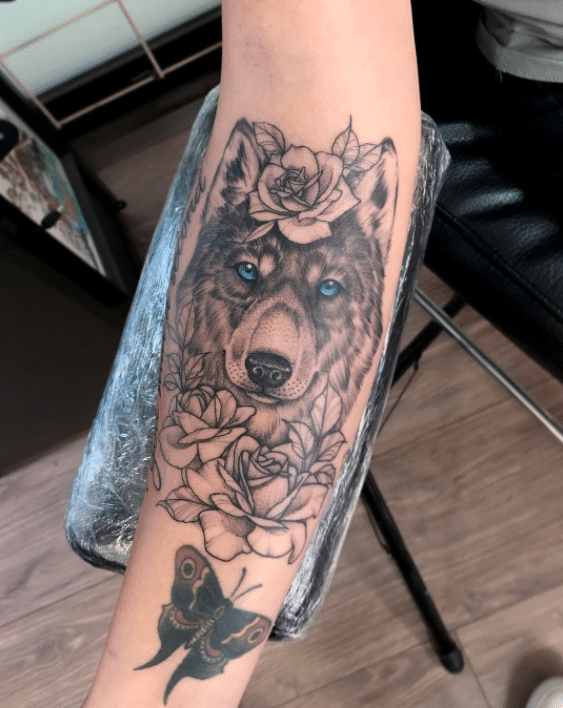 11 – Armband
A wolf band tattoo stretches around the arm with a wolf head at the front. The band can be filled with different kinds of shapes and designs. Armband tattoos are separately very popular and they also have different kinds. This one is a tribal armband tattoo that symbolizes the ancient tribal culture.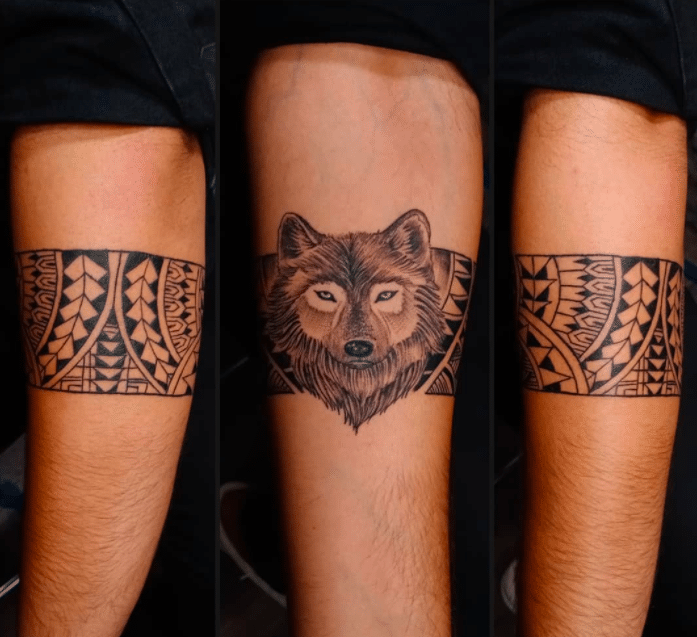 10 – Finger Tattoo
It is not important to go wild and get a really giant tattoo to show your compassion instead a small wolf tattoo on your finger, neck, or foot would look equally striking as well. Small tattoos are mostly the top preference for many people because of the ease of placement and lesser pain. You should try to keep the details and shadings as little as possible to focus on your main design. Small designs like these can be placed on your fingers and neck.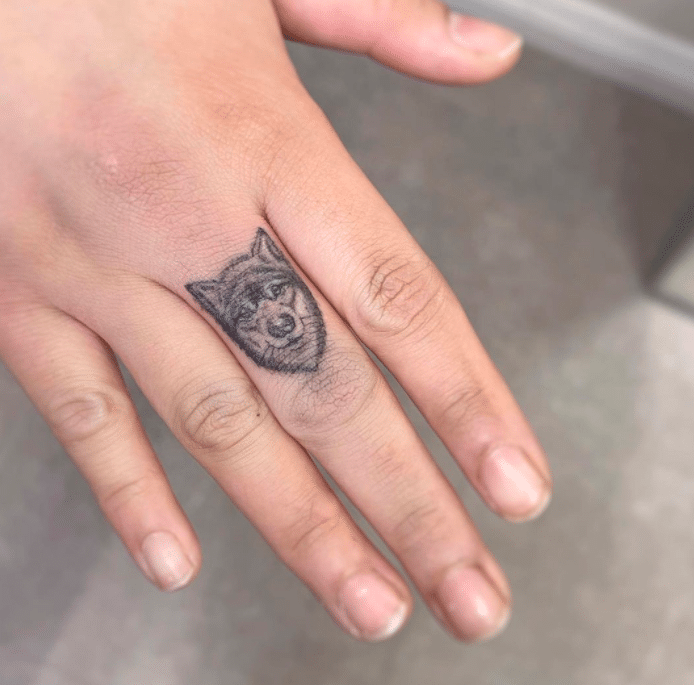 9 – Wolf With Moon
One of the most common and popular wolf tattoos is a wolf howling at the moon. Many negative things are associated with it however this tattoo is mostly popular because of its mesmerizing design. We all are aware that wolves have a deep connection with the moon. It is also believed by some people that wolves howl at a full moon. It is a simple design with fewer efforts so it can prove to be a good choice if you are getting your first tattoo.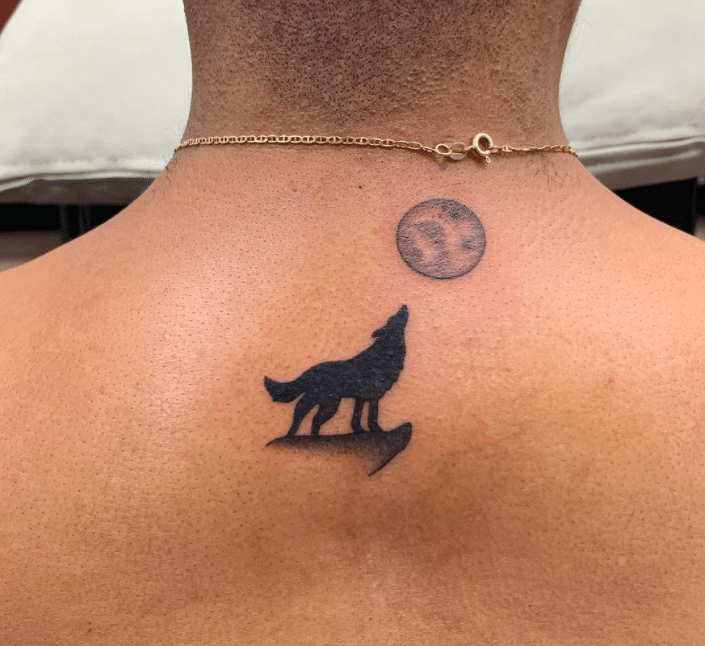 8 – Creative Design
Paw tattoos generally look cute and represent your love for your pets. But animal paws and especially wolf paw tattoos are new in trend and symbolize growth and progress. The face of a wolf and the realistic eyes in a paw look really fascinating and creative and can be placed on your thigh, shoulders, and back easily. It also represents the native American culture and in this way, you can give a twist to a normal wolf design.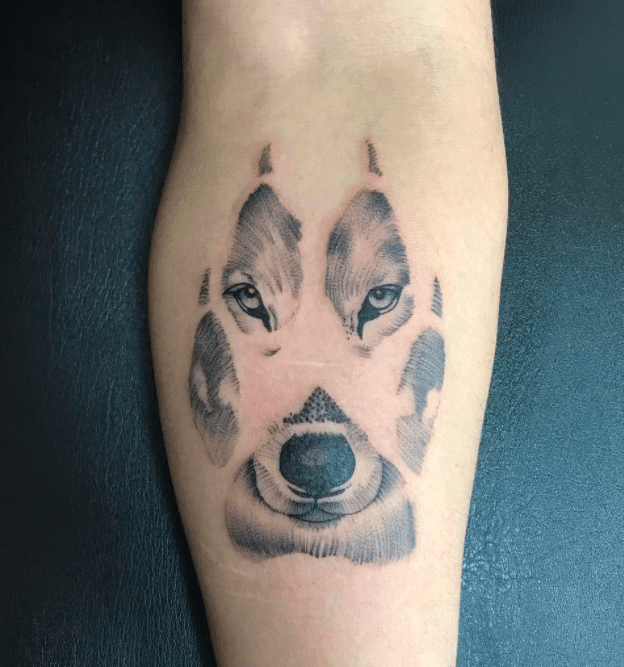 7 – Neck Tattoo
The traditional wolf tattoo designs are very bold and bright. The traditional wolf tattoo represents the real traits of the wolf which are power, strength, and loyalty. A lone wolf is mostly popular in men because of its meaning and will look stunning on your neck and shoulder. Deep black shading and bold colors are some extra efforts you can put in to make the design more compelling.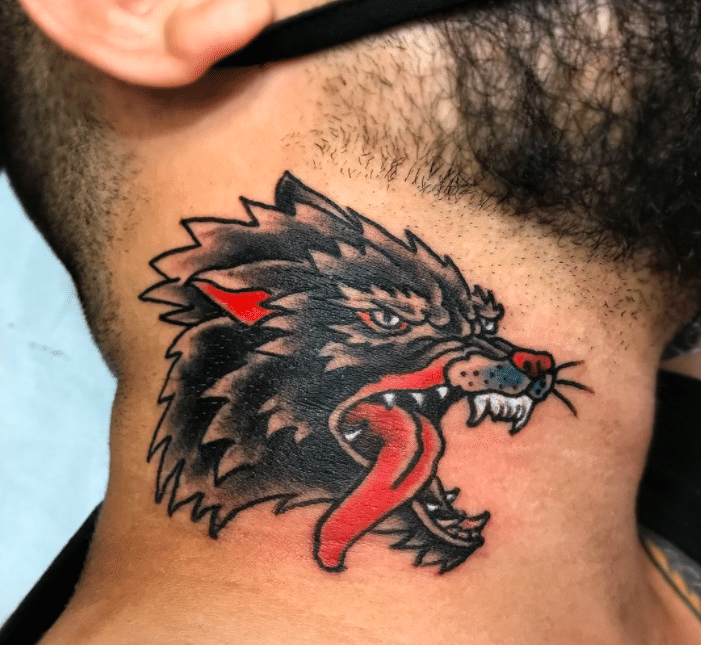 6 – Splash Of Color
Wolf tattoo with deep black shading looks stunning but to give your design a more artistic look, you can get a watercolor tattoo. Adding colors to your tattoo is always a good idea if you need something creative and the splash of colors makes the design look more captivating. The colors can be of your choice but with wolf tattoos, red and blue colors are mostly preferred by people.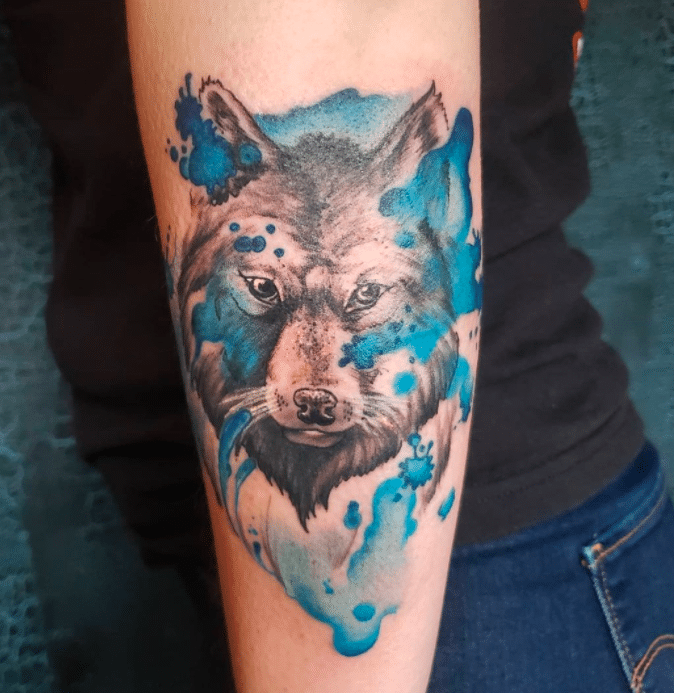 5 – Forearm Ideas
Your search for a unique tattoo design can end here with this design. Wolves are wild creatures and they have a deep connection with trees and forests. You can get a creative design like this one by combining wolf heads and trees. The best placement choice for this kind of design is a forearm as tattoos are more visible there.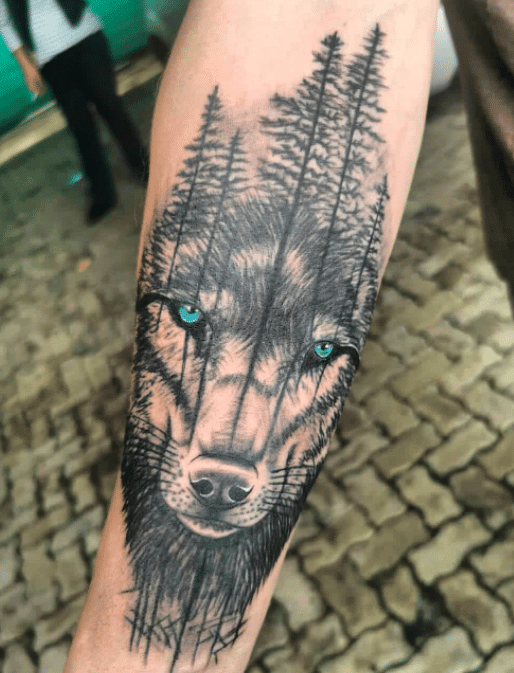 4 – Wolf And Lion
Getting a tattoo of two animals that are seen as a symbol of power and courage is an interesting idea. Lion tattoos on one hand specifically represent fearlessness and courage and wolf tattoos on the other hand symbolize strength and loyalty. Combing them both will not only give you a unique design but also some of the deepest meanings.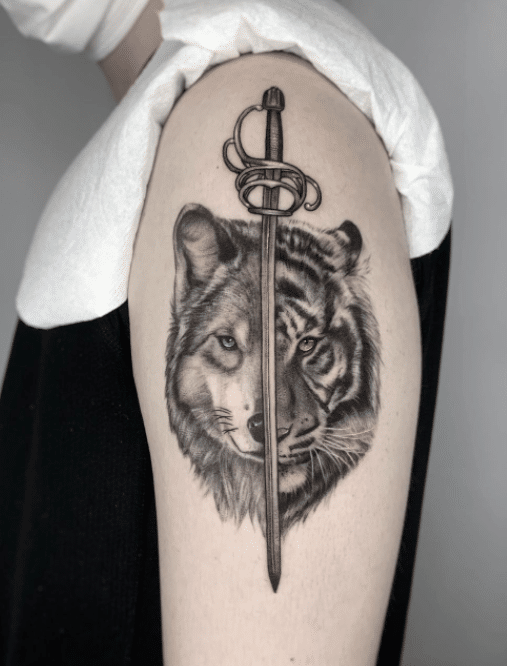 3 – Wolf Eye
If you are a fan of the deep blue eyes of wolves, then there is no need to get the whole tattoo for that. You can only get these super realistic eyes tattooed on your body. A wolf's blue eyes are seen as mysterious as well as fascinating. Besides that, you will need a really skilled artist to get this design tattooed perfectly. To perfectly flaunt this design, you can place them on your forearm.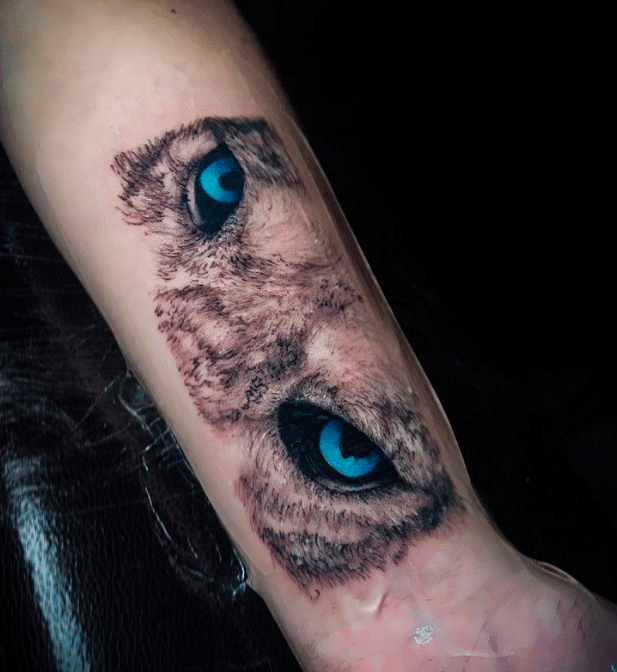 2 – Tribal Wolf
Tribal tattoos not only look unique but also express some of the most realistic meanings. If you are getting a tribal wolf tattoo, it means that you are strong, loyal, and devoted to your family and loved ones. These tattoos can be small or big and can be placed at different places according to size but they look most attractive on wrists and shoulders.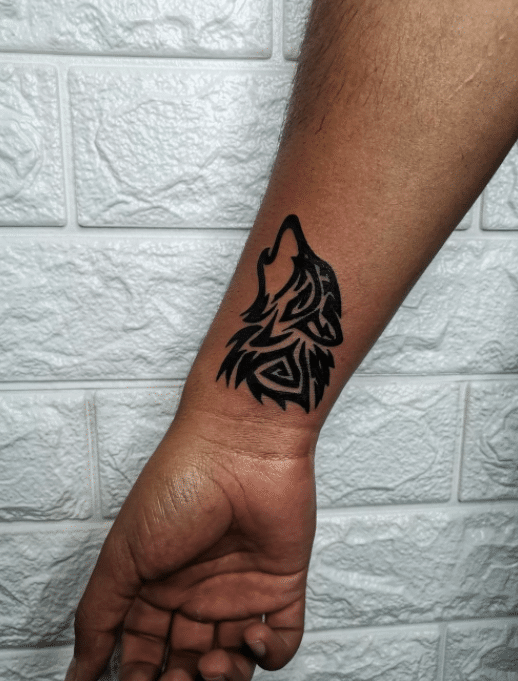 1 – Sleeve Tattoo
A sleeve tattoo is the one that starts with the shoulder and ends at the wrist. It is usually a huge design with so many elements. These tattoos usually take two to three sessions to complete and are more costly than others. A big wolf head or a howling wolf can be a suitable design for this or you can also pair other things with it as per your choice. Half sleeve tattoos are also becoming popular as they are more convenient to get, they cover your hand from upper shoulder till elbow. Sleeve tattoos look enchanting and give you a chance to be more creative with your designs.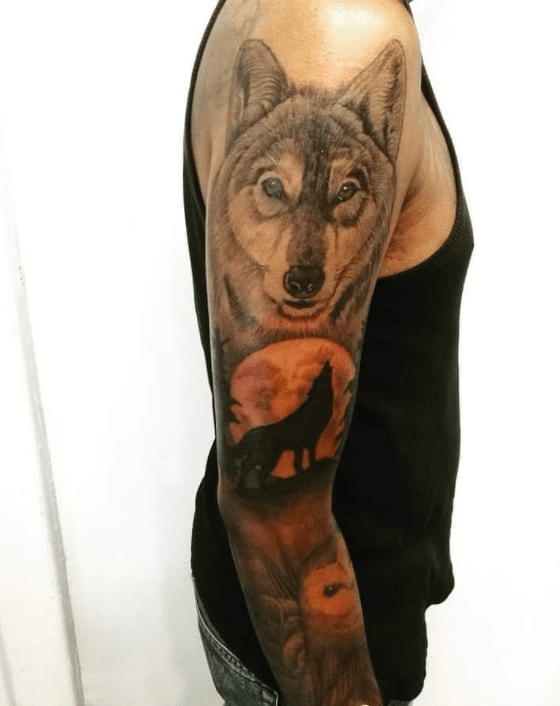 Frequently Asked Questions
Q. What does a wolf tattoo mean?
Ans. The meaning of wolf tattoos is mostly similar to the qualities of wolves themselves. Just like wolves are brave, intelligent, and generous, their tattoos represent the same, Along with that, they also represent freedom, strength, and power. Wolves are also very loyal to their partners so these tattoos also represent loyalty. Different designs of wolf tattoos have different meanings. A wolf pack symbolizes a family bond, a geometrical wolf tattoo represents balance and harmony, and tribal wolf tattoos represent Native American culture. Precisely, wolf tattoos can have different meanings depending on the designs.
Q. What are the best wolf arm tattoos?
Ans. Your arm is a great place to get a tattoo as it gives more space for creative designs and the design is also clearly visible there. Almost all the wolf tattoos can be done on arm but some of the best designs that you can get are howling wolf, a wolf with flowers, wolf and skull tattoos. Other than that, tattoos that require more space can also be done on arm.
Q. What compliments a wolf tattoo?
Ans. There are many things that you can pair with a wolf tattoo to give it a personal touch. Animals like butterflies, owls, and eagles complement them well. On the other hand moon, mountains and trees are also paired with wolf tattoos. You can even simply add your name to it also. Other than that, it depends on your creativity about what kind of design and what meanings you want. Keep in mind that every modification you make can entirely change the meaning of your tattoo.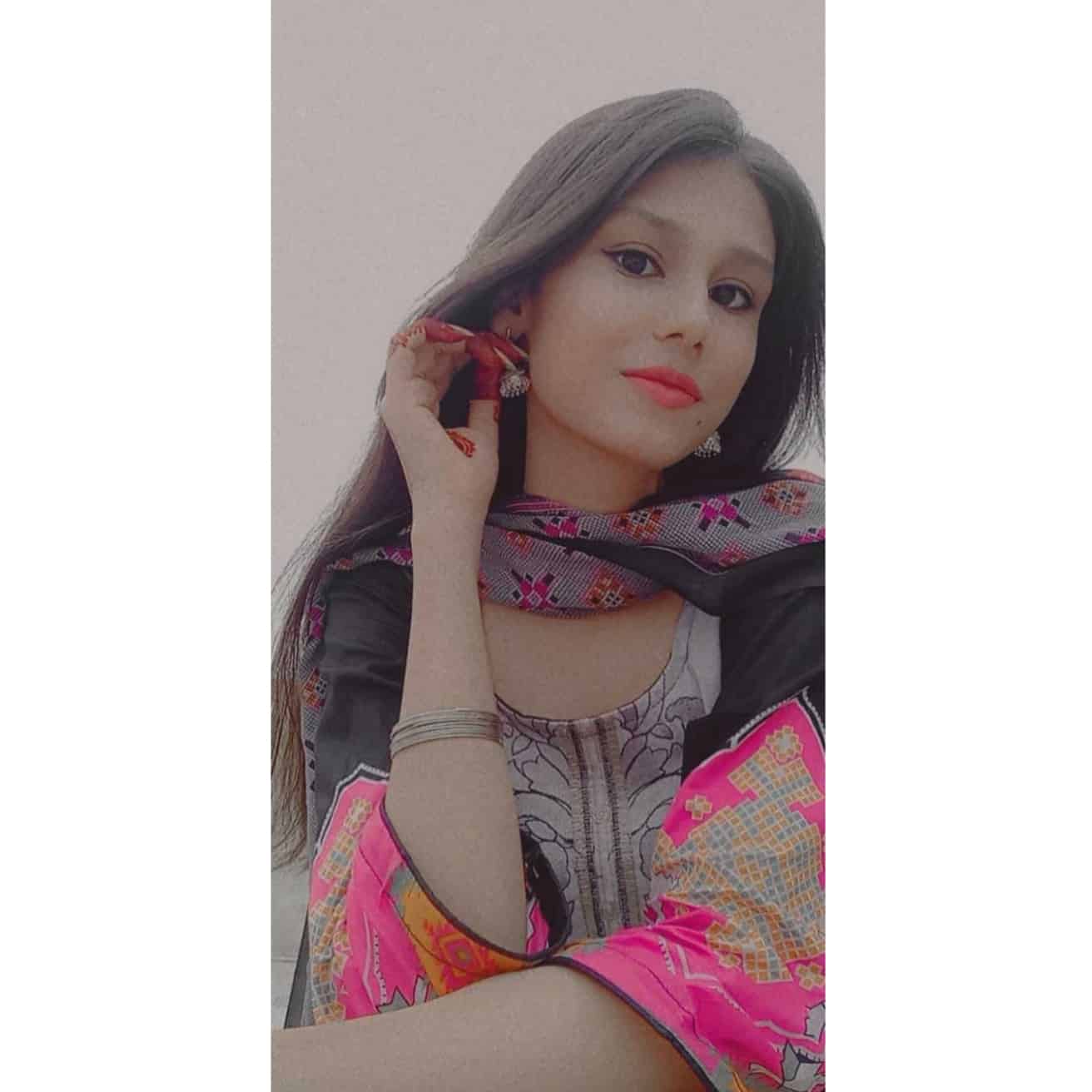 Yumna is an undergraduate business student and a freelance writer. Her life revolves around writing and reading. Being an introvert, she might not speak much but she can write for you as much as you want: )