Sunflower Tattoo Ideas: Getting beautiful sunflowers inked on your body is one of the most beautiful ideas. They look good and possess some beautiful meanings as well. If you want to add a daily dose of beauty and positivity, then you can consider getting these beautiful flowers tattooed on your body. They can be as big to cover your whole shoulder and back or as small to easily adjust on your finger. In that way, you get a variety of choices for these beautiful designs.
Trending Sunflower Tattoo Designs
When you are choosing a sunflower as your next tattoo, there is a wide variety of designs you can choose from. Tiny sunflowers on your wrist and ankle are the latest tattoo design ideas as they are less painful than others and look really cute.
If you want really big and prominent flowers then you can get them on your back and shoulder as they will need more space. Other than that you can also be creative and add modifications to the designs. You can even combine them with several different designs also.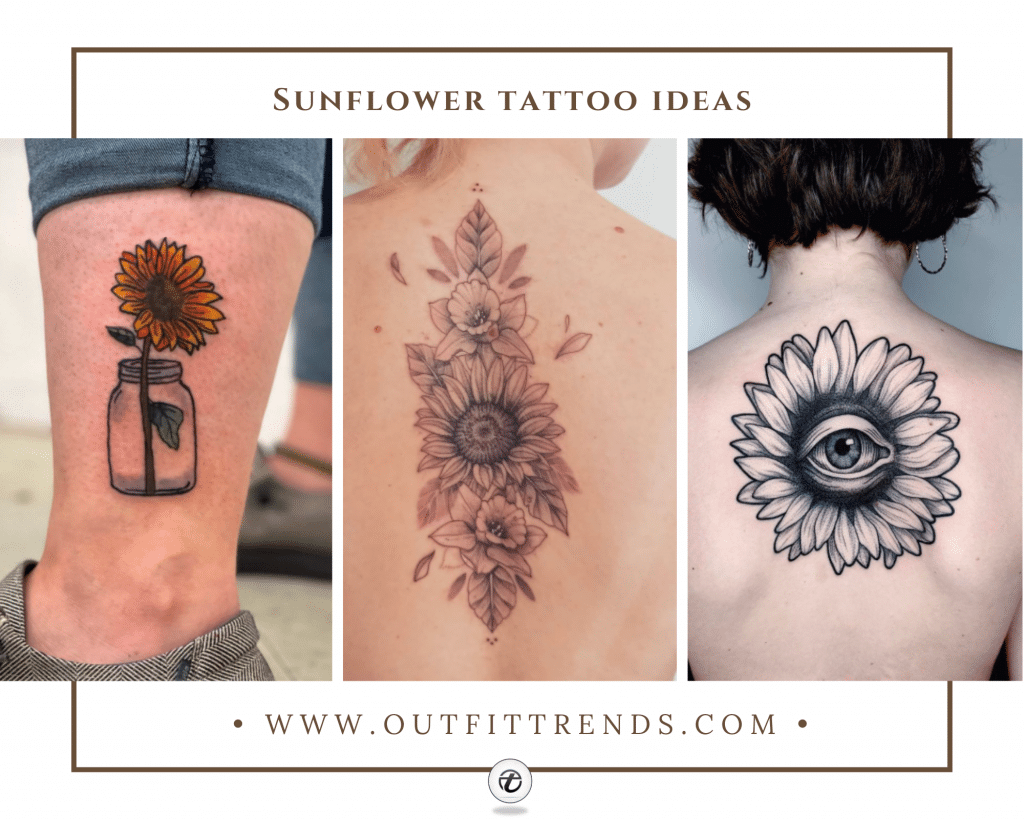 Do's And Dont's
There are variety of designs in sunflowers, so you have to choose if you want something meaningful or just a cute design.
Neck and spine are the two places that hurt the most, so be mindful before taking a decision.
You should always follow all the instructions and aftercare tips of your tattoo instructor to get the best and long lasting results.
22 – Sunflower Heart Piece
Flowers and hearts indeed look beautiful together and here is proof of it. Instead of getting a simple sunflower tattoo, you can try this design which not only looks beautiful but is easy to create also. This will look best on your ankle or hands. Adding colors will make it look more captivating.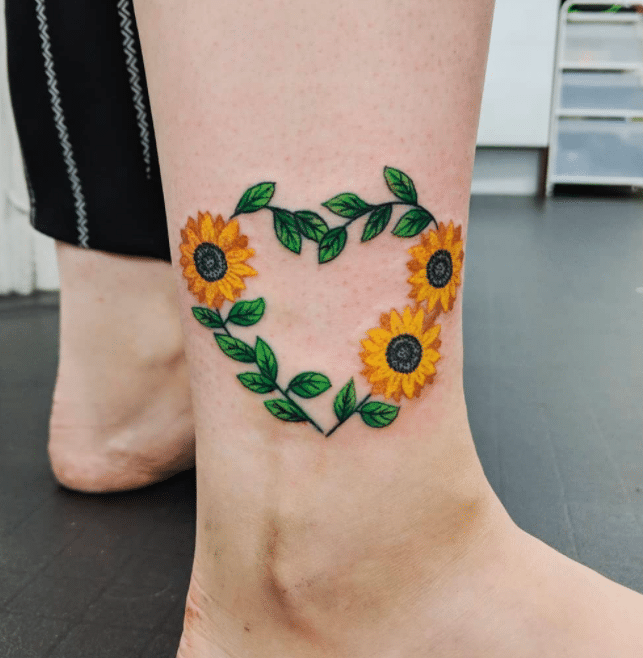 21 – Combination Of Rose & Sunflower
What's better than one flower? A combination of two! A rose tattoo and a sunflower are pretty popular in their own way but combining them together will form a beautiful design like this. It will make you get a lot of compliments for your choice.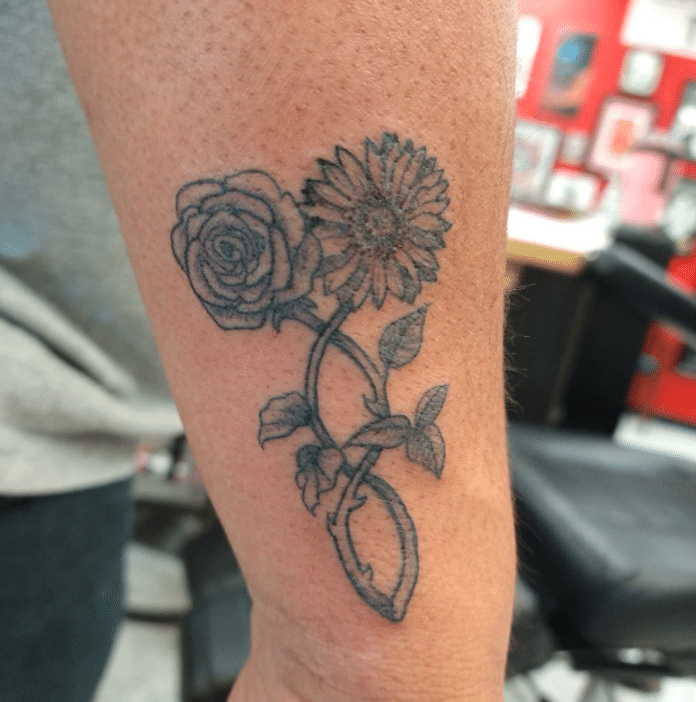 20 – Forearm
A small and delicate flower tattoo never hurts anyone. It is also a really good choice for those who want to get their very first tattoo and are unsure about the design. And if you want it to be more creative, you can add your own ideas like adding different colors and some other things with it.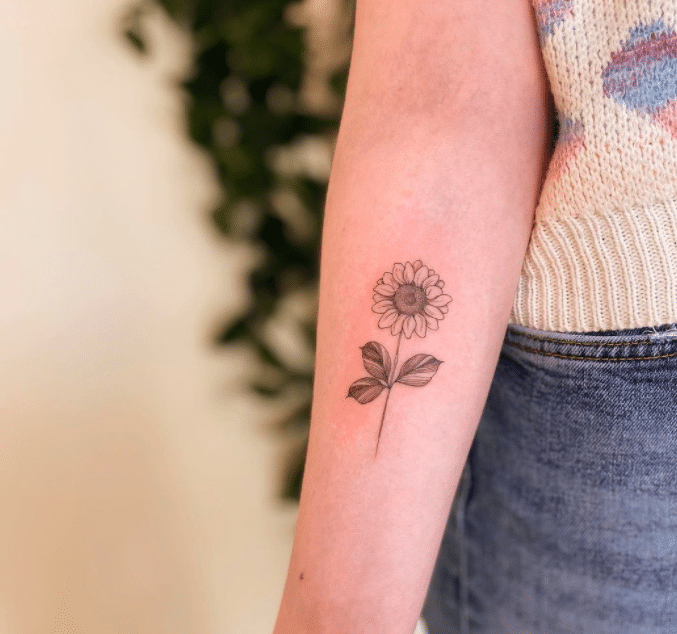 19 – Matching Tattoos
Matching tattoos with your loved ones is a great way of showing your affection to them. Sunflower itself is a symbol of love and warmth and getting it inked in honor of someone will represent the same. You can get a simple and colorful sunflower and add some names, dates, or quotes for someone. You can also get matching tattoos like this one which is done for the mother-daughter duo. Both of the designs are almost identical with slight changes in the shading and the quote.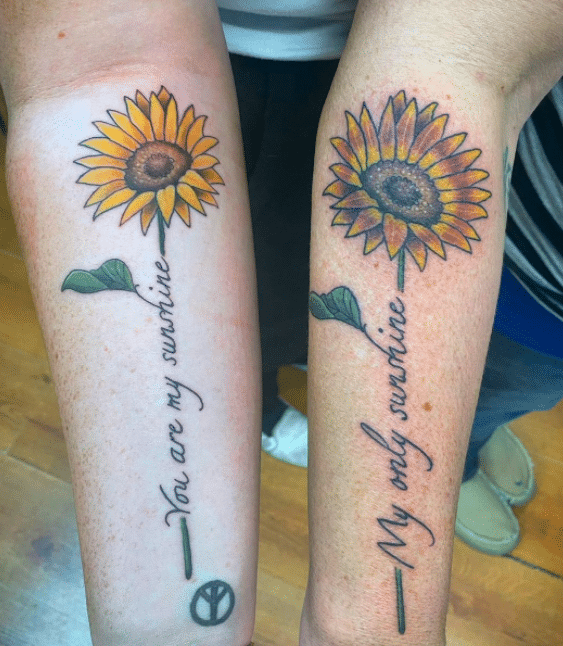 18 – Snake With Flowers
When it comes to snake tattoos, they represent a lot of different meanings such as rebirth, power, and patience. No doubt, these tattoos are really powerful and have deep meanings. A snake tattoo with flowers can also symbolize nature and transformation.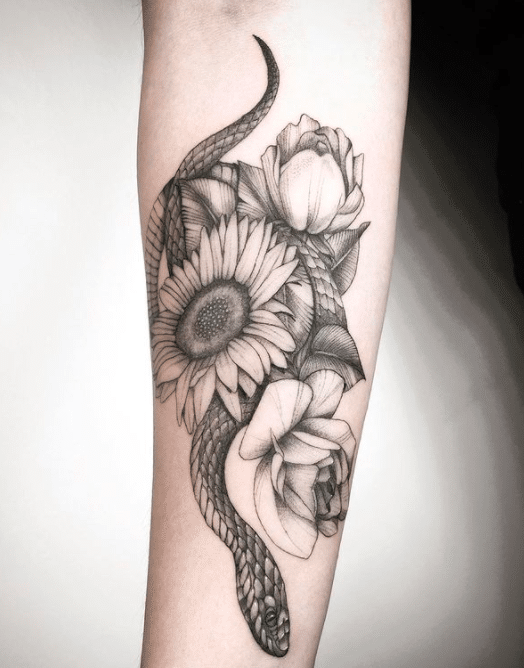 17 – Sunflowers And Half Butterfly Tattoo
Flowers and animals both are beautiful forms of nature. When combined together, they form a beautiful design just like this one where there is a half-butterfly and a few sunflowers. The beauty of this tattoo is that it doesn't have any shading or colors but it still looks pleasant to the eyes. Mostly popular in women, this design can be placed everywhere, but will look more beautiful on your shoulder or ankle.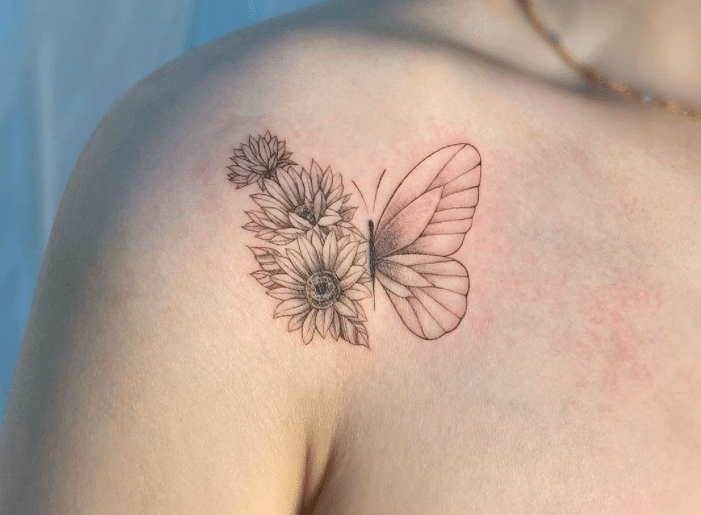 16 – A Creative Design
Light bulb tattoos can mean several different things including intelligence and creative thinking. Placing a sunflower in a broken bulb would symbolize innovations, hope, and new beginnings. You can interpret its meaning just by looking at it. Bees around the flower give it a real touch of being a sunflower.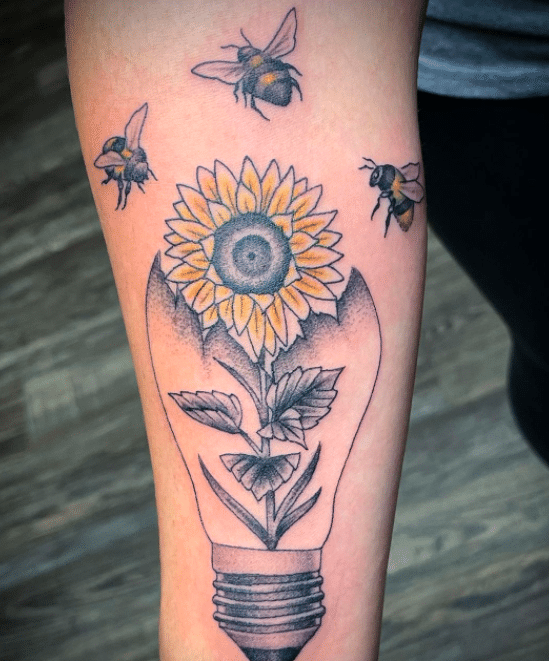 15 – Smaller Tattoos
Single-line tattoos are quite popular as they are small and cute with less pain. One of a kind is this tattoo of a sunflower where only an outline is done with a hint of colors in it. It is surely a great choice if you are looking for a design that is both simple and colorful.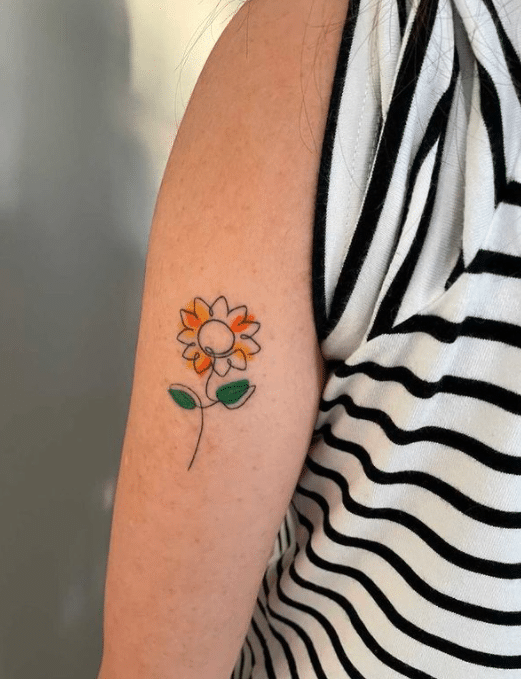 14 – Half Lion & Half Sunflower Tattoo
Some people get tattoos because they are impressed with designs whereas some get them because of their unique meanings. If you fall in the second category then this kind of tattoo will definitely attract you. Sunflowers, on one hand, represent love, sunshine, and gentleness while a lion on the other hand, as expected, symbolizes bravery. Even though these two are entirely different things but if they connect to your personality, you can get them both tattooed. Not only this, a cross sign and a name can also be seen in this tattoo which depends on you if you want to add to it.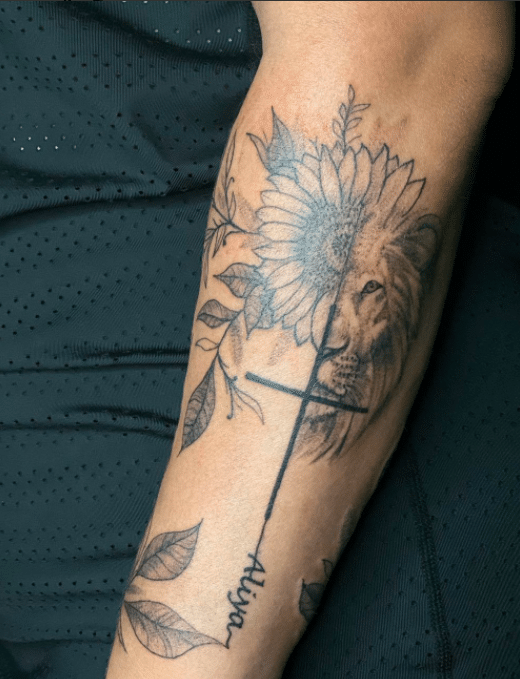 13 – Corpse Bride With Sunflowers
We also have a Halloween tattoo inspiration for everyone. Corpse bride tattoos are already very popular and you can give them your own personal touch by adding sunflowers. This bride with creepy eyes will surely bring all the attention to you as it is one unique design.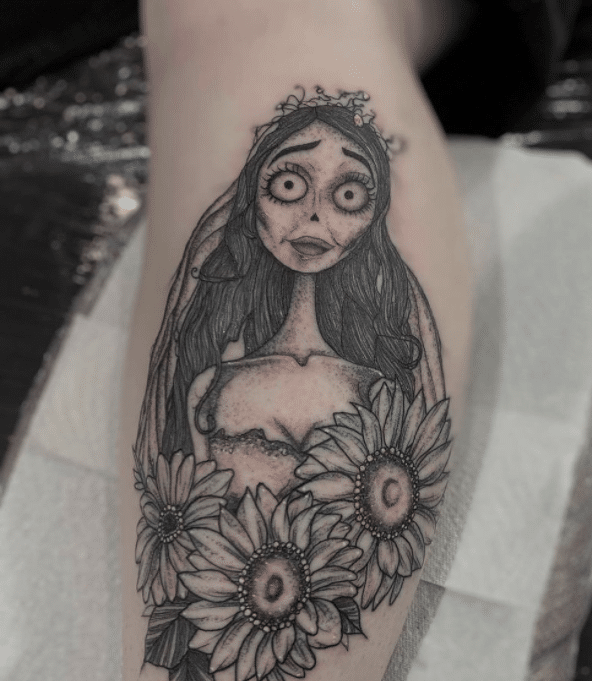 12 – Tattoo On Your Ankle
Some of the popular placement choices for these tattoos are ankles and wrists. Tiny flowers look super cute in these places. You can also do some modifications like this one where sunflower is placed in a jar. Even though it doesn't need much effort but a pop of color will make it more prominent.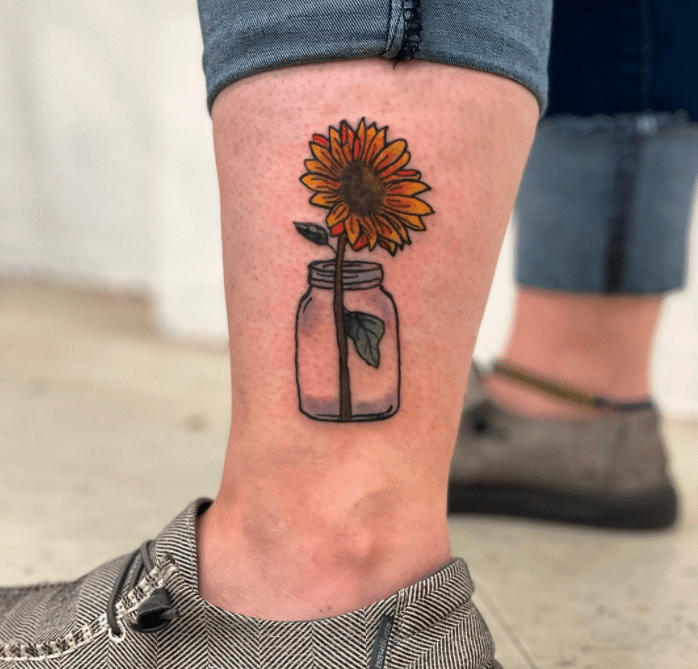 11 – Skull Design
This magnificent design is definitely heaven for tattoo enthusiasts. And some high-level creativity can also be seen here. If you are bored with small and cute tattoos and looking for something unique then this is an inspiration for you. A skull is placed in the center of a sunflower. This design forms a beautiful combination of life and death.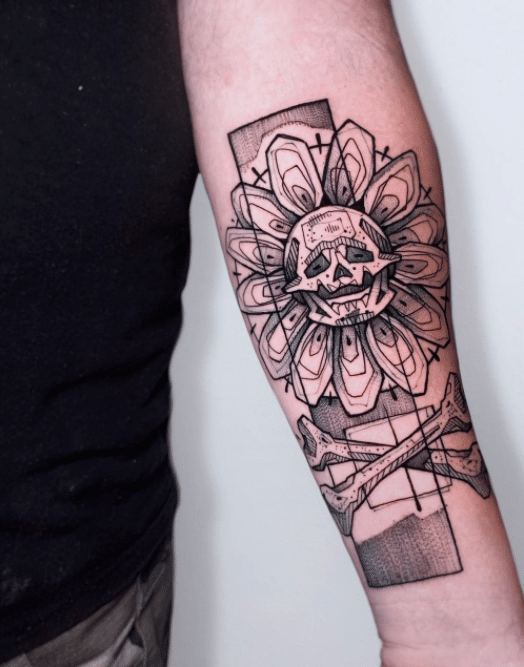 10 – Foot Tattoo
Here is another beautiful design that you would immediately want to get. This huge colorful design can be done on both of your feet. Half flower on one side and half on the other side and when combined together it will form a complete flower. So if you are a fan of big designs then this should be your next choice.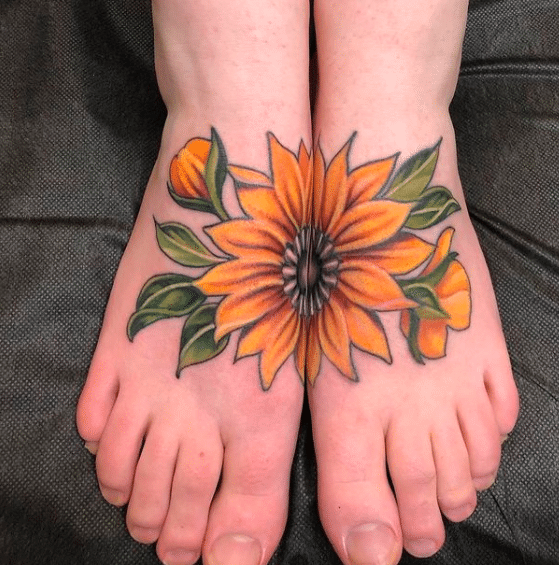 9 – Floral Tattoo On Your Back
A big and beautiful tattoo of flowers covering your back sounds like a great idea, right? Well, it not only sounds great but looks great as well, and here is the proof. A big and prominent sunflower with some other flowers and leaves can be seen in this tattoo. You can flaunt this one by wearing a glamorous backless top.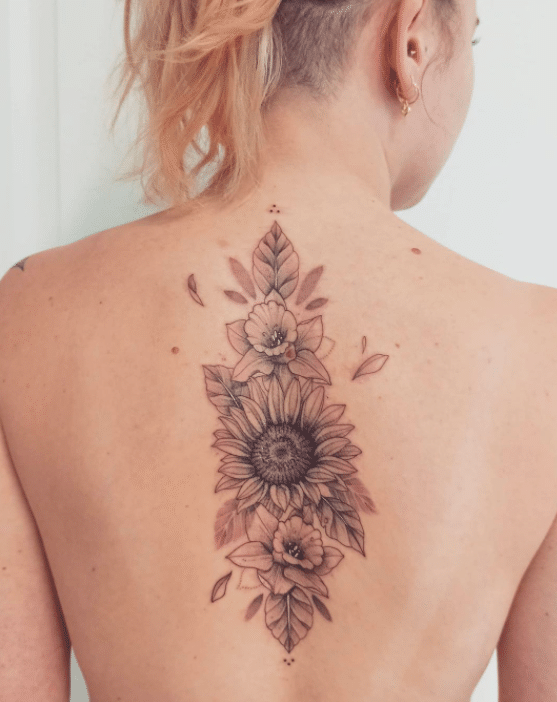 8 – Geometric Design
We have often seen people opting for geometrical tattoos. The mystery behind them is that not only do they look beautiful but also represent balance and symmetry in your life. They can also be merged with other designs like animal or floral tattoos. So if you want something more than just a sunflower then you can add geometrical shapes to it which will not only make your tattoo mesmerizing but will also give a whole new meaning to it.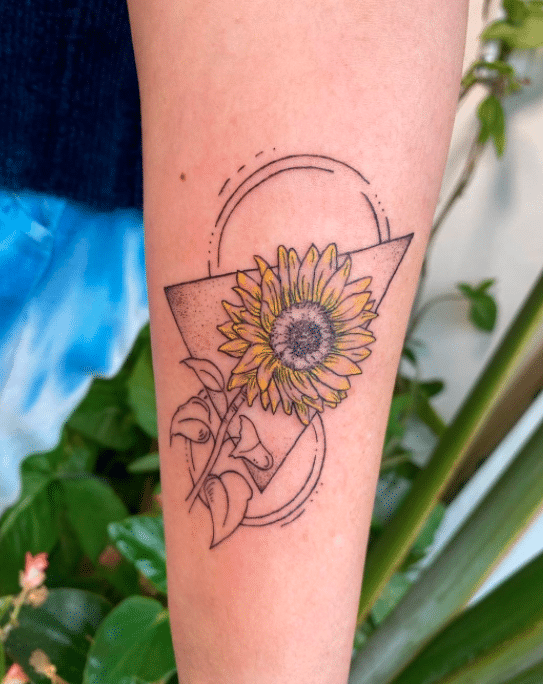 Here is another beautiful design of a geometric sunflower tattoo.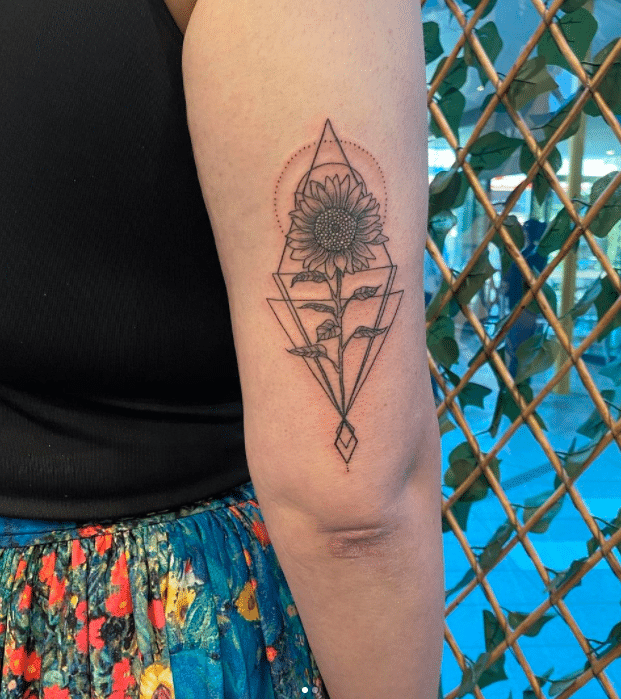 7 – Neck Tattoos
The real fun of getting a tattoo is experimenting with new designs and different placement areas. Almost everyone gets inked on the hands and elsewhere but only the daring ones choose the neck and spine. Any design would look fascinating in this place but a big sunflower on your neck would look incredibly beautiful. But before taking the decision, you should make sure that your pain tolerance is high as it is one of the most painful and uncomfortable places to get a tattoo.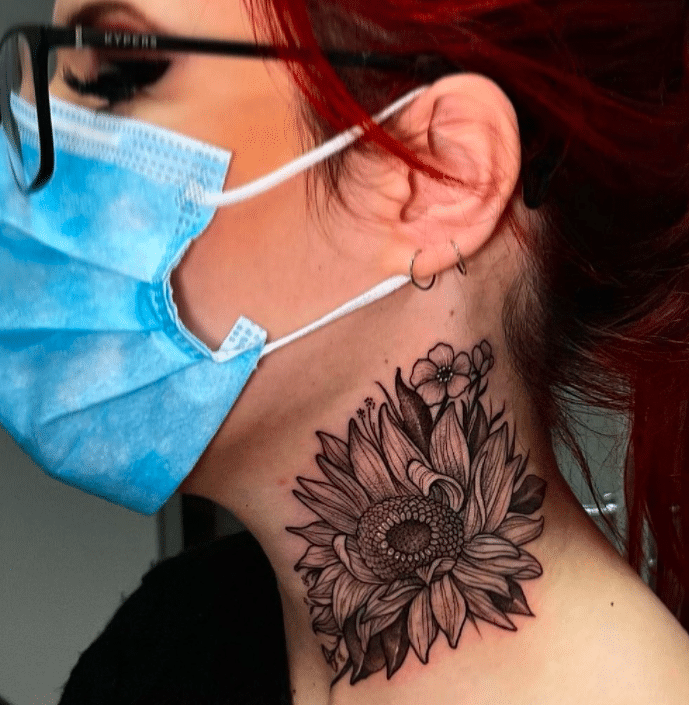 6 – On Your Shoulder
Getting tattoos on shoulders is the best thing because then you can flaunt them with your off-shoulder tops. This one is an all floral tattoo with different kinds of flowers. The size of this tattoo is very perfect for your shoulder which is not too big and not too small. Adding some colors to it will make it look more beautiful.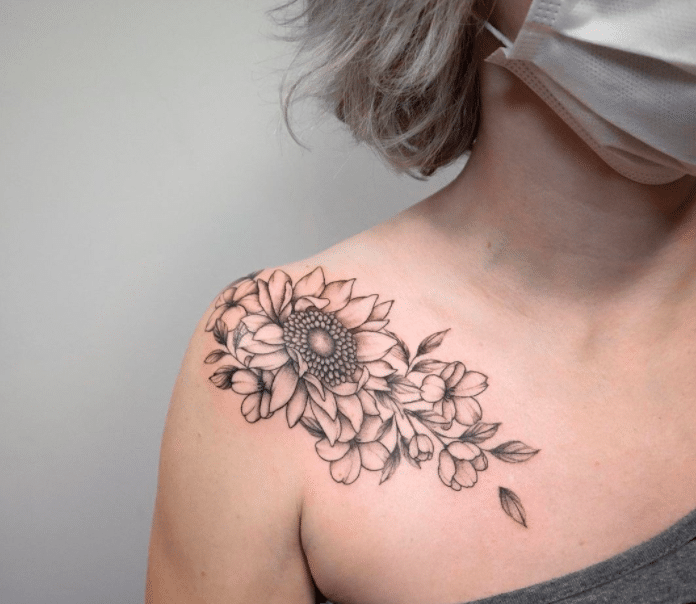 5 – Wrist Sunflower Tattoo
Another one from the series of small and beautiful tattoos because they are most popular these days. If you are aiming for a really simple design or simply if you like sunflowers then getting it with stem and leaves is the perfect way of depicting your choice clearly on your hand.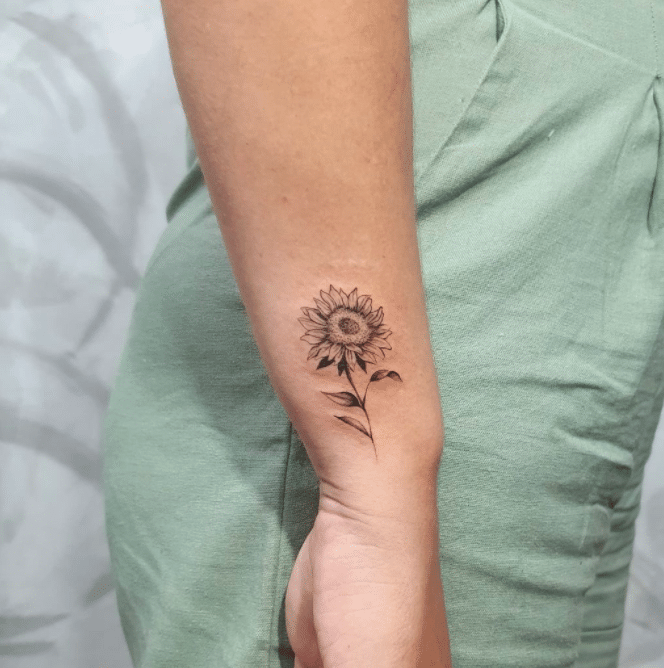 4 – Floral Heart Tattoo
Flowers and hearts, don't they look like a perfect combination? One design that is quickly getting popularity among women is a floral heart tattoo for all the right reasons. If you specifically want a cute tattoo of sunflowers then this can be your choice. With flowers, you can form a heart and here you have an attractive and eye-catching tattoo on your hand.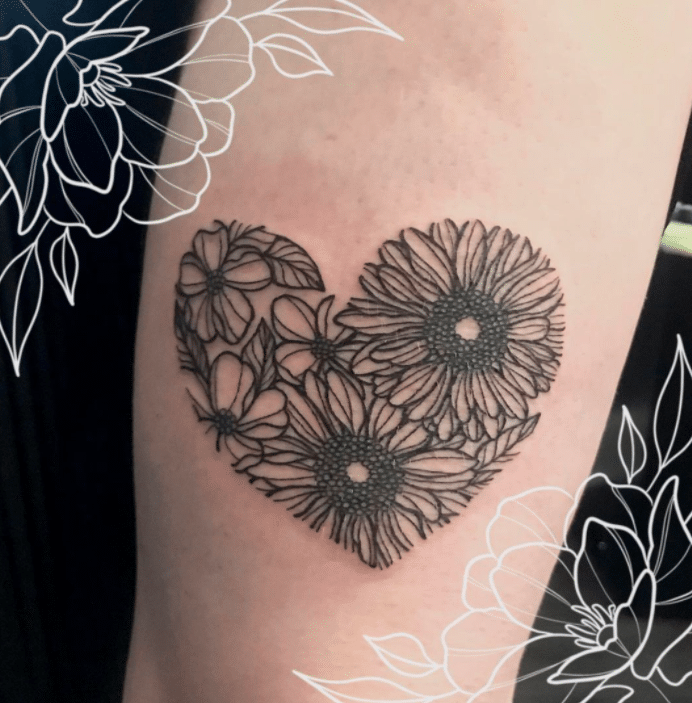 3 – On Your Hand
Choosing a tattoo design for your hand is quite difficult as it is the place where your tattoo would be clearly visible to you and others. So in that case you have to be more mindful of what you choose so that you never get bored of watching it on your hand. Often flowers like sunflowers and roses are chosen for the hands and ankles and here is an option for you. And you can also customize the size and placement if you think it is too big for you.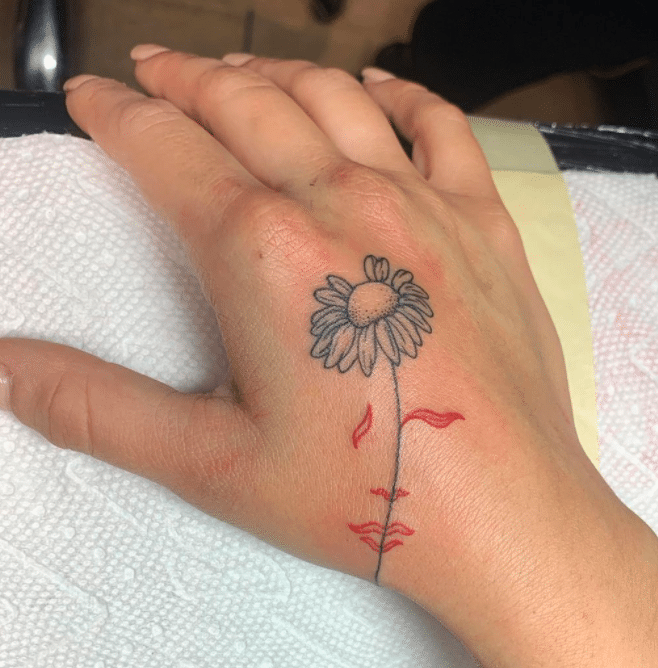 2 – Memorial Tattoo
Memorial tattoos are not new as they have been in trend for quite a while. If you are not aware of them, let me tell you that these tattoos are done in the memory of someone who has passed away. You can get their name or the dates or anything that reminds you of them to honor them. In this memorial tattoo, a date is engraved with sunflowers and leaves giving it a really nice touch.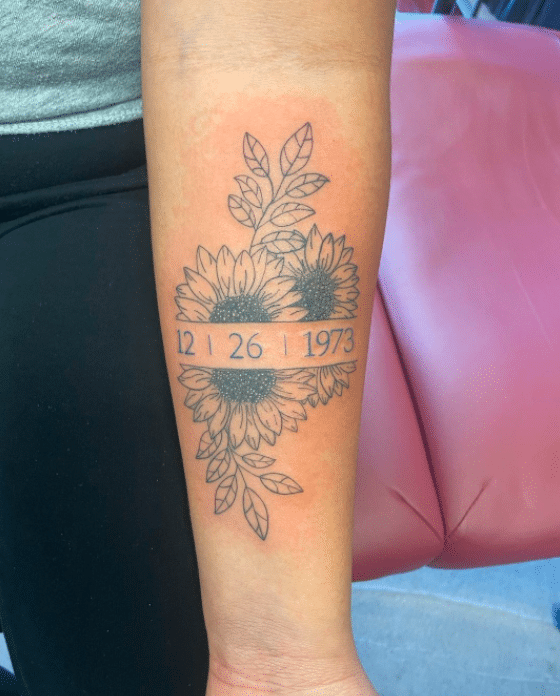 1 – Extreme Shading
If you don't want to go along with the usual designs of sunflowers then here is an idea of a very unique and realistic design. An eye placed in the center of the sunflower leaves can give you the effect of Egyptian art which represents healing and protection. According to the size, this tattoo will look good on your back as it will take a lot of space.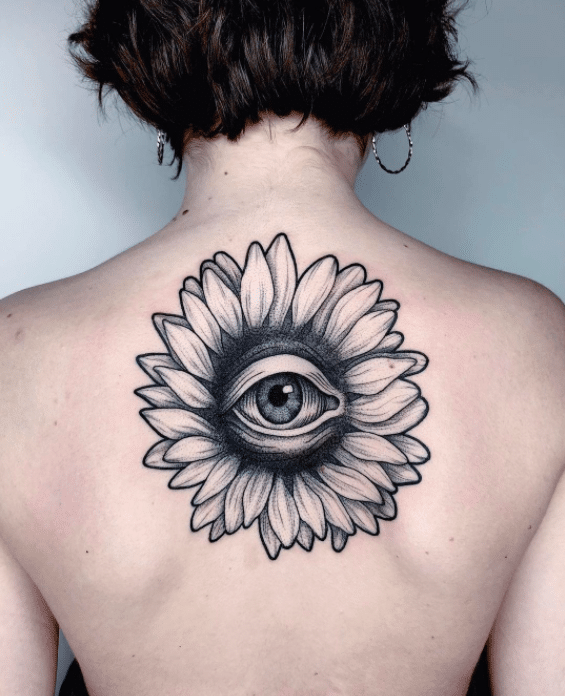 Frequently Asked Questions
Q. What does a sunflower tattoo symbolize?
Ans. Although sunflower tattoos are usually popular for their beautiful designs, they also possess some beautiful meanings. Flowers already are a symbol of love and affection while sunflowers can represent hope and happiness. Not only this, these tattoos can have diversified meanings depending on the modifications that you have done to the designs. A simple sunflower tattoo can also indicate romance, bliss, and warmth.
Q. What does sunflower and butterfly tattoo mean?
Ans. Butterfly tattoos have their own popularity while if they are paired with sunflower tattoos, they create different and beautiful designs with even more beautiful meanings. Butterflies usually represent rebirth and growth. Sunflowers, on the other hand, indicate love and affection, and getting them both inked will give you the meaning of the beauty of regrowth and it also means the appreciation of beauty and nature.
Q. Would a sunflower tattoo look cute on my ankle?
Ans. The placement of your tattoo is completely your choice but getting it on your ankle would be a nice choice also. Small and colored sunflower tattoos are ideally placed and preferred on ankles and wrists. Other than that, you have to keep in mind that the ankle is a body part that will hurt more than others so be careful while deciding the placement because it is going to be a part of your body forever.
Q, Can guys get sunflower tattoos?
Ans. Just because it is a flower, doesn't mean only women can get this. Sunflower tattoos have some meaning that can also match the personalities of some men. It has a deep connection with sunlight and also symbolizes happiness. Other than that, guys can get some masculine tattoos like a snake with sunflowers or realistic sunflower tattoos as well.