Halloween Makeup Ideas For Teens: Halloween is the most exciting part of the Fall Season for all age groups. You can transform yourself into mythical creatures, freaky zombies or even cutesy characters for a creative look. No character is perfect without appropriate makeup, however, you do not need to be a professional to create such looks.
Here are some of our top picks for Teenage girls that would love to put their creative skills into action. No need to procrastinate any longer as we bring you some of the most creative and trendy characters to choose from – spooky skulls, freaky zombies and adorable cartoons. Keep your youth and innocence intact with these awesome makeup looks for teen girls.
How To Dress Up For Halloween?
Here are some tips to keep in mind when dressing up for Halloween:
You do not need to go all out on the costume if you have some good makeup skills at hand.
Make sure to use face paint to avoid any damage to the skin.
Invest in good, high-quality makeup palettes or separate pans.
Set your makeup with a good setting spray to prevent smudging.
Faux lashes are a great way to dramatize your look.
It is always a good idea to use props for added details.
Not every Halloween costume needs to look spooky. You can do with other adorable looks too.
Watch Youtube tutorials to learn exactly how to achieve the flawless looks.
Prosthetic makeup is the latest rage and helps create some amazing, realistic effects.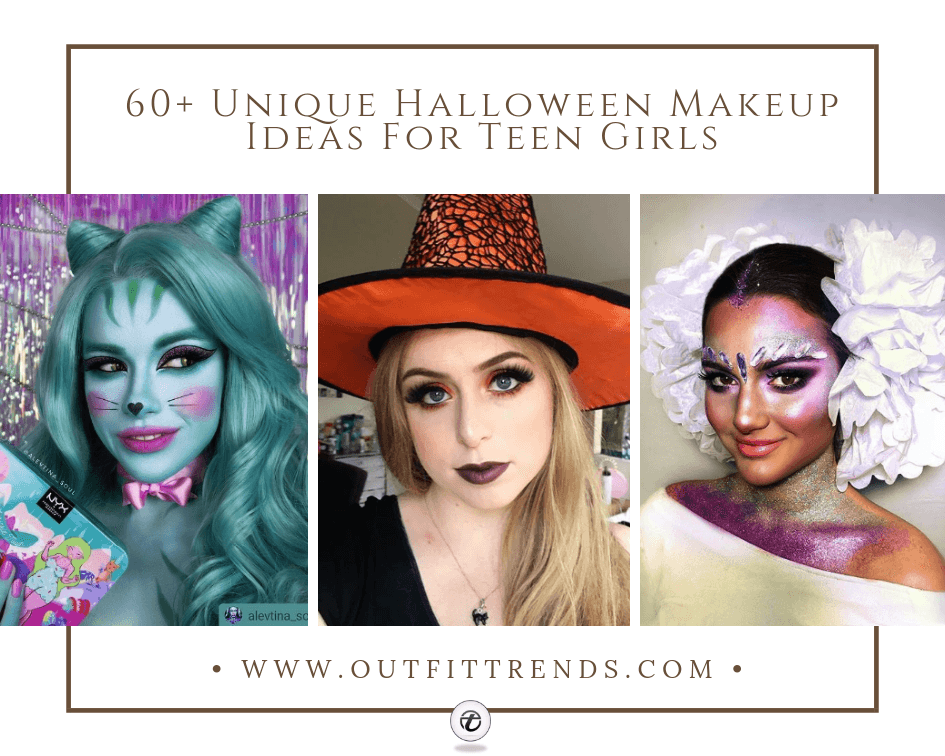 ↓ 60. Miss Universe
Dust some silver powder on to the base face paint to create a white look. Use color contour to create dimension and add in some SFX makeup for the detailing. Here is a makeup look that will surely win you the best makeup award. You should also have a look at these Best Halloween Costumes for Men and Women.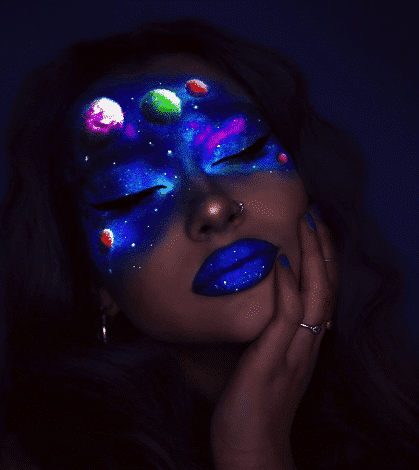 ↓ 59. Sugar Cat
If you are looking for easy-to-do makeup techniques, that are also easy on the pocket, here is a cute and sweet look for you.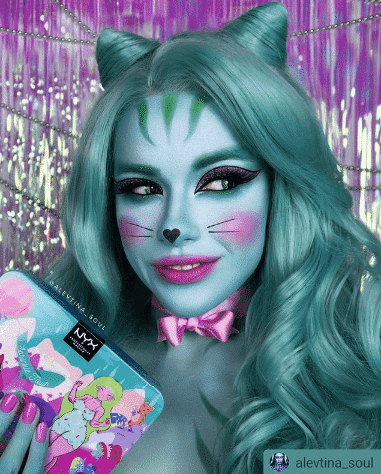 ↓ 58. Beldam Inspired
Despite not being an easy look, this one had to make it to our list. The defined eyebrows, button eyes, and cracks are just some of the superb details used to create this Beldam look. A little practice at hand will be useful in creating this freaky Halloween look.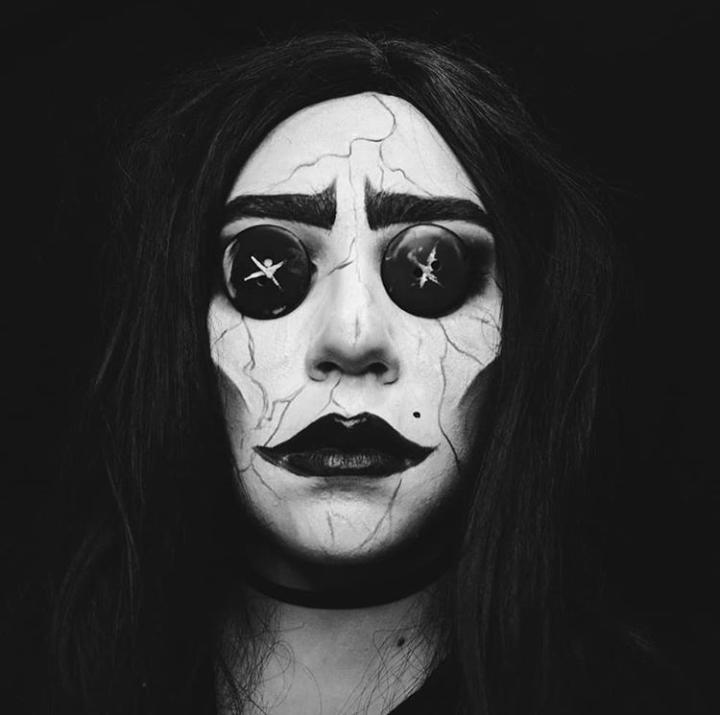 ↓ 57. Avatar
If you have been a fan of the Avatar film and wish to pull off a similar look, here is some inspiration for you. What we especially admire about this makeup look is how it allows you to maintain your youthfulness and highlights the inner cuteness.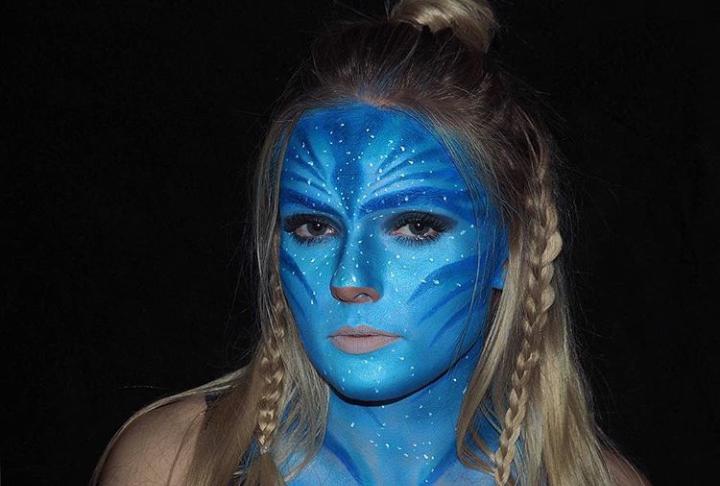 ↓ 56. Kaleidoskull
Treat your face as your canvas and fill it with colors for a fun look like this one. The floral crown is just the perfect prop for this colorful look.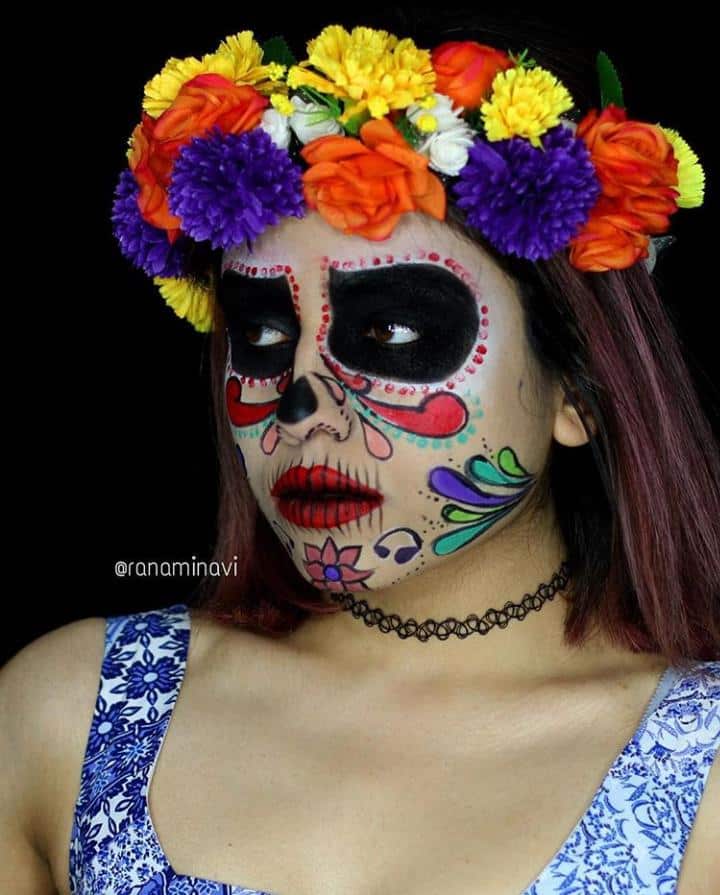 ↓ 55. Icecream Cone
I scream, you scream, we all scream for ice cream! Attach a waffle cone to your forehead and create this super cute spilled icecream look with just a little makeup and paint.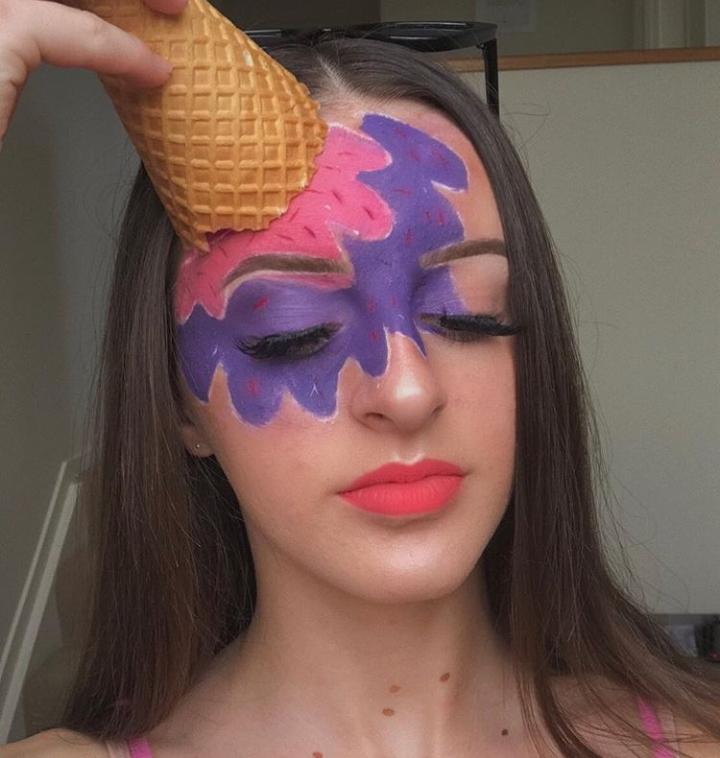 ↓ 54. Paint Job
Here is one old classic we always spot each year. This splattered paint look may be difficult to achieve but we find it worth the effort.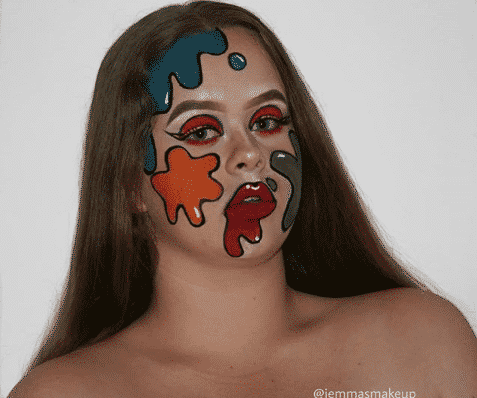 ↓ 53. Galaxy
Ever heard of the saying, "Everybody has a little bit of the sun and moon in them"? We sure have. Give your face a galaxy theme makeover with this creative look.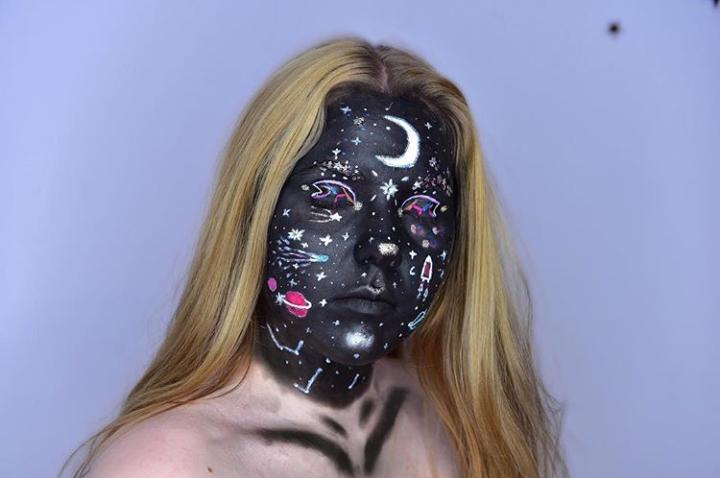 ↓ 52. Sweet Halloween Eye Makeup
Replicate this artistic look if you do not wish to go all out for your next Halloween get-up.
↓ 51. Dead Bride
Halloween brides are another spooky character that we look forward to spotting each year. The amount of detailing and effort is unmatched and we love it for that.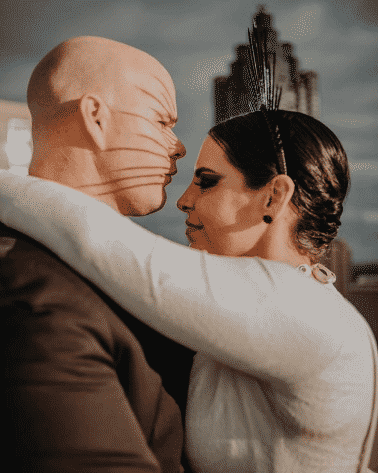 ↓ 50. Bunny Rabbit
While Halloween and Easter may be a couple of months apart, you never need a reason to dress up as a cute bunny. We absolutely adore the heart detailing it has all over. Here are Top 70 Fall Outfits for Teen Girls to Copy This Year.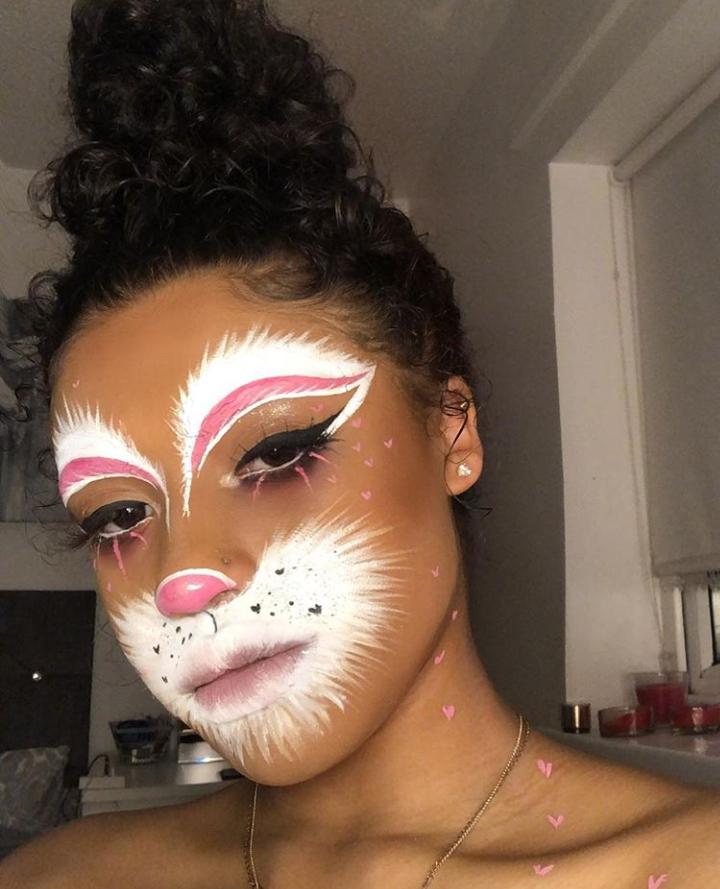 ↓ 49. Elf Inspired Makeup
With the Holiday season starting right after Halloween, it makes more sense to incorporate the two together. This massively talented 18-year-old just created a mythical look with some basic props and easy makeup tricks. The pointed ear and wig seem to be adding the perfect bit of detailing to it.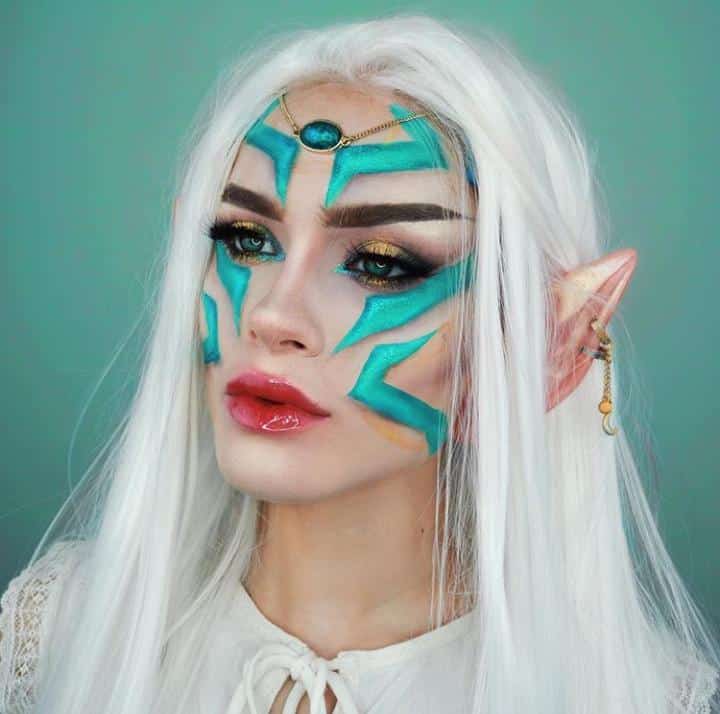 ↓ 48. Wonderwoman
Not all superheroes wear capes. Here is a Pop Art inspired Wonder Woman look that you can pull off as your next Halloween Costume.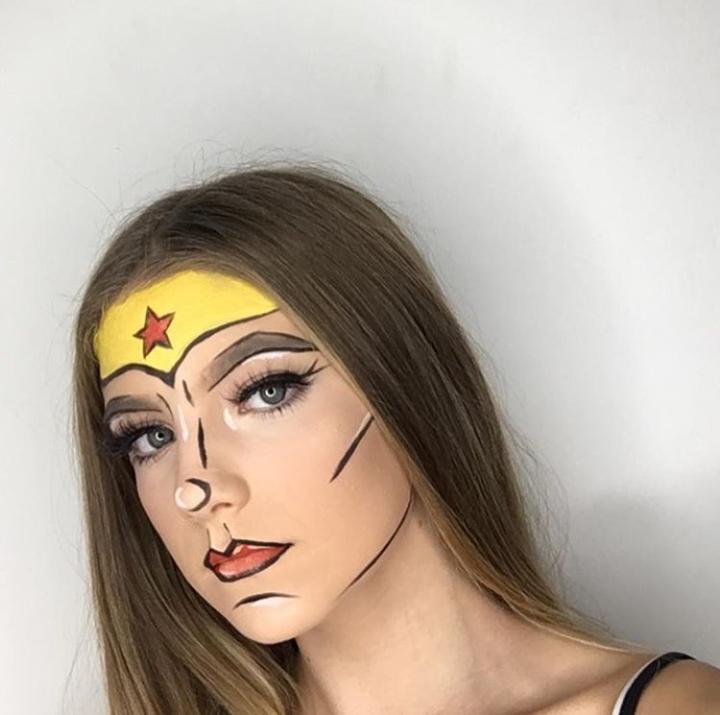 Via
↓ 47. Winter Wonderland
Winter may have come early for this creative makeup artist. This Frozen and Winter inspired look is giving us the chills. We love how the eyes have been given an icy blue color to match the theme.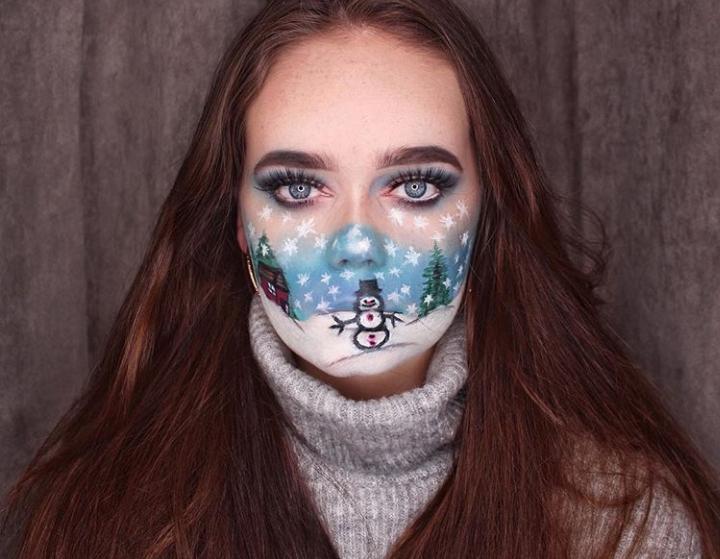 ↓ 46. Joker
Here is a simplified joker look that you can try to replicate. Pair it with a fancy costume to make it big.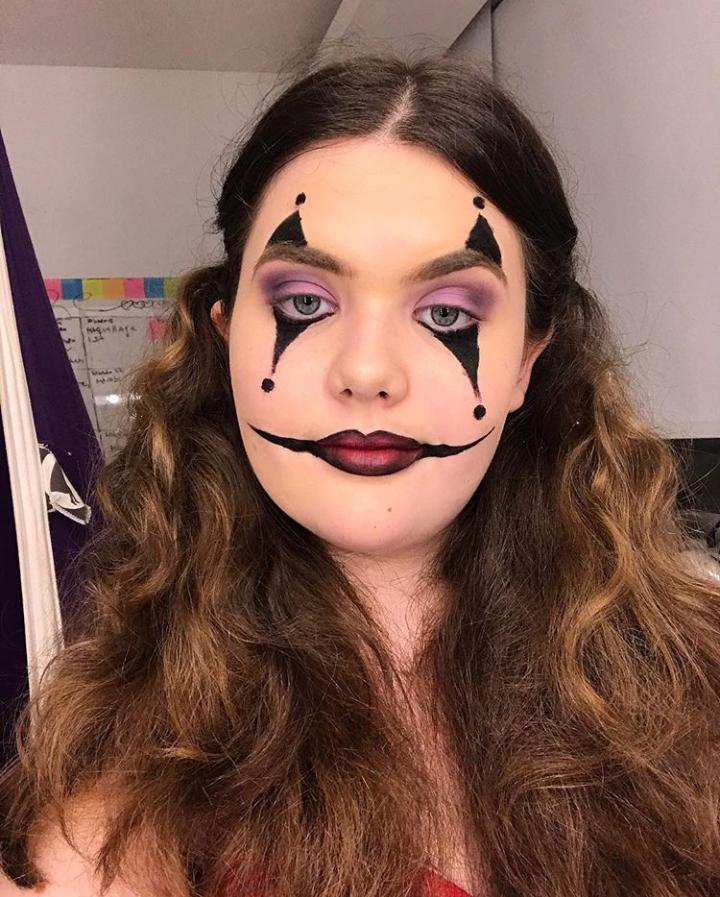 ↓ 45. Gift Wrap Makeup
How cool is this wrapping inspired makeover? These gift ribbons are the perfect props to go with the look.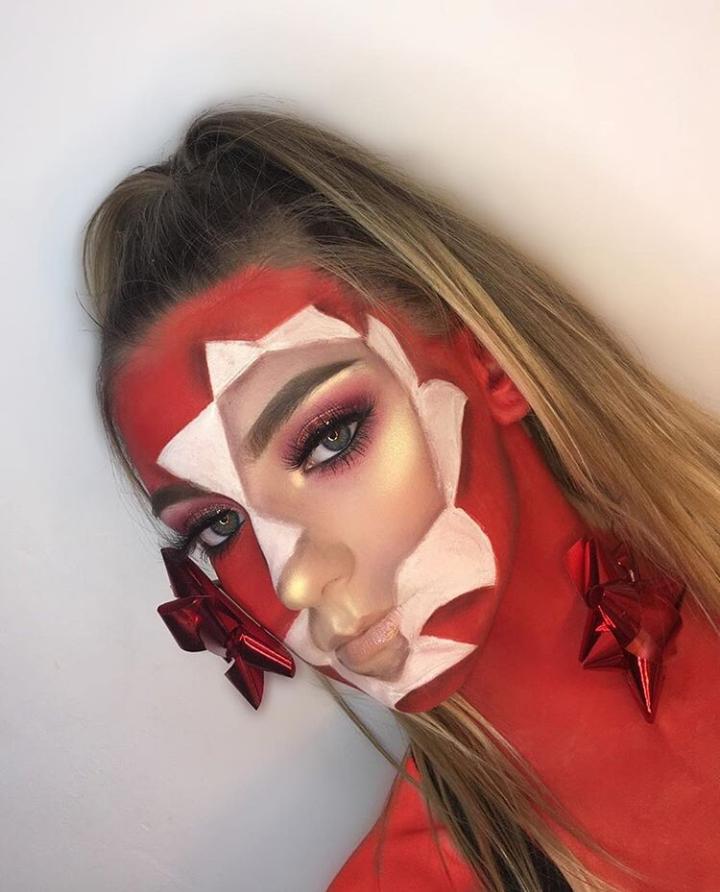 ↓ 44. Spongebob Squarepants Theme
Who lives under the pineapple under the sea?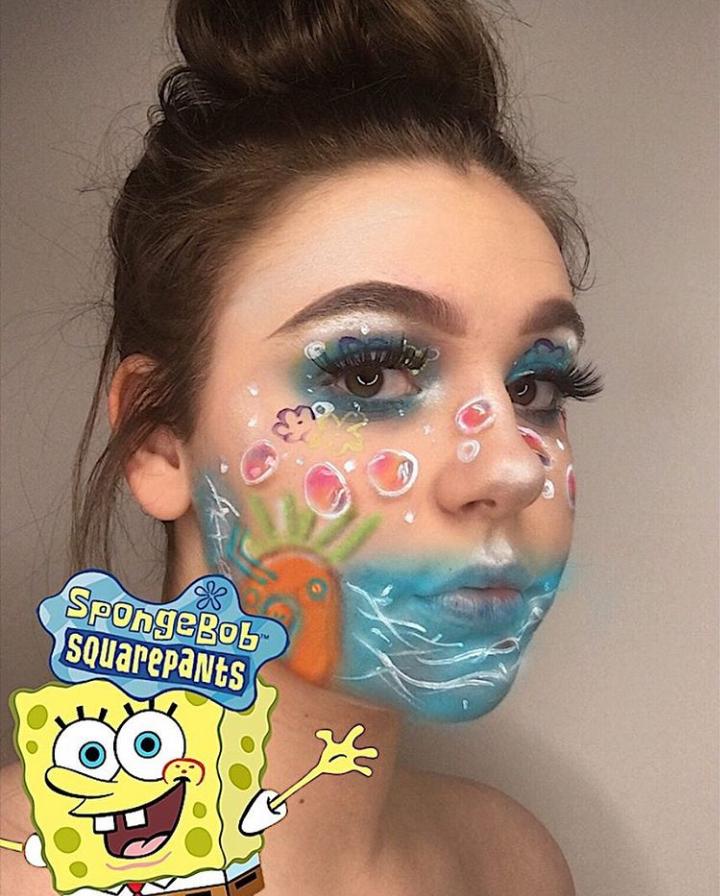 ↓ 43. Unicorn
Unicorns and mermaids have been the most commonly worn costumes at Halloween. Spice it up with this awesome makeup.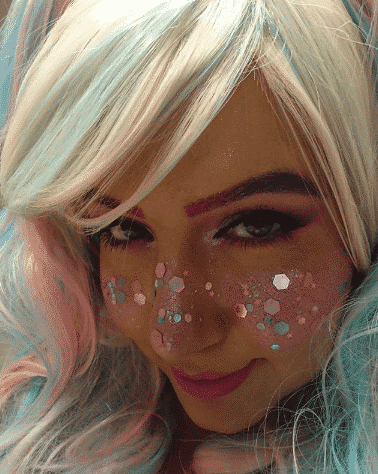 ↓ 42. Spider
This black web makeup effect is making us want to try it out ASAP.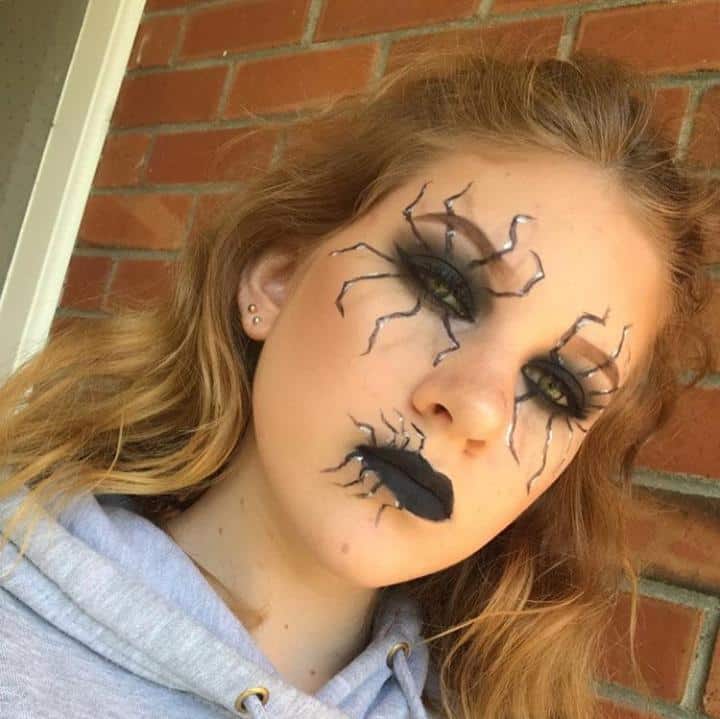 ↓ 41. Christmas Lights
As Chris Martin puts it, "lights will guide you home." Here is a look featuring Christmas lights, as well as, the polaroid art look.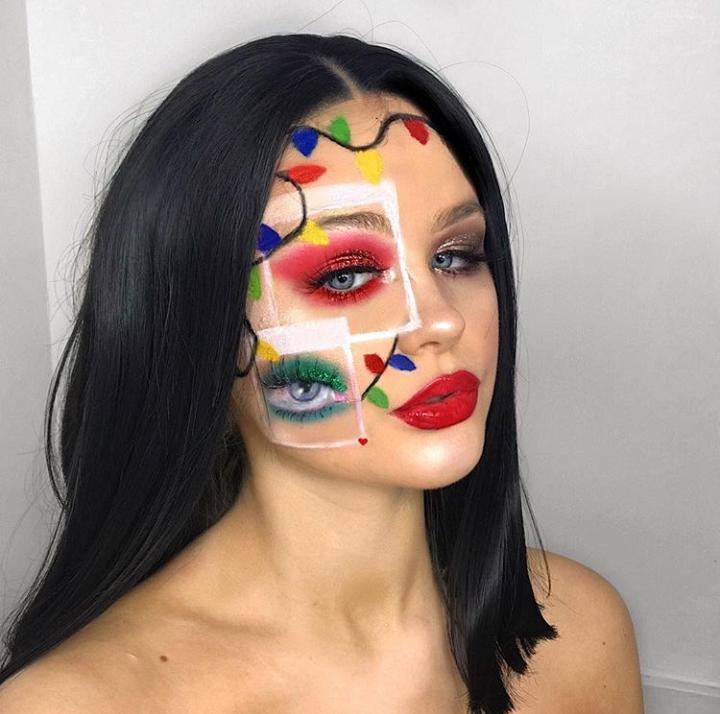 ↓ 40. Fairy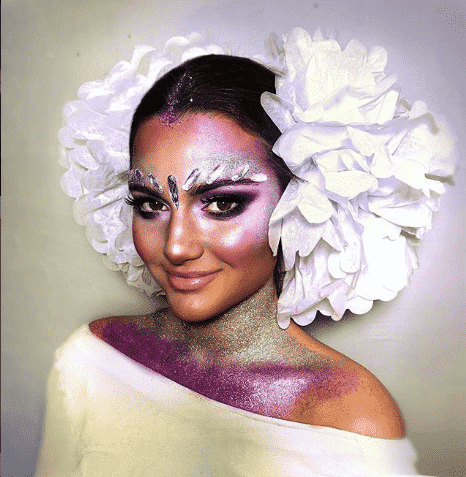 ↓ 39. Toxic
Check out this easy to create purple look titled "toxic" that was created by a 15-year-old aspiring Makeup Artist.
↓ 38. Running Water
This bare face look has some pouring makeup details that we absolute admire. We cannot get over how realistic the water has been made to look.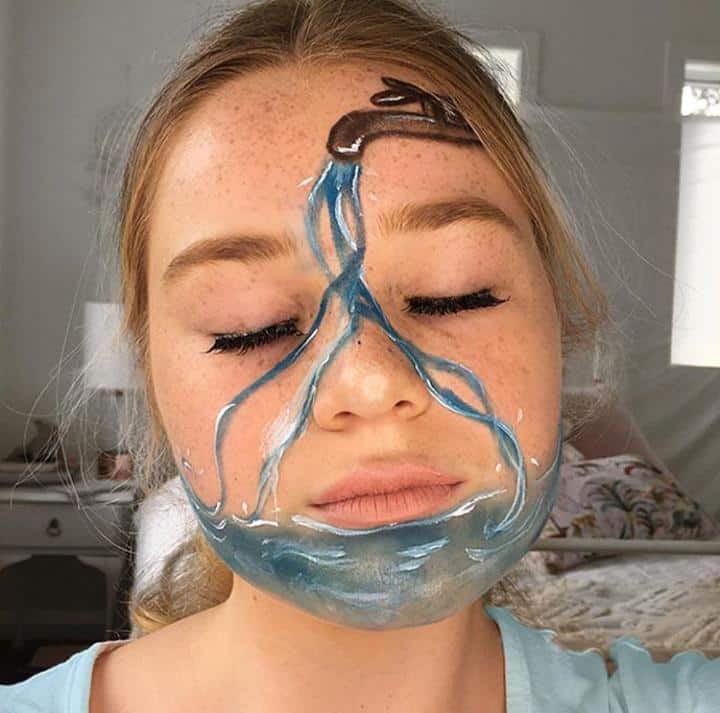 ↓ 37. Fall Fairy
SFX and theatrical makeup may not be everyone's cup of tea, but it sure is praiseworthy. The fall fairy look has been made with a lot of detailing and looks very realistic.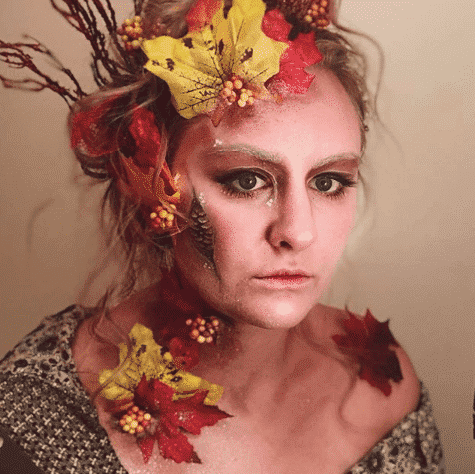 @Kelly.hmua
↓ 36. Flame
If you wish to stay in your comfort zone and plan on opting for a simplified look, this is for you.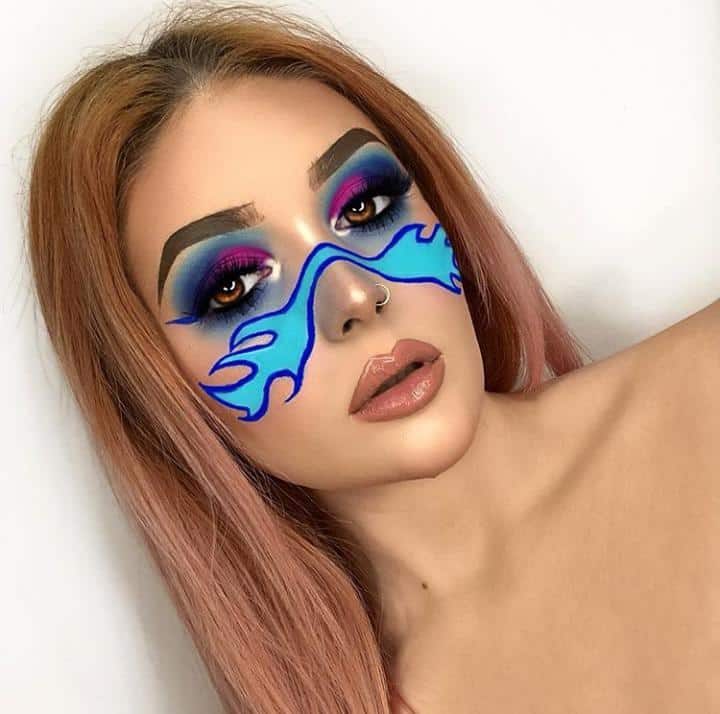 ↓ 35. Masked
If you have not been living under the stone, you would definitely know about the masked look that has been trending everywhere. This leaves us with no questions about whether it will be a hit at the next Halloween or not.
↓ 34. Pop Art Makeup
Mimic your favorite comic character with this pop art makeup.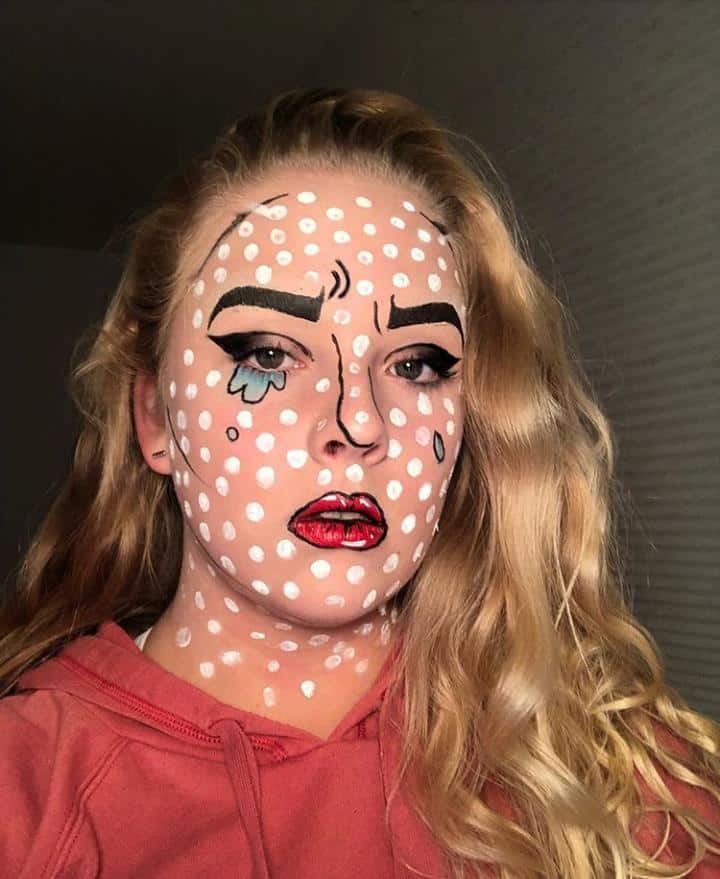 ↓ 33. Space
Here is another starry, galaxy-like look. Some purple makeup and white pencil can be used to pull off such an artsy space themed look.
↓ 32. Cosmic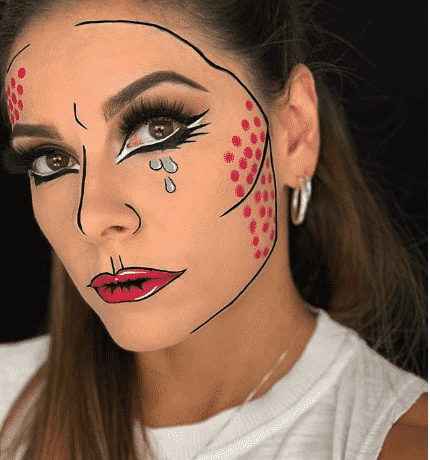 ↓ 31. Strike
Create this flashy lightening effect with a white eye pencil over a gorgeous blue base.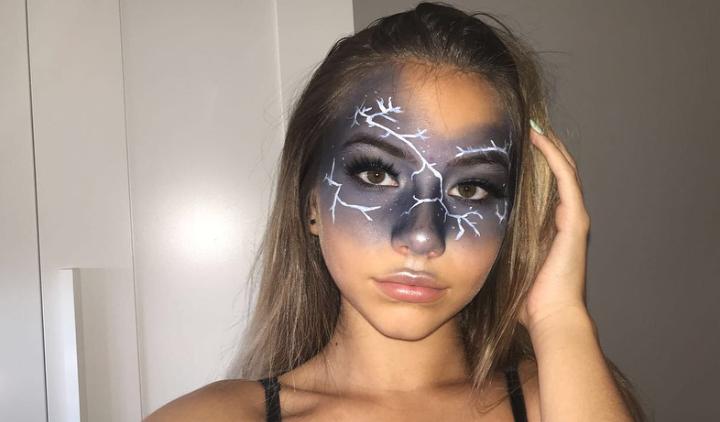 ↓ 30. Mermaid Makeup
Don't miss out these Half-Up Bun Hairstyles for Teen Girls.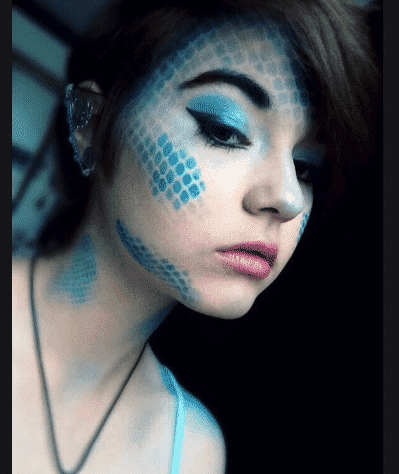 ↓ 29. Forest Girl
Not every Halloween outfit is required to be spooky or creepy. This pretty Halloween makeover may just be the next big hit. The leaves and the headpiece are just what this look needed.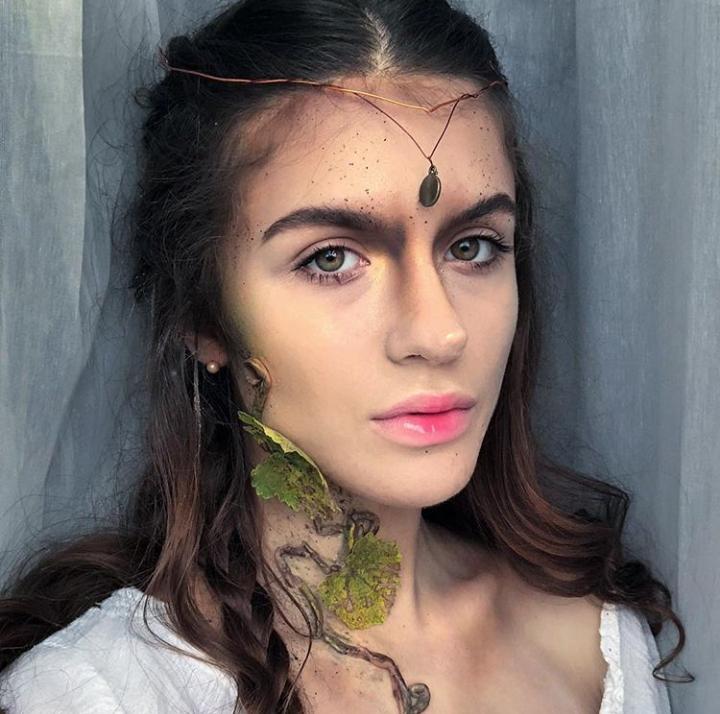 ↓ 28. Fairy Makeup
Ever seen a fairy this pretty? Use crystals and stones to recreate the forehead look.
↓ 27. Illusion
An illusion is another great makeup effect you can create with blow pens or straw.
↓ 26. Starry Eyes
14-year-old Kalle Wills is an aspiring makeup artist and seems supremely talented. With these superb skills up her sleeves, she has created a galaxy inspired colored look featuring stunning stars. While this may not seem like a piece of cake, some blending here and there will surely help you get the look.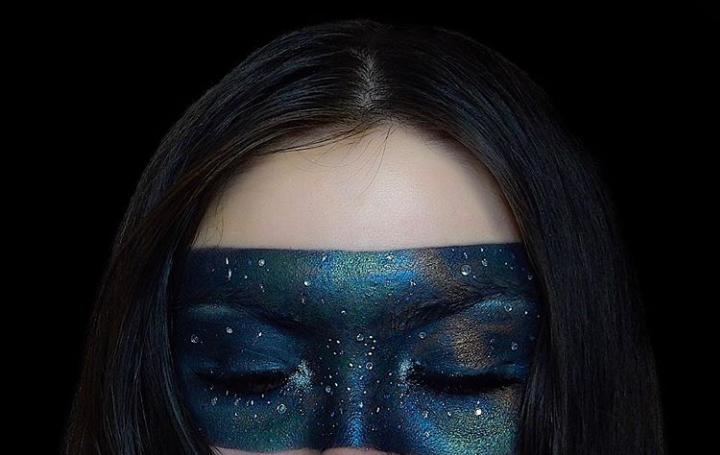 ↓ 25. Grinch
How adorable is this Grinch inspired green makeover? We love how perfectly the voluminous curls are complementing her get-up. Some green face paint and kohl pencil can help achieve this look.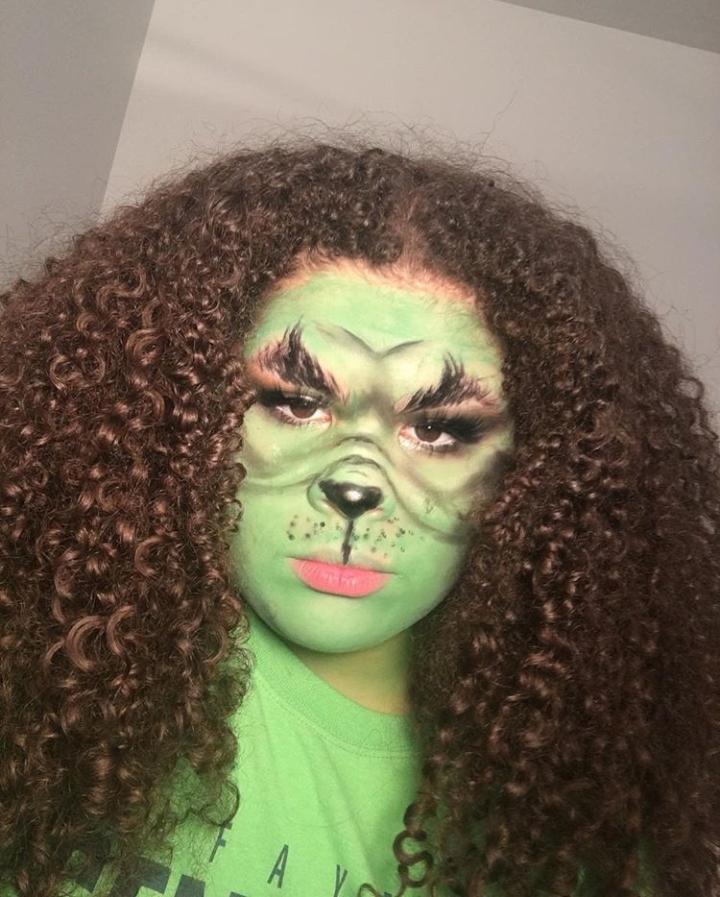 ↓ 24. Cut Crease
Here is another fun way to treat your face as your own canvas. The cut crease technique was widely popularized in the makeup business. It was commonly done to add dimension to the eyes and is now being used on the face to create fun looks.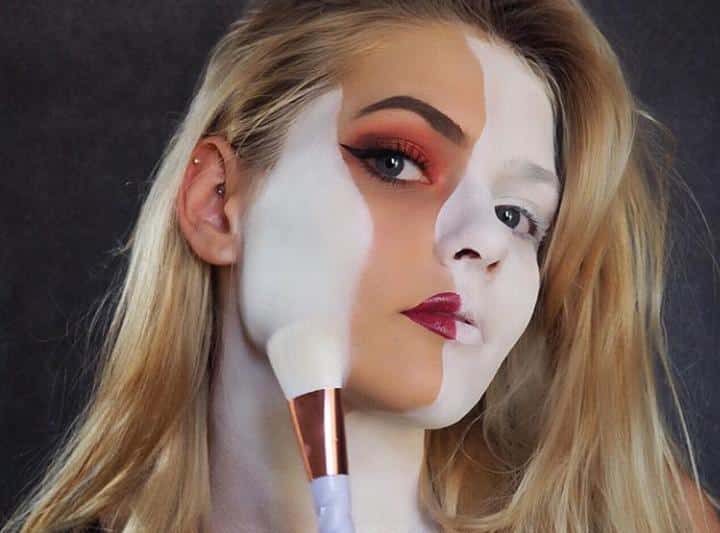 ↓ 23. Devil Vs Angel
Play it safe on your next Halloween with a simplistic yet classic Devil Vs. Angel look. We love how fresh the overall makeup looks. Red eyebrows and eye shade have been used to signify the devil while the icy blue reflects the angel.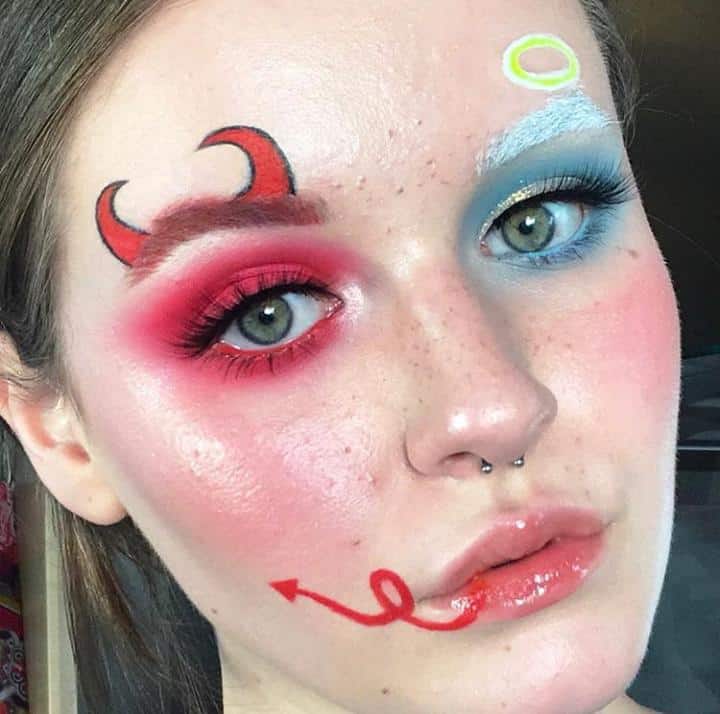 ↓ 22. Alien
Aliens happen to be underrated when it comes to Halloween looks and we wonder why? This green faced alien look is easy to replicate and looks pretty effortless. The wig is just the perfect addition to it which would not even cost you much.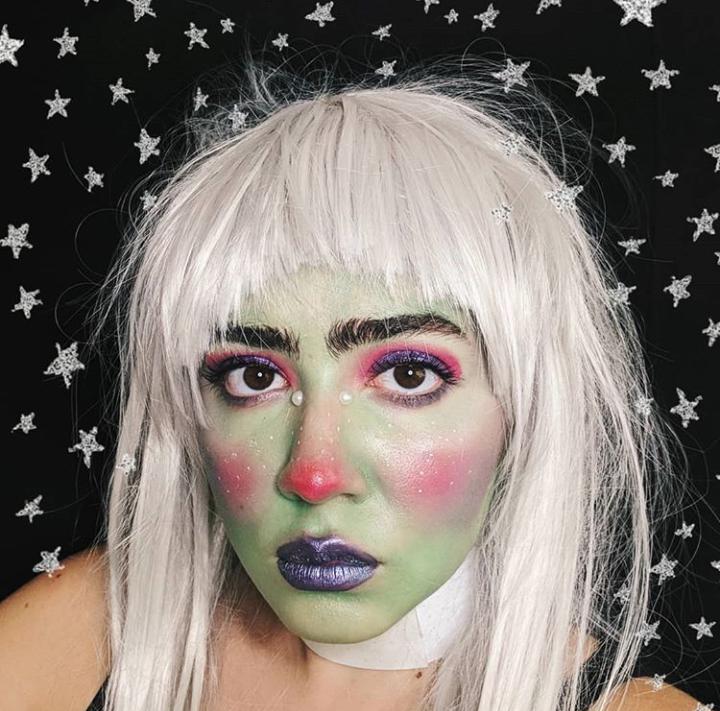 ↓ 21. Glam-witch
A simple but eye catchy look that doesn't require a lot of time or effort.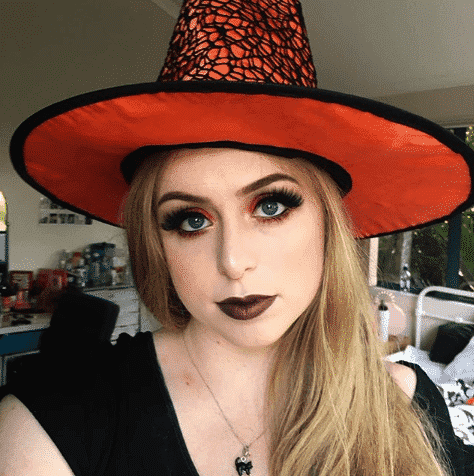 ↓ 20. The Butterfly Effect
Give your basic Halloween glam an uplift by drawing in a butterfly effect.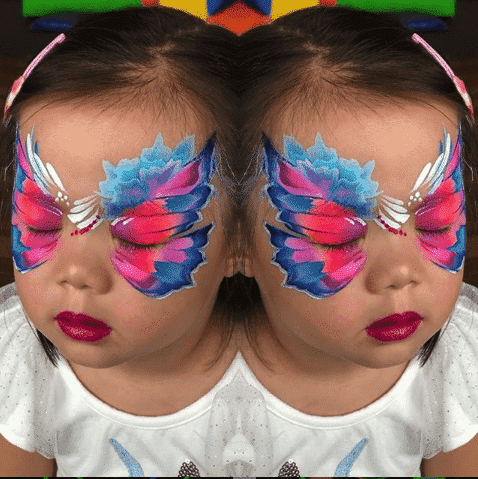 ↓ 19.  Cat Lover
If you're a cat lover, you can go for a different cat look every Halloween with no complaints. A few youtube tutorials and you would be able to master it all.
↓ 18. Pumpkin
Pumpkin is known to be the symbol of Halloween and it can easily be incorporated in your look with this quick makeover. If you want to pull off a creative, last-minute look, this may be the one. This classic Halloween look may not even need professional makeup skills to look like this.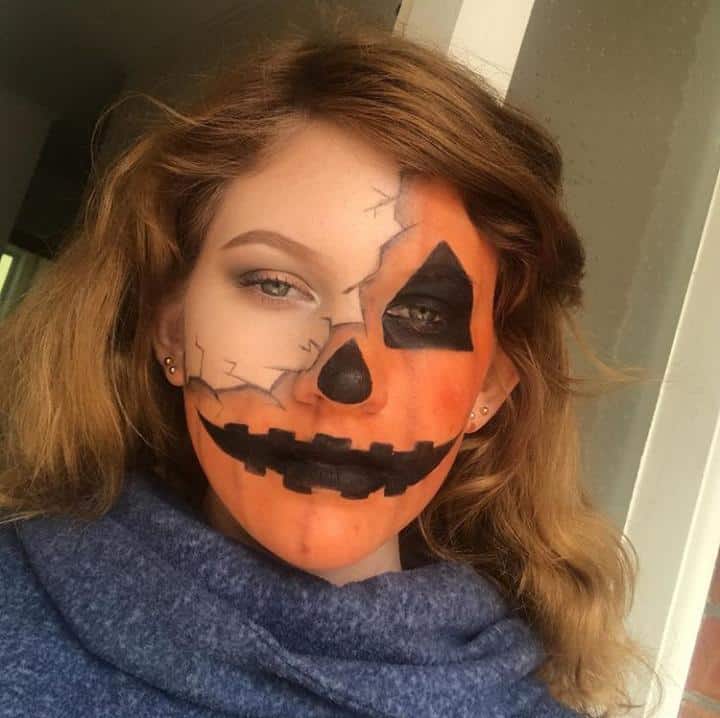 ↓ 17. Queen Of Hearts
We have been blown away by the complexity and creativity of this prosthetic look. The Queen of Hearts inspired look has some 3D cards, blood splatters, and a scarred heart look. If you have some amazing skills up your sleeves, you must try this out for your next spooky look. The realistic appearance of the scar and blood definitely make it worthy of appreciation.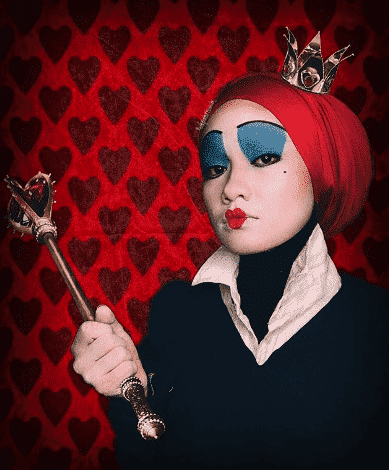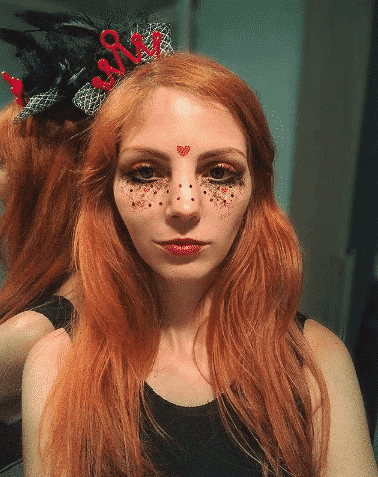 ↓ 16. Rainbow Clouds
Paint your sky with colors of happiness. We love this simplistic and adorable makeup look. The use of rainbow color makes it appear super attractive.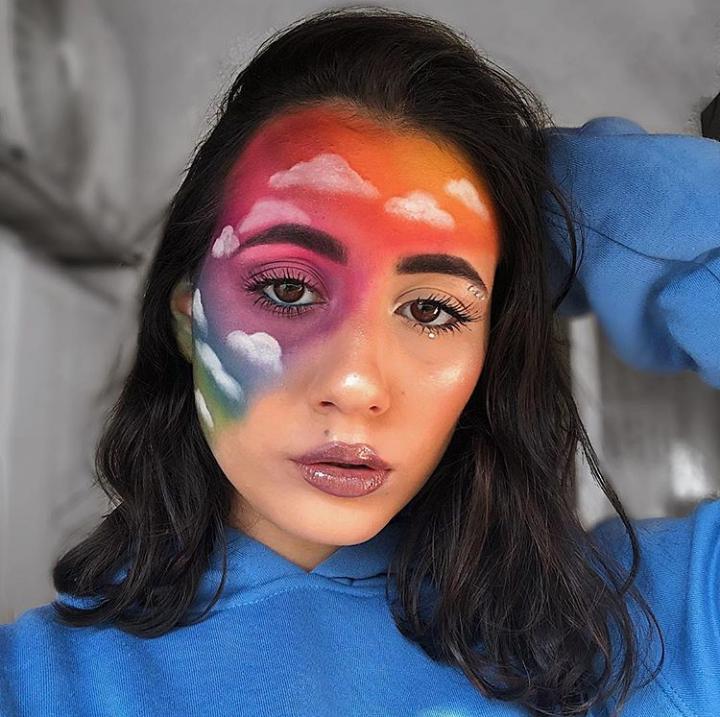 ↓ 15. Flower Makeup
While this look was not intended for Halloween, we sure find it appropriate. The small flowers act as the perfect props, elevating the overall appearance.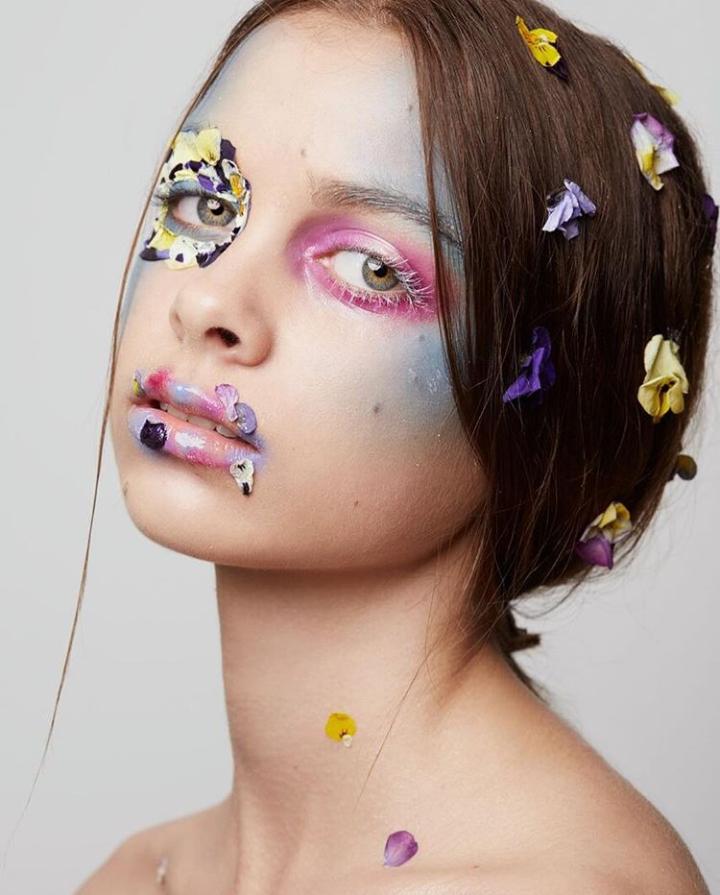 ↓ 14. Killer Clown
If looks could kill, we would be dead by now. This colorful clown makeover is perfect for teens looking for a change. You can get scariest halloween costume ideas for this makeup look!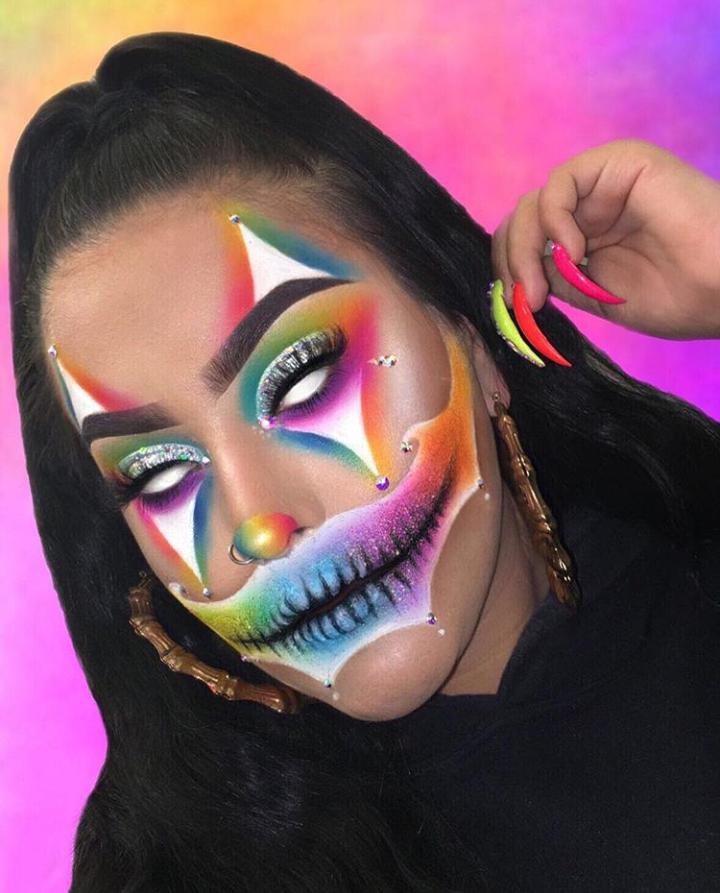 ↓ 13. Zombie Makeup
Zombify your face with some easy makeup tricks and techniques to create a fun Halloween look.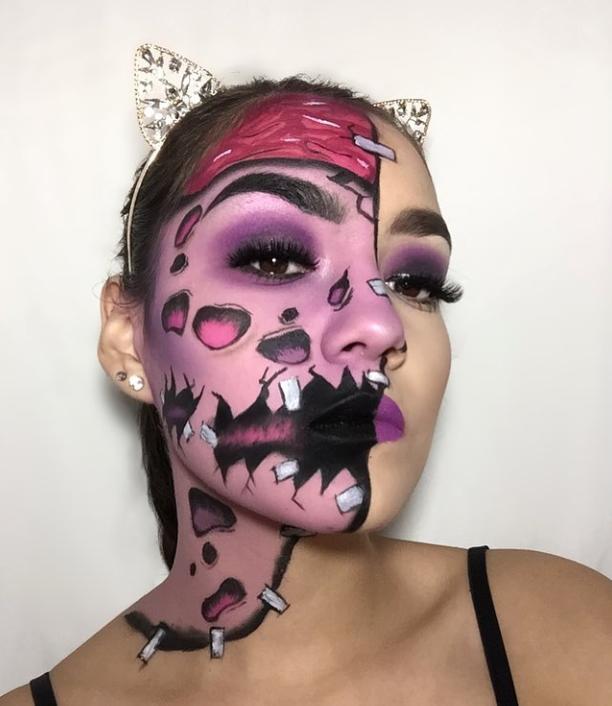 Via
↓ 12. Day Of The Dead Inspired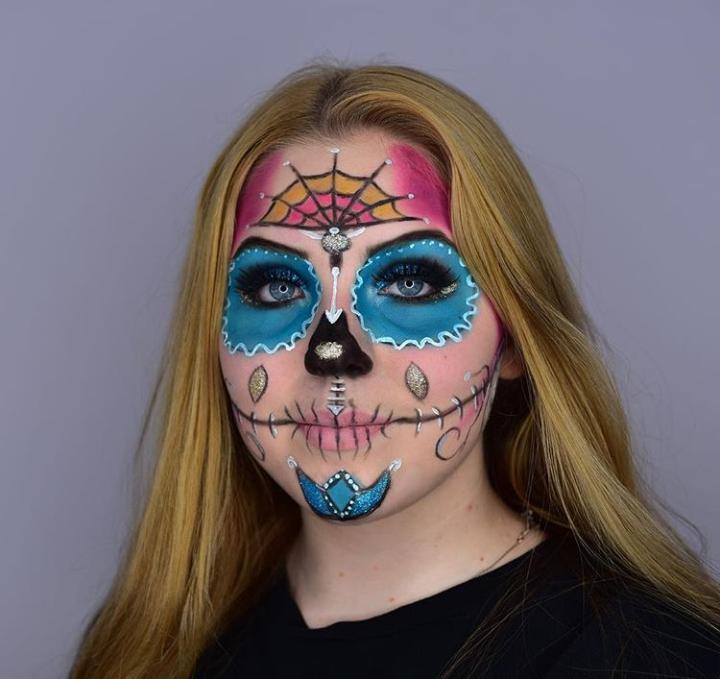 Via
↓ 11. Human x Clown
Create an abstract makeup look that is a cross between a human and a clown by replicating this glam up.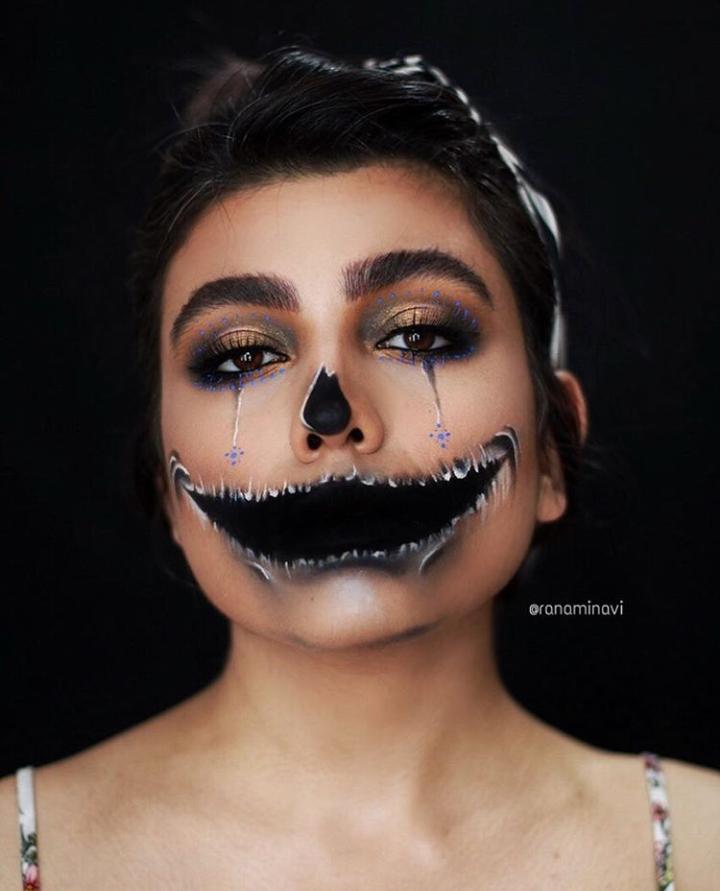 ↓ 10. Poison Ivy
Here is another simple, yet creative look featuring gems and crystals. Here are 15 Easy DIY Sneakers Makeover for Teen Girls with Tutorials.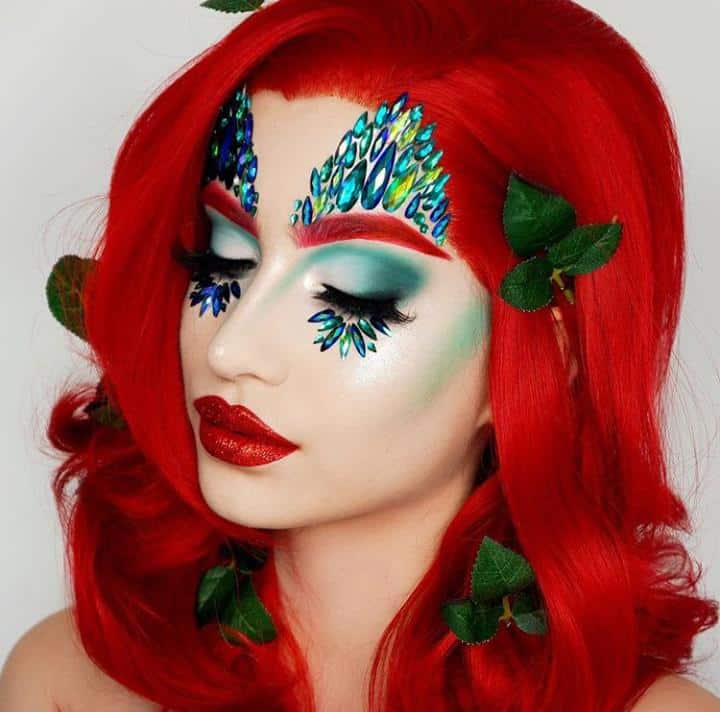 ↓ 9. Color Splatter
This colorful, rainbow glam up looks super fun to create.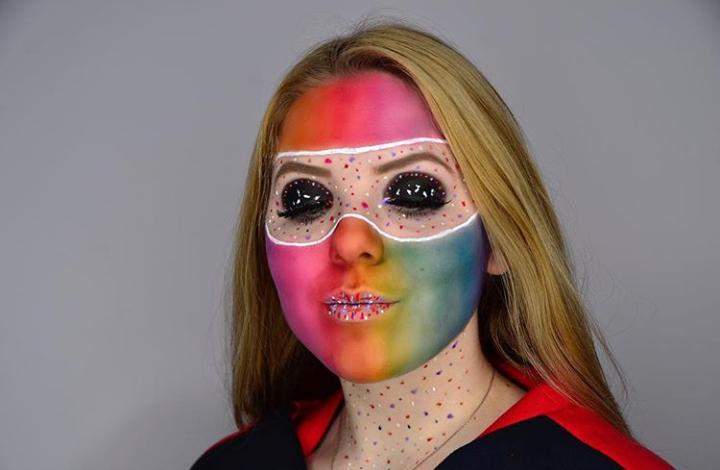 Via
↓ 8. Butterfly
Here is another smokey makeup featuring 3D elements like foil and butterflies.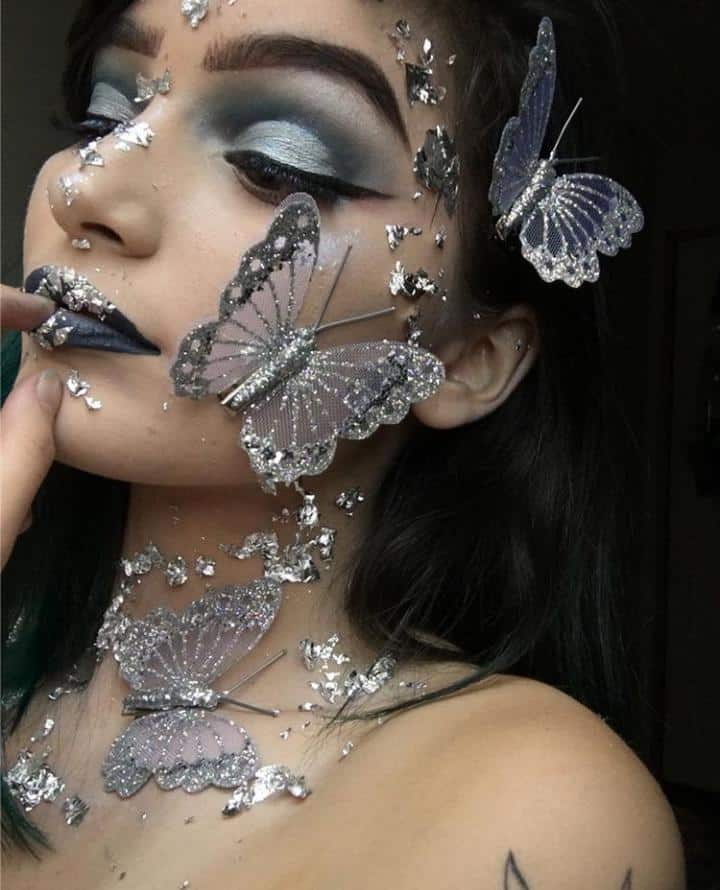 ↓ 7. Moon Reflection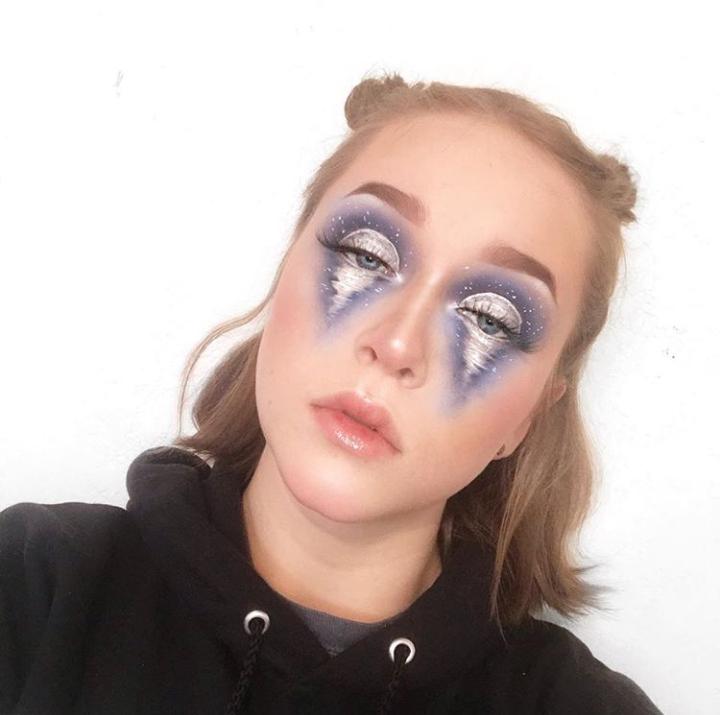 ↓ 6. Cute Halloween Makeup
Girls trying to save up on time, effort and money usually go for the old classics which do not require much makeup skills. The leopardess or the Catwoman look is one of the easiest makeovers for Halloween. Another reason why they are commonly done is that the character is appropriate for young girls and teenagers.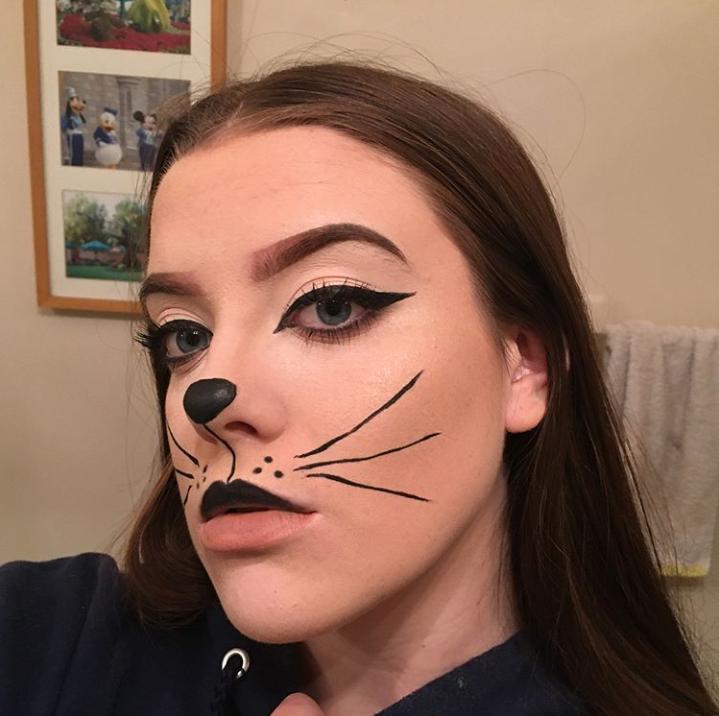 ↓ 5. Purple Skull
Who says you need black and white to create a skull? Go all out on the colors for whatever fun look you wish to create.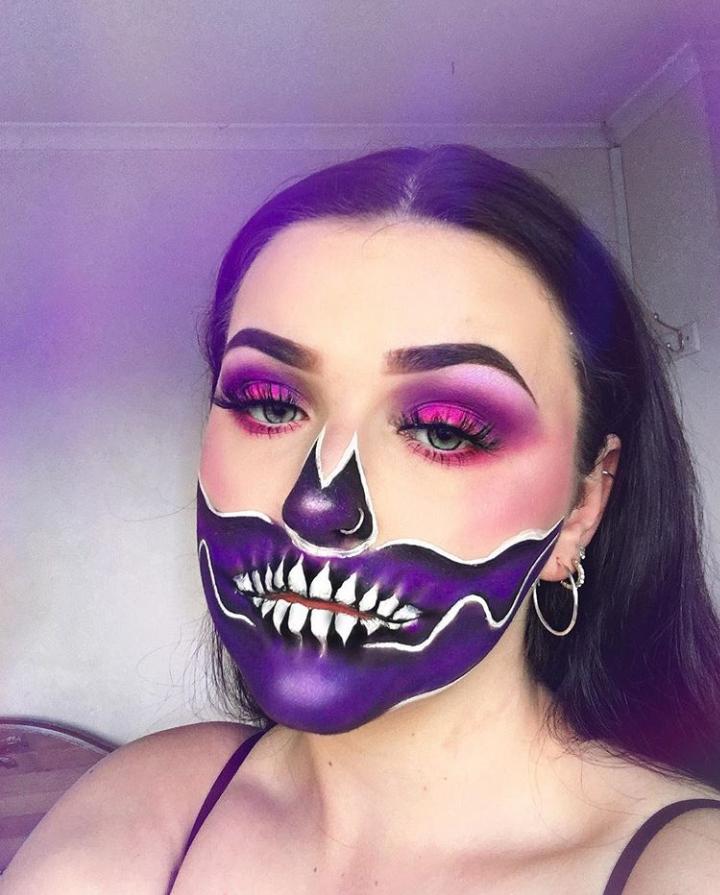 ↓ 4. Ouija Board Inspired
We may have found the best Ouija Board inspired Halloween makeover. Put your unused smokey makeup palettes to use to create this freaky effect.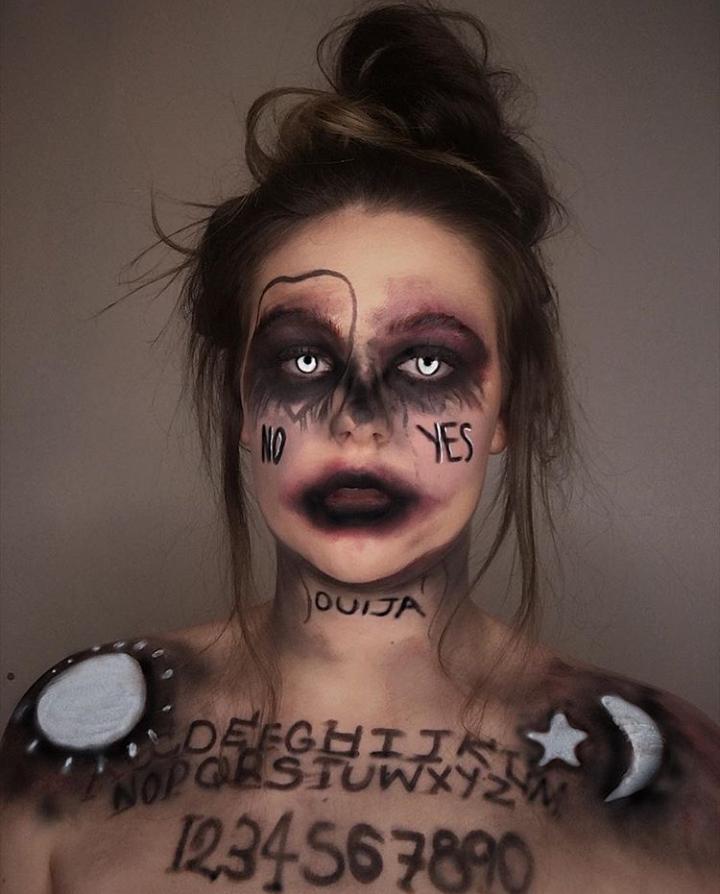 ↓ 3. Text Look
Imperfection is the new perfection. This makeup appearance is one of the easiest Halloween looks to try at your next Halloween Party.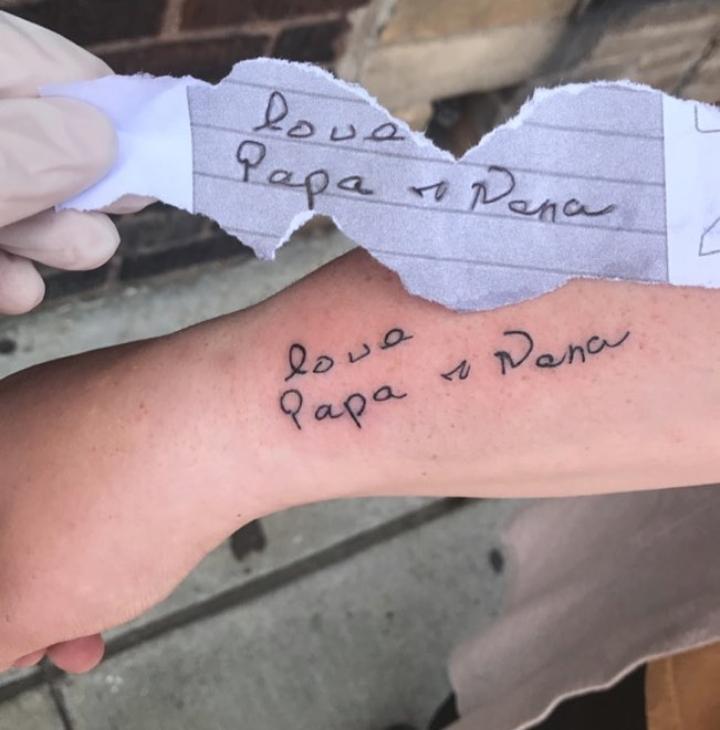 ↓ 2. Polaroid
How cute and artsy is this look that has been created just out of makeup and paints?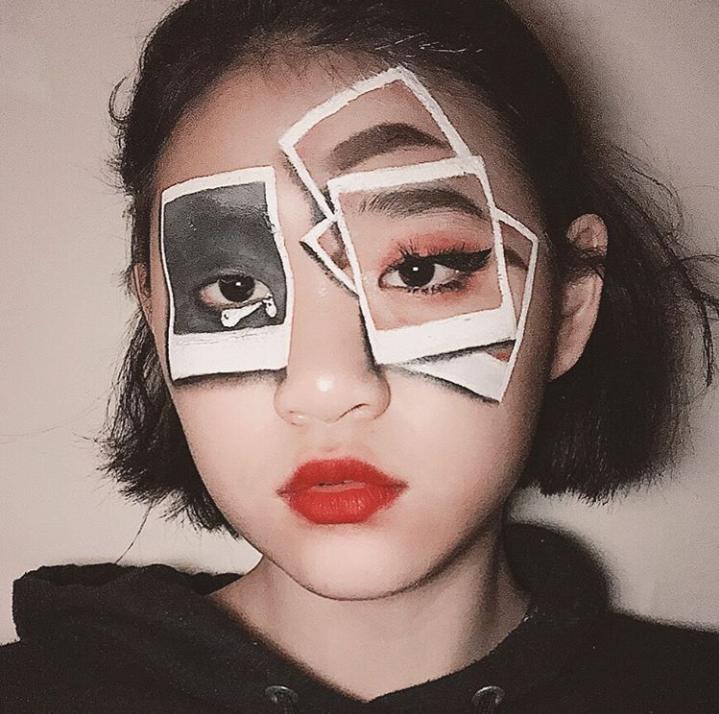 ↓ 1. Iridescence
This illuminating look is one of the best makeup creations we have seen. It is not done commonly which makes it one major reason to try and replicate it. The unique look involves a number of colors and allows you to channel out your inner artist.