Top Fall Outfits for Teenage Girls. The smell of pumpkin spice latte is in the air, the leaves are falling, and the air is going from nippy to chilly. In other words, fall is upon us, and boy, are we glad. From cozy oversized sweaters to fur-lined jackets and fuzzy beanies, this time of year is prime for those girls who love feeling comfy and looking cute.
However, fall outfits can sometimes get boring. Everybody pretty much wears the same thing in the same three colors and there's nothing too exciting about one more brown coat outfit with boots. Not to say that classic fall styles are no longer relevant – nothing beats a gorgeous turtleneck and jeans outfit, after all (and we're pretty sure nothing ever will). But what if we kicked things up a notch and got a little trendy? Maybe you're wondering what teenage fashion is looking like in the fall of 2022? What if, like us, you love staying on top of the trends but have no idea what that looks like for you as a teenage girl?
Not to worry, girlie. We have got you covered. From cute outfits for teen girls to wear in fall 2022 to all the latest and newest fashion trends for this year, here we have 20 gorgeous and stylish looks you can wear yourself this season! Keep reading to check them out.
What to Wear in the Fall for Teen Girls
The fall has a slightly different vibe than winter. It's not quite freezing yet but it's definitely not warm enough to skip around in your short shorts. And winter is often about cool tones (or bright colors to scare off the winter blues!) while fall is all about warmth and earthy tones and pumpkin spice latte. What's a teen fashionista to do? How about getting outside the box and trying some new fall trends? Here are seven new and cool fall trends to try today:
Knee-high socks. Yep, these bad boys really had their heyday in the early 2000s (right about the time you were still in diapers) but they are coming back and we are all for it.
Bucket hats. Tired of boring beanies? Switch it out for a bucket hat this season.
Sneakers. That's right, your plain old gym shoes? They be cute. Bring 'em on out and add them to your fall ensembles.
Oversized blazer. Love a business-chic look? Get yourself a slightly oversized blazer and wear it over a tee for a makeshift dress. (Psst! Wear with the knee-high socks for a little extra warmth!)
Bold tracksuit. Get colorful! Bold patterns and color combinations will keep this look firmly in the world of on-the-edge fashion.
Conductor hats. There are bucket hats and then there are conductor hats. A conductor hat in a subtle shade of beige is super chic.
Biker shorts. Yep, who would have known? Whether you layer them under a blazer or wear with an oversized sweater, biker shorts are fun and totally trendy.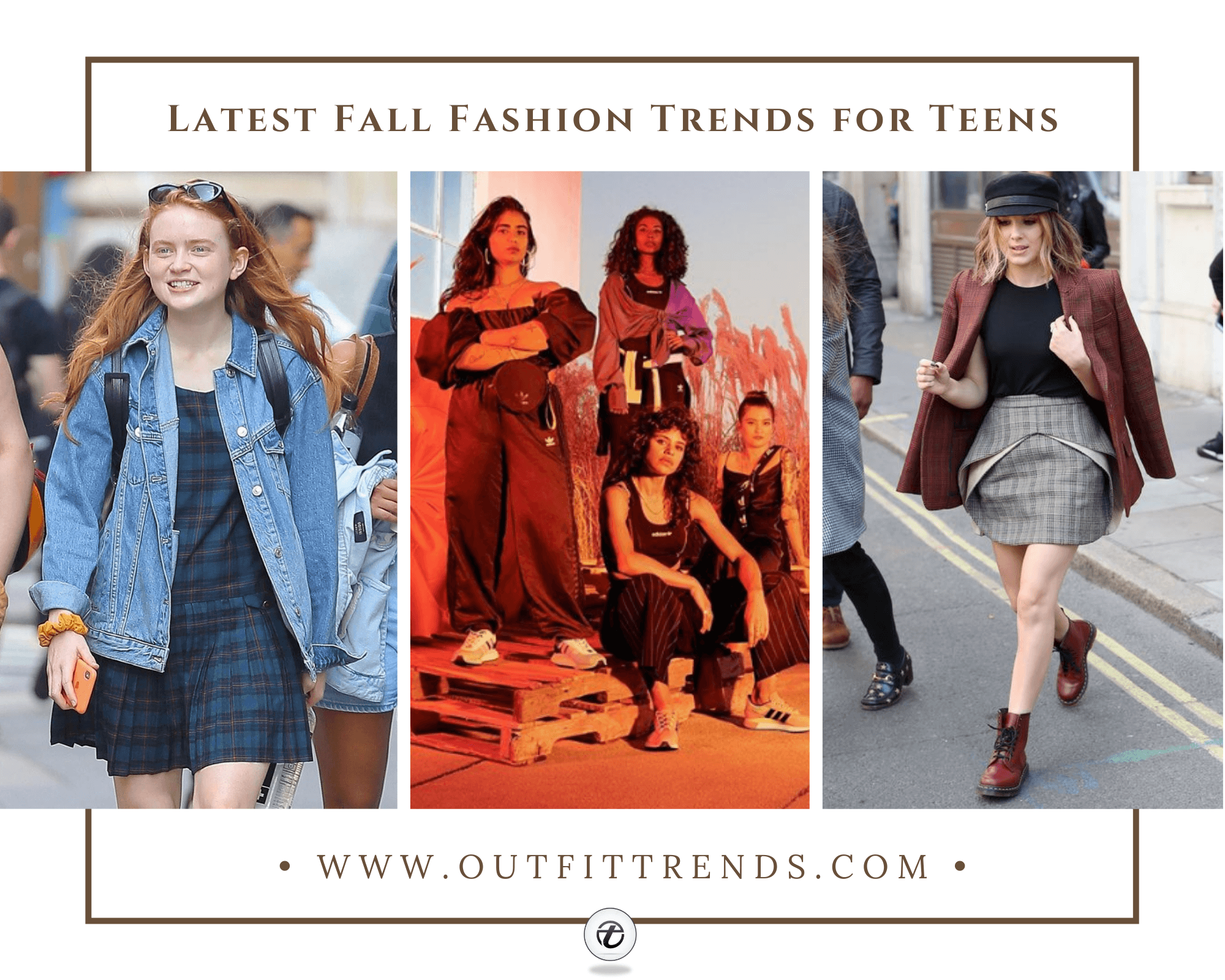 Now let's look at some outfits! Here are 20 trendy looks that are perfect for the fall season this year.
↓ 20 – Sweater and Overalls
Let's start off with a classic. This look is a nod to the nineties, and if you ever watched Friends and drooled over Rachel and Monica's looks, you'll love this one. Simply layer a pair of vintage-style overalls over a white crewneck and pair with Reeboks.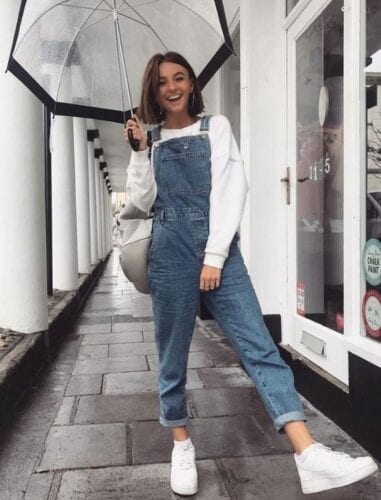 ↓ 19 – White Denim Jacket
We are seeing a lot of white pieces this fall and we are loving it. Traditionally a winter hue, it's refreshing to see the shade brightening up the normally earthy tones of fall. For this look, layer a white denim jacket over a razorback tank and pair with jeans. Add some low-top sneaks and this makes for a great school outfit.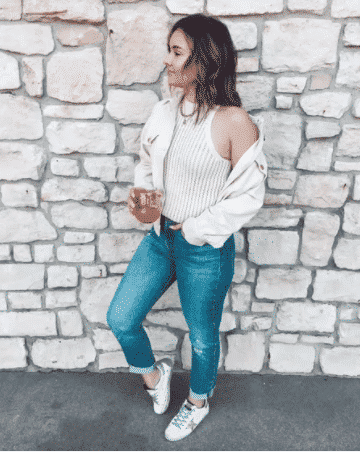 ↓ 18 – Corduroy Shirt and Ankle Boots
Looking for a casual everyday fall look? Rock those curves in a long-sleeved corduroy top, jeans, and boots. This classic look will never go out of style; burnt orange corduroy is super modern as well.
↓ 17 – White Boilersuit
Boilersuits have made a splash this year, and they seem to be sticking around. While there are certainly variations on it (from leather to denim, there are options!) we love this all-white take on the trend. Featuring a cute belt that cinches the waist and adds shape to the figure, this is a great option for any and all body types. Roll the hems and add some platform boots and sunglasses to tie the look together.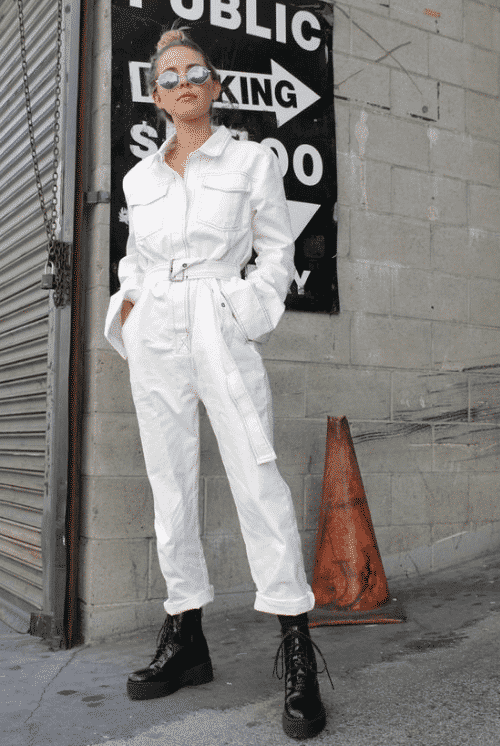 ↓ 16 – Plaid Bucket Hat
Love some laid-back weekend style? Here's the look for you. Jazz up any outfit by adding a totally trendy bucket hat. We are also digging the bold red pants.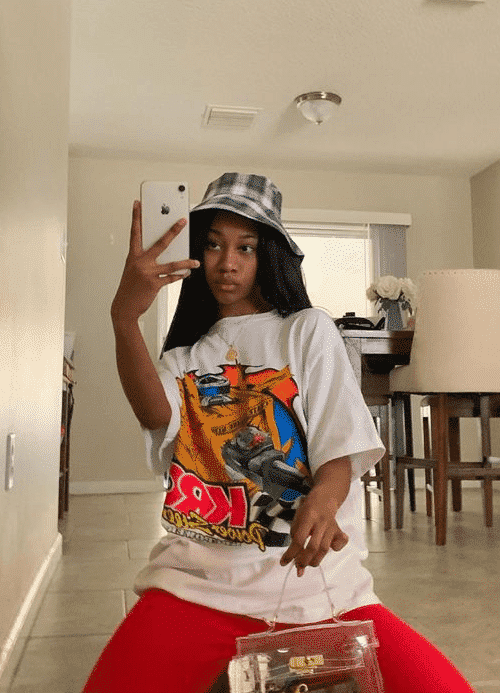 ↓ 15 – Empire Waist Loose Top
Tired of the crop tops and bodysuits? Girl, we get it. A comfy but totally stylish option is a sea-green empire-waist top paired with raw hem jeans. For footwear, you can go for some heels or mules.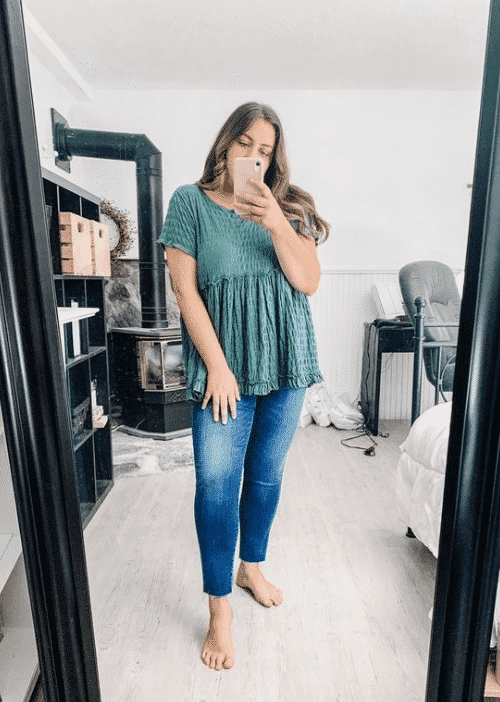 ↓ 14 – Leather Jacket and Pleated Skirt
Millie Bobby Brown is a fashion icon and we adore her. Here is a street-style look we are seriously obsessed with. Pair a black mock turtleneck with a black satin midi skirt. Add a leather jacket over it and pair with dainty white heels. Accessorize with oval sunnies. Classic street-style meets Princess Mills. Love!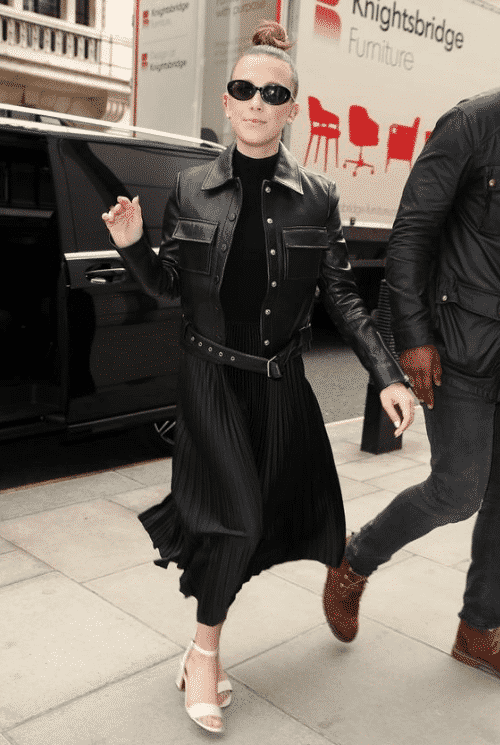 ↓ 13 – Tracksuit Jacket and Jeans
For a mildly chilly day, set aside the bomber jacket and give this tracksuit jacket by Nike a try. Pair it up with some ripped skinny jeans and some white sneakers.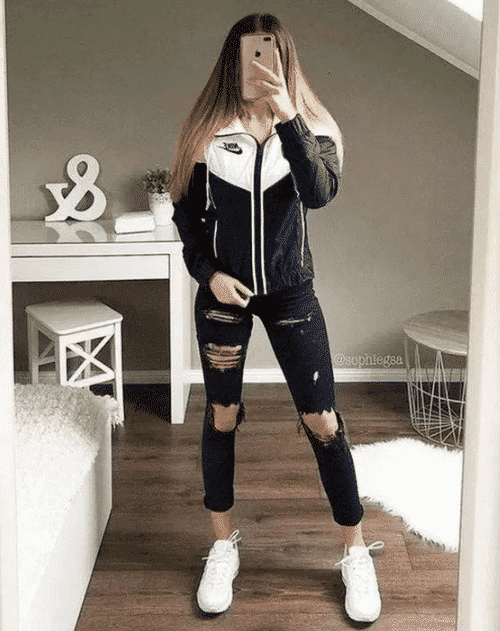 ↓ 12 – Animal Print Sweater
Animal print is back and we are digging it. Pair your thick sweater with some faux leather legings and beige booties. A cute earring and necklace set will tie the look together. Don't forget your Starbucks drink! Here are the Cutest Animal Print Outfits for Women this Season.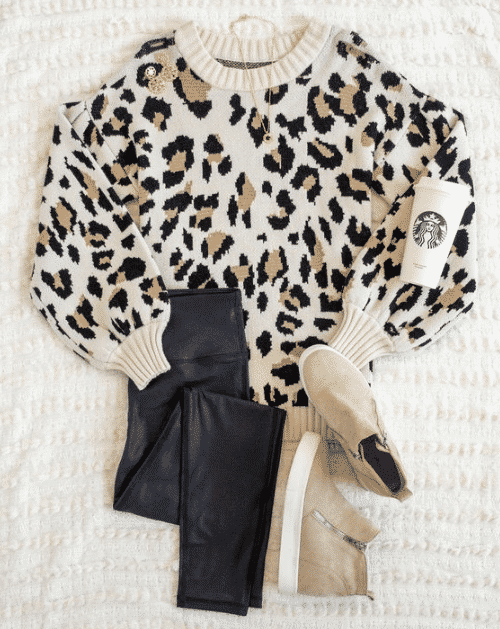 ↓ 11 – Millie Bobby Brown Puffer Jacket
It's safe to say we are all kind of obsessed with Millie Bobby Brown. We love her so much we included her twice in this article! From her crazy acting chops to her utterly enviable fashion picks, this girl is a powerhouse of talent… and a total fashionista. Just check out this puffer jacket (total statement piece) worn over a crop hoodie and paired with mid-rise straight-leg jeans. Add black sneaks and some retro sunnies and you'll be repping the trendy ensemble for yourself! If you like this look, you'll love our collection of these Chic Outfits With Puffer Jackets.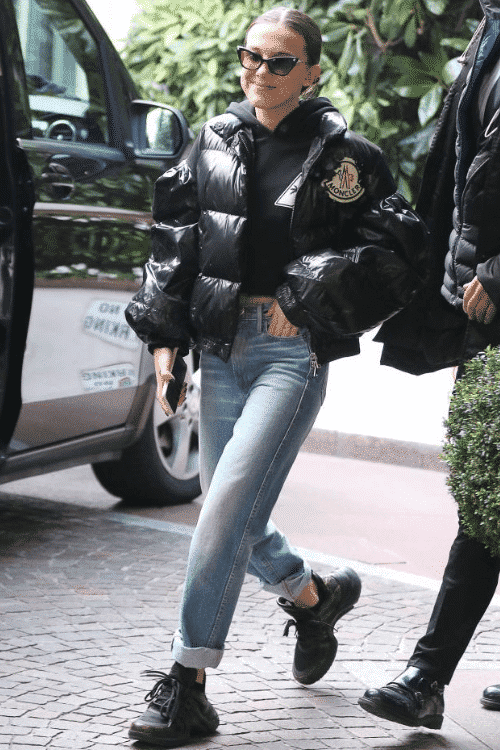 ↓ 10 – White Booties and Bright Red Jacket
We kind of love how bold this look is. From its super soft and super bold jacket to its white ankle boots, this look is funky, fun, and modern. (Psst! another trend alert: white ankle boots!) Pair with a white turtleneck, cute handbag, and boyfriend jeans.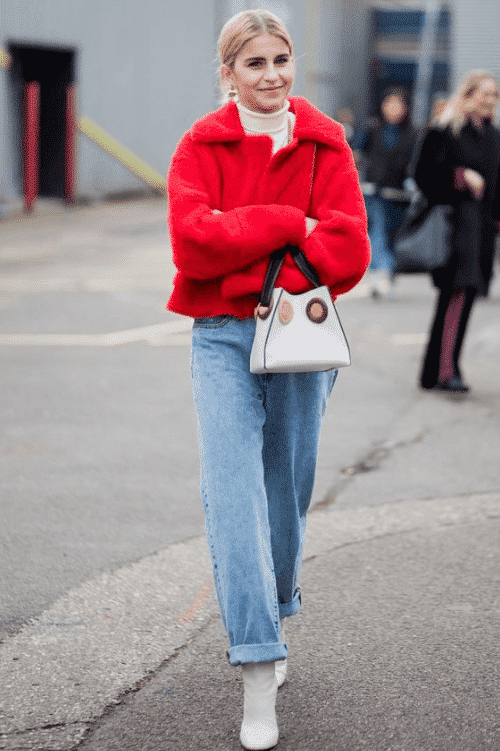 ↓ 9 – Striped Bell-Bottoms
Say hello to a seventies-turned-twenties favorite: the bell-bottom pant. We can't get over this stunning piece with its vertical stripe and soft, appealing colors. Pair with a white crop tee and some wedge heels.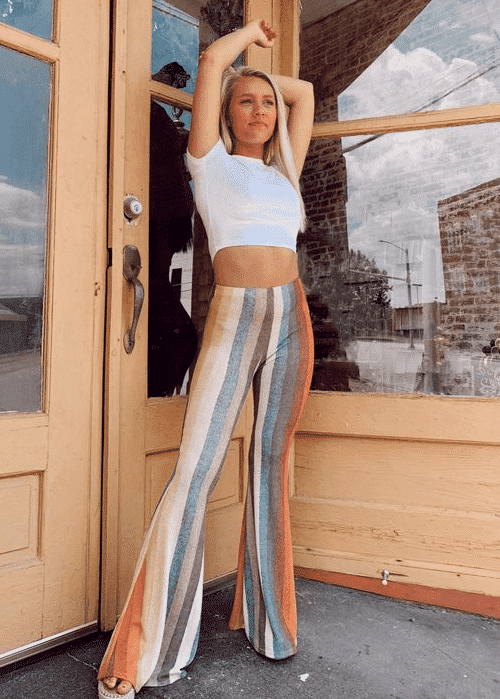 ↓ 8 – Patterned Midi Skirt
A lovely swishy skirt is a great alternative to the leggings-and-sweater look that we see everywhere in fall. Plus, it's trending! This fun patterned skirt is in a lovely and refreshing shade of teal. Wear with black boots and a black top. Here are more ideas on Outfits To Wear With Midi Skirts.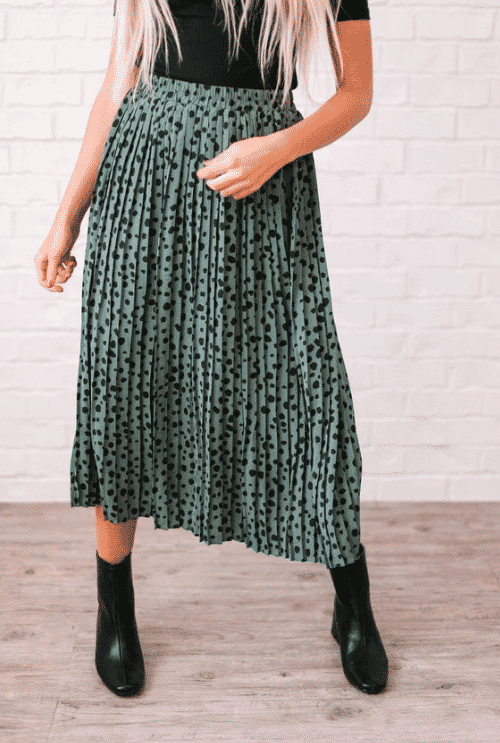 ↓ 7 – Biker Shorts and Oversized Tee
Who needs leggings when you've got biker shorts? (But go for leggings if it's too chilly for shorts, of course!) We love this laid-back look featuring a dark green, oversized tee with black biker shorts and white sneakers. Accessorize with a necklace and some square sunnies.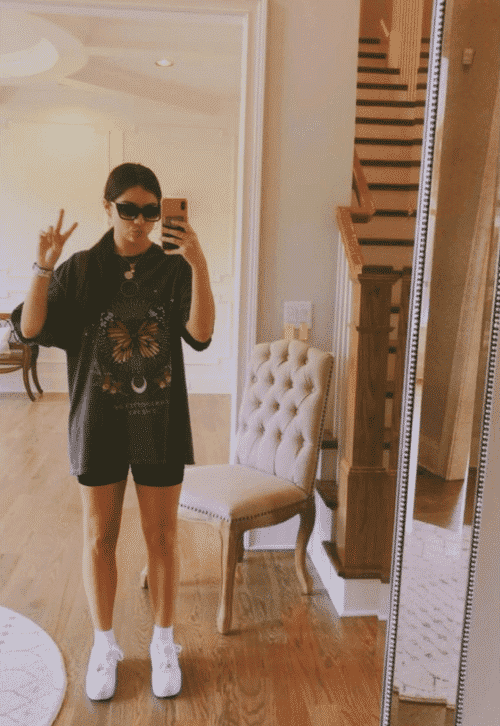 ↓ 6 – Oversized Blazer
Do you love a dark academia vibe? So do we! And what better way to get it than with a gorgeous oversized plaid blazer? This blazer is the pièce de résistance of the ensemble, paired with a basic white crop and some gray bottoms. Accessorize with thin hoops and a pendant-free necklace and voila.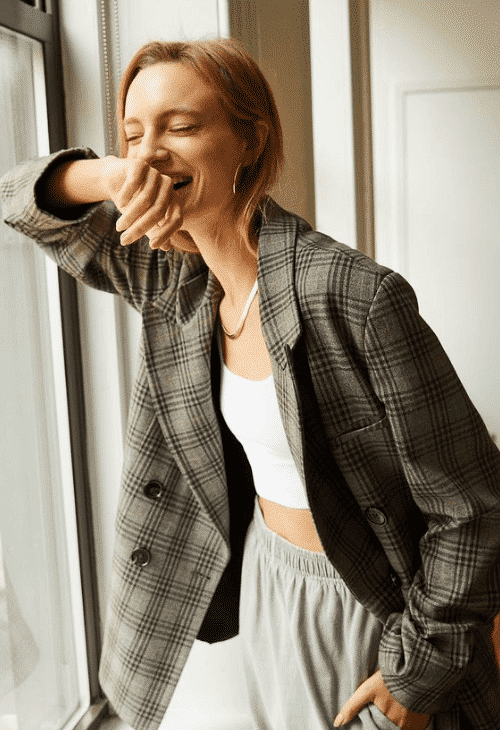 ↓ 5 – Tie-Dye
Tie-dye is a thing once again, people, and we are so on board. Not only will you brighten up any room you are in with this dreamy purple set, but your friends will love this totally refreshing take on fall fashion! You need little else but your sweater and jogger set to achieve this look. Just add sneakers!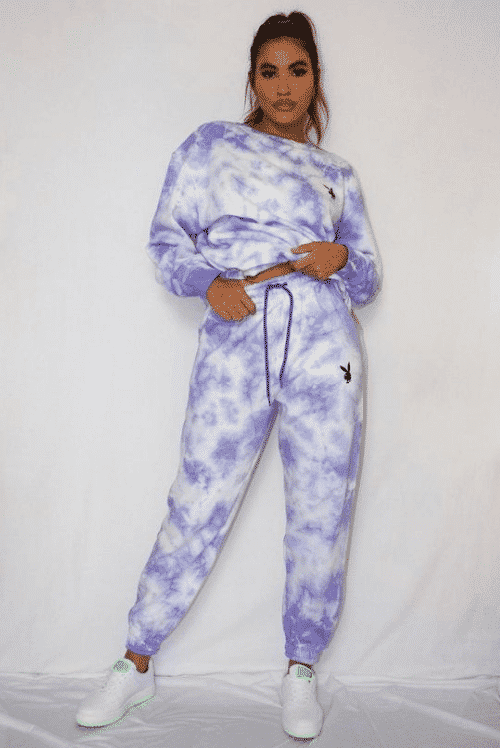 ↓ 4 – Conductor Hat and Sunnies
Our favorite way to wear a conductor hat? Over loose braids, of course! We are in love with this totally adorable ensemble which takes classic fall colors and gives them a bit of an upgrade. From the blues and browns on the off-the-shoulder top to the round sunglasses, what's not to love?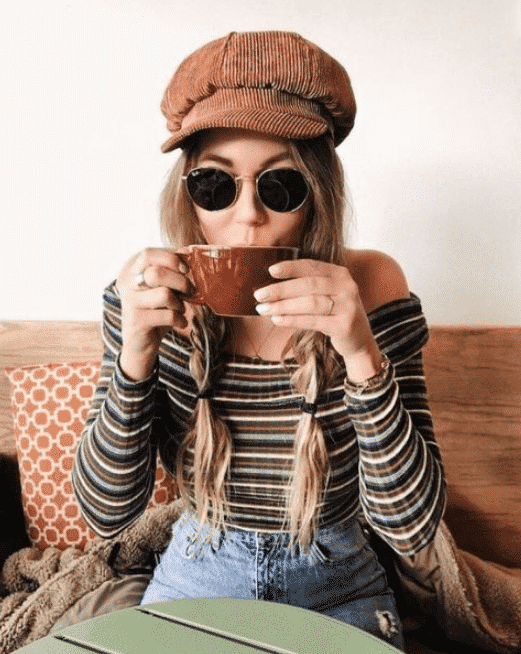 ↓ 3 – Soft Browns and Jeans
Fall… but make it chic. This soft slouchy sweater paired with mid-rise jeans, ankle boots, and a teeny purse are classic but fresh and so 2022.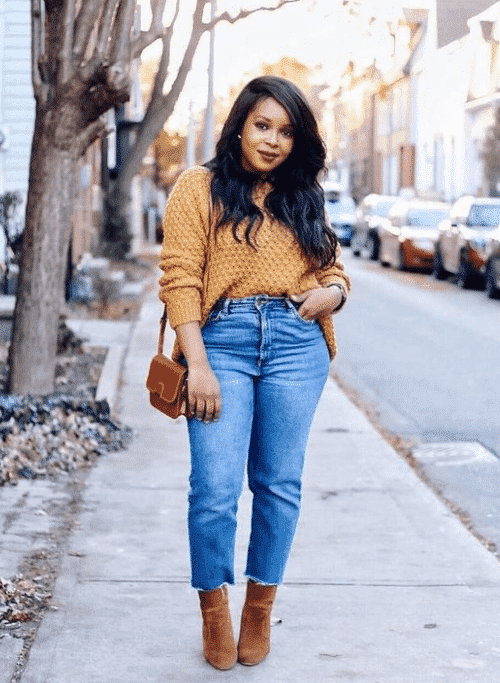 ↓ 2 – Checked Pants and Mock Turtleneck
This year is all about the fancy pants! These checked bad boys are super cute. A chunky black belt makes for the perfect accessory, as well as some bottle-cap fashion sunglasses. Pair with a crop mock turtleneck and chunky Doc Martens (or a dupe!) with white socks.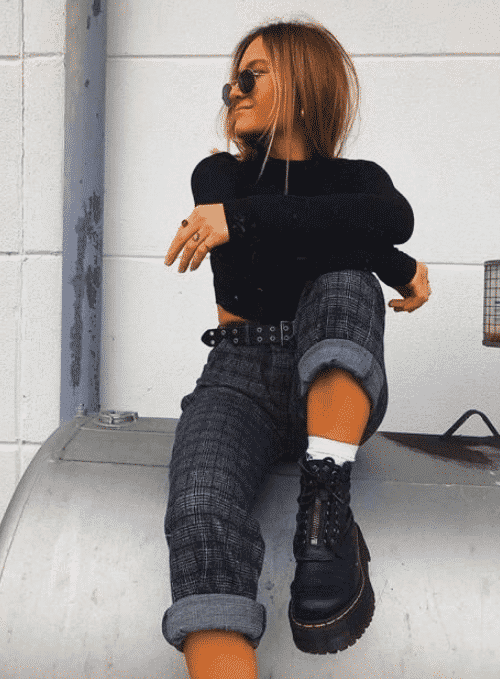 ↓ 1 – Vertical Striped Jeans and Sneakers
Ditch the boring denim jeans and get yourself some vertical stripes to shake up the party a bit. Pair with a crop tee (we love the butterflies on this one!) and cover up with a soft teddy jacket. Lastly, throw on some white sneakers and socks… and don't forget a scrunchie for your wrist!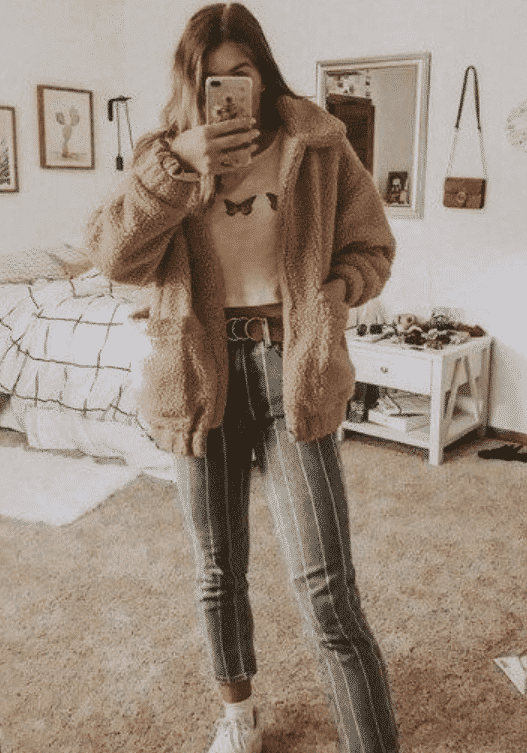 Frequently Asked Questions
Here are some frequently asked questions about style, fashion trends in 2022, and what teen girls are wearing.
Q.

What styles are trending for 2022?

A. 2021 was a rocky year for all of us… and fashion, like many other things, kind of took a back seat. Nevertheless, some really hot trends evolved over the year. Here's five of them:
Chunky boots with Victorian dresses
Butter yellow (the color of butter melting on toast – yes, please!)
Bold checks/plaid
Puff sleeves
Beige Aviator jackets
Slap a coordinating face mask on with any one of these trends and you'll have 2022 nailed.
Q.

What are the recent trends in teenage fashion?

A. Trends are always changing but a good way to stay on top of the latest is to follow a few Instagram accounts that resonate with you. If you're a fan of influencer style looks, you might love teen fashion inspiration from the likes of Emma Chamberlain. From bold colors to classic vintage transparent glasses, her page is a really great resource for staying on top of trends in the teen world. Here are five trends we found on her feed:
Bell-bottom pants
Chunky sneakers
Cropped turtlenecks
Denim boilersuits
Anything thrifted
Q.

What are the fashion trends for fall 2022?

A. Fashion in the fall of 2022 is all about self-expression… and bringing back some timeless pieces with a modern twist. We definitely showcased a good handful of them in this article but here a few more we might have missed:
Puff sleeves
Quilted tote bags
Blazers over hoodies
Bell-bottom pants
Fringe bags
Highlighter colors
Q.

What clothes should every teen girl have?

A. Because personal style is such a, well, personal thing, it's hard to say what you should definitely have in your closet. Must-haves can be different for every girl. You might be more about the steampunk life; your next-door neighbor might be a preppy gal to her core. However, there may be some basics we can all agree on: middle-ground stuff that even the most punk-rock and bohemian hippies girls could give the OK on. Here they are:
Basic tee shirts. Try a few different styles until you find the one that suits you, and then get a few colors. You can build so many outfits around a basic tee.
A super flattering, well-fitting pair of jeans.
A great jacket or blazer. Blazers are such an easy way to take any outfit to the next level.
A go-to pair of ballet flats. They go with anything and everything.
A stylish bag. Whether a purse or a backpack, you want it to be cute and free of wear and tear.
A dress. Whatever your personal style is, a dress will always come in handy.
And that's all we have for you today! Tell us, what is your favorite fall trend? Which one are you most excited to try? Let us know in the comments below!