Eye makeup for dark skintone – Finding the ideal eyeshadow for dark skin tones may be hard. Despite the appearance that every shade is entirely global, some weren't designed with melanin-rich skin in mind. Although you can find several eyemakeup brands for dark skin tones. These undertones are actually where the mystery lies.
Once you've identified your most attractive shades, understanding the application of eyeshadow will help you highlight your lovely features and skin tone. Moreover, you must know how to wear eyeliner because it enhance your eye makeup.
Keep reading as we uncover some of the best and trending eye makeup for dark skin tones.
Best Eye Makeup Ideas For Dark Skintone
First up, the pigmentation of the eye makeup pallete should be great. If the pigmentation of the product isn't good, your makeup will look muddy on the skin.
Tips and Tricks on Choosing The Right Eye Makeup
Whether you're looking for a metallic shimmer, an all-purpose palette, or something loud and bold, there are a few things to keep in mind.
The right eyeshadow colors for your face depend on the undertones of your complexion, which might be cool, warm, or neutral. Look for colors with pink, red, or blue undertones if you want cold tones. Choose neutral colors and tints with golden or yellow undertones for warm shades.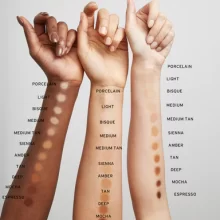 Opt for bold eyeshadow colors. Feel free to use bright, bold colors if you have a dark complexion because deep, rich eyeshadow tints go nicely with them. With only one color, you may create a striking look, or you can go for a rainbow eyeshadow look. Use a colorful palette.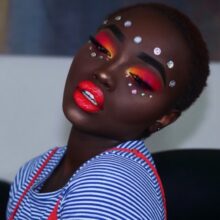 Use a primer all times. Always begin with an eyeshadow primer to assist create a flawless makeup look. This will assist in laying a flawless foundation and holding the pigment in place while you apply your eyeshadow. Using a white or tan eyeshadow as a base will make your main eyeshadow color appear more vivid and saturated in addition to primer.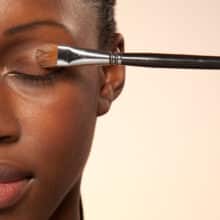 Consider a colorful spin on a traditional makeup style like the smoky eye to really highlight your gorgeous skin tone. Skip the black and gray since this eye makeup calls for the usage of multiple colors. Mix and match with richer tones instead.
You should add some definitions after applying your eyeshadow. Lining the upper lid will give the appearance of thicker lashes and larger eyes. The ideal cat eye is created by drawing an alluring shape with liquid eyeliner.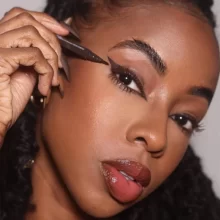 20 – Bright Blue Eye Shadow
Brighter colors look amazing on darker skin tones, especially if you are going for a more vibrant and eye-catching look.
No matter your outfit, a radiant shadow would look great on you, all you have to do is match or contrast it up with your whole fit and you are good to go.
There isn't really any need to go for eyeliner as your eyes will pop just from the brilliance of the colors. Finish off the eye makeup with good mascara and a warm brown lipstick shade.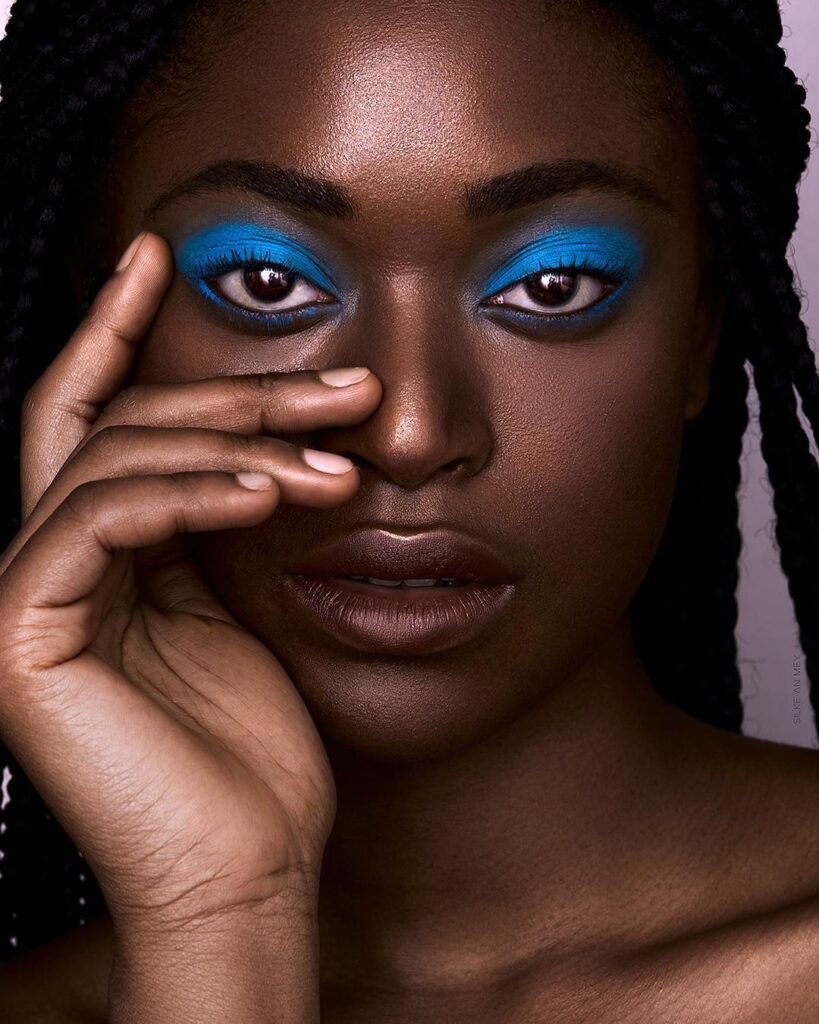 19 – Beachy Two-Toned EyeShadow
If you are wondering how to do eye makeup if you have dark skin on a beach, you can always match your eye shadow with the color of your bikini, sarong, or the cardigan that you've chosen to wear. Especially if you go for a two-toned bright look for the day.
Not only will it make your eyes look as beautiful as ever, but the matching shadow will give you that model-like look.
Don your stunning beach outfit and you are all set for a pretty beach photo shoot of yours.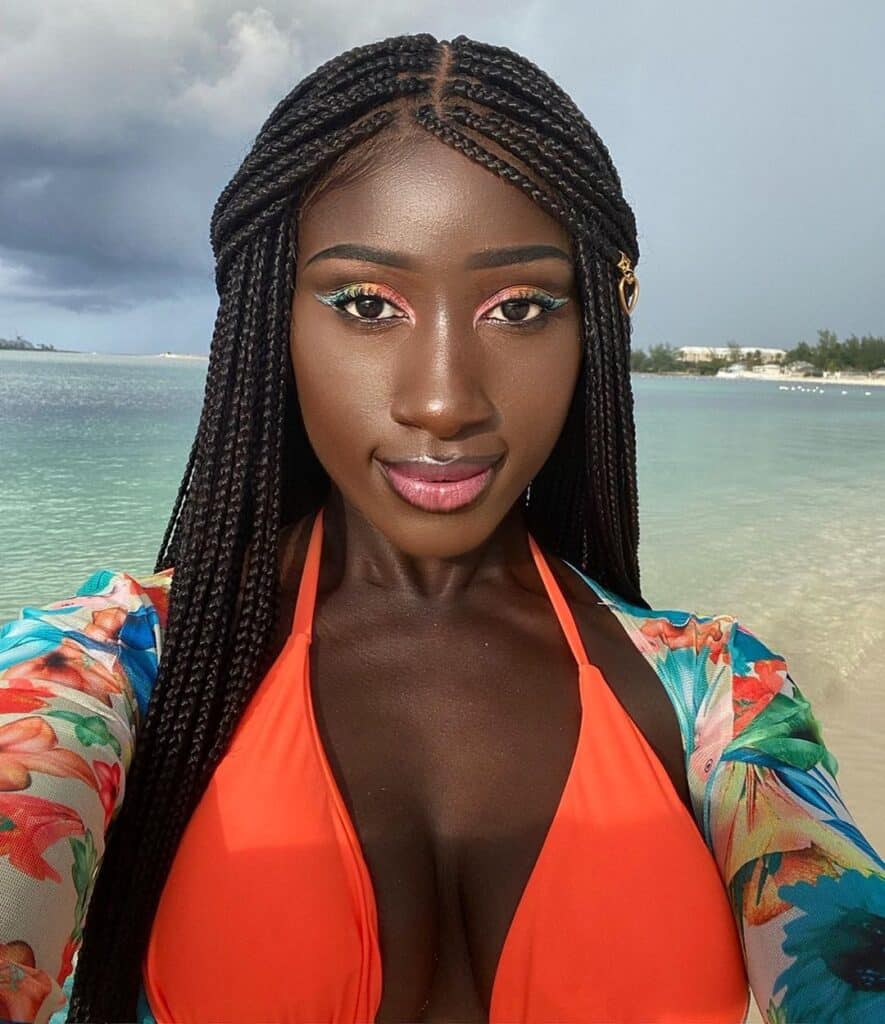 18 – Natural Smokey Makeup Look for Tan Skin
On a date at the coffee shop or going around exploring the city, a smokey-eye look always works wonders. People often get skeptical about trying on darker eye shades on dark skin tones, but if done right, you can really easily pull it off.
Just a minimal amount of black or brown eye shadow, paired with some cute lashes and black eyeliner on your water line, and voila, your eyes will have that perfectly sultry smokey eye.
To top it all off, an all-black outfit would seem like an amazing idea to go for.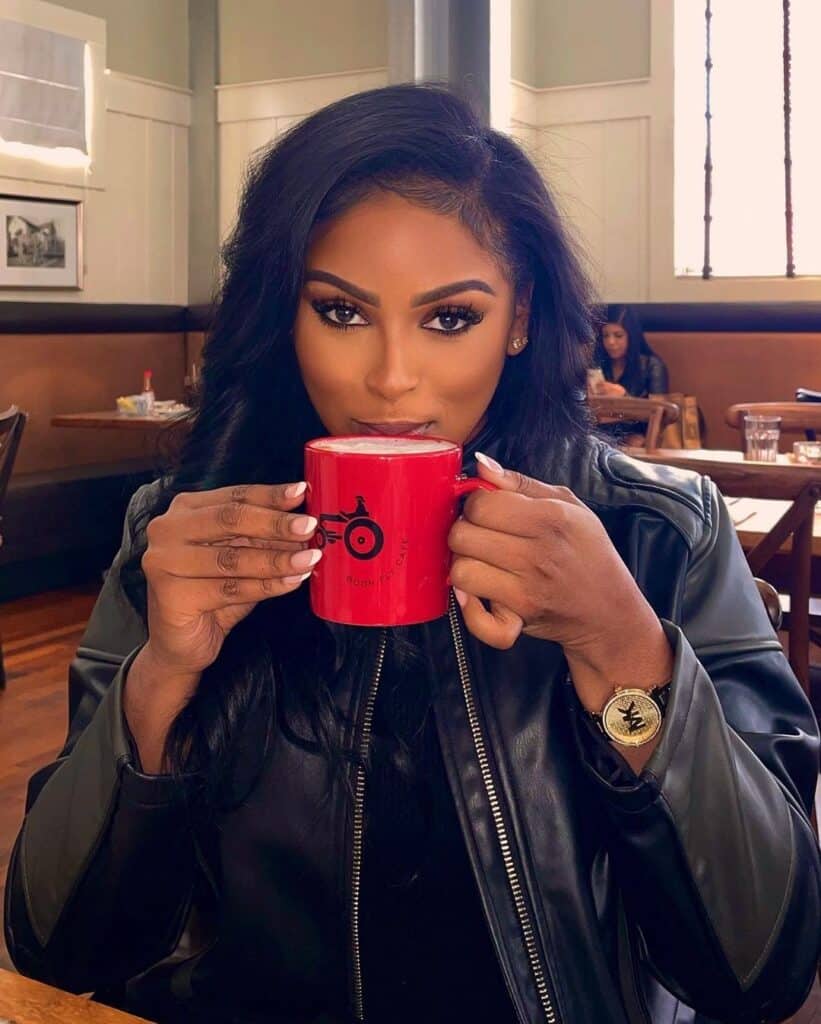 17 – Glam Bridal Eye Look for Dark Skintone
On your special day, everyone is nervous about what will work best for them. The easiest and safest choice for how to do eye makeup if you have dark skin would be to go for something shimmery and brown with a mix of any other color that you can see in your wedding dress.
For instance, refer to this picture and see how there are minimal shades of pink in her dress, the amazing eye make did great justice to her whole fit, no doubt about that.
You look as stunning as ever with some eyelashes and eyeliner. You can learn how to apply a liner from any youtube tutorial.
16 – Soft Glam Look
Another great look you can try on yourself is a soft glam one, with minimal black eyeliner, some white and gray eye shadow that matches perfectly with your outfit—and, of course, never forget the eyelashes.
To go for a more foxy eye look, you can also cut your lashes in half and stick them on the outer corner of your eyes; this would give your eyes a more elongated, foxy look.
Moreover, complete your makeup with lipstick that goes well with dark skin tone such as warm brown nude gloss.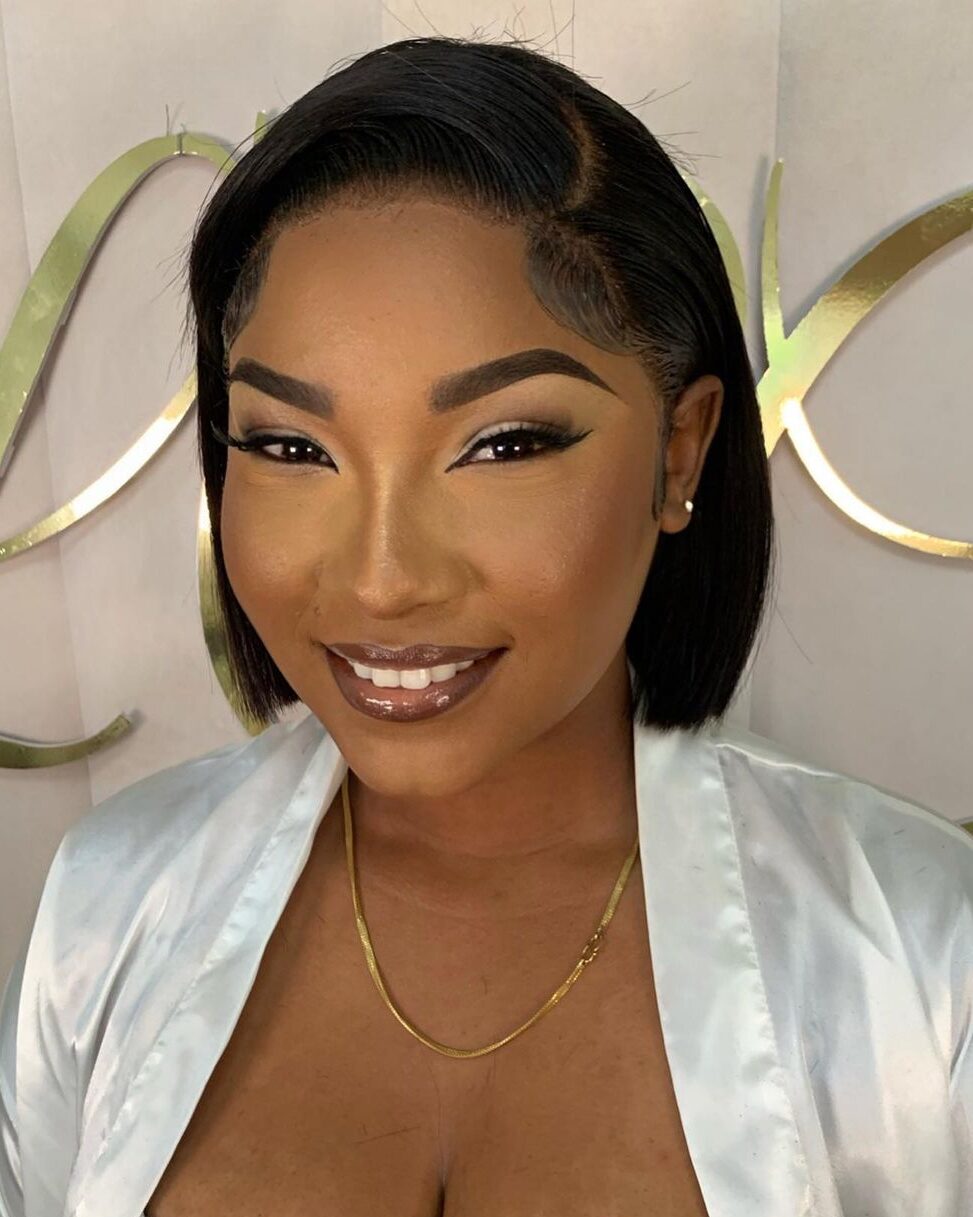 15 – Glittery Rhinestone Eye Liner
Want to go extra with those glittery new shades of yours? We are here to give you the exact eye look that would make your eyes look alluring, shimmery, and the perfect mix of attractive and bold.
No matter what you wear, glitter can never go wrong. Start a creative eye look just like this, and line up your crease. You can go for a graphic eyeliner look, or just applying a simple, thick silver eyeliner would make you stand out as well.
To spice it up a bit, you can go for some rhinestones on your outer crease and bedazzle up your makeup in no time.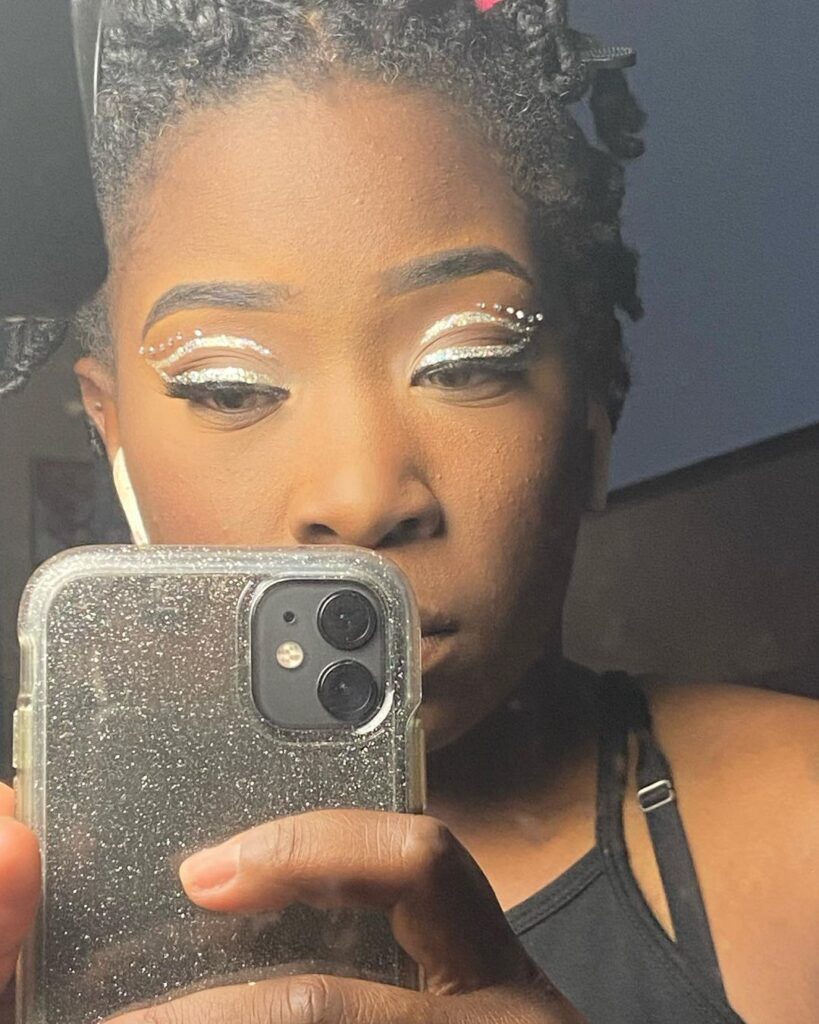 14 – Spice Up Your Look With Dramatic Colorful Eye Makeup
Another vibrant and colorful eye look that will make your eyes pop is here. The mix of orange and blue is the perfect shade for someone with a darker skin color, especially if you want to go for something extra and make your eyes more enhanced than ever before.
It is all about those little details that matter the most. To top it all off, the matching blue and orange rhinestones on the corner of your eyes, along with the subtle golden eyeliner make the eye look a hundred times better.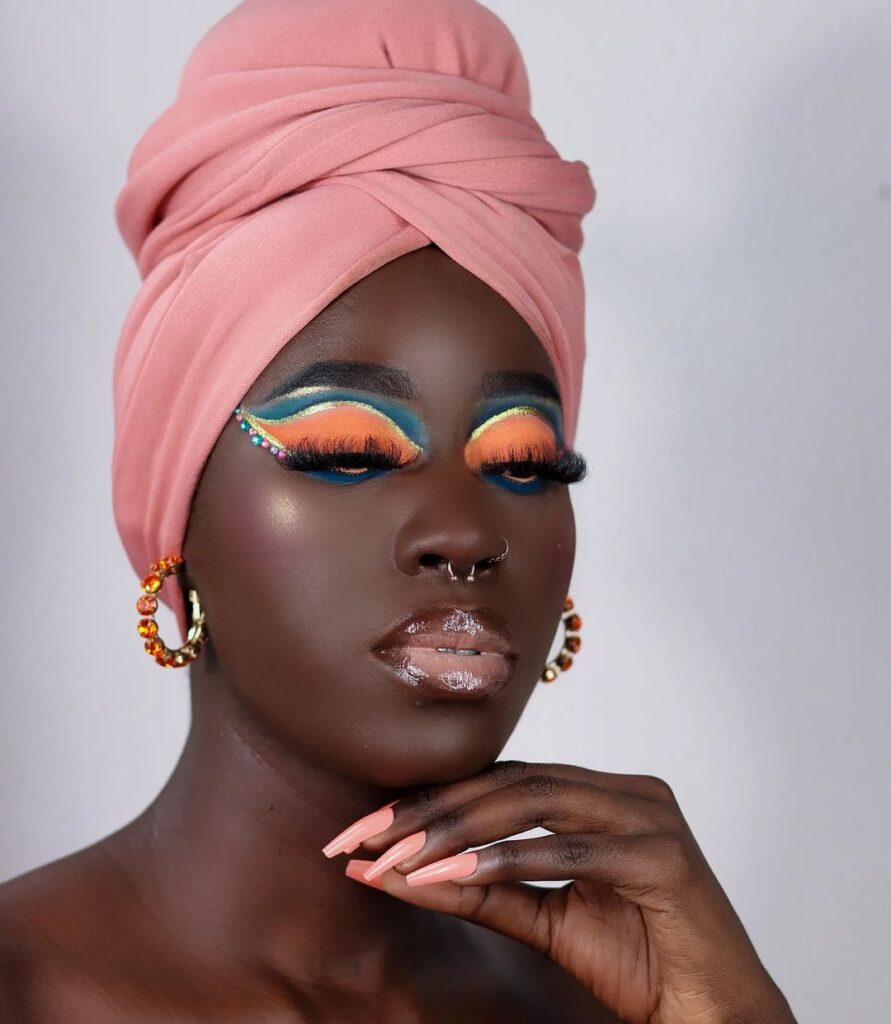 13 – Simple Eye Makeup Ideas for Beginners
If you are a beginner at the eye makeover game then going for a simple monotone eye shadow look would be a great start.
Match your eye shade look with your outfit, or even better, with your bright hair color, and effortlessly apply some on your eyelids. No doubt you will look super cute with just this minimalistic look as well.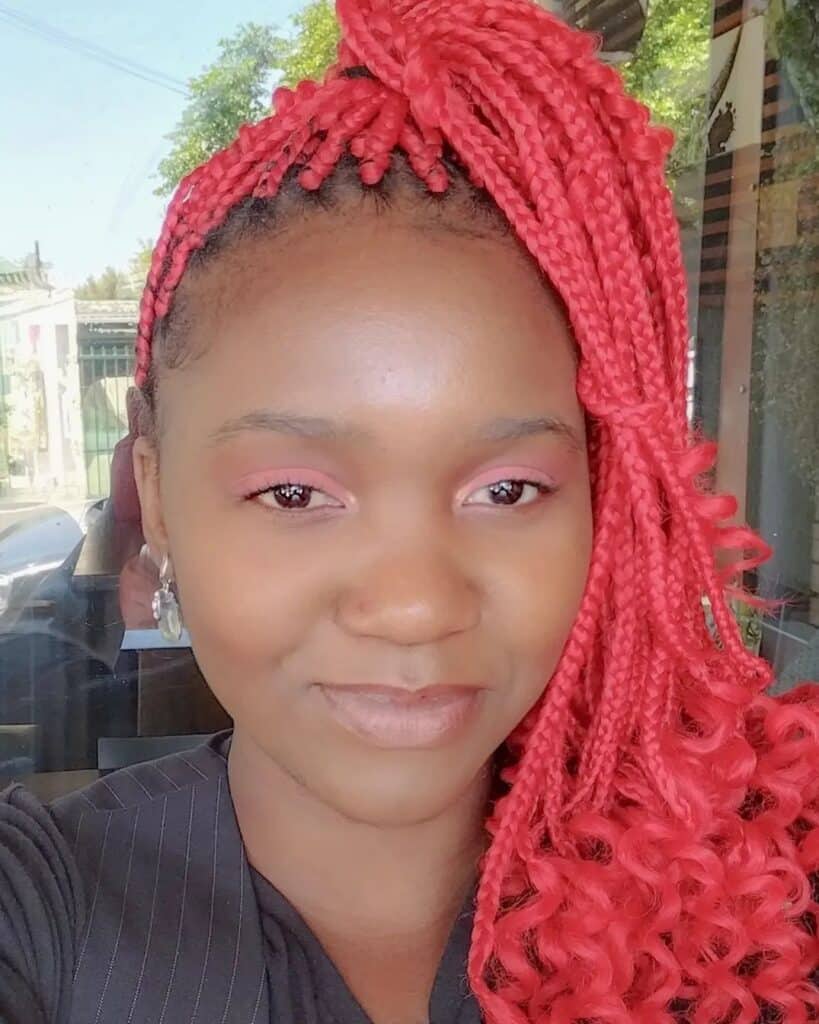 12 – Extra Shimmer Eye Look
If you are in the mood to go for some extra glitter, you can always go for silver on your darker skin. This color pops and makes your eyes look more alluring.
Complete your look with a thick wing liner and some false lashes and you are picture-perfect ready.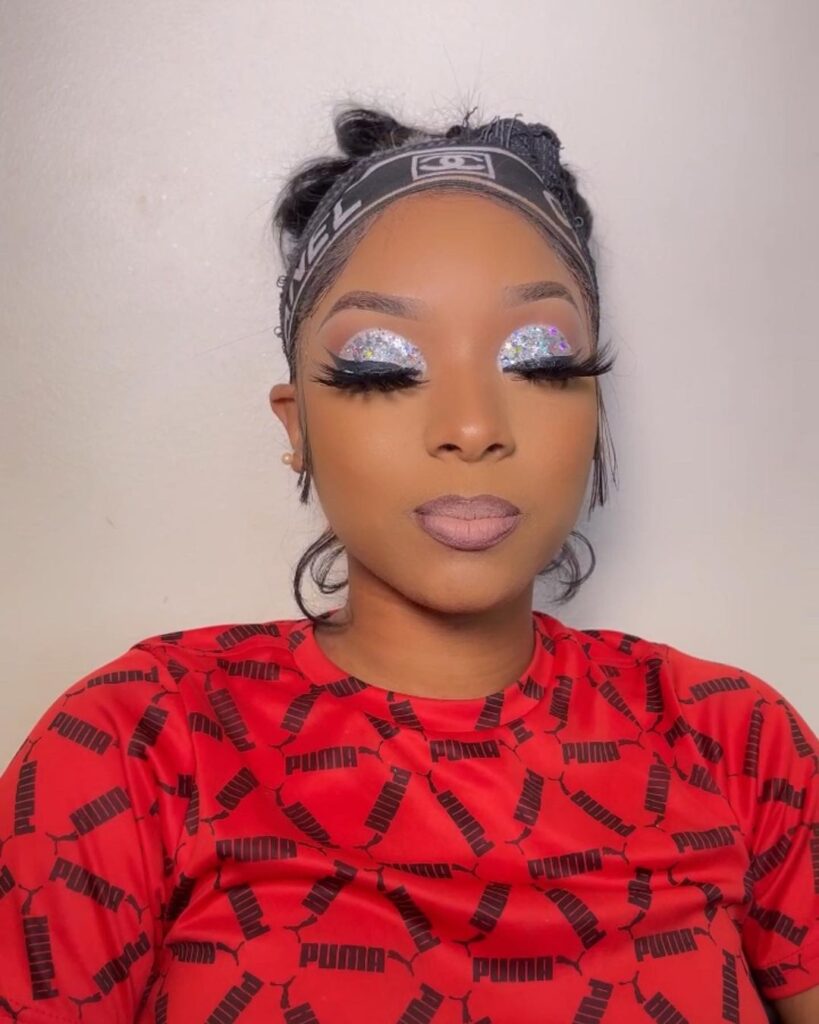 11 – Mix of Yellow, Orange, And White
One should be proud of their dark skin, do not be afraid of trying on all the brighter yellow or orange colors on your eyes. The lighter and brighter colors shine more vibrantly on your skin tone.
Try on such a funky and fancy look for a beautiful photoshoot to flaunt yourself. To make your look more alluring, you can paint all over your face, draw some dotted lines above your eyebrows, and color your lips a yellow shade for a more passionate look.
You can even contour your face with a brighter color rather than going a shade darker, it will definitely look beautiful on you.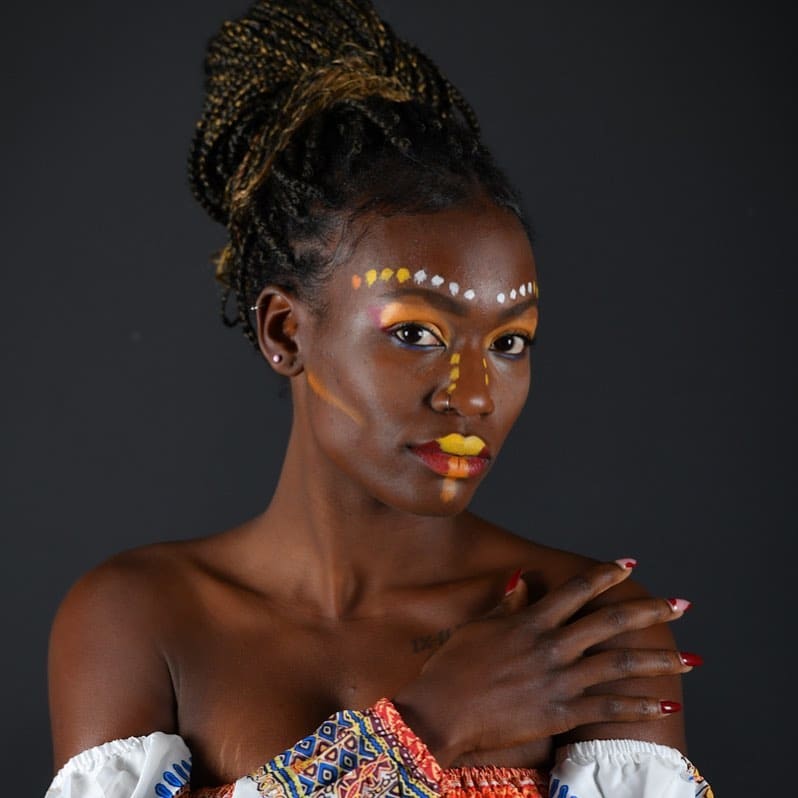 10 – Fall Makeup For Dark Skin
Every season has a different type of makeup associated with it, that would look perfect on you. Just like this fall makeup look. The brown and golden shades on the eyes fit perfectly into the autumn color palette.
Apply a bit of golden on your inner eye corners and go for a brown and black smokey look on your crease. Put on some falsies, you can even go a little further by applying bold brown eyeliner to match up your eye look.
Some black shadow on your lower lash line will make your eyes look bigger.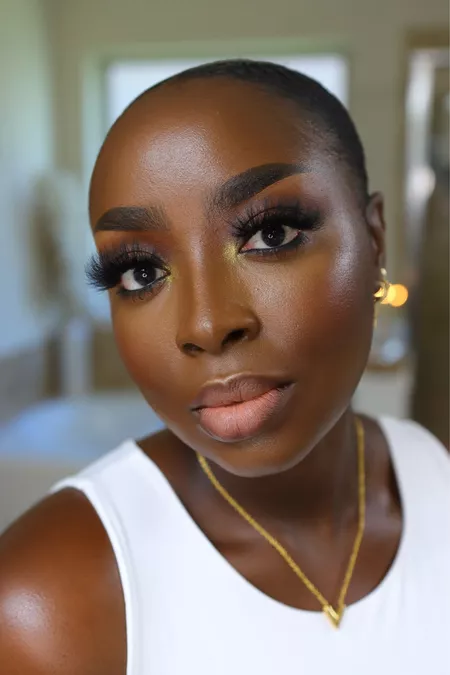 9 – Super Quick And Simple Go-To Look
Your go-to look should be something that you can apply quickly while still looking good.
Just a simple black winged liner along with some mascara would make you look as gorgeous as ever.
To make your minimal eye shadow look more catchy, you can always apply an eye primer on your lids and then do your liner.
Some white eye pencils on your waterline will help make your eyes look rounder and brighter.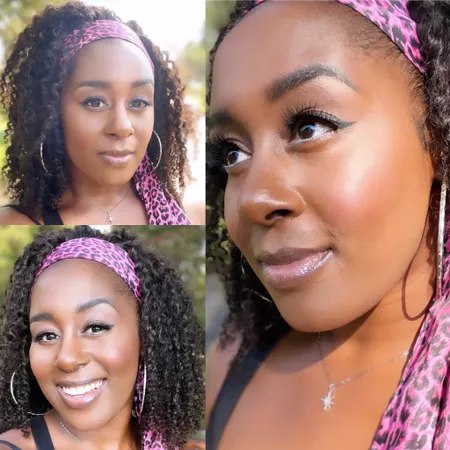 8 – Smokey Eyes for The Party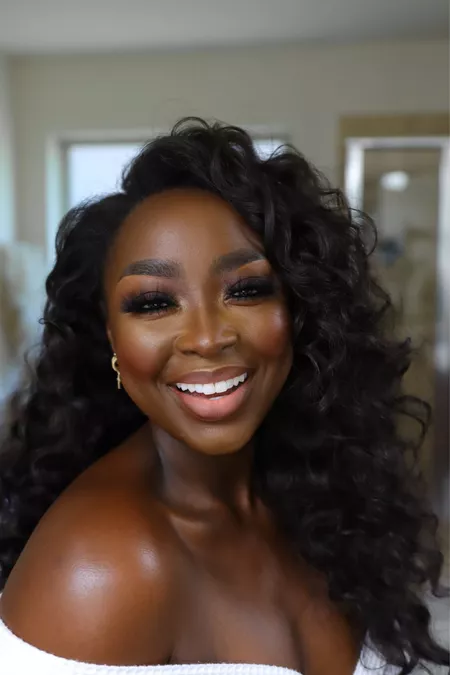 7 – Graphic Liner
If you are following the fashion industry, you must know how trendy graphic liners are these days. You can find any tutorial for such designs, especially those glittery ones that make your eyes stand out.
The blue color is perfect for a darker skin tone, especially if it has a little glimmer in it. All you have to do is apply your graphic electric blue liner on the outer crease of your eyes. Keeping the look simple yet electric.
Apply some white liner on your lower lash line, you can even put on a similar matching blue liner on your water line if you want to go a little over the edge.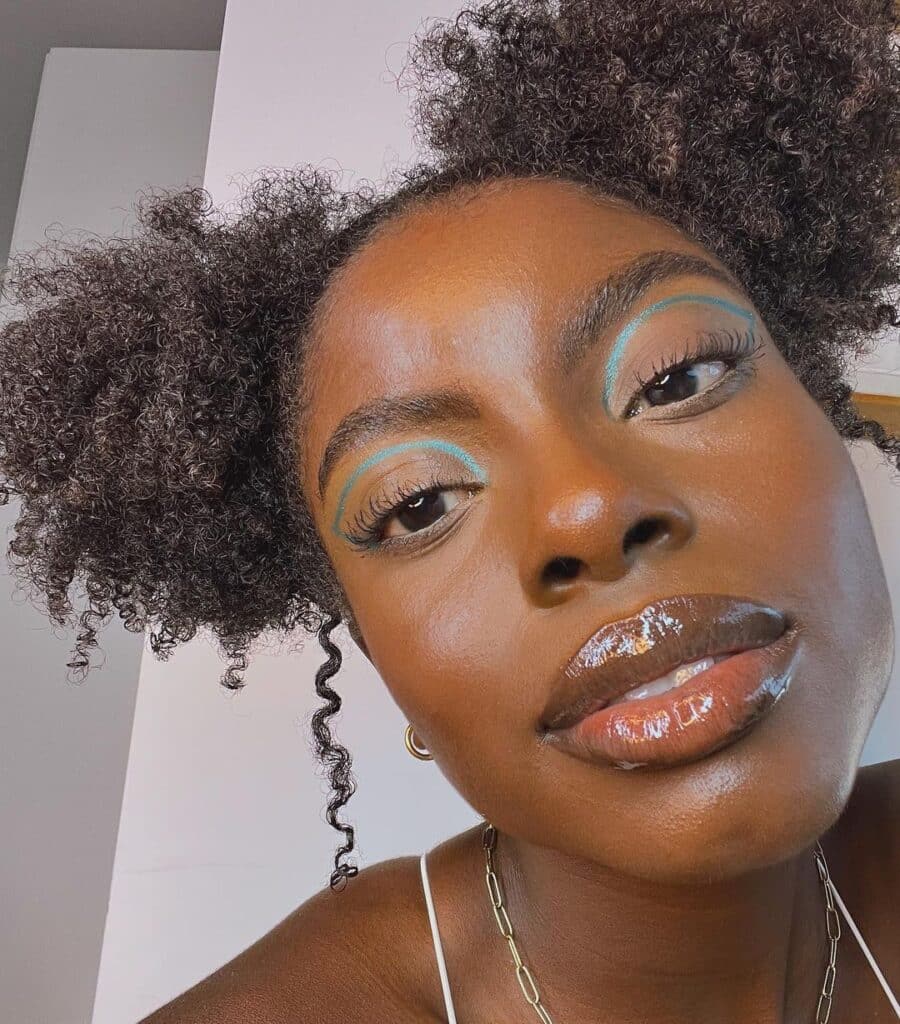 6 – Double Liner Eye Makeup
Double liners are the uprising trend that a lot of people are trying yet many are skeptical about. This is something risky and new that not everyone thinks would look good on them. But that does not mean that you should miss out on this trend.
Try putting on a dark green or black stroke of liner on your outer crease and another right above your lash line.
Some would even go the extra mile by applying liner under your water line to make your look more dramatic. You will be able to pull either of these looks off, all you need to do more is put on some falsies and you are good to go.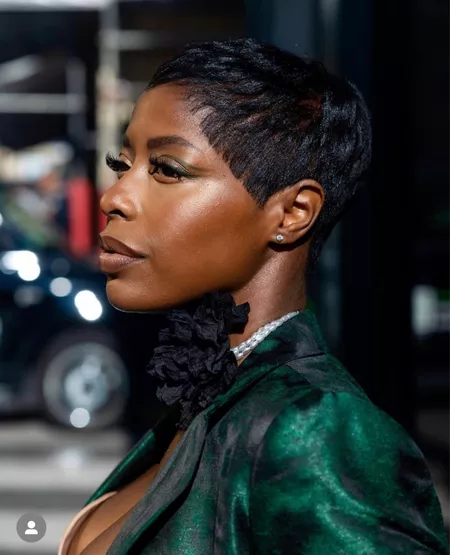 5 – Golden Bronze Makeup for Black Women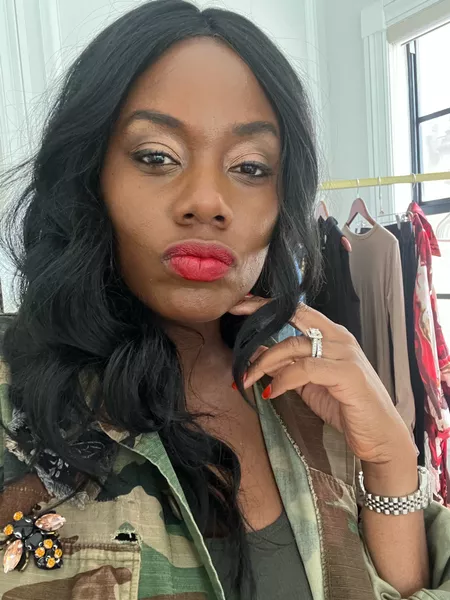 4 – Everyday Go-to Eye Makeover for Brown Teenage Girls
This is a quick eye makeup look for teenage girls, especially for those who are new to makeup.
All you have to do is to apply eyeshadow and mascara. Put a gloss and you're done.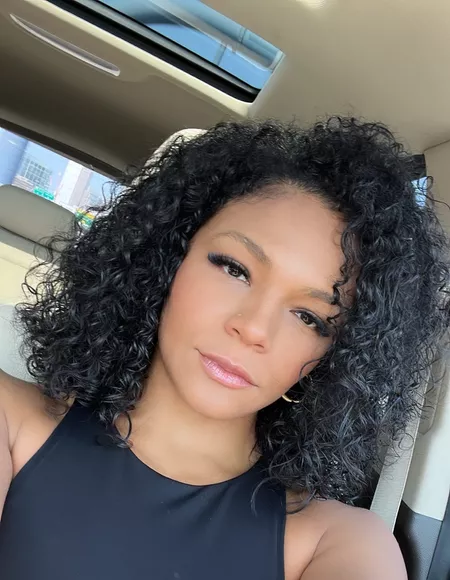 3 – Easy Glam Rhinestone Makeup
On a day out at a formal dinner or just a fancy party that you want to go to, you can go for a simple, sultry glam look like this one.
The light pink and brown shadow would look amazing on you, along with a thin line of black eyeliner.
Some false lashes would help make your eyes look bigger and to top it all off, flare your look up with some rhinestones on the inner and outer corners of your eyes.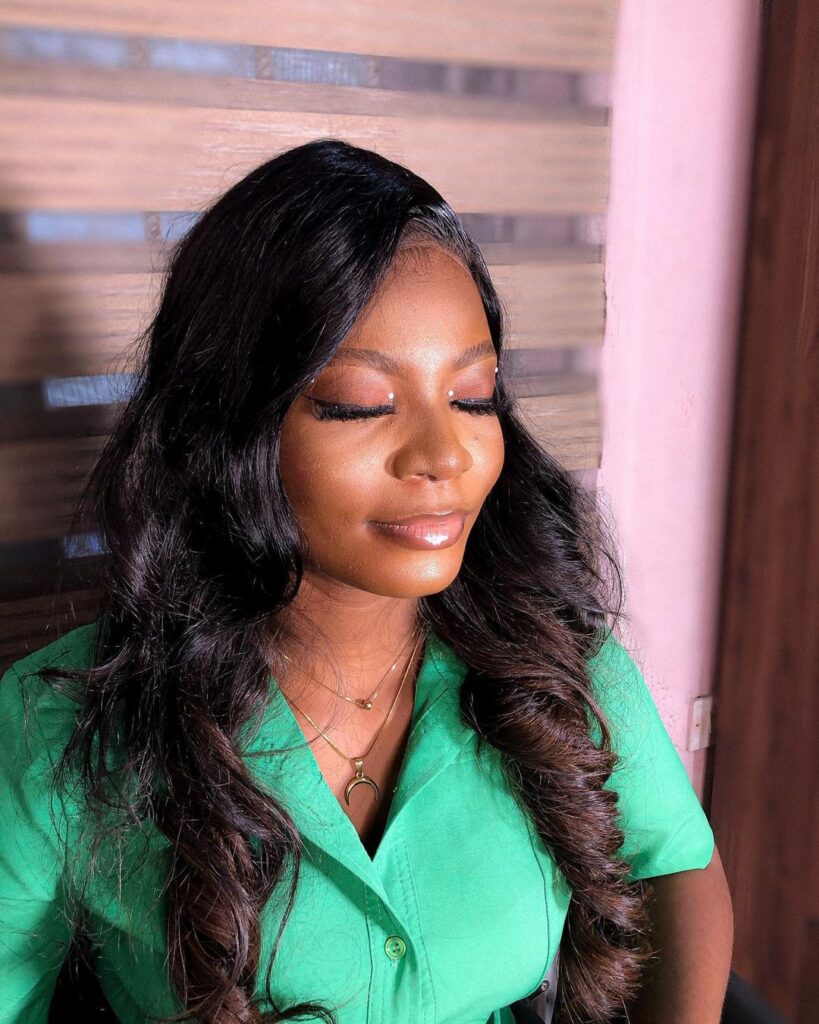 2 – Winged Eyeshadow
Another formal yet pretty eye look is this one. All the girls who have a dark skin tone can always go for a golden, brown, and black look for the day.
You can go for a full winged look, an easier hack for this one would be putting on some tapes at the outer corner of your eyes towards where your eyebrows end. This would make your application a lot easier.
Put on some bold and black eyeliner and of course, some false lashes can never go wrong.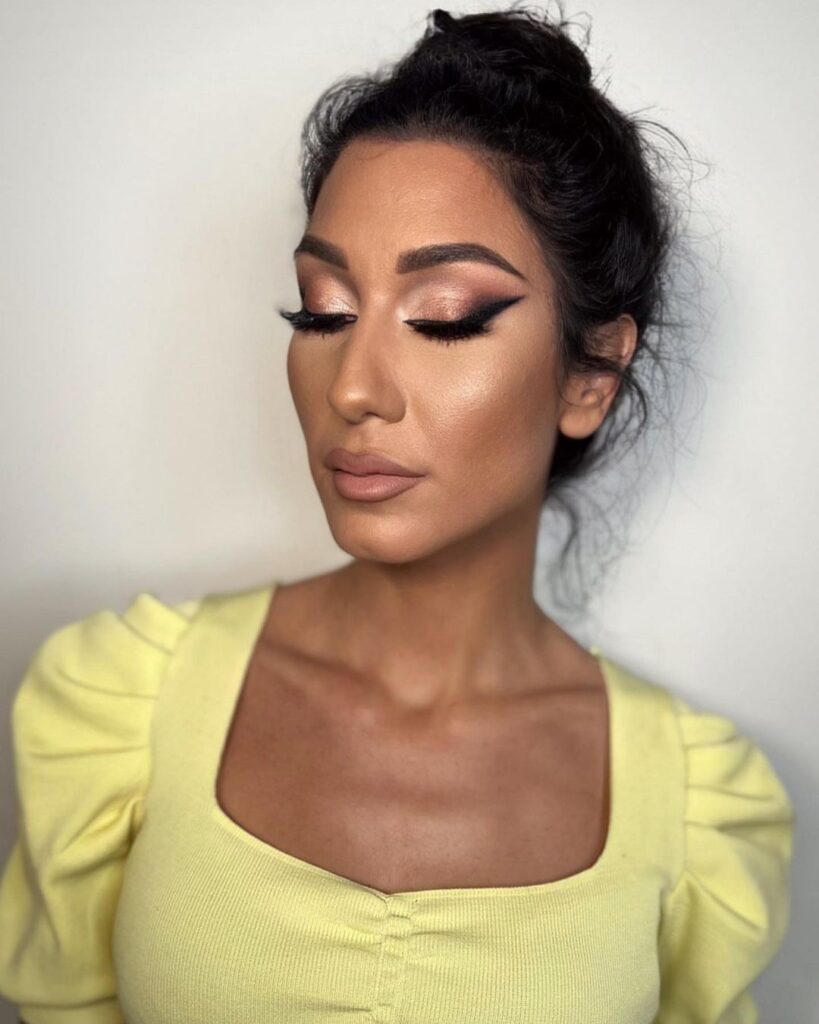 1 – Gold Glitter Eyes
If you are not in the mood to go dramatic with your makeup, you can always put on some shimmery golden eye shadow on your crease, and blend it up with a dark brown or black eye shadow on the outer corner of your eyes.
Some kajal and mascara and you look nothing less than a model.
Frequently Asked Questions
Q. Which eyeshadow color is best for dark skin?
Ans. Select hues that are deep enough for your skin tone. Your eyes truly stand out when dark skin is contrasted with a golden sheen without overdoing it. As matte eyeshadows can blend into a dark skin tone, we prefer brown eyeshadows with shimmer. On deeper skin tones, people also frequently use more cream-based shadows.
Q. How do you do eye MakeUP for black skin?
Ans. Use an eyeshadow base that is four to five shades lighter than your skin tone if you have a darker complexion. If you like, you may use it all the way down your eyelid and all the way up to your brow bone. You'll get an incredibly fantastic color payoff when you apply eyeshadow on top of it.
Q. What color makes dark eyes pop?
Ans. Dark eyes complement every color on the color wheel. However, blue hues are the ones that work best for dark complexion out of all the colors. Therefore, if you want to apply cosmetics to your dark eyes, we advise focusing on the various blue tones. Your dark eyes will glow in shades of electric blue, navy, stone, and even indigo.
Q. What colors should dark skin avoid?
Ans. There is not exactly a hard and fast rule on what colors you can avoid; everyone can pull off any color they like, but it would be preferable if brown, blue, and a lot of blacks are colors to go for if you have dark skin because they will contrast with your skin tone enough to make you stand out from the rest.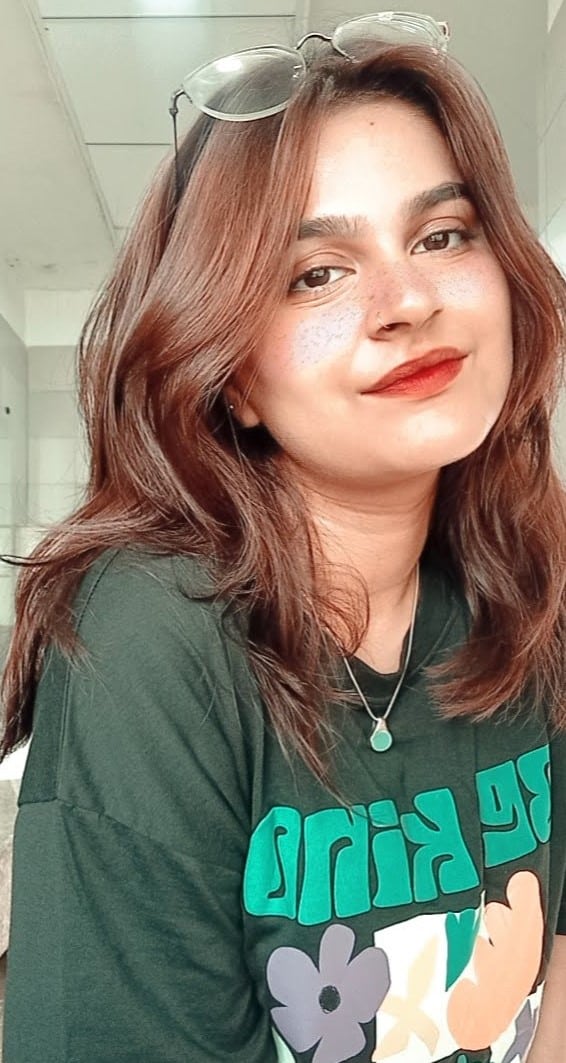 Adeena is studying Media Sciences at IoBM. She is a freelance content writer and graphic designer with experience in UI/UX as well. Adeena loves writing about fashion, taking photographs, making videos, and exploring many artistic things in her life.