What to wear in Italy. Choosing your outfits when traveling to Italy does not have to be a hassle, nor does it need to be overwhelming! In this article, we have you covered on all things wardrobe so you can make the most of your Italian travels. With outfit ideas, packing tips, and wardrobe pointers, say goodbye to cramming stress and hello to your best vacation ever!
Italy is a dream destination, and we'll help you look dreamy too!
How To Pack For Italy Trip
Let's start with some Packing Tips:
Most tried-and-true travelers will recommend that you pack super light when going abroad to save space for the inevitable souvenirs you will pick up. So bear that in mind when you are planning your Italy travel wear.
You can either opt for a capsule wardrobe to optimize luggage space or if you are only staying a short while, a more extensive, fashion-conscious wardrobe.
The season will also determine what you end up packing. Italy is quite hot during the summer, especially during July and August, so if you are going during the summer months, make sure you pack light, breathable clothing.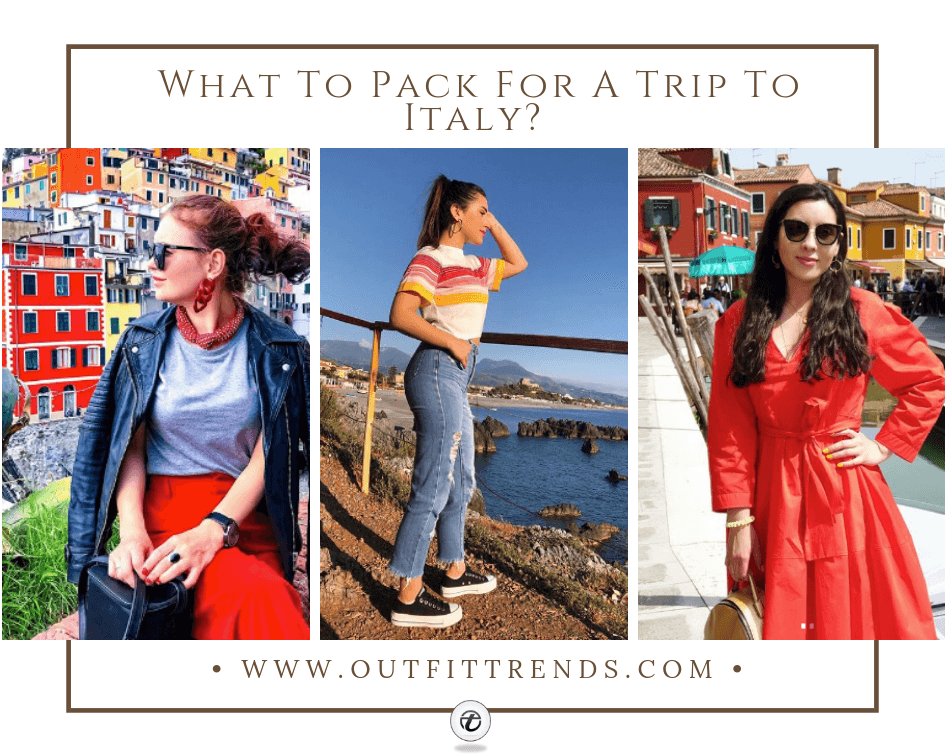 ↓ 15 – Choosing a Capsule Wardrobe When Packing For Italy Trip
The rule of thumb for creating a capsule wardrobe is designing a wardrobe where every piece works with each other. Some people choose a 37-piece limit; others 50. You will also want to stick to a basic color scheme.
Depending on how long you will be traveling determines how many pieces you ultimately bring along with you, but here are twelve pieces we think are essential:
Two dresses (choose colors and a cut that complement your complexion and figure, as well as can be dressed up or dressed down according to the occasion)
Trousers and/or jeans
Long-sleeved shirt
Sweater/Cardigan if traveling in Fall/Winter
Shorts
Blouse
Tee shirts
Underclothes
Well-fitting, classic jacket
Jumpsuit
A Versatile Skirt that you can pair with any shirt
One pair of sneakers/walking shoes and neutral heels that can be paired with any outfit
You can find some useful tips on choosing your shoes from our earlier post on 15 Best Walking Shoes for Europe Trip. Accessories are not included in our list above, but of course they are essential; however, there is no need to go overboard. Opt for a few main accessories that match your clothing, and keep in mind that you'll probably be doing a lot of walking and exploring when choosing your footwear.
Pro tip: Instead of taking lots of accessories with you, take 1-2 and buy the rest from Italy. Italy is famous for its beautiful leather handbags and jackets (you can find the best ones in Florence) as well as handmade sandals, so keep them in your shopping list. Other famous Italian accessories include their cashmere shawls and hats (particularly the ones from Borsalino).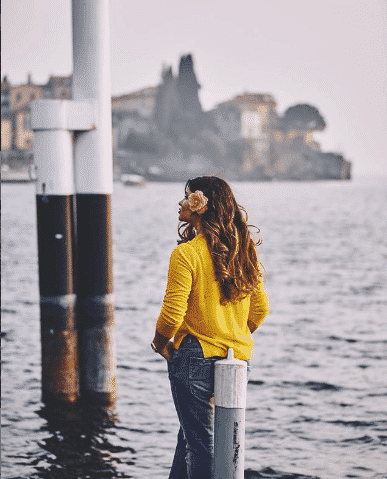 ↓ 14 – How To Fit In When Visiting Italy
A classic trend you may see a lot of in Italy is tucked-in shirts. It's a simple trick to give you a slightly more European look. With this ensemble, pair a light blue button-down shirt with a well-fitting, patterned mini skirt. Tuck it in and, if you want to seal your immersion in the Italian culture, add a belt to the outfit! Italians love a good belt.
To finish this look off, opt for a pair of oversized sunglasses, a trend-setting purse, and some stylish boots.
Pro Tip: If you are going to be doing a lot of walking (and let's face it – you probably will) remember that many of the streets are cobblestoned and roughly paved. Avoid delicate shoes like espadrilles or TOMs and, if in doubt, opt for boating shoes or stylish sneakers.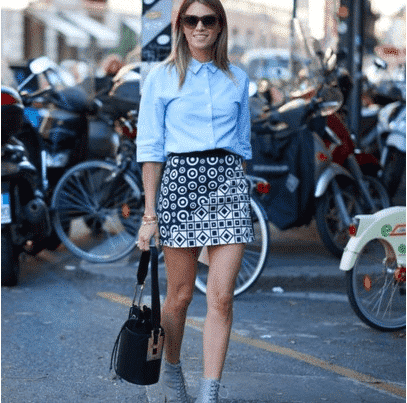 SHOP THE LOOK FOR UNDER £230
MissyEmpire Margret Black Chunky Square Sunglasses £8.00
Harrod's Patch Pocket Collar Shirt £205.00
↓ 13 – Street Style in Italy
This look is perfect for a breezy summer day walking the streets. If it's just too hot, you can switch out the jeans for shorts, but we love how the more skin-revealing top is matched with these high-waisted, wide leg jeans. Distressed hems and stylish sneakers bring the look home.
Also, can we talk about this super cute off-the-shoulder blouse? Not only does it make for the perfect top to achieve some summer-ready sunkissed shoulders, but it also reminds us of that classic I Love Lucy episode where Lucy goes off on a grape-stomping adventure at an Italian winery, donning a lovely if not somewhat touristy style dress to imitate the local women. Happily, we can say pretty confidently that no one will be looking at you twice in this ensemble, as you will fit right in – no Lucy to see here!
Pro Tip: heat-conscious clothing is a must if you are traveling to Italy during the summer months. Linen and cotton are your best bet, so keep this in mind when picking your outfits.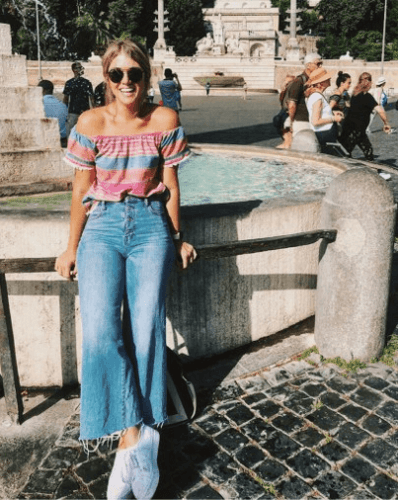 SHOP THIS LOOK FOR UNDER $470
Madewell Wide Leg Crop Jeans $128
Revolve 2790 Platform Sneaker $80
Ray-Ban Sunglasses $213
↓ 12 – Tuscany Sightseeing Tour Outfit
Tuscany is another must-see destination, and most people choose to do a one-day tour of Tuscany during their visit to Italy. It's most famous for its fields of flowers, vineyards, medieval towers and the leaning tower of Pisa. We recommend going for a neutral outfit for this trip, for example, a black dress or a white tee with jeans. If you want to go for something printed, we recommend stripes since they'll look great in Tuscan pictures. Especially if you're taking the day trip, you would want to choose something simple and fuss-free. Have a look at the Tuscan images below to get some ideas: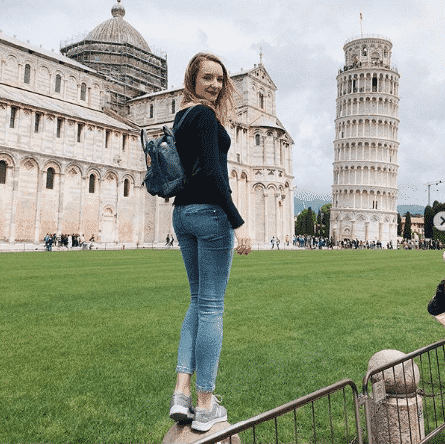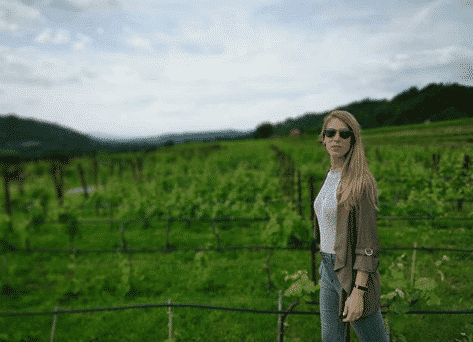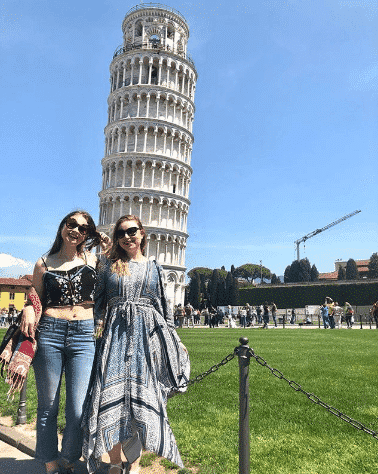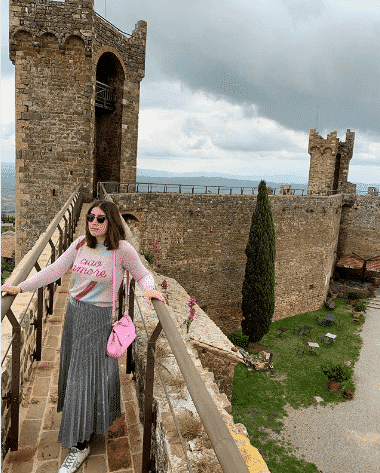 ↓ 11 – Outfit For Venice Boat Ride
For most visitors or tourists, the boat ride in Venice is one of the highlights of their trips. It's such a peaceful and romantic experience, and of course, it's where you get the best pictures of your journey. So obviously you need to wear something that will look good in that background. We highly recommend going for something flowery and flowy, like a floral maxi dress. If you're not a fan of floral prints, go for a solid colored dress instead but make sure that you choose a bright color like red or orange because you want to stand out in the water and not blend in with the background.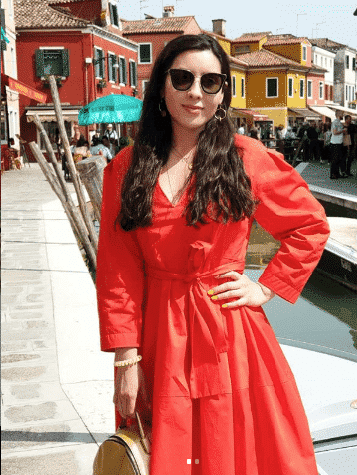 ↓ 10 – Perfect Outfit for Summers
Summer is that much coveted time where Italy's ladies bust out the heels, so make sure you have at least one sturdy but fashionable pair to bring along with you. We love these open-toed booties that would match well with nearly any outfit.
Start with a boldly striped tank and tuck into a brightly colored pair of shorts. Don't forget accessories. Oversized earrings like these flower cutouts will draw the eye to your face. This is a great look for going out to lunch or grabbing some gelato!
Pro Tip: Bring pieces that you can mix-and-match and make multiple outfits with. Remember, you want to optimize your luggage space. These three pieces can be worn in a variety of ways, which should be your goal for everything you pack.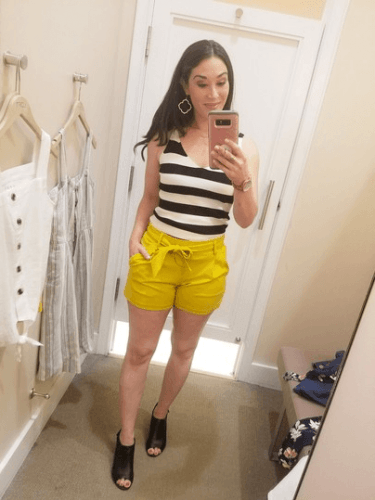 SHOP THIS LOOK FOR UNDER $100
LOFT Stripe Ribbed Sweater Cami $44.50
LOFT Knit Tie Waist Shorts $49.50
↓ 9 – What to Wear in Italy to NOT Look Like a Tourist
Everybody wants to look like they fit in, especially when traveling to a new place. The truth is, you probably will stick out a little – and hey, that's okay. However, there are a few things to keep in mind if you want to avoid looking like a massive tourist:
Opt for fitted, tailored clothing whenever possible. Italians are big on tailoring.
As previously mentioned, tuck your shirt into your trousers. It's a thing.
Avoid flip-flops and Converse. Opt for flat sneakers, loafers, or a similar stylish walking shoe.
Don't wear too-short shorts.
Say no to yoga pants, crop tops, and fanny packs. Those will stick out like a sore thumb.
For this outfit, tuck a vertically striped cap sleeve top into a pair of white wide-legged pants. Throw on a matching pair of loafers and let your hair loose. It's a simple, well-fitting look that will have you totally fitting in!
Bonus: Peep the stylish guy look for your significant other!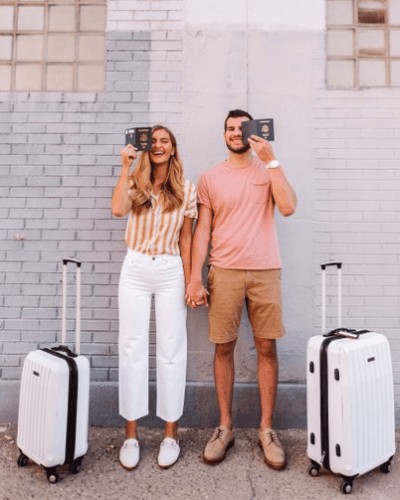 SHOP THIS LOOK FOR UNDER $415
Nordstrom We the Free by Free the People Patti Crop Cotton Pants $46.80
Two24 by Ariat Jubilee Loafers $227.95
Shopbop Cap Sleeve Tie Front Top $139
↓ 8 – Dinner Attire
For a European-inspired look, check out this gorgeous ensemble. Knot a satin, cream-colored top at your waist and pair with some white corduroy pants. Roll your sleeves to your elbows and tie your hair at the nape of your neck. This is a lovely evening look for when you are heading out to dinner or taking a boat ride through the canals of Venice.
Pro Tip: When accessorizing, you can't go wrong with Aviator Ray-Bans (apparently you can buy them on any street corner in Italy for super cheap so take advantage!) and a scarf.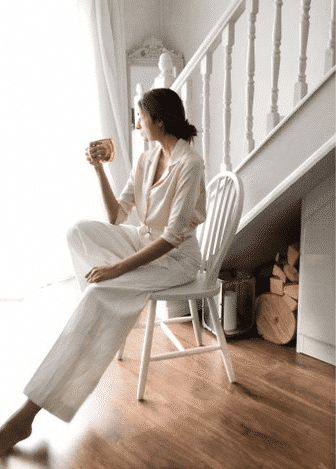 Via
SHOP THE LOOK FOR UNDER £70
H&M Wide Corduroy Trousers £39.99
ASOS Design Relaxed Satin Long Sleeve Shirt £28.00
↓ 7 – Beautiful Summer Evening Look
A trip to Italy would not be complete without bringing at least one or two dresses in your suitcase. And this lovely red dress is perfect for any occasion, especially when going out in the evening. This dress works well for summer or spring and can be worn with a hat and sunglasses for optimum style.
Pro Tip: To be allowed in a church or cathedral, your shoulders must be covered. So keep a scarf in your purse so that you are always prepared! Also keep in mind that if you are wearing a skirt or dress, the hem must fall to the knee or below it and you can't wear shorts. Otherwise, you can wear jeans or long trousers.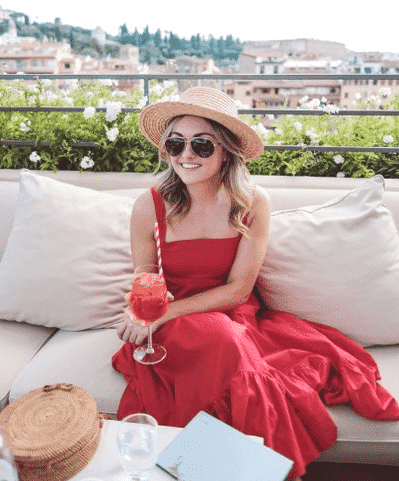 SHOP THIS LOOK FOR UNDER $680
STAUD Penny Cotton-Blend Poplin Midi Dress $230
Nordstrom Straw Boater Hat $49
↓ 6 – The Right Outfit To Explore Italy
While we recommend slightly more durable footwear when pounding those Italian streets, we cannot get over how cute this look is! Jumpsuits are stylish and versatile and can be worn so many different ways for just as many occasions! For this look, pair a well-fitting jumpsuit with a hat and simple accessories. This is an excellent ensemble for warmer days.
Pro Tip: A neutral-colored jumpsuit can replace one of the dresses in your capsule wardrobe and can be dressed up or down according to the occasion. Remember to pop a scarf or light cardigan over your shoulders when visiting a cathedral or church. (And yes, that includes the Vatican!)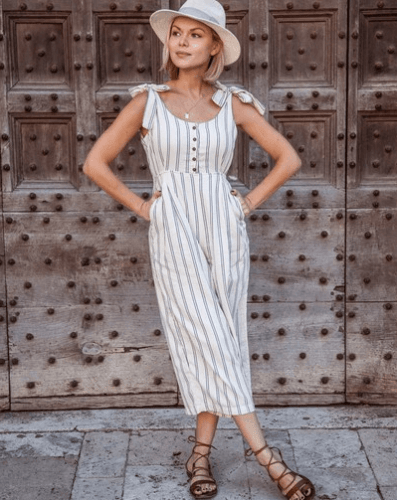 SHOP THE LOOK FOR UNDER $105
↓ 5 – Italy During the Fall
With fall comes slightly cooler weather so if you are traveling during the later months of the year, this is the perfect opportunity for you to bust out the sweater, long-sleeved top or blouse. This look is light and airy, well-fitted and perfect for a lunch out dining on Italian fare. This look also works for touring different spots.
We love this pale blue bell-sleeved blouse paired with white jeans folded at the hem. (Bare ankles are a thing, you watch and see!) Accessorize with a paisley scarf and stud earrings. Opt for some street-chic boots like this neutral colored pair.
Pro Tip: Make sure your scarf matches the rest of your wardrobe, capsule, or no. That way you can pair it with more than one outfit!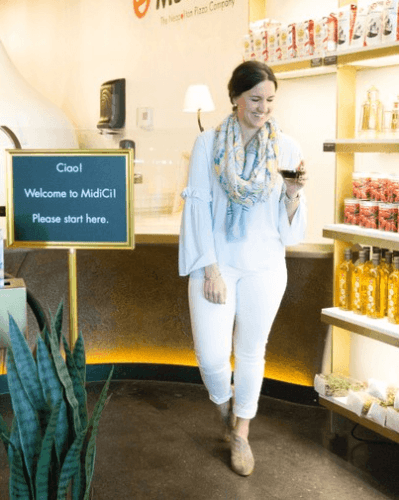 SHOP THE LOOK FOR UNDER $260
Loft Ruffle Bell Sleeve Blouse $29.88
Old Navy Mid-Rise Skinny Jeans $30
Loft Coastal Paisley Scarf $19.99
Nordstrom Petty Chelsea Boot $99.95
Nordstrom Swarovski Crystal Pearl Logo Stud Earrings $78
↓ 4 – Simple and Classic Outfit to Wear For Sightseeing in Italy
You might want to consider packing a pair of skinny white jeans as they feature in so many of these outfits. Remember it's about the fit, so whether you are a size 2 or a size 12, choose jeans that flatter your body type and shape.
Here is another outfit where a light-colored or neutral top is paired with a white pant leg and a simple but classy shoe. Great for dinner or a gondola ride!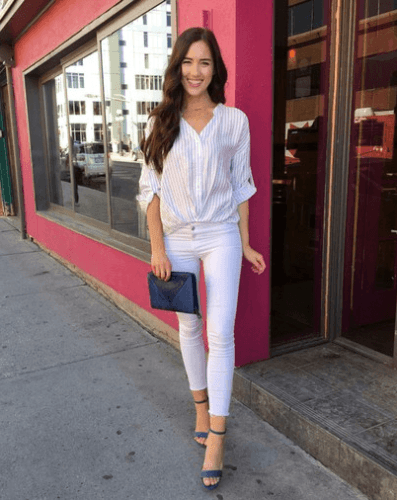 SHOP THIS LOOK FOR UNDER $450
Nordstrom 10-Inch Button High Waist Crop Skinny Jeans
SHEIN Rolled Up Sleeve Striped Dip Hem Blouse $18
Nordstrom Yaro Ankle Strap Sandal $99.95
Nordstrom Robinson Leather Wallet on a Chain $298
Delicate Layered Necklace $17.57
↓ 3 – What to Wear in Italy During Spring
We can't imagine a better outfit for exploring the side roads and hillsides of Italy during spring than this look here! Extra points for the comfortable but stylish footwear, as well as the cinched waist on this striped, 3-quarter length sleeve dress. This is a classic, effortlessly styled look that can work for just about any occasion.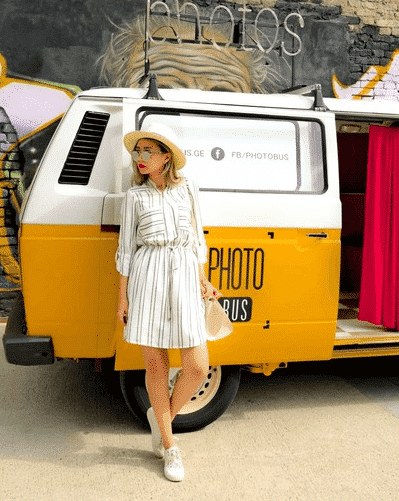 Nordstrom Gondolier Boater Hat $375
↓ 2 – What to Wear in Italy in Winter
Depending on where you are visiting will determine how warmly you need to dress. As with most places in winter, the farther north you go, the colder it will be. So make sure you bring along a well-fitting coat and at least one classically cut jacket.
We love the layers of this ensemble and hope you will too! You may find that most Italians pile on the layers right around the October mark. For this look, start with black or opaque tights and top with a lacy dress, cinched with a belt. Layer with a black leather jacket and black heels. This is an excellent ensemble for traveling in the southern cities where winters are milder.
Pro Tip: Check the weather before traveling and pack accordingly. Also, keep an umbrella handy at all times! A travel-size one will fit in your purse or day-pack and serve you well in case you get caught in a downpour.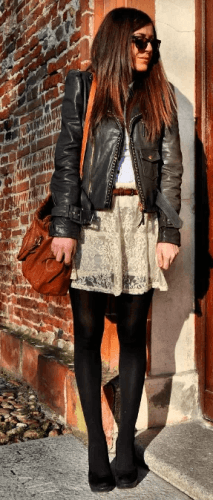 ↓ 1 – Classy, Elegant Outfit
Our last outfit is one that you could wear for just about any occasion where you want to look elegant and stylish. Plus, these are all items that can be worn over and over again when paired with other articles in your capsule wardrobe!
Start with your staple pair of jeans – these are Mom jeans done right with a high-waist and a straight cut. Pair with a tucked in floral-printed blouse and covered up with a long satin cardigan. Pop on a pair of heels and accessorize with sunglasses.
Pro Tip: Ultimately, you want to enjoy your Italian experience. So pack clothing you love and will feel comfortable in. After all, that's all that matters.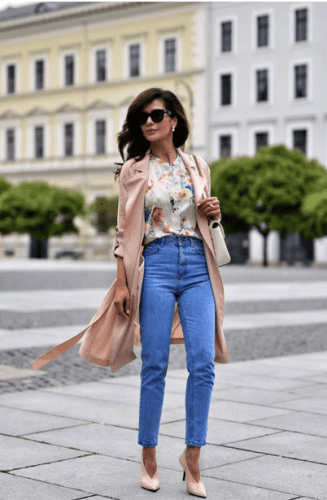 SHOP THIS LOOK FOR UNDER 105 €
ASOS Neon Rose Satin Cardigan 70,99 €