Boyfriend shirt outfits. The "Boyfriend Shirt" is a staple in any gal's wardrobe, in our humble opinion. Perfect for those days when you want to look young, breezy, and carefree, this much-underrated garment is great in a cinch and can be worn in various ways.
If the concept of the boyfriend shirt elicits a confused reaction on your part – "do I have to have a boyfriend to steal his clothing from?!" – rest assured! This look is for the single girl as much as the committed girl, and where you get your shirt is up to you! Whether you actually steal a shirt from your boyfriend or you thrift it at your local thrift shop or you opt for a brand-name piece, the options are limitless and hold endless potential.
Also see : 16 Ways Style Boyfriend Shorts
Think of the boyfriend shirt as a fun clothing item that can be mixed, matched, and paired with any number of stylish pieces. It also works for many different types of occasions.
Recommended : 25 Ways to Style Boyfriend Jeans
How To Wear Boyfriend Shirts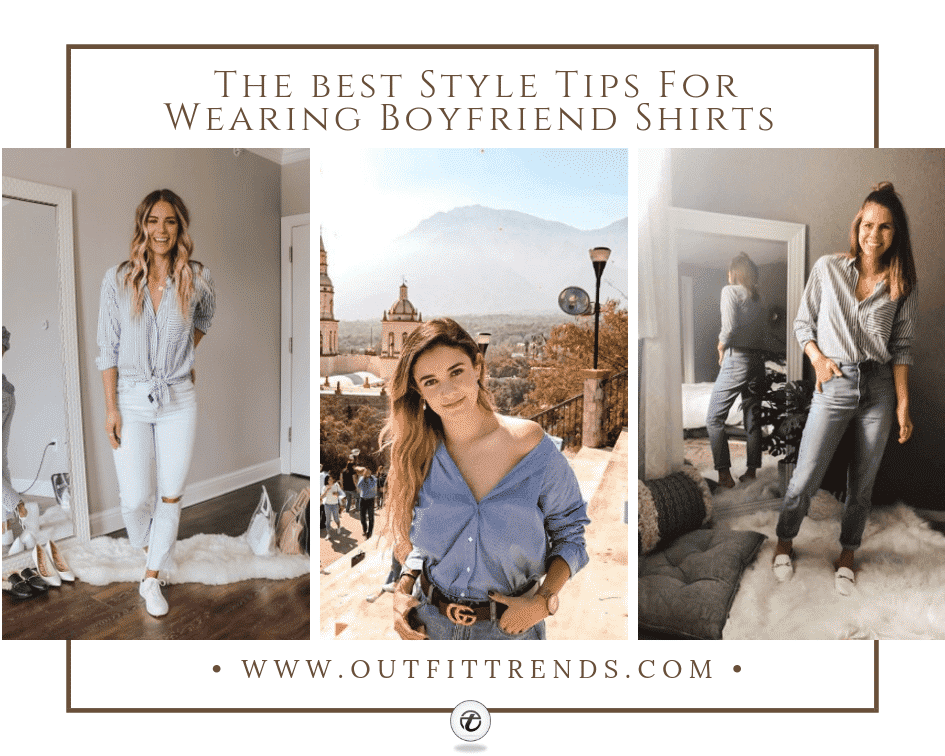 ↓ #21. Use It For Layering
The easiest and most convenient way to wear these shirts is definitely by using them as a layering piece.
How to style: Simply put it on over a printed or striped tee. You can choose to leave the buttons open, or close them and tuck in part of the shirt. Looks great either way but this outfit would be more appropriate for Spring or Fall time. Here are 27 Ways to Layer Your Clothes like Pro.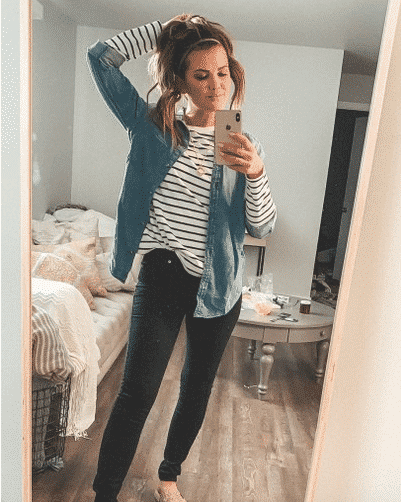 SHOP THE LOOK IN UNDER $ 200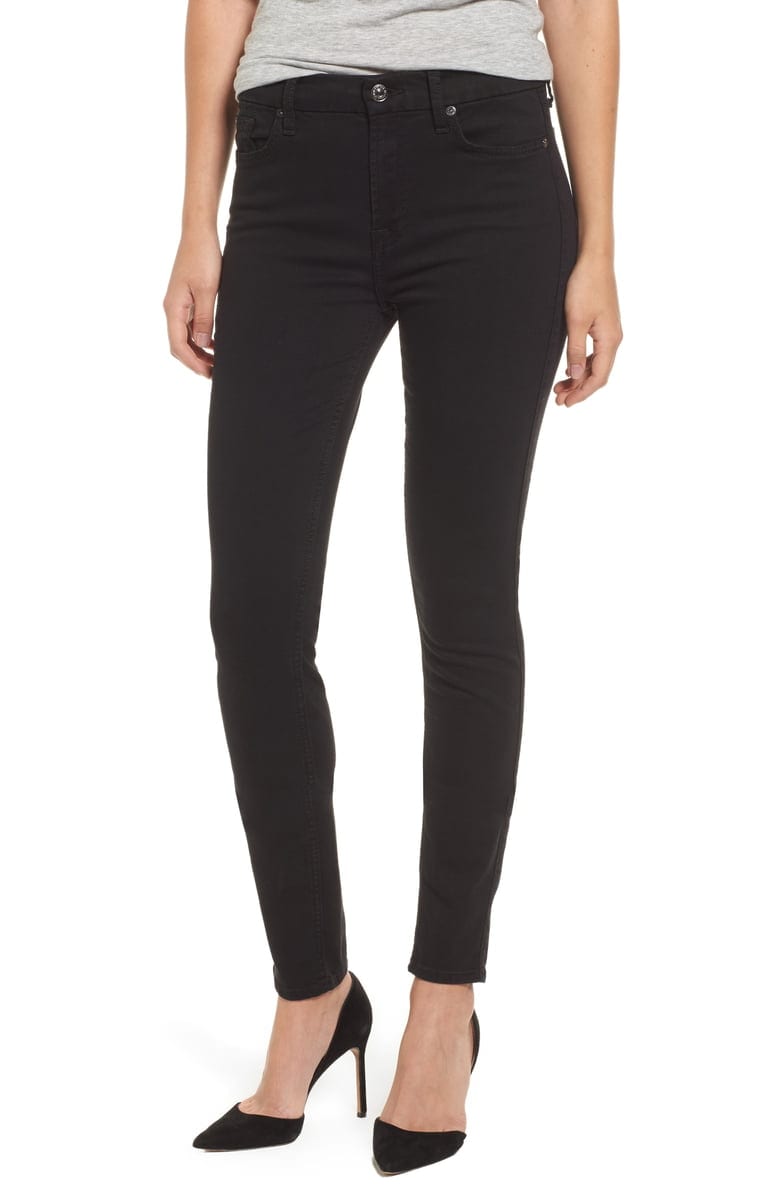 b(air) High Waist Skinny Jeans 7 FOR ALL MANKIND® $169.00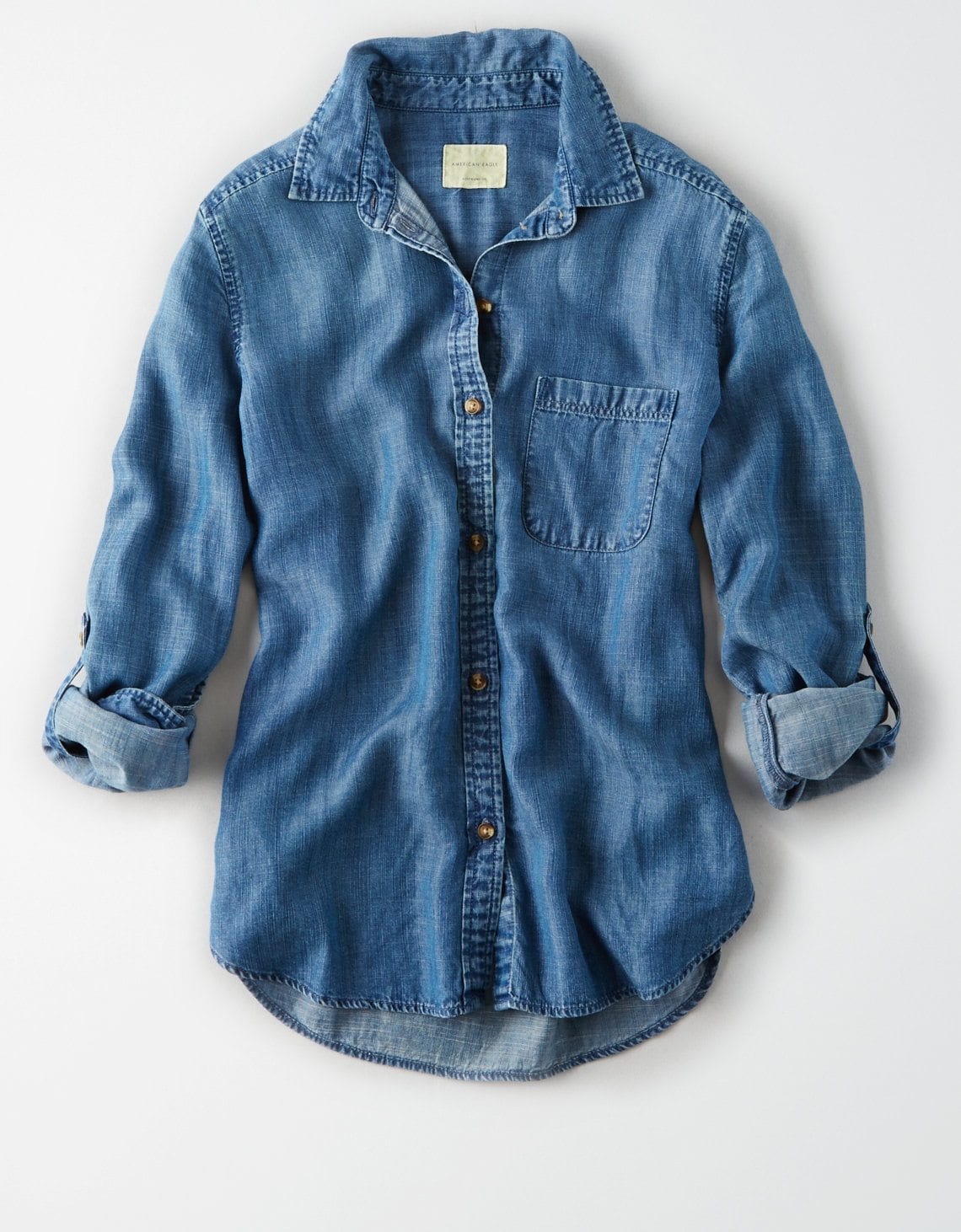 AE AHH-MAZINGLY SOFT BOYFRIEND BUTTON UP SHIRT REGULAR PRICE $44.95 SALE PRICE $39.99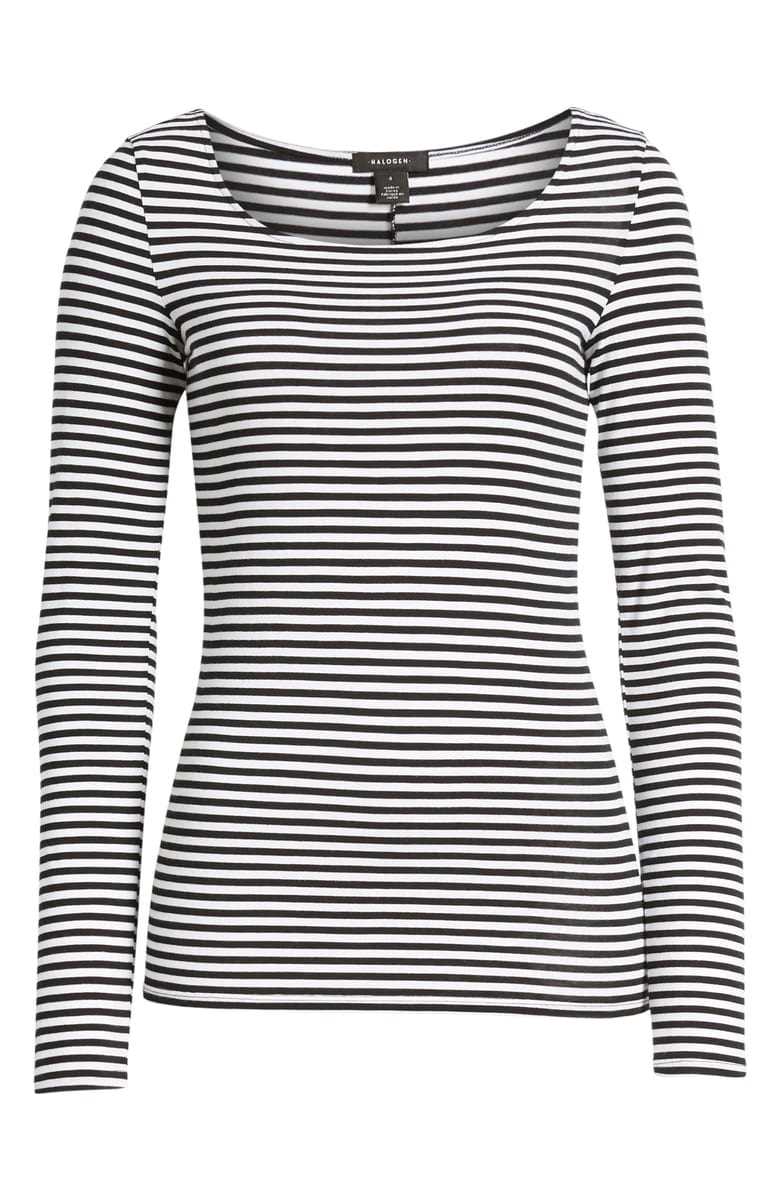 Ballet Neck Tee HALOGEN® Regular & Petite Original Price $39.00 Price $23.40
↓ #20. Wear it as a dress
Did you know a dress shirt could look this chic? Well, we did and now you do, too. This look is perfect for a day out exploring your favorite city (note the gorgeous sneakers which are both stylish and practical for walking) or evening dinner at the beach.
How to style: Let this white dress shirt do the talking as the centerpiece of this deceptively casual look. You don't need to worry about pants: it's just long enough to get away going without. However, you might want to throw on a pair of little shorts underneath – especially if it's a breezy day! Pair with the sunglasses of your choice and a clavicle necklace.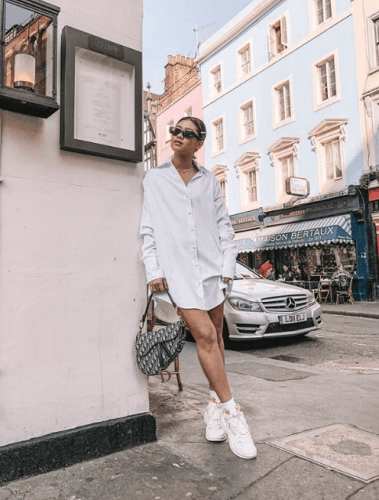 ↓ #19. Wear it with denim jeans
One of the greatest perks to the boyfriend shirt is how easily it bridges the gap between chic and casual. If you're a jean-loving gal, then hold onto your hat, we've got the perfect look for you.
How to style: This crisp white boyfriend shirt is worn over boot-legged jeans. To keep your outfit from looking frumpy, pull up your hair in a chic top-knot and throw on some silver earrings. Grab a statement bag. For footwear, opt for booties or sandals.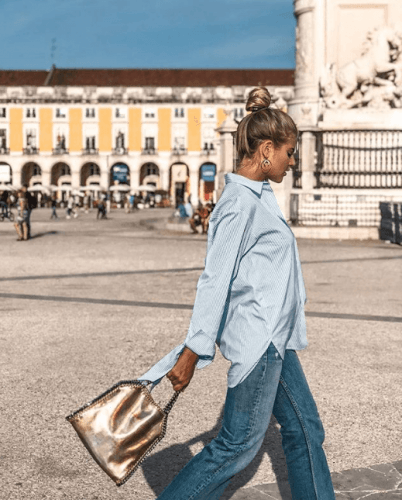 ↓ #18. Wear with rolled-up sleeves and open collar
Since this shirt works so well with denim, we've made sure to have a few options to choose from. This is another jean-loving look and it works well for a day running errands or for grabbing brunch at your favorite deli.
How to style: This pin-striped baby blue boyfriend shirt is worn over jeans and paired with a half-up, half-down curly 'do. Keep that top button undone and roll up your shirt-sleeves for breezy, unconsciously casual look. Wear with flats and minimal makeup.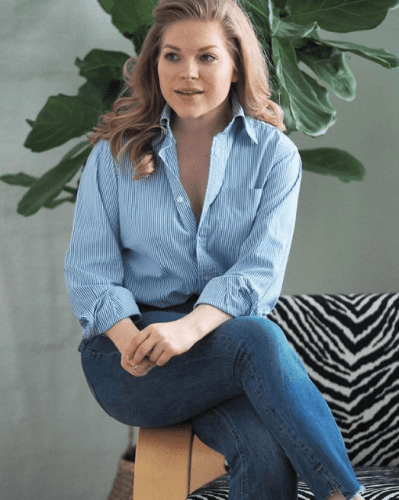 Via
↓ #17. Wear it sheer, slim, and fitted
This boyfriend shirt is boyfriend-sourced in name only. Sheer, slim, and fitted, you can pick up this top up at H&M. (In the girl's section, in case anyone was wondering.)
How to style: Push your sleeves up and tuck the front of the shirt in the top of your skinny jeans. Let your hair down and wear with the sneakers of your choice. This look is great for a day at the mall shopping or a cute weekend look for hitting the town.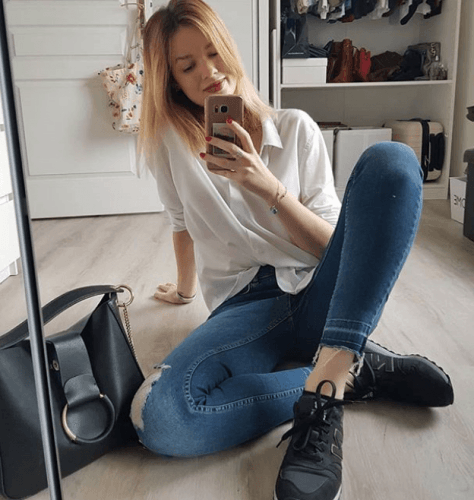 ↓ #16. Wear it closed-collared and open over the midriff
For the more adventurous gal, this look is all about making a statement. Nothing casual to see here.
How to style: For most boyfriend-shirt styled looks, you'll see that the collar is worn open. With this look, keep your top buttons done up and let your shirt hang open over your midriff, showing off your mid-rise white jeans and silver-buckled belt. This look works great with boots or heels. Your handbag does not have to be Gucci, but hey, if you can swing it, why not? Chopped hair and minimal jewelry are the only other additions to this look you'll need.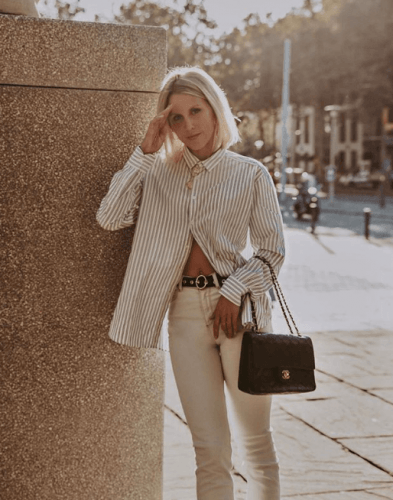 ↓ #15. Wear it fashionably rumpled
This is the perfect date night look! Stylish but comfy, you'll feel cute and put together in heels and oversize statement earrings, but comfortable with this loose but well-fitting top. Now this one you'll definitely be stealing from your guy's closet. Don't worry, we don't think he will mind!
How to style: For this look, you will only need to keep a couple of buttons done up to keep the shirt closed. (It is your call whether you want to wear a shirt underneath. Feel free to opt for a bandeau or tank – whatever makes you comfortable!) Roll up or push up your sleeves to your elbows and tuck one side of the front of your shirt into your jeans. Next, add a pair of big ol' statement earrings. These geometric patterned ones are perfect for creating some lines and structure for your upper half. To keep the look from becoming frumpy, wear your hair down and sleek and opt for well-fitting skinny jeans. Pointy heeled white shoes and a Louis Vuitton handbag perfectly balance style and comfort.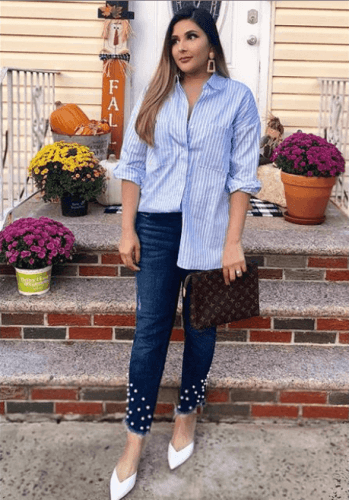 ↓ #14. Wear tied at the waist with shorts
For a slightly different take on the classic boyfriend shirt, this tee is so fun, fresh, and cute! This summer outfit is the perfect look for a sports day or a day tourist-spot hopping.
How to style: This tee is best worn over a bralette or bandeau of some kind. Leave top buttons undone and tie the front ends of the shirt at your waist. Next, opt for a pair of faded, high-waist jean cut-offs and the white sneaker of your choice. (Converse, Keds, Vans, etc.) Statement sunglasses and baby pink, very feminine cross-body purse keeps the otherwise tomboyish look chic and cute.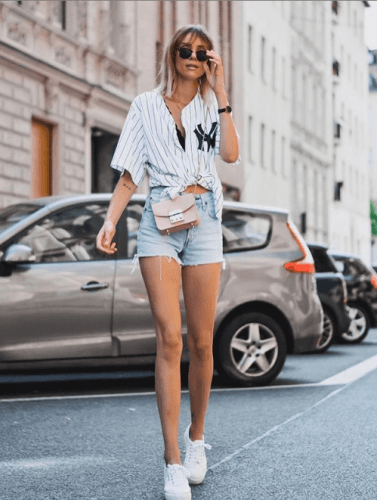 ↓ #13. Wear it with cut-off jeans and girly flats
This is a New York gal outfit if there ever was one. This is a great look for a dinner in with your girlfriends or a night out, perhaps wine-tasting or visiting your favorite bookstore and cafe!
How to style: Grab your favorite white boyfriend shirt. This look works best with a slightly baggy top. Roll up your sleeves above your elbows and leave the very top buttons of your shirt undone. Wear with your favorite pair of cut-off jeans. To keep the look fresh and chic, opt for a pair of girly flats like this salmon pink pair. Tie your hair in a low bun and opt for a natural makeup look. Voila!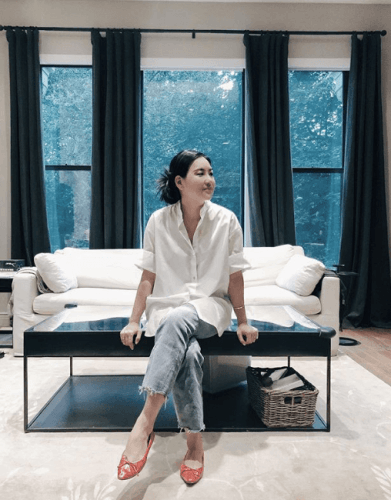 ↓ #12. Wear it with Bermuda shorts and flashy earrings
There is so much to love about this outfit, where do we even start?! This is an endlessly versatile look that works for almost any occasion. You can dress it up or down according to your needs, but we dare you to try this look for your next get-together with girlfriends, lunch out with your guy, or a day cruising around your favorite city.
How to style: Pop that collar and push up your sleeves for a throwback twist on this otherwise familiar boyfriend shirt. With this look, grab your favorite pair of Bermuda shorts. (And hey, if you don't have a pair, why not make a pair? All you have to do is cut an old pair of jeans at the knee. How easy is that?!) For accessories, a couple of wristbands and a big, ol' pair of flashy earrings make this ensemble doubly chic. Alternatively, you could also wear this outfit with bike shorts since they're super trendy this year.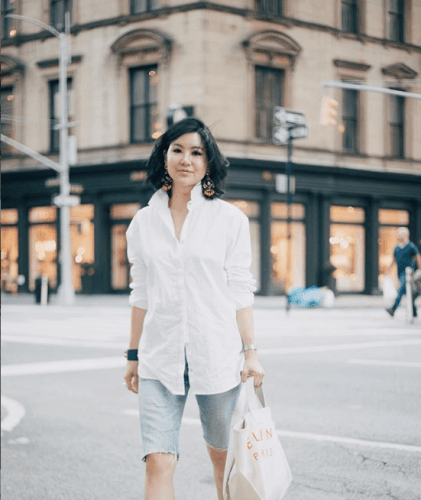 ↓ #11. Wear one as a dress and tie another one on top!
For the girl that just can't get enough of the boyfriend shirt, this look is for you!
How to style: Choose a boyfriend shirt long enough to be worn as a dress and (you know the drill) pop that collar and roll up your sleeves! For added fun, tie another boyfriend shirt around your waist. (Hey, why not?) You won't need many accessories with this look. Throw on a baseball cap, grab your favorite tote bag, and slip on your favorite Adidas sneaks.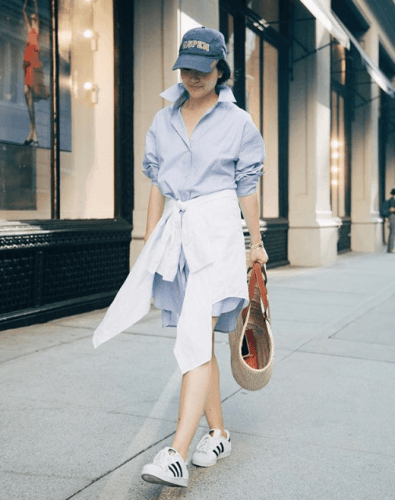 ↓ #10. Wear a boyfriend-shirt-styled top with white pants
This top borrows loosely from the boyfriend shirt style, but with a much more structured air. For this look, you can be as creative as you want. It's great for a day out shopping or for dinner with your best girlfriends!
How to style: Tie it at the waist or tuck your top into your pants. Pair with oversize hoop earrings, white pants, and loose curls. Don't miss out these 23 Chic Ways to Style White Jeans.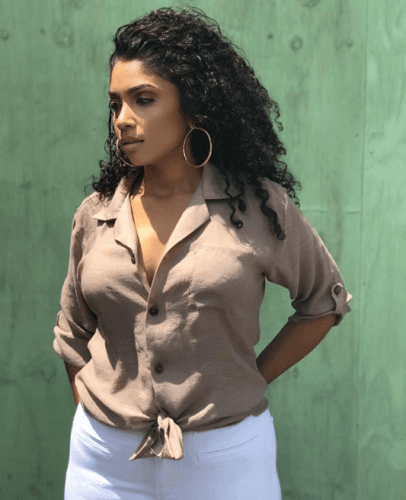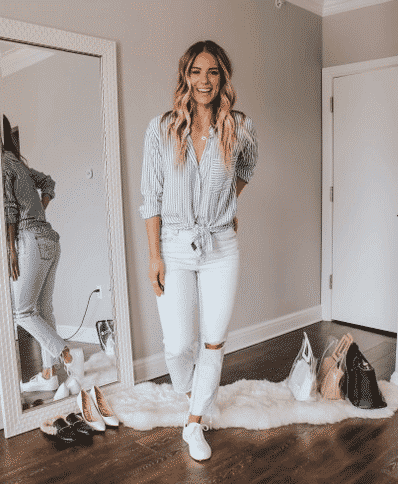 SHOP THE LOOK IN UNDER $ 130: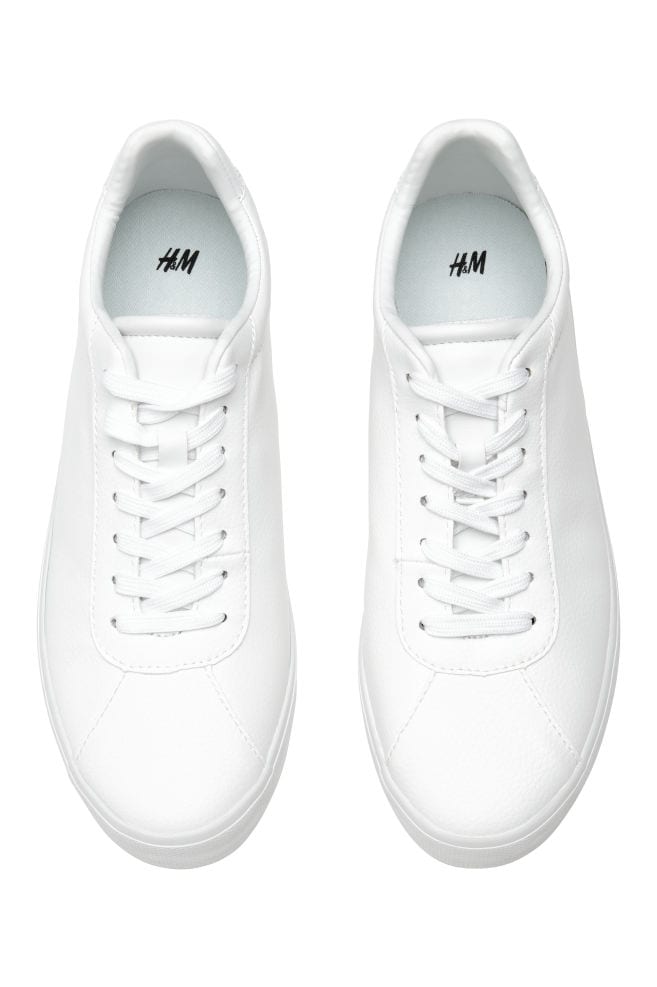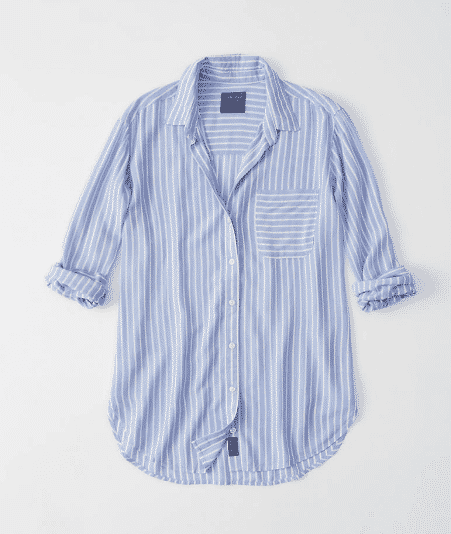 Slim Boyfriend Shirt $58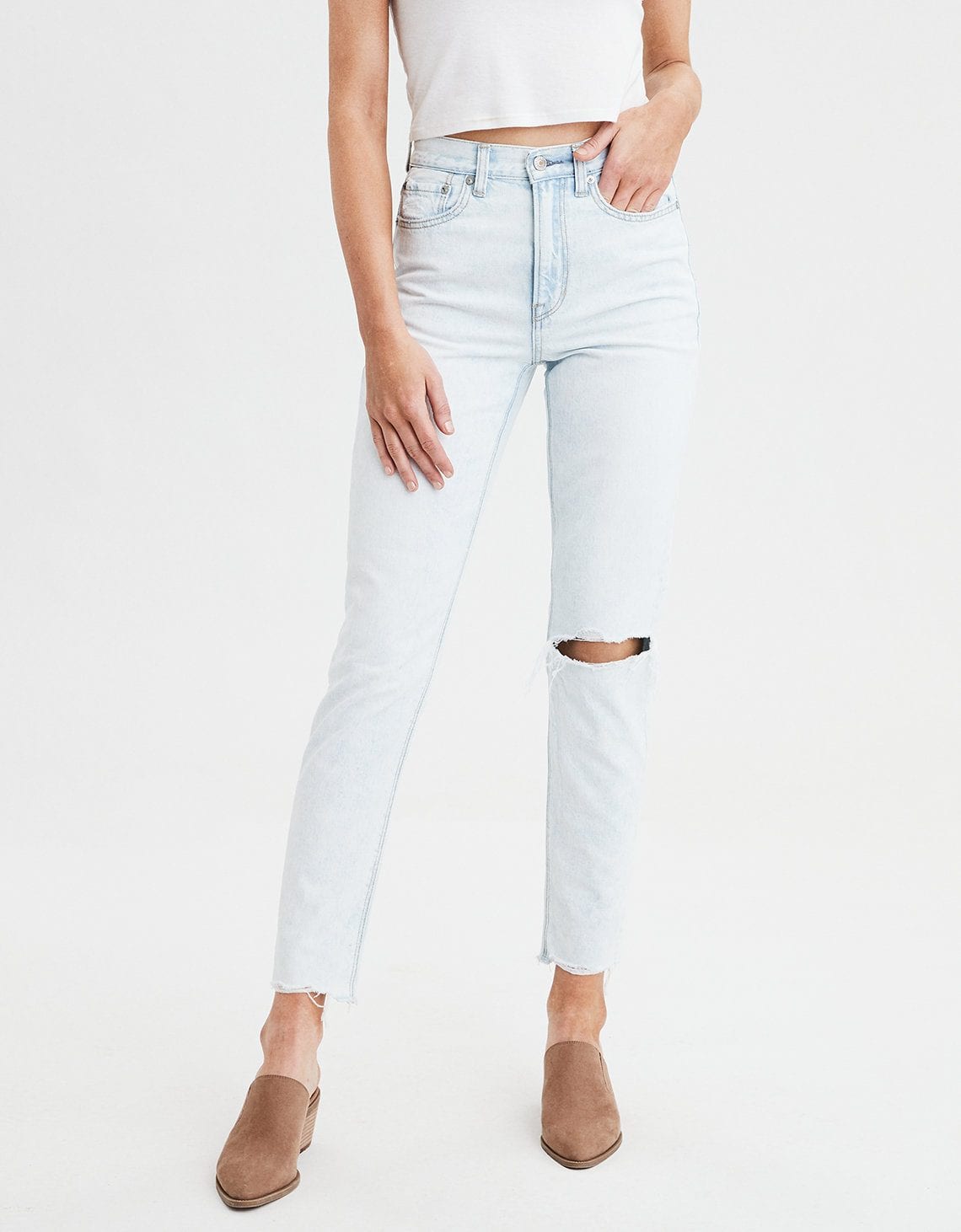 MOM JEAN REGULAR PRICE $49.95  SALE PRICE $37.46
↓ #9. Wear it open over your favorite beach dress
We can't think of a better beach look than this one right here. After a long day swimming or suntanning, the last thing you want is to put on a heavy sweater or an itchy shirt. For the perfect evening beach walk outfit, try this one on for size!
How to style: Throw on your favorite beach dress or little black dress and top it off with your boyfriend/brother/father/guy friend's dress shirt! The fabric is light and airy and when styled with a cute hair kerchief and some sandals, you'll be ready for a long walk down the beach or dinner out on the pier!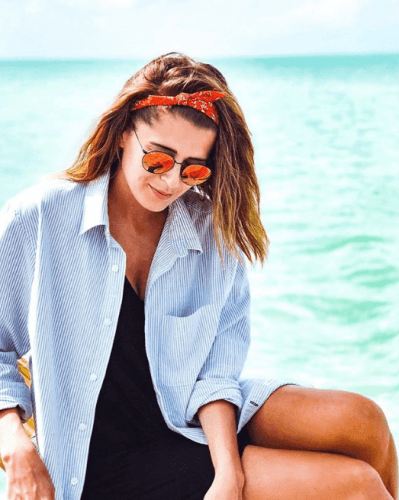 Via
↓ #8. Wear it tied over your bathing suit
The boyfriend shirt just may be the most versatile piece in your wardrobe. There! We said it. For a stylish beach look to keep you cute and covered up, check out the look below.
How to style: Tie a white boyfriend shirt at your waist. Wear bathing suit underneath. Voila! Here the boyfriend shirt serves as the perfect bathing suit cover-up as well as outfit piece. Throw on some earrings and your favorite sunglasses. Great for the beach or a day at the pool.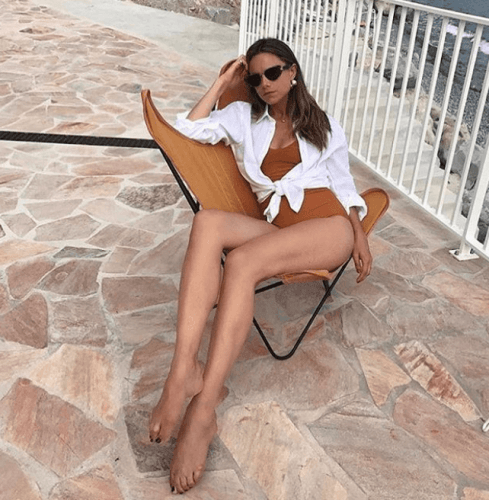 ↓ #7. Wear it cinched at waist over black jeans
From beach outfits to chic fashionista-approved looks, we really can't stop raving about the versatility of the boyfriend shirt. Here's another glamorous example.
How to style: Opt for a slightly oversize white boyfriend shirt and cinch at the waist with the skinny belt of your choosing. Wear over ripped black jeans. We recommend open-toed boots or flats for your footwear. Here are 23 Ideas to wear Black Denim Pants.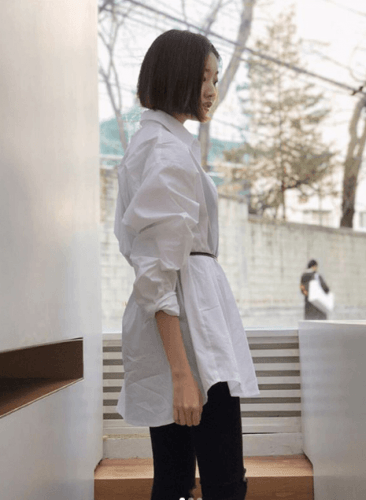 ↓ #6. Wear it tucked in
Give this look a spin for a fun twist on your typical work function look. Great for work, a business lunch, or a charity function.
How to style: Choose a light-colored boyfriend shirt, only slightly oversize, and tuck into your favorite business skirt or jeans. This one features a waist-highlighting band that accentuates the figure and creates the structure for your slightly baggy top. Opt for heels or sandals, depending on the event, and have fun with the bag of your choice. This creamy bag and sunglasses are the only accessories you will need!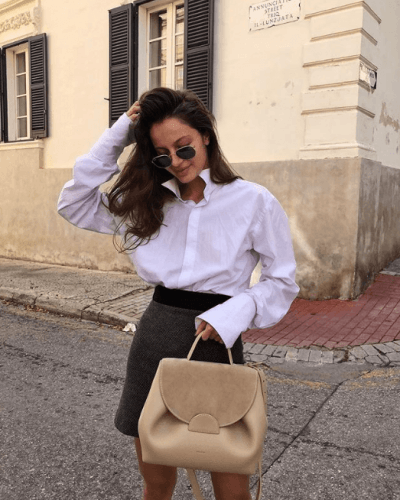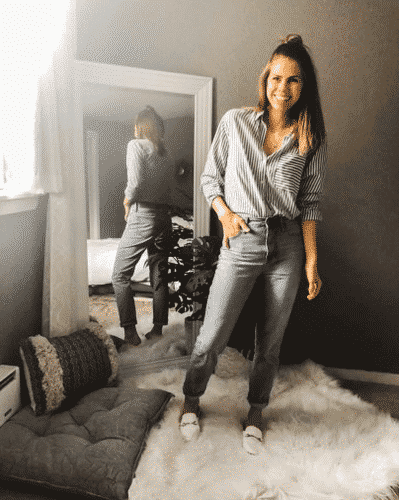 SHOP THE LOOK IN UNDER $ 580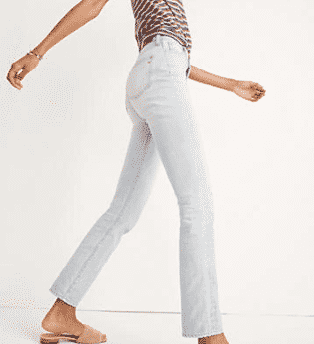 The Perfect Vintage Jean in Fitzgerald Wash $ 98.00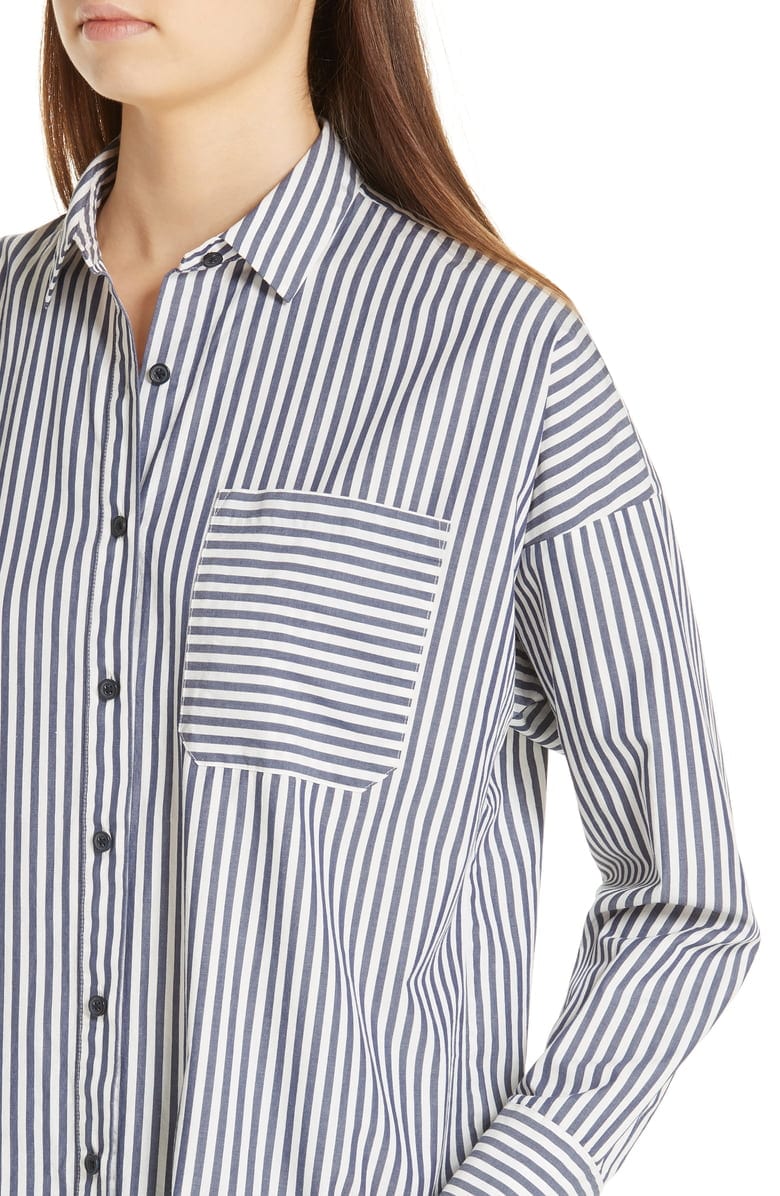 Railroad Stripe Boyfriend Shirt ATM ANTHONY THOMAS MELILLO $295.00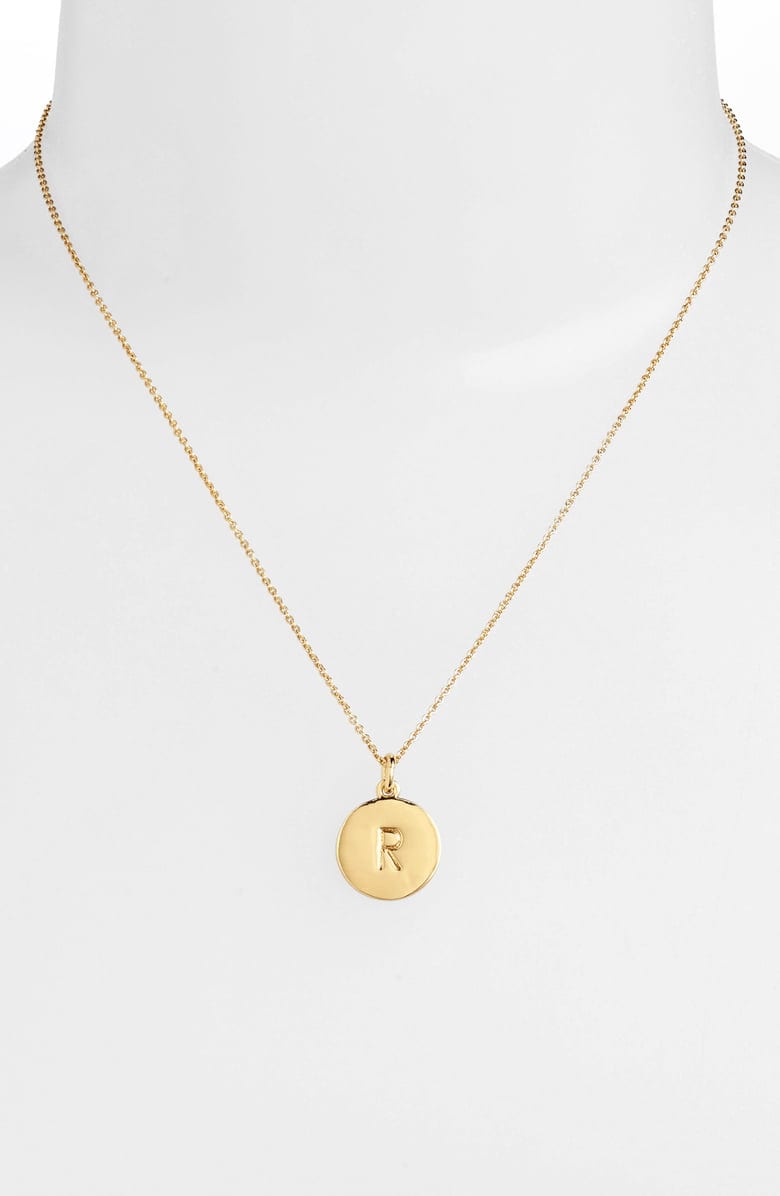 one in a million initial pendant necklace KATE SPADE NEW YORK $58.00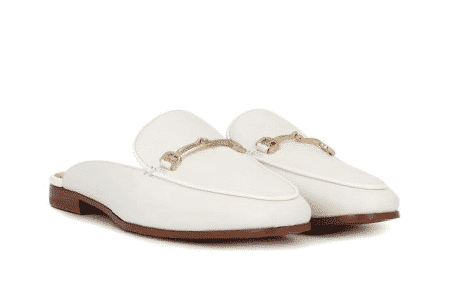 Linnie Bit Mule USD 120.00
↓ #5. Wear it tucked into white high-water pants
This outfit is perfect for so many different occasions. Honestly, take your pick. Whether you're strolling Paris streets this spring or simply grabbing lunch with your girlfriend, this look will have you covered.
How to style: For a spring fresh look, opt for a lavender colored boyfriend shirt and tuck into a pair of white high-water pants. Belt at the waist and leave that top button undone. Slip on your TOMs, sneakers, or walking shoes, and a neutral colored purse. And there you have it! Paris (or lunch) ready.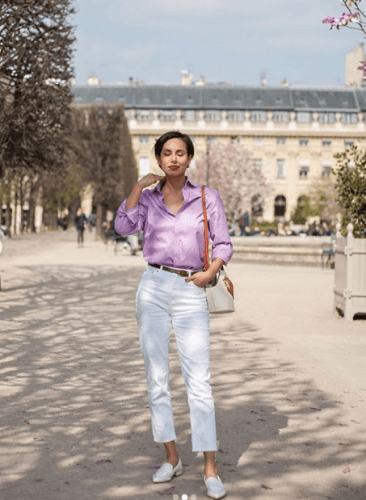 ↓ #4. Wear it belted at the waist for a cute dress look
As we hope you have realized by now, the boyfriend shirt comes in many shapes and sizes and has endless outfit potential. Here is another dress look perfect for a beach party.
How to style: This boldly striped blue and white shirt is belted at the waist with slightly rolled sleeves. It looks great with some matching high heels and sunglasses.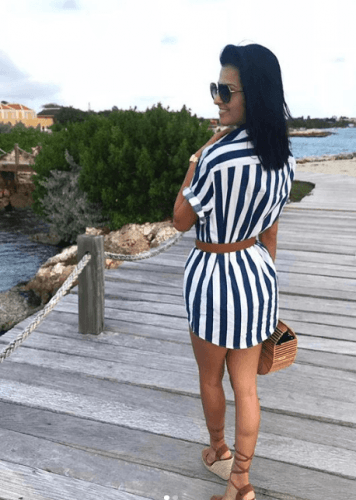 Via
↓ #3. Wear long over leggings with heels
Now, who wouldn't love to wear some leggings and heels and call it a day? This look covers all the corners and bridges three different styles that maybe you would not normally put together. But we do love our versatility. By this point, we hope you do, too!
How to style: Throw on your favorite pair of leggings (or skinny jeans!) and top it off with this long white boyfriend shirt. Roll up them sleeves but keep your buttons done up. Opt for heels and a small tote purse with sunglasses for your accessories.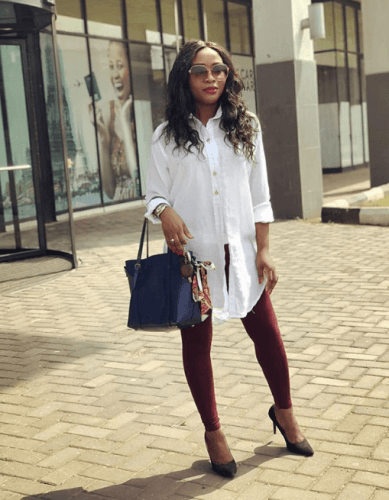 ↓ #2. Wear it oversized and tucked into a mini skirt
We love this look for a concert or night at the movies. You'll love it for walking the town as well.
How to style: Tuck into the black mini skirt of your choice. For a pop of color, opt for some flats like these orange-red sandals. For accessories, you will want a couple of bracelets, a watch, some silver rings, and sunglasses.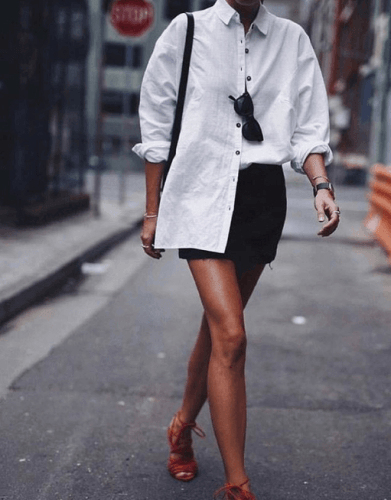 ↓ #1. Wear it over wide-flared pants
We see a lot of white when it comes to the boyfriend shirt, so for our last featured look we deliberately mixed it up with this pretty little blue number. Feel free to copy, we won't mind.
How to style: Opt for a smaller boyfriend shirt as this outfit is really about the fit. Wear it unbuttoned over a bodysuit or bandeau. Knot at the waist, pop the color, and roll up your sleeves. You will be pairing this top with some white, high-waist flared pants and flats. This look is great for dinner out or for a garden party!