Vintage Makeup Ideas: While we constantly look forward to crazy, chic new trends in the fashion and beauty world, it is always a fun idea to look back into the archives of the beauty world for some added inspiration. With a lot of major trends making a comeback in recent years, especially those from the 90s and the early 2000s, there is no doubt that makeup trends from the earlier decades hold some magic to them and are slowly, in renewed forms making a comeback in the present day too.
With influencers and many beauty content creators trying a wide array of vintage makeup ideas, trends, tips, and tricks, quite a few vintage makeup styles have gained a lot of traction in the last few years, some of which have even gone viral! These definitely are worth a shot, if you are looking to change up the way you wear your makeup or if you would like to add a special element to your regular makeup routine.
So without further ado, let's dive right into this fun list of makeup ideas and styles that you definitely need to try at least once, either just for fun, for a night out, or for a themed party!
How to do Vintage Makeup?
Honestly, makeup is one of the most creative forms of self-expression, creativity, personality, and more. Whether you are a professional, a beginner, or you enjoy doing makeup just for fun, it allows you to freely express yourself and can be quite therapeutic too! Here at Outfit Trends, we have put together this fun list for the pleasure of our readers and definitely together some super cool inspiration for your next look!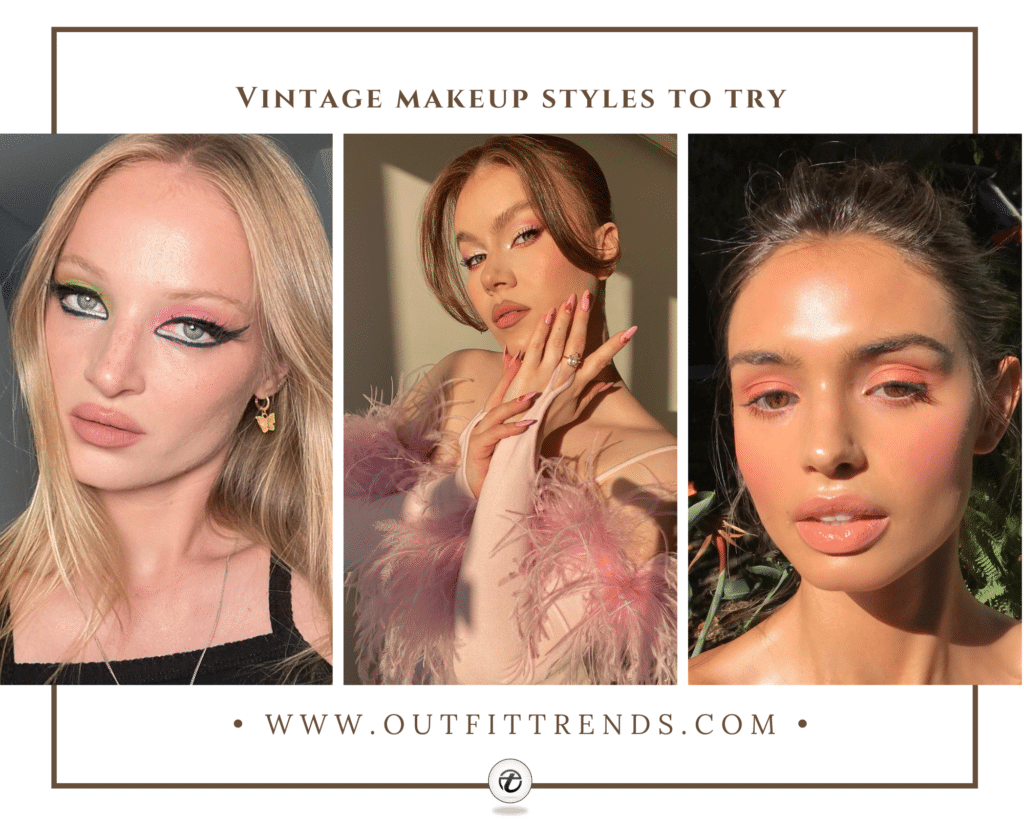 We are going way back in time and picking out some of the trendiest looks in those eras which have made a huge comeback in today's beauty world. From pencil brows to the iconic orange-red lipstick, this list is definitely worth a pleasure read and can maybe even fuel some ideas for your next look!
Above all, we would like you all to remember, makeup is an expressive art, and embracing your natural beauty too is a form of self-expression. While we embrace our natural beauty, makeup can form a gateway for many to create their own little worlds centered around styles and ideas from various eras, a glimpse of which we are here to show through this list of trending looks dating back to the 30s!
Tips To Remember
There are endless styles of makeup to try from. Always wear what you and your skin are comfortable in.
Ensure you are cleaning your makeup tools like brushes and makeup sponges to avoid bacteria collection which could ultimately lead to breakouts.
Against popular belief, you don't have to purchase very expensive makeup products. There are multiple drugstore options for that same which do just as good a job.
Makeup is a fun and creative process. So always remember to enjoy it!
14 – Blush Contouring
A contoured and sculpted face is a fan favorite in the present day. With a sculpted-looking face, people previously shied away from using a lot of blush in their makeup routine as the purpose of blush is to make your cheeks look fuller and plumper. But back in the 30s, women loved their blush, so much so, they used it to contour and add color back to their faces using gorgeous hues of pinks, and oranges and define their features.
So it's safe to say, contouring wasn't invented by the Kardashians! In the present day, artists are using the blush contouring technique to create monochrome, dainty, natural, flushed looks!
via
13 – Overdrawn Lips
Before the world was exposed to the possibilities of injectables and beauty enhancers, old Hollywood starlets were creating all the rage with overdrawn lips to give the illusion of bigger and fuller lips. Because of this super easy invention by the old Hollywood beauties, this vintage makeup hack is all the rage now and has been in the years prior too! The easiest way to achieve this look is by using a lip liner in the same shade as your lipstick to overline your lips to the desired fullness to create the perfect illusion! Here are some of the Best Lipstick Shades for Girls with Darker Skin Tones.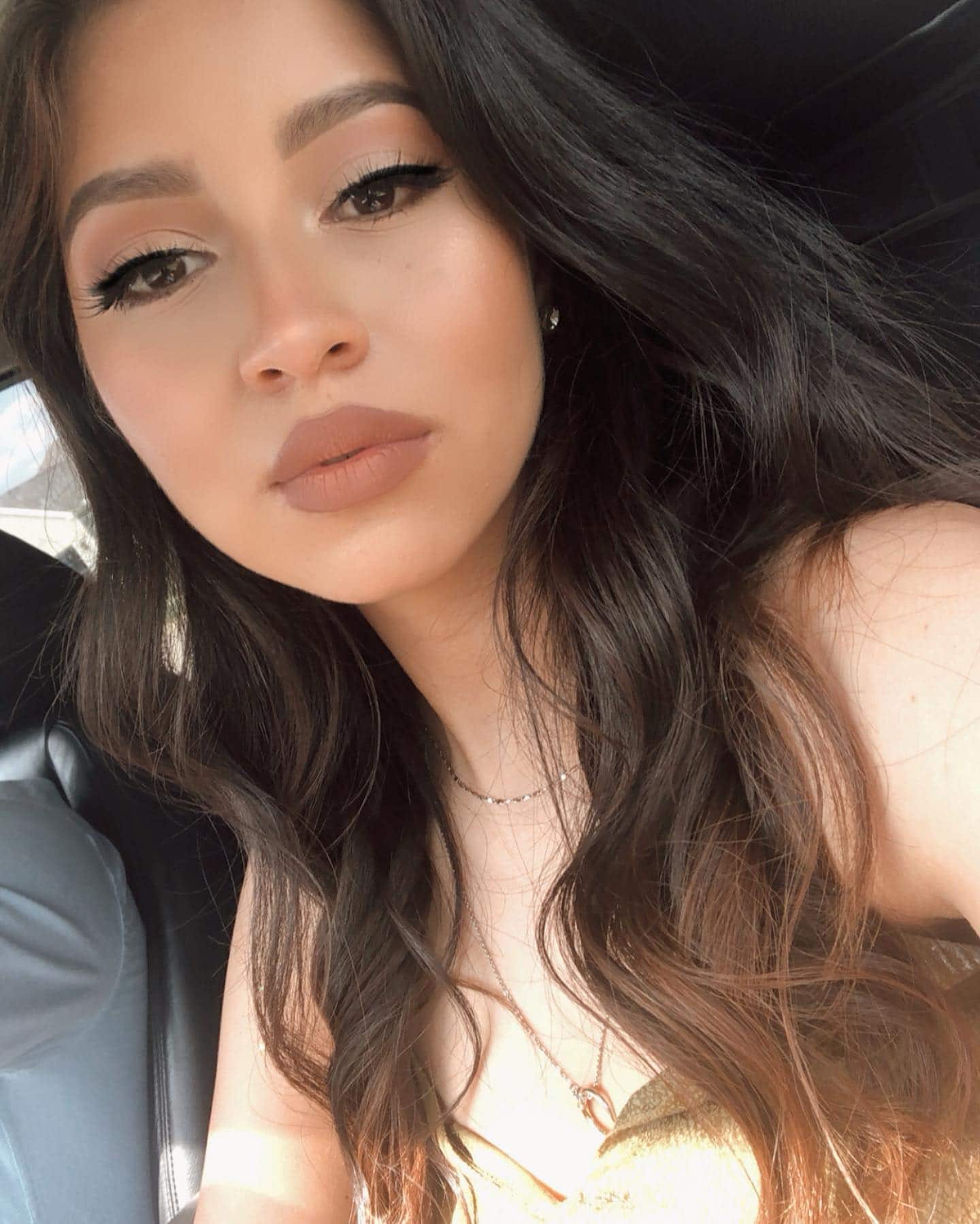 12 – Eyeliner-Less Smokey Eyes
Before the beauty world went crazy over, bold, winged eyeliner looks, celebrities from the 30s were creating gorgeous, effortless, eyeliner-less smokey eye looks that have slowly made their way back into the makeup world now.
These simple yet gorgeous smokey eye looks, no matter the decade is a go-to choice for many, especially those with hooded eyelids who do not wear eyeliner very often. This look complete with a few sweeps of mascara is a perfect dinner-date look that looks chic, yet effortless. Here are some Black Dress Makeup Ideas & Hairstyling Tips for a Chic Look,
via
11 – The Iconic Orange-Red Lipstick
The iconic orange-red lipstick made its debut in the 1940s and safe to say, it has brought about such a change in terms of lipsticks for all skin tones. It is one of those colours that is absolutely flattering on any skin tone. It is that vintage makeup look that you don't just need to try once, but can definitely incorporate in your makeup routine effortlessly.
The gorgeous shade of lipstick can be paired with a simple dewy face and a toned-down makeup look to let the lipstick shade shine in the limelight.
via
10 – A Flawless Matte Base
When you think of Marilyn Monroe, do you imagine a dewy, shiny makeup base? Of course not. That is probably because powder was quite the favourite among the old Hollywood beauties. The pressed powder gave a flawless matte finish makeup base which just as great as a look with a highlighted face. A gorgeous, hydrated, radiant matte base really takes the cake for us!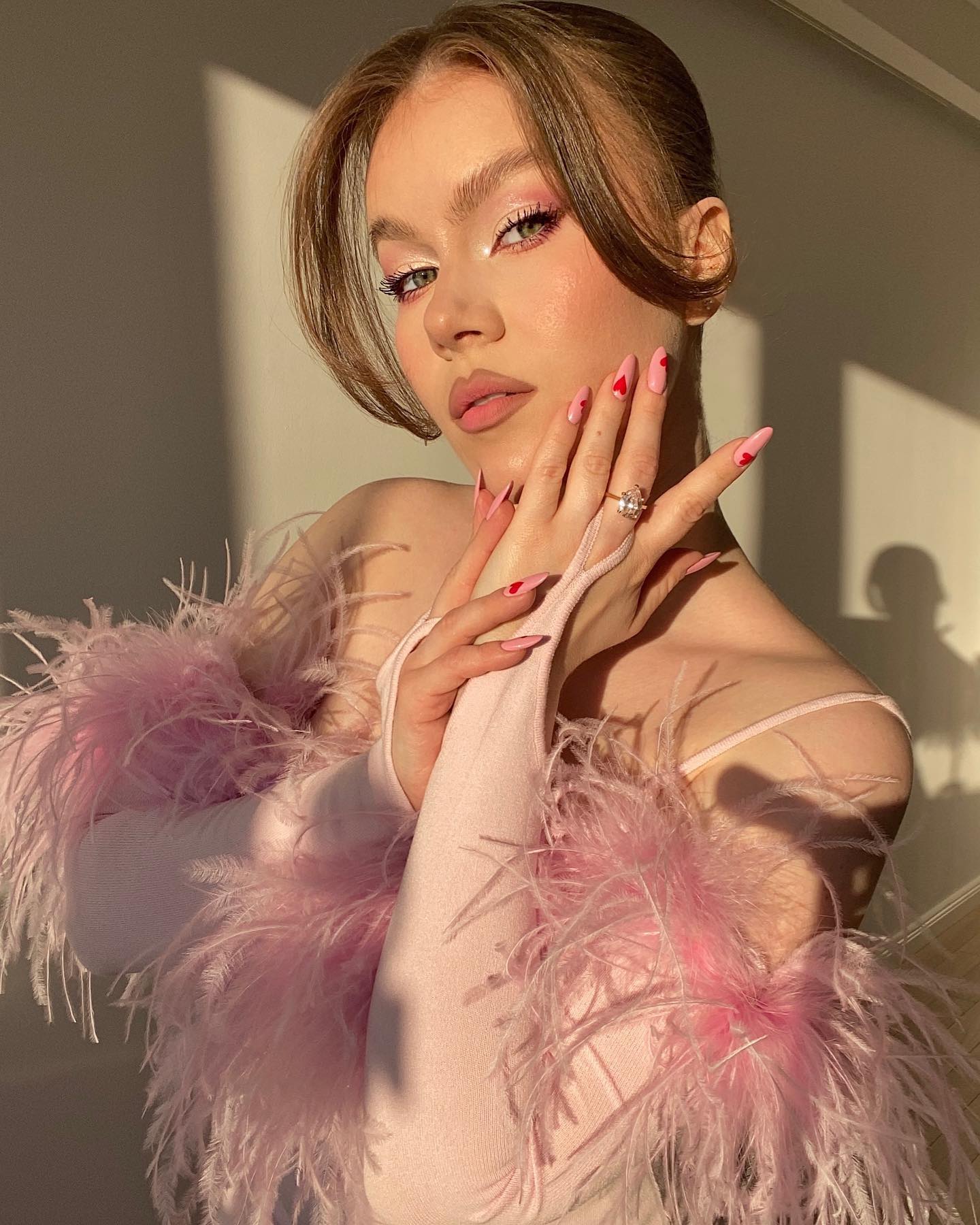 via
9 – White Liner For The Lower Waterline
You have definitely heard of this, haven't you? Well turns out, the white liner trick is really one of the oldest makeup tricks dating back to the 40s! Can you actually believe that? That means women back in the day did in fact use a white liner for their lower lash line to have their eyes look bigger and brighter. Present-day makeup artists and creators are taking this age-old trick from the beauty book and have created dramatic and graphic eye looks.
via
8 – Lipsticks In Gorgeous Dark Berry Shades
Another ultra-popular takeaway from the beauty diaries dating back to the '40s are lipsticks in berry shades! The super-popular berry shades have definitely become a favourite choice among beauty lovers now as the purple hues make the skin look glowier. These shades are perfect for a dark, sultry, smokey evening look and can allow you to play around with outfits that would go along with the look.
via
7 – Coral Lips
The 50's era didn't see a lot of crazy experimenting with makeup but there was definitely a play with colour when it came to the raging coral tone lip shades. A subtle yet cheeky take on the more common lip colors, the coral tones lipsticks and lipglosses really helped create a natural beachy look that sat beautifully on all skin tones.
In the present day, coral lip shades are more commonly used to create monochromatic looks. While monochrome looks are top tier, you can definitely incorporate hints of coral in the form of glosses or even the traditional lipsticks which can be combined with pink or red shades to create gorgeous combination lip shades!
via
6 – Fake Beauty Marks
One of the most vintage yet most common makeup tricks are fake beauty marks. And when you think of fake beauty marks, who do you think of first? Marilyn Monroe, right? This is such a simple and easy trick to add some flare and that extra dose of drama to your makeup.
You can highlight already existing beauty marks with eyeliner or draw on some fake ones where you desire. This can be a fun way to enhance your looks, especially for an evening party or a themed party!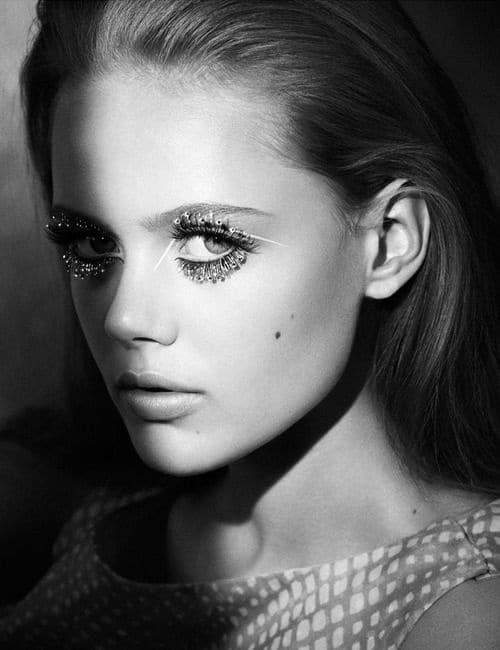 5 – A Gorgeous Red Lip
Most girls around the world started their makeup journey with simple makeup like liners, basic eyeshadow palettes, and the very popular- red lipsticks. Red lipsticks have been in the game for decades now and there is no surprise it is one of the leading shades in the lipstick game.
While we adore a lot of neutrals and pinks, you can never ever go wrong with a classic red lip. Picture this: A classic white shirt, a good pair of denim jeans, a gorgeous pair of red heels paired with an iconic red lip- sounds just about exciting to us as it actually is!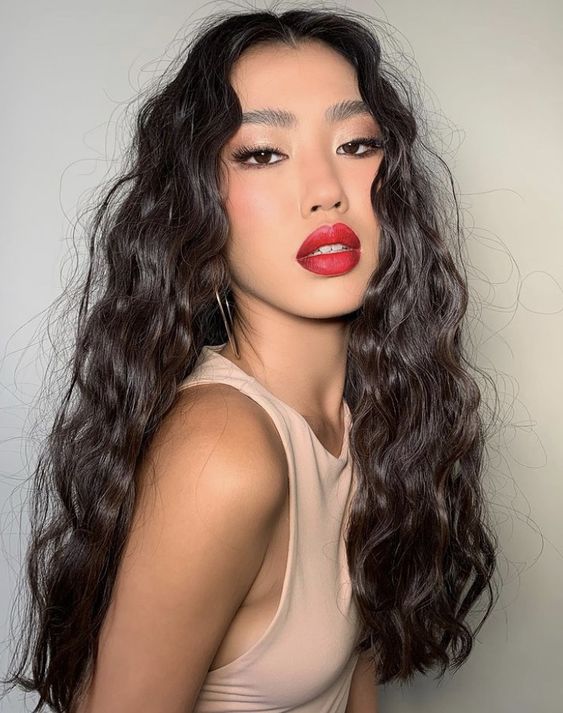 4 – The Super Popular Cut-Crease Eyeshadow Look
When you think of cut-crease eyeshadow looks, you probably associate them with today's makeup artists and creators. But make no mistake, because the gorgeous beauties of the 60s were doing this gorgeous eye look back in the day too!
With starlets like Diahann Carroll and Twiggy sporting this super fun eye makeup all those decades ago, it is no surprise why this makeup style is trending to this date. Present-day makeup artists have taken cut-crease eye looks to a whole other level with a higher level of artistry and creativity and have completely changed the makeup game.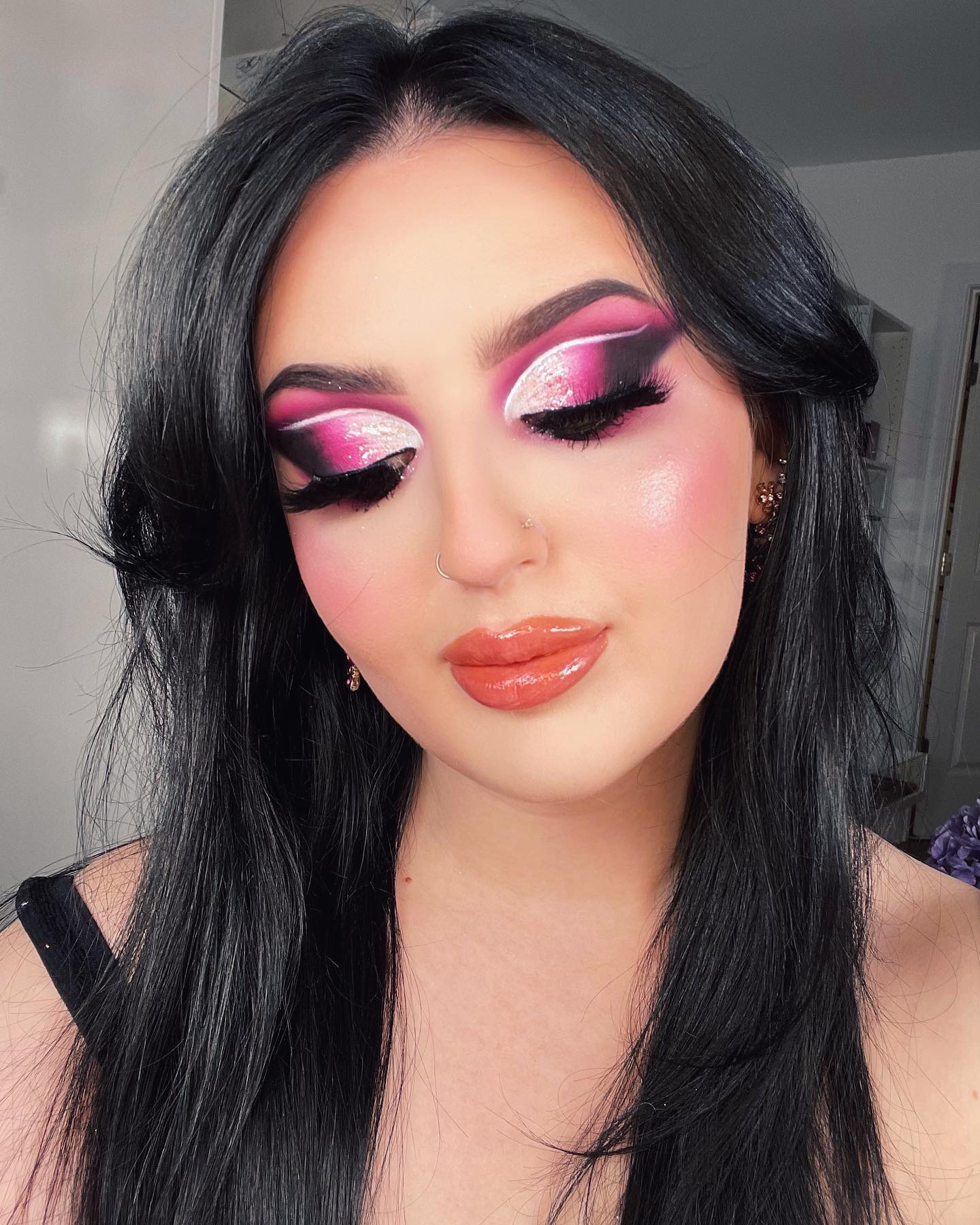 via
3 – Prominent Spider-Like Bottom Lashes
Another takeaway from the 60s has to be the focus on the eyes, especially the lashes. Dramatic lashes were a big thing back then, and focus on the lower lashes too. Today's styles and looks are nothing compared to the 60's iconic eye looks especially with the outfits and looks of that decade. This is one of those trends that have stayed for years and now, is a whole part of one's makeup routine as it really does wonders in terms of brightening the eyes and making them look bigger and brighter!
via
2 – The Classic Winged Liner
The winged liner is absolutely iconic and classic and had impacted the way one plays around with makeup. It is one of the most intricate, yet coolest parts of anybody's makeup look as there are multiple variations of a winged liner that you can attempt in the present day.
A classic dark black winged liner is customary to the 60's, which then went on to become a staple look for many in the following decades. Paired with a gorgeous eyeshadow look, or just simply put, a winged liner holds so much power and can totally elevate a simple look too!
1 – Iridescent Face Gems
Euphoria who? Face gems were such a glitzy and glamorous element that you can add to your look way back in the 70s too! While being the perfect add-on to your look, let's just say it was a necessity for all disco looks back in the day.
I mean, what disco/party look would be complete without some super sparkly face gems, right? In today's makeup world, face gems are more for the purpose of glamour and are made in a comfortable fashion to be worn around the eyes. You can take your look to the next level with face gems for themed parties, music festivals, concerts, and more!
Especially now, since there has been crazy rage behind all of the amazing makeup looks on the show Euphoria, face gems, glitter, and all things sparkly have become hot and trending again!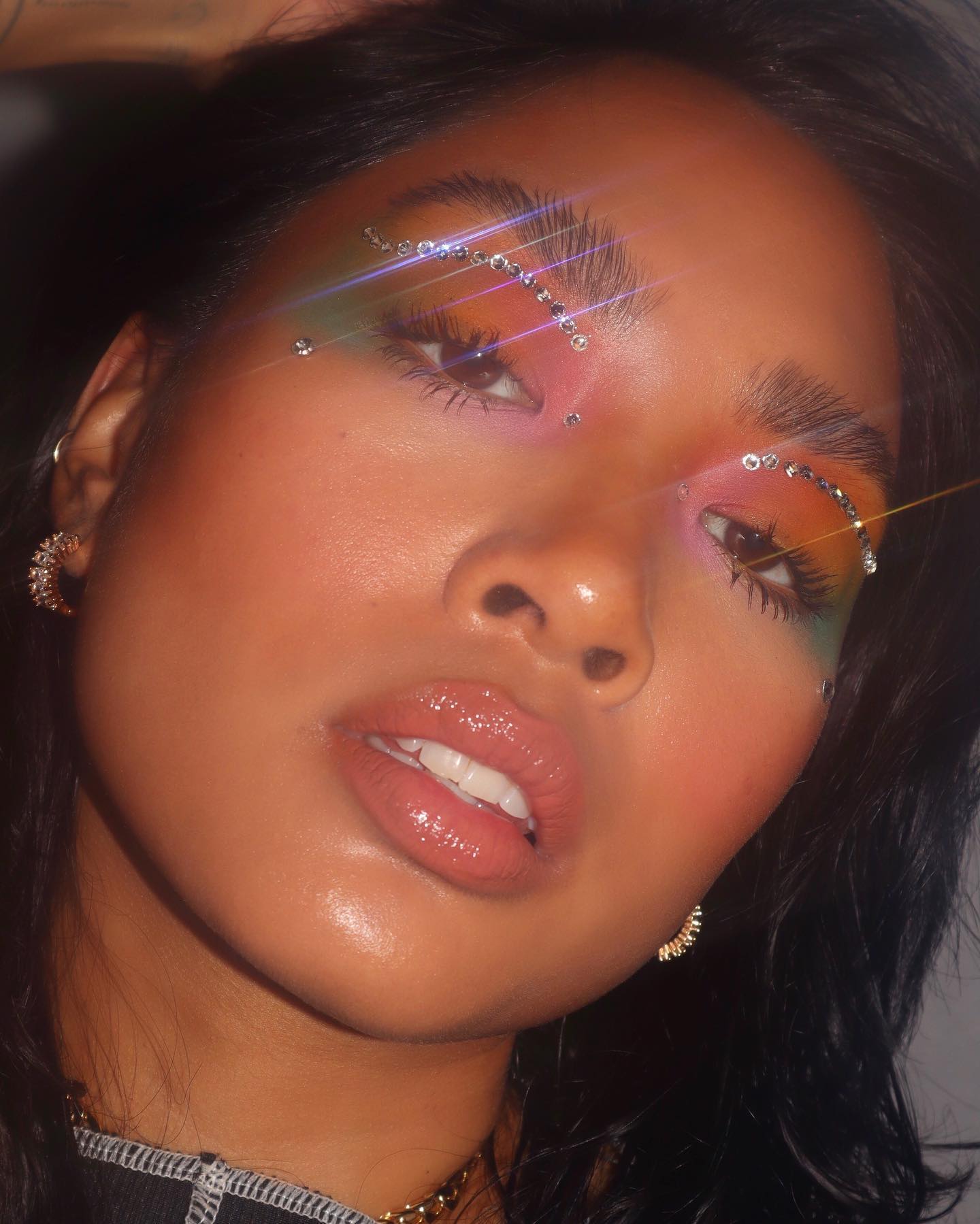 via
Frequently Asked Questions
Q. How can I achieve a flawless base for my vintage makeup?
The trick to achieving a flawless base for your makeup is a very good skincare routine. Make sure to use very hydrating skincare products and primers that will help create a stunning, poreless base that will allow for your makeup to sit well on your skin without caking up.
Q. Why is it that I am unable to created very pigmented eyeshadow looks?
To achieve highly pigmented eyeshadow looks and to have your eyeshadow colors function to their full capacity, you need to invest in really good eyeshadow primers. This will help bring out the truest colors of your shadows, making your eye look super vibrant. Some brands with great eyeshadow primers are-
Urban Decay
Smashbox
Nars
Milk Makeup
All of these are available on Sephora!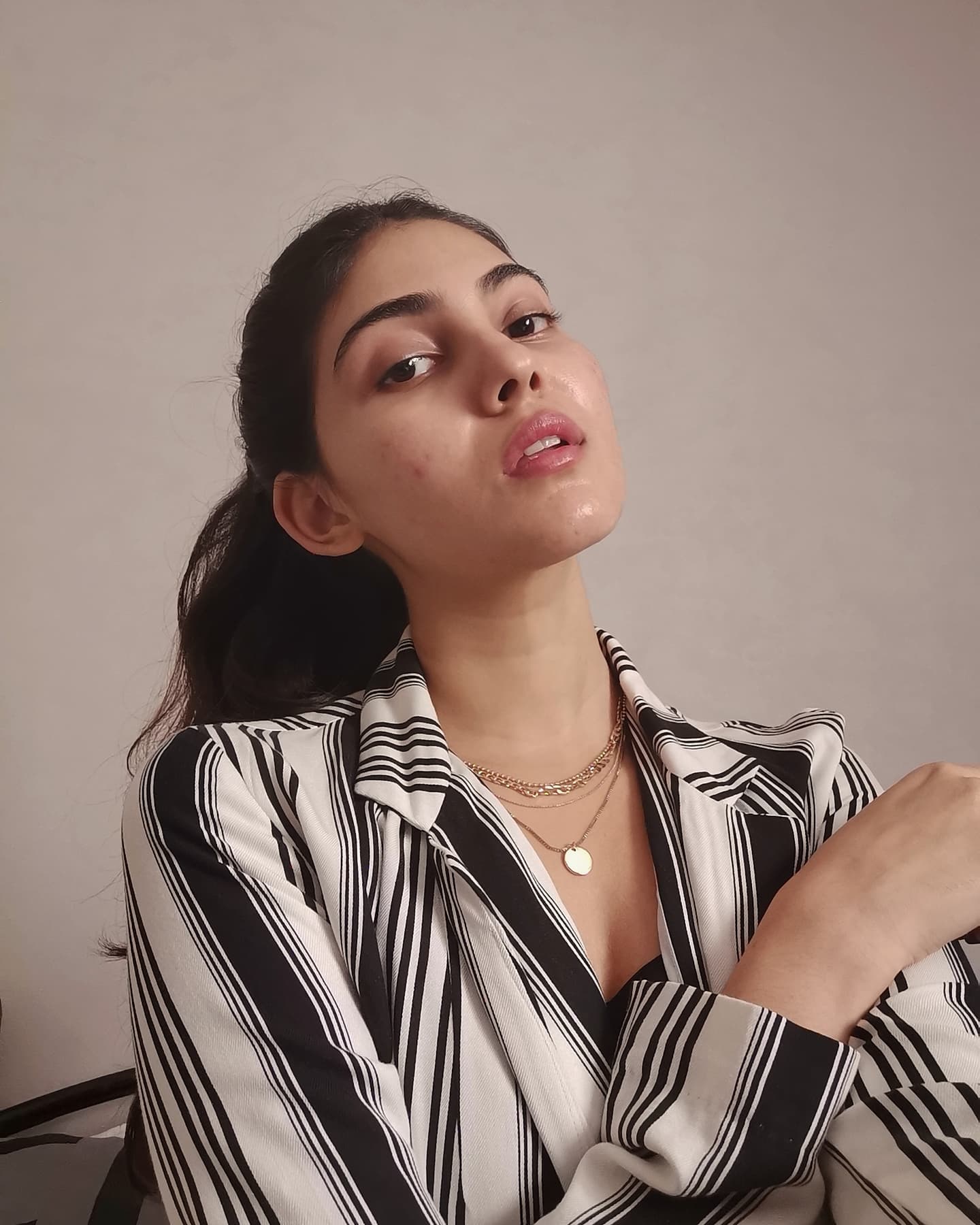 Hi! My name is Amrta. I am a 22 year old with a Bachelor's degree in Business Administration and a holder of a Post Graduate degree in Business Administration as well. I currently reside in Muscat, Oman. Though I have studied business at both the undergraduate and postgraduate level, I have had keen interest in fashion since a very young age. Along with that, my love for reading and writing, paved the way for me in terms of blog/content writing. I am here today, at Outfit Trends, to channel my passion for fashion and flare for writing and help build my skills as I go forward. As an amateur writer, I aim to use my time here to develop skills that can help me become better at what I love to do, while I also hone in on the skills I already possess and aim to create a fruitful experience here at Outfit Trends.