What shirts to wear with suits for women: Traditionally speaking, power suits have lied at the intersection of conservatism and boldness. This classic outfit was made to exude confidence and power for fitting occasions. Typically, suits did not have many colors or textures to play around with and a dull, dark-colored suit served the purpose.
Modern suits have gotten a nudge that has evolved the concept of a power suit and taken the conservatism element out of it. Nowadays, power suits are not bound for formal occasions and a typical socially demanded way of carrying them. It's a symbol of individualism that is showcased by wearing it whatever way you want and being bold about it. You won't believe that the wonders you can do when styling a power suit!
How to Match Shirts & Suits?
There are no limits when it comes to choosing the best power suit. Suits are all-rounders these days and a huge part of street style that embraces out-of-the-box trends and honors individualism. When it comes to choosing the best power suit, you can go with the classical, or a suit with a slight twist, patterns, and hint or more of neon. Below is my take on summarizing the best suits for you, ladies!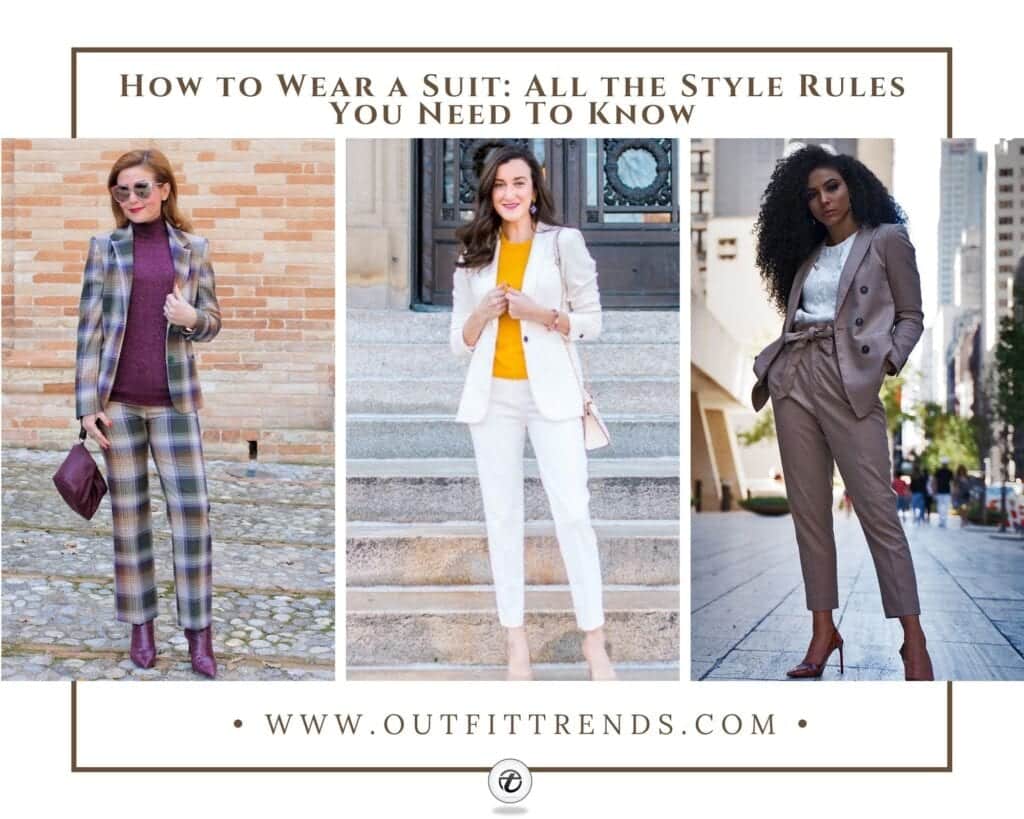 # 50 – Shirts to Wear with a Blue Suit
If you prefer the old fashioned way or you get going to a meeting that has very formal etiquettes then I would tell suggest you to where a classic charcoal grey or dark blue suit, tailored in a very sleek classical way. Most likely you will find such suits made with textured material and paired with straight dress pants. When wearing blue suits, the safest option is to go with a white or black blouse or dress shirt.
# 49 – Shirts to Wear with a White Suit
I always say that white is the underlining of sophistication. Wearing a white suit is tricky and risky, but if you know how to carry one, there's no way anyone can beat up to it. There's a subtleness and class in a white outfit that can not be seen in any other color. It sure requires an extra effort to carry it but a crisp white power suit gives a very neat look. You can also pair it with accessories of your choice. A white or nude-colored shirt is usually the safest option that one can go for because all-white looks incredibly refreshing. Here are some of our favorite White Jacket Outfits.
And if you want to try something different, I recommend adding a pop of color with a bright shirt under your white suit, such as yellow, orange or red.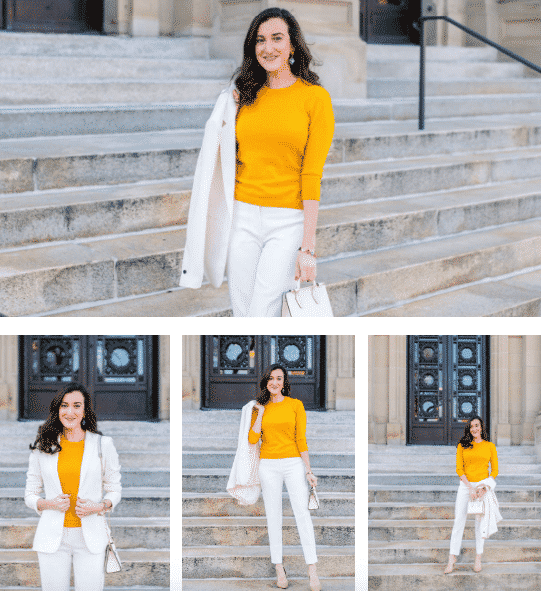 # 48 – Shirts to Wear with Neon and Bright Colored Power Suits
We often see celebrities or the street style endorsing these funky trends in a very chic way. Best women's suit brands that cater to fast retail have also introduced bright colored and flashy power suits. The most fashionable female suit photos show the different styles women opt for when wearing a suit. It could be boyfriend style, baggy, rolled up etc. But these suits are really eye-catching and steal the show. You can layer under them with matching shirts, nude or white-colored ones.
# 47 – Styling Suits with Flared Pants or Bell Bottoms
Another chic taste to the line of power suits if the pants cut. We've seen the 80's trend coming back to the fashion ramp with the reintroduction of flared pants and bell-bottoms in our wardrobes. just like the power suits of the '80s have come to light too. Bell bottoms, as well as flared pants paired with a suit jacket really, gives a sophisticated plus fashionista vibe.
# 46 – Kimono Styled Power Suits
This concept is really taking over and I think it's really cool! This two-in-one-piece fashion is giving formal outfits a whole new look. If going typical is not your thing, grab one of these power suits. You don't need to match any tops with these so its basically saving you the trouble in addition to the fusion of your favorite styles. It gives a whole new dimension to power suiting and we absolutely look how they have been carried by people wore it. I would also recommend that you check out these Kimono Outfit Ideas.
# 45 – Shirts to Wear with Plaid/Printed Suits
Checkered, hounds tooth, snake print and many other patterns that are universal and seen in all sorts of fashion pieces are not just limited till there but can also make a power suit look like a million dollars too! Believe me. These patterns add life to the suits, sometimes done for the whole suit or can be contrasted with a plain bottom. In any case, choosing the right partner for the right occasion is a must-do. My personal favorite is a narrow checkered suit! It's best to wear such suits with solid colored shirts in any color of your choice.
Another tip on coordinating your patterned or check suits is to match your shoes and accessories with the color of your inner-shirt.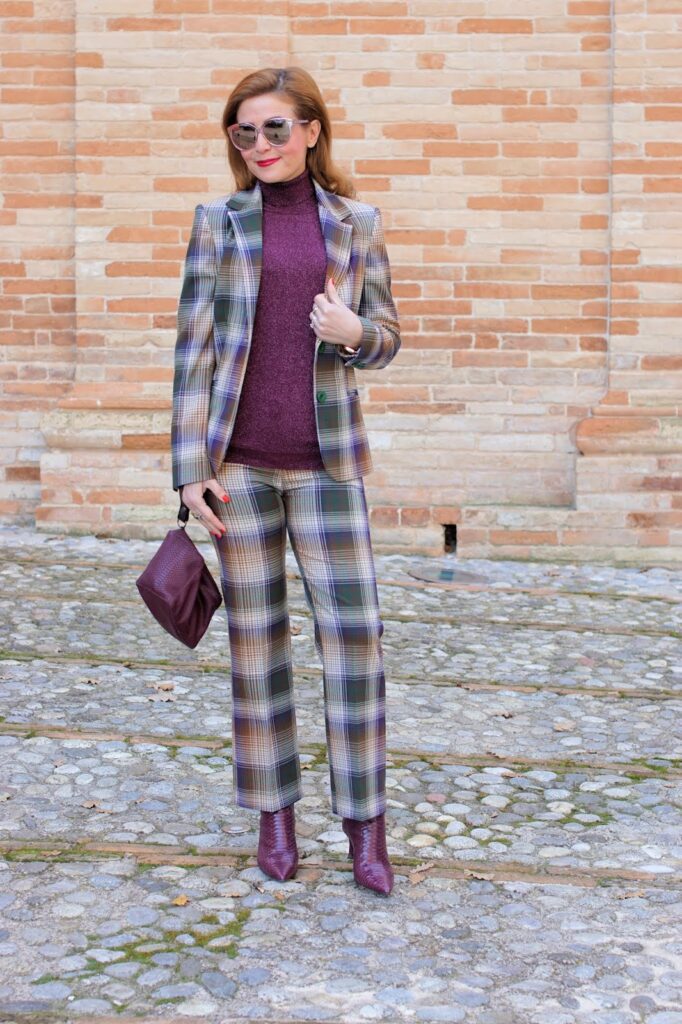 # 44 – Power suits for plus size women
There's no such thing as a power suit not for a plus size women because power suits are designed in a way that it goes with all figures and sizes. How considerate! Although there is no such thing as a dress not complementing a plus size figure, I think, but I do know sometimes we know better what fit makes us feel more comfortable. Here are a few picks for women that are curvier. Go for a sleek-straight pants with a traditional loose fit, I'd say choose a jacket that is a little longer than the others; mostly likely you'll like a double-breasted design. Another tip would be to choose a darker color if that's your thing and you want to look sleeker than usual! You can find a good range of blouses and dress-shirts in plus size at:
ASOS
Ann Taylor
Universal Standard
J.Crew
Calvin Klein
H&M
Moving on to styling your suit the right way. The first thing that comes to our mind is a right top! Below is my take on 43 stylish tops for you ladies that would go absolutely with coordinating power suits.
# 43 – Flowing Printed Shirt
This Versace inspired chain-print is a must-have in the closet. And it would pair perfectly with a work wear power suit or for formal events.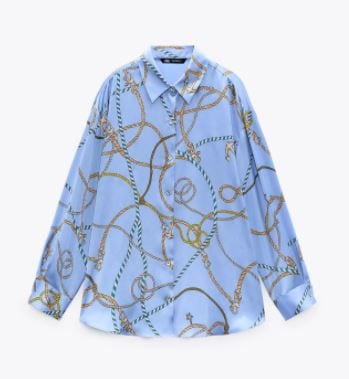 # 42 – Embroidered Shirt with Blue Motives
This cute springy shirt will go perfectly with a blue suit in the afternoon.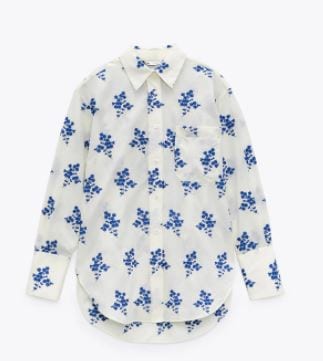 # 41 – Essential Cotton Blend Shirt
A must-have. You'll find this in the basics section of any store but click on the link below if you want to get your hands on this one. A white shirt, well, not to say much, is an all-rounder!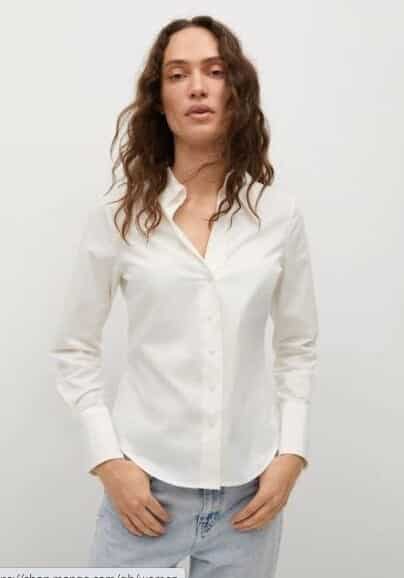 # 40 – Draped Lace Top
Want to spice things up and take your suit a notch up? Get this top to slay a formal look with this chic blouse.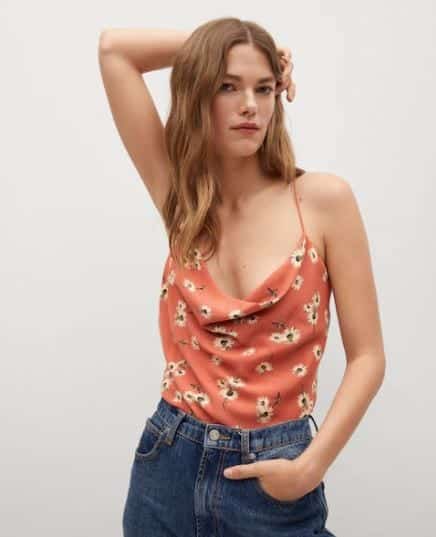 # 39 – Openwork Detail Blouse
Something very sophisticated yet detailed. A cutwork embroidered shirt! That will go perfectly with power suits for professionals and hard-core formal office environments.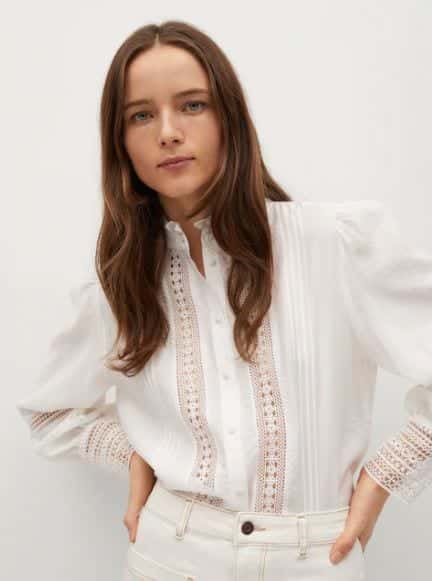 # 38 – Printed Flowy Shirt
A cute summery casual top that will look with a light-colored power suit, most suitable for daytime looks!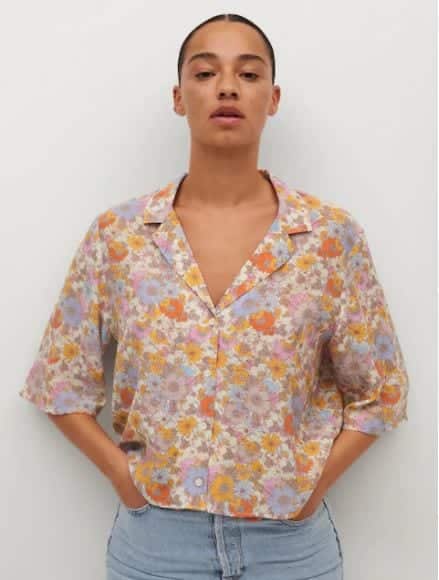 # 37 – Swiss Embroidery Cotton Blouse
Looking for a cute simple blouse? Get your hands on this white piece that would go with all colors and styles. Would work with the times you would want to take the jacket off as well!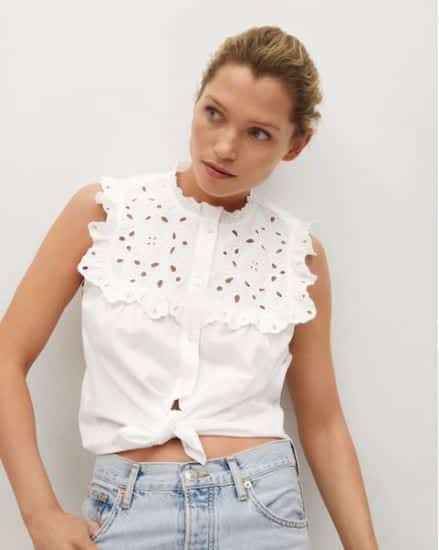 # 36 – Satin Finish Flowy Shirt
This is another must-have, a satin silk shirt that would bring a fancy touch to your suit styling by giving it a bling!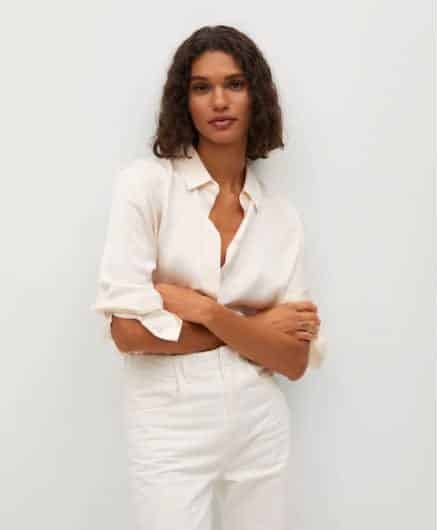 # 35 – Floral-print Flowy Blouse
See this blouse? Yes its super flowy and cute. It gives the right semi-formal vibe and it can be paired with all sorts of power suits but I would not pair it with a classic dark-colored one.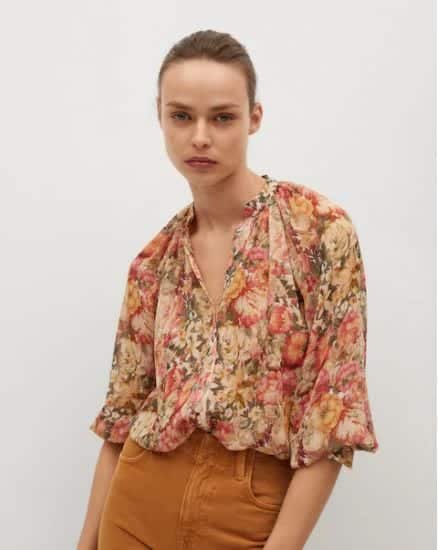 # 34 – Textured Flowy Blouse
I personally love this color and we all know how perfect does a button-down shirt looks with power suits, pure perfection specially for an office look.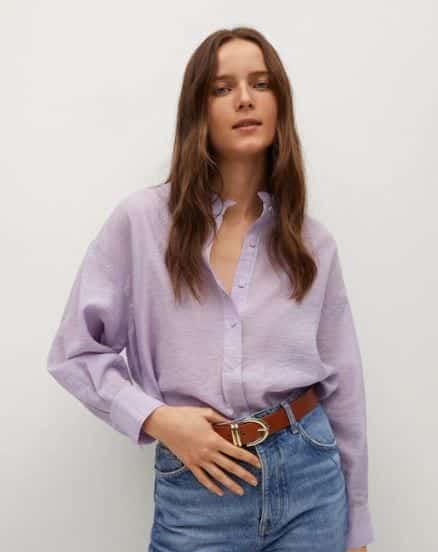 # 33 – Satin Leopard Print Cami
Ooh don't we all love leopard prints? Yes, this camisole is a big yes to pair up with power suits. It will give a very hot look. The neck style is my favorite go-to with power suits as well!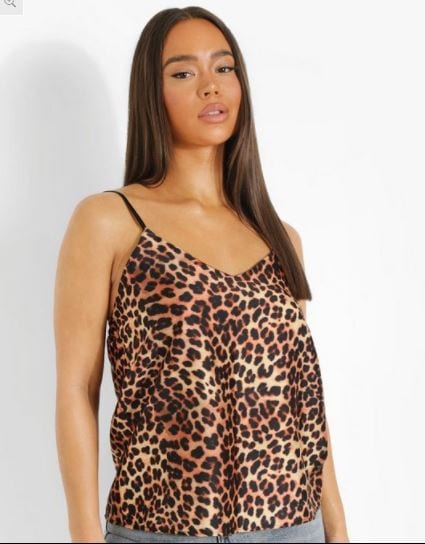 # 32 – Double Layer Marble Racer Neck Bodysuit
Cute office wear top? This is it! With a formal neckline this would go perfectly with a white or a matching green power suit.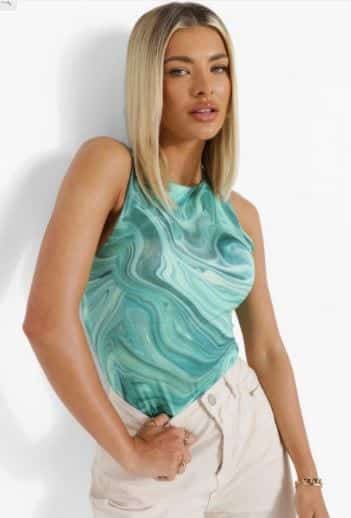 # 31 – Tall Slinky Cowl Neck Bandana Print Top
How about this bandana print, slightly boohoo top? It goes perfectly with white-colored suits for a daytime outfit or even with an all-black fitted power suit for an evening outfit.

# 30 – Petite Corset Top
Super chic and perfectly fitted top that would certainly go with most of the colors and really give the waist and chest area the best shape. I'd say where this with flared dress trousers.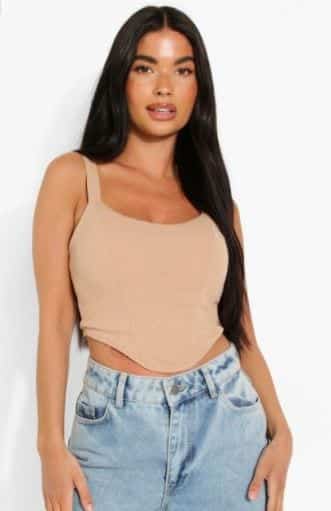 # 29 – White Spot Frill Trim Sleeveless Blouse
This is a pure example for an office wear top. You can see by the look of it that it has the formal thing going on. It again would complement a plain dark solid colored power suit specially one that has a straight fit.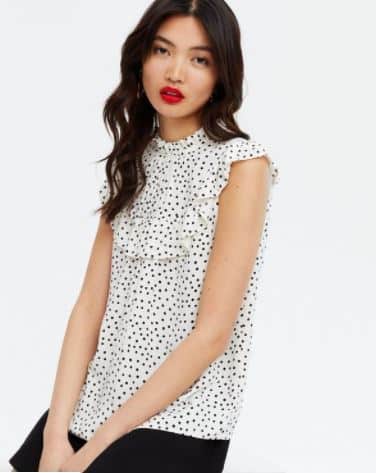 # 28 – Brown Check Bralette
Modern, classic, and old all-in-one. This checkered top is made to bless pastel and light-colored power suits. It is a very girly and cute top that you can flaunt too.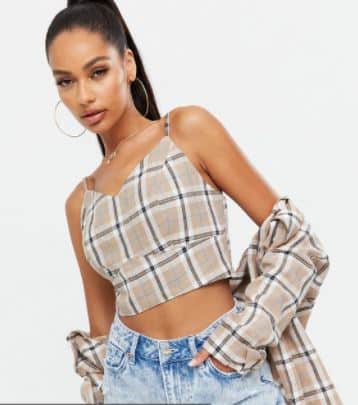 # 27 – Black Zebra Print Hanky Hem Halter Cami
Oh we all love haltered tops, don't we? You can wear this bold zebra printed top to night out with friends or date nights with a twist of a power suit. Love to carry a power suit with an effortless style. This top would be perfect for revolutionizing the power suit style into more chic choice of outfit.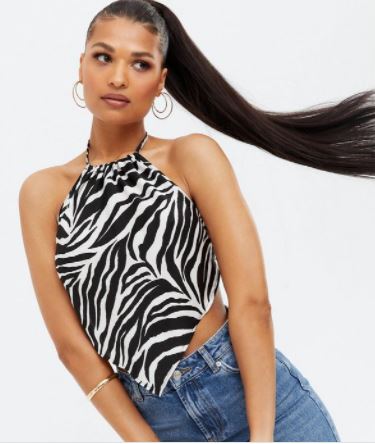 # 26 – Halterneck cropped top
Another one for the haltered! This can be worn as an office top too. It is a must have in your closet since it will go with every kind of a power suit! The collar adds a bit of crispness to the whole look! Here are some more cute Halter Top Outfits.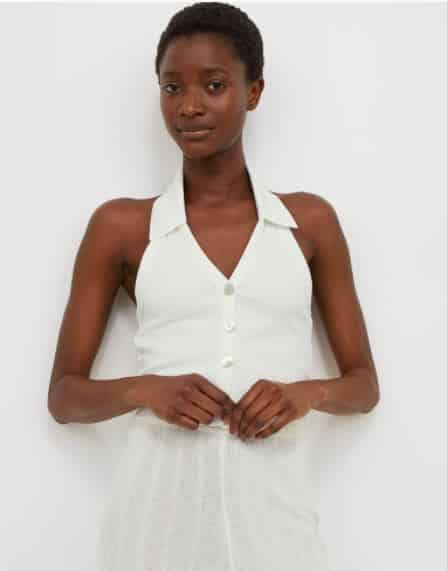 # 25 – Brown Halterneck top
# 24 – Draped strappy top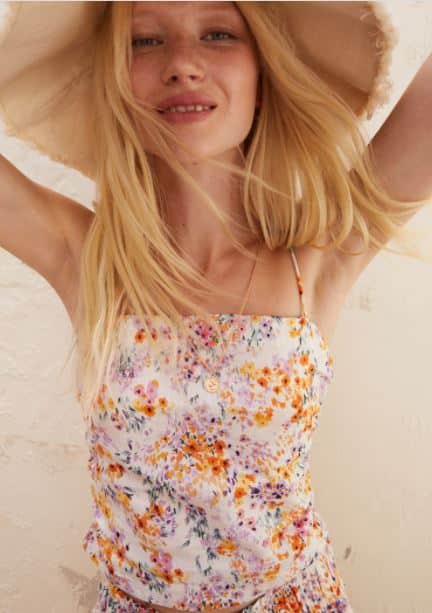 # 23 – Black Strappy Top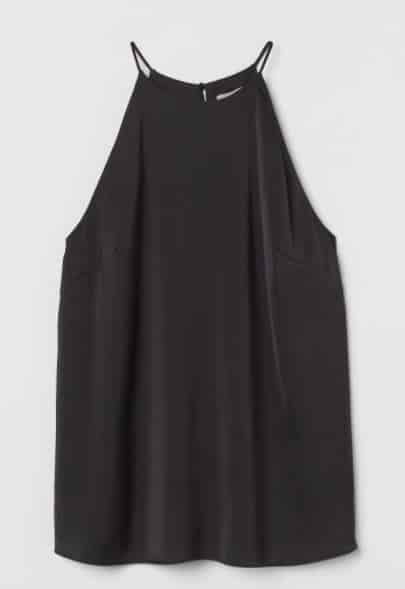 # 22 – Jersey Body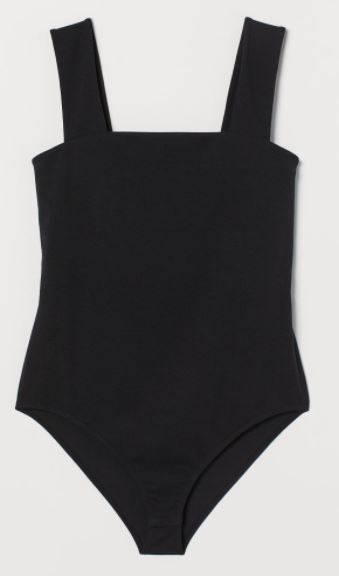 # 21 – Linen top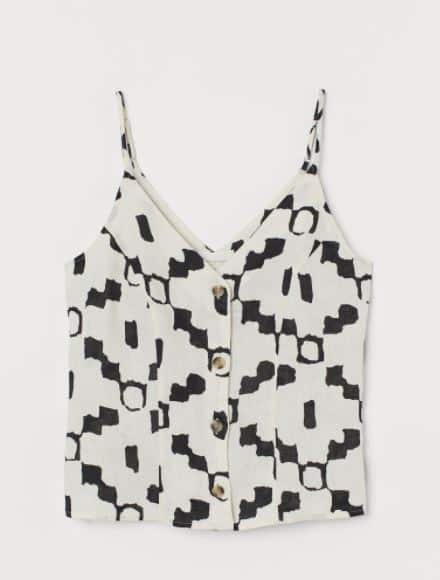 # 20 – Sleeveless Lace-Detail Top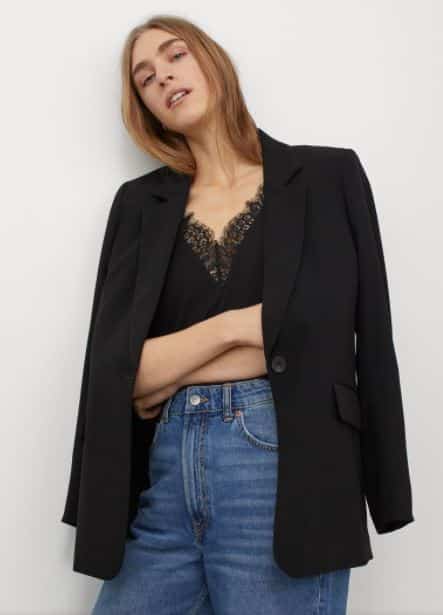 # 19 – Top with Gathered Detail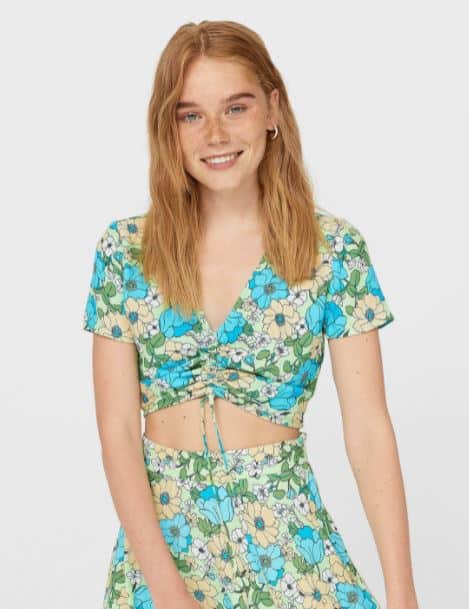 # 18 – Sleeveless Crochet Top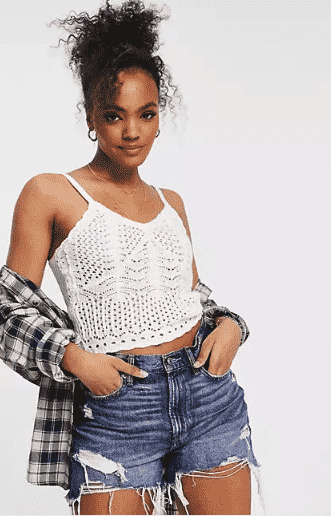 # 17 – Sleeveless Red Button-Down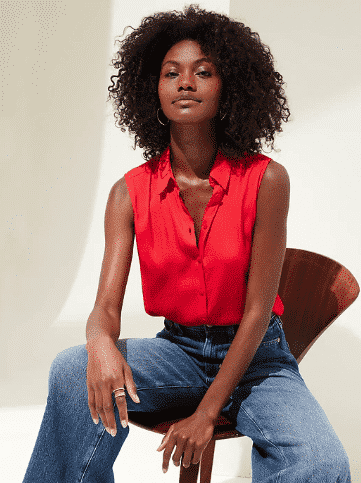 # 16 – Geo-Print Dress-Shirt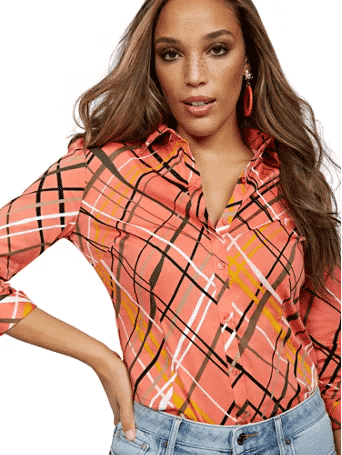 # 15 – Dobby Bow-Neck Blouse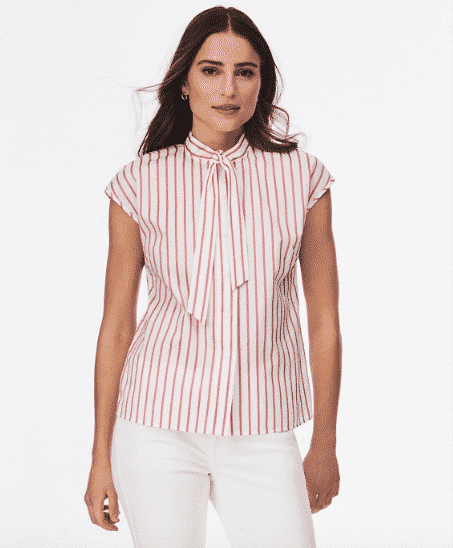 $39.75
# 14 – Pastel Striped Shirt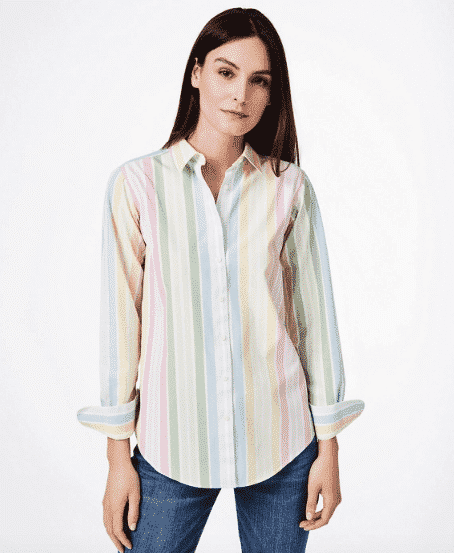 # 13 – V-neck polyamide bodysuit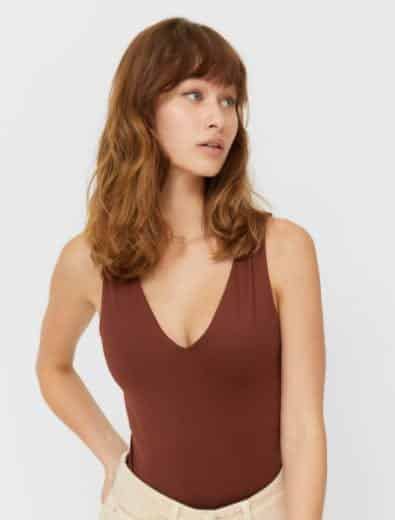 # 12 – Seamless Cable-Knit Top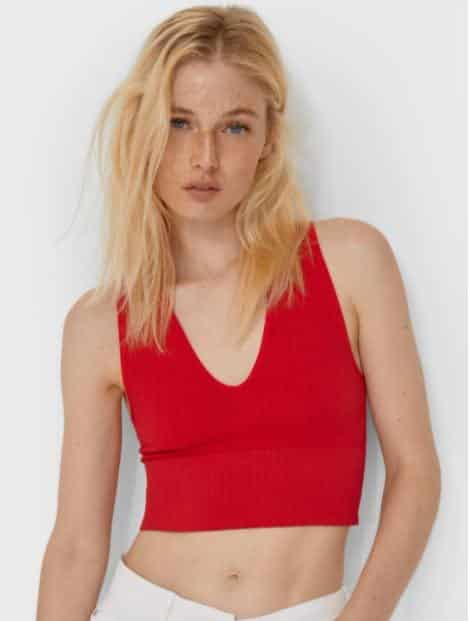 # 11 – Polyamide Crop Top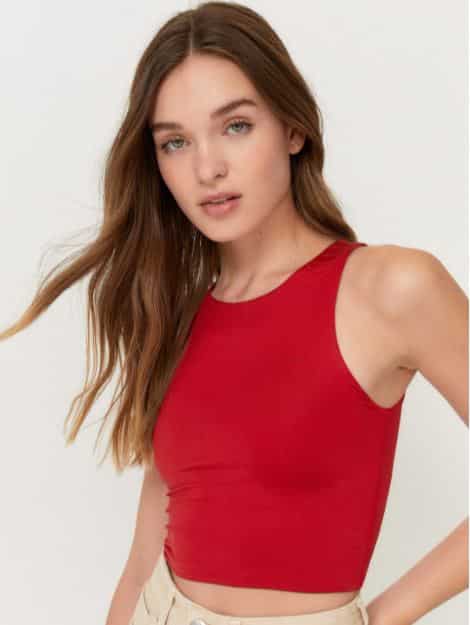 # 10 – Ruffle Trim Embroidered Shirt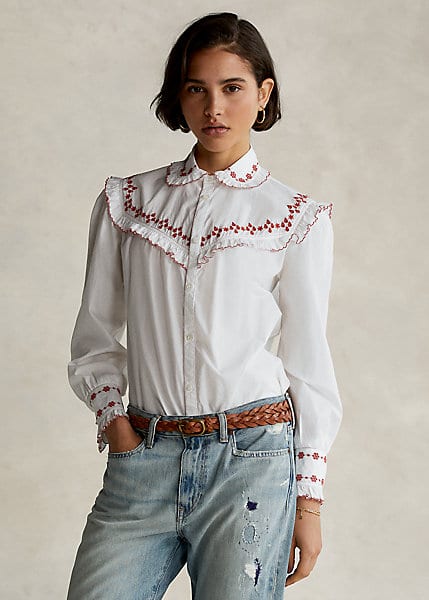 $198
# 9 – Black Satin Blouse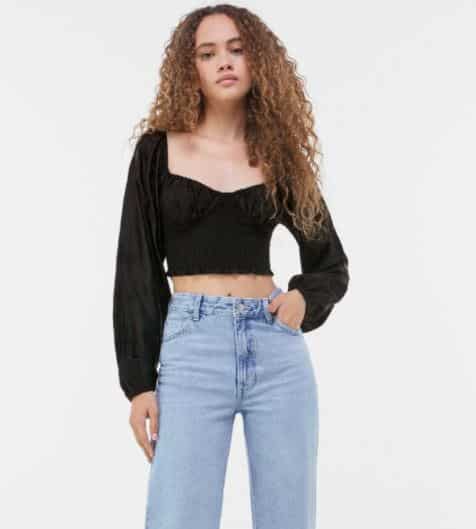 # 8 – Blouse with Square-cut Gathered Neckline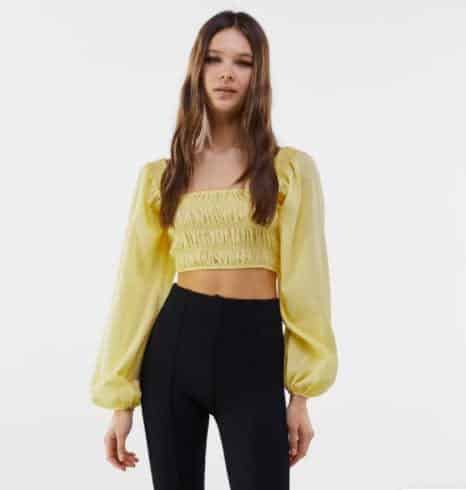 # 7 – Cropped Shirt with Elastic Detail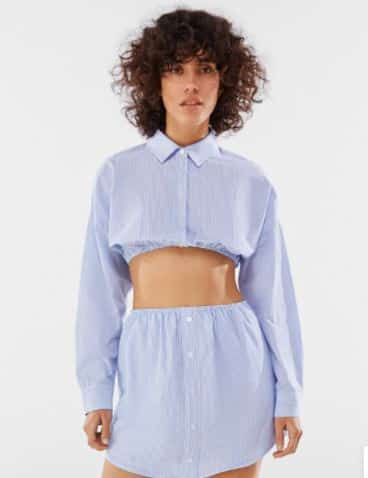 # 6 – Animal Print Shirt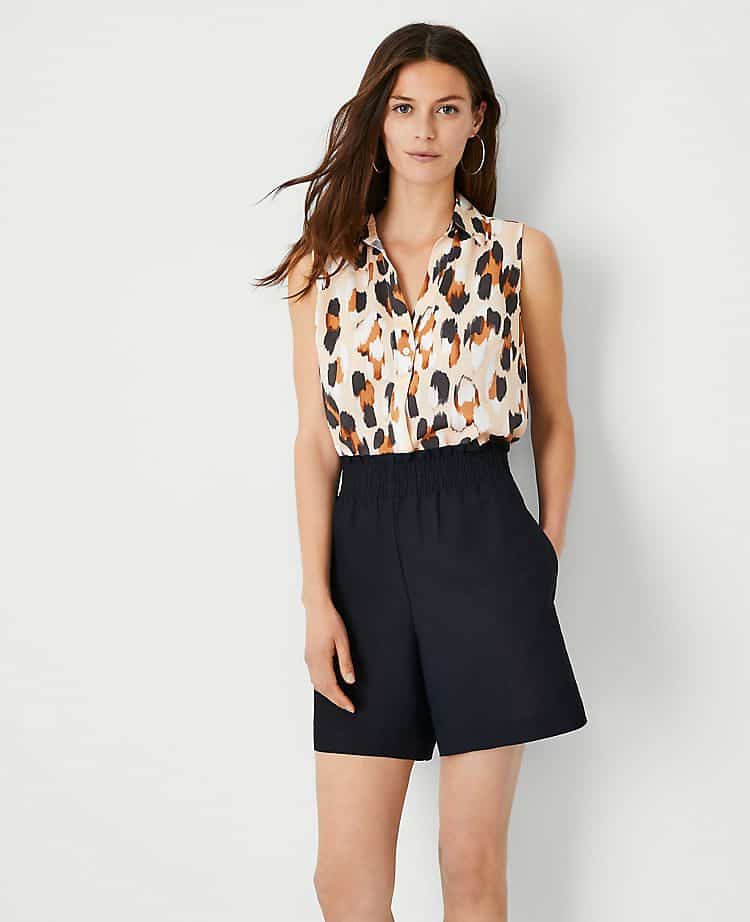 $59.50
# 5 – Classic Striped Poplin Shirt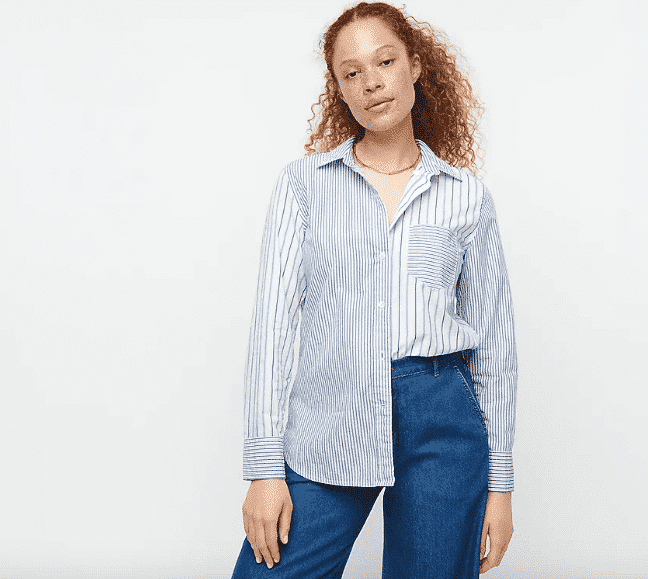 $79.50
# 4 – Ruched Tie Neck Sleeveless Blouse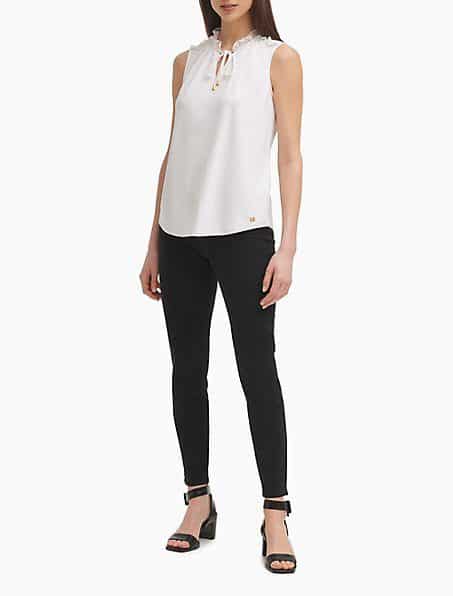 $44.50
# 3 – Snakeskin print faux leather shirt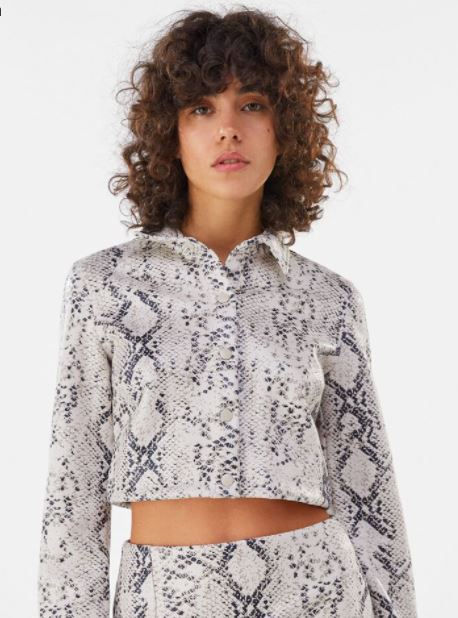 # 2 – Cropped Printed Shirt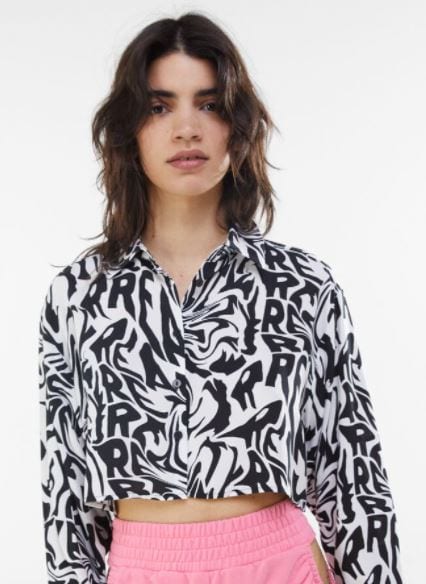 # 1 – Gathered Poplin Blouse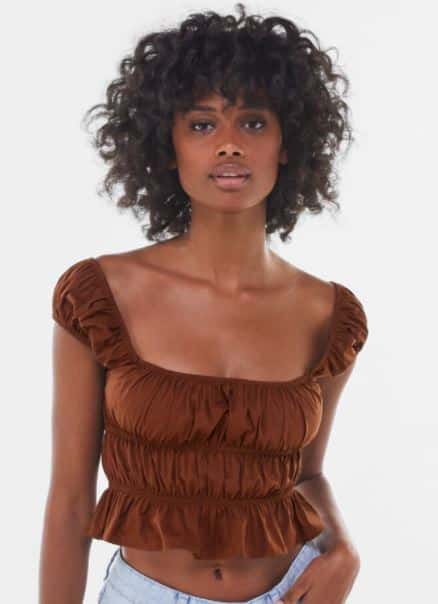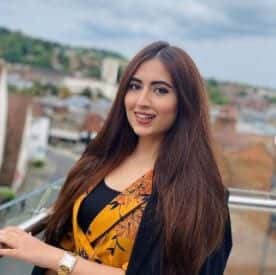 An enthusiastic freelance writer, exploring my love for fashion and the upcoming trends.