How to wear capri pants: What to wear when attending an interview and going out with friends later? Capri pant outfits are the answer. You can style them however you want on any occasion, be it a brunch, while on vacation, or running to catch a meeting and whatnot.
Not only that but they are chic to wear and always in fashion. Whether you want to tone your look down or amp it up, want to look classy and posh, or simply just trendy and elegant, capris will always be a Yes, for people and the right choice. They go hand in hand with every sort of top, jackets, coats, and so much more.
Outfit Ideas with Capri Pants
The fact that they are a must-have is evident because they go with every one of your wardrobe pieces and give you a unique yet dapper kind of look. Worn around the globe and owned by many, these offer a wide range of outfits and play a crucial role in styling our winter or summery looks. Keeping up with the legacy, they still haven't gone out of style. You can style Capris in so many ways given the right choice of accessories, shoes, and the right tones of colors and incorporate those looks into Your everyday life.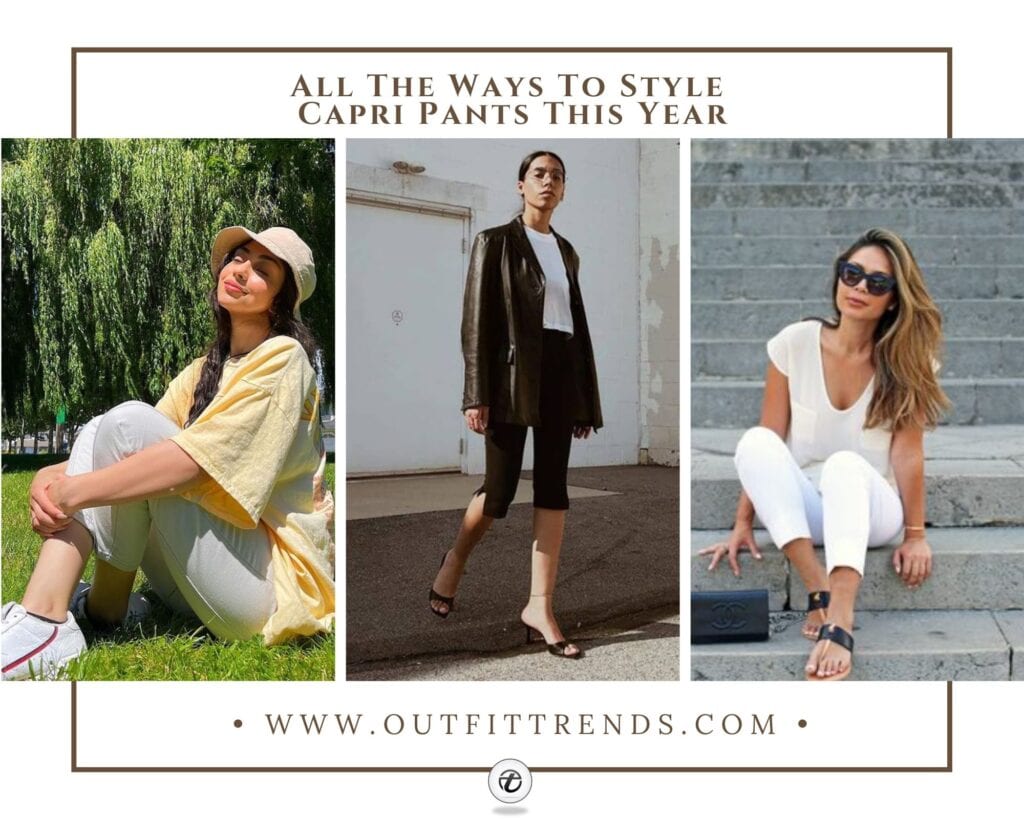 Today we talk about those looks that you can fashion to cater to all your fashion emergencies. The beauty of capri trousers is that they go with all kinds of shoes: heels, pumps, sneakers, sandals, and even flip flops! To further complement your attire, you can add accessories, for instance, pretty printed scarves, simple or engraved belts, the right pair of earrings, and gorgeous handbags.
Where to buy Capri Pants?
H&M: These leggings are comfortable for daily wear as well as your partner in a workout. Click here.
SheIn: They offer a wide range of options from simple, to plaid, to striped and so much more. Take a look here.
ASOS: Leather and stretchy yoga capris are available in quite a variety here. Click here.
Marks and Spencer : Their pants are the most famous and rightly so! Grab your share of classy printed capris here. 
ZARA: You can't miss the numerous options this brand is offering. Grab your favourites here.
↓ 26 – Not your average Leather Pants
This winter outfit is perfect for a day out with friends in the snow, looking trendy and comfortable in your attire. Along with black leather outfits, brown shaded outfits are no less, along with brown heels. The sunglasses and the handbag complete the outfit and make it flawless. Here are some more Outfits with Leather Pants for Women this Season.
↓ 25 – Let's be funky!
For all the creative folks out there who love to mix colors and create a unique and groovy look. You can wear this to a fun gathering with your friends with the right pair of ear studs, sandals, a couple of chains, or beaded necklaces.
↓ 24 – How to Wear Capris in Winters
The combination of an oversized knit sweater with a pair of oh so gorgeous pants can never go wrong. Moreover, the matching handbag and heels go hand in hand with the entire outfit. The bold colors of the pants give the outfit a vibrant yet stylish look. This outfit can be worn to all your gatherings when the temperature drops too low. Buttoned and turtleneck sweaters are also an option to be considered. With your hair in a ponytail and your sunglasses on, you are ready to conquer the world.
↓ 23 – Denim Capris with a Metallic shirt
What an effortlessly flattering way of styling those denim capris, which looked so ordinary on their own. The sort of look you wear to a club or a late-night concert. The Fuschia neon stilettos add color, while the beautiful complementary earrings add the final touches. Who said you couldn't wear denim to a party? Do check out these Ideas on How To Wear Metallic Outfits.
↓ 22 – Sporting Capris with Polka Dots
Are we in The 1950s? They are still pretty much worn and loved by people in all types of attire. These stunning polka dots printed capris are a sight to behold. Throw your hair in a messy top knot and wear some flashy and a pair of hoops. Viola! You've got yourself a simple yet classy and east look for the day. Polka dots print is here to stay.
↓ 21 – Stretchy Pants
Looking pretty while working out is the new black and a fashion, in my opinion, we all can get on board. We all like to vibe to Our favorite music and relax on our yoga mat meditating or working out. These adorable yoga capris make you do all of this in the cutest manner.
↓ 20 – Plus Sized Ladies!
The seemingly plain attire makes you look sophisticated and elegant, perfect for a wedding. The gorgeous heels and the dangle pearly earrings are the perfect fits. One can wear these with ruffled shirts or flounced blouses, which further adds to the unique character.
↓ 19 – Casual
Doing grocery runs or chores for your family is tedious and exhausting, but what other way to make it fun for yourself rather than dressing up? Toss your hair in a messy bun, and wear your most comfy trainers, and you are good to go.
↓ 18 – Go Retro
Sporting retro-themed attire with a beret is, without a doubt, one of the most vogues looks of the season. Wearing dark-colored berets with nude jackets or top is worth trying.
↓ 17 – Rockin' it with Capris
To all the mommies and girls who put their comfort first and do not compromise on their clothes, you've come to the right place. Buy a white Capri that goes with all your neutral shades and pair them with small hoops or necklaces. Don't forget to mask up with your matching masks.
↓ 16 – Everyday look with Capri Jeans
This lovely outfit is perfect for a day out with your significant other or your friends, you look good, and you feel good. Throw on your favorite pair of heels and pack your essentials in your favorite cute bag.
↓ 15 – Monochrome Tones
Capris are one of the many essentials in a teenager's life. They prefer wearing capris to their schools or colleges, their part-time jobs, or when they are out running errands and style them to their liking with flashy ear studs or headbands. Here are some more tips on How to Dress Monochrome.
↓ 14 – Summery breeze
An oversized tee-shirt in summers is always a yes for us ladies. You can either tuck your shirt in or take it out, and it'll still leave you looking adorable. Braided hair and converse with the combination is a cherry on top.
↓ 13 – Tassel is not a hassel
Tassels shirts, jackets or jeans are still very much in fashion and are liked by many. This stunning combination of black and white is appealing to the eyes. The crossbody purse and pencil heels are worth admiring. You can wear this to a birthday bash hassle-free. Keep twirling for the pictures.
↓ 12 – Pretty Lavender
These stunning capris are the perfect shade of Lavendar when coupled with a neutral-toned embroidered shirt that gives you a subtle but remarkably posh look. The delicate satin headpiece adds to the final look. The only thing that's left is a bold lip shade, and you have yourself a brunch-ready outfit.
↓ 11 – Matching Piece
This pretty outfit is undoubtedly the best thing to wear to a family gathering or on slight occasions. The intricate details of the khussa shoes and the neckpiece is worth commending. These plain khussas shoes matching the shirt's color, with the perfect pair of statement pieces with some bangles, can create a similar look.
↓ 10 – Plaid goes a long way
Being funky with style is what fashion is all about. Creating new looks with the appropriate choice of hair, shoes and you have yourself a perfectly gorgeous look for the evening. Curl your hair in some beachy waves, wear your favorite piece of ear studs and complementary heels.
↓ 9 – For Women Over 50
Capris pants were and are a recommendable choice for women over 50. Loafers or pumps, Along with a blazer, Are always a classier choice. With the right amount of mix and match, we have a graceful and elegant outfit ready.
↓ 8 – Winter Wear
One can pair Capri lowers in winter with jackets, long coats, parkas, or puffed-up jackets. Similarly, you can wear Earmuffs and plain matching gloves to amp the outfit. If you are looking for a comfy style, opt for converse or trainers; in the case of a more occasion-appropriate look, opt for heels—Chic and oh so classy.
↓ 7 – Outfits for Kids
Love dressing our Little ones up, but their Capri outfits scream outfit goals. You can style them with accessories, hats, jackets, belts, or cute shoes. Regardless, you'll end up crying your eyes out at how adorable they look.
↓ 6 – Animal Prints
Cheetah Prints look exceptionally good; whether if it's a shirt or capris, they'll make you look flawless. Coupled with a nude or black shade shirt or a matching top is a look that is to die for. Similarly, you can accessorize snake prints, or faux fur look gorgeous with those pants according to the occasion. Here are some more of our favorite Animal Print Outfits for this Season.
↓ 5 – Florals in summer
What's not to love in floral prints? The delicacy and intricacy of the details are mind-blowing. Floral pants with a plain or embroidered shirt or a floral shirt with plain white pants serve major outfit goals. To add the accessories, a delicate sunflower necklace with a crossbody bag would be the better choice.
↓ 4 – It's Vacay time
This look is perfect for a day in Paris while you are sipping coffee or in New York planning to visit all its famous places. A nude shade jacket along with a black turtleneck and capris would look great as well! It is easy to wear and won't leave you uncomfortable at any point of the day and up to the mark.
↓ 3 – Neutral Toned outfit
A light-colored outfit like this one is the perfect go-to outfit for brunch; worn with a curb necklace in a golden shade along with small hoops would be the ideal amount of fashionable and posh. Similarly, you can wear the two-piece Capri outfit in vivid colors to steal the show.
↓ 2 – With a Blazer
This outfit can be worn to outdoor gatherings looking sophisticated and suave. Loose curls, a black clutch, and pencil heels would adorn the outfit. Similarly, a white blazer and white capris with matching scarves and heels would look remarkable.
↓ 1 – Own it
This business-appropriate and stunning look seal the deal. Everything from the flounced blouse to the shades of the coat from the intricate details of the suit and the cut in the capris is exemplary. Similar pantsuits can be mixed and matched with nude or black coats matched with Stilettos or court shoes. The hair can be braided and tied or thrown into waves. Don't forget to accessorize.
Frequently Asked Questions
Q. Are Capris out of style?
A. Capris are still very much in fashion and considered trendy like they were before. You can style them to suit every event, from glamorous events like weddings or graduation parties to everyday looks to just chilling at home, capri pants, and their outfits are worn nearly everywhere by all ages of people. They look fashionable as well as being comfortable too.
Q. What goes well with Capris ?
Can be worn with an sweater or a cardigan to serve some Christmas or winter looks. It can also be worn with a variety of jackets and hoodies, as well as with sweatshirts.
Or with a 2 piece set, a matching plain suit or a plaid suit and paired with appropriate accessories looks stunning. 
These when paired with heels; stilettos, Oxford heels, pumps or court shoes enhances the overall look of the entire outfit. 
Hoops, dangle earrings, bead necklaces look great with the overall look of the pants.
Look great with a leather jacket or army boots and also with a variety of cross body bags or fanny packs
Also serve major goals with different sorts of head accessories; headbands, scrunchies, fedora hats, and a beret.
Ethnic 2 piece outfits with capri lowers look very stylish and flattering paired with the right choice of shoes. 
Q. What tops to wear with capris?
Can be worn with an off shoulder top, that is perfect for a day out and is a summer look.
Can also be worn with tank tops when the temperature is too hot to handle. It looks cute and is super comfy. 
Or with an oversized tee shirt or sweater that can be tucked in.
With  floral tee shirt or a cropped top that adds the element of cuteness.
As well as with plain and tassel tops or collared shirts.