What To Wear Surfing – Although surfing is a male-dominated sport, nowadays, more and more girls are starting to surf. There are two types of surfing girls, ones who do it on a professional scale and the others, who just love doing it for fun. Both have different types of fashion sense.
On a professional level, you have to wear tight clothes that give you a good grip and can surf effortlessly without worrying about your wardrobe. However, if you are doing it for fun, you can experiment with your look to create a stylish look.
How To Style Outfits For Surfing?
Surf fashion has now become an aesthetic. It includes suits with strings, graphic t-shirts, boarding shorts, flip-flops in style, and beach jewelry. Everything a surfer girl aesthetic screams, from bikinis to printed shirts, is comfort and a wild spirit.
You can wear body-hugging clothes or loose clothes depending upon your comfort level. However, there are still a few do's and don't which we will discuss next.
Tips For Surfer Girl Aesthetic
If the water is warm, do not wear anything that covers you completely. Instead, go with a one-piece or bikini.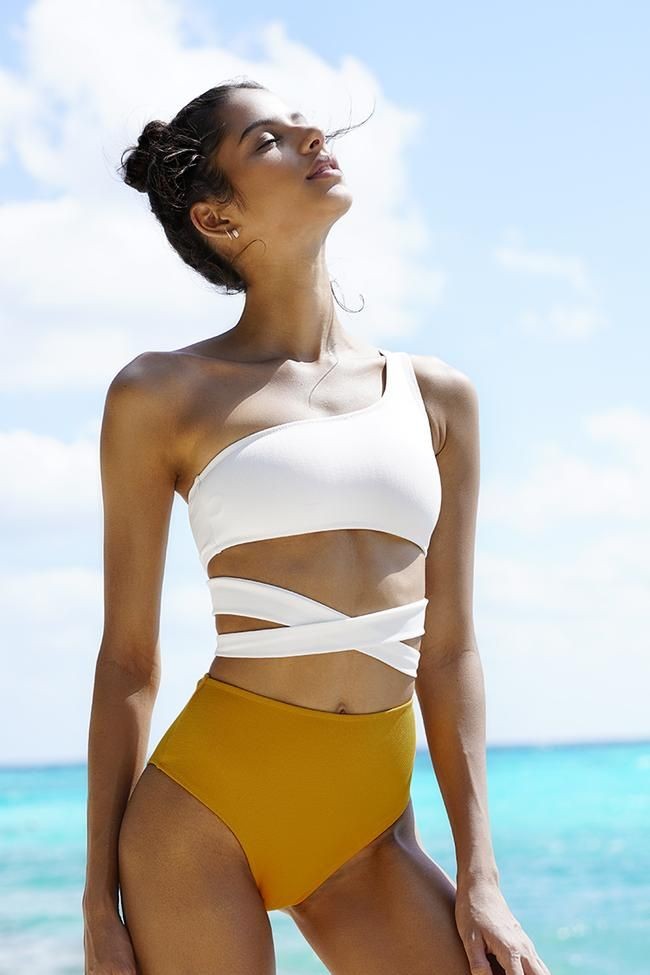 To keep yourself extra protected, use a rash vest for UV rays. Keep applying sunscreen to protect yourself from sunburns.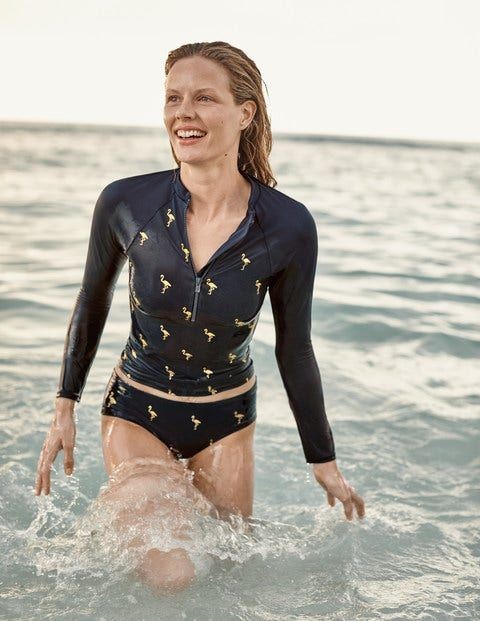 Avoid wearing strapless swimsuits while surfing. They give poor grip, which will trouble you when you are in the water.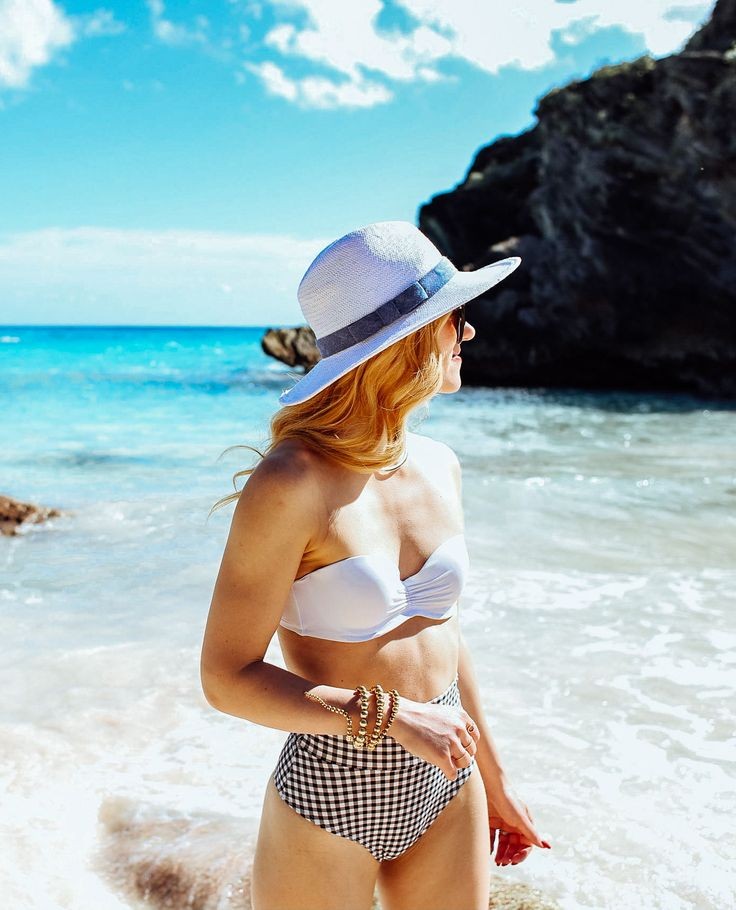 Oversized clothes can be difficult to handle when you are in the surfing zone.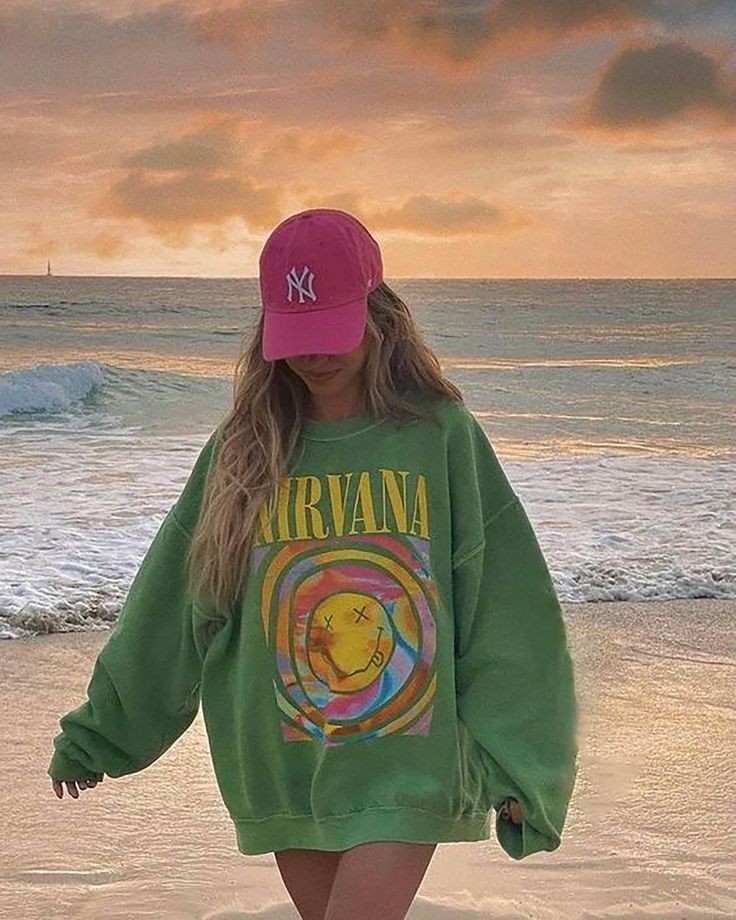 20 – White Floral Printed Top With Black Shorts
Pair a white floral halter top outfit with black shorts. If you are uncomfortable with halter-neck tops, I suggest going with racerback tops. While surfing, always considers your comfort.
Choose bottoms that hug your body.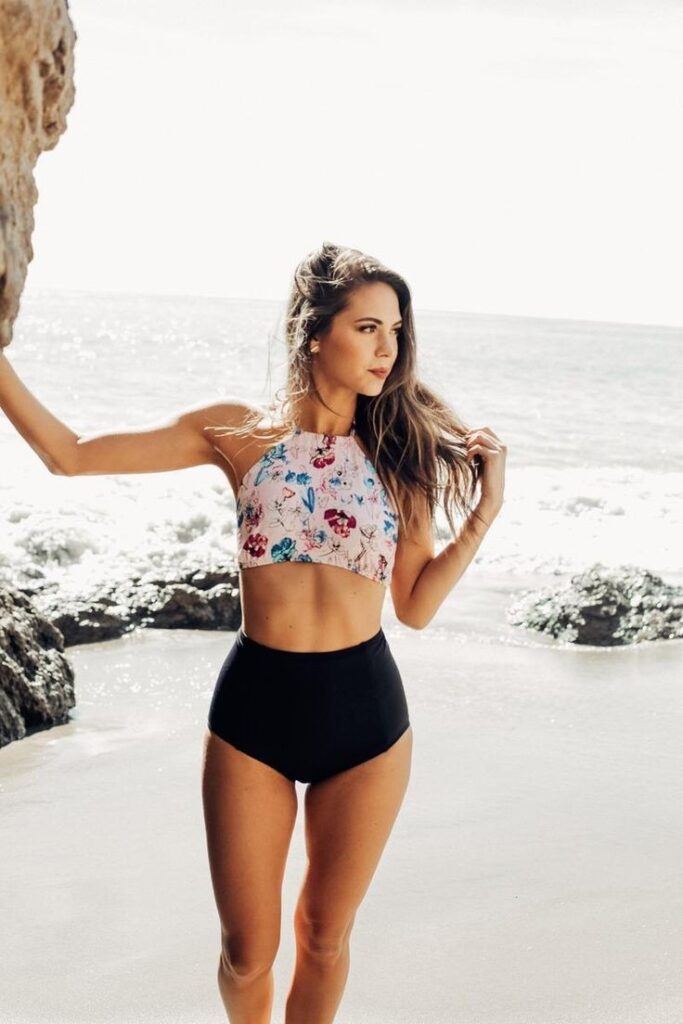 19 – Brown Ribbed Side-Cut One Shoulder Swimsuit
If you want to do surfing in style, try cut-out swimsuits. Use darker shades of outfits while going in the water.
Also, don't worry, darker doesn't mean you always have to wear black, you can choose colors like brown or rust. Make your outfit cute by wearing a headband.
18 – Rust White Lined Full Sleeves One-Piece
Ribbed clothing is very much in style these days. You can wear a full sleeves one-piece with the details of the white border. If you are a jewelry person, you can add stud earrings to complete the look.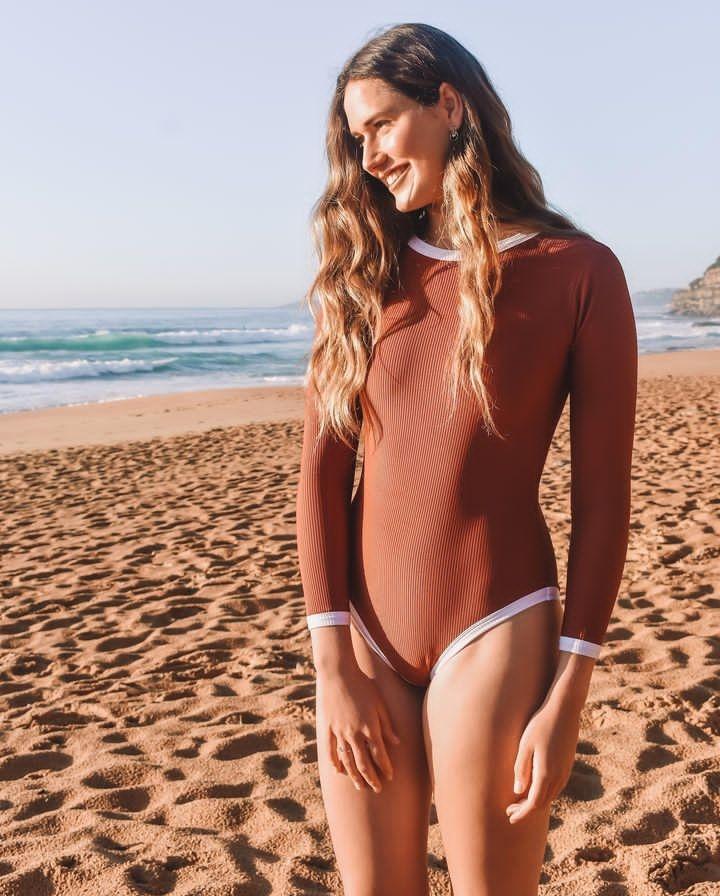 17 – Blue And White Graphic Print Top And Leggings
Not everyone likes shorts, and that's totally fine. You can go for many other options to dress like a surfer girl. If you are a leggings kind of girl but don't want to wear anything simple, then wear a graphic printed top and matching leggings set.
16 – Colorful Striped Collar Shirt With Matching Bottoms
This is the perfect outfit to style if you only do surfing for fun and want to keep your fashion game on point. Wear a striped button-down shirt with matching bottoms.
Go with vibrant colors to give all the summer vibes. If you want to keep the button open, you can wear a tank top. Otherwise, a bikini top will do fine.
15 – Blue And White Printed Set With Matching Button-Down Shirt
If you don't love tight clothes, make sure you don't wear anything too baggy because it will irritate you later. Pair a blue and white two-piece set with a matching shirt to use as a cover-up.
This is a perfect outfit to enjoy a beach party and surfing, in one outfit.
14 – White And Pink Sleeveless Crop Top With Matching Bottoms
White swimsuits are usually under debate. Some people avoid them, but some love to flaunt them. If you love white too but are afraid of wearing swimsuits, here's the trick. Everything depends on the fabric.
There are many swimsuits that are waterproof. Also, jersey material is not see-through, so you can also wear that. If you are a professional surfer, a white bathing suit isn't a problem for you..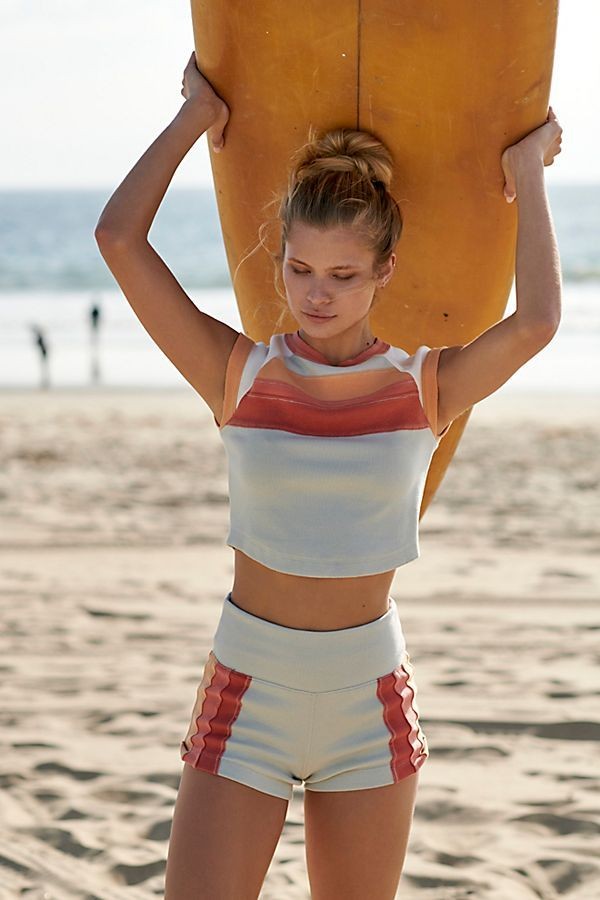 13 – Navy Blue Swimsuit With Black Cap
You have to practice a lot out in the burning sun as a surfer. It can damage your skin severely. Although sunscreens help a lot in this, you should always be extra careful. Wear a navy blue swimsuit with white detailing.
The front zip helps you to get in and out of this suit conveniently. To protect your eyes from sun rays, wear a p-cap with your outfit.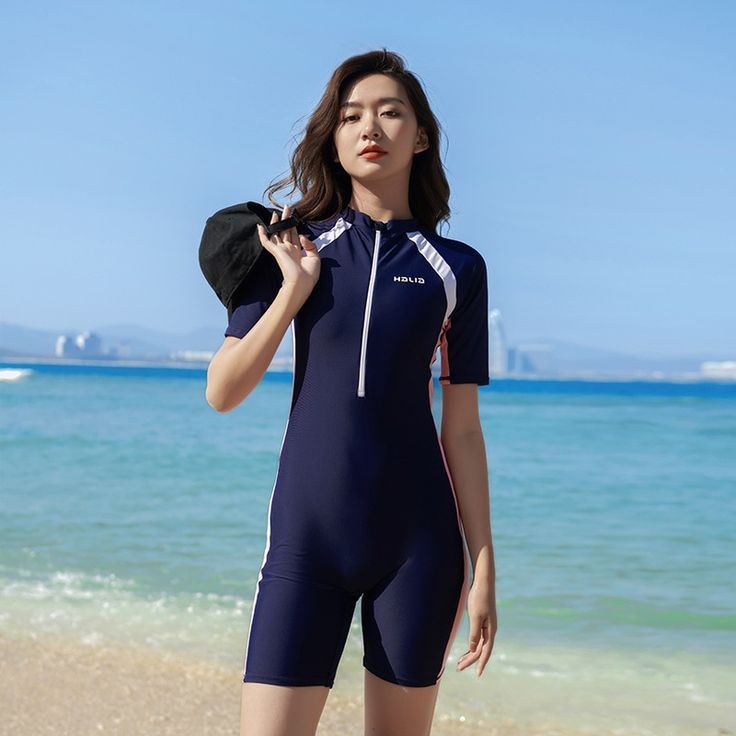 12 – Lilac Two-Piece Set With Matching Oversized Button-Down Shirt
Patels are the perfect colors to flaunt in summer. Wear a lilac bikini and style an oversized button-down lilac shirt. You can use the shirt as a cover-up after surfing.
To make your outfit look cuter, go with a brown beach hat. It will perfectly match your attire. You can also accessorize your look with gold jewelry like rings or bracelets.
11 – Black Bikini Top With Blue Shorts And Crochet Cardigan
Wear a spaghetti strap front knot bikini top with denim ripped hem shorts. Use a crochet cardigan instead of a towel when you are done surfing. Do not forget to carry sunglasses to protect your eyes from sun rays. If you can't focus in bright sunlight, you can also wear glasses while surfing.
Lastly, flip-flops are the best type of footwear to carry with you on a surfing trip.
10 – White Halter Neck Top With Denim Shorts And White Crop Shirt
A white halter neck top with denim shorts is an interesting combination if you are looking for what you should wear for your first surfing experience. Use a white crop jacket as a cover-up. You can also wear a white cap to protect your eyes from direct sunlight.
Tie your hair in a back bun for a comfortable look.
09 – Pastel Green Two-Piece With White Lining
What to wear for surfing lessons? Pastel green or mint green is a very soothing girl to choose for surfing. Wear a ribbed material two-piece with white hem detailing and spend your day in the water with comfort and style.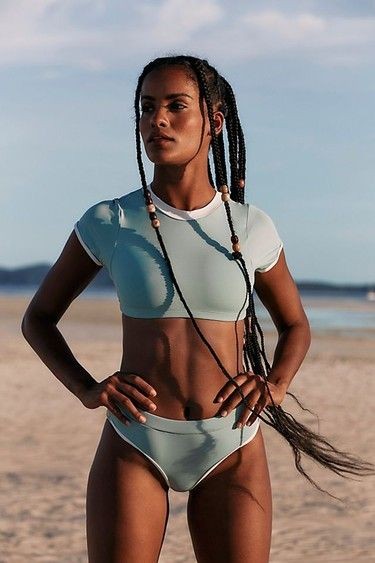 08 – White Striped Top With Floral Pink Bottoms
Wear a white striped top and pair it with pastel pink floral bottoms. You can wear this outfit for any beach activity like surfing. Use pink shade sunglasses to finish the look.
You can also pair white flip-flops with this outfit.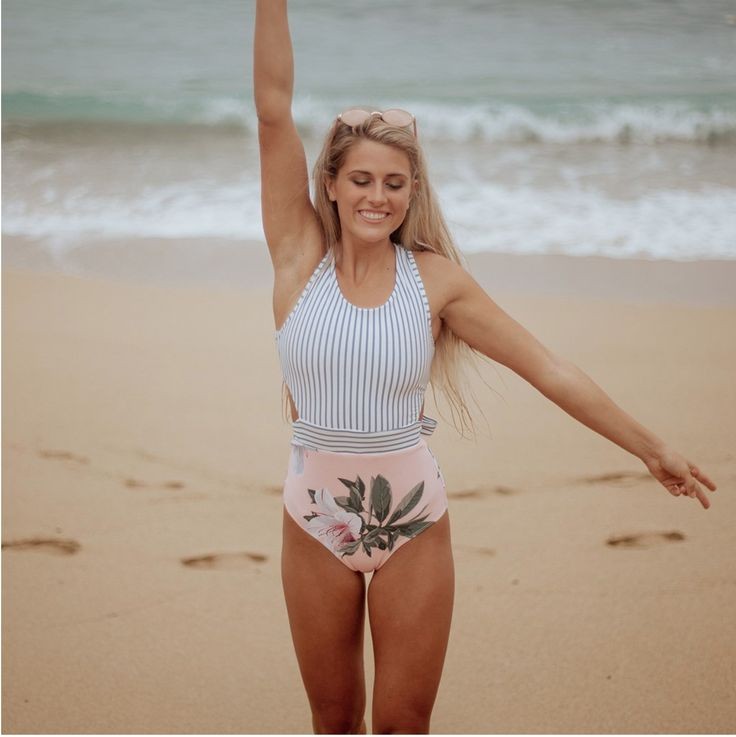 07 – Yellow One-Shoulder Cut Out Swimsuit
Swimsuits are perfect for those who go surfing regularly. There are different types of swimsuits like this one, known as a one-piece.
Wear a yellow side-cut bathing suit. Tie your hair in a messy bun and secure it with a scrunchy. That's how you can get surfer girl aesthetic outfits.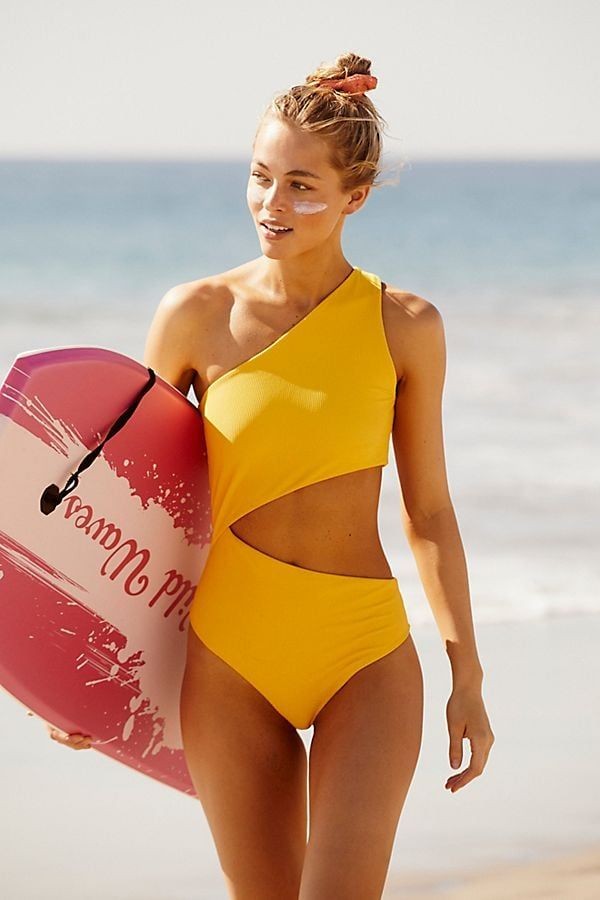 06 – Olive Green Bikini Top With High-Waisted Shorts And Striped Button-Down Shirt
Wear an olive green bikini top with blue denim shorts and a colorful striped button-down shirt as a cover-up. If the sleeves are short, then that's good. But if not, then make sure to roll them up for a casual look.
You can use bohemian-style jewelry like bracelets to finish off the look in style.
05 – Graphic Printed Sweatshirt With Ripped Shorts
Surf girl fashion style is all about comfort and free-spirited vibes. You can wear graphic shirts or sweatshirts with ripped denim shorts. You can wear anything while surfing as long you are comfortable in it.
There's no specific dress code for surfing, however, there are still a few things that you should consider, like color and fabric material.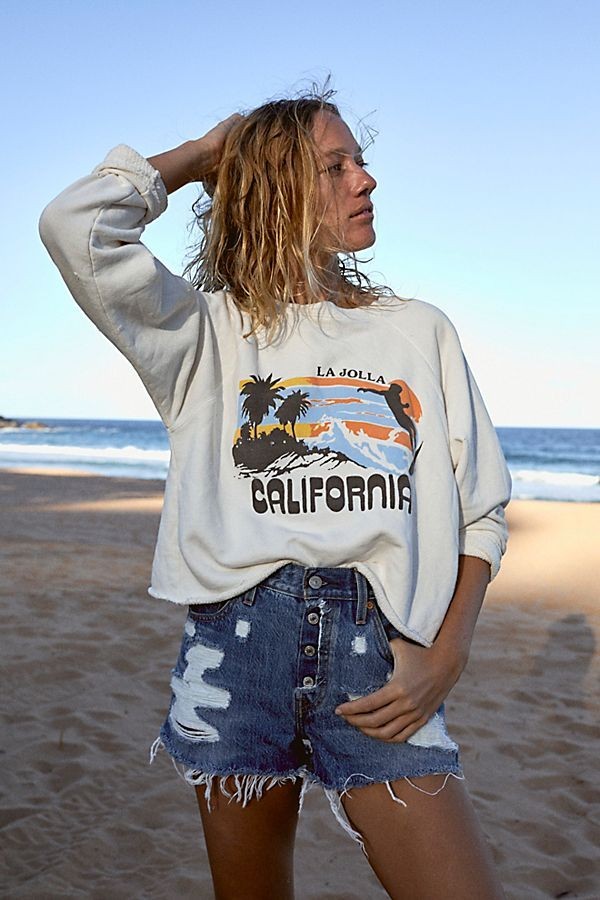 04 – White Hoodie With High-Waisted Denim Shorts
Pair a white hoodie with folded hem high-waisted denim shorts. You can either go surfing like this, wear a sports bra or bikini top beneath the hoodie, and take the upper off whenever you are ready to go in the water.
However, the best colors are black, green, brown, blue, or any darker shades to wear while surfing.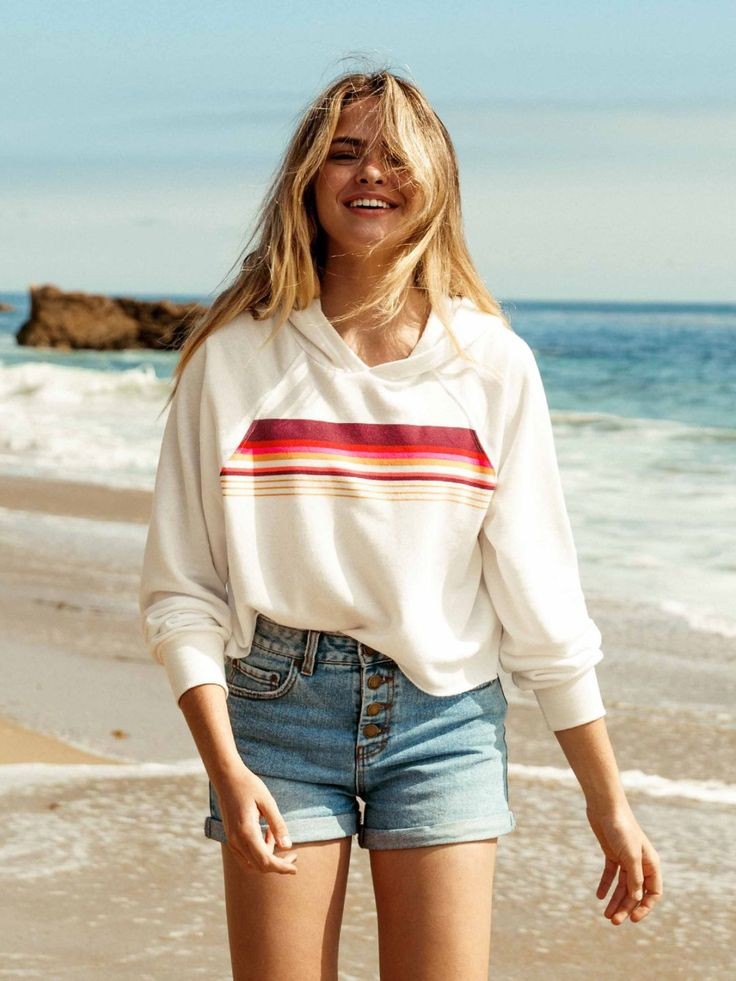 03 – Black Wetsuit With Black Turtle Neck
When I first saw this outfit, I found it pretty cool. We wear rompers everywhere but never go surfing. Here's a black romper-style body-hugging wetsuit as an example for you to take inspiration.
In summer, you can wear it without any inner. However, you can pair a black turtleneck with full sleeves if the weather is cold. Tie your hair in a ponytail, and enjoy your day!
02 – Brown Spaghetti Strap One-Piece With White Button-Down Shirt
One-piece or tank suits are the most preferable clothing items on the beach. It's because they are comfortable and they are effortless to style.
You can style a brown plunge line one-piece with a white oversize button-down collar shirt. Fold the shirt's sleeves and tie the knot in the front to make it look like a cover-up. Lastly, wear black sunglasses to finish the look.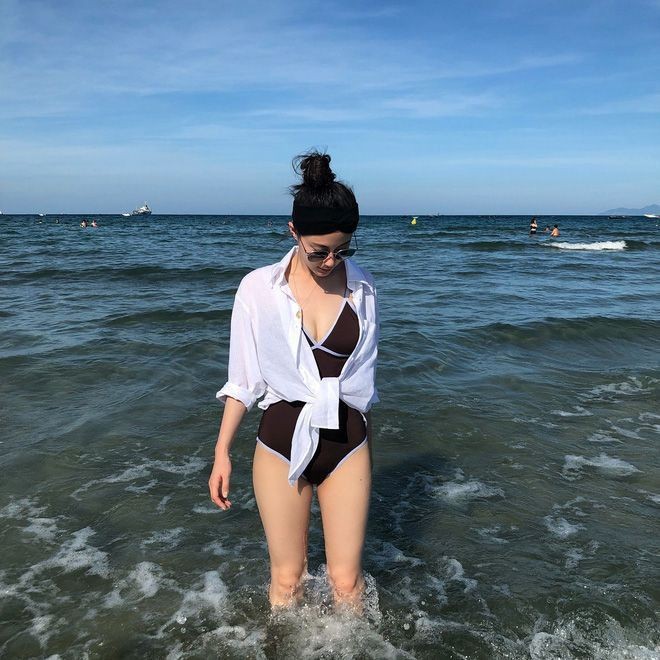 01 – Dark Blue Long Sleeves Front Zipper Rashguard
It would be best if you always put sunscreen on before surfing but have you thought about any other ways to protect yourself from the scorching sun rays? Rashguards is your answer. It is a swimming costume that covers your whole body and protects your arms and legs from sunburns.
Rashguards usually have UPF50+ properties to protect you from UV rays. You can find rashguards in many colors and styles. They come with a front zipper, which makes it easy for you to come out and get in the costume.
Frequently Asked Questions
Q: What do you need to wear for surfing?
Ans: All types of bathing suits—Speedos, bikinis, board shorts—work. It will be most comfortable if it is snug on you. Also, a towel is very important. Use your towel to dry off and warm yourself after taking a shower with fresh water.
Q: What does a beginner surfer need?
Ans: A surfboard, wetsuit, leash for the board, fins, and sunscreen may be included in the surfing gear. Because there are so many different kinds and varieties of surfboards, it might be difficult to choose one. Choose a longer surfboard with a soft top that is at least seven feet long.
Q: How do I get a surfer look?
Ans: Cabana shirts are required. On sweltering summer days, a light, roomy camp shirt with graphic motifs and bright colors will be your go-to. Include suits with strings, graphic t-shirts, boarding shorts, flip flops in style, and beach jewelry. That's it; these are all you need to get a surfer look.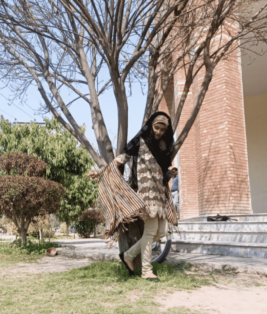 Javeria is a student and a content writer. She is good at public speaking, leadership, and management. She is passionate about writing, reading & music. She is an ambivert and is always up for a new friendship adventure. As an English literature student, she thinks fiction is more fun to read than nonfiction.