Bollywood Inspired Navratri Outfits: Navratri being an auspicious and colorful Hindu festival, how one dresses up and celebrates this festival is very close to a Hindus heart. Navratri comes twice in a year, April and October, however, the October one is celebrated with more colors and enthusiasm. Navratri is the celebration of a Hindu goddesses victory over evil and ego, over bad, on which the good prevailed. So, to celebrate the victory of the goddess Durga, Hindus celebrate the festival of Navratri with wearing and praying and dancing in the 9 colors of goddess Durga. Each day is associated with each colour of the avatars of the goddess. The festival of Navratri is divided into 9 of total days, which befalls in the season of autumn, in October. Today in this article we will be talking about the latest trends which u can incorporate in your Navratri dressing. And what could be better than turning towards the glamorous Bollywood actresses when taking inspiration for Indian festival clothing.
Don't know what to wear this Navratri? Don't know how to incorporate modern fashion in Navratri and its colors? Can't figure out what to wear to Navratri celebrations other than the traditional ghagra choli? Don't you worry, we have all the answers to your questions about the upcoming Navratri.
How To Dress Like Bollywood Stars This Navratri
Before we move further ahead and show you all the Inspiration you can take from the Bollywood actresses for Navratri this year, here are some tips on how to mix the Navratri colors with traditional clothing other than the conventional glass work lehenga choli, that is normally associated with Navratri. And all the modern cuts and styles that the Bollywood divas have been seen flaunting on the camera throughout the year.
Look for clothes that are easy to move in, so you can easily do garbaaa.
The conventional glass work can be incorporated in clothes other than the conventional lehenga choli.
The 9 colors of Durga's avatars give a chance to work with all the bright and beautiful colors on Navratri's festival.
From traditional – glasswork, ghagra choli to sarees to lehengas and gharara pants or palazzos, you can work with everything to create a traditional Navratri look.
Jewelry can make or break a desi outfit, choose beautiful jewelry to go with your attire.
The actresses obviously wear designer and expensive clothes but don't worry if you can not afford the same dress. You can always take inspiration from the dress and get made a similar one for yourself. That's the whole point of showing you the outfit ideas of actresses here.
So, now that we are done with some quick, helpful tips, let's go ahead and check out all the outfit ideas you can take inspiration from the Bollywood divas.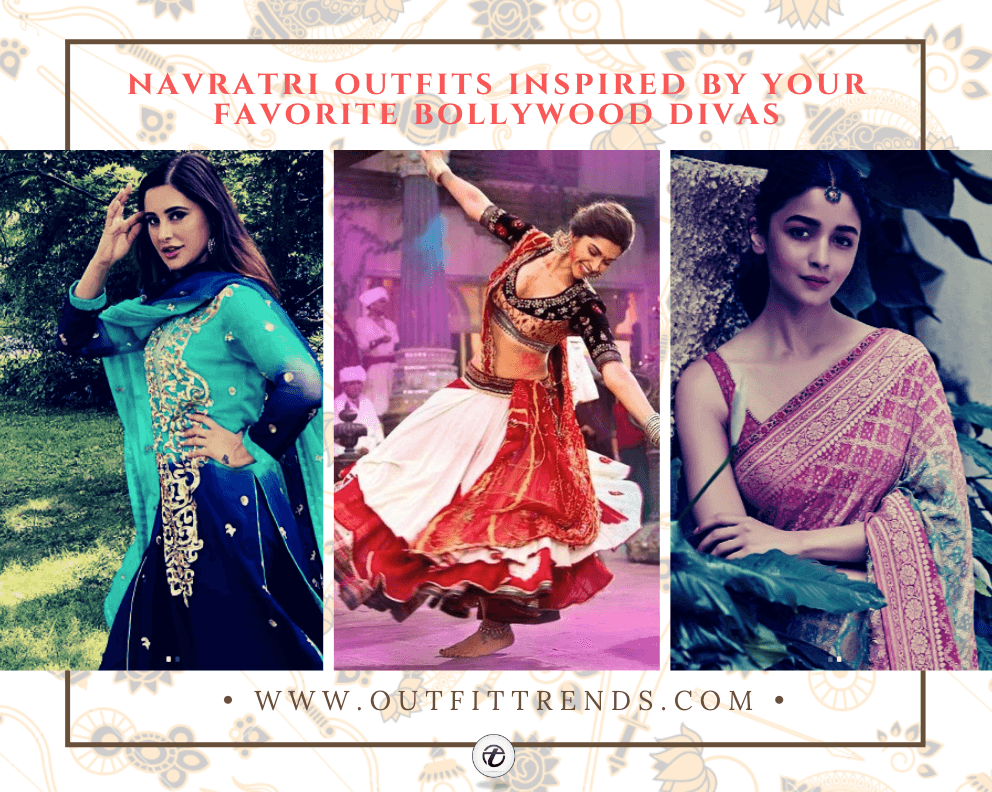 ↓ Day 1 – Yellow
Day 1 of the festival of Navratri signifies happiness and joy. The first day of Navratri festival is dedicated to Shilputri, which represents nature. Obviously, how can we not talk about the sun, sunny days, and especially yellow colour when we're talking about nature and happiness. Hence, the colour for this day is Yellow.
To take inspiration from the Bollywood divas, here, we have compiled a number of outfits worn and showcased beautifully by some actresses, which you can incorporate on the first day of Navratri festival.
From Kajol's bright yellow saree with a pop of black banarsi blouse to add some contrast. If you like wearing sarees for such special occasions, don't miss out our earlier post on wearing Indian Ethnic Wear Sarees In Modern Day fashion.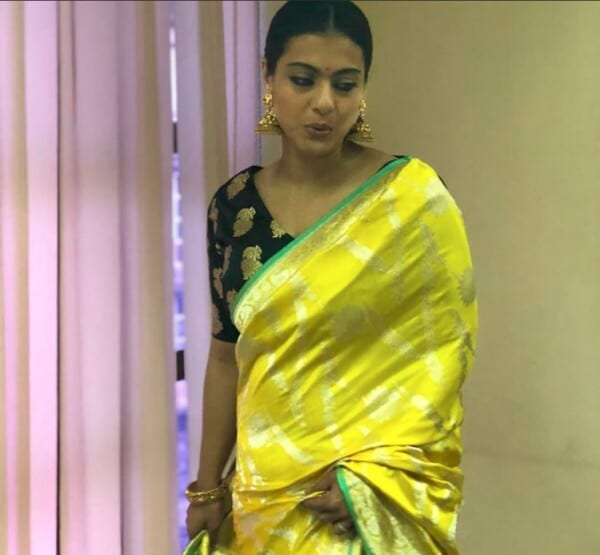 To Shilpa Shetty's absolutely beautiful yellow ghagra choli with some blue embroidery on the choli and a beautiful, light, flared ghagra which looks so pleasing to the eyes.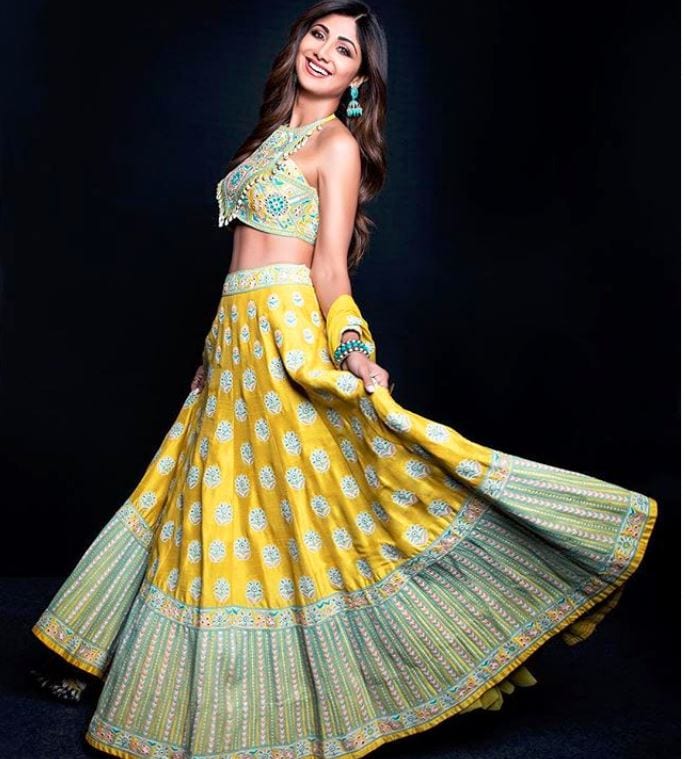 To Shilpa Shetty's yellow dhoti style saree, which is so chic and so modern yet mixes the traditional style to it too.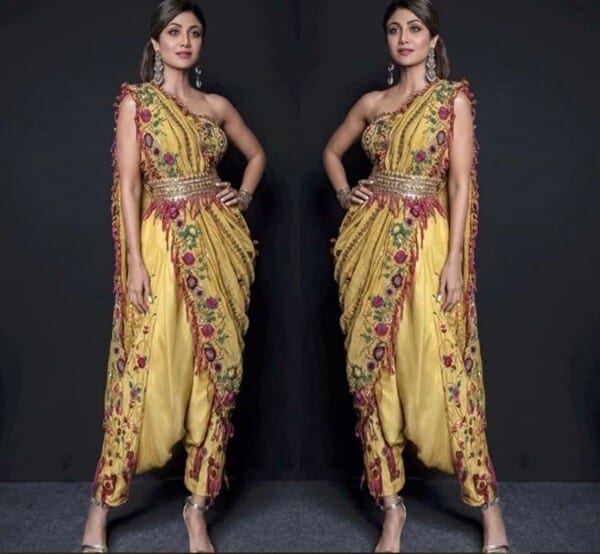 To Kriti Sanon's flared yellow anarkali which is absolutely mesmerizing with its colors and detailed work, and it's beautiful light yellow dupatta. Add some jewelry to make your outfit shine and stand out in the crowd.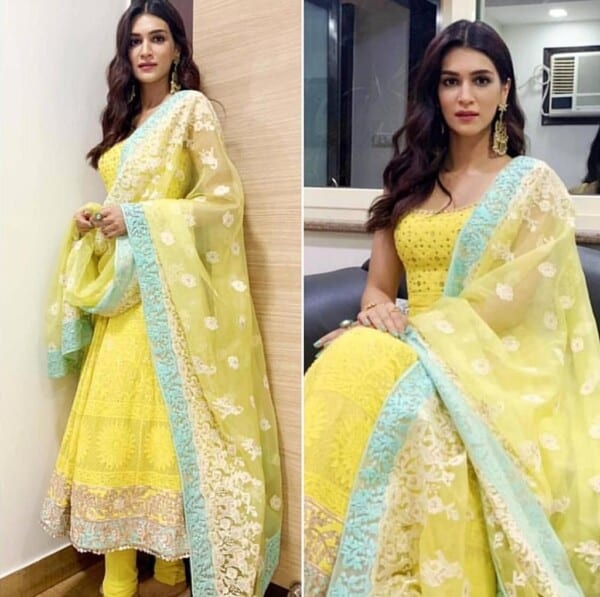 ↓ Day 2 – Green
This day of Navratri is devoted to Brahmacharni, which symbolises spiritual knowledge. When we talk about peace and spirituality and spiritual knowledge, the colour green pops up in our head. So, on this day, the devotees are supposed to wear green colour and pay tribute to the avatar of goddess Durga.
On this day, you can take inspiration from Bollywood actresses like Alia Bhatt, Kriti Sanon, Dia Mirza, Shilpa Shetty and many others.
Alia Bhatt was seen wearing a beautiful banarsi saree with shades of green, pink and red, with a sleeveless, deep neck red blouse, which looks perfect for summers and so elegant and royal to carry. You can add sizeable jhumkas or chandbalis to your look or a simple teeka to keep the look decent and light, just like the Bollywood diva herself.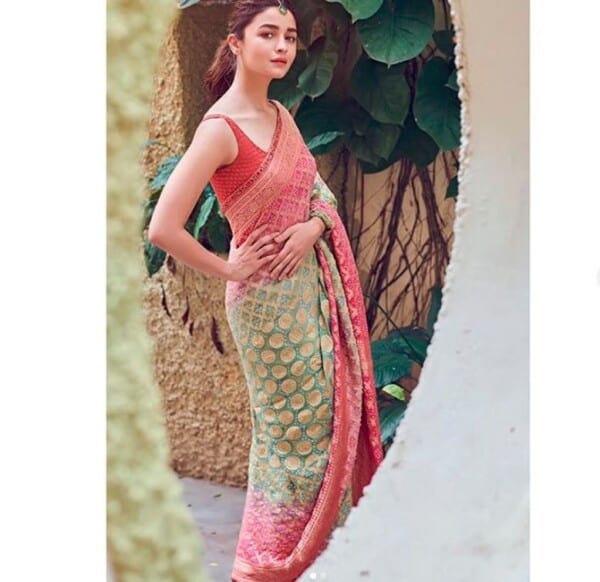 Or, you can also pick a darker shade of green like Dia Mirza is seen here adoring beautifully. A flared, blingy green lehenga with a velvet blouse for the autumn vibes and a net dupatta. Oh my, so simple yet so elegant and perfect for Hindu festivities. You can add shiny, silver jewellery to the outfit with some green here and there and it's a look!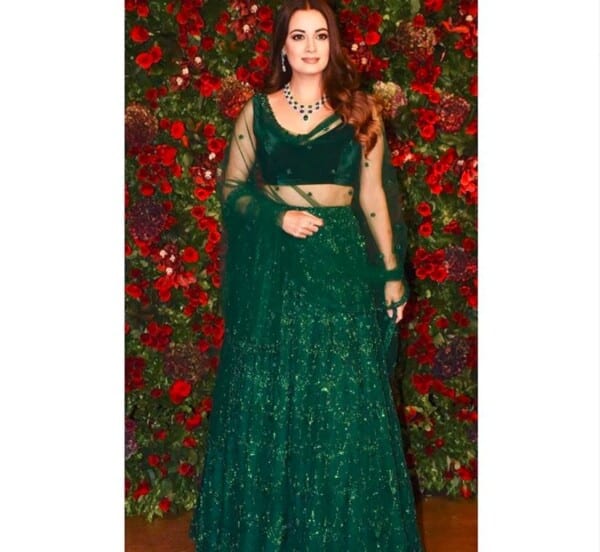 Or, take inspiration from Kriti Sanon's beautiful lehngas, both in light green style as well as in dark green. The light green lehenga choli adorned by Kriti Sanon made quite a style statement in media, you can make a style statement while you twirl around doing garbaa and have fun in Navratri. A heavy work ghagra choli with a net dupatta to top it off, and some dainty silver jewellery. It's a favourite!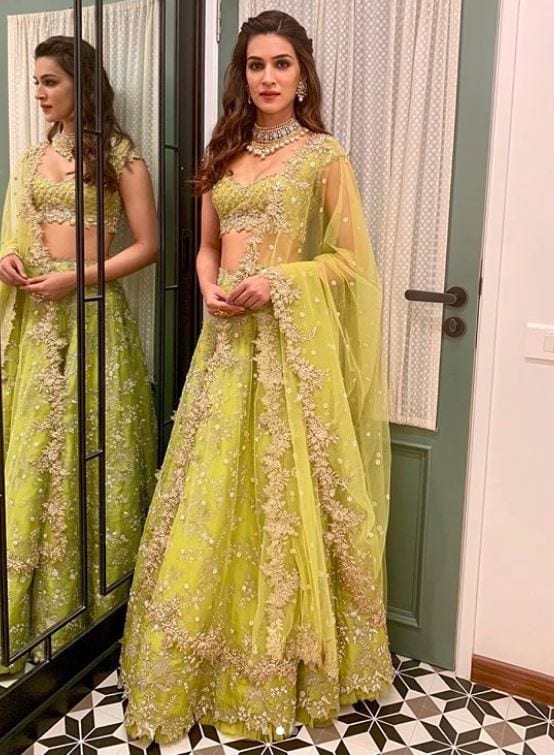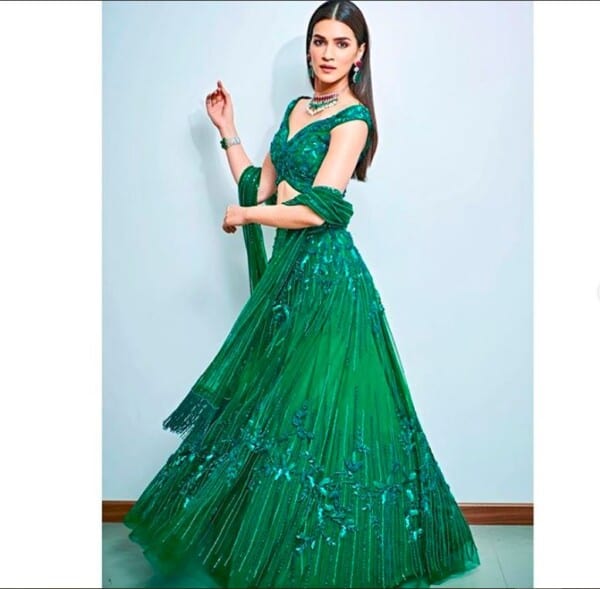 Or you can dress up like the diva of sarees Shilpa Shetty. A simple ruffle saree with a blingy blouse. It's a bright, eye-catching and absolutely beautiful attire for Navratri day 2.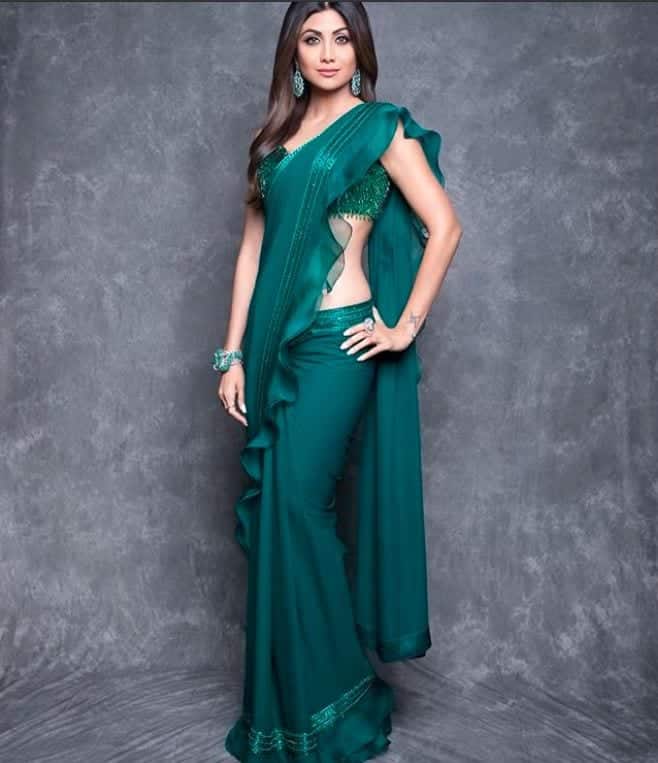 ↓ Day 3 – Grey
Day 3 of Navratri festivities is dedicated to Devi Chandraghanta, who carries a half moon on her forehead. So, to symbolise the colour of the moon and night, the followers are supposed to wear grey colour.
Some Navratri Outfits for Day 3 could come up by taking inspiration from the outfits adorned by the Bollywood fashion icons Priyanka Chopra, Kareena Kapoor and her half daughter, but as much of a fashion diva as her mother, Sara Ali Khan.
For a full-fledged, flared lehenga choli, if that is your preference, you can go for the outfit adorned in the first image down below, a full worked lehnga and blouse with a net dupatta and some sizeable silver jhumkas to go with it. Traditional, royal, absolutely beautiful and Navratri appropriate.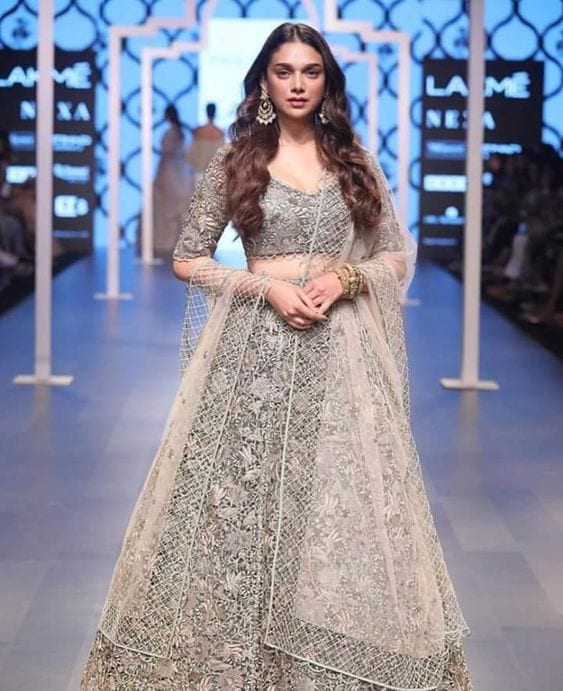 Or, if you want to opt for a mesmerizing, flared angarkha, you can take inspiration from Kareena Kapoor from the image we have provided for you below. A beautiful chiffon angarkha in grey with a banarsi dupatta, worked with golden to add character and colour to the entire look. Add some large, golden jhumkas to complete the look. The ribbon added to the side of the angarkha with golden tassels and balls at the end look so royal.
Or, like Priyanka Chopra, you can opt for a shiny grey net saree to rescue the day. The beach waves carried by Priyanka Chopra are a perfect match to go with this Navratri outfit.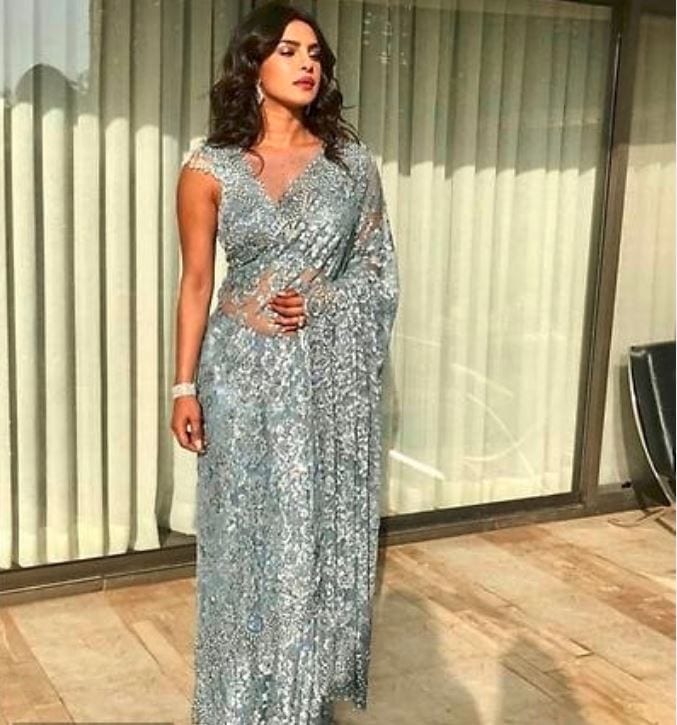 Or, like Sara Ali Khan, wear a grey lehnga with a modern choli to stay in the traditional lane but also add some modern touch to the outfit. Some chain like large earrings to complete the look would be perfect.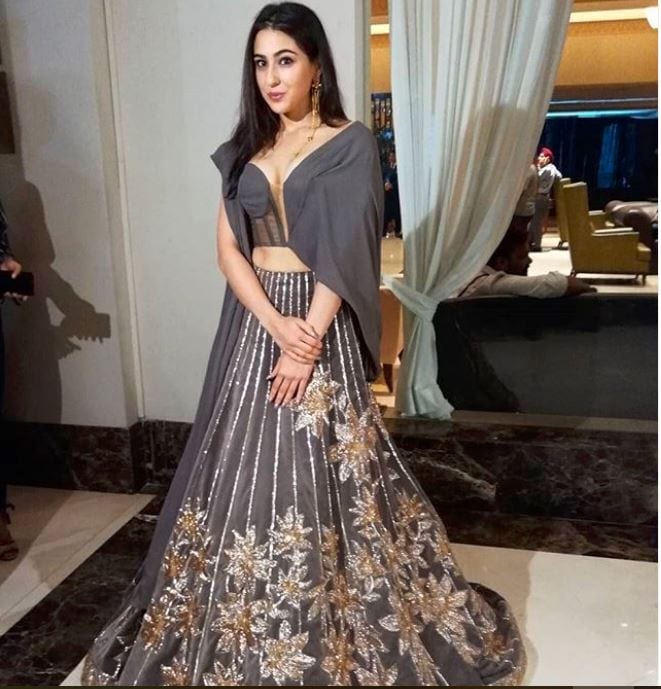 ↓ Day 4 – Orange
Day 4 symbolises happiness, light, energy and brightness. It is dedicated to goddess Kushmanda, and the devotees should take on orange colour to radiate energy and happiness on an auspicious day like this.
Orange coloured Navratri dresses can be taken inspiration from these Bollywood divas shown down below.
Jhanvi Kapoor, the ever gorgeous and the ever versatile, who looks stunning in eastern or western whatever she wears, has been seen wearing this crop shoulder, side slit, orange angarkha, which she carries with elegance. It is a perfect Navratri outfit for day four, either worn with distressed jeans like the diva herself here, or bell bottom or ghagra pants, which will look absolutely amazing with this angarkha.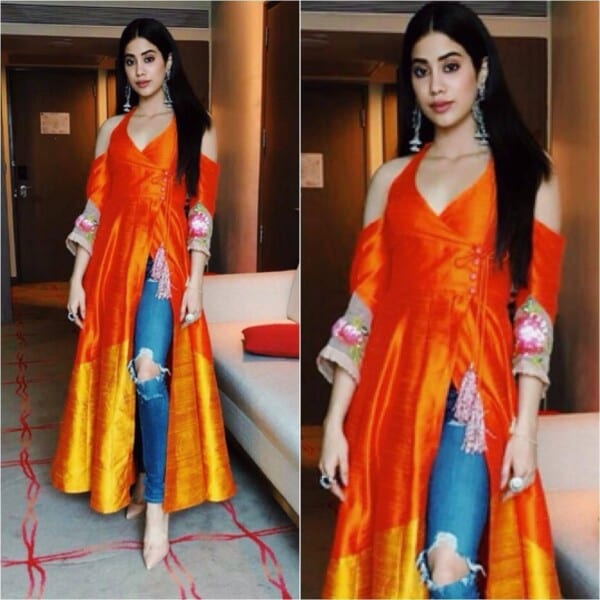 Or, like Raveena Tandan and Vidya Balan, you can drape around a silk or a beautiful traditional banarsi saree with a high bun and gold jewellery to go with it. If you want to keep the look minimal, you can wear a silk saree without any jewellery with hair let down in beachy waves.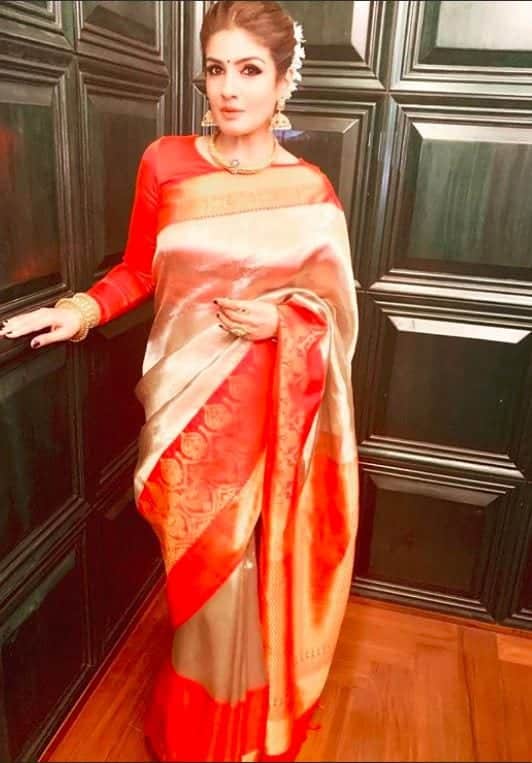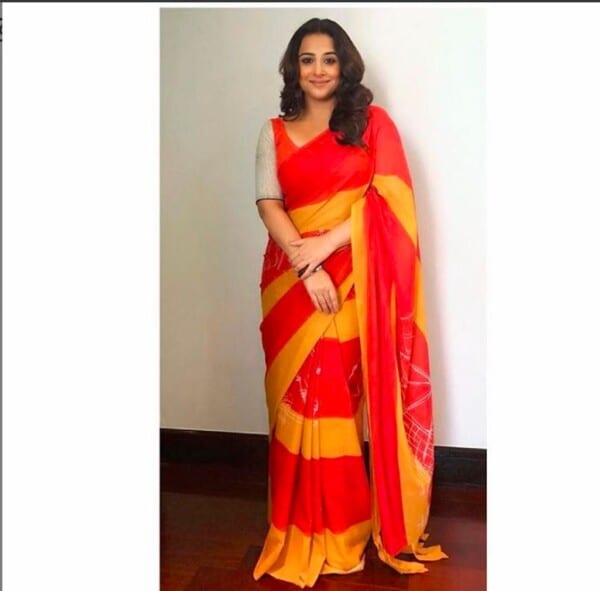 For lehenga option, you can wear an orange lehenga like Shown by Sharadha Kapoor here. A subtle blend of light orange lehenga and blouse with a bright orange dupatta to add a bit of brightness to the whole outfit. The neckpiece adorned by Shradha Kapoor here, however, is very heavy, you can opt for something lighter so you can twirl around doing garba with ease.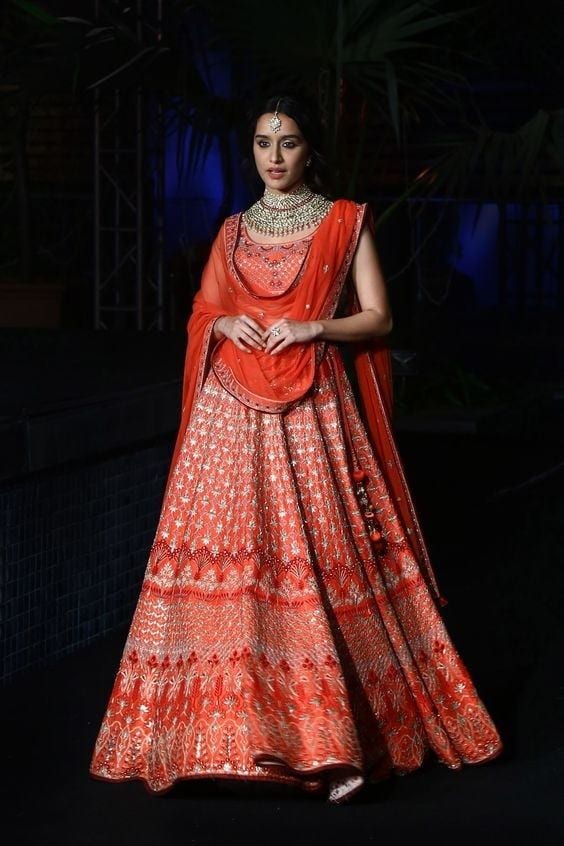 ↓ Day 5 – White
The 5th day of Navratri is dedicated to goddess Skandamata, who symbolises purity. Therefore, devotees take upon white outfits on the 5th day of Navratri to represent purity and pay tribute to the goddess Skandamata.
White is the best colour to dress up in during desi festivities because of how versatile it is, how beautiful it looks on brown skin and the range of outfits you can make out of white clothing pieces, Be it sarees, lehenga cholis, pishwas or angarkhas, everything looks absolutely divine in white. Some Navratri outfits can be made out of taking inspiration from Bollywood fashionistas like Alia Bhatt, Kareena Kapoor, Sonam Kapoor and Sonakshi Sinha along with alot of others.
For a rather light and decent look, you can take up the attire here adorned by Sonam Kapoor. A coat style, button-down banarsi dress, which also looks like a pishwas, hence the traditional look, The beautiful gold and white banarsi work gives out the royal look which makes it appropriate for traditional festivities. Some gold or bronze rusty jhumkas to complete the look.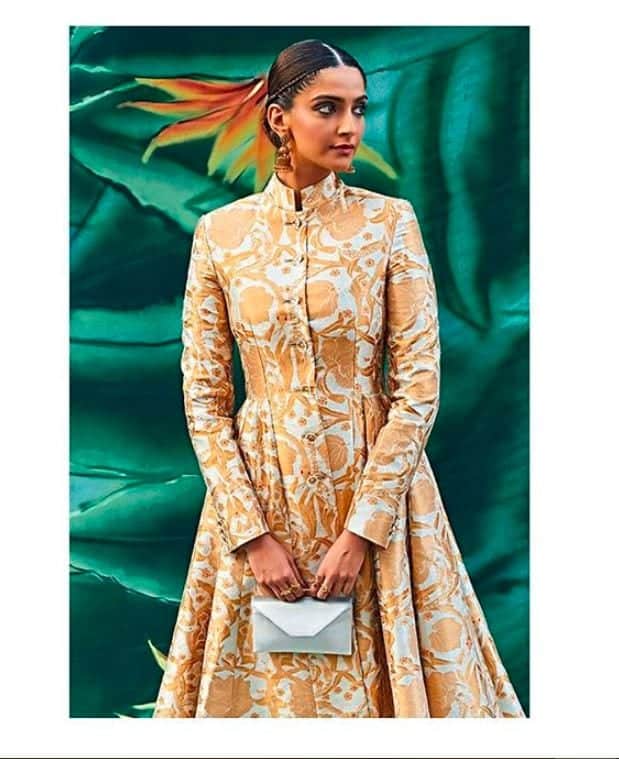 Or, if you want to opt for a pishwas style, which is obviously more airy, versatile to accessorise and comfortable to carry, you can opt for the Alia Bhatt look. Again, gold and white combination with some pretty gold jhumkas and the Navratri outfit is all set up.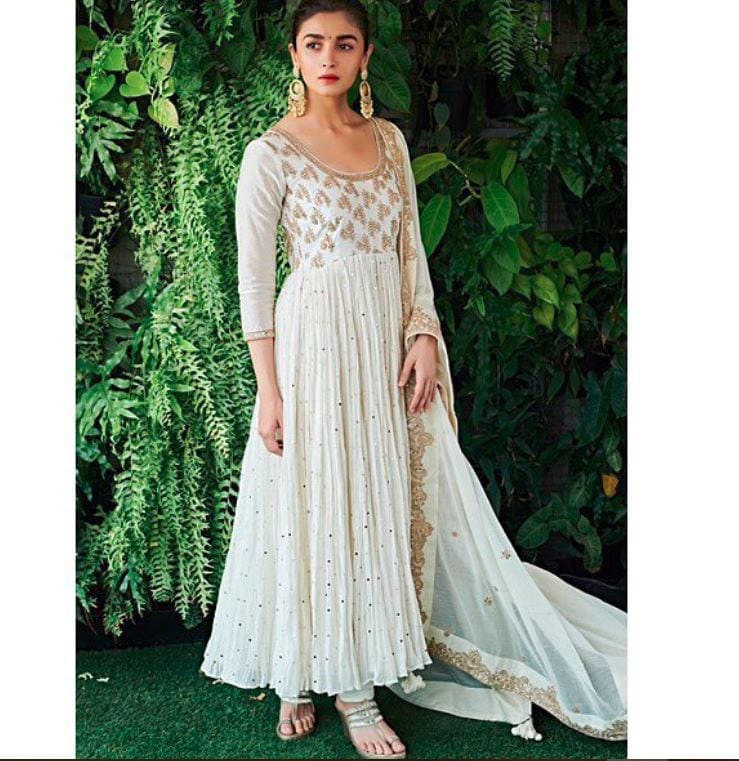 For a glamourous Navratri outfit, you can opt for the Sonakshi Sinha look. A glittery, shinning gold saree with a silver blouse and hair let down in beachy waves to add to the fancy intensity. With hair let down, big jhumkas are useless, so you can wear a beautiful silver neckpiece, and it's a look!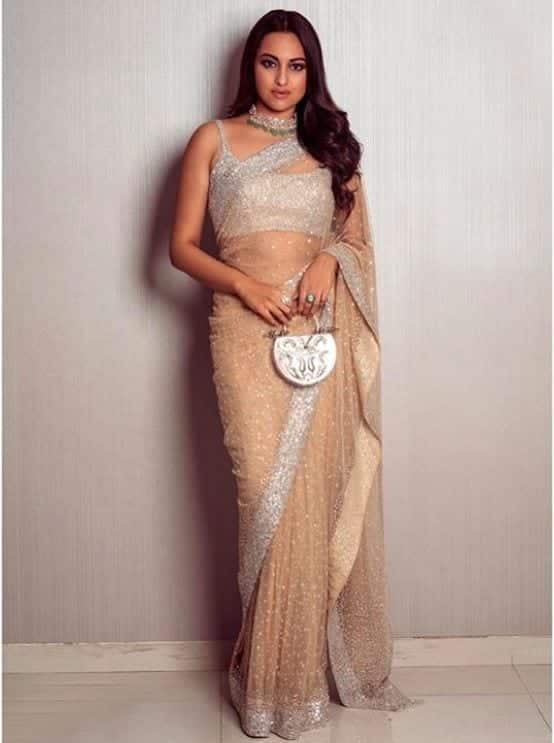 Another sleek and a rather decent saree style has been showcased here by the ever glowing and gorgeous Diana Penty. The cocktail star takes up the silk saree with a deep neck, sleeveless white blouse, to keep it white and sleeky, and a waist and to give it shape. It's definitely a Navratri look with some beautiful, pearl white jewellery.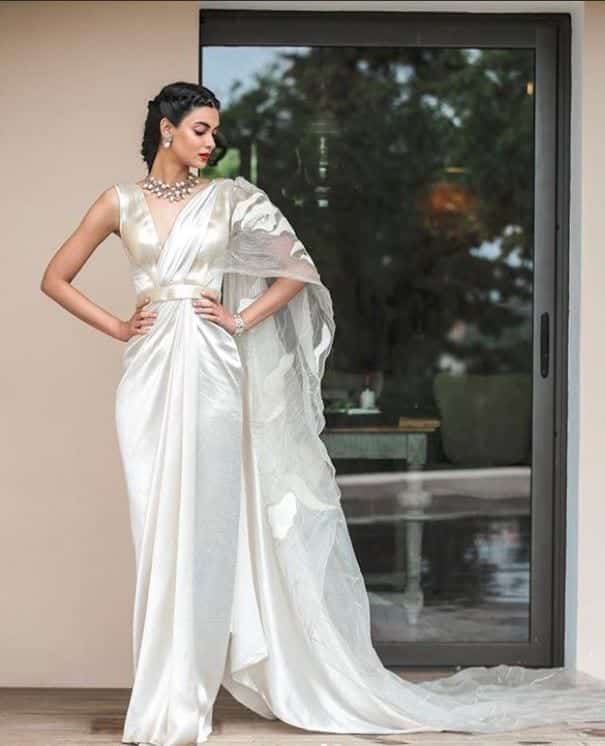 ↓ Day 6 – Red
Day 6 of Navratri represents anger and rage of Devi Katyayani towards the enemies. To symbolise rage against the bad and evil, against the enemies, the devotees take upon red outfits on this day.
These Bollywood fashion divas here have compiled a list of red outfits that you can take up for Navratri outfits. Red is a bright and beautiful colour, usually, associated with brides and newly married women, but it can look equally beautiful and bold on unmarried women like you.
Sonakshi Sinha here has presented you with two beautiful red looks, one in a ruffled chiffon saree with hair let down to look more classy and hot, yes I said it. With some silver jhumkas peeping from behind her beachy waves, to add some character to the one coloured plate outfit.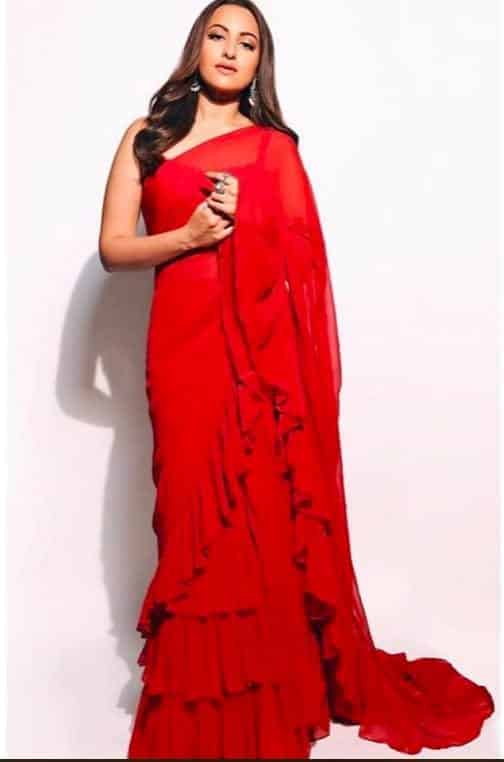 The other look taken upon by Sonakshi Sinha is a blood red, almost maroon, shirt, sleeveless shirt with gharara pants, which look absolutely divine. Red lipstick and a green and silver beautiful neckpiece to go with it, and it's a full Navratri look. Decent yet classy and bright, will get you to all of your Navratri invites. If you like this outfit, you just can't miss out these Latest Gharara Suits & Ideas On How To Wear Ghararas.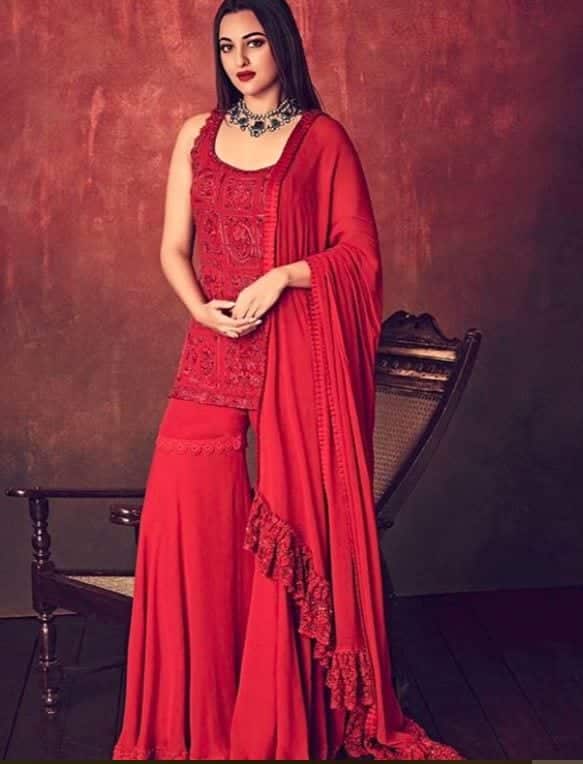 The final and the best look is by Alia Bhatt. Wearing red velvet gharara pants with red deep neck, straps, short shirt and a red net dupatta with some dainty gold jhumkas to complete the look. With so much going around with the outfit, you can keep your hair up in a bun and flaunt your jawlines like Alia Bhatt here. This one is my favourite look, what a diva.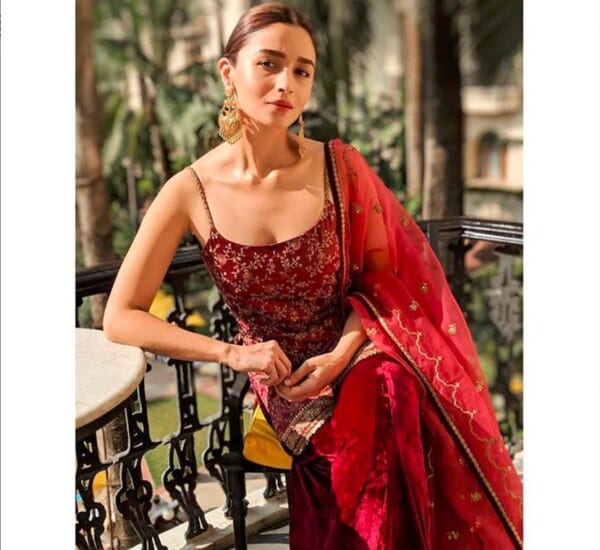 ↓ Day 7 – Blue
Day 7 of Navratri's 9-day auspicious celebrations, is dedicated to immense power and energy. This day honours Devi Kaalratri, through dark blue colour. The devotees, that's why take up dark blue coloured outfits on this day.
From Aishwarya to Kriti to Alia to Sonakshi to Shilpa, we have presented here all traditional outfits in colour blue that you can take up as inspiration for your Navratri outfit.
Aishwarya Ray Bachan, Kriti Sanon and Sonakshi Sinha have been seen wearing lehengas ranging from highly work to lighter work, and from dark blue to light blue colour. You can take up inspiration from the traditional dark blue attire from Aishwarya or Kriti, or from Shilpa who has elegantly carried a light blue lehenga with floral work.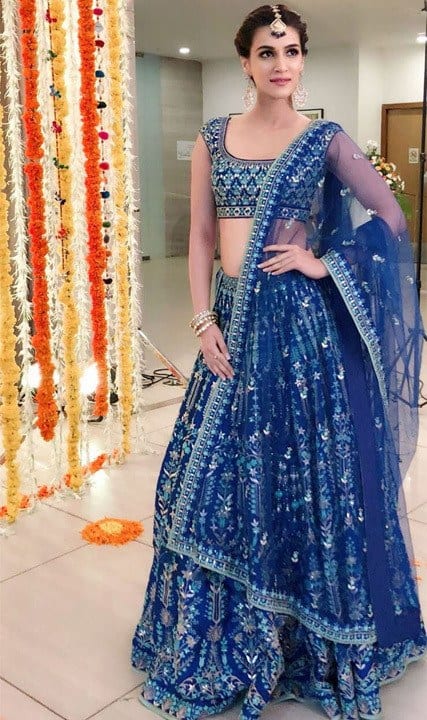 Alia Bhatt was seen wearing a dark blue silk saree, which can be a perfect look as your Navratri outfit.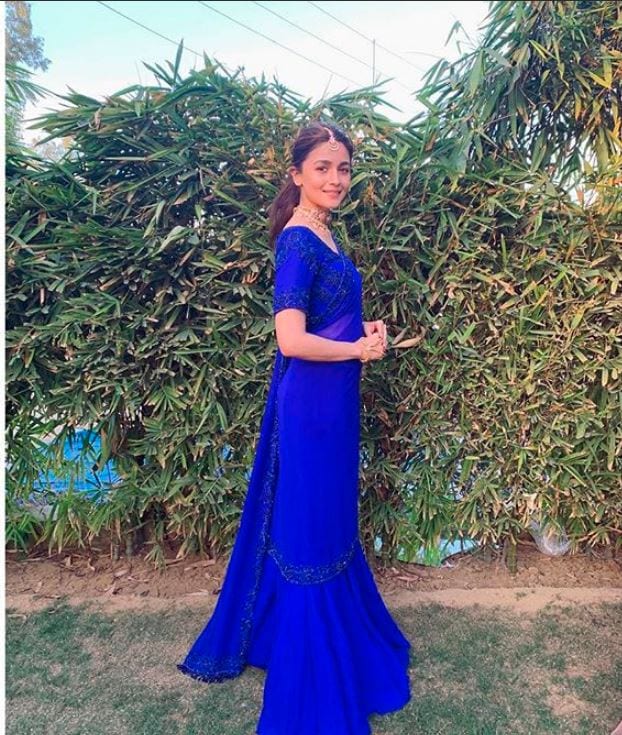 Or, like Sonakshi Sinha, you can take up a blue shalwar suit, with some embroidery, to get through the day hectic day of poojas and garbaa easily.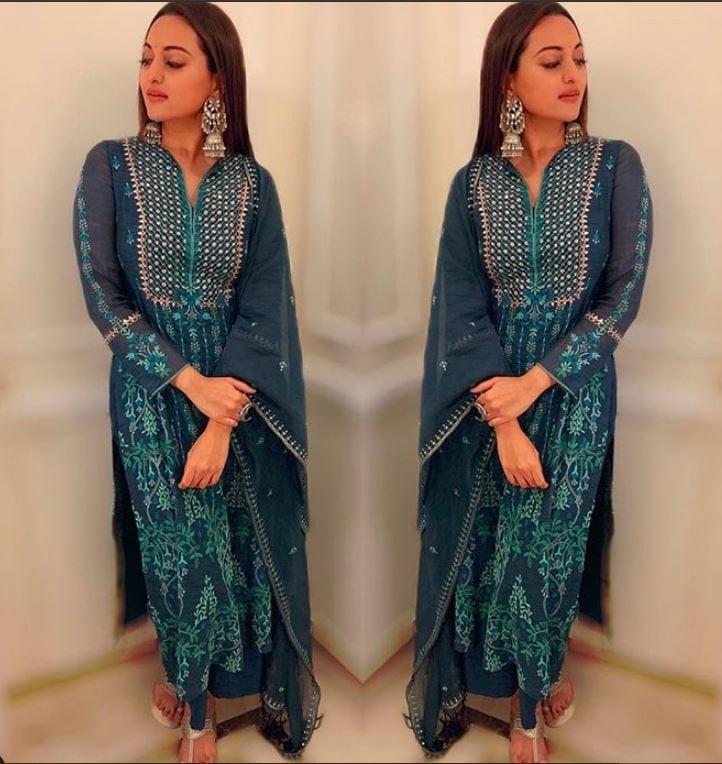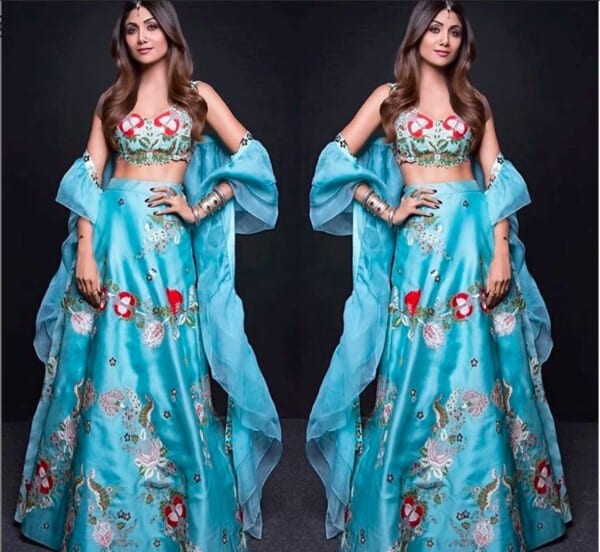 ↓ Day 8 – Pink
Day 8 of Navratri is devoted to goddess Mahagauri. The devotees take upon pink colour on this day to pay tribute to this goddess's aura of hope, social upliftment and self-refinement.
These Bollywood divas have taken up pink coloured traditional with such grace and ease, we couldn't help yourself but show you all these outfits for you to take some inspiration for your Navratri outfits for day 8. The day of hope here is some hope to save your sinking ship of fashion.
Shilpa Shetty, the goddess of saree's and traditional Indian wear, was seen wearing this ruffled, slit open from the front, pink shirt with a printed skirt lehenga, a perfect balance of fashion and tradition. The light work and the modern design makes it an outfit you must have in the Navratri of 2019.
Sonakshi Sinha and Kriti Sanon have some lehenga Navratri outfits here for you to take inspiration from. Light pink, light work, perfect for hectic, warm days of Navratri in April.
Raveena Tandan has taken up a basic, yet so elegant and beautiful pishwars in light pink. With some gold work on the borders of the pishwas and the dupatta, it is perfectly, decently, well-balanced outfit for Navratri. Nothing off the ledge yet so traditional. You don't always have to go for fully worked outfits for Navratri.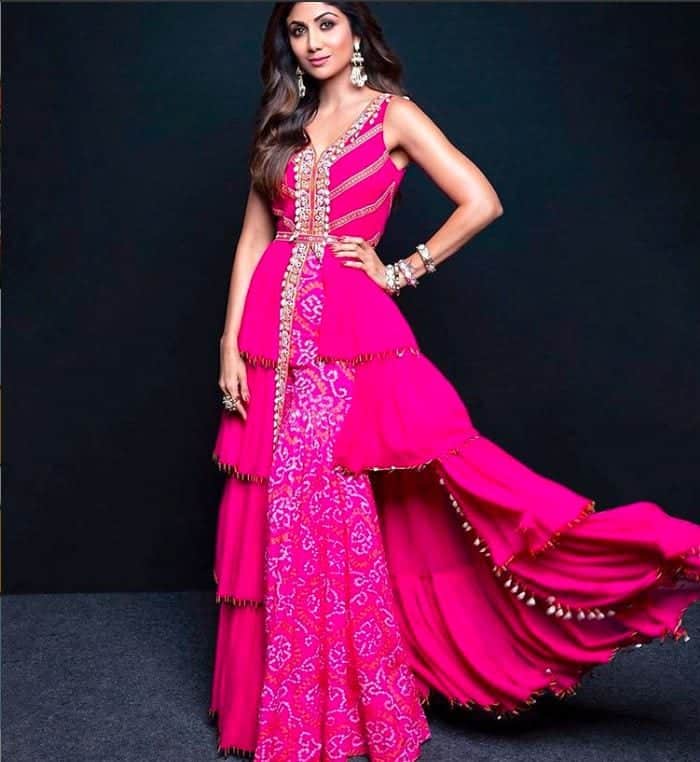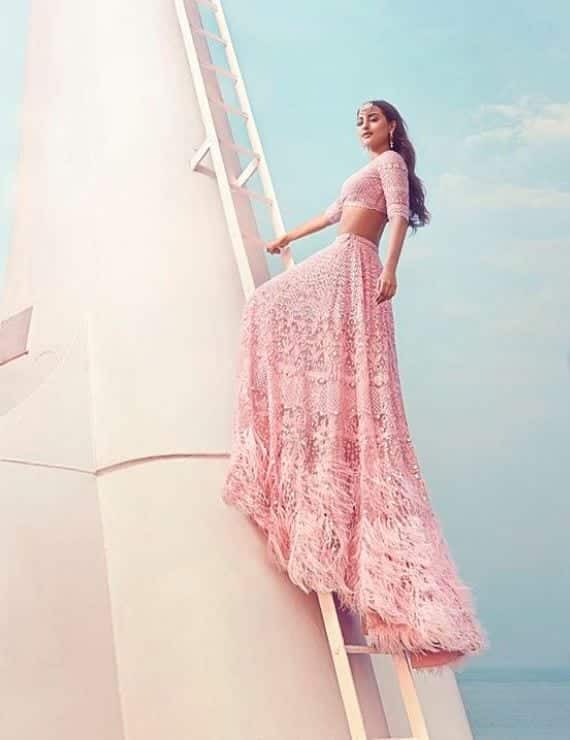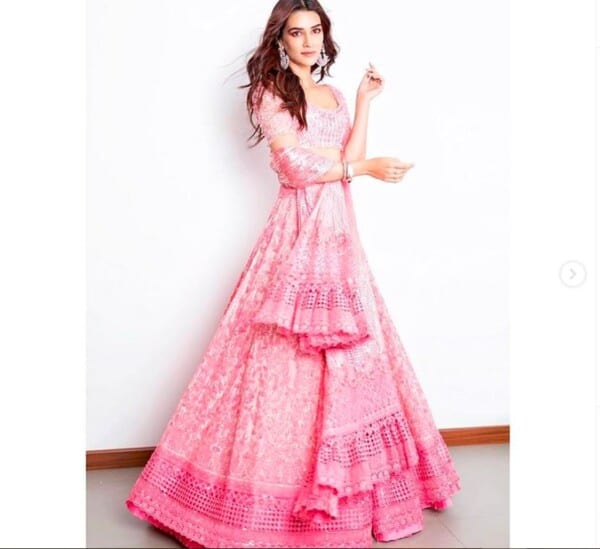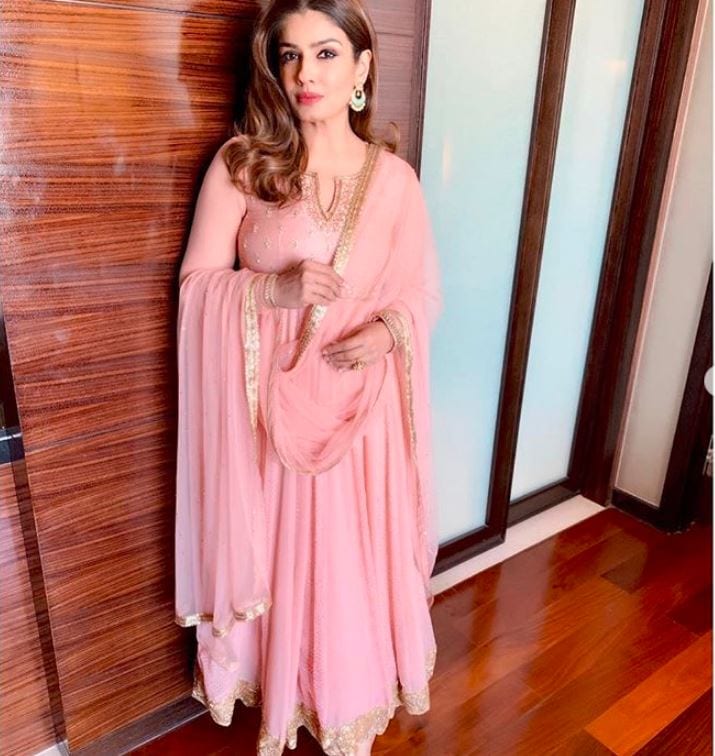 ↓ Day 9 – Violet/Purple
Day 9 and the final day of the long Navratri festival, when the festival comes to an end but the celebrations and garba continues. This day is dedicated to Devi Siddhidatri, dedicated to her blessing of knowledge and fulfillment of one's expectations. The devotees on this day, are supposed to wear violet colour to represent aspiration and power.
From Sonam Kapoor to Vidya Balan, we have brought all the violet outfits out for you to take inspiration from for your Navratri outfits.
Like Sonam Kapoor here, you can take up a violet, sleek, silk fabric lehenga, with medium work on the lehnga, sleeves of the blouse and the border of the dupatta. To go full traditional and royal vibe, add long malas and beautiful gold jewelry with a round teeka and violet earrings to complete the look. If you do choose to wear the maang teeka, don't forget to check out our post on 16 Cute Hairstyles with Maang tikka/Maatha Patti This Season.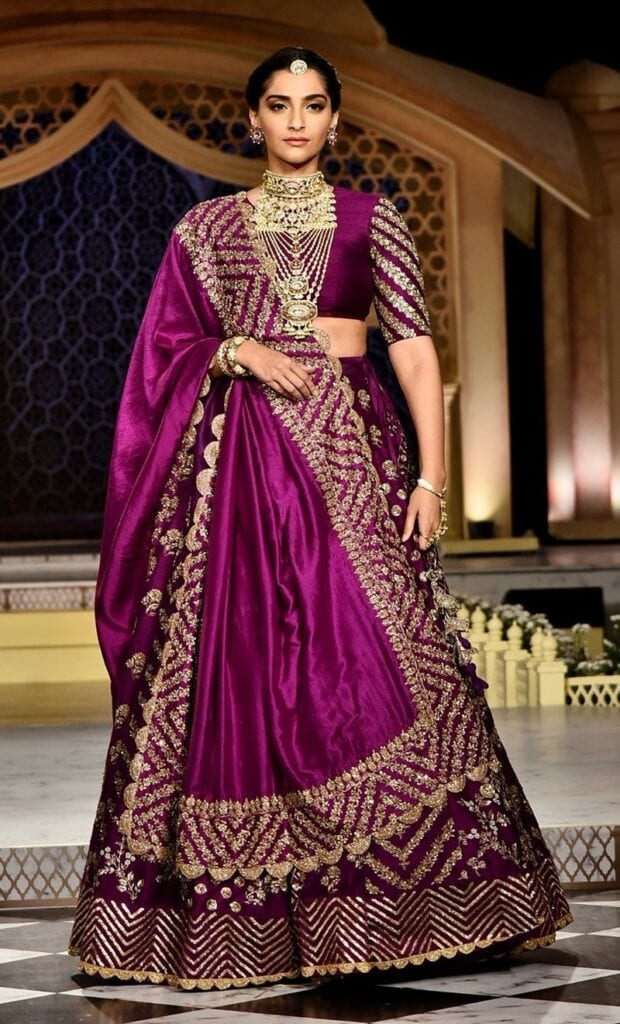 Or like Vidya Balan here, a violet banarsi saree with a touch of gold on the borders or a violet banarsi dupatta with a yellow silk suit for a Punjabi traditional look can prove to be perfect attire for Navratri this year.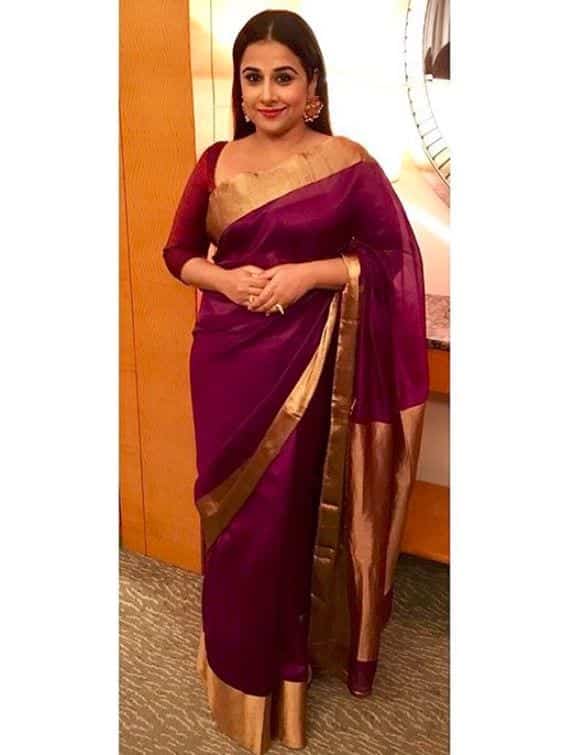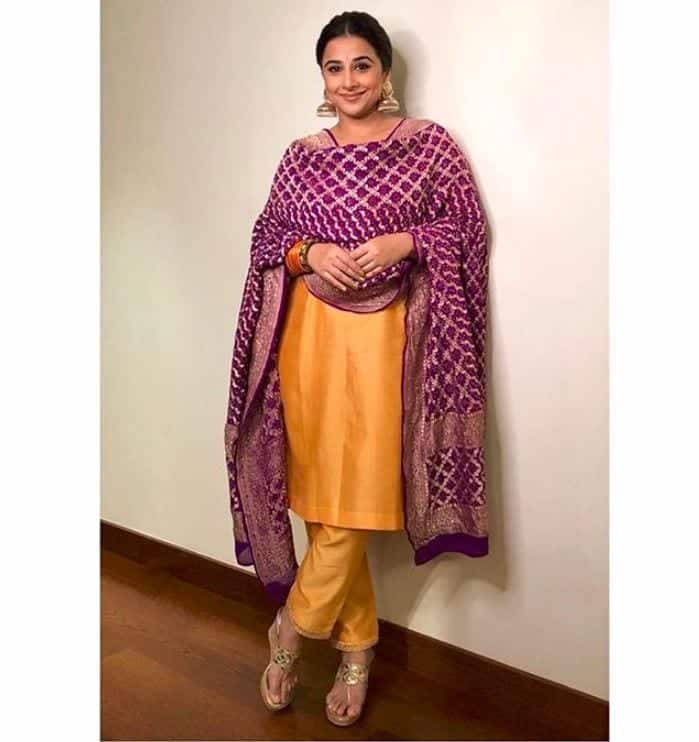 Of course, you don't necessarily have to stick to these colors for the specific days and you can make your own style statement by choosing some unique colors. Here are some ideas: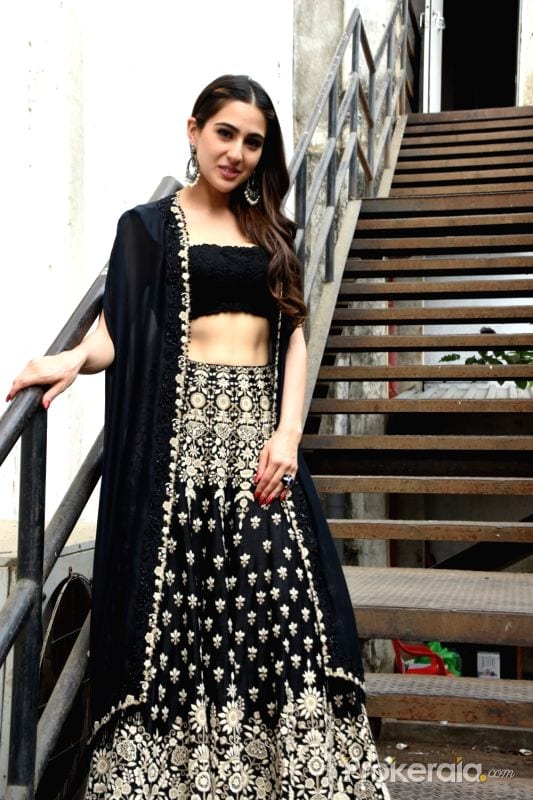 Multicolored Punjabi Outfit
For more ideas like these, check out How to Wear Dhoti Shalwar in Different Styles|Step by Step Tutorial.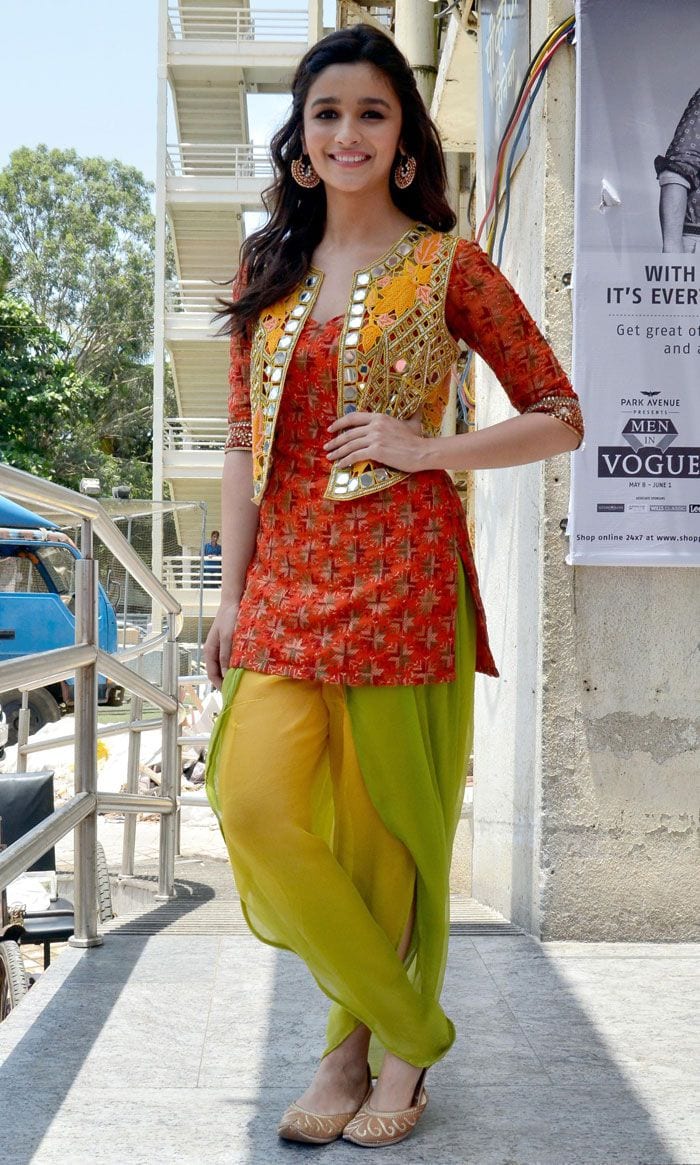 Multicolored Anarkali Dress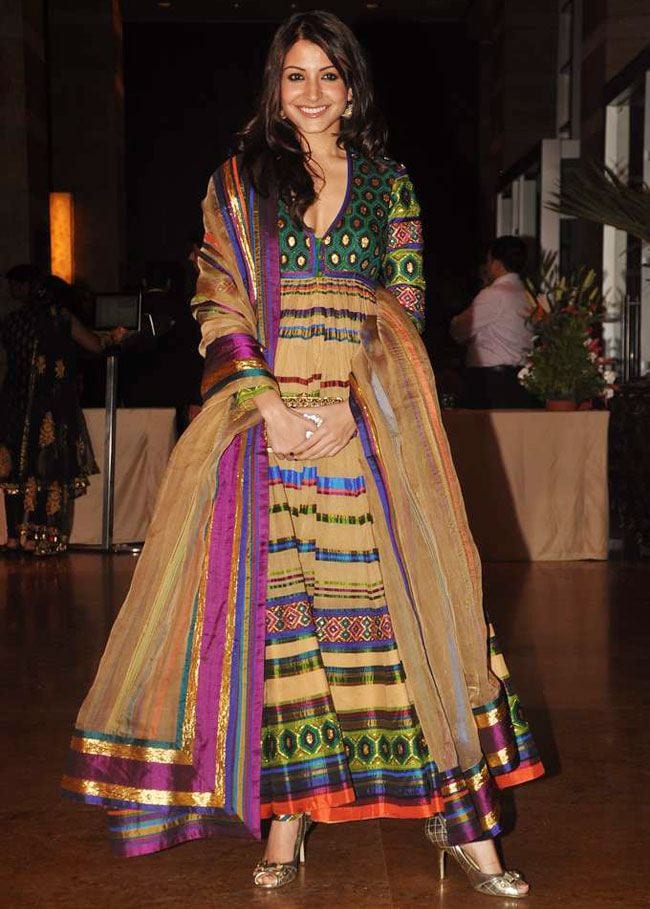 Bollywood Inspired Makeup For Navratri
No look is complete without the right makeup which is why we highly recommend this Deepika Padukone inspired makeup look for Navratri: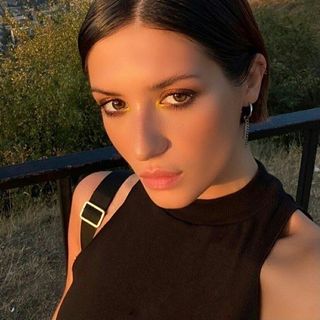 Avid reader and Fashionista. London Based freelance lifestyle editor