What to wear when running? We probably don't need to tell you the benefits of running. The most crucial factor for any runner is comfort; therefore, it is essential to choose your outfits wisely. Running is more pleasant when you are dressed in clothing that keeps you adequately vented or lightly warmed and dry in cold and wet conditions.
Whether you're an experienced runner searching for motivation or a beginner looking for advice, you don't have to compromise comfort over trends. Depending on the weather, several running outfits are available, such as pants, tights, shorts, shirts, vests, and jackets.
If you're unclear about what to wear when running that is both comfortable and fashionable, check out this ultimate guide.
Best Running Outfit Ideas
You don't need to buy a brand-new running outfit when you're just starting. It is preferable to wear classic shorts and a T-shirt instead of more specialized running clothing.
When running, it's crucial to stay calm, so choose a lightweight outfit. While wool is more suited for the winter, materials like polyester and nylon are ideal for the summer.
Not to worry because when it comes to choosing an outfit for running, you have unlimited options. Numerous clothing and gear items, such as shorts, shirts, socks, pants, tights, vests, soft-shell jackets, running belts, and wireless headphones, can enhance your running experiences.
Tips for choosing an outfit according to the weather
Let's talk about some suggestions you should consider when choosing the right running outfit for you before we get into the topic of styling your running outfits according to weather conditions.
Everyone will agree that spring and fall are some of the best seasons for running. Running conditions should be between 50 and 60 degrees.
You'll probably want to cover the upper half of your body with two layers—a base layer and an outer layer—with the temperature in the 40s. As a base layer, a tank top or short sleeve shirt works well, and a thin jacket with a zip-up front for the outer layer.
You should be okay in only one layer when the temperature is in the 50s. Decide between a wicking long-sleeve shirt and shorts or a t-shirt and Capri/tights. Those are typical go-to pairings.
When the weather is warm (60-70 °F), you can wear a breathable short-sleeved shirt (or running tank) with shorts or Capri. When you find that your legs start getting cold while wearing shorts, you can cover them with calf sleeves.
You should only wear the barest necessities when running in severely hot weather. That could be a women's sports bra.
Winter is most likely the most challenging season to run. A tank top base layer, a long-sleeve shirt, a zip-up running jacket, thick tights, and an ear-protective headband or cap are the best layers to wear when the temperature drops into the 30s.
Running in the rain: A hat with a brim can help keep the rain off your face when it's raining. You might think about wearing one. You can make a rain poncho by cutting armholes and neck holes into a garbage bag to protect yourself from rain.
Running when it's snowing: Wearing trail running shoes with increased grip will help you maintain your balance if there is snow. For even better traction, include a set of ice cleats.
20 – Elastic Waist Comfy Trousers With Grey Tank Top
If you're short on time and inspiration, dig through your wardrobe for some elastic waist, comfy trousers, and a gray tank top. Add plain white joggers to complete your outfit.
I would suggest choosing a sleeveless top. It will make your experience comfortable, especially if you sweat a lot. You can accessorize your outfit with minimal jewellery like rings and a single chain. Don't forget to add the watch for a sleek look!
19 – High-Waisted Running Shorts With Baggy Style Pull-Over Sweatshirt
Sweatshirts made of fleece are the best option for running. You can elevate your look by pairing high-waisted running shorts with side pockets and a baggy-style pullover sweatshirt. Pair your white joggers with the outfit for a complete look.
You can also choose knee-length socks for a more aesthetic look. Wear small hoops and tie your hair in a ponytail.
18 – Matching Running Shorts With Cute Printed T-Shirt
Put on a cute printed shirt for a smart casual appearance. Choose matching color running shorts and wear them with a cute graphic T-shirt. You can wear this outfit for a simple walk or even if you are meeting someone.
Tie your hair in a ponytail and complete your appearance with a fanny pack and casual joggers. You can wear white joggers. However, if you can match them with your shirt, that would be icing on the cake.
17 – Low Neck Casual Dress Paired Up With Denim Overall
If you are not a fan of shorts for running, choose a low-neck sleeveless dress from your closet and pair it with denim overalls to cover. In this way, you will get comfort along with style. You can also wear a P cap and sneakers to make you look fabulous.
If you like wearing denim overalls, here are some more ideas on how to style them!
16 – Casual Black High-Waisted Shorts And Black Sports Bra
Wear a pair of casual black high-waisted shorts and a black sports bra for a sleek and simple appearance. Add a white, basic cardigan and a pair of sandals with two straps. However, you can ditch the sandals with sneakers for your comfort.
Also, you decide whether to include a cardigan or not. You can braid your hair for a more clean look.
15 – Off-White Workout Set With Checkered Cardigan
Choose a single-colored elastic workout set if you want to look stylish as a runner. You can pair your outfit with a checkered cardigan. Also, add a P cap and tie your cardigan around your waist.
You can pair any color checkered cardigan with off white workout set. However, I suggest going with pastels if you want a girly look.
14 – Casual Shorts With Graphic T-Shirts
When it comes to running gear, keep it basic if you don't have much time. Pick out a graphic T-shirt from your collection to wear with casual shorts. You can wear simple, comfy white running shoes as your footwear. Sunglasses are a stylish accessory that you can add to any outfit.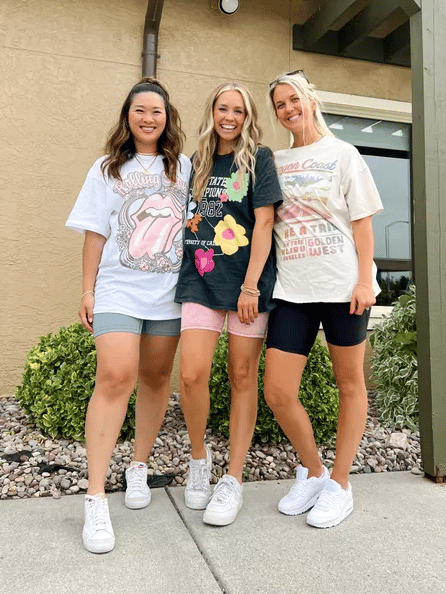 13 – High-Waisted Running Shorts And One Strap Sports Bra
It is preferable to wear a one-strap sports bra while running during moderate weather. You can pair high waist running with it and a collared cover-up. You'll be ready to go if you pair it with a mesh hat and a ponytail.
12 – Running Shorts With Printed Tank Top For Athletic Look
A popular option for an athletic look is high-waisted running shorts. Here is a unique way to wear this trendy but sporty outfit. Wear high-waisted running shorts, a printed tank top, and a denim button-down shirt to wrap around your waist.
Also, half-tie your hair up and wear a tennis cap. Complete your look with mid-length socks and joggers.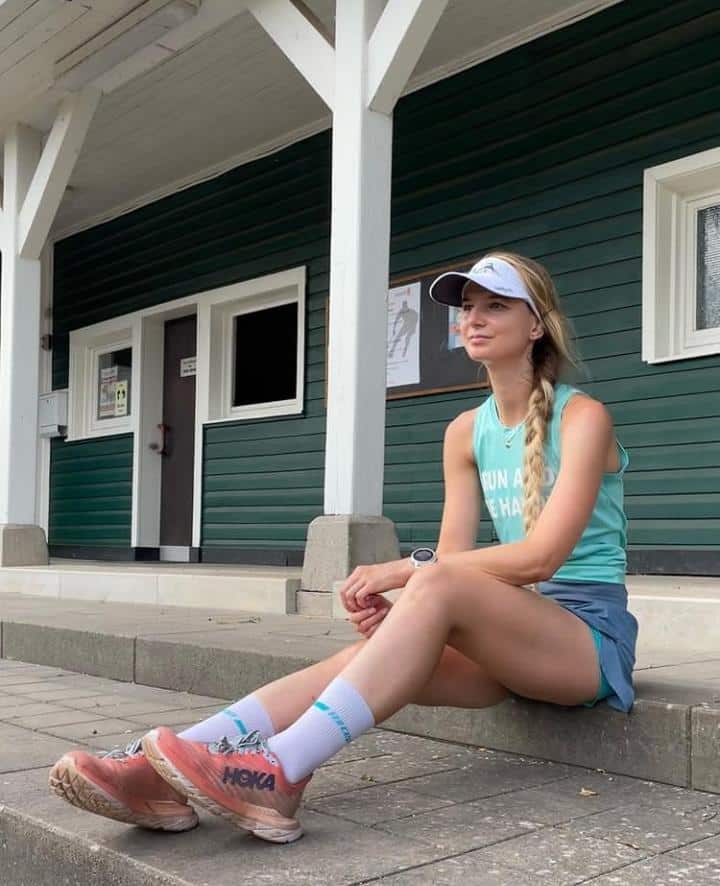 11 – Workout Shorts And Long Sleeve Shirt With Zip-Up Jacke
For rainy days, you can pair high-waisted training shorts with a zip-up jacket. Your pink jacket will turn heads when paired with a long-sleeved shirt and high-waisted shorts. Also, wear knee-length socks with pink sneakers to complete your look.
10 – Stretchy Yoga Leggings With Spaghetti Strap Sports Bra for Jogging
You can pair any color sports bra you have in your wardrobe with black leggings. If you plan to do a heavy running session, I suggest tying your hair in a ponytail. You can also take an overall with you to wear after the session.
Here are some more tips on How to Style a Sports Bra.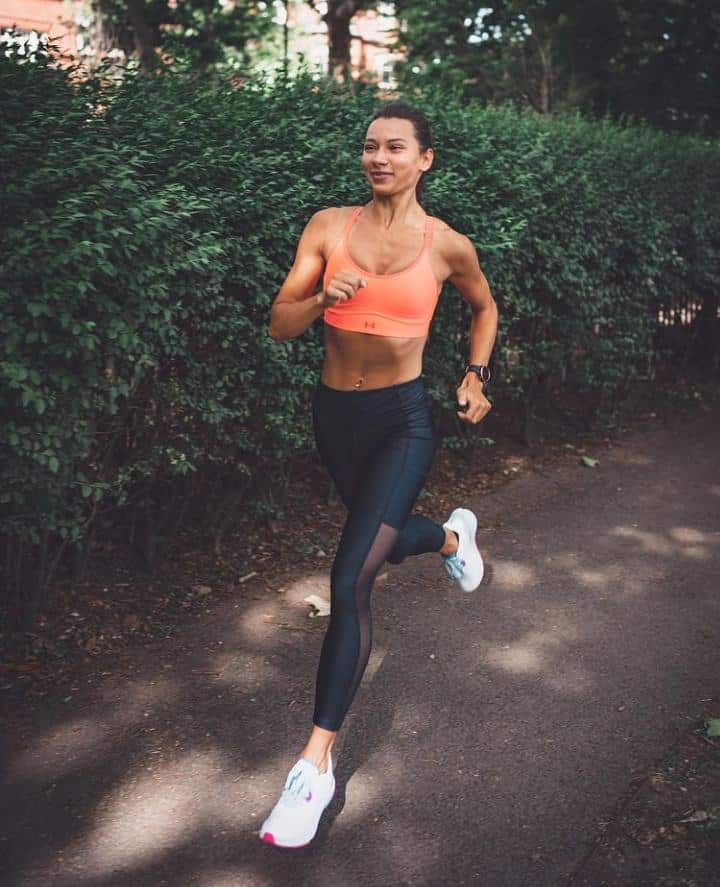 09 – Women's Running Shorts With Training T-shirt
Running shorts and a training T-shirt is the ideal outfit to wear when competing in a marathon. You can complete your outfit with sports joggers and mid-length socks for a sporty look. Accessorize your look with a watch.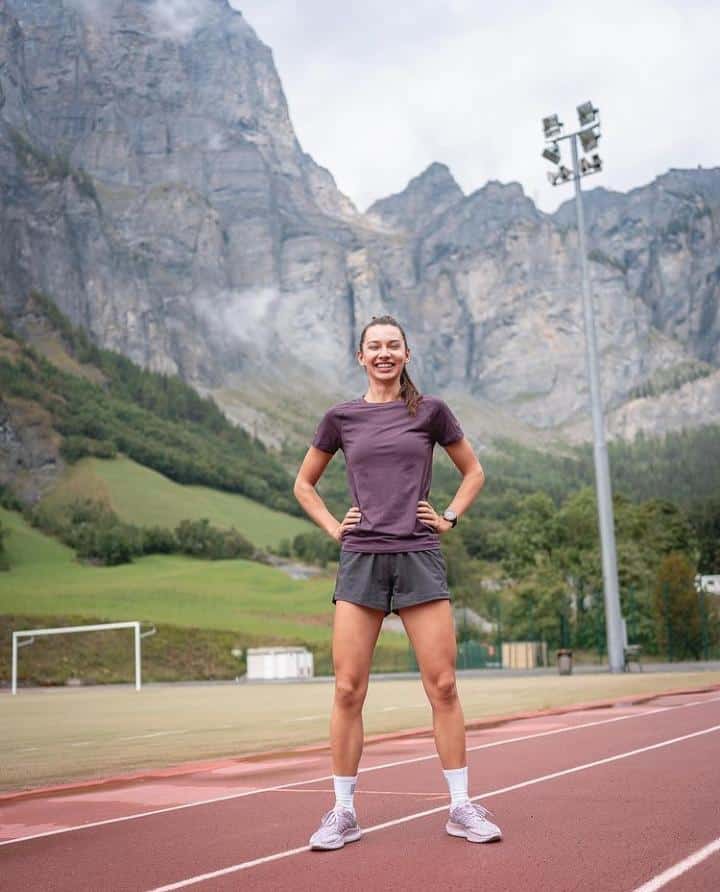 08 – Best Running Outfit for Winter
Choose fleece mid-rise pocket leggings for the cold season, and match them with a high-neck shirt and a full-sleeved fleece jacket. It is always classic to wear black and vivid colors. Additionally, their versatility and beautiful appearance enable them to be styled in many ways.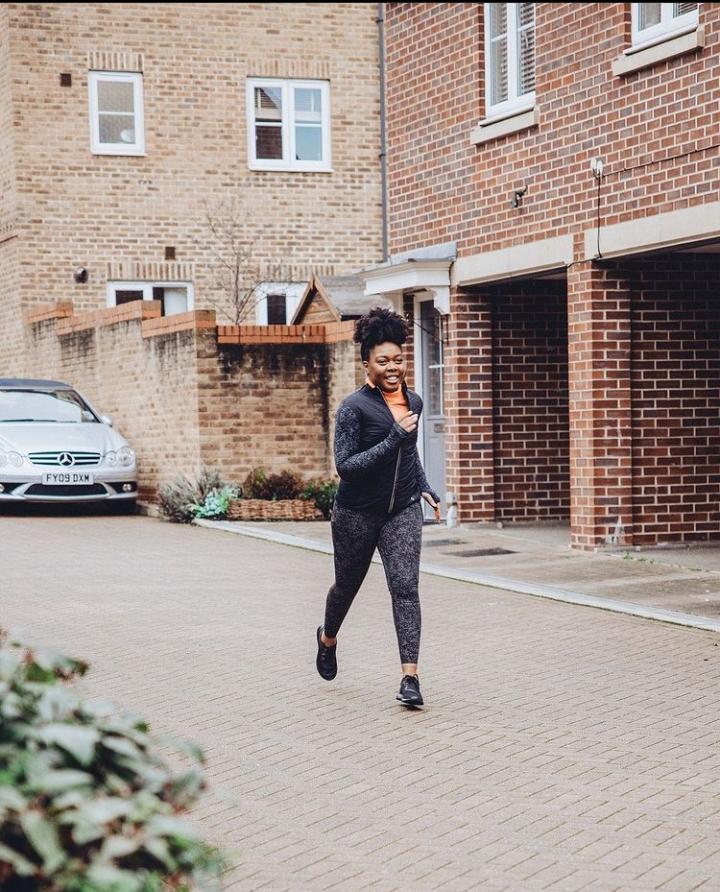 07 – Ankle Length Tights With Pull-Over Cropped Hoodie
Try the excellent combination of an ankle-length pair of tights and a pullover cropped hoodie when running. It is a favorite outfit for curvy women. This track jacket is made of a soft fabric and has a relaxed fit. It also features classic new colors for a fashionable look.
06 – High Waisted Running Tights With A Cropped Long Sleeves Jacket
Lighter shades create a pleasant, relaxing mood. If you're having difficulties choosing what to wear, take out your light-colored running tights and pair them with a basic sports bra. For the finishing touch, add a long-sleeved, zip-up black jacket. Choose sports joggers as footwear.
Keep your hair open for pictures; however, keep a scrunchie around your wrist to tie your hair while running.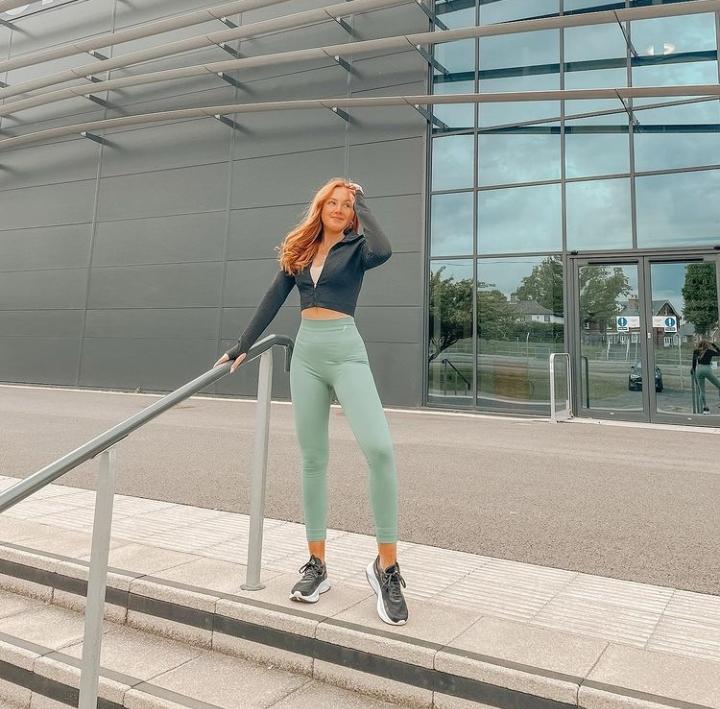 05 – Multi-Coloured Leggings With A Matching Non-Padded Sports Bra
Sports bras are comfy to wear while running and boost your upper body. Running leggings and an abstract-printed non-padded sports bra goes well with their vivid hue. You can add comfy joggers with pastel shade socks for running to elevate your look.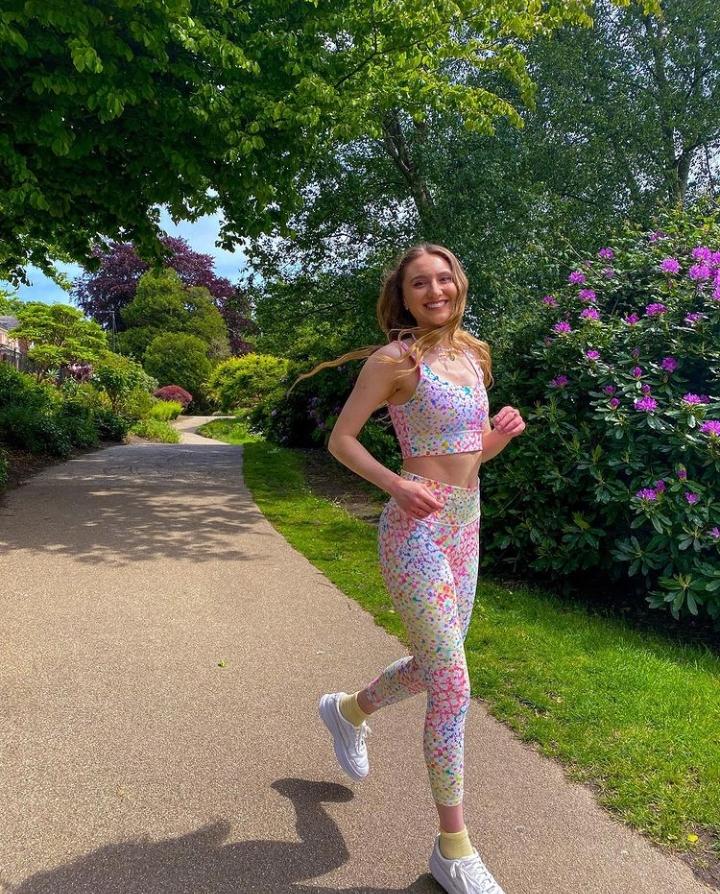 04 – Seamless Scrunch Tights With Sleeveless Running Jacket
A long-sleeved army-printed top from your wardrobe and seamless scrunch tights will look great together. You can complete your outfit with a sleeveless running jacket. This combination is ideal for running in cold weather. You will feel comfortable whether you're working out or exploring the great outdoors.
03 – Pink Running Shorts With Black Basic Shirt
Women's running shorts are always in style for runners. These running shorts are lightweight and among the most breathable varieties, making them perfect for running in the summer. They look fantastic when paired with a short-sleeve cropped top. Add a classy headband and long socks to complete your trendy look as a runner.
02 – Longline Yoga Crop Tank Top With Ankle Line Tights
Pair a longline yoga crop tank top with ankle line tights for a comfortable running outfit. The ankle line tights have just made running simpler. They give you the comfort and support required, and the fabric helps you stay dry and cool.
While running, the seamless crop tank tops are relaxed and comfortable due to their stitching, soft material, and sweat-wicking properties. Use a white cover-up as an accessory to complete your look.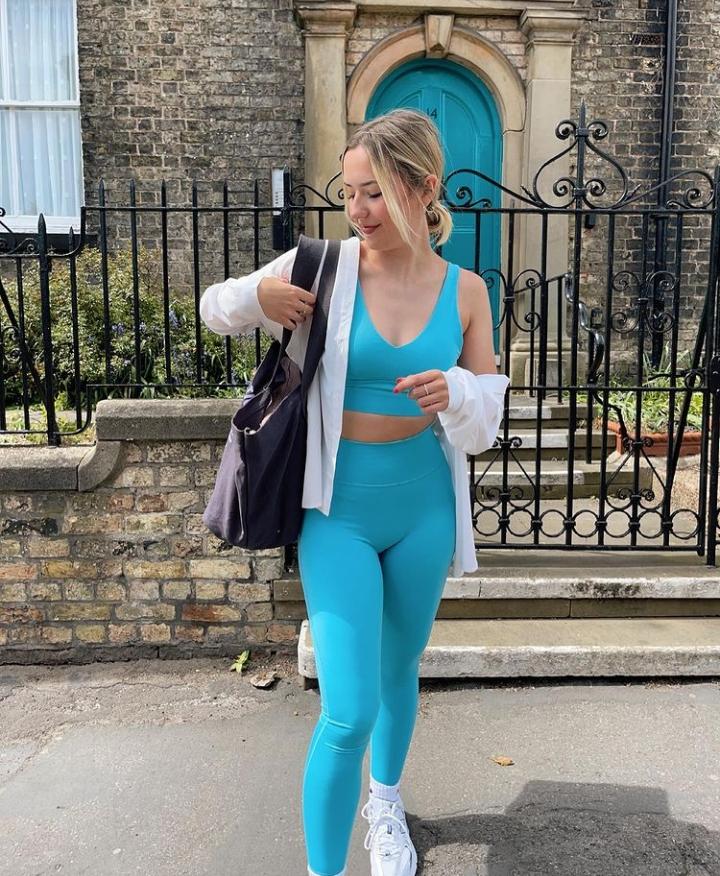 01 – Best Outfit for Running in Summers
Printed ribbed crop tank top and printed high waist shorts go well together. In the summer, this combination looks lovely. High waist shorts with flat-lock seams and padded crotch inseams prevent chafing and allow unrestricted mobility.
You can wear sandals for the pictures but should replace them with sneakers while running. Also, accessorize your outfit with minimal jewelry.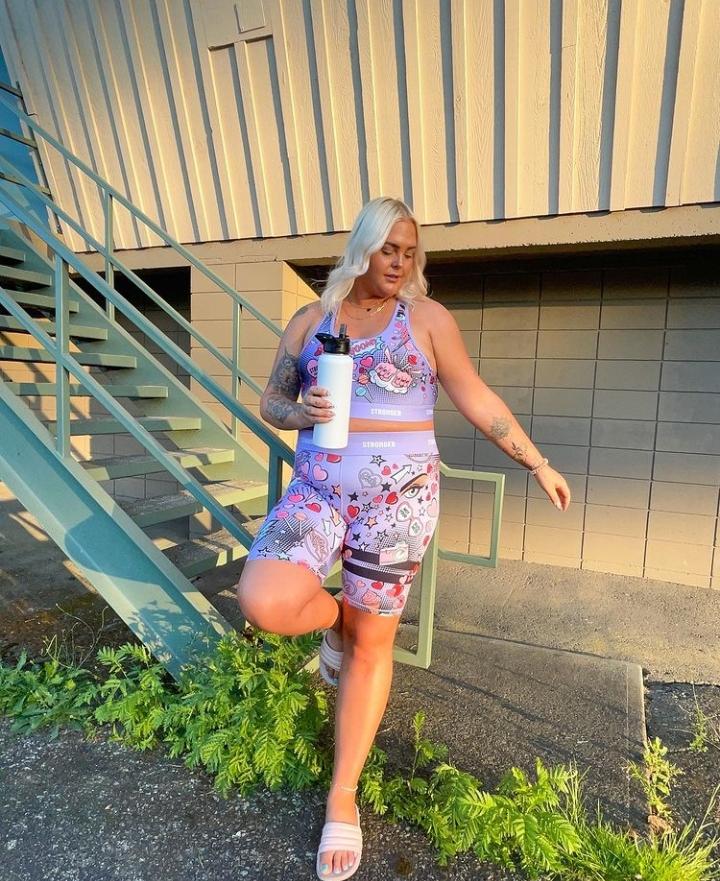 Frequently Asked Questions
Q: Does clothes affect running?
Ans: Yes, heavy clothes affect running. You move more slowly when wearing bulky clothing during running. A marathon time will be longer if you wear a sweatsuit and a nylon outer layer weighing 47 ounces. Running will be easier if you wear light clothing.
Q: Which material is most suitable for running?
Ans: The most comfortable running fabrics are:
Nylon – One of the most popular materials for running clothing is nylon since it is flexible, light, and allows you to move freely for a pleasant experience.
Polyester – Polyester is a fabric made from plastic, making it strong, lightweight, airy, and non-absorbent.
Merino Wool – Merino wool is a good temperature regulator, so it will assist keep you warm on cold days and excellent on warm ones. It also possesses moisture-wicking and quick-drying qualities.
Q: What should I pack for a run?
Ans: A good runner is familiar with the fundamentals of running. Running's basic requirements are a good pair of shoes and comfortable running attire.
However, especially when trail running, runners may frequently bring some additional food, water, clothing, and gear with them on longer adventures.
Q: What are the benefits of running?
Ans: There are many advantages of running. Regular running can improve blood sugar management, reduce waist circumference, cut cholesterol and sugar levels, and drop body fat percentage. It can also lower blood pressure and pulse rate.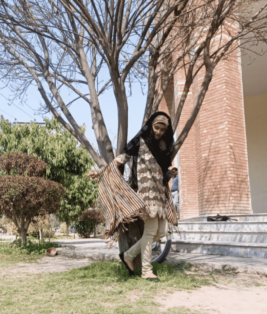 Javeria is a student and a content writer. She is good at public speaking, leadership, and management. She is passionate about writing, reading & music. She is an ambivert and is always up for a new friendship adventure. As an English literature student, she thinks fiction is more fun to read than nonfiction.