How to Dress Like a Celebrity: Celebrity Style & Outfits. Celebrities are, as the collective title suggests, some highly-regarded people. Followed wherever they go and lauded as role-models and influencers, celebrities are under the spotlight more than any of us can imagine.
With scrutiny like that, celebrities are often forced to be at the frontlines of the trend-setting world, whether they are creating the trend or following it. Most celebrities then become icons for fashion statements and are known for their good looks and their well-dressed figures. But what about us normal, non-famous people? If you are reading this today, chances are you are just like the rest of us, wondering what the latest celebrity fashion trends are, or what kind of brands celebrities wear, or where do celebrities get their clothes? Who styles them? What designers are they wearing? And, most importantly, how can I get their style? How can I dress like a celebrity, how can I get my favorite celebrity's style? In this post, we plan on addressing all these questions and more. Not only are we going to show you a roundup of some of our favorite celebrity looks, but we are even going to help you find where you can buy the same or similarly styled outfits!
How to Dress Like a Celebrity
Once you have a good look at the most stylish celebrities outfits of recent years, you'll definitely note some common points which can help you learn the basics for dressing like a star. So here are the biggest secrets you need to know about celebrities fashion sense:
They stay on top of current and emerging trends. It's rare that you'll see a celebrity lagging behind when it comes to fashion trends. So take a page from their book and start doing your research. A good way to stay on top of the trends is by reading fashion magazines, observing runway styles, staying on top of social media, and perusing fashion websites like ours, Outfit Trends! You can also pick out a handful of your favorite, most stylish celebrities and check up often on their most recent looks and outfits to give yourself a good idea of what's "in" right now.
They work with professional stylists. The fact of the matter is, at the end of the day, most celebrities have a personal stylist which gives them an edge in the fashion world. Most of us don't have that option. Don't let that discourage you though! Find a handful of professional stylists on social media and start following them. Take their advice and try and implement their teachings. Do your own homework and you'll have as much of a chance as anyone.
They are required to maintain an image. Now just how does this fact play into the bigger picture? Because when you have so much at stake and when you have a team around you, ensuring you preserve your brand, you have to show up. You have to take the extra steps necessary to make sure you look the part. So how does this pertain to you? Well, it might take some imagination and creativity, but it helps if you pretend that you have an image to uphold. (And the truth is, you do.) Take some time to brainstorm what you want your image to be. Do you want to be seen as that super stylish, well-groomed woman? Do you want to be perceived as a picture of elegance? Start experimenting with the overall look you want to convey and then tell yourself you are going to work towards that image every day and put the time and dedication into it just as if you were a real celebrity who was required to.
They invest in high-quality designer clothing. Again, this may seem out of reach. But just as with anything else, there are ways to work around it. For instance, you can slowly transform your wardrobe one piece at a time, one day at a time. But this might be difficult if you are trying to stay on top of current trends. (Pro tip: don't get swept along by every new trend that hits the scene. It will probably be over and done with before you know it. Instead, keep your ear to the ground so you know what's up, and then rationally decide which trends appeal to you and which ones you are going to invest your time and money into.) Invest in classic pieces that will stand the test of time, that have been around for years and will probably still be around in the years to come. Try thrifting or buying from the clearance racks. Look for quality fabrics and consider researching sustainability. All these elements will help you work towards building a wardrobe that even a celebrity would approve.
They rarely wear the same thing twice. With such intense scrutiny, celebrities tend to shy away from being seen in the same thing over and over again. The good news is, you don't have to worry about that. In fact, it a great skill to know how to build multiple outfits from the same few pieces. Check out our article on how to give old outfits a new look every day. This way you can invest in pieces you love and build a wardrobe you are proud of wearing without having to worry about ditching the whole thing every time a new fad rolls around.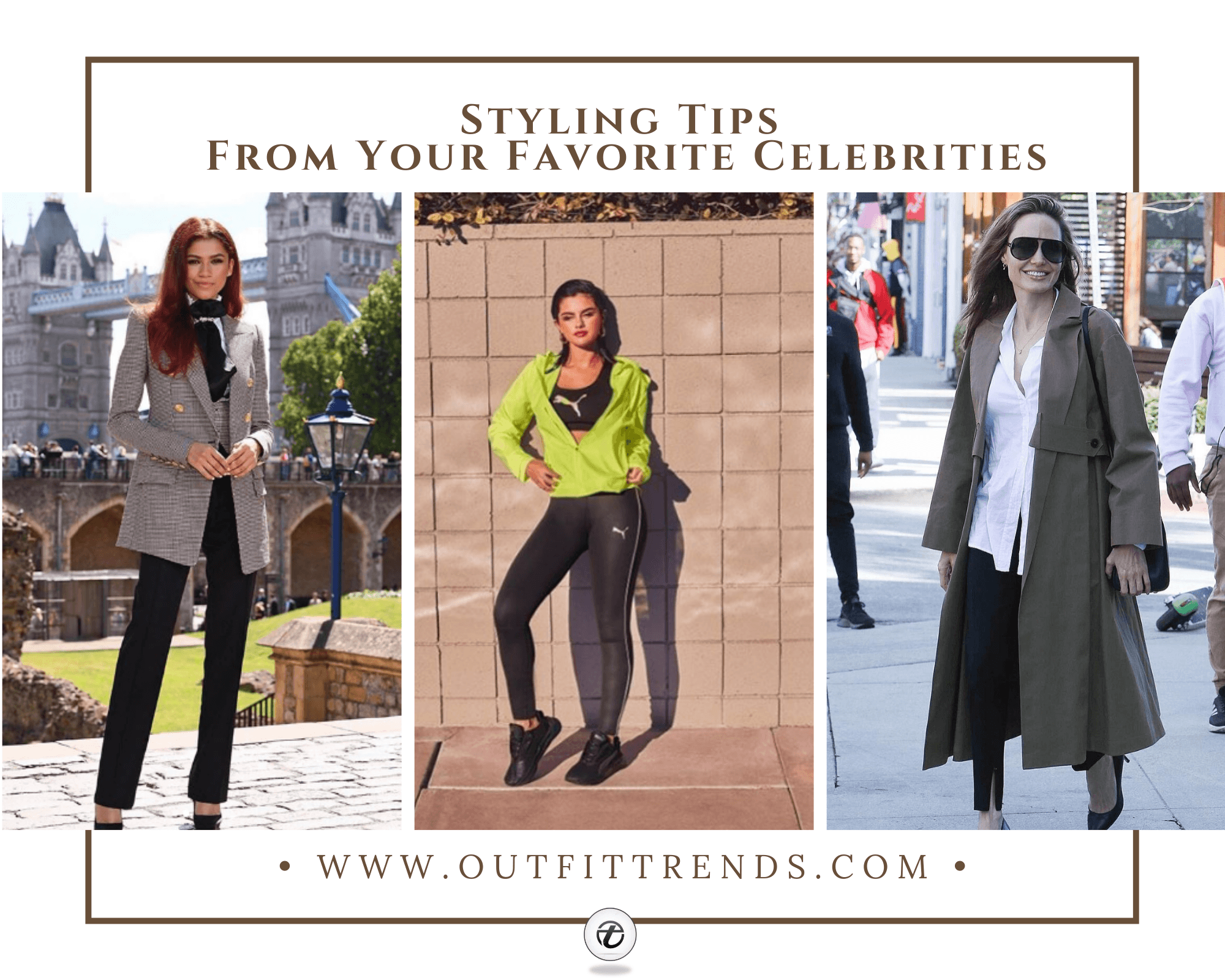 Now let's look at our round-up of the best celebrity outfits!
↓ 15 – Zendaya's Casual Look For Shopping Date
For a shopping date with Jacob Elordi, Zendaya was recently spotted wearing an all-black outfit, layered with a camel long coat and the classic Vans that can be bought for $60 only. This pretty much proves that you don't always need to invest in big brands or fancy labels to dress like a celebrity. These shoes have been spotted on other celebrities as well including Hailey Baldwin and Gwen Stefani.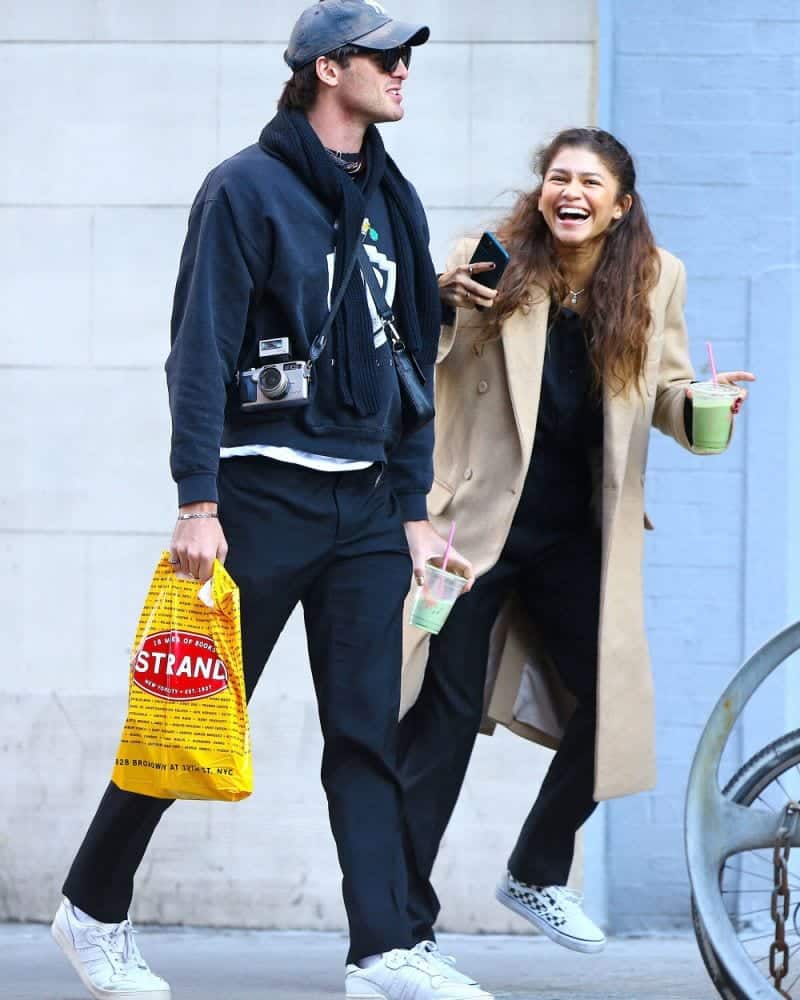 ↓ 14. Selena Gomez's Fashion Style
Selena Gomez has proved herself a flawless candidate for the best-dressed celebrity this year. From designer gowns to enviable street-styles, Selena hits every style note with aplomb. Here's a gorgeous example of a street-style look she was spotted wearing this year.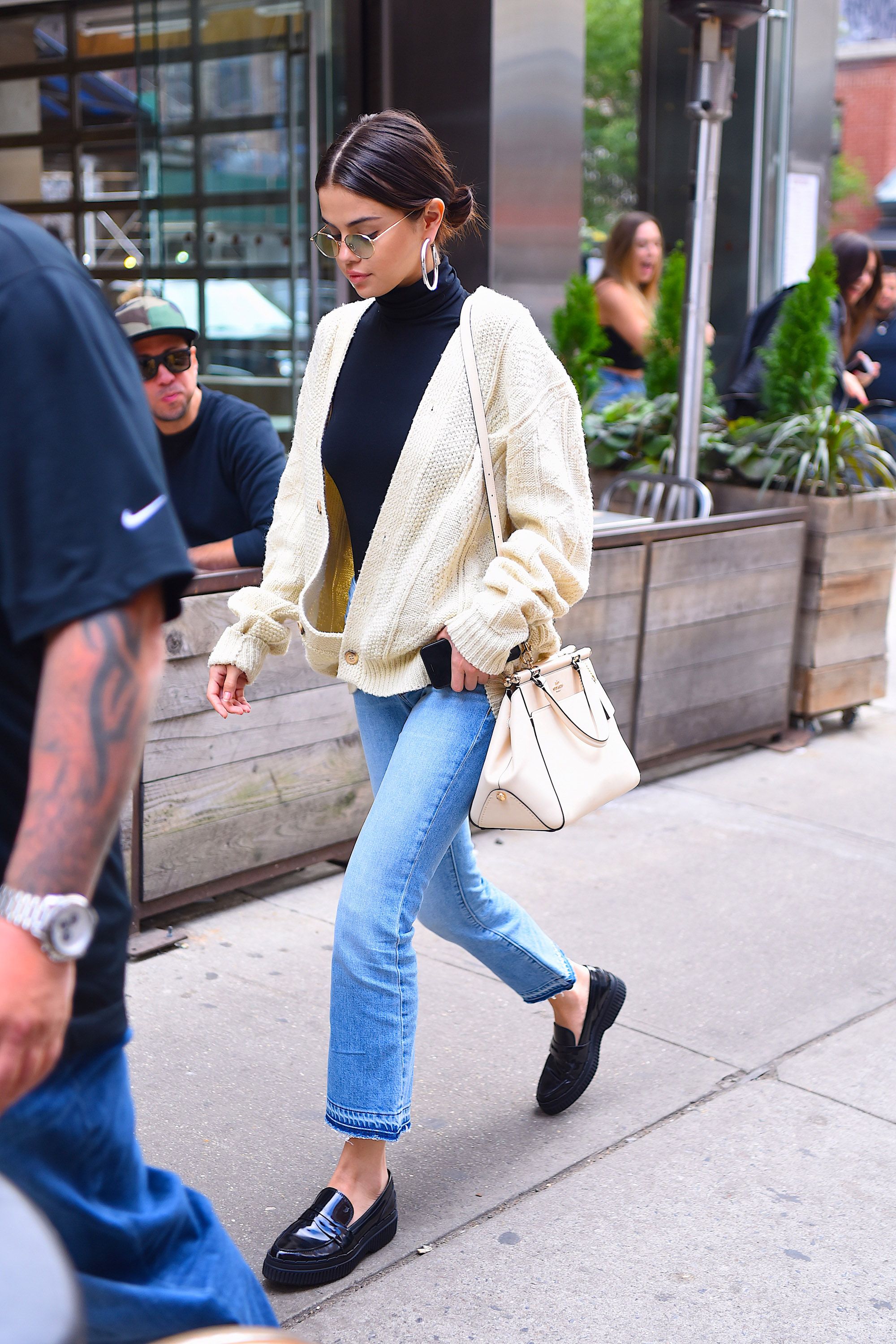 ↓ 13. Zendaya's Best Outfits
One of our favorite celebrities to admire this year was the absolutely stunning Zendaya. Not only does she have the greatest sense of fashion and style but she is super down-to-earth and seems like a sweetheart. It was hard to choose just three but here are a few of her most incredible looks: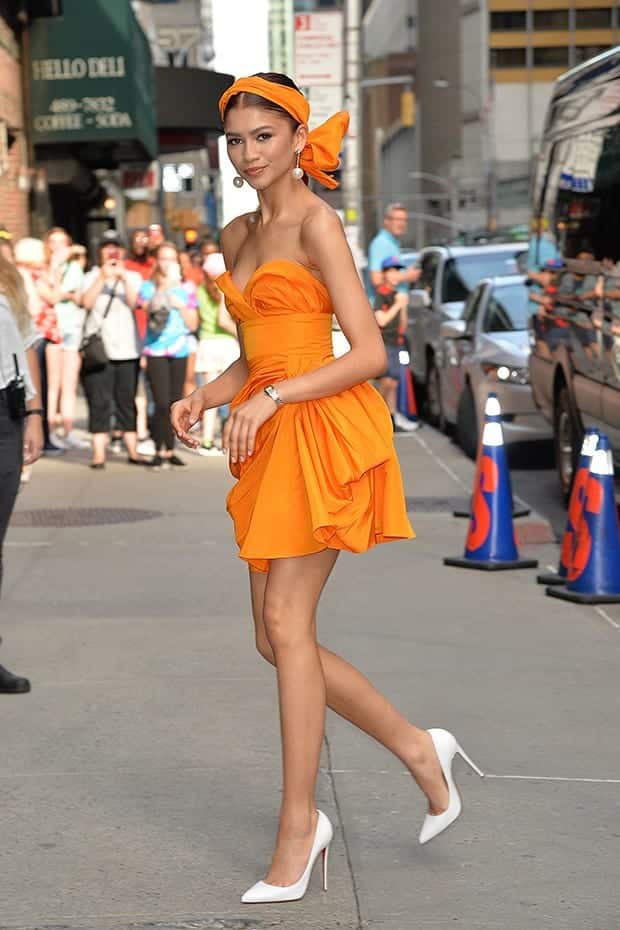 Check out the outfit details here:
Carolina Herrera Resort 2020 Strapless Bow-Embellished Silk Mini Dress
Carolina Herrera Pearl Drop Earrings
Christian Louboutin So Kate Pumps in Aurora Boreale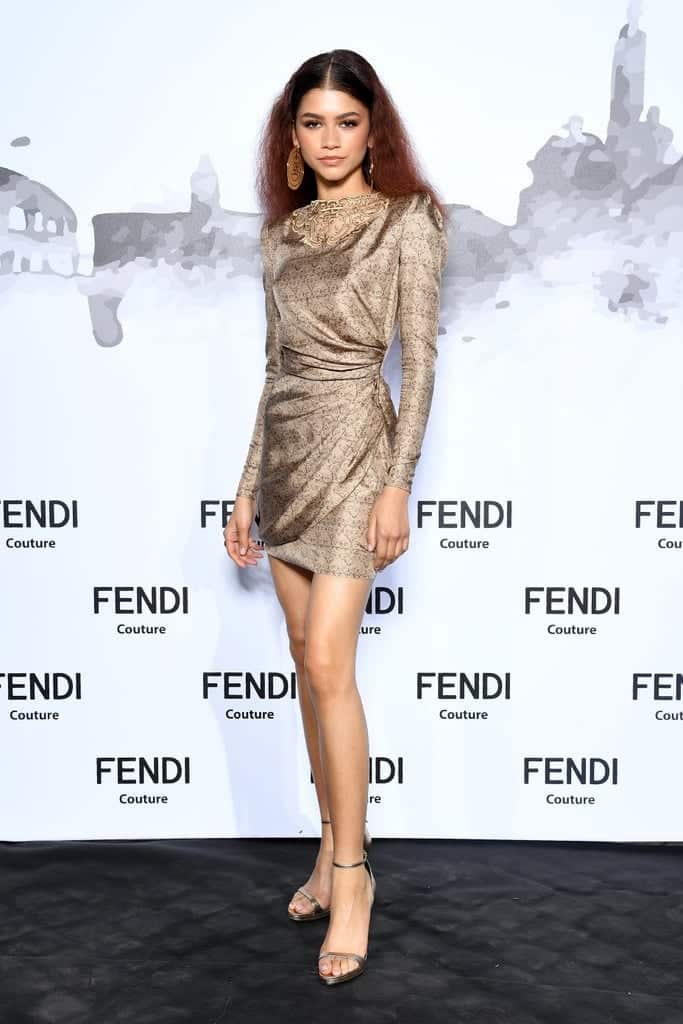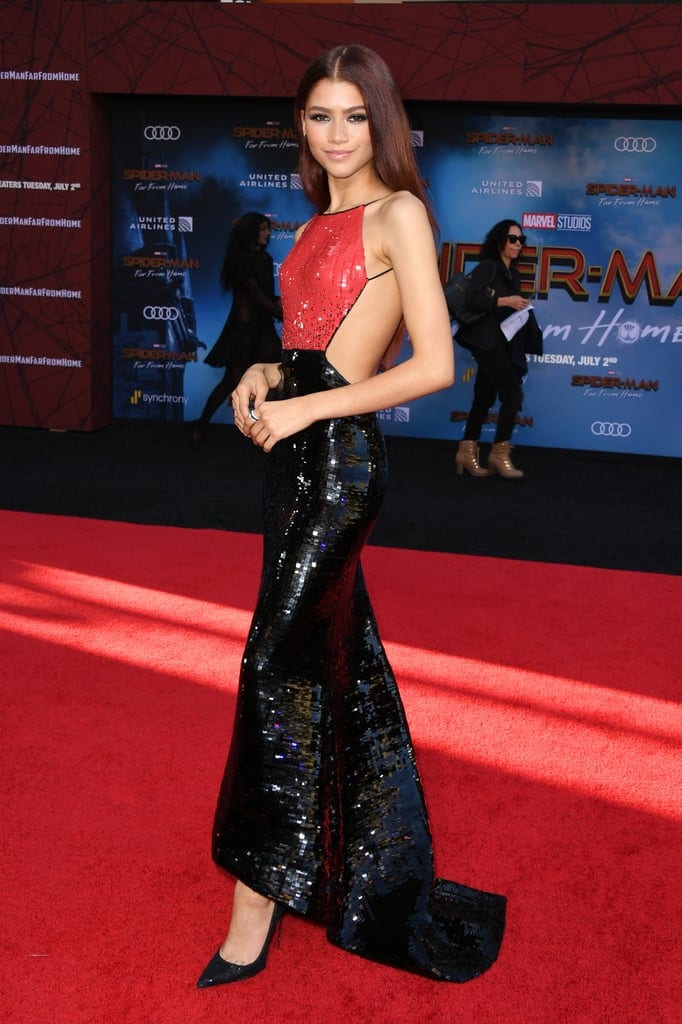 Here are the outfit details:
Armani Privé Dress
Louboutin Heels
↓ 12. Taylor Swift's Colorful Girly Outfits
Taylor Swift's ultra-girly and absolutely adorable outfits deserve all the awards. The girl knows how to rock some color! Here are three of her cutest, most colorful girly looks that you can easily copy to get a similar style.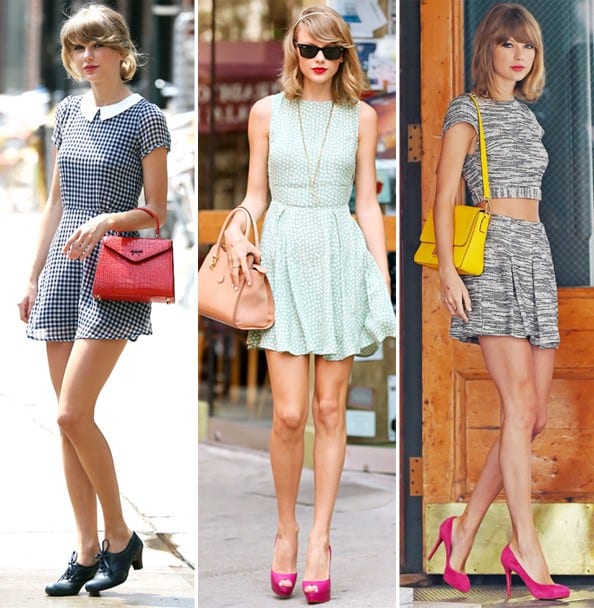 ↓ 11. Best of Kendall Jenner Outfit Styles
When it comes to street-style fashion, Kendall Jenner takes home all the prizes. Here are our top three street-style looks that Kendall Jenner wore this year.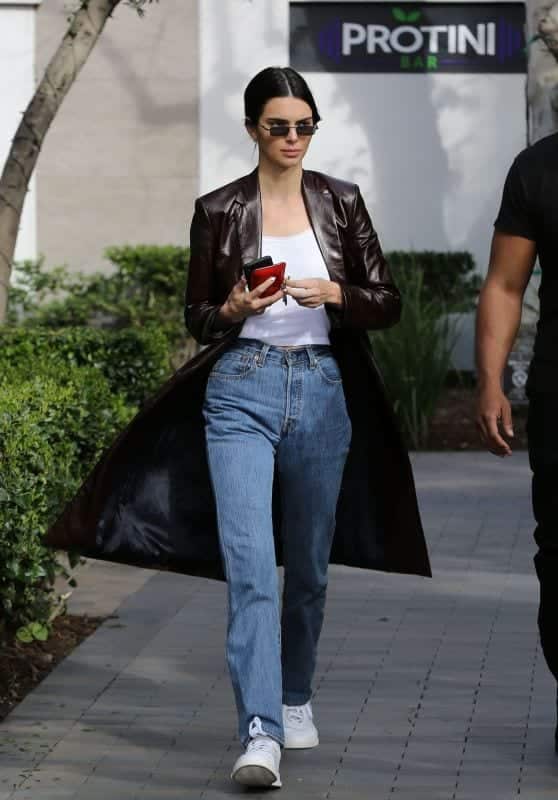 Leopard prints were all the rage this past summer. Check out how Kendall rocked it: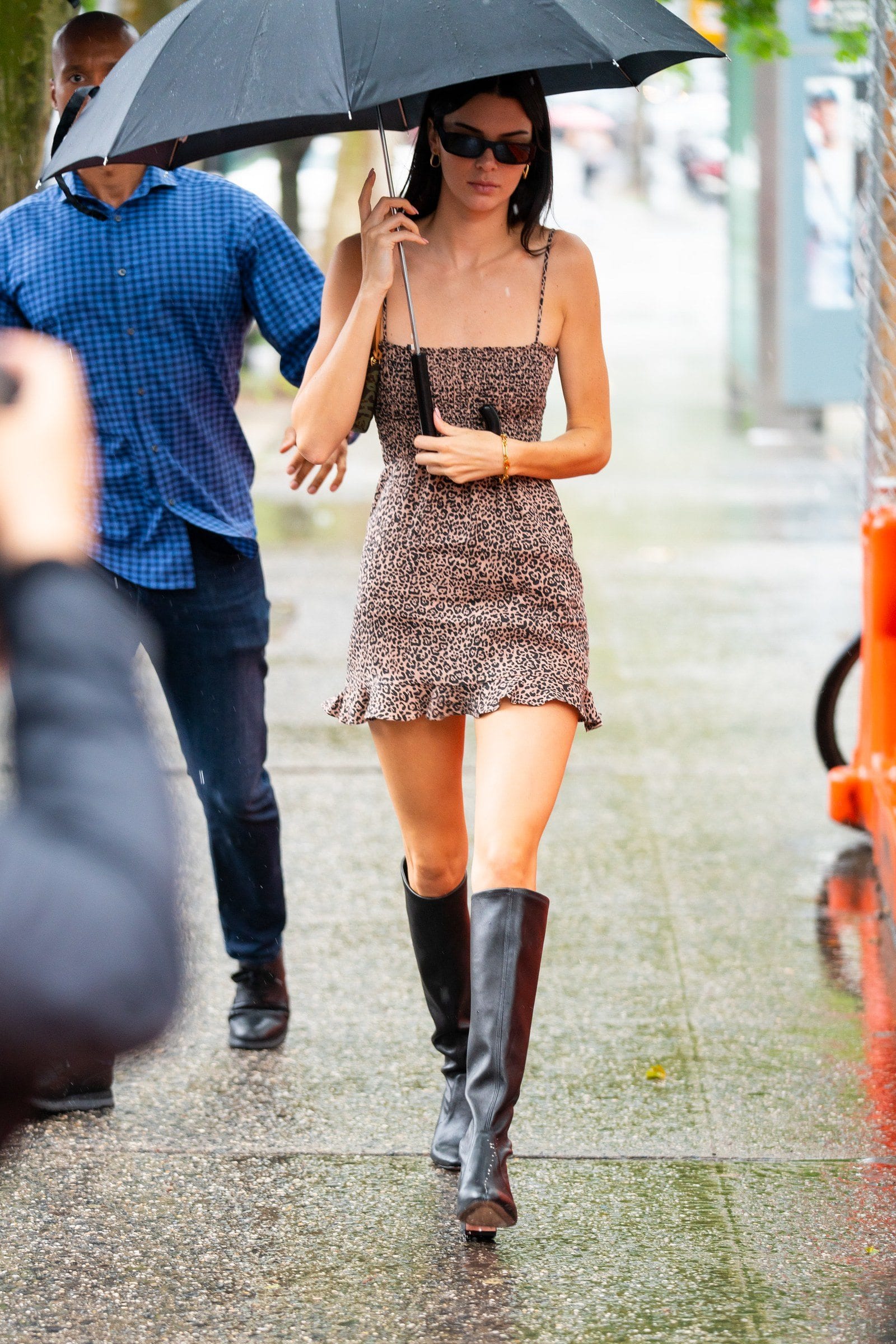 Here are the outfit details:
Reformation Leopard Print Dress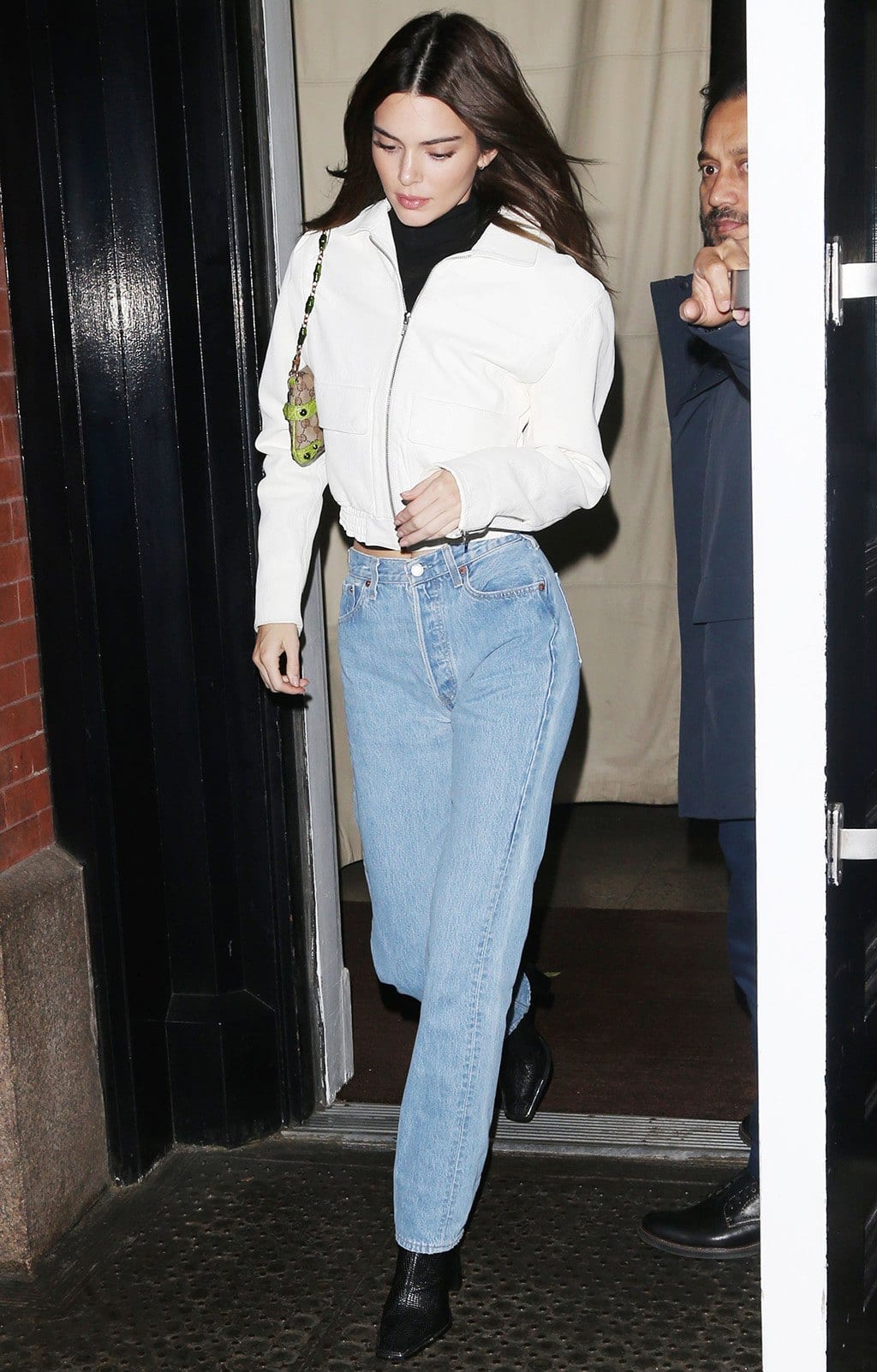 ↓ 10. Jessica Alba's Lovely Lace Dress
Our next series of looks are all-time favorites that remain contenders for 2020 fashion.
Jessica Alba is not only drop-dead gorgeous but possesses a great sense of fashion and style as well. This lovely look is proof. We love the added little clutch-purse and deep red lip which tie the look together. Also, be sure to have a look at 26 Beautiful Lace Dresses and Ideas on how to Wear Them.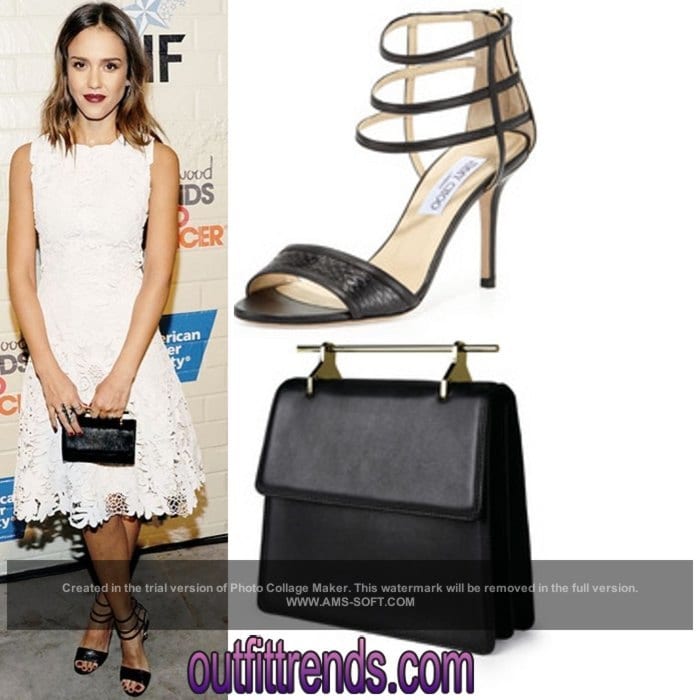 Check out the outfit details below:
Tarika Snake & Napa Cage Black Sandal
M2Malletier Purse
↓ 9. Jennifer Connelly's Monochrome Look
For a lady as talented and well-known as Jennifer Connelly, it was only fair to show this throwback but drop-dead gorgeous look made of a black lace dress and matching heels. An outfit like this works for a variety of occasions, and not just the red carpet! Whether you are headed to a formal event, a dinner party, or even a fancy concert, this dress won't let you down.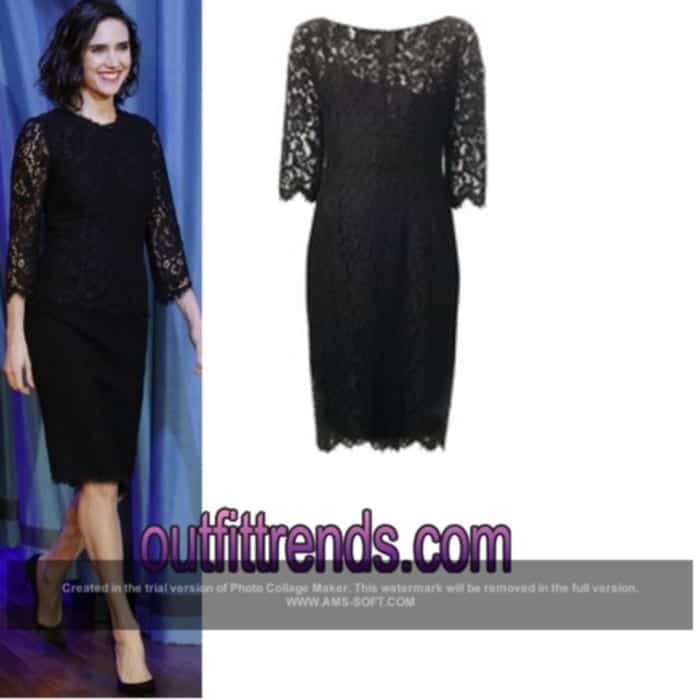 Check out the outfit details below:
Dolce & Gabbana Dress
↓ 8. Taylor Swift's Street Style
Taylor Swift's style evolution over the years has been nothing if not enviable. The lady knows what looks good and how to pull it off, and this fabulous outfit is no exception. Perfect for workwear, meetings with clients, or even a stylish brunch with your best friends, this ensemble does it all.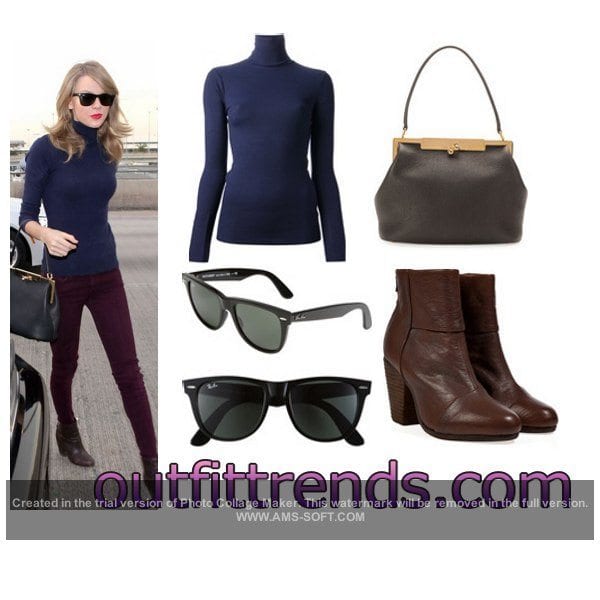 Check out the outfit details below:
Ray-Ban Sunglasses
Dolce & Gabbana Purse
Rag & Bone Boots
Ralph Lauren Sweater
Step by Step Video Tutorial: How to Get Taylor Swift's Style
↓ 7. Selena Gomez's Super Cute Summer Look
Running for a morning coffee? Selena knows how to do it. Pair up some brown suede pants and a printed crop top and add chic flats. Accessorize with hoop earrings, sunglasses, and a designer mini-purse.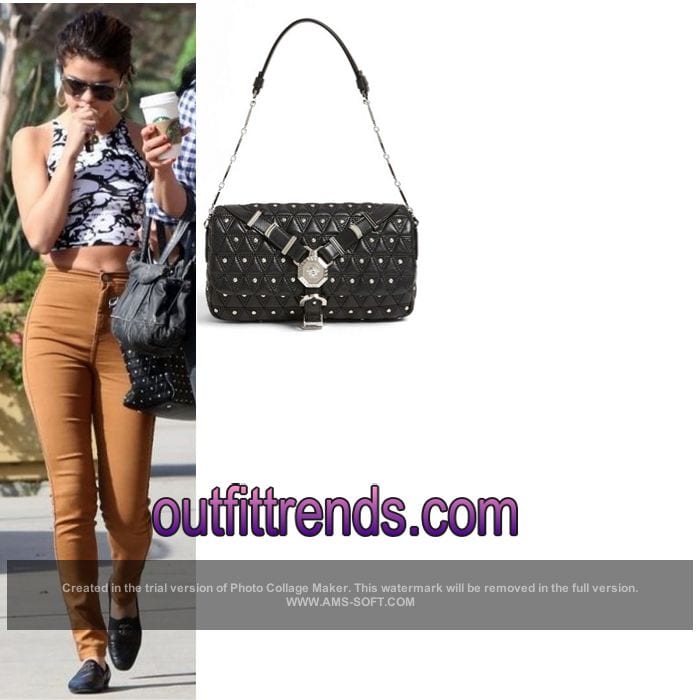 Check out the outfit details below:
Versace 'Vanitas' Leather Flap Shoulder Bag
↓ 6. Rihanna's Nightclub Outfit
A glittery blazer can help bring sexiness to any simple outfit. Take a note from Rihanna's bygone club days and pair up some distinctive pieces for a look as daring as it is chic. Here are some more Night Club Outfit Ideas-30 Cute Dresses To Wear At Night Club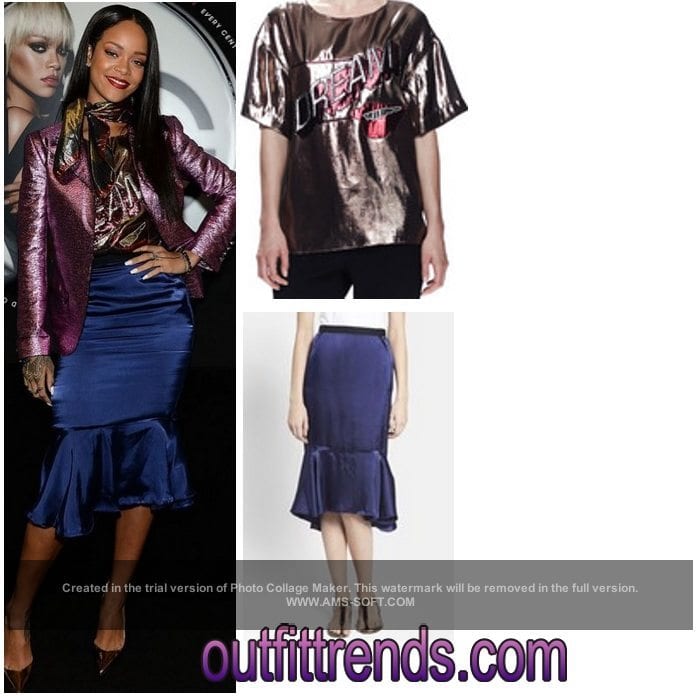 Check out the outfit details:
Lanvin Dream Front Metallic Tee in Beige/Bronze
Lanvin Ruffled Hem Skirt
↓ 5. Lauren Conrad's Stylish Everyday Outfit
A chic and stylish yet professional look for all the working ladies out there is this one rocked by Lauren Conrad. This is an easy outfit to pull-together and can be worn as everyday wear, a street-style look, or even to work. Pair a chambray shirt with black pants and opt for a distinctive flat, like these gorgeous Alexander McQueen's. Accessorize with a bucket-style purse, sunglasses, and go light on the jewelry. Dressing like a celebrity does not get easier than this. We also recommend that you check out these 20 Ideal Spring Work Wear Outfits For Women for Elegant Look.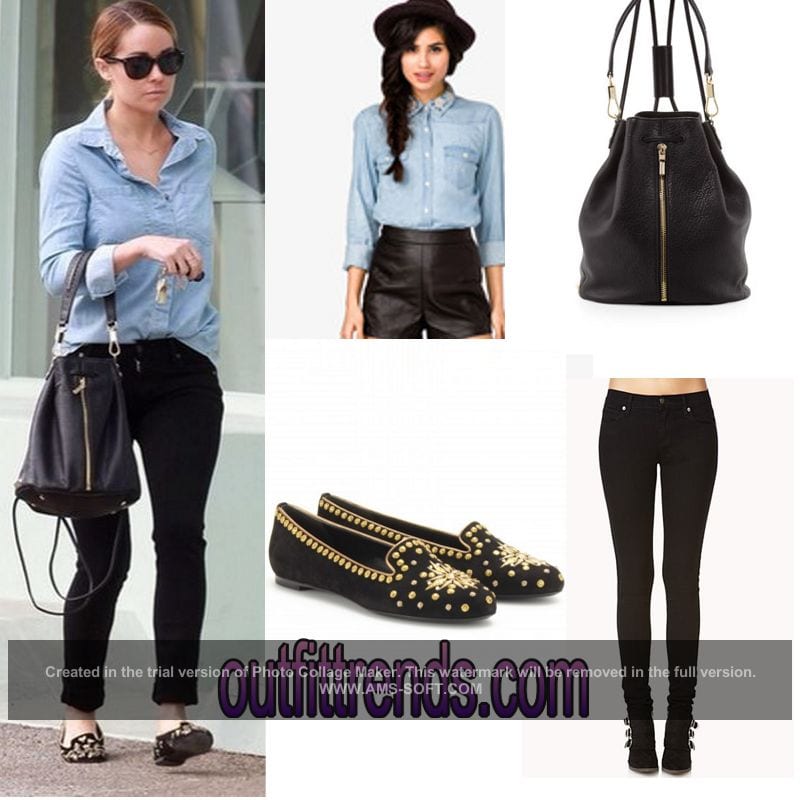 Check out the outfit details:
Elizabeth and James Purse
Alexander McQueen Flats
↓ 4. Emma Watson's Chic Fall Outfit
We have loved watching the evolution of the lovely Emma Watson's style over the years. Here is a look she wore a few years back, but we are still oohing and ahhing over in 2020. This rich brown leather jacket is paired up with some black jeans and a white eyelet blouse. Snazzy heels and a gorgeous handbag tie the look together. This outfit is a great everyday look that can be dressed up or down according to the occasion.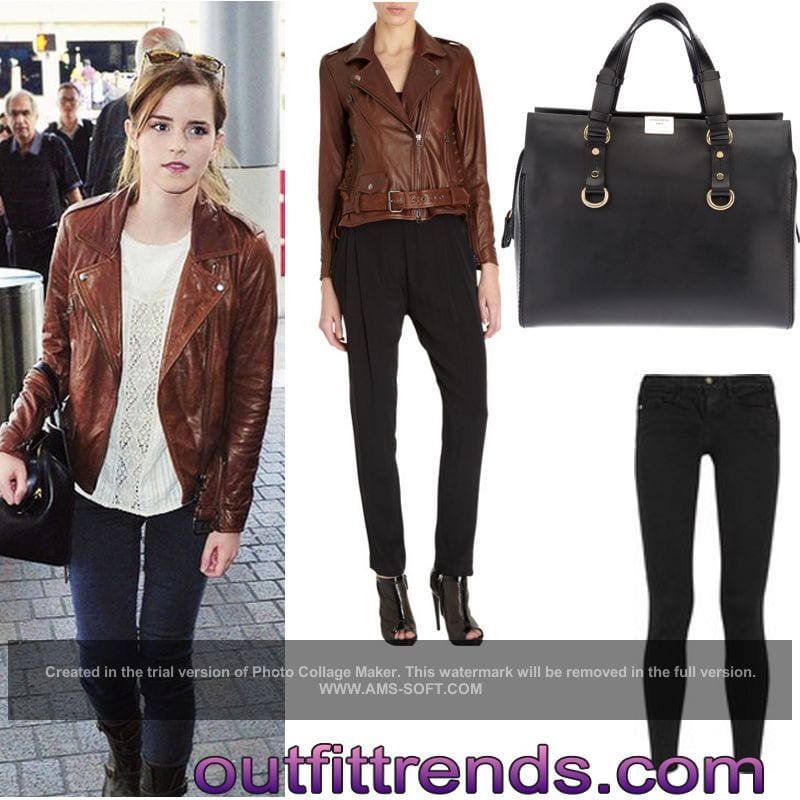 Check out the outfit details below:
DSquared Purse
3.1 Phillip Lim Jacket
Frame Jeans
↓ 3 – Emma Watson's Fashion Style 2020
Emma Watson's style evolution through the years has been amazing. Have a look at her latest and best outfits from 2020:
This throwback casual look of Emma's is ideal for the airport, especially for long and tiring flights. We like how it's almost sporty, but it never sacrifices it's cute and comfortable elements. Here are some more amazing Women's Outfits for Airport – 15 Ways to Travel Like Celebrity.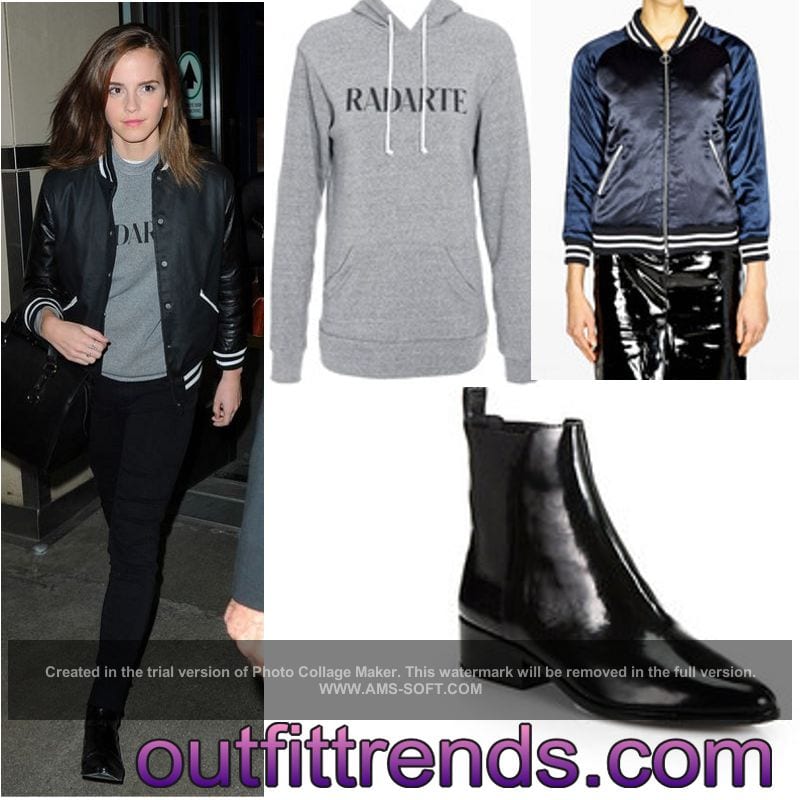 ↓ 2 – Emma Robert's Chic Party Look
For a classic look that we're still admiring in 2020, check out this absolutely stunning ensemble rocked by Emma Roberts. Elegant and chic, the pairing of a black Kate Spade sweater with a deep blue skirt is iconic. We especially love the little handheld clutch (which you can wear in gold or salmon pink) matching with some pointed heels that are to die for.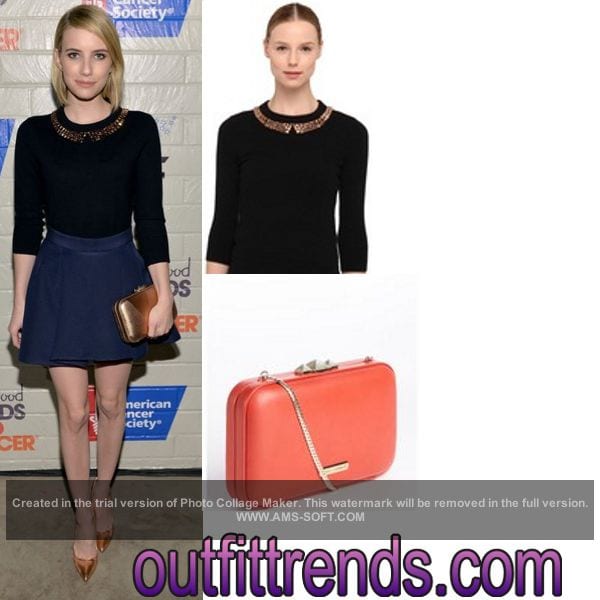 Check out the outfit details:
Kate Spade Sweater
↓ 1 – Diane Kruger's Floral Jumpsuit for Spring
Here we see Diane Kruger wearing a black jumpsuit with vintage floral print, which is one of our all-time favorite Diane Kruger looks. The sheer sleeves and silk collar make this ultra-feminine and classy piece perfect for formal events. The length as well is great, allowing a sleek pair of white pointed pumps to share the stage.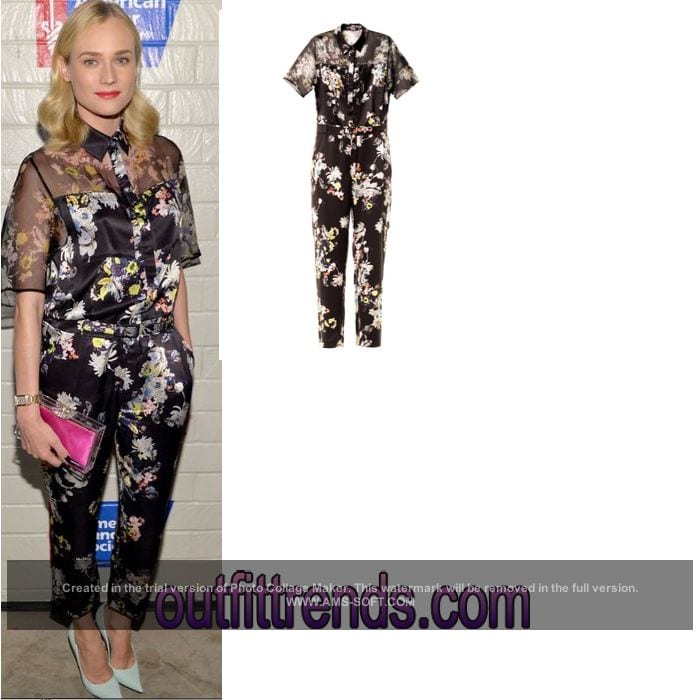 Check out the outfit details:
ERDEM Vala Eames Garden-Print Silk Jumpsuit
R.H. Elias is a freelance writer, aspiring author, and freelance transcriptionist. She is a homebody all the way and loves curling up on a cold, rainy day with a good book and a warm cup of tea. Her favourite pastimes include reading, writing, and watching period films. She currently lives in Puerto Rico.