Ranveer Singh's Dressing Styles: Recently with their engagement announcement, Ranveer Singh and Deepika Padukone have made quite a stir in the current Hollywood world. This has made us all revisit some of their best moments and we can't stop ourselves from going into some of the most popular dressing styles of Ranveer Singh.
If anyone is playing their quirky card right, its Ranveer Singh. A major Hollywood sensation and a heartthrob, he is anything but boring in his outfit choice for public events. For Ranveer Singh, his outfits display a major part of his personality which is as or even more quirky and humorous than his outfits.
Ranveer Singh's Latest Outfits
Starting off as a typical Delhi boy role in Movie "Band Bajaa Baraat" after a successful and impressive audition, Ranveer Singh initiated his debut with a solid performance. From thereon, he moved to the con artist role in "Ladies vs Ricky Bahl" and showed a potential of a great artist.
He then acted in various other films ranging from "Lootera" to "Ram-Leela", "Gunday", "Dil Dhakarne Do" etc but rose to fame with his character of Bajirao in "Bajiriao Mastani" for which he shaved off his head and portrayed the character with grace and machismo. This film was one of the highest-grossing films in India and Ranveer was awarded for his awesome performance with Filmfare award for best actor.
Recently Singh performed the role of Khilji in his movie: "Padmaavat" and was under serious criticism and threats from the right-wing Hindu group for this controversial role. Right now, many of his films are in process and we will soon be seeing him in versatile characters once more.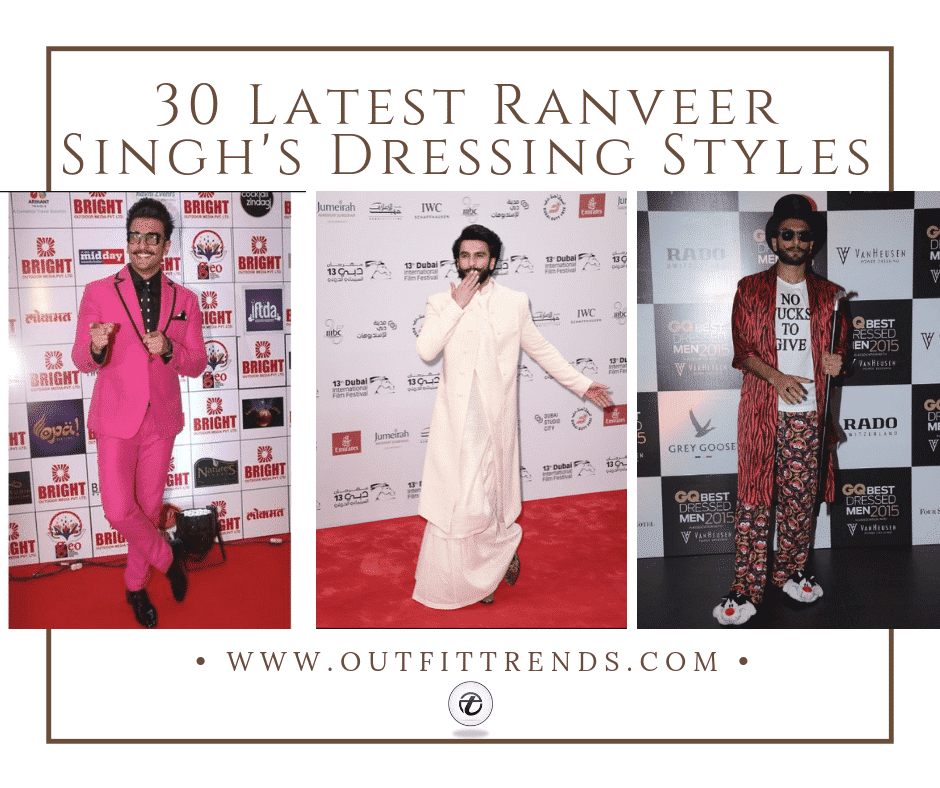 ↓ 30. In Pink Suit
Ranveer Singh has no qualms about donning a pink suit which he has done twice now in public. He was seen wearing this cute pink suit with black edge detailing with a black shirt and polka dot tie and these bold black glasses in an event by Forbes India where he was awarded for being the Youth Icon of India. What a Proud moment for this quirky Lad! Do check out these Bollywood Celebrities Beach Outfits.
Via
↓ 29. At Premier League Conference 2018
Ranveer was attending this event where the Premier League gave him the task of being their brand ambassador. He was dressed to nine in a super cool blue suit with a red striped tie and brown formal shoes. This is one of his least eccentric dresses!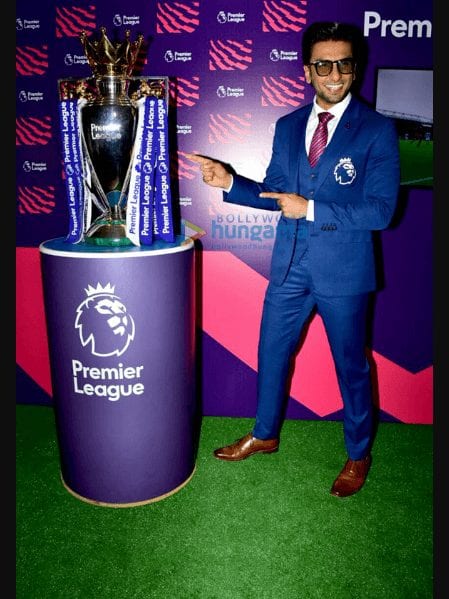 ↓ 28. On Set of Koffee with Karan
Ranveer was seen on the set of Koffee with Karan set along with Akshay Kumar gossiping with Karan Johar. He was seen in a Printed Jacket and a matching Versace shirt with black pants and wearing multiple golden chains and huge spectacles which are his signature style.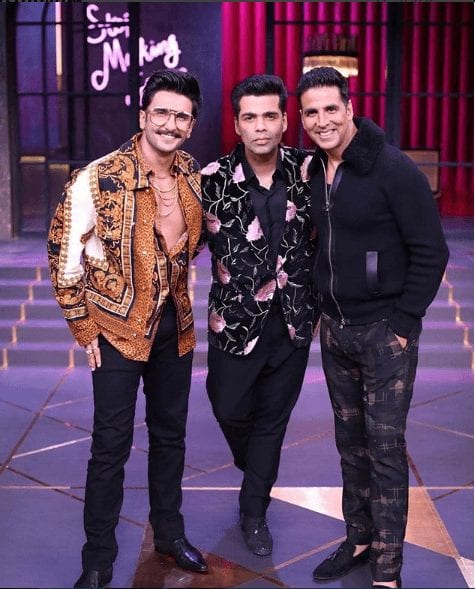 ↓ 27. In Switzerland
These days he is bombing his Instagram with pictures from idyllic Switzerland and here he is spotted in normal traveling attire with a white printed shirt and beige blazer along with brown pants and brown Converse. He has tied the outfit together with this awesome hat.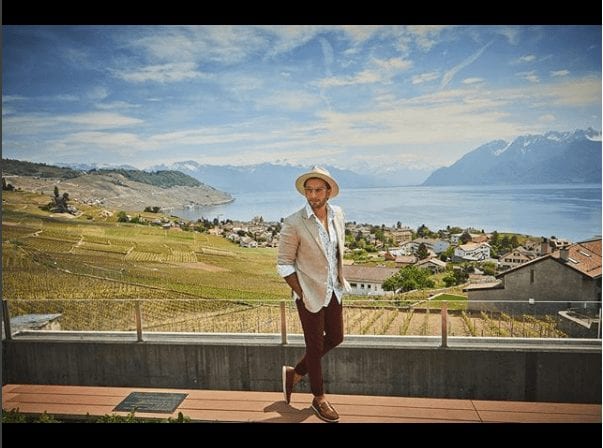 ↓ 26. While Sailing
Nailing the perfect sailing attire, Ranveer posted a picture on his Instagram that shows him in this perfectly tailored blue blazer, white chinos and his traditional hat in white. The cool sunglasses give this look the perfect edgy touch that he is famous for.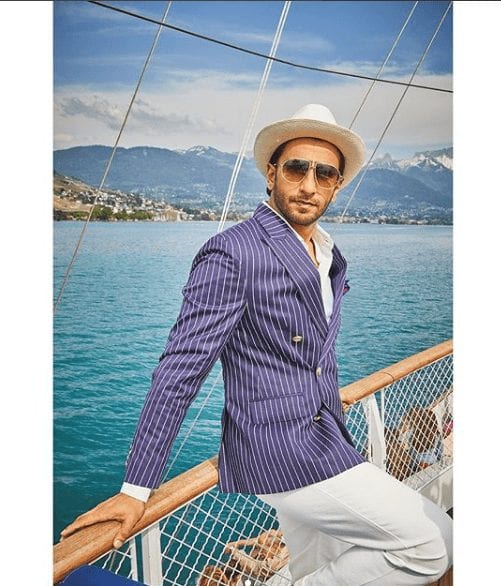 ↓ 25. The Filmy Suit
If nothing else could possibly show his passion for Hollywood, we can all see it thanks to this blazer and pants combo of his! Ranveer was seen flaunting this look boldly at the Jio Filmfare awards and went all retro with his style. This suit evidently showcased all his favorite films of Hollywood from 80's and 90's. Here are Celebrities Couples Matching Outfits & 25 Couples Who Nailed It.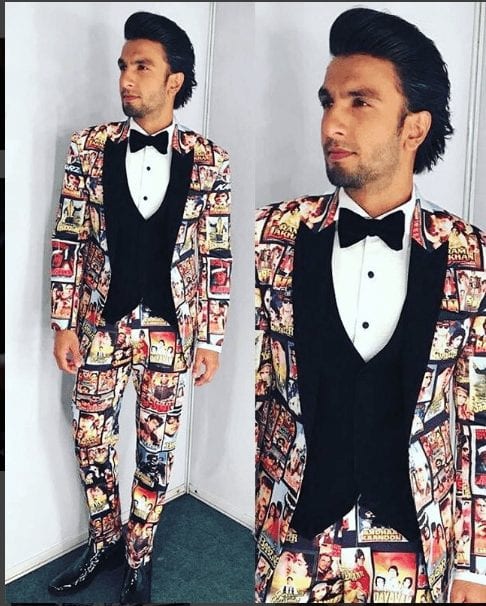 ↓ 24. Wearing Manish Malhotra
Appearing as the showstopper for Manish Malhotra collection in the week-long celebrations of India Couture week, Ranveer Singh was ecstatic to be the partner of Alia Bhatt and you can see the awesome pairing of these two stealing the show. For this catwalk, Ranveer was seen wearing a beautiful rich shade of blue embroidered sherwani and straight grey slim fit pants.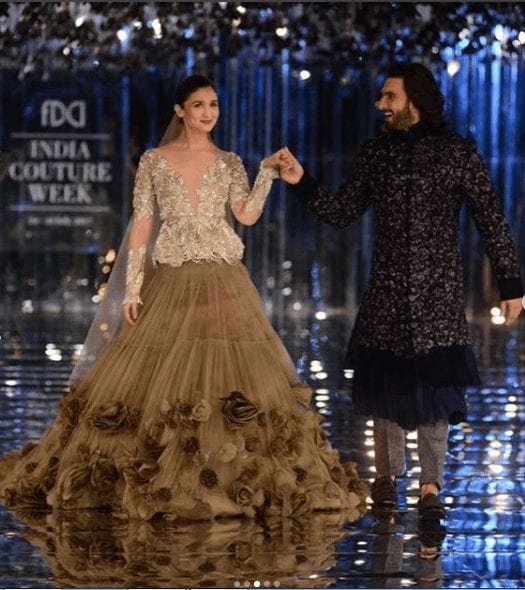 ↓ 23. For Hello Hall of Fame
Being the hottest couple in town, naturally, these two lovebirds can't get away without their pictures being taken everywhere they go. At the Hello Hall of fame, you can see Deepika in an ethereal white bodycon style dress, while Ranveer is sitting in a printed coat, dark waistcoat with bow tie and black pants. Talk about creating a great contrast (in terms of dresses obviously!!)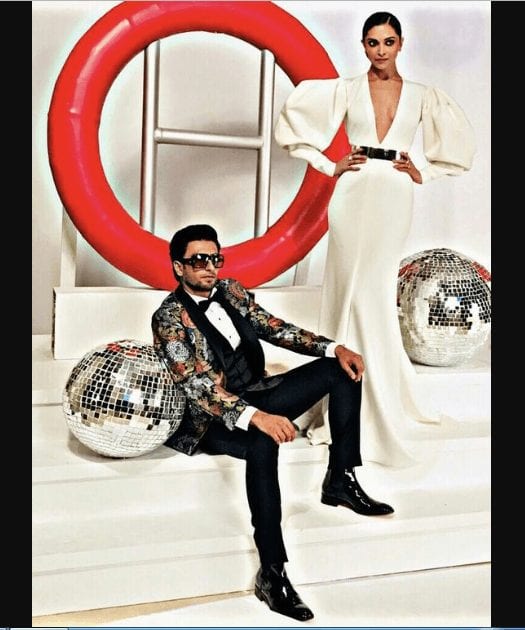 ↓ 22. Flaunting High-Waisted Denim
Here is a rare picture of Ranveer, where he is not openly flaunting his smile or being goofy, rather looks like he is contemplating a serious matter. He is wearing light blue faded high-waisted jeans,  a shirt that is a cross between camo and retro and donning a grey jacket. He is keeping the footwear simple here with these converse.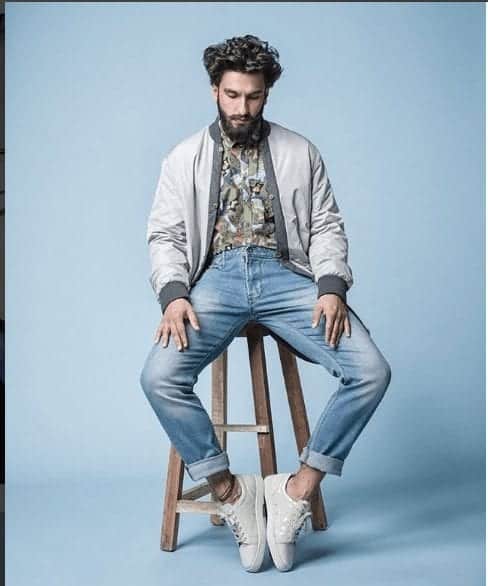 ↓ 21. As Quirky as Possible
Wearing a very vibrant suit with graphics that are even odder, Ranveer Singh strutted around in this attire at an event lately. He can be seen with Rohit Shetty who is also the director of one of his current film. Can't get around without his blockbuster glasses, can he?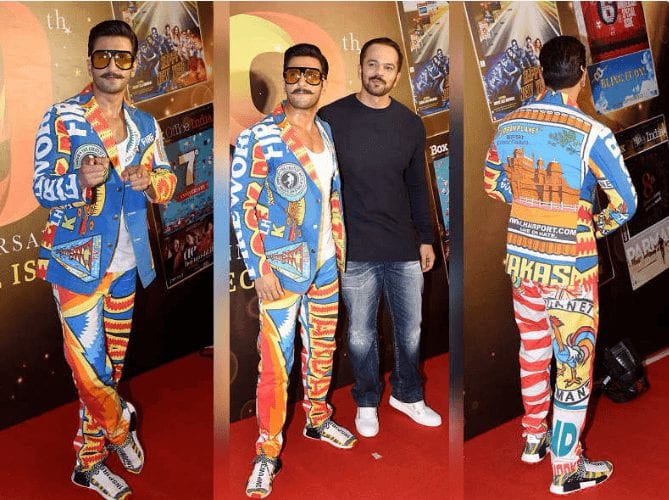 ↓ 20. In Perfect Skiing Gear
If it was difficult to spot him in the snow, now he has taken good measures in case he need to be rescued by wearing a red-hot jacket and black thermals for his skiing.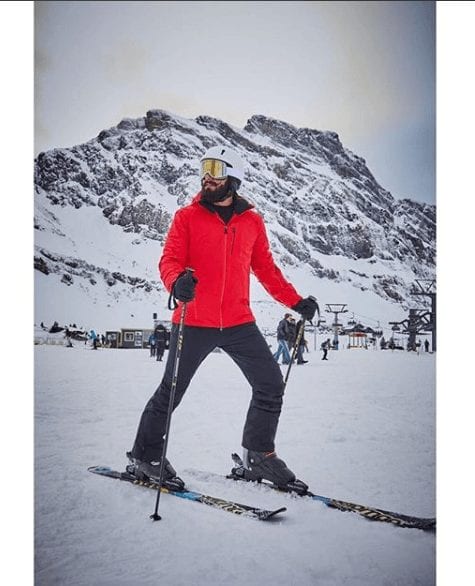 ↓ 19. When He Showed Off Candy Colors
You can see the Portuguese model Sara Sampaio and Ranveer Singh posing for a magazine shoot for Vogue India. Both of them can be seen in candy-colored almost twin-like outfits and Ranveer going a little extra with his graphic top.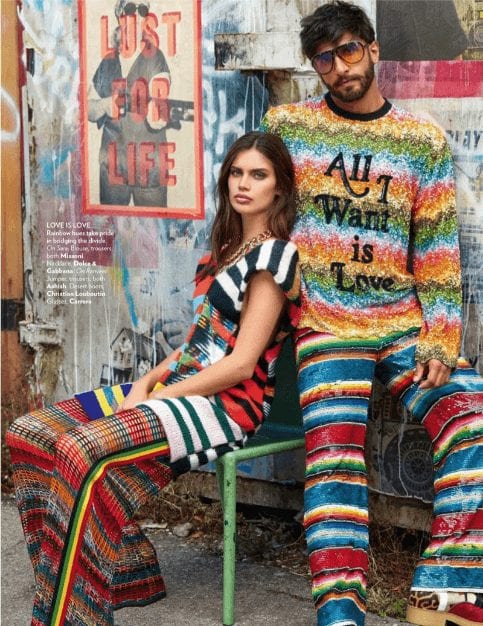 ↓ 18. Casual Good Looks
Ranveer at his casual best is still quite impressive. Pulling out this casual black striped tracksuit look with ease, he seems to be comfortable and at ease, in any attire, he is wearing.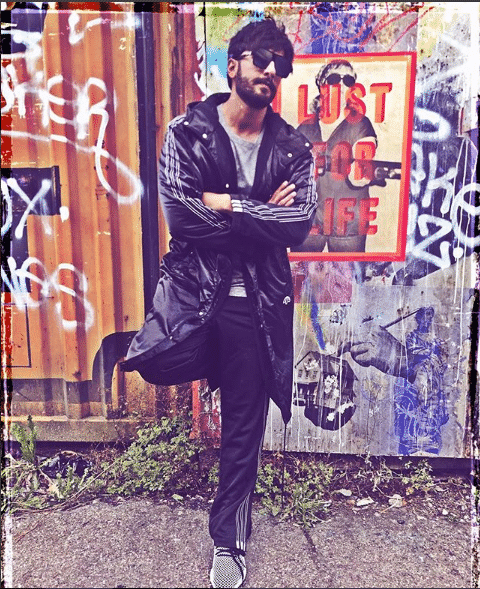 ↓ 17. In Geometric Prints
On cloud 9, Ranveer was seen being extremely ecstatic after winning the award of Entertainment leader of the year. He was given this prestigious award at the CNBC TV18's annual awards night event and he was seen wearing a geometric print purple suit and pink tie for the event.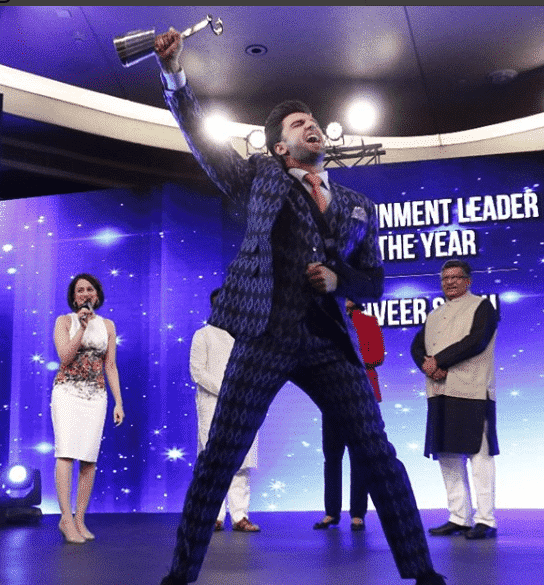 ↓ 16. Being Goofy
Goofy outlook is what Ranveer does best and here he has perfectly blended into the background he is posing in front of. Wearing a colorful floral print shirt and black pants, you can see that he is totally in his element here.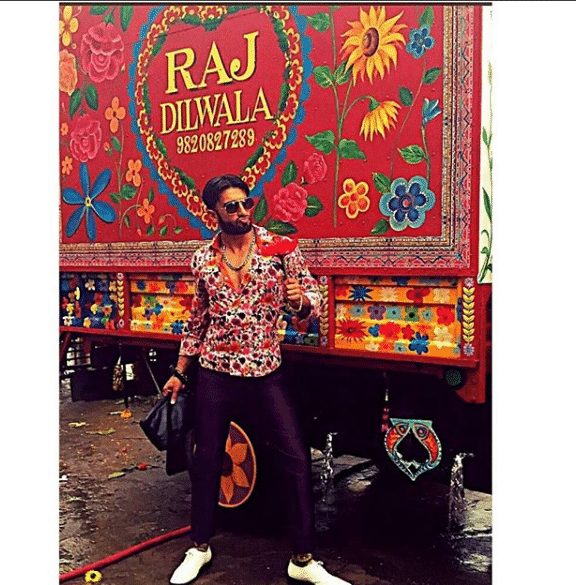 ↓15. The Boy Next Door Look
Sauntering around in a good mood, here he is spotted in a simple graphic shirt with no complicated add-on and navy sweatpants. The white sneakers and black sunglasses are perfectly complimenting his looks and the smile he is flashing is totally on point.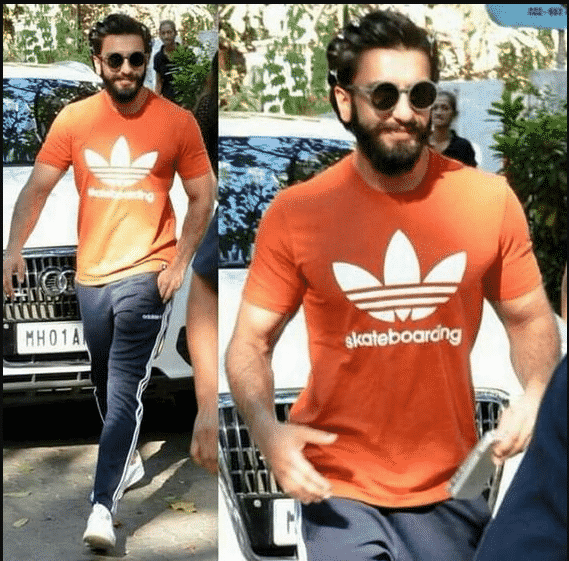 ↓ 14. In Graceful White Traditional Attire
Ranveer Singh attends the Befikre red carpet in Dubai at the International Film Festival hosted at Madinat Jumeriah Complex on December 8. He is blowing a kiss to his audience in his typical style and wearing a traditional white outfit in a completely non-traditional fashion. Wearing a white sherwani, with long white kurta and dhoti, surely Ranveer is the only one who can carry this look so well!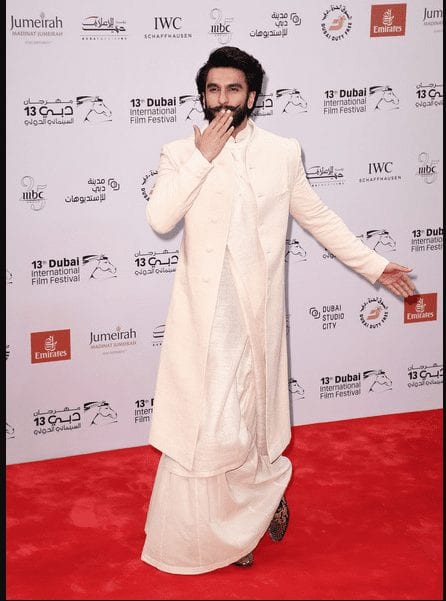 Via
↓ 13. Rocking the Tuxedo at Film Fare Award
Being extremely proud of his achievements in terms of his acting and mature roles in movies, he was extremely excited as he won the award for best actor in leading role in the movie Bajirao Mastani in the 61st Filmfare awards. At the event, he was seen in a square print Black and white tuxedo with black bow tie and the actor looked super suave with this interesting look.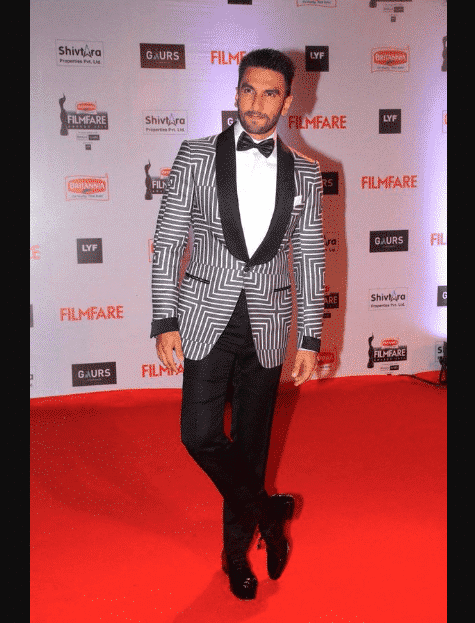 Via
↓ 12. Rocking the Leather Jacket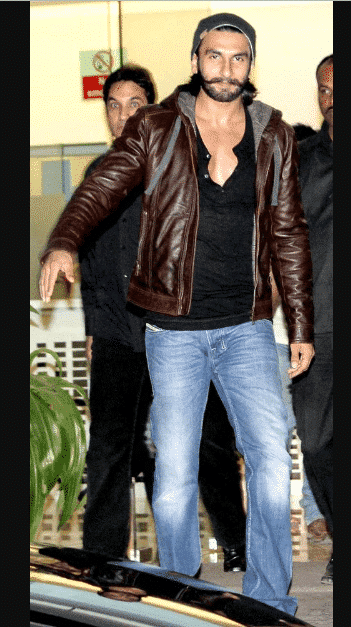 ↓ 11. Khaki Suit with Kolapuris
When you picture a guy in a suit, you always think of formal dress shoes. However, with Ranveer it is never that simple, is it? He was seen in this spotless khaki suit and a printed matching shirt along with kolapuris, that has given us new goals! Guys, what are you waiting for? Take those kolapuris out or buy some if you need to!!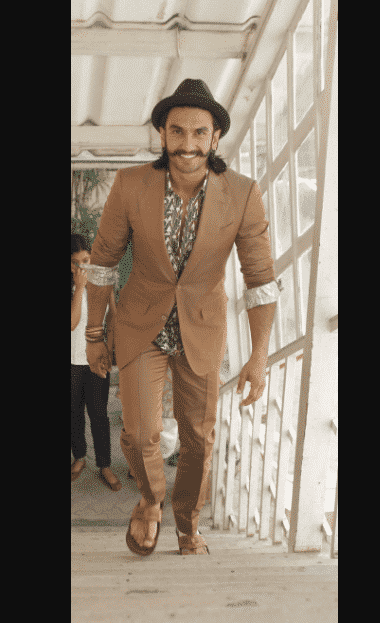 ↓ 10. Layering Done Right
Layering can be tricky to pull off if you think of wearing prints, but that is what Ranveer does best! Wearing a suit in inverted umbrella print, he has boldly matched it with a rich navy blue floral shirt and blue casual sandals. Never missing a beat with his accessories, you can see that he has his black signature hat in place in this shoot. Here are 20 Best Looks of Salman Khan.
↓ 9. The Bob Marley Shirt at Airport
Ranveer was seen in a unique Bob Marley knee-long shirt on the airport at Dehli. The strange black and white outfit is no less of a totally weird outfit to be worn at the airport or while traveling but then this is Ranveer we are talking about! He matched the outfit with white joggers and black and white sunglasses and was surely winning at gaining everyone's attention.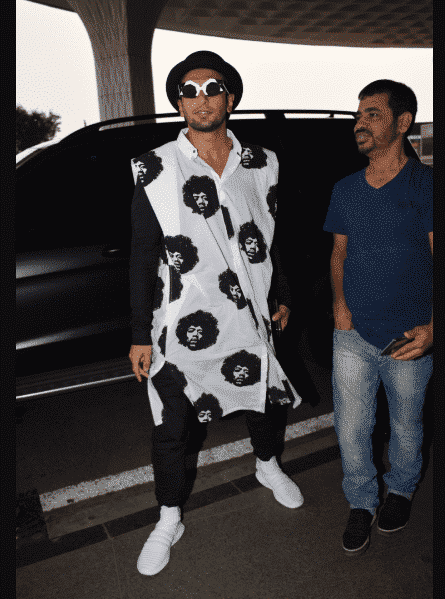 ↓ 8. The Sherwani on Tour
Going for a totally bizarre outfit for his tour in Switzerland currently, you can see him striking a pose in a traditional tailor-made black sherwani with golden buttons and red pocket square along with white churidar with golden embossing.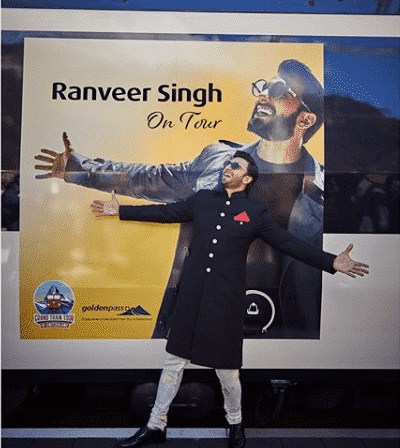 ↓ 7. The Eye-Popping Jacket
Ranveer can never wear a muted outfit ever without doing something crazy with it too! Here he is seen in front of Freddie Mercury's statue in Switzerland in his signature bold look with an eye-popping yellow jacket with white shirt and pants along with striped converse.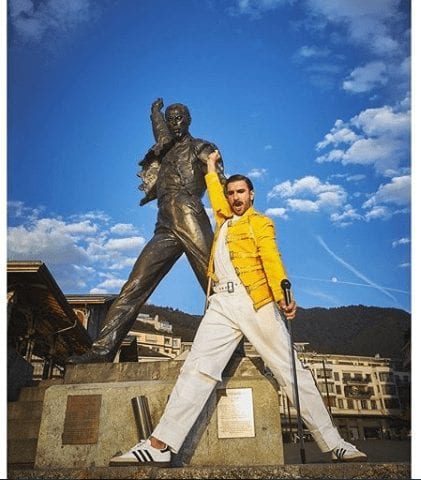 ↓ 6. The Blunt Magician Act
We have no idea what must be going on in Ranveer's mind when he wore this outfit but he has turned on the volume high on his humorous take on outfits in this one. Donning a curious and bold white graphic shirt, he is seen in a long red animal print silky coat and muppet pajamas with big fluffy Sylvester slippers and a stick like a magician in his hand. For this specific look, he carried black sunglasses and a big magician style hat.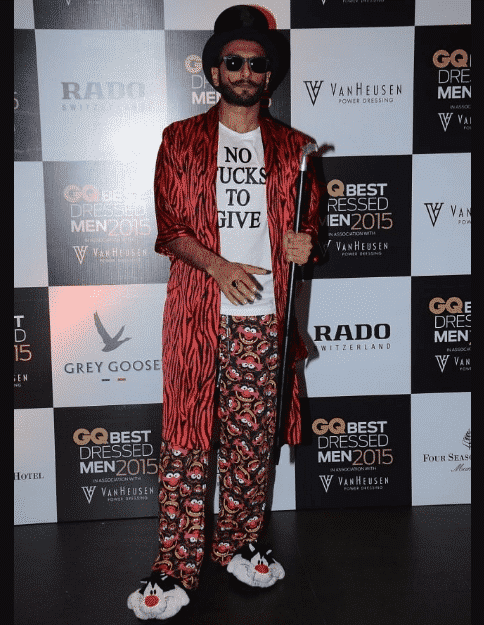 ↓ 5. A Blue Coat Like No Other
What a new (read: Extremely strange) way to flaunt a black and white kurta! Ranveer paired his kurta with a blue long coat with high flaps and flare and a blue skirt with brown gladiators. The coat had beautifully embroidered sleeves and to complete the look with his signature style, we see him in another cool pair of sunglasses.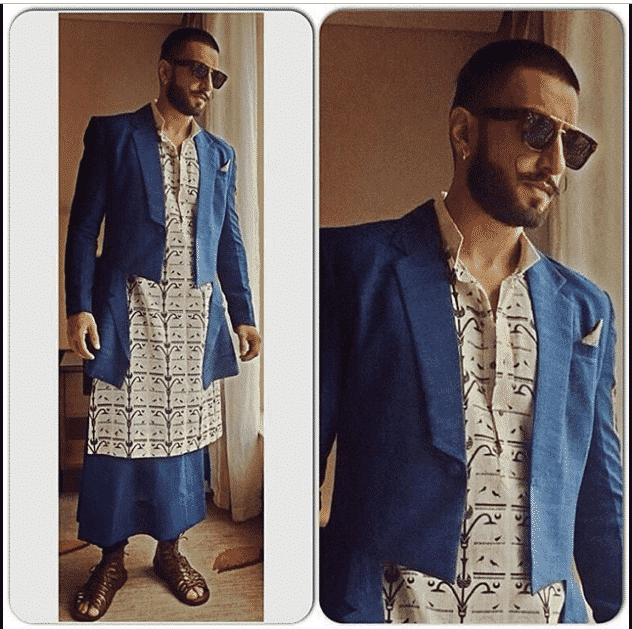 ↓ 4. Rocking the Animal Print Outfit
Nobody can take away the crazy from Ranveer and he is the sole owner of getting the funky looks to a whole new level. Lately, he was seen in this crazy plush animal print outfit, with multiple chunky silver chains and highly glitzy star-shaped glasses. To put some authentic twist to the outfit, he wore a crazy Afro wig and is seen carrying a stick. Later on, it was revealed that this ostentatious outfit of Ranveer was a tribute to Bappi Lahiri and he later took a picture with his idol too.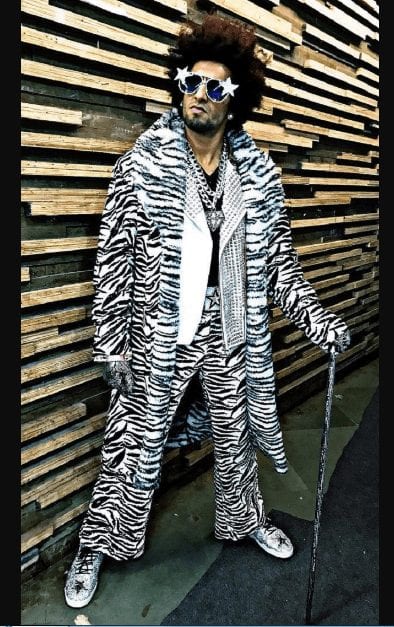 ↓ 3. Don't Forget the Hat
Perfecting his retro look in a modern way, here he can be seen in a light beige long coat. To pair it up classically, he has worn it with a short sleeve brown shirt and soft white linen high-waisted flared pants. The hat matches the shirt and the outfit ties together perfectly.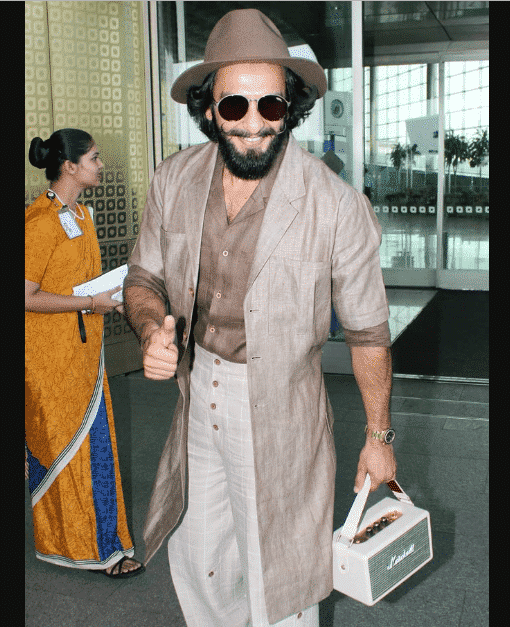 ↓ 2. When He Means Business In a Casual Way
This is a great example of a business casual attire for those lazy Friday mornings. Get your swag on by wearing your favorite shirt along with a charcoal colored blazer and some light blue denim along with a grey hat. Everything from the mustache to the dress is completely on point for Ranveer here.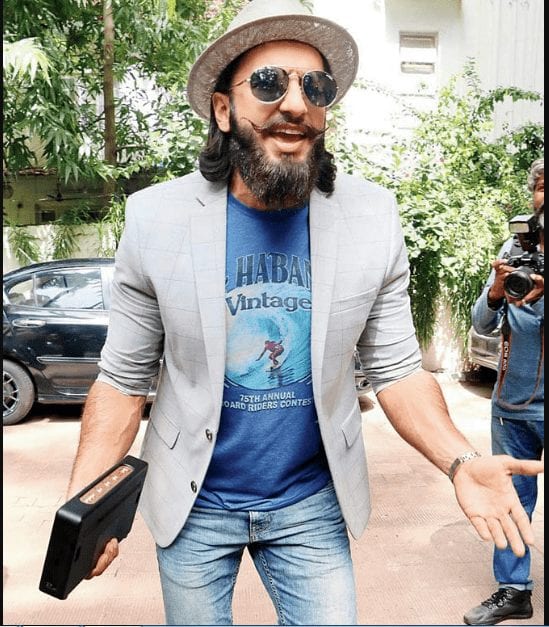 ↓ 1. Upgrading the Denim
In his signature glasses, he has upgraded the simple denim look by wearing it along with a bright red plaid shirt and leather jacket for a perfect edgy look. The pointed black shoes and black hat are totally on point. He can be in a hurry, but still, his style is no less than perfect!