Celebrity outfits on a budget- Many of us love the style of our beloved celebrities and want to look just like them to step up our Instagram game.
Your dressing style defines you. The outfit sets your mood for the whole day, so it is vital to choose the right inspiration. However, our salary doesn't allow us to buy expensive celebrity outfits. Even though celebrities are humans like us, they have a lavish lifestyle with loads of money in their bank accounts. Therefore, they can afford a walk-in closet full of clothes and accessories from multiple designers.
But what if I tell you that you can recreate celebrity outfits on a budget? Sound exciting, doesn't it?
You have come to the right place if you really want to recreate celebrity outfits to wear to a party, wedding, or university, no matter your body type.
Keep reading to find every outfit with multiple accessories to wear for different occasions. In addition, we have also provided the celebrity makeup looks to recreate for you with every outfit and ideas on where to buy celebrity outfits from. Get ready to be as gorgeous as your favorite celebrity.
How Do You Dress Like a Celebrity?
I know you are eager to recreate multiple celebrity outfits, but before spending loads of money, follow the tips below, to begin your journey of looking posh without going bankrupt.
Choose the right inspiration that matches your style: Go through your favorite celebrities' Instagram and get the fashion inspiration that matches your style and comfort level. After choosing your favorite celebrity outfits, think about where you can wear them to. Because unless it's a wearable outfit, it's not worth investing in.
First, check your wardrobe: Checking your wardrobe before going to the store is essential. What if you already had something similar to the celebrity outfit that you want to recreate? This way, you can save your money and stop spending your savings.
Stick to a budget: Make a list of what to buy and divide the list into months, so you spend a limited amount of money every month without getting broke.
Stick to the color scheme: If you can't find a similar print or design, remember to get the right shade of color that matches the celebrity outfit you want to recreate. Sticking to the color scheme even in different clothing items will make your outfit very similar to the celebrity outfit.
Accessorize: Always accessorize to look 'expensive' without spending a lot of money or effort. For example, you can make a hairstyle and wear similar jewelry and makeup to match your inspirational look.
Select celebrity makeup looks to recreate with the celebrity outfit: In order to look like your favorite celebrity, try to recreate their makeup looks to match the outfit that you want to recreate.
Prioritize your comfort: You can wear sneakers underneath a maxi instead of wearing heels. It is okay to prioritize your comfort over style. You can modify your celebrity look to feel comfortable and happy whenever you wear iconic celebrity outfits you recreated.
Latest Celebrity Outfits You Can Easily Copy
Now let's move on to the celebrity outfits we have selected for you.
20 – Hailey Bieber's Effortless Casual Look
You can nearly always relate to Hailey Bieber's style as she is the queen of comfort. Baggy jeans with a black tee-shirt can never go wrong.
The best part about the below look is that the black leather jacket is optional, and you can slay the outfit in summer as well as in winter with chic jewelry pieces.
This Hailey Bieber look can top the list of comfy celebrity street styles and it can easily be recreated with items that we all already have.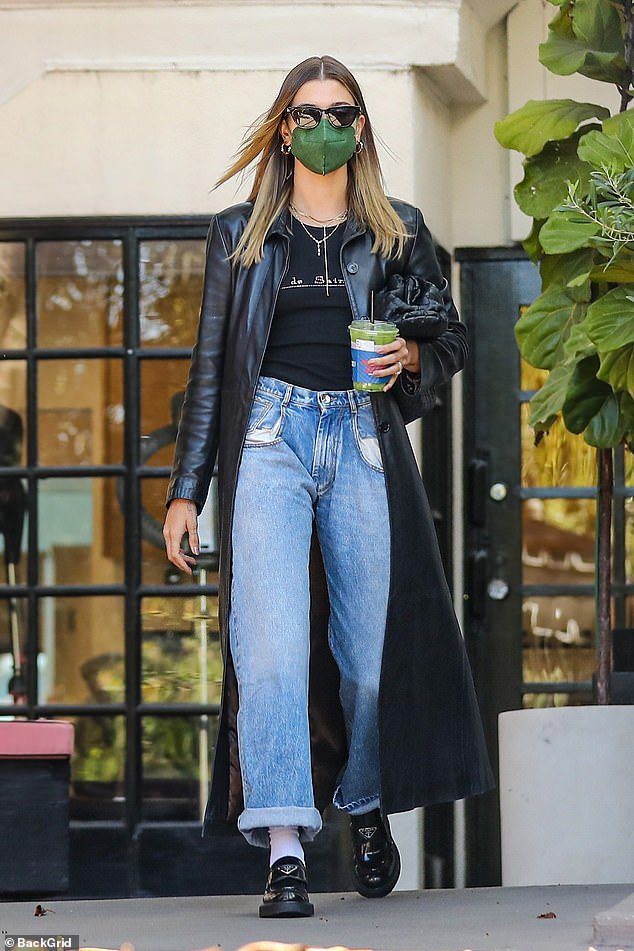 19 – Easiest Celebrity Outfit to Recreate For a Costume party
You can dress up for a costume party by recreating Sia's look.
All you need is a 'Sia wig' that covers your eyes and Voila! You are ready for the costume party with bold red lips. This is one of the easiest celebrity makeup looks to recreate. Plus point is that you don't have to spend hours on the look and you can always wear the black coat.
Also have a look at Best Halloween Costumes for Men & Women
18 – Selena Gomez's DayTime Look
A white maxi is a must-have outfit. You can wear the comfy white maxi with slides and a bun to the beach or any daytime hangout with your friends. I can also transform the daytime look into a nighttime look for you. For instance, you can wear a net shrug over the white maxi for a romantic date night.
Also have a look at these White Midi Dress Outfits.
16 – Recreate Kim Kardashian's Chic and Comfy Outfit
Kim Kardashian is one of the most famous celebrities, and every other girl follows her style. People spend thousands to buy Kim Kardashian's designer outfits. However, you can recreate this all-black comfy Kim's outfit on a budget and wear it to any daytime party or hit the club in those baggy sweatpants.
Style the outfit with chic gold jewelry and wear light makeup.
15 – Recreate Beyonce's Colorful Outfit for Summer
If you want to get all the attention at a party, you can recreate Beyonce's orange cut-off fitted top with pink shorts. The colorful outfit is perfect for summer.
Make sure to wear nude lipstick, so the colorful outfit pops out. Also, wear pink heels and style the outfit with a bag to give a 'mean girls' look.
13 – Dua Lipa's Chic Look for Home Parties
A pale yellow dress is a versatile piece to invest in as you can wear it for traveling, style it for work and even try it on parties. Here it has been layered with a printed button down to give it a casual chic look and we're all for it.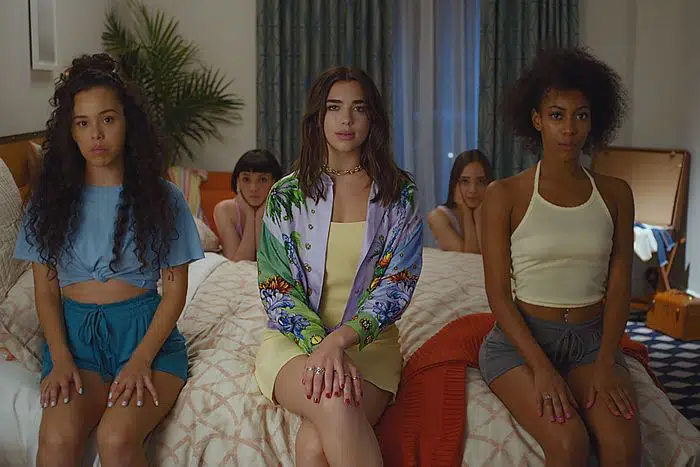 12 – Victoria Justice's Zebra Print Blazer Street Style
Another celebrity outfit to recreate is Victoria Justice's street style. A Zebra print blazer with black and shiny pants and red lips is a unique style that will gather everyone's attention. Thus, you can wear it to any daytime birthday party of your coworker or friend.
The zebra print blazzer is a precious addition to your 'celebrity street style' wardrobe. You can even buy the shiny black pants from any of your favorite clothing website.
Also have a look at these Outfits with Zebra Pants.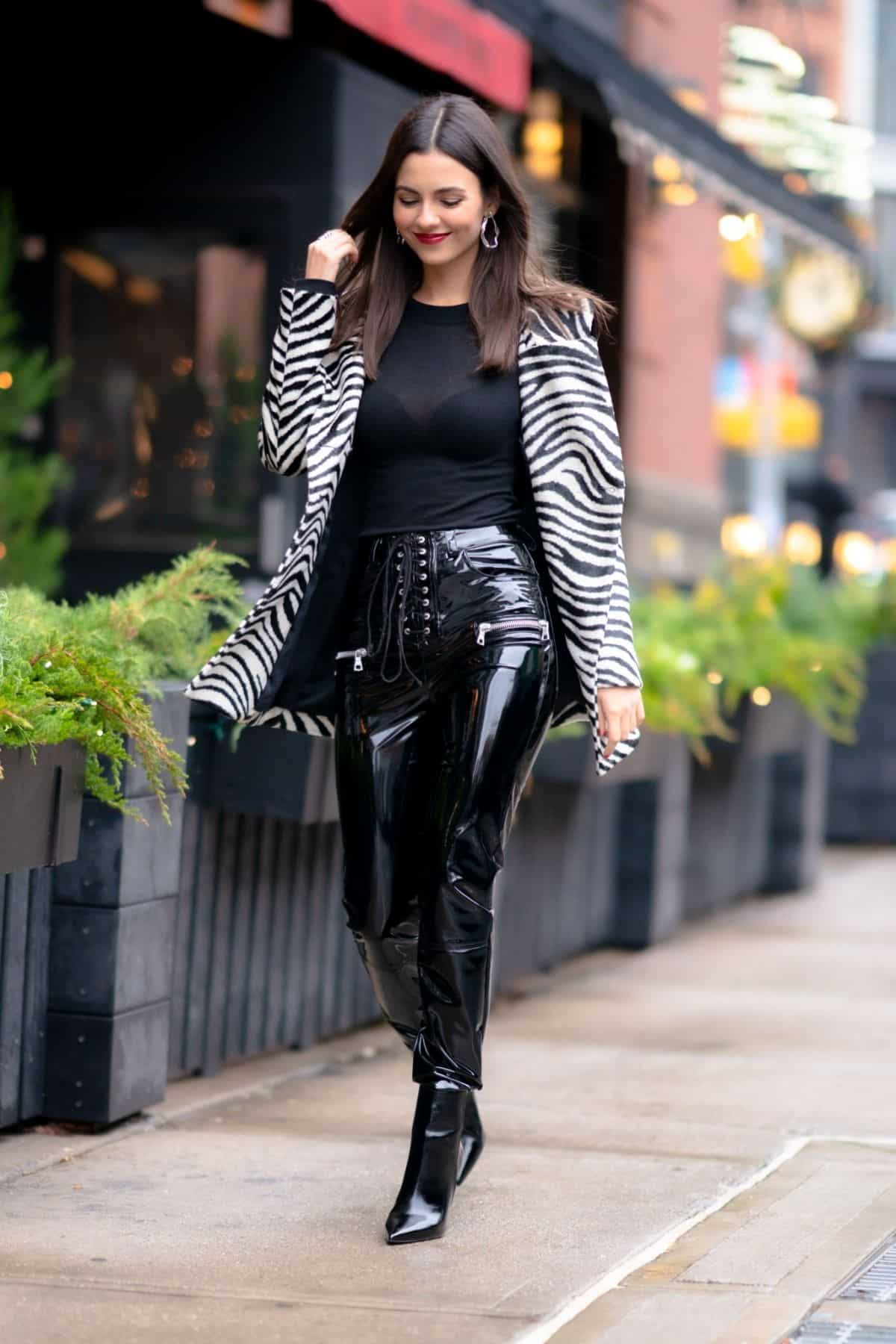 Shiny High Waist Legging $18.99
Black leather chelsea boots $43.8
11 – Shraddha Kapoor's Bohemian Denim Skirt Look
Shraddha paired a blue button-down maxi skirt with a simple white top for a daytime look. You can recreate the same look for birthdays or college wear. However, don't forget to wear hoops with the outfit to complete the style.
Also have a look at these stylish Outfits with Denim Skirts.
10 – Recreate Deepika Padukone's Night Party Dress
A simple, fitted, and long black dress with smoky eyes is a must-have look. You can wear the black dress multiple times. For example, wear it to a club, a concert, bridal shower, etc. But always remember to wear statement earrings and heels with it.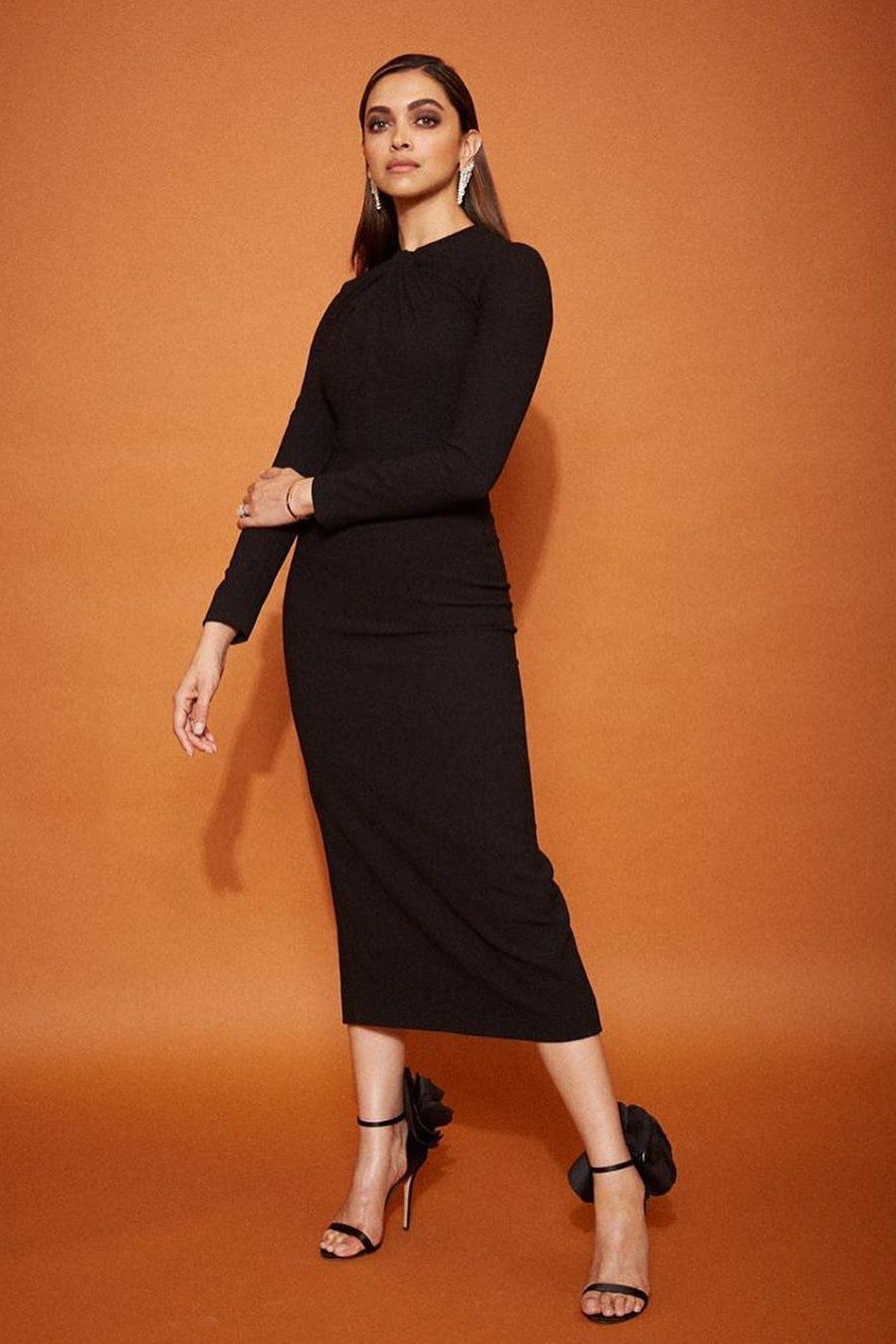 9 – Best Kendall Jenner Outfits to Copy
8 – Alia Bhatt's Boss Girl Suit
Another celebrity outfit to recreate is this rose red suit for the office. The suit screams feminism. And the white top brings out the color of the suit. Remember to make a high ponytail to stun everyone. However, you can also open your hair and apply red lipstick for a bold look.
7 – Kris Jenner Suit Pant
One can always rock a black pantsuit outfit no matter their body type or age. Style the black pantsuit with black heels for any nighttime party. Furthermore, you can apply nude lipstick or red depending on your mood.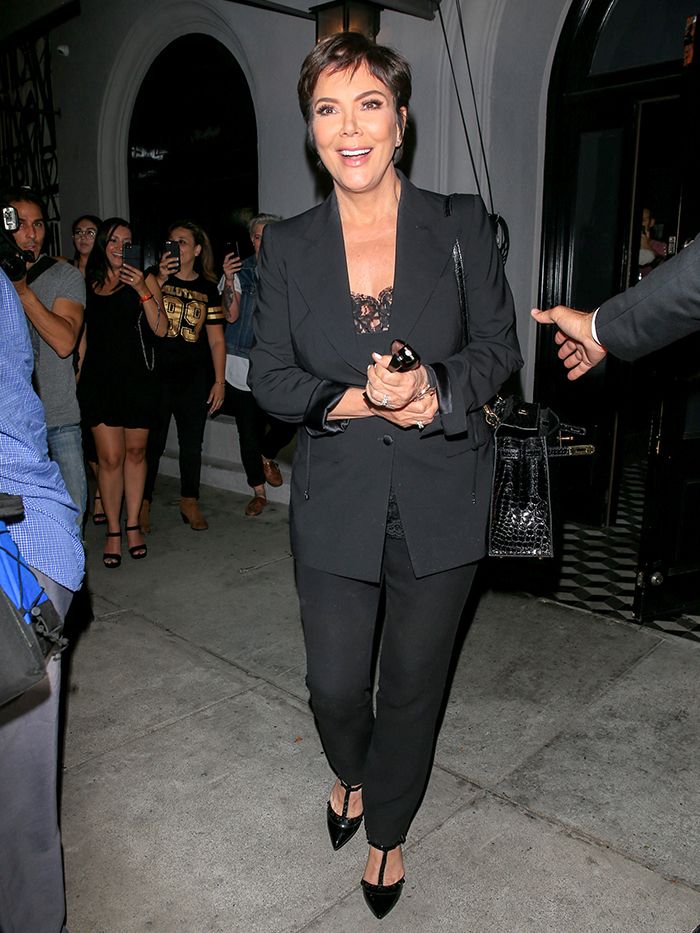 6 – Kiara's Denim Dungaree Outfit
Another celebrity's street style to recreate is Kiara's denim dungaree with a white top. You can wear it for any daytime hangout like a boss. However, pair it with white sneakers and a bag to complete the look.
Also have a look at all these different Ways For Women To Wear Dungarees.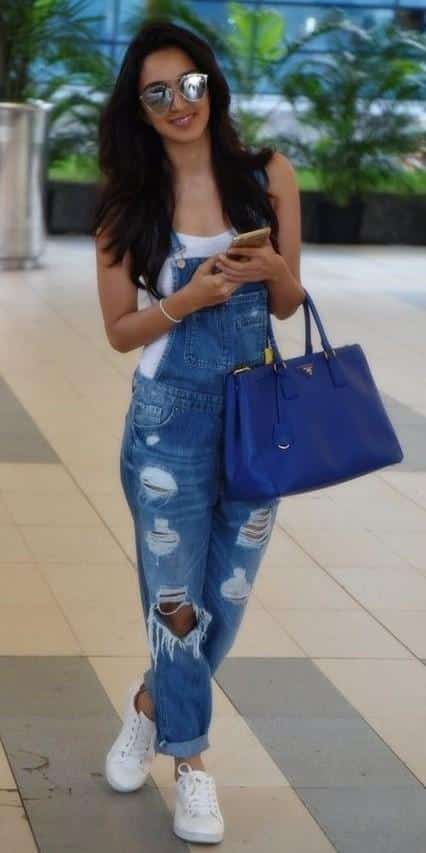 5 – Alia Bhatt's Tie and Dye Tee-Shirt with Shorts
Here's the coolest look for summers. Tie-dye outfits are totally trending this year and we love how they bring a fun element to any look. So do try this look and also check out all these Ideas on How to Wear Tie-Dye Outfits.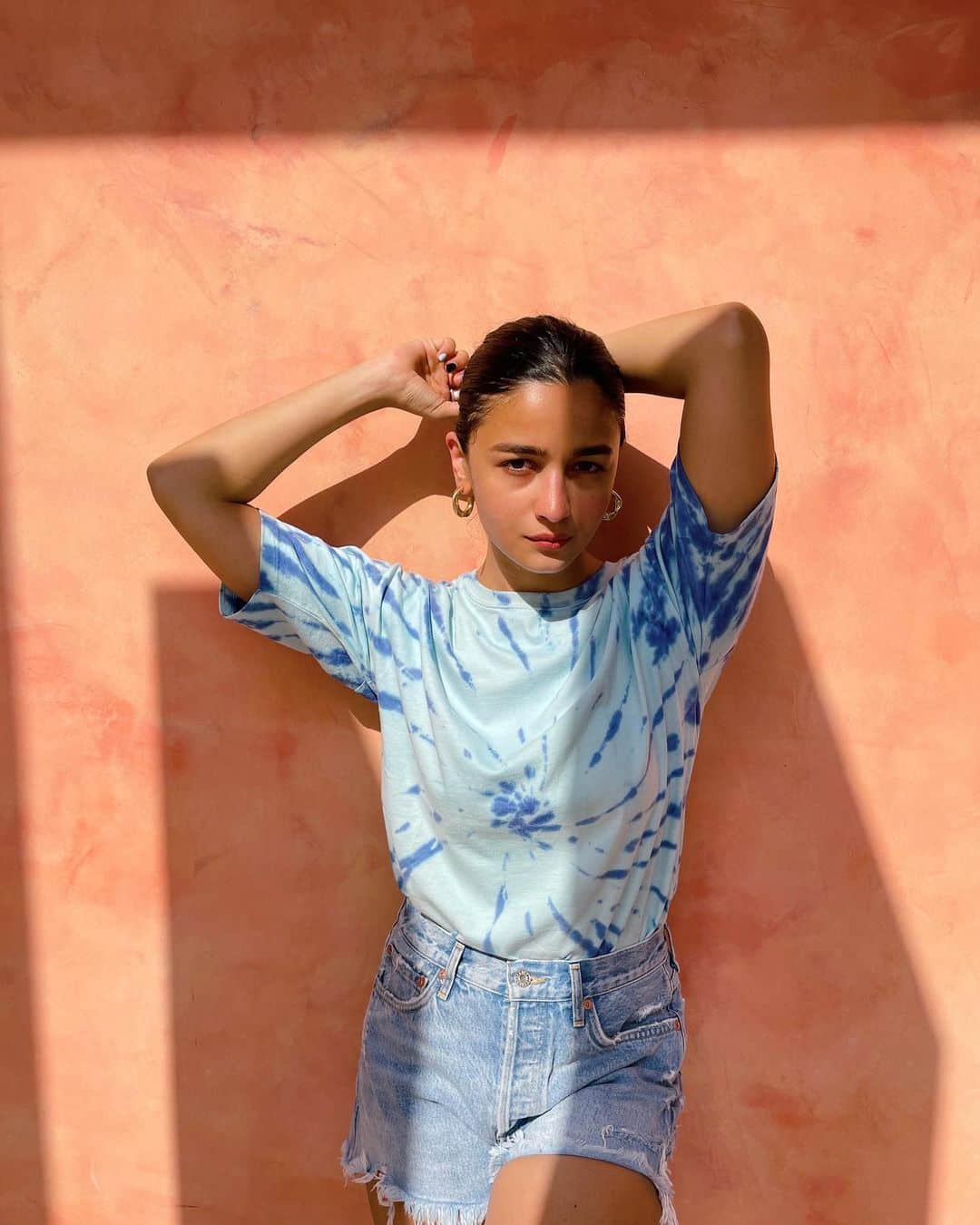 4 – Rock Concert Outfit Inspired by Megan Fox
This is like the easiest look ever to recreate! Just layer a black leather jacket over any glittery bra and put on your favorite denim jeans. Here are some more Leather Jacket Outfits you can try.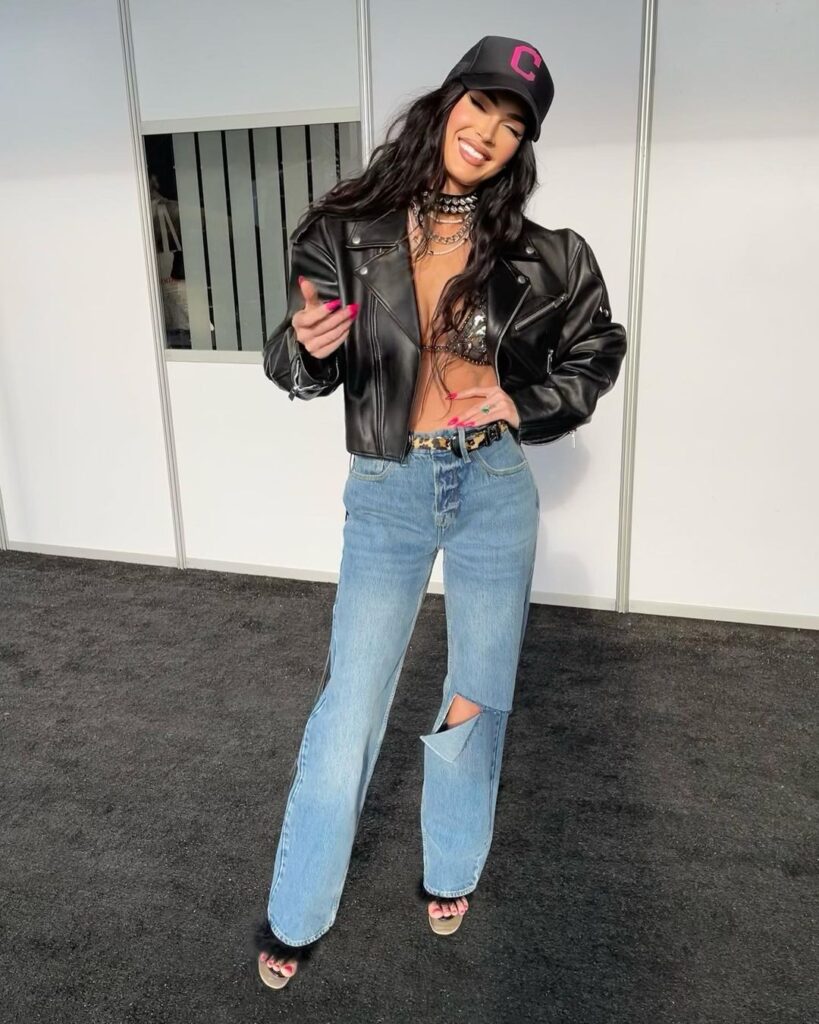 Embellished Push up Bra (similar) $30
3 – Blake Lively's White Dress
A white dress is a must-have for your summer wardrobe so we found some great options for you below. And yes we have already seen Selena wear a white dress above but this one is different as it's a tiered dress and they're trending everywhere this year.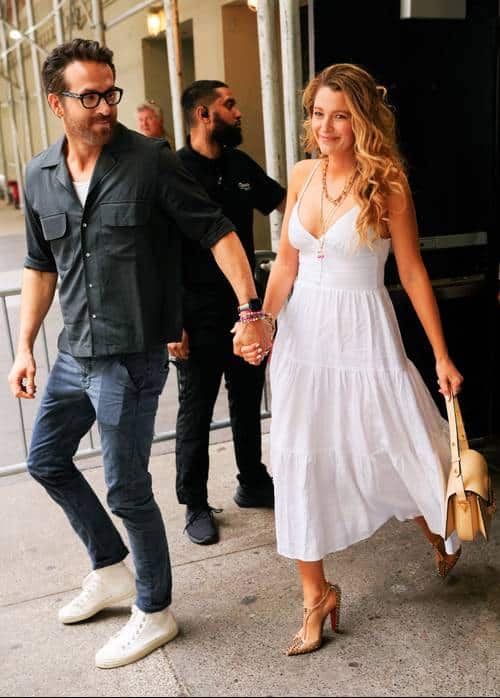 White gypsy dress (sleeveless) $19.25
White Midi dress (with sleeves) $42.99
2 – Yellow Cut-Out Dress for Date Night
Victoria Beckham chose to go for this yellow dress with cut-out detailing for her anniversary and we find it to be a simple but romantic look.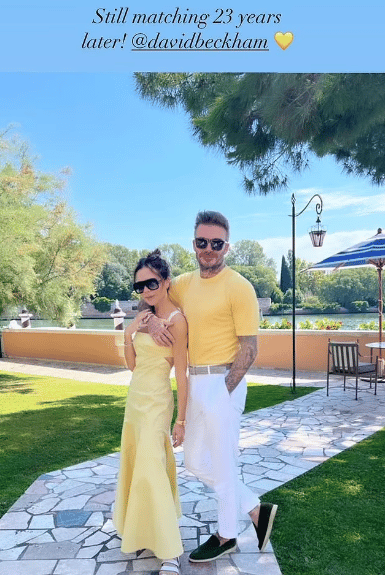 Long sleeve cut-out maxi dress (similar) $43.8
1 – Emma Watson's Preppy Outfit You Can Wear to Work
This outfit of Emma Watson is perfect to be used as an office outfit that is both practical and stylish.
Pea Coat cardigan (similar) $25.99
Button down shirt with tie waist $19.99
Frequently Asked Questions
Q: Where to buy Celebrity Outfits? How do I find clothes that celebrities wear?
Ans: You can find celebrity outfits online by downloading apps that use image reorganization software to identify images. Examples of such apps are; Wheretoget, ScreenShop, SiBi, etc. In addition, you can also check out Forever 21 and Zara to find similar celebrity outfits to buy.
Q: How do I look like a celebrity?
Ans: Celebrities have a glowing face with zero face fat and an ideal figure to look glamorous. You can follow low carbs diet to lose weight. Carbs are a 'no' for celebrities. In addition, buy a face wash for your skin type and Vitamin C serums for the natural glow. Be consistent with a skincare routine to get optimal results.
Q: Where do Celebrities get Dresses?
Ans: All A-listed celebs have their own stylist that reaches out to brands and select dresses for the celebrity. In fact, designers reach out to the stylists of celebrities to make a deal.
Q: Where do celebrities go shopping?
Ans: Most celebrities go to Bloomingdales, Channels, Gap, Gucci, etc for shopping.
Q: Which celebrity has the best fashion dressing sense?
Ans: There are multiple celebs with the best fashion dressing sense, from French actresses to California-cool runaway models. Some examples are Solange Knowles, Chloë Sevigny, Yara Shahidi, Sarah Jessica Parker, etc.
Q: Which celebrity has the best street style?
Ans: Hailey Bieber has the best street style, and her motto is 'the bigger, the better. However, other celebs like Zendaya, Gigi Hadid in jeans, Keke Palmer etc also have the best street style.
Q: Which Bollywood Celebrity has the best Fashion sense?
Ans: Deepika Padukone is on the top list of the Bollywood celebrity with the best fashion sense. Other celebs like Kareena Kapoor, Malaika Arora Khan, Ashwariya Rai are also on the list.
Q: What do celebrities do with their clothes after they wear them once?
Ans: Most celebrity clothes are gifts from designers that serve as free brand deals. Celebrities might wear the clothes again or leave them in their walk-in closet. However, some celebrities donate their clothes. Many celebrities also take pride in rewearing their clothes, for example, we have seen Kate Middleton repeat her outfits on numerous occasions.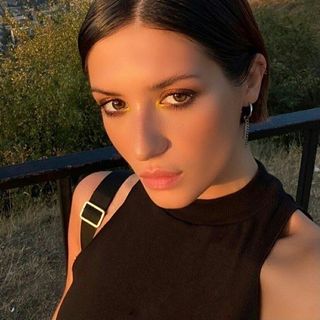 Avid reader and Fashionista. London Based freelance lifestyle editor